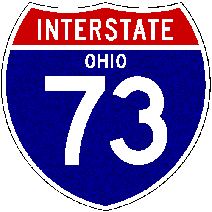 In Ohio
Consider this page your gateway to various tidbits about the last interstate NOT to be built in Ohio. From here you will be to read about the failure of some of our elected officials to sway popular opinion in favor of a new road, text from a brochure advoacting the construction of I-73 in Ohio, maps showing the various routes that were under consideration for I-73, and photos showing some of the troublespots for construction and other areas I-73 could have gone through.
Do understand, this page does NOT try to make a case for or against the construction of another interstate in Ohio. This collection is part self-examination (of our transportation desires) and part make believe.
Ohio I-73 Corridor Photos - Toledo to Marion | Delaware and Columbus | Circleville to Huntington, W. Va.
I-73 Text Links -Sandor's "I-73 Ohio Paper" | Ohio Turnpike/Ohio Corridor Development Consortium 1994 Brochure
I-73 Ohio Map Links - Toledo to Carey | Carey to Marion | Marion to Circleville | Circleville to Piketon | Piketon to Chesapeake
I-74 extension from Cincinnati to Piketon
I-73 Ohio Maps were found in "Great Lakes/Mid-Atlantic corridor study/the Ohio Turnpike," by the Ohio Turnpike Commission (Media: Book - 2 v.: Call No: 352.74 O371g) as found at the Columbus Public library.
---
I-73 Shield artwork generated using Shields Up! program by David Kendrick
This page created October 1, 2001/Last revised August 23, 2003
Questions and comments can be sent to Sandor Gulyas
Return to Sandor's National Interstate 73 Page or The Ohio Regional Road Pages (use that page to return to any Ohio regional page from which you may have come)