Interstate 74: Cincinnati to Piketon Corridor

Note: This series of pages was originally part of the Corridor 5: Great Lakes/Mid-Atlantic Corridor page from the Congressional High Priority Corridors site by Andrew Field and Alex Nitzman. All commentary not attributed to Sandor Gulyas is Andrew's (except for minor alterations by Marc Fannin), and the design and graphics are also his. Comments may be sent to Sandor at roadfan@copper.net .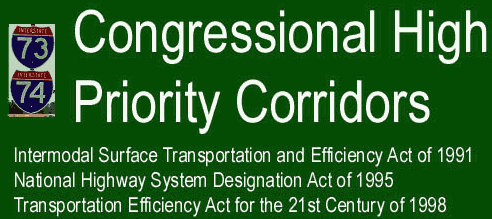 This map shows how Interstate 74 would be routed east of Cincinnati, with no detail provided on how Interstate 74 would be routed through the city. Heading east, it would follow Ohio State Route 32 to U.S. 23 then turn south. The middle route from Interstate 275 was the chosen route, and it is marked in red.

Map Links to Interstate 73/74 in Ohio
The following links connect to the six planning maps for each major segment of Interstates 73 and 74 in Ohio:

Interstate 74, Cincinnati to Piketon

Links:
Return to Ohio I-73/74 Index

Updated October 2, 2001; moved to roadfan.com October 2, 2001
© 2000 Andy Field Used by permission