Downtown Columbus Locations

---

Jump to: Downtown Buildings | Riverfront Plaques | Near South Side | Franklinton | Downtown Signage | Links

---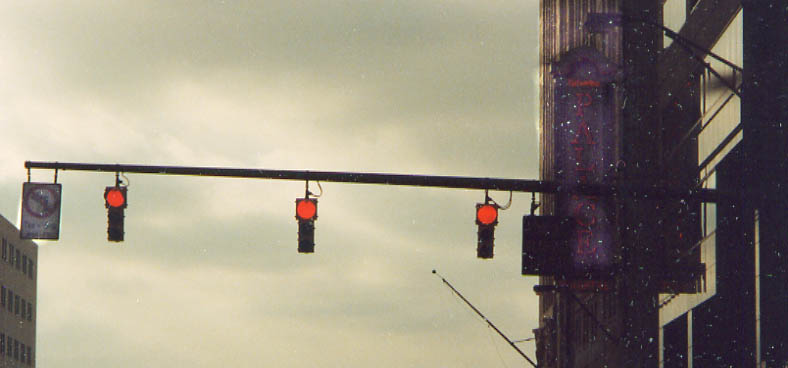 What I was trying to show here is the LED sign on the right of the traffic lights telling drivers they can't make right turns (much less left turns if you look left) from Broad St onto High St. That's right boys and girls, you can't turn at Columbus's starting point.
I tried to highlight the Marquee for the Palace theater on the right side as well.
Photo taken in March, 2003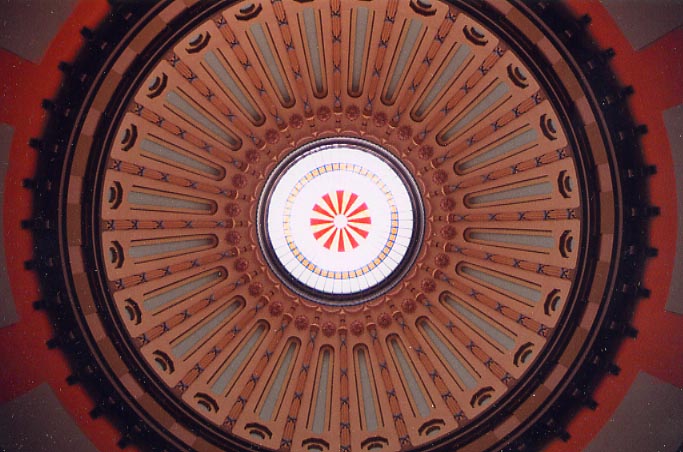 Looking up at the top of the Ohio statehouse dome....from the floor. (I guess a 24mm lens wasn't wide enough). Photo taken in May, 2004.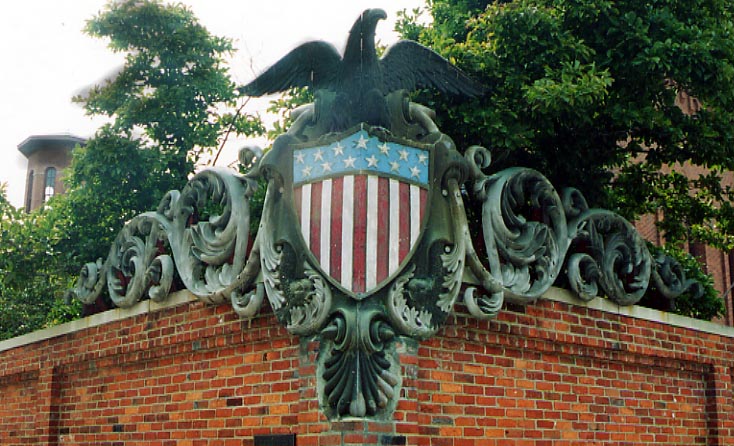 Some old architecture I found to be interesting. This was part of the old Ohio Armory located at the intersection of Main and Front Sts.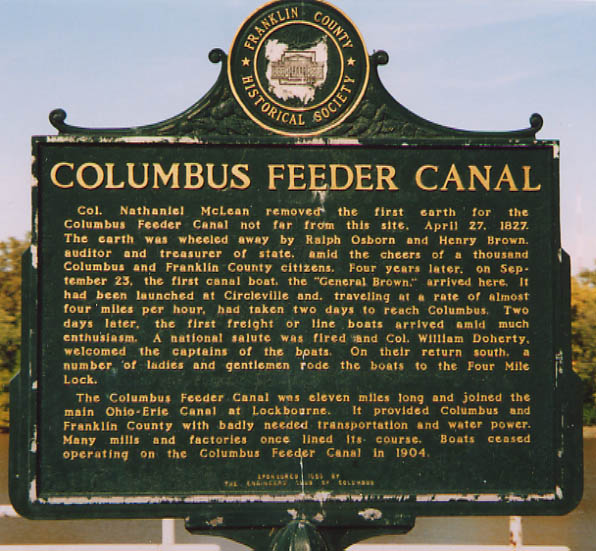 This marker explains the local and state history of the Ohio Canal (and the feeder ditch from Columbus to main canal at Lockbourne)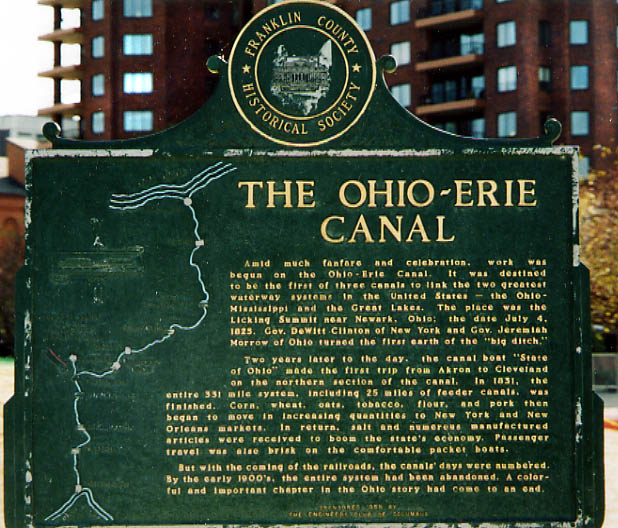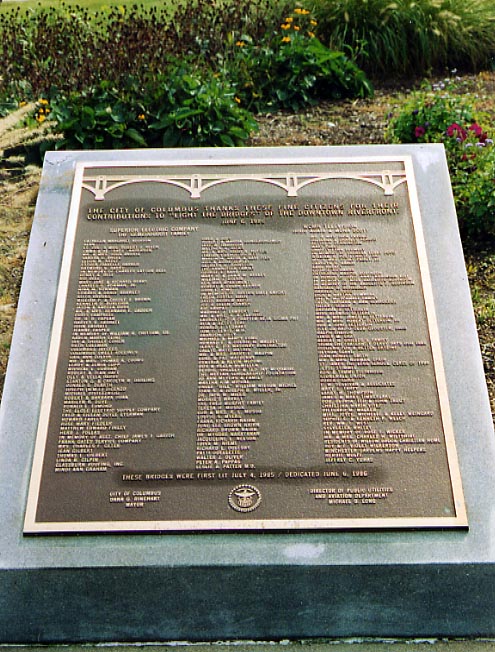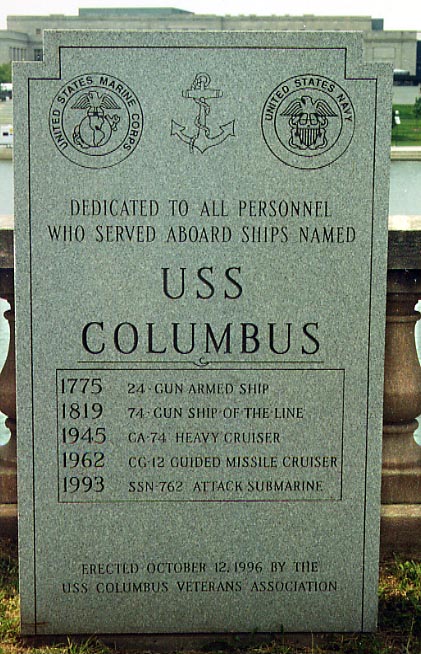 Left - Mid 1980s plaque listing all the financial contributors in helping to string lights across several downtown bridges
Right - War memorial to all naval ships using the name "Columbus"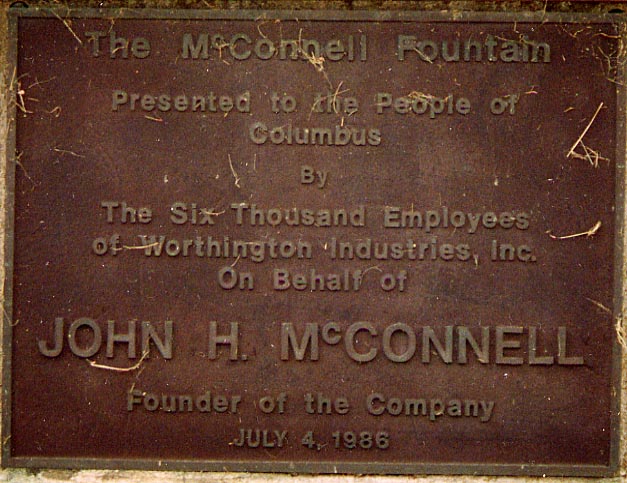 And you thought Mr. McConnell was all about hockey. Mr. McConnell has always been a very civic minded person, however the fountain this plaque honors doesn't exist anymore (as of September, 2003). Where did it go, Columbus?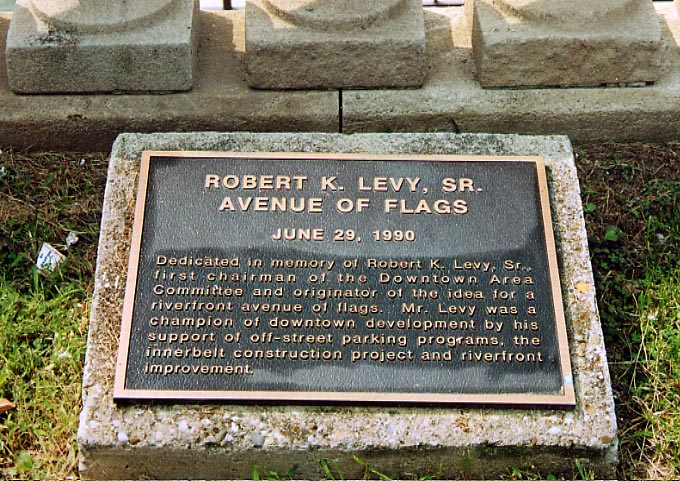 Mr. Levy evidently was a very important person in the development of (modern) Columbus. So to respect the originator of Columbus's avenue of flags, parking lots and the innerbelt (I-70, 71, 670, Oh 315), he gets this little plaque along Civic Center Dr. So much for priorities around here again.
Near South Side
An unofficial suburb of an unofficial suburb of Columbus. This sign is just east of German Village, which is noted by everyone in Central Ohio as an geographical area, but is not a political entity of itself. Schumacher Village doesn't get any sort of run. It's not noted by anyone or entity other than for the odd sign or two around it's perimeter.
Anyone want some metal clam shells? These were located on a light support along Greenlawn Ave. A popular style back in the day, but I doubt they are used in conjunction with modern street lighting assemblies (Photo from October, 2003)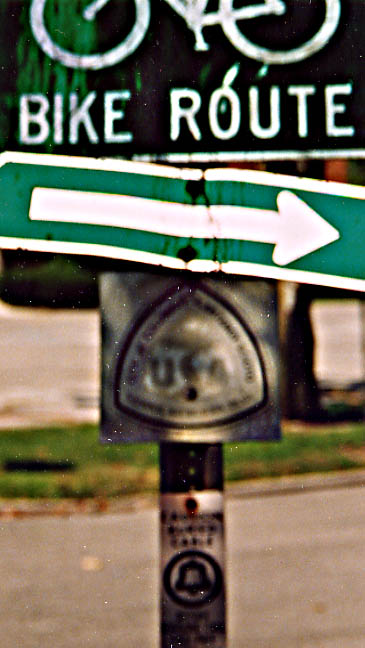 Ignoring the Bike Trail sign above, this blurry USA Trail sign is what caught my attention (I must of used the wrong camera to have it look this bad). On Greenlawn Ave, just west of the Scioto River crossing. (Photo from October, 2003)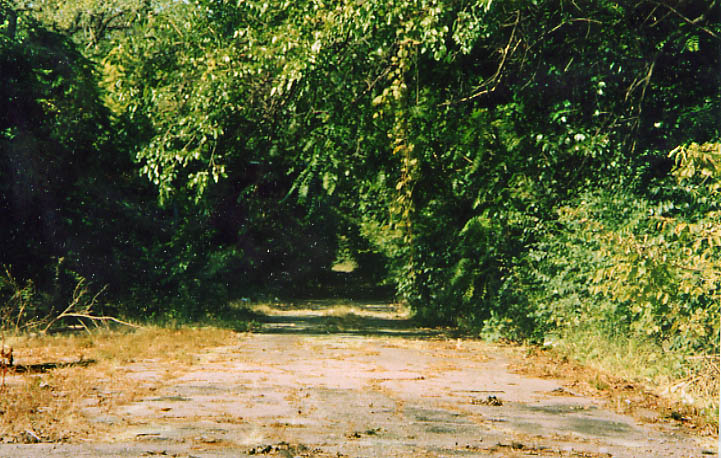 This is a remnant of Scioto Blvd. This street used to follow the Scioto River all the way up to Rich St. However, a large chunk of this road was taken out for I-71 (see Bergendorf Plan and the Mound-Sandusky Maps). This photo is looking north from near Greenlawn Ave. (Photo from October, 2003)
Franklinton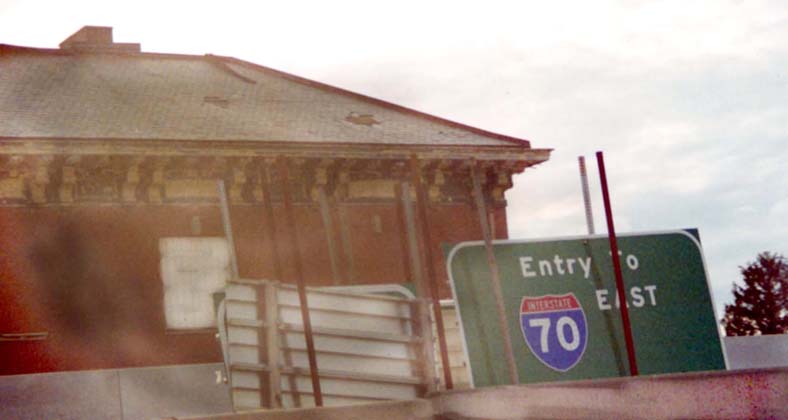 Anyone need a BGS? This collection was along the [median] of OH 315 during it's reconstructuring in 2000-1, just north of the I-70-71 west split.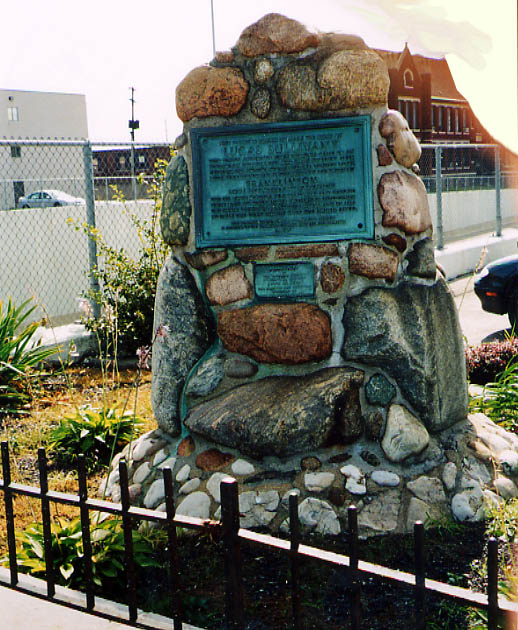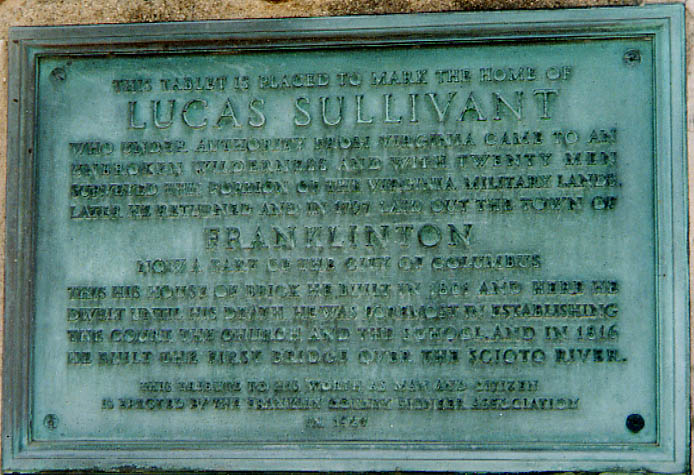 Lucas Sullivant is the founder of Franklinton (forerunner to Columbus). At least he has a street named after him. This memorial to Lucas is dated as 1924. Story has it that the Sullivant's residence was torn down to make way for Oh 315. But if a memorial was built before then why the story?
The plaque reads as follows, "This tablet is placed to mark the home of Lucas Sullivant who under authority from Virginia came to an unbroken wilderness and with twenty men surveyed this portion of the Virginia Military Lands. Later he returned and in 1797 laid out the town of Franklinton, now a part of the city of Columbus. This, his house of brick, he built in 1801 and here he dwelt until his death. He was foremost in establishing the court, the church, and the school, and in 1816 he built the first bridge over the Scioto River (see Broad St Bridge).
This tribute to his worth as man and citizen is erected by the Franklin County Engineer Association in 1924"
It should be noted that this monument is now located at US 40 (W. Broad) and OH 315 (SW corner on the overpass) in the parking lot of Graham Ford auto dealership.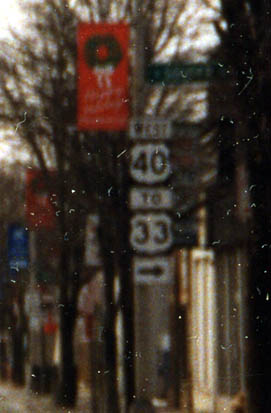 You can follow Sauder Ave north from W Broad St to reach US 33 now. However the sign gives the impression that US 40 turns here to continue west as well (which is not the case).
Photo from March, 2003
---
H.B. Elkins Diagonal direction Sign Collection (an old US 33 diagonal direction sign dating back to the mid 1990s is here) (see this page for details).
Columbus Crossroads, the I-70/I-71 South Innerbelt Corridor Study (ODOT)
1952 Expressway Plan for Columbus
Bridges of Columbus and Franklin County
Downtown Columbus Highway Signage
---
Page created on November 7, 2002, last updated on June 10, 2004
Questions, comments, and submissions can be directed to Sandor Gulyas
Return to Columbus Virtual Roadtrip