(Last revised August 9, 2018) After discussing going to the Grand Canyon *last year, we made it this year – on the way back from San Diego and Los Angeles! Following is notes and pictures from the 12-day trip.
Note: In this document, I have made links to Google Maps Street View green. Links to other pages are the traditional blue, with links not to Wikipedia articles designated by a *. All photo time stamps are Eastern Time; I list below where we crossed time zone boundaries.

Approximate route (the above was taken from this 2001 USGS map of the U.S.; the feature names are a bit larger and clearer on that version). Basic route west: I-90; I-80; I-76; I-70; I-15. Basic route east: I-40; US-160; I-25; US-24; I-70; I-71; I-90. The red line going east is a trip that we made to Niagara Falls on Memorial Day, May 28; I included it to show that we drove to an Atlantic state and a Pacific state within two months of each other! We also saw Canada and came within 15 miles of Mexico.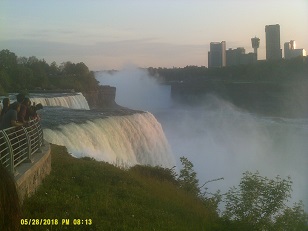 Day 1: Monday, July 9, 2018 (Lake County, Ohio to Stevensville, Michigan)
After some last-minute errands including an adjustment to the car, we headed west into and beyond Cleveland. (The LeBron banner got taken down really quickly the week before so it was already gone when we passed through.) Following was the trip that I've taken dozens of times back to where I grew up in Southwest Michigan; most of anything of note has been mentioned in previous trip reports (substitute "2018" in the web address for this page with 2009, 2013, 2015, or 2016). The few new things: In Ohio, the national theme of city names on or by overpasses continues (Westlake, on Crocker Road; Avon, next to Nagel Road), All Pro Freight Stadium has been renamed, and there's a *brand new power line following the Ohio Turnpike east of Fremont (*map); in Indiana, the Toll Road now has new *traffic and weather message boards. Once in the greater South Bend area I took US-31 into Michigan to go past the houses where I lived until 11th Grade, as I always do when I get the chance, and, after I didn't have a chance to meet with relatives, I drove us to a local favorite, *Tosi's, for dinner. Side note: When US-31 approaches US-12, there is a sign which formerly directed traffic along US-12 east to the US-12 and 31 business routes; with those routes now gone (go here for details), MDOT has covered the Bus. 31 portion with M-139, but simply covered the BUSINESS over the 12 shield, so it now implies that you can use the US-12 exit to get to US-12. Right. They probably should have covered it with M-51, which would match signs on the ramp.
Day 2: Tuesday, July 10, 2018 (Stevensville, Michigan to Altoona, Iowa)
Just before leaving the area westward, I was able to visit a few relatives.
Enter Central Daylight Time, one hour behind Eastern
Unlike in previous years, we decided to bypass Chicago, staying on I-80. Still ran into heavy traffic, as is usually the case there. While we didn't see Chicago's skyline, the view of Joliet was nice from the Des Plaines River crossing.
After I-55 the landscape became the stereotypical flat cornfields. Not too long after, we encountered the quirky I-180; it was even quirkier from a road fan standpoint because many of the signs around there used centered exit tabs ("EXIT xx" above the green sign) whereas the standard now is to place them towards the side of the sign corresponding to the direction that the exit ramp leaves the highway, and even weirder because some use the Clearview typeface which came into vogue after centered exit tabs went away for the most part. (Have a look.) Anything to break up the monotony, right? (And while I'm mentioning obscure roadgeek details: Most of the states we saw still put the state name on Interstate shields above the route number, but I only saw one each in Illinois and Nebraska on the I-80 westbound mainline. If you're interested in that kind of thing, let me know and I'll give the locations.) Something else to break up the monotony were various sets of Burma-Shave-type signs touting the University of Illinois' sports teams (*details). Never mind that we were heading away from all of the university's branches....
Just after the Mississippi River crossing I exited onto US-67 to visit the location of the original store depicted in the TV series American Pickers. The store is as much filming backdrop nowadays as retail establishment so we continued on our way. LeClaire is picturesque; unfortunately not much of the Quad Cities area is visible from I-80 itself.
Conveniently when I started running low on gas soon after I was able to fill the tank (and fill up on food) at the Iowa 80 truckstop, Pump 22.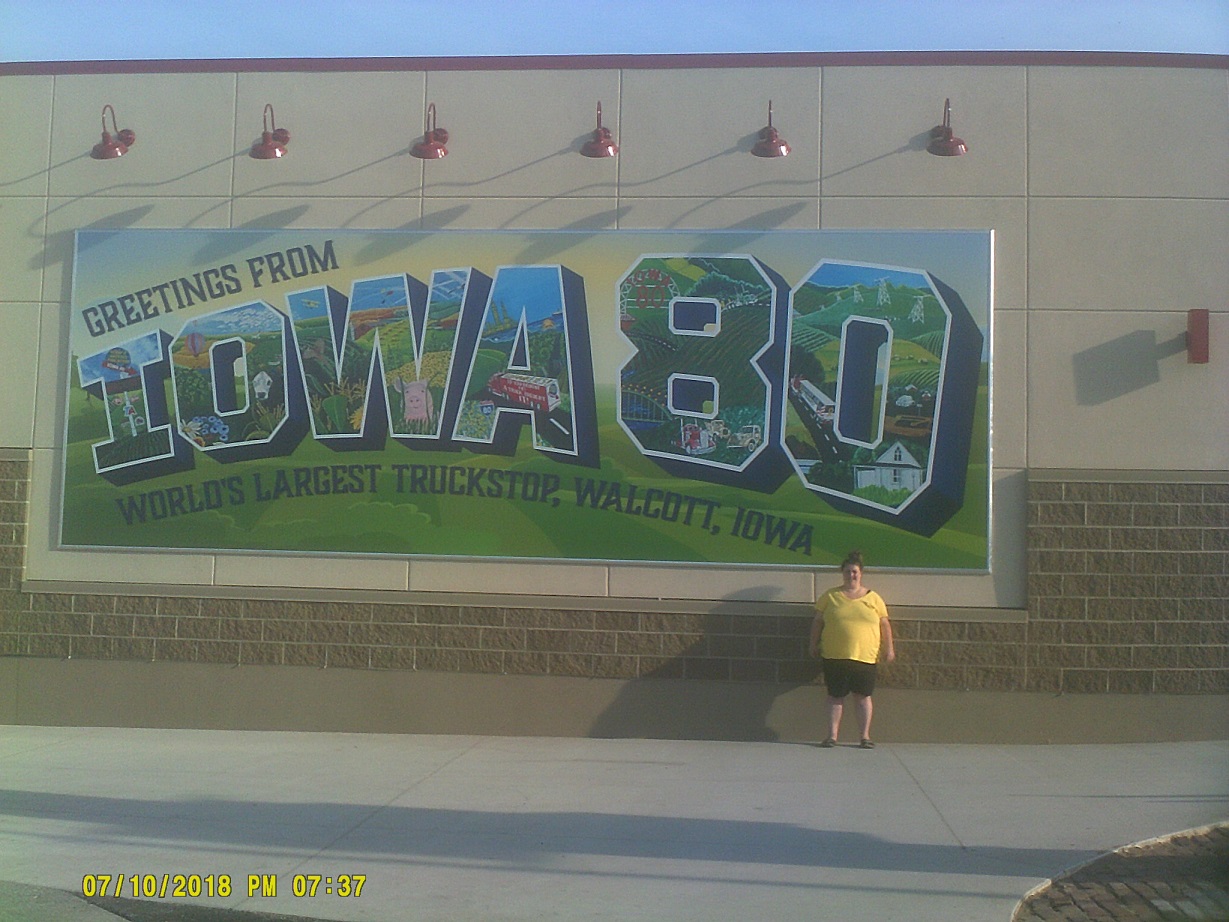 Day 3: Wednesday, July 11, 2018 (Altoona, Iowa to North Platte, Nebraska)
Just after we left the motel we took I-235 through downtown Des Moines where the state capitol building is easily visible from the freeway.
One thing that I noticed is that while Iowa does have corn upon corn, it is not flat, at least along I-80 – in fact I don't think that there is more than a two-mile stretch of I-80 in the whole state that is level. Underscoring this, when I-80 approaches I-680 just east of Nebraska, it looks like I-80 is in the distance. It's actually I-680. I-80 curves away to the left in their interchange out of view in between.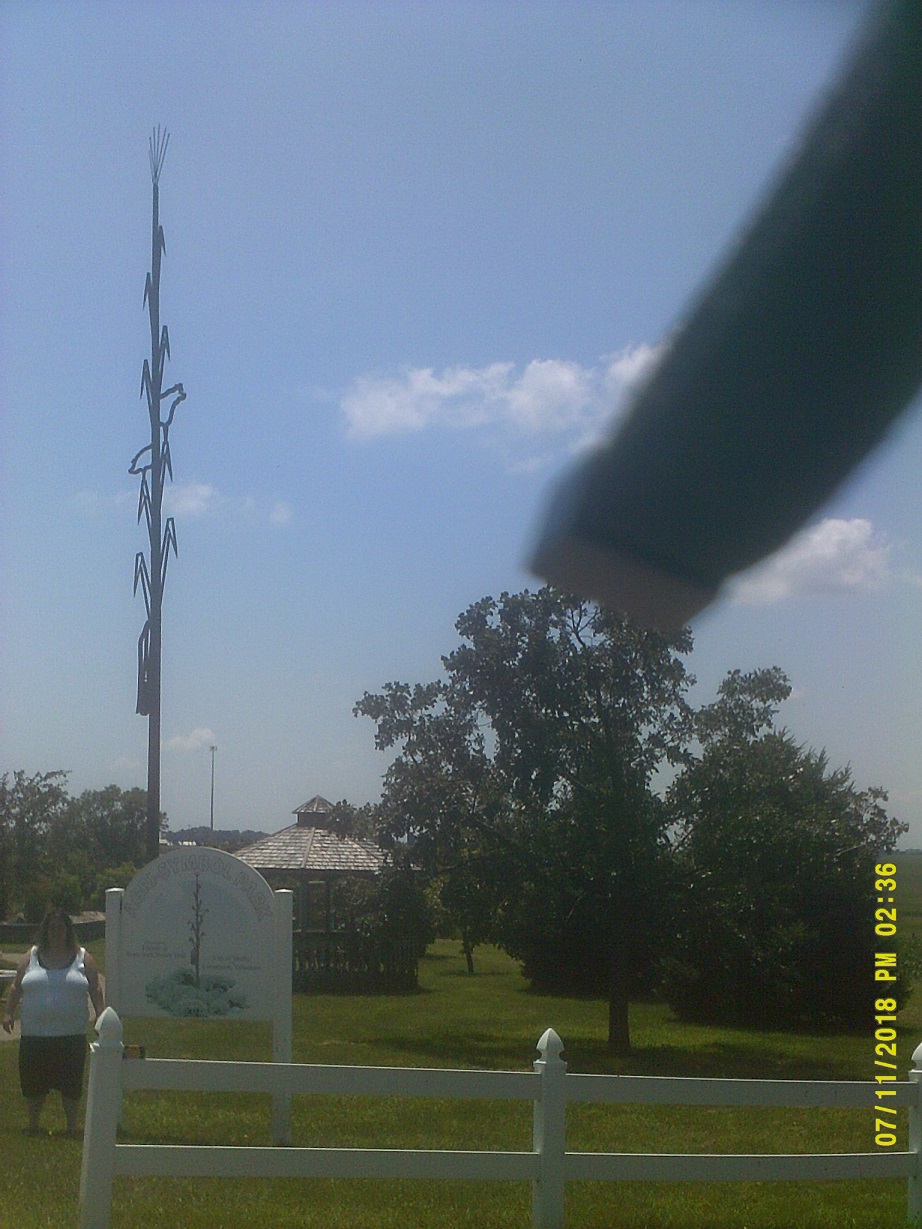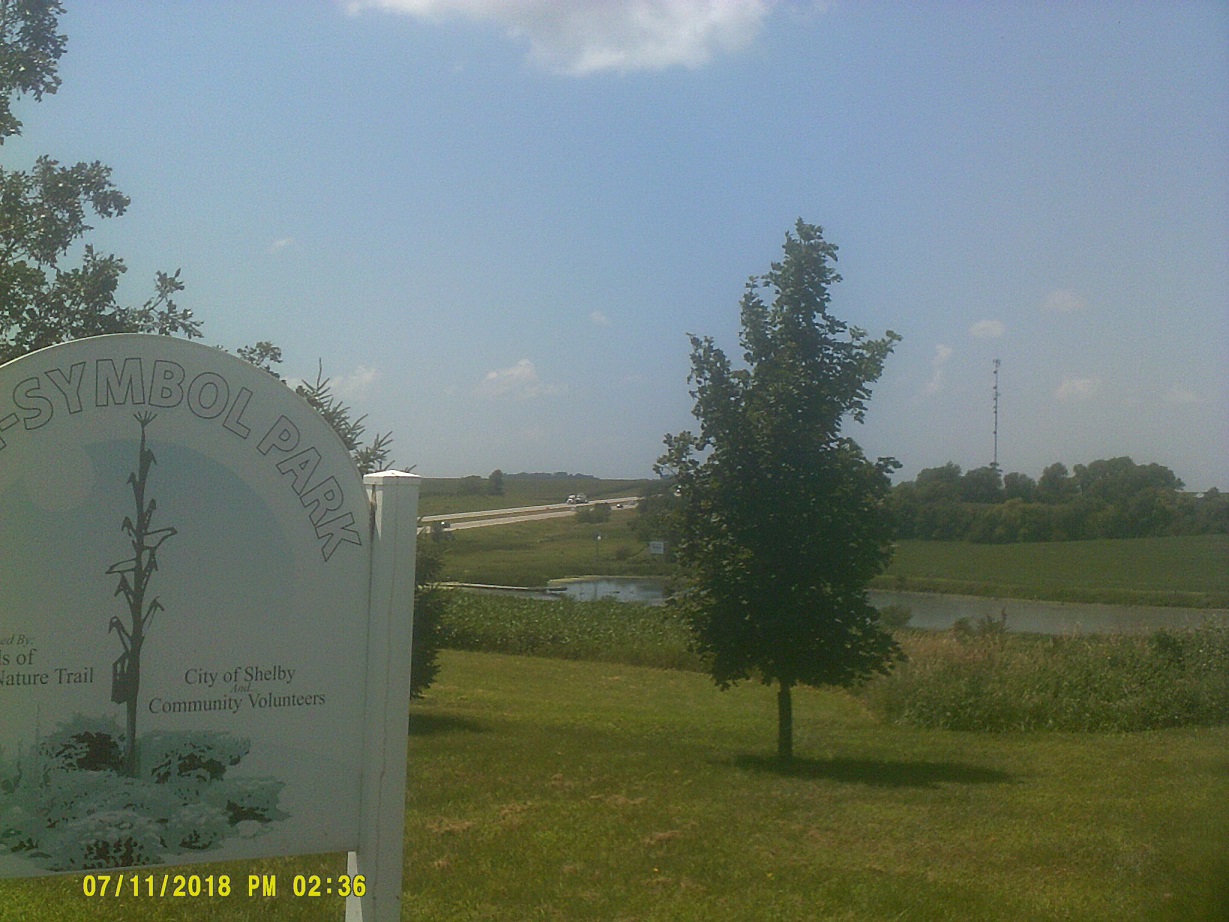 Gotta have a picture of *giant metal cornstalk before leaving the state...note the not-flat scenery in the second photo
Got to Omaha; driving was challenging with major construction projects on both the *Iowa and *Nebraska sides of the Missouri River.
The Lincoln skyline, including the capitol, is visible from I-80 at, appropriately, Cornhusker Highway.
I was running low on gas at the Seward exit so I headed north to refuel and in the process decided to check out the town after having seen mentions of the 4th of July city on I-80.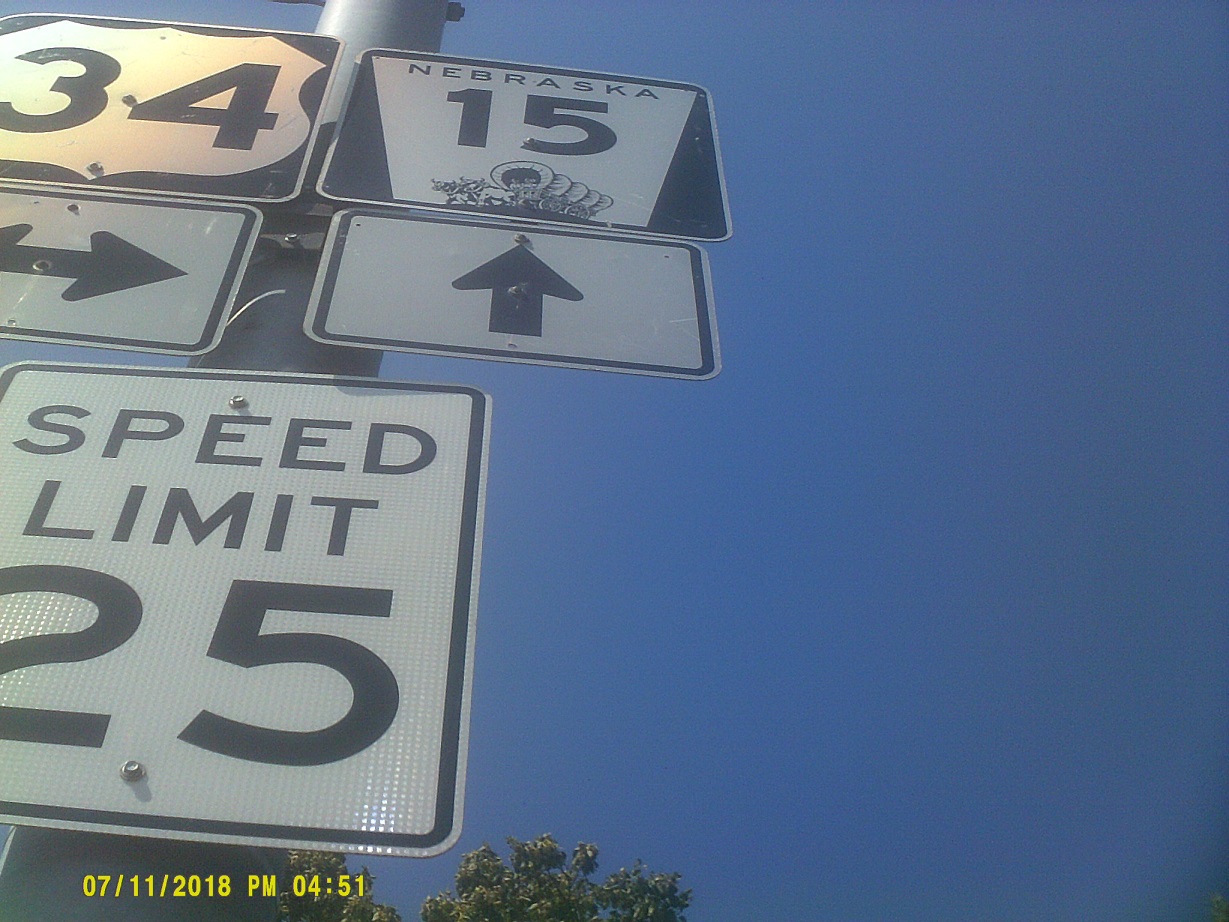 In *1979 on the way east back home we were in a hurry from Salt Lake City so my parents told me that there was no time to take any more photos of state road signs, and I'd have to hand draw any from then on, like Nebraska's. Riiiiight.....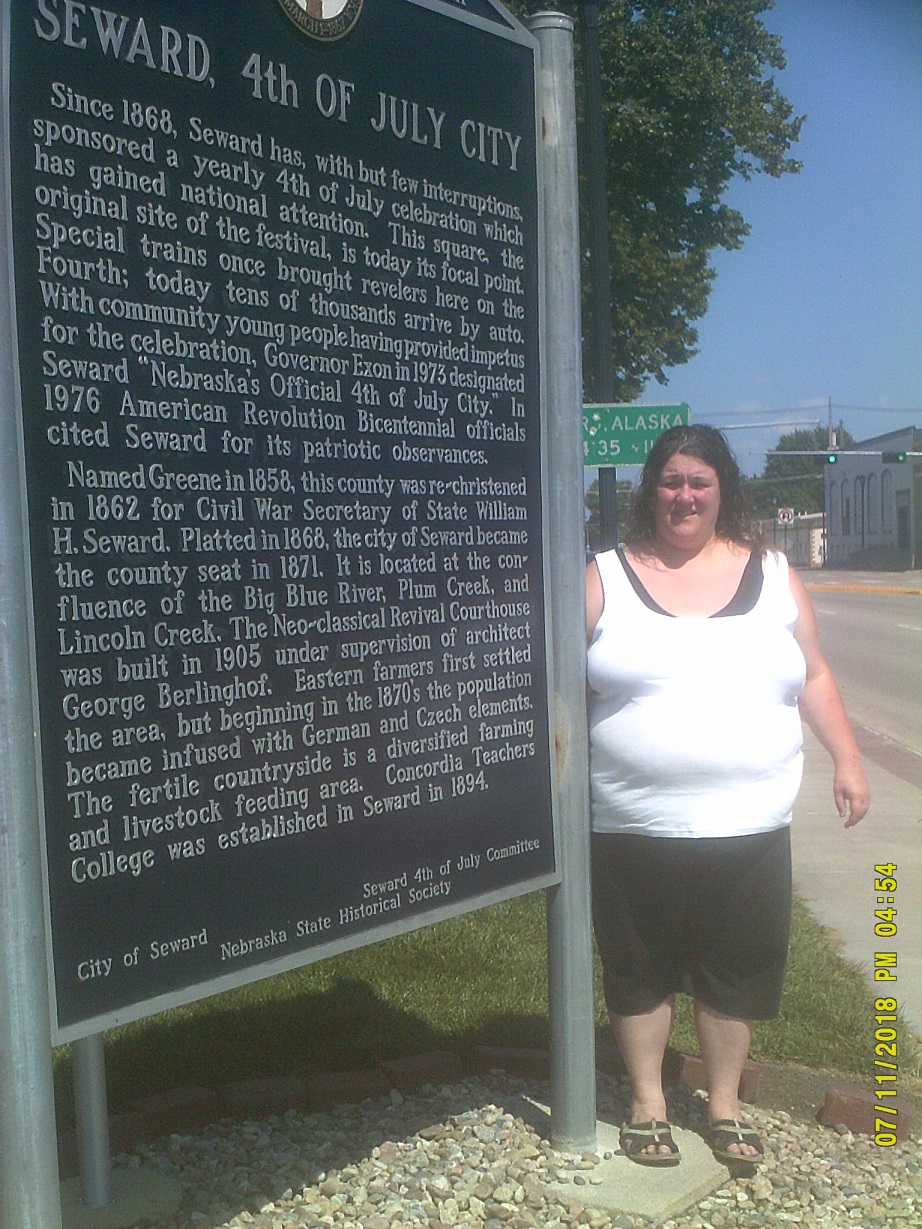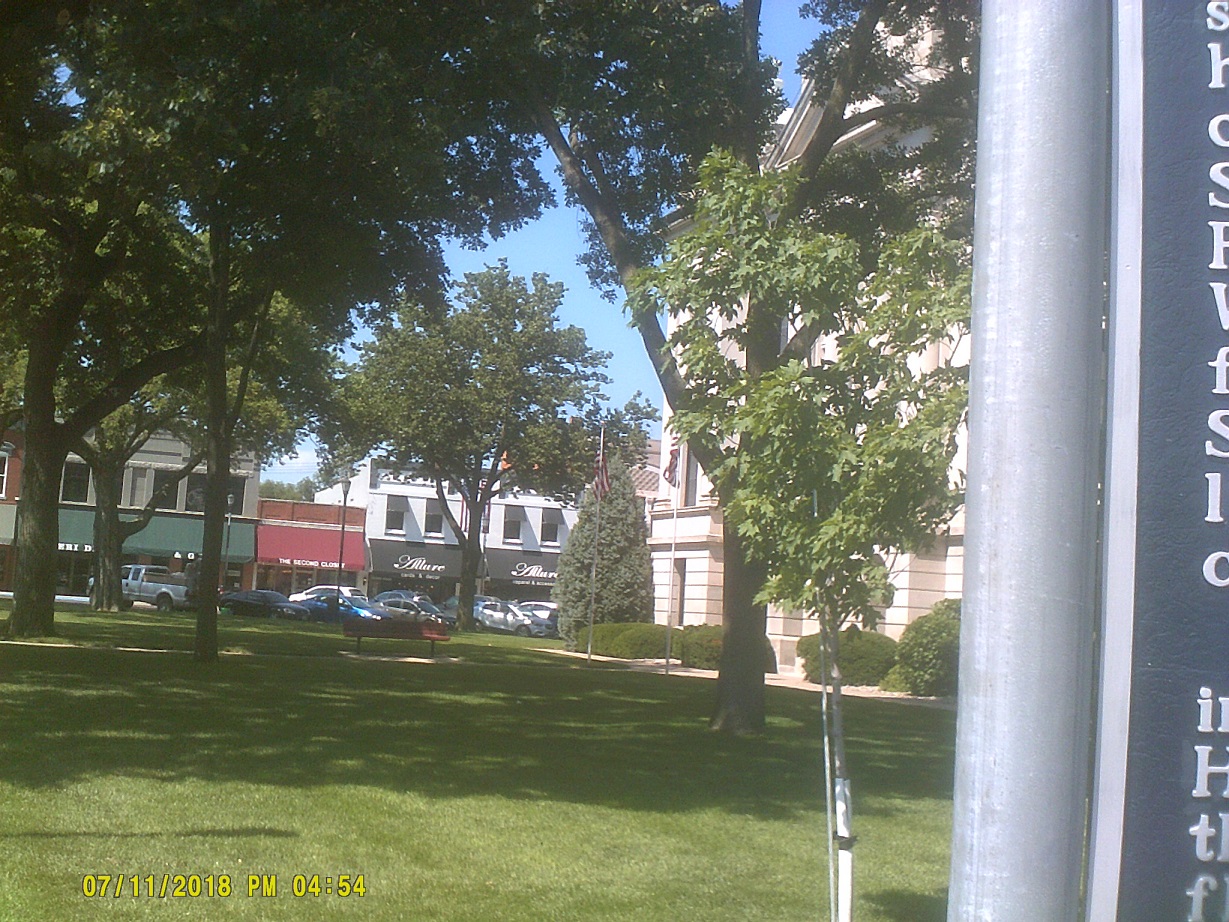 Yes, that's a mileage sign to Seward, Alaska, in the background (Street View)
Nebraska isn't all that flat, either...until you get west of about US-81 at York. Then it's pancake flat. This has been illustrated well for years on *the official state map. At least the state tourism department has put up periodic billboards highlighting some of the state's points of interest.
We stopped, finally, at the Great Platte River Road Archway Monument built directly over I-80 (and it's nice now to have a nearby exit). We took an abbreviated tour of the museum.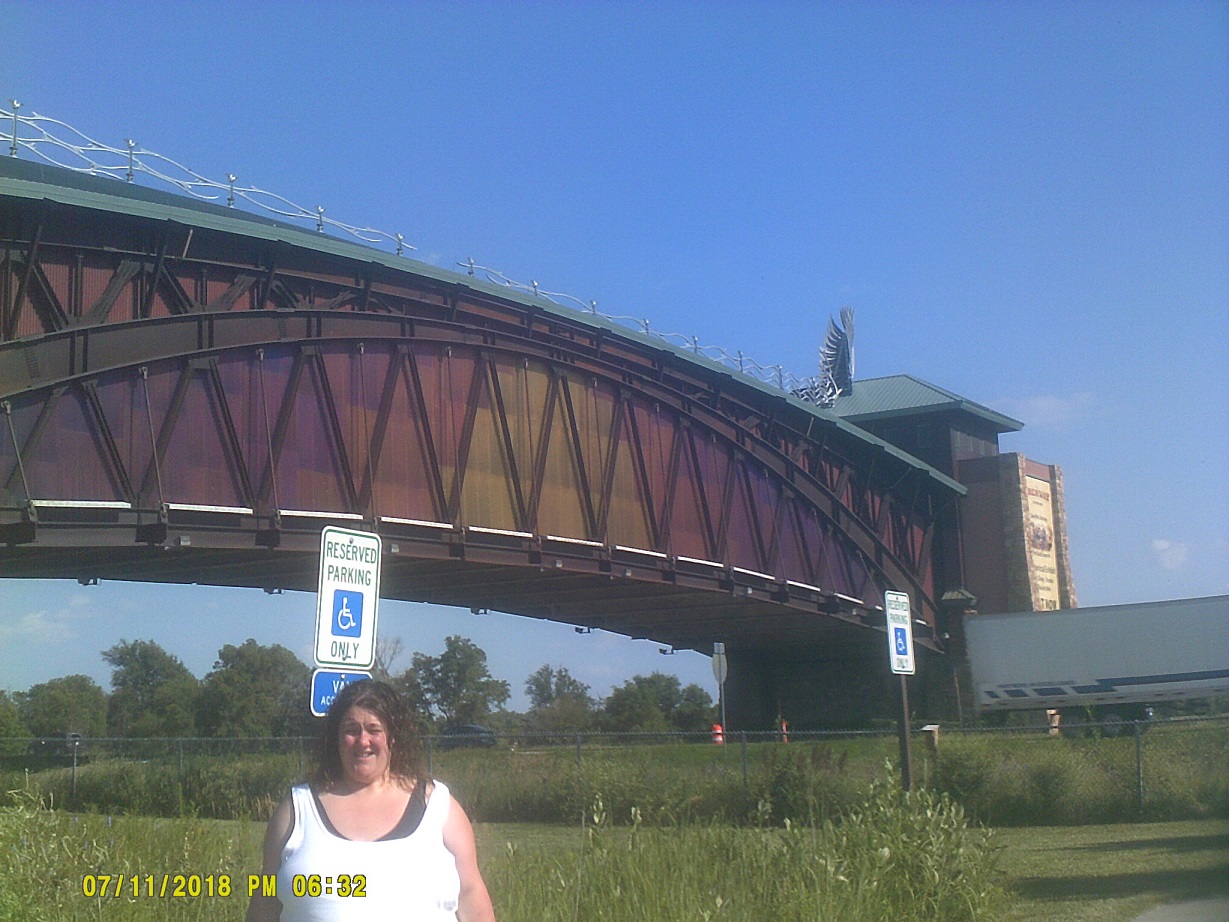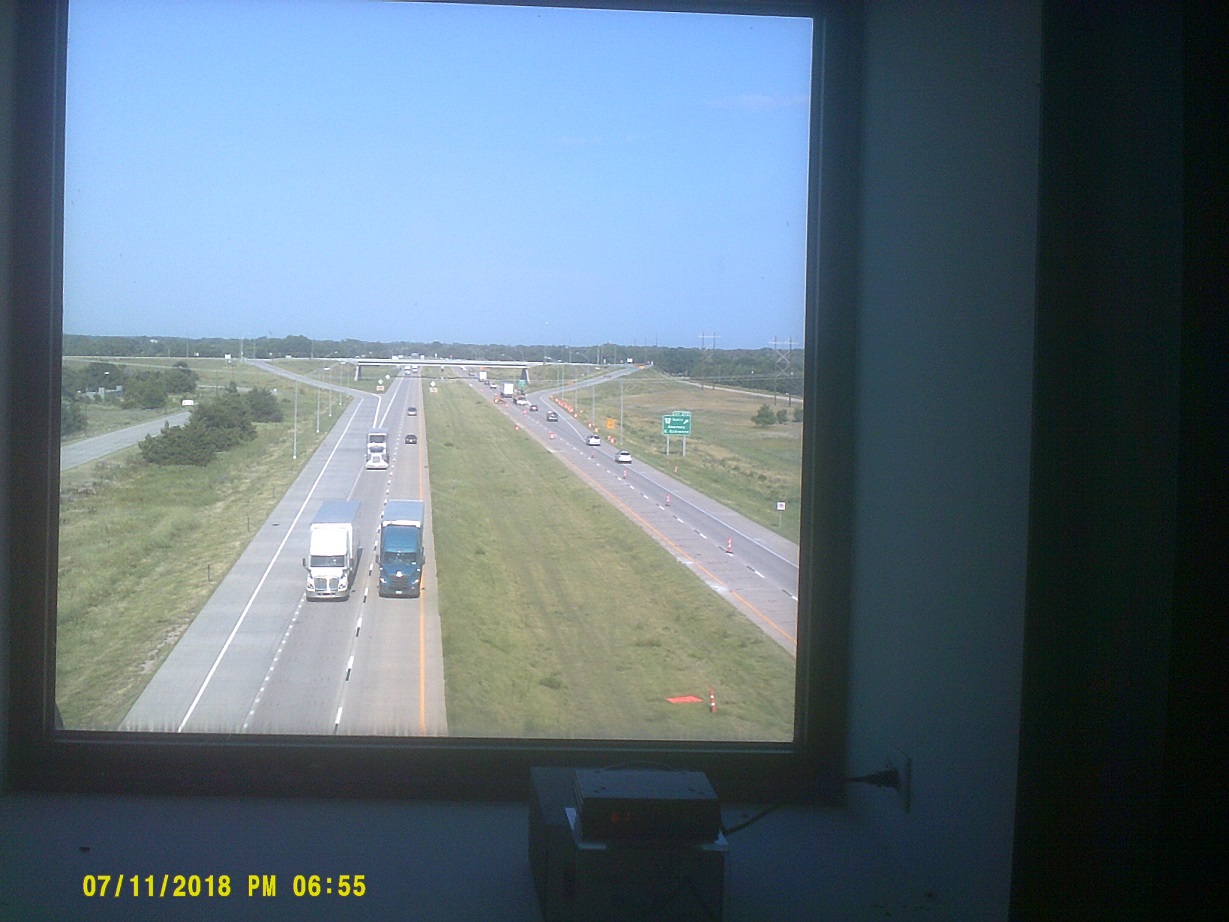 We stopped for the night at a combination motel/steakhouse.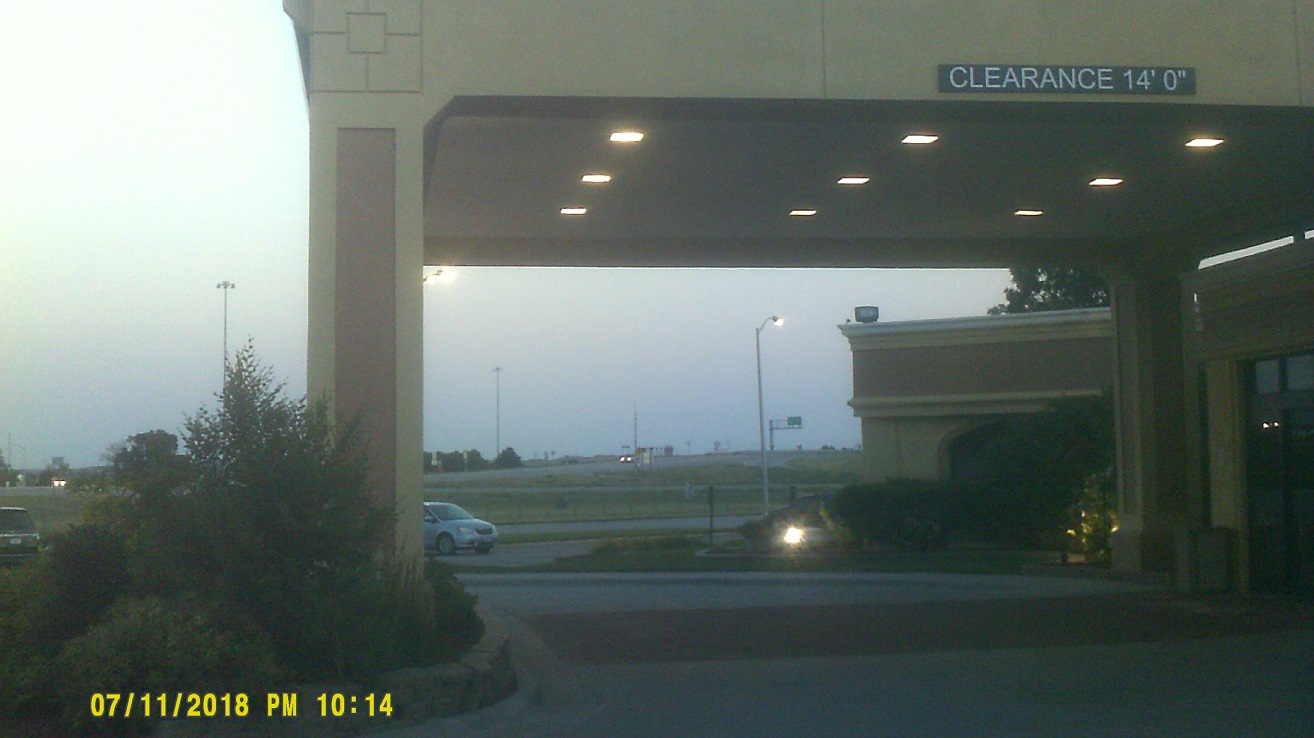 Day 4: Thursday, July 12, 2018 (North Platte, Nebraska to Castle Rock, Colorado)
Before getting back on I-80 we toured North Platte briefly, including a section of US-30/Lincoln Highway.
Enter Mountain Daylight Time, two hours behind Eastern
Staying on I-76 into Colorado, we saw the terrain change almost instantly to barren hills. We missed the Welcome Center (I had to get reused to the situation in most of the West that rest areas are often connected to roads at exits rather than along their own ramps) so we stopped at an information center further along.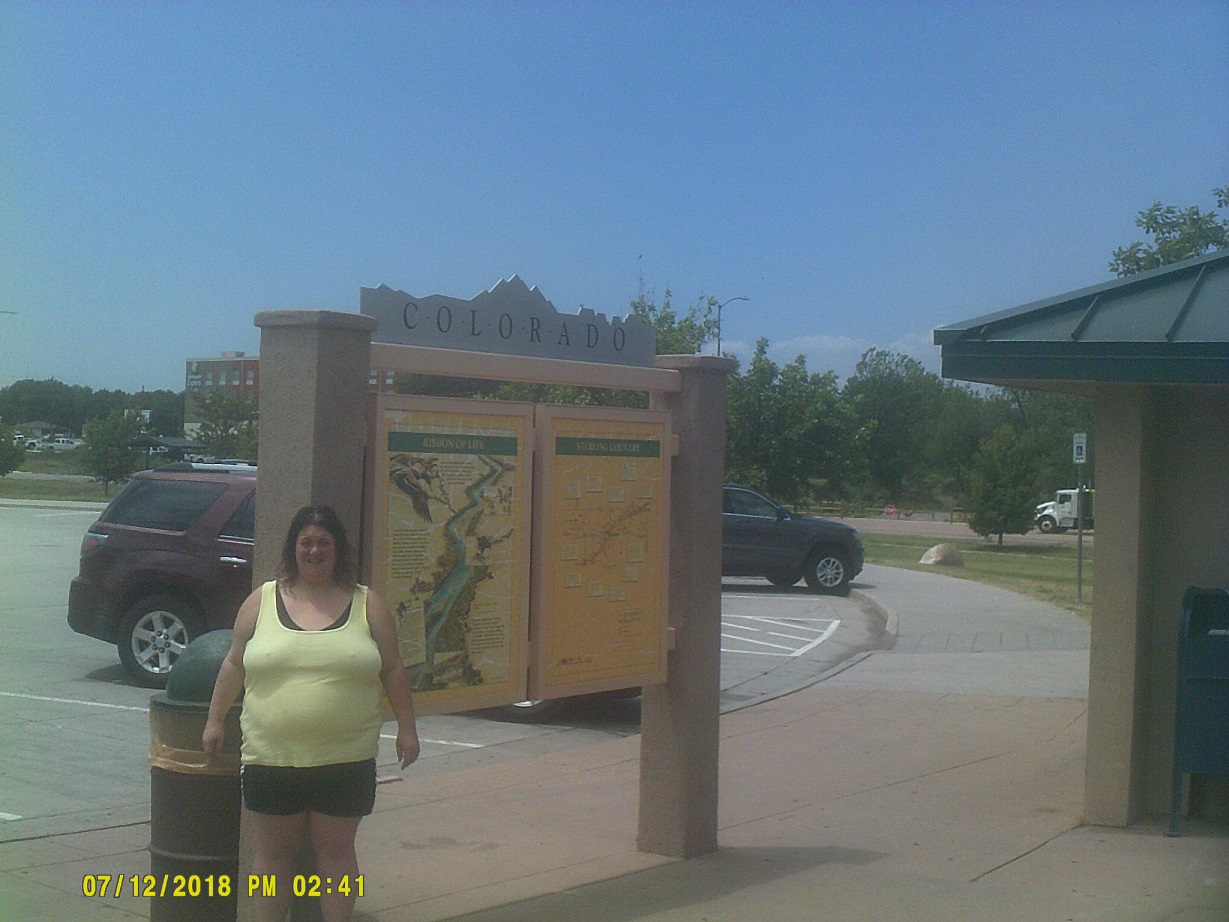 I had thought about going to the Denver Zoo, but we found a brochure at the info center for something similar northeast of Denver, The Wild Animal Sanctuary.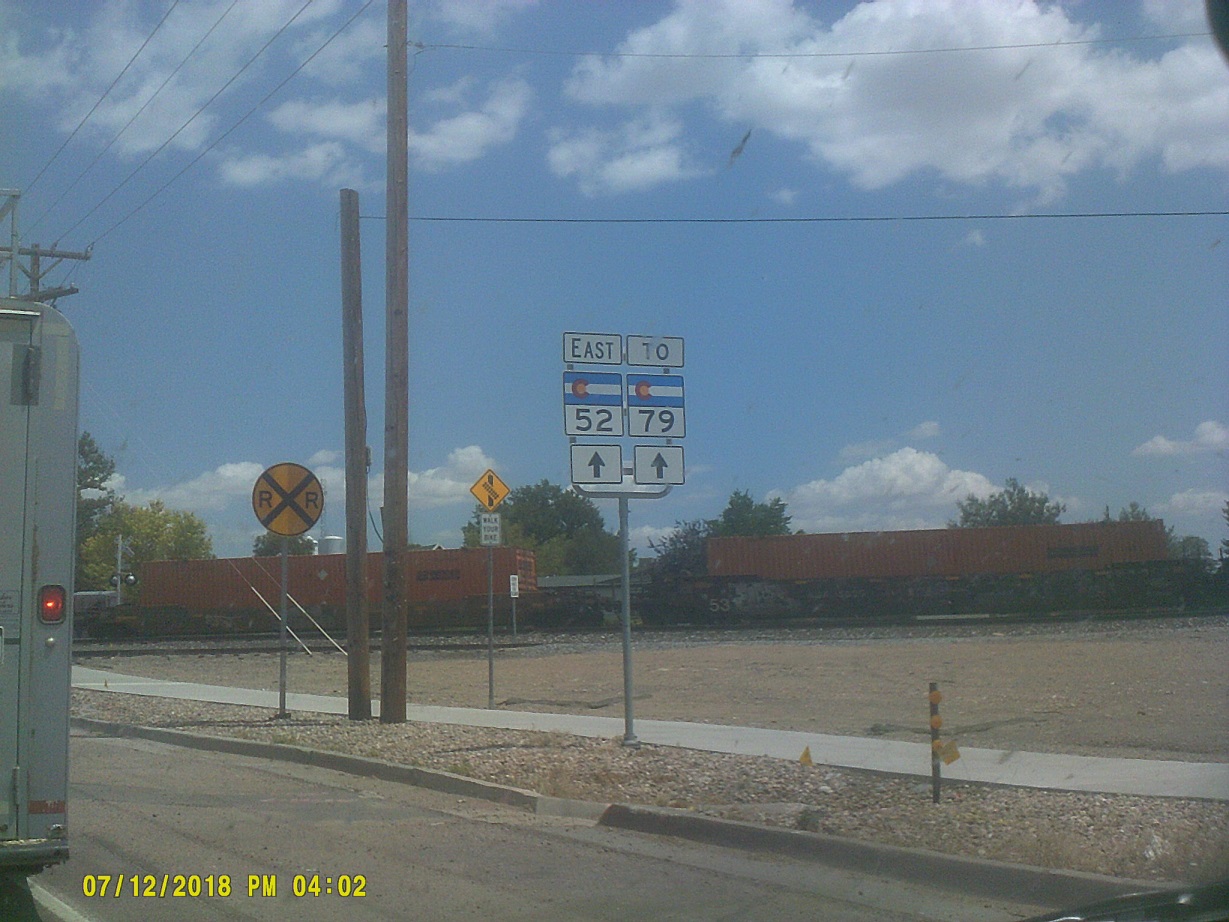 Waiting en route for a train which we had just paralleled on I-76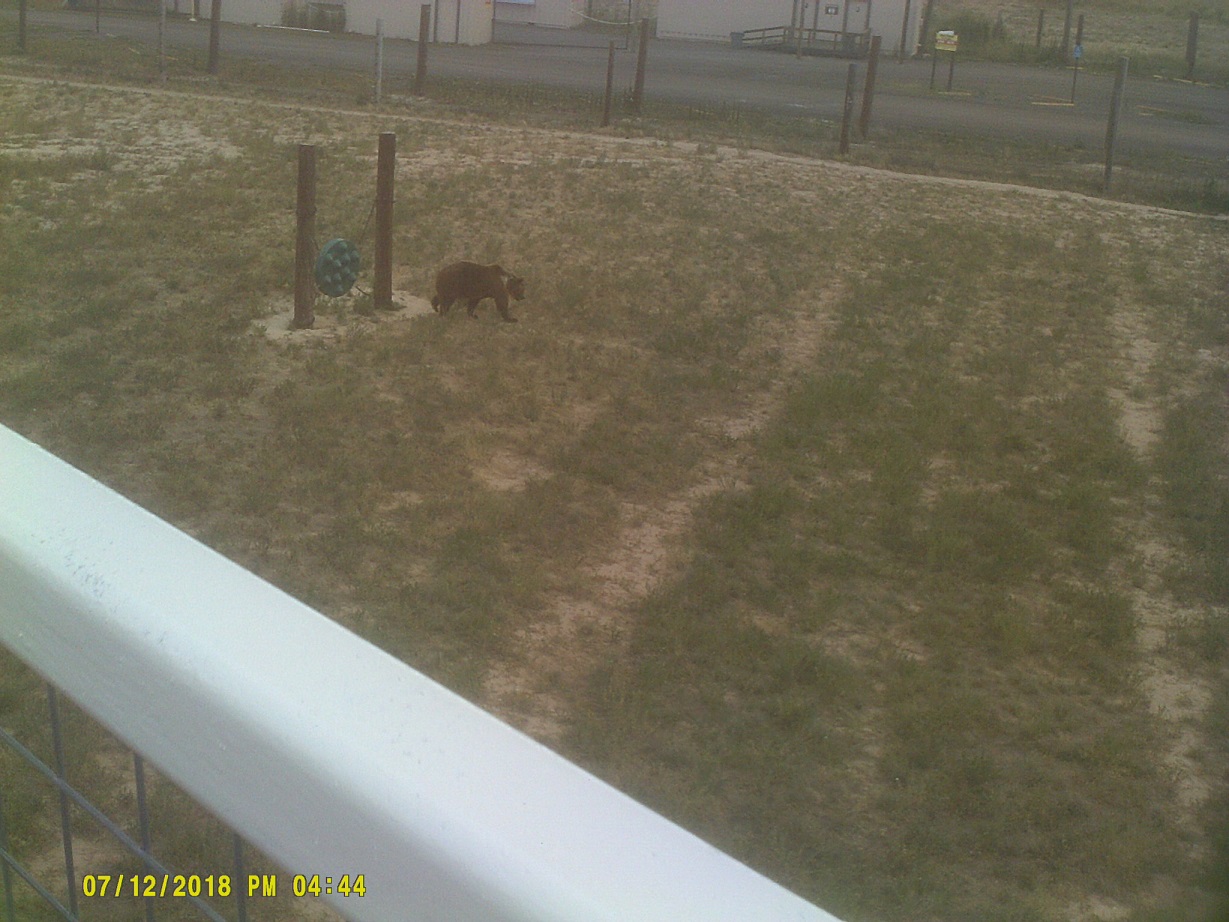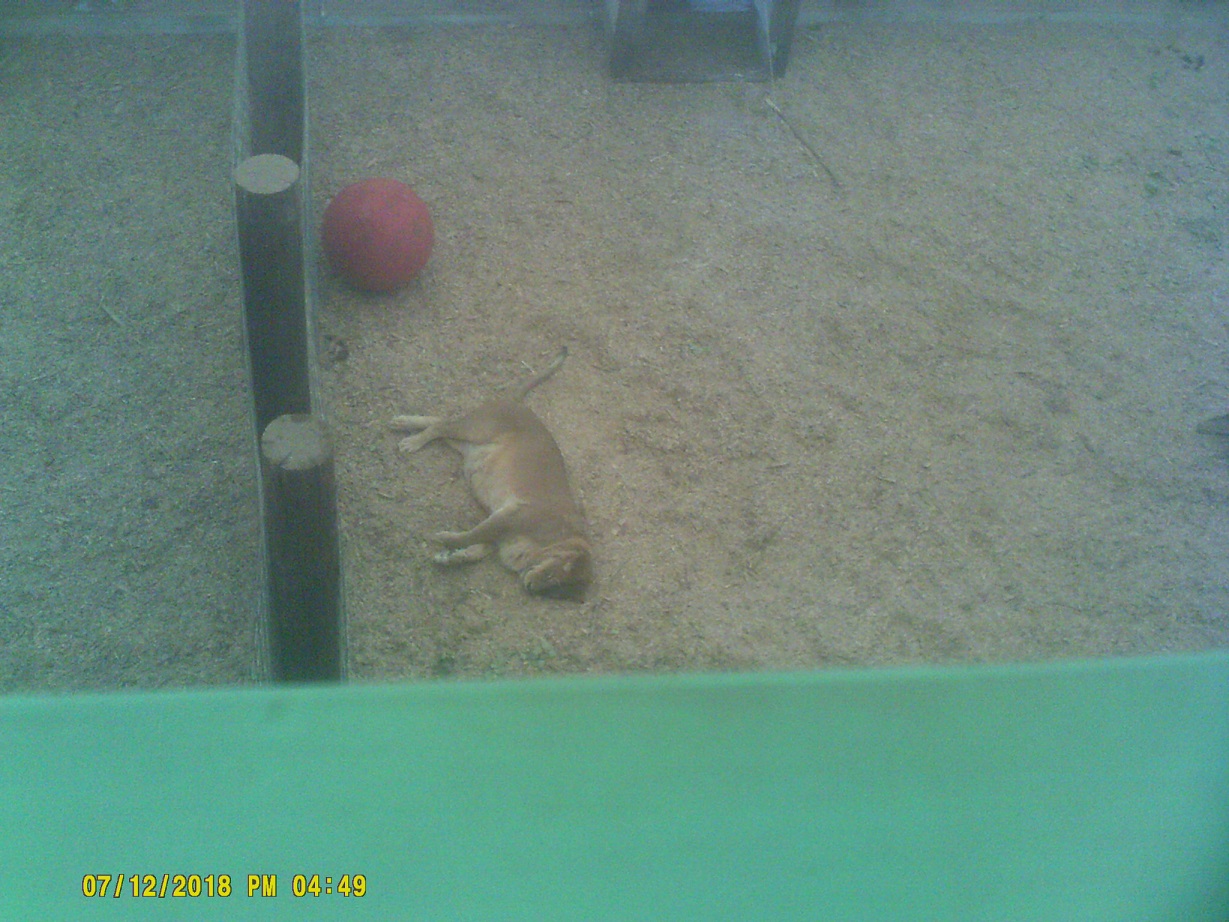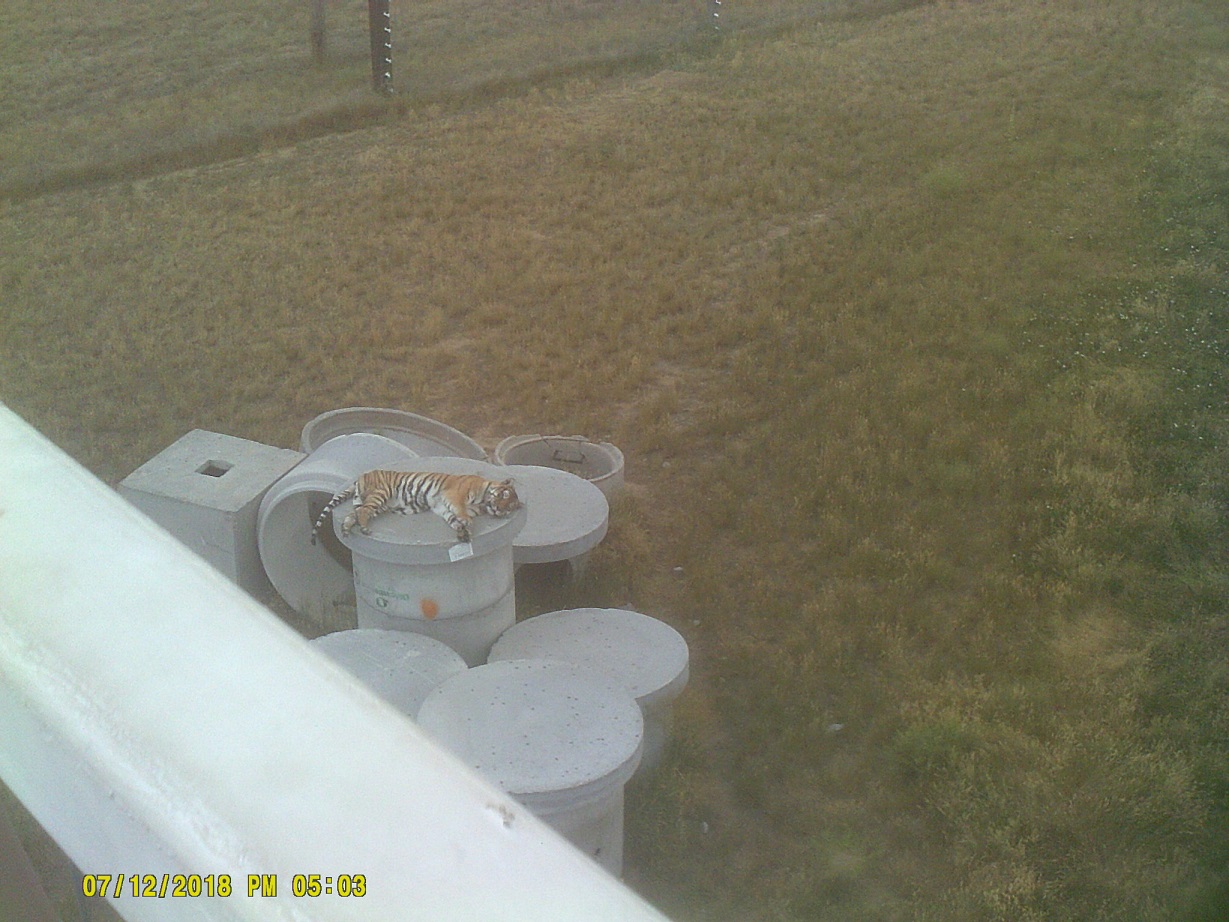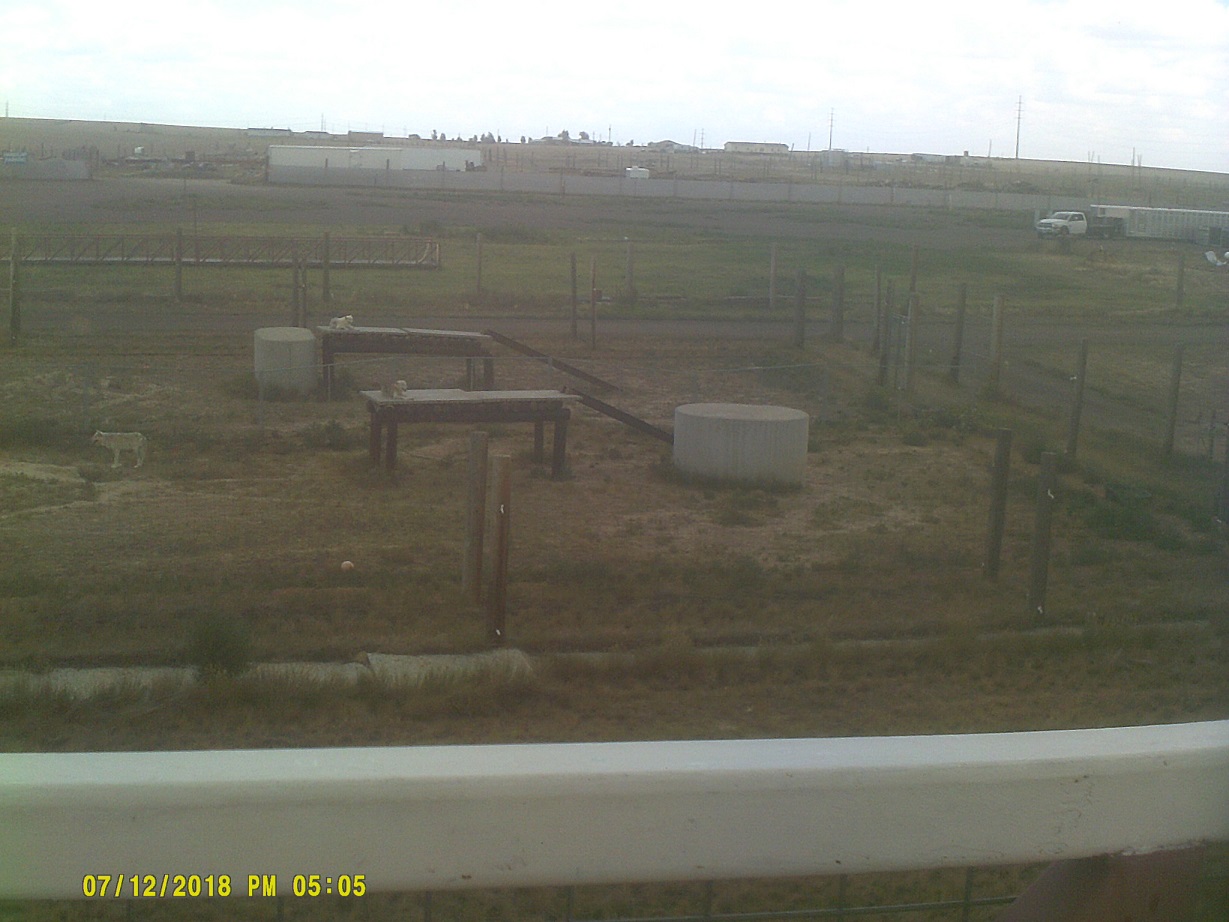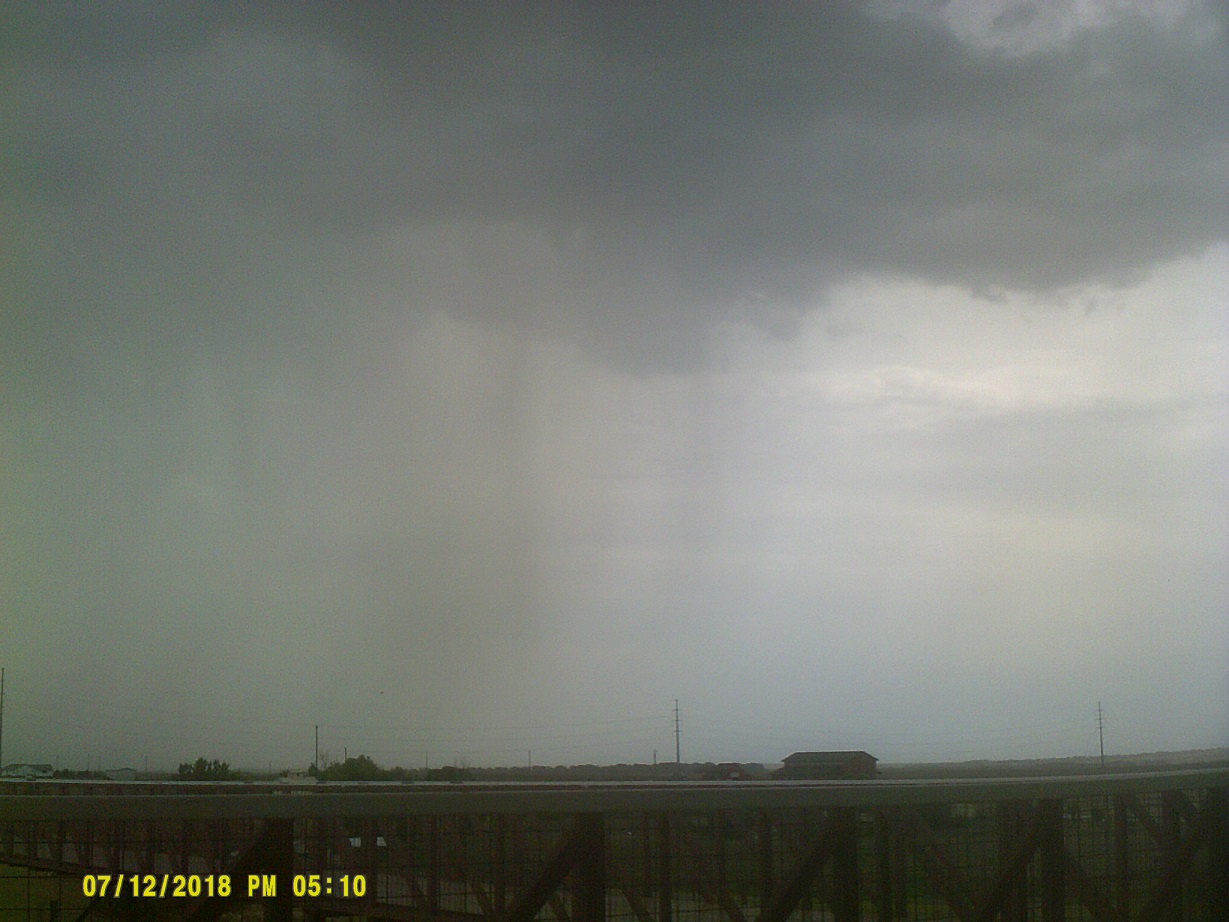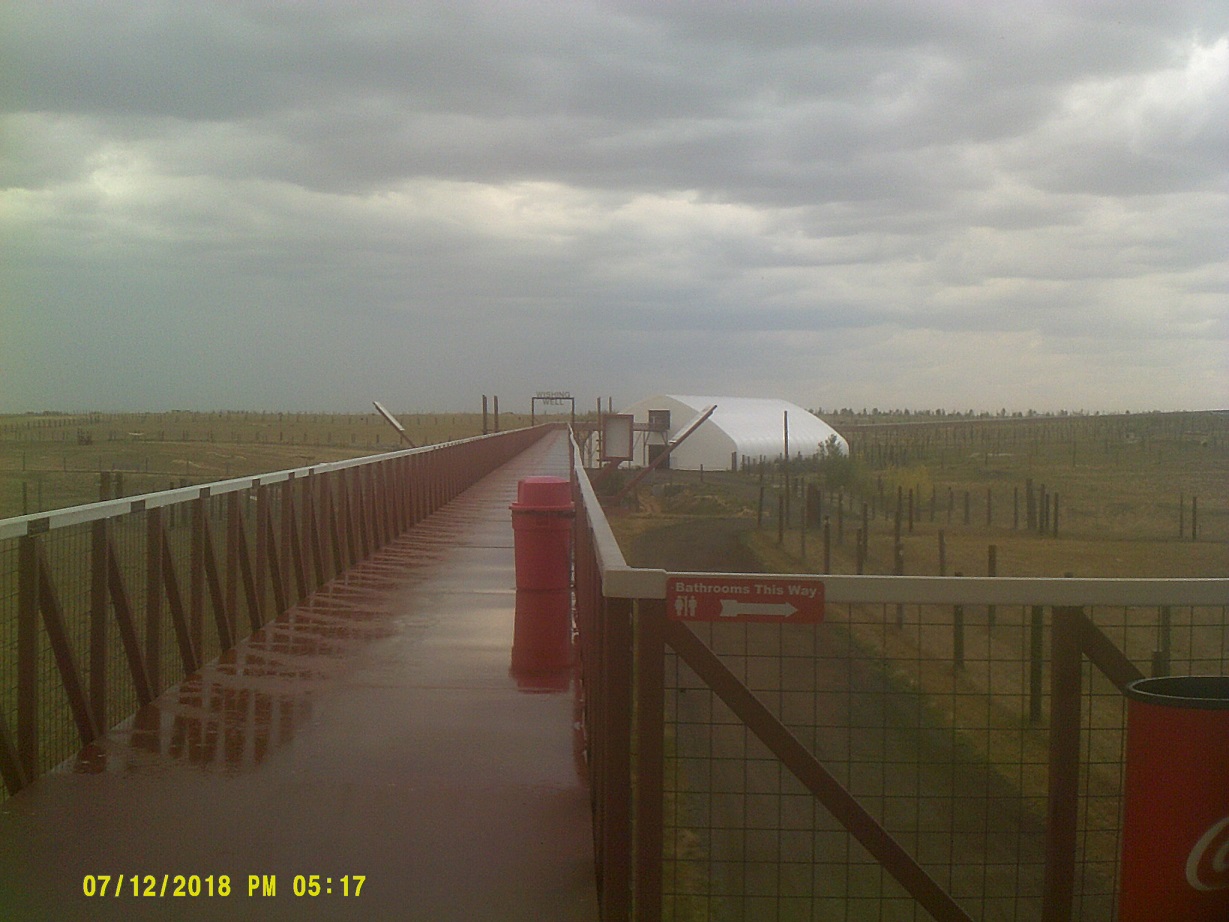 It's one thing to be in a Great Plains storm, quite another to be in it about 30 feet in the air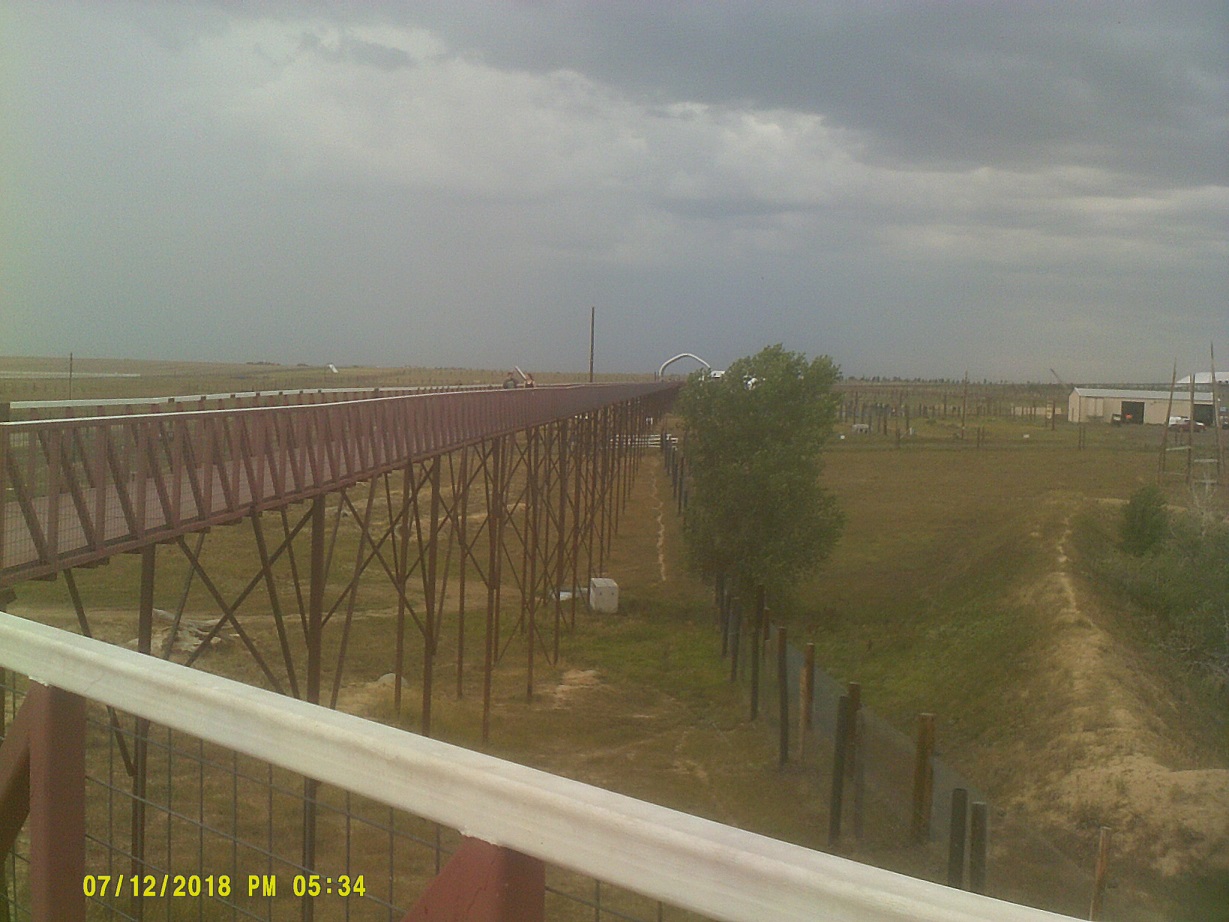 The loooooong walkway (mile-and-a-half, according to Guinness the longest footbridge in the world now)...see it on Street View before the 2016 northern extension into the new visitors' center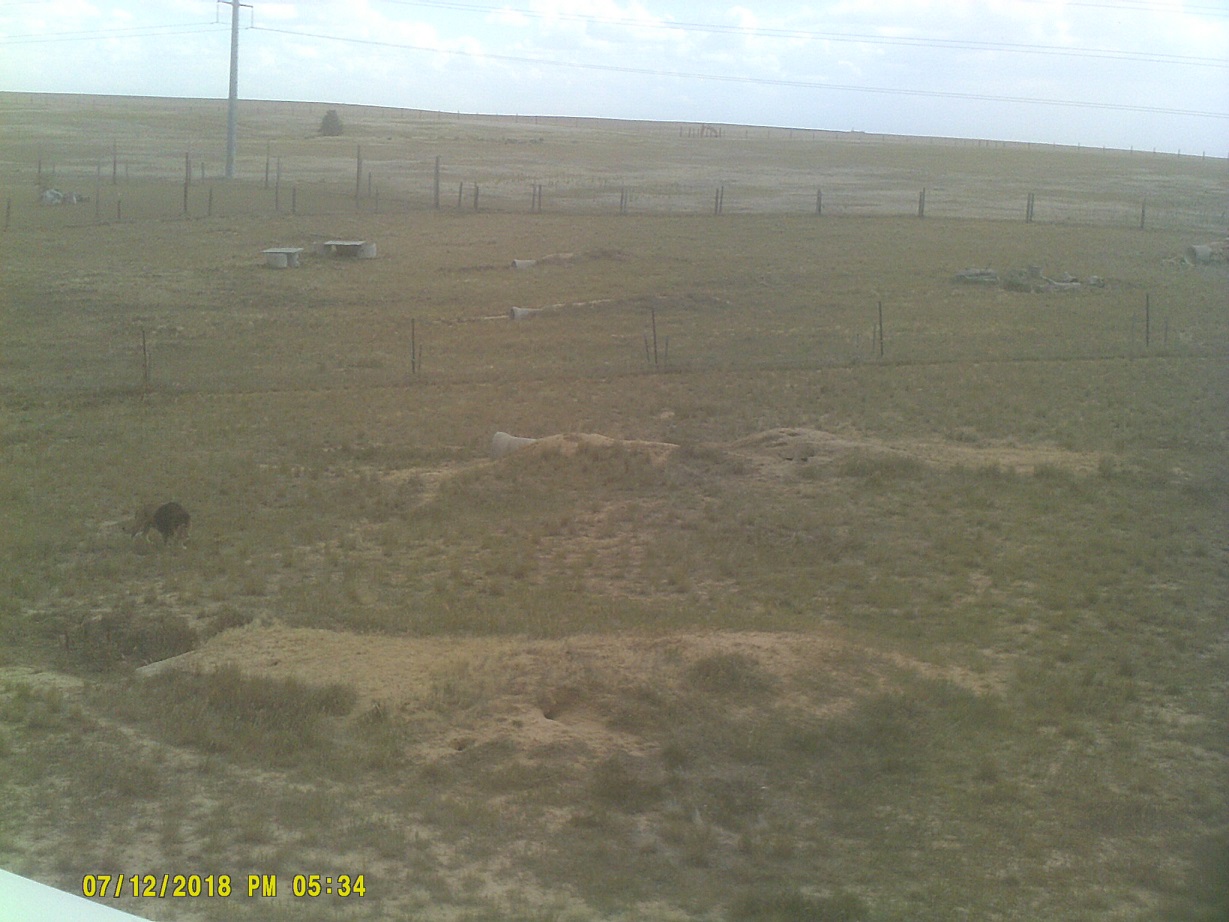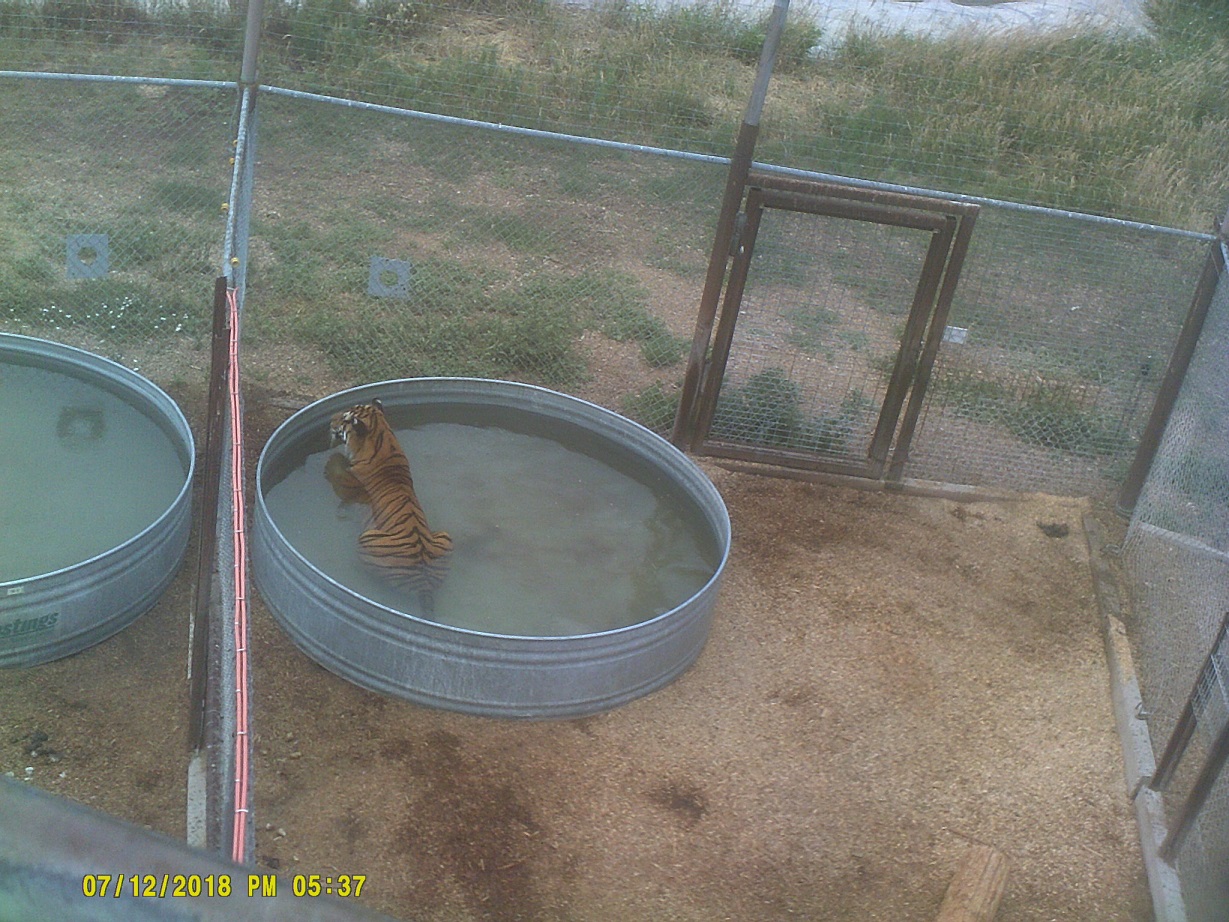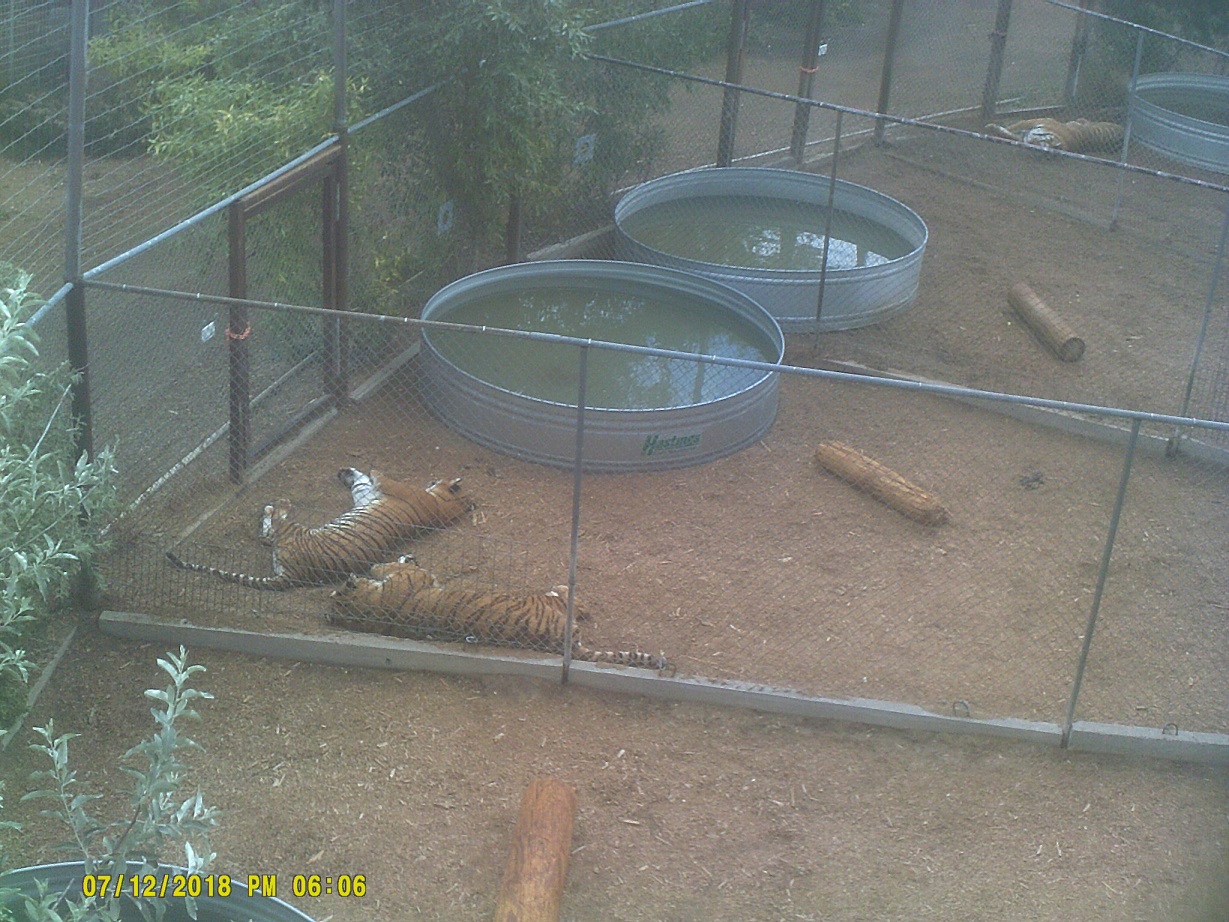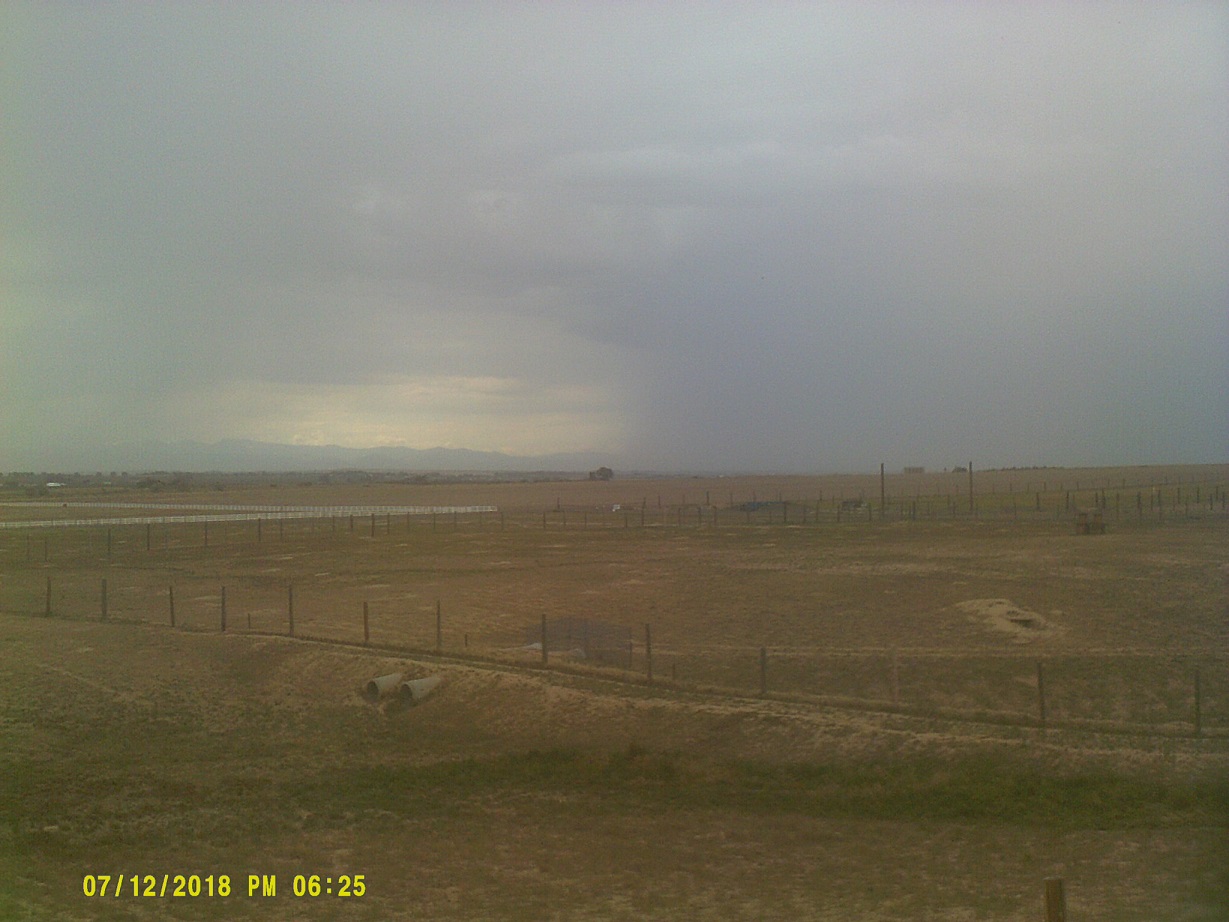 My first live view of the Rocky Mountains since 1989
By the time we got out of there and got into Denver, I realized that there probably wouldn't be time to go through the mountains that day – even if we had gotten through in the daylight, we'd have the sun in our eyes and the glare would spoil the view – so I decided to wander around Denver a bit. I took Colfax Avenue from I-25 westward, going past downtown and ending up at the capitol building.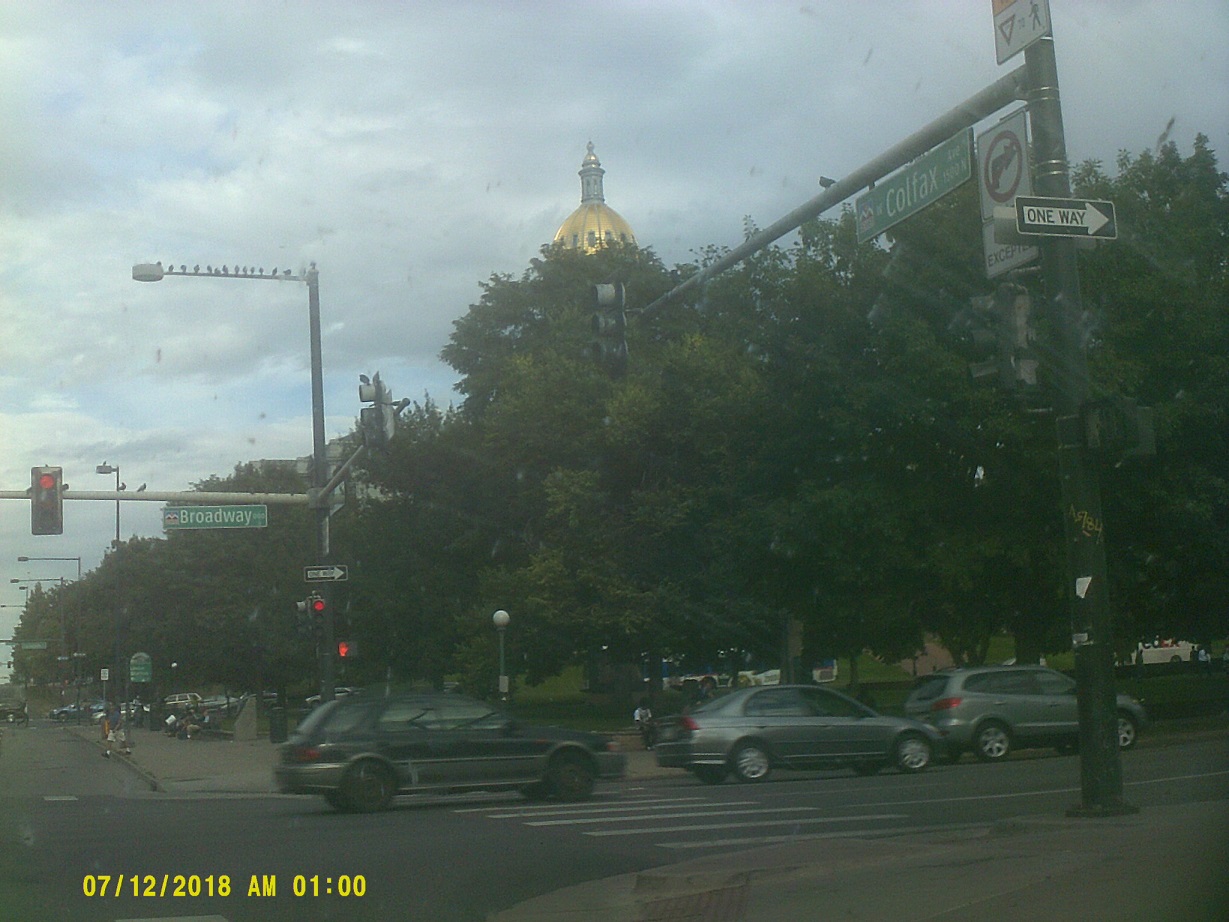 After swinging around back west, I ended up taking us under the Denver Art Museum then encircling Mile High Stadium before reentering I-25 northbound. While I'm not one to be too interested in "clinching" highways – driving them end-to-end – I couldn't help but to want to finish the last few miles of the western I-76, so I headed up past I-70 (thankful for the new version of the Mousetrap interchange) then west on I-76 to its end at I-70, then west on I-70. I had planned to stay around Golden so that the mountains would be right there when we left the next day, but after some driving around I ended up getting turned around and ended up on US-6/6th Avenue, and took that to I-25 southbound, where I got to see the end product of the long-time T-REX construction project. At this time I happened to remember that the satellite system that we had from 2001 to 2008 in Ohio carried Channel 2 for some weird superstation requirement; it was based in the Tech Center so I realized that there might be some place to stay around there. (Channel 2 has moved since.) There were various places to stay but we ended up going further south.
Day 5: Friday, July 13, 2018 (Castle Rock, Colorado to Richfield, Utah)
After cutting back to I-70 via C-470, we made it to the mountains. It wasn't long before we reached the Eisenhower Tunnel, the highest point on the Interstate system. We got to go through the original 1973 tube.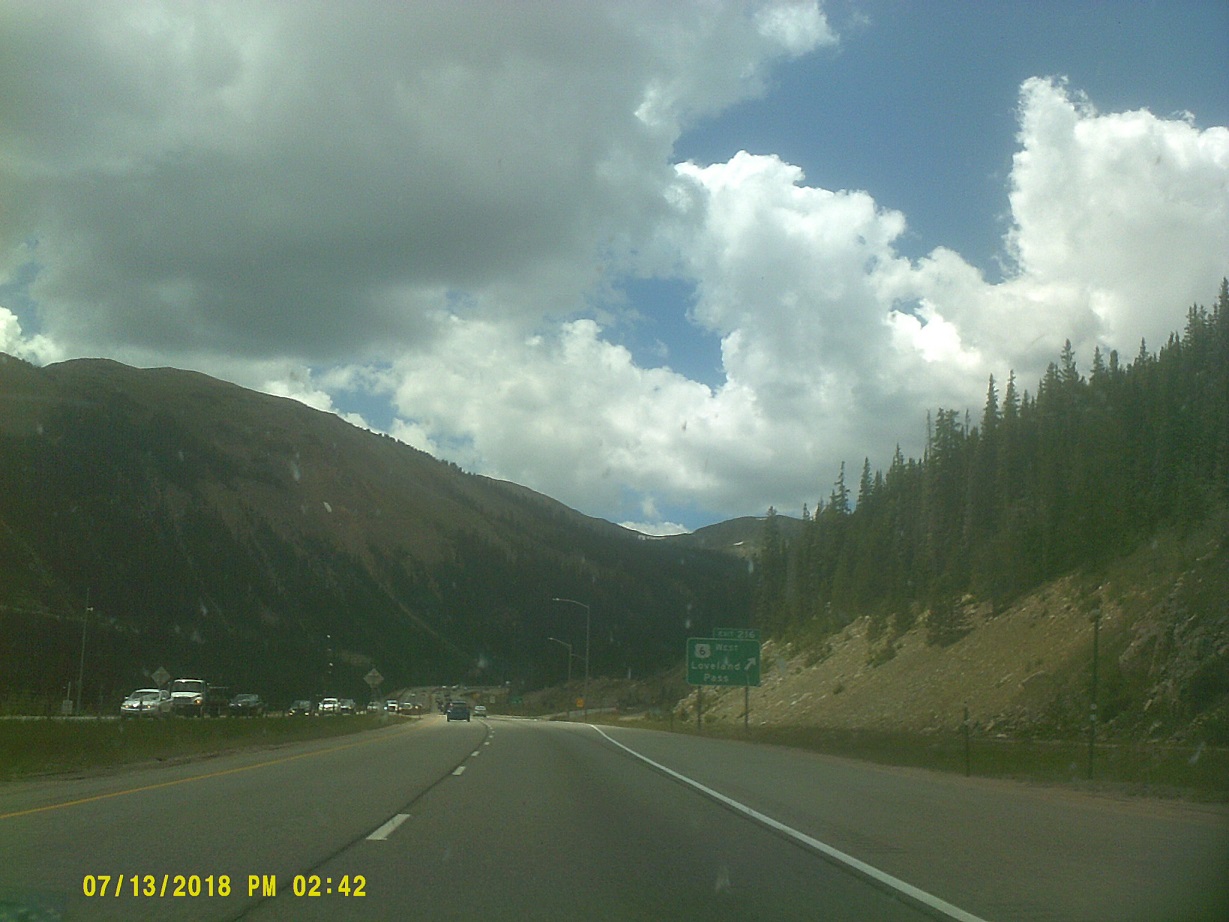 Last exit before the tunnel
There must've been a prohibited vehicle trying to enter the tunnel just before we got there because we encountered a long line of traffic waiting for the red traffic light just before the portal. (Portal is above the pickup truck's hood, signal is just to the portal's right)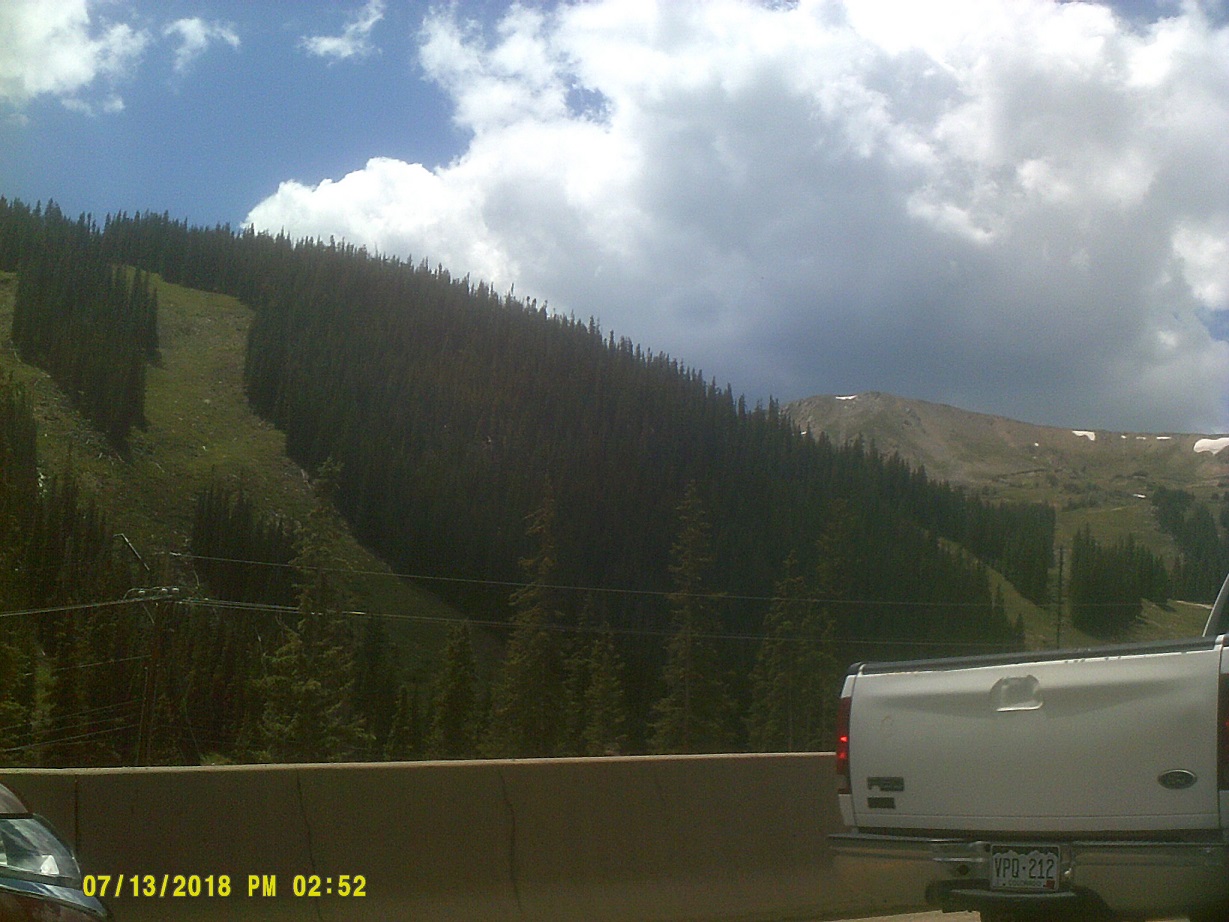 Scenery that we saw while waiting, part of the Loveland Ski Area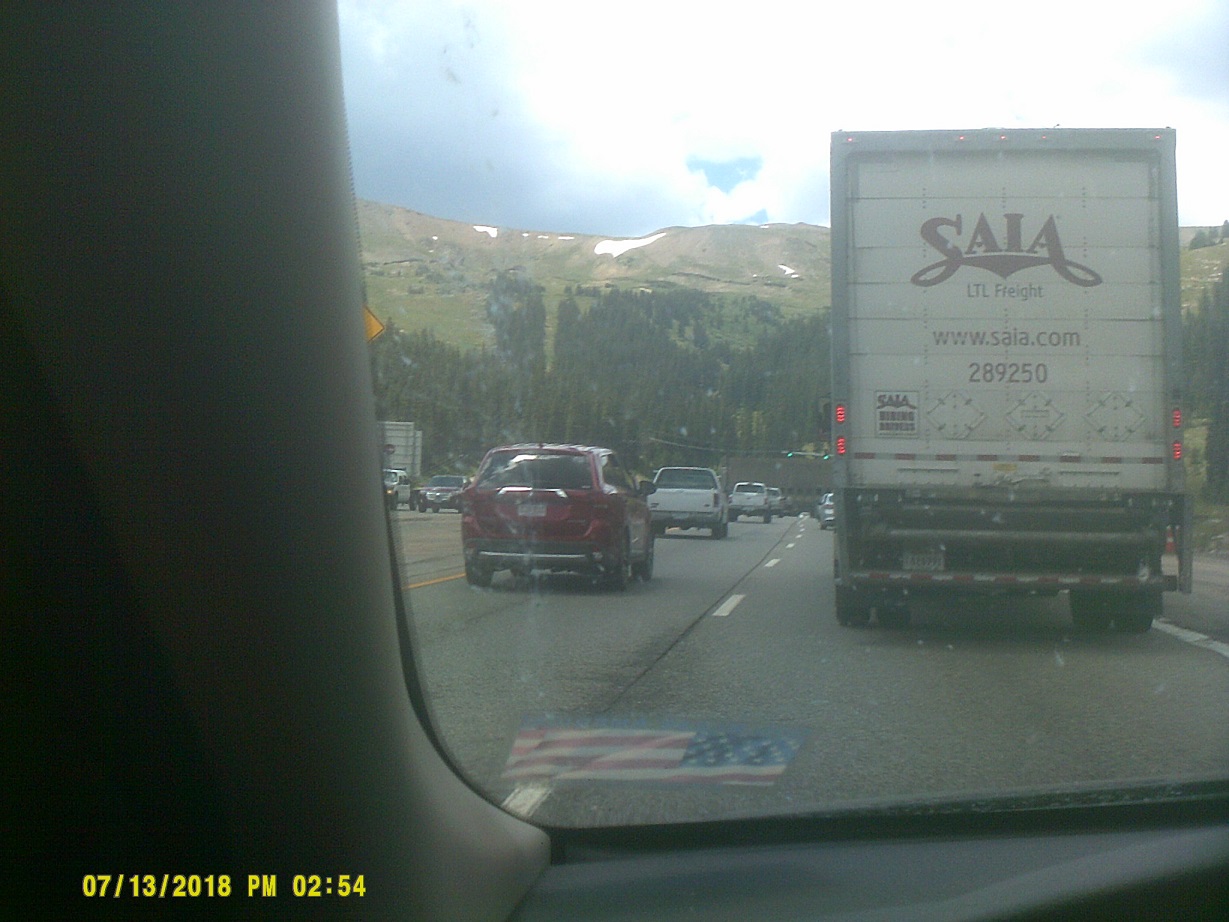 Green light! (Street View)
After a while, we reached the second location along I-70 that I had been waiting to see: Glenwood Canyon. The last time that my family was through, 1982, the project was just getting underway and we had to take the US-6 route that was essentially unchanged for decades. I-70 as built fits neatly in the narrow canyon, if maybe almost a bit too narrow for comfort in at least one place....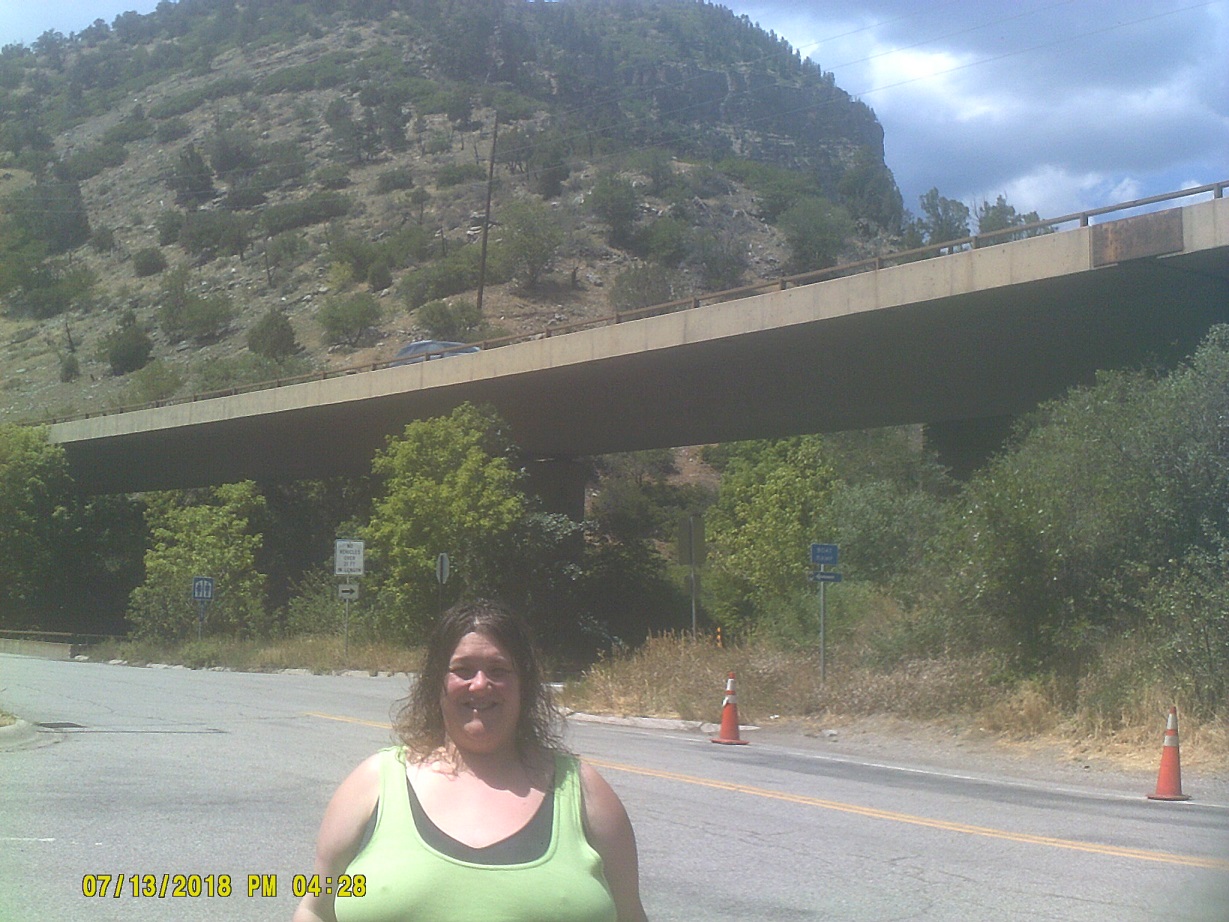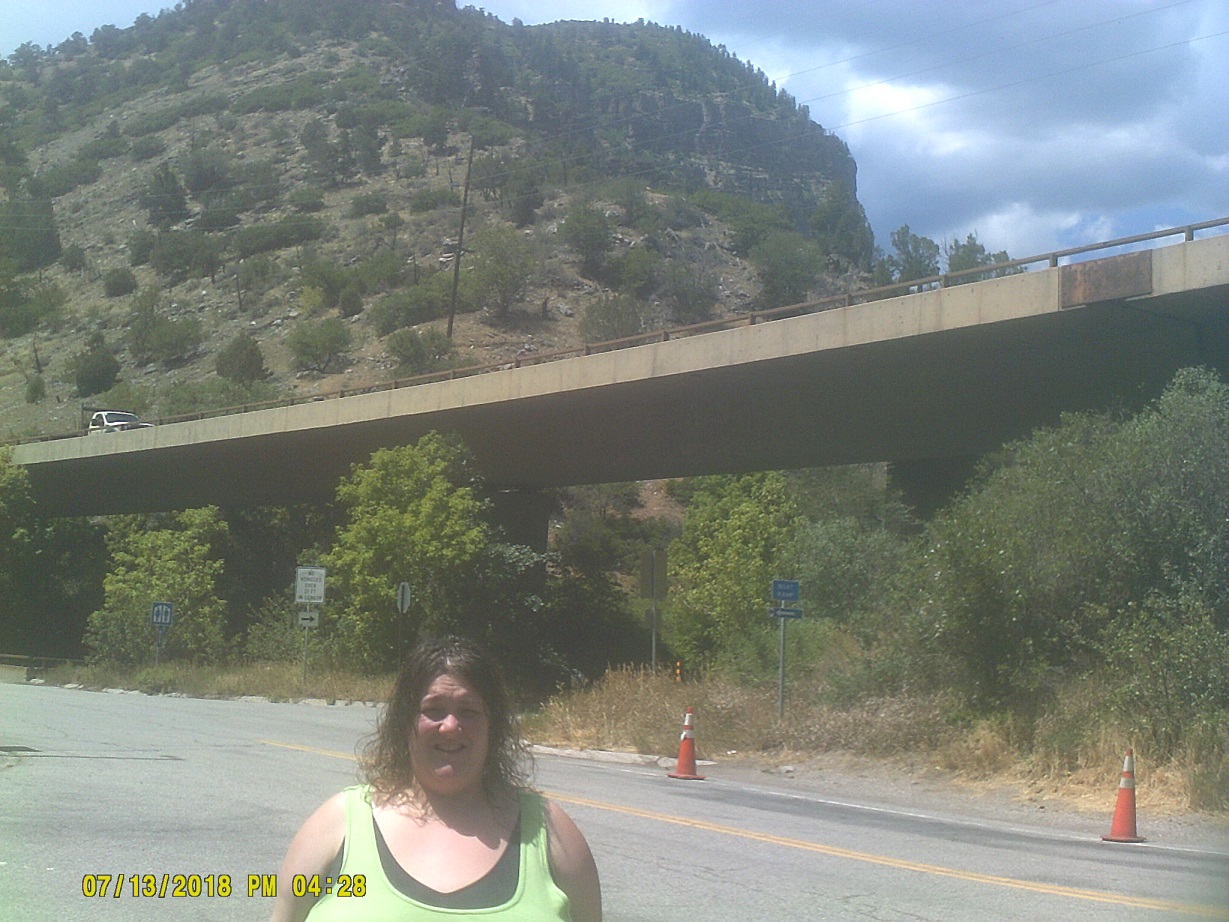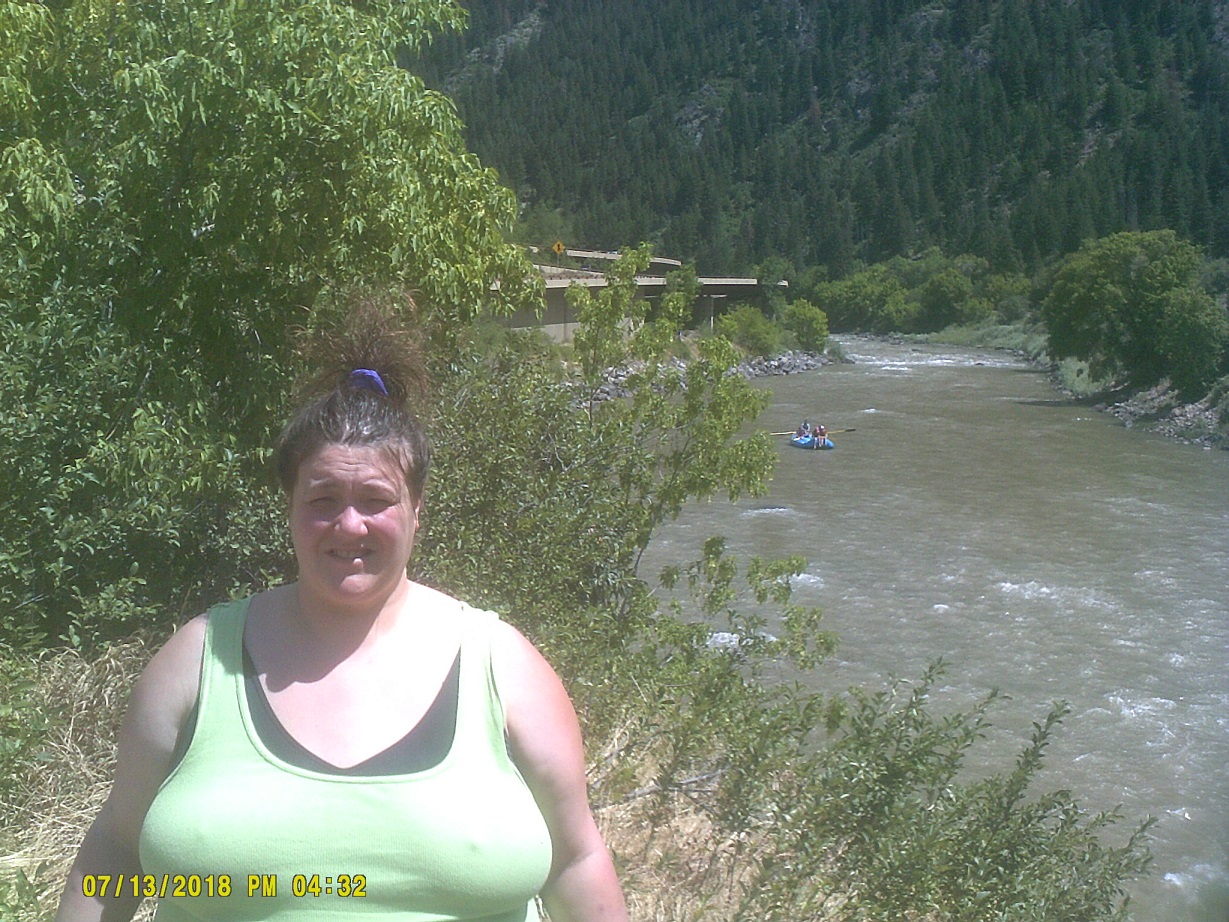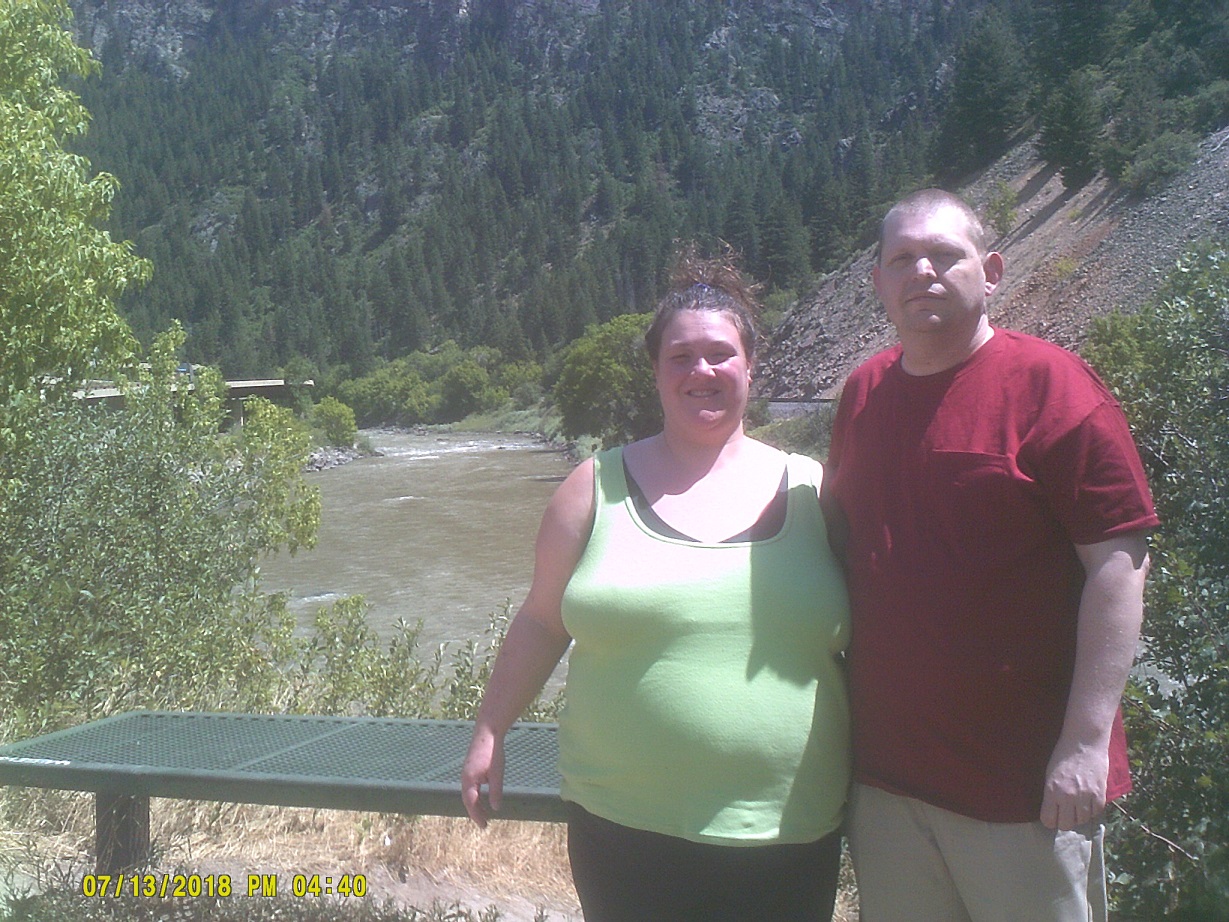 This was at the Grizzly Creek rest area, Exit 121, east side (Street View; view of same location from I-70, in high definition)
Passing Grand Junction (one place where I thought that we might stay if we made it through the mountains, and where my family stayed in 1982), it got more level as we approached Utah. Seeing a sign in nearby Fruita for the Colorado welcome center meant for eastbound I-70 traffic but accessible to both directions (see above), I thought that I could try again to get a shot of the iconic Colorful Colorado sign that I missed the day before. They didn't have one! I took a picture anyway – the scenery was still nice – and topped off the gas tank before heading into the more desolate Utah.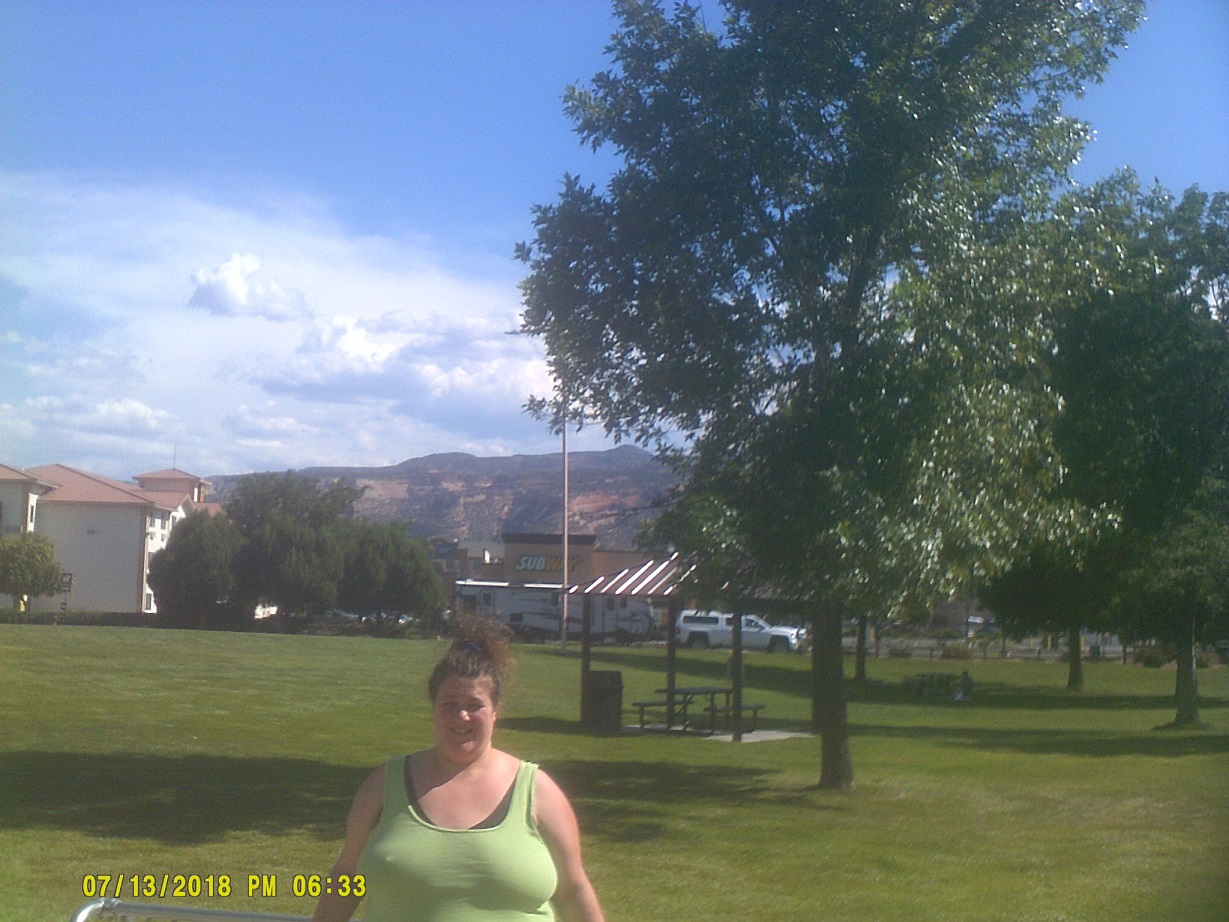 Into Utah. It's another 80 mph state!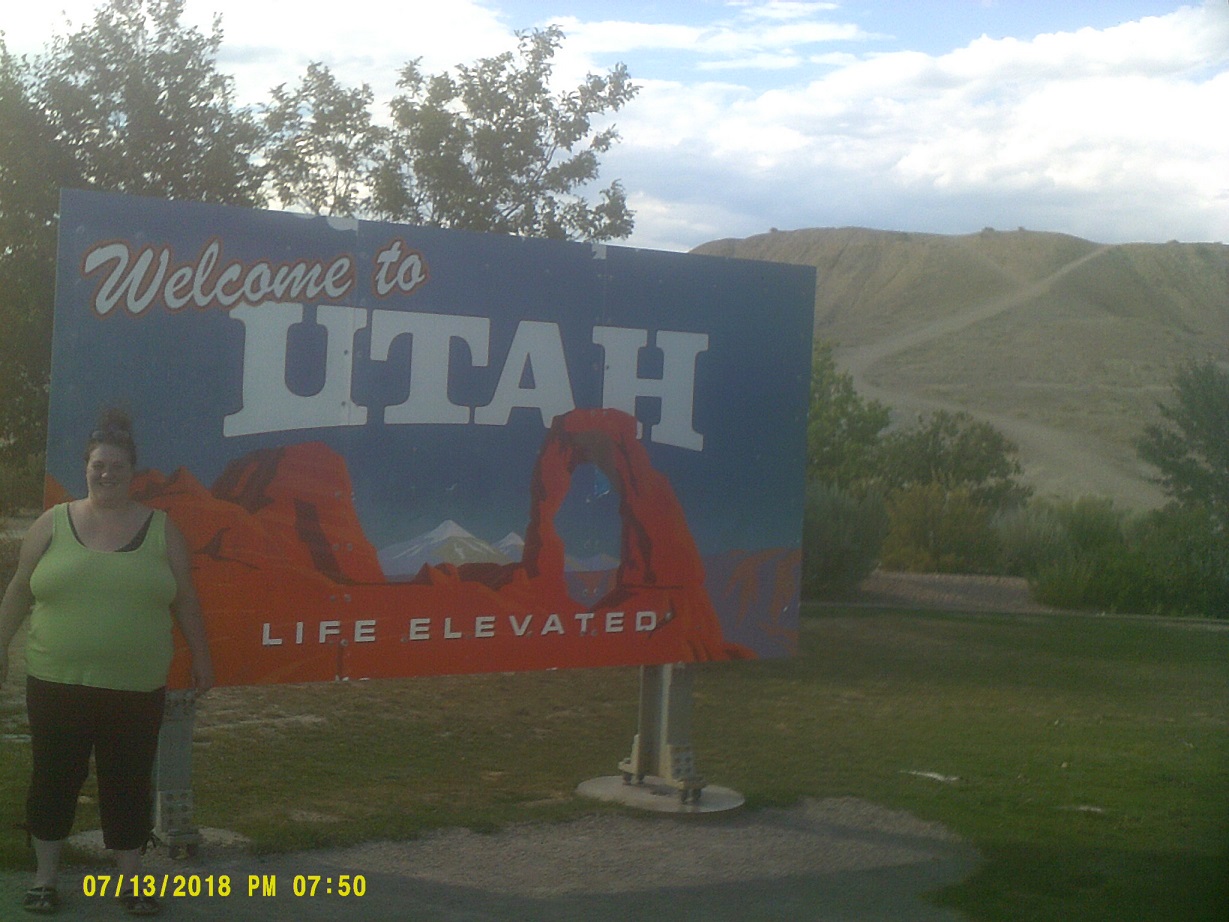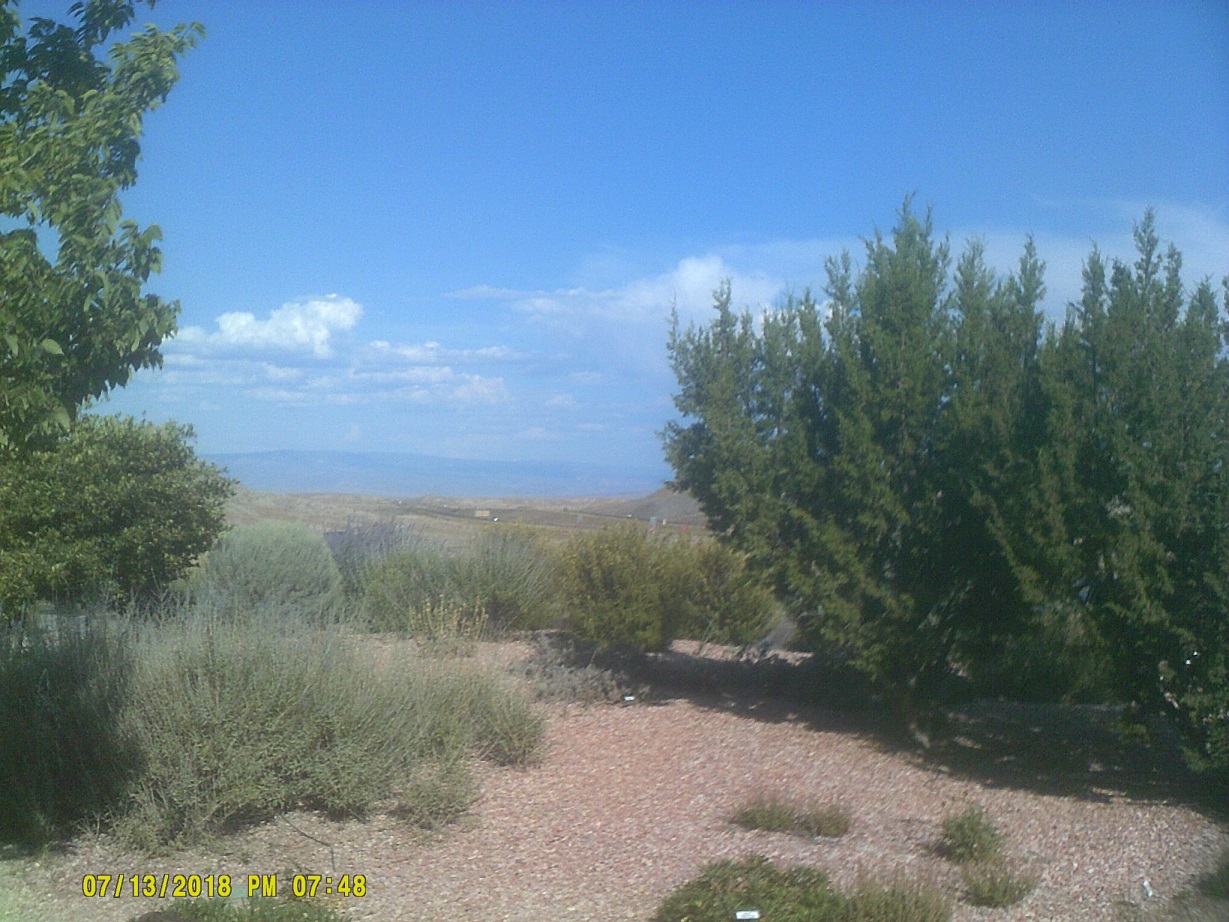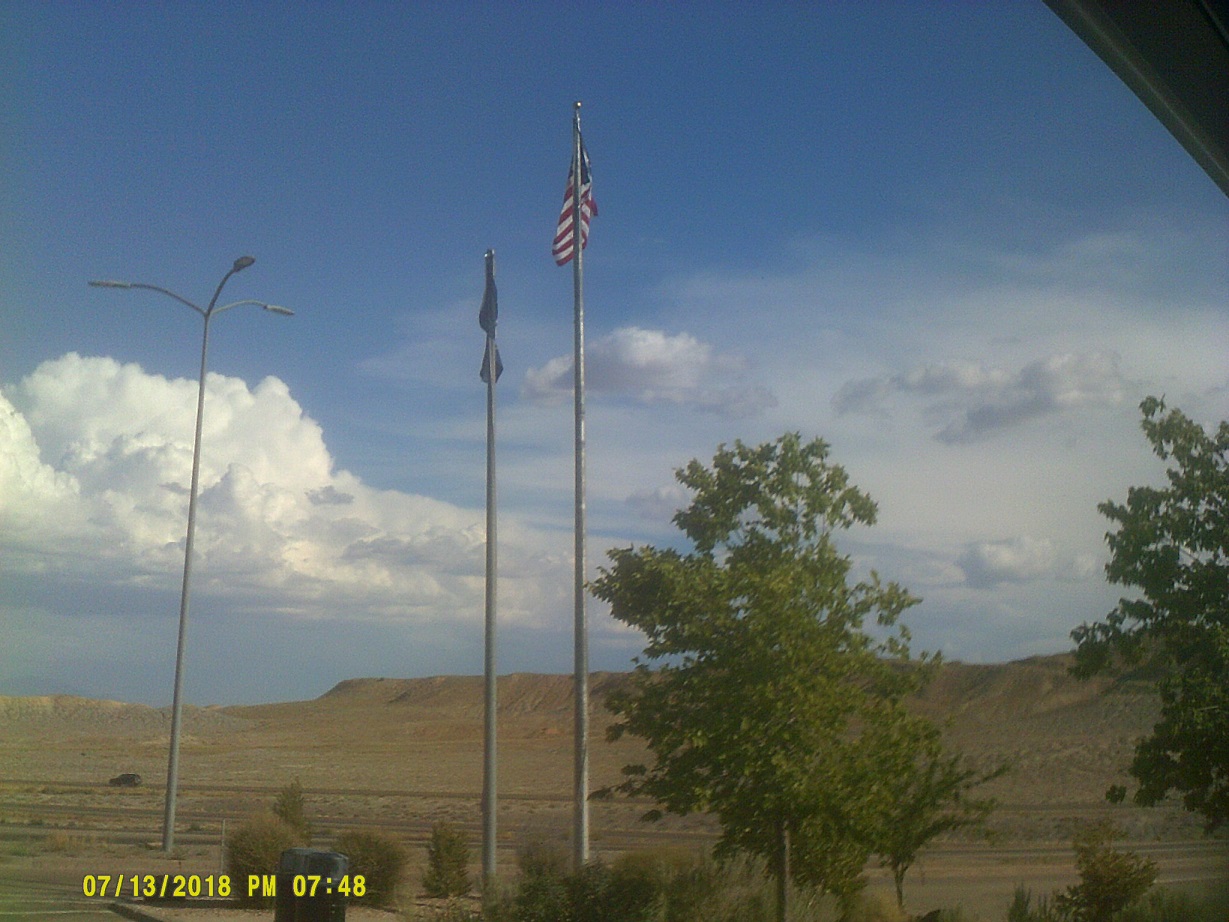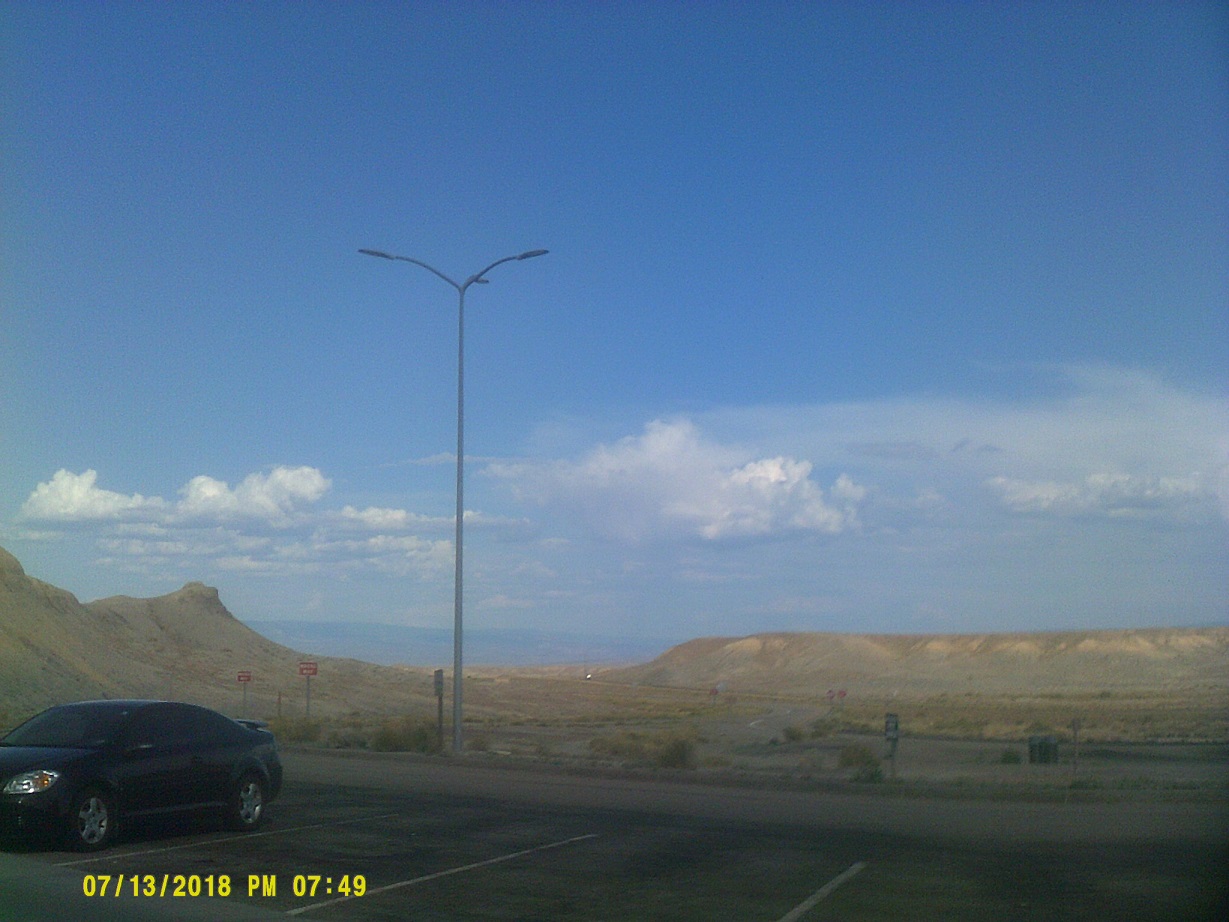 Scenes from Utah's welcome center
After it got flatter we could occasionally see the old alignments of whichever highway I-70 happened to follow (if in fact I-70 hadn't engulfed it), emphasized by original old bridges here and there.
At this point I had a choice to make. Thinking that California might be out of the question on this trip, I had planned to turn south on US-191 past Arches National Park to cut southwest through Monument Valley to the Grand Canyon. However, I gave us a second chance by continuing west, planning on taking US-89 south later on if I still thought that getting to California was too much of a long shot.
Having travelled I-70 in Utah with my family in 1982, I remembered well the long stretches without services (hence the fillup in Fruita), having been reminded about them here and there since. However, I completely forgot about the wonderful scenery along those stretches – I misremembered them as being featureless. It rivals Arches, so I didn't feel so bad about bypassing that. The approach to the San Rafael Swell landform is especially dramatic, being called "the Squeeze" (Street View), rivalling and probably surpassing in majesty the cut very close to I-70 on the other side of the country.
New York has Text Stops; Utah has Drowsy Driver rest areas in case the scenery gets to be too much to take in for drivers (*signage history from 2004, the DS9-24 and DS9-25 series for those keeping track).
After reaching Richfield, we saw that San Diego was only three hours farther than the Grand Canyon from that point, so we realized that it was still a viable option.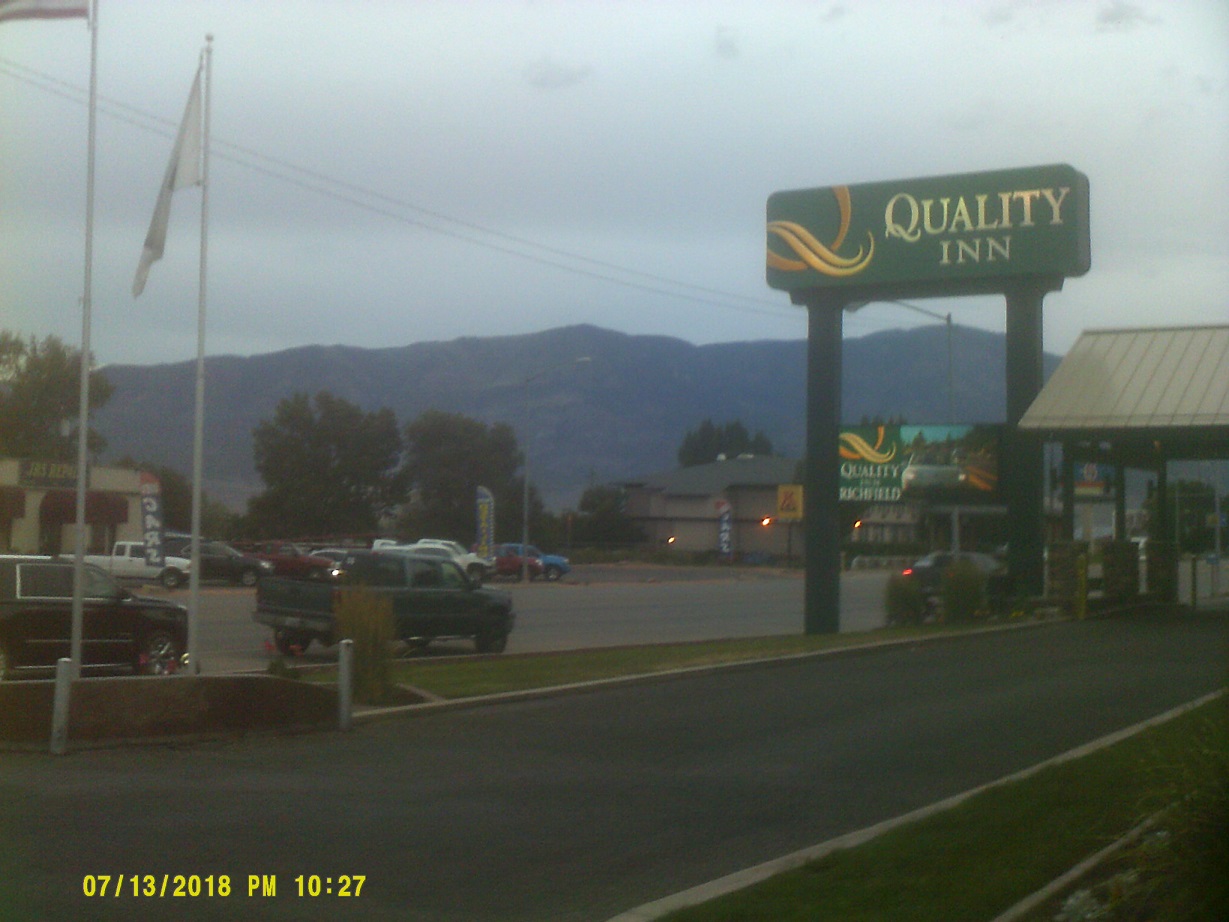 Along historic US-89 (US-89 now runs with I-70 here). It was another motel next to a steakhouse, but we were more conservative with our menu choices this time around.
Day 6: Saturday, July 14, 2018 (Richfield, Utah to Escondido, California)
The decision to go to California was final when we got to the US-89 southbound interchange and kept going on I-70 to I-15. (Yes, we could have backtracked through Zion National Park, which incidentally my family visited in 1979, but close enough.)
We stopped for gas in Cedar City. I opted to take the old road back to I-15 rather than negotiate a left turn, but ended up delayed anyway due to a *local festival. At the south side of town I went through a diverging diamond interchange for the first time (I had gone under one in Missouri in 2013 and would go under another one there later in the trip).
Enter Mountain Standard Time, three hours behind Eastern
We cut through the northwest corner of Arizona where everybody forgets that I-15 runs but where it has memorable scenery.
Enter Pacific Daylight Time, still three hours behind Eastern
We drove through Las Vegas without stopping – except for a backup in a *major construction project, which includes the interchange with I-515/US-93/US-95 (even though that highway is to become Interstate 11 soon, and already is marked that way not too far to the south, there was nary a mention of the designation yet on I-15). Not surprisingly the casinos and other attractions on the Strip have been expanded right up to I-15.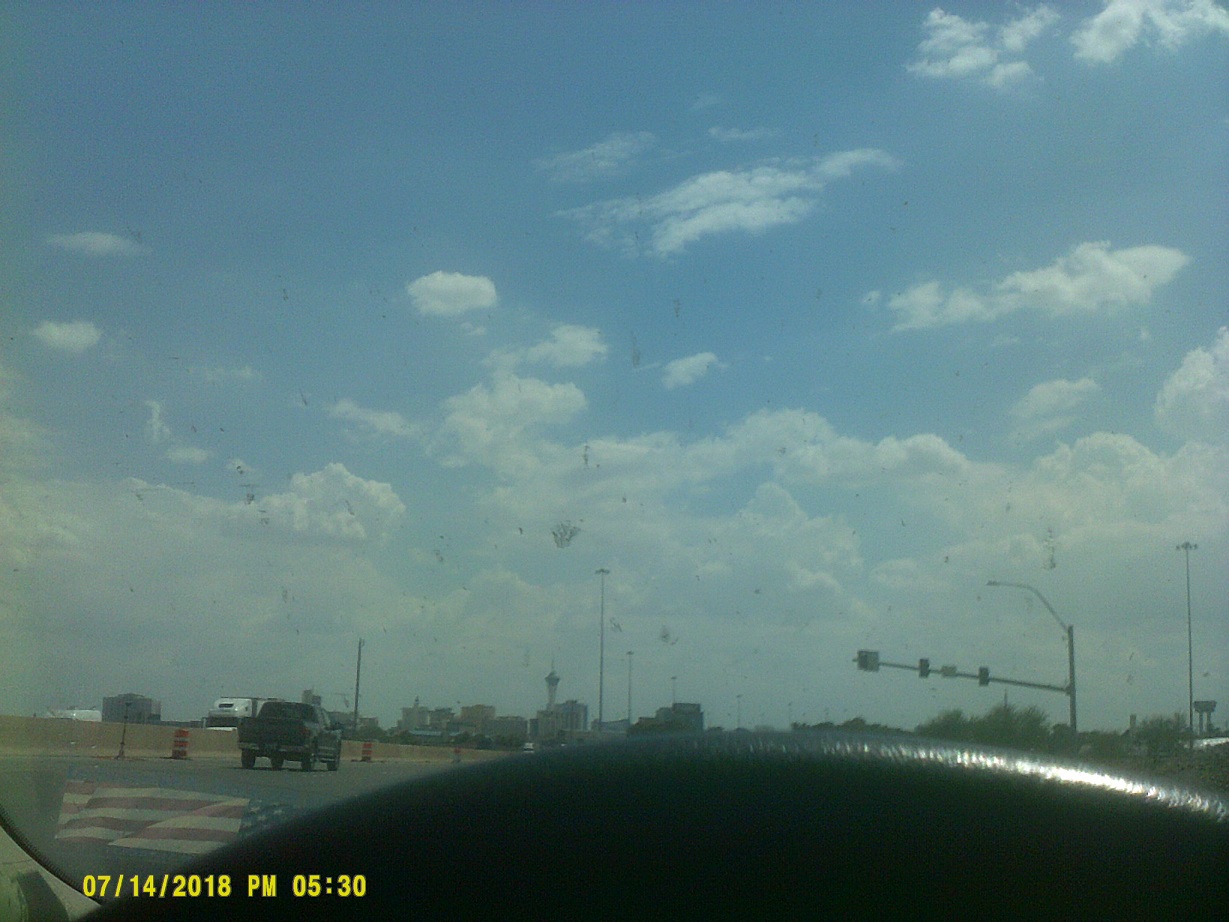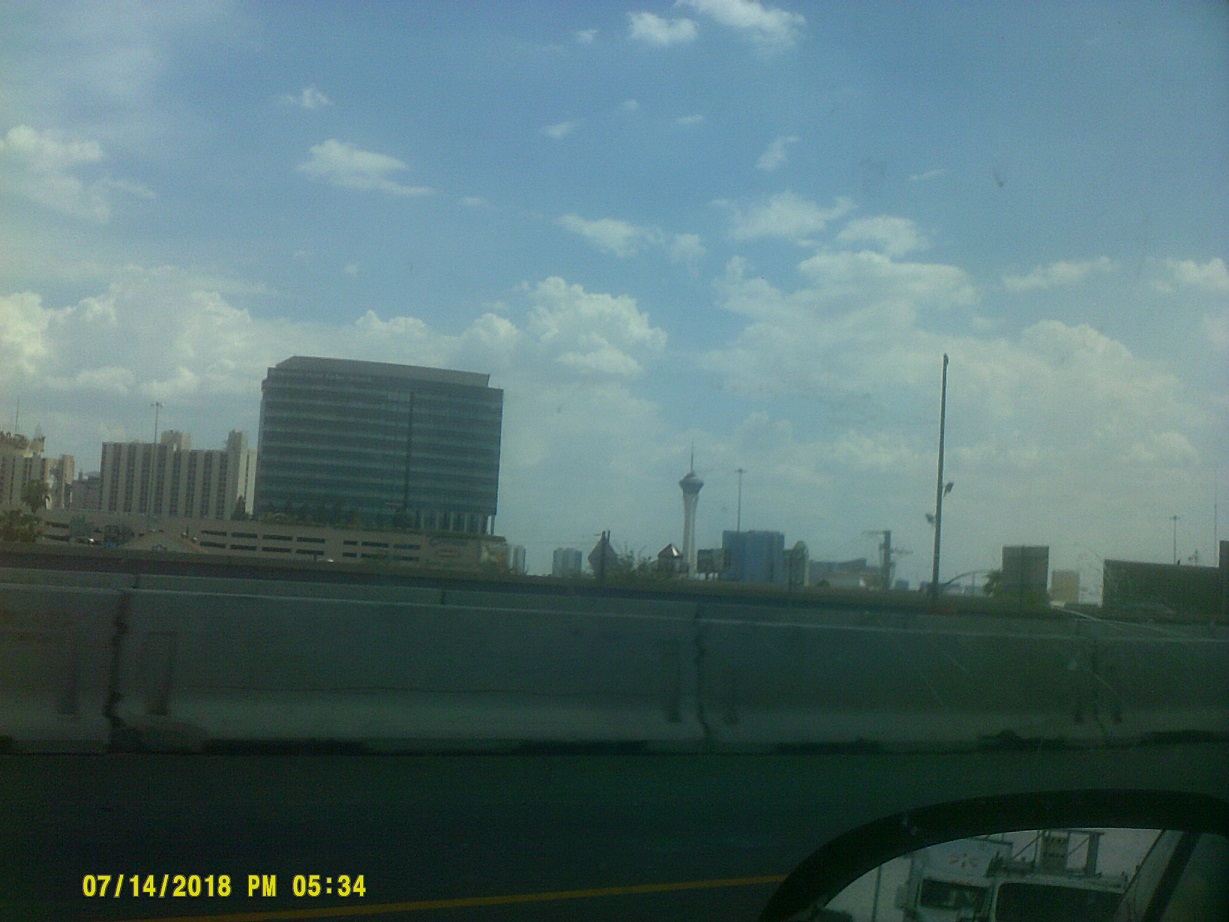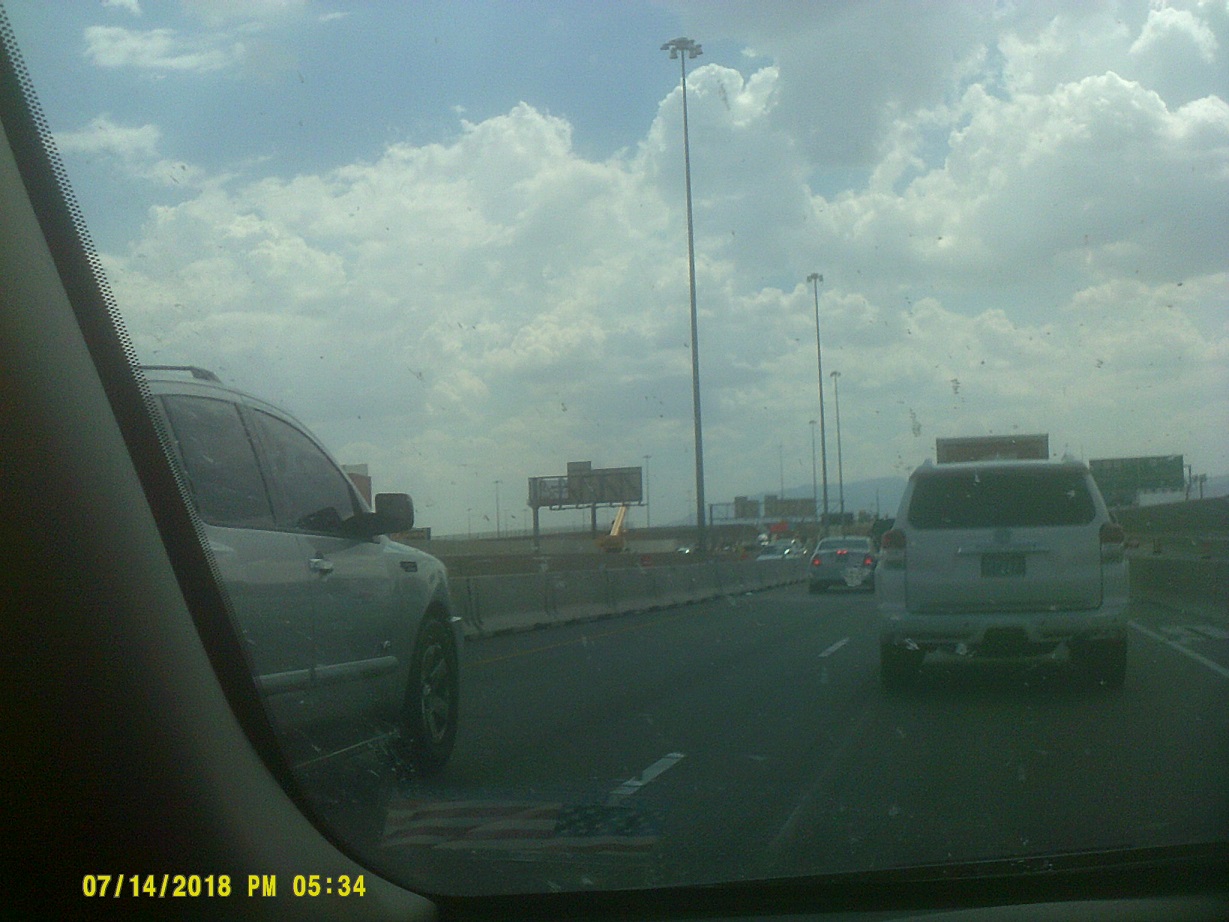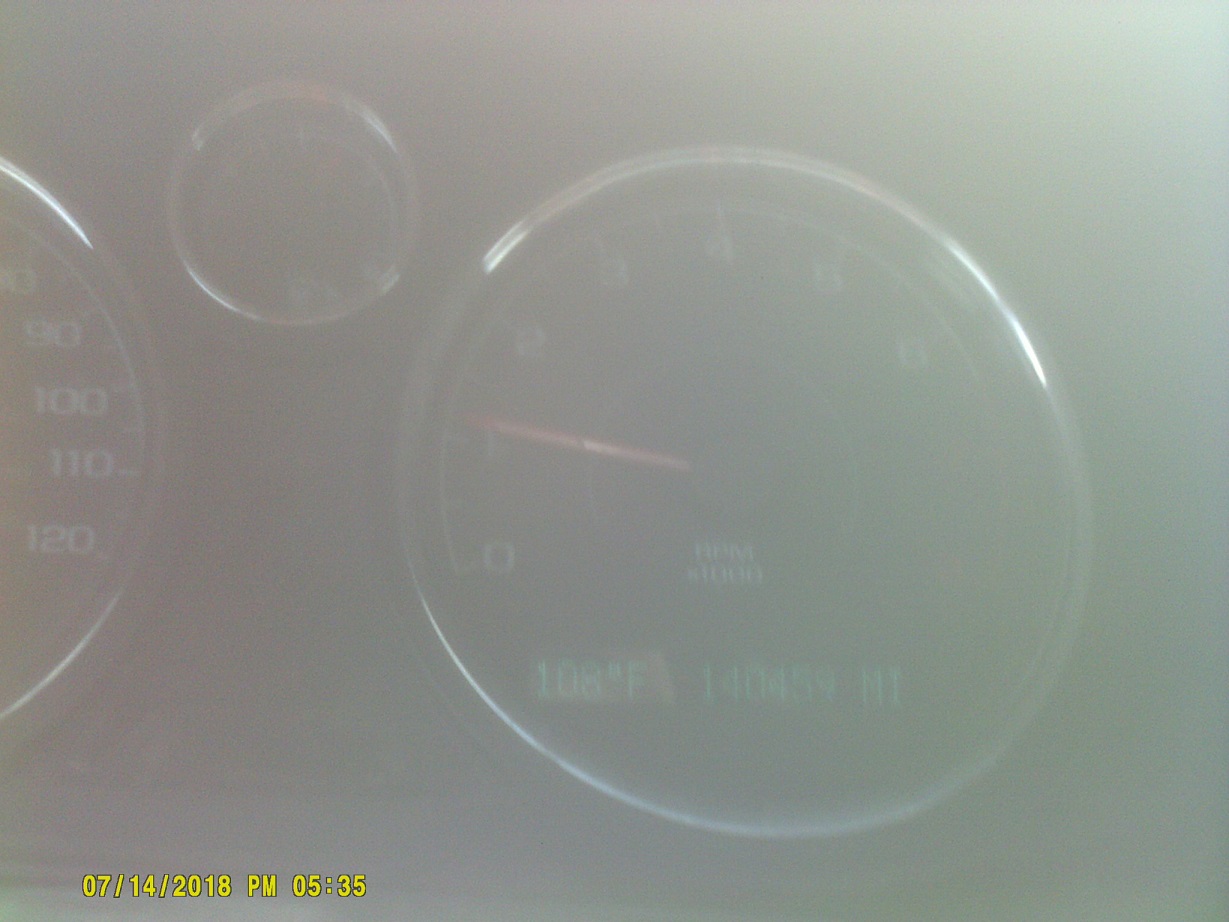 Into California.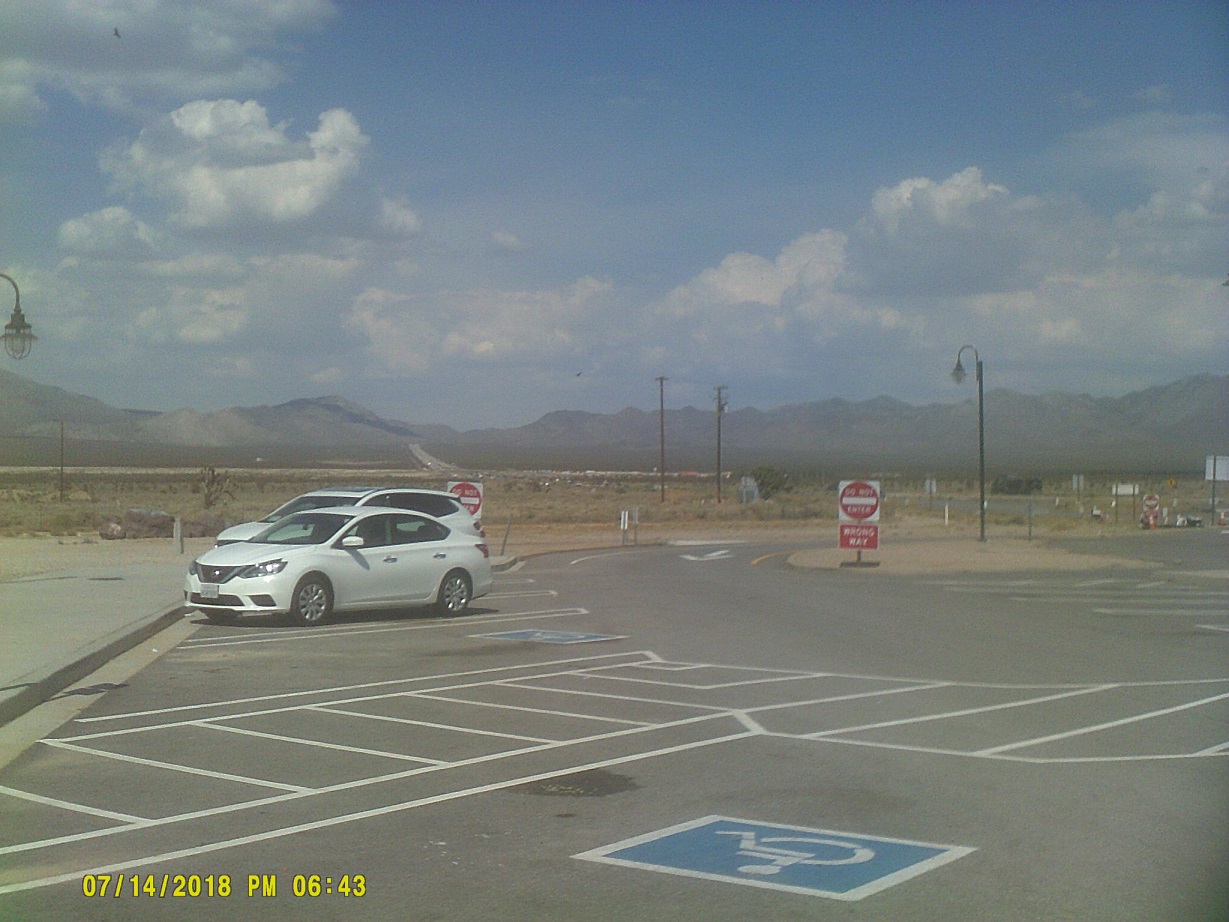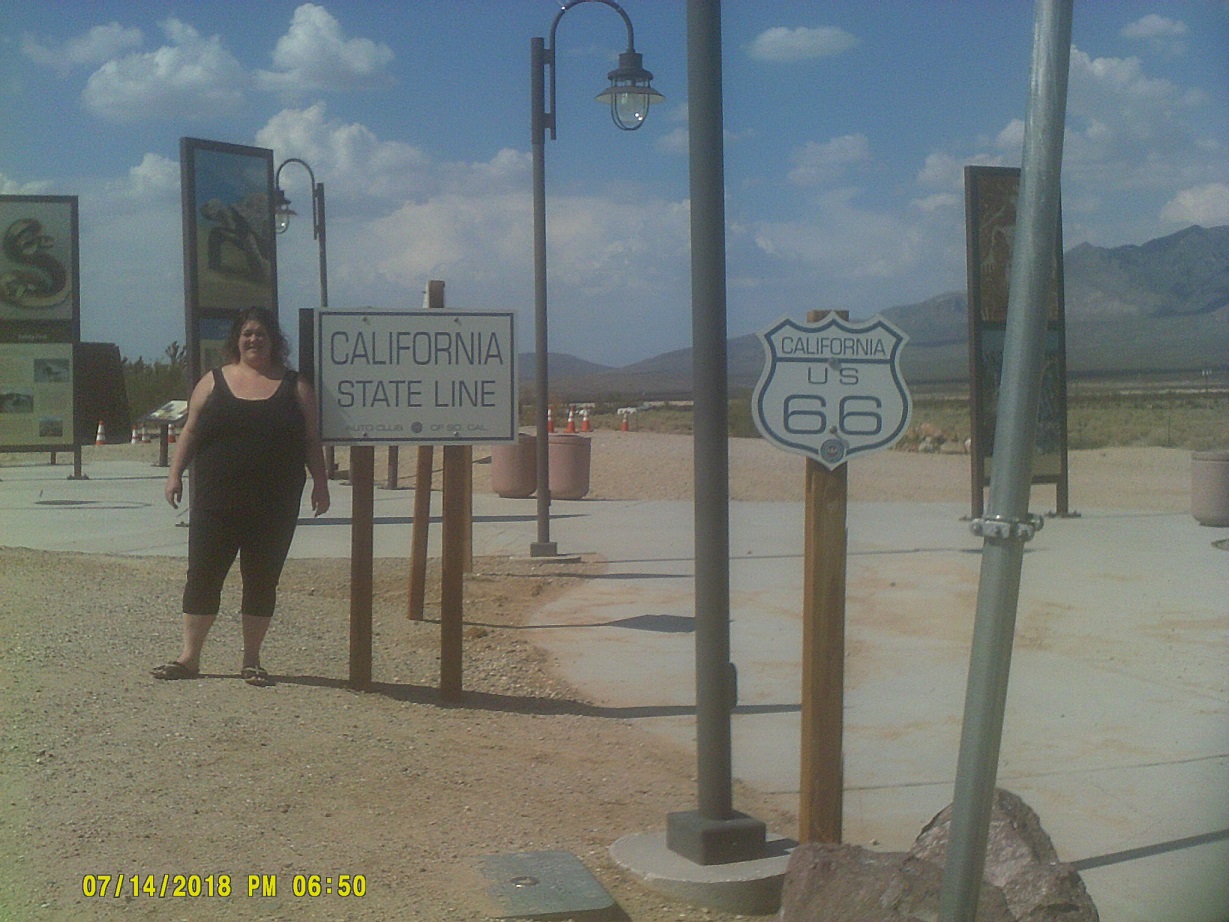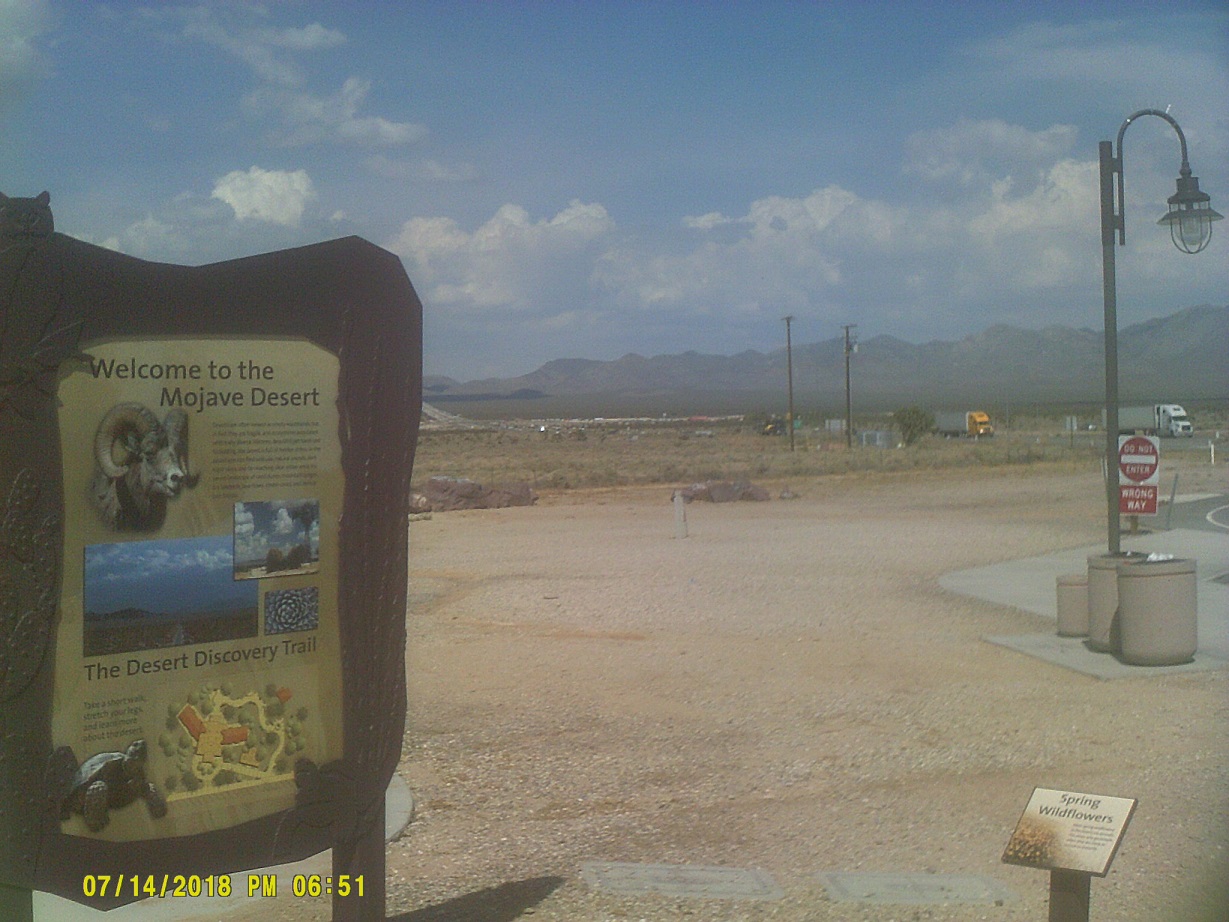 Scenes from the first rest area on I-15, in the desert as pictured, where no water was available at the time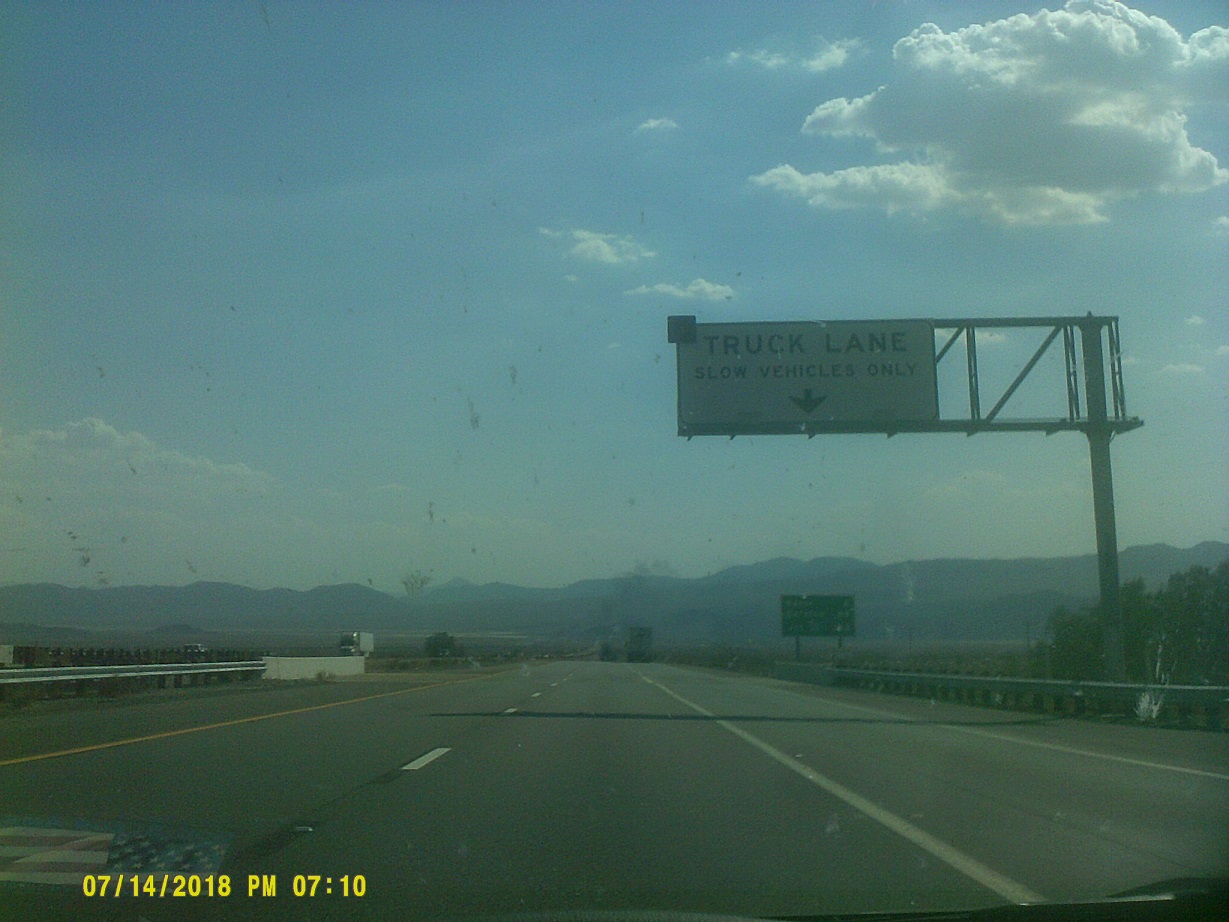 Approaching Baker. I thought that the smoke might be from a wildfire, but it was actually from a semi trailer that had caught fire along I-15. Navigating the ensuing backup is why I don't have a picture of Baker's famous giant thermometer reading 113 degrees (114 by my car's thermometer).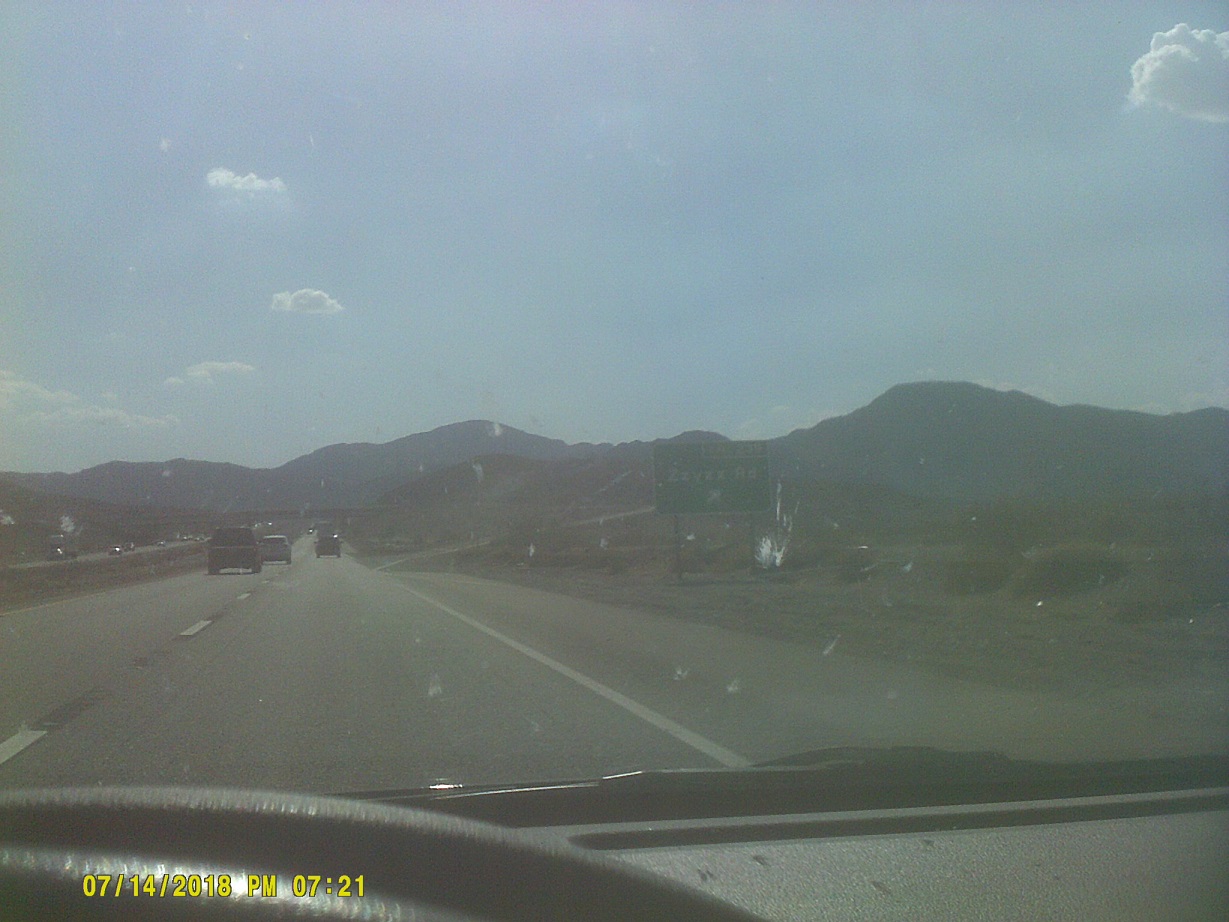 I'm a roadgeek, I had to get a photo of the Zzyzx Road exit.
California still has agriculture inspection stations along its highways; ours was just north of I-40. We were waved through.
We stopped at the California welcome center in Barstow, which is unusually situated in the parking lot of an outlet mall.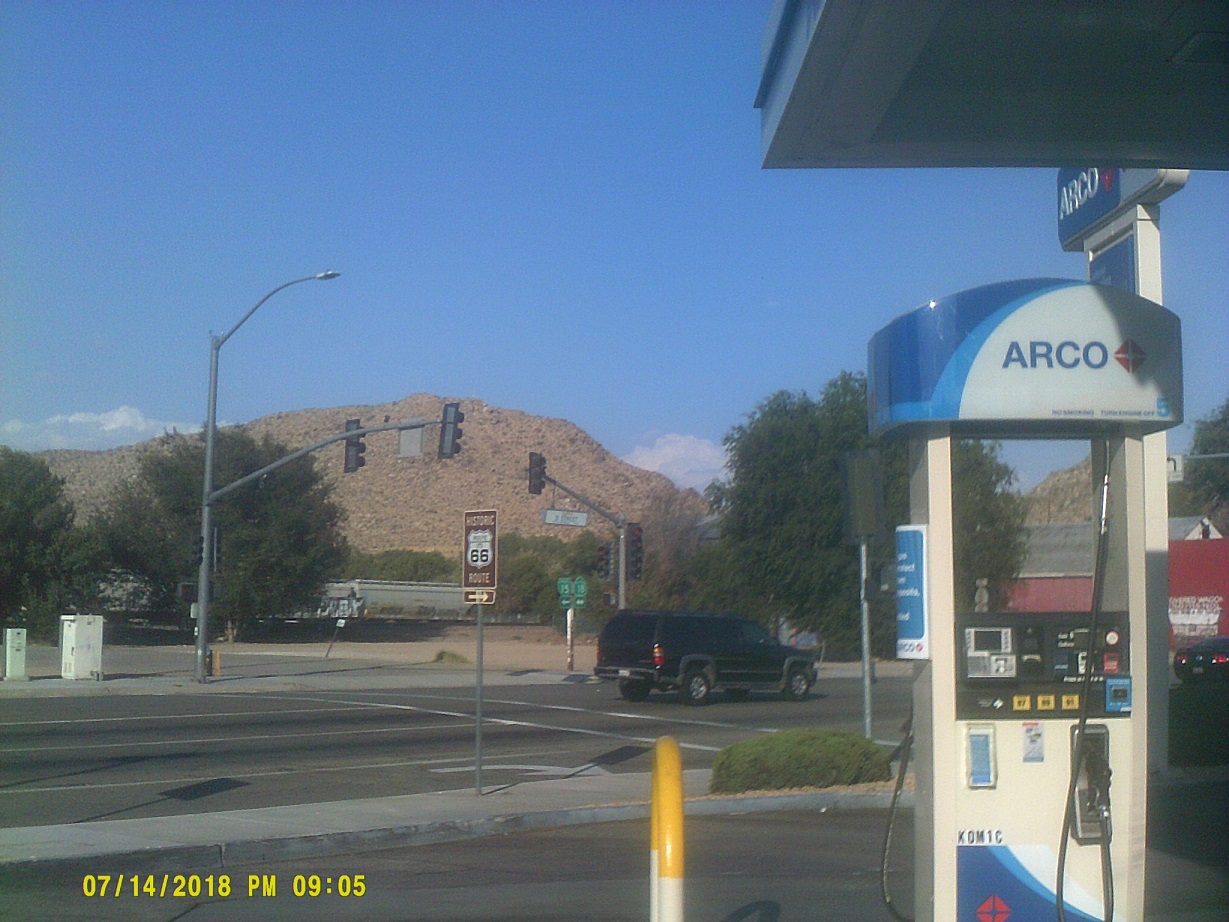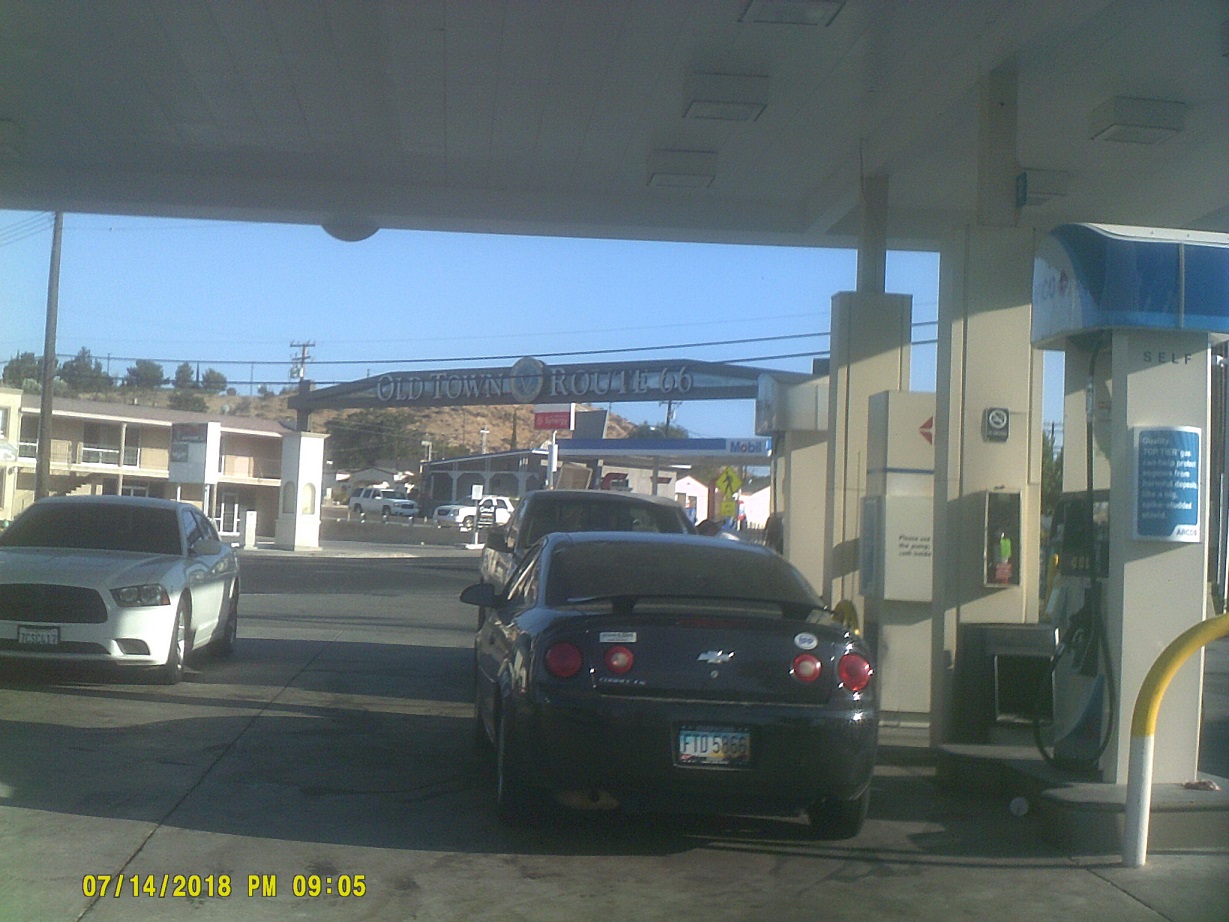 Victorville. This is the first of my Route 66 photos (note my license plate, which I failed to include in my *2013 photos the last time that I travelled the 66 corridor). I didn't plan this – because of sparse signage at the SR-18 exit due to construction, I exited one exit early for gas and this is where I ended up. Unfortunately, downtown Victorville has seen better days. When there are bars on the windows and doors of most businesses, things are not going well (just a word of caution to 66 explorers). There would be more to come on the trip relating to 66. (Of course the route has been well documented – as a sample, see *here and *here.)
While I was expecting more traffic congestion approaching the more built-up parts of Southern California, we only had a brief backup just before I-15 and I-215 split, at Cajon Pass. While sitting in traffic we could observe the old US-66/US-91 routing (which had picked up US-395 by this point) in the canyon below. Unfortunately we also saw the sign and few remains of the Route 66 landmark Summit Inn which burned down two years ago. More about driving here: It really wasn't bad at all, just crowded as to be expected. The only negative that I encountered was with exit-only lanes. I was keeping to the right, which for the most part was OK, except around exits. Most had exit-only lanes; the problem arose because sometimes the exit-only lane branched off to the right before the exit; sometimes the right lane became the exit-only lane. It wasn't that CalTrans didn't give any warning; they consistently included *THRU TRAFFIC MERGE LEFT and *RIGHT LANE MUST EXIT signs; the first warning, though, was the dashed line to the left becoming a series of short dashes (also standard in most places), which was a bit more subtle, and even if I noticed it right away, there wasn't always opportunity to move to the left. However, at least two drivers took exception to my being there, even though I might not have been able to move anywhere else.
More comments about California roads: There are still a lot of the old signs that you might see in old TV shows or movies, but plenty of new ones, too. The exit numbering is coming along, though sometimes the number is just on the gore sign (the sign in the point where the ramp leaves the mainline). There are also dual mile/kilometer mileage signs still scattered around. I also noticed something new to me, and can't figure it out: Just before exits, the white line on the right side of the freeway ends, while at the same time, another begins at the edge of the pavement, curves to where it should go, then immediately follows the exit ramp. Example Finally, there's barbed wire around exit signs. I didn't notice this on other trips.
As much as I tried to see Los Angeles when crossing over I-10, I couldn't, it was just too far away.
I had been hoping to get us to the Pacific Ocean before sunset, but it got too late.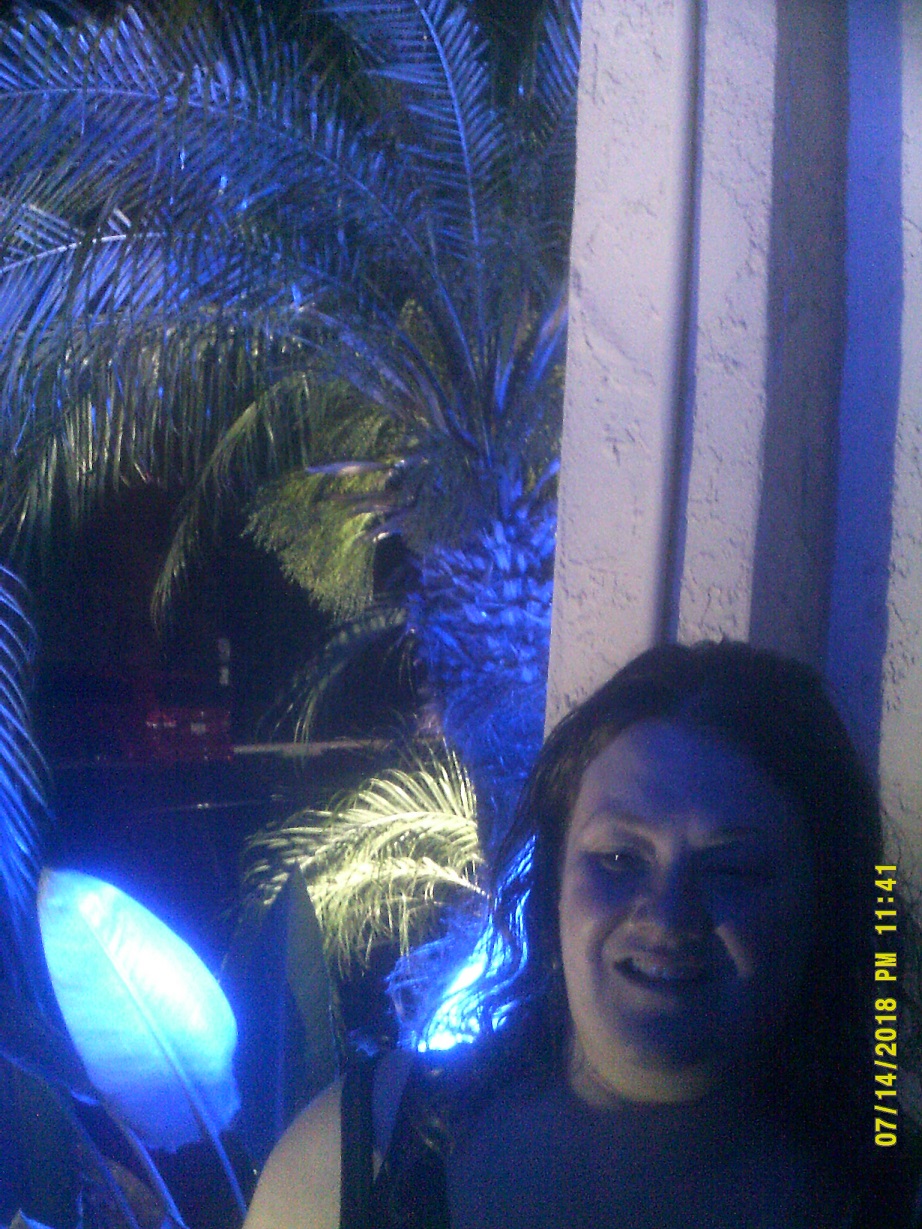 On the patio of the room in the motel in Escondido, just north of San Diego. Adjacent was an In-N-Out Burger, our first time trying the local tradition. Very good.
Day 7: Sunday, July 15, 2018 (Escondido, California to Ontario, California)
To the San Diego Zoo. We took SR-163, which is historic at the south end by the zoo. After exiting, I saw a historic 395 marker on the road to the zoo entrance. To get a local's perspective on this highway, go *here, *here, or *here. This road also carried US-80 for a while. The historic part of 163 also carried 80 and 395 for a time.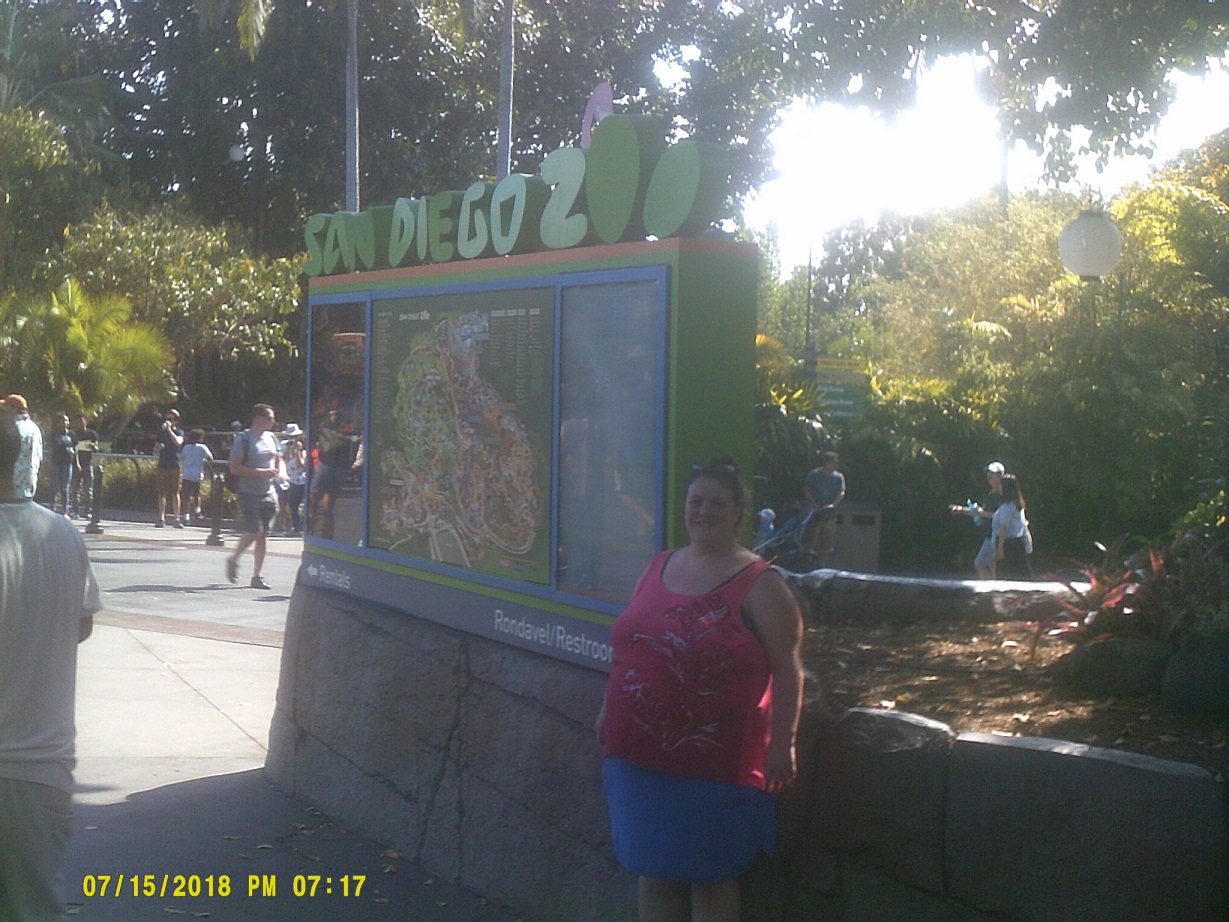 Yes, I opened this set of photos with one we took on the way out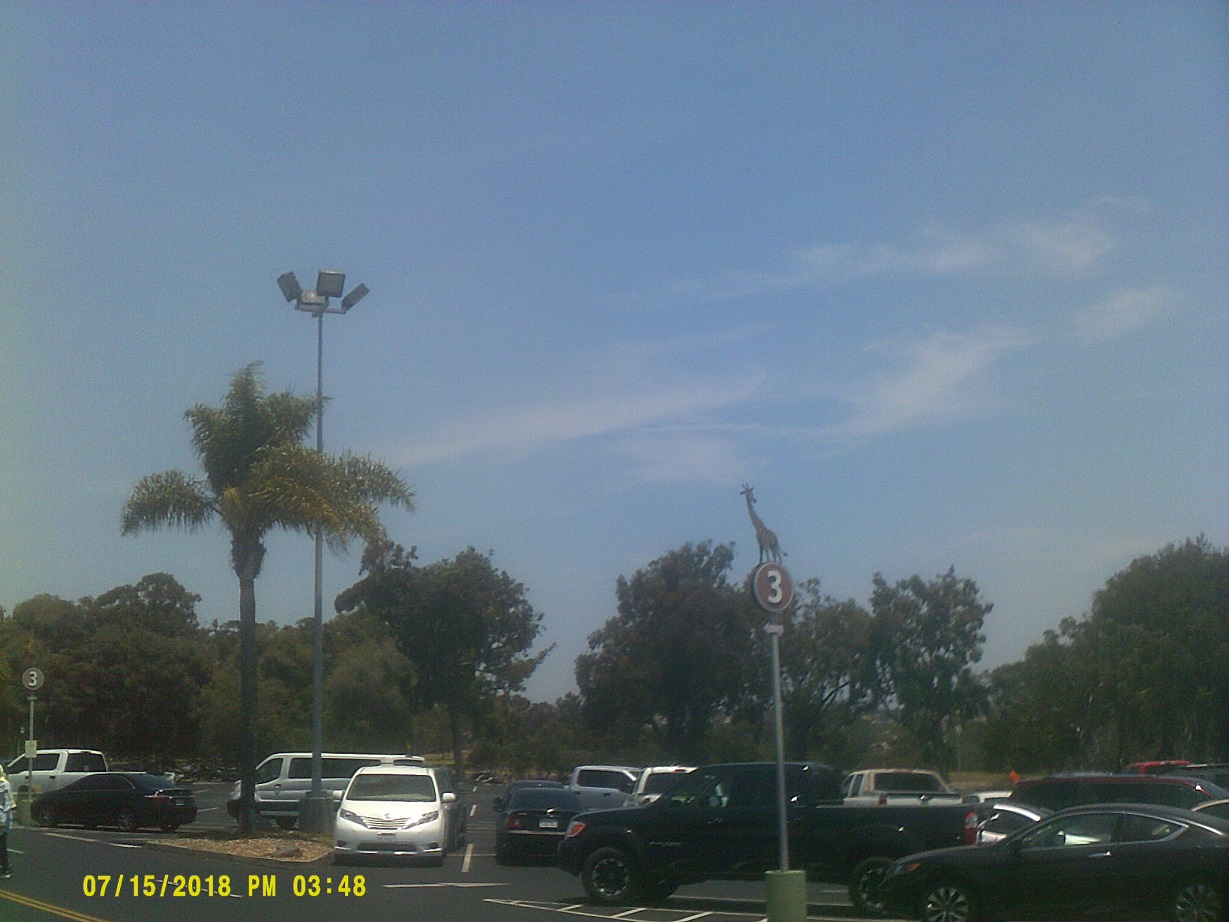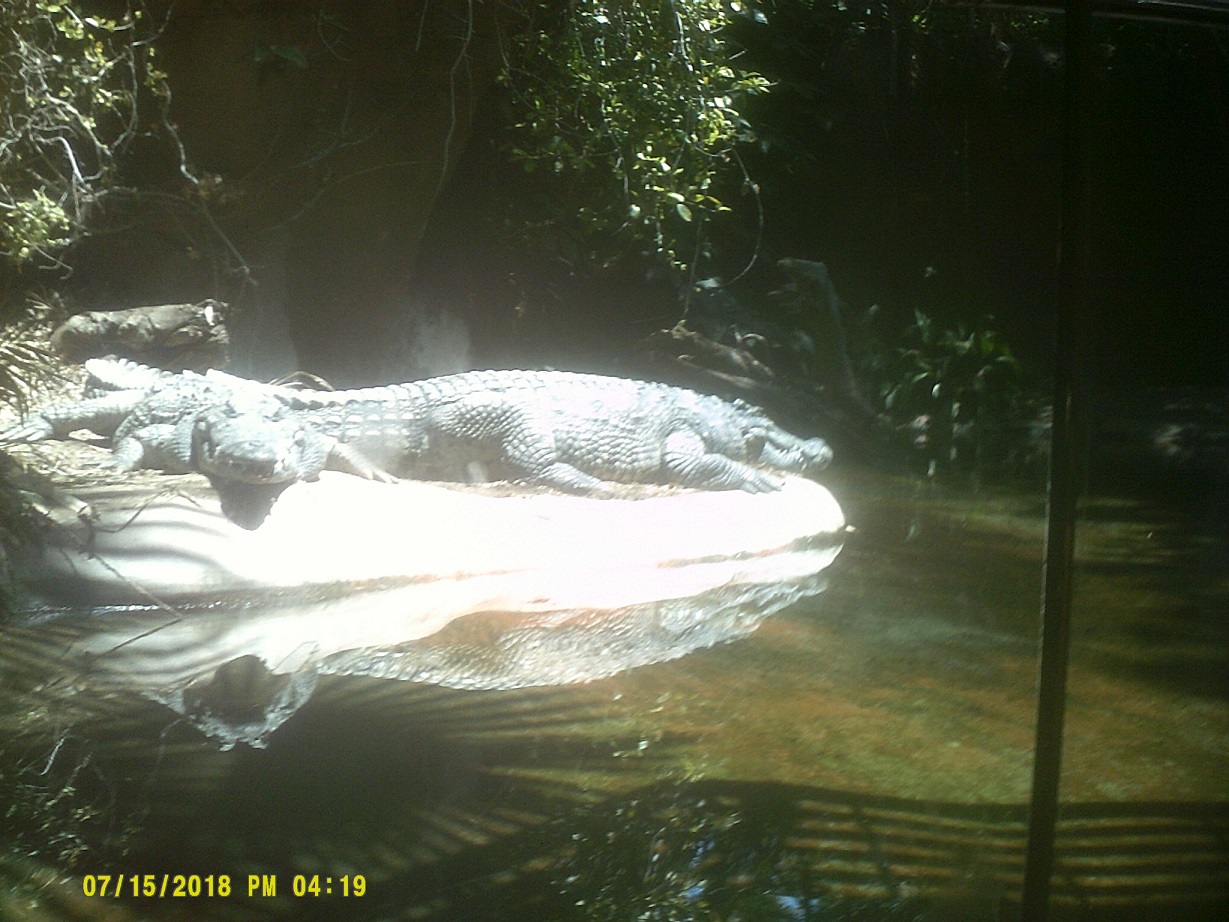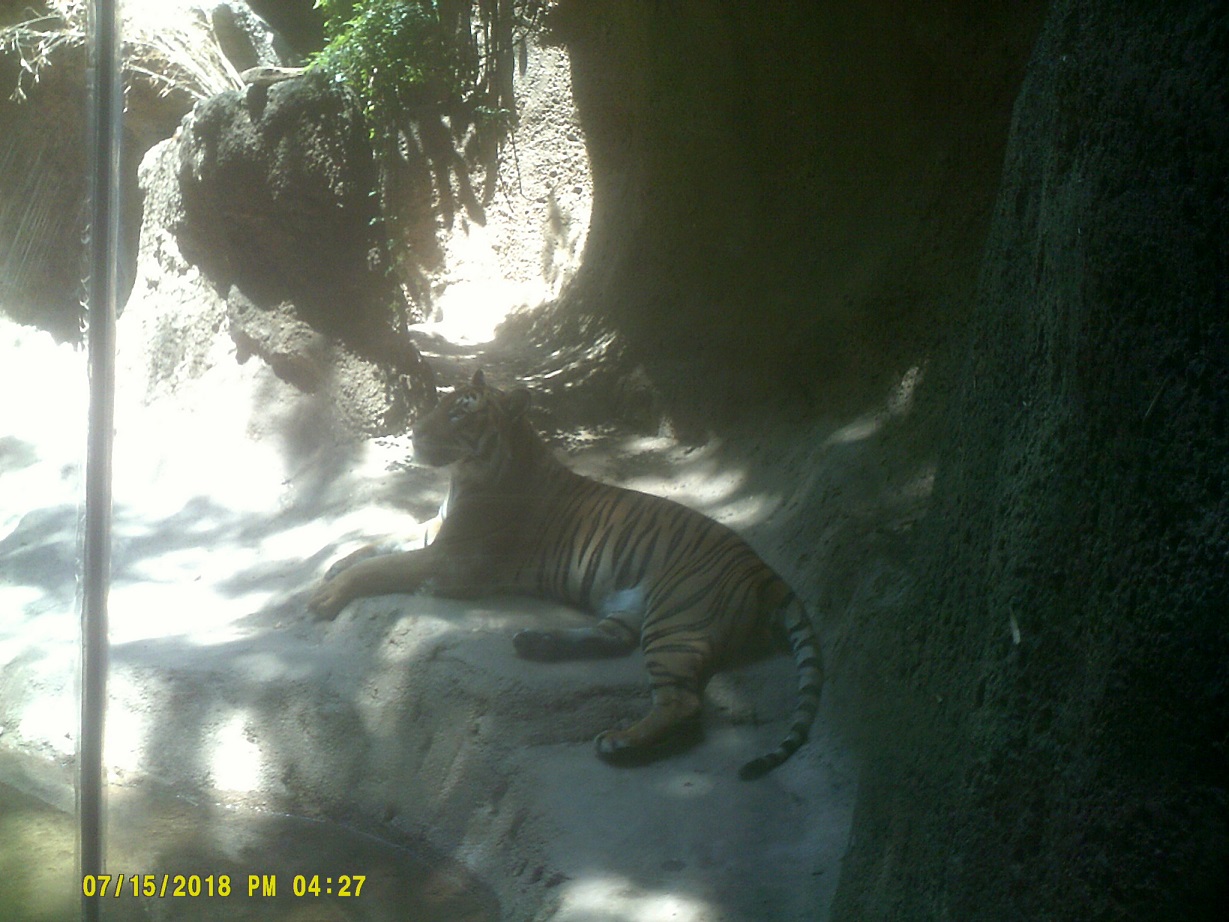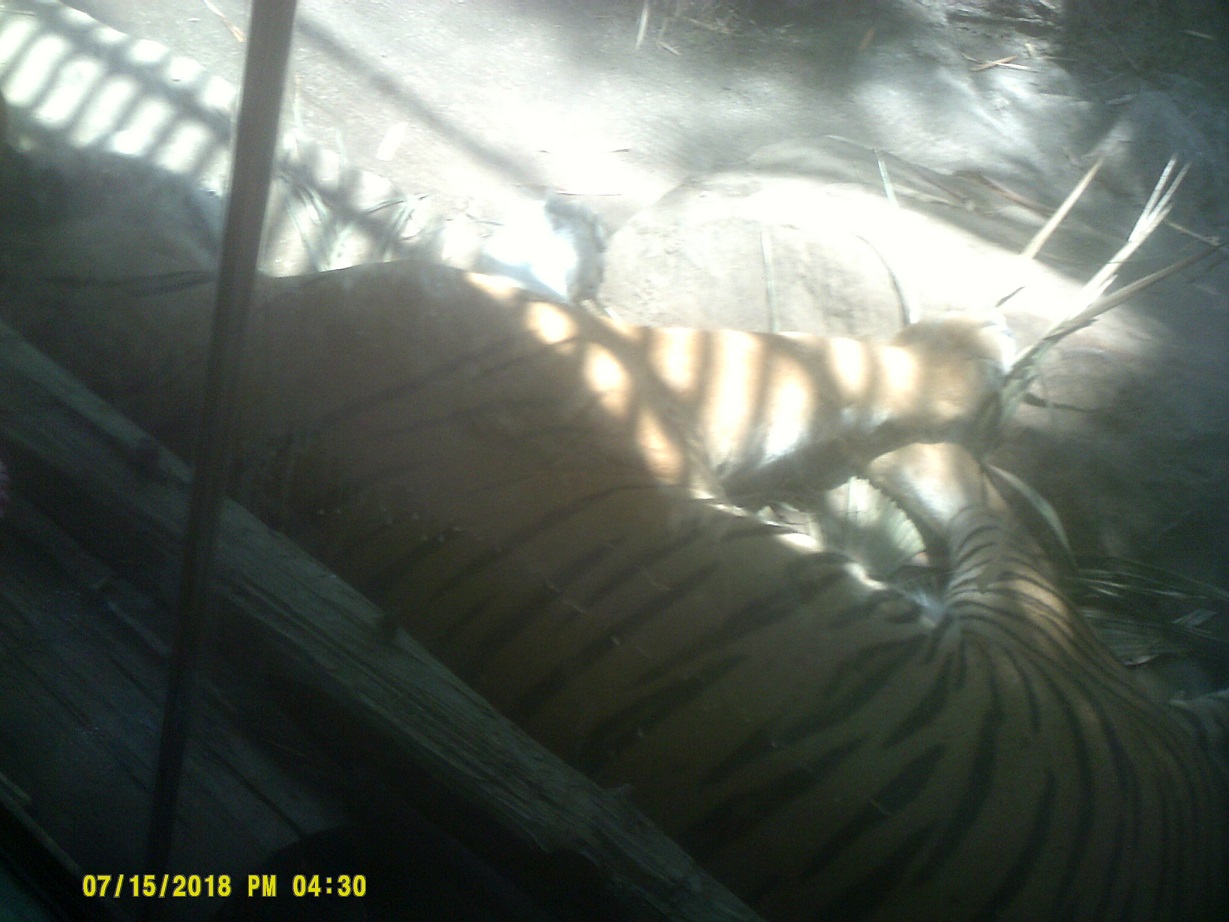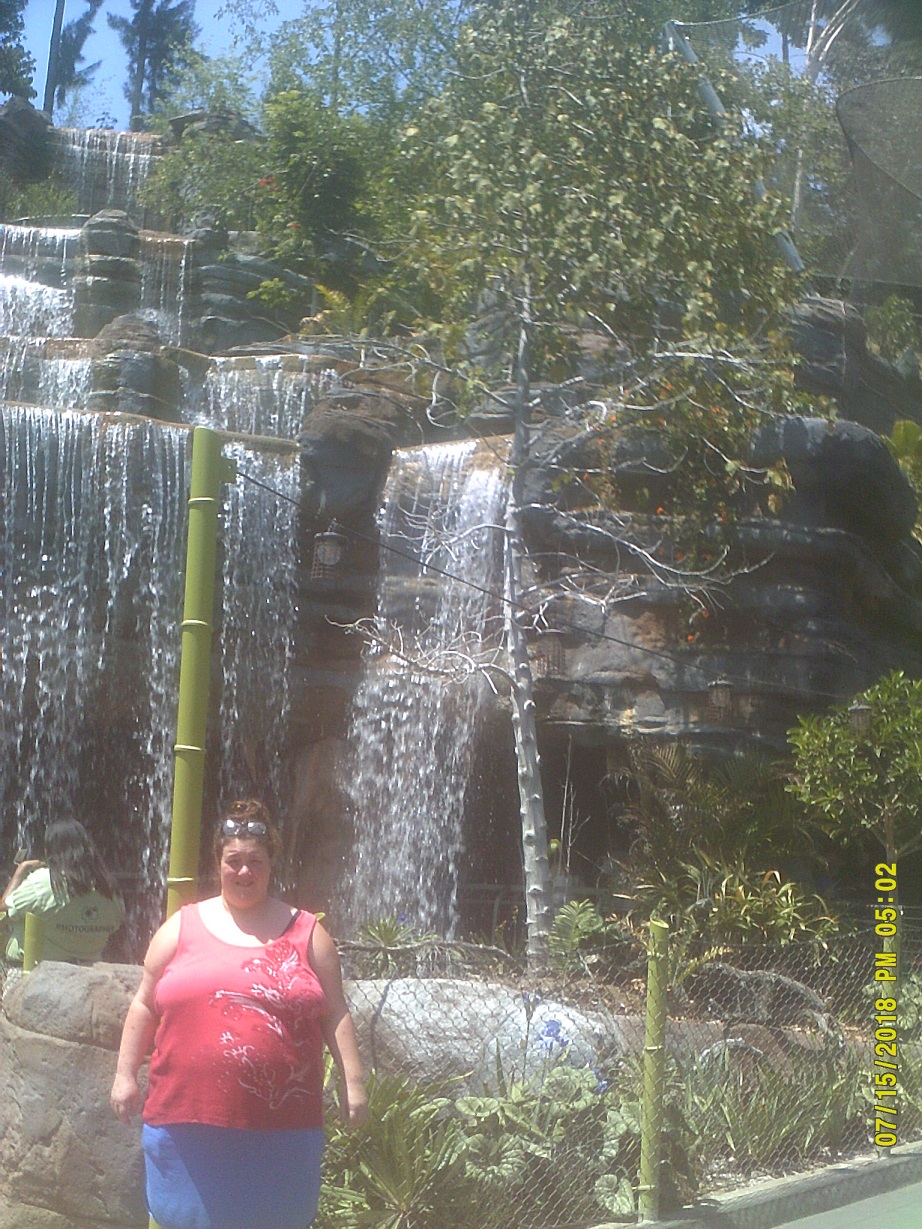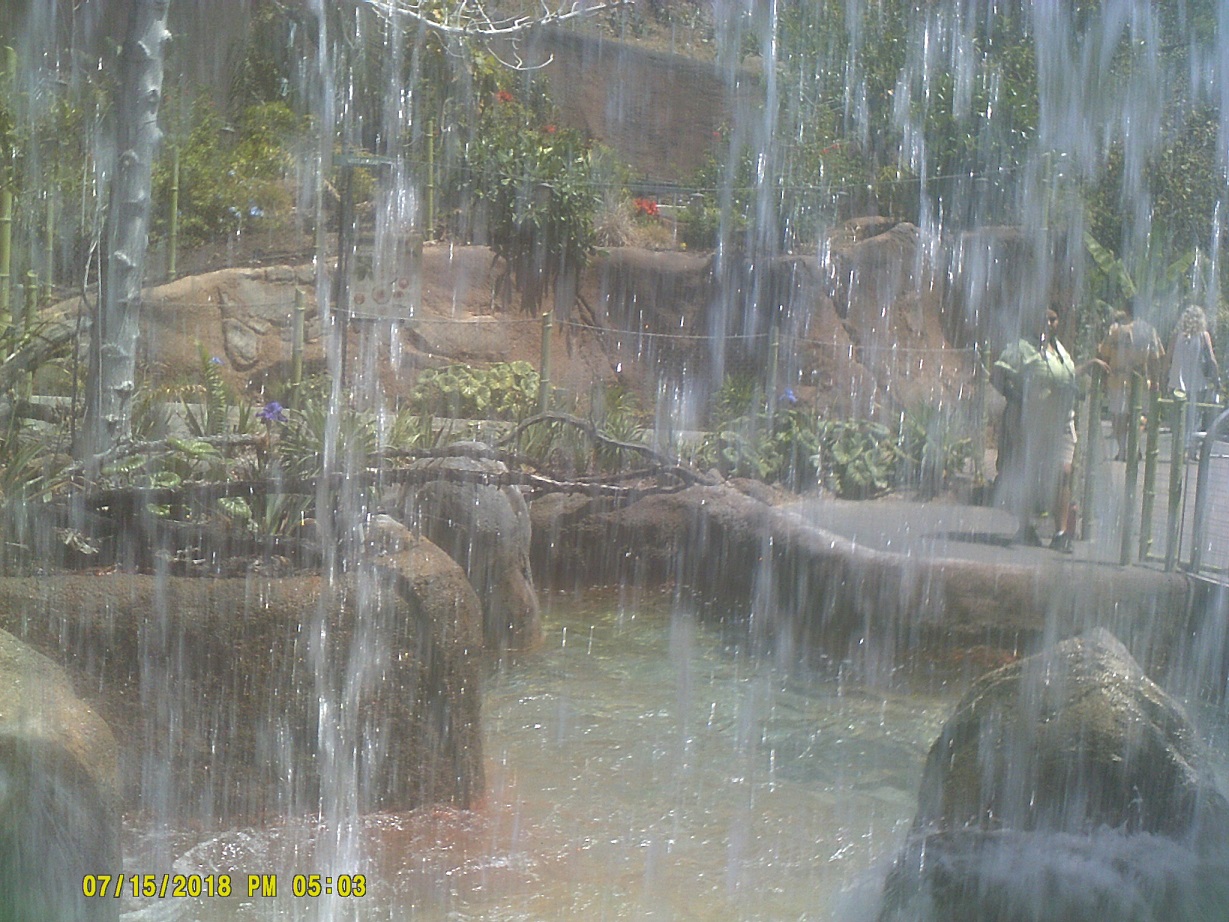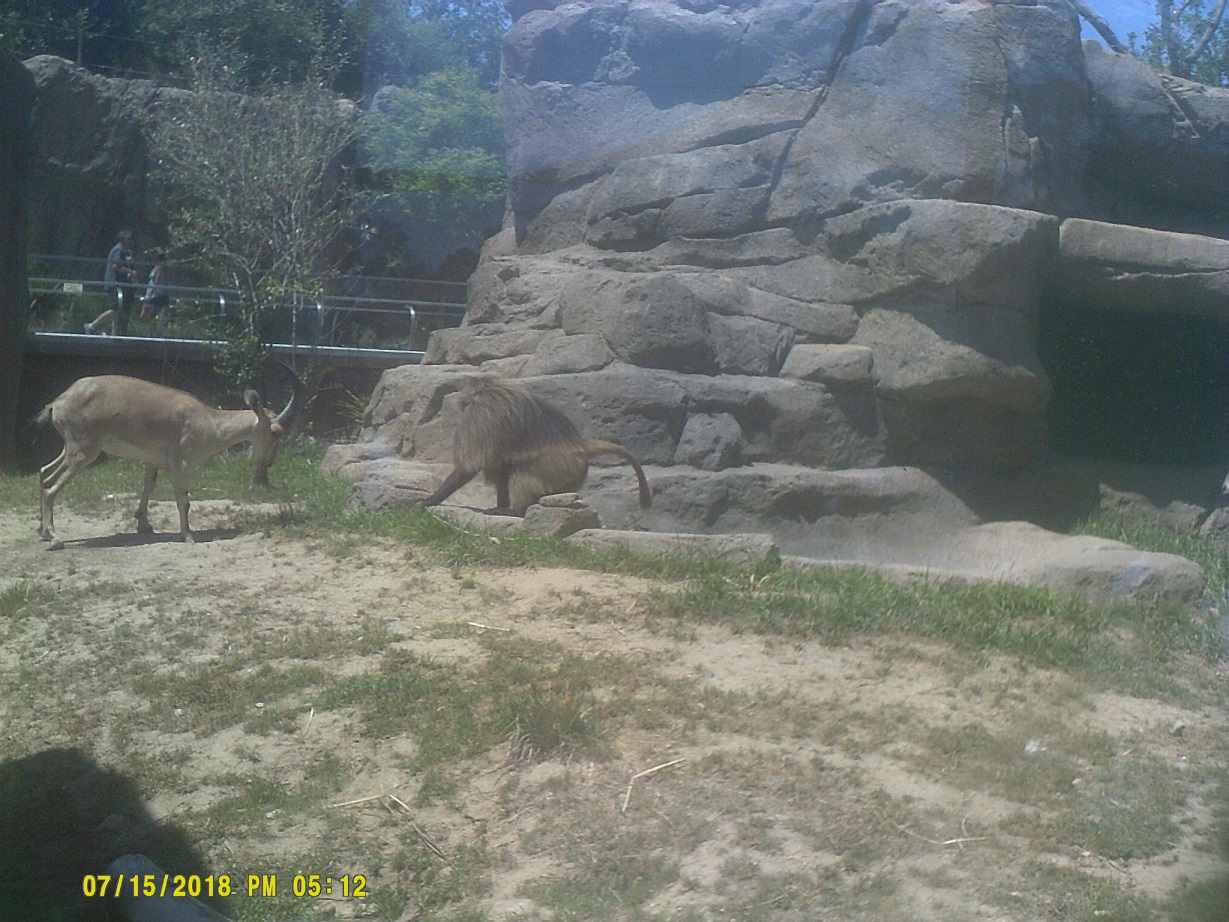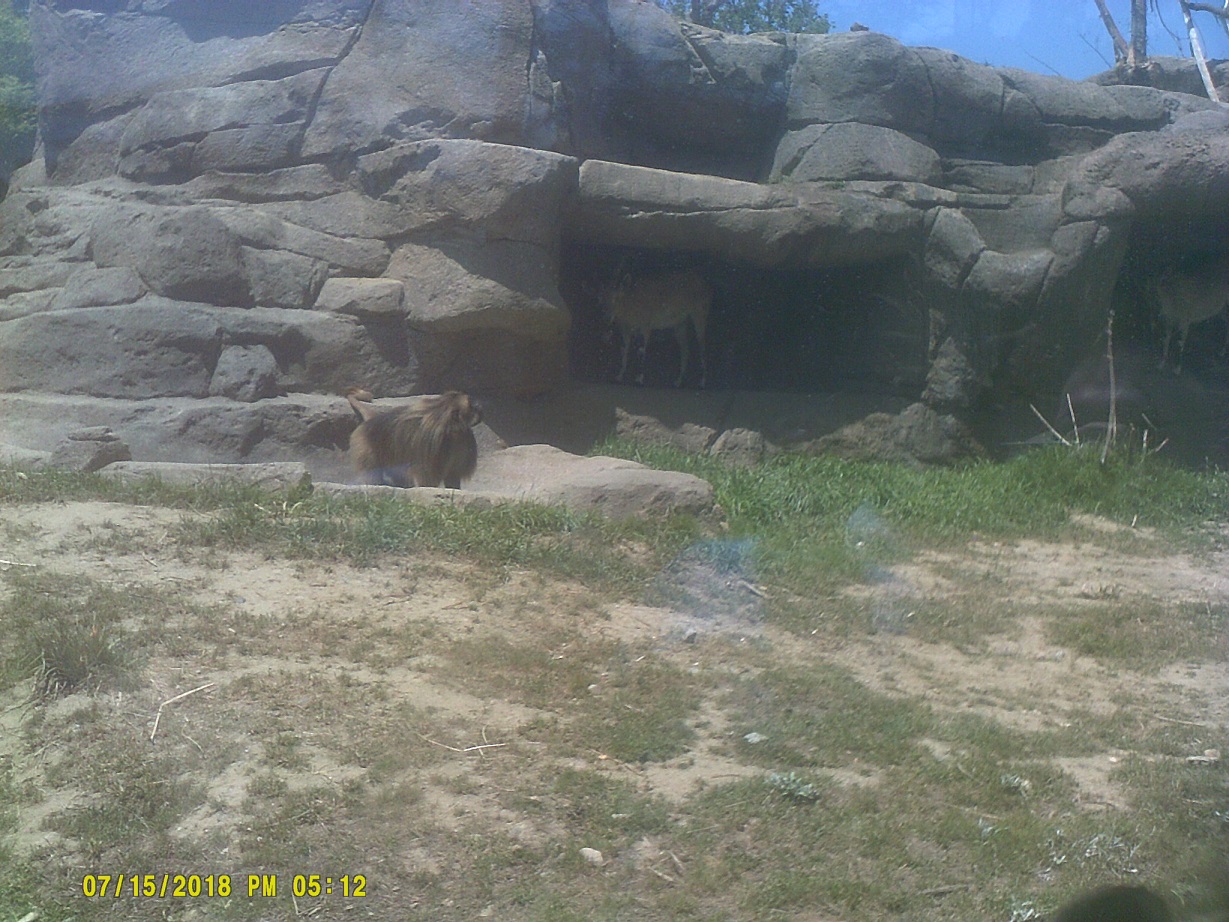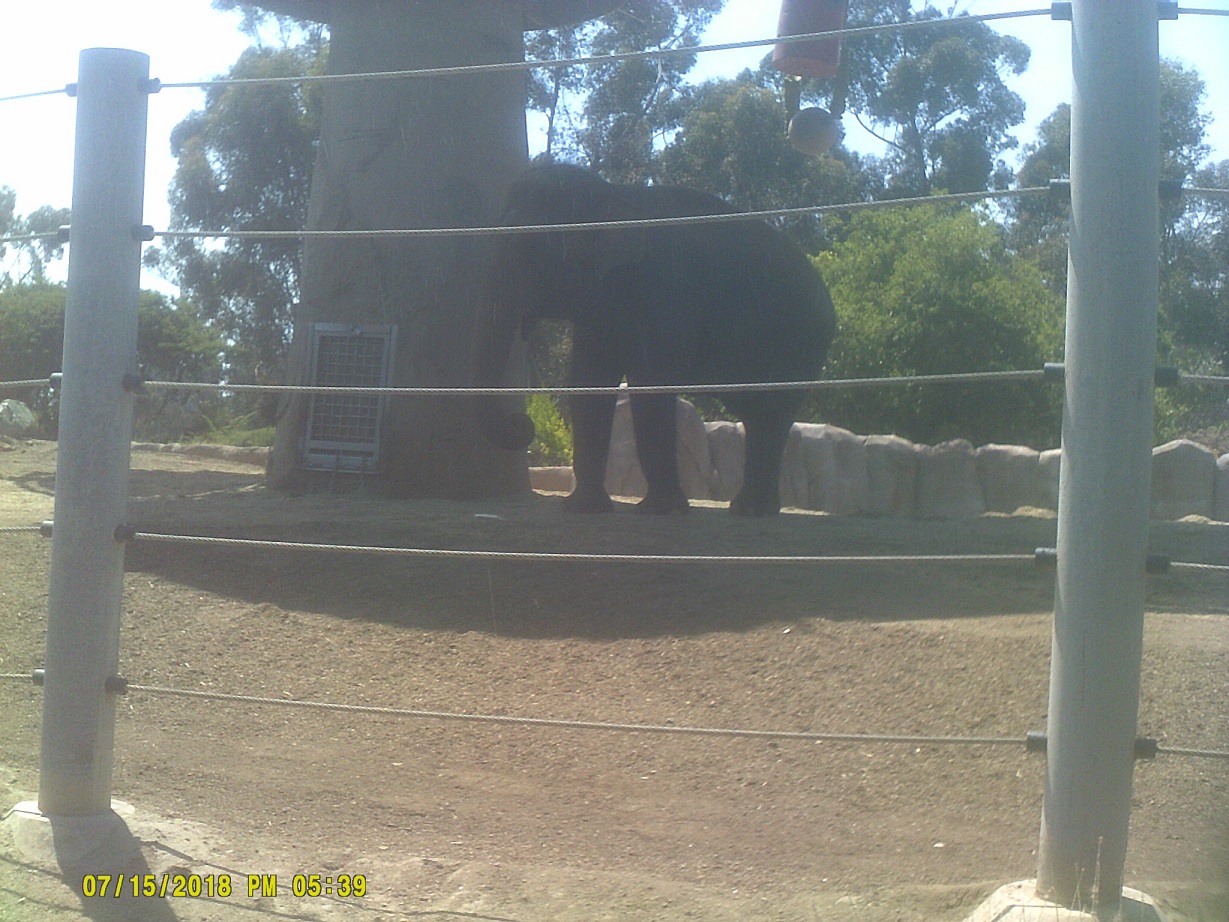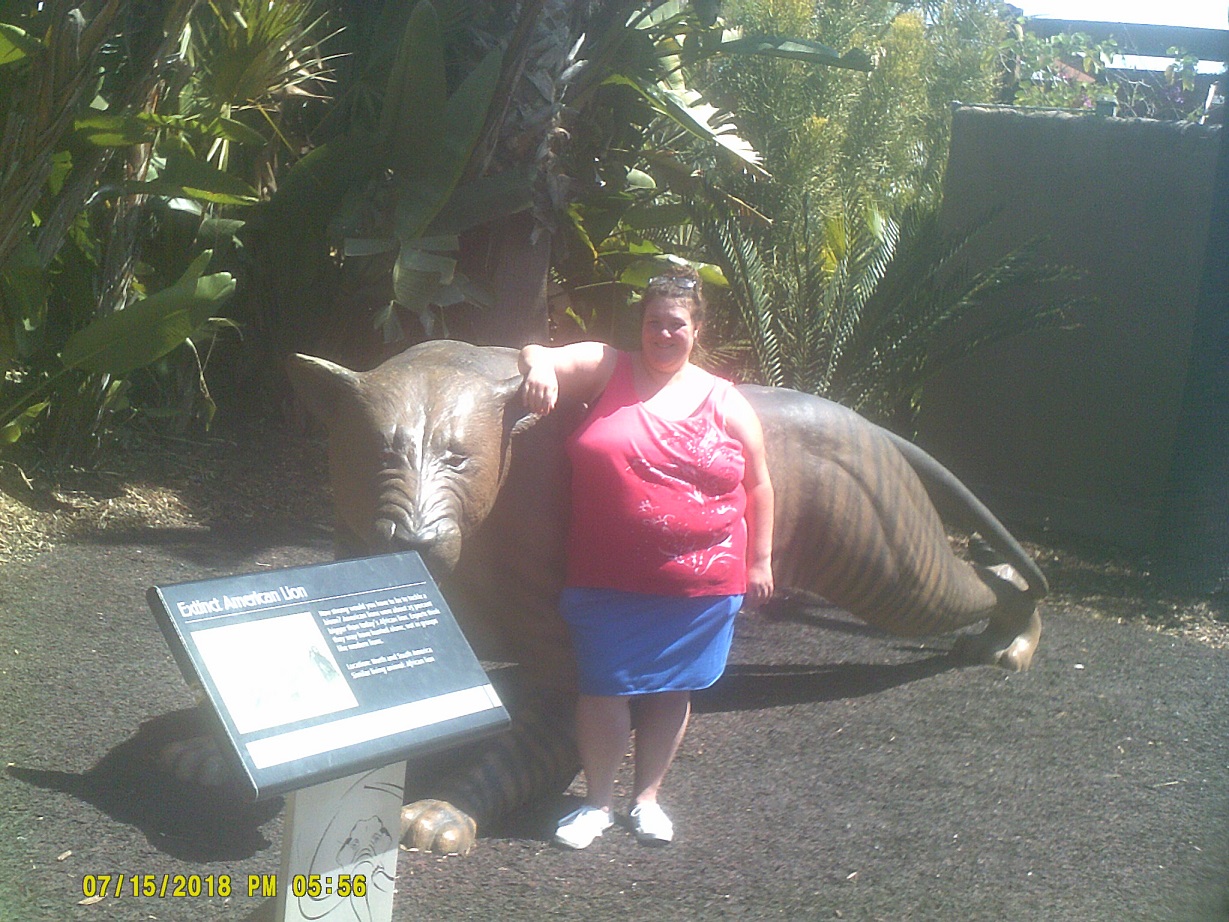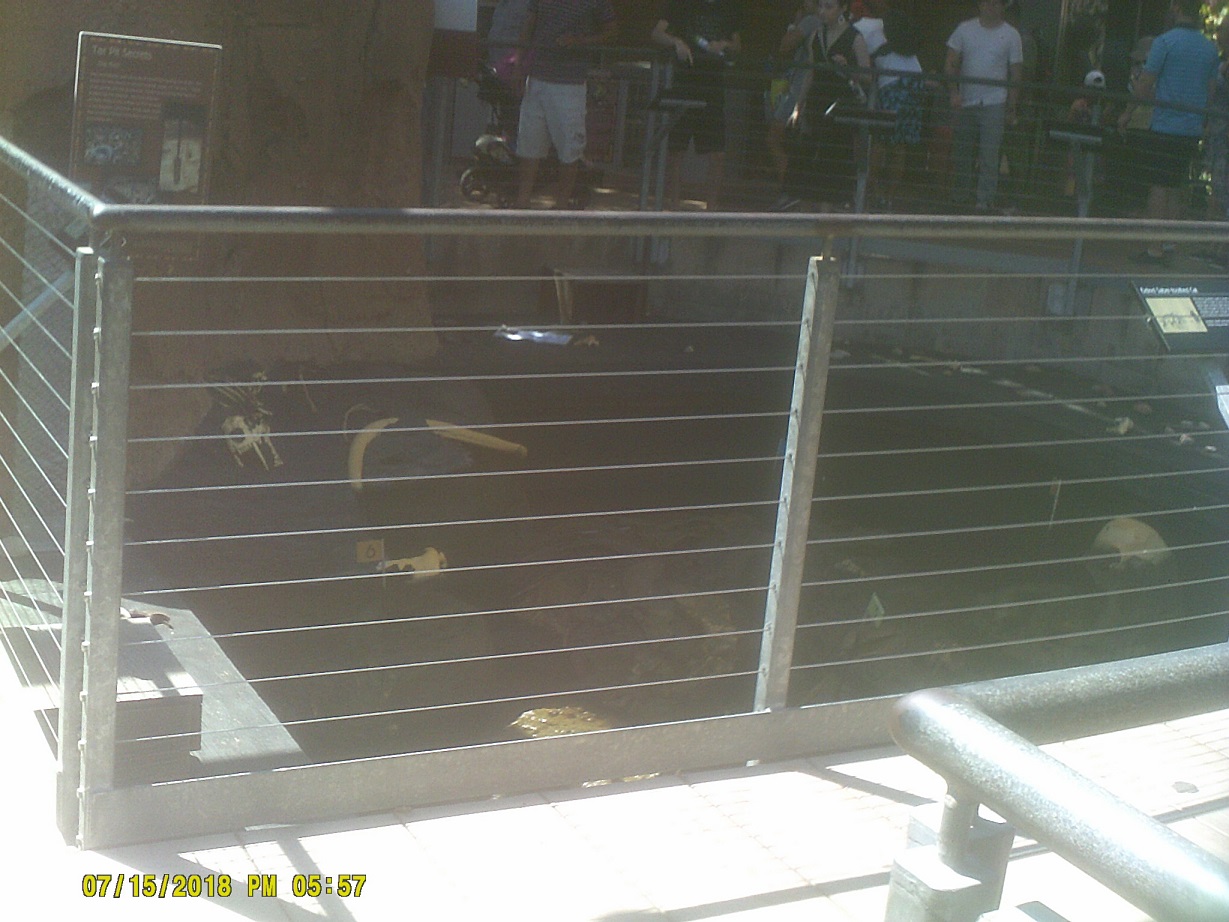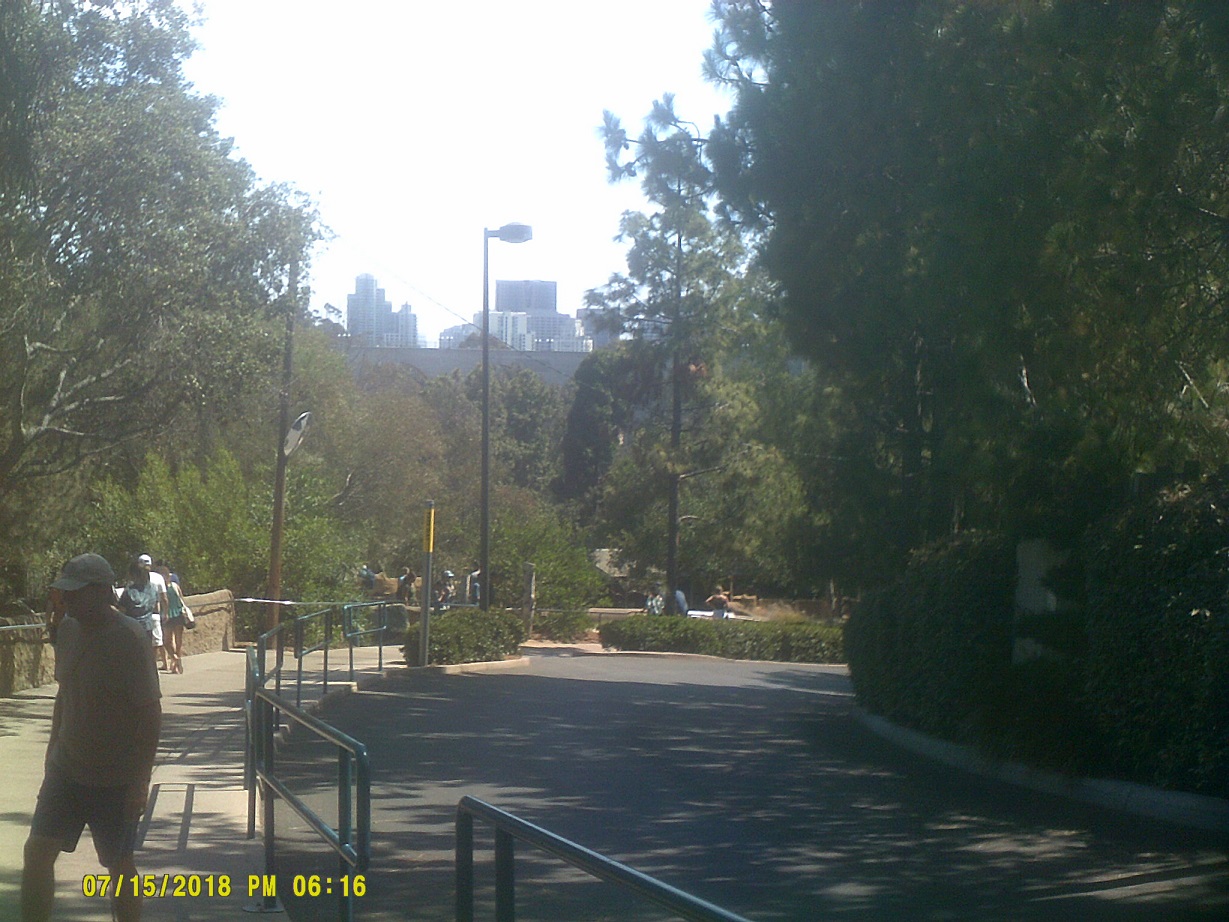 View of the San Diego skyline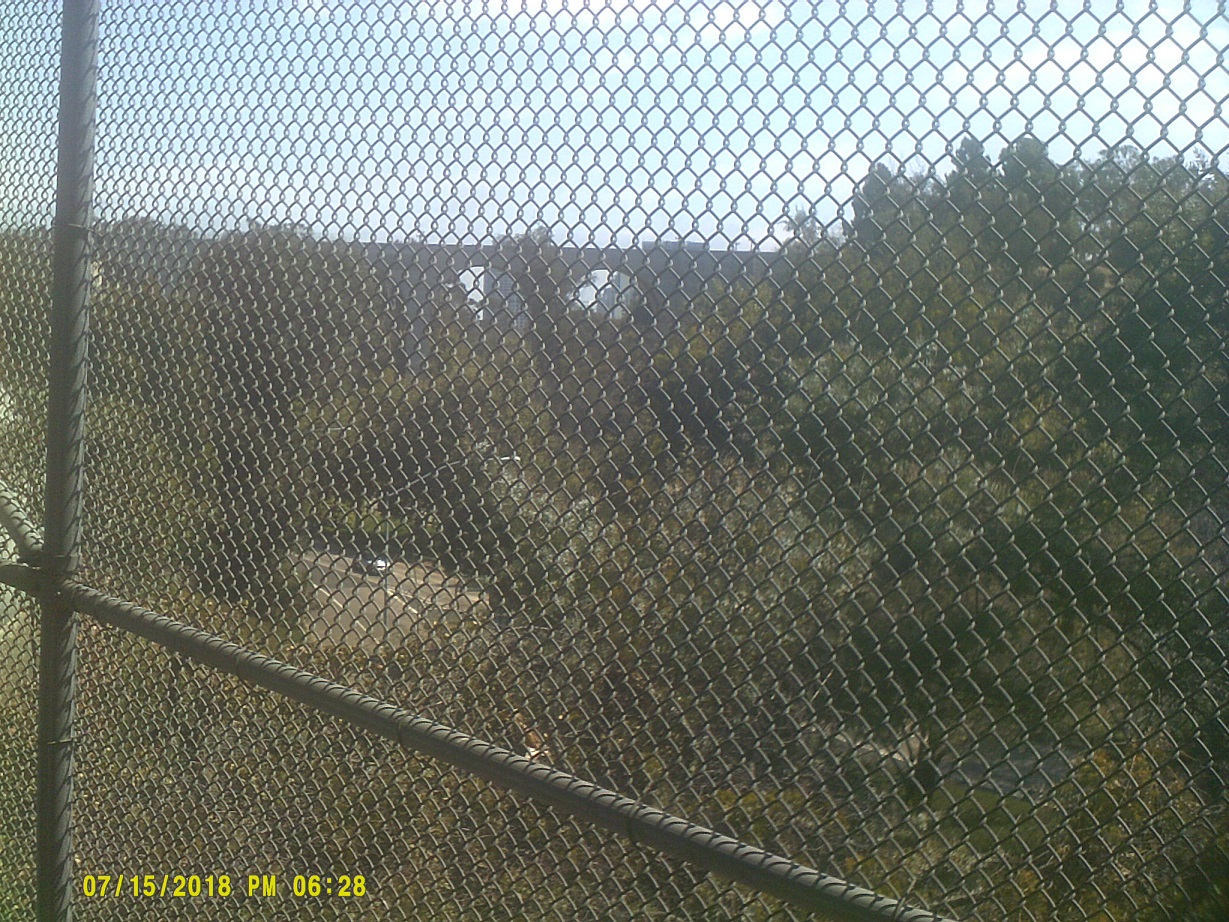 View of the Cabrillo Bridge over 163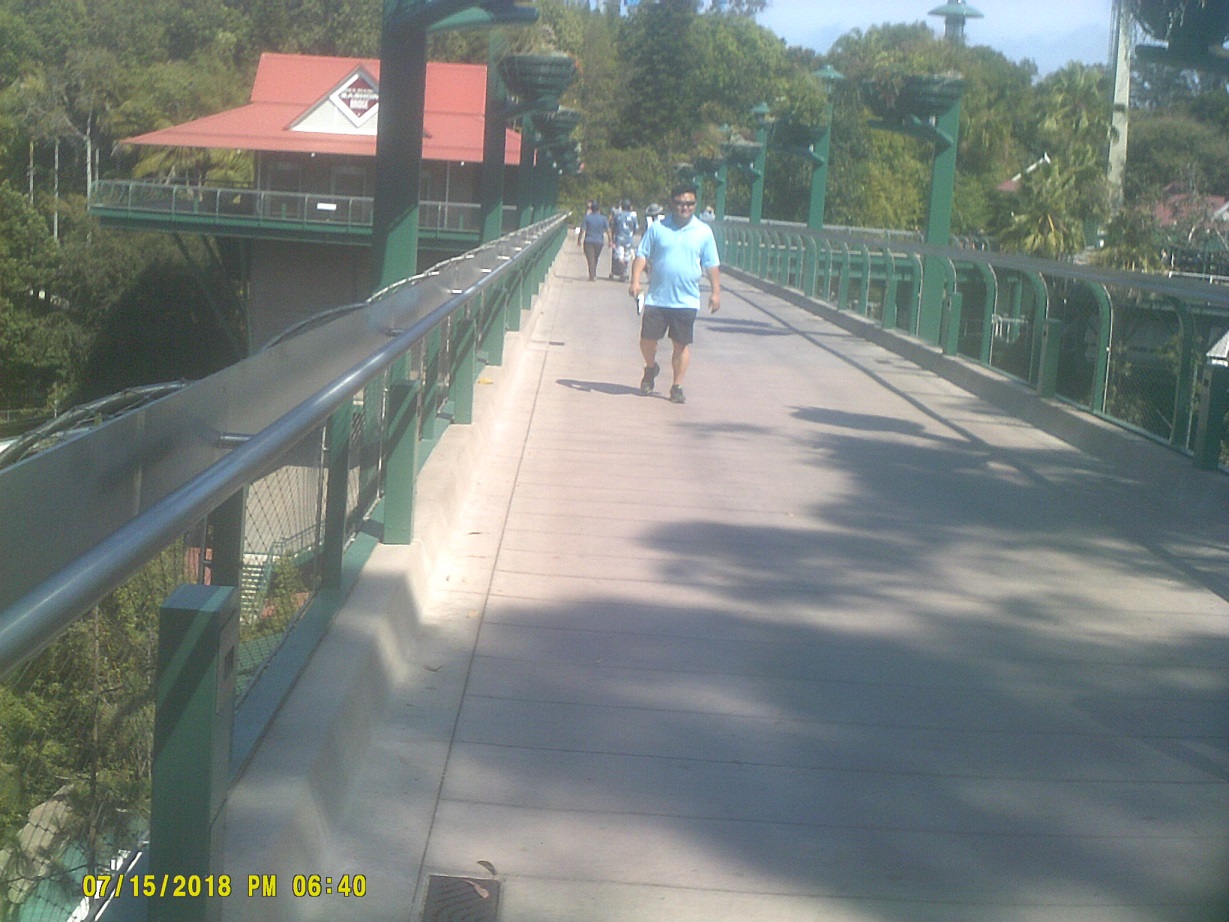 Another view of the bridge with the skyline in the background, from the bridge within the zoo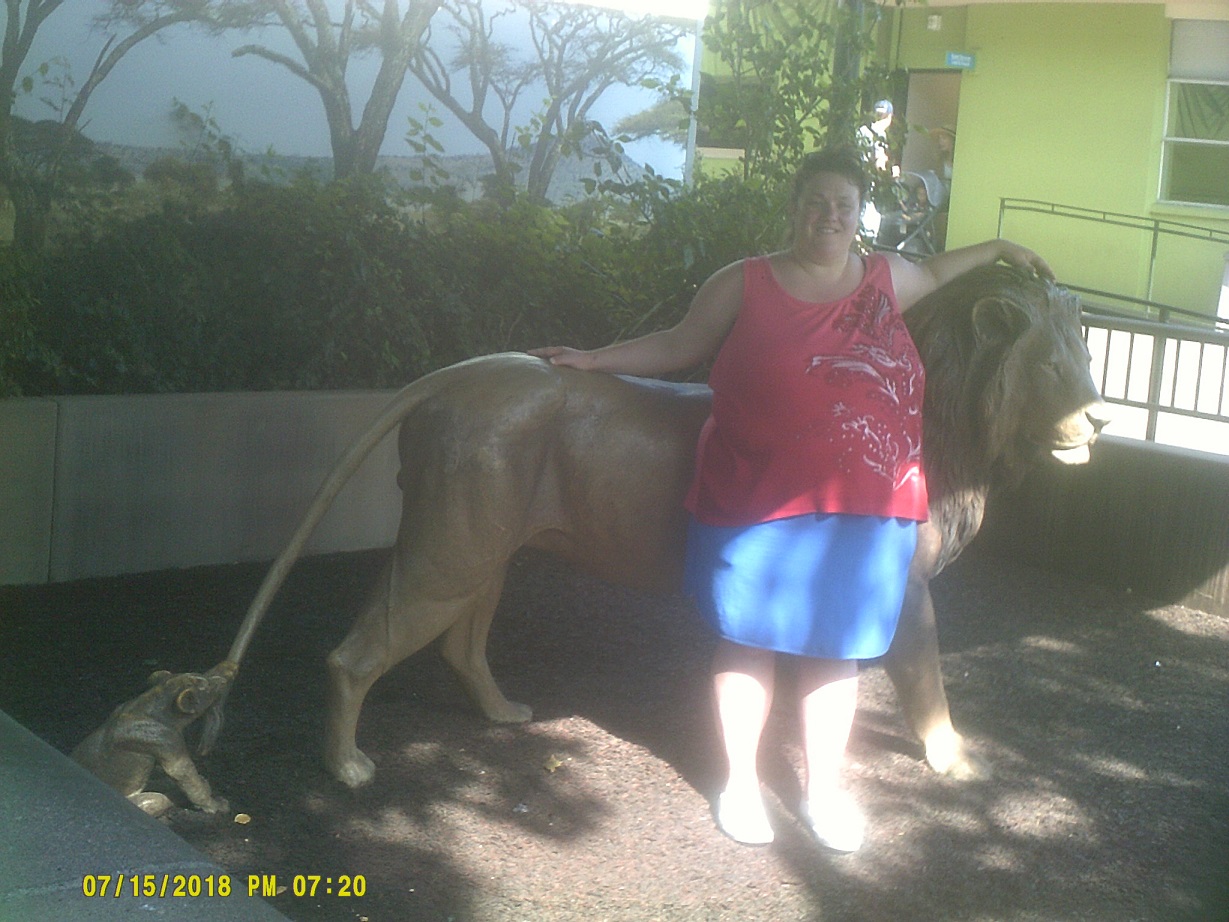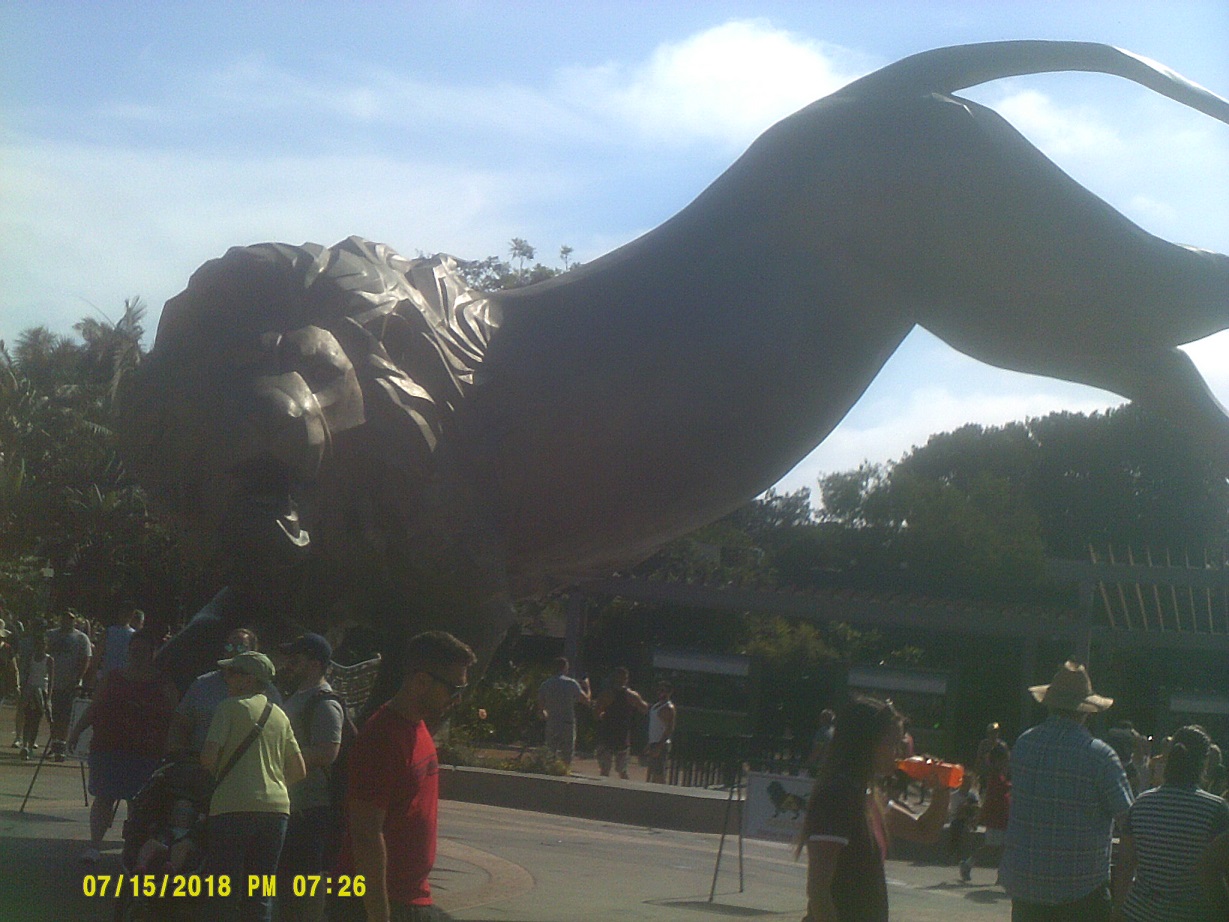 After leaving the zoo, we took I-5 to I-8 west to see the Pacific. We ended up in busy Ocean Beach (Street View).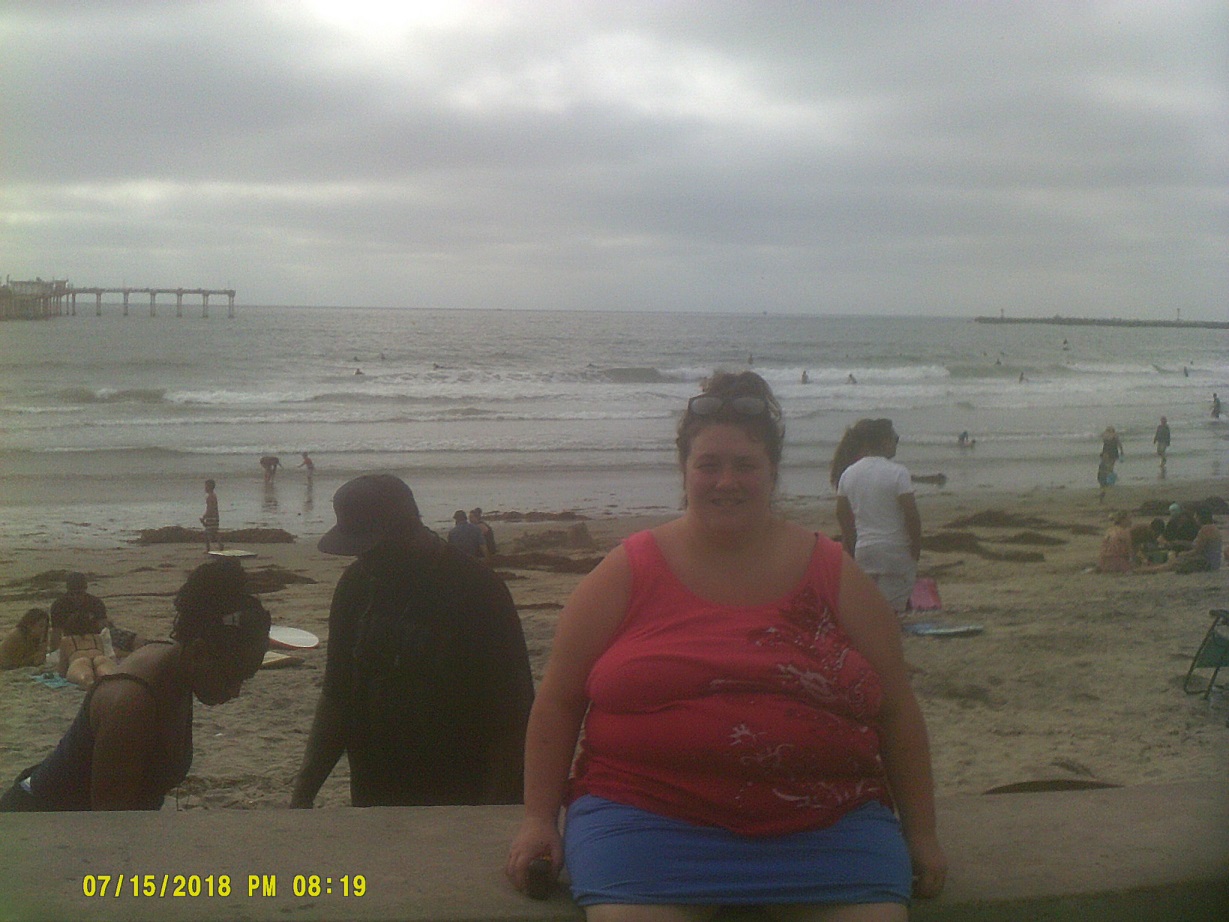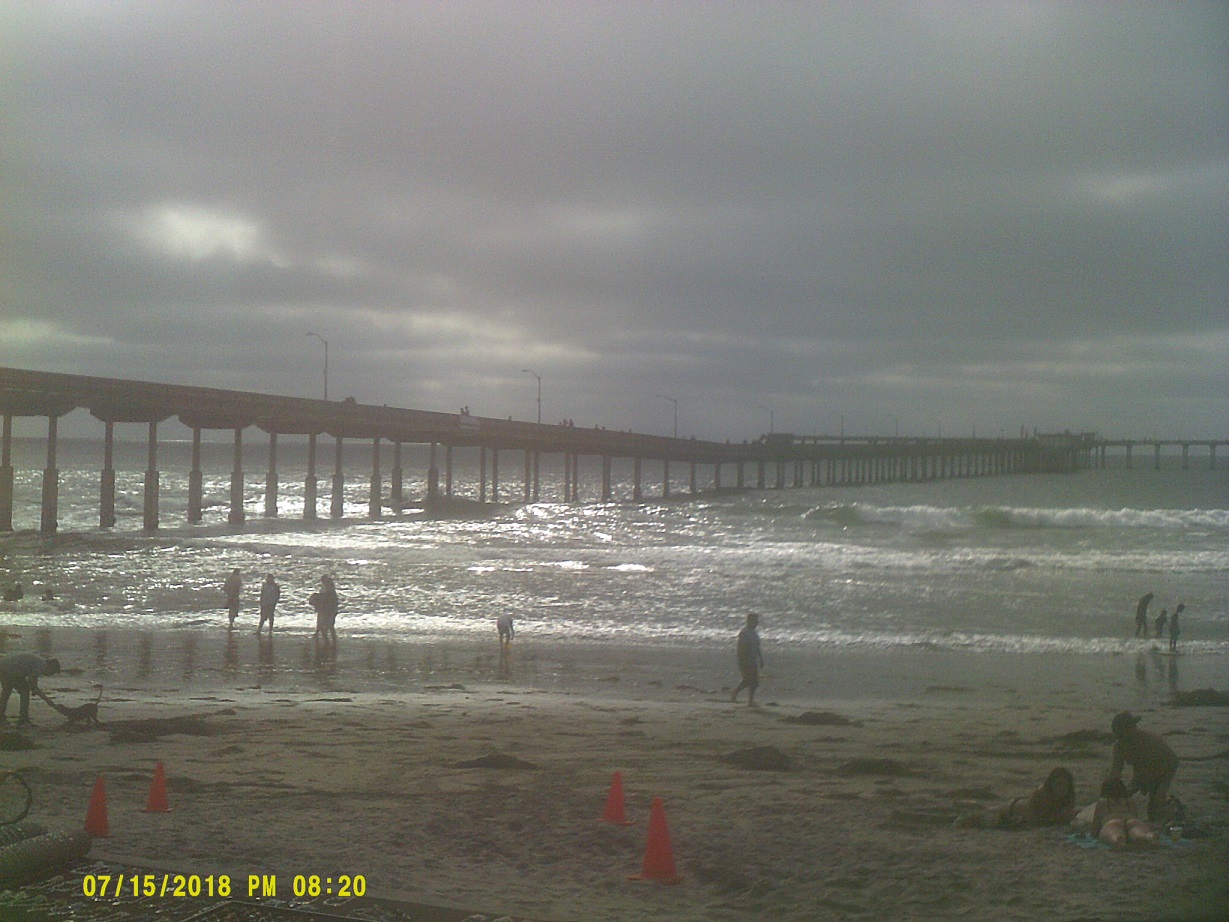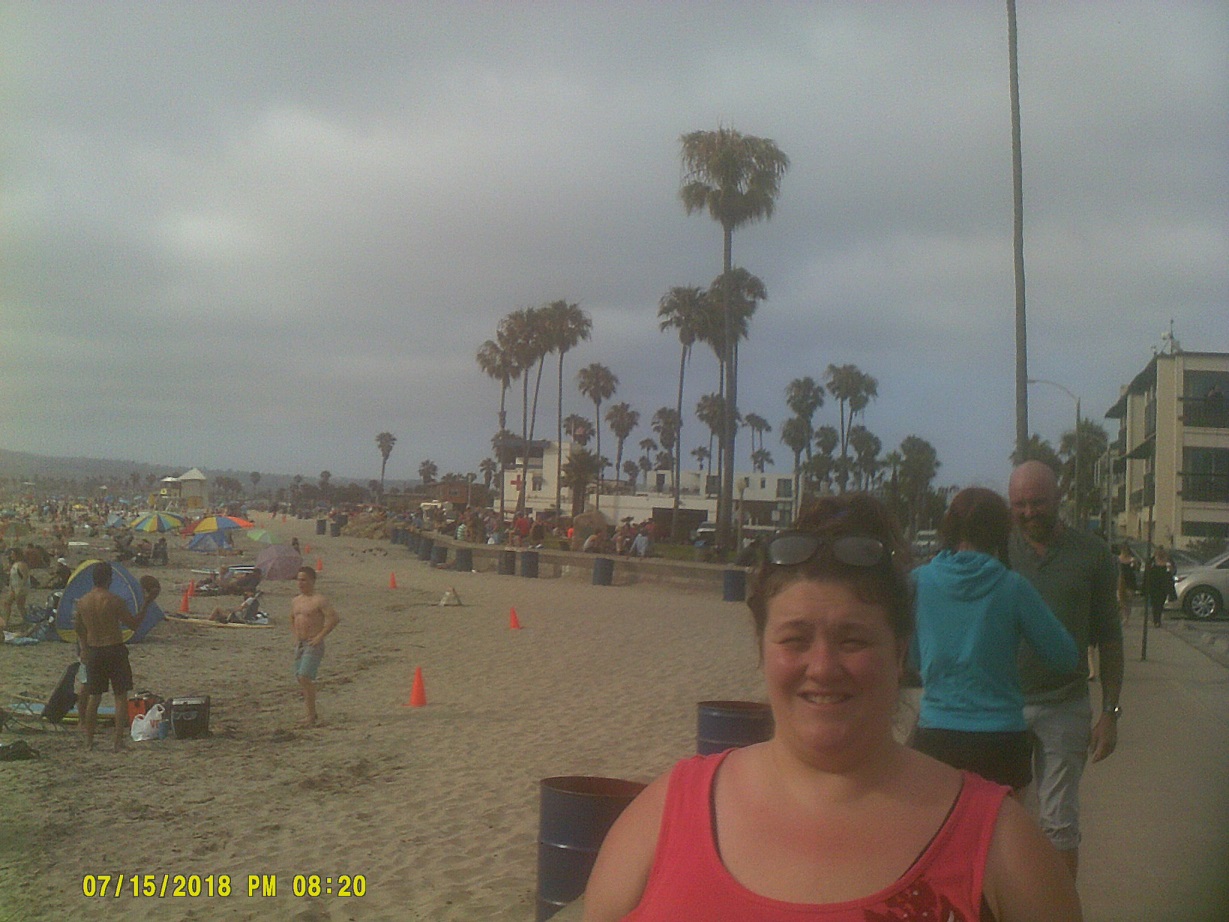 We had thought about going to SeaWorld since we had been to the other two parks in recent years (*2012, *2013), but we opted for the zoo instead. At least we were able to drive past it on the way out.
I decided to go to to Los Angeles after all, via I-5, just to say I had driven through it. I was concerned that I had made a bad decision because of all of the horror stories about the traffic. Ironically, getting out of San Diego was the challenging part. Traffic was backed up from the north side of town almost all the way to Camp Pendleton, in what I could only assume was regular Sunday night traffic in its return north getting ready for the workweek. Once past that we were afforded more views of the Pacific, with traffic flowing well all the way into downtown Los Angeles and beyond with the exceptions of a brief slow down around some construction and at the perpetually-congested East Los Angeles Interchange where I switched from the 5 northbound to the 10 eastbound.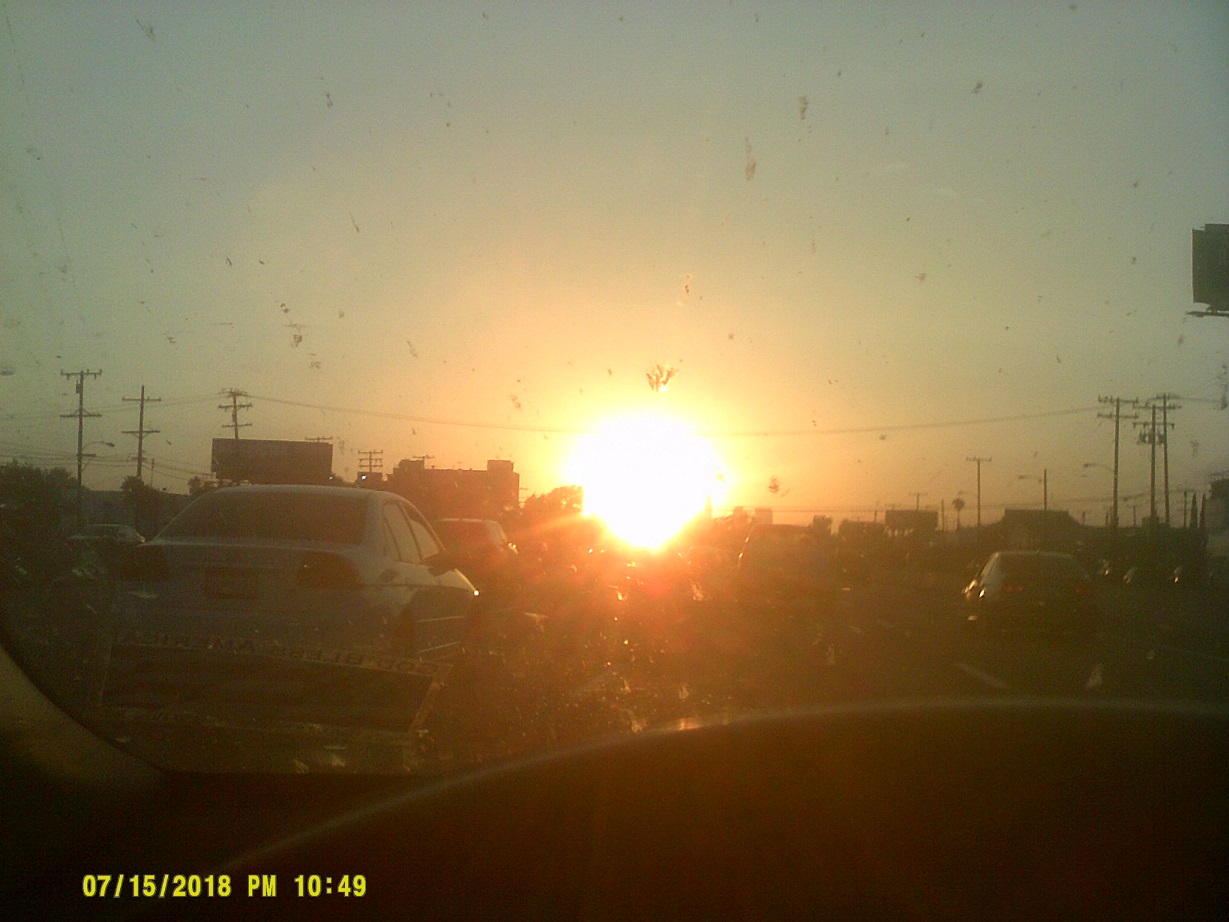 Token photo: The setting sun blocking out most of the L.A. skyline
Day 8: Monday, July 16, 2018 (Ontario, California to Williams, Arizona)
We got back onto I-15 north, a rarity for me because I don't like to retrace my route, but there were few options. At least I saw the California Aqueduct which I somehow missed on the way in.
One of the old signs that's still left is the I-15/I-40 split one, complete with giant button-copy double arrow (note the barbed wire mentioned on Day 6).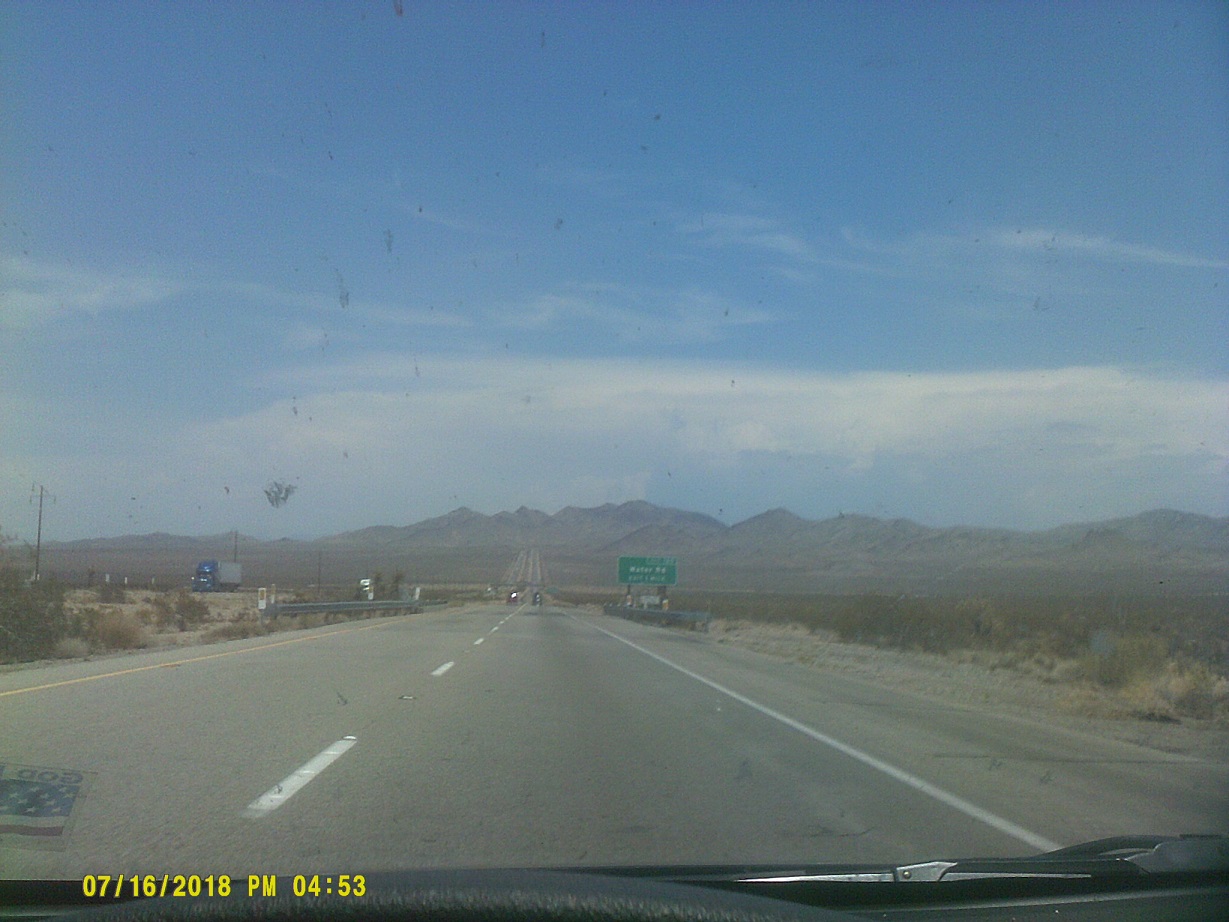 Approaching the Sacramento Mountains on I-40 at Exit 120 just west of Needles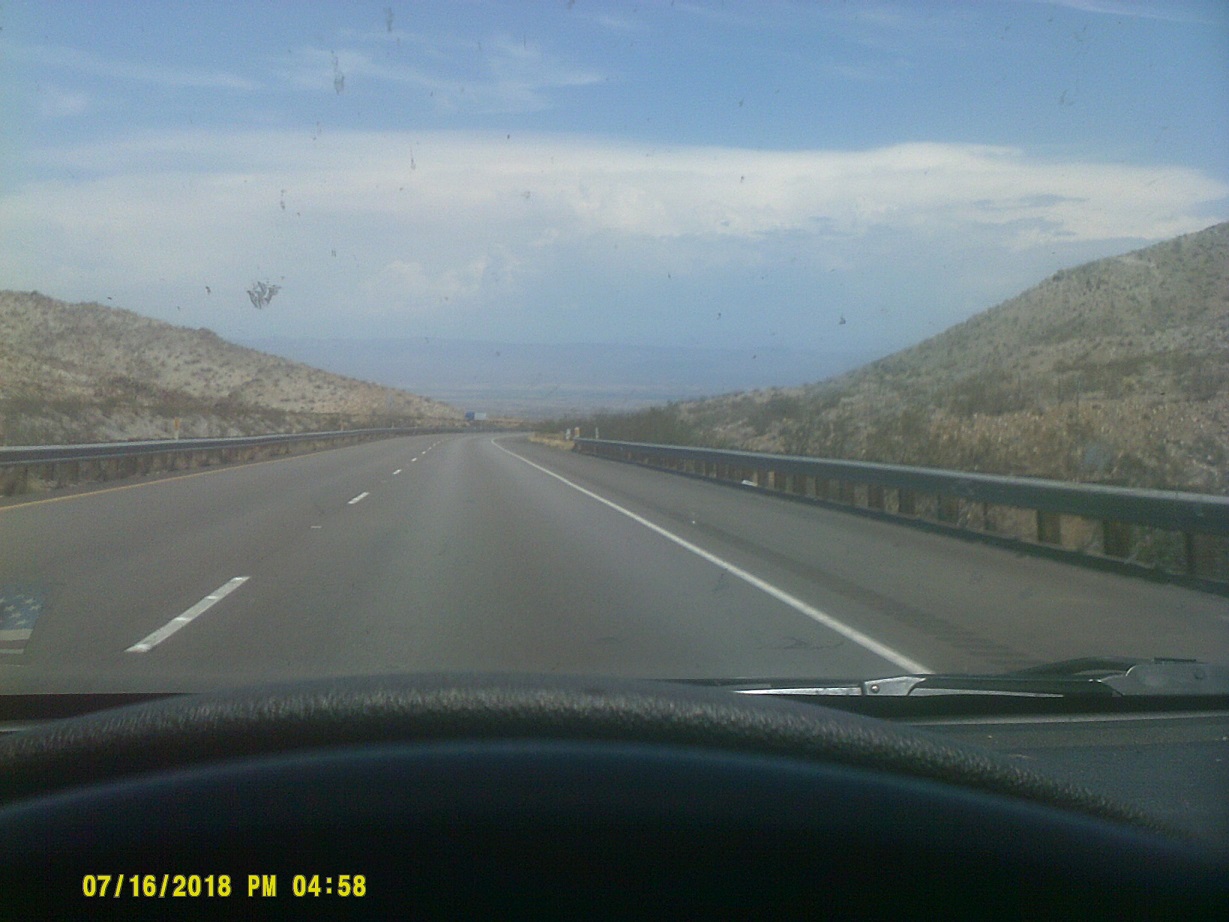 ...and down the other side
Enter Mountain Standard Time, still three hours behind Eastern
To the Arizona information center in Kingman.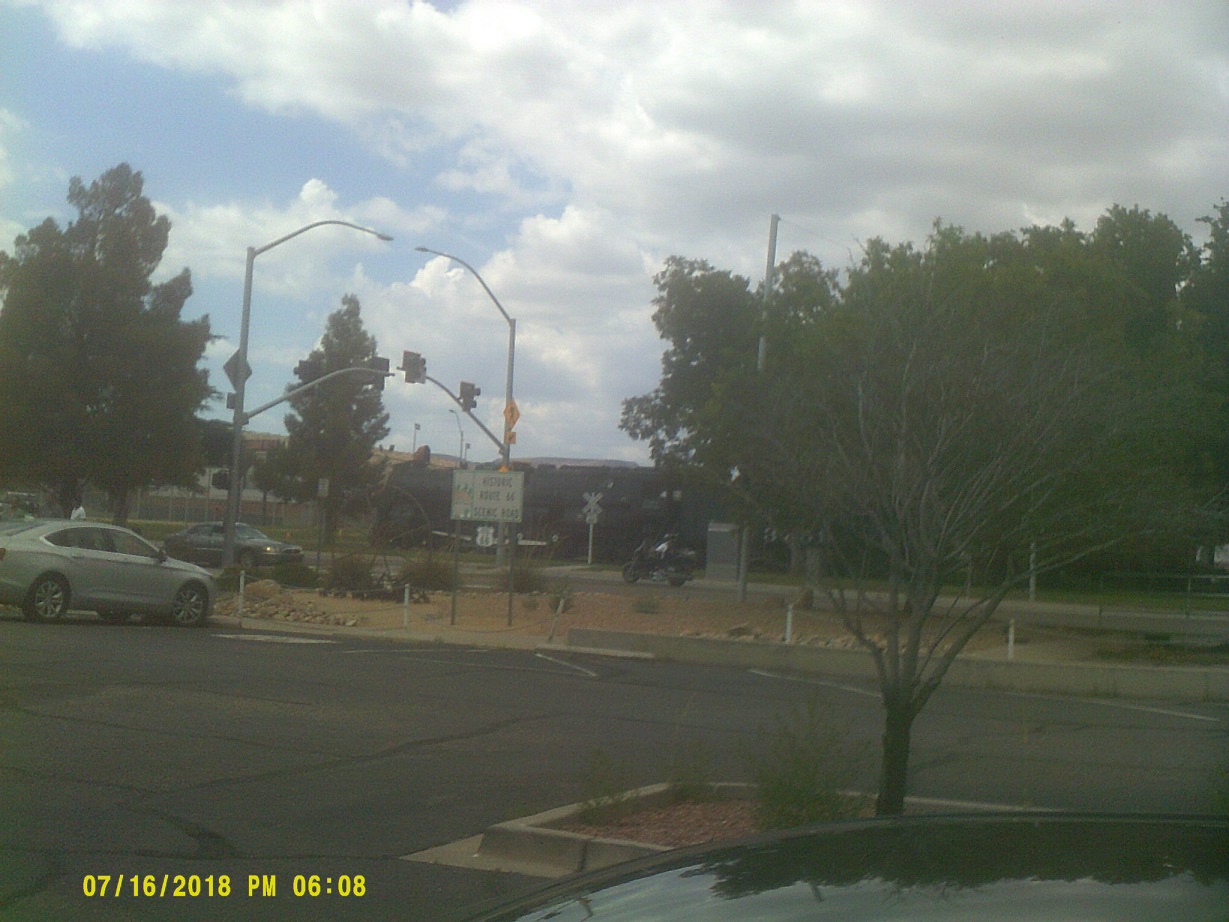 I'm pretty sure that old Route 66 didn't have a HAWK signal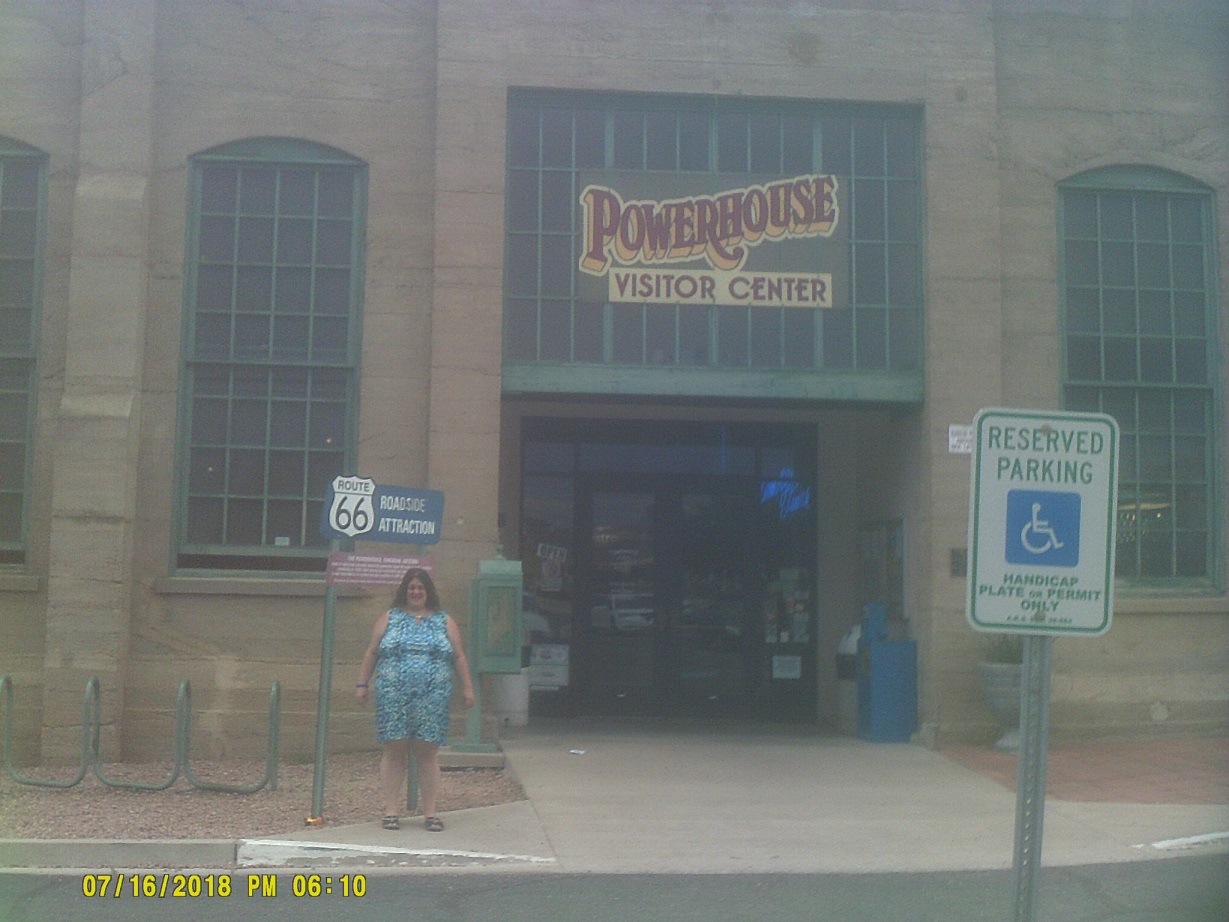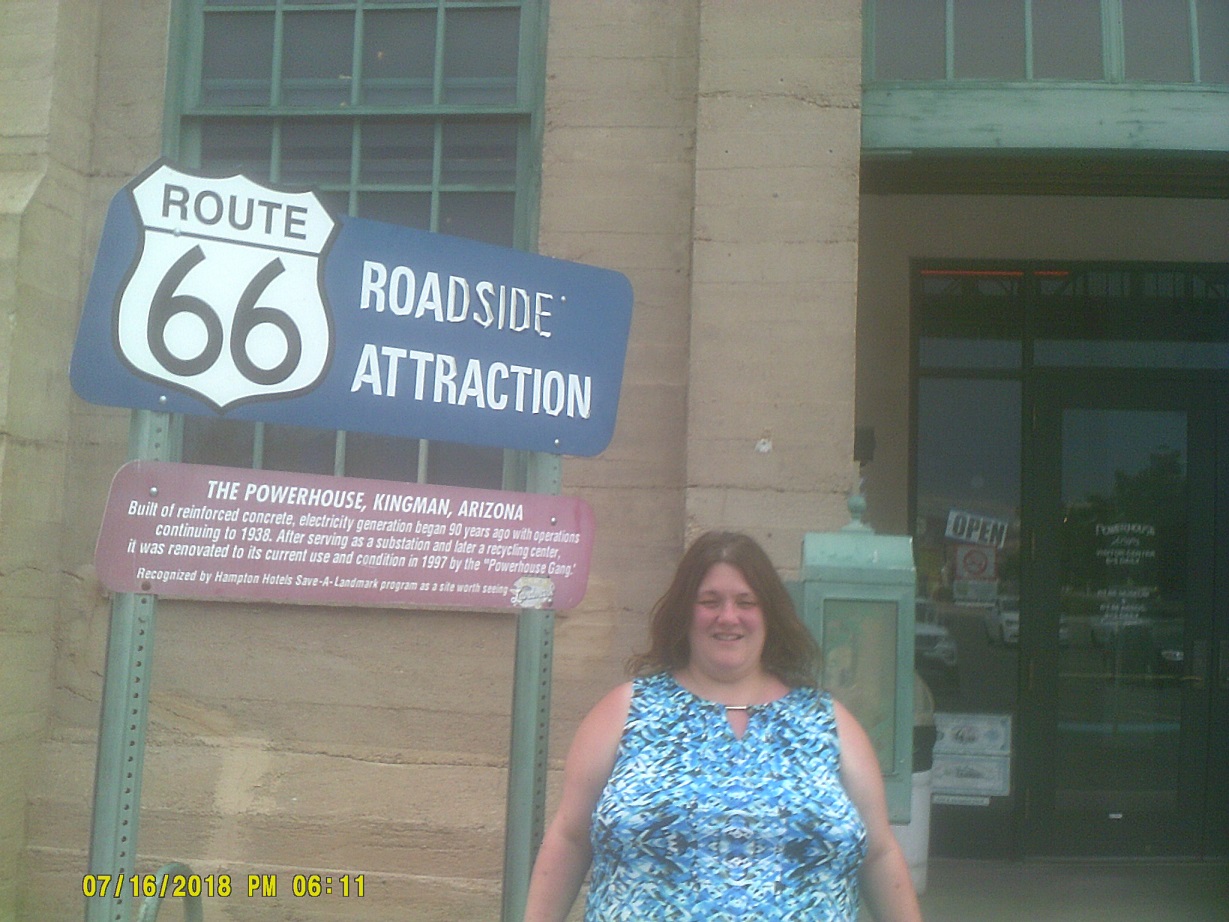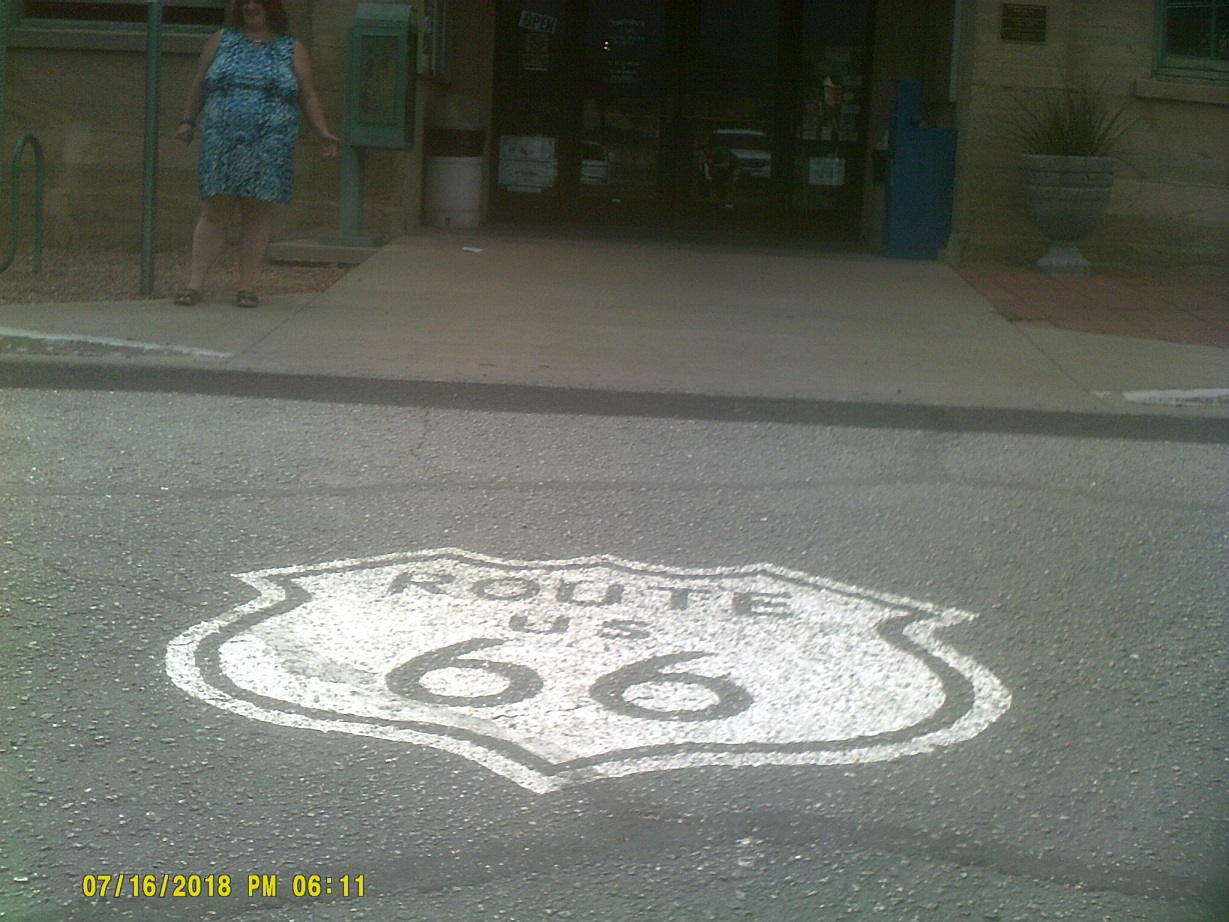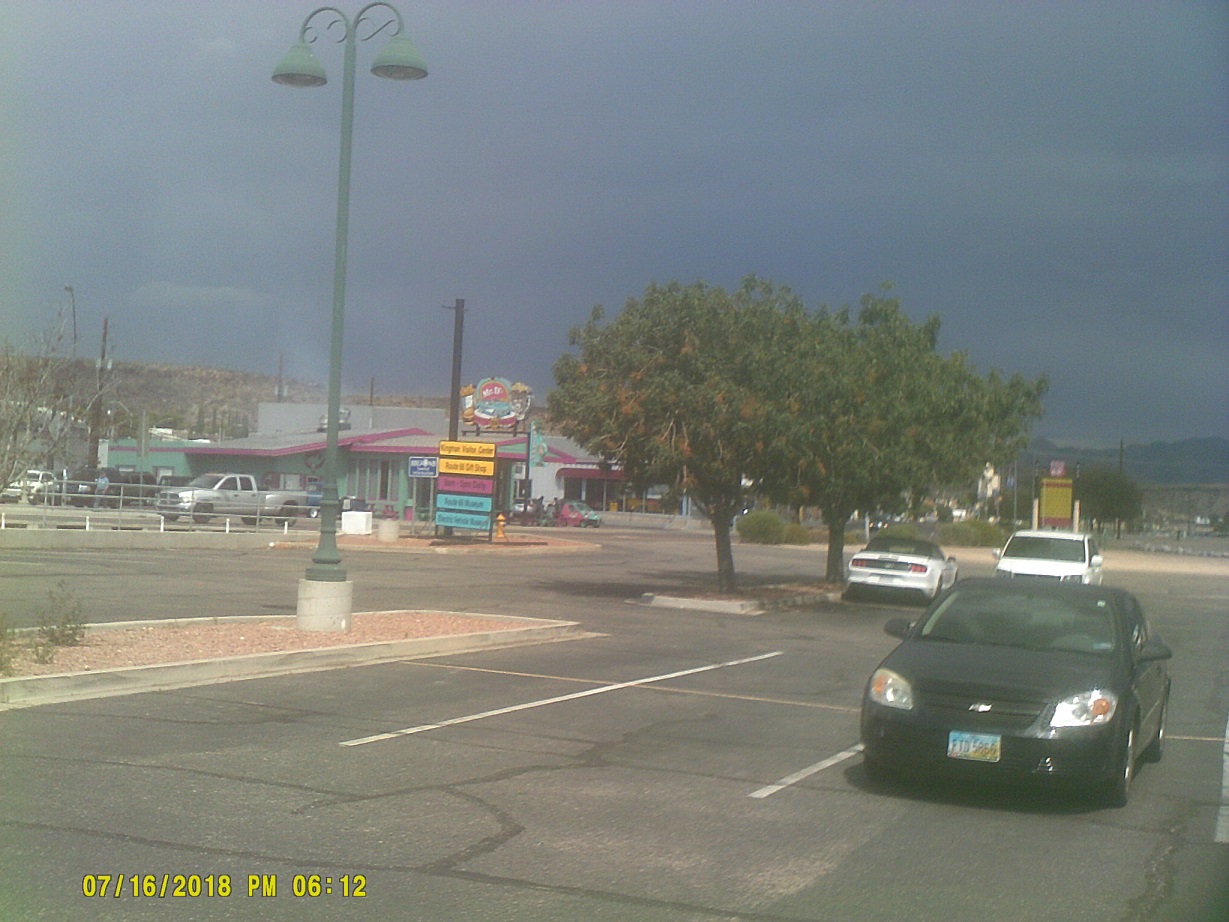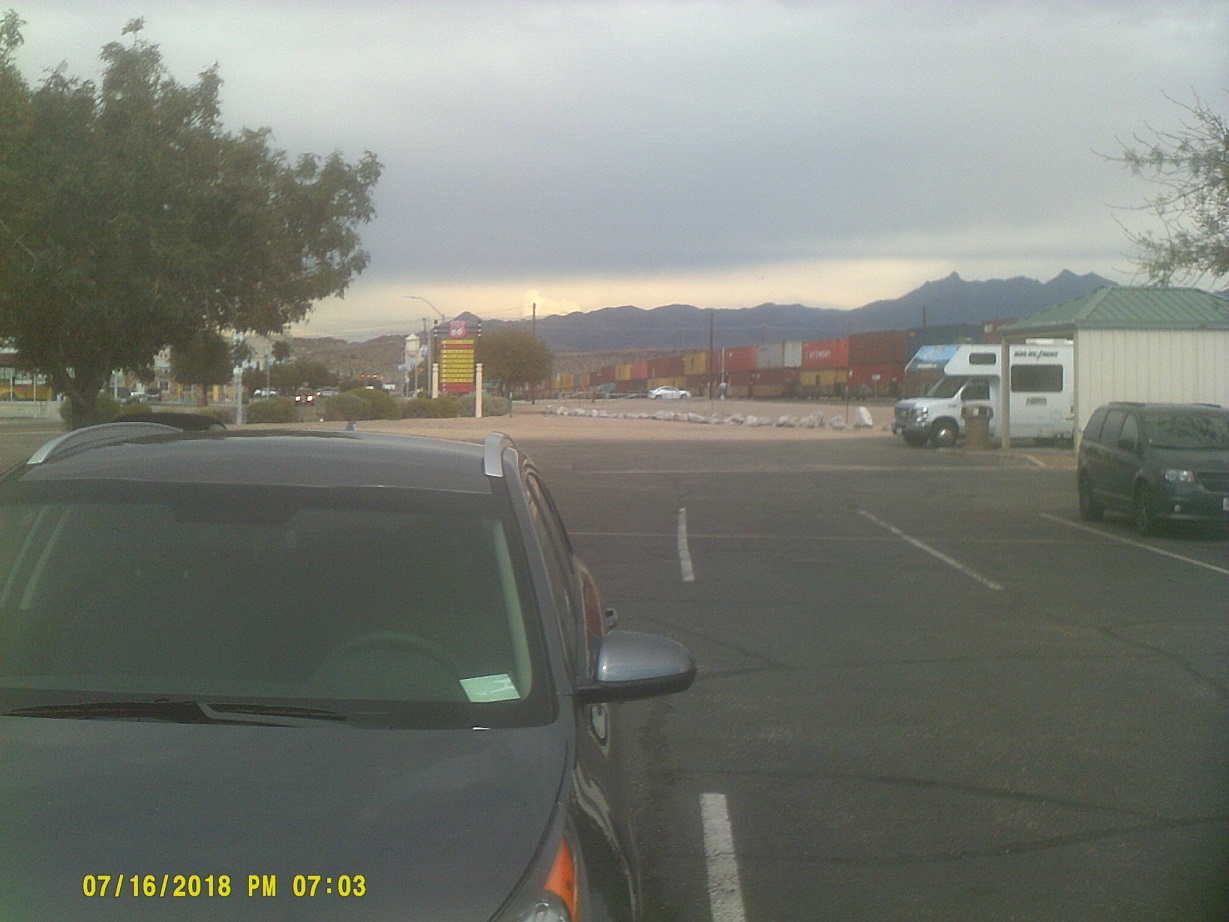 After reviewing the giant map of Arizona at the information center, we decided against going to the interesting skywalk at the Grand Canyon because it would involve too much backtracking since we were headed east, and opted for the traditional South Rim instead.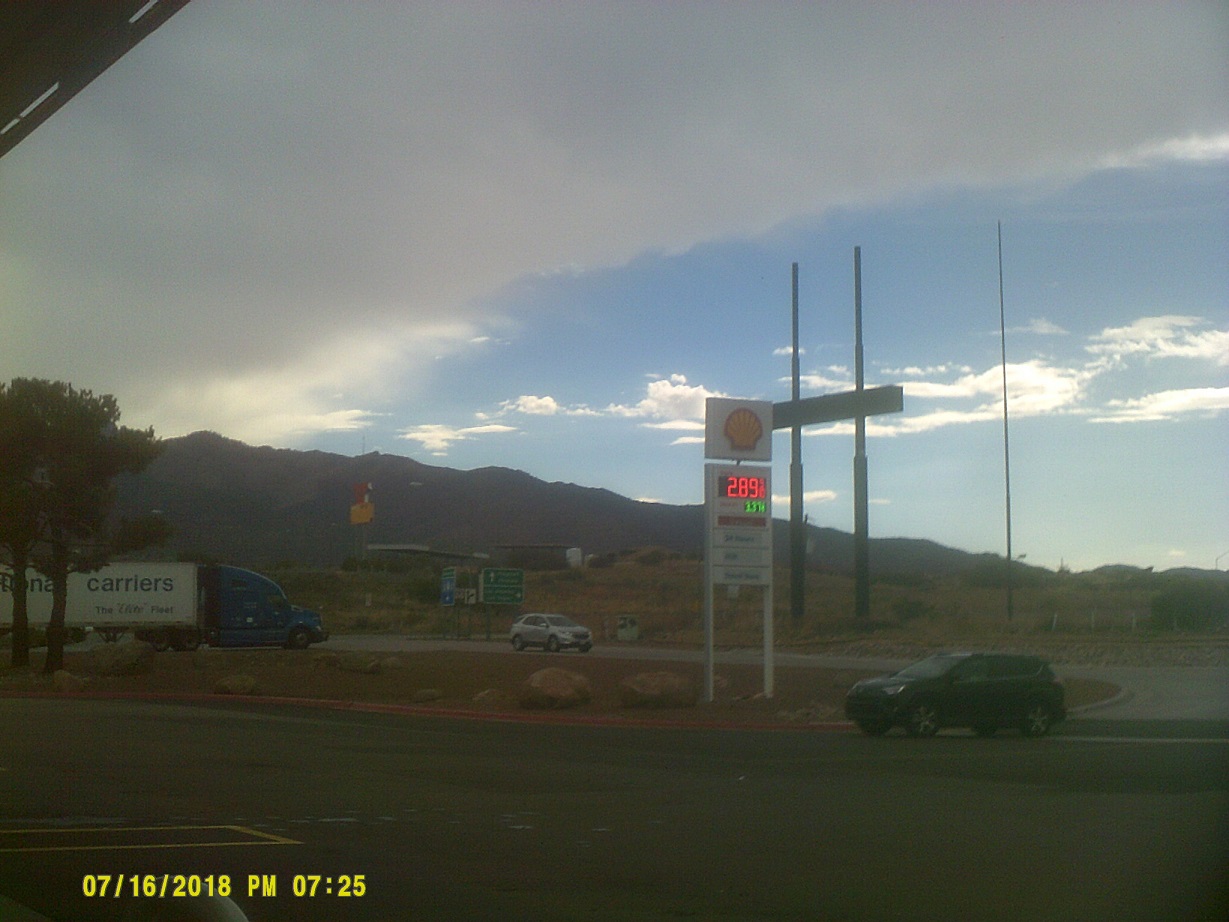 Gas station just east of Kingman – since US-93 (again, future I-11) is following I-40 here, the destinations listed add up to a lot of people (Flagstaff, Phoenix, Los Angeles, Las Vegas)
We found a place to stay in Williams. Just before arriving, we went through a monsoon shower.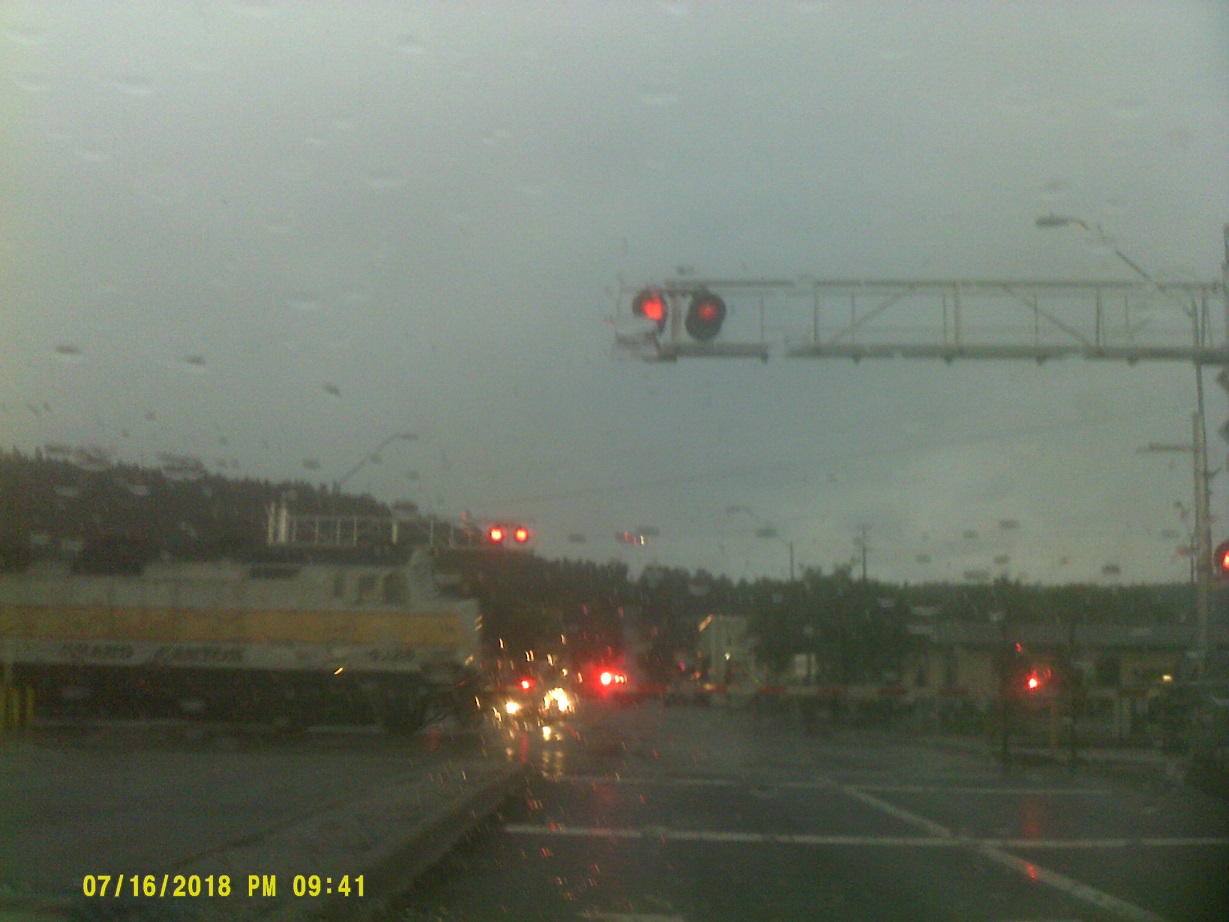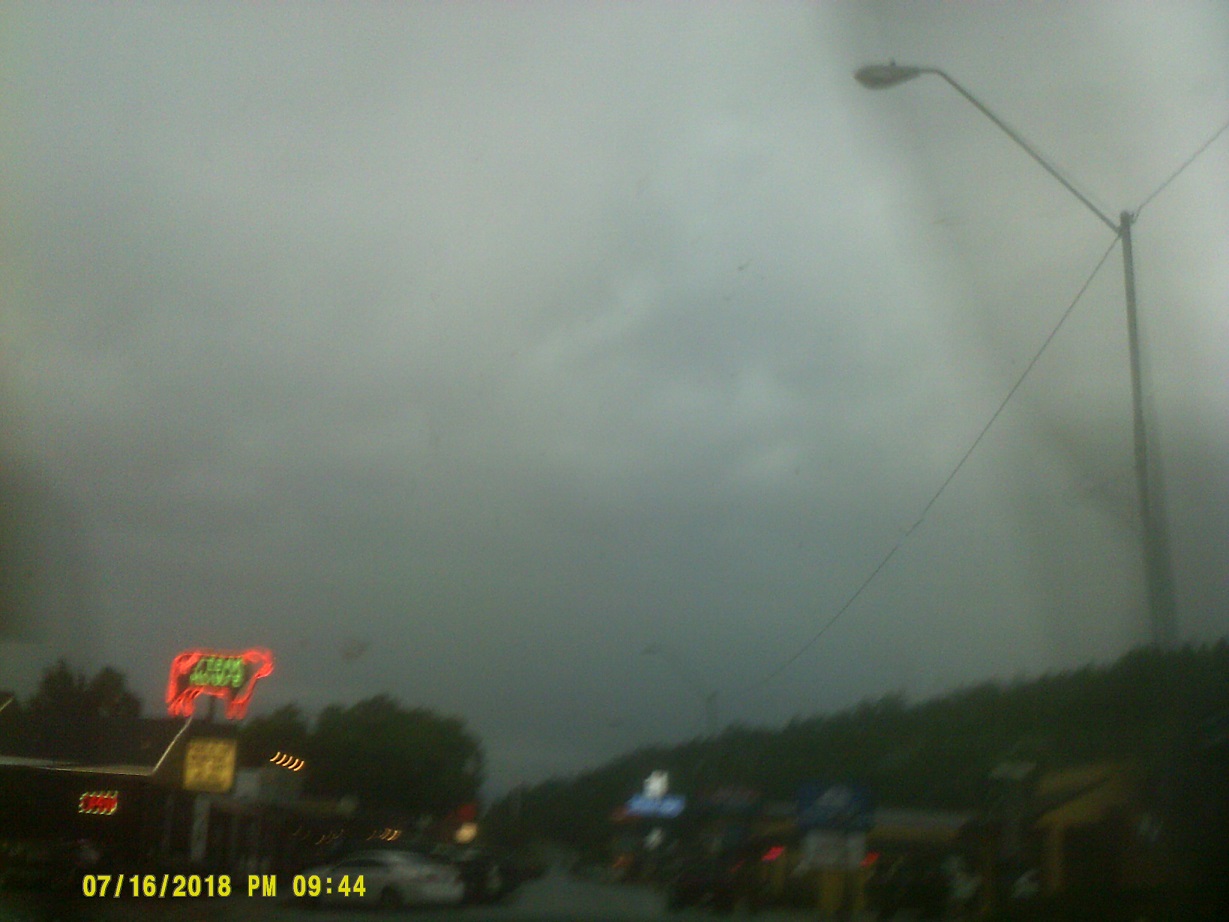 Old Route 66 eastbound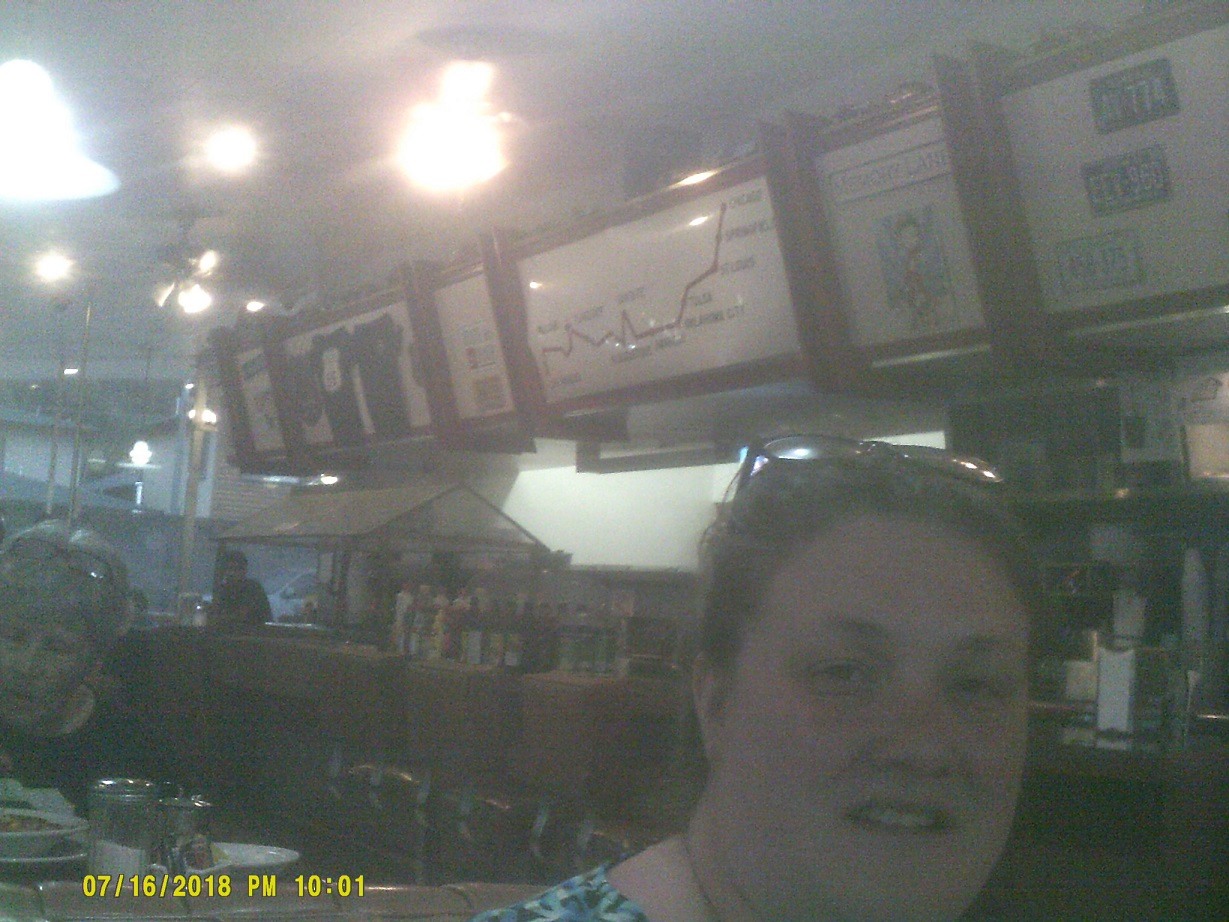 Inside the *Goldie's Route 66 Diner [archived webpage]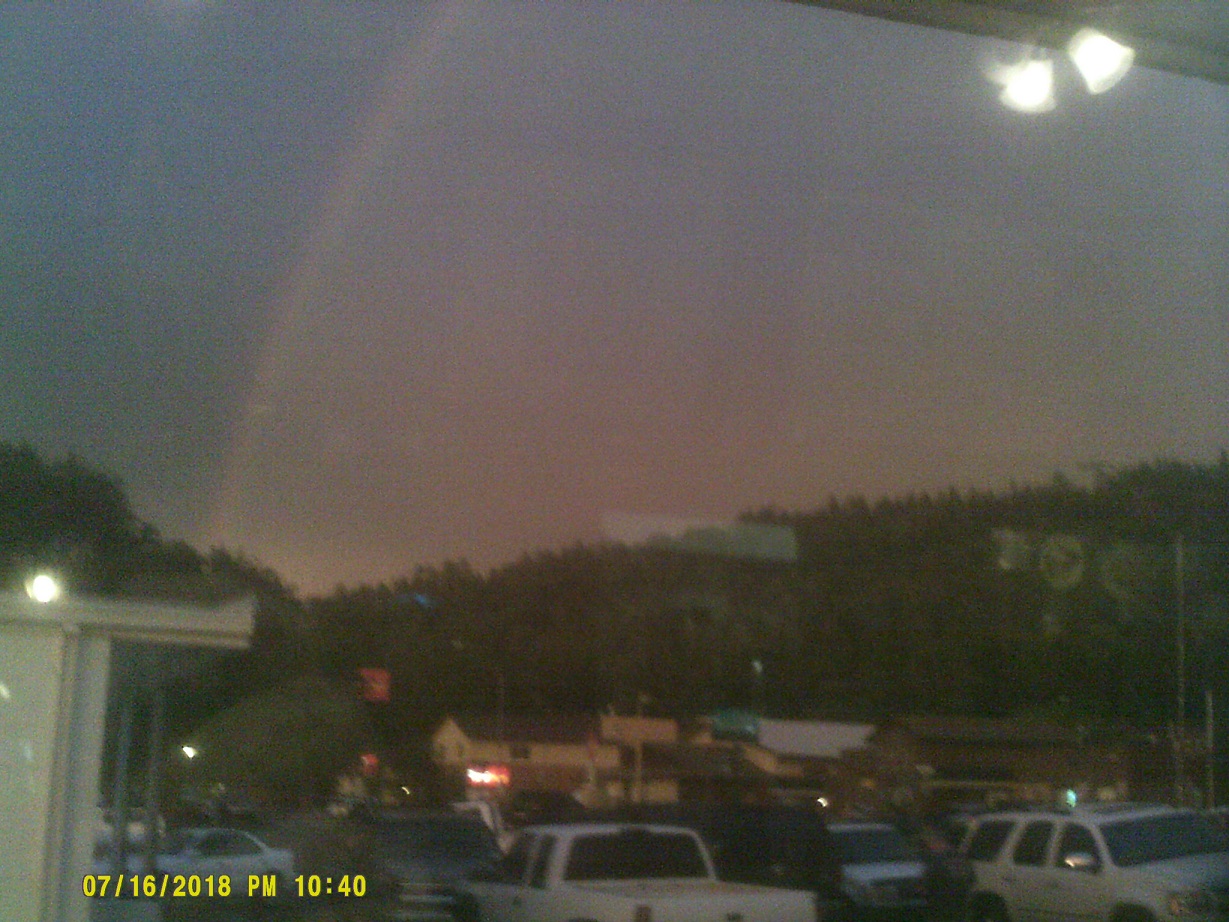 ...and outside
Day 9: Tuesday, July 17, 2018 (Williams, Arizona to Farmington, New Mexico)
Again on old 66 eastbound: My family stayed in this motel in 1977, when it was still a Whiting Brothers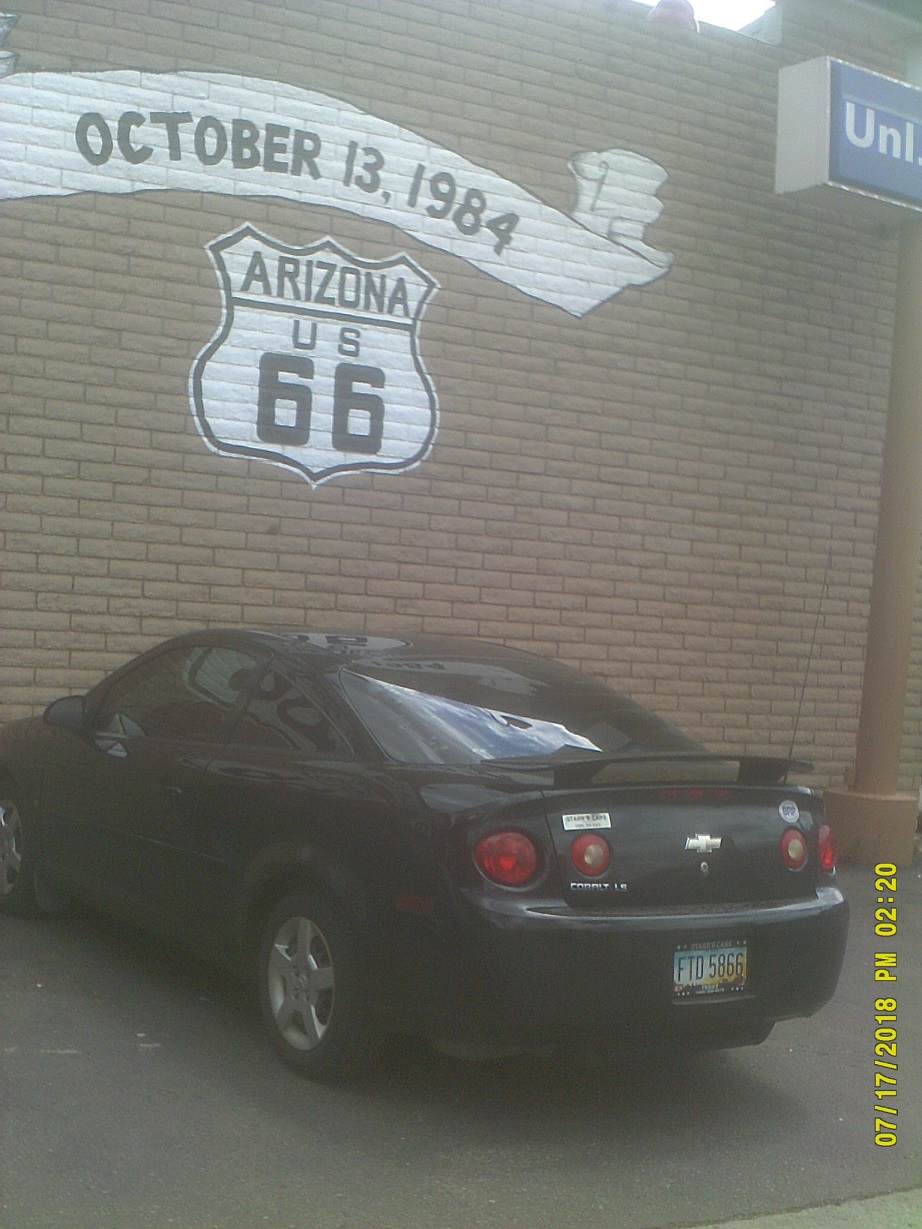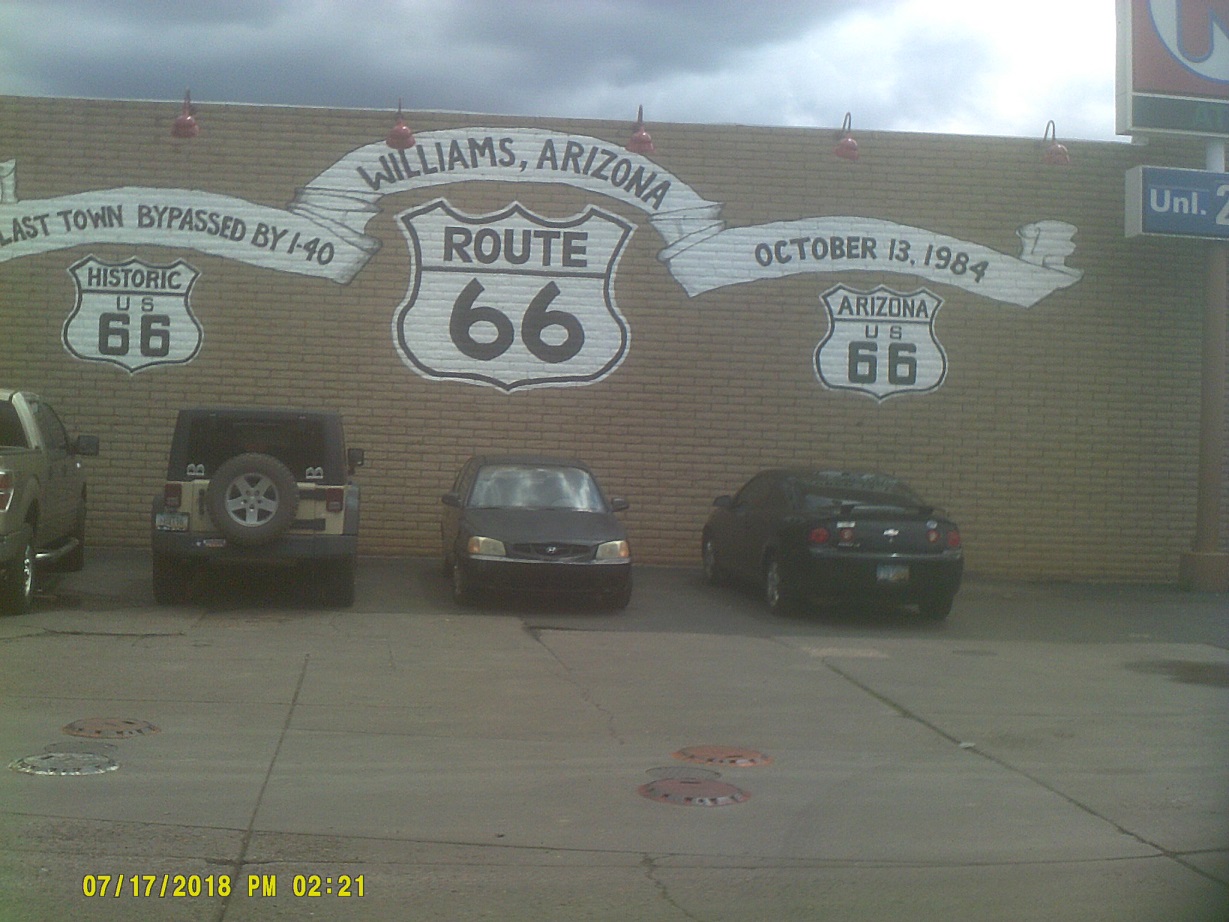 Next we went to *Bearizona on the east side of town – it's almost identical to Bear Country USA in South Dakota that we visited *two years earlier, but still worth the visit. Conveniently there was an abandoned alignment of 66 right outside of the park.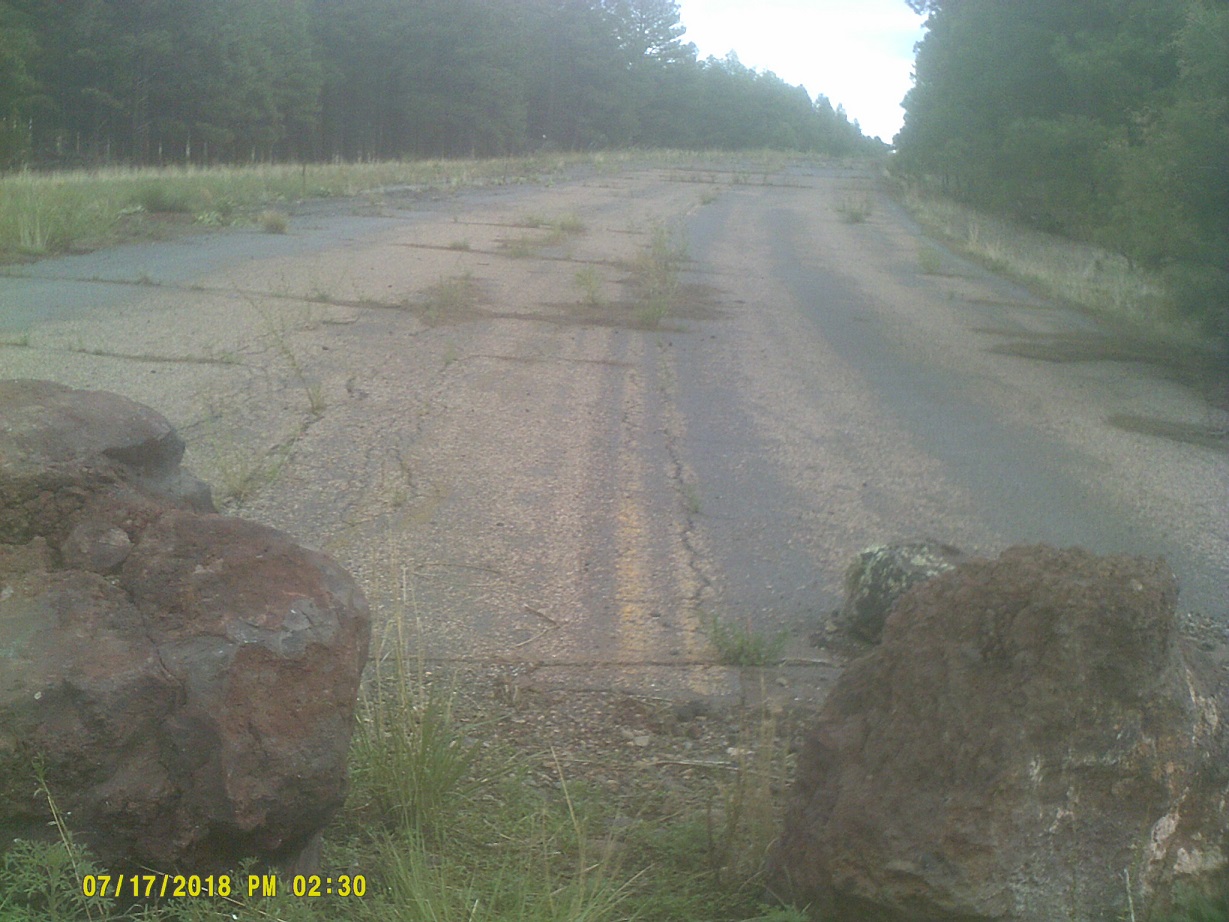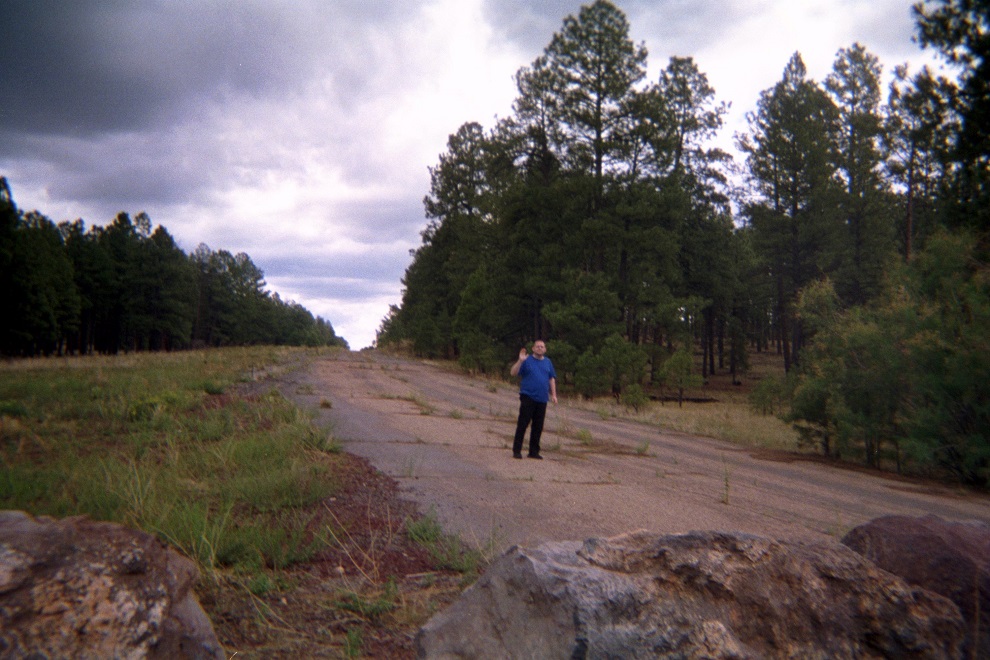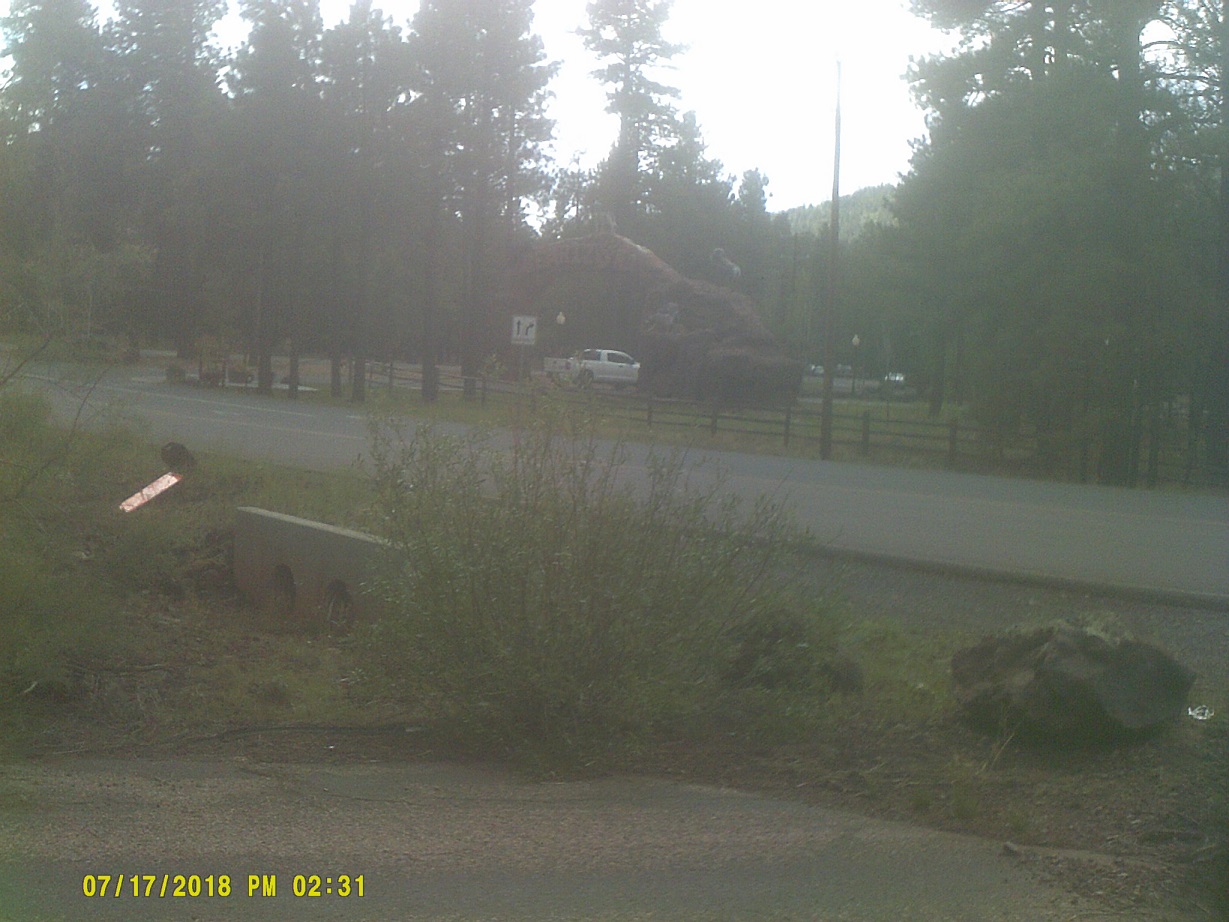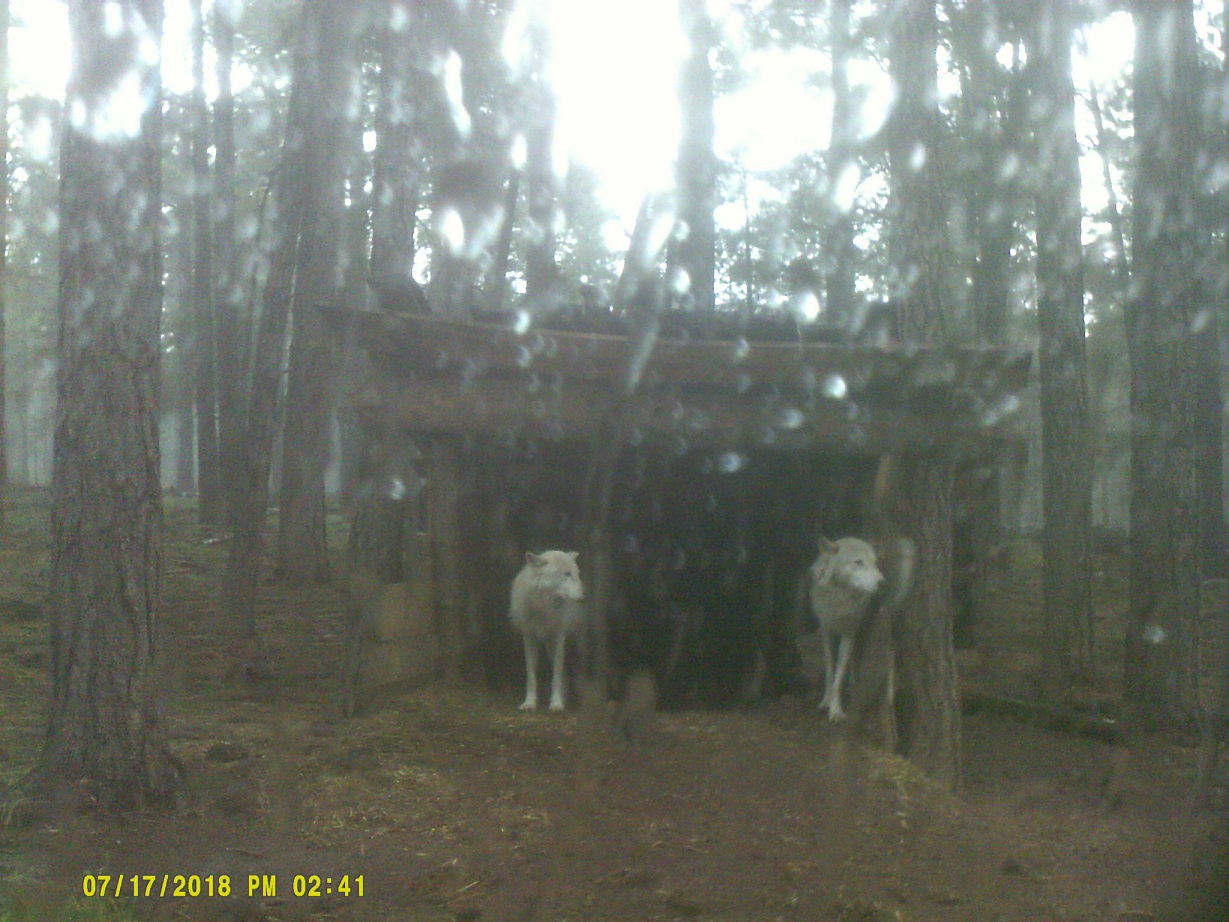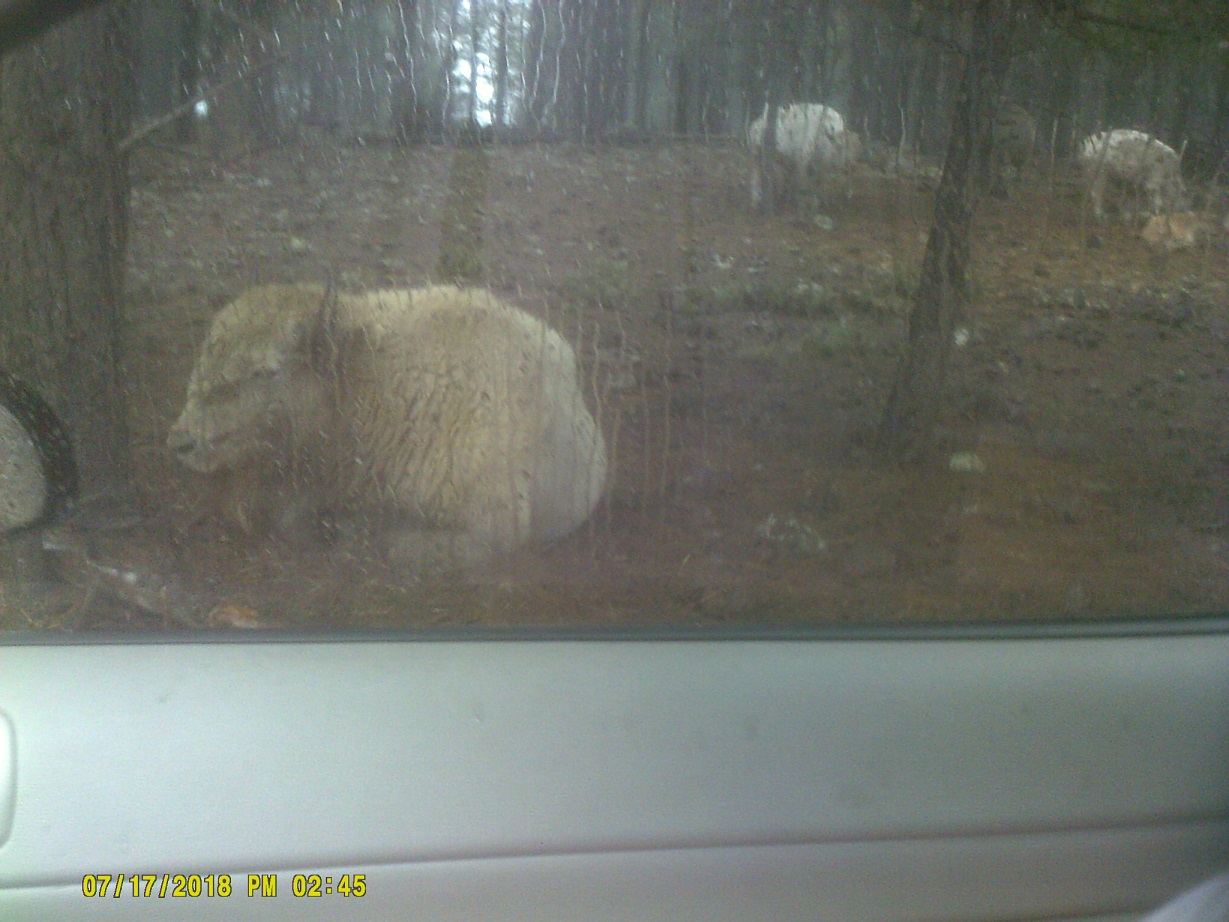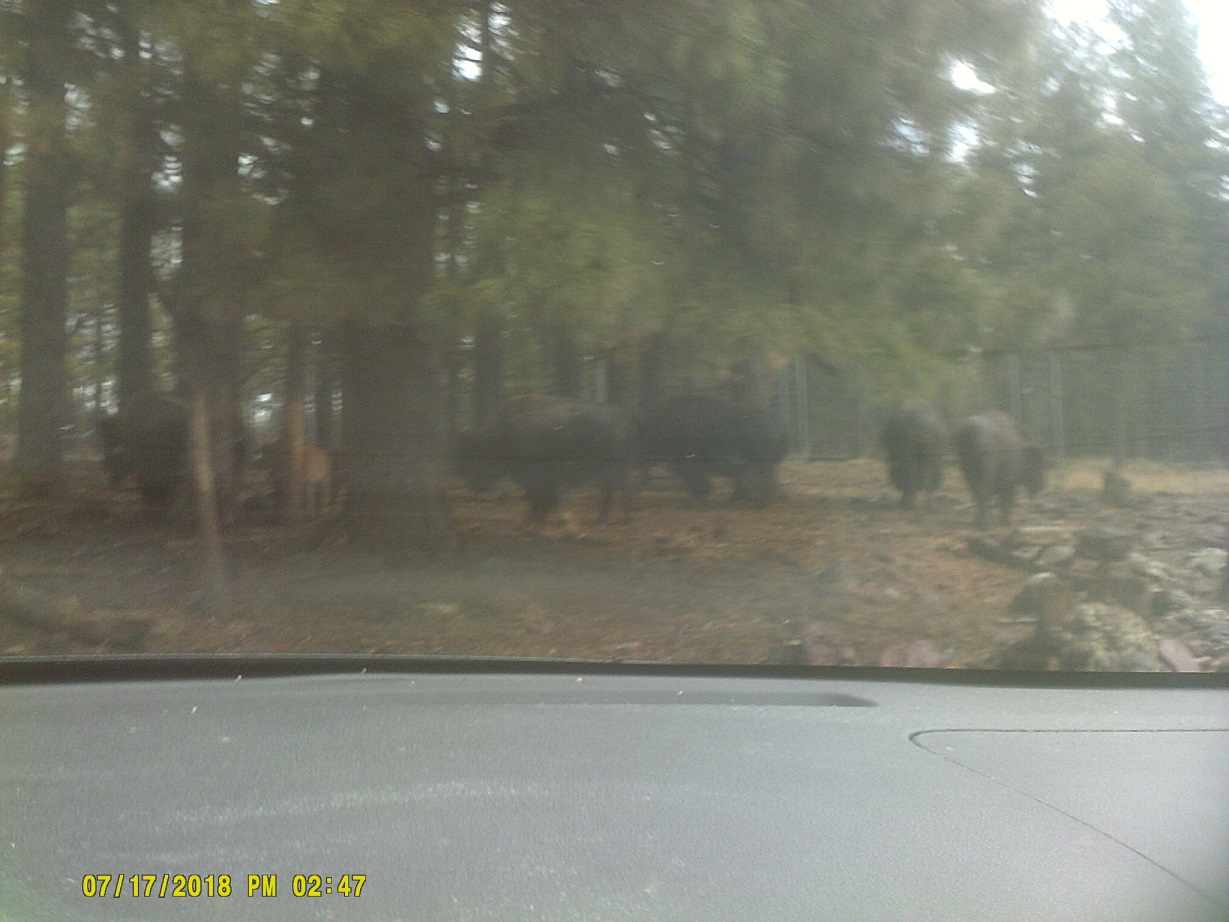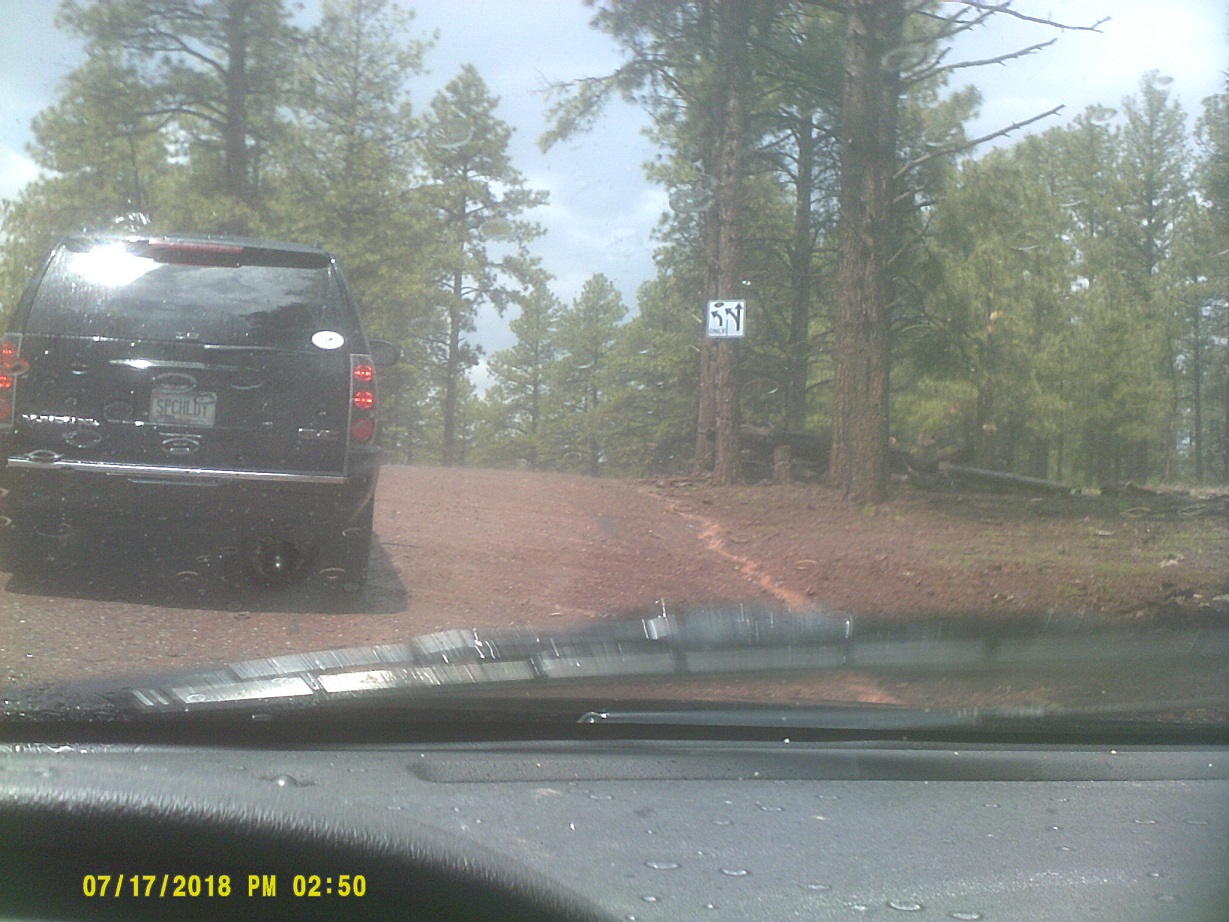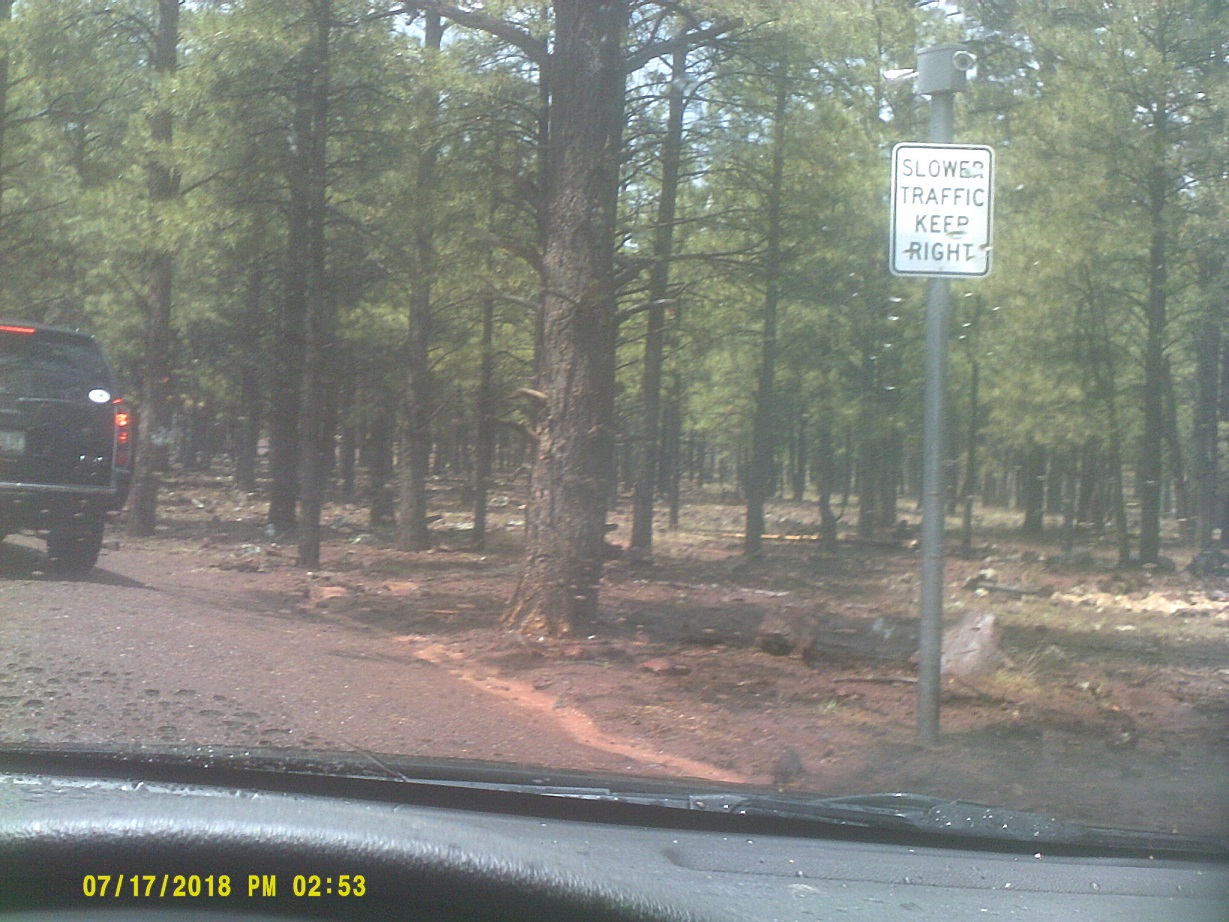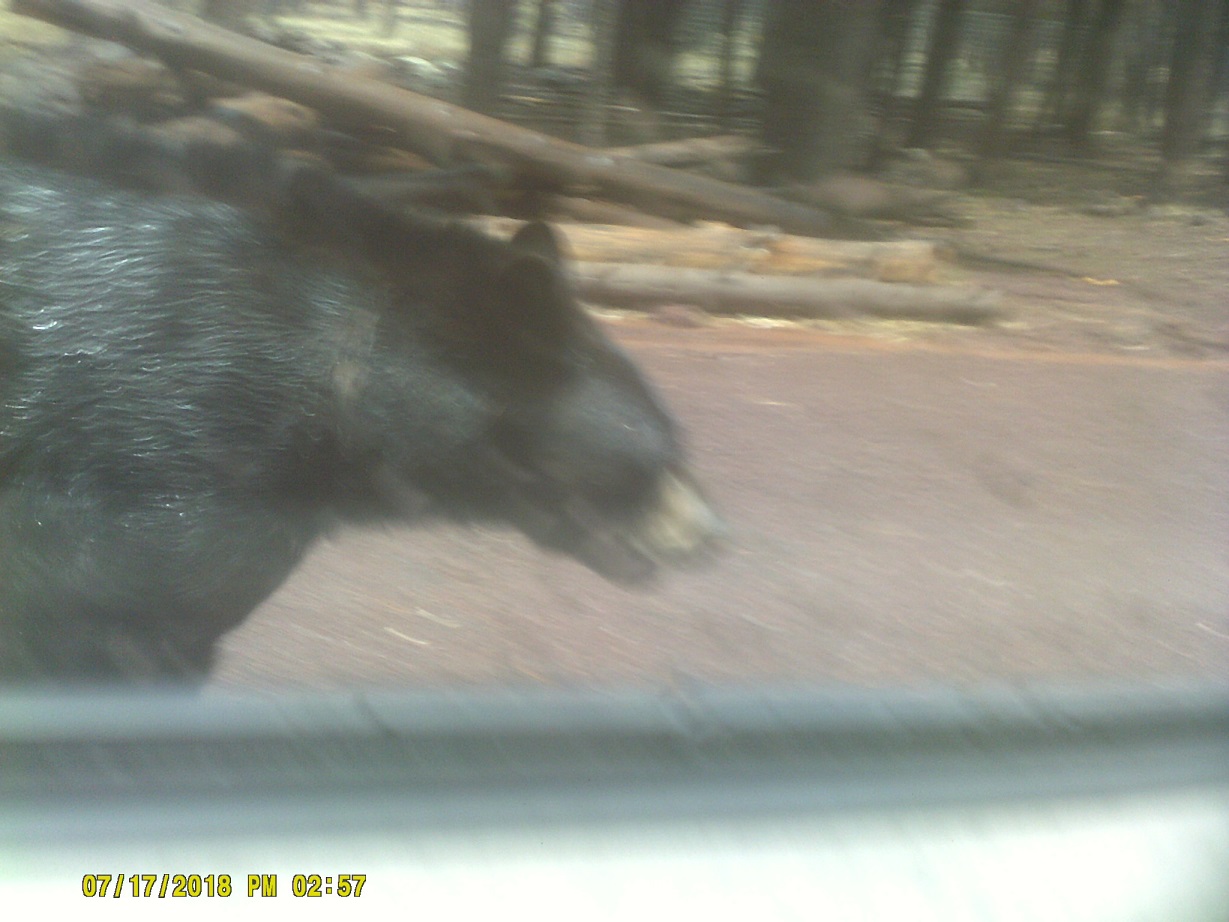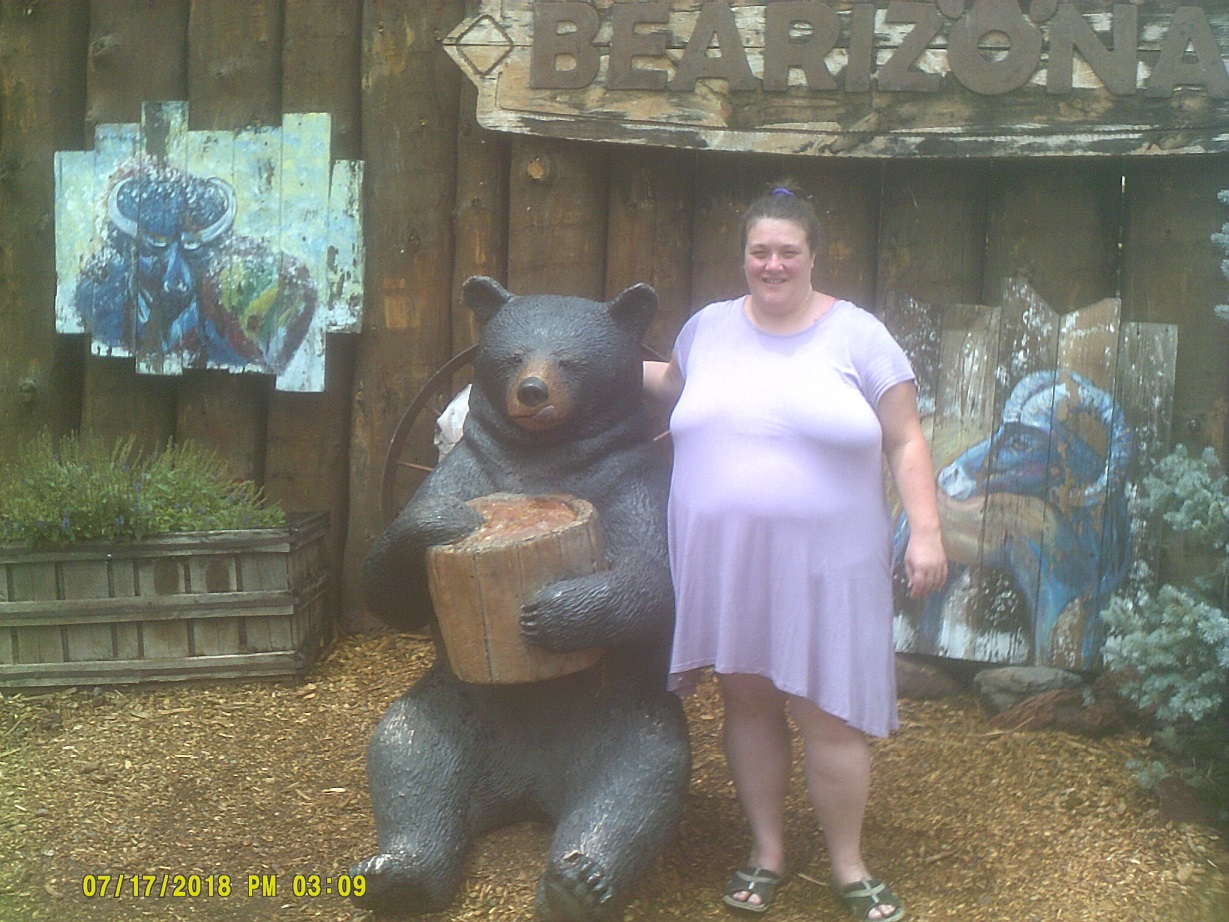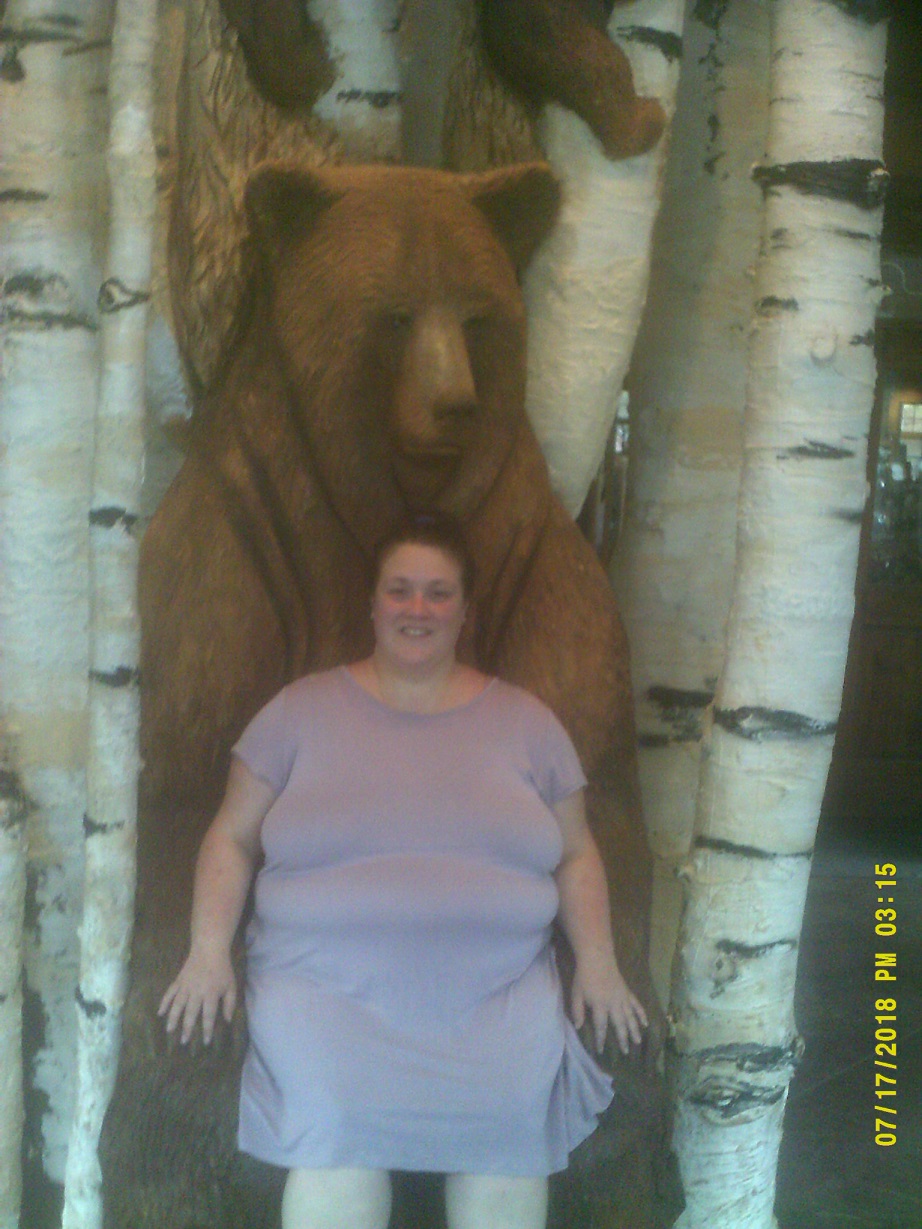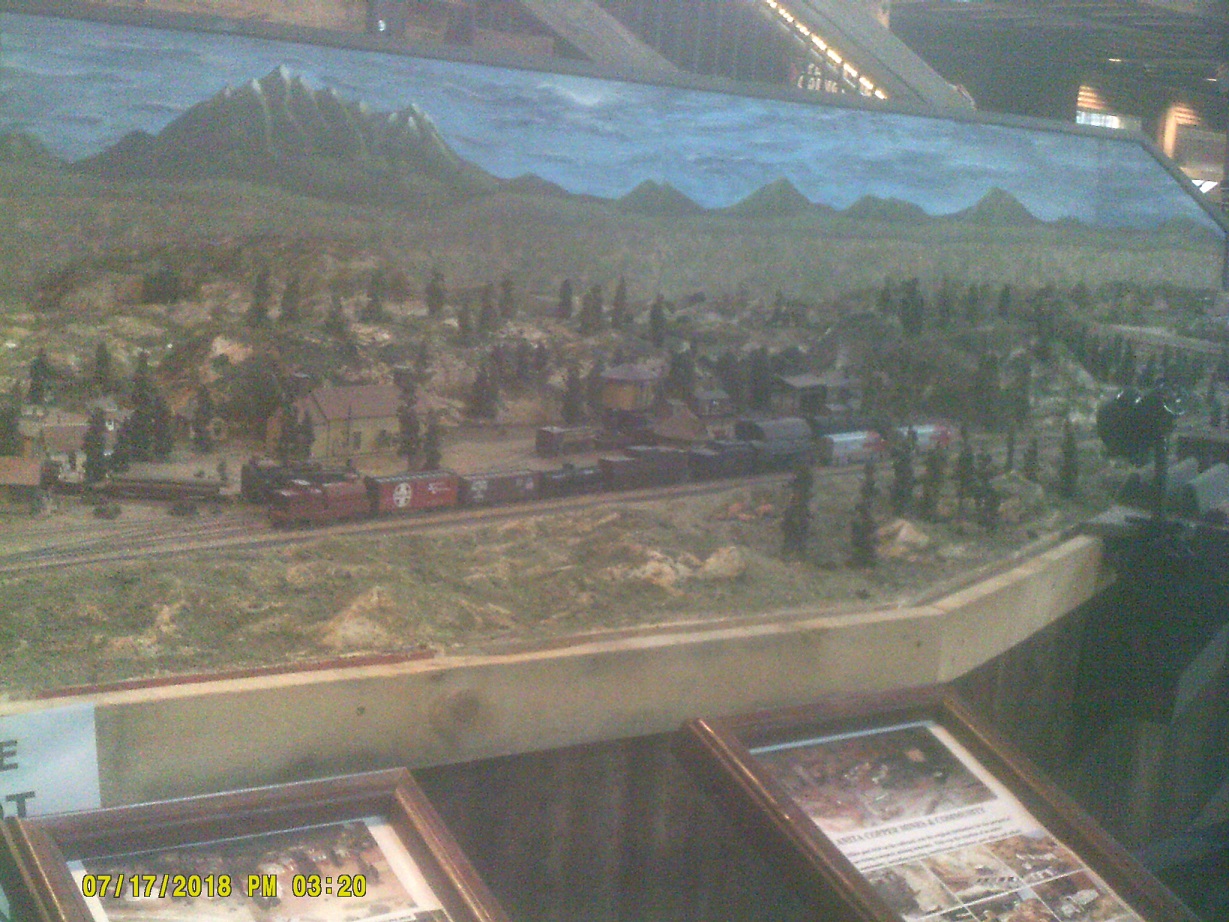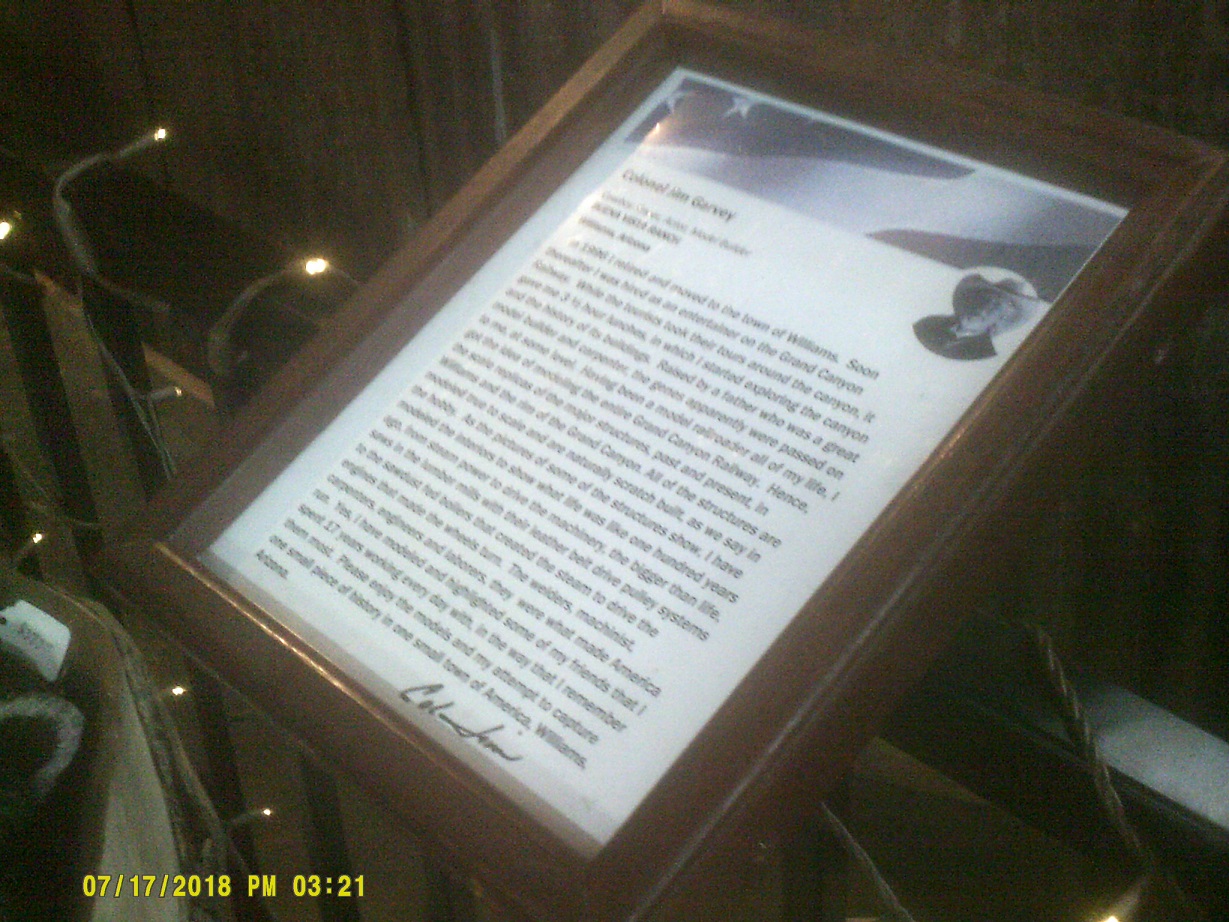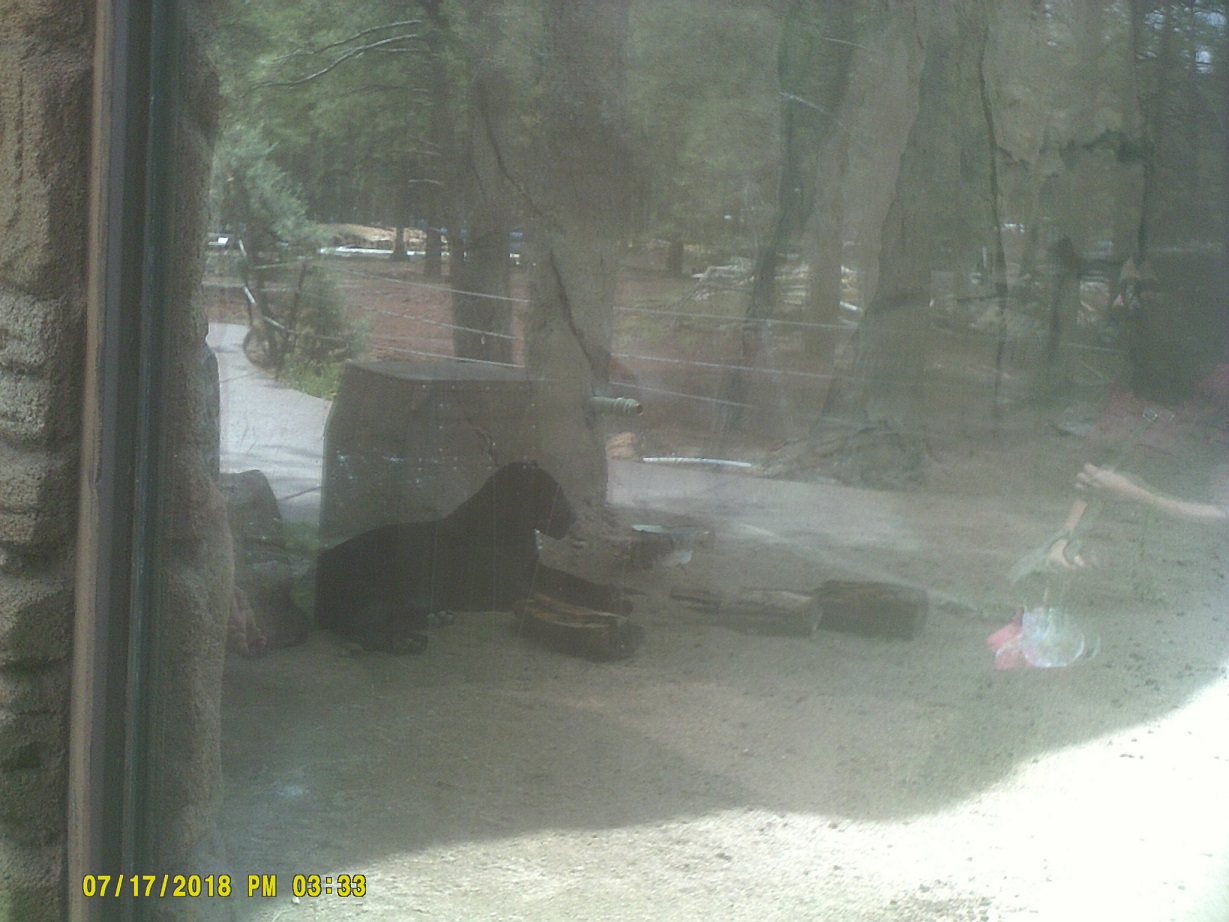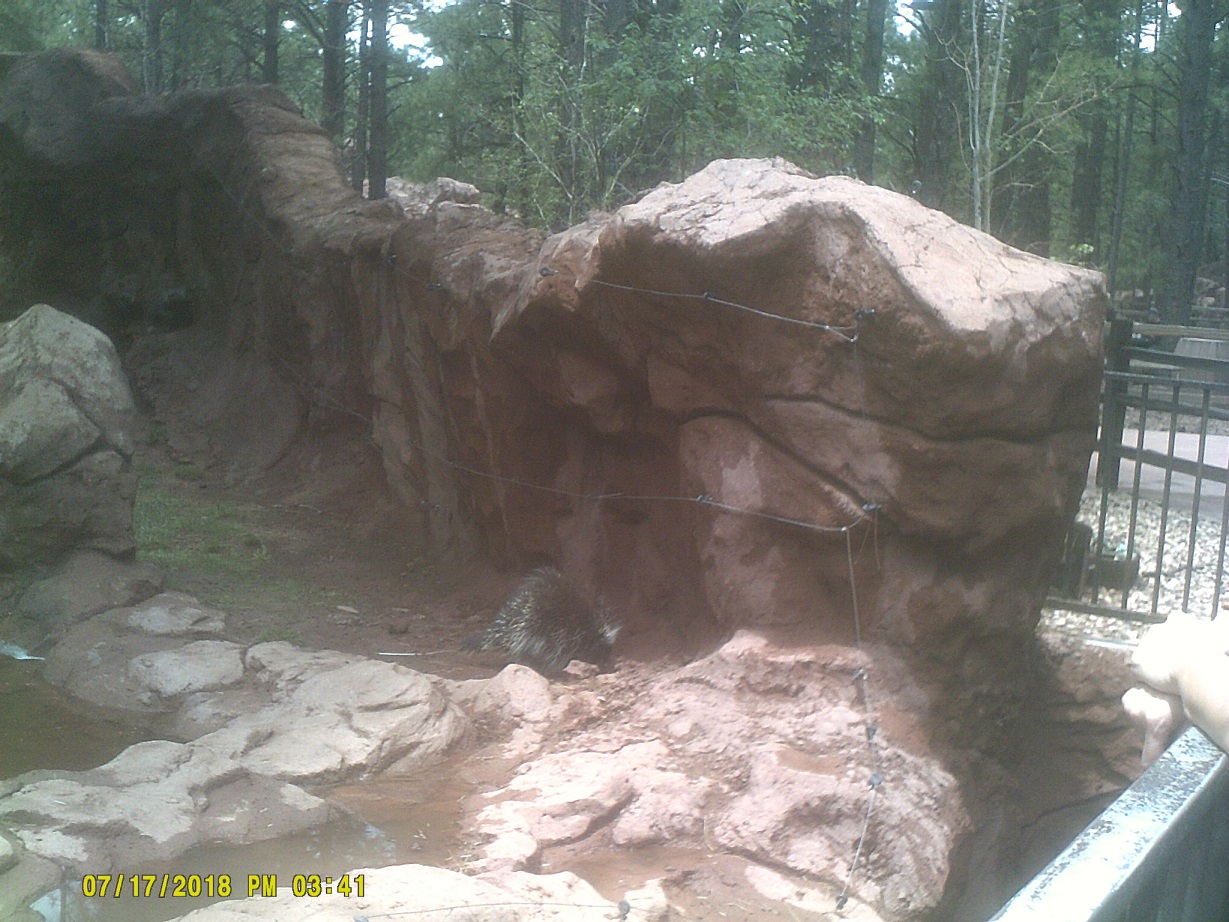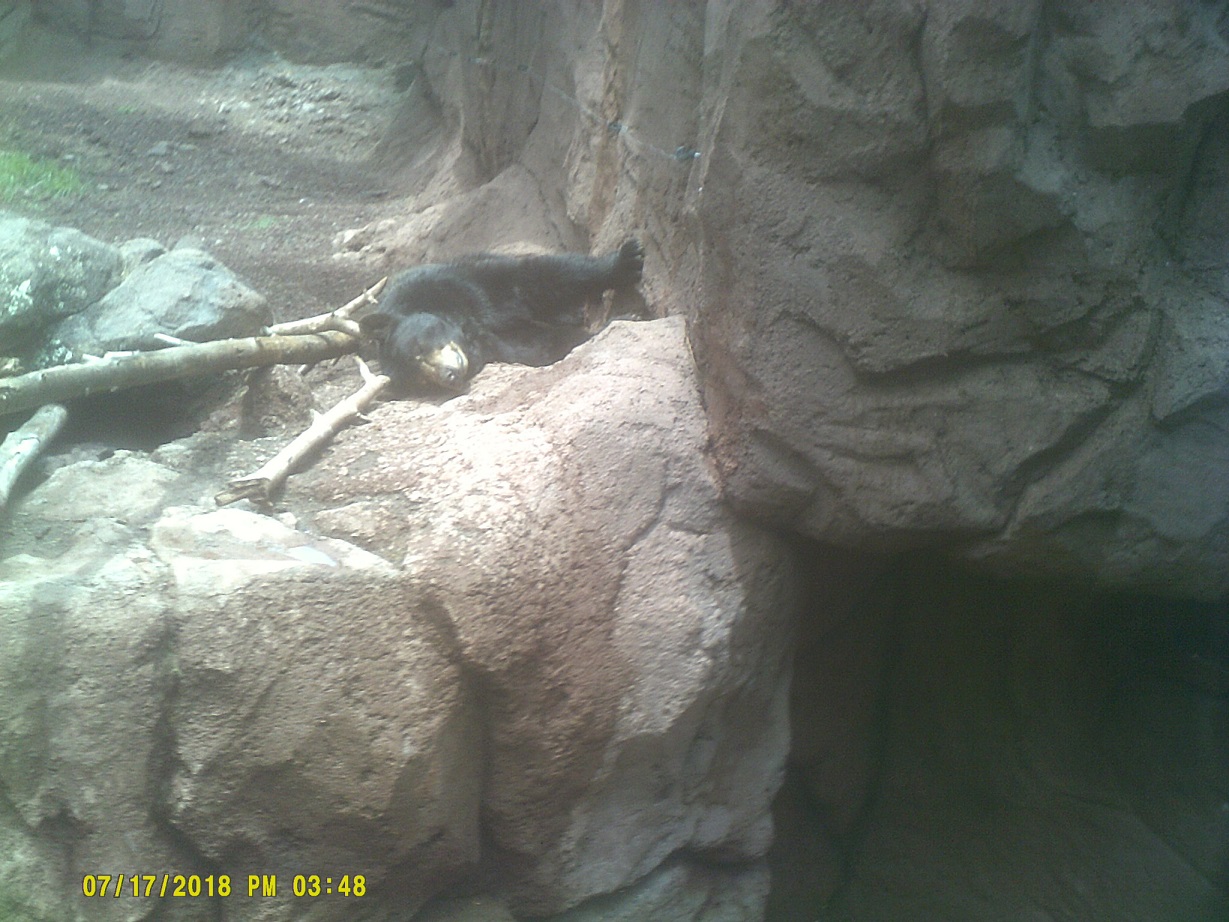 Finally, to the Grand Canyon.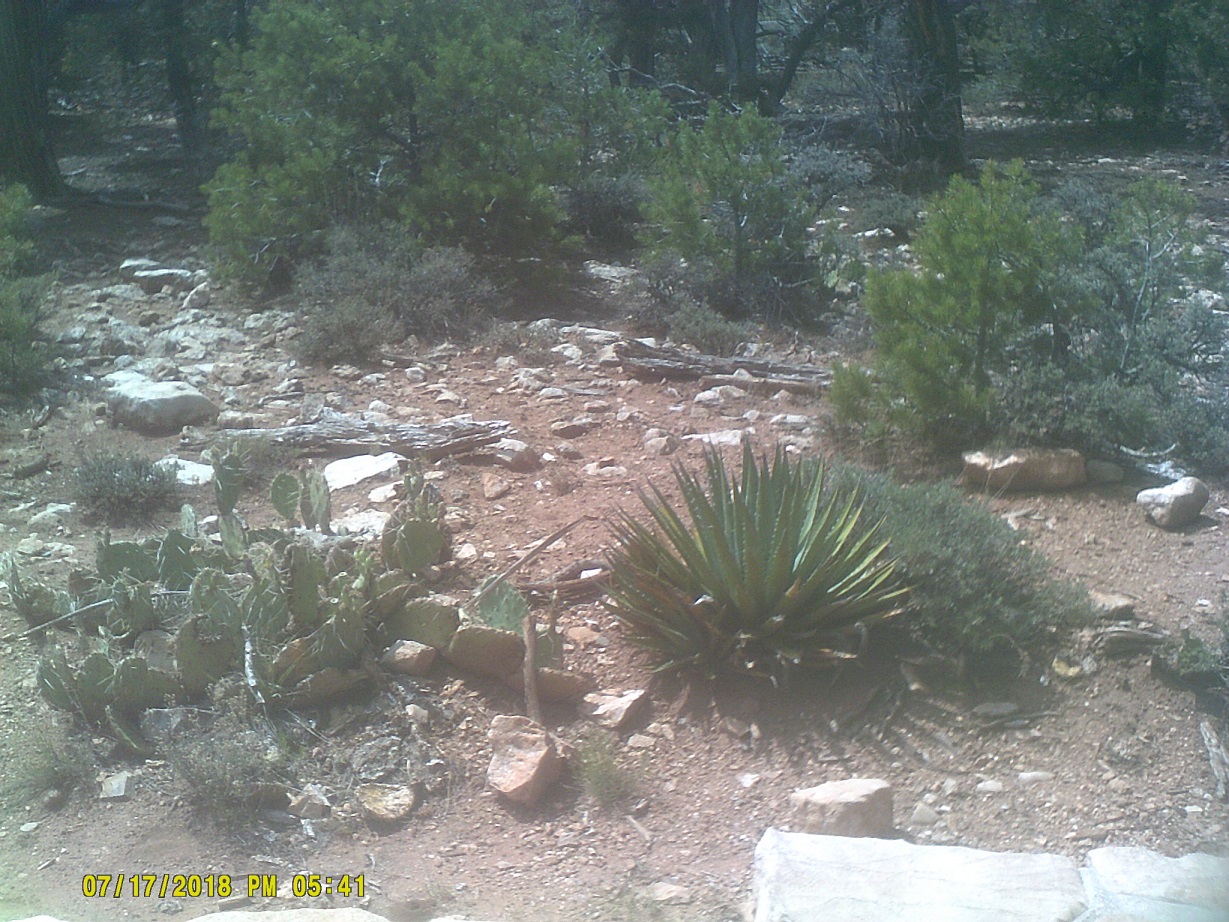 Cacti en route to Mather Point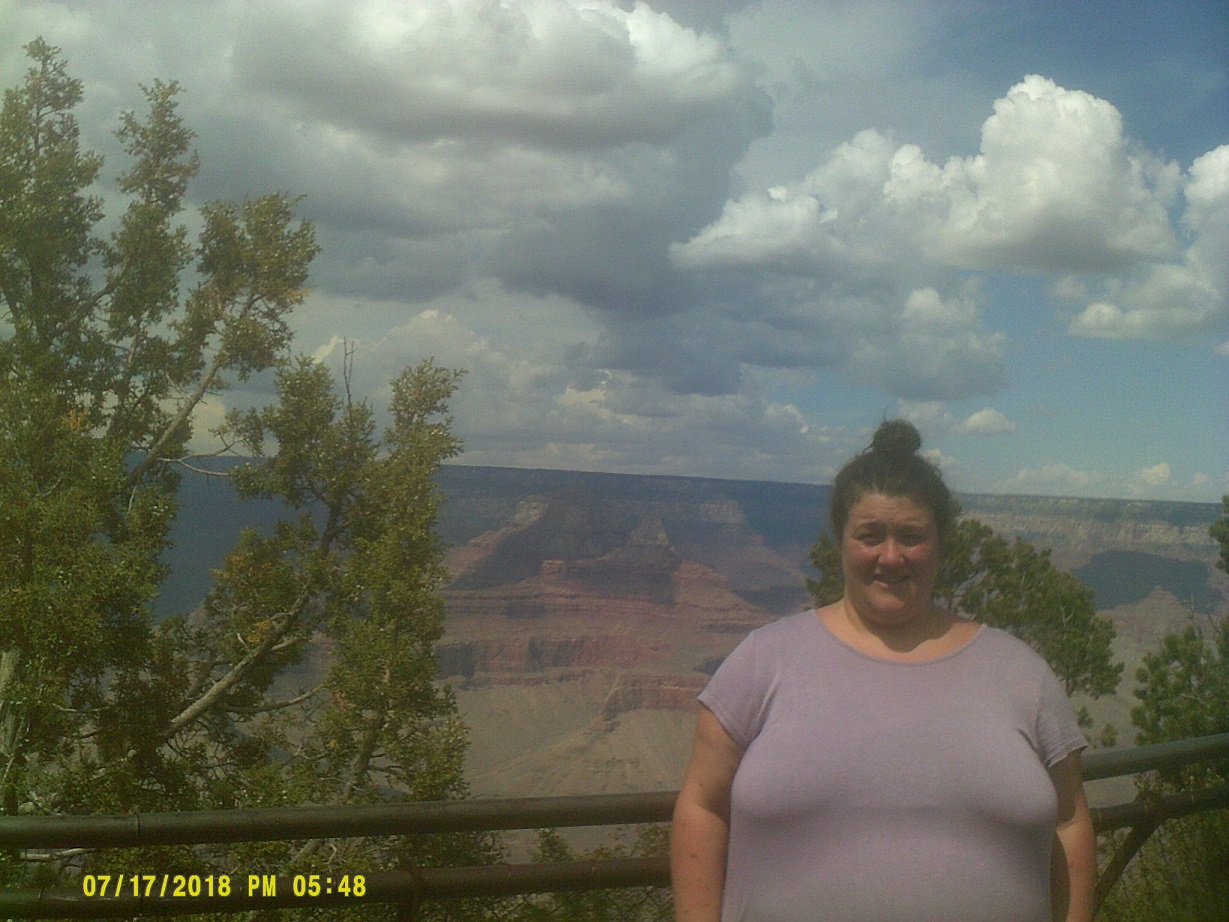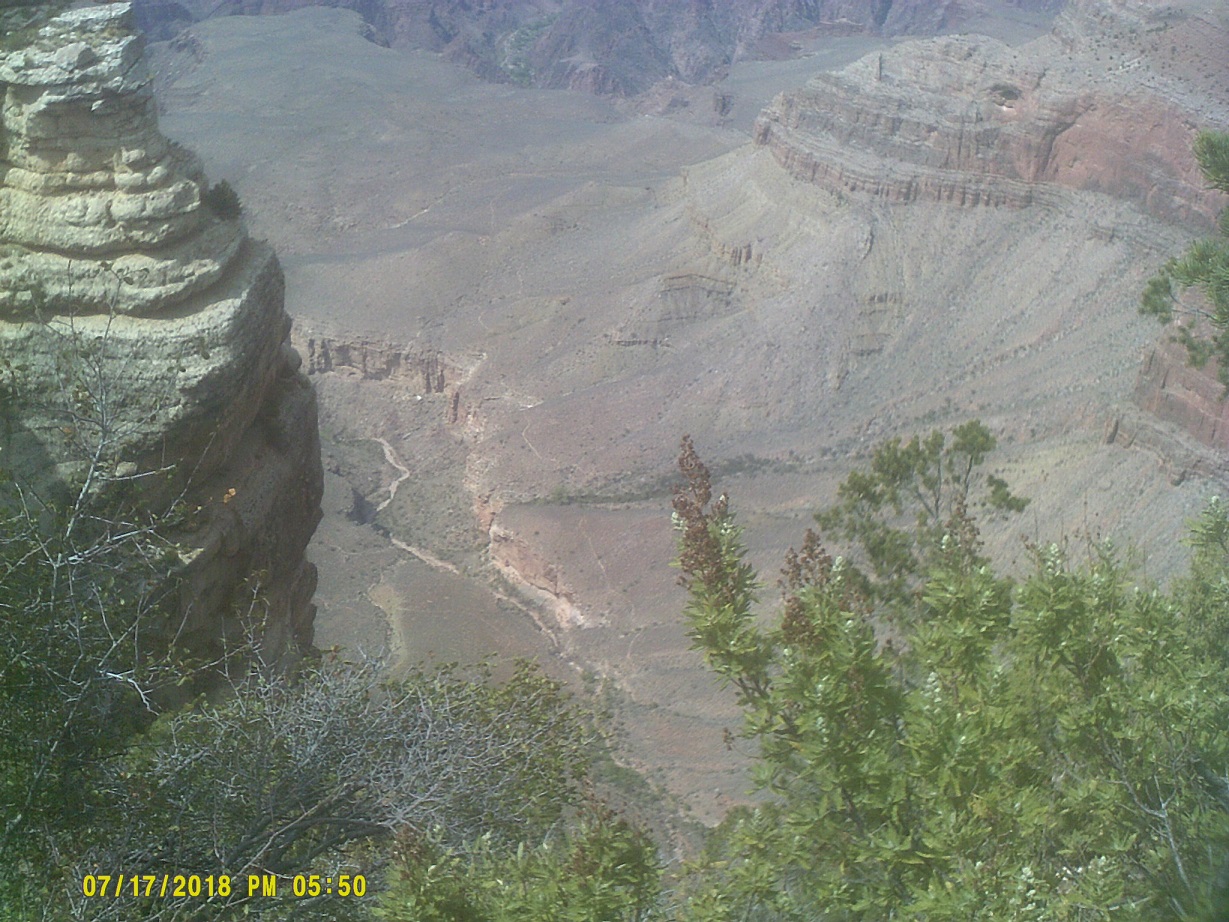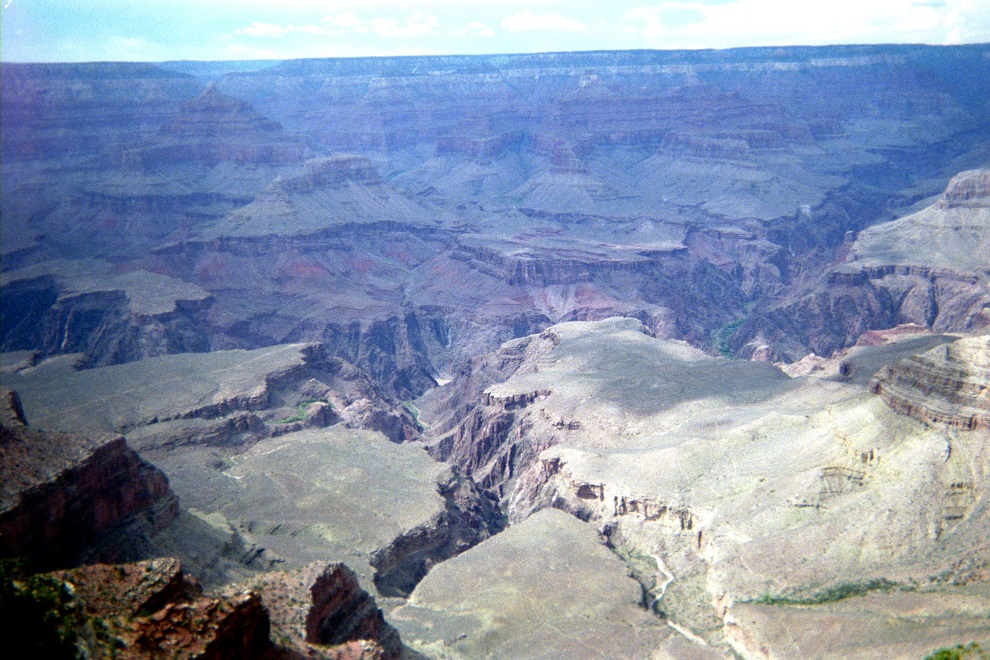 I forgot that there are many views along Arizona 64 to the east which don't involve as much walking, but it's a good thing that we did walk because 64 was being repaved and the parking lots were inaccessible for the most part. There was also a section where 64 was only open to one dirction of traffic at a time, so we spent a good half-hour looking at the back of a stationary RV. (There were plenty of variable message signs noting the potential delay so I can't say that we weren't warned.)
Enter Mountain Daylight Time, two hours behind Eastern (the borders between standard and daylight are complicated in northeast Arizona)
As opposed to trips that I made with my parents, after turning north on US-89, where we were afforded a view of an old suspension bridge and a few old bridges over washes on a parallel abandoned alignment of US-89, I went east on US-160 to visit Four Corners, the intersection of Arizona, Utah, Colorado, and New Mexico.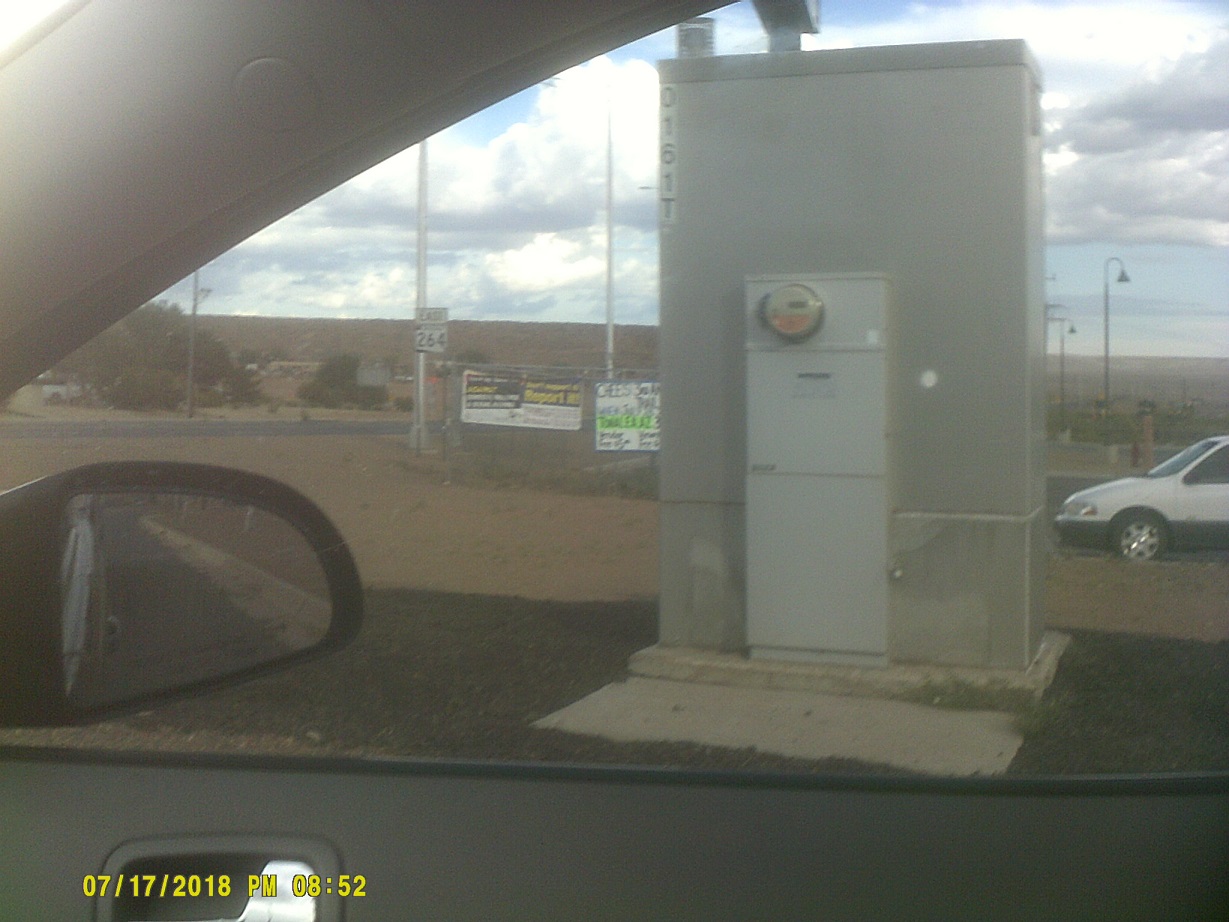 I included this not just as another route marker that I caught at a red light, or for more scenery, but because I'm a musician – this was in Tuba City.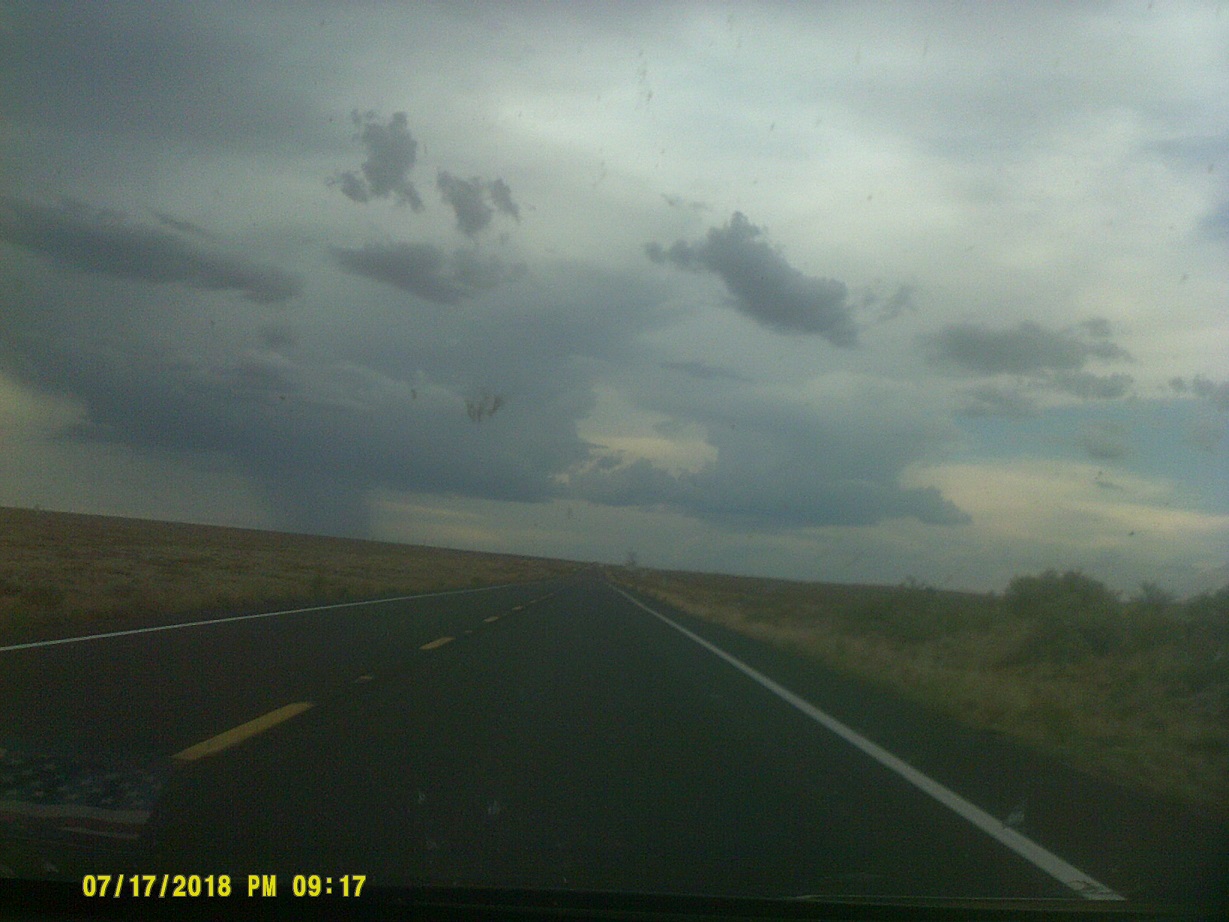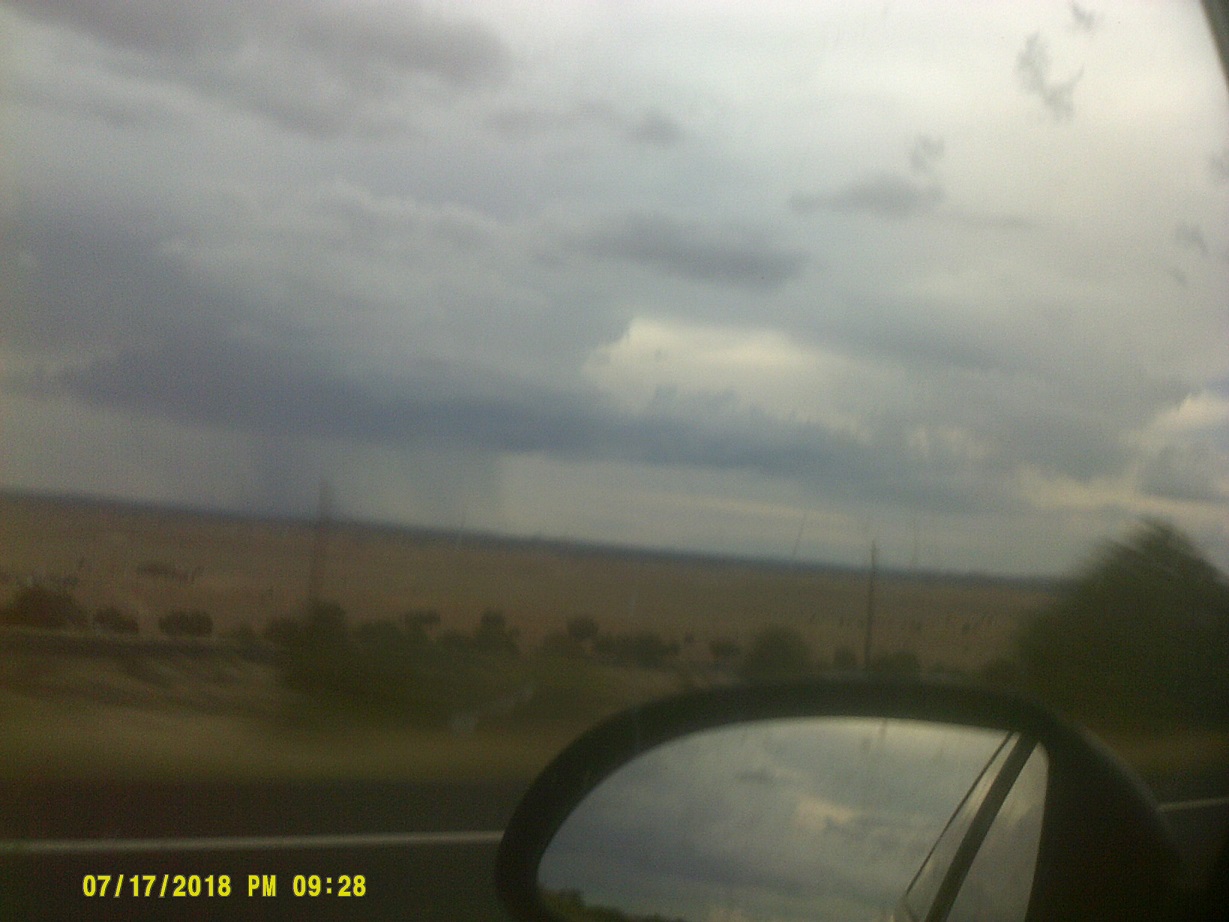 More monsoon storms along the way, accompanied by something that caught me by surprise all the way out here: A railroad with overhead electric lines.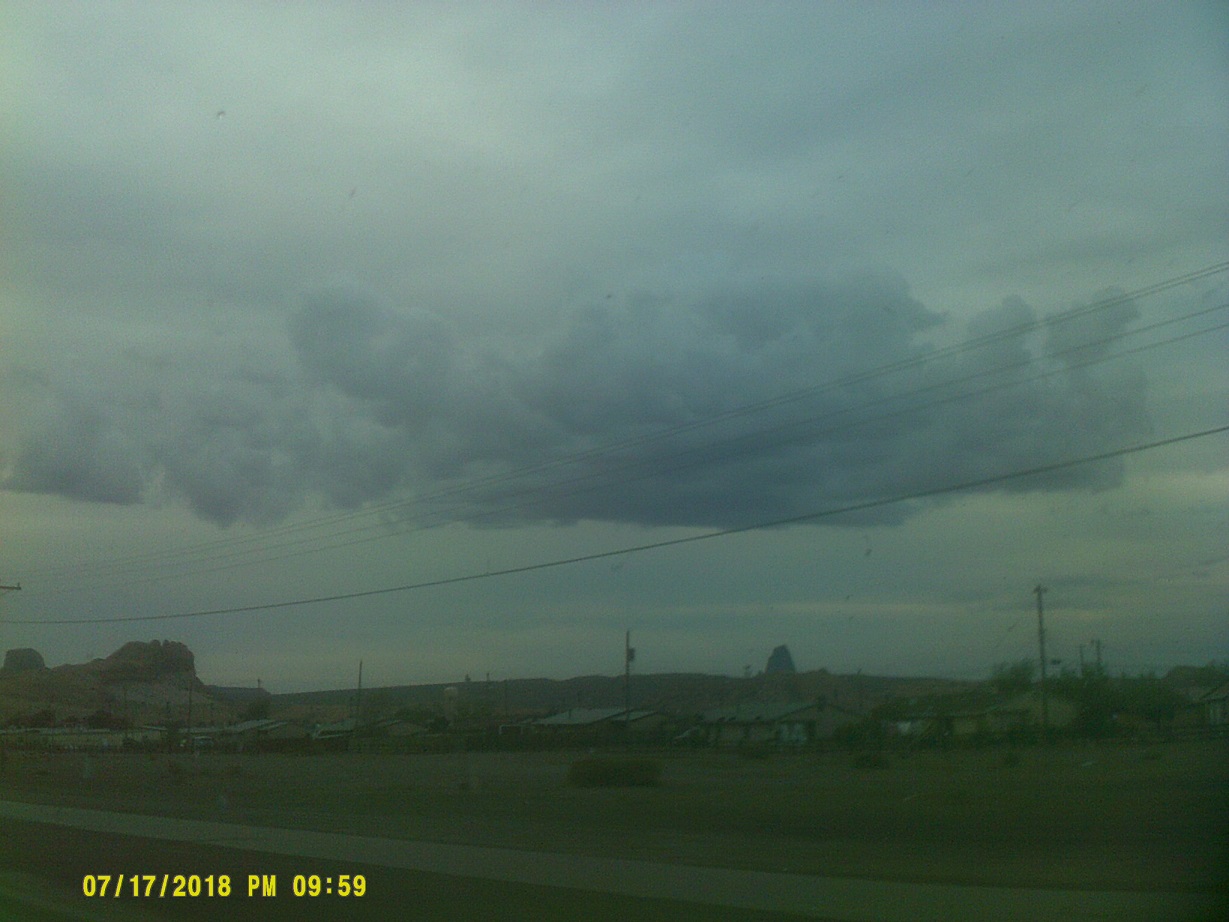 Knowing that this was as close as we were going to get to Monument Valley, I turned north on US-163 briefly so I could get a shot of that general direction...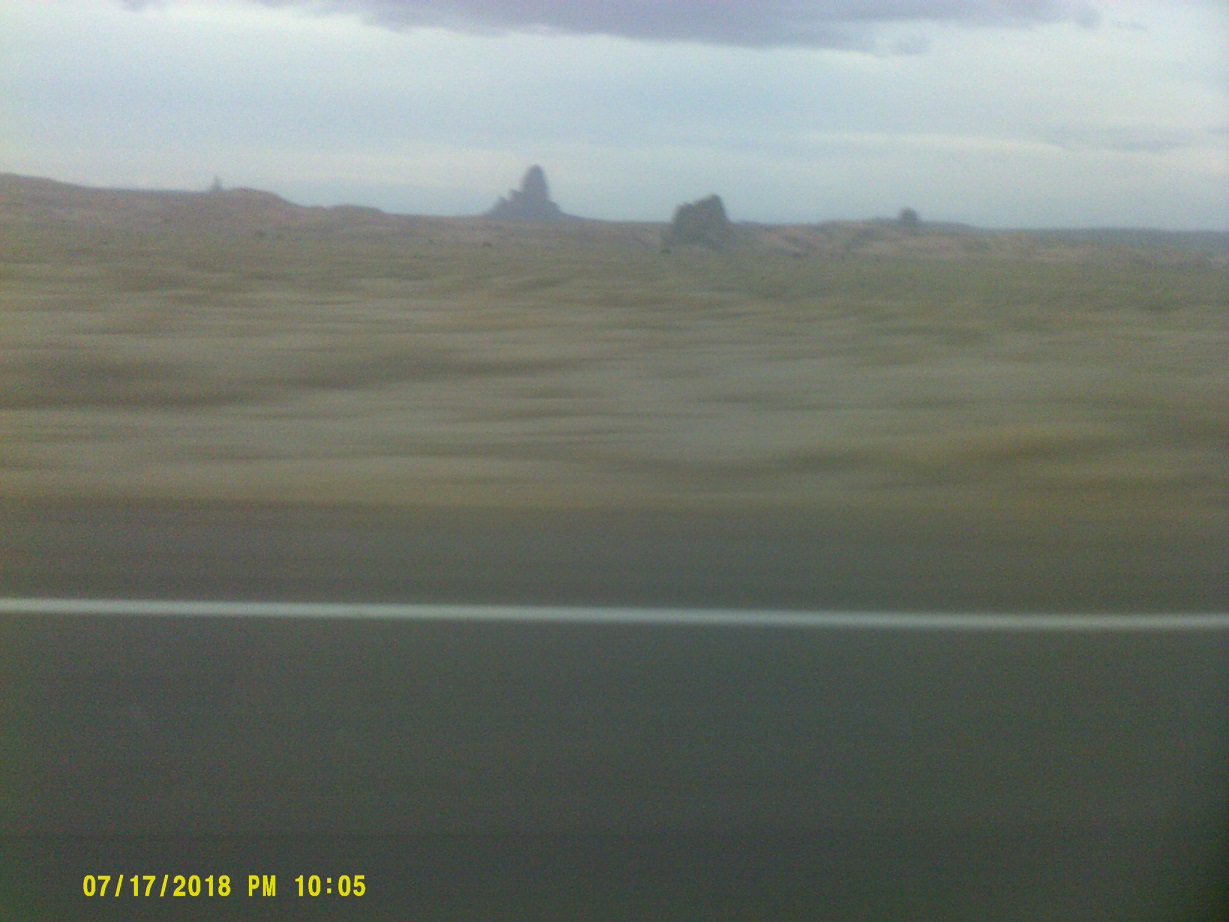 ...although, as shown, I really didn't need to leave US-160
Partly because of the construction, partly because of the timing, we got to the Four Corners area too late: It got dark, and I learned later that the monument has hours of operation, and it was closed by then. Knowing that there were settlements to the east, I kept going on US-64 into New Mexico, hoping to find something in Shiprock. I didn't. I continued east to Farmington, which had plenty of places to stay, but took us a long way from the monument. I probably should have stayed in Kayenta at US-160/163.
Day 10: Wednesday, July 18, 2018 (Farmington, New Mexico to Pueblo, Colorado)
Now, I had a dilemma: Either backtrack to the monument, which would add 100 miles and at least two hours, or keep going east to US-550 to the Albuquerque area to rejoin I-40 which would make the detour to the north of I-40 pointless. After considering making a loop which would include US-491 to make things interesting, I decided to make the drastic change of doing a major reroute to the trip.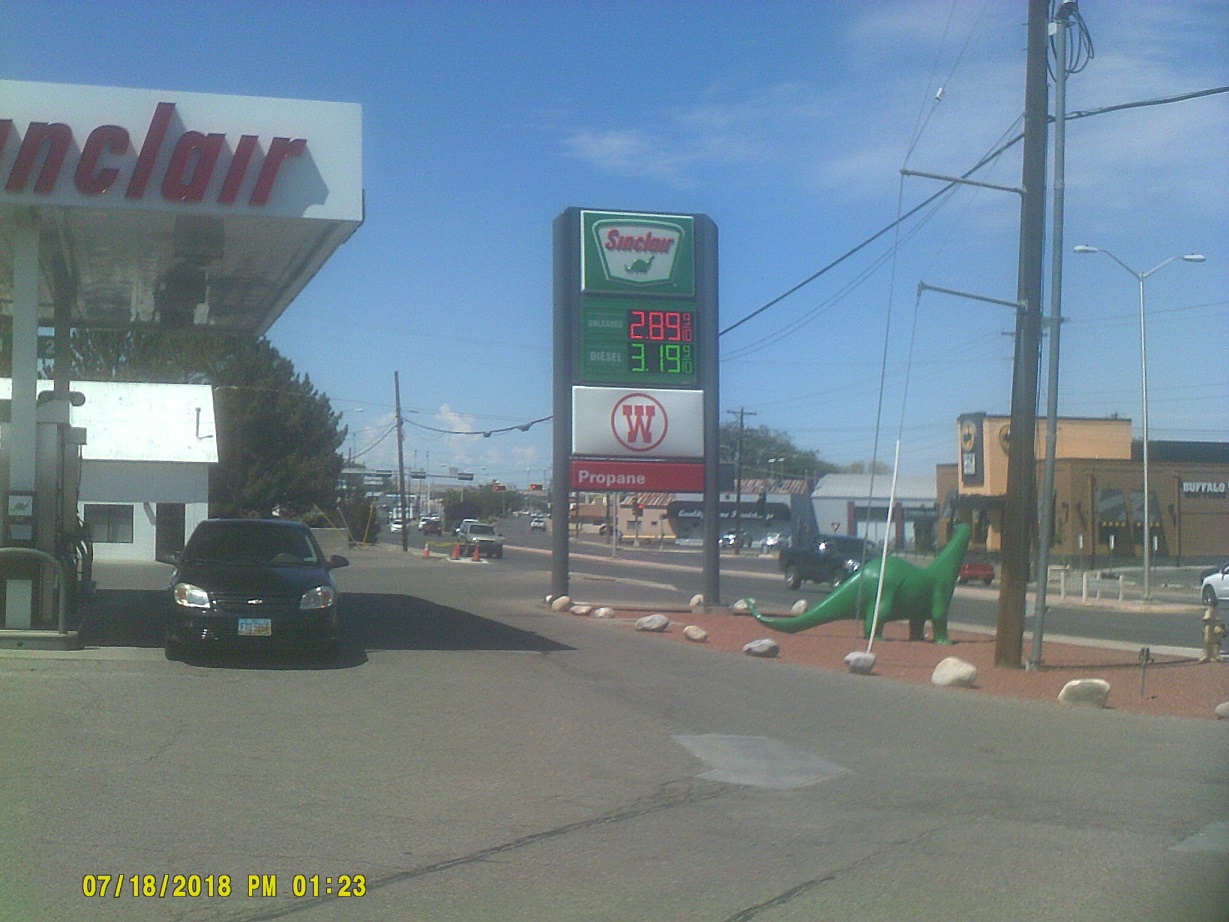 Sinclair dinosaurs are still common in the West.
After backtracking on US-64, this time in the daylight so we could see things such as Shiprock (the actual rock) and *this old bridge which may not be around much longer, we made it to Four Corners.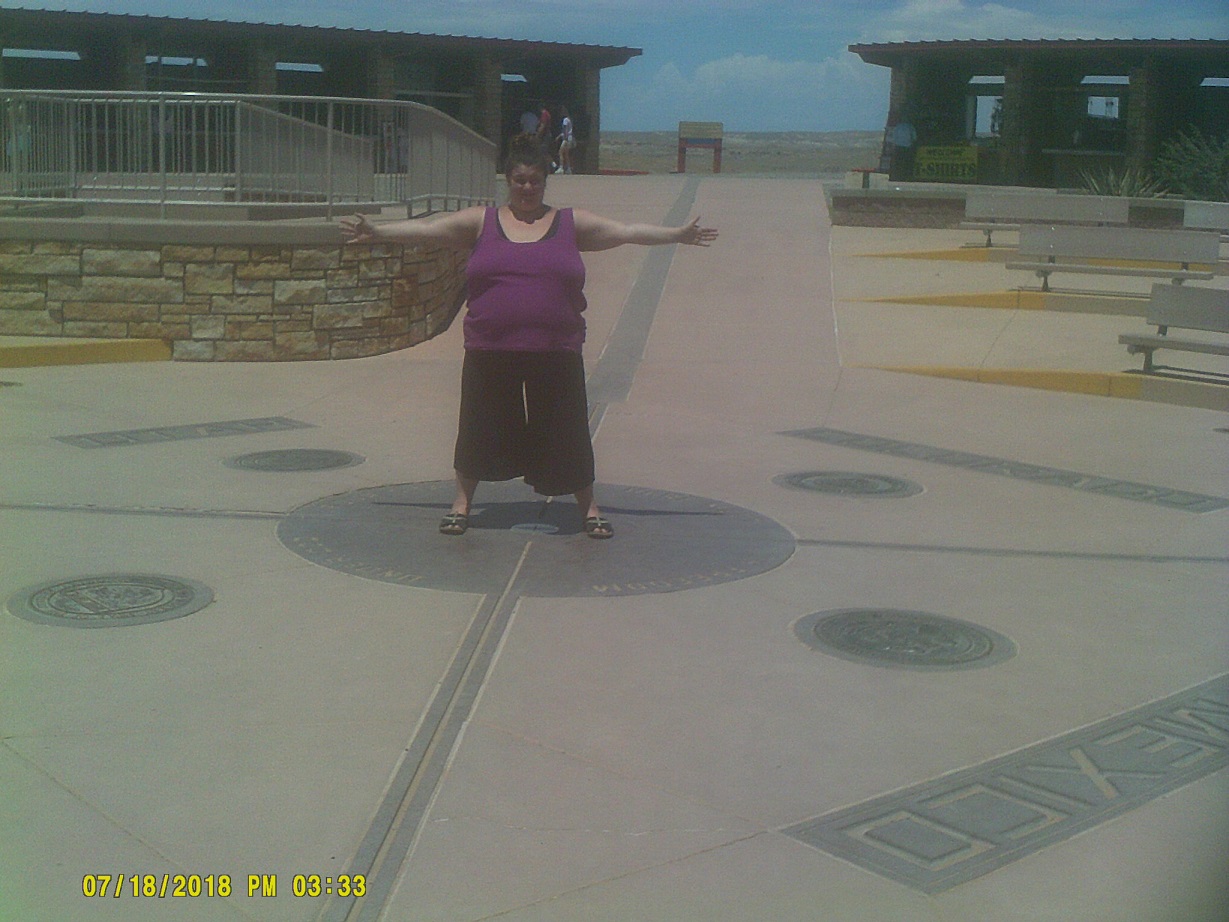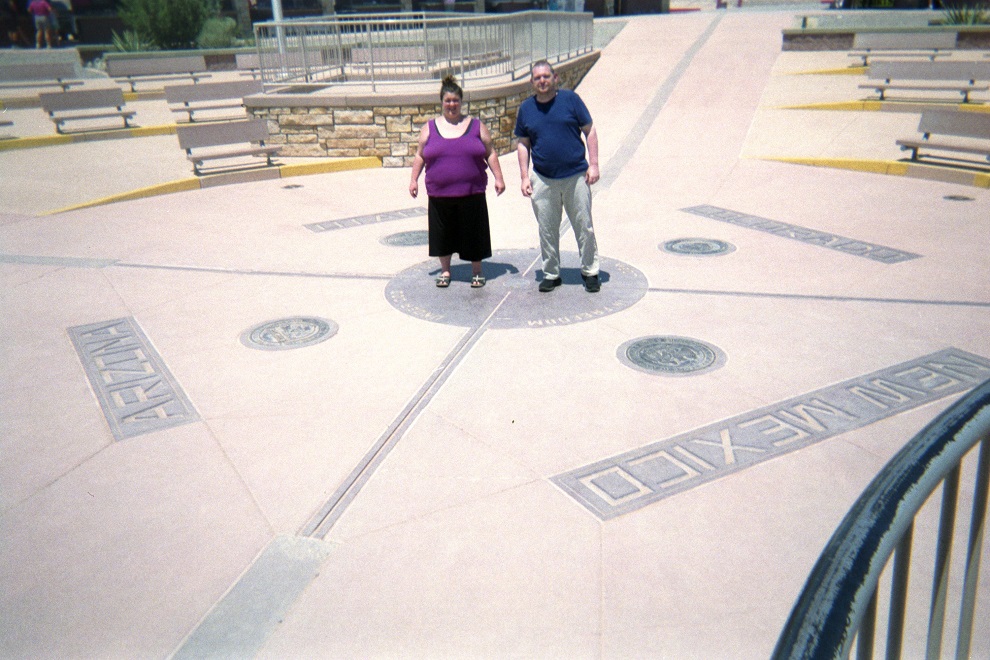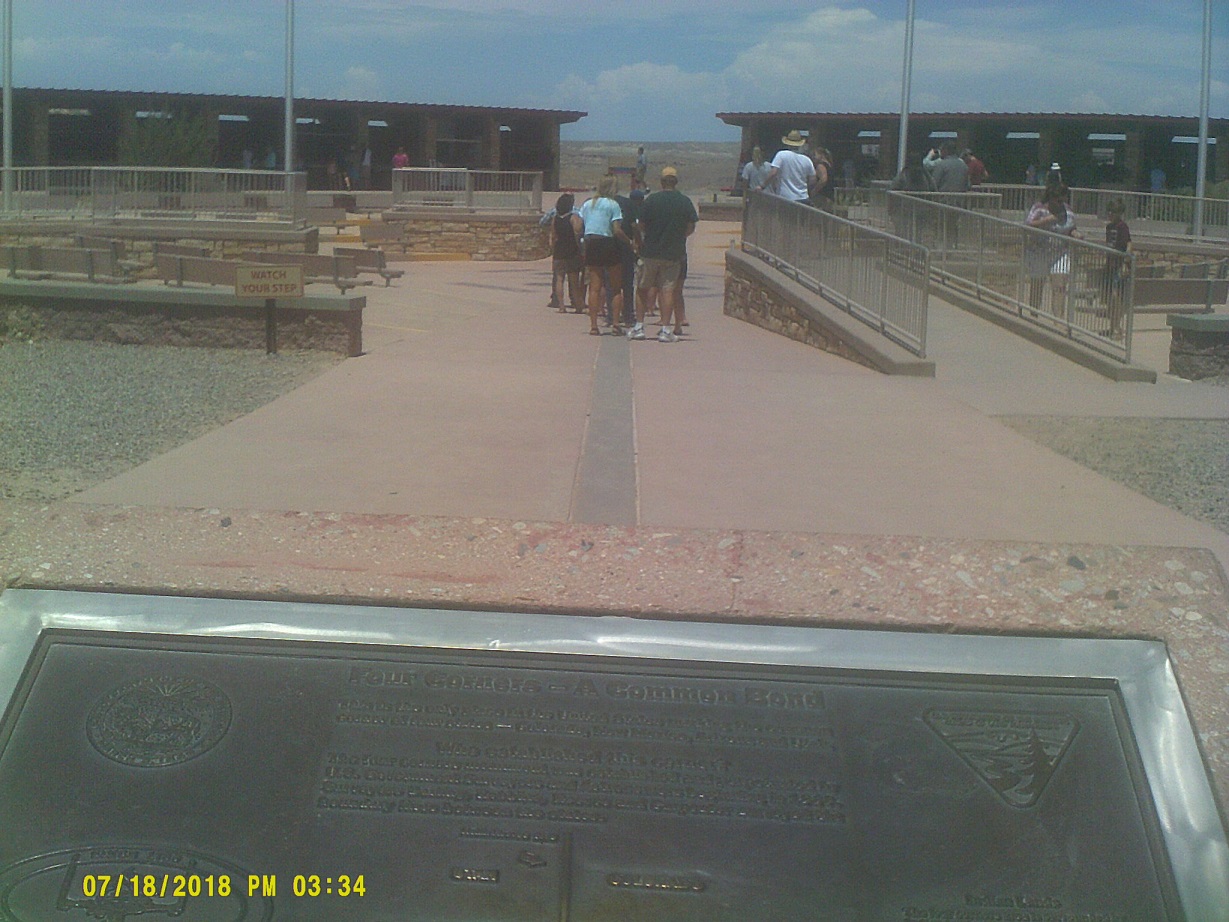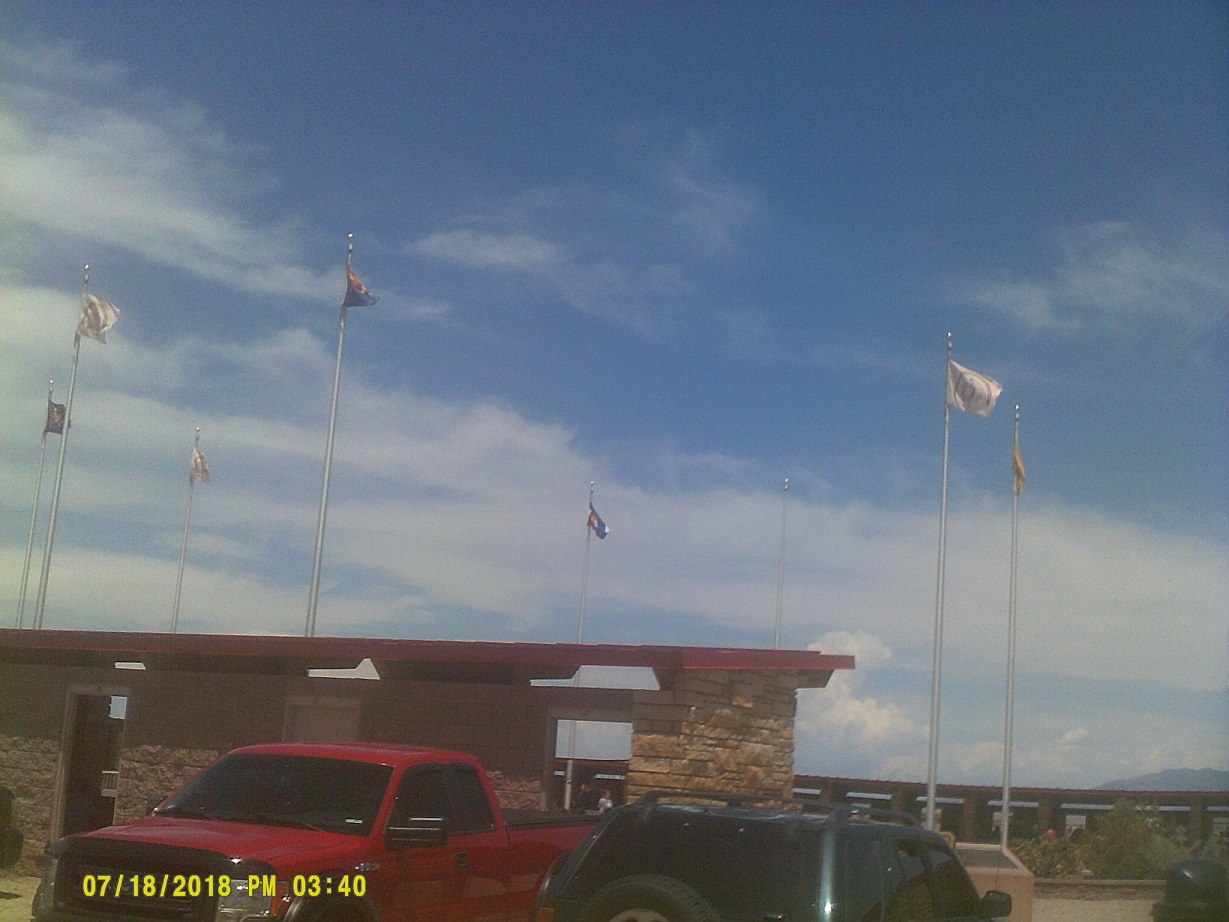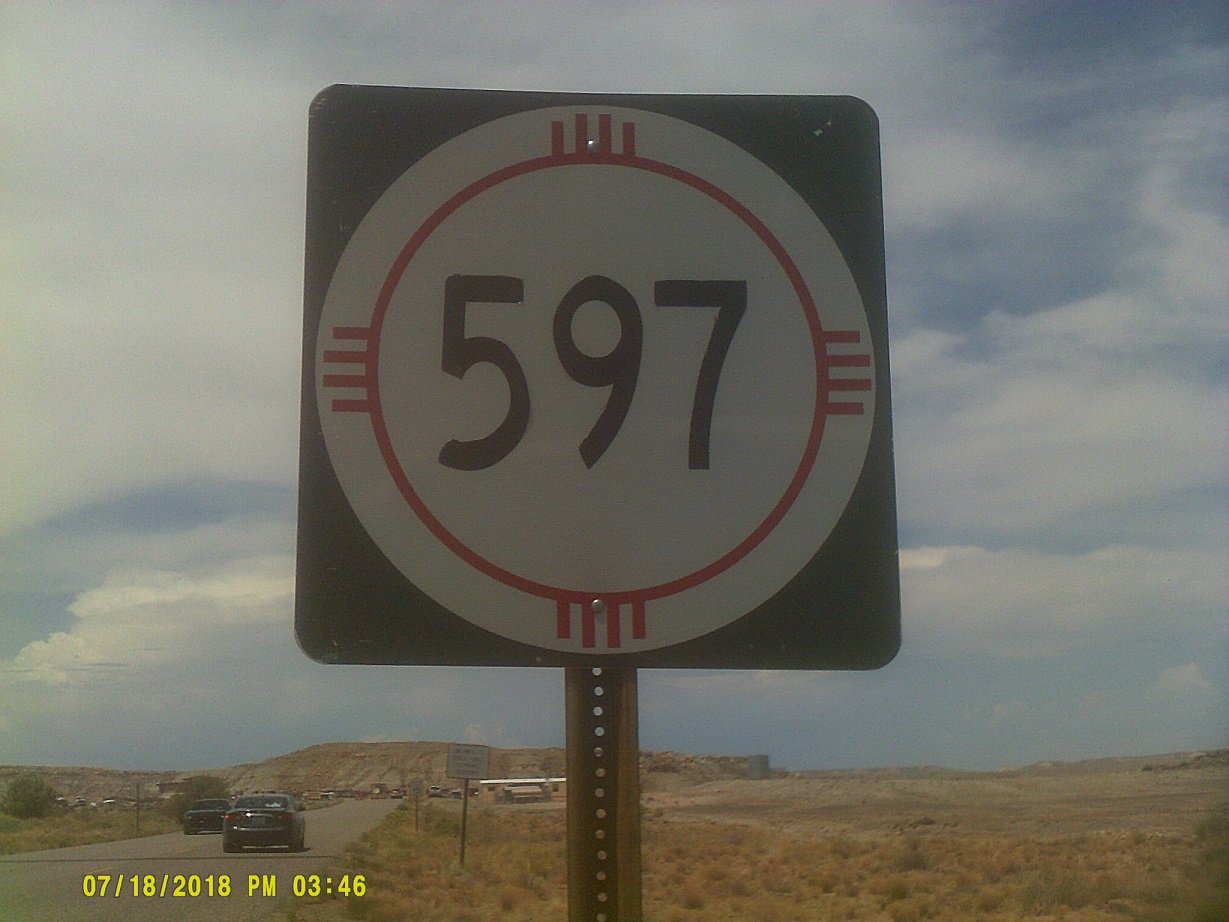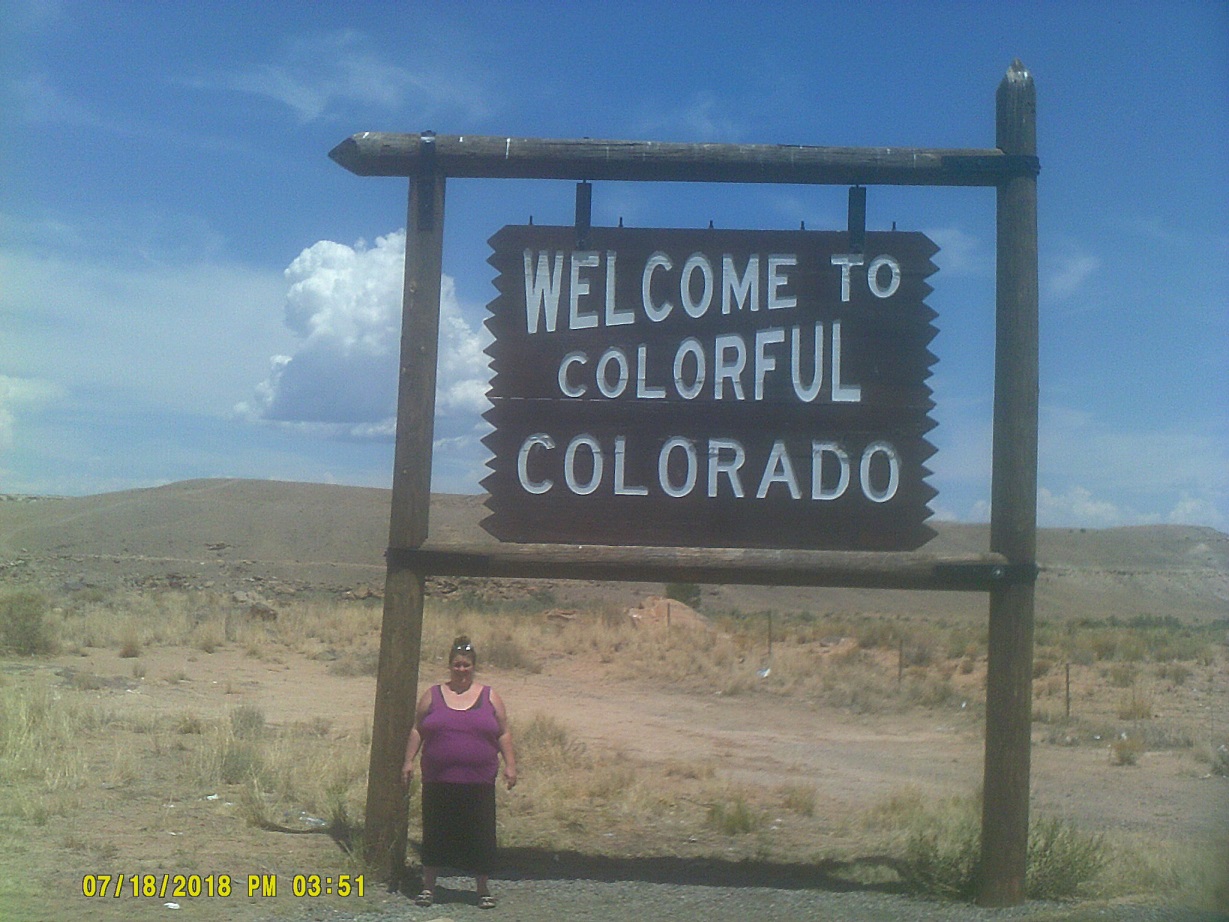 We finally found one!
The reroute that I decided would take us through Kansas rather than Texas and Oklahoma, so we continued east on US-160. Was I in for an adventure. After passing Durango, I knew that I had to cross the mountains somewhere, but I didn't notice that it was going to be at the famous Wolf Creek Pass. I knew that things were getting serious when I looked up and saw a road that I realized was also US-160, then looked up again and saw two more roads, one above the other, and realized again that both were US-160, in a double switchback. After reaching the summit then coming back down, we got an actual double switchback sign, then later a snowshed sign. I thought briefly that that meant that we were in a particular watershed involving snowmelt, but, no, it meant an actual snowshed to drive through, something usually reserved for trains. Later on we went through a conventional tunnel. After a while back down in in the valley...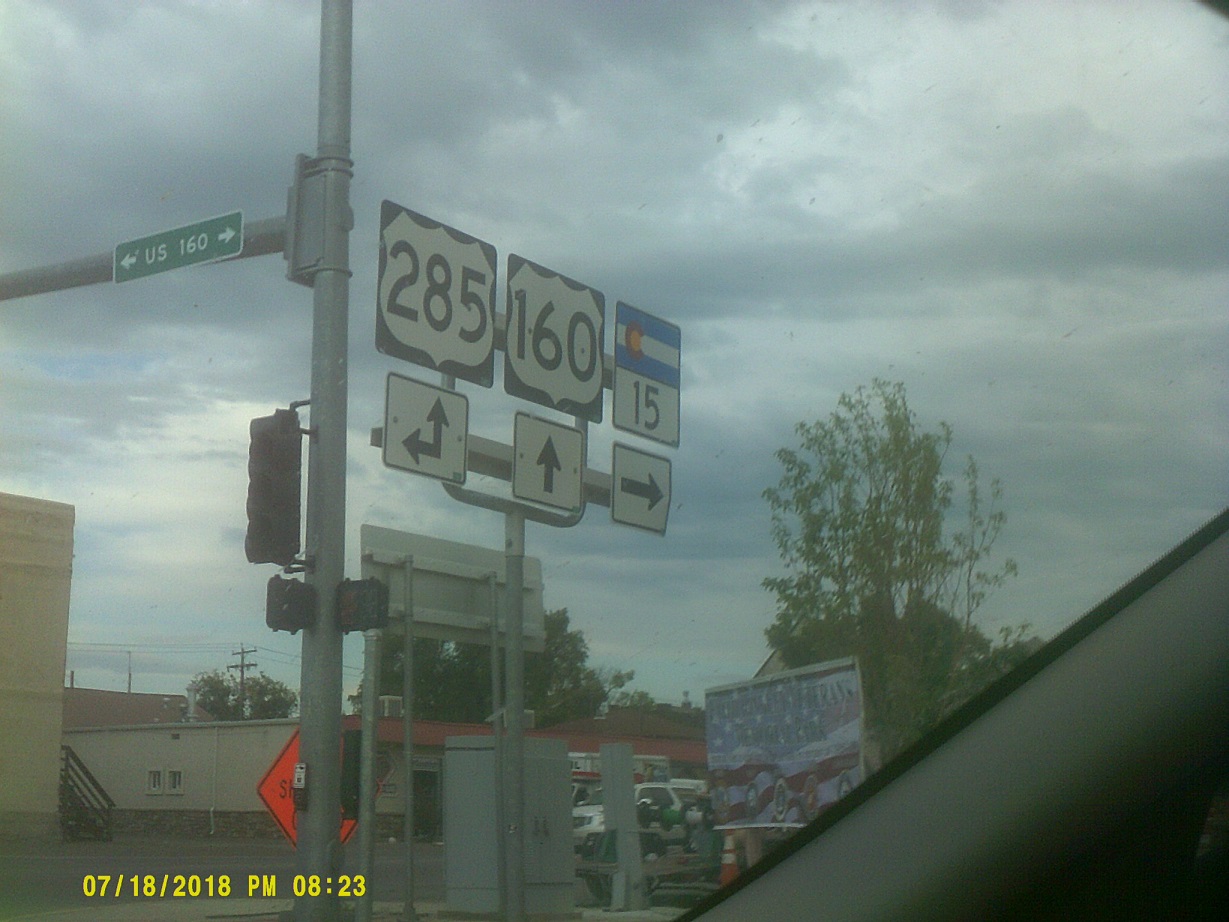 In Monte Vista – can't get enough of route markers with flags on them
...we passed just outside Great Sand Dunes National Park, which I could actually see a bit of on the horizon, then started up again, this time at La Veta Pass. It was less dramatic, having had the old route bypassed circa 1960, but we noticed something which I alluded to in California – wildfire damage, scarred ground and trees. The Spring Creek Fire had just passed through, and, in fact, unknown to us, was still burning elsewhere. There was a sign stating "THANK YOU FIREFIGHTERS". I wholeheartedly concur.
We finally reached I-25 after that, though instead of following Colo. 10 east I inadvertently stayed on US-160 which followed the Walsenburg business loop and old US-85/87 to the south briefly; it gave us the opportunity to cross this old bridge.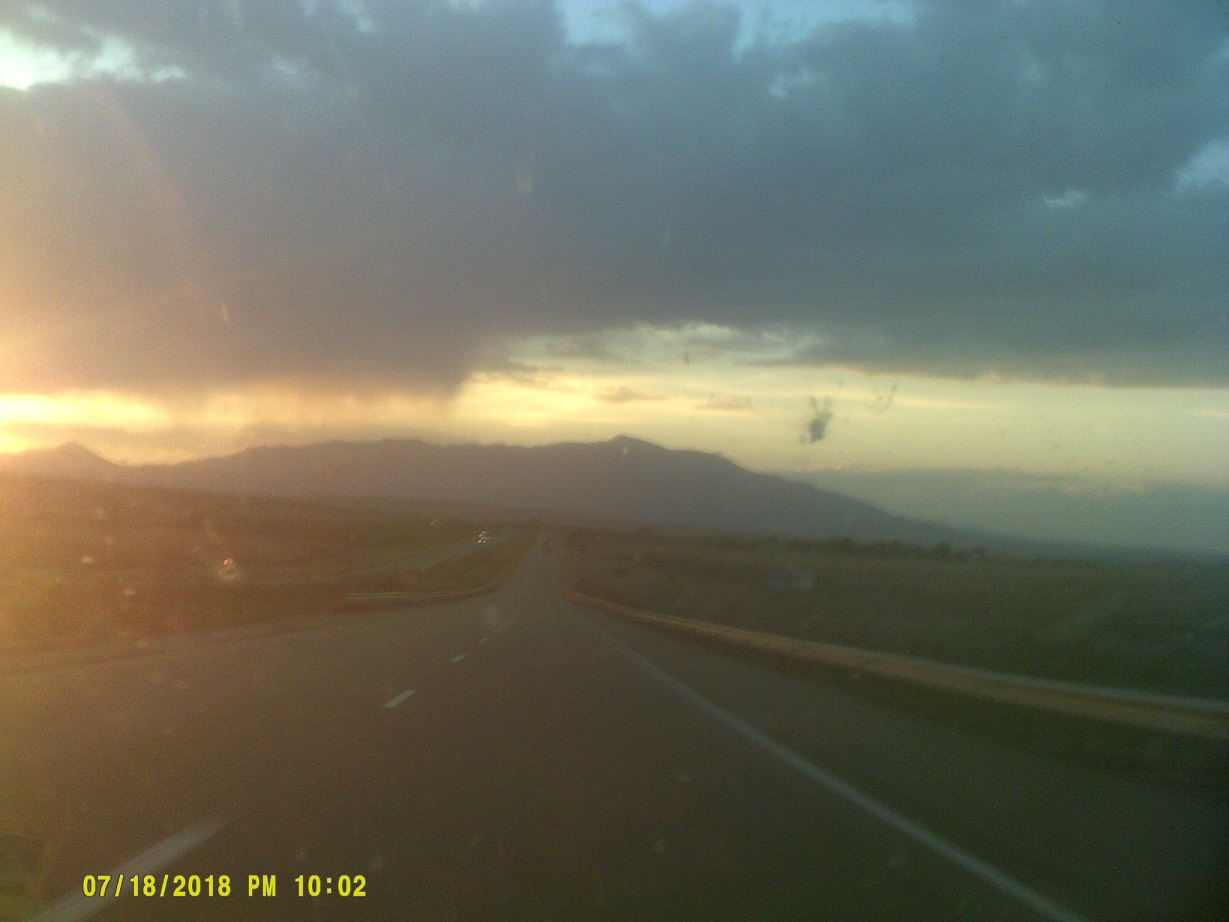 Sunset soon after joining I-25 northbound
Day 11: Thursday, July 19, 2018 (Pueblo, Colorado to Topeka, Kansas)
We turned east on US-24 at Colorado Springs. At this point, we were only about 45 miles from the motel where we stayed at the end of Day 4, so we could have continued north and retraced our route out, but what fun would that have been? After getting back into the country, we saw a bunch of old trestles on an abandoned railroad just to the north (this tine of year with El Paso County Fair banners on them), some old bridges on US-24 itself, and both in one place, this time on an abandoned parallel alignment of 24.
Colorado is actually flatter here than the adjacent area of Kansas, especially after joining I-70.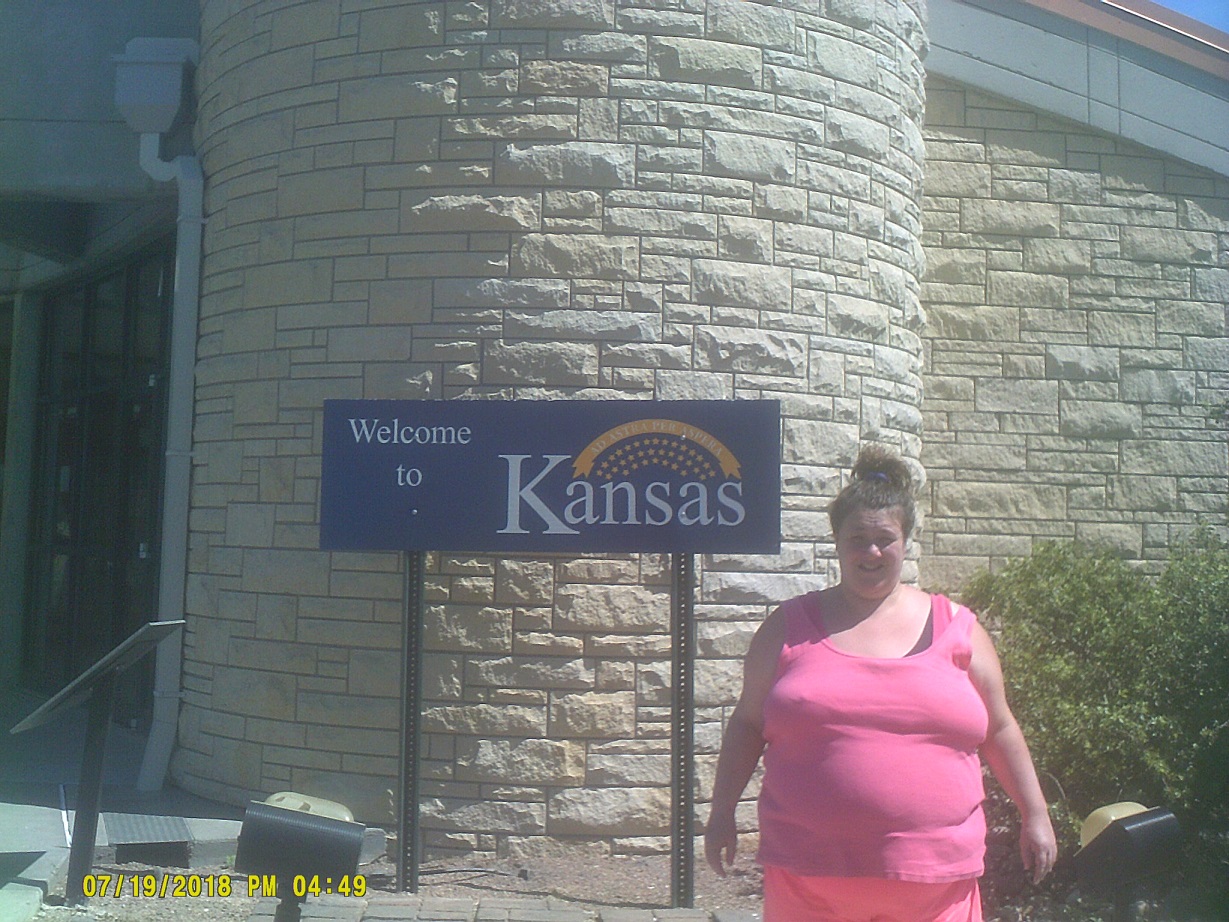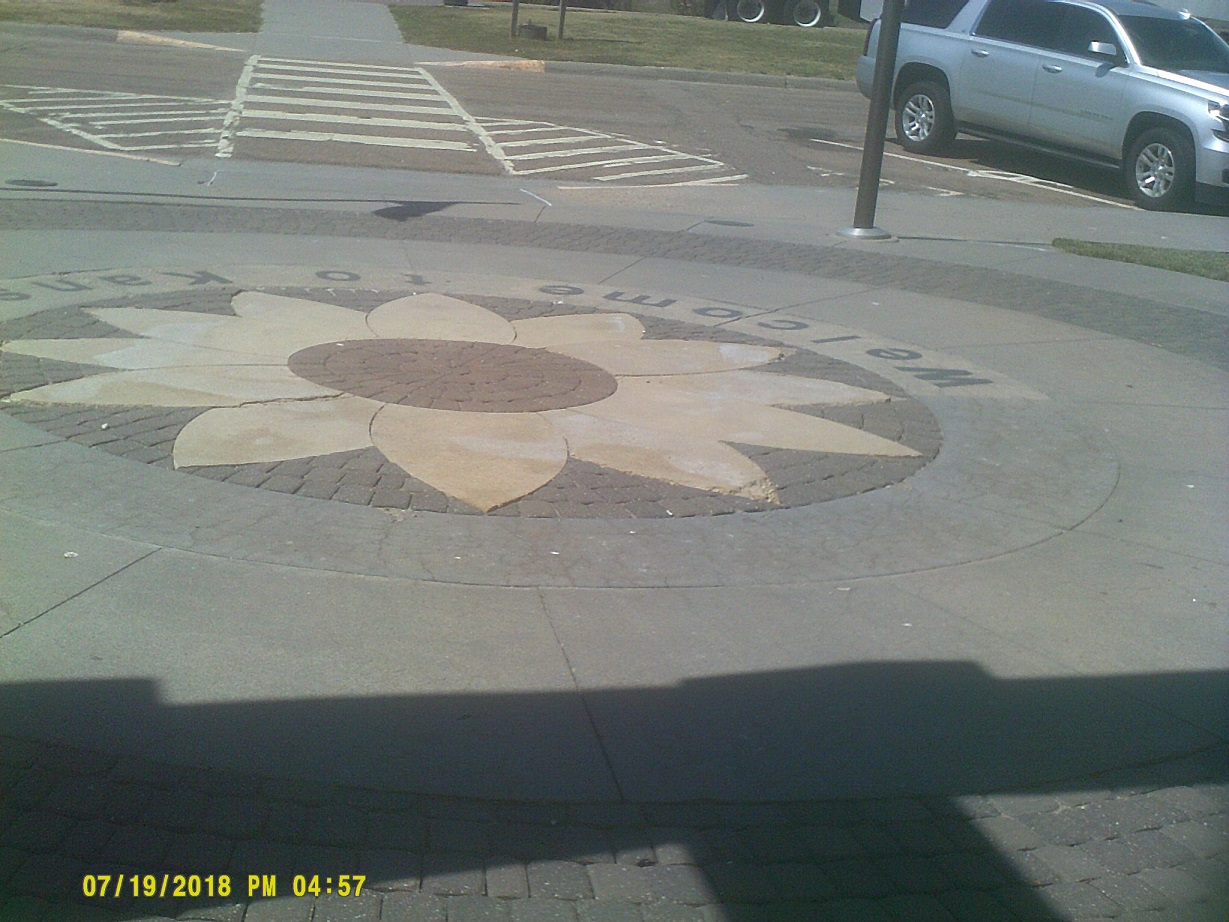 Kansas welcome center – free coffee, $3.50 Red Bull. One thing that I noted about Kansas is that rest area security has been increased – each truck parking area has three poles with crossbars holding three cameras each.
Enter Central Daylight Time, one hour behind Eastern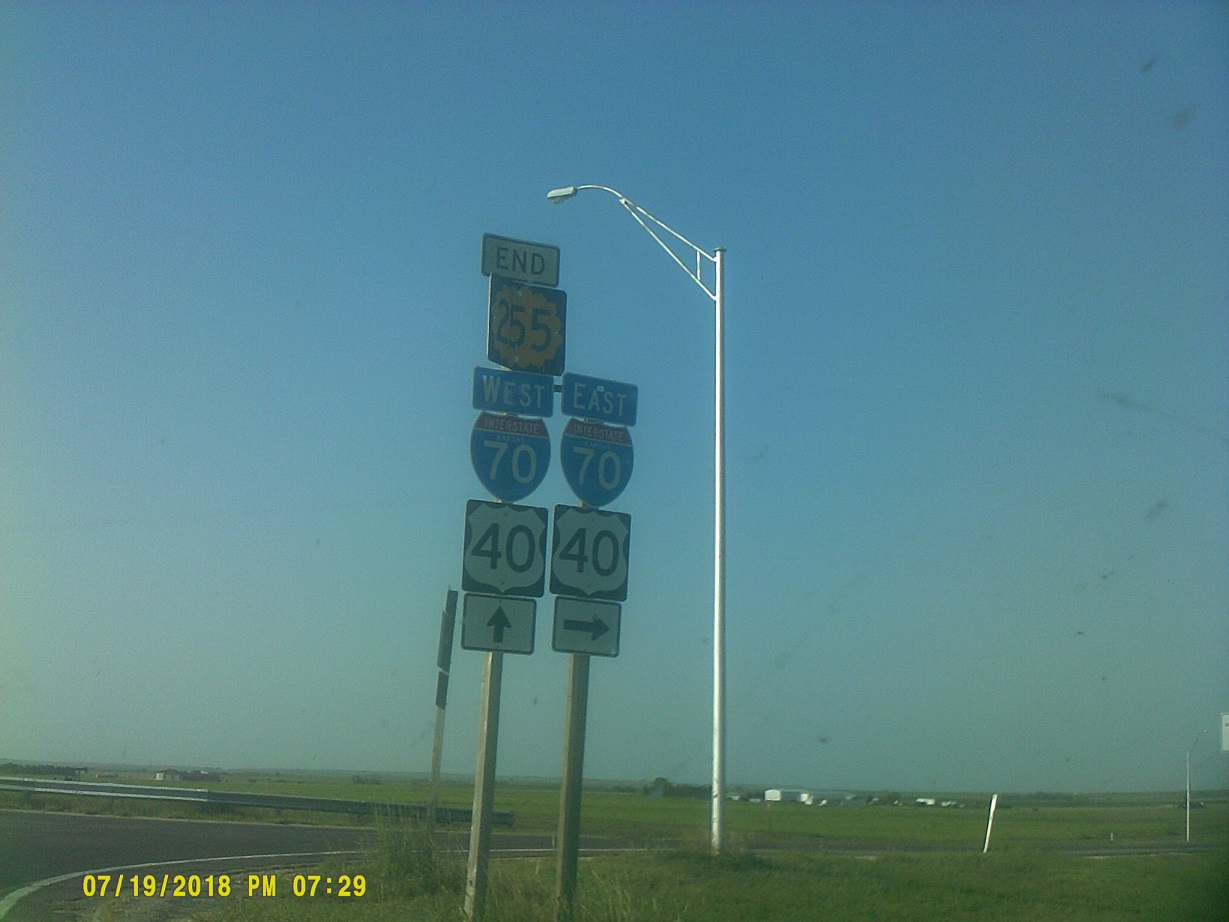 Token Kansas marker shot, just east of Hays, where we had stopped for gas
Although I was hoping to make it to Kansas City, we stopped in Topeka. I thought maybe that I could find a Kansas City barbecue place this far west, but to no avail.
Day 12: Friday, July 20, 2018 and a tiny bit of the 21st (Topeka, Kansas to Lake County, Ohio)
Unlike Des Moines, the Kansas capitol building is barely visible from I-70 – I just caught a glimpse in my mirror and saw it briefly when I turned my head around.
The arrows on diagrammatic signs, the overhead signs which show a highway split, are usually large, but Kansas makes the arrow for the through route especially large.
I-670 between Kansas City, Kansas, and Kansas City, Missouri, should probably be redesignated as I-70. Not only does I-70 swing north then back south again, but it's reduced to one lane in both Kansas and Missouri, and the weave from the right side to the left side of the east leg of the freeway loop is no fun.
MoDOT is *proposing to widen I-70 across Missouri to three lanes. I agree with this proposal.
Old US-40 closely parallels I-70/current US-40 throughout much of Missouri.
I remember I-70's bridge over the Missouri River in central Missouri as much for its appearance as for the debris at the east end which had apparently fallen off of a vehicle. It was around this time that we started seeing messages for the tragic accident in Branson that had happened the previous day (we might have seen the clouds from that storm in the distance from I-70).
One Missouri signage quirk that I somehow didn't notice on I-44 in *2013 is that signs for hospitals replace the initial H with *the standalone hospital sign.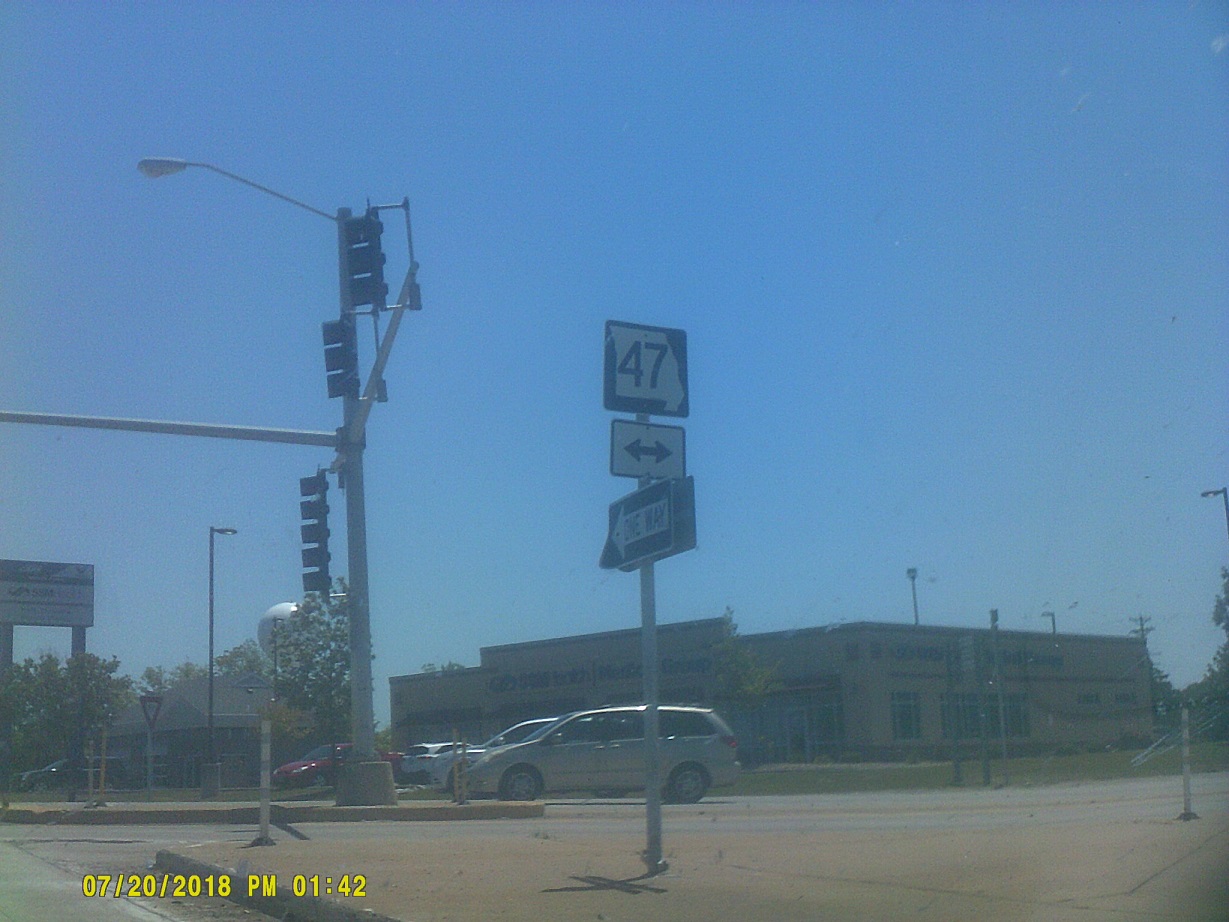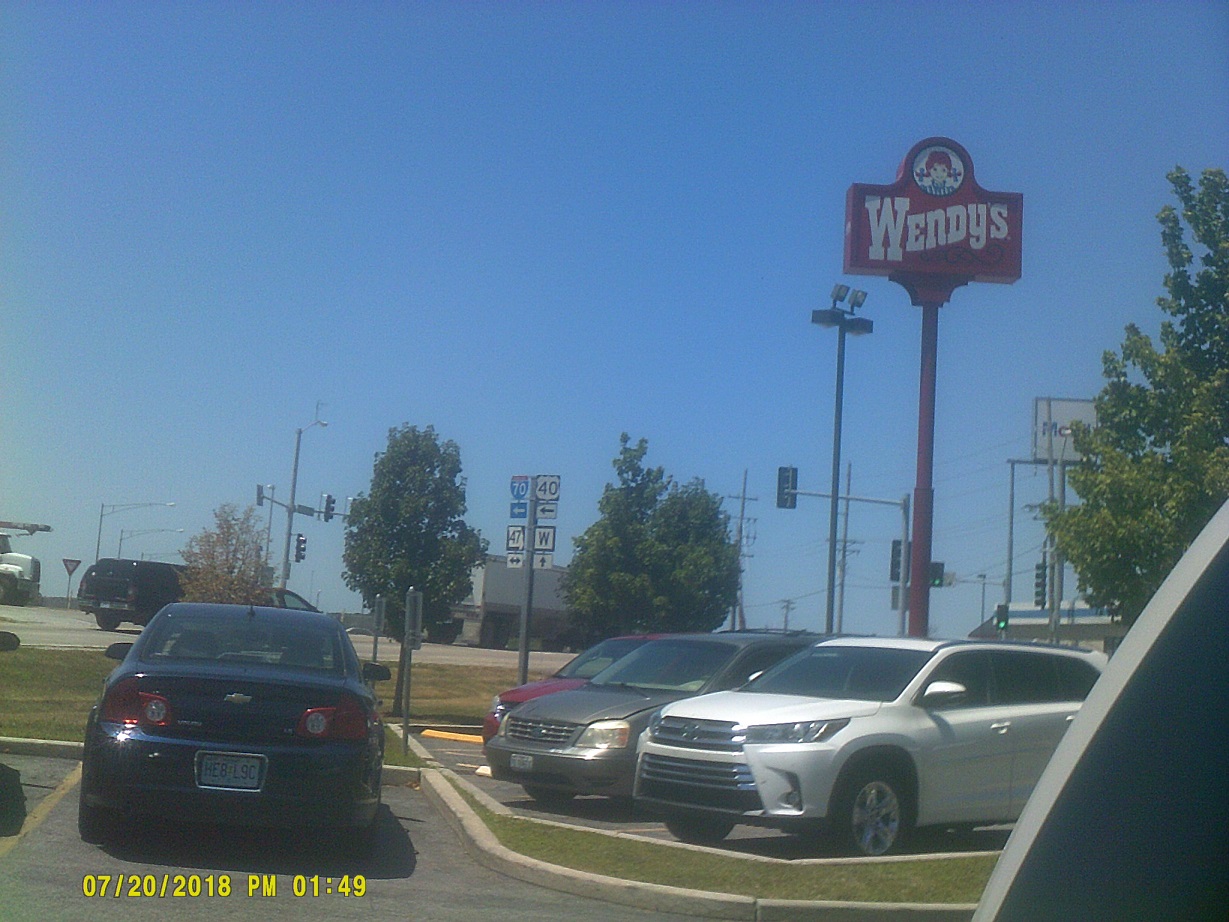 All four of Missouri's state systems, at a stop in Warrenton about halfway between Columbia and St. Louis
The University of Kansas and University of Missouri are in a billboard war, apparently. All across Kansas are Rock Chalk billboards; not to be outdone, in one place in Missouri there are seven consecutive billboards, one each with one letter of MIZZOU and a final one with the actual ad. I believe that Kansas State University is in the mix as well.
I had thought about taking I-70 into St. Louis to cross the bridge which hadn't yet opened when we last visited the area in *2013, but since I-270 is essentially a straight line across the northern metro area, I took it to stay on schedule. At least we got to see the old Chain of Rocks Bridge, the last significant Route 66-related thing that we saw (it's a good thing that I took all of those photos in Williams, because, not knowing it at the time, that was the last we'd see of 66 until here; I had planned to visit more 66 sites along the way between there and here since we would have been paralleling it the whole way). I could also barely make out the St. Louis skyline ad the Gateway Arch beyond the bridge.
I-270 is directed to Chicago in Missouri but Indianapolis in Illinois. Of course one can access both from I-270, but, also of course, I-270 goes to neither.
Illinois was flat again but at least we were entertained by a billboard with organ pipes on it (courtesy Wicks Organ Company, which apparently had an older version on US-40 at one time), a *narrow-gauge railroad, and a gigantic cross.
Enter Eastern Daylight Time
This is the first time that I had been through the Indianapolis Airport area on I-70 since the reconstruction. The offramp to I-465/74 is very long. And I noted that I-74 finally has control cities listed (Peoria, Cincinnati). Before, it was just a 74 shield next to the 465 shield.
While we couldn't see the Indiana state capitol from the highway (no big loss, I've seen it close up many times and even toured it in 1990), we could see the Soldiers' and Sailors' Monument from I-70 going east and then I-65/70 going north.
While bad weather had been fleeting for most of the trip, we hit heavy rain in eastern Indiana which lasted well into Ohio.
The Ohio welcome arch has a new *welcome sign touting the current tourism slogan, apparently posted two years ago. (The US-33 Ohio River crossing still had the old sign last year, as did the I-90 sign on the way back from Niagara Falls this year.)
I had planned to bypass Columbus on I-270, but compromised and took I-670 passing downtown to the north. Right around the I-70/670 split, there's a FOLLOW 70 which is posted like a directional marker. It's a custom message, I checked the sign manual. Incidentally, with the late change in routing, I drove a lot of more of I-70 than I had planned and now actually have driven most of it.
As we passed Ashland along I-71, the 20th became the 21st.
As noted *last year, Ohio has Lake Erie/Ohio River Watershed signs. Here's I-71's just south of Medina.
We made it back from Pueblo in two days (remember that 1:30am is 11:30pm Mountain Time)!
Total mileage: 5,569 miles (5,627 if you count errand runs before we got on the road)