(Last revised November 3, 2016) After not making it to Minnesota *last year, we succeeded this year, going all the way past to Mt. Rushmore National Memorial and a bit beyond.
Note: In this document, I have made links to Google Maps Street View green. Links to other pages are the traditional blue, with links not to Wikipedia articles designated by a *. All photo time stamps are Eastern Time, regardless of local time of the place in the photo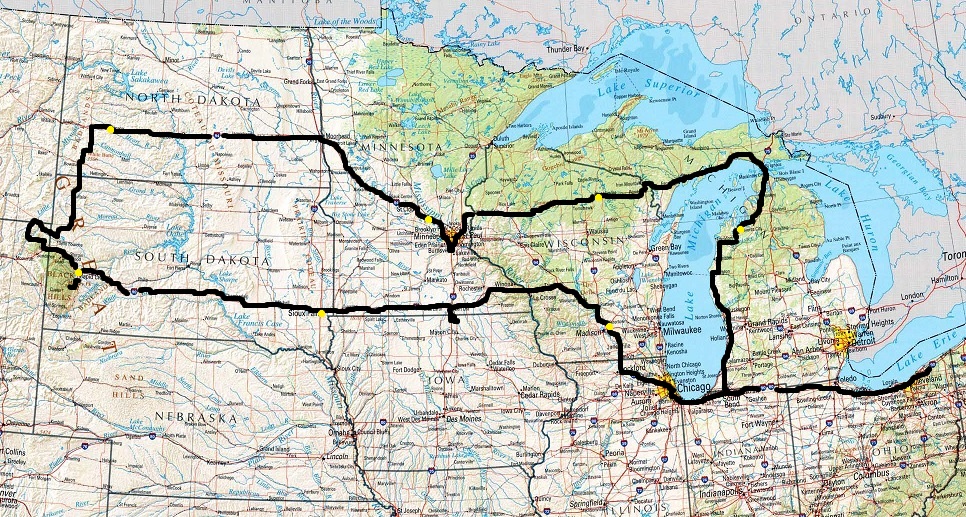 Approximate route. Basic route was I-90 westbound to US-85 northbound to I-94 eastbound to US-8 eastbound to US-2 eastbound to US-31 southbound to I-90 eastbound, with various connections and sidetrips. (The above was taken from this 2001 USGS map of the U.S. The feature names are a bit larger and clearer on that version.)
Tuesday, July 5, 2016 (Lake County, Ohio to Madison, Wisconsin)
The night before leaving the local fireworks were almost not held due to lake-effect rain, this in a dry year. Fortunately the only really bad weather on the trip itself hit while we were in for the night.
First time in Cleveland seeing The Q since the end of the 52-year victory drought. (Progressive Field is next door; that would also figure into the year, read on.) Also the eastbound Voinovich Bridge, named for the local government official who passed just this year, is very close to completion. (Postscript: It was completed September 24. Here are ribbon-cutting ceremony photographs.)
The beginning of the trip was a well-worn route, the connection to where I grew up in southwest Michigan, and the same route we took just last year, so there wasn't much new. I did note that the Ohio Turnpike now acknowledges parallel free State Route 2 at Exit 135, the only mention other than at direct connections at Exits 142 (the I-90 split) and 52 (2 itself at the Toledo airport), plus it has new signs, hopefully soon to show up on Street View, near the Westgate mainline toll booth that imply that I-80/90 is about to intersect I-80/90. Come on, Street View....
At the service plaza just west of the I-90 merge, they are still offering *trinkets commemorating last year's 60th anniversary of the opening of the Turnpike. The really odd thing is that they were for sale in a vending machine with Ohio Turnpike graphics on it. Yes, I bought a trinket.
One thing I did note along the trip was the great quantity in many of the states of signs with the Clearview typeface, which was officially discontinued in the U.S. as of earlier this year. Funny story, read all about it. Therefore there are now lots of obsolete signs and they will be there for quite some time.
After seeing Comiskey Park/U.S. Cellular Field on nearly every trip to Chicago recently – it's right next to I-90/94/Dan Ryan Expressway – I finally made it to Wrigley Field. (Note, November 2016: What a year to do it. Remember the reference to Progressive Field above?) I probably went an inefficient way, simply following West Addison Street eastbound from I-90/94 then returning westbound, so it took a while, especially since that day's *game had recently ended (a rare loss during the season as I would discover when I started paying attention), but I was determined to get there, and was very glad when I did, with the famous marquee being the first thing that I saw after seeing no sign of the ballpark even seconds before. I did take a photo of the sign after circling the ballpark, but unfortunately there was a write error in my camera. The photo would have looked somewhat like this. An aside: There are no signs at all directing Addison westbound traffic onto I-90/94 westbound, so I had to try and recognize the intersection where I exited then turn the opposite direction.
The Jane Addams Tollway, which I-90 follows out of Chicagoland, is undergoing a *major construction project. The portion further out is done and has an urban feel because, like the Ohio Turnpike three-lane section, there is a Jersey barrier between the two directions of travel where there used to be a median, but it also has urban-style street lights placed in the barrier all the way to Rockford, even out in the country.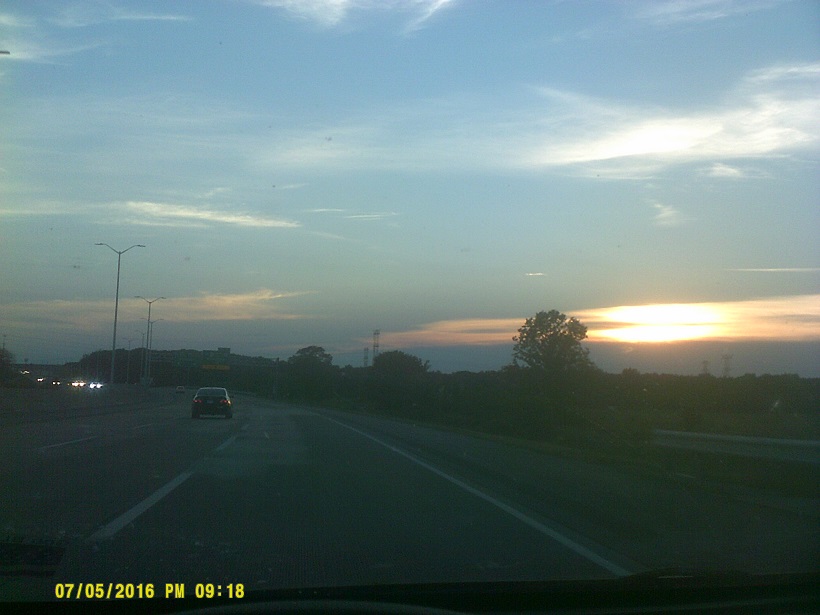 Closer to Rockford
I noted the rolling terrain on I-39/90/94 in central Wisconsin last year. Since we didn't leave the area on I-90 like I had planned, I didn't realize that that terrain continues a bit south of Madison.
It worked out that darkness fell just as we were approaching Madison. While I don't like to repeat destinations too much between trips, it was nice to know that a familiar motel, the one from last year, was right along the route. And of course we went to the same store, conveniently open 24 hours, as last year for more cheese curds. We saw the capitol building again from a high point on the US-151 frontage road by East Towne Mall.
Wednesday, July 6, 2016 (Madison, Wisconsin to Sioux Falls, South Dakota)
After passing Wisconsin Dells, we were both on new terrain. Soon after was the I-90/94 split, with us taking I-90, and not long after that was the Mississippi River bridge into Minnesota, my first new state since Louisiana in 1989, when my family took a three-week trip to California. I had been stuck at 41 states visited for almost 27 years. It also was another instance where a *photo in the book America's Highways, 1776-1976 had stuck in my mind so that everything looked familiar even though I had never been there (the last time was in Pittsfield, Massachusetts, on day one in *2014). It doesn't look like that anymore because the bridge and adjacent interchange on the Minnesota side are undergoing an *extensive rebuild. We inadvertently visited La Crescent briefly when I guessed at which road to take when I didn't see a sign for the welcome center.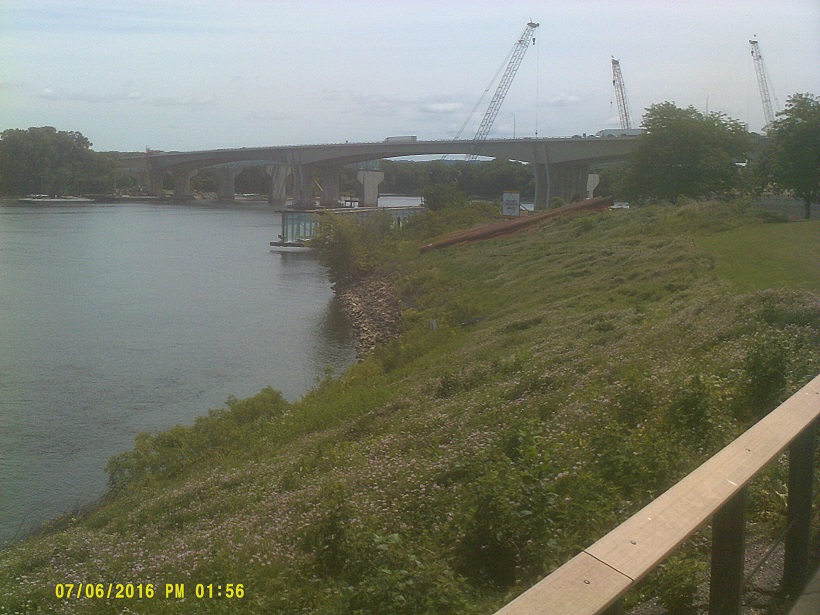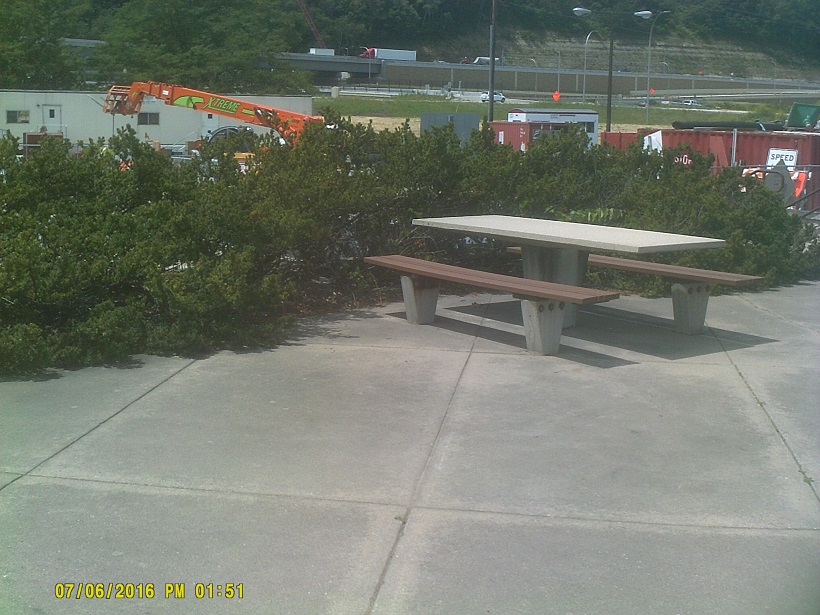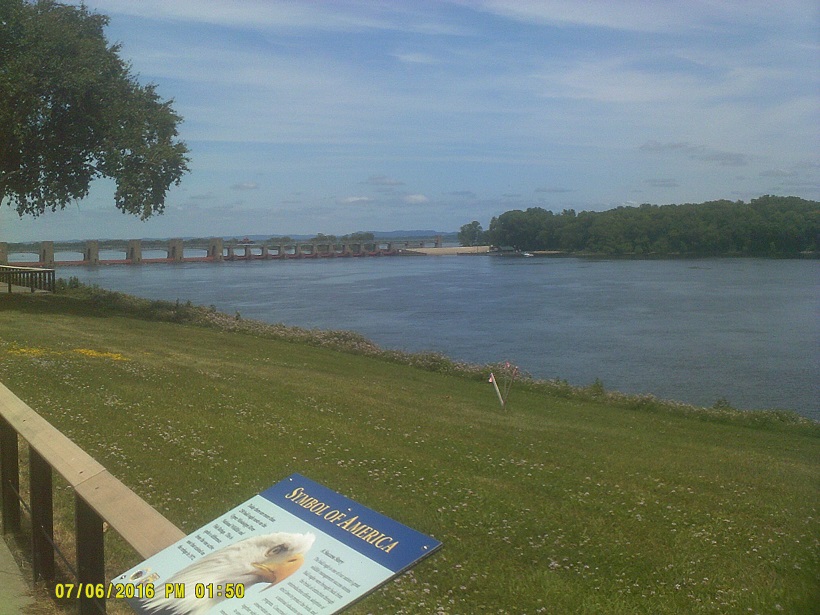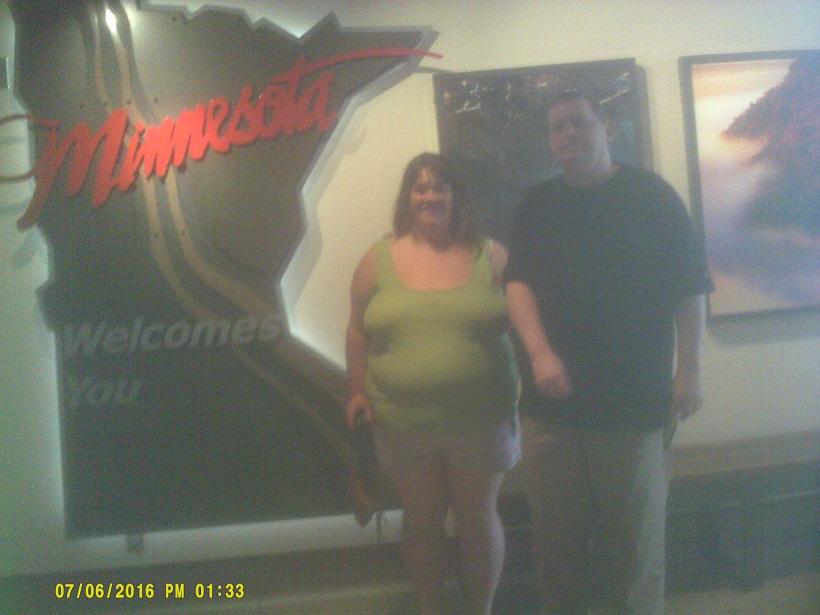 The change from the hills by the river, almost having the appearance of Appalachian foothills, to more stereotypical Midwest fields is very sudden on I-90 (spin the view around to look in each direction).
The first thing that I noticed about Minnesota signs is that a majority have an extra support post behind the sign going into the ground at an angle. Other quirks I saw were mileages rounded to the half-mile on the top city of destination signs and speed change warnings at one-fifth mile before (you can see an example in the background of the view linked in the previous sentence). I also like how Minnesota specifies the routes at the beginnings and ends of construction zones, though exit numbers where appropriate might be more helpful. Finally, after noting the gates at Wisconsin's highway onramps last year, I saw that Minnesota and states to the west put gates on the mainline just past offramps, usually with ample warning signage.
I should have gotten gas by the river because I didn't realize that it was still that far east that gas stations stopped being at every exit. Fortunately after picking an exit I found a Kwik Trip in the small town of Lewiston. (Incidentally the intersection by the gas station has MnDOT's new *Rural Intersection Conflict Warning System signs.)
The Hormel plant (Spam, etc.) is right along I-90 in Austin.
There is a collection of wind turbines near Dexter, then again pretty much everywhere within sight in the southwest corner of the state. Those plus the related high-tension power lines following I-90 gave us something to see other than rather flat landscape. It was also around this time that I noticed roads which used to carry US-16 shadowing us. This would continue as long as we were on I-90, though later it would be old US-14 shadowing.
At I-35 it was hard to resist a side trip to Iowa which is just a few miles south of I-90 at this point. At the first exit is the welcome center, which is in the form of a barn and silo. While it was a bit awkward to say "Thanks for the hospitality but as soon as we leave we're going right back into Minnesota", the assistants were cordial anyway. We followed County Road 105 east to Northwood then US-65 back into Minnesota then I-35 back to I-90. And, yes, we saw cornfields. (Road notes: Iowa underlines the directions N/S/E/W on guide signs, which was Michigan's thing for decades, the arrows under route markers still vary in size depending on the type of arrow, and there is still IOWA above Interstate marker numbers.)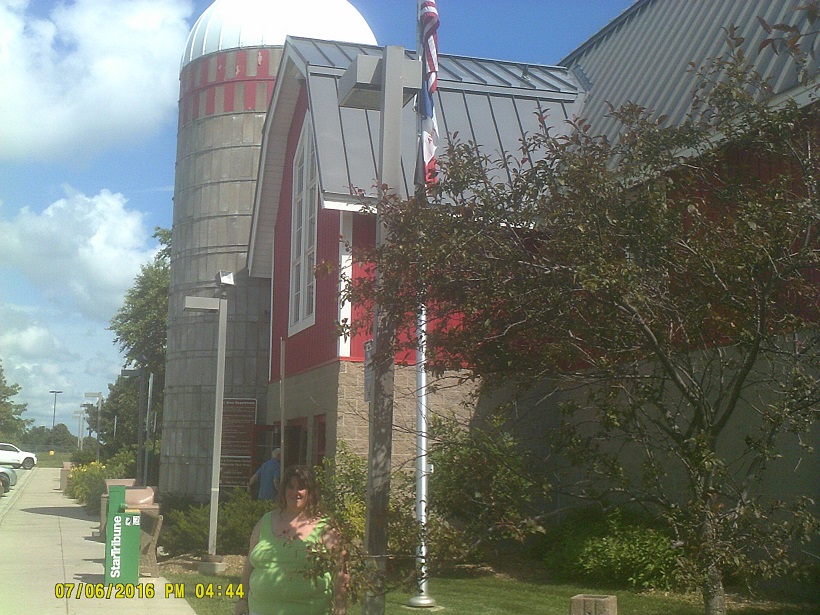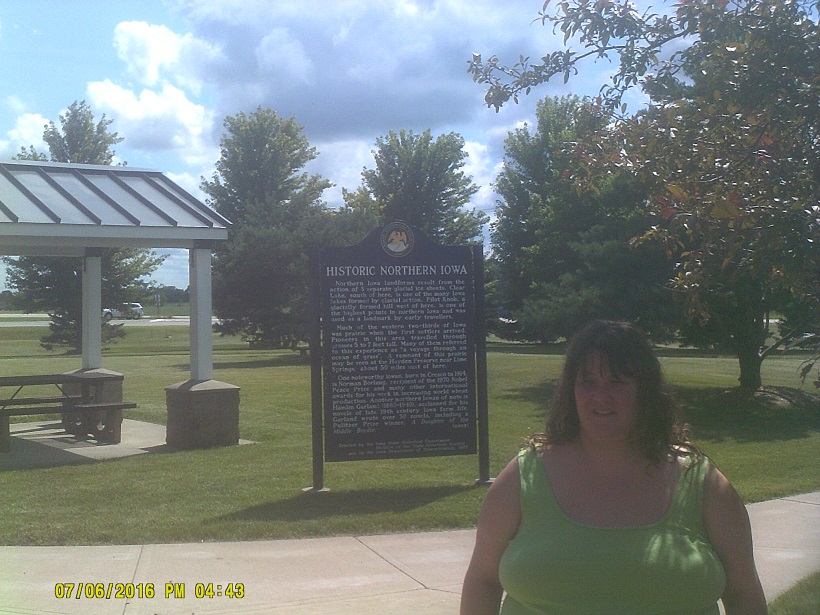 Minnesota claims that I-90 has its own *Golden Spike near Blue Earth.
With the stops I finally conceded that we wouldn't make it to the Mount Rushmore area that evening. Even so we still reached South Dakota, state number 43 for me, staying in Sioux Falls.
Thursday, July 7, 2016 (Sioux Falls, South Dakota to Rapid City, South Dakota)
We decided to visit the small Great Plains Zoo before heading out, then I happened to see Falls Park signs along the route back to I-90 so I decided to follow them out of curiosity of what the falls that gave the city its name looked like. It was a nice little side trip.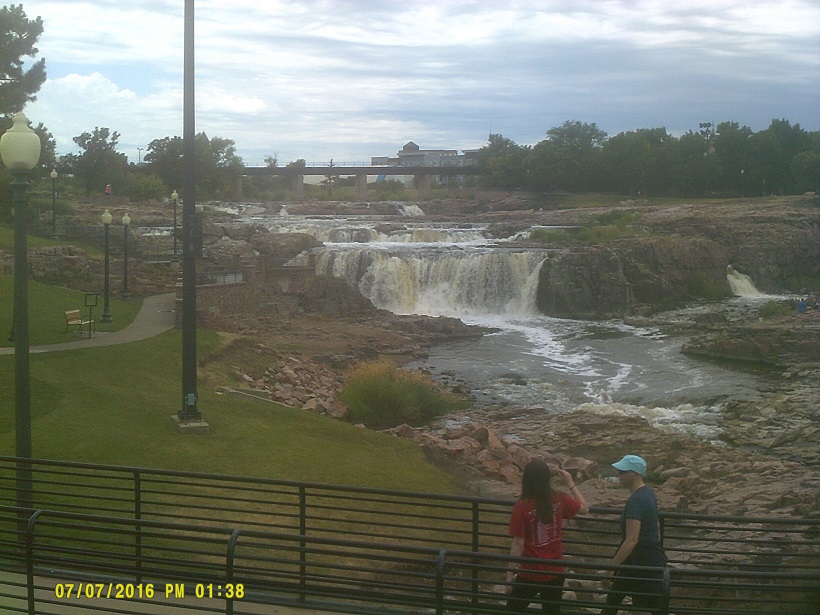 The first thing I noticed in South Dakota: Red pavement. The second: *Speed Limit 80. Eventually we would also come across exits with no town or road listed, same in North Dakota later on. I had seen those before further west, but the ones in the Dakotas almost always had a sign on the offramp pointing to a distant town, so they really aren't as remote as they would seem at first.
South Dakota is physically divided into East River, everything east of the Missouri River, which is generally standard Midwest terrain, and West River, which is more rugged. The I-90 Missouri River crossing is very dramatic and the terrain change is immediate.
Due to crossing into the Mountain Time Zone (we crossed from Eastern to Central on the first day near New Carlisle, Indiana, west of South Bend), we gained an hour so we had time to go to Mount Rushmore that evening. We found a motel in Rapid City – barely, they were selling out fast – then headed south.
US-16 has a nice rustic three-level interchange with US-16A.
The speed limit in the town of Keystone, the Black Hills' answer to Gatlinburg in the Smoky Mountains, is 20 mph. Good thing because the buildings come right up to the road.
We finally got to Mount Rushmore at dusk. Notably there is a great view from SD-244 before even reaching the memorial entrance, which is good for those who want to see it but don't have time to stop. We did go in and park. They built a parking garage in 1996 to handle all of the visitors, which had a very urban feel in contrast to the surrounding area. We stayed for the lighting ceremony. (Street View actually got into the park. For example, here is the Avenue of Flags, flag of the host state center left.)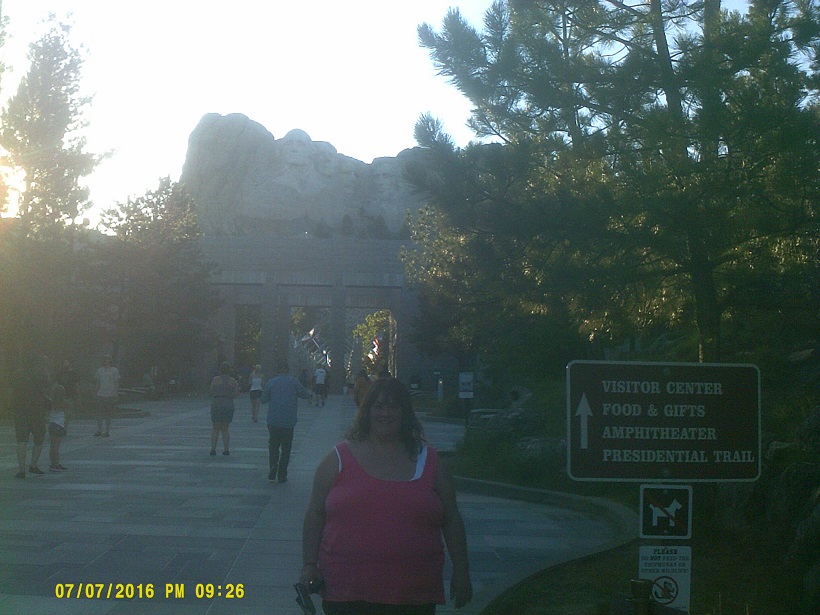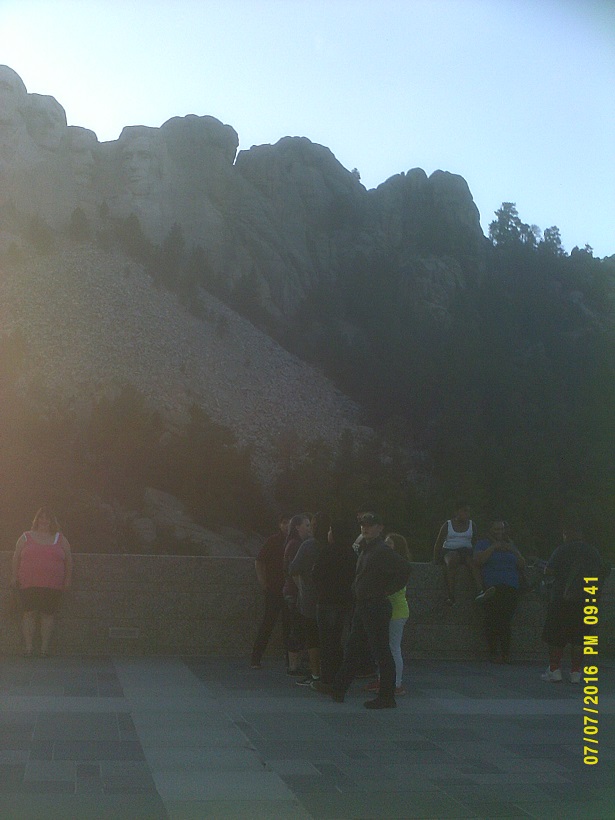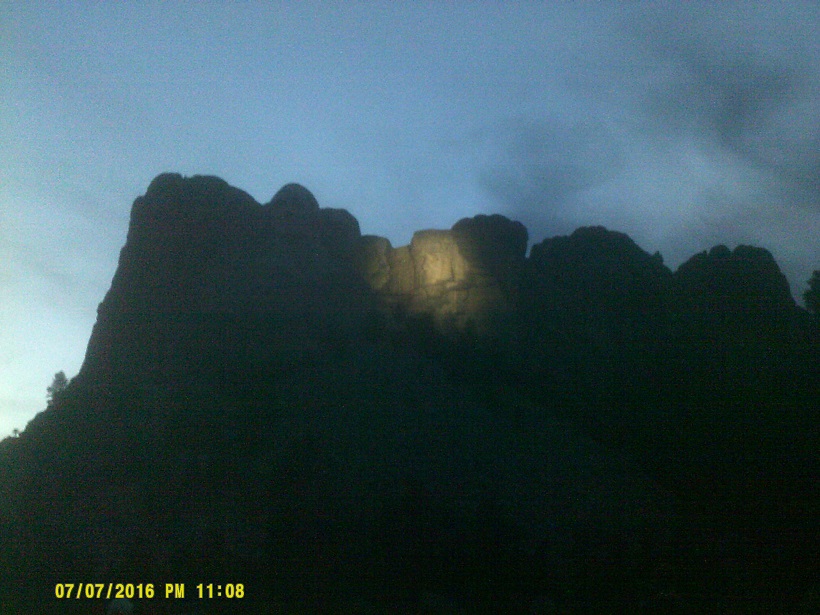 Unfortunately getting there on the third day and not the second didn't give us time to visit the nearby Crazy Horse Memorial. Maybe next time.
Friday, July 8, 2016 (Rapid City, South Dakota to Dickinson, North Dakota)
On our way out of the area we visited the *Bear Country U.S.A. drive-thru wildlife park just south of the Rapid City city limits. It was an obvious tourist trap along US-16 to attract Mt. Rushmore traffic but we thought it was worth the money.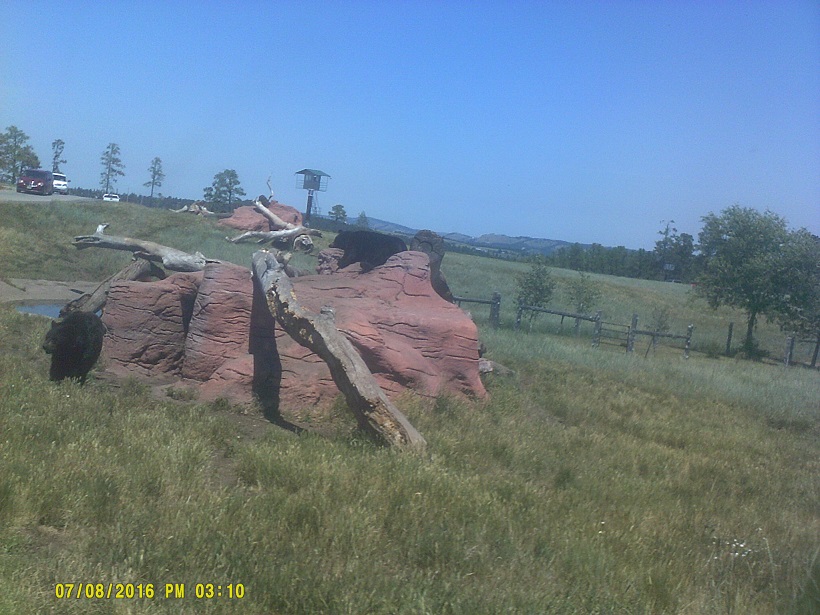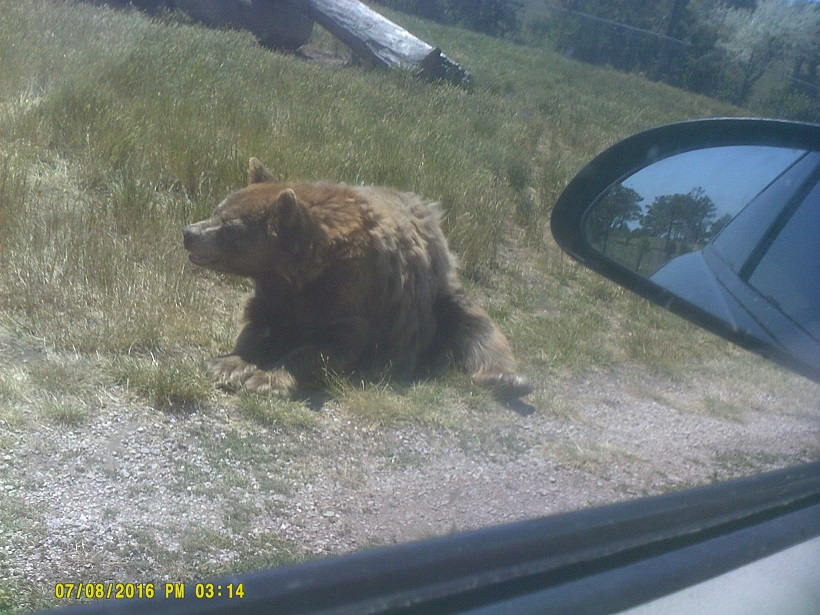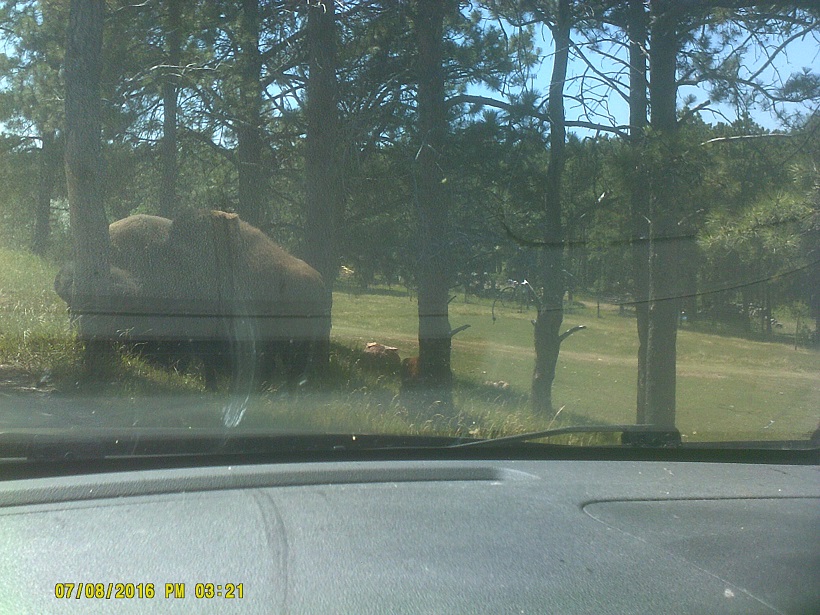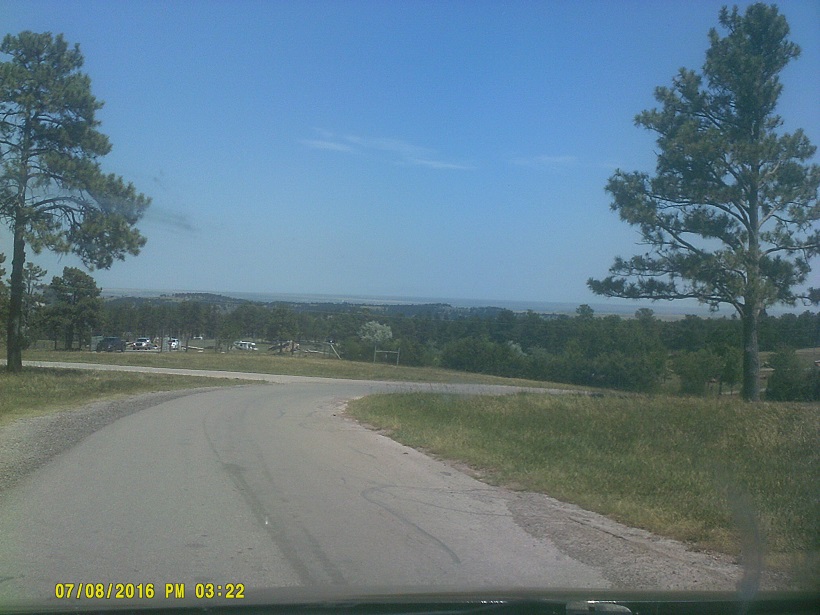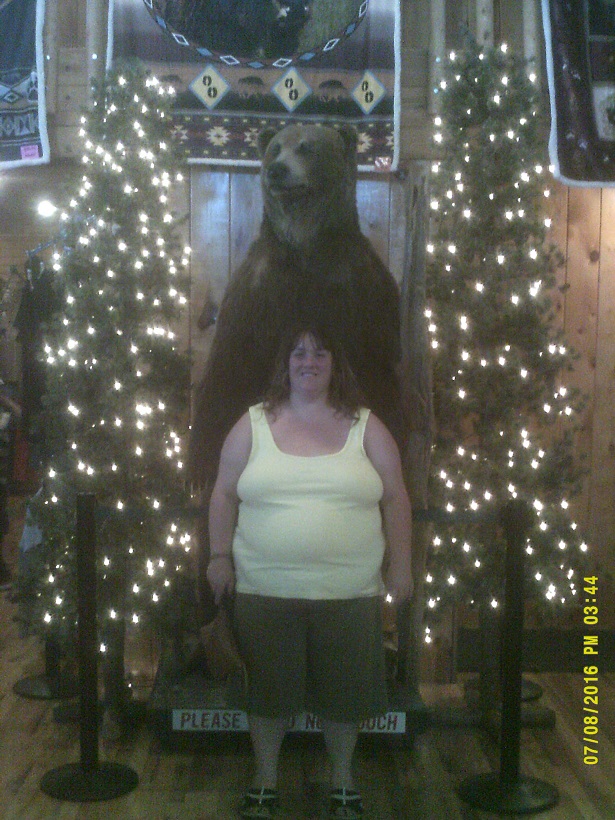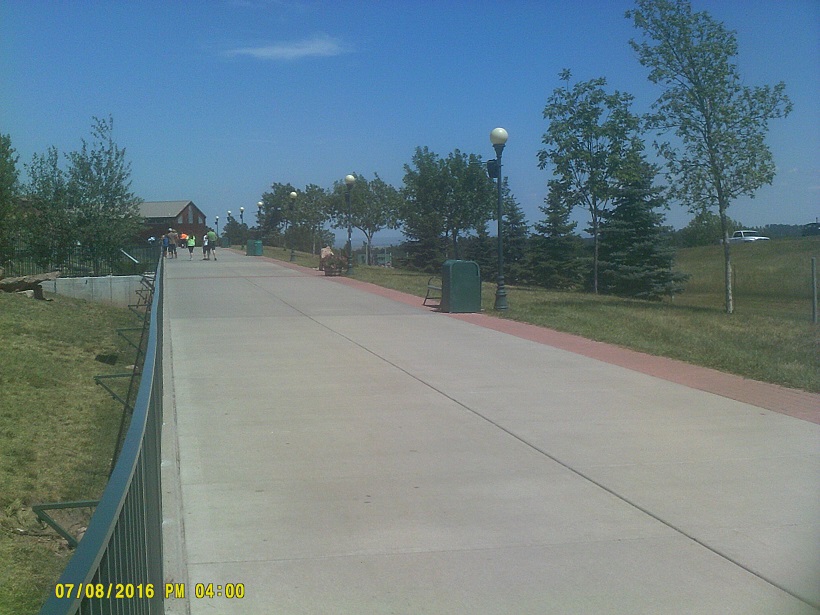 During our visit we travelled the length of Interstate 190 in both directions but only northbound. Translation: The southbound lanes were *being rebuilt so the northbound lanes were carrying two-way traffic. I realized after returning that because I didn't travel I-229 in Sioux Falls which I had planned before the impromptu trip to Falls Park, I missed driving on each of South Dakota's Interstates. (The motel in Sioux Falls was right off I-29.)
Since Wyoming was only about 45 minutes away on I-90, it was pretty much a foregone conclusion that I'd go visit before heading back east. It was nice to be back in an actual Western state for the first time in a long time for me, though the west portions of the Dakotas could certainly qualify as the real West as well if not for tradition. The highway at the welcome center, Wyoming Highway 111, was one of the routes to the Devils Tower area so I decided to go that way on the way out. Incidentally I was able to travel all of I-90 from near our origin to there. I have now been on all of I-90 east of there except for the relatively new part at the extreme east end under Boston Harbor, and in fact, except for the stretch from I-787 in Albany, New York, to US-20 at Lee, Massachusetts, and a short stretch locally in Ohio, I've done it just while driving on the *2014 and 2016 trips. (My family got the missing NY/MA gap in 1983 and of course I've travelled the Ohio gap many, many times.)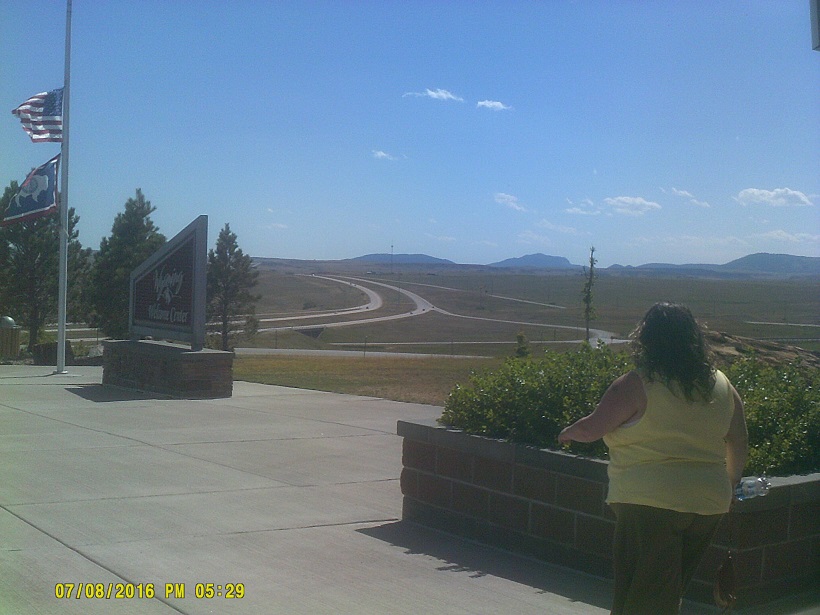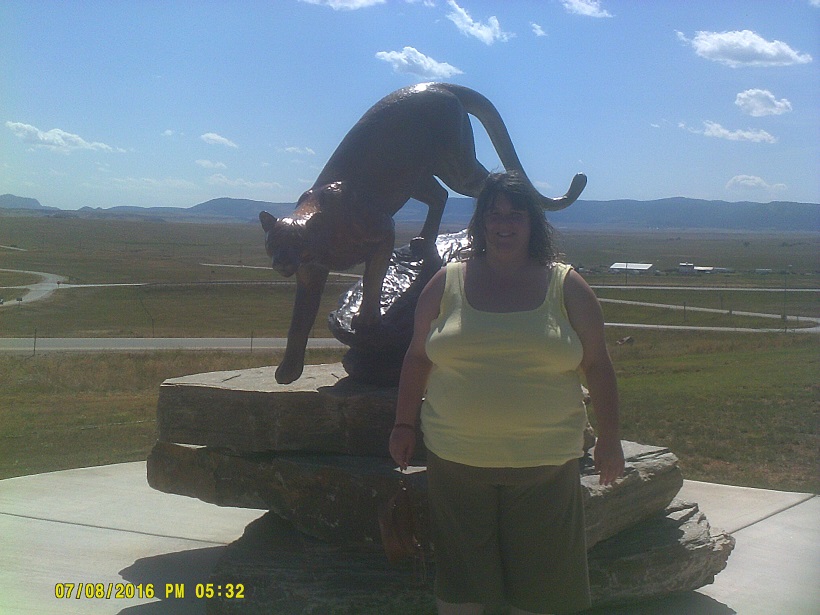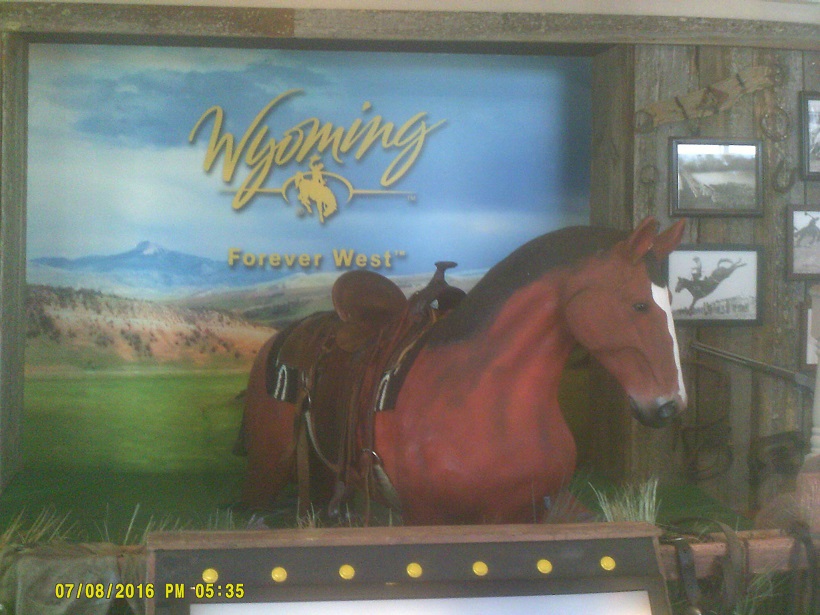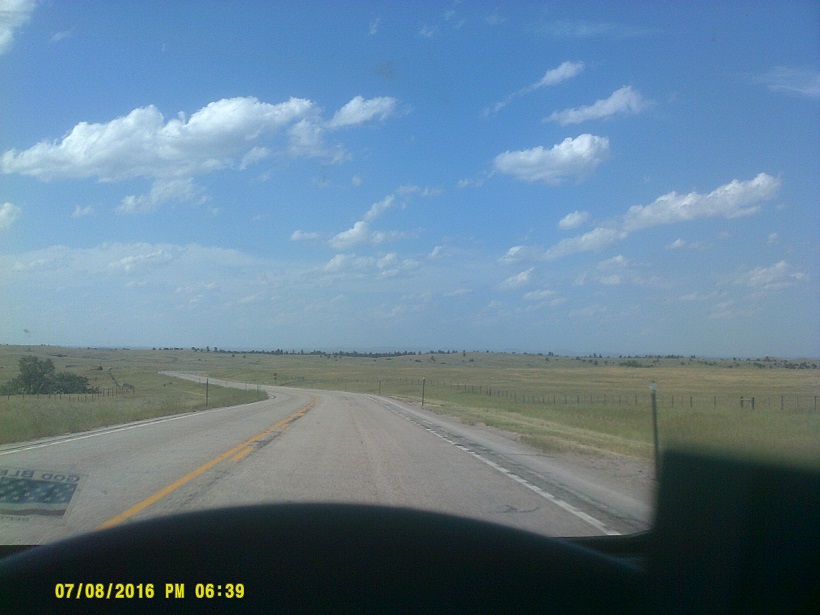 Looking into Montana from Wyo. 112
We ended up at Alzada, Montana, state number 44 for me, but just barely, since we were in the state for only about three miles. Still counts. It's likely that the convenience store there gets a lot of people visiting just to say they were in the state due to the proximity to Devils Tower.
Since there are few routes in the area we ended up almost doubling back, reentering Wyoming and ending up in Belle Fourche, South Dakota. Belle Fourche has the the Tri-State Museum which has a marker describing the geographic center of the United States, located a couple dozen miles to the north. (This is not to be confused with the geographic center of the contiguous United States, which excludes Alaska and Hawaii, located to the south in Kansas, nor the geographic center of North America, located to the north in North Dakota.)
North of Belle Fourche on US-85, there's a sign stating that there are no services for 44 miles. Thus began what I had expected: The stereotypical middle-of-nowhere mostly featureless landscape, with only a few hills and buttes scattered here and there. It was actually an event when there was a crossroad, even when there were no buildings there, which was usually the case. Occasionally there were a few cows or horses or sheep, but otherwise, welcome to the High Plains. Yes, one of the things I had done in Belle Fourche was fill the gas tank.
(One thing I forgot to do there when getting gas was clean the bug goo off of the windshield)
The town of Buffalo breaks up the loneliness (or respite from civilization, depending on one's viewpoint) a bit, though there's not much there, as expected. I found it interesting that the choice of destinations at the SD-20 intersection south of town are Buffalo and Bison.
We could tell in the distance where the North Dakota line was when we finally got there: There were more plowed fields, it got a tad flatter, though there were still buttes scattered around, and, as expected, we saw more oil wells. This was state number 45 and the last new state for me on the trip (my girlfriend had not been to Iowa or Wyoming either before this).
A bit into North Dakota, we passed through the small town of Amidon, one of those places which one can see clear across, population roughly 20, with just a scattering of buildings. But amusingly one of those buildings is the *brand-new Slope County Courthouse. Nearby is White Butte, the highest point in North Dakota.
Around dusk we joined Interstate 94 eastbound.
Saturday, July 9, 2016 (Dickinson, North Dakota to Monticello, Minnesota)
The most striking road feature in North Dakota to me was the fat yellow signal poles that are almost impossible to miss. (See example in the Street View link below regarding the state capitol.) The state also has an odd way of communicating what other states do at five-indication left turn signals by saying LEFT TURN YIELD ON [GREEN BALL]: They say the opposite: LEFT TURN PROTECTED ON GREEN ARROW ONLY. That's just a fancy way of saying that when the green arrow is on oncoming traffic has a red light. Really, it's a North Dakota-specific sign, the R10-5a, I looked it up. The state has also just introduced a new route marker, and it's juuuuust now being posted in the field. I saw it on the eastbound 94 signs for ND-49 in the west part of the state, and then just a very few replacements which I could see from 94 on other crossing highways. In the meantime there are also unusual examples of the old marker on a couple of guide signs: The ones for the ND-32 exit have the independent version rather than the plain guide-sign version without the black background with N and D in the corners (it's part of the sign, not just an independent marker stuck on), and the ones for ND-30 have the guide-sign version with an "ND" stuck directly above the number.
There is less of a contrast between the sections west and east of the Missouri River in North Dakota as there is between East River/West River in South Dakota, though it is somewhat noticeable. As predicted, it had become pancake-flat a few miles from Fargo though some hills did pick up again approaching the Red River of the North, which the North Dakota/Minnesota line follows. Also, it was old US-10 that was shadowing us this time, though it was harder to spot from 94 than old US-16 in South Dakota was from I-90.
I forgot that the North Dakota state capitol building in Bismarck is not along the Missouri River, which is where I was looking for it as we crossed the river on I-94. Fortunately we stopped for gas just to the east at US-83, whose southern continuation, the old route, goes right past it. The top of it is visible from the eastbound I-94 ramps where US-83 joins 94, and it's also fortunate that I remembered that it looks more like an office tower than a traditional capitol building so I knew that I had seen it. It's here between the tall Shell gas station sign and the La Quinta Inn.
Jamestown, in the northeast part of the state, has a series of billboards that look just like highway signs except that they're pink along I-94 just east of the business district. Whether they're pink to distinguish themselves from the real signs or to attract attention, or both, I don't know, but it worked, because I remember them.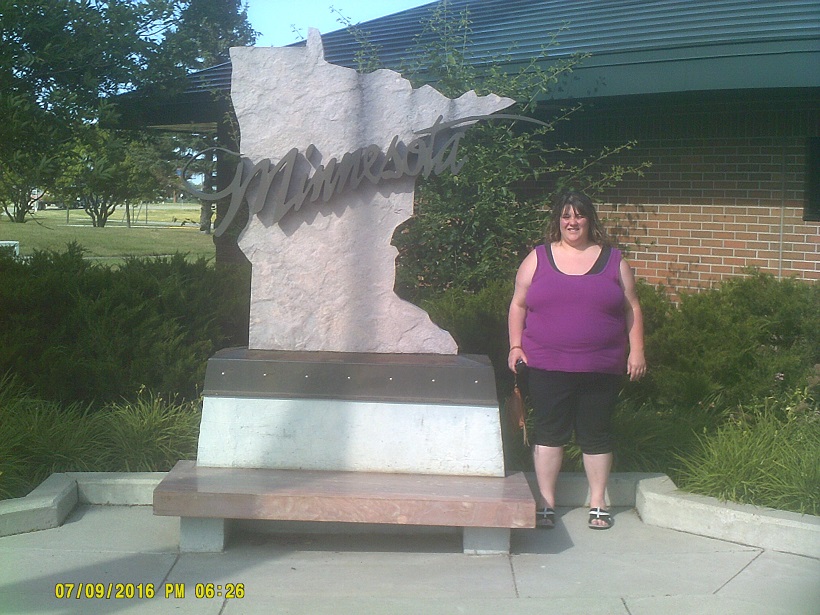 Minnesota, part 2. We did see more lakes for which Minnesota is known from I-94 than we did from I-90 but there were fewer than I expected.

I thought that we might stay in St. Cloud but after searching for motels in the area, which were more scattered than those in other towns along I-94, we eventually found out that there was a wedding in town and that finding a room would not be likely, so we continued down I-94 a few exits.
Sunday, July 10, 2016 (Monticello, Minnesota to Rhinelander, Wisconsin)
The day started with a trip past Minnesota's Graceland.
I knew that we were returning to the Mississippi River here but the Minnesota Highway 77 bridge over the Minnesota River took me by surprise.
Anyone following the routing from the two locations above might guess that our destination was the Minnesota Zoo. We had considered stopping at the Mall of America as well but just decided to drive past it instead. There's a *pedestrian bridge under construction at the zoo entrance.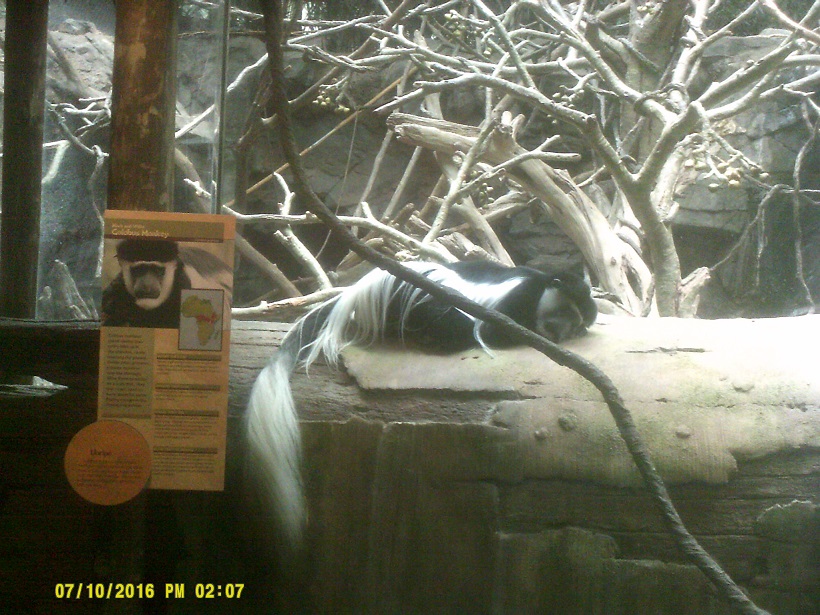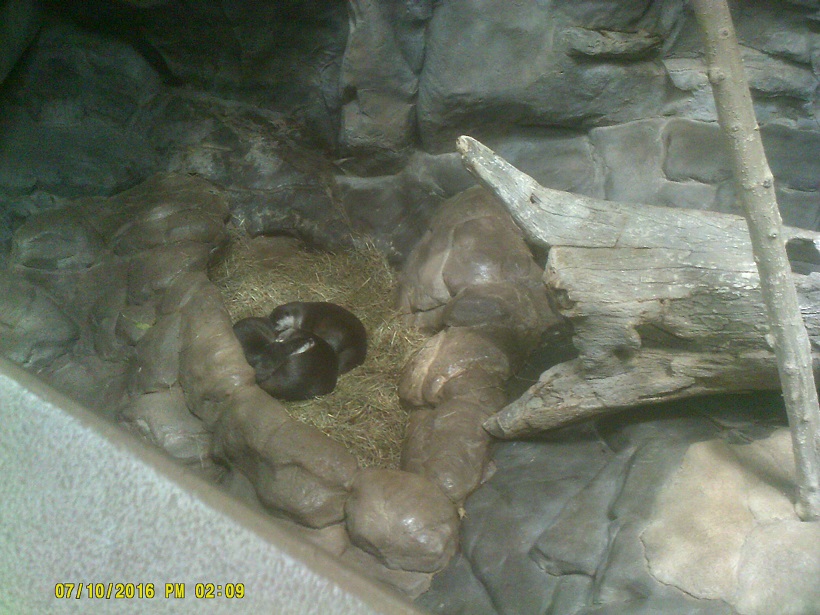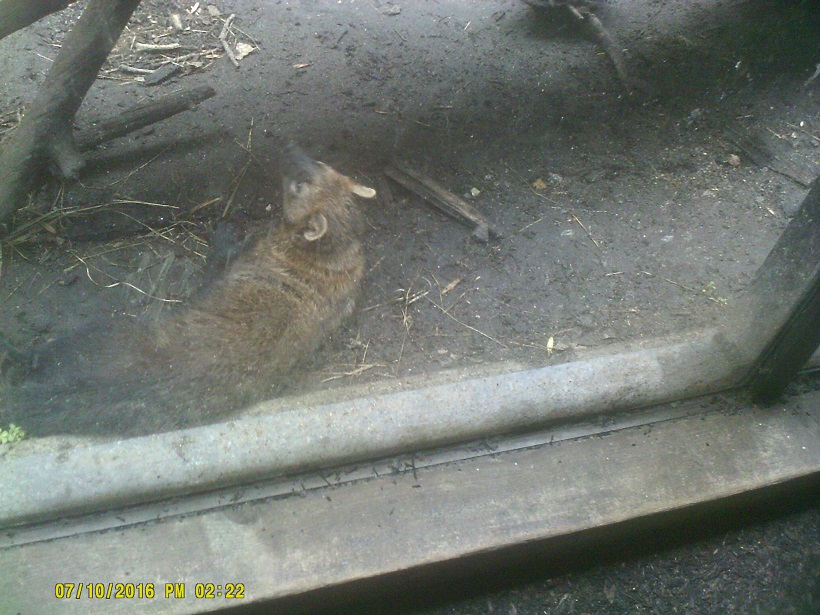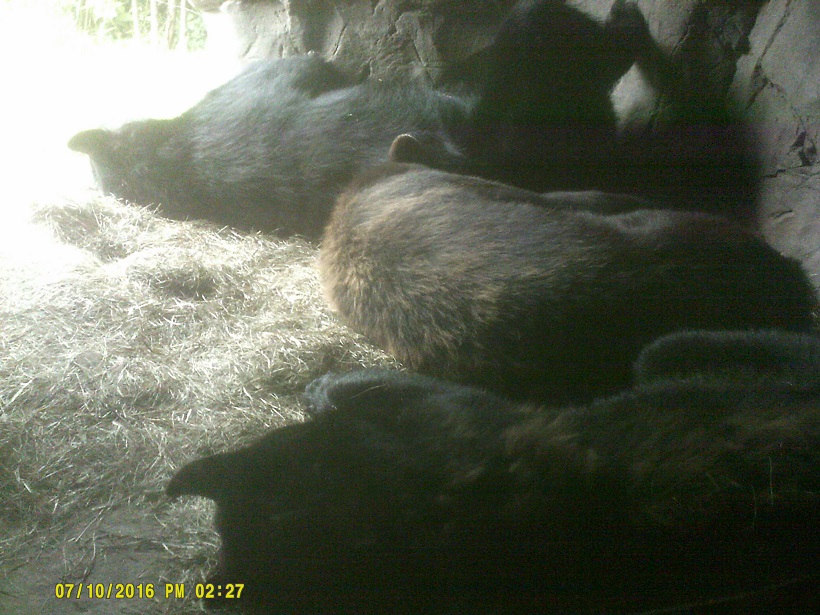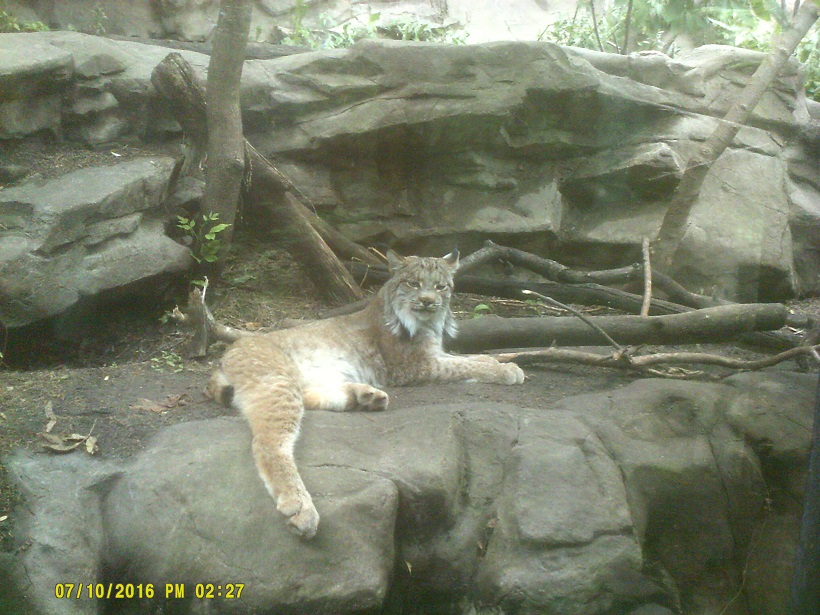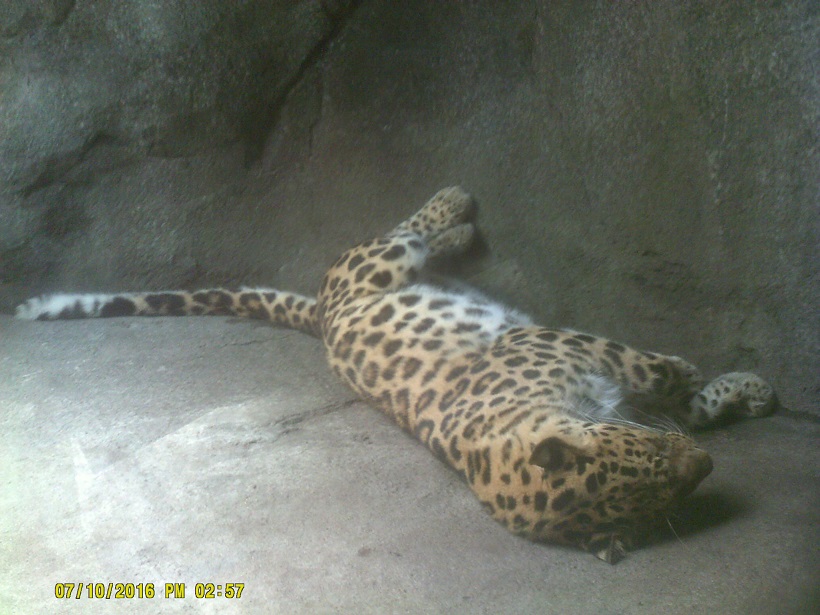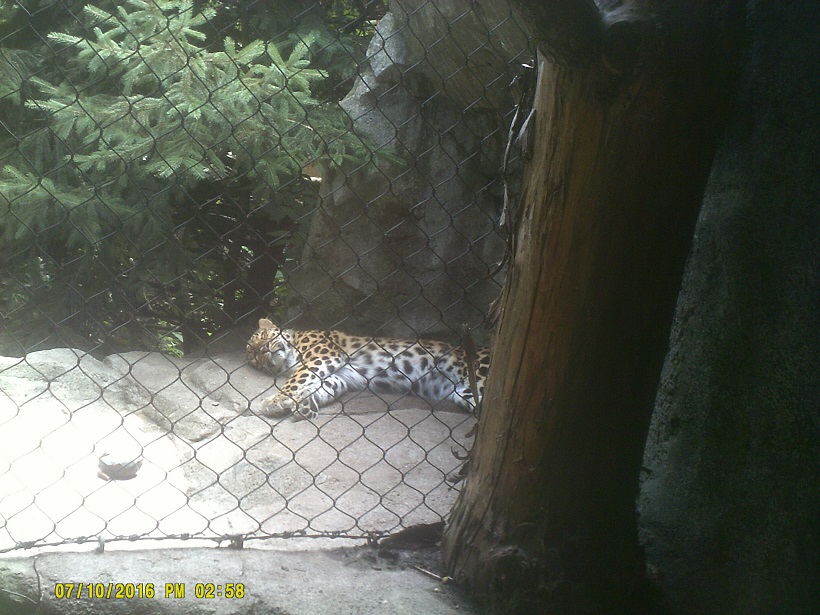 As traffic curves eastward on I-35W in downtown Minneapolis the skyline is in full view. Ironically the older and shorter Foshay Tower seems to dominate. Other people might have recognized the skyline from The Mary Tyler Moore Show but I'm a little too young to remember specifics from that. I tried to catch a glimpse of the I-35W bridge over the Mississippi River, built following the 2007 collapse of its predecessor from I-94, to no avail, and somehow I missed acknowledging I-94's own bridge over the river just to the east in spite of clear signage – I guess that heavy traffic obscured both the sign and the view to the right in which the river is clearly visible (the view to the left is obscured by trees because the river meanders so I must've thought I was crossing a smaller creek or something besides a stream).
I had originally wanted to avoid driving I-94 through St. Paul for concern that there would be holdover from the *nationally-publicized chaos on the highway the night before. Fortunately there was none and we proceeded through safely. The capitol rotunda (currently *being renovated) is just visible going from I-94 to I-35E northbound. (Street View shows another view further west; obviously I missed that too.)
As with I-90 I picked up a bunch of I-94. Growing up less than two miles from it I had been on many portions but on only a minority of the whole. I have now been on all of it except for the section west of US-85, from I-494 northwest of Minneapolis to I-35W, from I-35E to the I-90 interchange at Tomah, Wisconsin, and from Exit 241 (21 Mile Road) by Chesterfield, Michigan, northeast to I-69. Again, most of this was covered in trips in three of the last four years (*2013, 2015, 2016). In fact in more ambitious plans last year I would have travelled the missed St. Paul-Tomah portion, and this year I briefly considered I-90 west to Billings, Montana, I-94's west end, where we would have followed it east. Both had to wait until another time, maybe on a trip to the Pacific Northwest to pick up the last three states in the Lower 48.
Just north of the Twin Cities we followed US-8. I could've followed 8 end-to-end on this trip but *a road closure leading to the Wisconsin line dashed those hopes early.
A note about US-8: This is one of those highways through back country which is tedious to drive. It's due to the fact that the highway was upgraded sometime in its history, circa 1950s probably, and the newer routing took it through forest where not much development has happened along it since. Sure enough, when I reviewed the most boring/featureless parts on maps later, there was almost always an Old Highway 8 or similar road paralleling it, where more signs of humanity were likely present, though these are still in the back country so probably not much more of it was there either. Good old northlands. It didn't help that the clouds this day were those low, fall-like ones (a hundred miles in either direction it was in the 80s but the local high temperature for the day was 66) and that the speed limit was lower than further west on equivocal roads. At least it was a break from the crowds.
An obscure but sentimental aside: In 1975 one of my parents took a photo of me at the Wisconsin welcome center on I-94 by the Illinois line next to an I-94 sign with a large yellow arrow that's used at curves rather than the small marker arrow. I must've liked that substitution – I say "must've" because I was too young to remember the photo being taken. (That sign assembly was long gone last year but I attempted a *re-creation anyway with the brand-new I-41 signs.) Anyhow, I noted while driving US-8 that Wisconsin still uses this setup (even though we travelled long stretches off of the Interstate last year I didn't see any). On US-63 heading away from US-8; on US-8 itself
Dinner with way too many calories at Culver's. This might upset traditionalists, but I found out that I don't like cheese curds fried.
Monday, July 11, 2016 (Rhinelander, Wisconsin to East Bay Township, Michigan)
More cheese curds, raw, before hiting the road again. All the fresh ones usually available locally appeared to be sold out.
Wisconsin has its own Red Arrow Highway: Highway 32, which runs a bit with US-8 (the other one to which I'm referring is Michigan's, which I also mentioned *last year on the last day).
East of that, we took an impromptu trip to *Twelvefoot Falls County Park near Dunbar, on a whim just by seeing a sign for it. It was a nice little respite from all of the driving. (We ended up bypassing a short section of US-8 but with the detour in Minnesota I had already lost my chance for end-to-end.)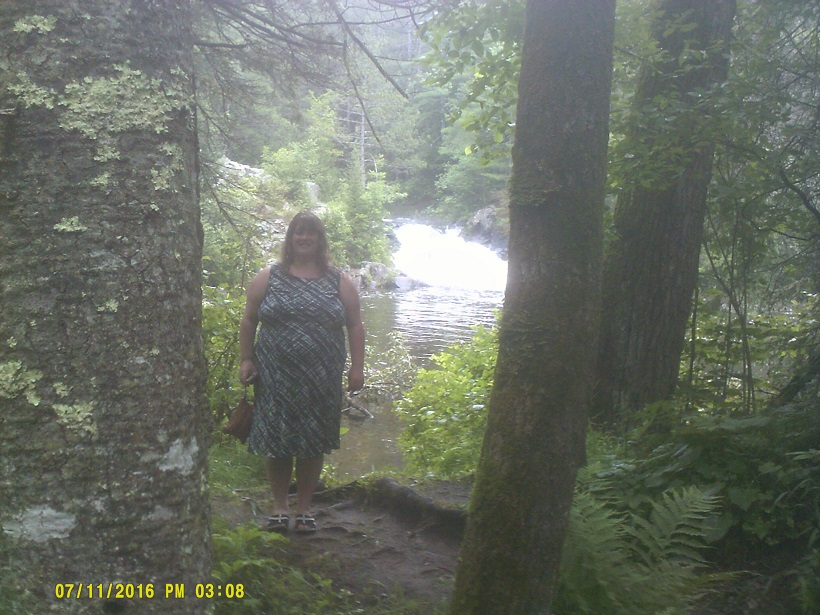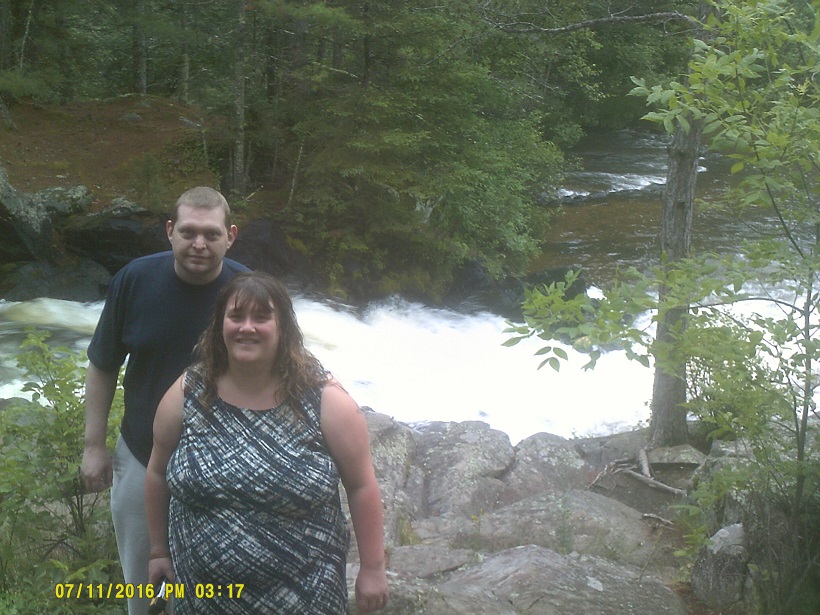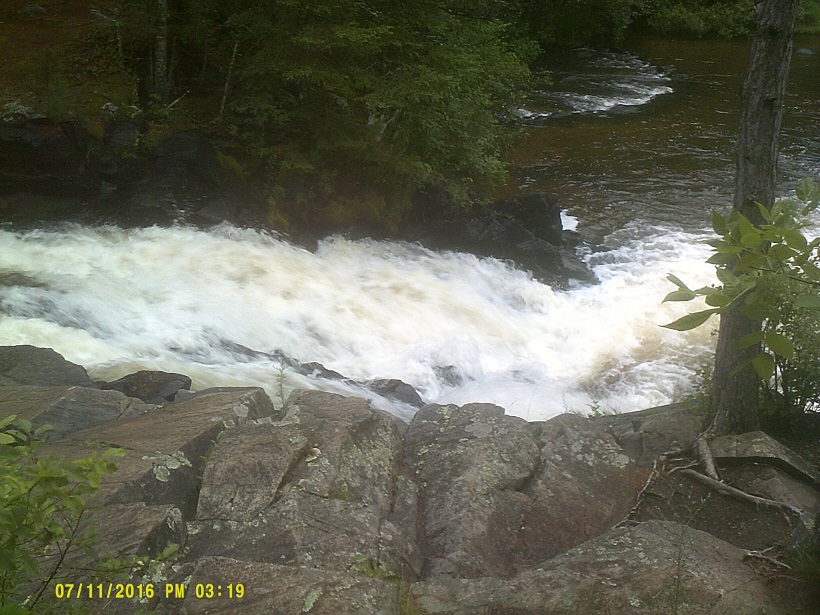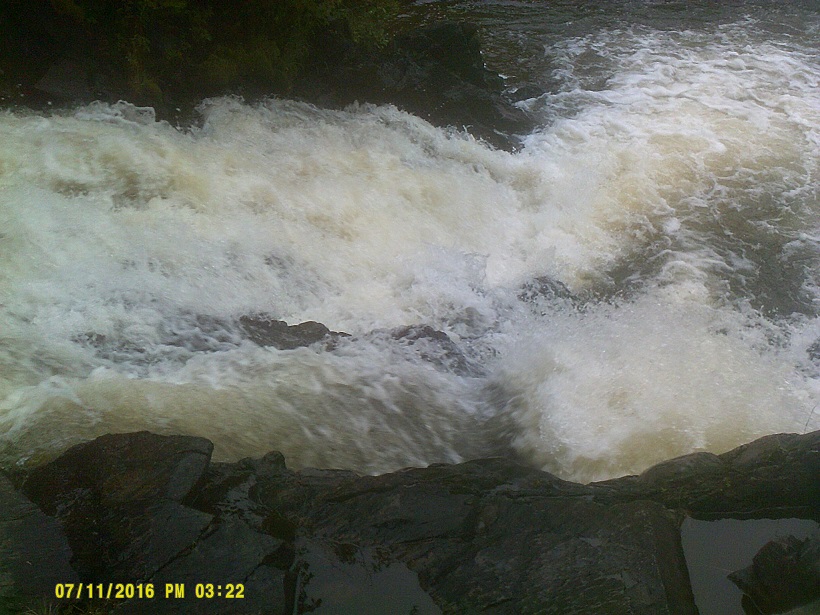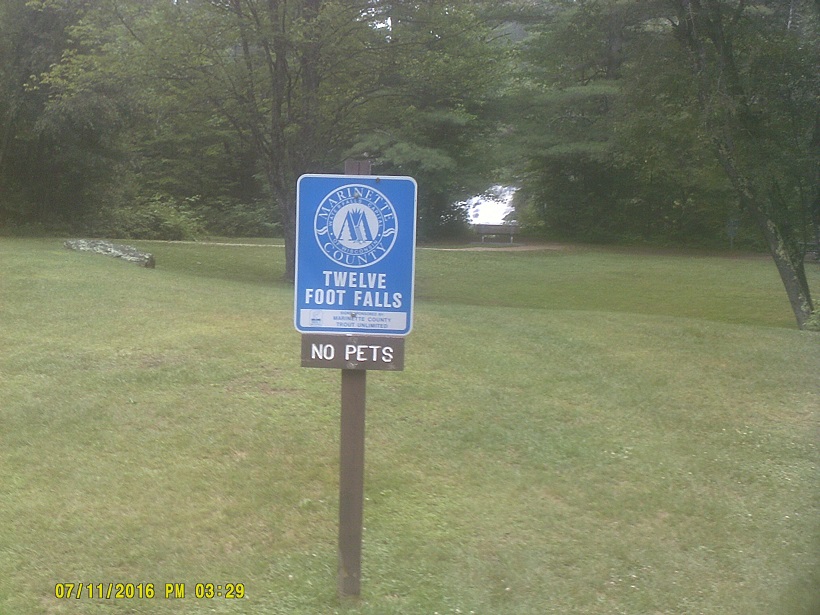 Soon after that we made it to Michigan's Upper Peninsula. This is the first time I had been there since 1981, when my family took a vacation there, never leaving the state. (We did go to North Carolina later in the year.) I mentioned that my girlfriend would be able to have seen all five Great Lakes by the end of the trip if we made a one-hour-or-so side trip to Lake Superior, and even reminded her about nearby Tahquamenon Falls which she had seen on the Internet, but she was content to stick with the planned trip routing.
One thing that always sticks out to me in Michigan is the traffic signals. Lately the trend has been to make them more "normal", more in line with other states', so you get examples like this, with the more urban version looking like this. But even now, there are still classics like this (U.P. example; note that in both of those the left turn signal's red is in the dark part of its flashing) and this and this and this and this and this and this....
US-2 varied between more forest inland and nice views of Lake Michigan shoreline.
Near the east end of US-2 is *Deer Ranch which we visited just as it was closing, though the proprietors graciously let us explore some in spite of that.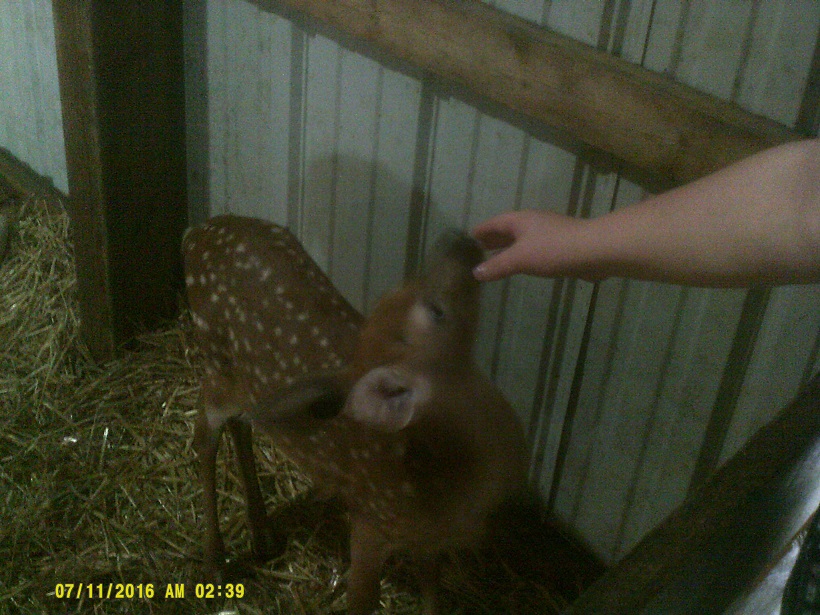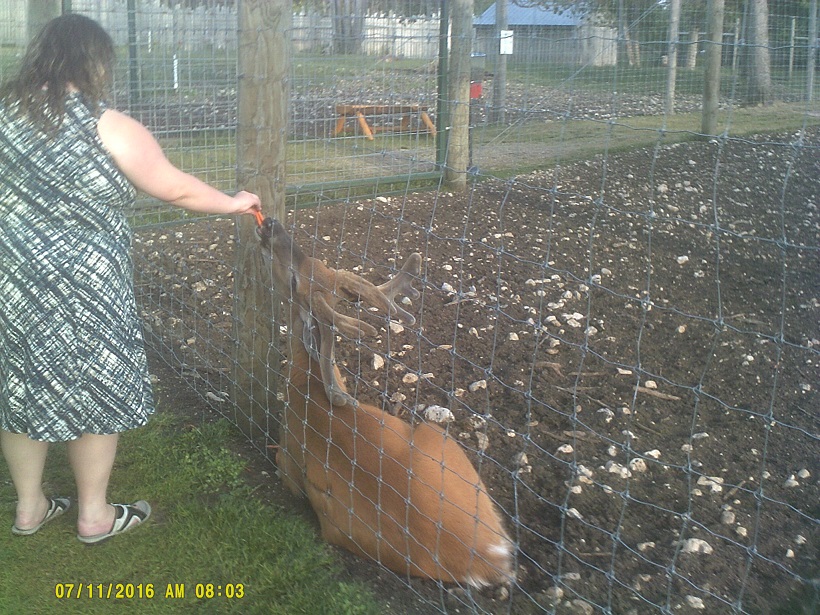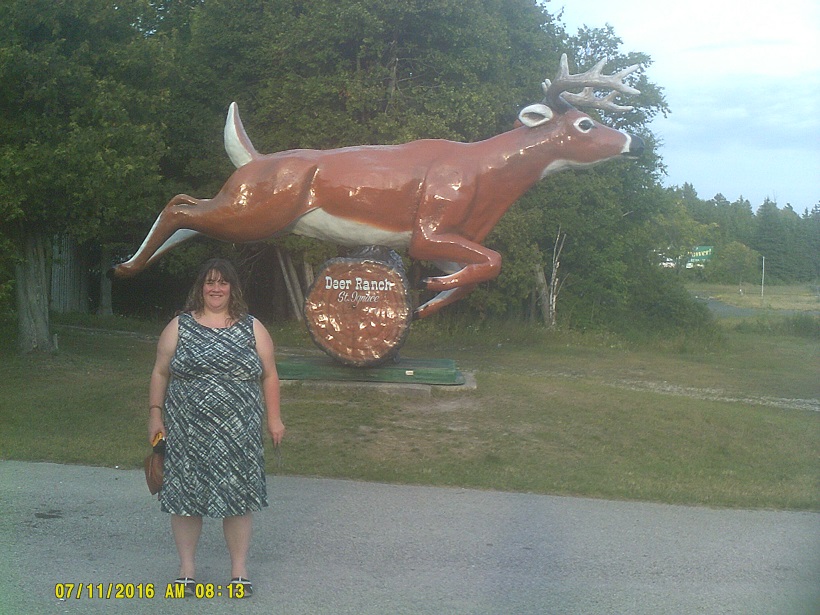 I-196 near its south end in southwest Michigan goes through a sandy area by Lake Michigan where *dune-like formations can be seen where there is no vegetation. The area on US-2 just short of St. Ignace has much more defined dunes.
One thing still on my bucket list is trying a pasty (pronounced PAST-ee), a signature dish of the U.P. Unfortunately by the time I remembered to stop for one all the shops appear to have been closed.
I got over the disappointment quickly since we soon arrived at the Mackinac Bridge. I was very excited to drive a major symbol of my birth state, and yes, I did drive on the middle grate section briefly.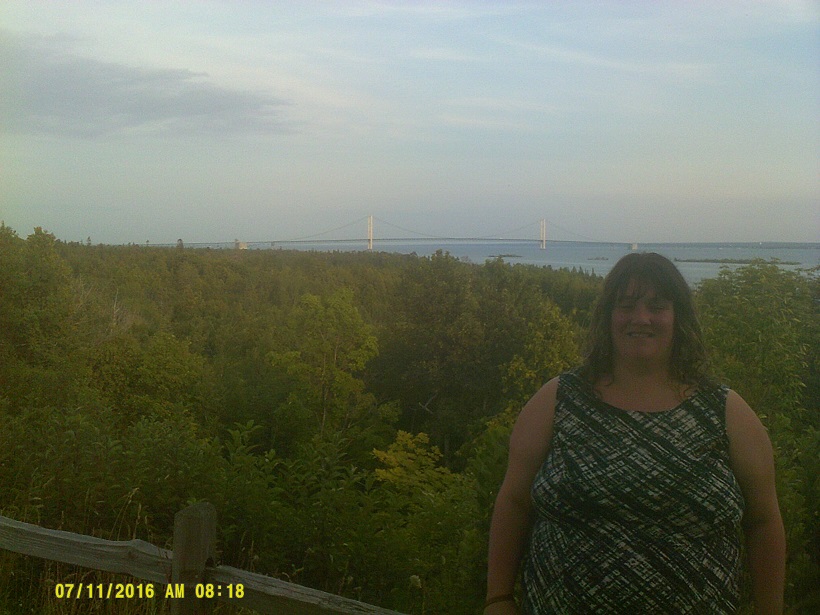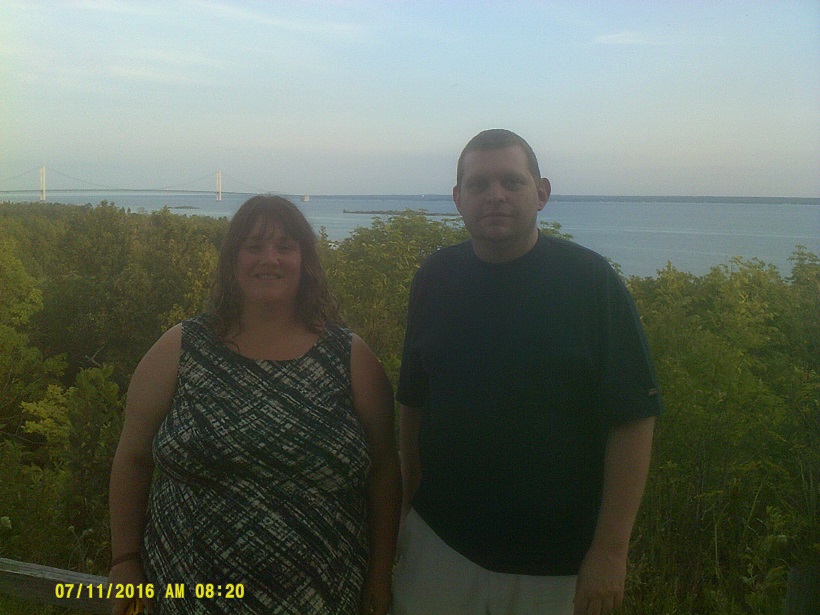 I had always wanted to travel US-31 along the length of the eastern Lake Michigan shore, and I finally got to do it.
No offense to people with these last names but after days of heavy driving, this sign looked like someone had splattered alphabet soup all over it.
We passed the sign identifying 45 degrees north latitude, the halfway-line between the equator and the north pole, on US-31. It wasn't until I saw that that I realized how much of the trip was north of there: The brief pass into Montana, then everything after the first few miles of US-85 in South Dakota with the exception of the dip to the southern portion of metro Minneapolis/St. Paul.
The drawbridge in Charlevoix was up when we got to it. Apparently the odds were in our favor for that.
We were able to make the Traverse City area just as it got dark, seeing more nice views of Lake Michigan along the way.
Tuesday, July 12, 2016 (East Bay Township, Michigan to Lake County, Ohio)
The land rising from Grand Traverse Bay rises higher than I thought it would.
I'm partial to southwest Michigan's fruit, having been born and raised there, but I couldn't leave northwest Michigan without trying some, so we had lunch at the Cherry Hut.
Brief stop in Ludington by the ferry dock.
I know all about the choke point of the old Grand River drawbridge on US-31 in Ferrysburg – M-231 was built to bypass it – but what struck me was the north approach to it, which looked like some of the oldest freeway on which I've driven. (Incidentally there is no mention of M-231 on US-31 southbound so you'd have to know about it ahead of time, or apparently be led to it by *EMERGENCY 31 markers.)
US-31 in Grand Haven reverts to surface divided highway. Michigan Lefts aplenty.
I was able to see a good bit of *Dutch Village in Holland from US-31, a place I had been as a kid, though it was among a long stretch of *construction that had the southbound lanes of 31 torn up.
In another bad coincidence (see St. Paul above), we got to the St. Joseph/Benton Harbor area (also called the "Twin Cities") right after another tragedy the day before. I acknowledged it briefly when visiting family nearby. Otherwise the visit was enjoyable. I also drove past my childhood home as is tradition whenever I visit the area.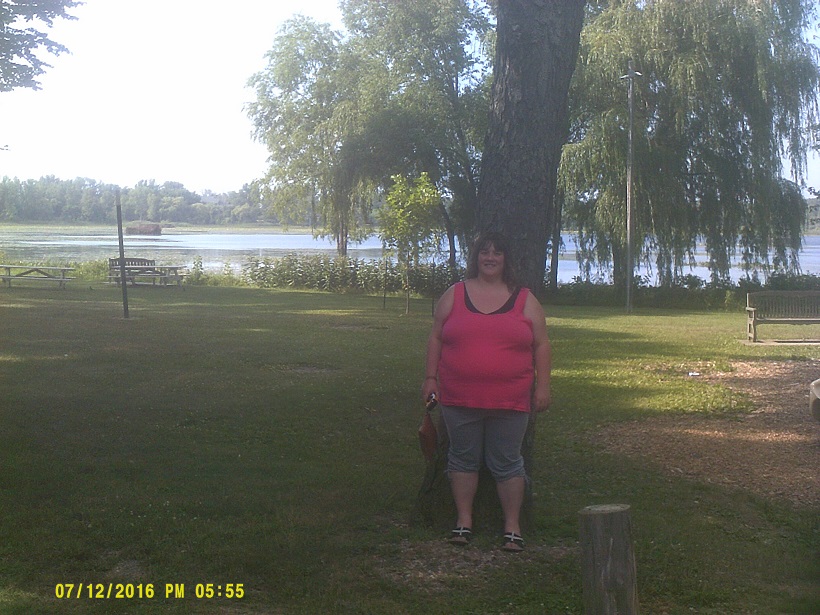 In a continuing theme of the trip, I drove almost the entire length of US-31 in Michigan. I only missed the section between Exits 7 and 3 when I detoured to Buchanan to see the houses where I lived in high school. However I've been on that section many, many times since it opened in 1987 so I can still say that I've been on it all.
The last gas stop on the trip was the same as the first, US-31 at Brick Road/Business US-31 just north of the Indiana Toll Road on the west edge of South Bend, where my family has gone for decades due to consistently low gas prices there. From there it was back the way we came.
One non-travel item that I found interesting during the trip is how Pokémon Go went from being released on the second day to gaining worldwide recognition before the trip was even over, and as I write this it's still been barely two weeks since its release.
Total mileage: 3,703 miles (only 151 miles shorter than the *2013 Texas trip and in four fewer days)