(July 16, 2013, revised August 28) One year after our *trip to SeaWorld Orlando, my girlfriend and I decided to try out SeaWorld San Antonio.
Note: In this document, I have made links to Google Maps Street View green. Links to other pages are the traditional blue, with links not to Wikipedia articles designated by a *. All photo time stamps are Eastern Time, regardless of local time of the place in the photo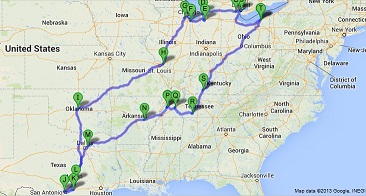 Approximate route
Tuesday, July 2, 2013 (Lake County, Ohio to Benton Township, Berrien County, Michigan)
Note: Much of the first three days of the trip approximated our *2009 trip. We covered more ground that year as opposed to pretty much going straight through this year.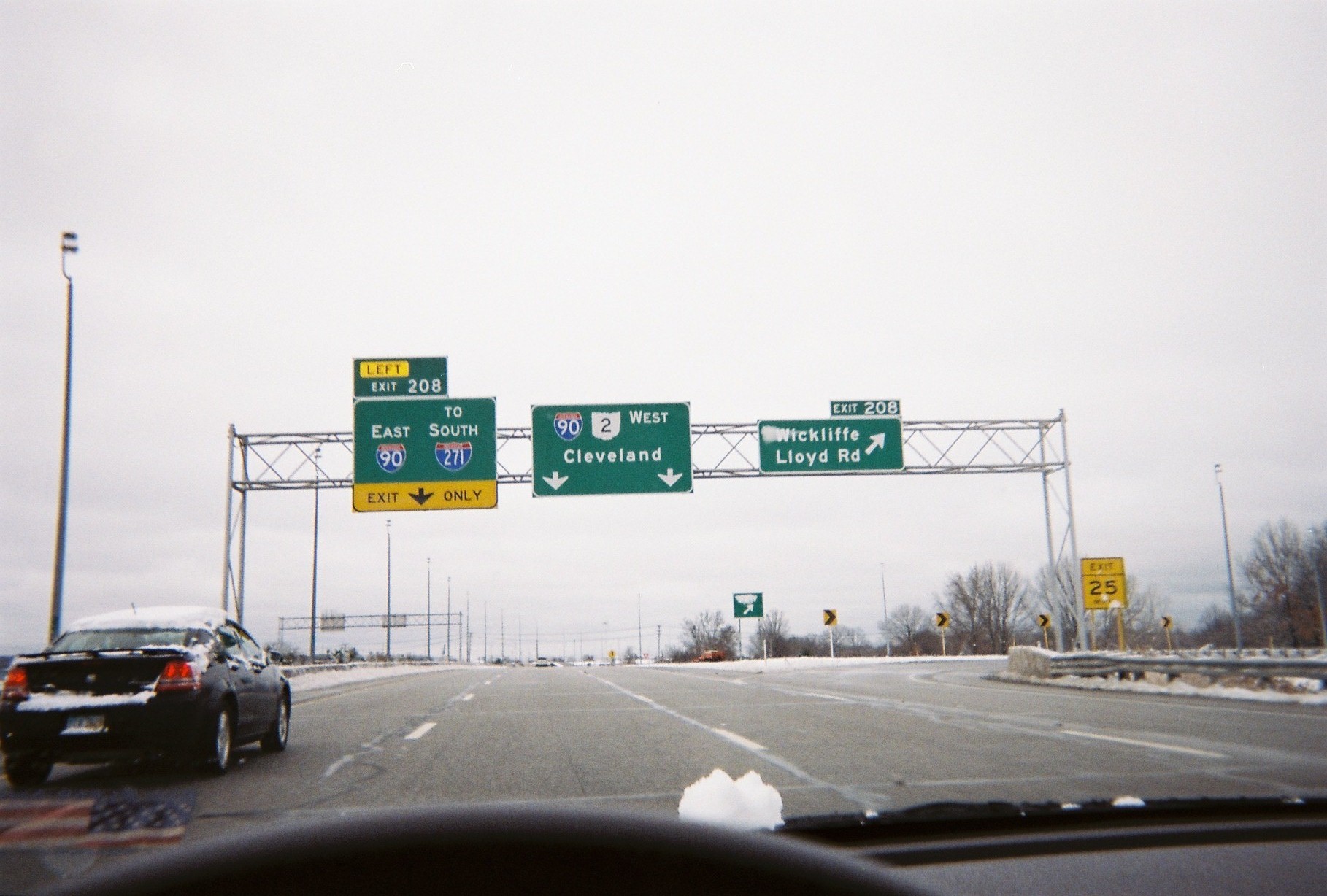 Oops! Ohio is giving non-Interstate freeways exit numbers, and 208 seems to be a popular number here. The number for I-90 eastbound should be 207. Taken December 27, 2012, but unchanged on July 2 (or August 17)
Work is progressing well on the new southwestbound Innerbelt Bridge in Cleveland, which is on track for a fall opening.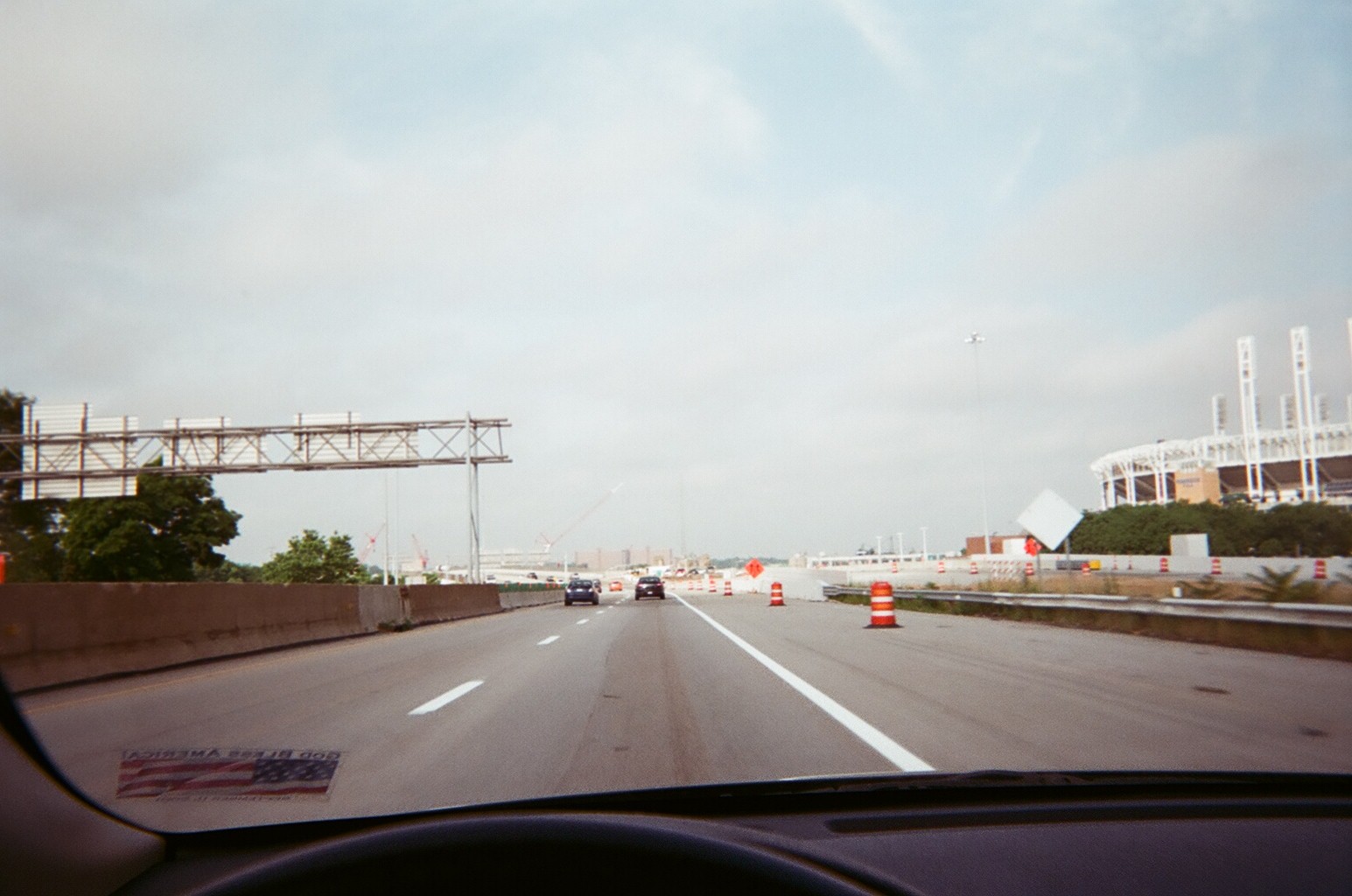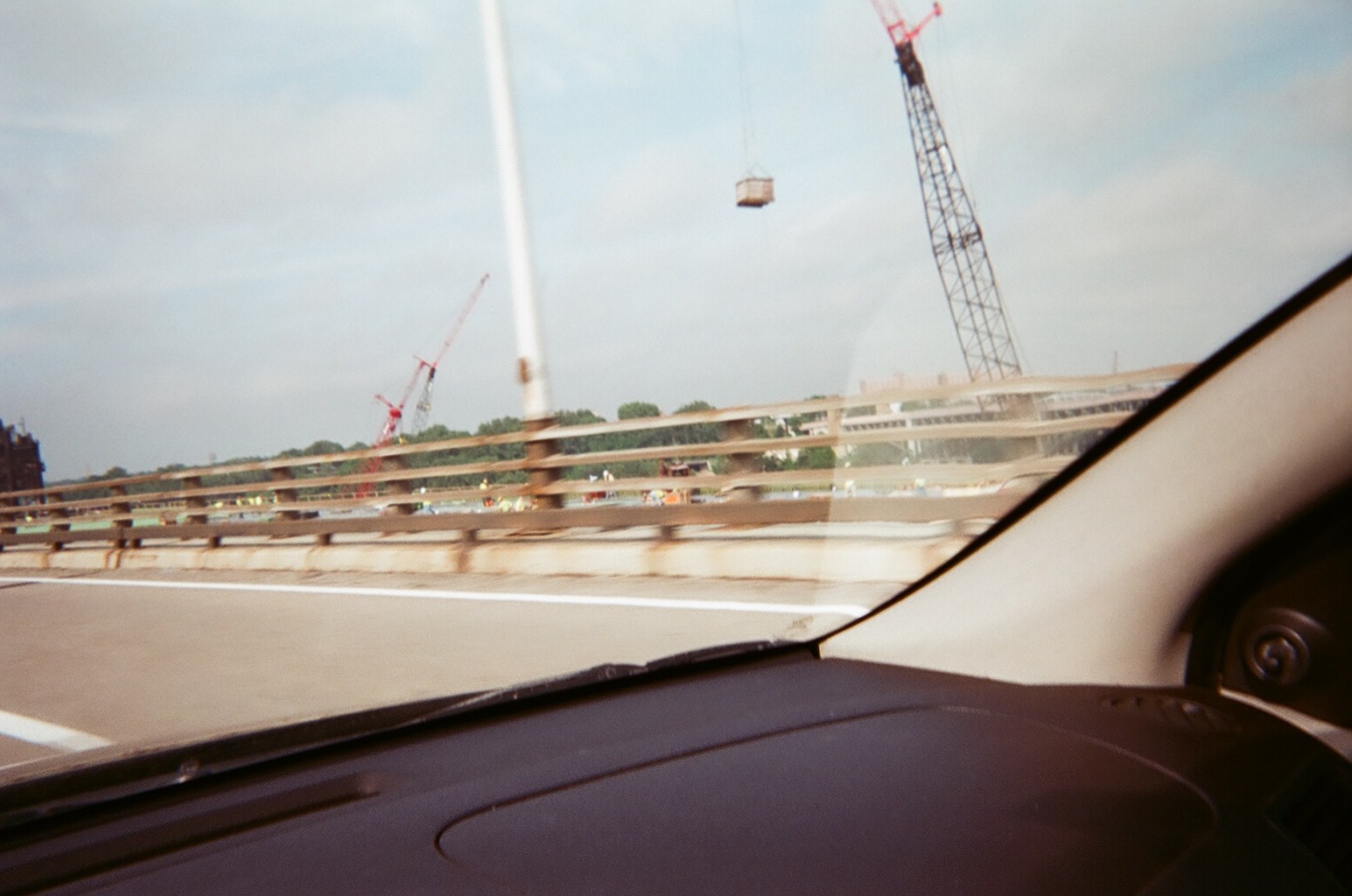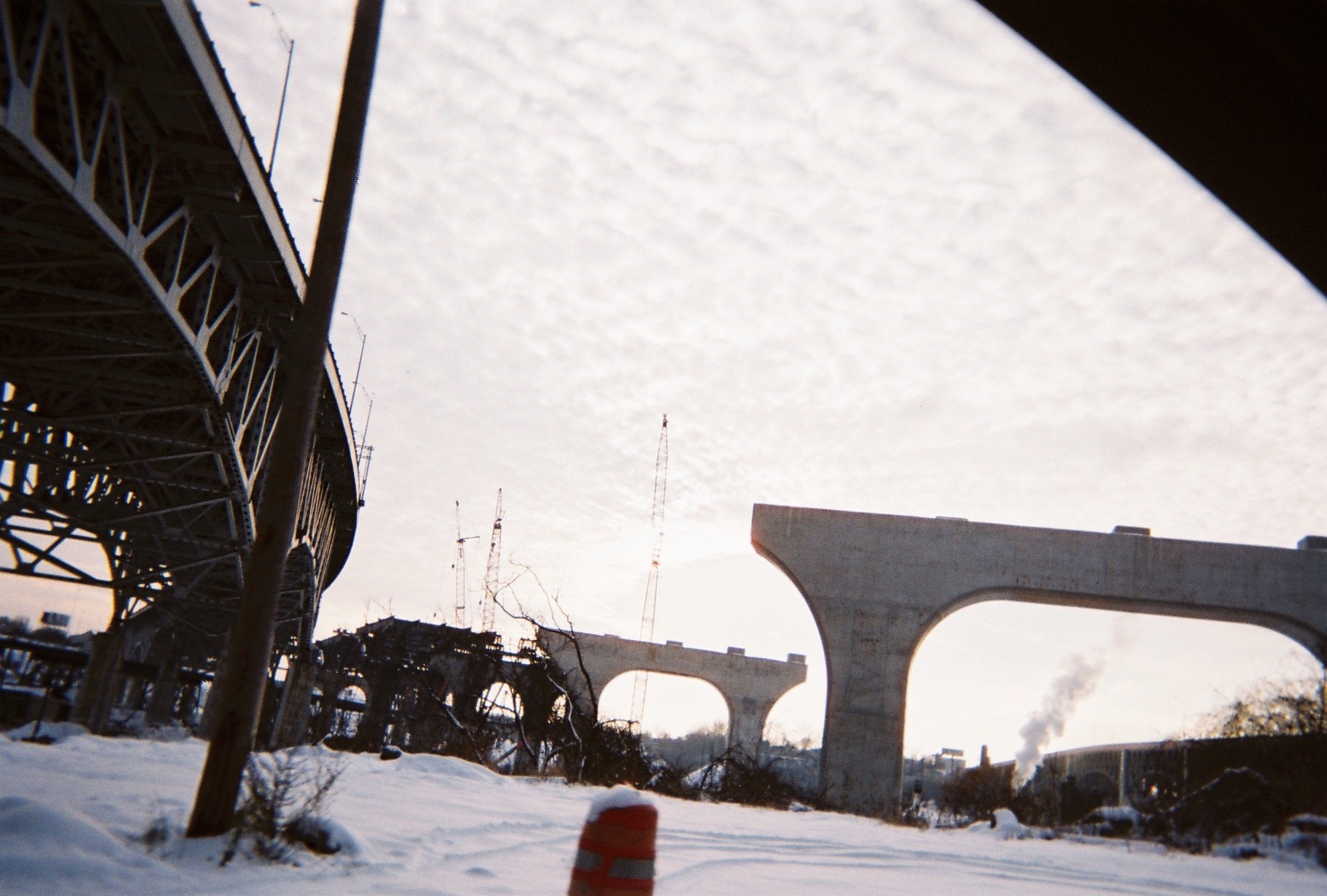 Better view from underneath, taken December 28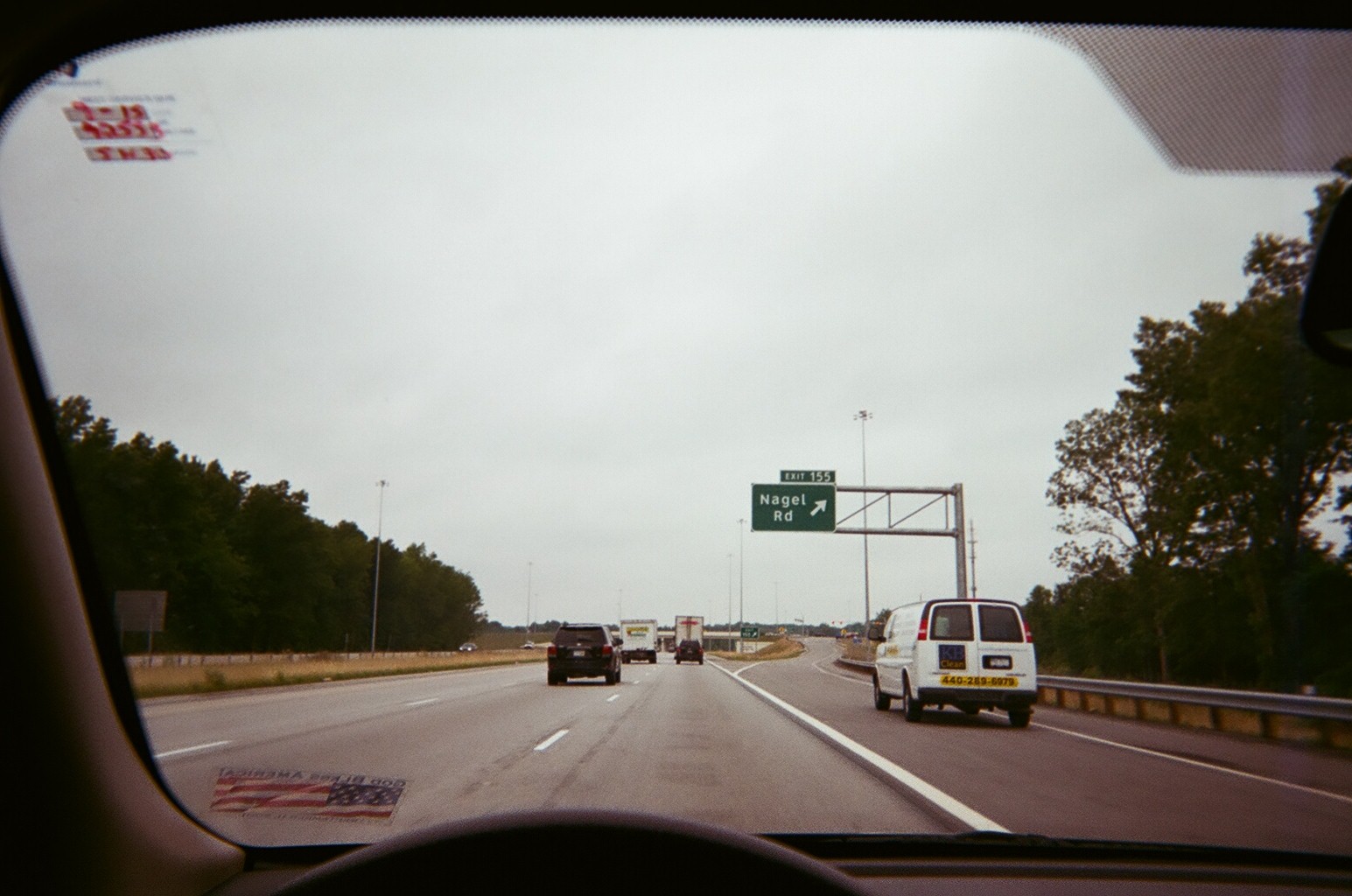 New Nagel Road interchange in Avon on I-90/SR-2, opened December 20
My first sighting of a Speed Limit 70 sign in Ohio, whose rural Interstates had just gone to 70 the day before. However, this particular sign, as well as the rest along the Ohio Turnpike, are older than that, since the Turnpike went to 70 in 2011.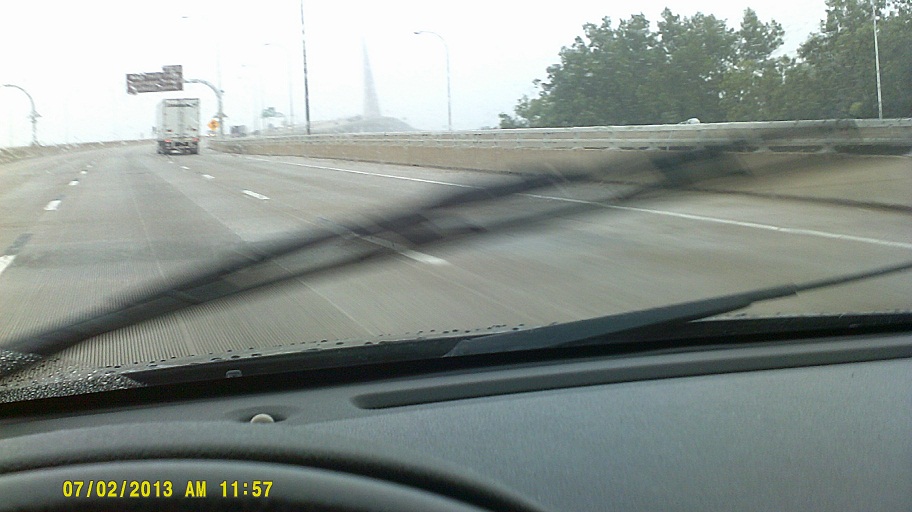 Probably the worst day to take photos of the Veterans' Glass City Skyway on I-280 in Toledo. I heard later that day that South Bend, Indiana, broke a record for coolest high temperature recorded on July 2 (66 degrees). Not surprising....
I drove past the entrance to the Detroit-Windsor Tunnel and we saw Canada across the Detroit River just upriver. This in addition to seeing Canada from New York in two places in *2011 and visiting the Canada Pavilion at EPCOT in 2012. One of these days, we'll actually get there....
Better view than I expected of Ford Field and Comerica Park on the I-375-to-I-75SB ramp.
Nice old-school memorial signs in some Michigan rest areas.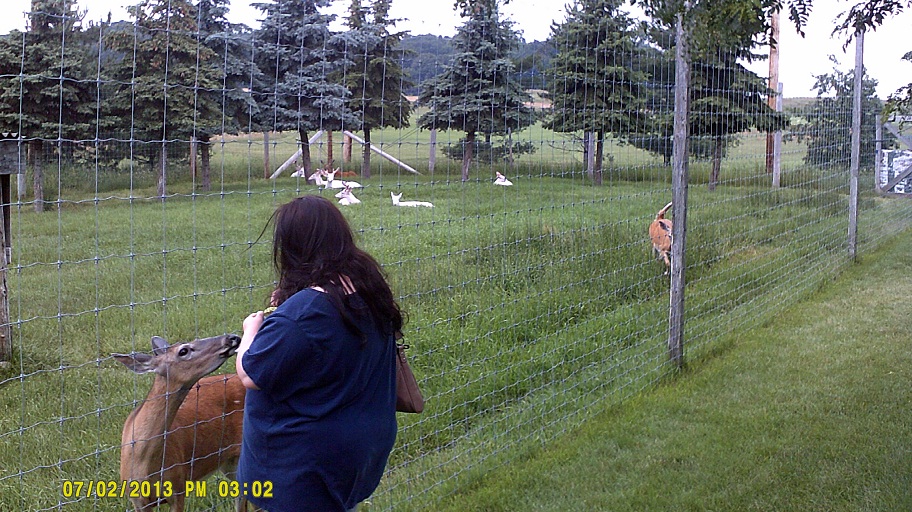 Stopover at the *Michigan Whitetail Hall of Fame Museum along I-94 north of Grass Lake
Michigan usually doesn't post mentions of business routes from the opposite direction of the mainline, but Jackson's I-94 Business Loop eastbound is mentioned on the signs along with M-60 on I-94 westbound.
I-94 has some interesting concrete posts at the ends of overpasses. The ones on the older sections of freeway between Detroit and Ann Arbor appear original. Ones in the recently widened section at Kalamazoo are obviously retro.
Visit with many family members from my dad's side of the family plus an old friend.
Wednesday, July 3, 2013 (Benton Township, Michigan to Chicagoland, Illinois)
Interstate 94 trailblazers have been added to US-31 where it empties onto Napier Avenue at the long-term temporary north end of the St. Joseph Valley Parkway east of Benton Harbor. Too much confusion with the end of the freeway?
After checking up on the houses where I was raised in northern and southeastern Berrien County, we entered Indiana and took Business US-20 into South Bend to visit relatives on my mom's side of the family. The road has been rebuilt around South Bend's airport due to airport expansion, unfortunately causing the removal of part of the original Lincoln Highway, also the Michigan Road here, though that section had been modernized long before (see *Jim Grey's travelogue for more details and photos). The new section has roundabouts, which are becoming common around South Bend.
Picked up some *South Bend Chocolate at the Wilbur Shaw Service Plaza in LaPorte County on the Indiana Toll Road, then on to Brookfield Zoo just outside Chicago.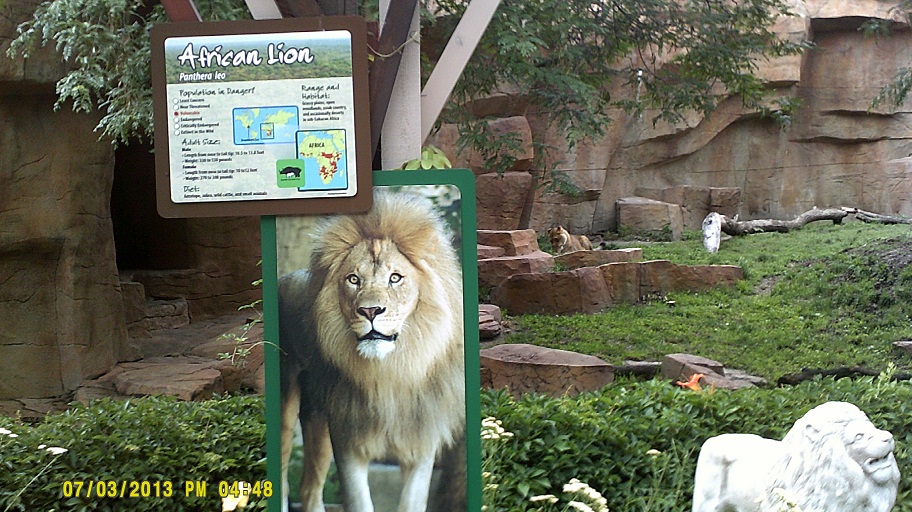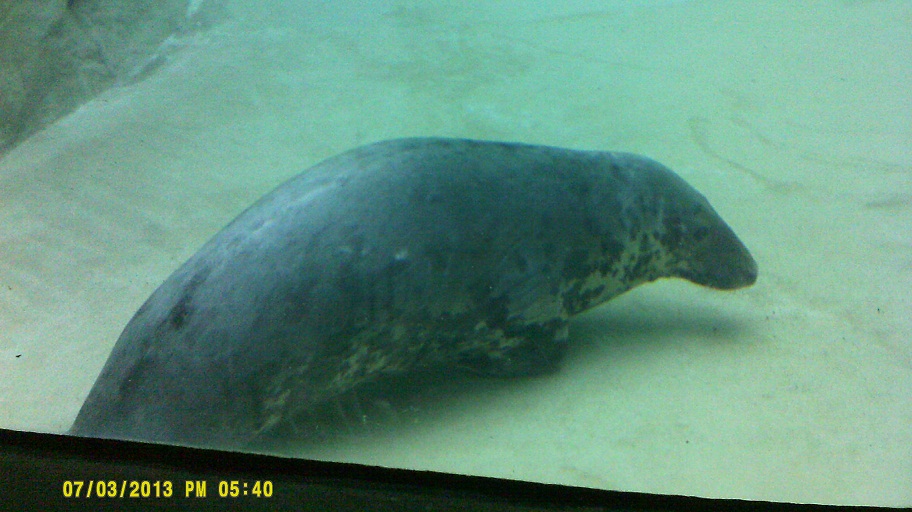 *Last year I mentioned that I found out that the Mold-A-Rama machines in Florida had cousins still remaining around Chicago. Here's proof.
Dinner at Lou Malnati's in Naperville. Motel in Downers Grove (not downtown).
Thursday, July 4, 2013 (Chicagoland to Troy, Illinois, with a side trip to St. Louis)
I got to visit the Museum of Science and Industry, one of my all-time favorite places, for the first time since 1993. This time we toured the U-505.
While this was not a Route 66 trip per se, I couldn't resist visiting some related places. While the information center in the old gas station in Dwight was closed for the holiday (first photo), the Illinois museum in Pontiac was open. Also, I could see old 66 itself from parts of I-55, with the old road in sharp contrast to the large amount of modern warning signals along the parallel high-speed Amtrak route.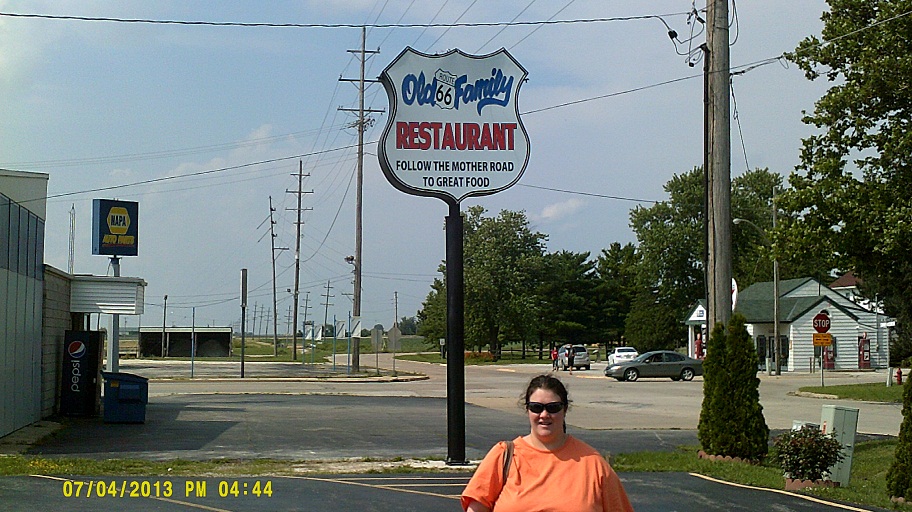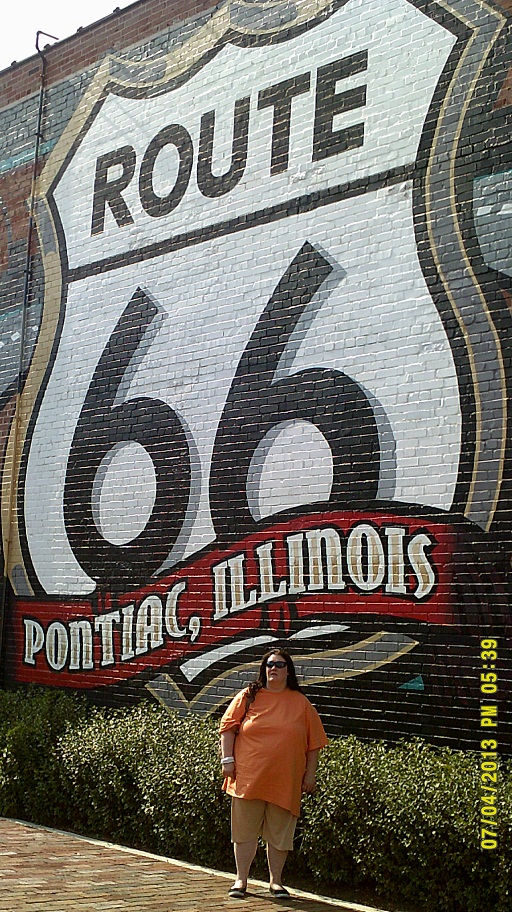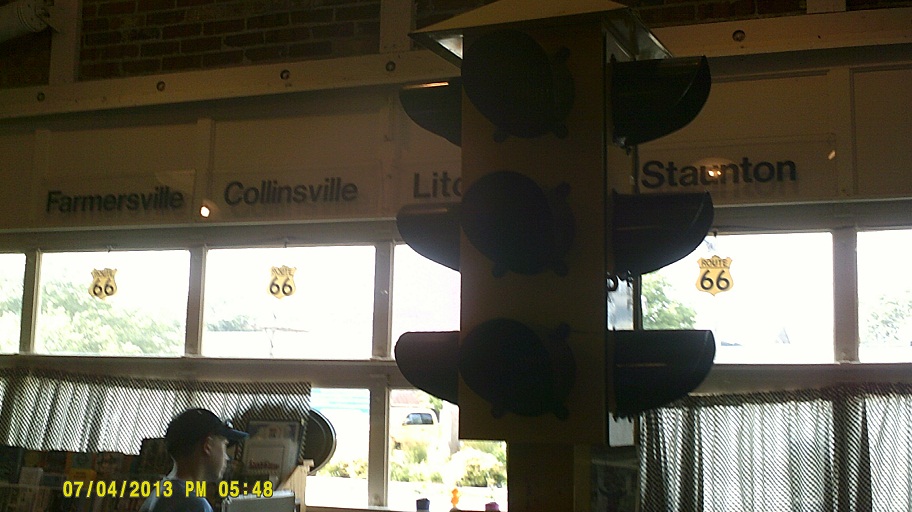 Most of I-55 between Springfield and I-70 has reddish concrete.
Just in time for fireworks in St. Louis. After walking a few blocks toward the river, we ended up viewing them from the middle of Market Street next to Kiener Plaza.
The good ol' arch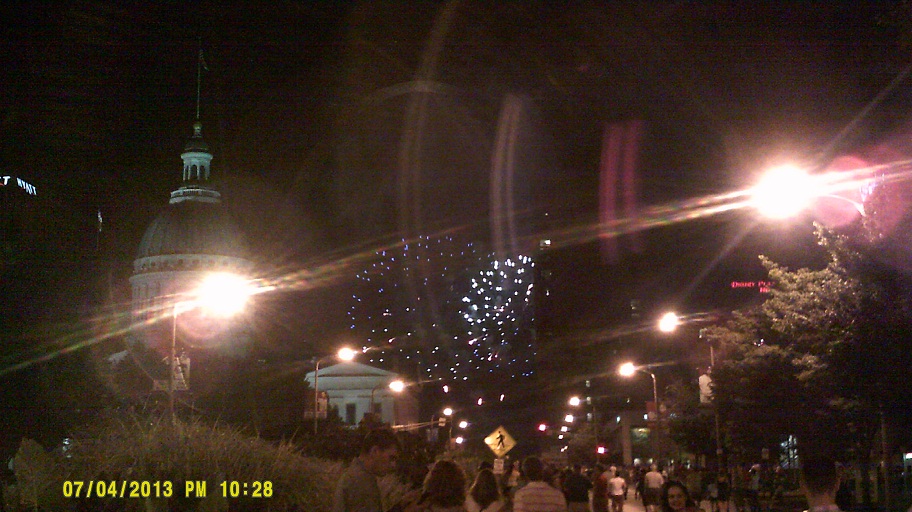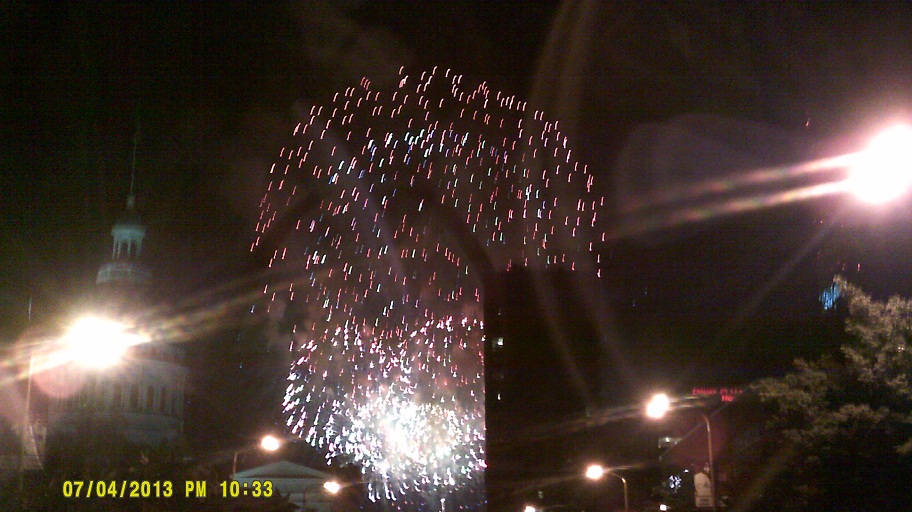 Old Courthouse in the foreground, arch in the background illuminated by the fireworks...this was my first time west of the Mississippi River since 1989
Friday, July 5, 2013 (Troy, Illinois to Oklahoma City, Oklahoma, via St. Louis)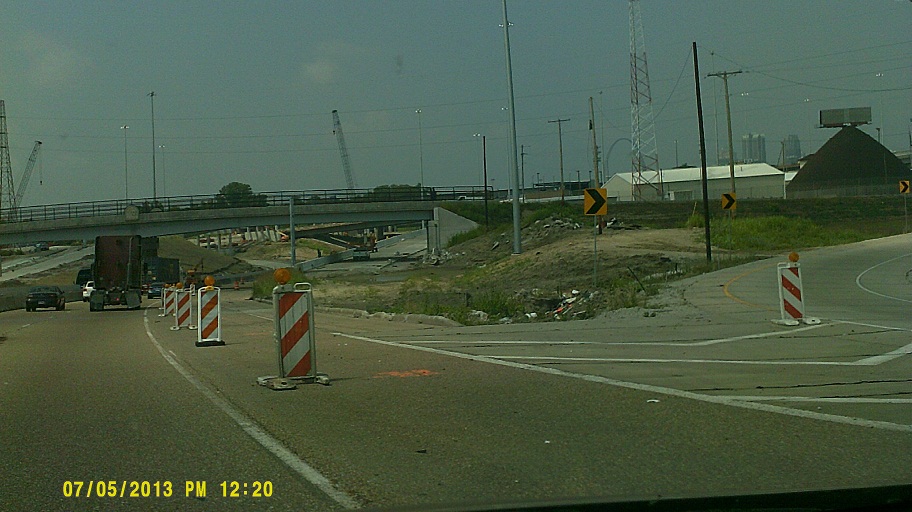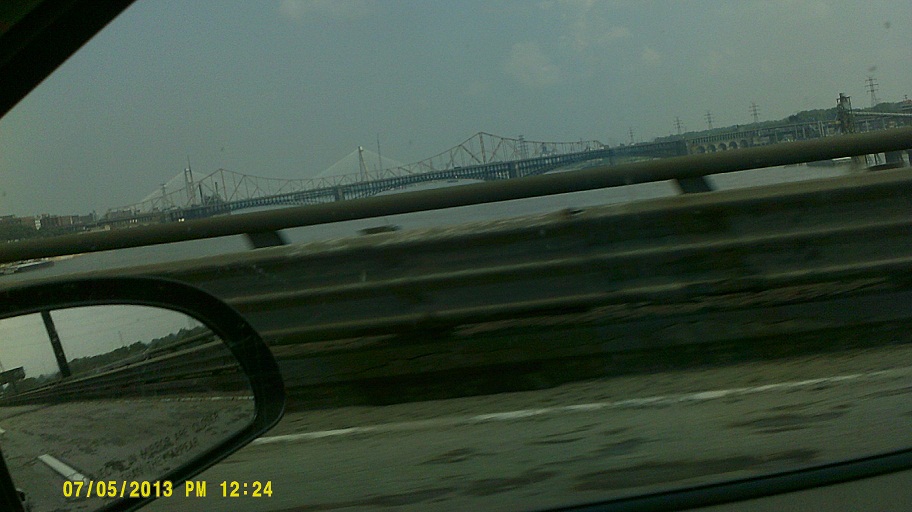 I-70 will soon be routed over a new bridge over the Mississippi River into St. Louis. The first photo shows the future split from I-55/64/US-40 (ramp in middle of photo); the second shows the progress of the bridge (background, upriver) from current I-55/64/70/US-40. (Photos are dim because I hadn't adjusted the darkness setting from the fireworks.) The bridge received its new name exactly one week after these photos were taken, and one day before the trip ended.
Stopped at a welcome center "affiliate" in the Eureka Chamber of Commerce office off I-44. Interesting that I-44 here where it runs with US-50 only has US-50 markers. I-44 only gets shields on the milemarkers.
I had planned to take old 66 through Devil's Elbow, but when I saw newer old 66 disappearing down a hill from I-44 I realized that I had missed the exit. Next time, I guess....
Joplin's main hospital was famously destroyed in the 2011 tornado. Its replacement is well underway along I-44.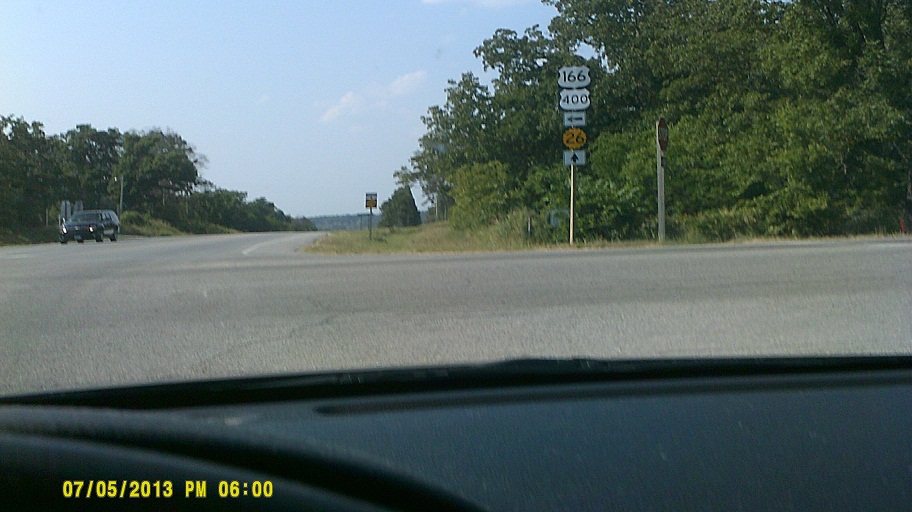 Token Kansas shot. Just before I-44 enters Oklahoma, US-166/400 branch off and almost immediately enter Kansas.
First welcome center shot. The camera "ate" the photo from Michigan by Monroe, and Indiana, Illinois, and Missouri had no welcome centers where we entered due to the cities at the crossings.
Thought about cutting down to Texas on US-69, but ultimately we were glad that we didn't....
The section of *abandoned I-44 just east of Tulsa is much more visible from the east along the new curve on current I-44 than I had expected.
The Creek Turnpike goes around the east and south sides of Tulsa, and has I-44's control cities for the next town (Oklahoma City or Joplin). However, its function as a half-beltway is not readily apparent from the signs. If a state number is not applicable, such as one ending in "44", at least some kind of bypass indication could be added, which I'm sure would be advantageous for the recipients of the tolls.
I-44 has good views of the Tulsa skyline from the Arkansas River crossing and the OK-97 interchange west of town (OK-97 above I-44 has its own good view).
Motel near Frontier City on the north side of Oklahoma City.
Saturday, July 6, 2013 (Oklahoma City, Oklahoma, to San Antonio, Texas)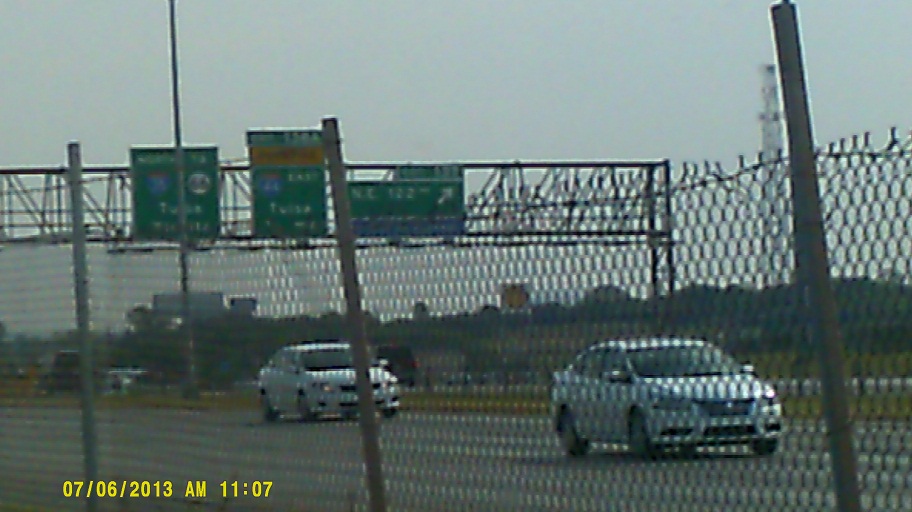 Oklahoma changed its route marker in 2006 from a circle to one which uses a state outline. Here's a straggler. Street View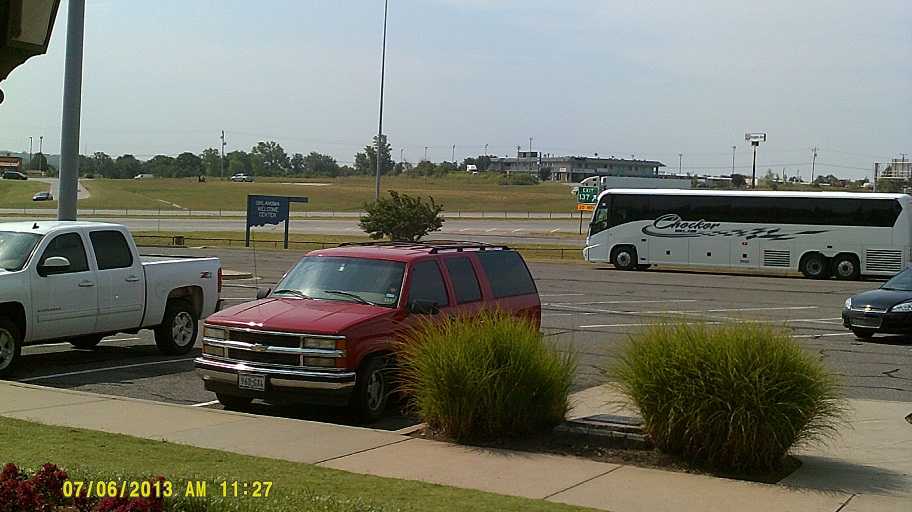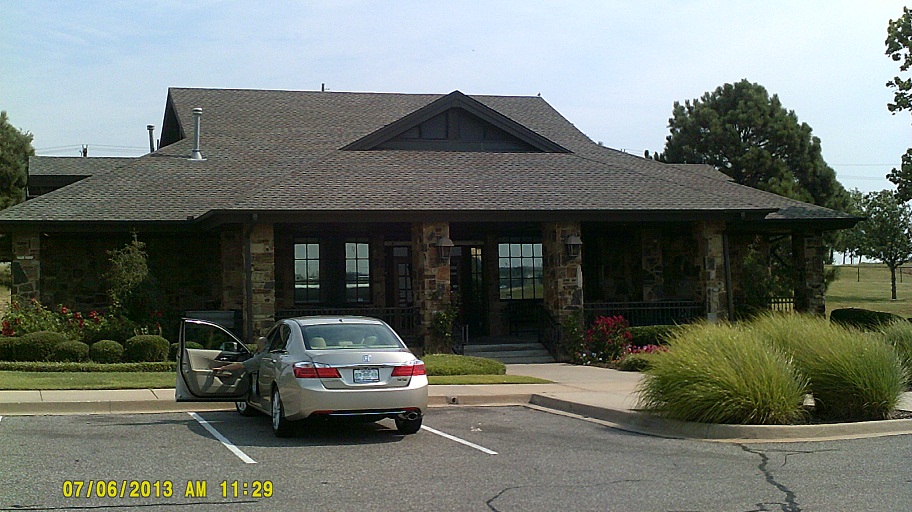 "Welcome" Center just south of I-35@I-44
Oklahoma puts black borders around its U.S. highway shields on guide signs like South Carolina does (2012 trip, Day 2). (My attempts for photos failed; see the respective Street View view of one)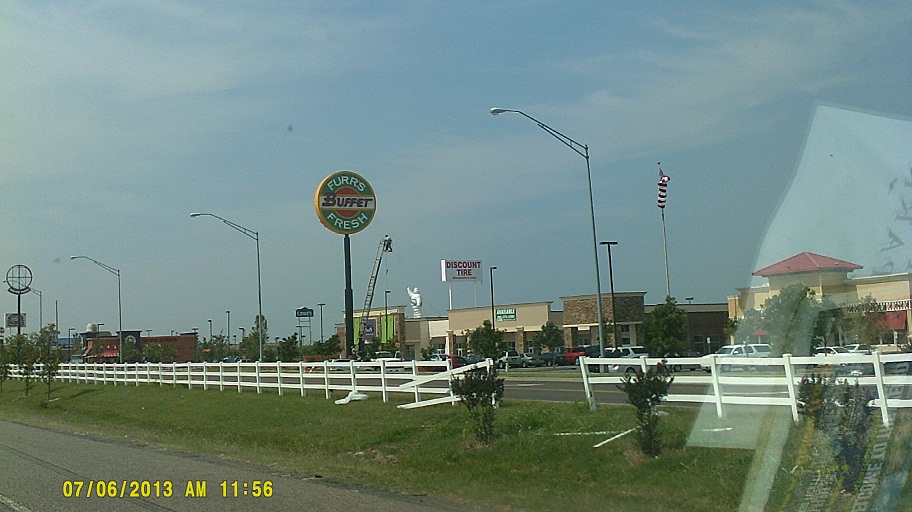 This is apparent damage from the Moore tornado that hit in May (conditions were worse just behind). This area coincides with the area shown as the tornado's path, between SW 4th and 19th Streets. Otherwise, Moore seemed unaffected, a testament to resilience, like we saw outside Joplin.
Impulse stop at the private GW Zoo between Oklahoma City and the Texas line. More interaction with animals than either of us expected. Would have missed this had I taken US-69.
One of Oklahoma's "Postcard Signs" (see page 19 on *this .pdf document).
Texas is known for its extensive frontage road system, and it doesn't mess around, since I-35 gets frontage roads even before the Texas welcome sign! I-35 was built over the top of US-77 here, so they are justified.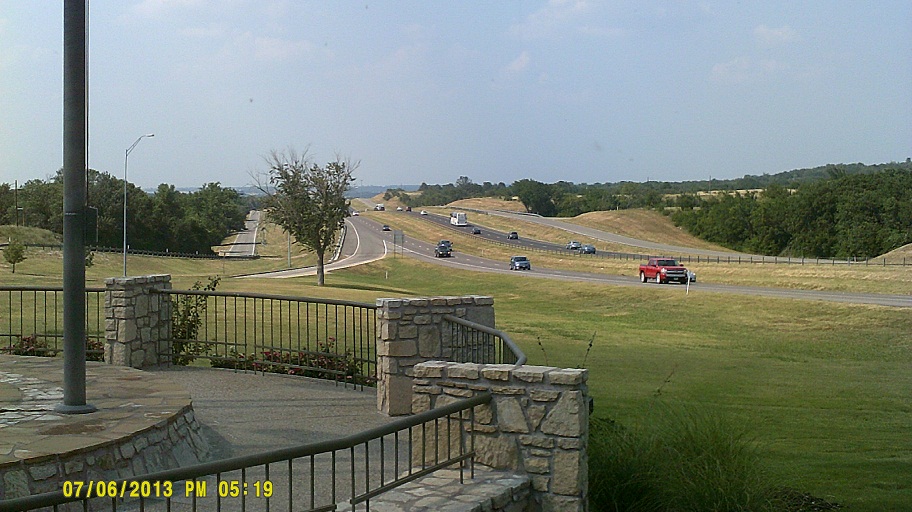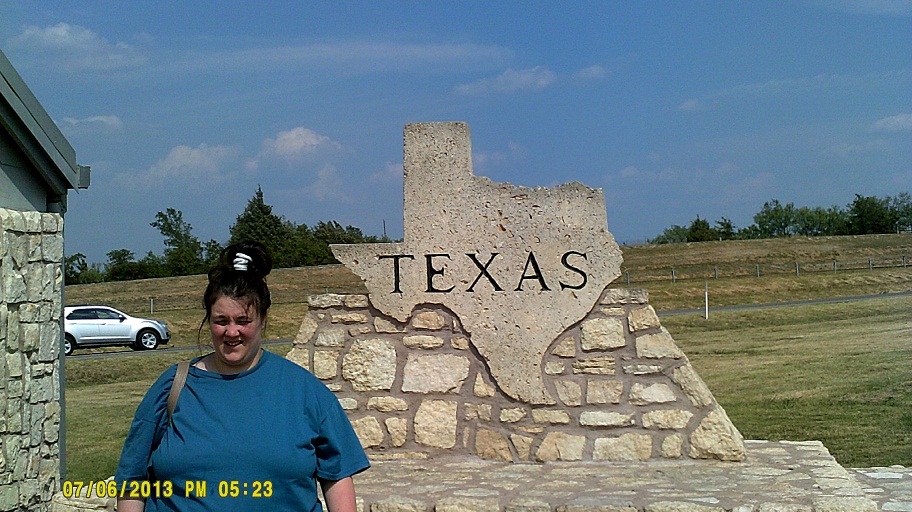 Although Fort Worth has fought a reputation of being a backwater cowtown, I found it amusing to see hay bales along I-35W inside of the I-820 loop. (You can see the skyline if you turn the Street View image to the left.)
TxDOT is building rest areas just south of the I-35E/I-35W convergence which *look like farms.
Thankfully, no visible scars from the April explosion in the town of West along I-35, though there's a *an encouraging billboard and a relief trailer parked at the main exit.
I-35 is undergoing a *major expansion between the I-35E/I-35W split and Austin. Generally, one of the frontage roads is being rebuilt farther out in any given area so that the parallel direction of I-35 can be built in its place. The following pictures were taken northbound three days later around milemarkers 290 and 319. The flyover under construction will eventually carry US-190 westbound, if I remember correctly.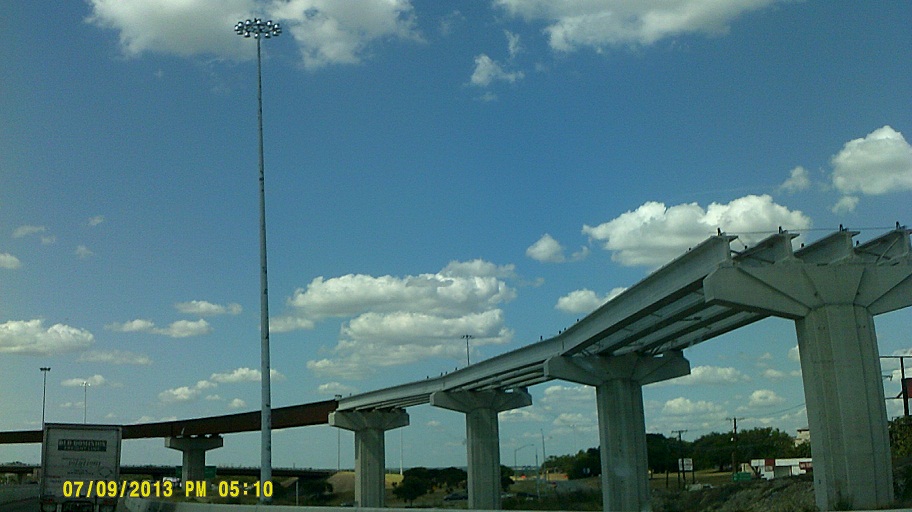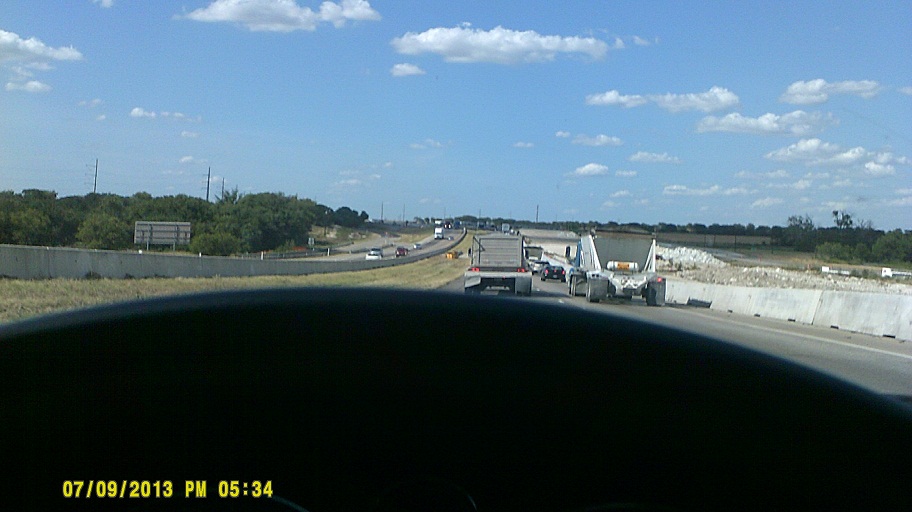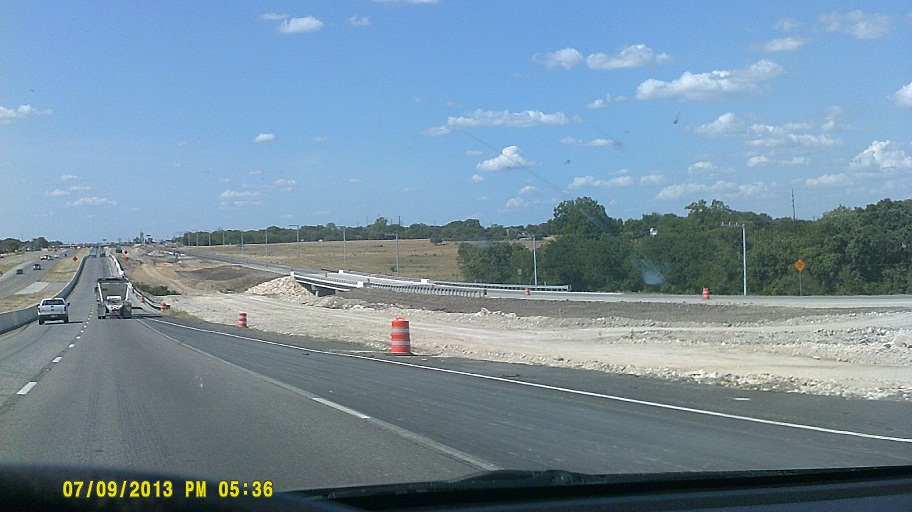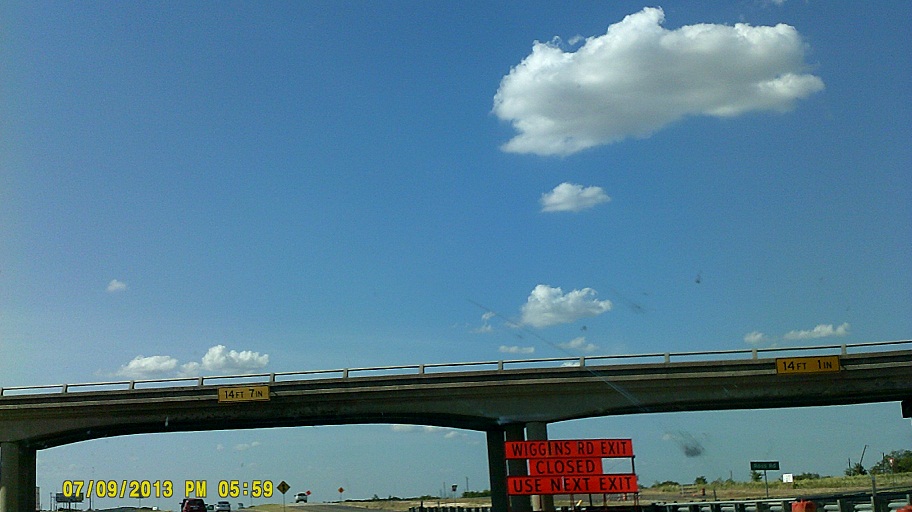 Waco has overhead sign bridges supported by concrete posts, something we'd see later on I-410 around San Antonio.
Troy is a small town right on I-35 that 35 practically tunnels under.
It's not often that a highway at an exit has the same control city as the through route, but Austin is applied to both I-35 and Toll 130 along I-35 southbound. We'd later see Memphis for both I-40 and I-55 at their split, and just missed seeing Chicago for both I-94 and I-90 as I-94 approaches I-80/90/Indiana Toll Road. (You get two Tulsas in the circle-66 photo above, but neither is in reference to I-35.)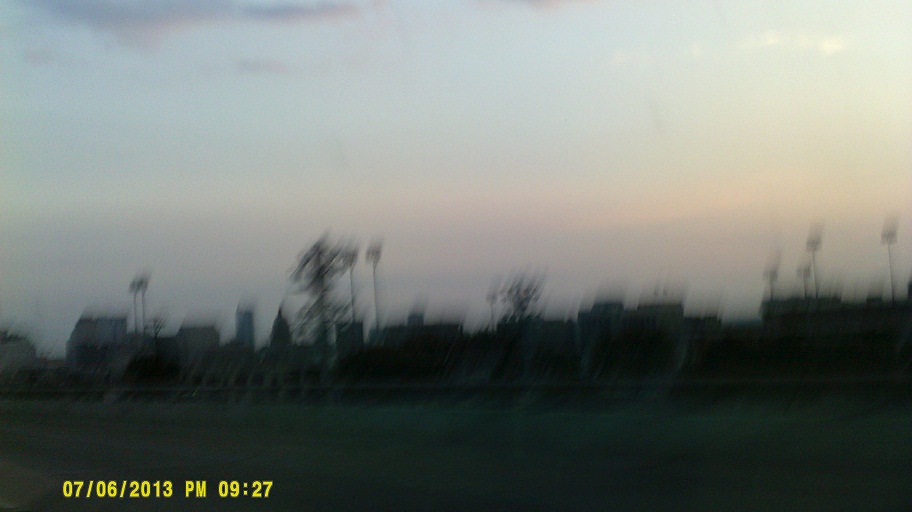 Austin at dusk (daytime view from roughly the same place)
Where I-410 has *new ramps to intersecting highways – *US-281 and SH-16 – there are very long approaches which fly over I-410's frontage roads and adjacent businesses.
Sunday, July 7, 2013 (San Antonio, Texas: SeaWorld San Antonio)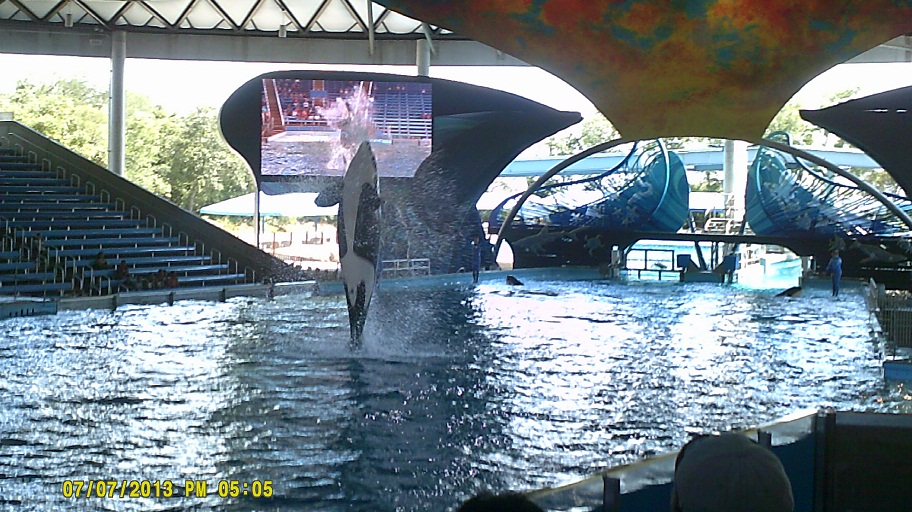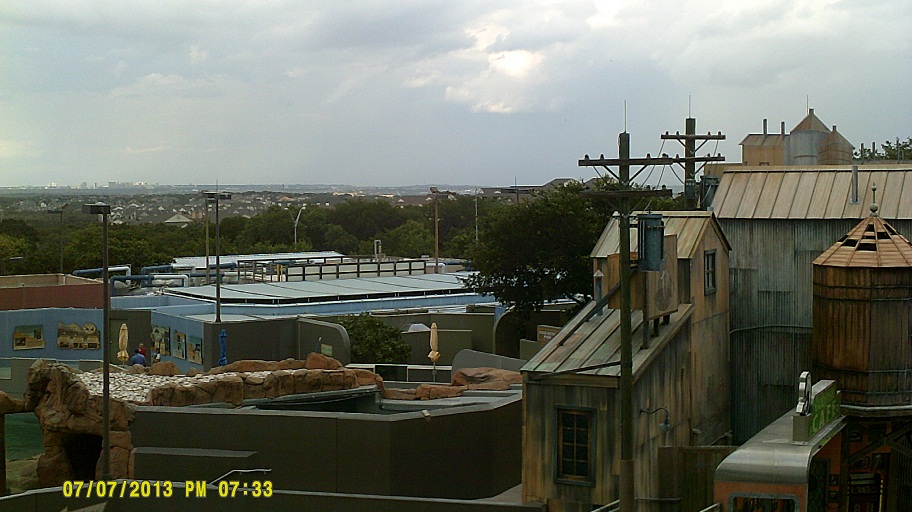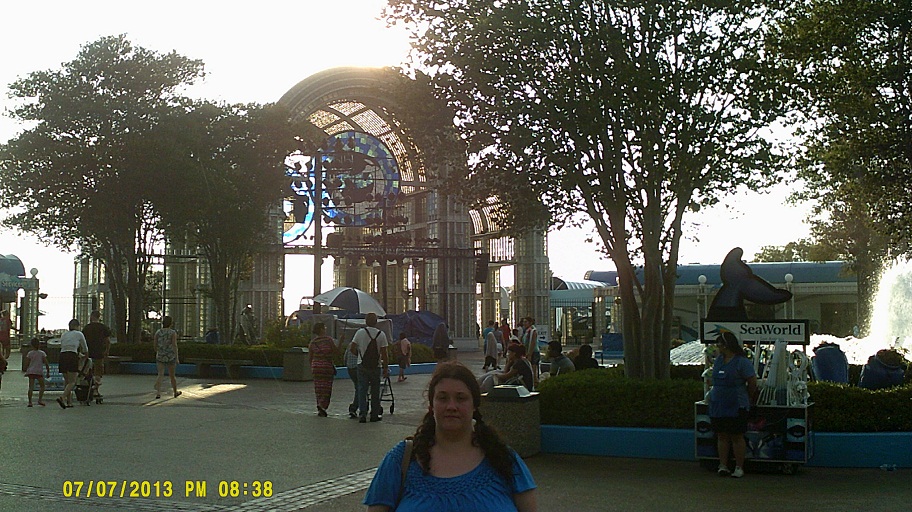 Dinner at *Rudy's BBQ. Before we left Texas we also tried Jack in the Box and Whataburger.
Monday, July 8, 2013 (San Antonio, Texas: The Alamo, River Walk, and Tower of the Americas)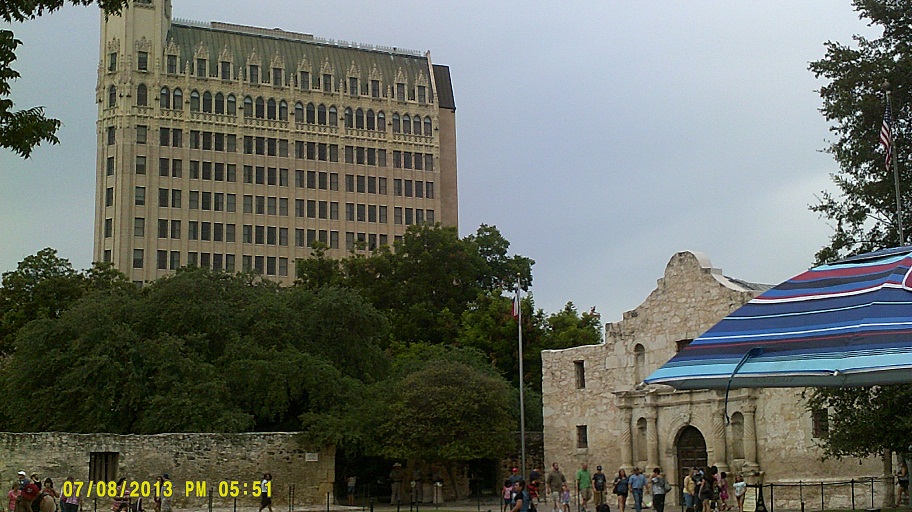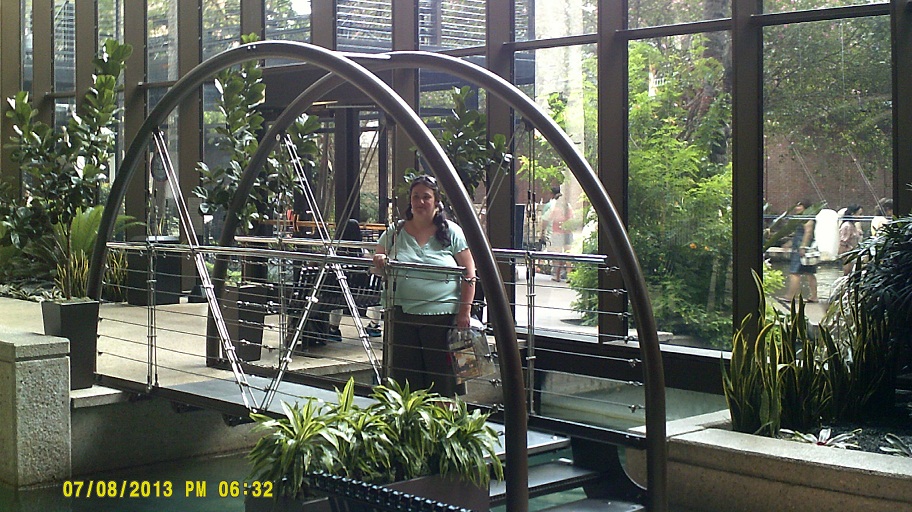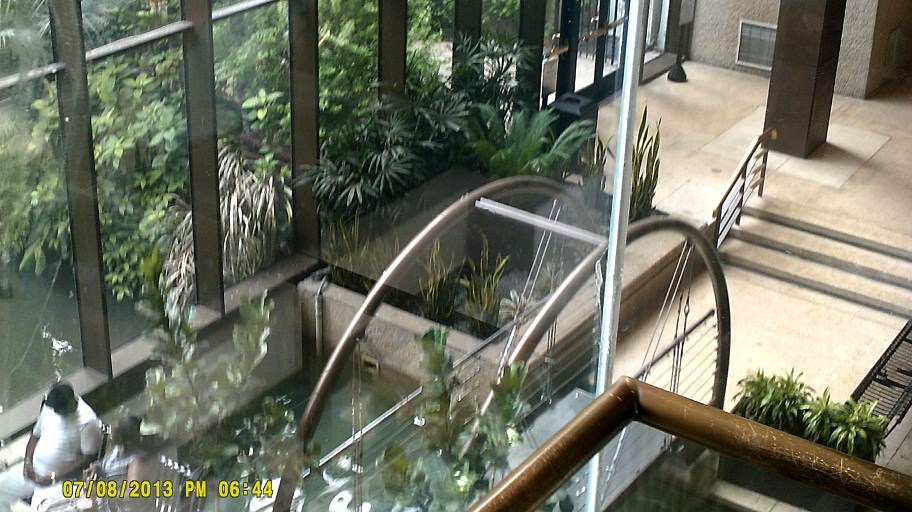 Inside the Hyatt Hotel
HAWK beacon on Loyosa Street next to the Hyatt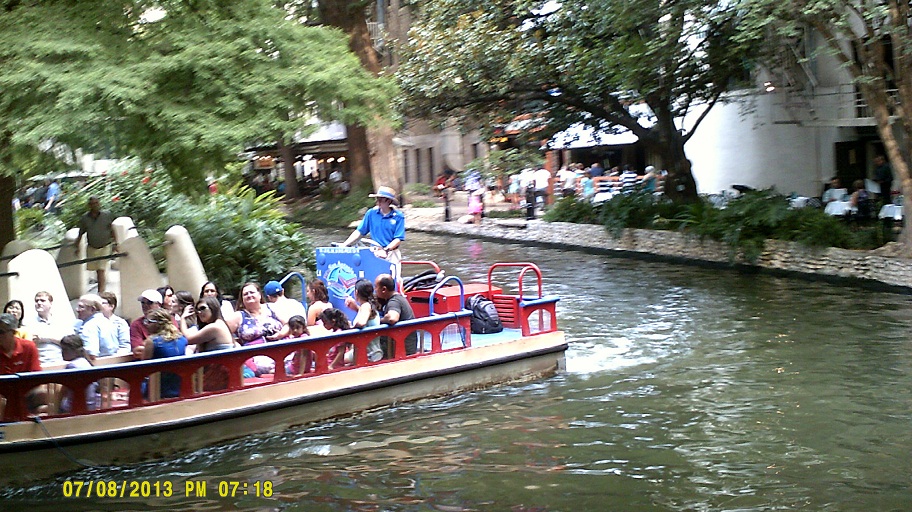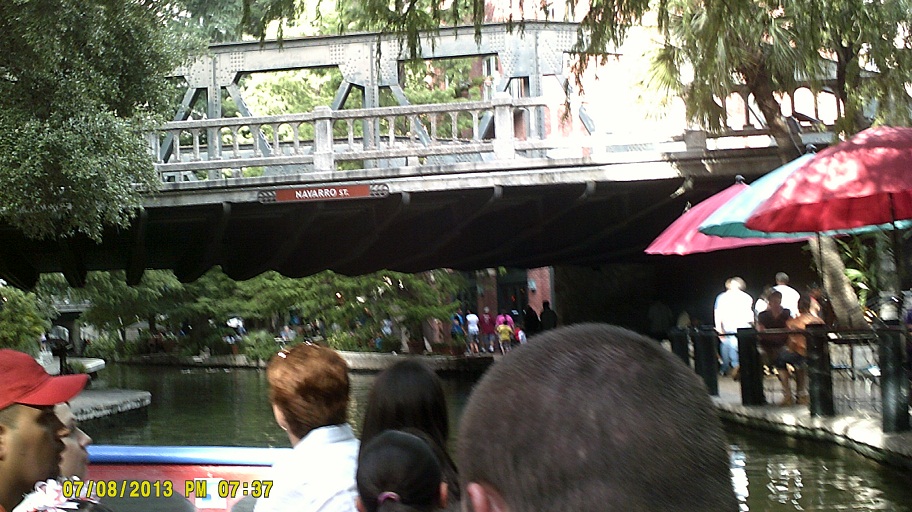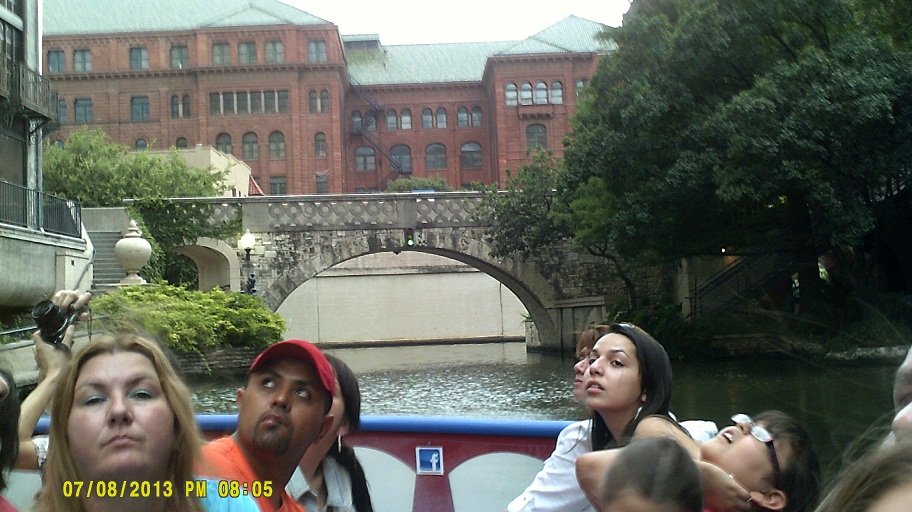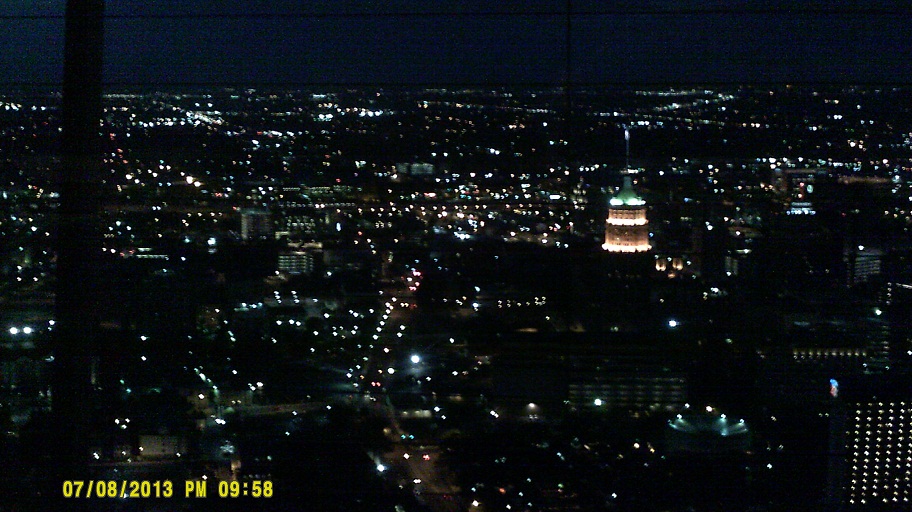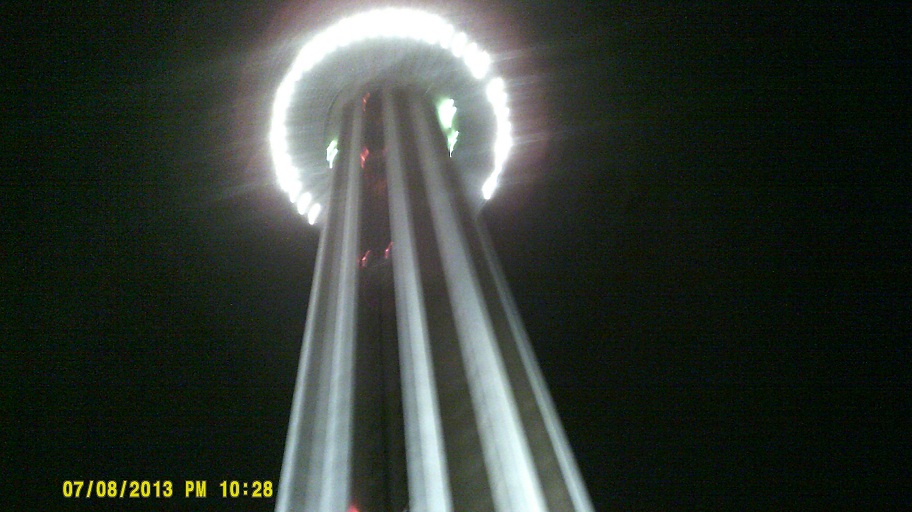 Tuesday, July 9, 2013 (San Antonio, Texas, to Garland, Texas)
To the San Antonio Zoo.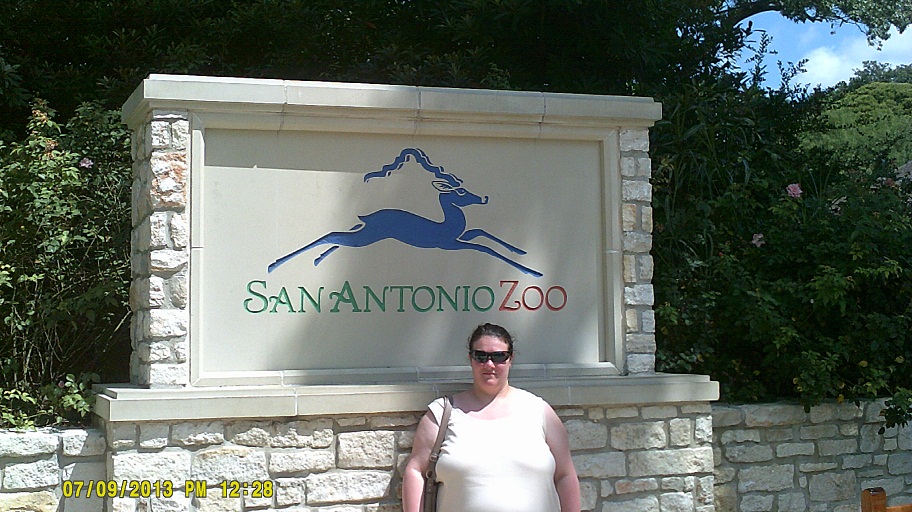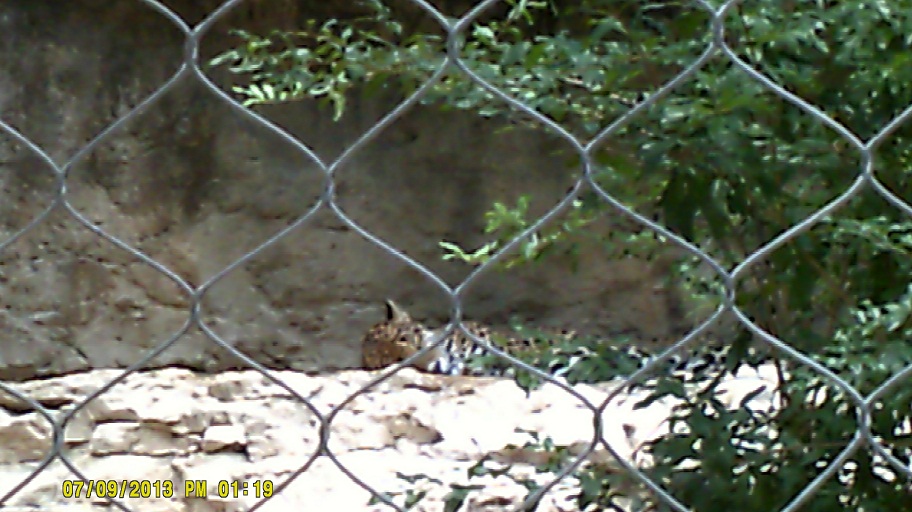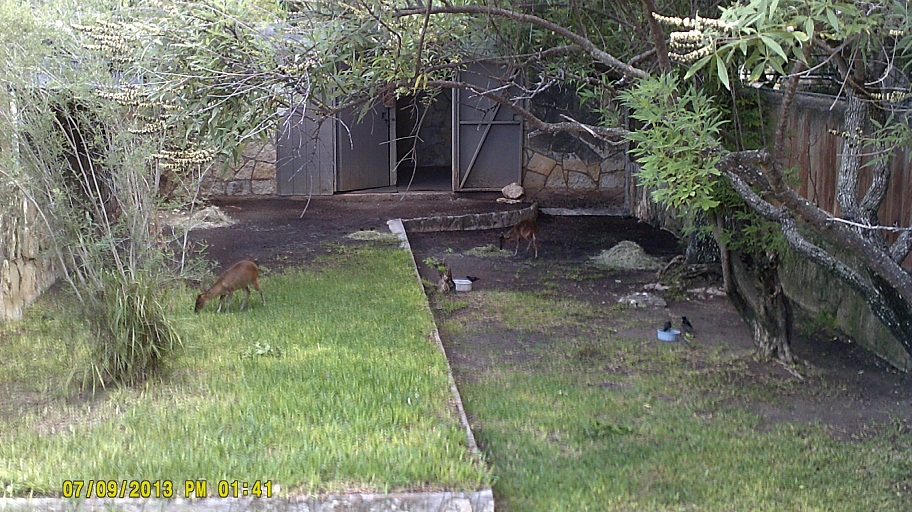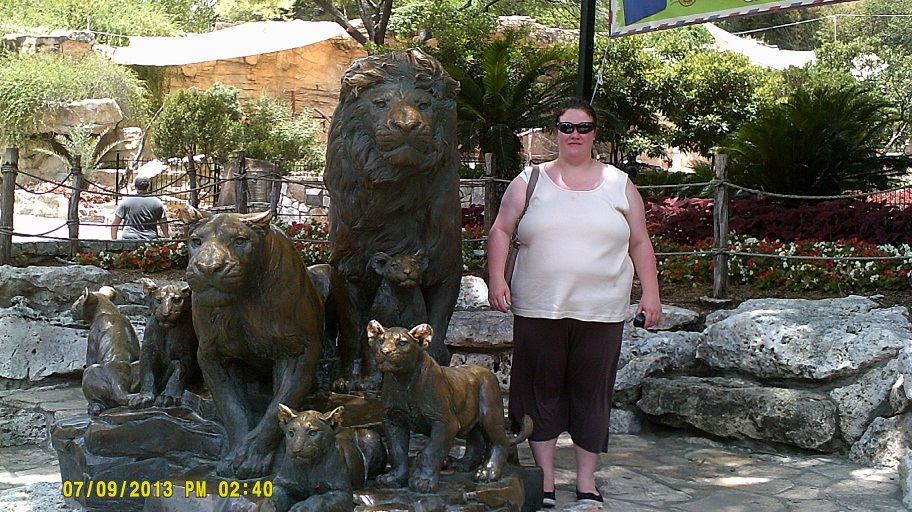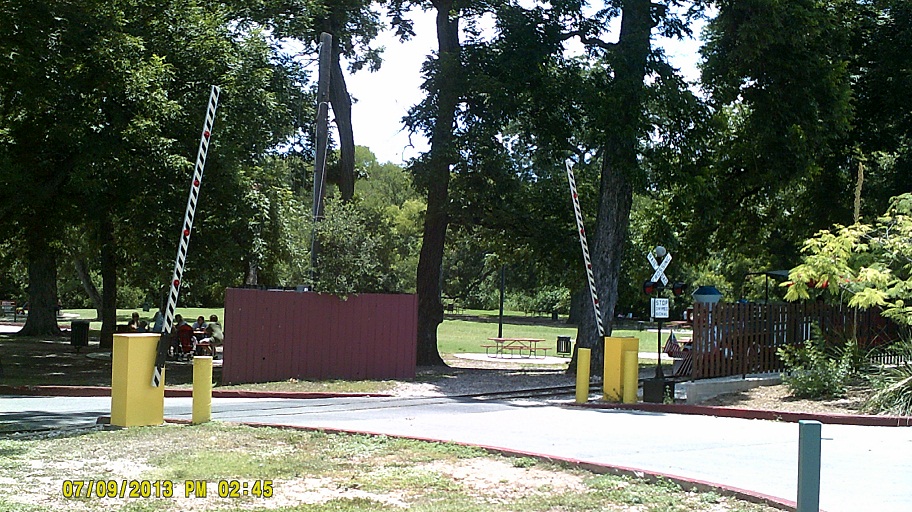 Couple of old bridges along I-10 between San Antonio and Seguin, the first likely on old US-90, the second on current US-90. Guadalupe County line, Cibolo Creek Guadalupe River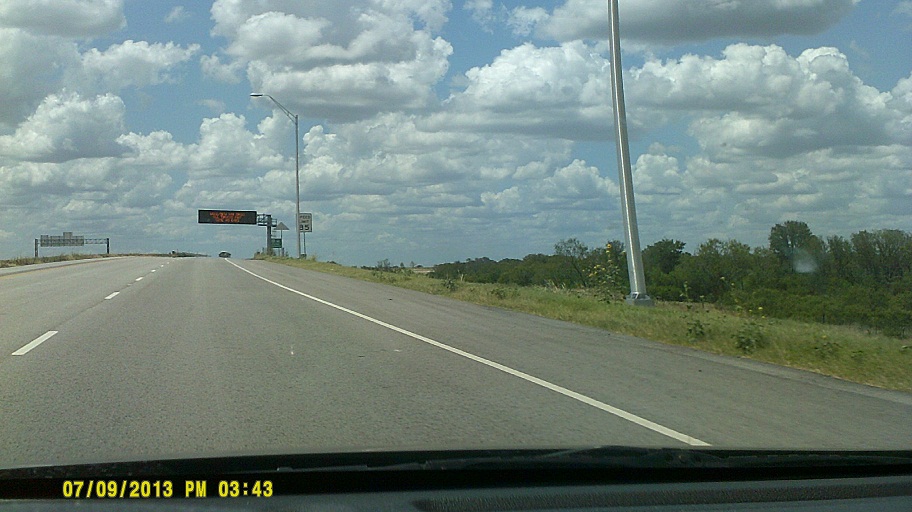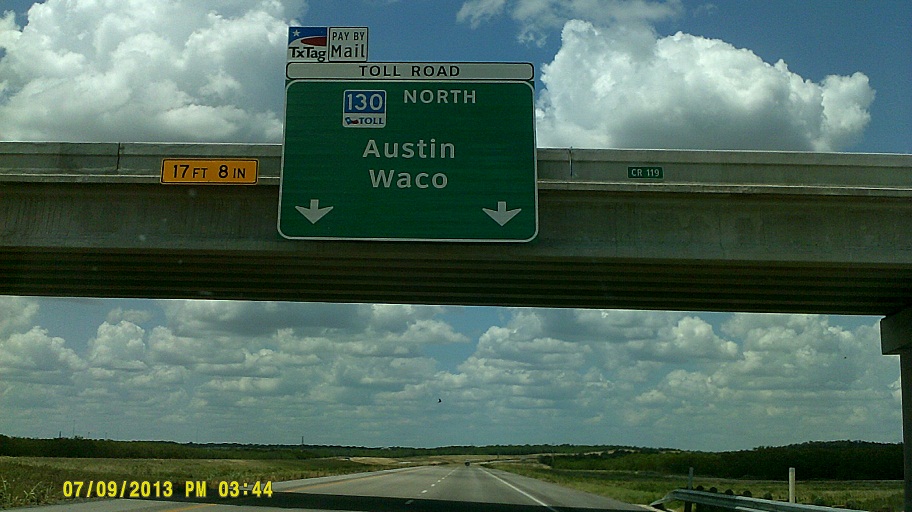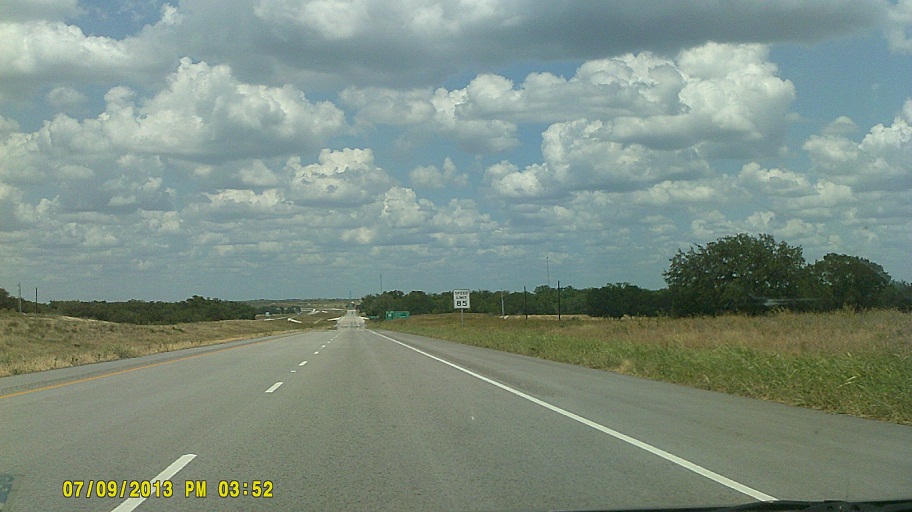 Yep, 85 mph. Even the ramp speed is 65. SH-130 ties into its older alignment at SH-45, where the speed limit drops to "only" 80 mph. Because of the high speeds, the ramps to 45 here are very long and very high (see them under construction in 2011).
Between 130 and I-35E we took I-35 again (see July 6 above for photos and comments).
"Dallas Phasing" signals still exist in and around Dallas. This is a setup in which the green ball in the five-indication left-turn signal is lit while the other signals turn red because the opposing direction has a green; otherwise a driver might assume that the opposing direction is turning red as well, and possibly get hit while trying to clear the intersection. Example intersection, though the phasing is not in effect at the time of the photo *Further illustration
Wednesday, July 10, 2013 (Garland, Texas, to Hazen, Arkansas via Dallas)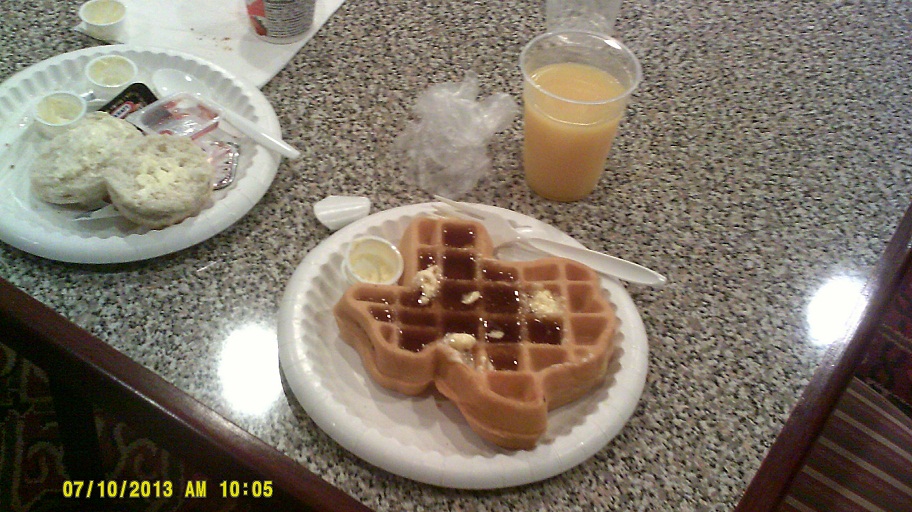 Y'all need to start the day with a hearty breakfast, I tell you what (sorry)
Note: For about the next 48 hours, AM and PM are switched due to a camera battery failure. It wasn't daylight at three in the morning.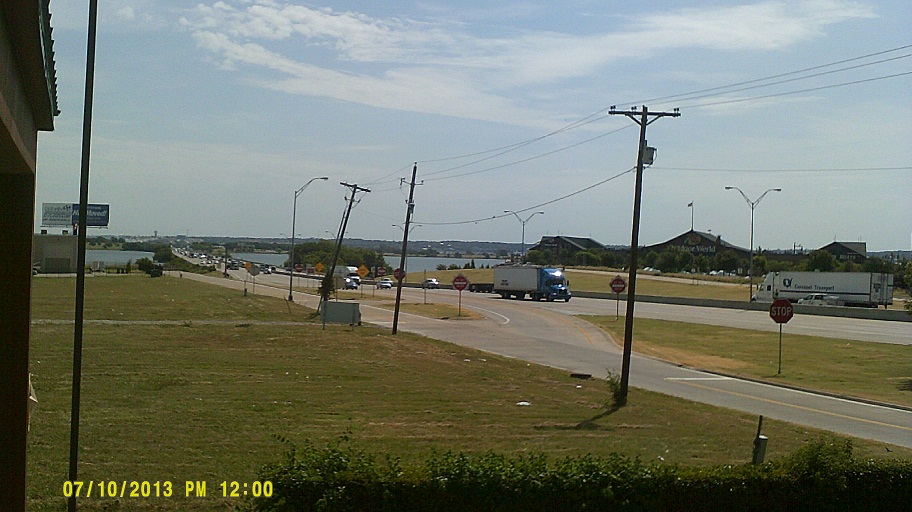 View of I-30 crossing Lake Ray Hubbard from the motel balcony
To the JFK museum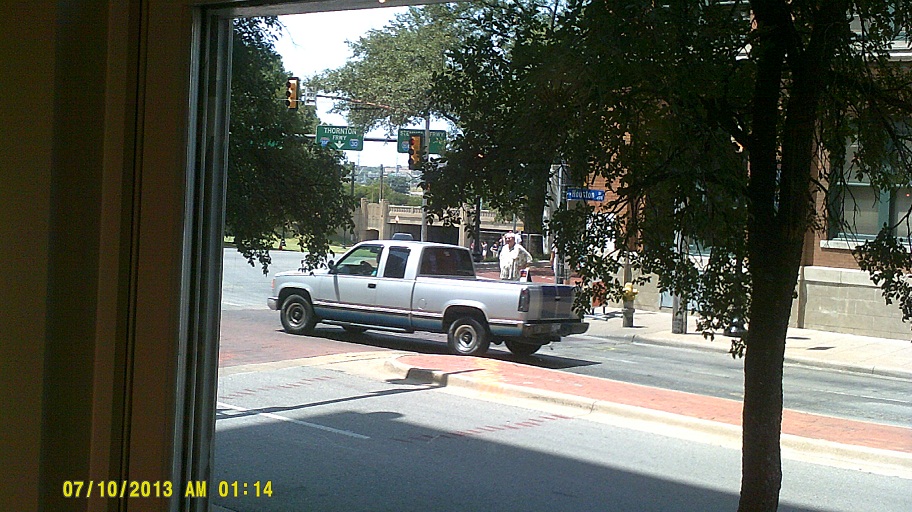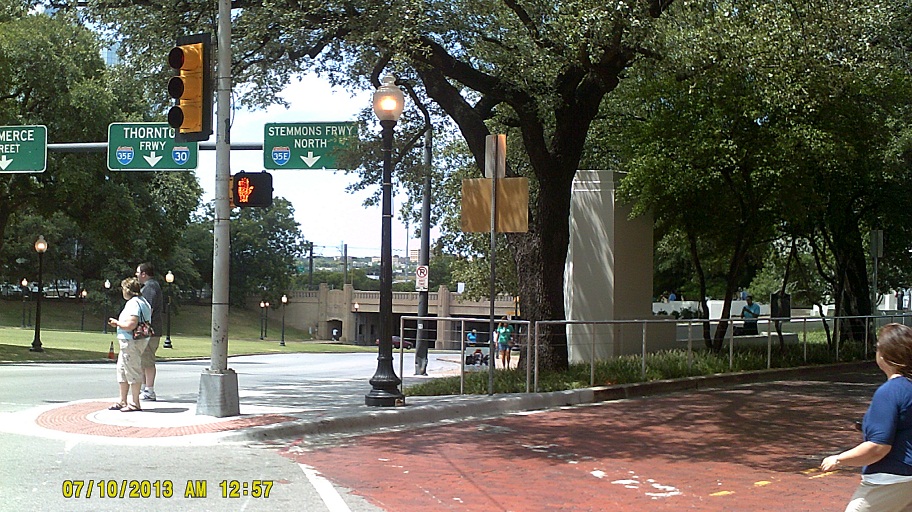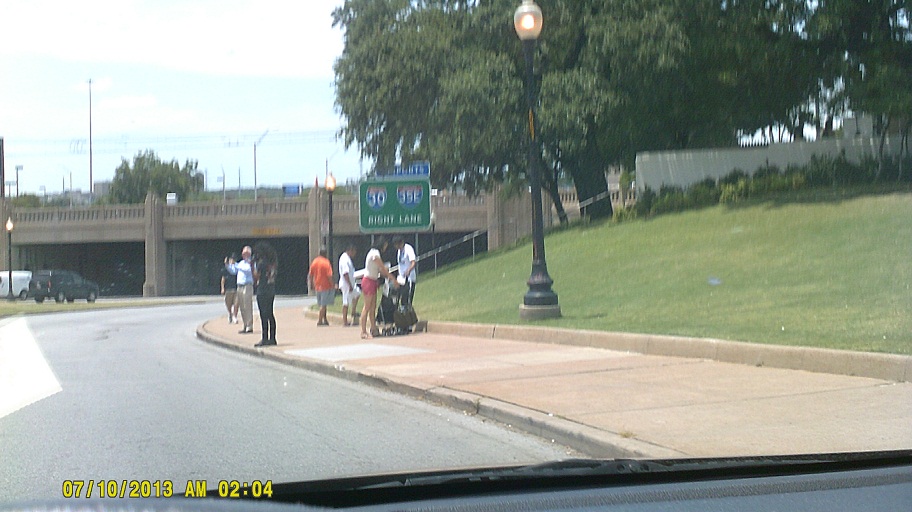 Views from various locations looking west on Elm Street toward the grassy knoll
I-30 westbound in Dallas has an overhead sign with flashing lights which includes green lights for the gore between the ramps. Its days may be *numbered though.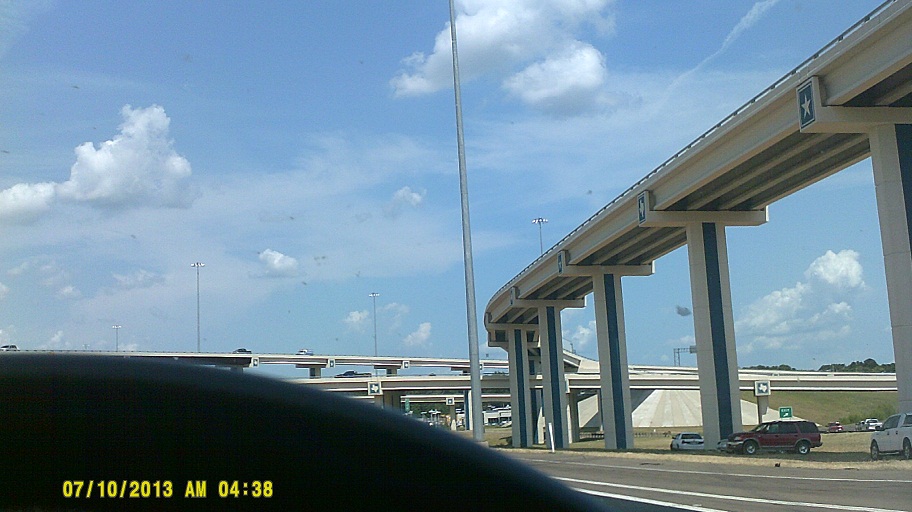 I-30 at US-59 approaching Texarkana. Arkansas has similar theme art on its overpasses in the area as well (example).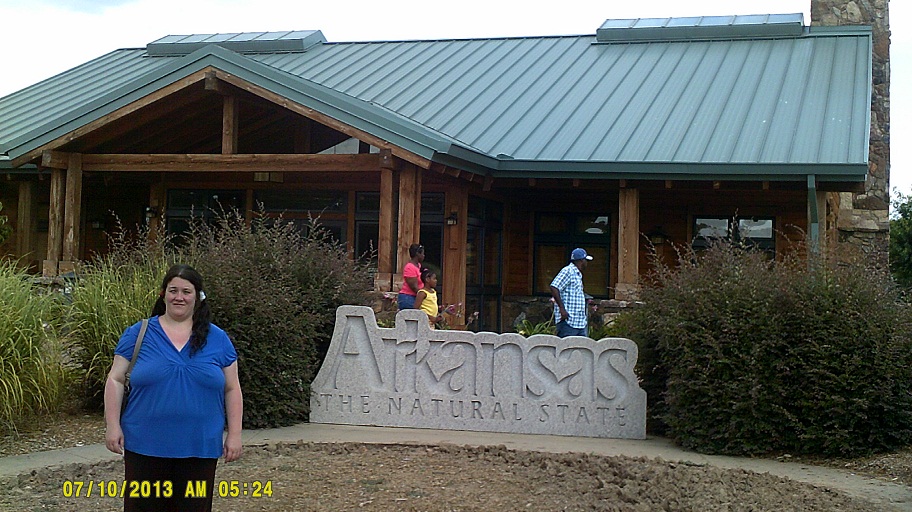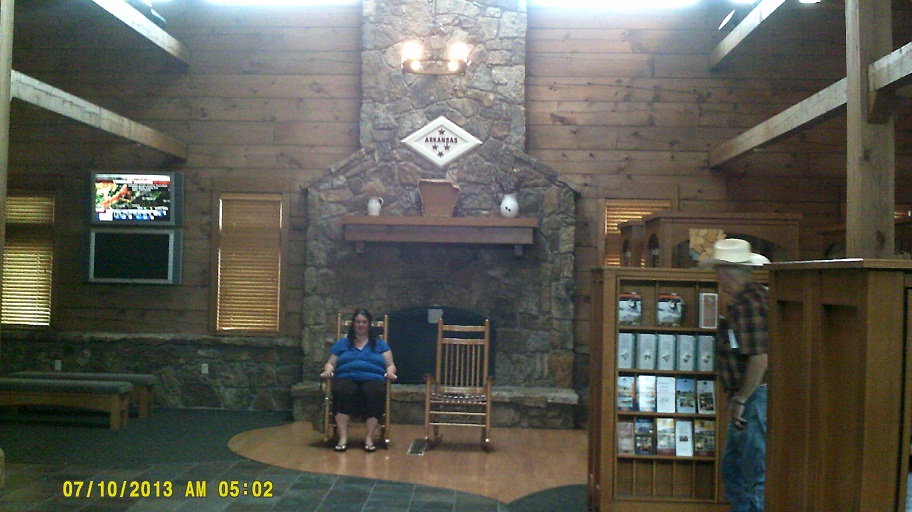 Just downriver from I-30 on the Red River is the *Fulton Pipeline Bridge.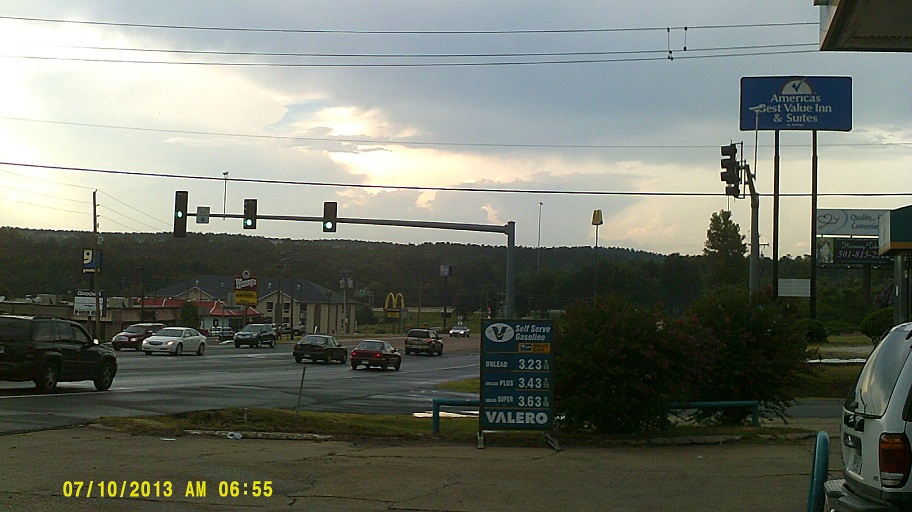 View from the gas station in Rockport, near Malvern, toward I-30. US-270 continues from there over the hills to Hot Springs.
My over-the-shoulder shots of Little Rock from I-30 didn't come out, so here's Street View.
Rode on a bit of US-70 near Hazen, and ran across *this parallel abandoned railroad bridge over the White River. (US-70's *own old bridge was removed a while ago.)
Arkansas places its confirming markers on top of mileage signs like Virginia does.
Thursday, July 11, 2013 (Hazen, Arkansas, to Jackson, Tennessee)
On "new" US-63 just before it disappears into I-40 for a while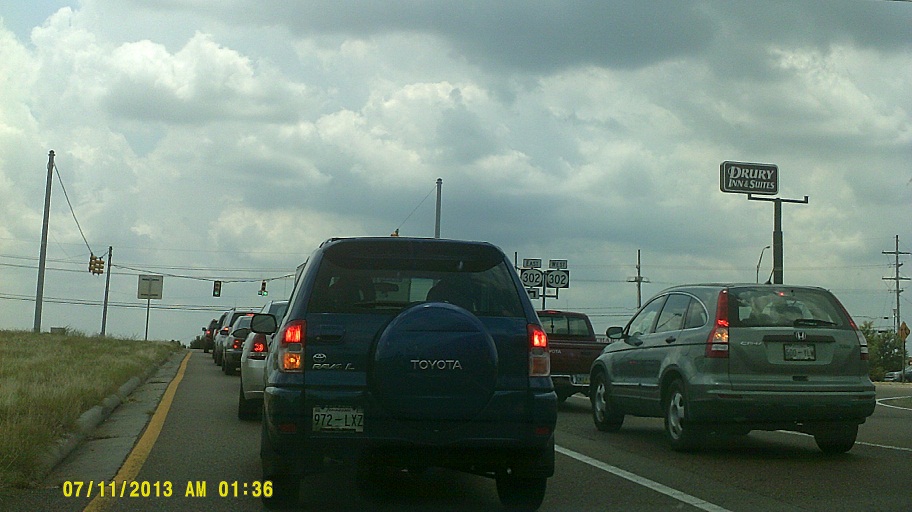 Token Mississippi shot. Welcome Center was 12 miles down the road so turned around here back into Memphis.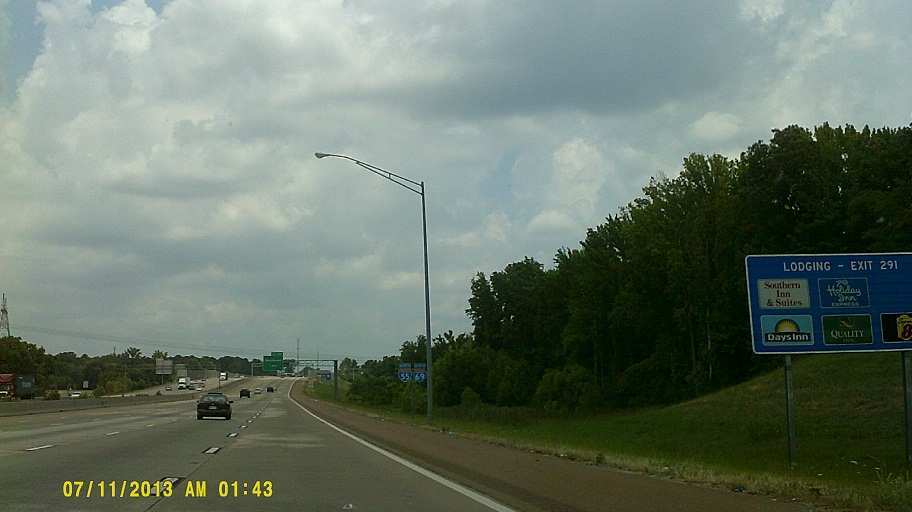 Yes, I-69 runs with I-55 now in Mississippi but conventional signs disappear into Tennessee
We missed the Tennessee Welcome Center on I-55 southbound from Arkansas, then found that the one northbound from Mississippi was closed, so I backtracked to I-40's, which I knew was accessible from both directions of I-40. (Apparently that's the one to which signs referred on I-55 southbound.)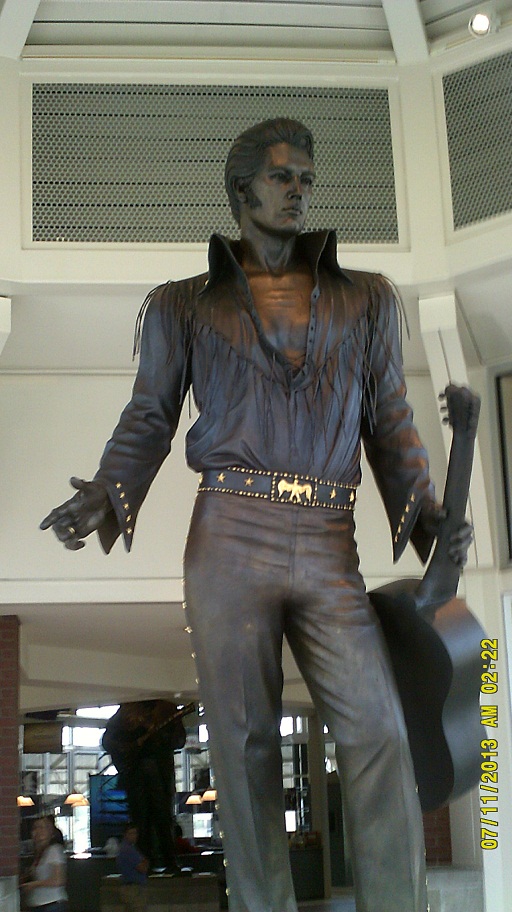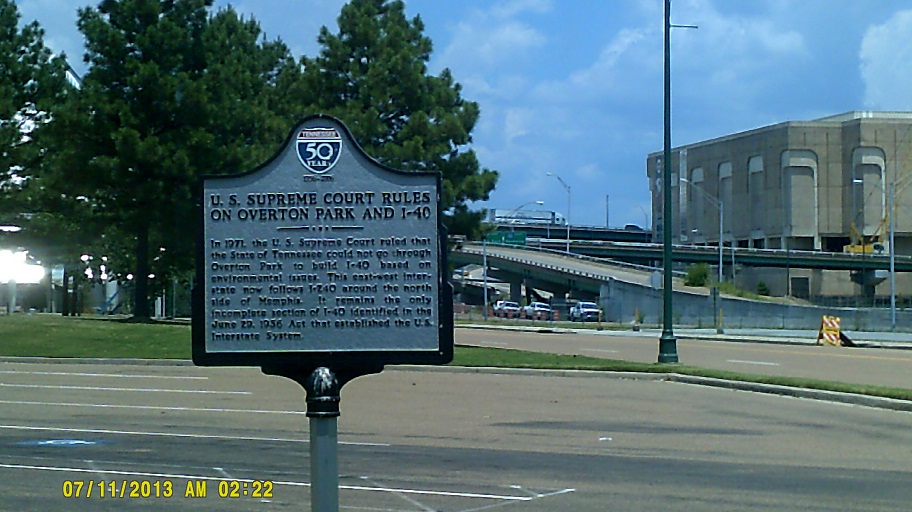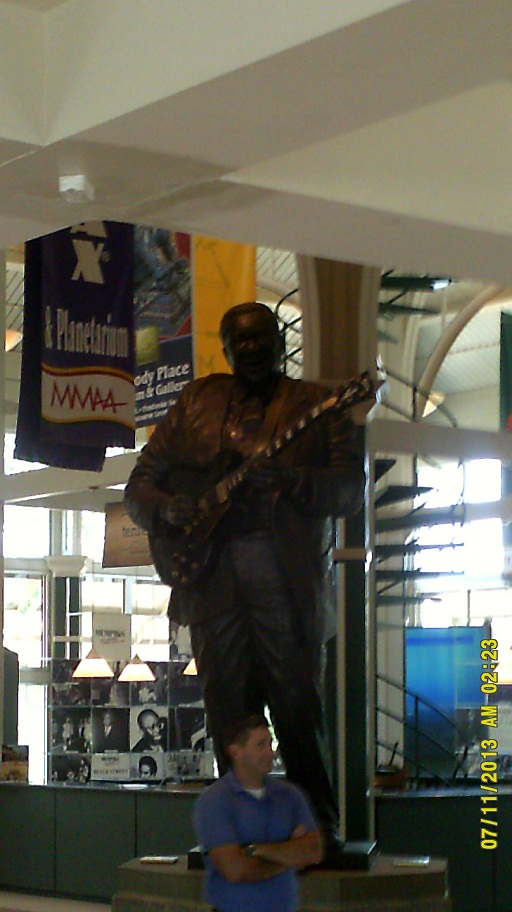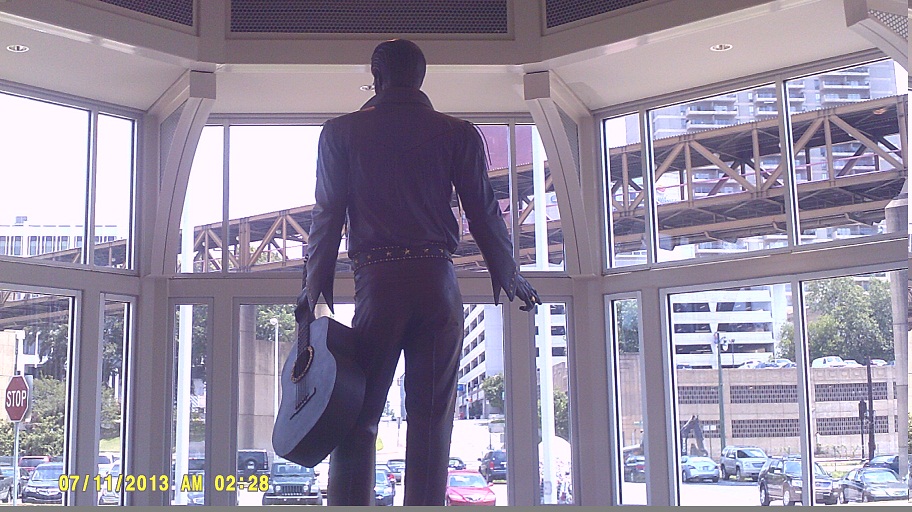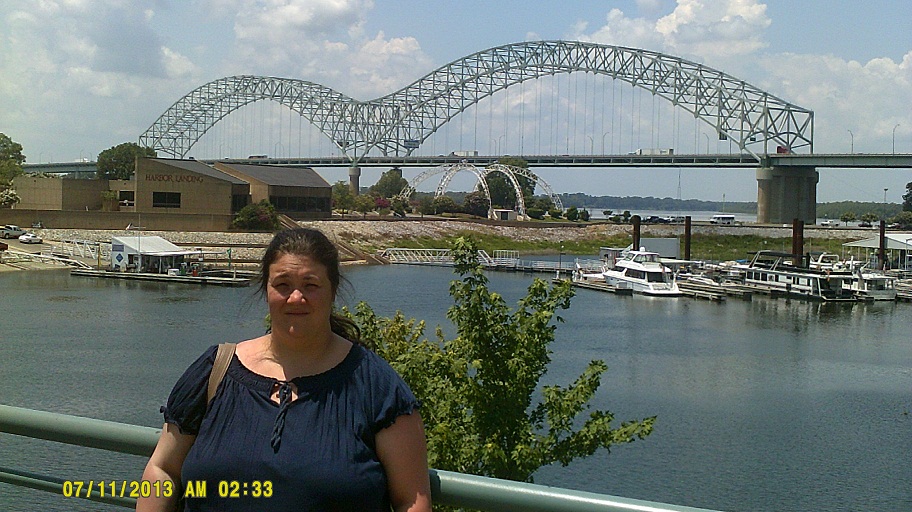 The connector to US-51 from I-40, officially numbered TN-300 but not signposted (which I forgot, so I had to backtrack) still has grading for a potential westward extension. TN-385 further north does not.
US-51 north of Memphis is one of those divided highways like *US-422 in Ohio and US-231 in Alabama which consists of one roadway in its original state before dualizing, including rises and dips, and the other newer one more level. This is especially apparent where the roadways split approaching Atoka from the south.
After meeting up with relatives in Ripley I got to trace the backroads of Lauderdale County which my maternal grandfather travelled starting a century ago, and got to see the graves of his parents, and possibly the grave of his grandmother, for the first time. Sentimentality aside, the area was much hillier than I thought, being so close to the Mississippi River (I have no memories of the landscape from the only other visit I'd made, in 1977 when I was six). After looking at topographic maps, Street View, etc. after I returned, I discovered that I was less than a mile in places from the flat terrain that I had imagined.
Dinner at the recommended *Casey Jones Village, I-40 at Bypass US-45.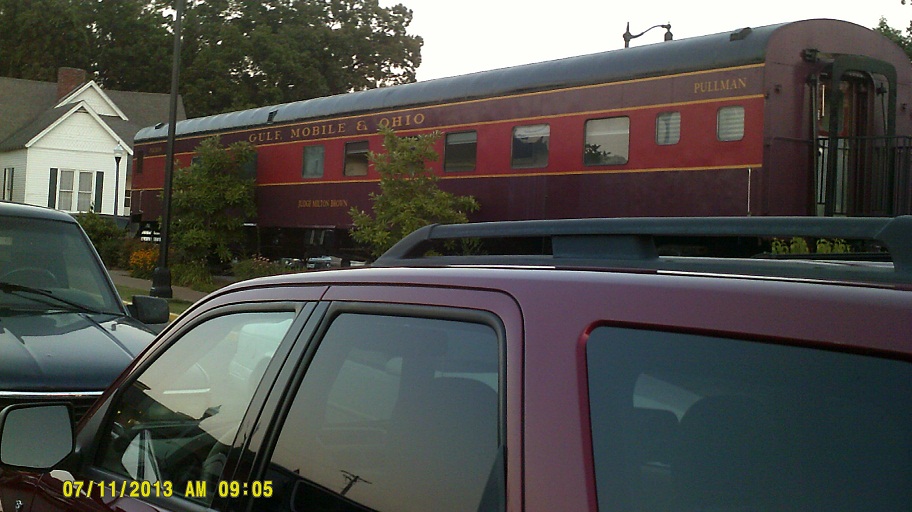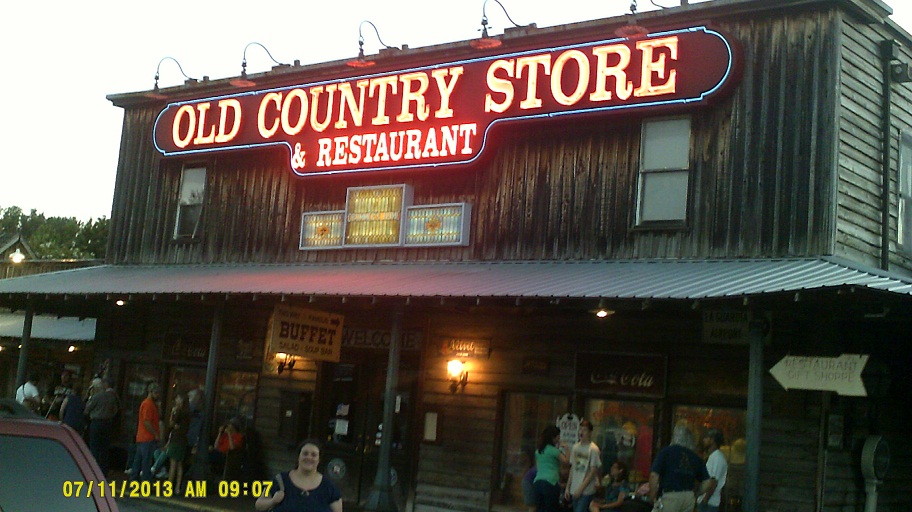 Friday, July 12, 2013 (Jackson, Tennessee, to Bowling Green, Kentucky)
US-45 between Jackson and US-64 resembles US-51 a bit, same construction in most places.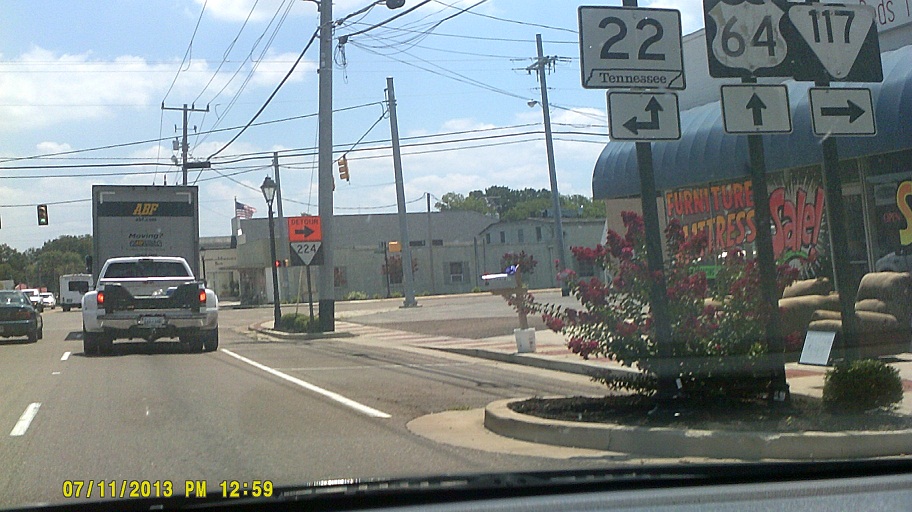 Adamsville. I just missed the tops of the posts, which are more ornate than the standard DOT posts. Also, just above the truck can be seen what TDOT seems to be using frequently now as its standard streetlights, which appear more like spotlights.
*Dualization of US-64 is progressing; one two-lane section west of Waynesboro appears to be at the beginning stages, while the other closer to town has construction well underway. Below are photos from the latter section.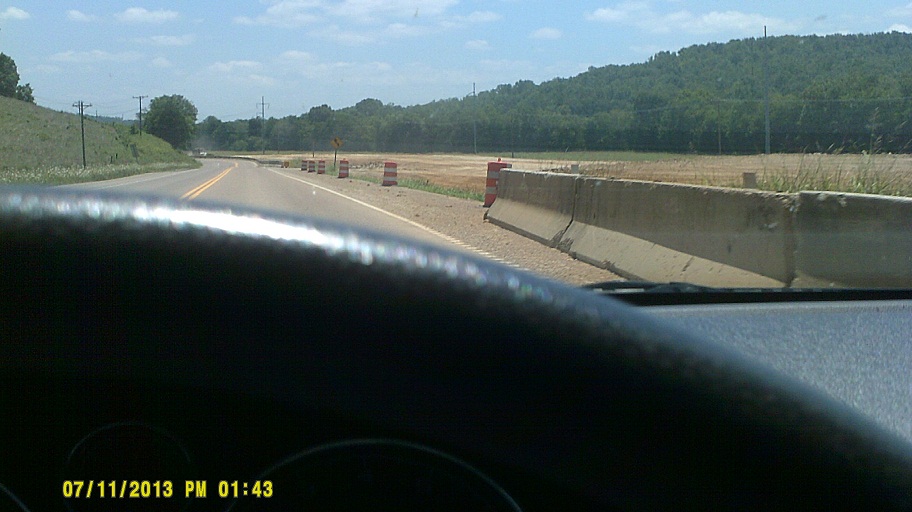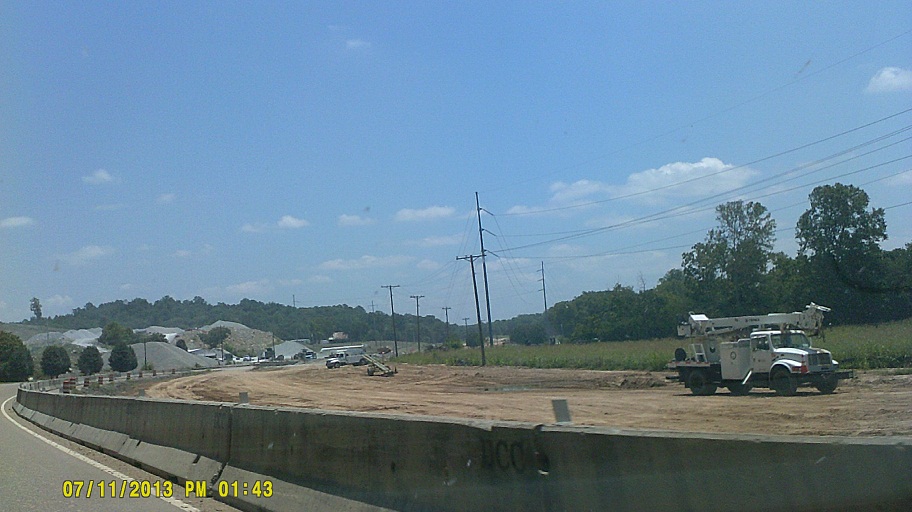 The west Lawrenceburg bypass is clearly graded at the west city limits.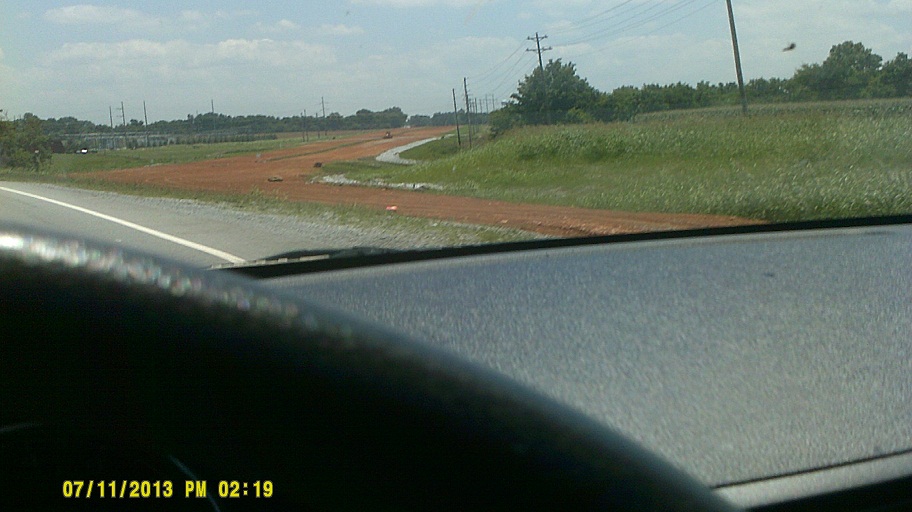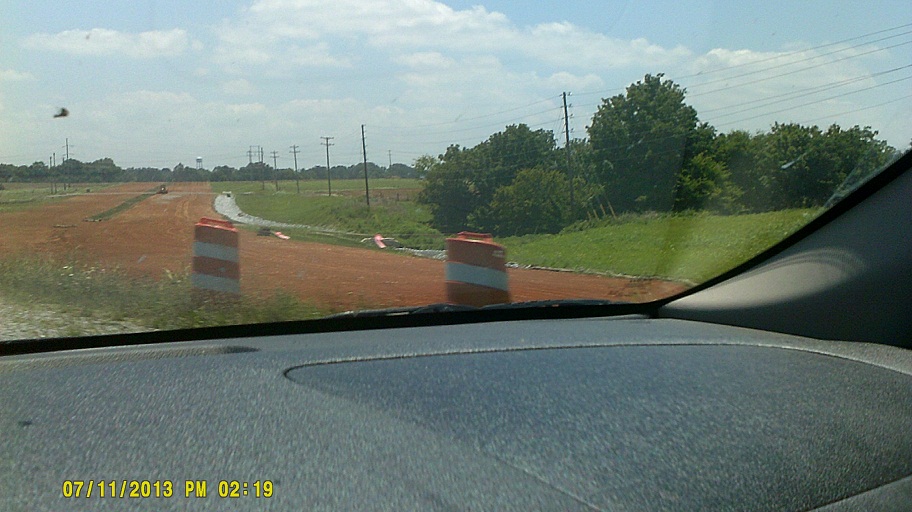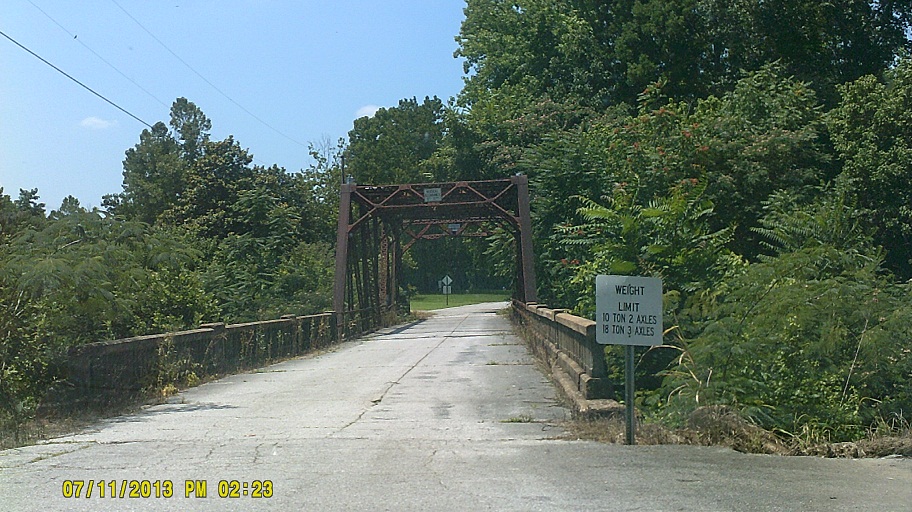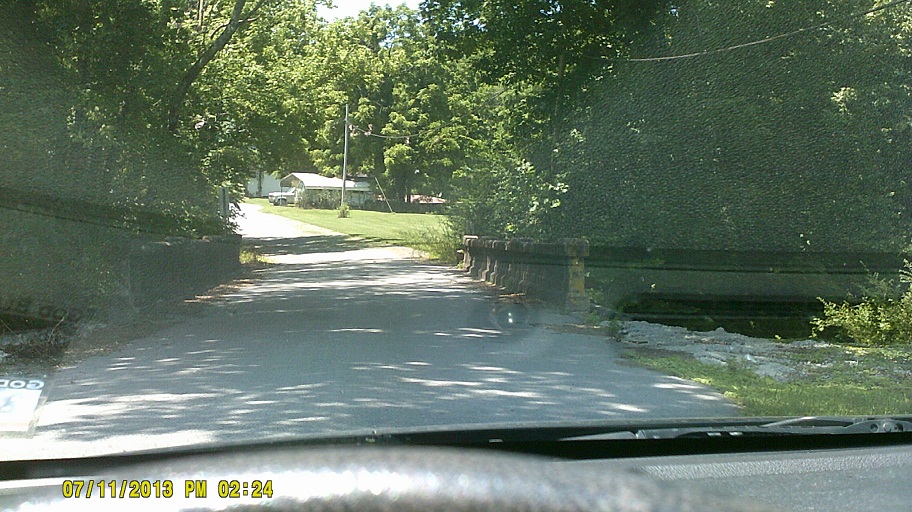 Bridges on old US-64 on the west side of Lawrenceburg
While in Lawrenceburg a visit to David Crockett State Park is highly recommended. (This was our second encounter with him on this trip, since we saw his wallet at the Alamo.)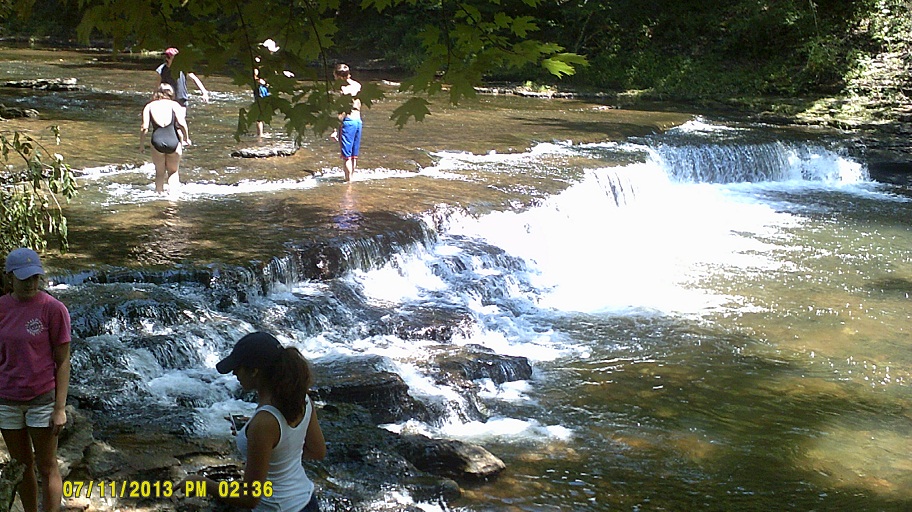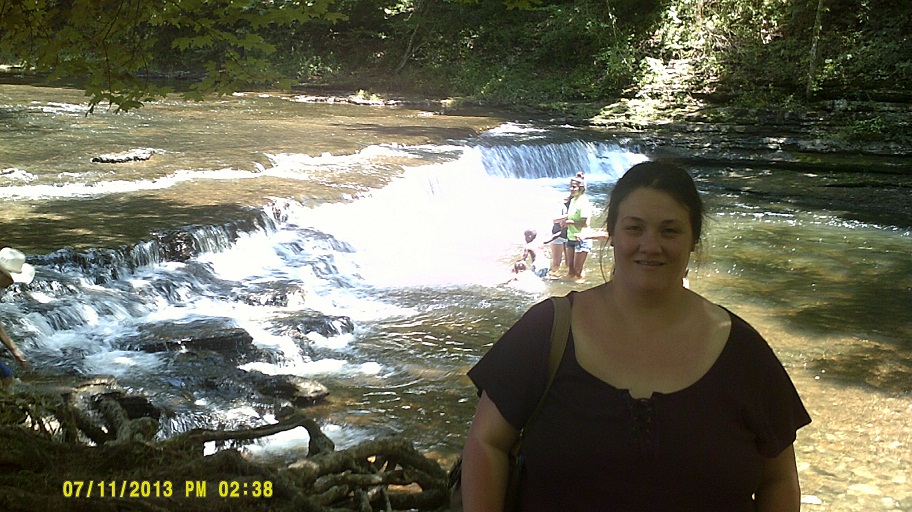 Crockett Falls on Shoal Creek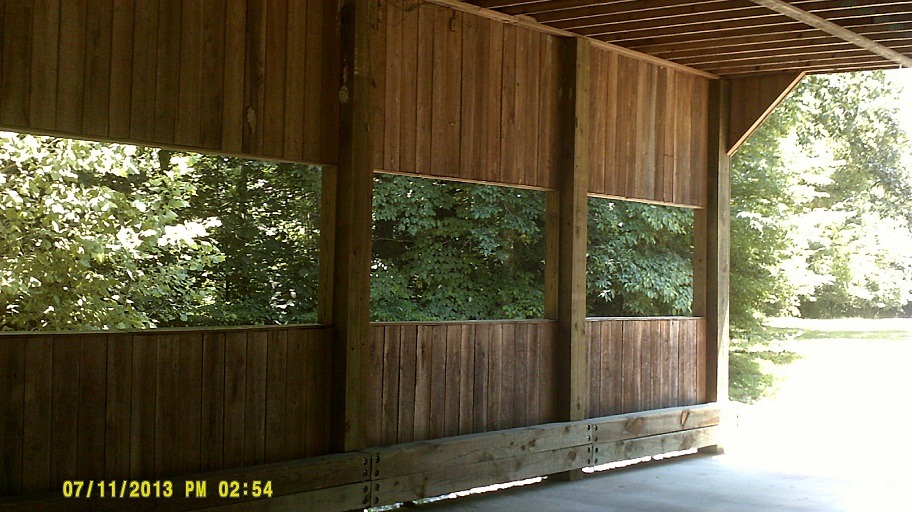 Covered bridge near the falls. Contrary to what I was thinking, that bridge was not *the one I saw when I was a kid.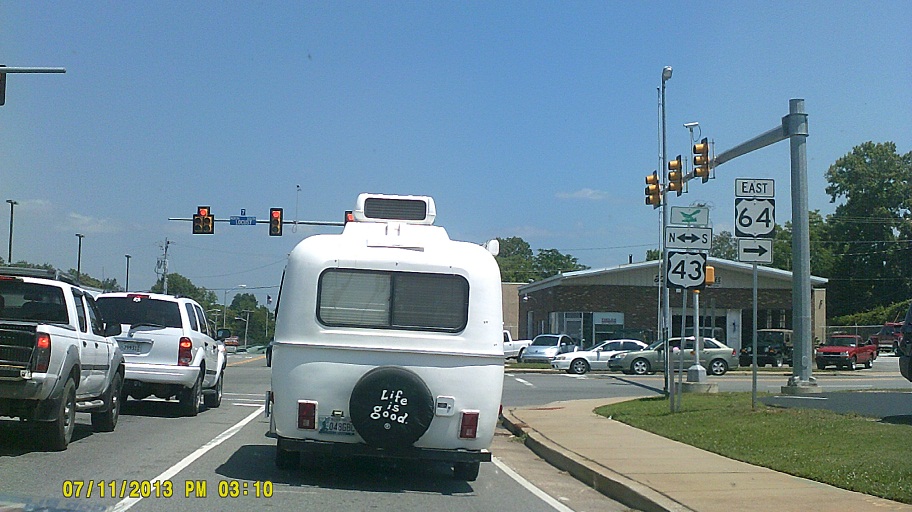 In spite of the marker assembly on the right, US-64 already appears officially transferred to the bypass in full, including the as-of-yet unopened west section, because US-43 northbound only has TO WEST 64 signs, and 43 southbound has none at all. Also seen in the photo are the newest style of TDOT signal, the combination arrow/direction plaque that TDOT seems to be using more and more, and a number assigned to the traffic signal, which Tennessee has done for some time in its towns.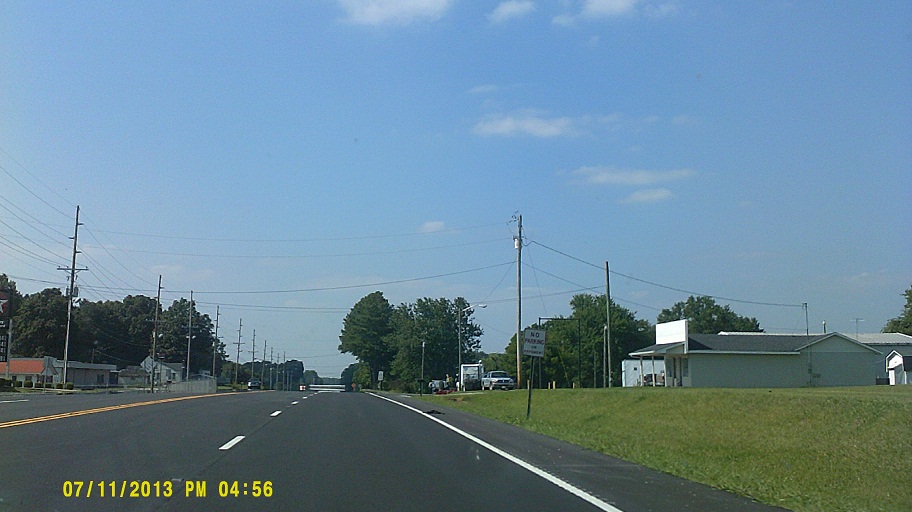 US-43 at the new US-64 bypass, first looking south, then north
This time I got to visit the area where my paternal grandmother grew up south of Lawrenceburg, where my immediate family would stay nearly every time we visited Tennessee, usually once a year, for many years.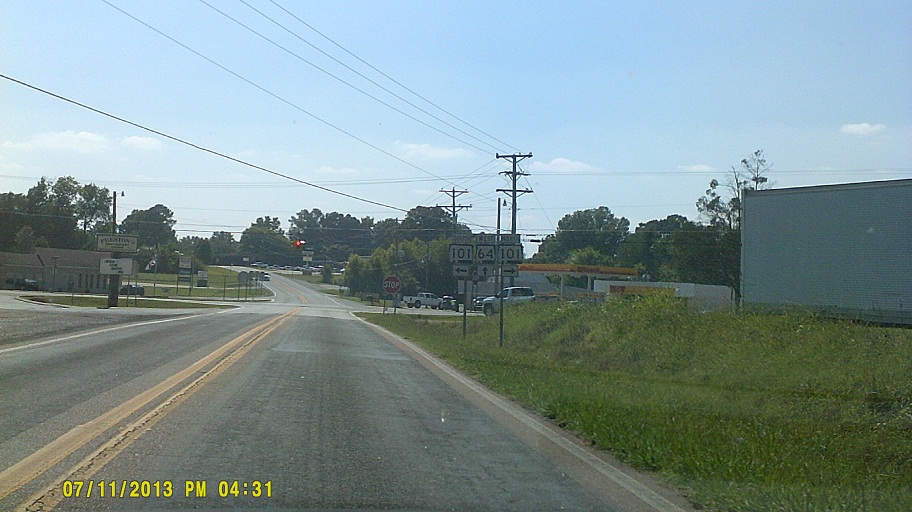 Token Alabama shot. Taking 101 south would take you to relatives of my paternal grandfather, and farther past the Florence area you'd get to where he grew up. One day when I'm heading south from here, not north, I'll get there too. (Just in case you're wondering, my maternal grandmother was from London, England, so it'll be a while before I make that trip. Hopefully not too long....)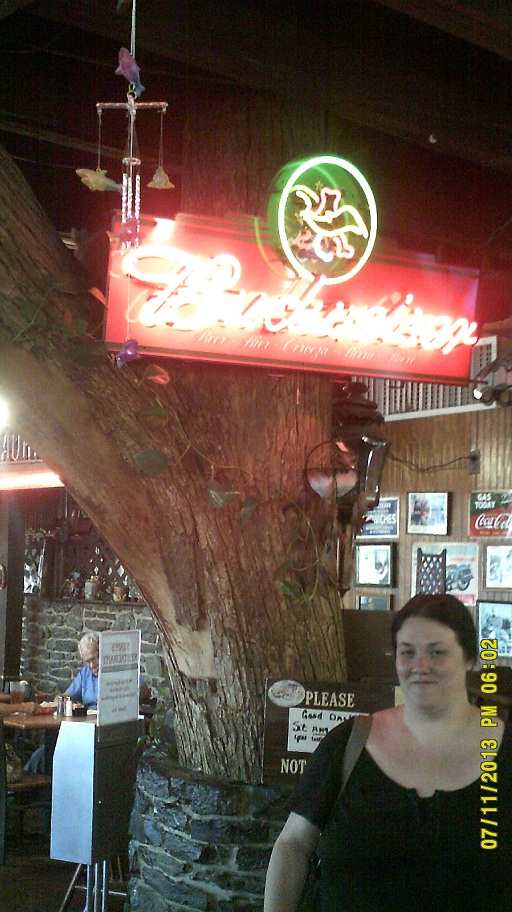 The tree growing inside *Stan's Restaurant right off I-65 at US-412 east of Columbia. In my opinion, rivals Casey Jones' place in Jackson. Many good meals there throughout the years.
I guess that it has been a while since my last visit here. The development on I-65 south of Nashville almost reaches the SR-840 loop now. I barely recognized it. I was so disoriented that I missed WSM-AM's famous tower at what is now Exit 71.
Saturday, July 13, 2013 (Bowling Green, Kentucky, to Lake County, Ohio)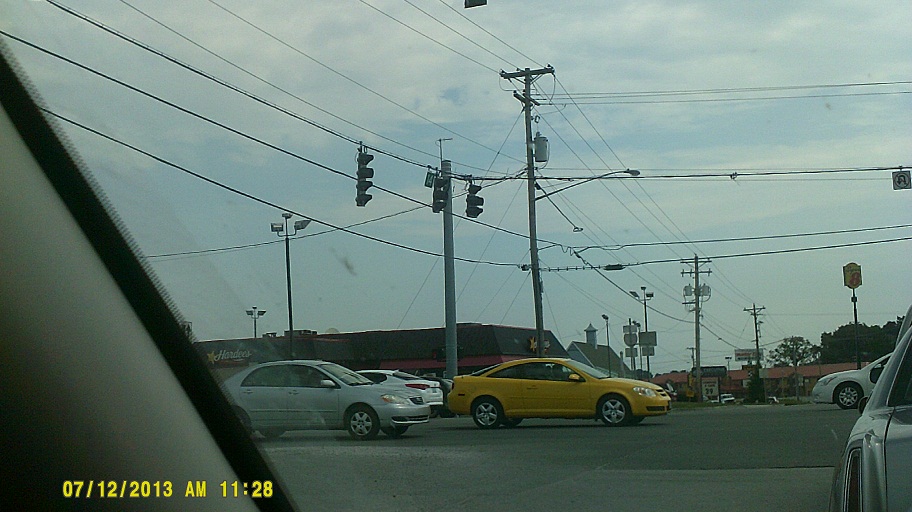 Kentucky has started using the flashing yellow left arrow, like here on US-231 just east of I-65. Note how they still use the traditional visor scheme, tunnel visor for solid yellow, cutaway for the rest.
Once I-71 merged with I-75, we were duplicating the trip home from Florida last year...except that it was still light out.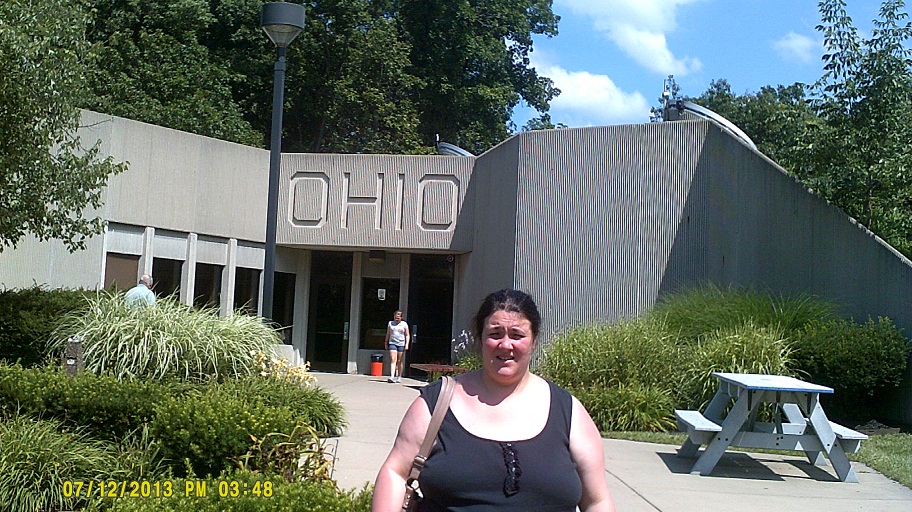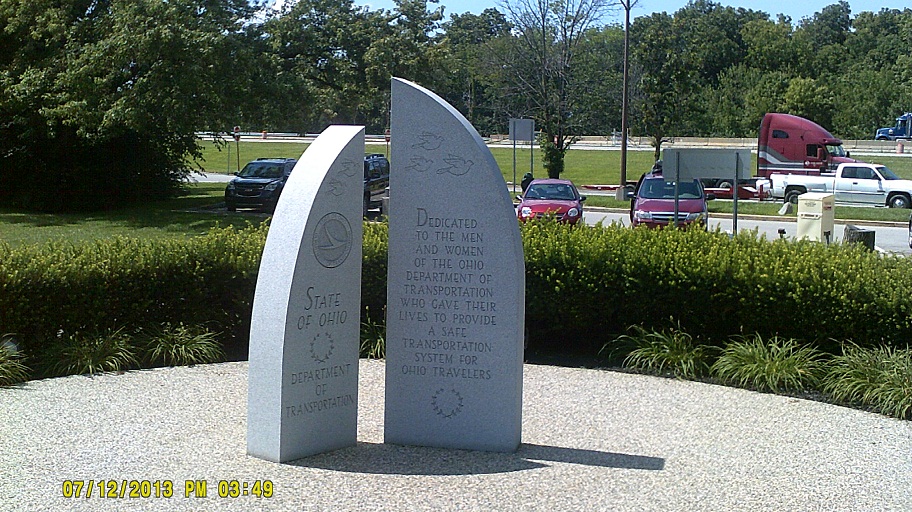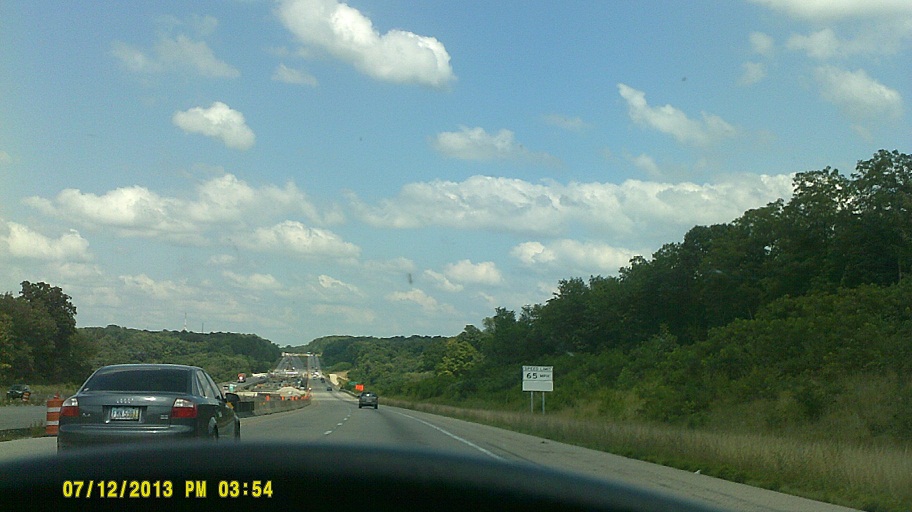 Continuing Jeremiah Morrow Bridge construction on I-71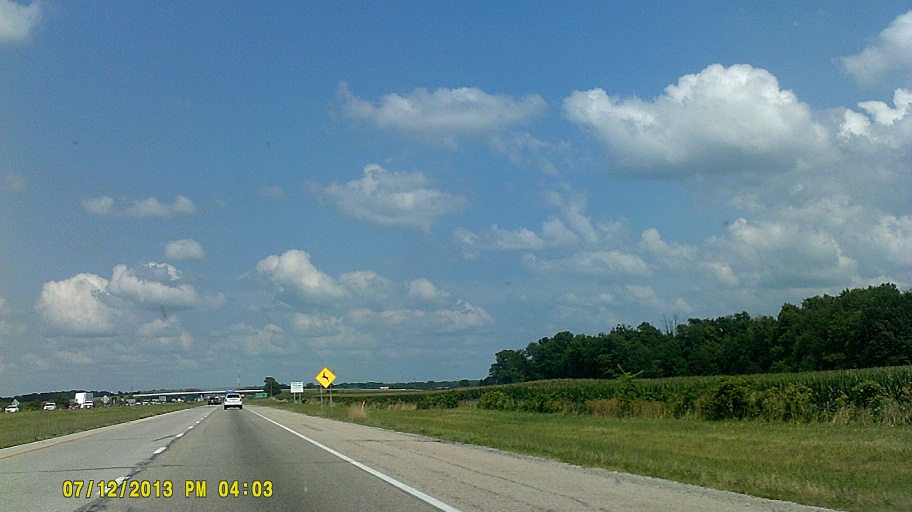 Hard to see, but there's an ODOT 70 mph sign, where it was only 65 a week before.
For you button copy sign fans (I know that you're out there), it still predominates on I-71 for the first 50 miles or so, up until about US-35, then again within Columbus.
Still working on *I-71 at I-670, still missed (good) photos....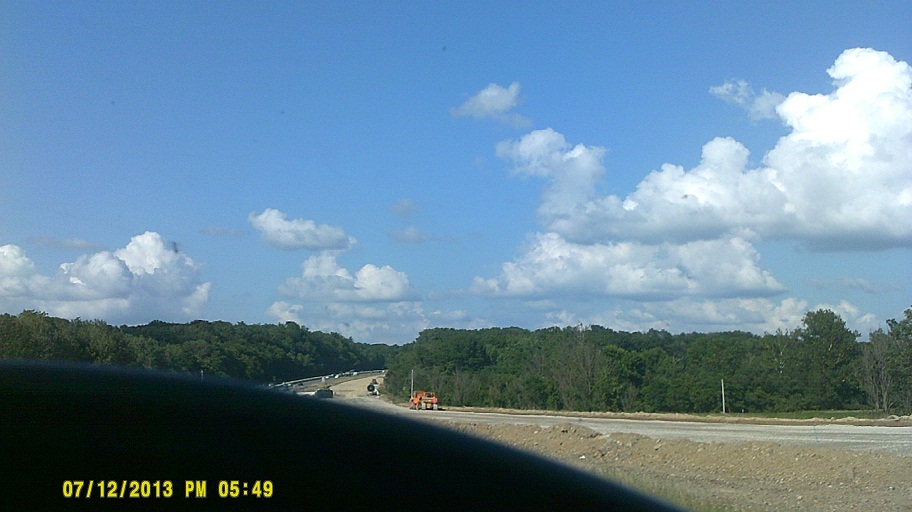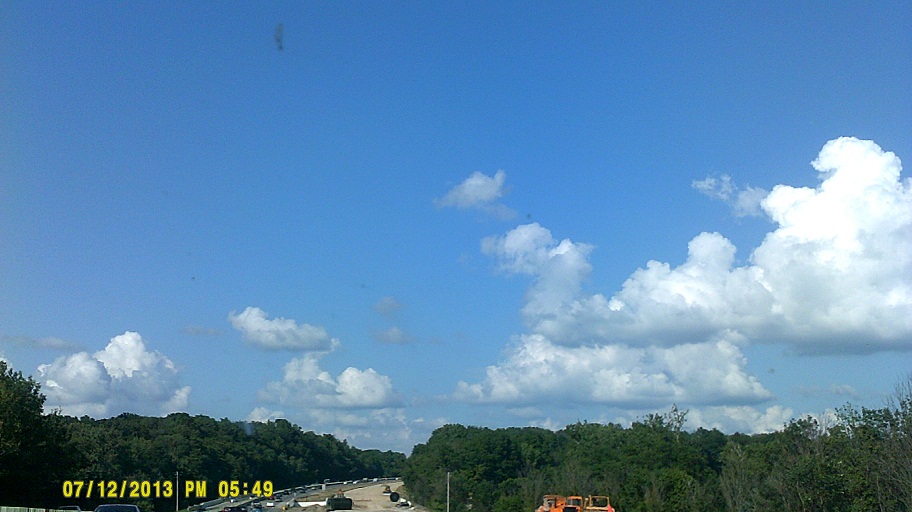 The beginning of the end of the *three-laning of I-71 between Cleveland and Columbus (project ID 86916+)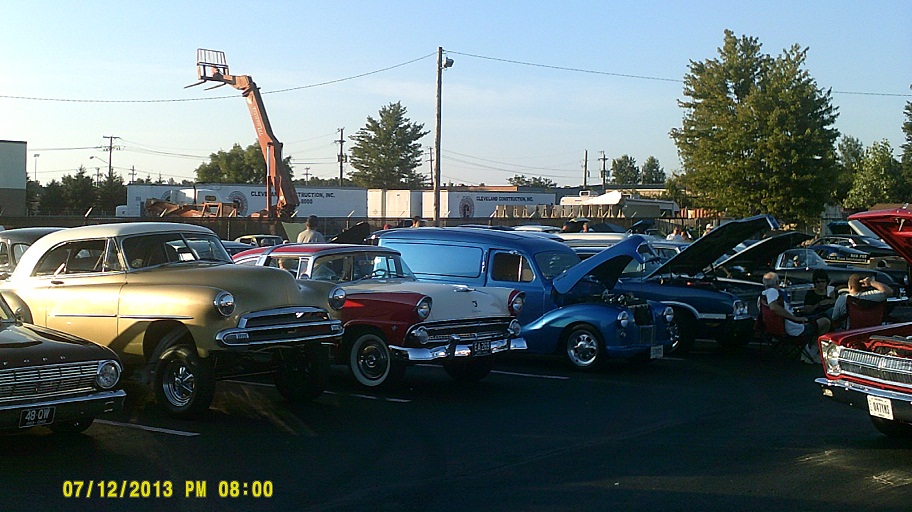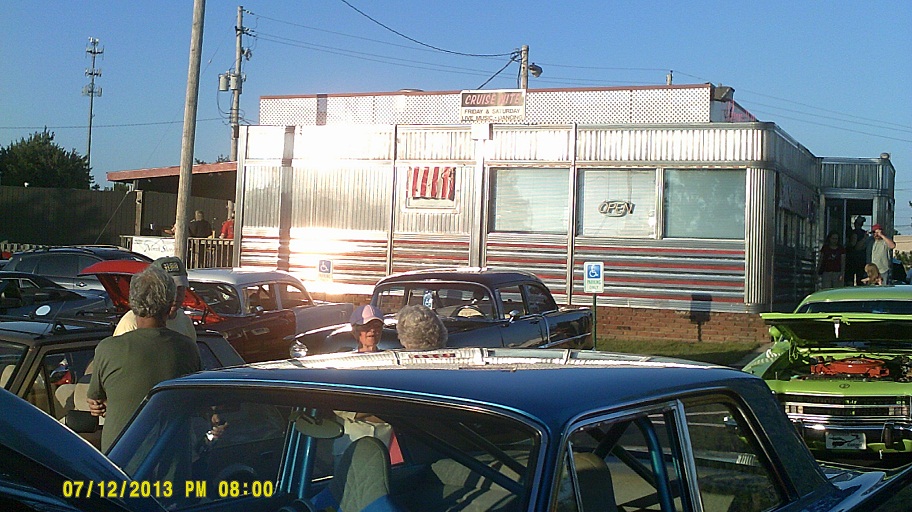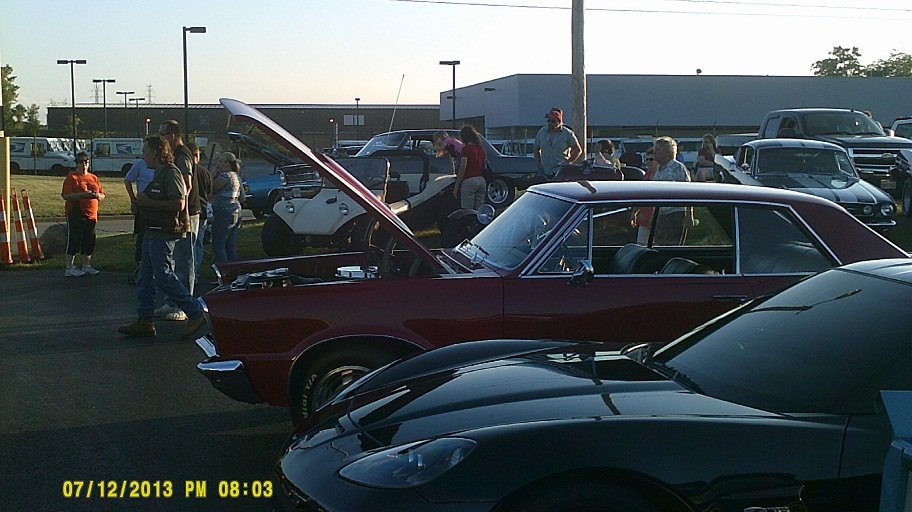 Although we were back in Lake County (those were taken at *Annabelle's Diner in Mentor), we hadn't gotten home yet so technically it was still the roadtrip!
Total mileage: 3,854 miles