(Last revised August 20, 2017) After discussing going to the Grand Canyon this year, we ultimately decided to keep it closer to home and go southeast.
Note: In this document, I have made links to Google Maps Street View green. Links to other pages are the traditional blue, with links not to Wikipedia articles designated by a *. All photo time stamps are Eastern Time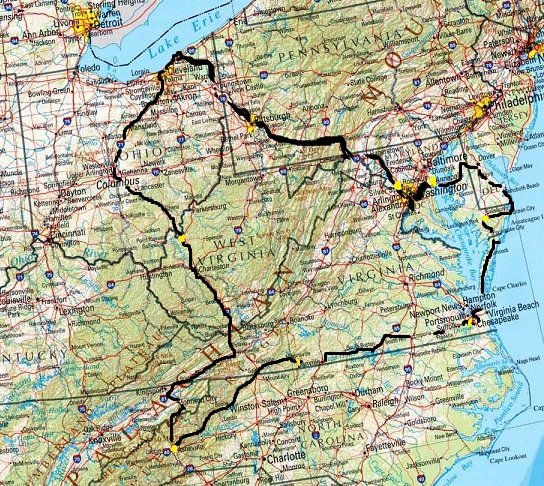 Approximate route (the above was taken from this 2001 USGS map of the U.S.; the feature names are a bit larger and clearer on that version)
Day 1: Tuesday, July 25, 2017 (Lake County, Ohio to Rockville, Maryland)
We started the trip using a shortcut/shunpike, Ohio SR-86 southeast to US-322/SR-11/SR-711/I-680.
The Lake Erie watershed boundary is now posted on major Ohio highways. I don't know how long they've been up since I rarely leave the watershed when not on long trips. (Google Maps Street View shows as early as 2008 on SR-11 at US-322.) It reminded me of the more elaborate Chesapeake Bay watershed sign on the Pennsylvania Turnpike, which we'd see later on.
Going through Youngstown there was no sign from I-680 of the high-profile visit later that day.
Just for fun, I decided to take the all-freeway route from the PA Turnpike/I-76 through Pittsburgh: I-79 to I-279 to I-376. I almost made it through by memory with no problem, even when I-279 southbound traffic was routed over to the express lanes because the local lanes were under construction. I knew to ignore the new signs that tell I-376 eastbound-bound traffic to follow I-579 because the direct ramp from I-279 to I-376 eastbound is still there. I guessed correctly that the backup that started crossing the Allegheny River was caused by the Fort Pitt Tunnel on I-376 westbound (formerly part of I-279) just across the Monongahela River which we'd miss. What I forgot was that the left lanes not in the backup drop off to other roads (Fort Duquesne Boulevard skirting the north side of downtown and convention center access) before the 376 eastbound ramp, so the nice semi driver let me back into the jam for a few more car lengths before we took the wide-open ramp. This is about as much warning as you get.
From then on is was pretty much the same as *the last day three years earlier, just backwards (also the same as 1985 backwards and 1988). We did make a stop in Jones Mills, near the Donegal exit.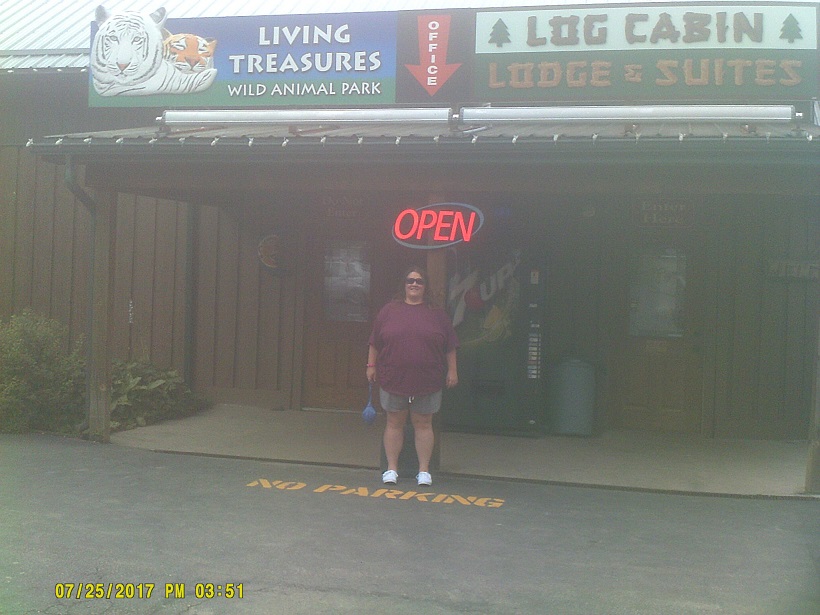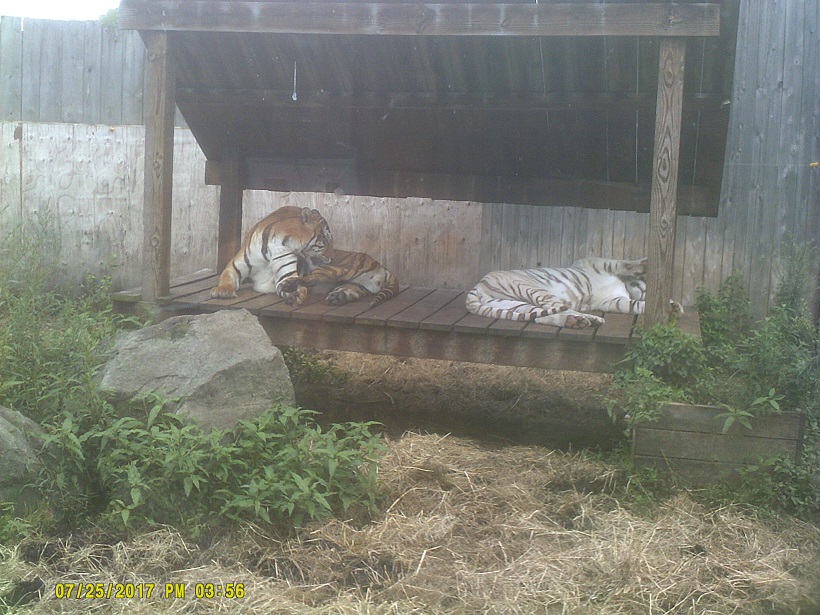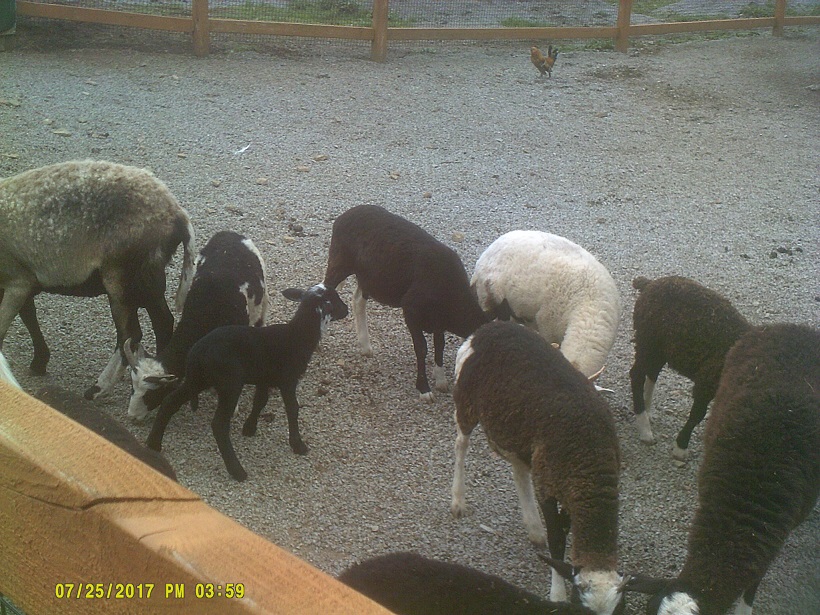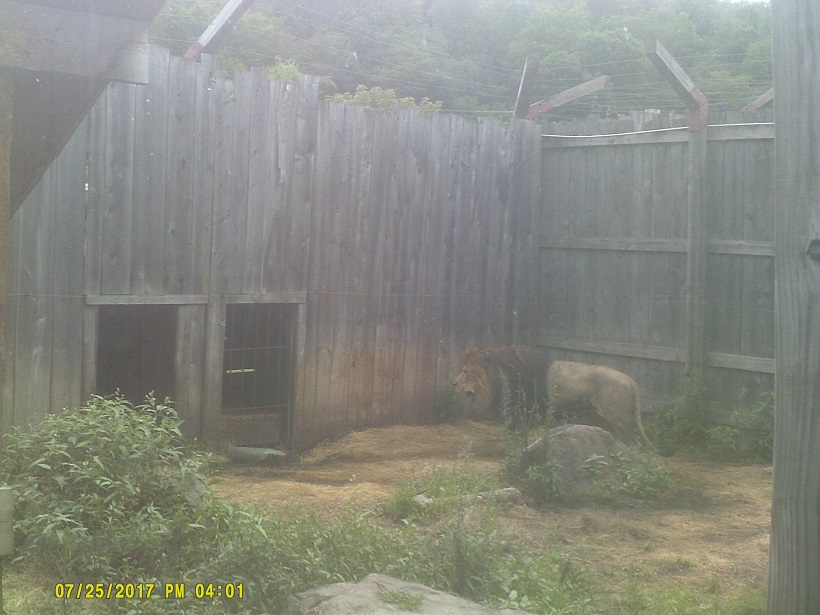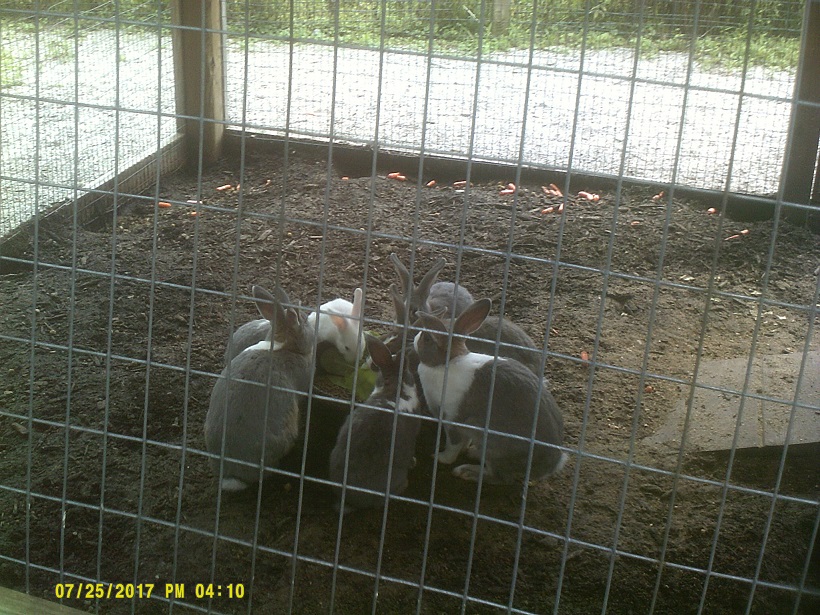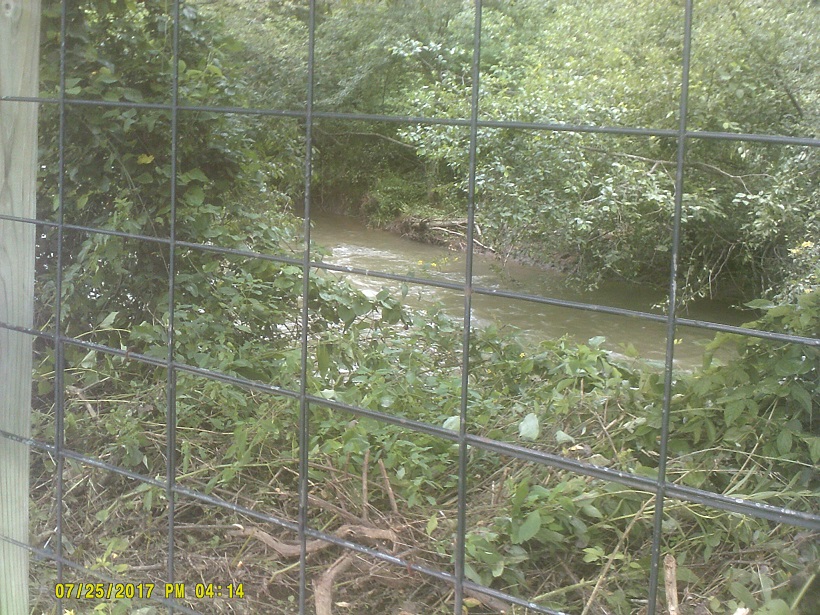 Again, I'm happy that safety improvements have been made to the 1940 section of the Turnpike, past US-30, but sad that it's lost most of its original character. There were some older bridges that I saw on the I-70/76 portion starting around Bedford, but those probably won't be around much longer. I could kick myself because I didn't check to see if the Turnpike steps were still there until it was too late. I don't remember seeing them but I don't remember not seeing them, either. While on that section we did acknowledge the nearby Flight 93 National Memorial but I couldn't bring myself to go there this trip, maybe one day. On a happier note, I should remove any earlier reference to the REMOVE SUNGLASSES signs being removed, those posted before Turnpike tunnels. Here's the one we saw this time. Another PA sign comment: The Turnpike and/or PENNDOT now put black sheets of fabric behind orange construction signs to make them more visible.
It seems that seeing good ol' Breezewood once every three years is now a tradition (see *2011, *2014). This time, though, we saw for the first time something that can come out of this weird road arrangement: an accident. It seems that a car and a semi turning left in the parallel lanes to the resumption of the I-70 freeway toward the south sideswiped each other.
I opted to visit the cut again near Maryland's narrowest point (still haven't found an official name for that stretch where there's barely a mile between Pennsylvania and West Virginia), this time following the oldest travelable (i.e. not abandoned) routing of the National Road that I could find back eastward. Found this along the way (not revealing exact location at this time):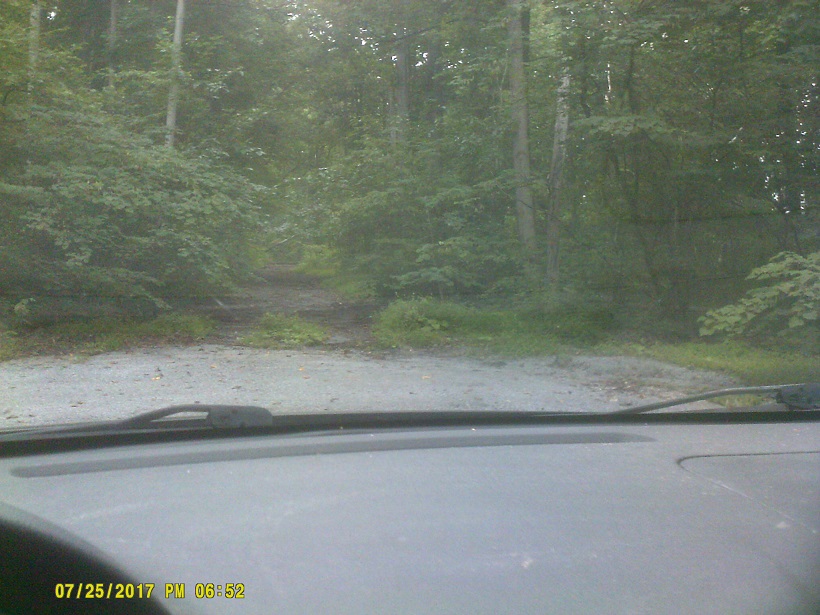 Lotta history there
Even though West Virginia was right there, this year I skipped driving into it just to say that we were in three states in a minimal amount of time, because I was pretty sure that we'd be elsewhere in West Virginia later in the trip. (Spoiler: I was right, read on.)
I just recently heard of Maryland's Washington Monument, and noted that it's just barely visible in the south distance from I-70 on both sides of the Maryland Route 17 interchange.
Day 2: Wednesday, July 26, 2017 (Rockville, Maryland to Annapolis, Maryland via Washington, D.C.)
I had planned for to visit various sites in Washington, but between the traffic and the parking hassles, we opted to visit George Washington's last residence, Mount Vernon, instead.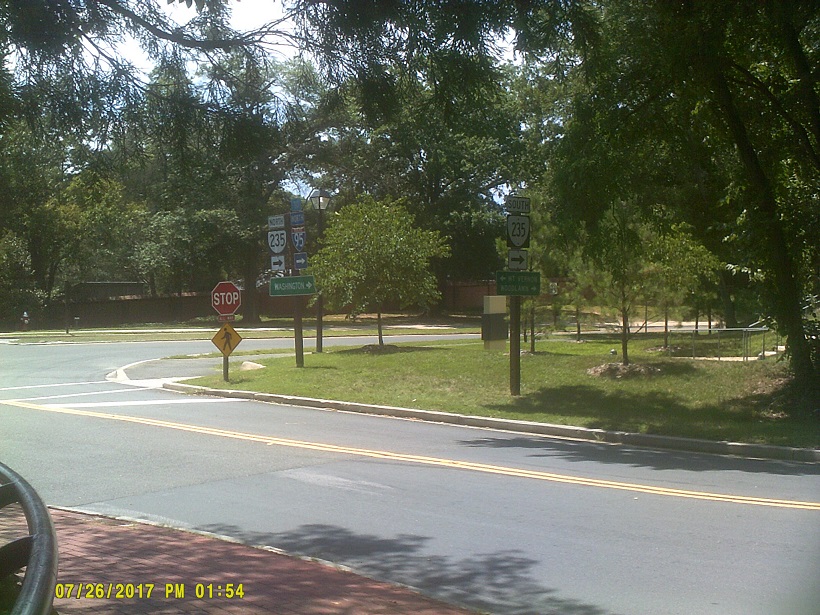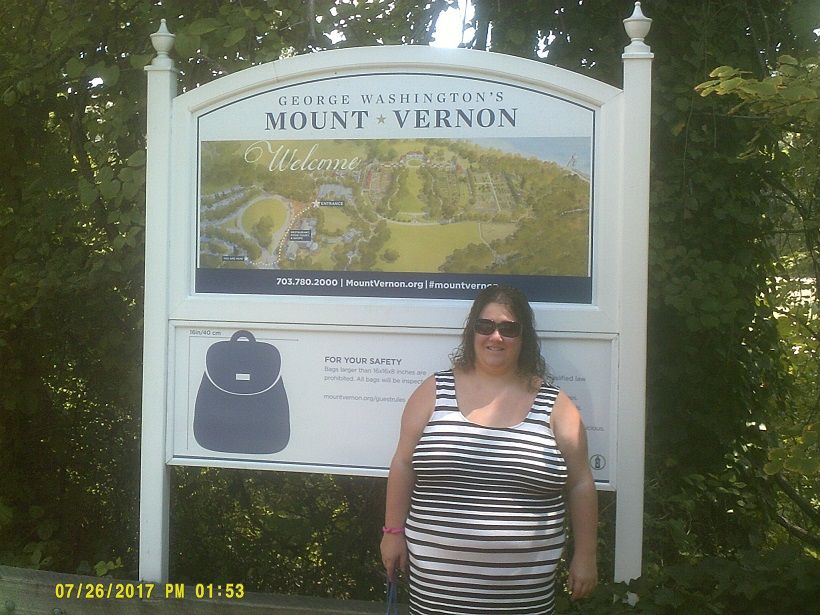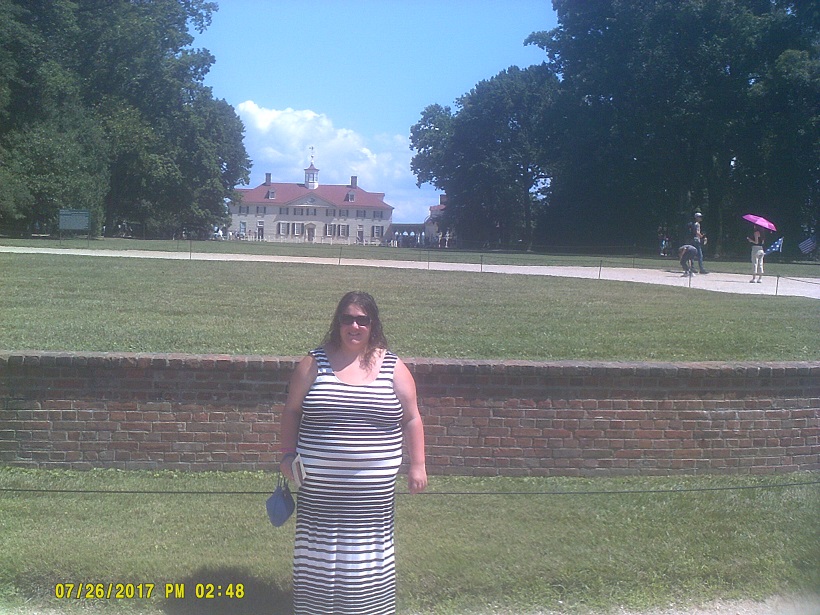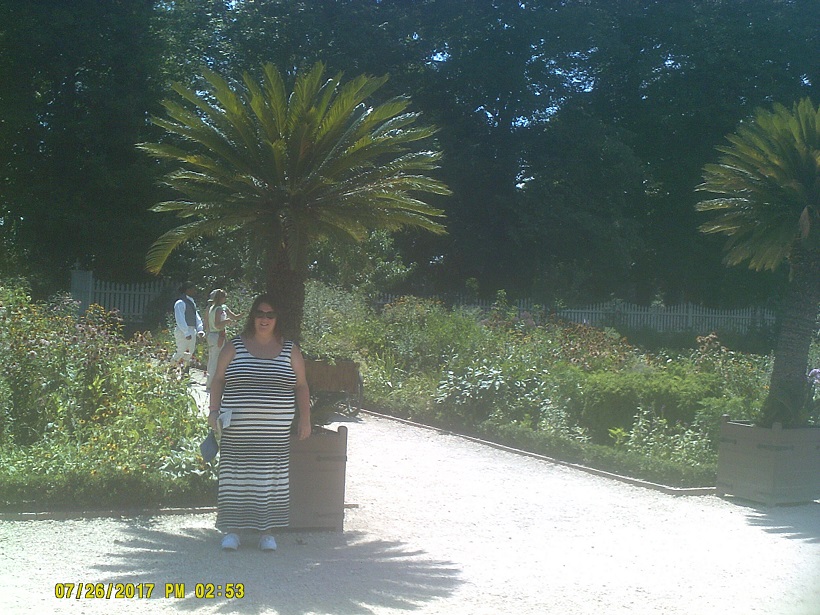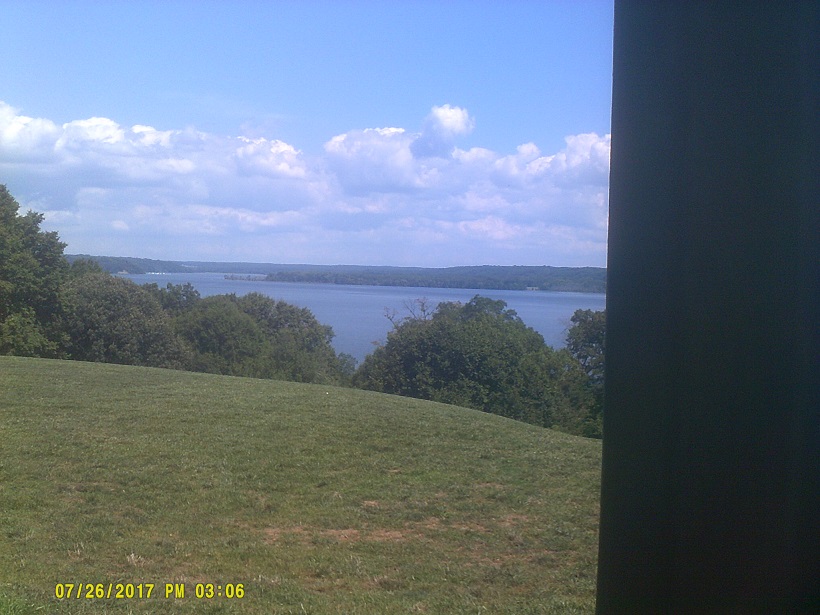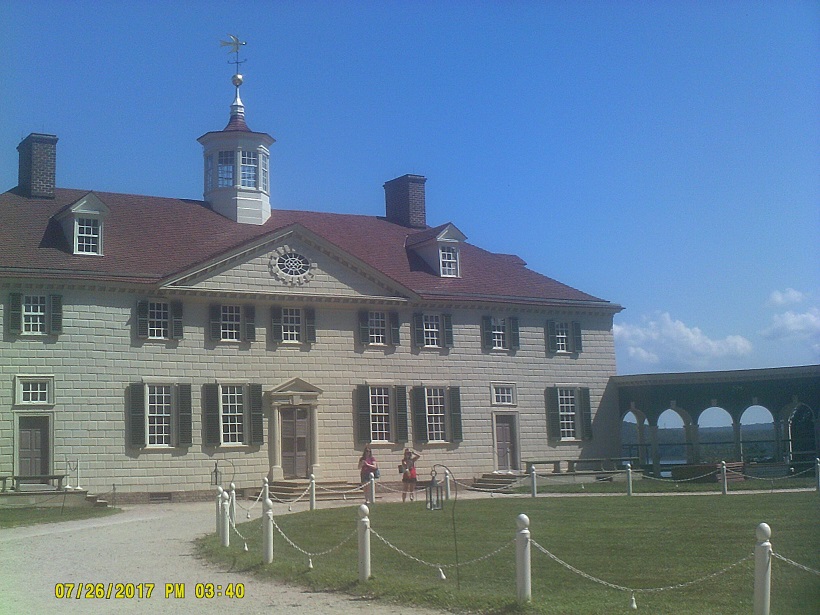 (No photos allowed inside)
After we left we ended up on the famous Beltway. I heard on the radio that there were accidents by the Woodrow Wilson Bridge, incidentally a drawbridge, but assumed that they'd be cleared by the time we got there. They had been, but it didn't help traffic at all.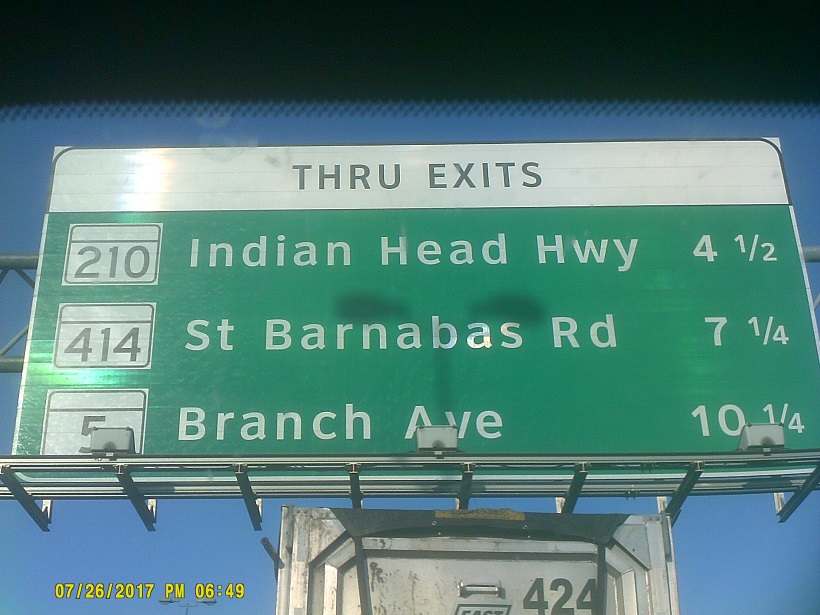 Oh, the shots you can get while at a standstill...of note, those are Maryland highway markers on a sign in Virginia
Finally onto US-50 eastbound, noting that many of the signs, including this one, leave space for an I-595 shield should they ever decide to signpost that.
Day 3: Thursday, July 27, 2017 (Annapolis, Maryland to Salisbury, Maryland via Delaware)
Some Maryland sign/signal comments: For decades Michigan had a flashing red in many left turn signals in permissive mode (stop then go when clear). While they've been adopting the flashing yellow arrow like many other states to replace that, Maryland is holding onto Michigan's practice, only with a red arrow (see bridge photo below). Another signal quirk is that most places where there are doghouse left turn signals (red/yellow/green/yellow arrow/green-arrow in a compact form), there is a redundant signal before the intersection but with smaller red/yellow/green such that the height of the arrow signals is the same as the adjacent R/Y/G, such as most signals in Ocean City that we'd see later – to see what I'm blabbering about, go here. Also, Maryland is giving its markers a black background, similar to Wisconsin, though Maryland's seem to be individual parts pasted on to a sign, rather than a single sign. Finally, and maybe not a Maryland thing, but seen in Maryland: these pedestrian symbols are facing each other.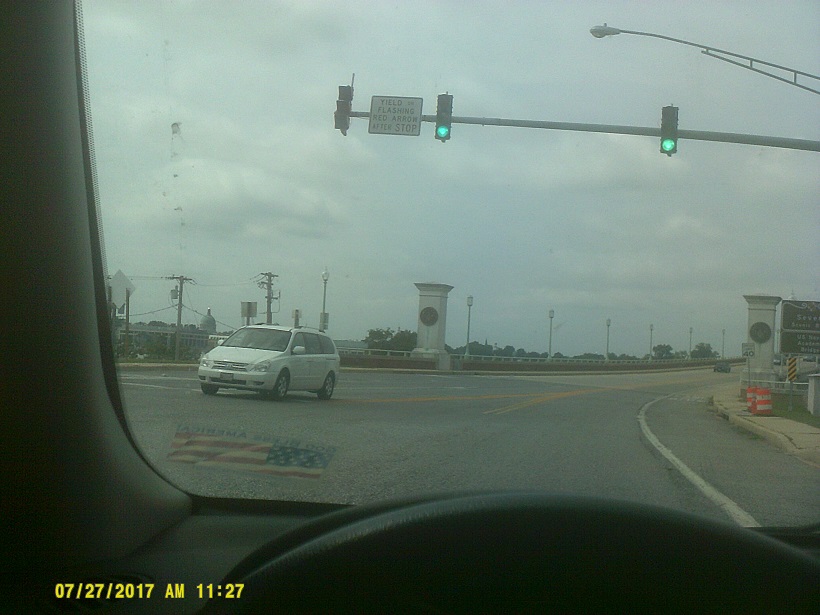 View of the Maryland State House from the Naval Academy Bridge (MD-450) – no, not the big dome to the left, that's the Naval Academy Chapel – it's the barely-visible one between the second and third streetlights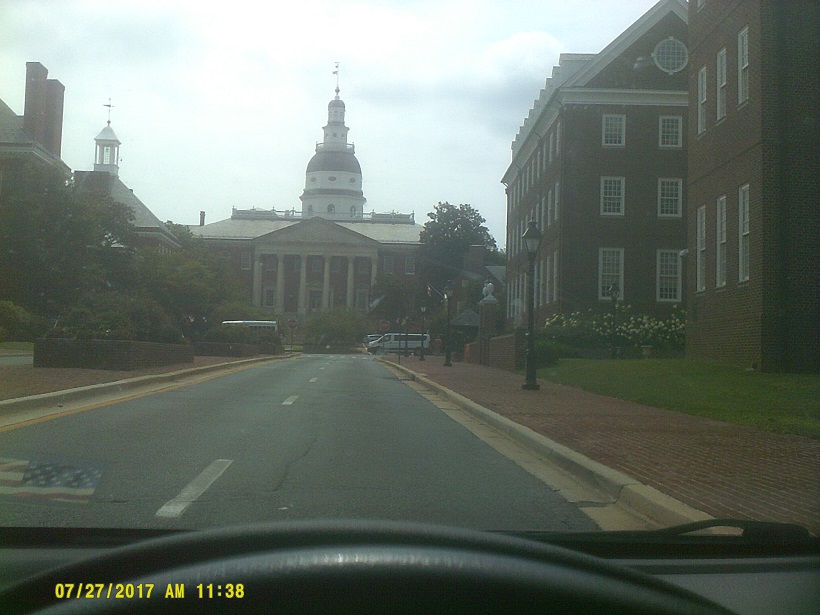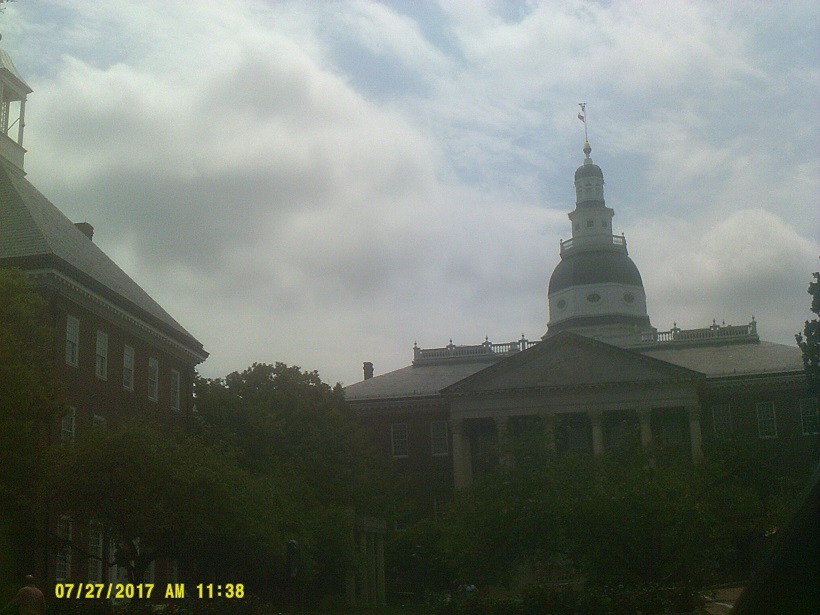 Much better views from the end of MD-70
After crossing the Mackinac Bridge *last year, we got another similarly long crossing this year (though not the longest on the trip).
Onto Kent Island, I noted the EF-2 tornado that had just hit a few days earlier, though we could see no damage from US-50/301. Bad week between that and a bad accident just west of the bridges. The freeway on Kent Island and further east to the 50/301 split was shoehorned in, so there are a lot of short ramps to existing businesses, and one combines two messages on one sign because of the limited space.
Once away from the shore, the Delmarva almost looks like northern Indiana, with its cornfields and general flatness, though there seem to be more trees.
In order not to entirely retrace the 1985 trip in reverse, I decided to go through Dover, Delaware. That put us in two state capitals in less than two hours.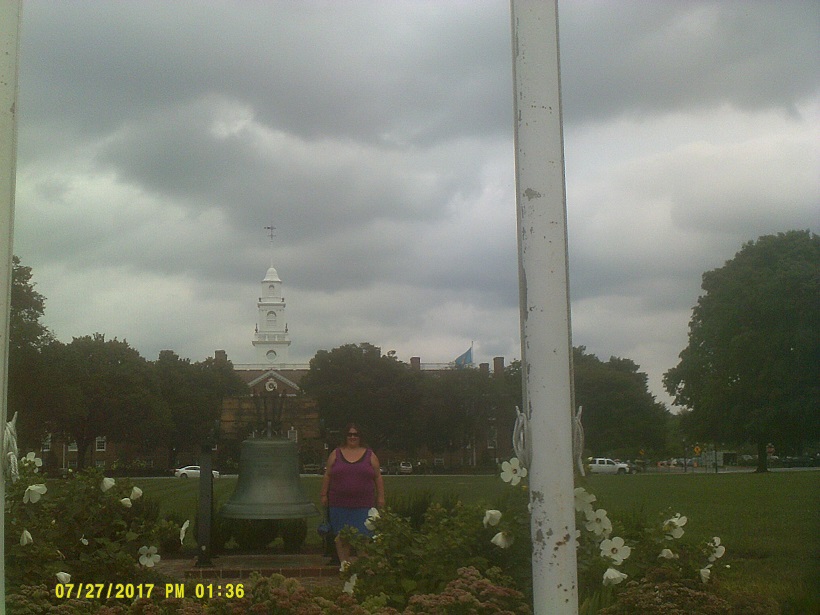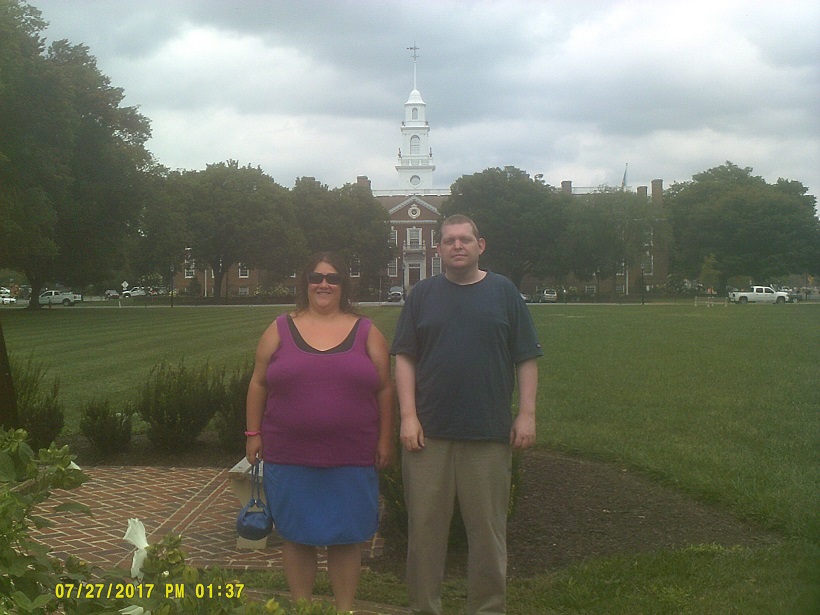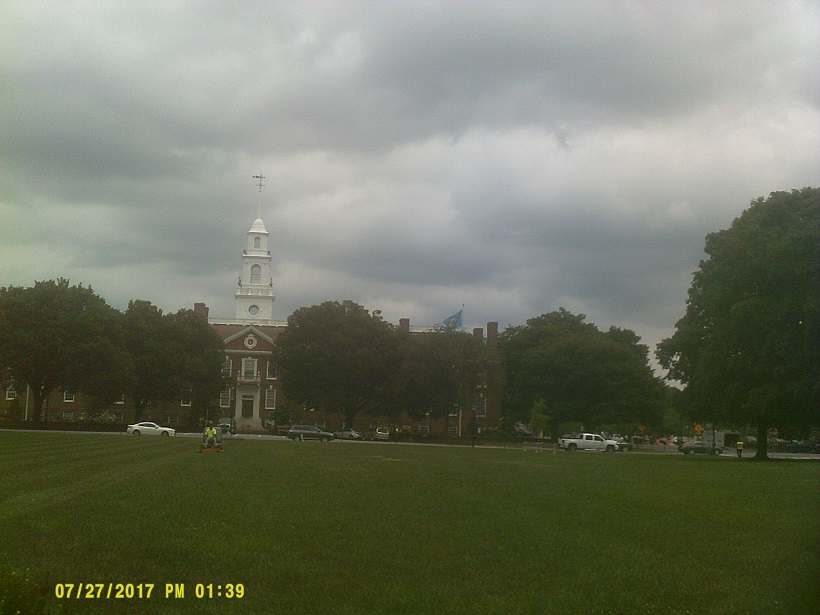 The Legislative Hall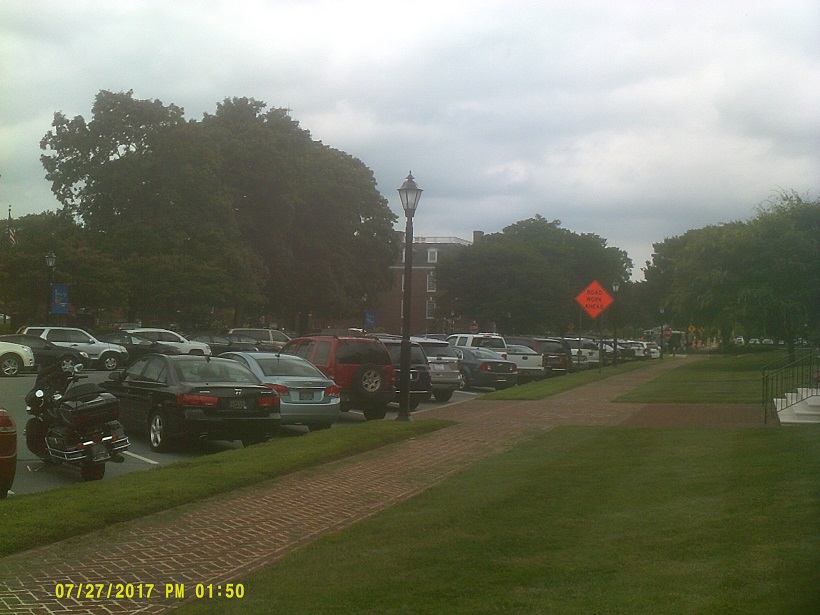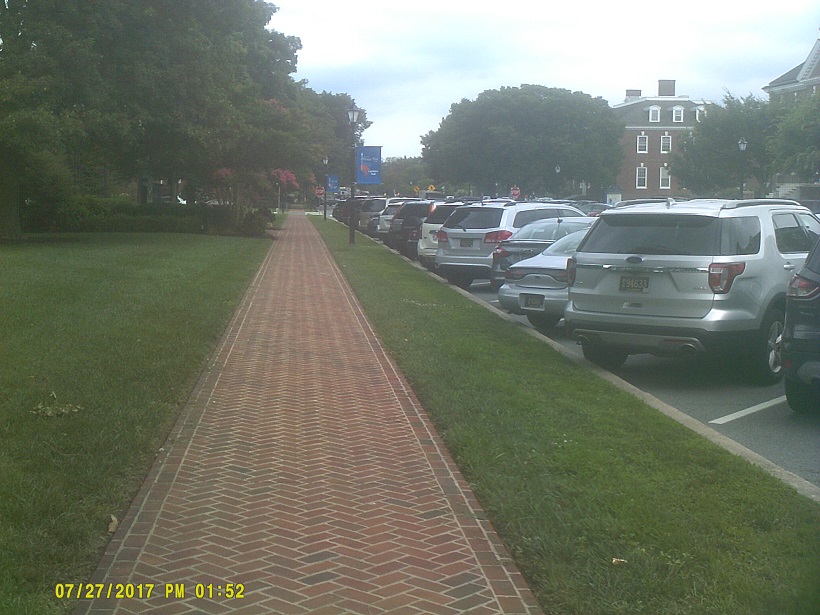 Note the unusual parking arrangement, back in only (hall in background to the left)
Delaware comments: Unlike in *2014, when we were only on I-95, we got to see a lot of backroads of the state. (Incidentally, my only other time doing that, the '85 trip with my family, was the day before Live Aid.) Sign/signal things of note: