(September 10, 2012, revised December 11; link added May 20, 2013) One year after our five-day Fall 2011 trip to Niagara Falls, western Maryland, and Pittsburgh, my girlfriend and I decided to take her midsize SUV with me driving to Florida on an eight-day trip.
Note: In this document, I have made links to Google Maps Street View green. Links to other pages are the traditional blue.
Saturday, September 1, 2012 (Lake County, Ohio to Fort Mill, South Carolina)
For the second year in a row, the trip report starts with a note about traffic signal changes in Ohio. This year the Ohio Department of Transportation began installing red arrows in protected left turn signals (traffic must stop if a green or yellow arrow is not displayed) as mandated by the 2009 federal Manual on Uniform Traffic Control Devices. In addition to that in the photo just below, I spotted them on the Interstate 271 southbound offramp to Rockside Road east of Cleveland (photo taken March 29, 2013), as well as just south of Columbus (see end of report).
Side note: Coincidentally, there was an article written about these in The Plain Dealer's Road Rant column about a week after we got back.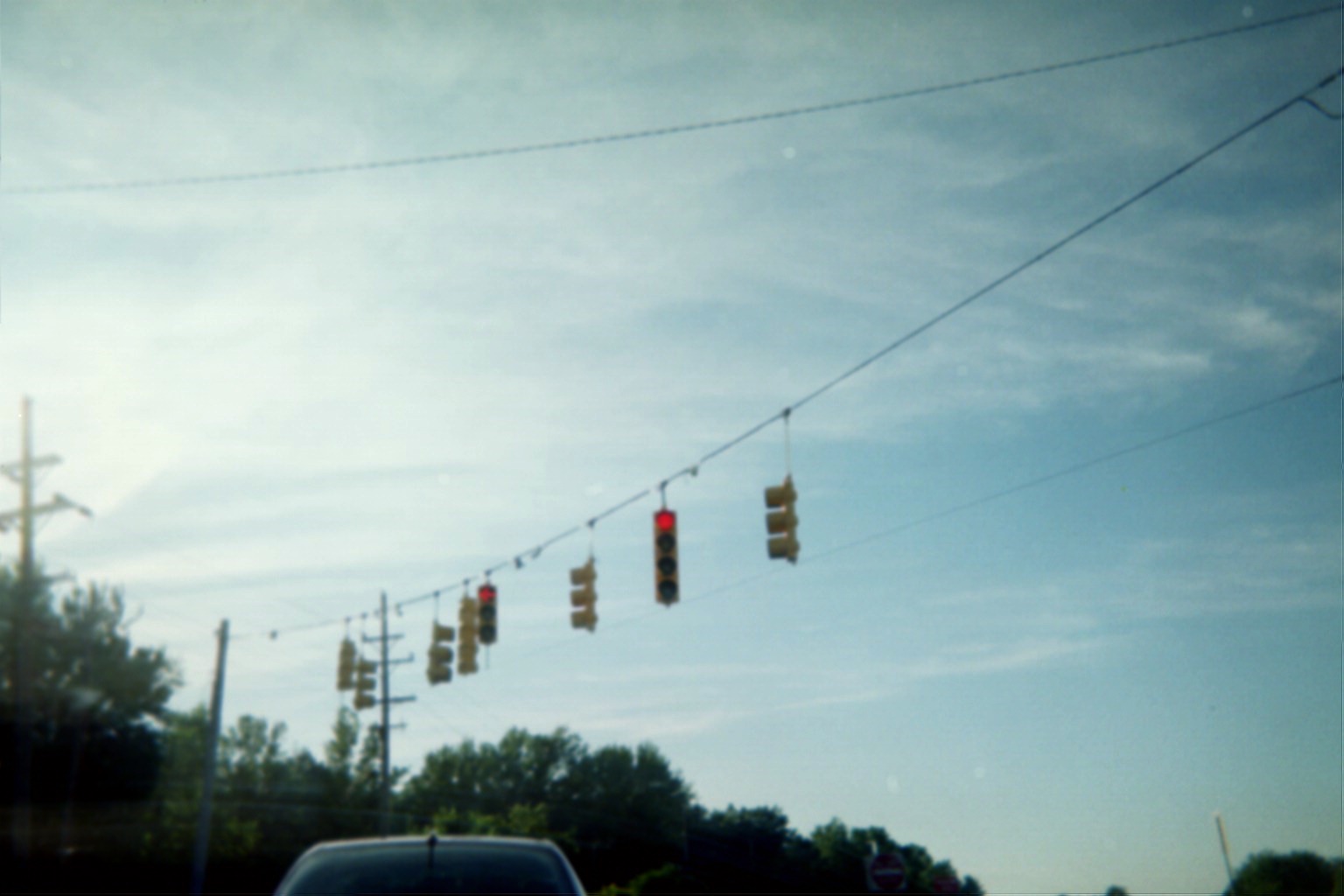 Morley Road access/SR-44 southbound onramp at SR-84 in Concord Township, one exit north of I-90 Exit 200 (taken earlier in the year, on June 5)
This day was the first time that I had travelled along Ohio State Route 8 after the completion of the conversion to freeway between I-271 and SR-303. Very well done. There are now two ways to get to 8 southbound from 271 southbound (the old loop route is used to access Highland Road which the new ramp crosses over).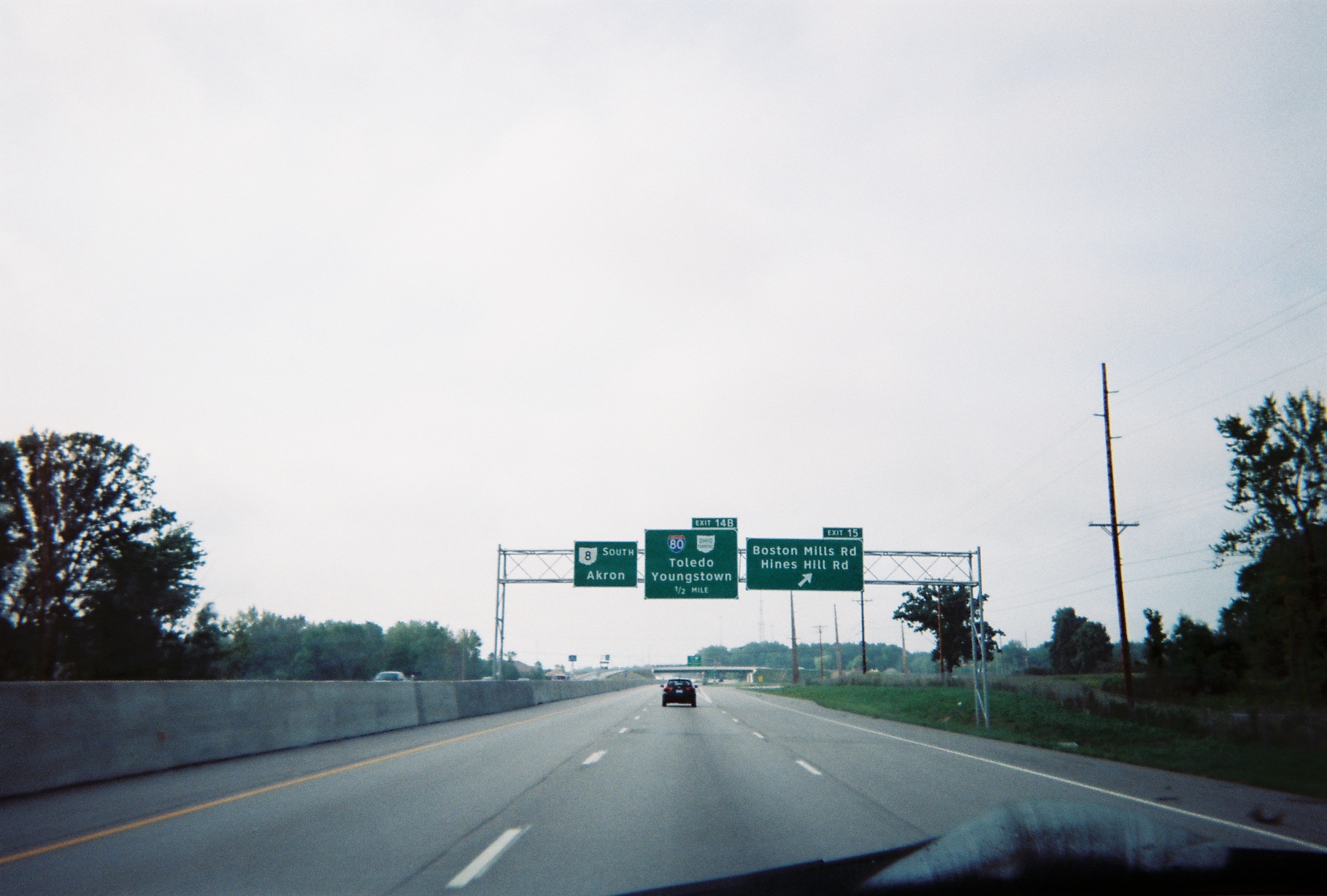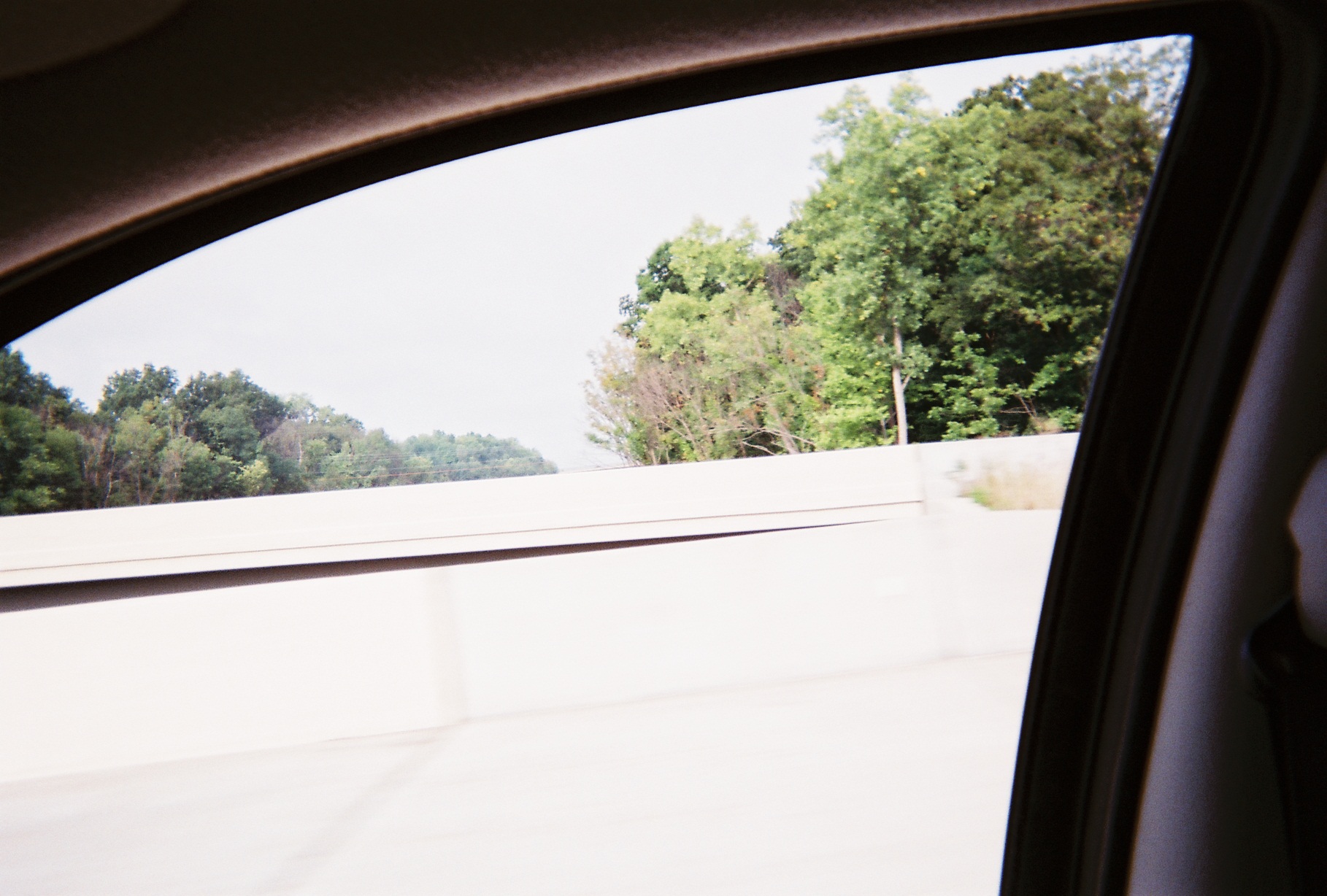 It's too bad that the Olde 8 Road overpass over the Ohio Turnpike/I-80 is barely visible (this is what the view used to look like) due to the new location of the Turnpike offramp, though the view is still good from the bridge over the Turnpike just beyond that, carrying the new frontage road, Dean Memorial Parkway.
At the Turnpike access road crossover; Boston Mills Road is just beyond
Where US-62 joins I-77 (the highway that we'd follow until the middle of the next day) just north of the Pro Football Hall of Fame in Canton there is a large double Truck Rollover Warning Sign (reverse curve, two truck icons). Unfortunately, it was too far off of I-77 to get a shot, and on Google Maps Street View it's washed out by sun glare.
Where I-77 southbound enters Tuscarawas County, there is a blue sign listing a low-power AM station broadcasting local information, common around the U.S. Not common, however, is the blue one-mile advance sign announcing this sign.
Nice new bridge over I-77 for the Ohio & Erie Canal Towpath Trail.
From I-77 one can see old US-21 in places, the reverse of the views on the 2002 old 21 excursion.
On either side of the bridge over the Ohio River connecting Ohio and West Virginia, there are signs for routes in the adjacent states. (We saw essentially the same situation on I-85 going from Georgia to South Carolina later on the trip.)
Quick 'n' dirty shot (read: unexpected)
(Mile 179) I-77's West Virginia Welcome Center here is actually located just west of the WV-14/31 exit off of WV-14. It seems that when my family was returning from the 1982 World's Fair in Knoxville to Southwest Michigan that Ohio's Welcome Center nearby was similar, off SR-7. It's now located at a standard Interstate rest area.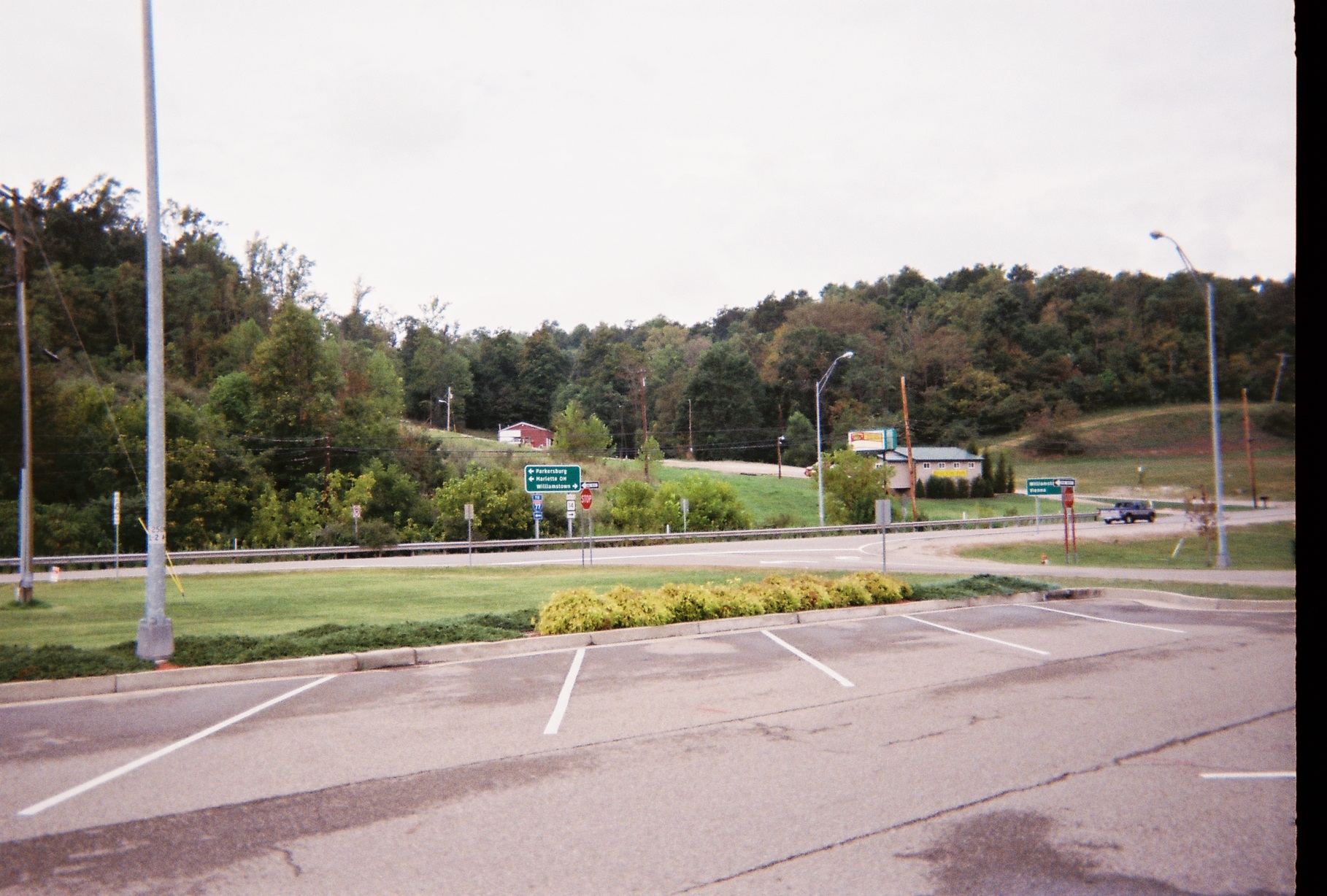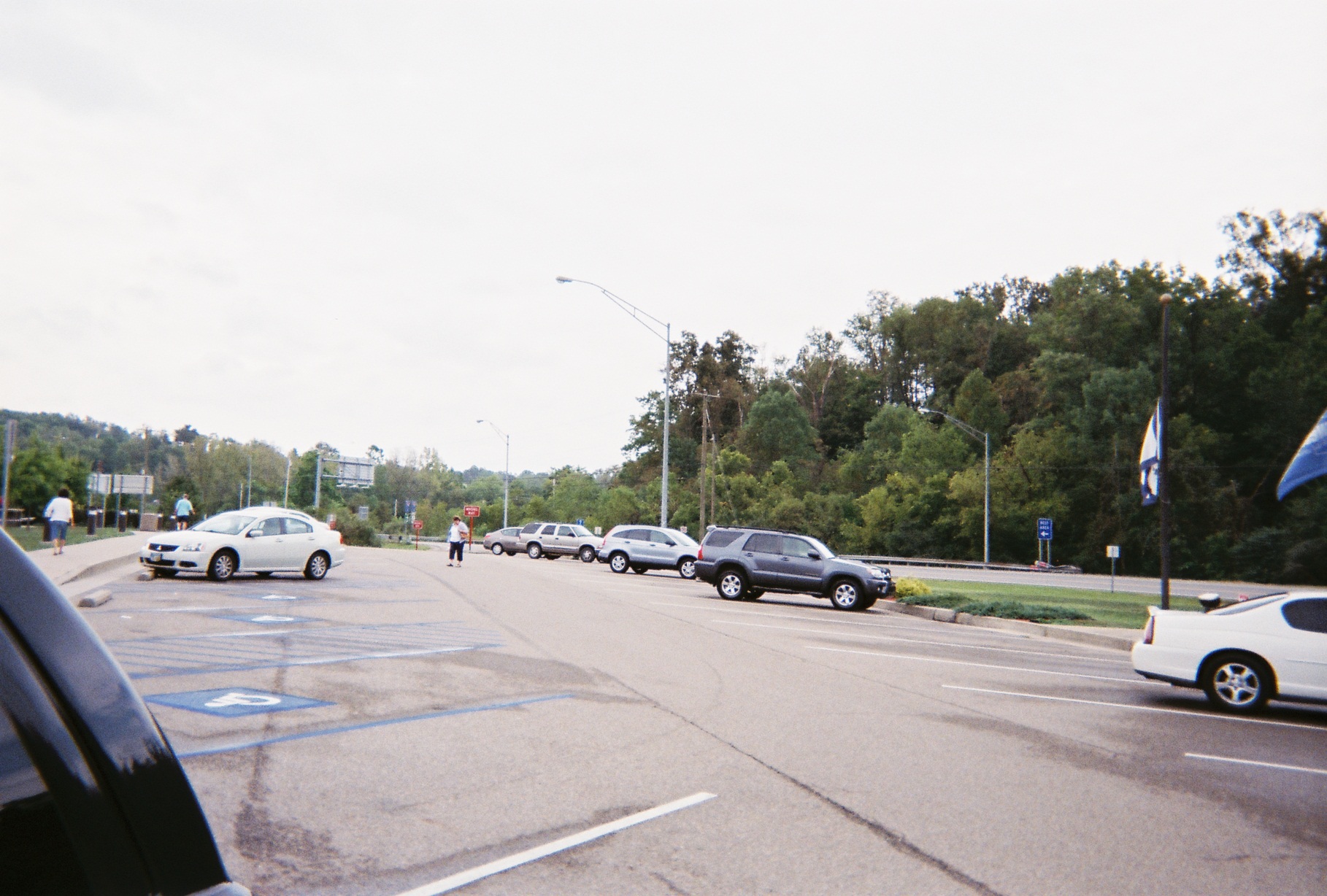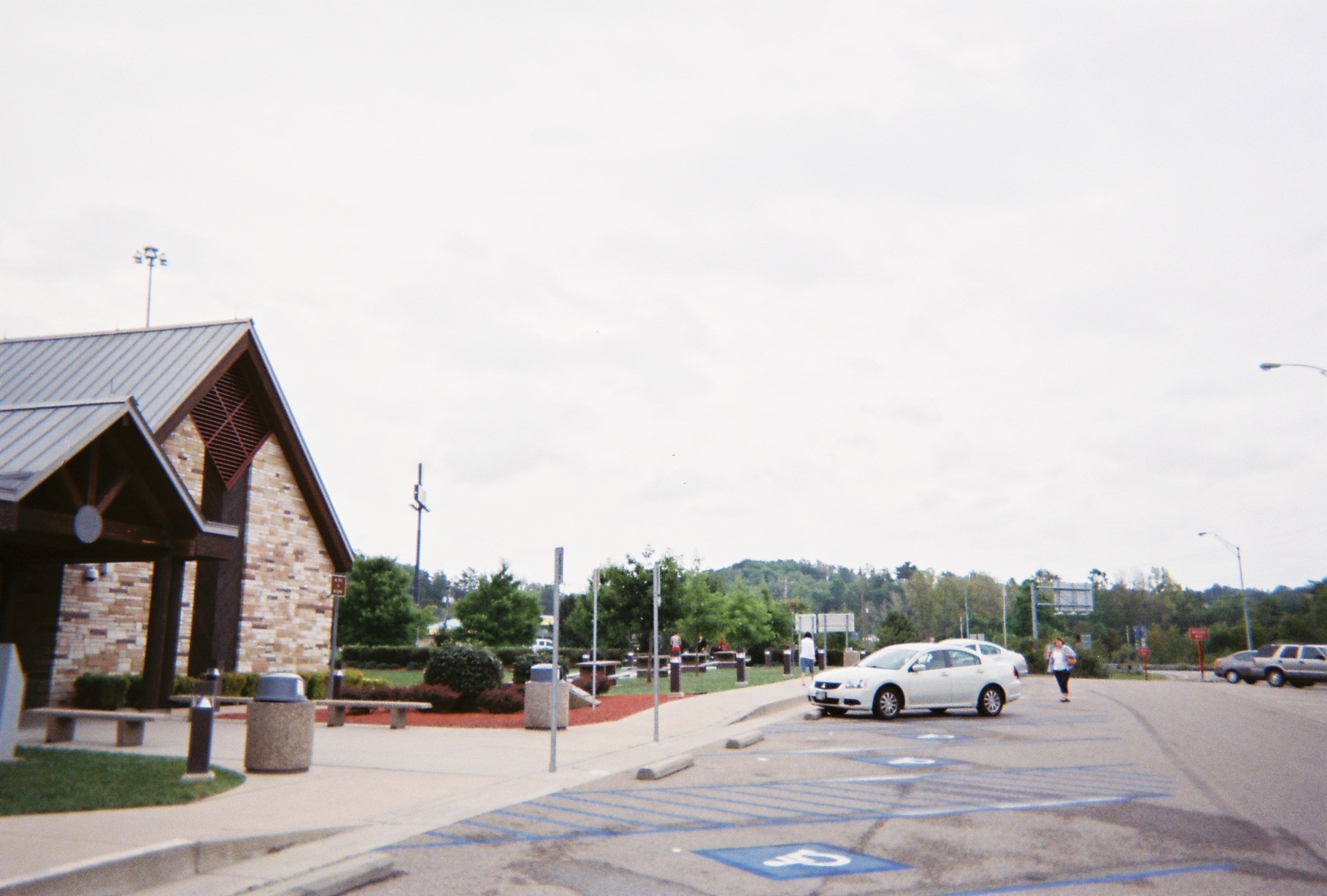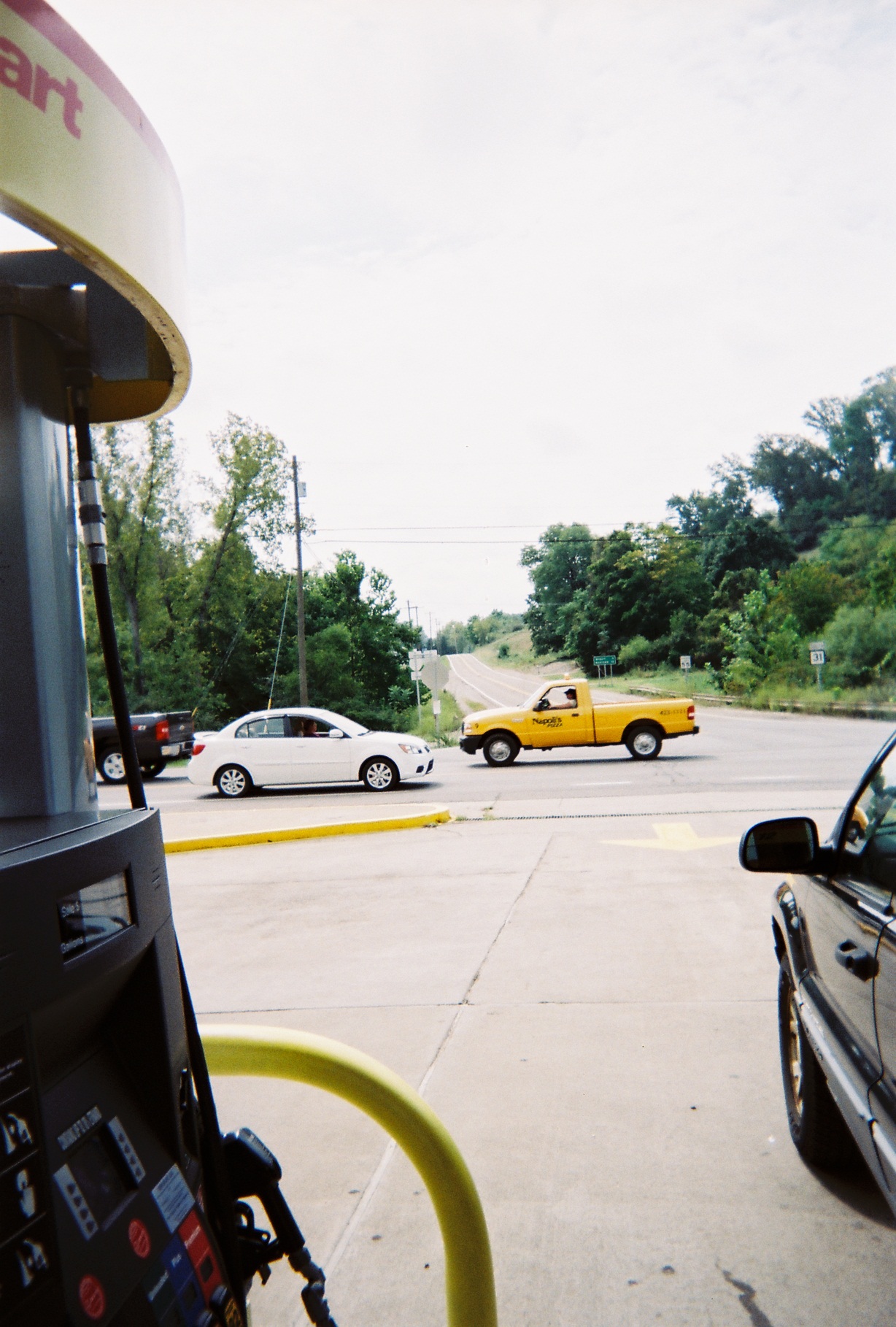 North end of WV-31 just west of the I-77/WV-14 interchange, taken from Pump 12
A heavy downpour starting around the I-79 terminus at I-77 north of Charleston, likely moisture broken away from the remnants of Hurricane Isaac, persuaded me to exit the Interstate at the State Capitol exit (WV-114), when of course the rain stopped. Time for lunch.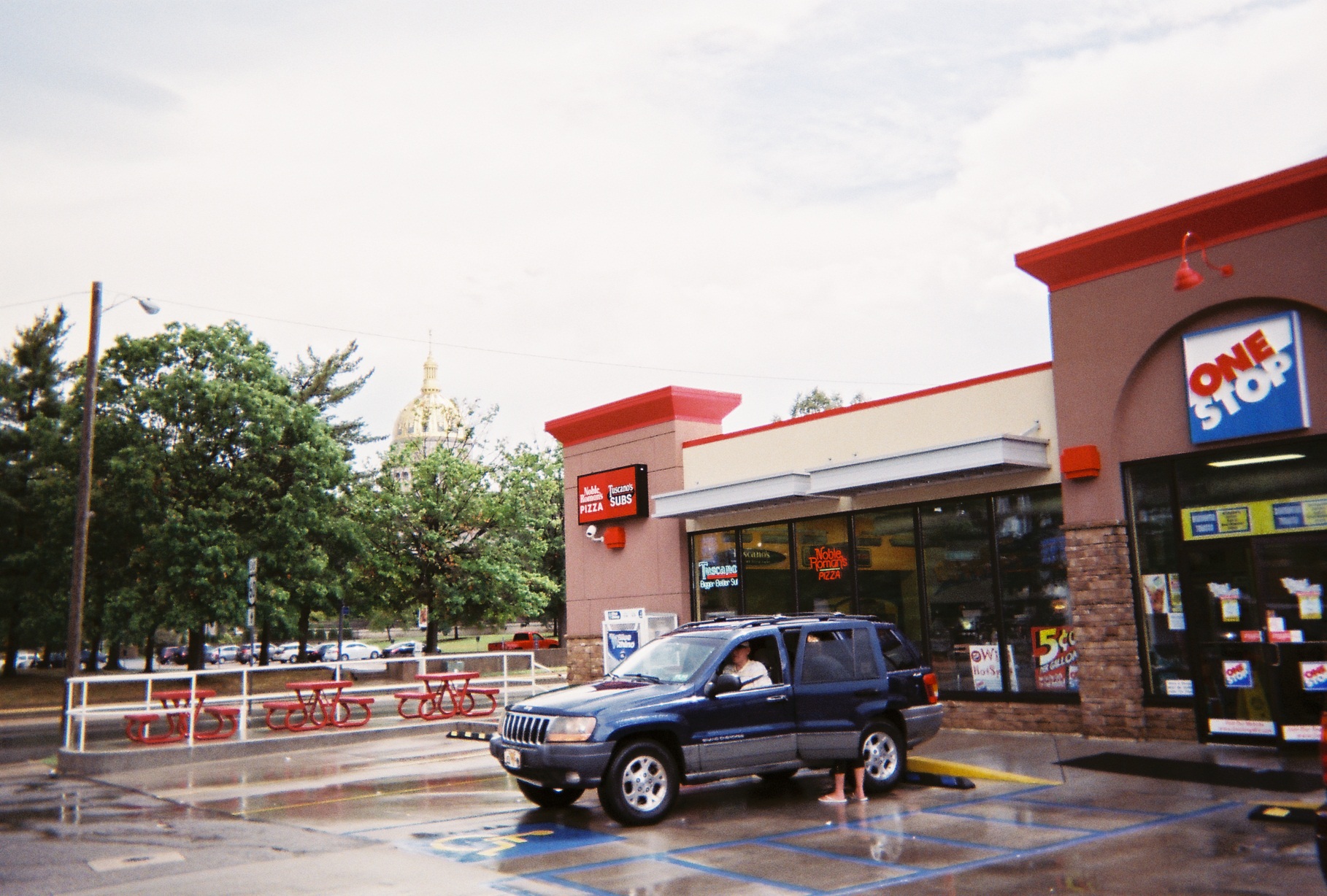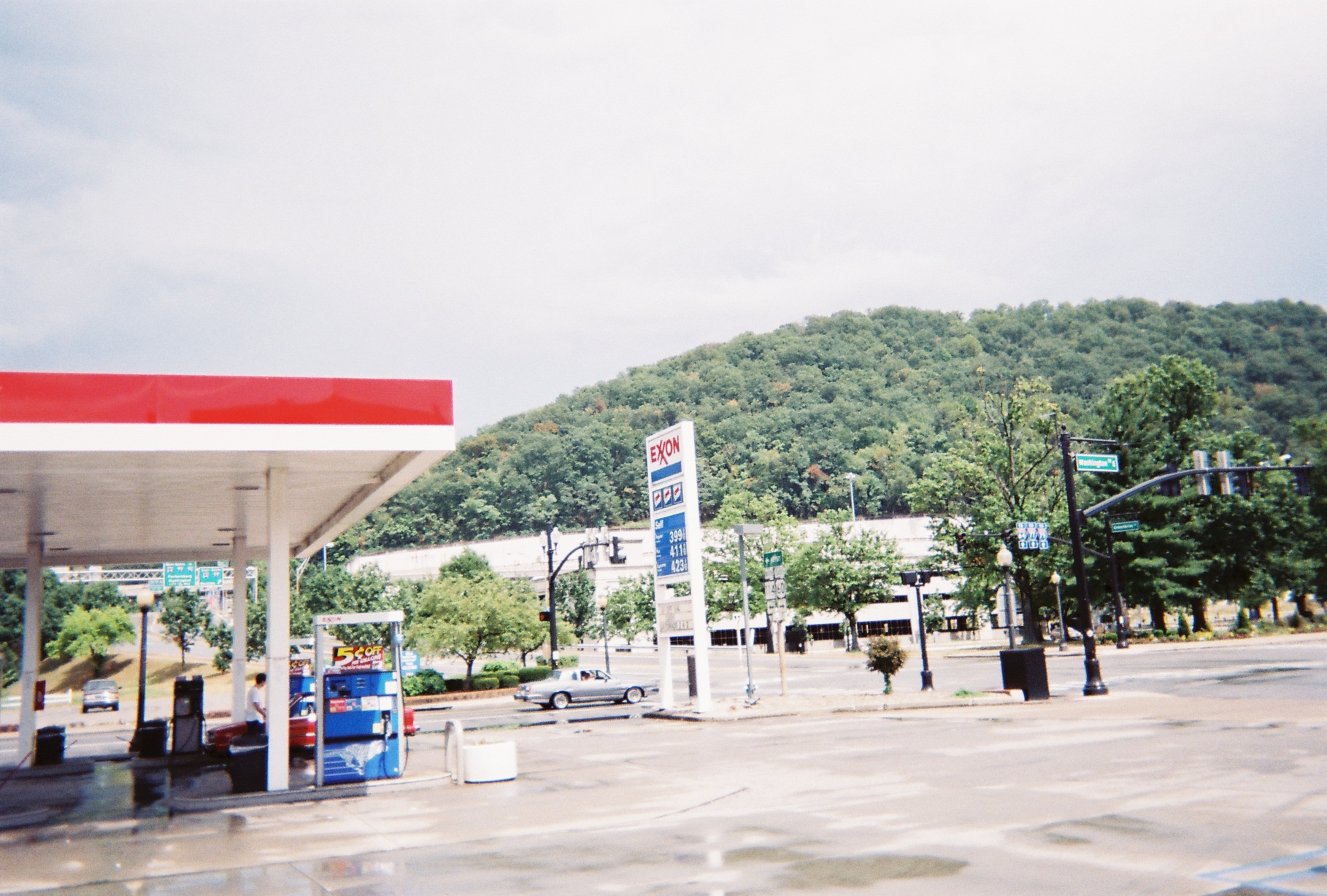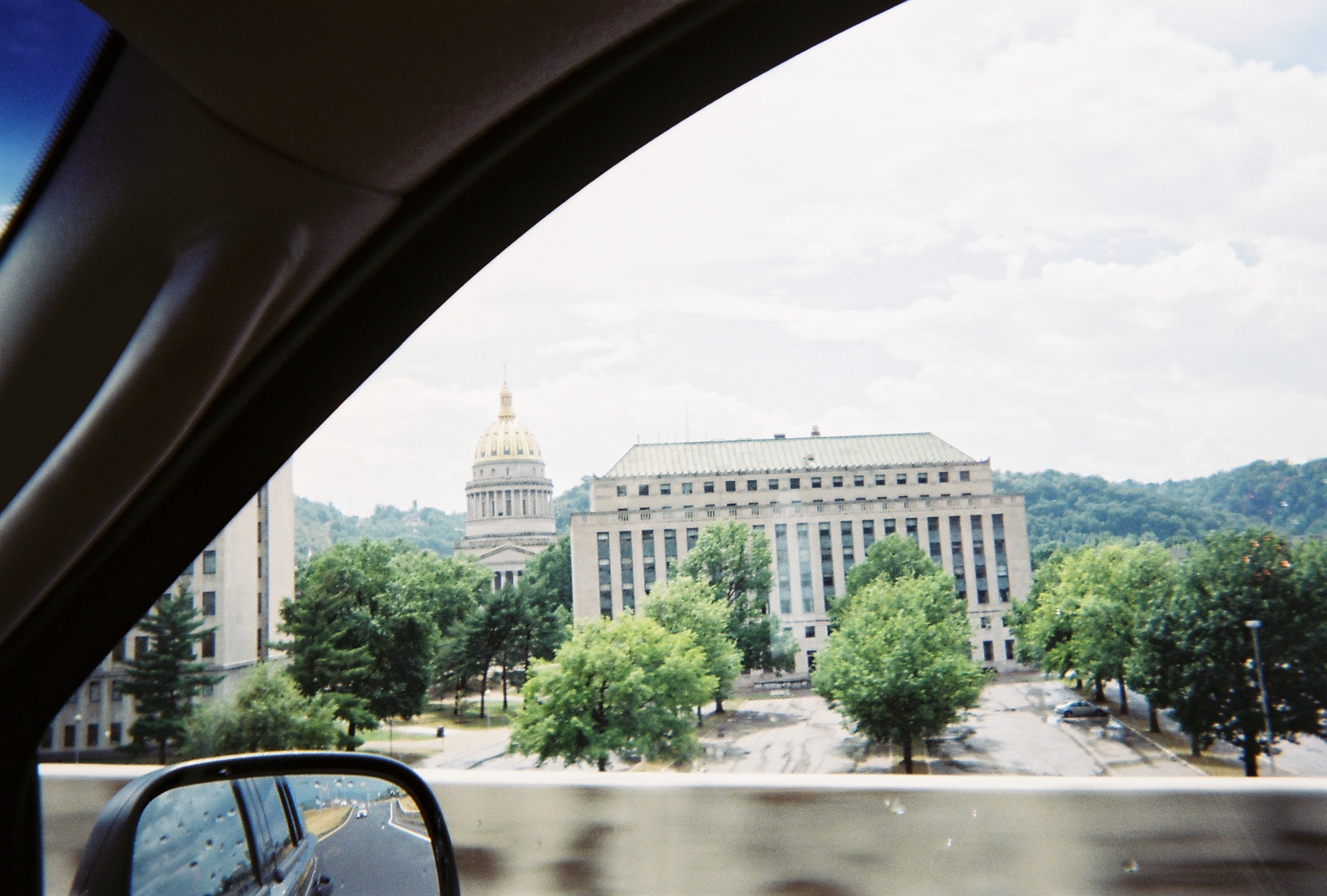 Reentering 64/77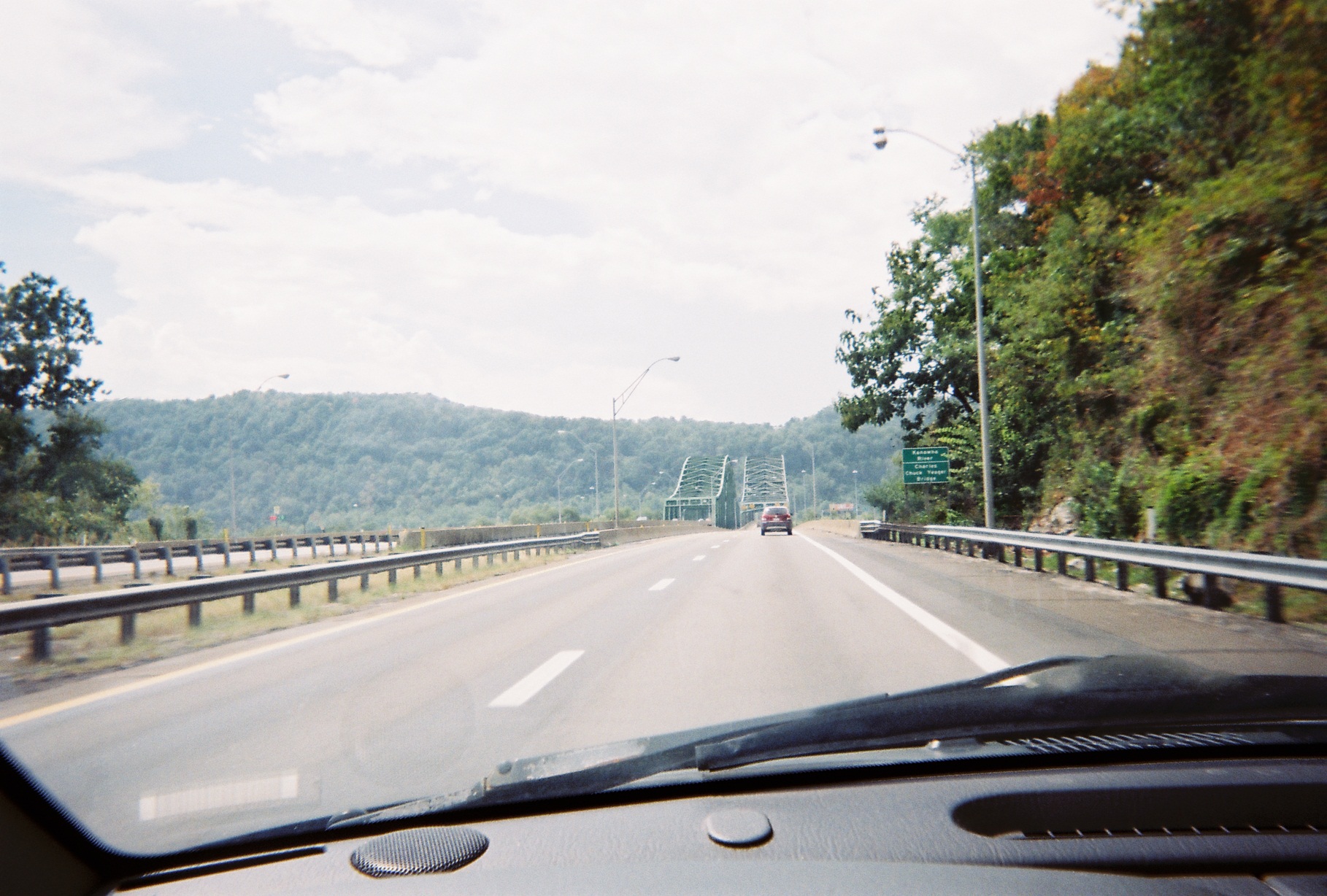 Chuck Yeager Bridge over the Kanawha River. At the West Virginia Turnpike interchange with US-60 north of here, Turnpike traffic just exited can reenter in the same direction due the extension of I-64/77.
Of course the West Virginia Turnpike looks different from my 1982 trip, when conversion from two-lane undivided to freeway grade was ongoing. The vestige of the last portion to be upgraded, the Memorial Tunnel south of Charleston, still exists.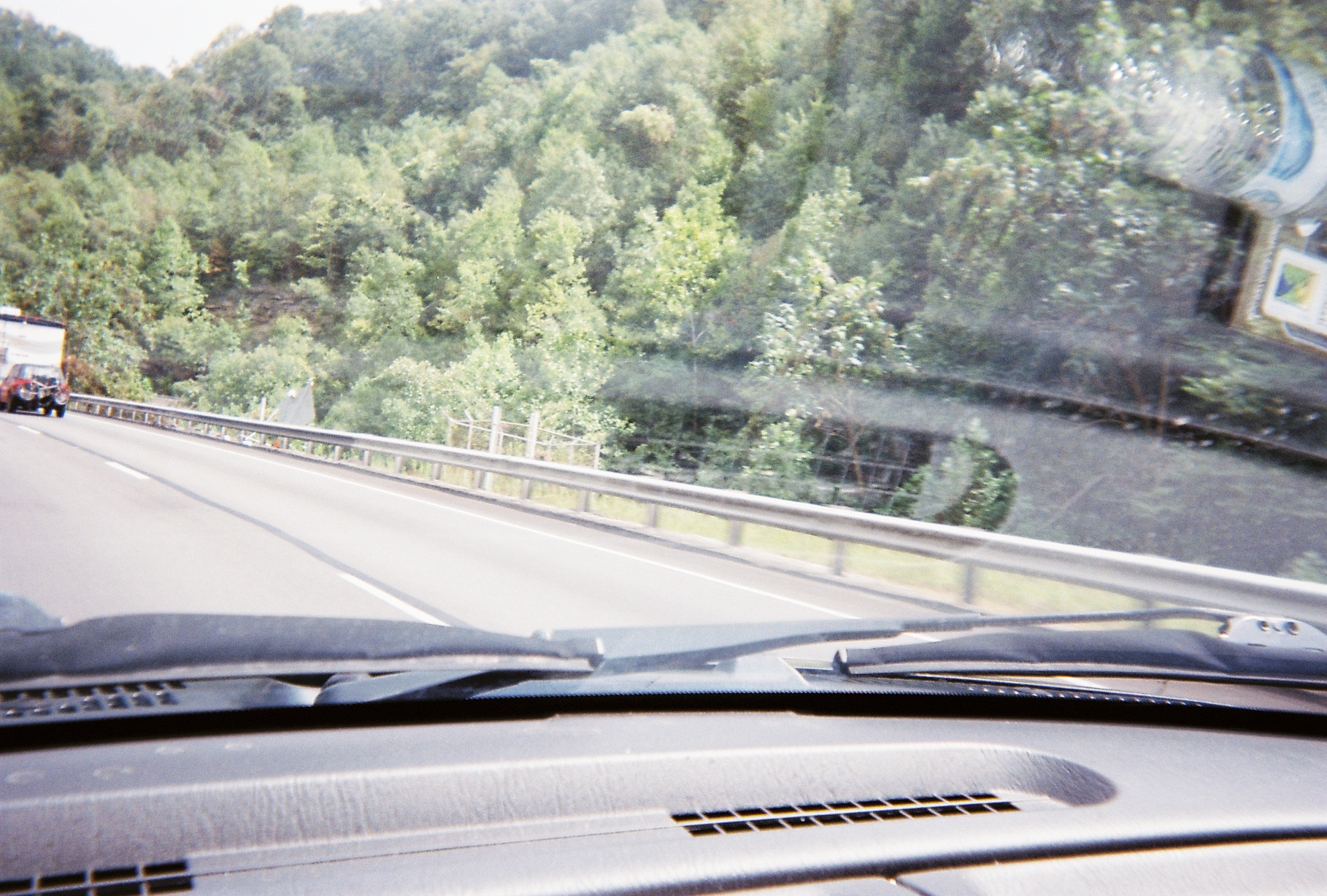 West portal (concrete on left of photo). The east portal, on Street View but not clear (couldn't turn around myself to take a photo), is more conspicuous, and strange-looking: As the bridge connecting to it was removed, it's just a hole in a wall, seeming to connect to a phantom road.
Just past the tunnel site. The extra arrow was added after November 2007 (date on Street View) because the one in the normal position is obscured by the rock wall until the last minute.
The Turnpike now has a series of permanent detours posted.
Where I-64 eastbound diverges from I-77 southbound, there are large numerals designating which goes where. Route numbers painted on pavement at splits seem to be common now in every state we visited on this trip, but this instance is notable as the numbers are more prominent due to the dip to cross over over Piney Creek just before the split. Also, I-64 WB parallels I-77 SB for about a mile from the split until the interchange proper.
The transition from hills to mountains on I-77 seems to be around Ghent, between Beckley and the Virginia line.
Tunnel where I-77/US-52 cross into Virginia. There was another fully in Virginia later on.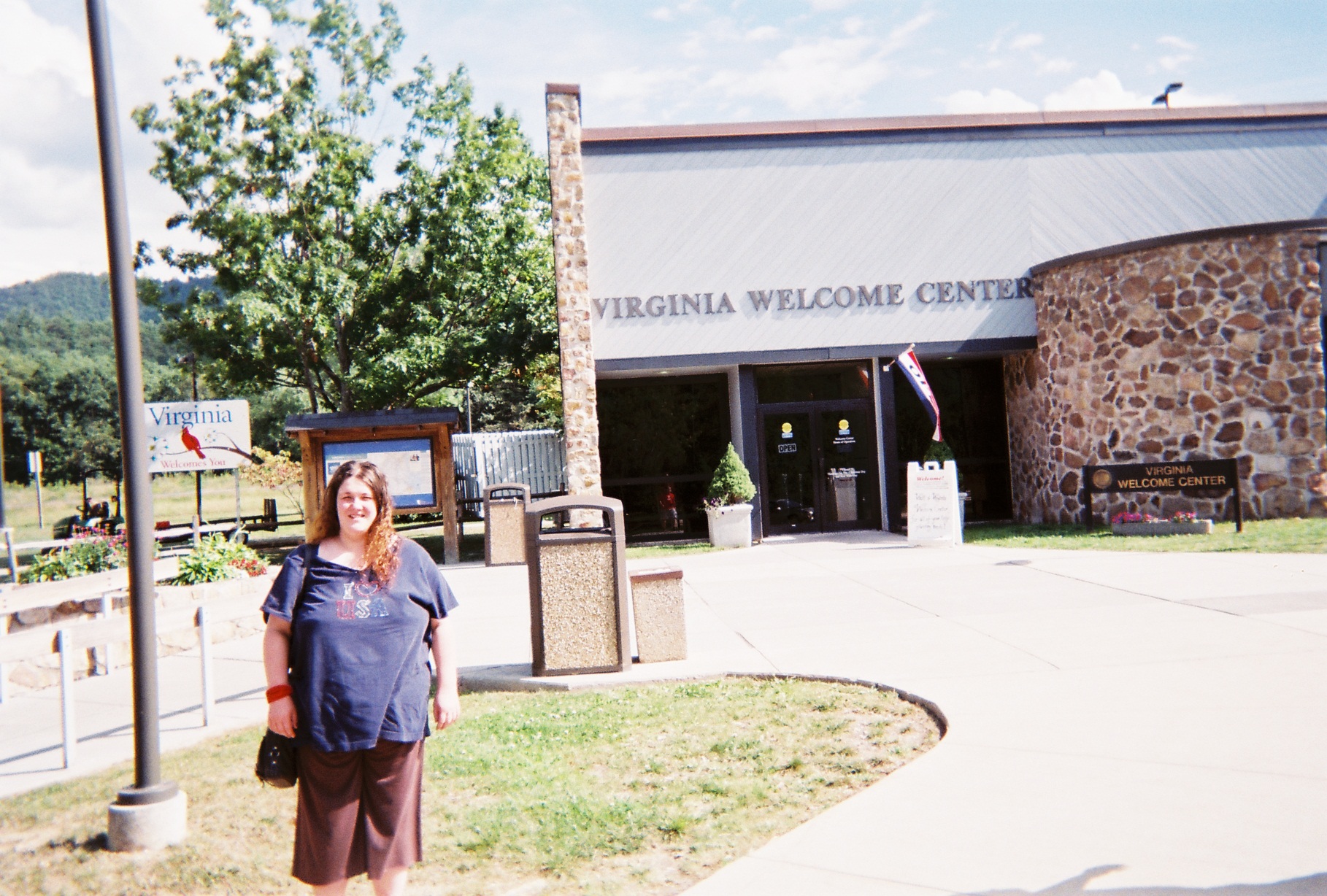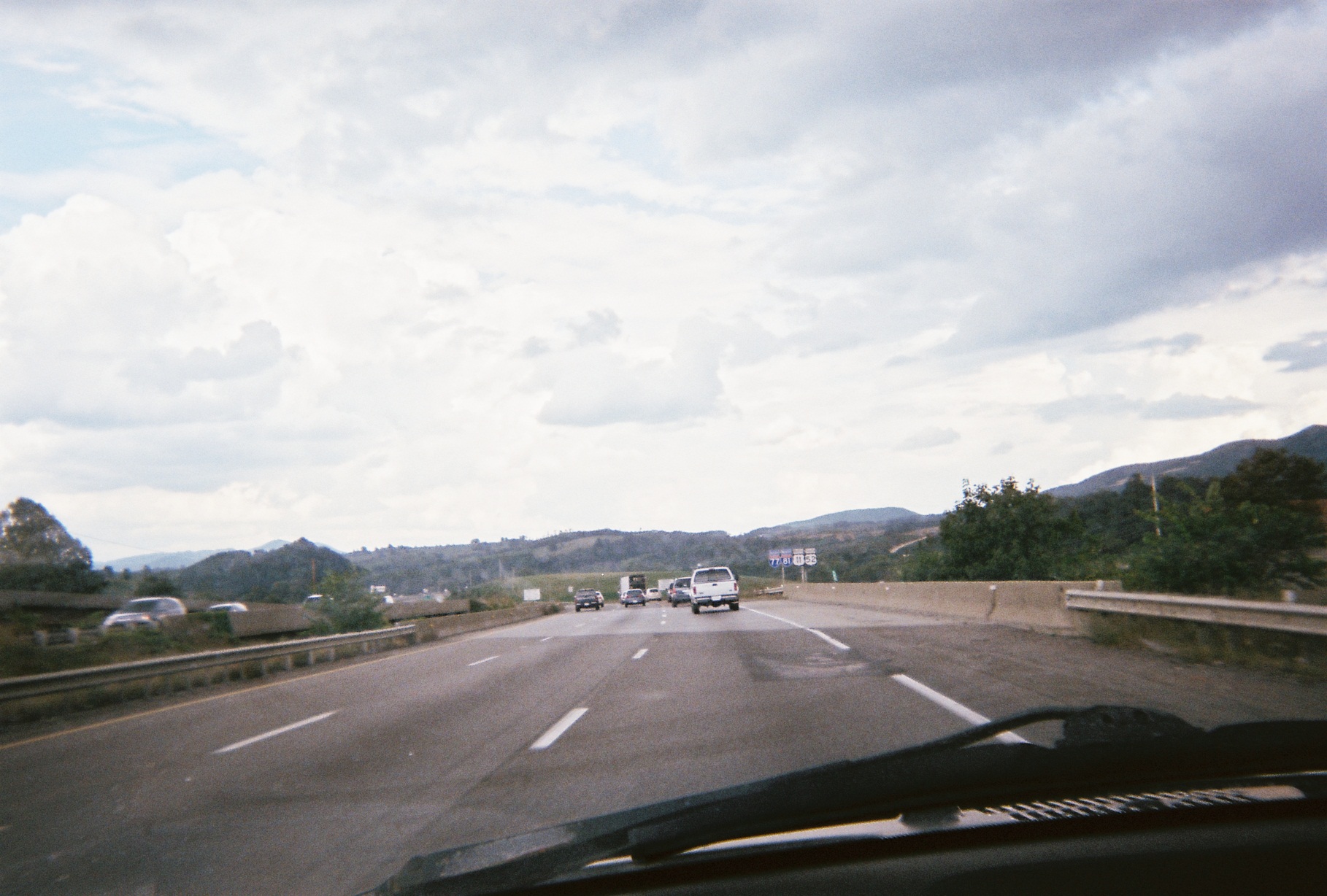 My souvenir of my time on the 77 South/81 North/11 North/52 South up/down/down/up-and-sideways highway overlap (the even-numbered U.S. routes generally go east-west but 52 is diagonal)
On my wish list now: Truck lanes on I-77 in Virginia south of I-81. They worked well in respective places in other states that I saw on this year's and last year's trips, though I know that they'd be expensive. It's not so much that trucks are slow uphill but that the uphill and downhill sections, the latter of which having a little thing called gravity making the trucks speed up, are in quick succession. They could also stand to be added to I-75 north of Knoxville in Tennessee, though traffic seemed a bit lighter there and the drive not as awkward.
Blue Ridge Parkway over I-77 just north of the North Carolina line. We by far were not done with that road on this trip.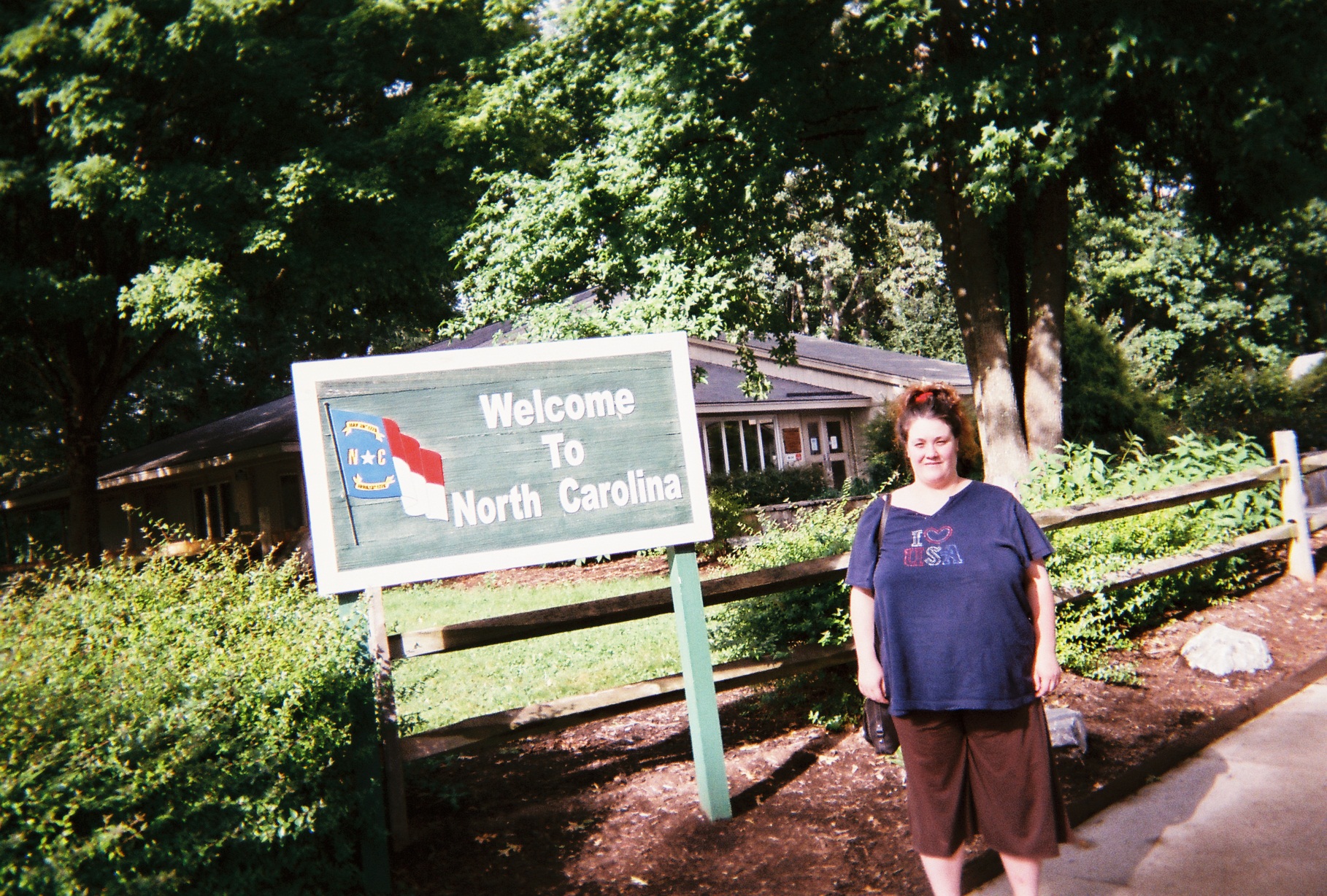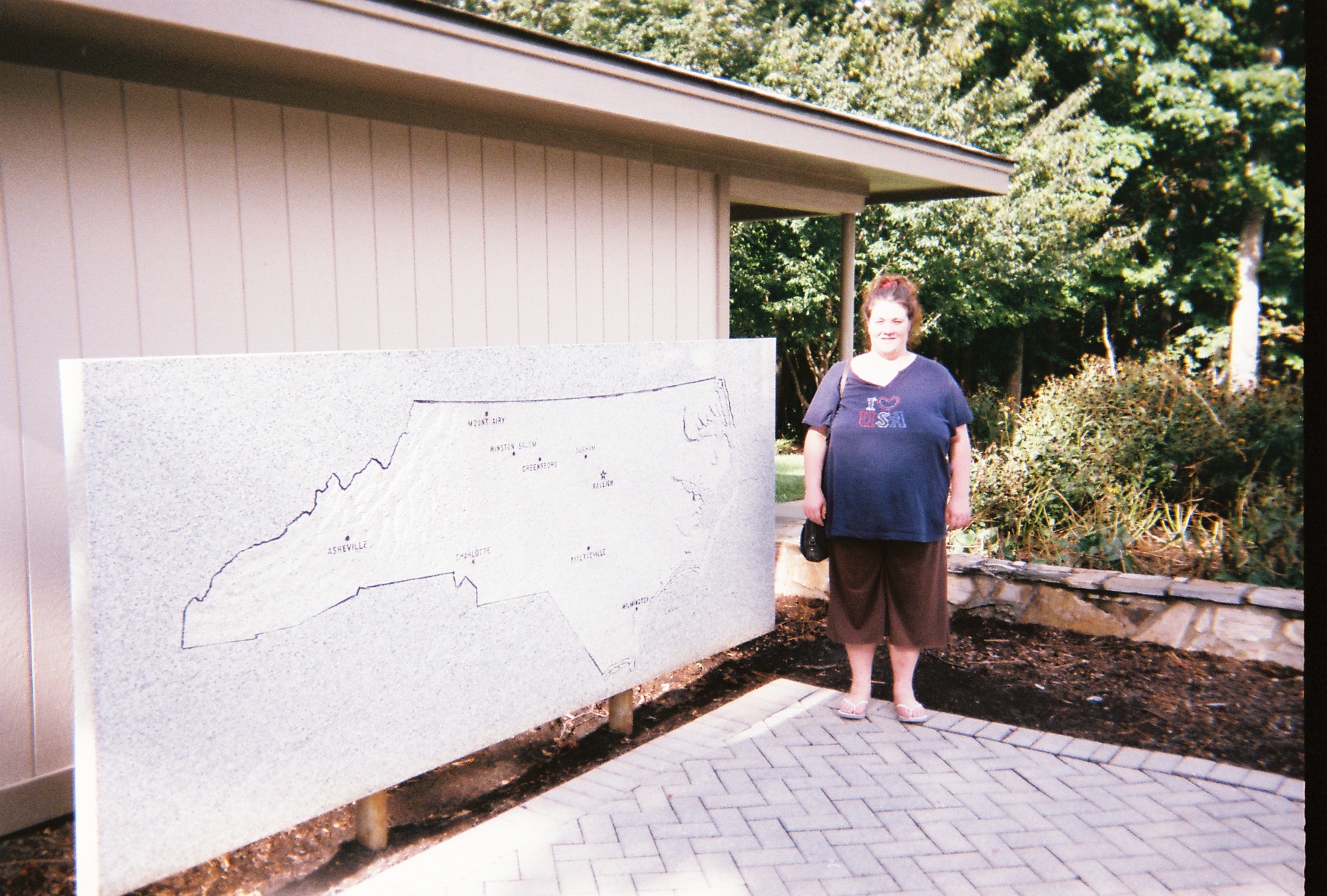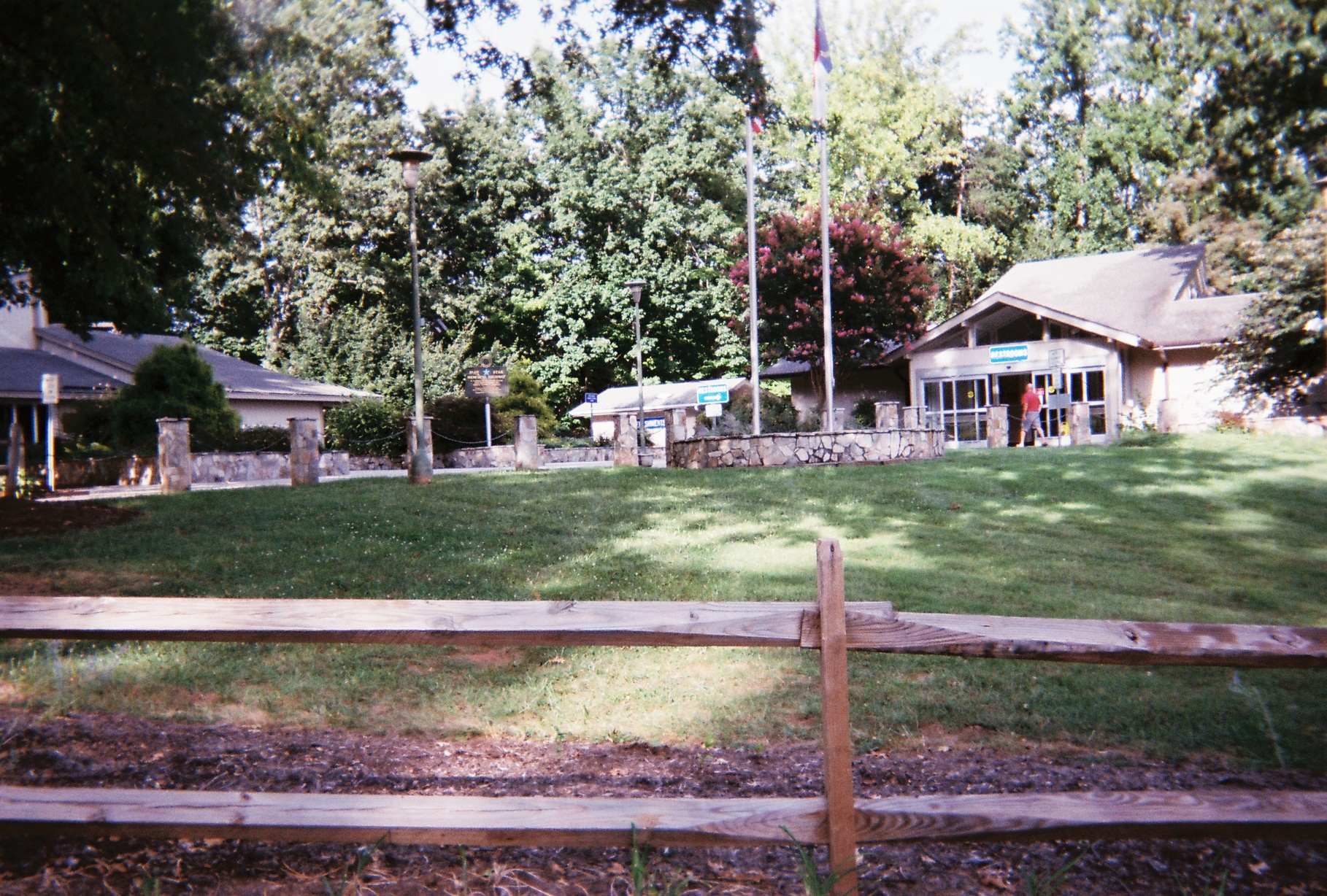 North Carolina Welcome Center. Just closed, or we would have had a clean sweep of welcome center visits on the first day. A box of state tourist guides was left outside for us, but no maps. With the short side trip on US-522 last year between PA and VA, it took us this long to get to a state not visited on that trip.
I-77 at I-40 at Statesville is a classic cloverleaf interchange by design but it's the first I've seen where one highway (I-77) has a distinct elevation change within it. This will likely be eliminated or lessened when needed upgrades are made soon.
It was apparent from the bowtie-shaped overpass that the interchange under construction at future Exit 35 on I-77 will be a single-point urban interchange ("SPUI").
Interesting going through the I-77/I-85 interchange, where I-77 crosses over itself. (There are other interchanges like this.) There are upgrades planned for this section of 77 as well but it doesn't appear that 77 will be "undone" at the interchange.
Both of the two biggest cities that we traversed on Day 1 were during a downpour. Unfortunately, the only memory that I have of my first visit to Charlotte other than the traffic and the rain is a couple of glimpses of a blurry skyline. Also, because of the rain, this was the second year in a row that I took an exit by mistake (I was in an exit only lane and visibility was too poor to leave it) which turned out to be a collector/distributor lane which dumped me right back onto the Interstate (last year it was I-90/New York State Thruway at the US-219 merge south of Buffalo; this year was at the southern I-77/I-277 interchange). However, this year was different: I didn't remember that it was a C/D lane until I entered it, and traffic was worse due to the rain and likely the influx of cars for the Democratic National Convention (we likely also just missed traffic from the Republican National Convention on the trip as that was in Tampa the previous week). What we would have seen had it been clear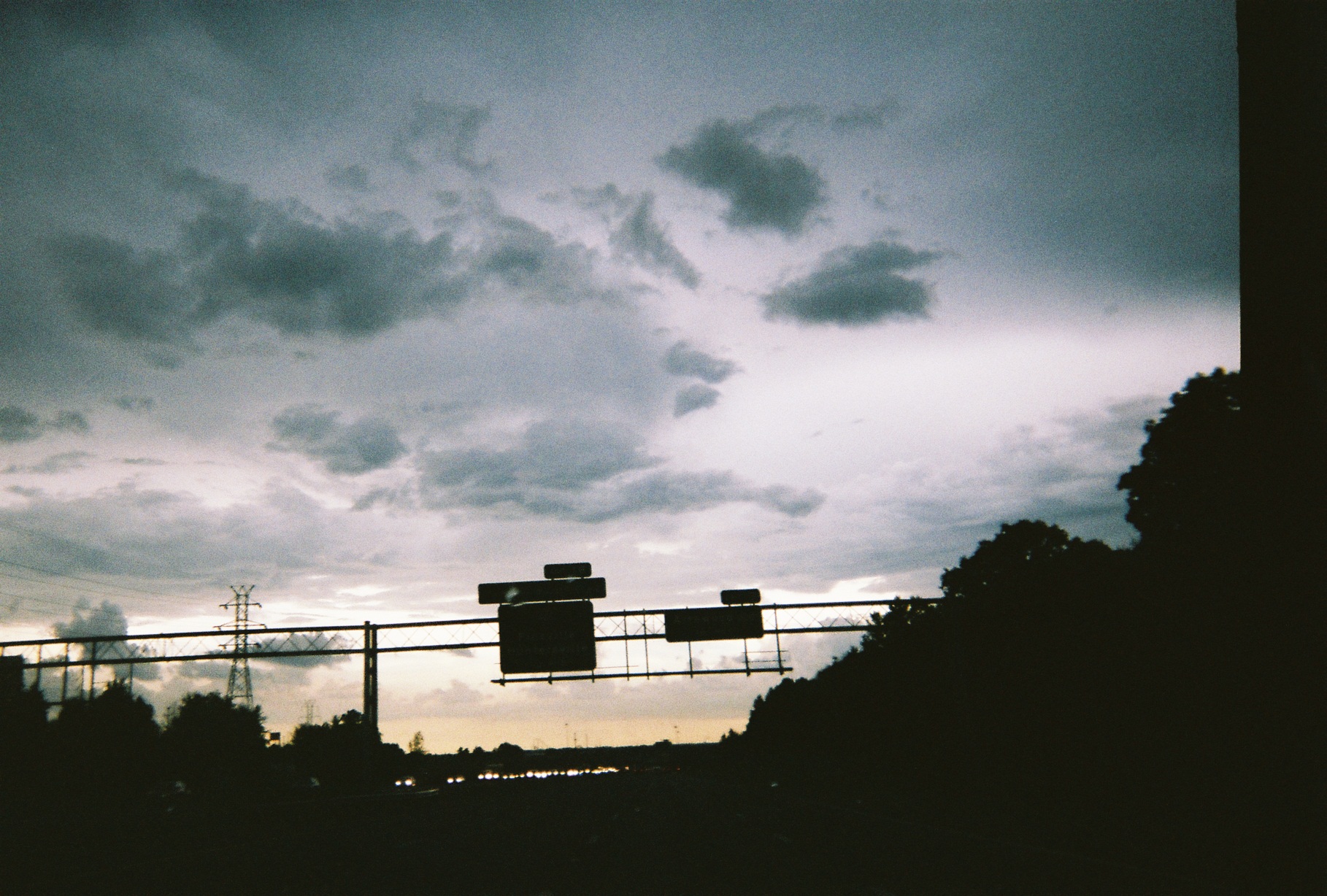 Silhouettes of roller coasters at Carowinds amusement park. If you could read the signs (daytime view) you'd see that that's a half-mile north of the I-485 interchange.
I had known about Carowinds before, but didn't realize that the North Carolina/South Carolina state line cut right through it. Considering, as was mentioned to me in the past, that operations were complicated in the former SeaWorld Ohio/Geauga Lake Park complex because that sat on the Geauga County/Portage County line, I can't imagine the situation at Carowinds. We stayed at a hotel across from the Carowinds main entrance; picked up a small dinner at nearby Fort Mill BBQ.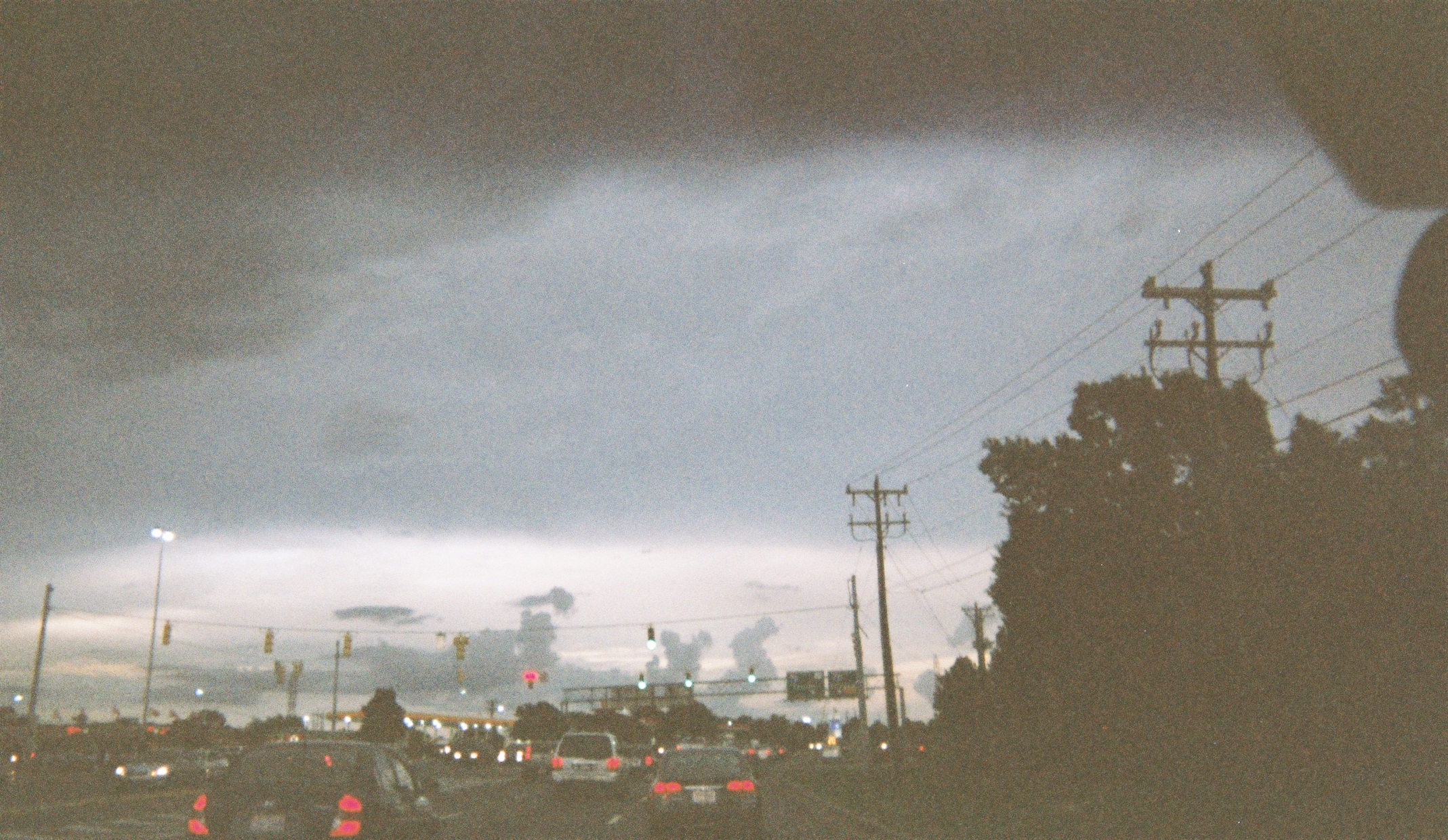 Another in the series of similarly-posted signals: Compare to Penn Twp. Indiana in 2009 and Ebensburg, Pennsylvania in 2011. There is one noticeable difference|difference though.
Sunday, September 2, 2012 (Fort Mill, South Carolina to Orlando, Florida)
(Mile 555) Carowinds coasters from the motel parking lot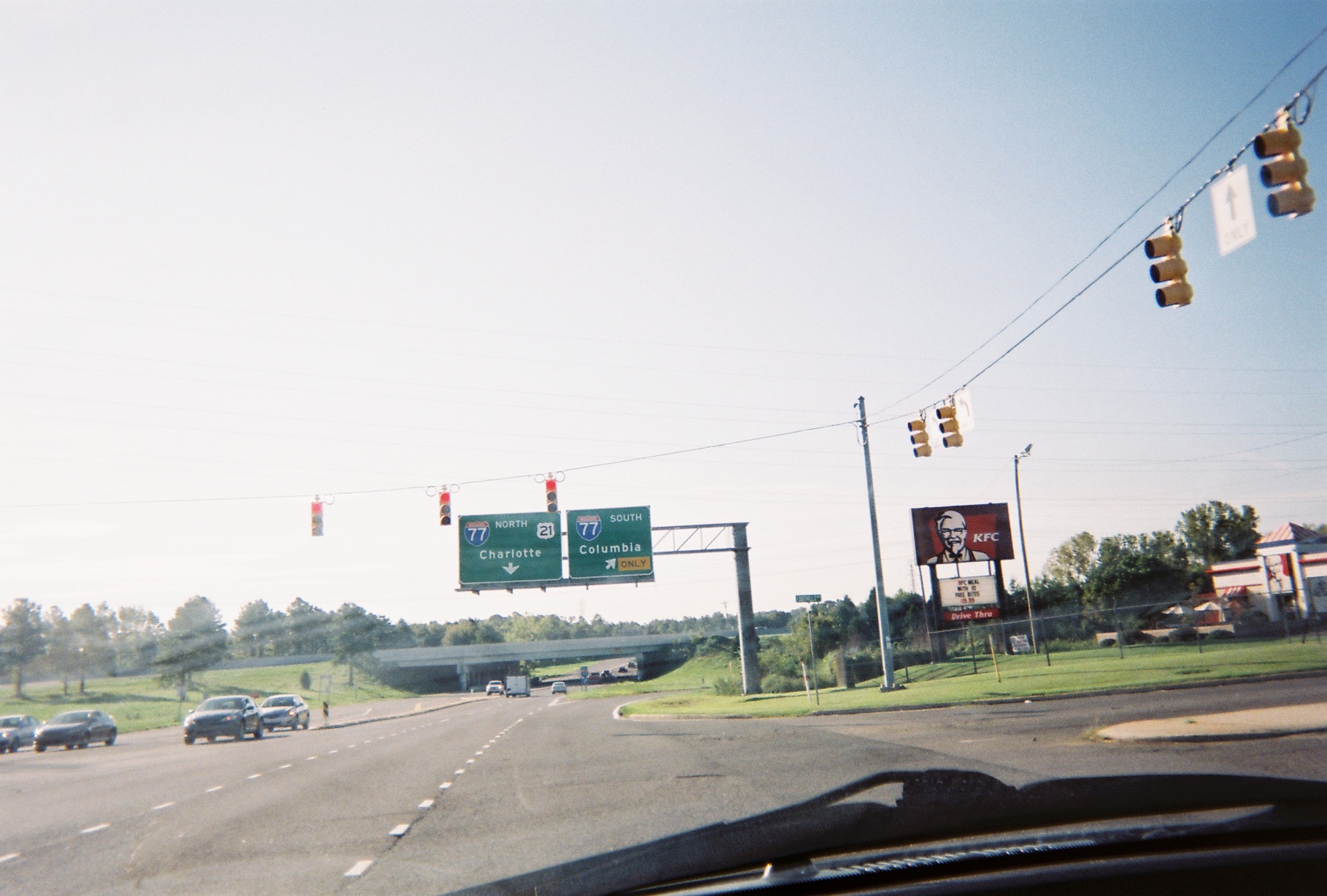 Heading out on the road. Note the South Carolina practice of putting outlines around shields for U.S. and older state highway markers (more on that later) on guide signs (the set of signs just after the signs pictured in the signal photo above). Another S.C. quirk is white-on-black road identifiers on overpasses, sometimes mixed with older black-on-white ones, usually noting roads in the secondary highway system, explained in this document describing Sign 54 (Carowinds Blvd. in the photo is theoretically S-46-1441, 46 being the numeric code for York County, though I didn't see any signs myself identifying it as such).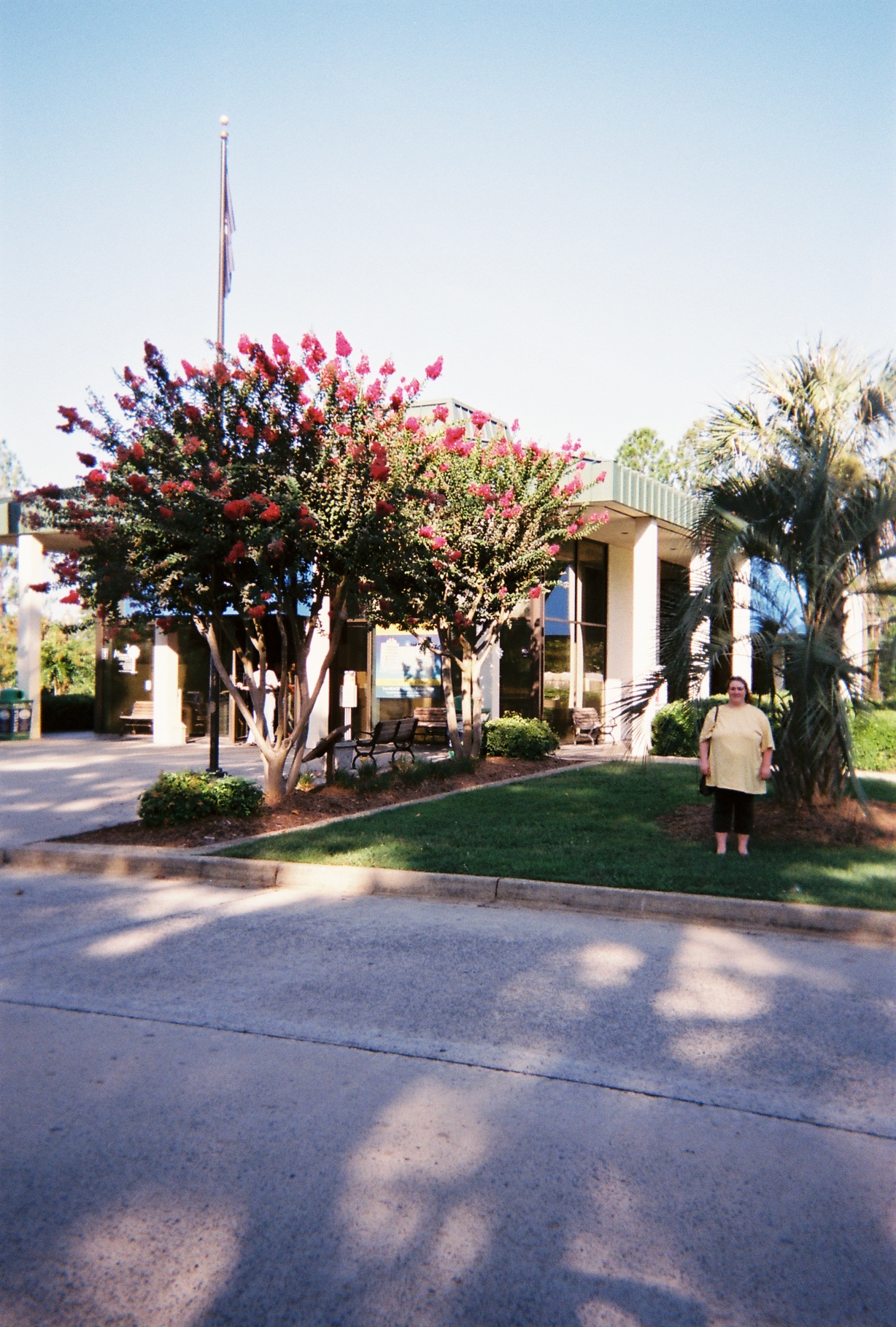 ...But not on the road for long. The Welcome Center was only about a mile south.
South Carolina was nice, but I can see how Interstates get the reputation for being boring and impersonal, as most of the Interstates in South Carolina were framed by trees (as was most of I-40 in N.C. in the piedmont). It was not like this the whole way, but it predominated, and I know that it was not all forest, as I cound see open areas through periodic breaks in the trees. It was even like this for the most part on I-77 around Columbia, except for there being more utilities, etc. I understand the reason for the natural barrier, but it seems more extreme than other states' rights-of-way, and their highways need separating just the same. (Of course, the antithesis to this was I-75 later on between Florida's Turnpike and Atlanta, which has billboards a-plenty.)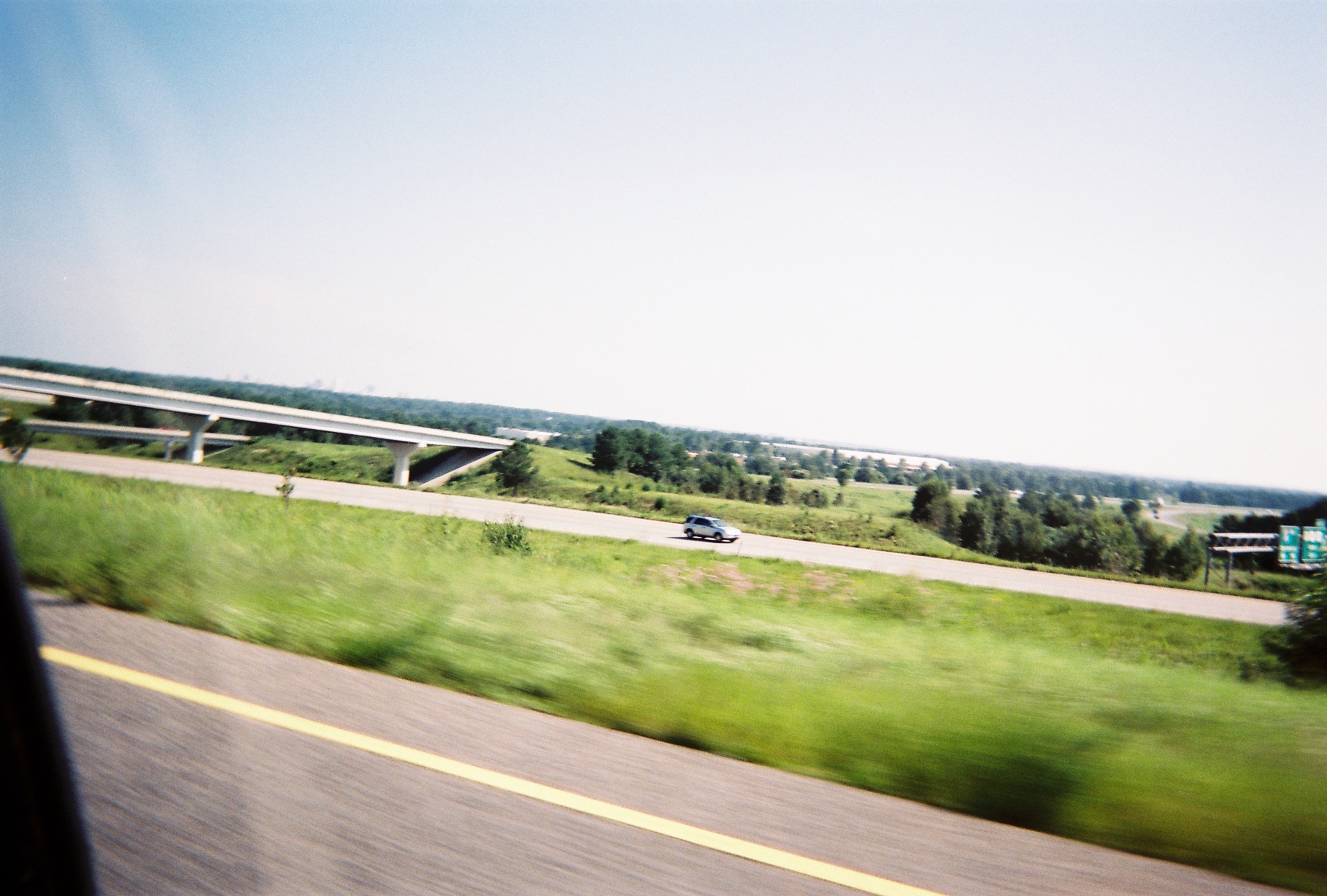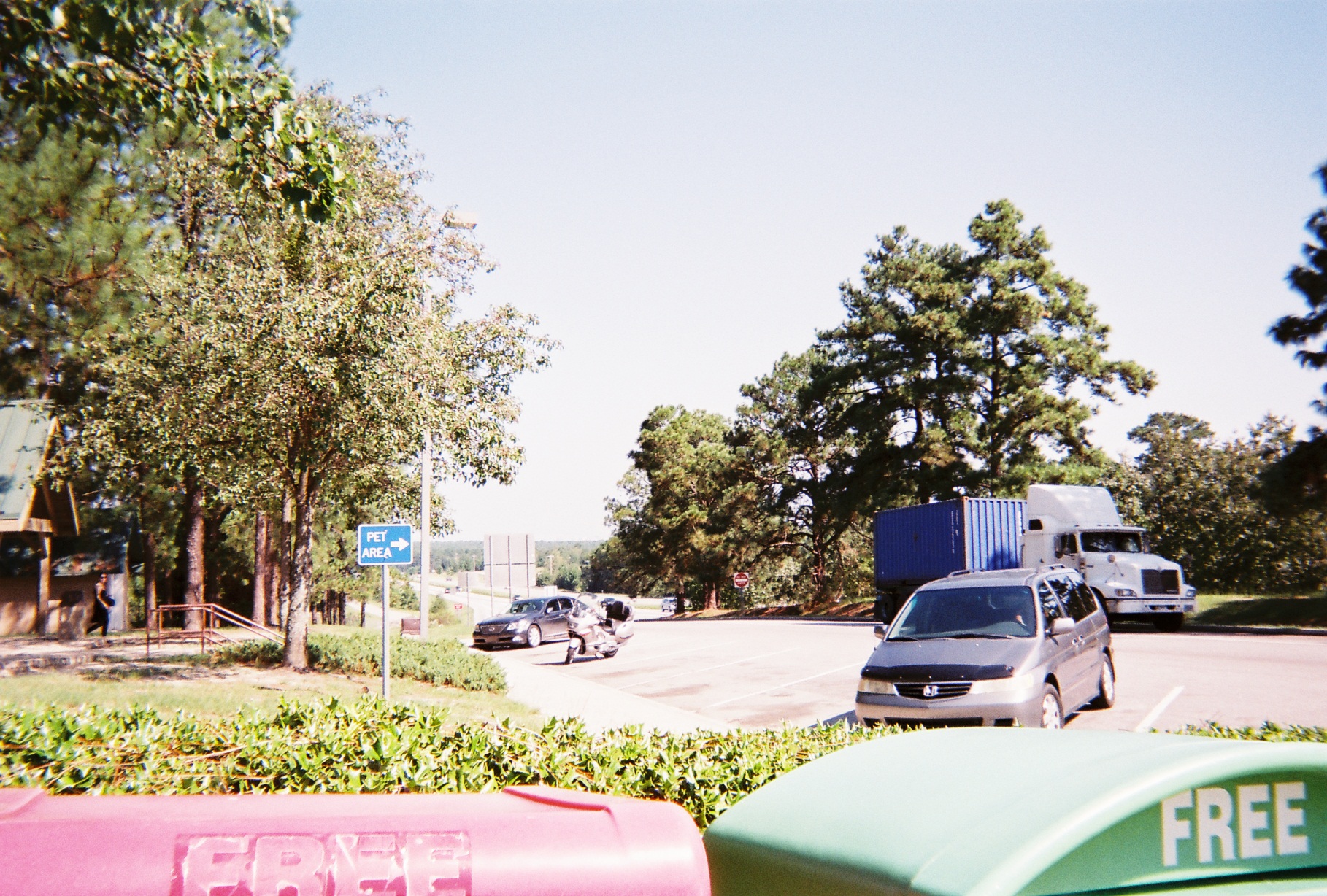 Columbia's skyline finally reveals itself, at I-77's end at I-26 then at I-26's rest area just to the southeast (in the latter it's barely visible above the motorcycle).
When we merged onto I-26 I had "clinched" (been on the entirety of) I-77 as I've been on I-77 north of Akron before. This was my first time on I-77 south of I-81.
Interesting floral artwork inside the I-26/US-601 cloverleaf to break up the tree enclosure (spin Street View around 360 degrees).
With Florida-bound traffic from part of the southern Great Lakes and mid-Appalachia merging with traffic from the coastal Northeast and Mid-Atlantic states at the I-26/I-95 interchange, I'm surprised that I-26 eastbound to I-95 southbound is a single-lane ramp, and that I-95 is only two lanes in each direction for a distance south of there, but it worked, at least on that Labor Day Saturday.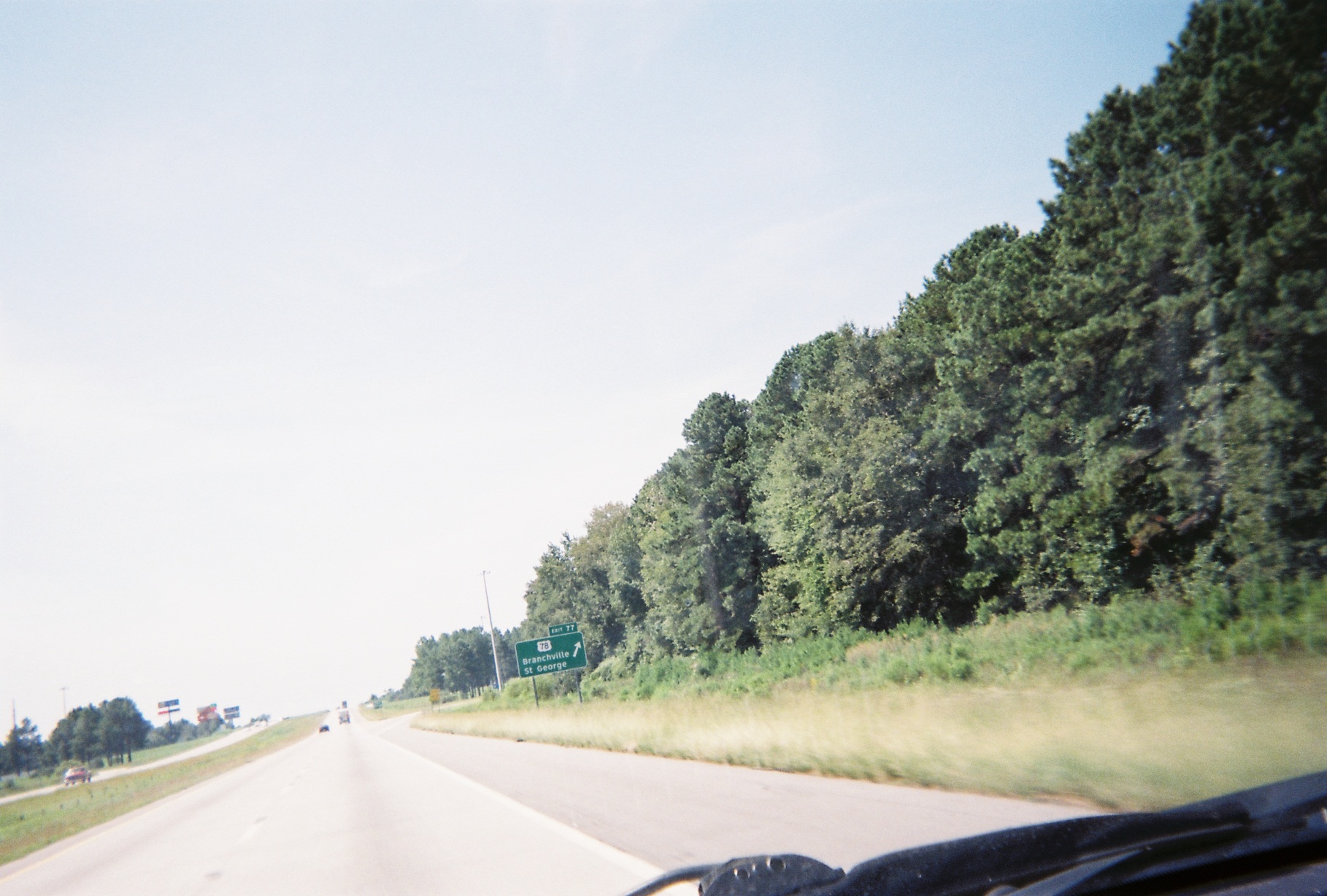 New signage on I-95 which includes Clearview writing. Note that the outline is maintained for US-78; signs with Clearview were the only ones that I saw with the new-style state route marker.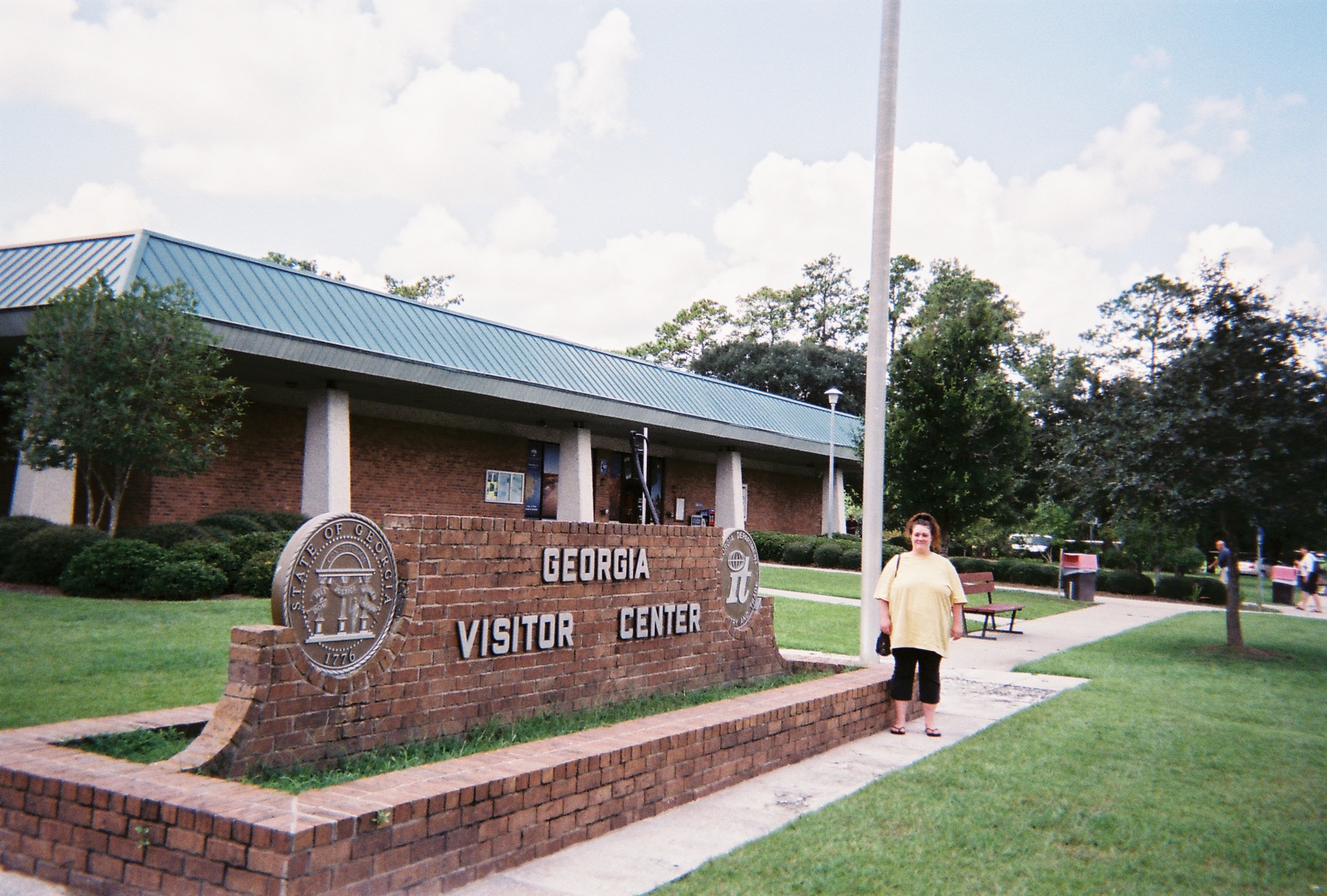 Georgia Visitor Center. The set up here is unusual as the main building is "sideways", causing the access road for cars to jog around it. We briefly discussed a side trip to Savannah but decided to save it for another trip.
(Mile 828) Exit 67 on I-95, US-17/GA-25 south of Riceboro. There was right turn only out of the gas station so in turning around we got to learn about Bulltown Swamp. We then ate at the McDonald's whose sign is in the photo.
The relatively new Sidney Lanier Bridge in Georgia is visible from a distance on I-95, and for a while its cables are invisible.
There is a new interchange on I-95 in Georgia, Exit 22/Horsestamp Church Road, a standard diamond interchange. Unfortunately, someone ordered a left merge sign for I-95 southbound rather than a right merge one.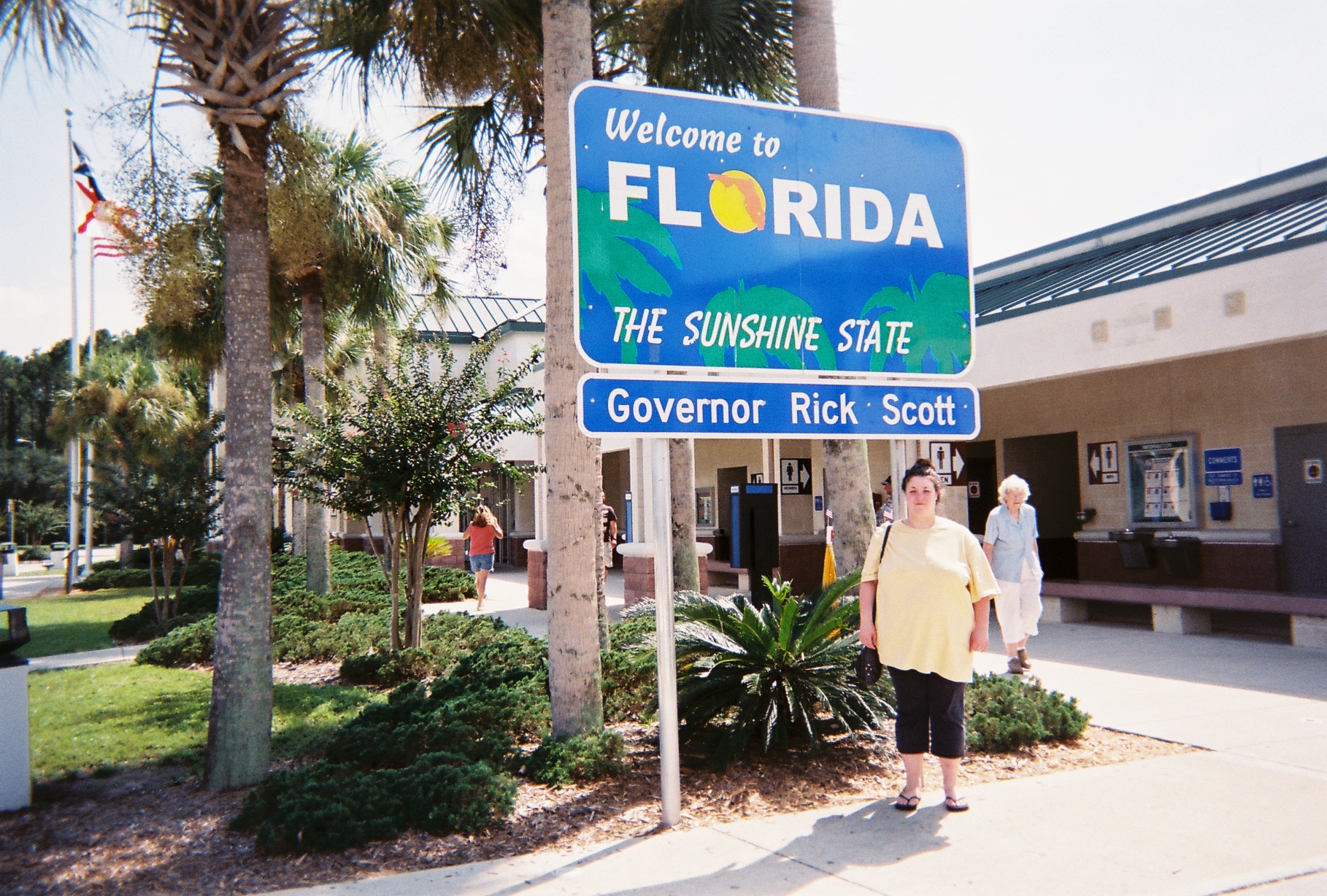 Florida Welcome Center – naturally there was free citrus juice.
Florida paints exit numbers on the hard shoulder just before the deceleration lane starts. Here's one that we would see later, on I-4 westbound at Exit 90. I also saw one or two like this in Georgia.
Jacksonville was the first large city without rain (or second, if you consider Columbia large), though there was still too much traffic for a photo, so here's the view of the skyline from I-95 southbound on the Fuller Warren Bridge crossing the St. Johns River. The newly-rebuilt interchange at I-95 and I-10 is well engineered, and, because of the ramp arrangements, I-95 southbound gets two exits to I-10.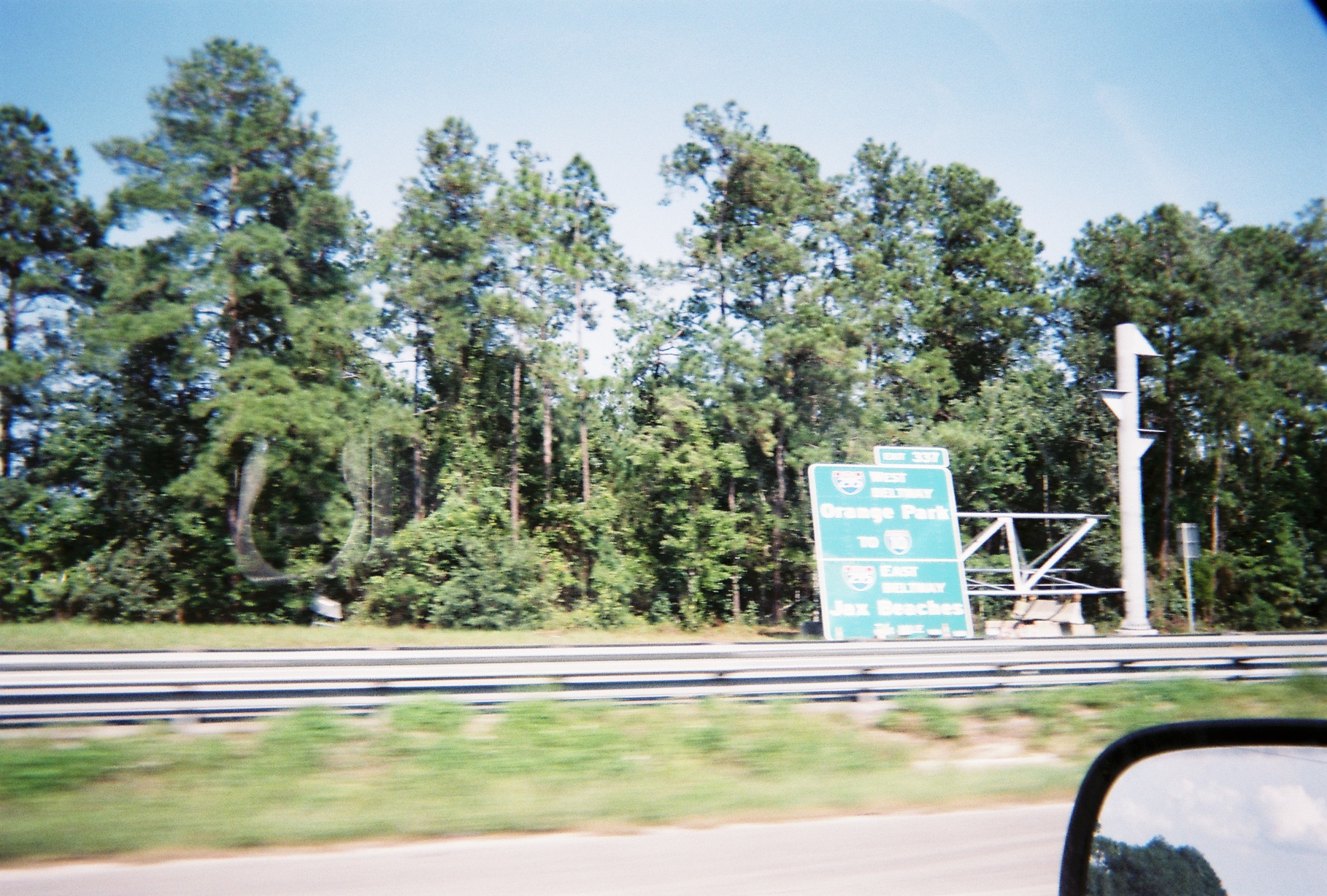 Overhead sign in the fetal stage
We exited I-95 at Florida SR-16 to St. Augustine. SR-16 is a superstreet there, so through traffic can continue where left turns are signalized. Often there are green thru arrow signal heads in this situation, but SR-16 here has double signal heads. A couple miles later, there is a business with a well-drawn but unfortunately inappropriate route shield.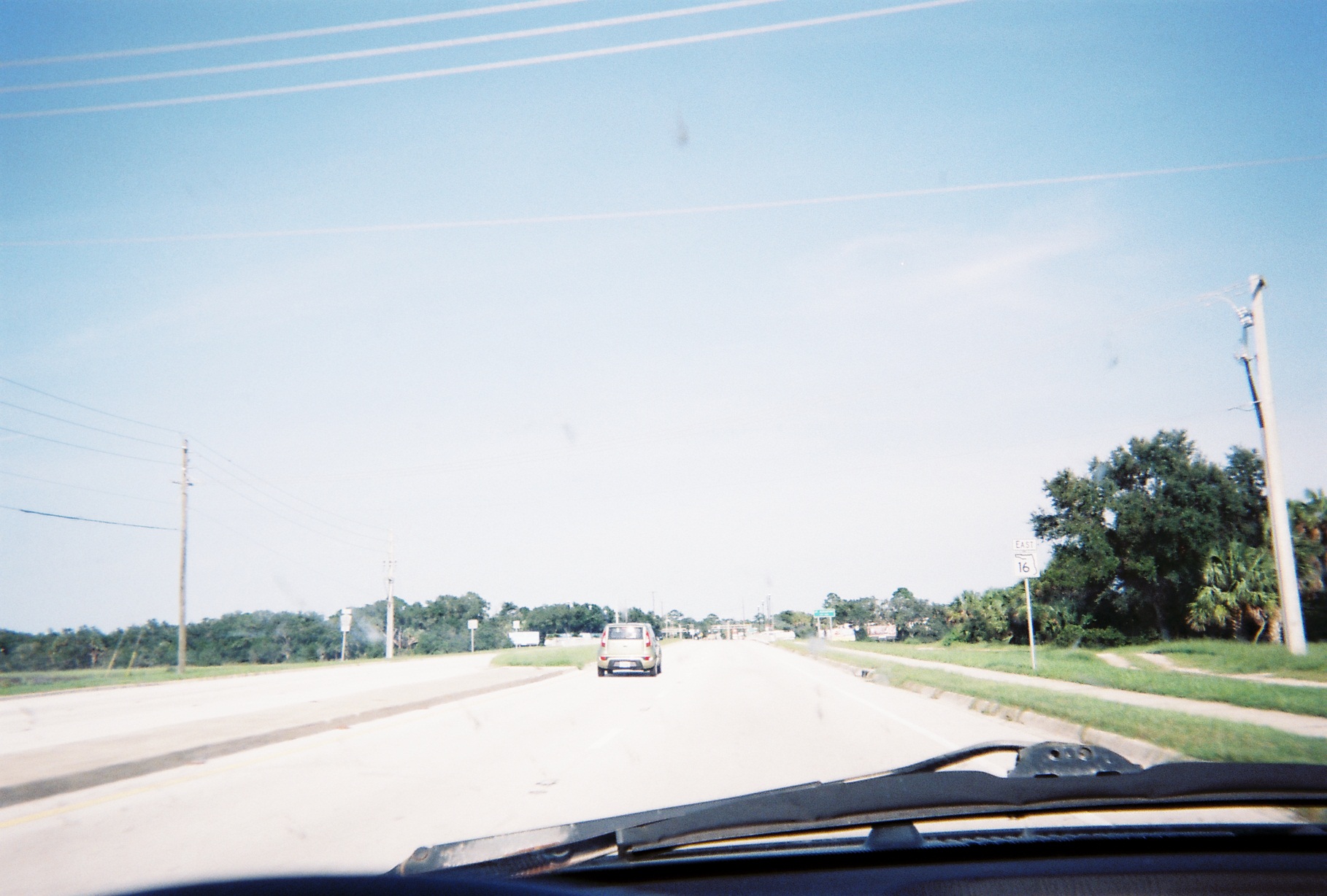 St. Augustine city limits; ahead are the San Sebastian River bridge, railroad crossing, and US-1
I was happy to be in St. Augustine, one of my favorite places from childhood. We drove past Castillo de San Marcos and across the recently-refurbished Bridge of Lions on SR-A1A.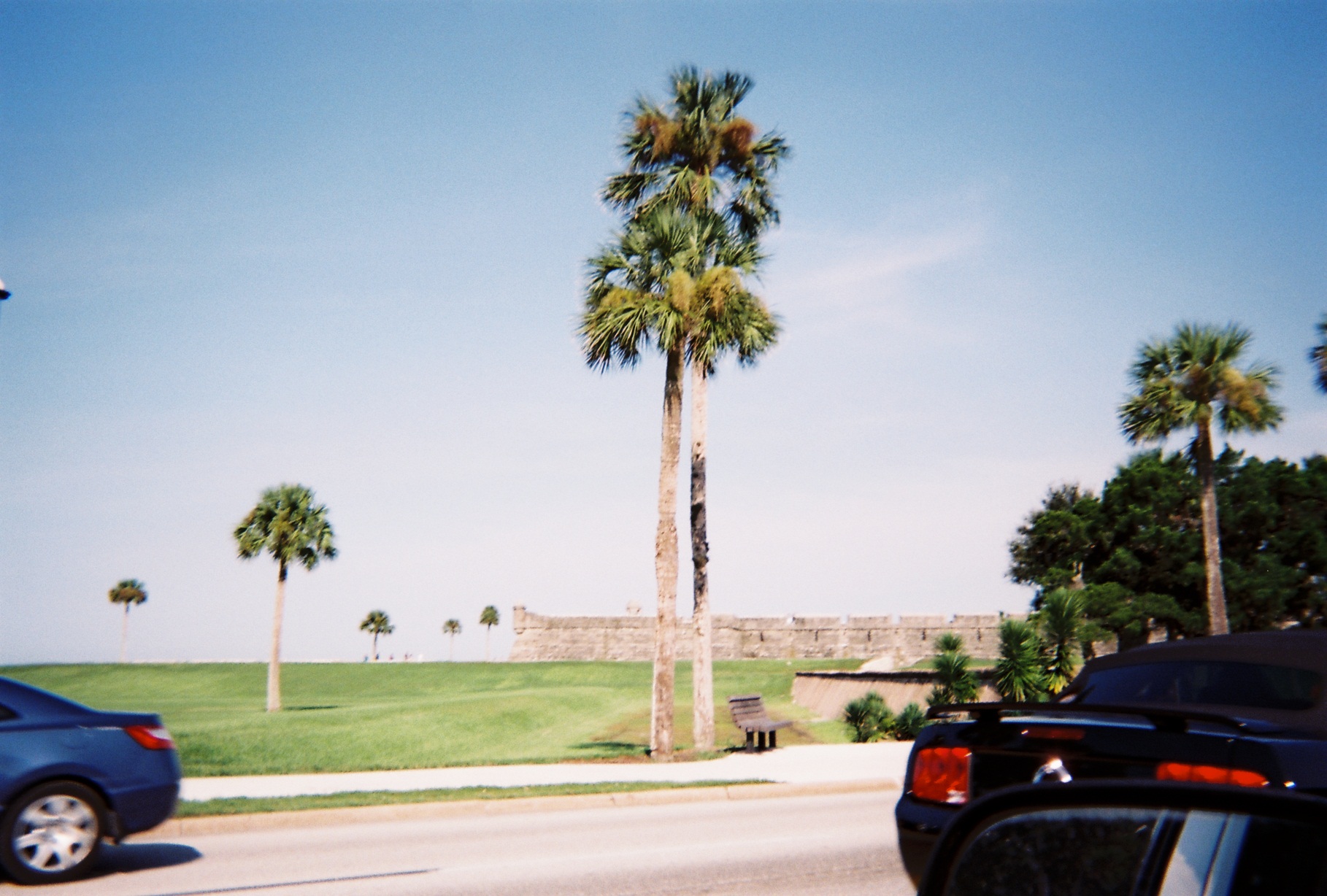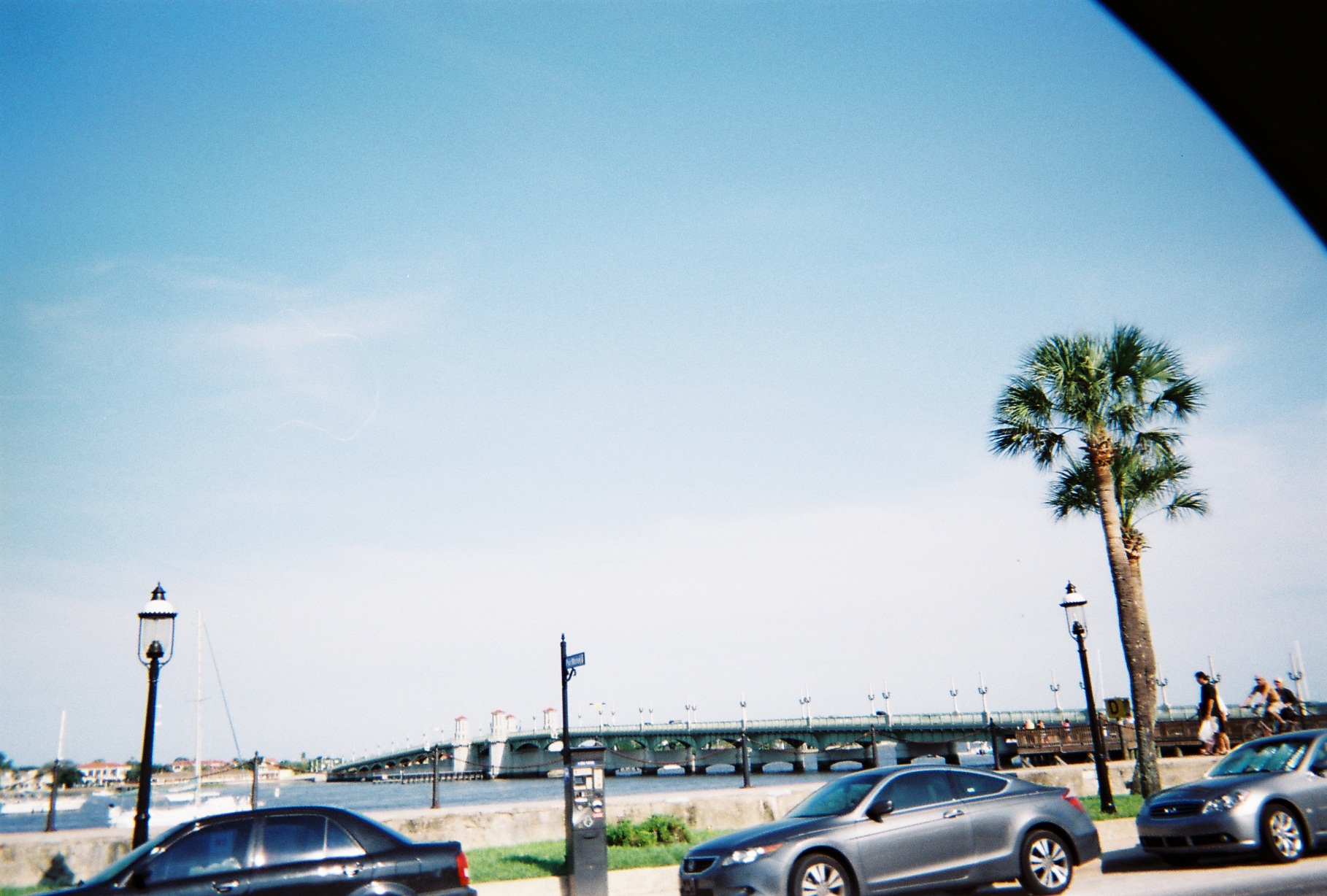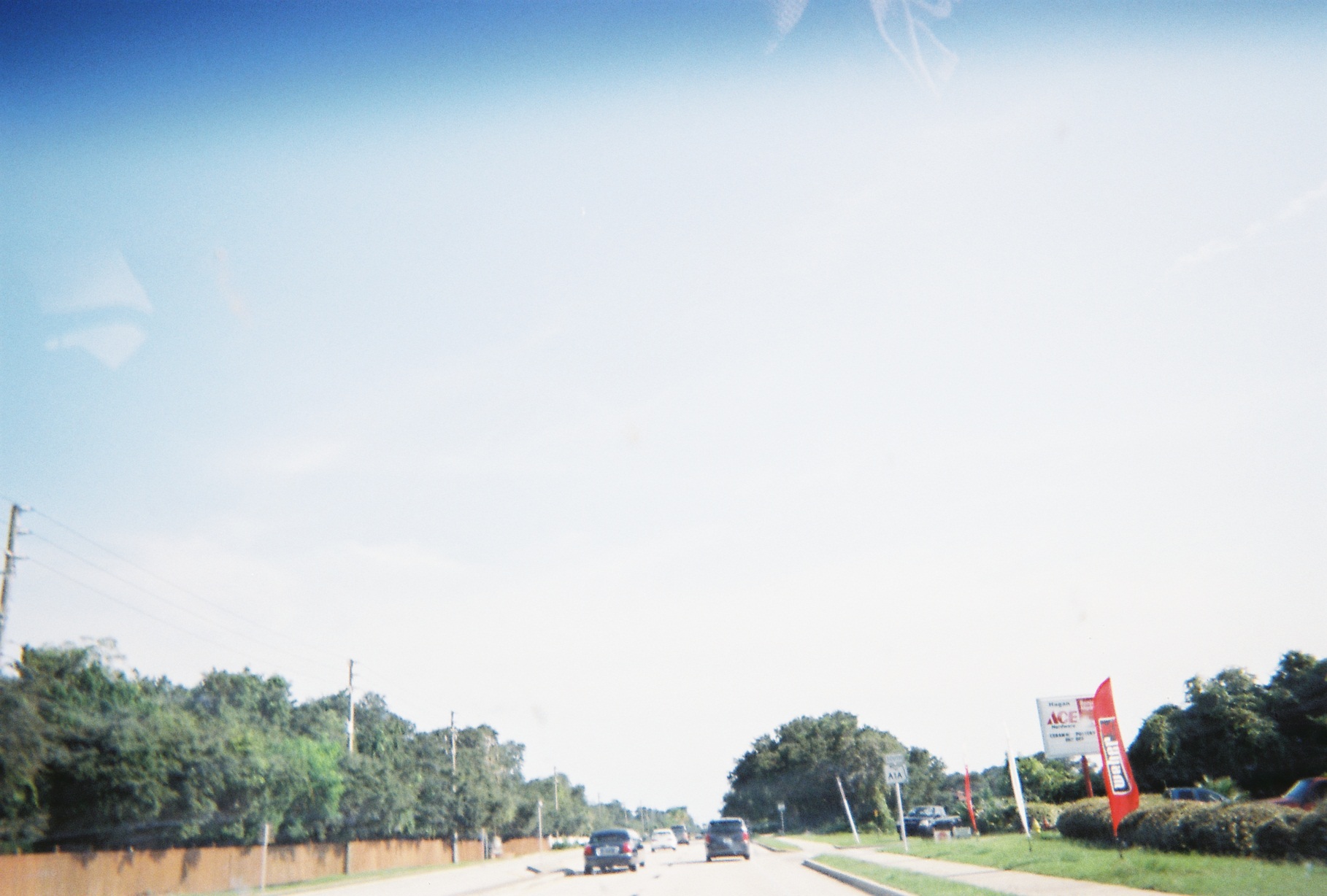 A1A between the "Beach" A1A intersections a bit southeast
We found free, publicly-accessible beach just south of Marineland, so this is where my girlfriend and I ventured briefly into the Atlantic for the first time in years for each of us.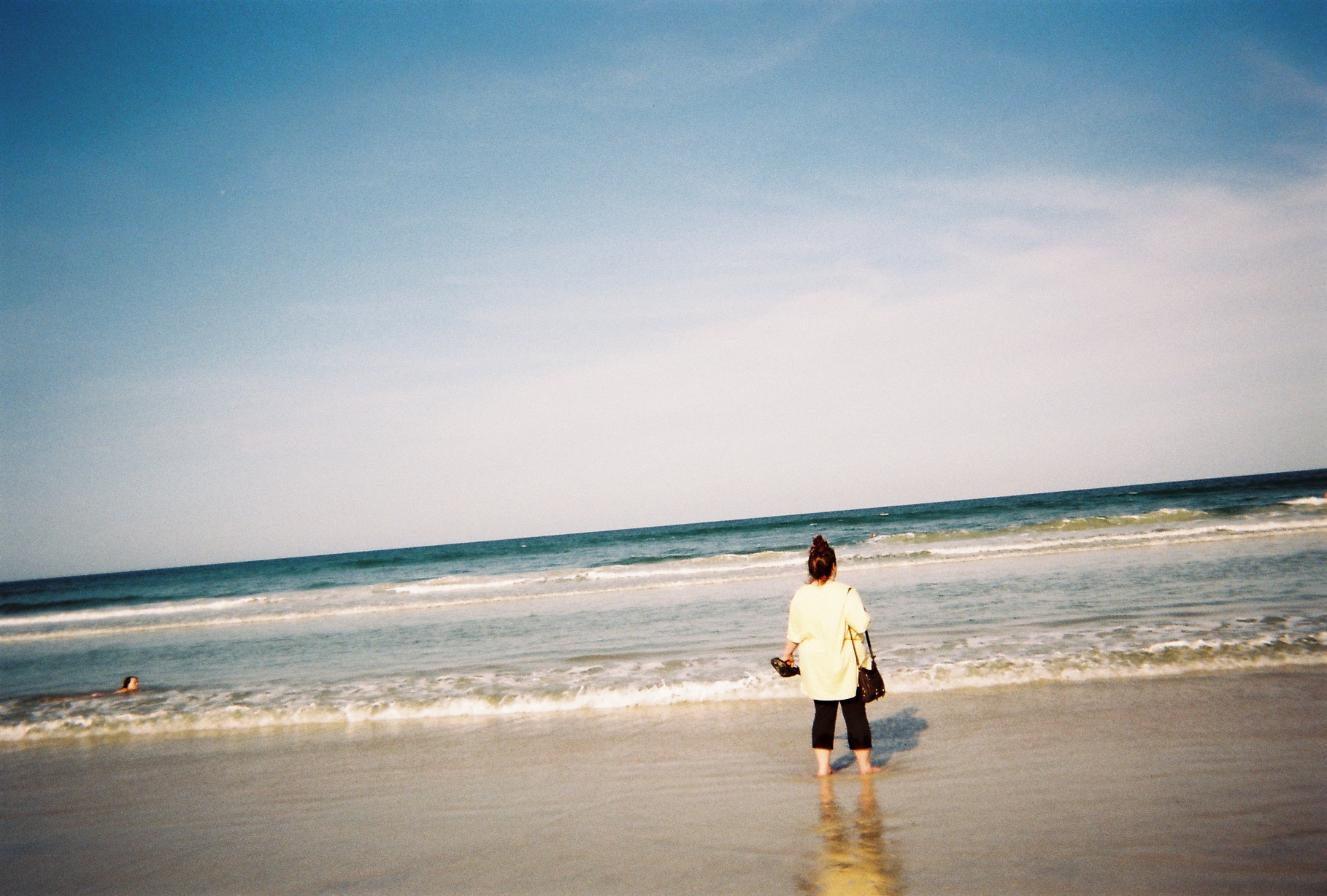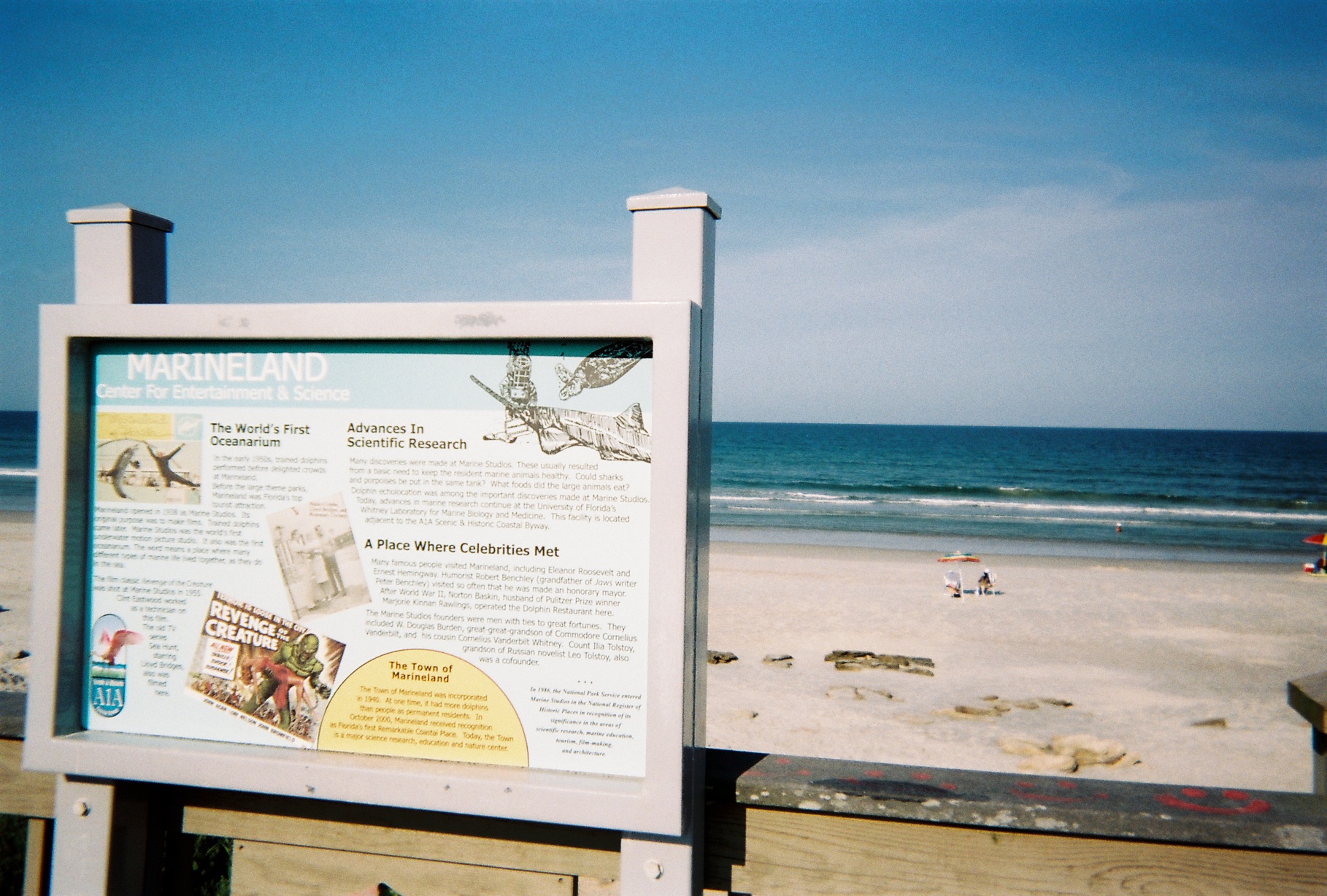 The access to I-95 from A1A to the south of there was signposted via the Hammock Dunes Bridge and Palm Coast Parkway through Palm Coast. The connection to the bridge, along part of Camino del Mar Parkway, has one of the most elaborate stop-ahead signs that I've ever seen.
Interesting overpasses: LPGA Boulevard overpass, I-95 Exit 265 in Daytona Beach; footbridge identifying Seminole County on I-4 just south of the northern Toll SR-417 interchange.
The Channel 2 tower (WESH) along I-4 in Orlando has more posted on it since I last saw it in 1995.
Fancy traffic signal support at the intersection of the Toll SR-528/Beachline eastbound ramps, International Drive ("I-Drive"), and Westwood Boulevard. (We would see another a couple days later at John Young Parkway/CR-423 and Taft-Vineland Road just south of the Beachline).
(Mile 1,090) I-Drive has protected lefts at its signalized intersections. With all the traffic much of the time, including for U-turns, I can see why, but it did make for some long signal cycles.
Monday, September 3, 2012 (Orlando, Florida: SeaWorld Orlando)
The reason for the trip. My girlfriend's longing for the now-defunct SeaWorld Ohio led to the idea.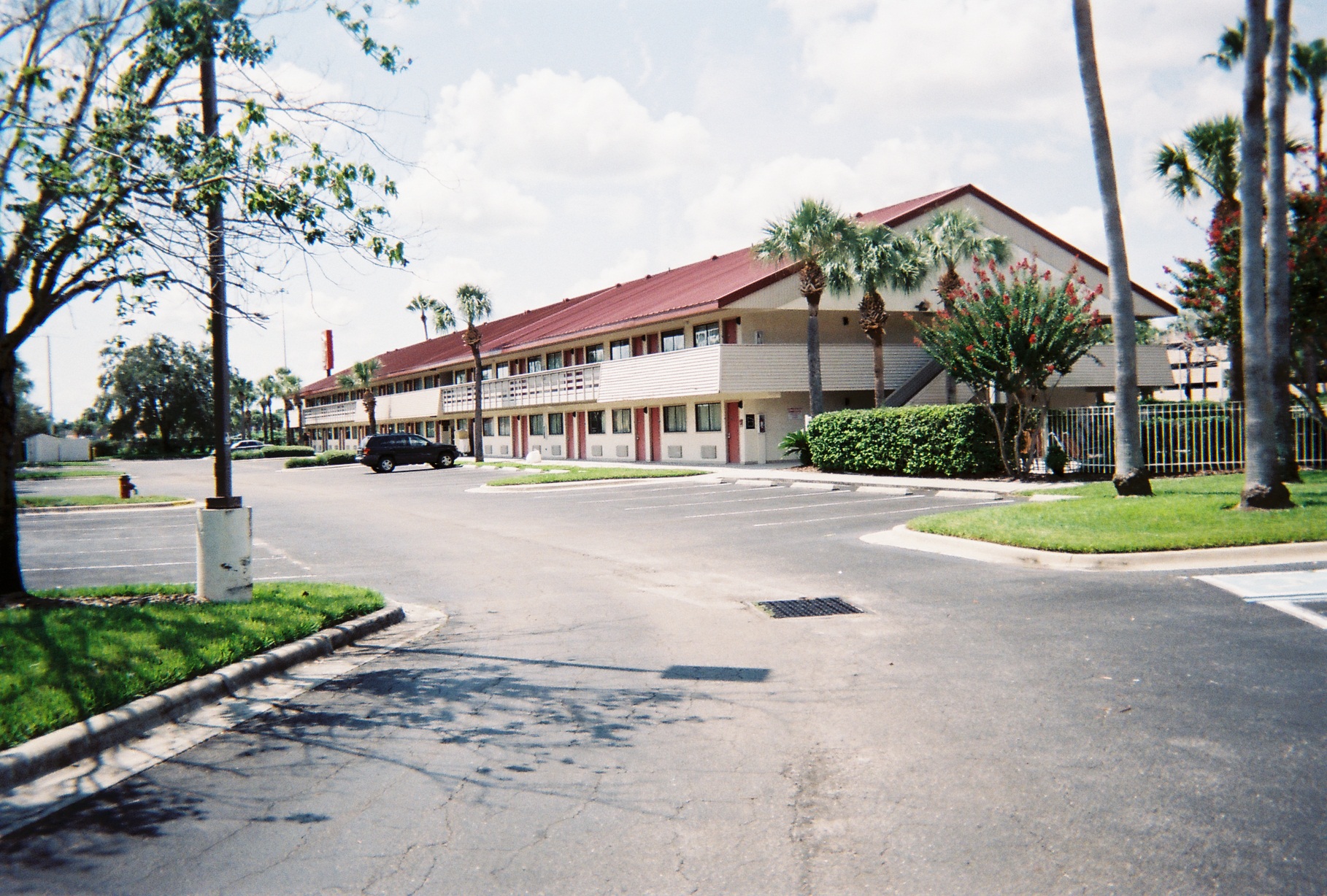 Our home for four days. Only the Beachline separated us from SeaWorld, more or less.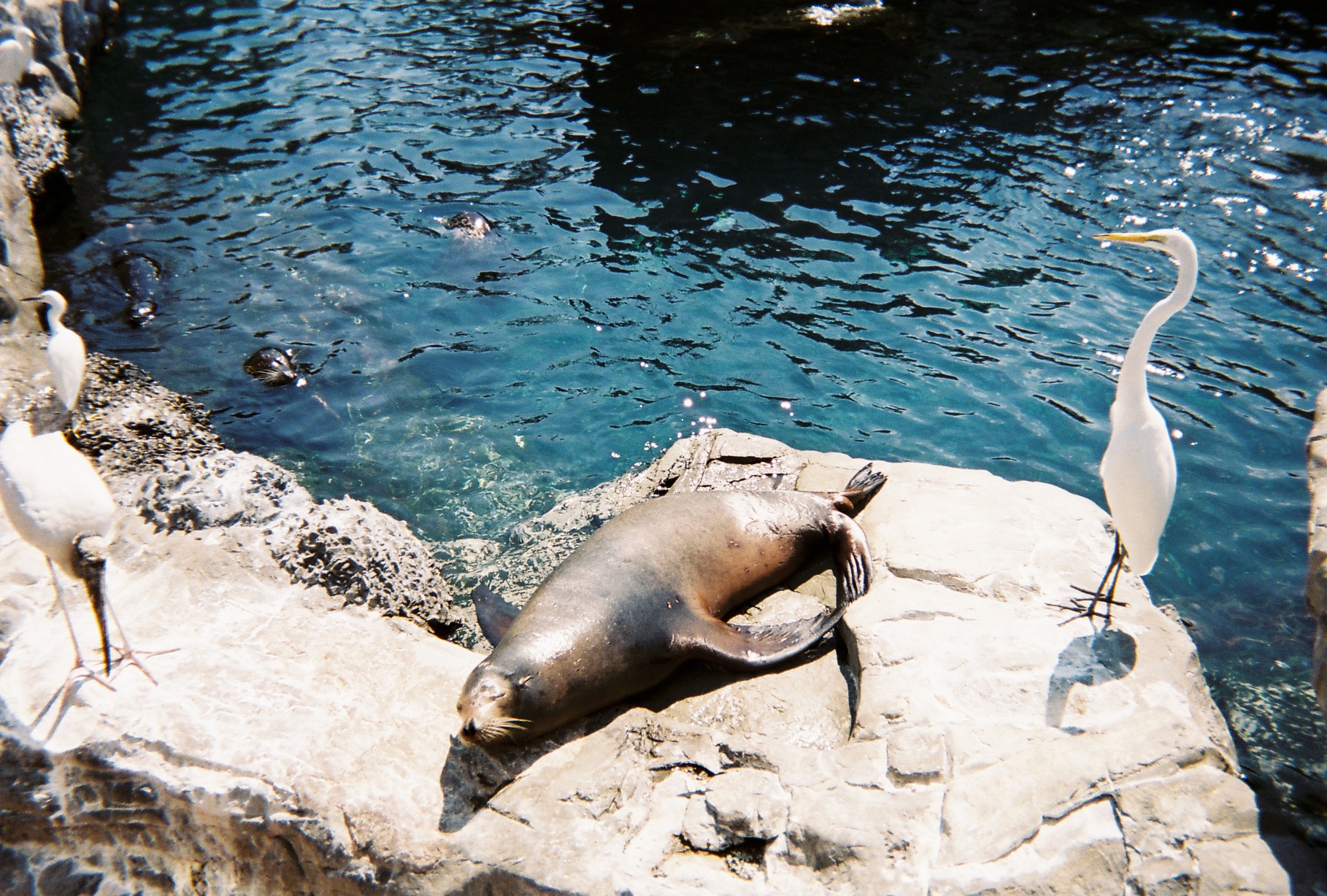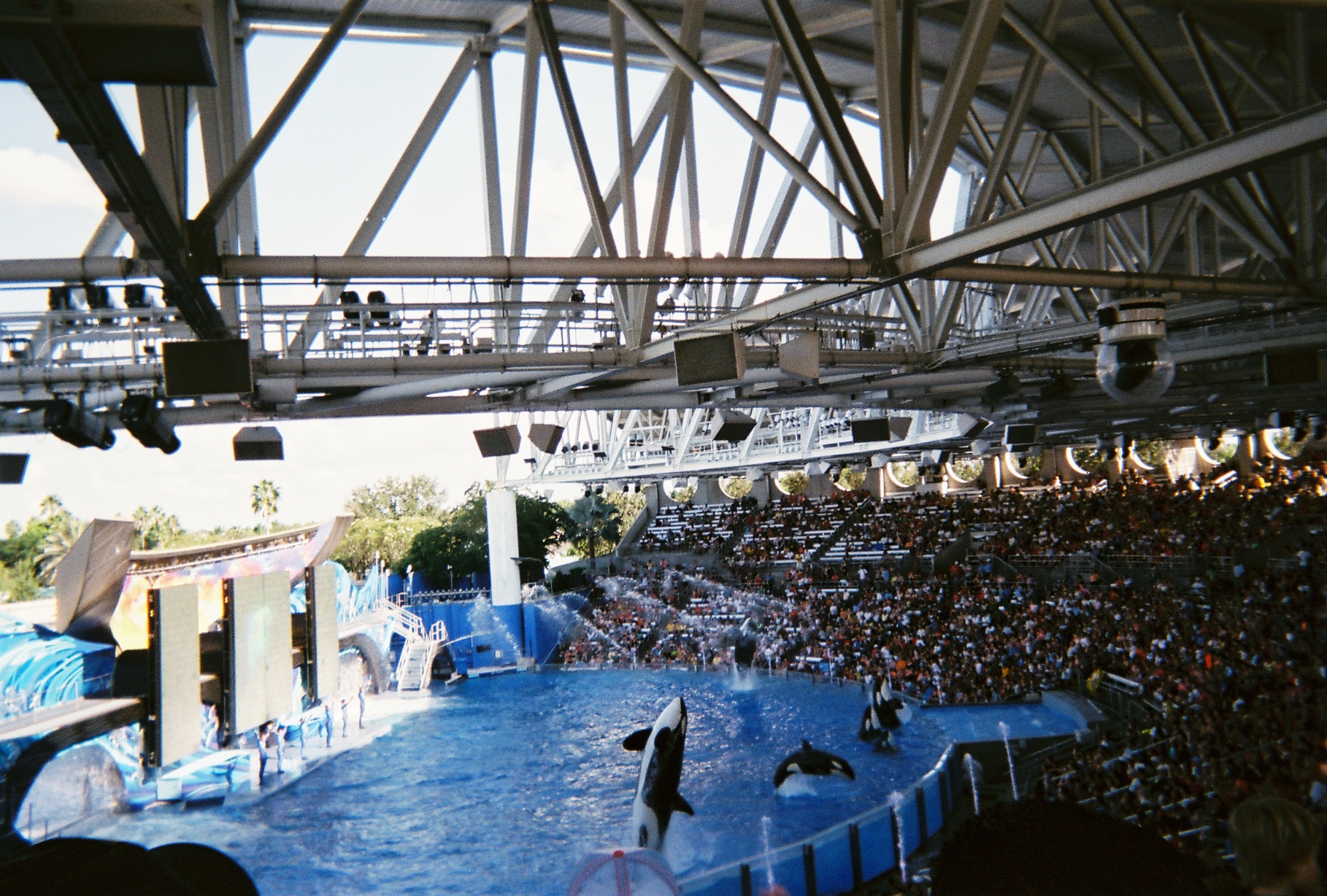 Street View shows where we sat from its in-park shots!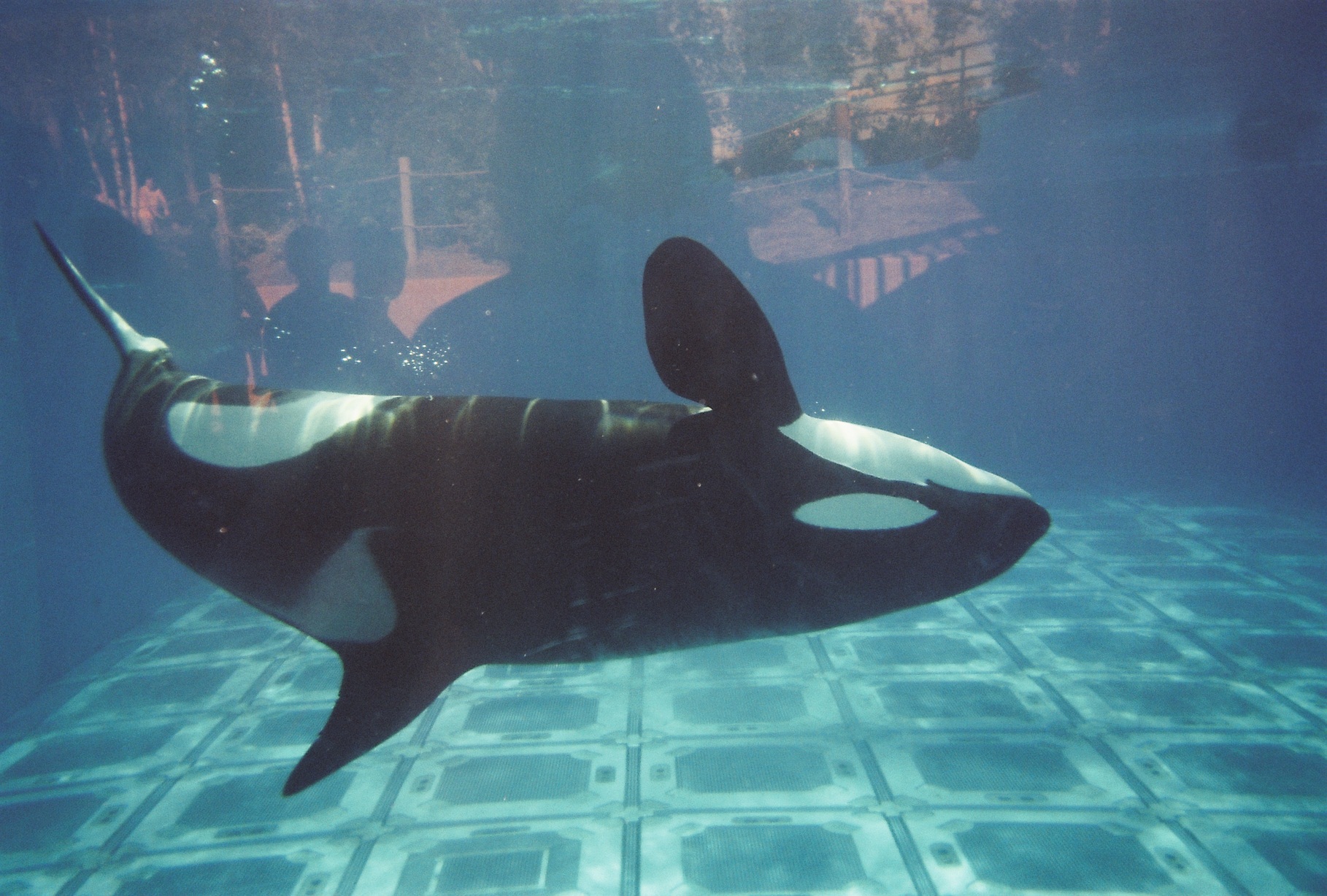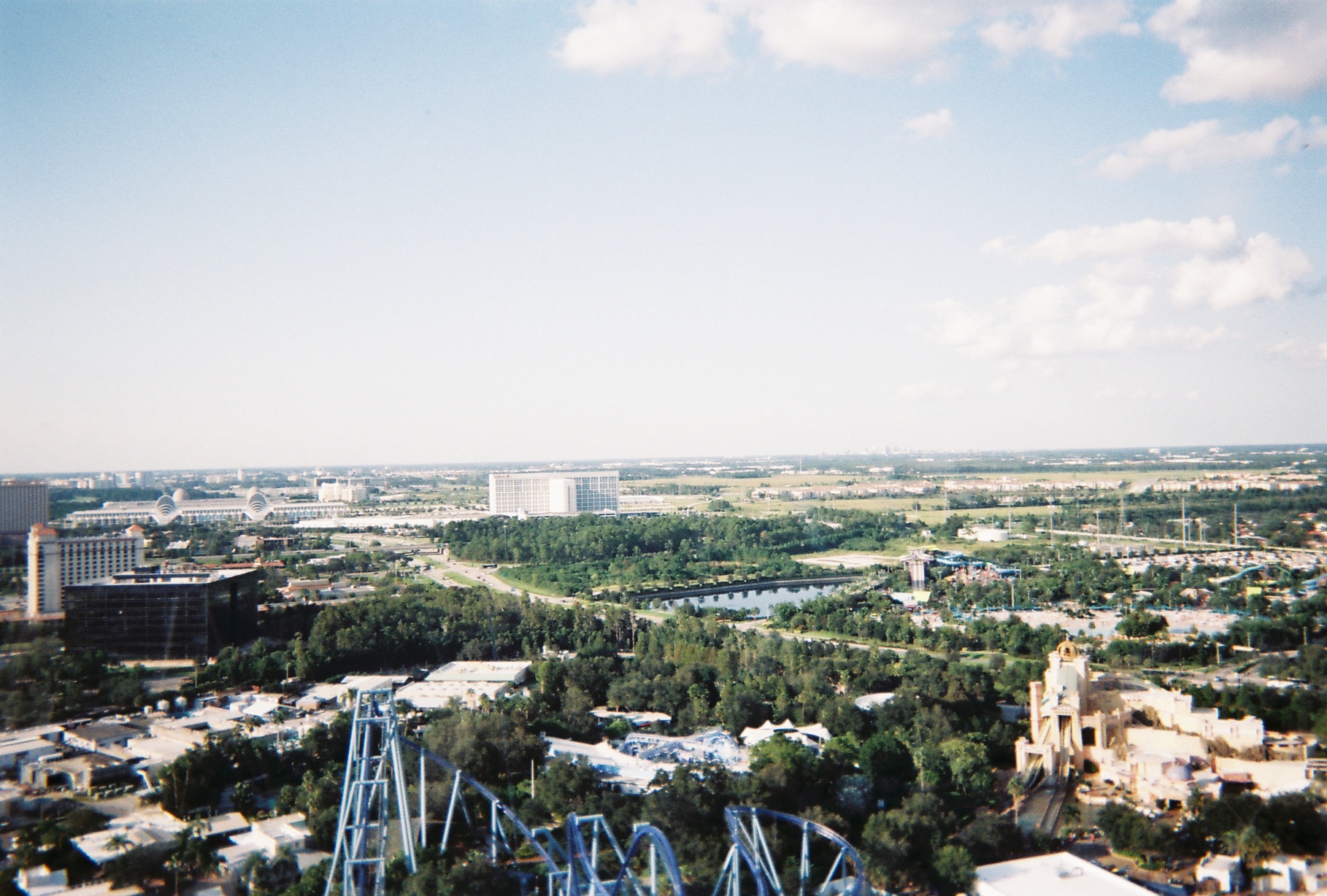 From the Sky Tower. Left to right: Orange County Convention Center; 528/I-Drive interchange; Aquatica, SeaWorld's adjacent water park (downtown Orlando behind); Journey to Atlantis flume ride within SeaWorld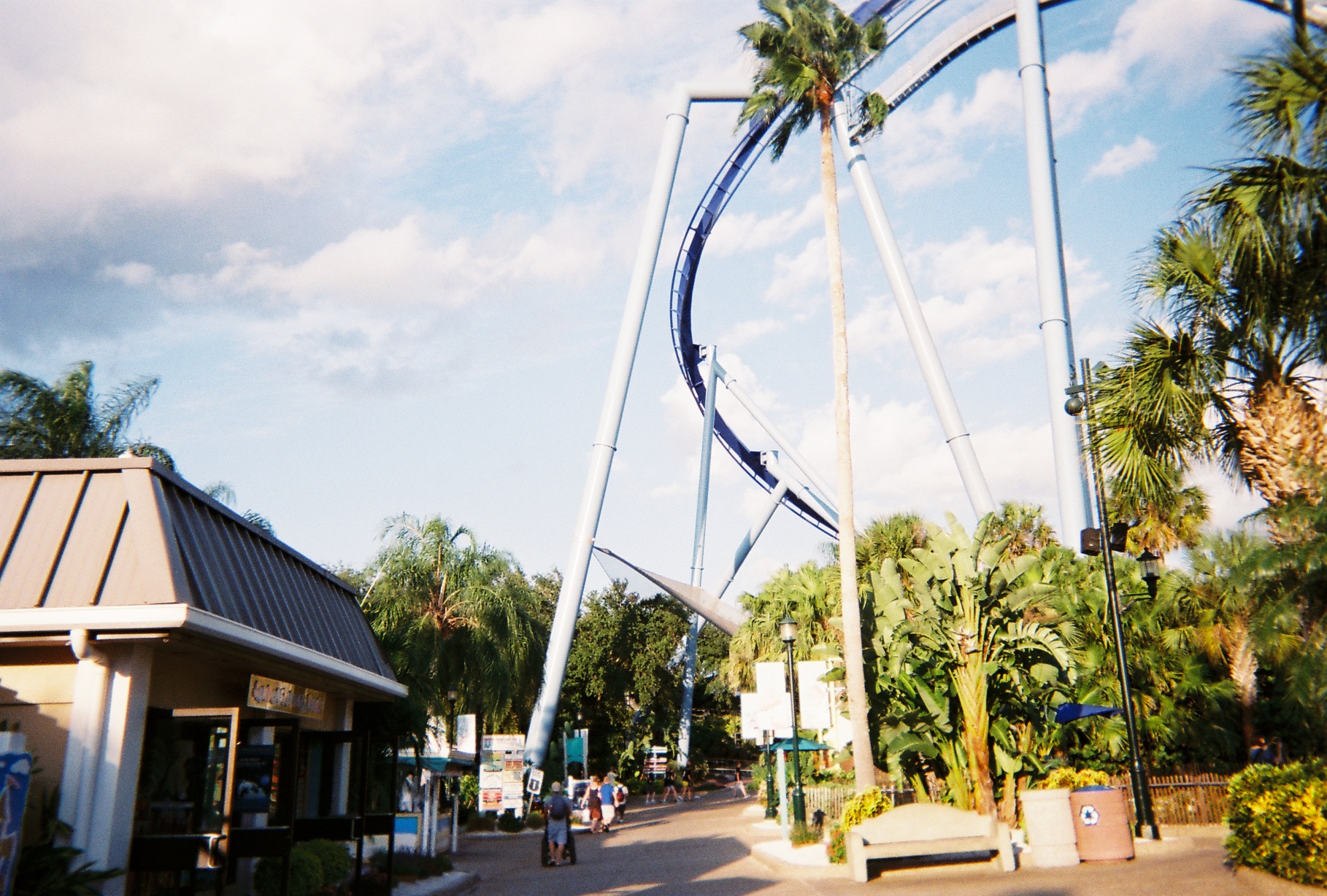 Entrance to the Key West section of the park. The US-1 shield is a wonderful effort; they were so close with the design of the shield, but US-1 was red, not black. Street, er, Park, er, Highway View
Near the Sky Tower, there are structures which are meant to resemble those in Italy; according to Street View, there were complementary Italian road signs along the adjacent walkways, but they were gone on our visit.
The Tire Damage signs at the exits from SeaWorld's parking lot look lifted right out of California (where there just happens to be another SeaWorld).
Tuesday, September 4, 2012 (Side trip to Sanford, Florida)
To the Central Florida Zoo, via the SR-417 beltway (longer than via I-4 and tolled, but a new way).
The bridge carrying SR-436 southbound over the Beachline by the Orlando Airport has a sign with all italics.
Signs at the Lake Jesup crossing on 417 warn of insect swarms. It's the first time that I've seen a message like that on a road sign, but stories about Florida's bugs are legendary.
The control cities on I-4 for 417 at the north end are Sanford and Int'l Airports (Orlando and Orlando Sanford). I was surprised to see no mention of Disney World or identification of 417 as a beltway. This seems like a shortcoming as 417 was built to pull Disney World traffic away from downtown Orlando. (Disney World is used as a secondary destination on 528 for 417, so there is precedent.)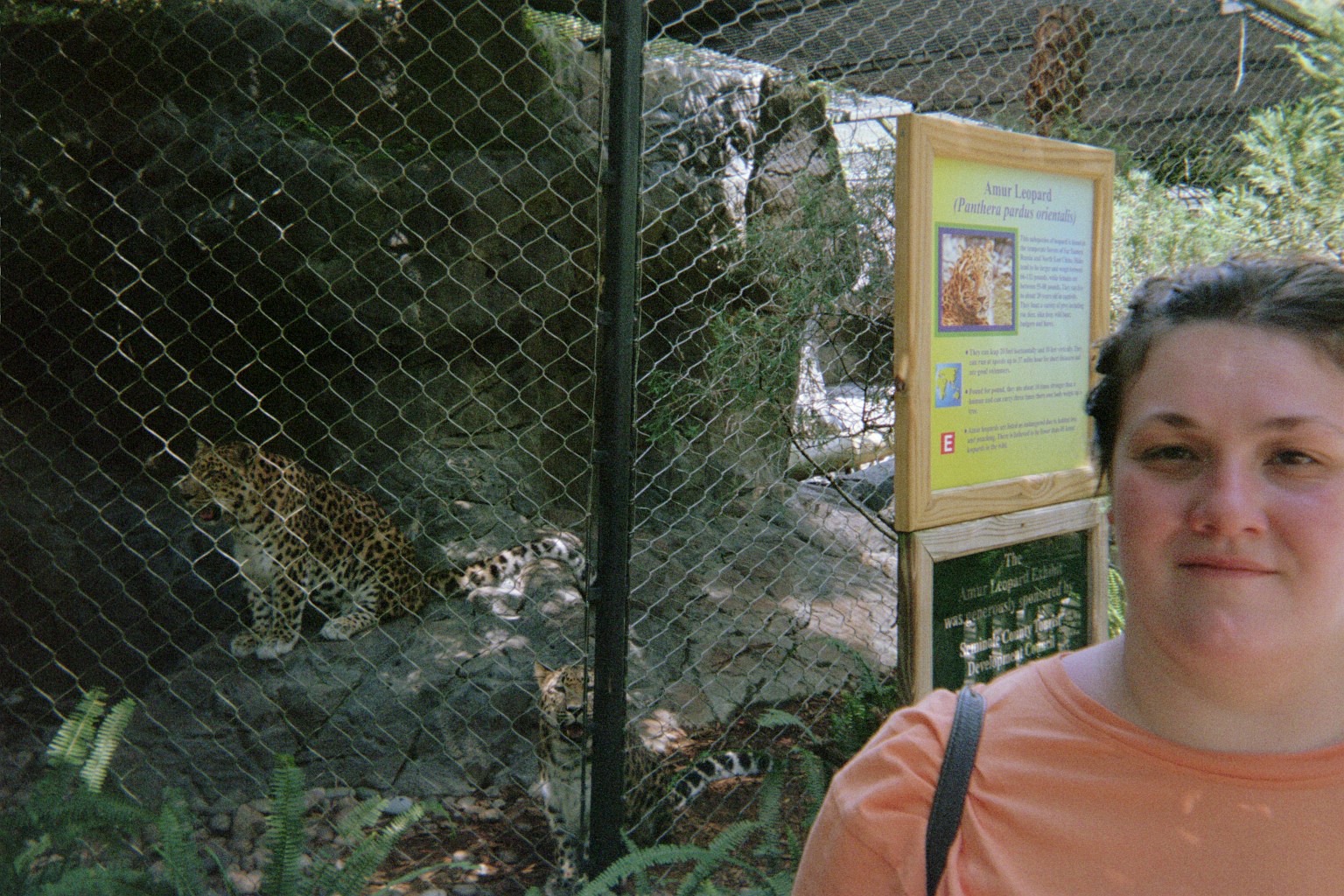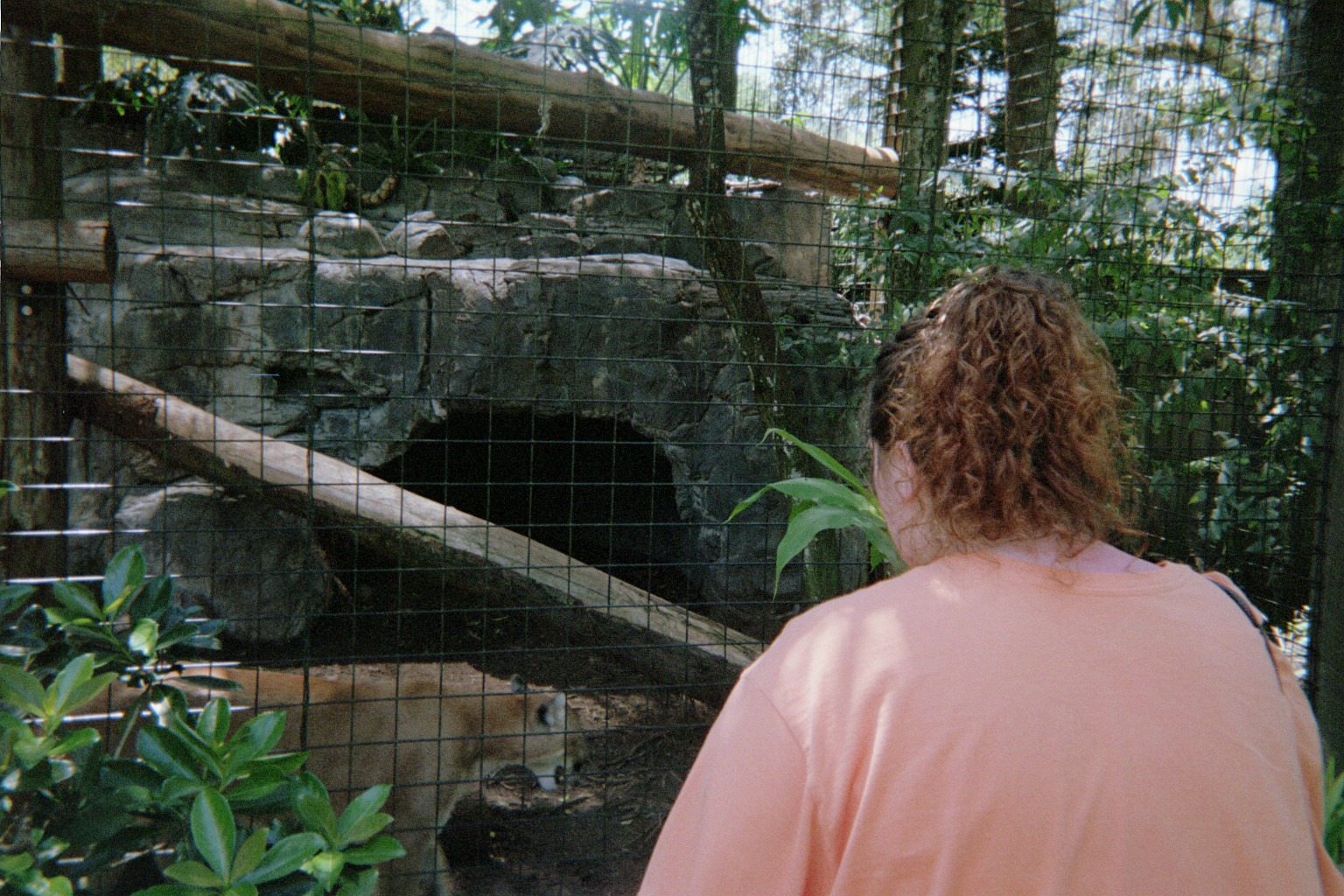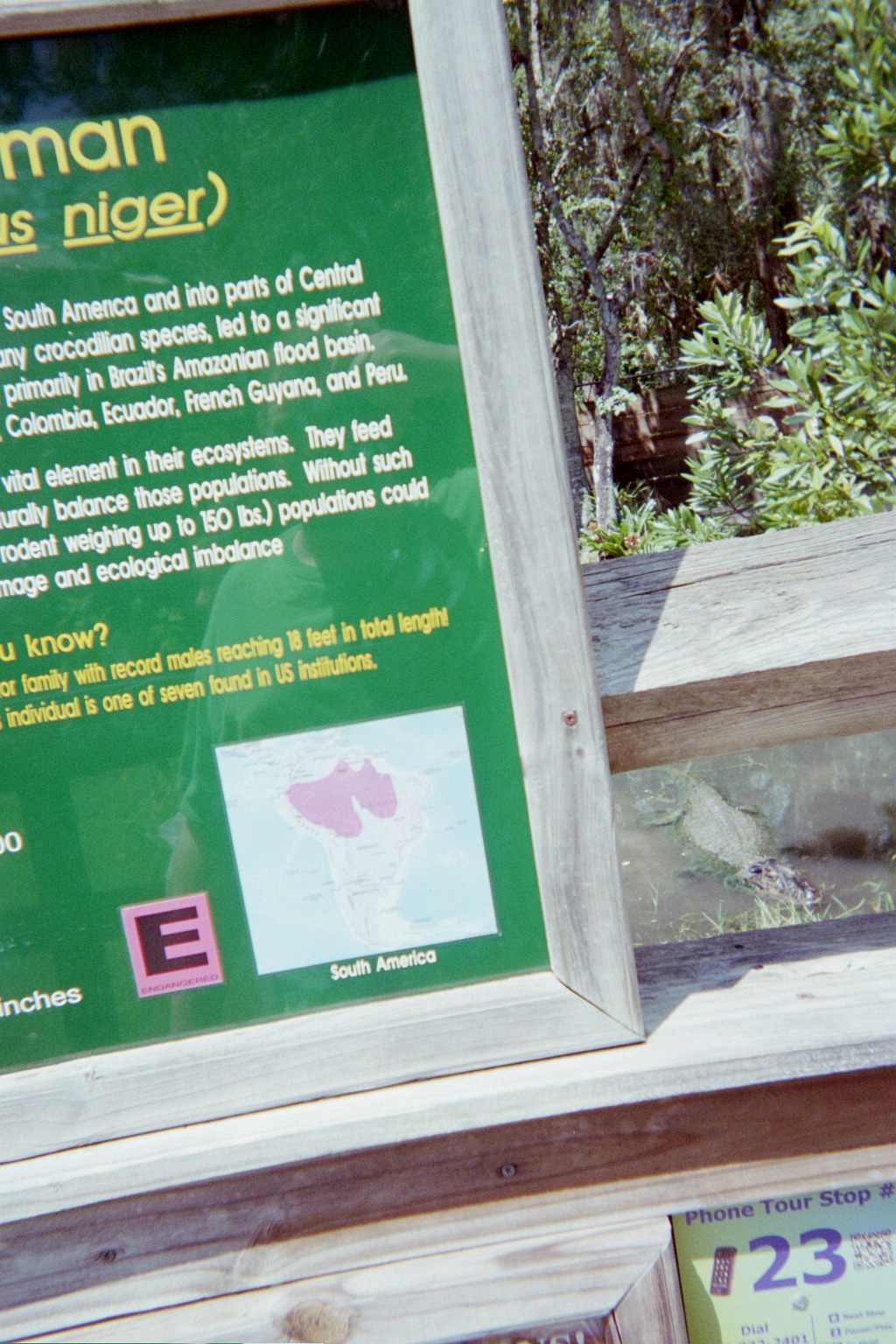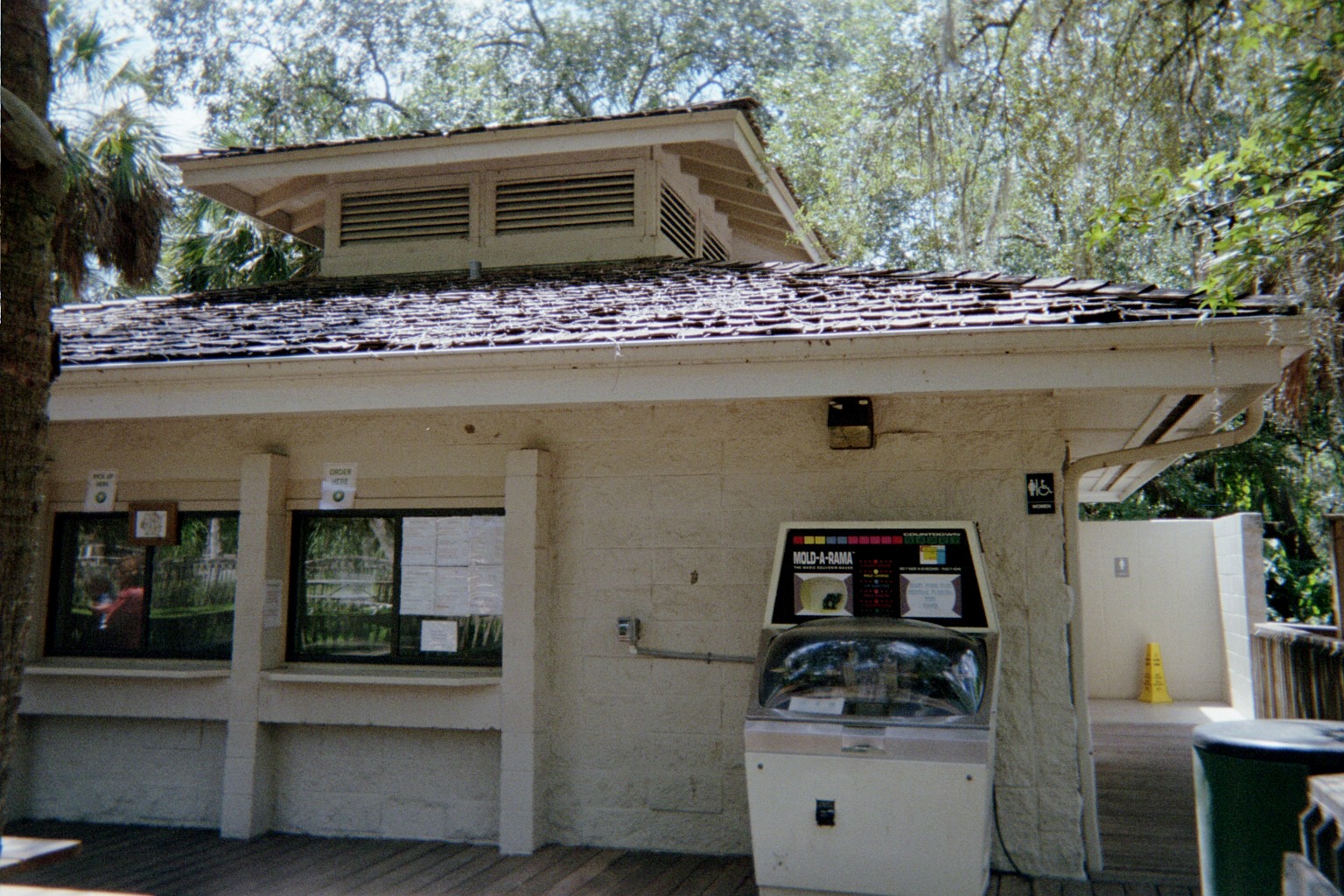 Mold-A-Rama machine. Glad to see that these are still around. I got a few molds in the late 1970s from various Chicago attractions, and apparently they're still there.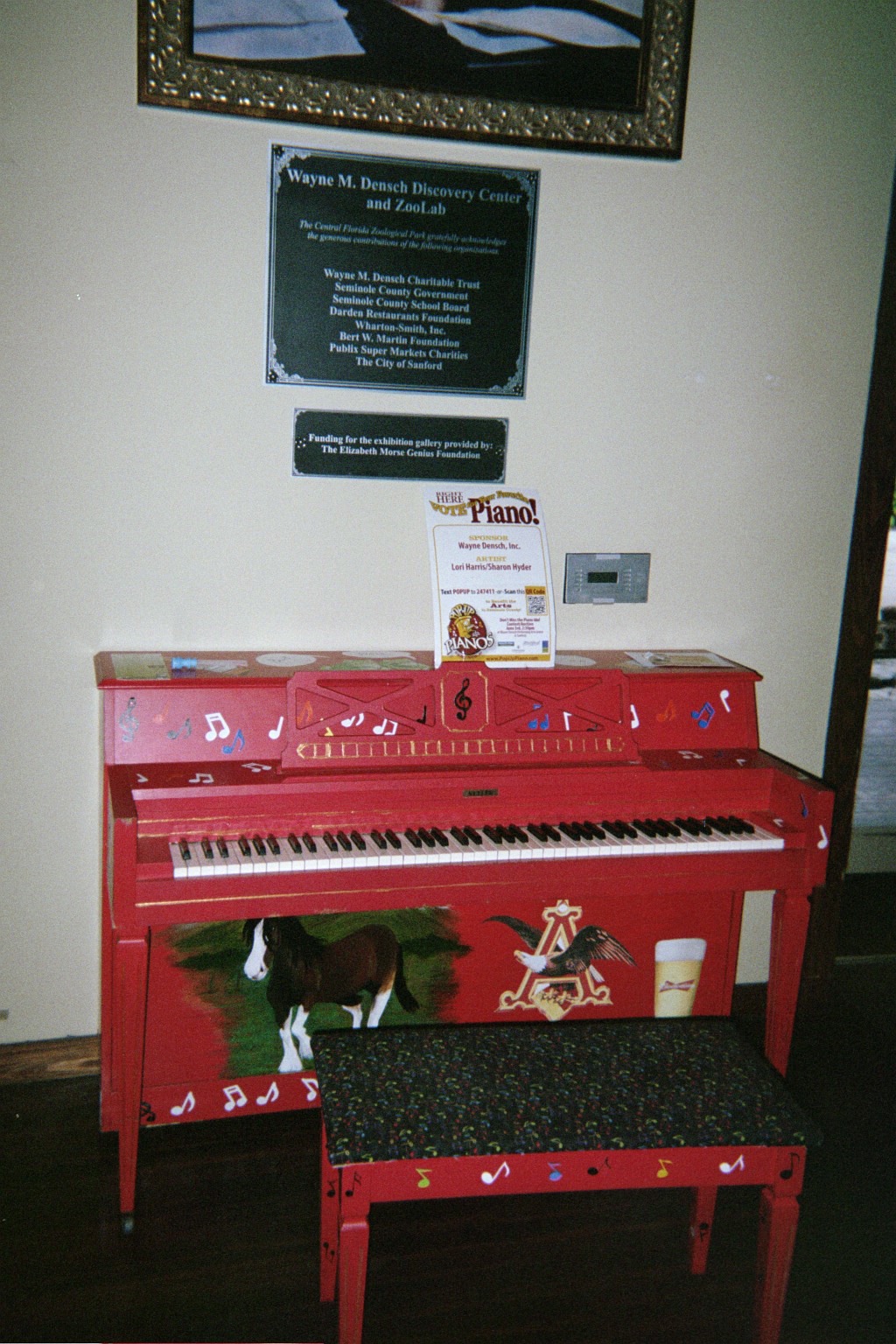 Working piano. Surprisingly in tune except for one note.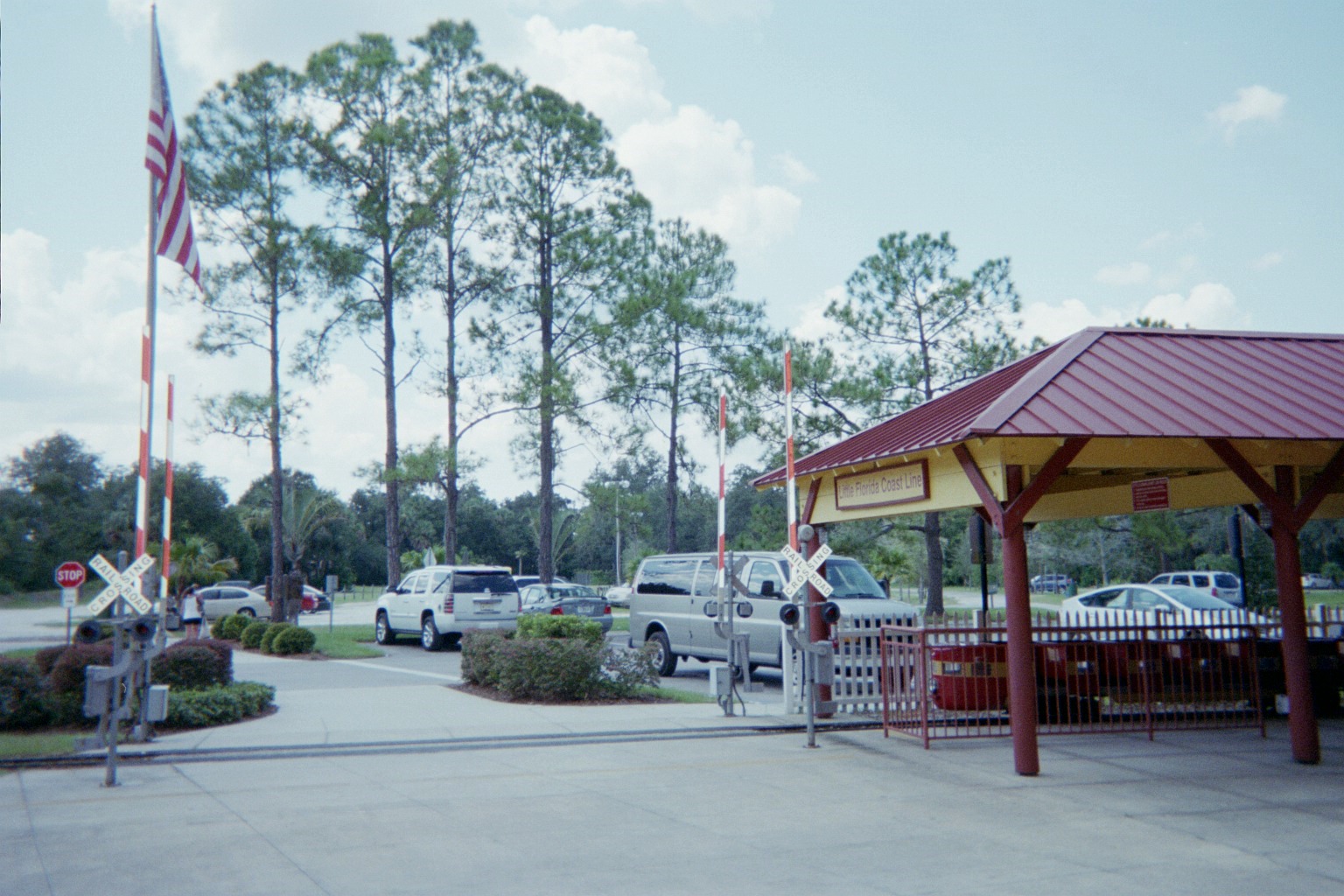 Didn't get a photo, but I saw on the way in that the crossing lights flash simultaneously, not alternately. The full-sized trains run just beyond the trees in the background.
After the zoo, a short helicopter ride from closer to the motel. This was only the second time I've been in the air, the first being a trip around the airspace of Indianapolis Metropolitan Airport in the small airplane of a distant relative in 1990.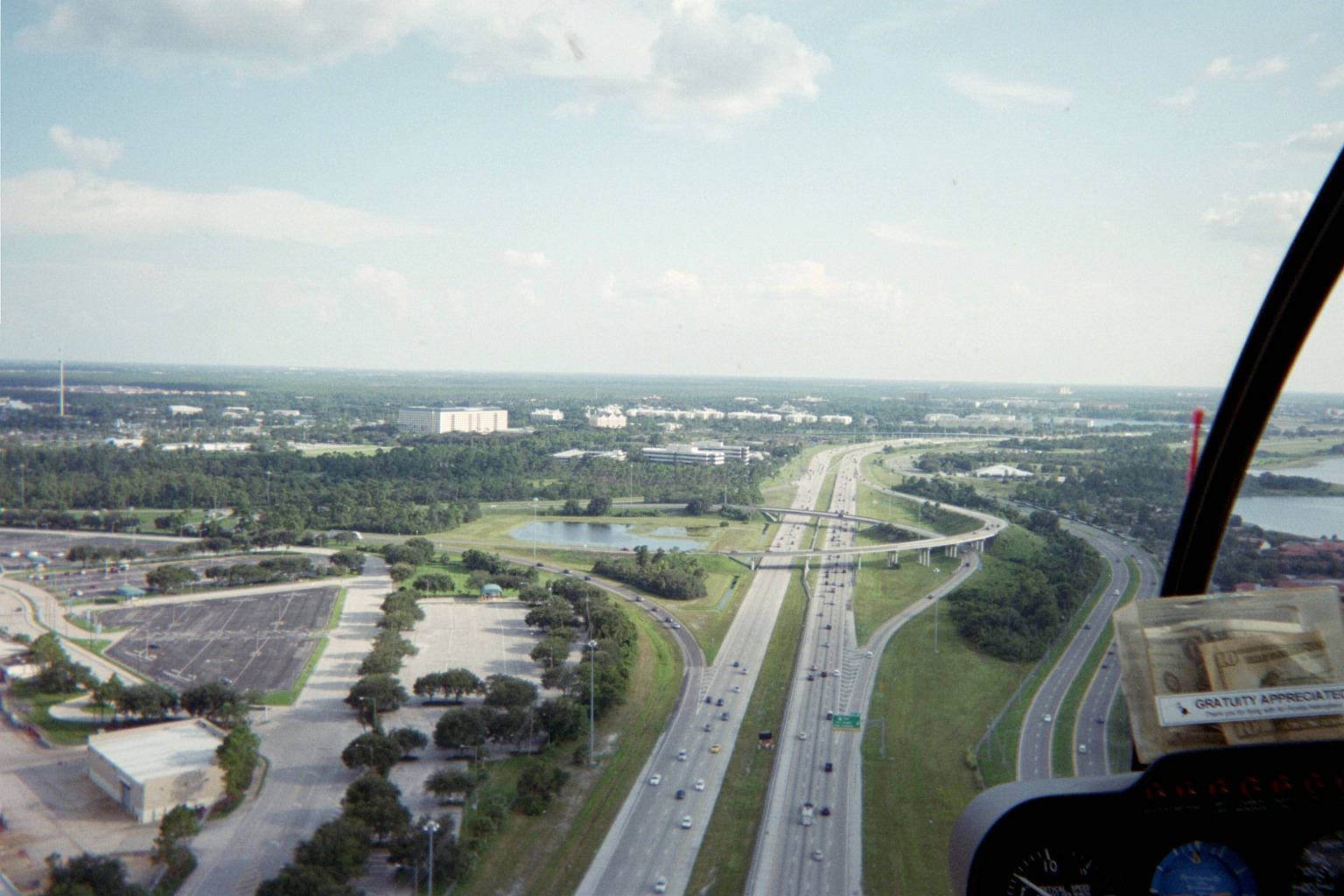 Looking south, I-4 at the Beachline, with SeaWorld to the left (note the Sky Tower). I feel guilty about being so mesmerized by the highways that I neglected to take a shot of a Shamu show in progress.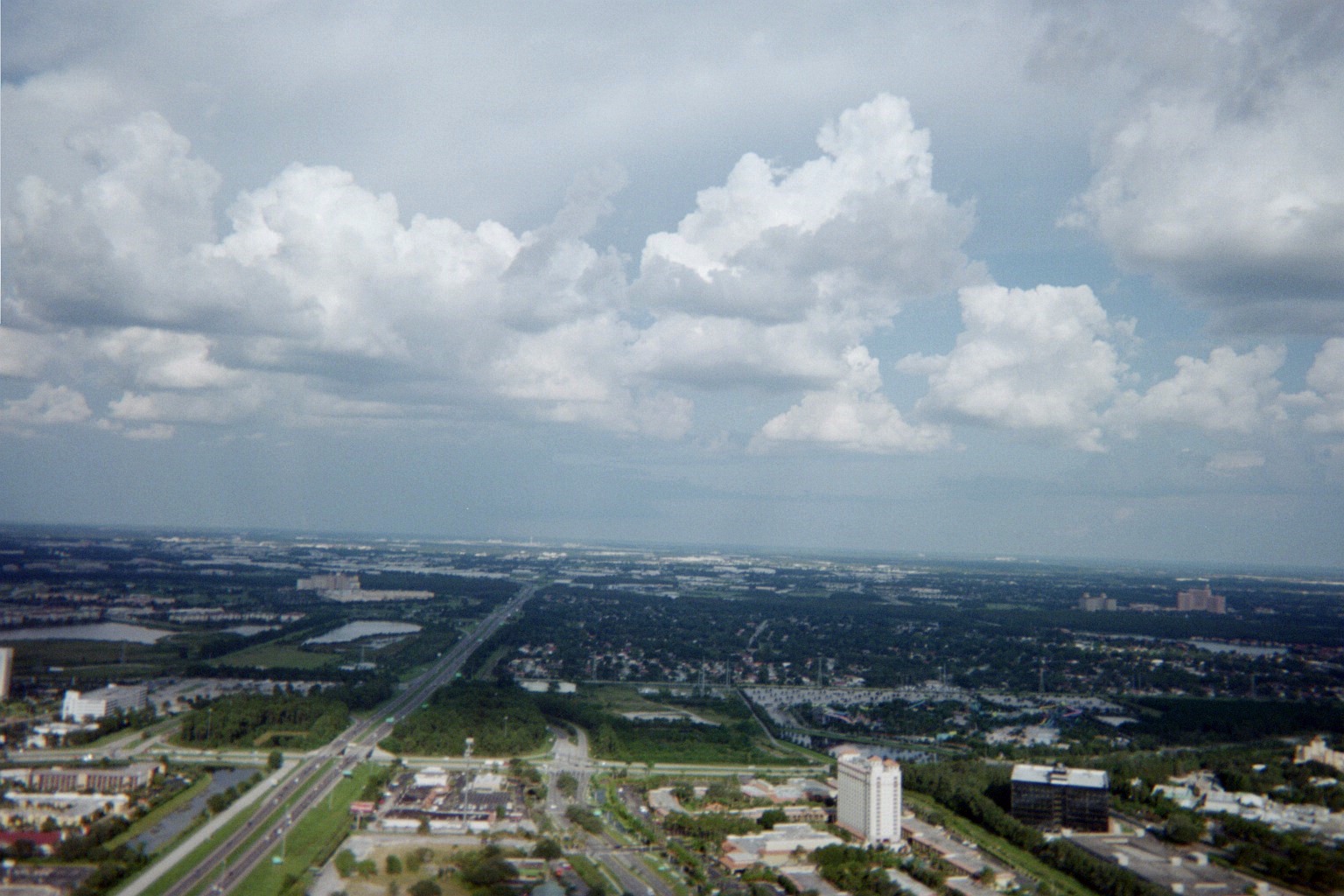 Looking east along the Beachline, I-Drive interchange in foreground, SeaWorld in lower right corner, motel in lower left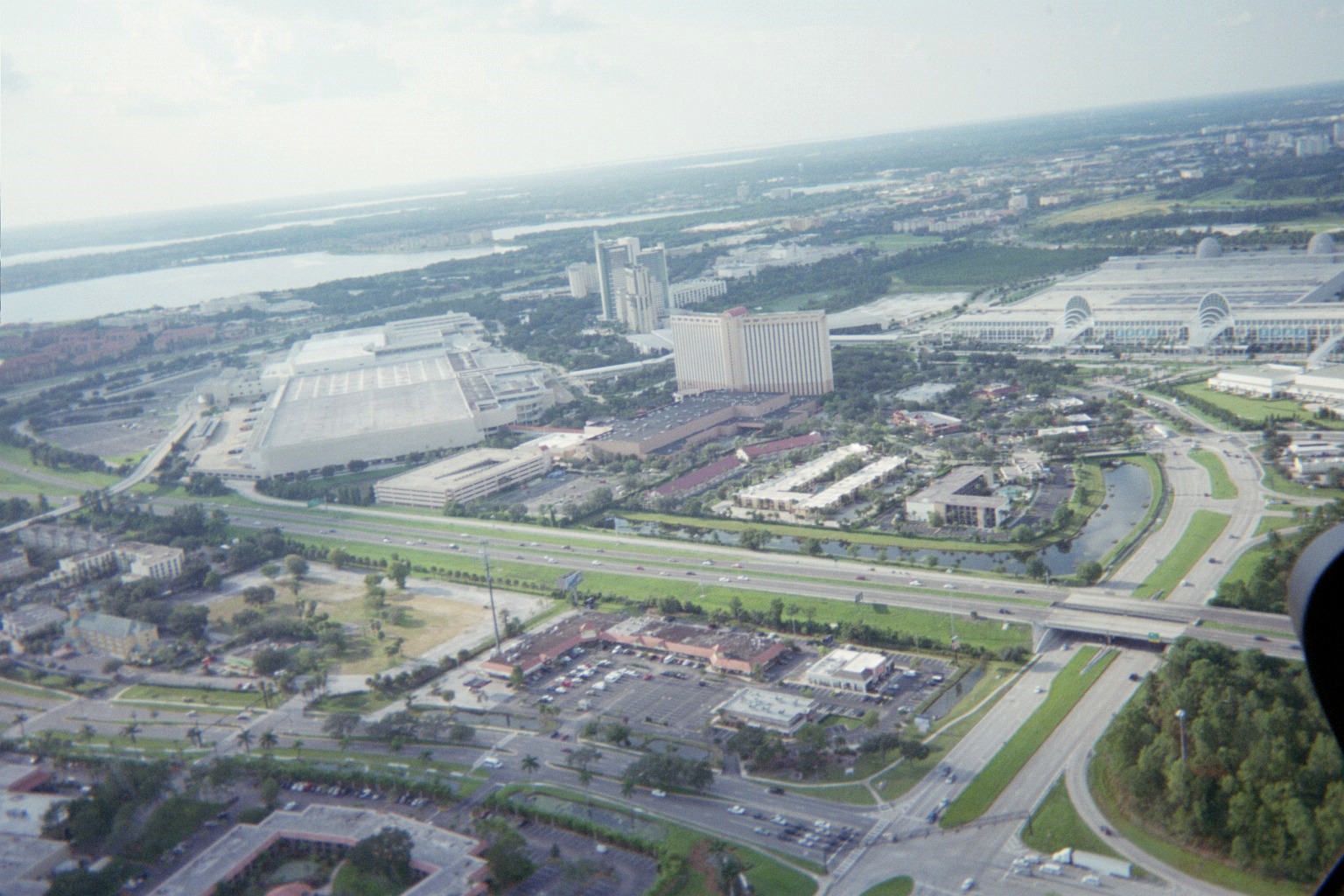 Looking northwest, Beachline in foreground (note long signal support mentioned above at the end of Day 2), I-4 left center to upper right, motel in center, convention center to the right and left of it
Antithesis to the Mold-A-Rama: mp3/mp4 player claw machine in the helicopter ride building
Wednesday, September 5, 2012 (Orlando, Florida area: Epcot)
I got to practice the French that I learned in the 1980s in high school and college, and the Italian that I've been teaching myself from the French (and various music terms), at the respective pavillions (we visited them all), and my girlfriend enjoyed seeing the characters from our childhoods again. It was my first time as a guest at the park, though I was there in another capacity in 1995. (In a sad coincidence, I learned that the conductor that year died the day after we visited the park this year.) Continuing the music theme, a store in the German pavillion was selling Mozart candy; Mozart was actually from neighboring Austria, and, to my relief, the German college kids in the pavillion knew that.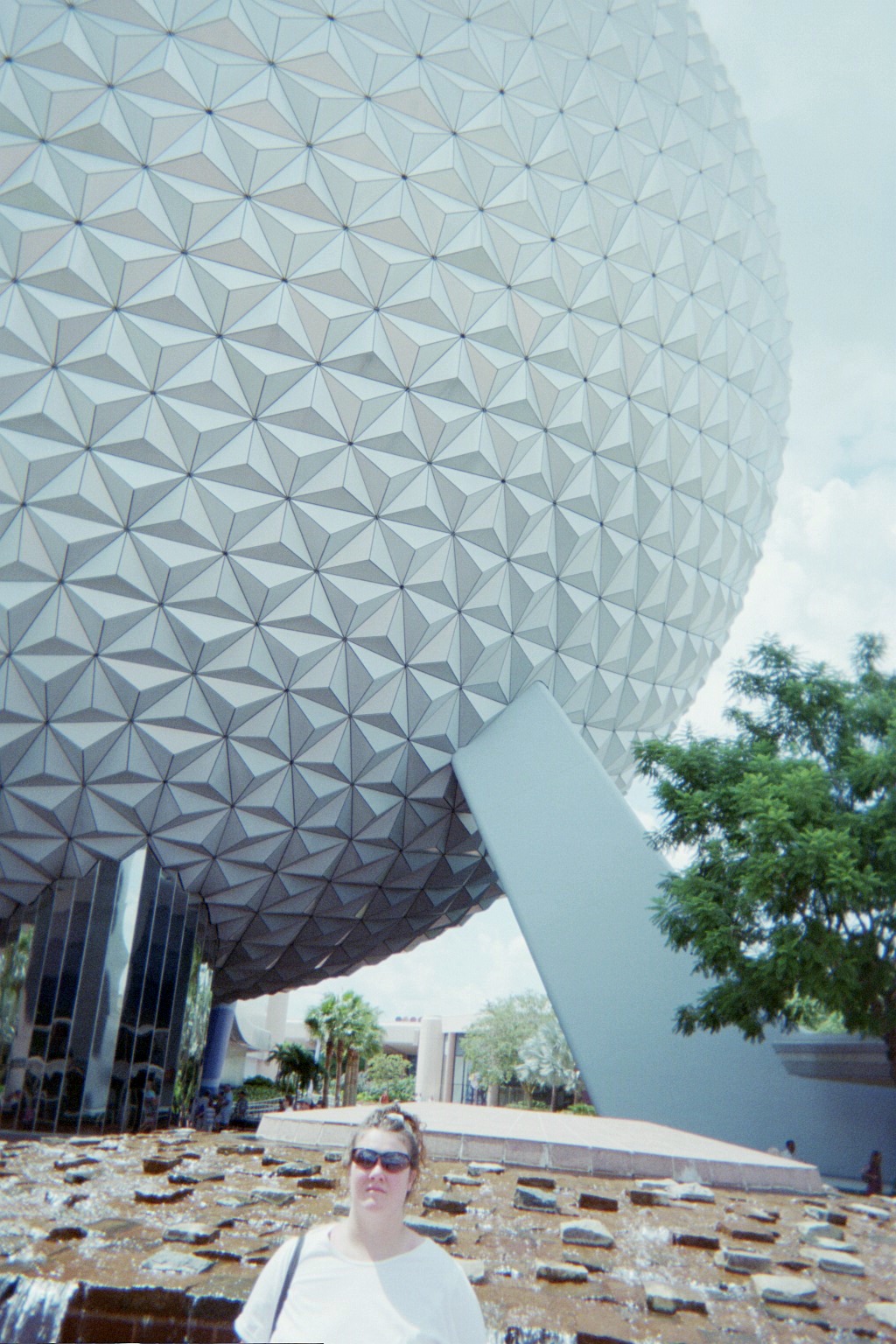 The iconic Spaceship Earth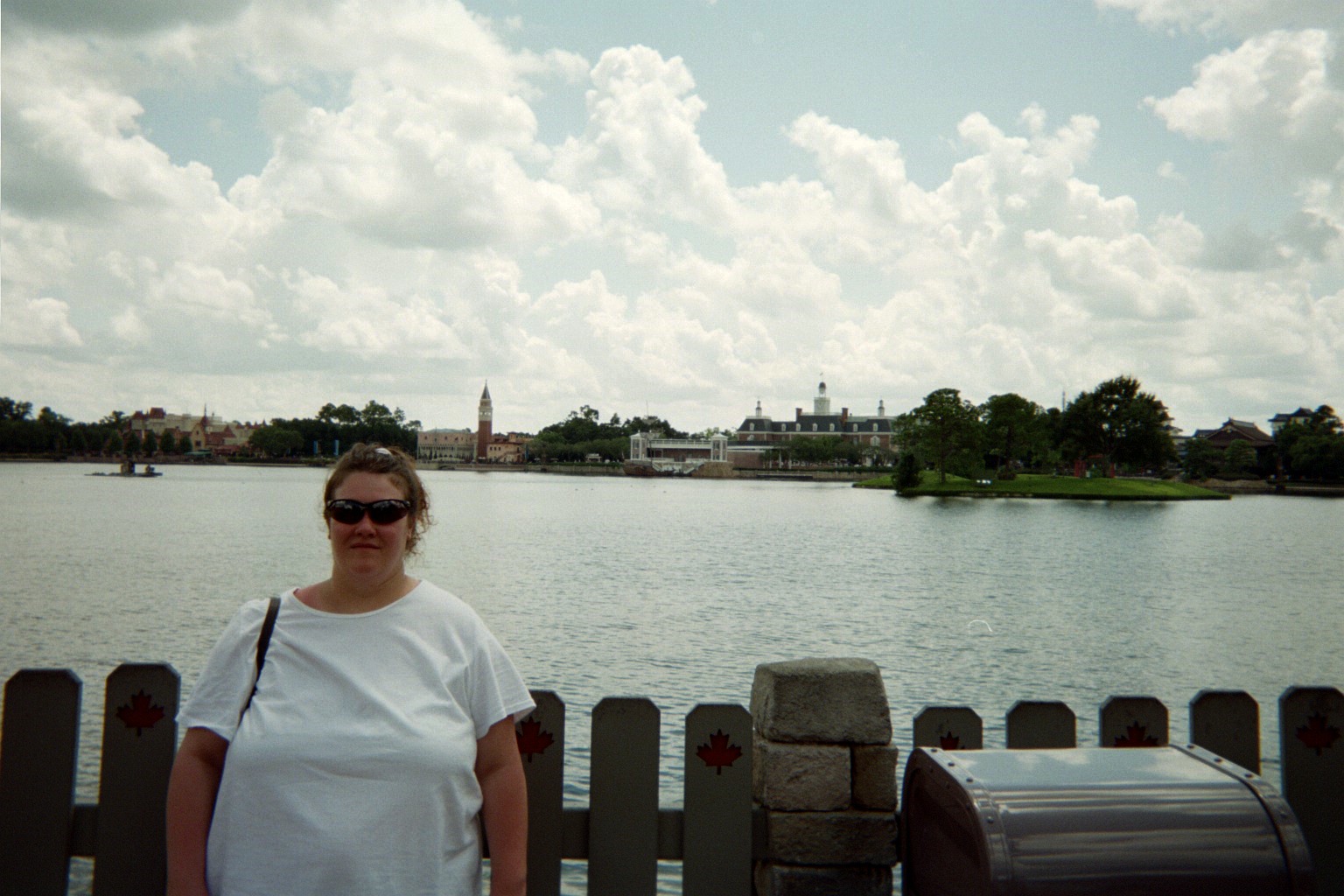 Left to right across the lagoon: Germany, Italy, U.S., Japan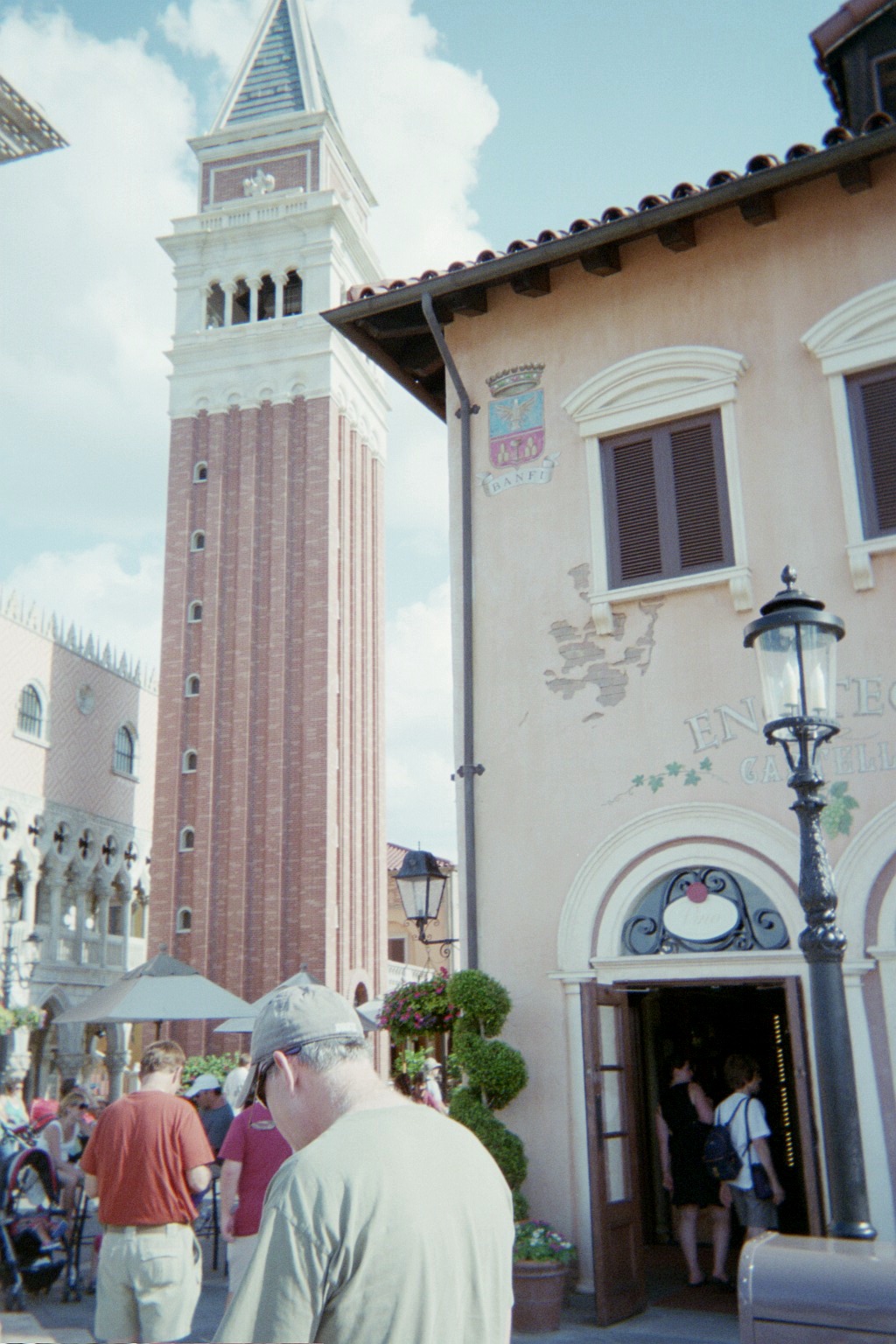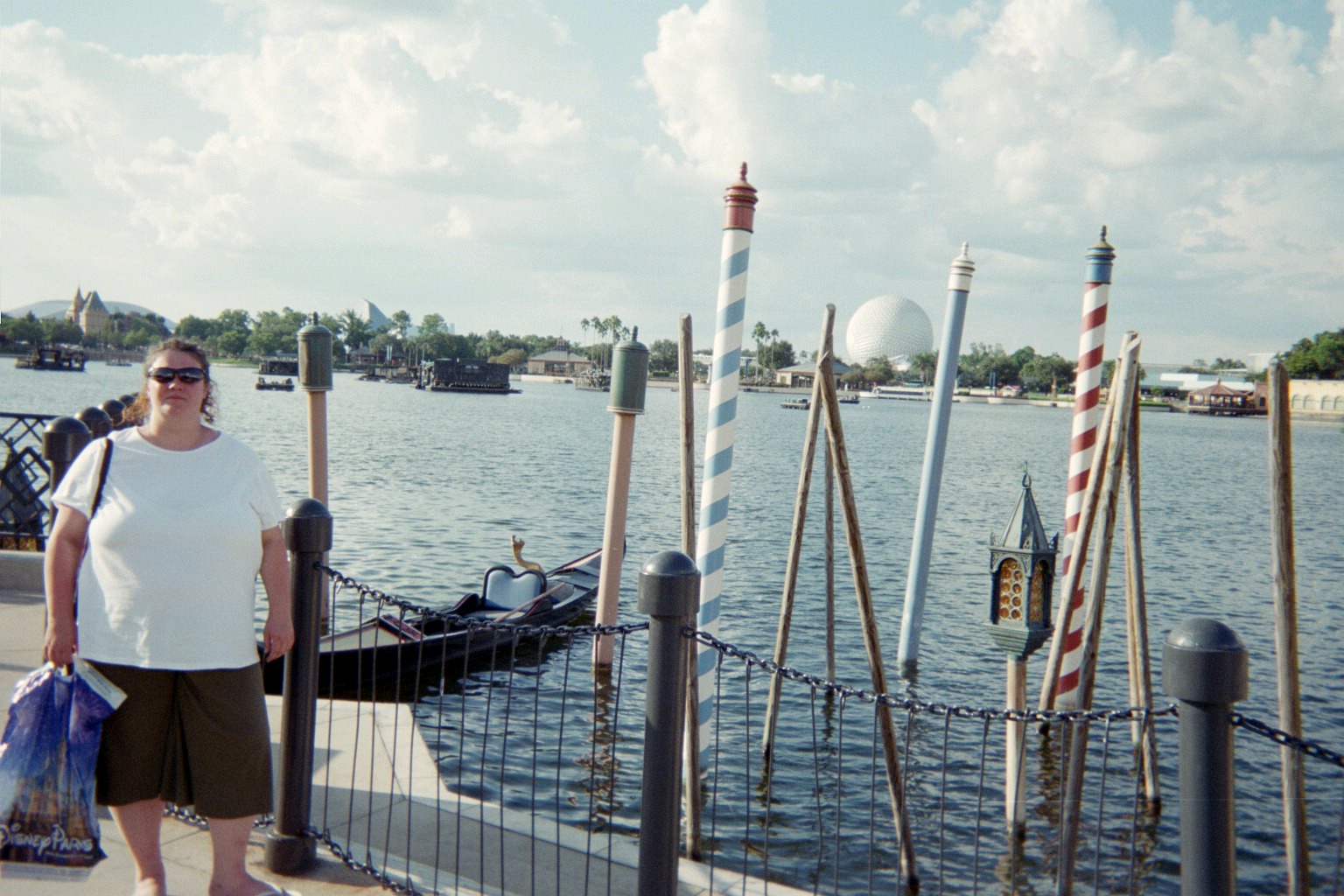 My girlfriend's paternal granparents hail from Fiuggi so I figured that these views'd be appropriate. The Canada pavillion is to the left across the lagoon in the second photo.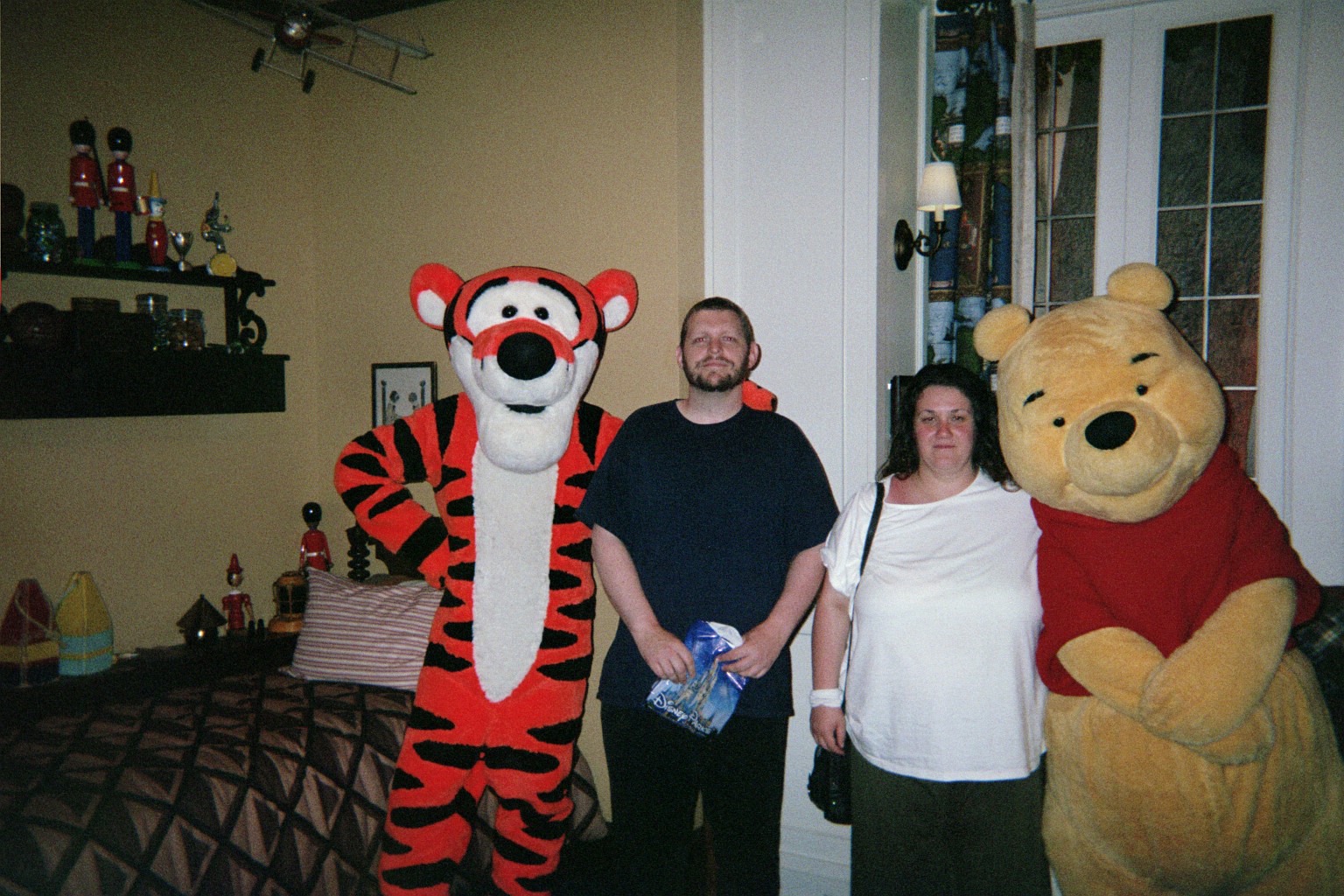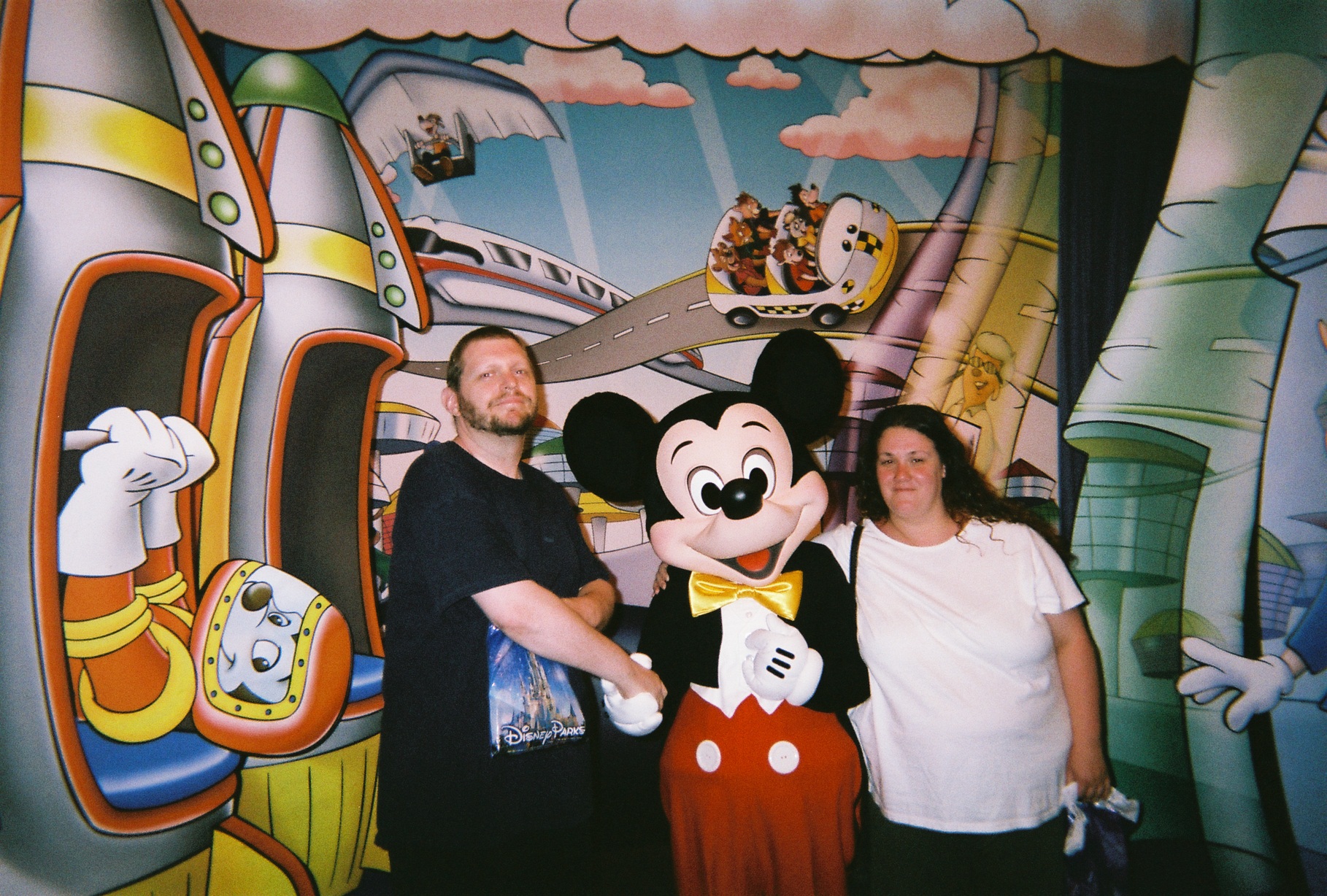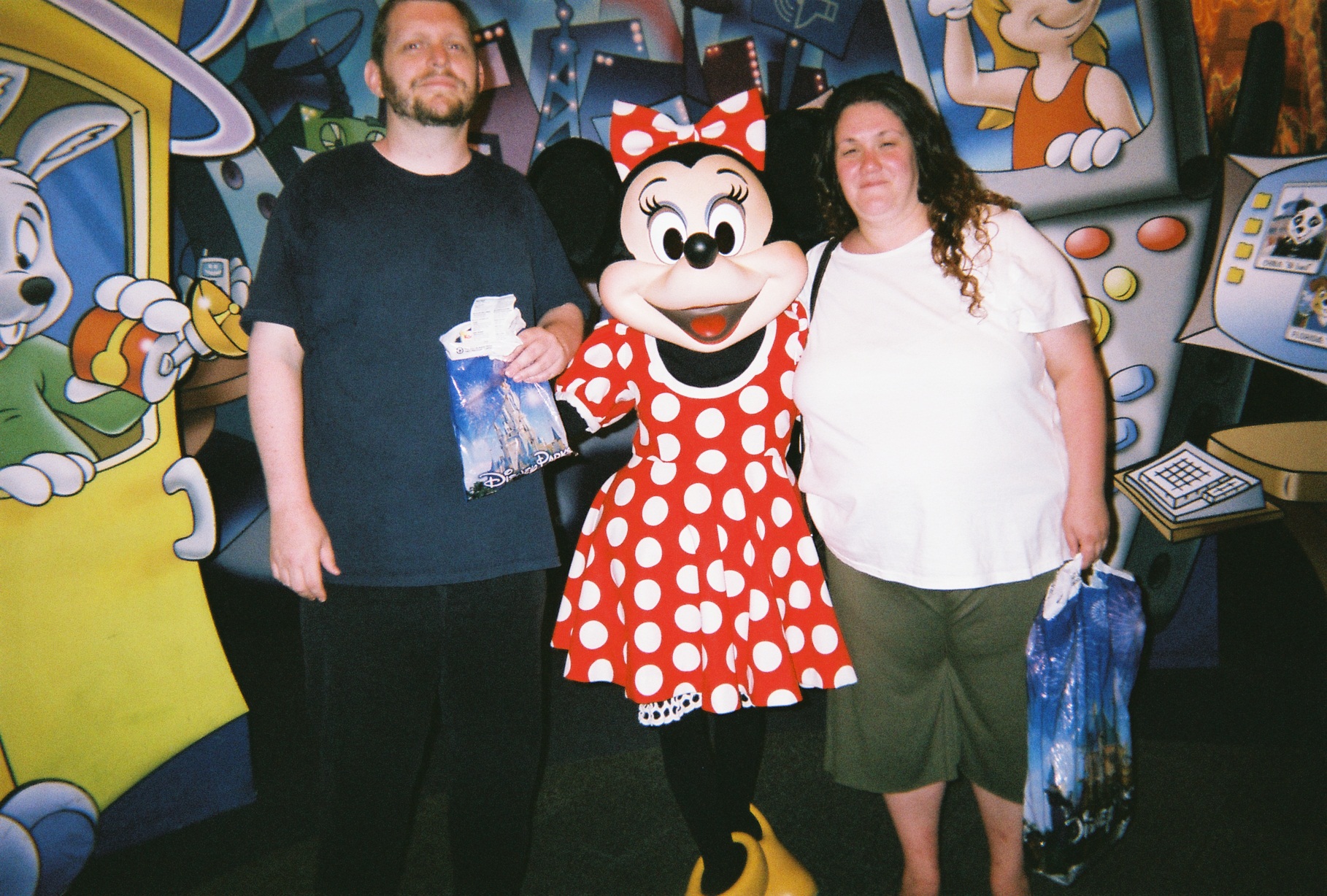 Thursday, September 6, 2012 (Orlando, Florida to Commerce, Georgia)

(Total mileage Orlando area: 128, pushing up the total to 1,218 miles)

After leaving Orlando, near the north end of Florida's Turnpike, I saw a billboard for Stuckey's, whose stores I thought had all disappeared. However, I didn't realize that today's version is more subtle, taking the form of Stuckey's products in gas station convenience stores. Therefore, I completely missed that one, on SR-44 at I-75 just north of the Turnpike's end, and was misguided at other exits (the surviving old-school Stuckey's buildings in the area have become Florida Citrus Centers, plus the logo for Sonny's looks very similar from a distance). I would eventually find two, one in Cecil, Georgia (Exit 32 on I-75) and one between Macon and Forsyth at Exit 181 (Mile 1,605).

A bit strange that all the approach signs for I-10 on I-75 have a diagonal right arrow, indicating that the exit is where exits usually are.

Bronner's Christmas Wonderland in southeast Michigan not far from I-75 is known for advertising far away, and the long-time Florida billboard on I-75 is still there, between I-10 and US-90.

Refueling just down the road from the Stephen Foster Folk Culture Center, which, me being a musician, I was tempted to visit. We continued on, however, and I saw that the signs with the relevant staff music at the Suwannee River crossing on I-75 were still there.

Minor auto problems soon after; everything was fine after a check at an auto parts store in Valdosta, Georgia. En route, I discovered that I-75's business loop may or may not still exist (there was a shield on US-84/221 after leaving I-75, but no mention either on I-75 itself or at the supposed turn north onto Business US-41 downtown).

Georgia's rest areas often have a blue sign at the offramp simply saying "WELCOME". The one on I-75 northbound at Mile 85 had a newer green sign to replace the blue sign, but the blue sign hadn't been removed yet, so it seemed extra welcoming.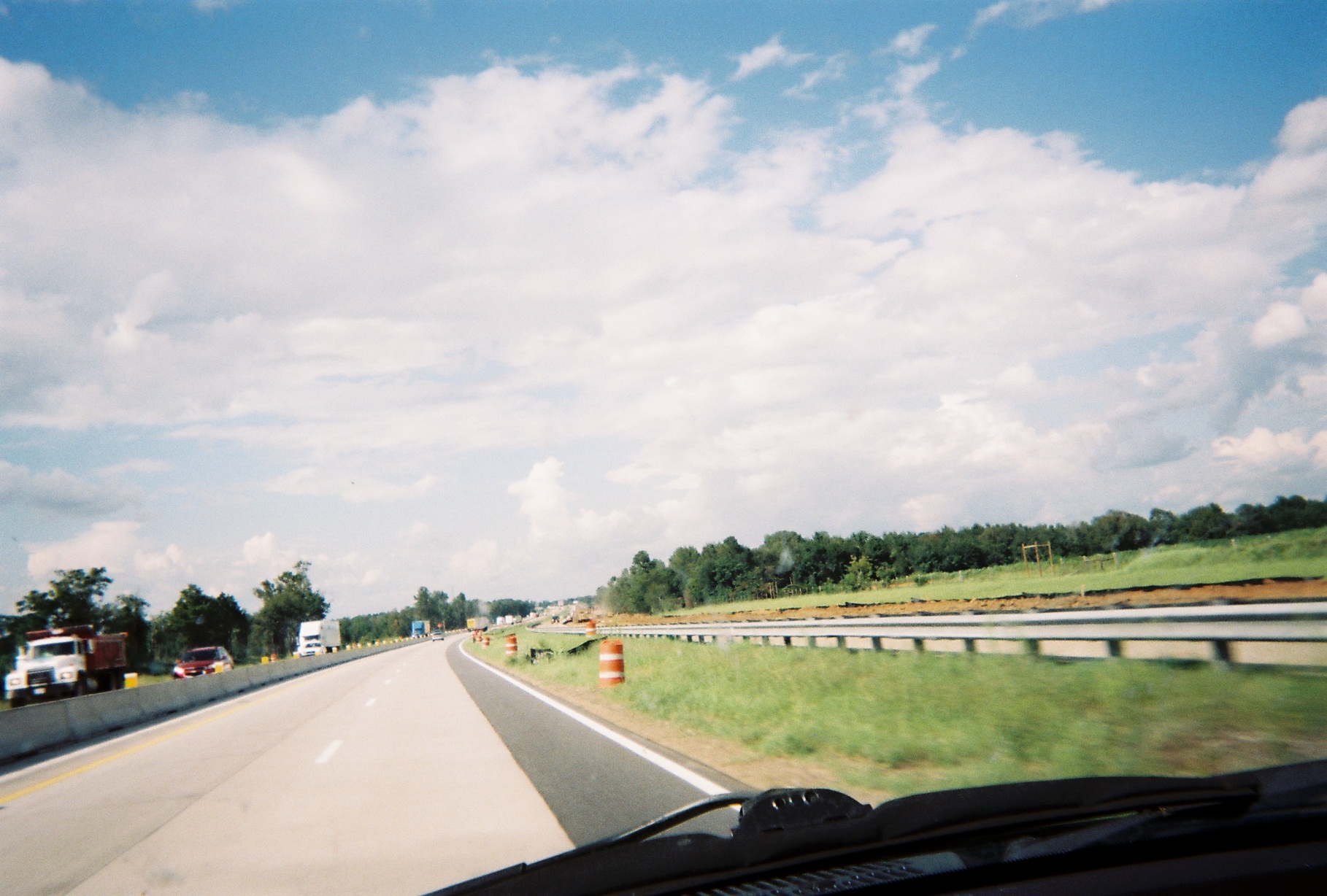 Part of a major Interstate is missing. I-75 northbound reconstruction just south of Exit 121 (US-41) Unadilla
Georgia, like other states, has signs restricting trucks from the left lane or lanes. I saw two interesting instances of them on I-75: First, in Macon (which I went through for the first time rather than bypassing), there are two in a row, one each on the bridges for the two directions of Business U.S. 41, and second, in Atlanta, there was a sign prohibiting trucks from the left three lanes where the right two lanes exited onto GA-166. (This is from when the left 166 exit lane also led to 75. I have e-mailed GDOT about it.)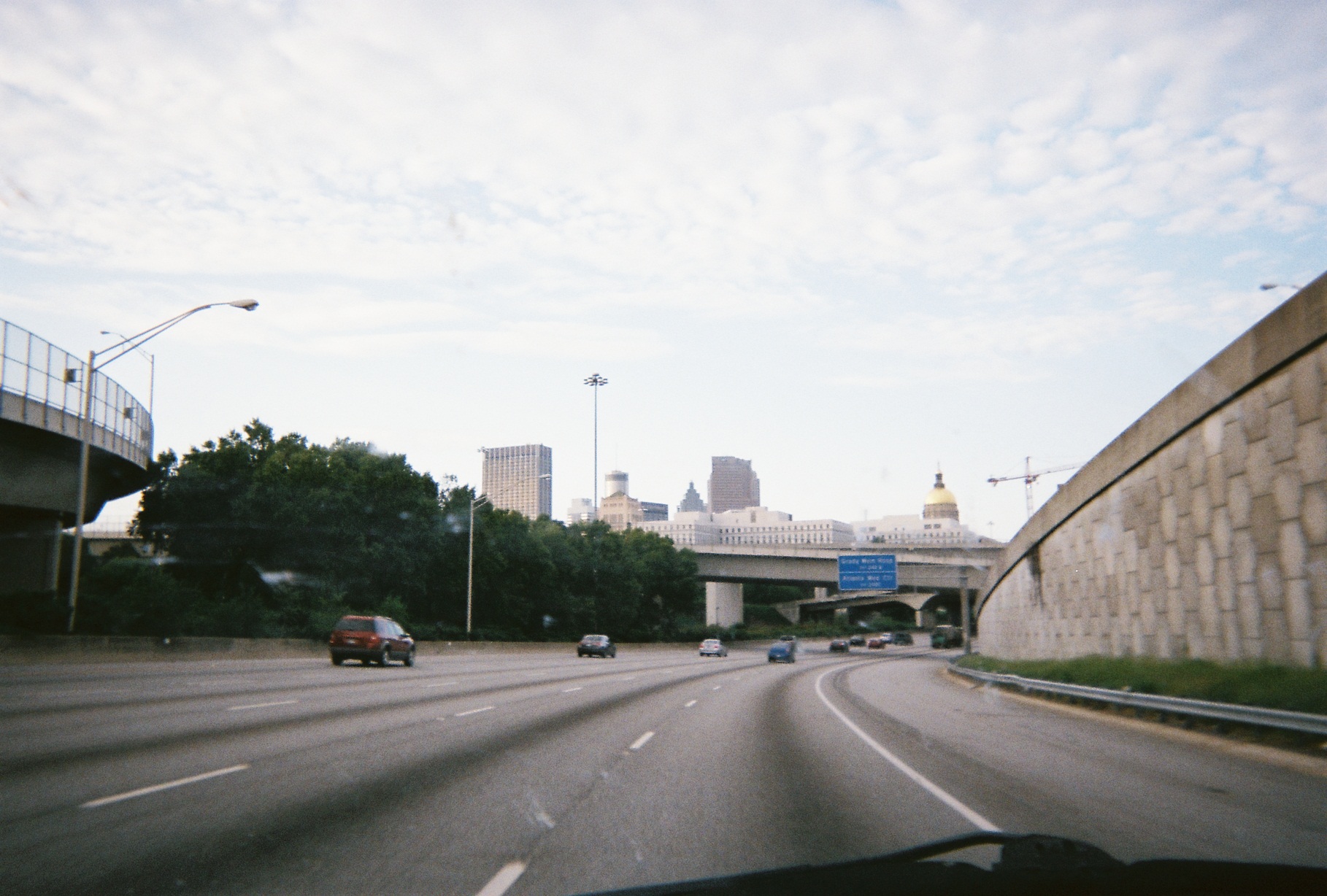 Georgia State Capitol from I-75/85 at the south end of the I-20 interchange (overpass ahead is the 20E-to-75/85N ramp)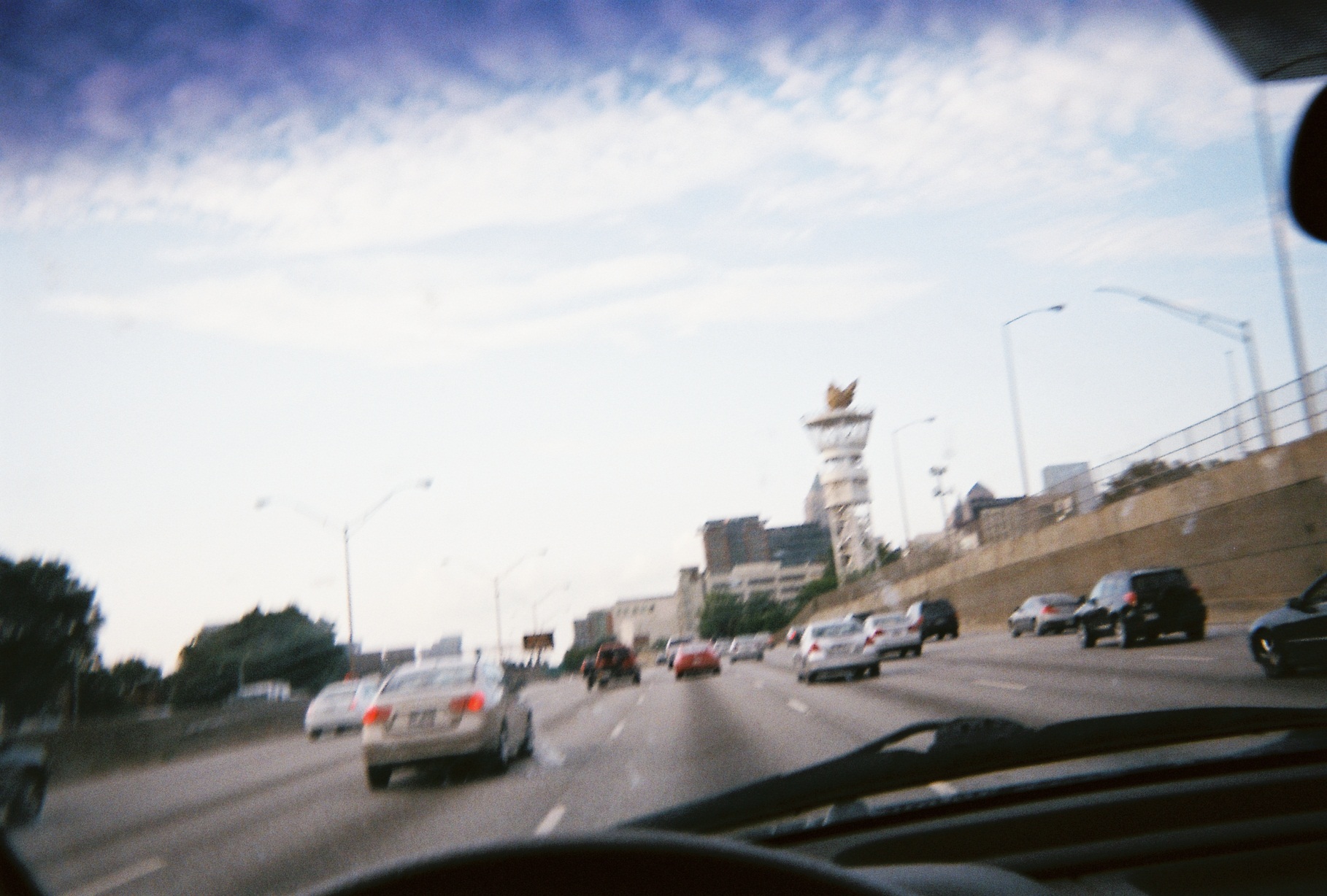 Really quick shot showing my time on the 14-lane 75/85. Pictured is the structure alternately called Olympic Tower and Centennial Tower.
First time through the Tom Moreland Interchange on I-85 at I-285 northeast of town, which, though it's nicknamed Spaghetti Junction, seems less complicated than Metro Atlanta's other interchanges.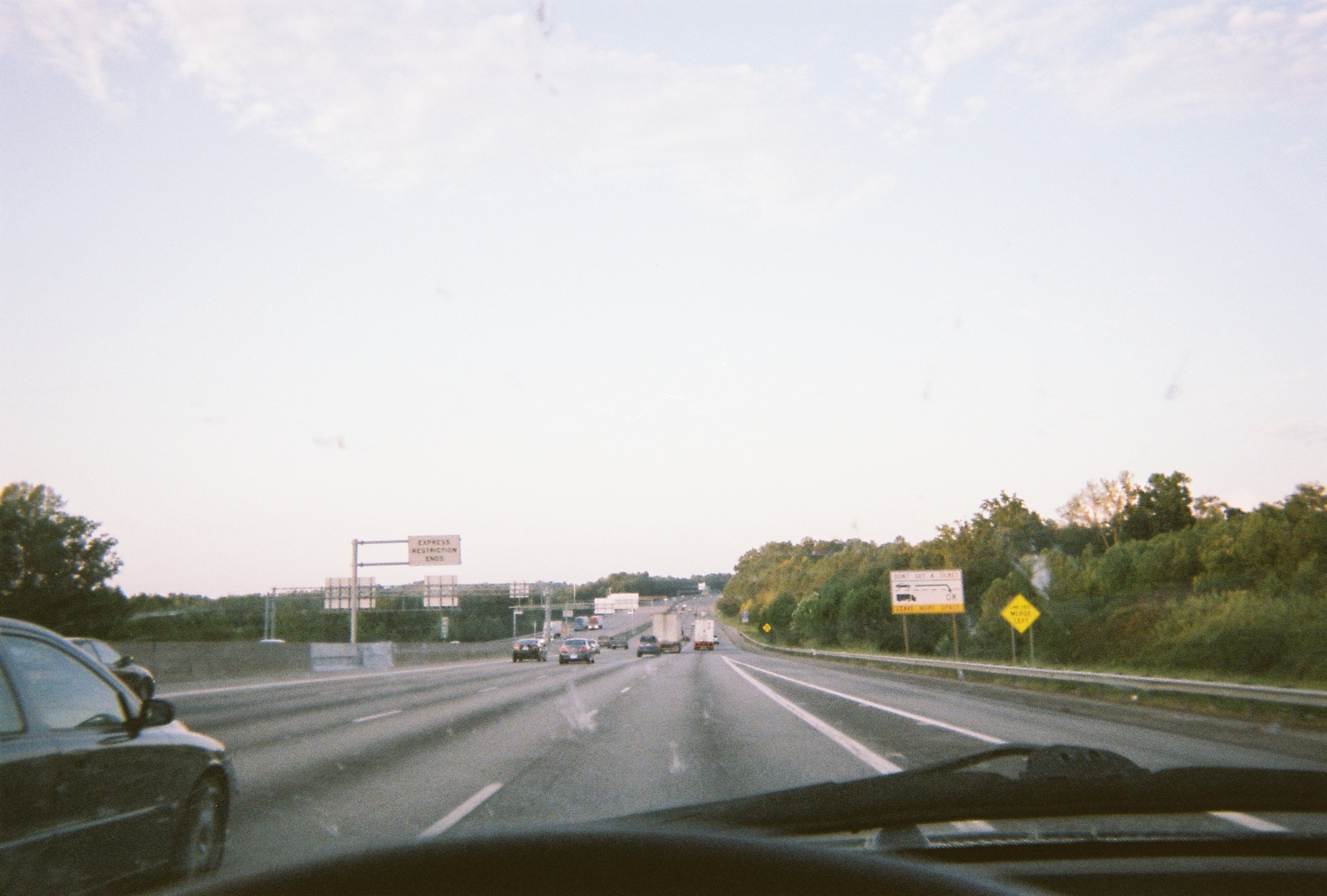 TACT road sign just past I-85 Exit 109. GA has these scattered around, and I've seen them elsewhere, including on I-76 westbound entering Akron.
As it was getting dark, we exited to find a room, and happened to be near the Mall of Georgia, but the upscale hotels across the highway were a bit steep, so we eventually opted for a motel by the Tanger Outlet Mall at US-441 north of Commerce.
Friday, September 7, 2012 (Commerce, Georgia to Waynesville, North Carolina)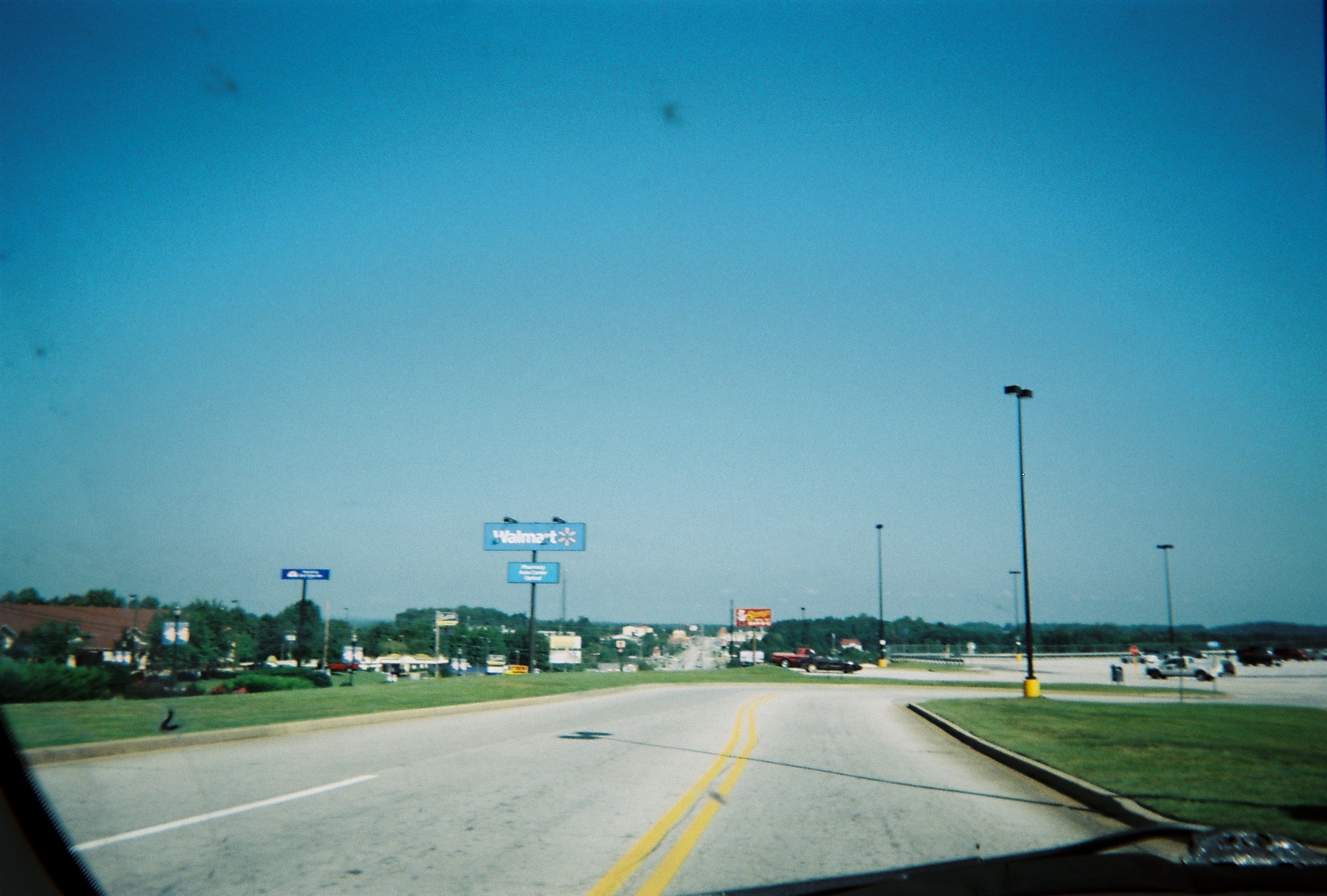 Another Sonny's; this time I ate there, first time ever.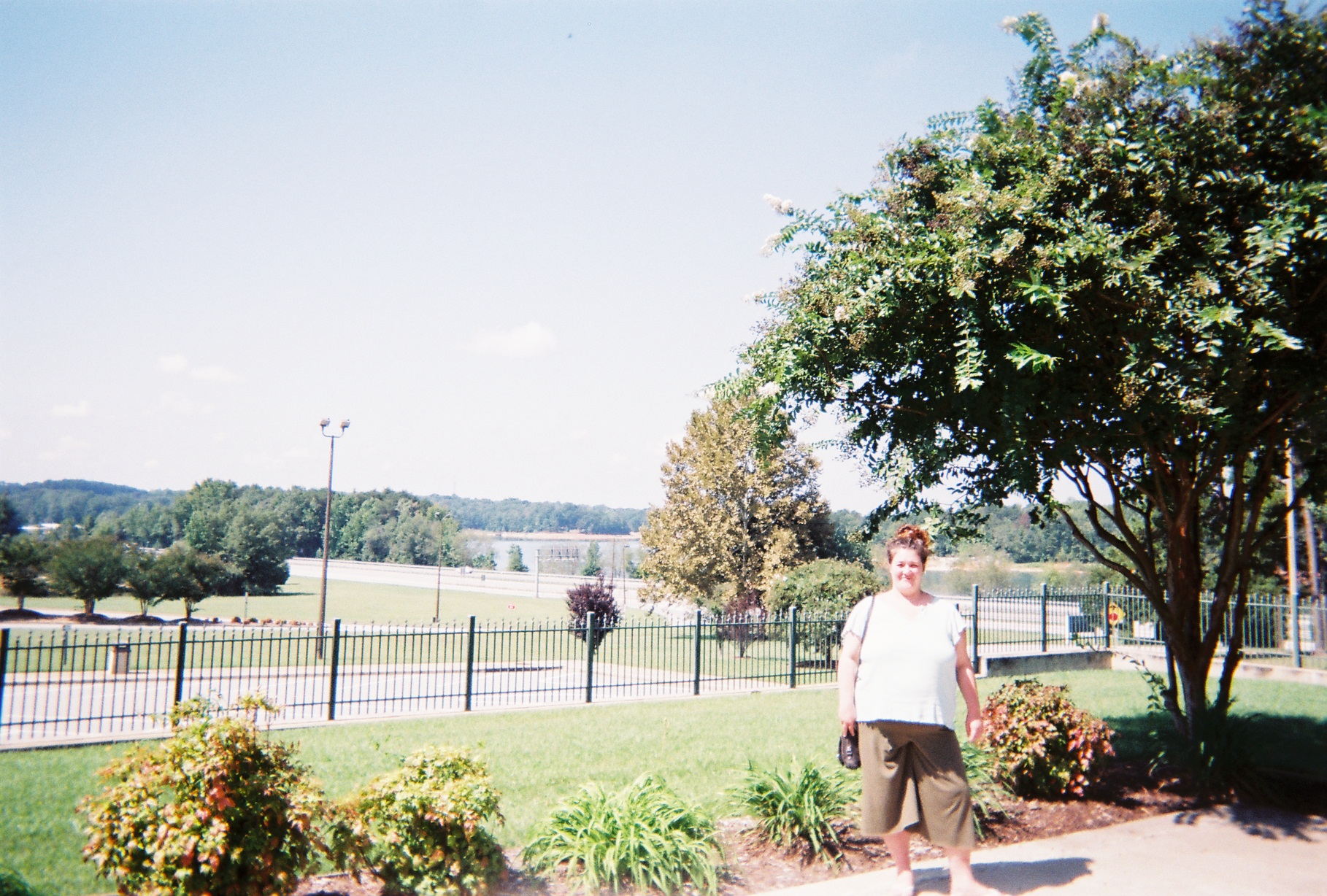 South Carolina part 2. Lake Hartwell is in the background of the second photo.
I-26 is very narrow north of I-85 (example).
Stopped at the I-26 North Carolina Welcome Center. This one was open when we got to it, and the ladies at the counter were very helpful with information, though I pretty much already knew what I needed and how I'd get around.
(Mile 1,891) Gas by the weird I-26/US-74/NC-108 interchange complex in Columbus
I was familiar with North Carolina's section of I-26 from family trips in the 1980s. Biltmore Park was definitely new to me, however. (Street View from I-26)
In spite of my familiarity, since this was my first time driving, I hadn't realized how narrow the old freeways now carrying I-26 and I-240 through parts of Asheville were. I also wasn't used to the Exit Only signs here being more subtle than in other areas, so we almost toured downtown via the old route on Patton Avenue. We did loop around through Beaucatcher Tunnel intentionally (when my family first visited, the expressway fed into the tunnel as I-240 around it was under construction).
Again, we met the Blue Ridge Parkway, this time to stay a while. As with many other people, this is one of my favorite roads of all time; my visits as a kid culminated in 1988 when my family drove the whole Skyline Drive/BRP end-to-end after the Linn Cove Viaduct at Grandfather Mountain had opened the previous year. I got to drive it for the first time on this trip.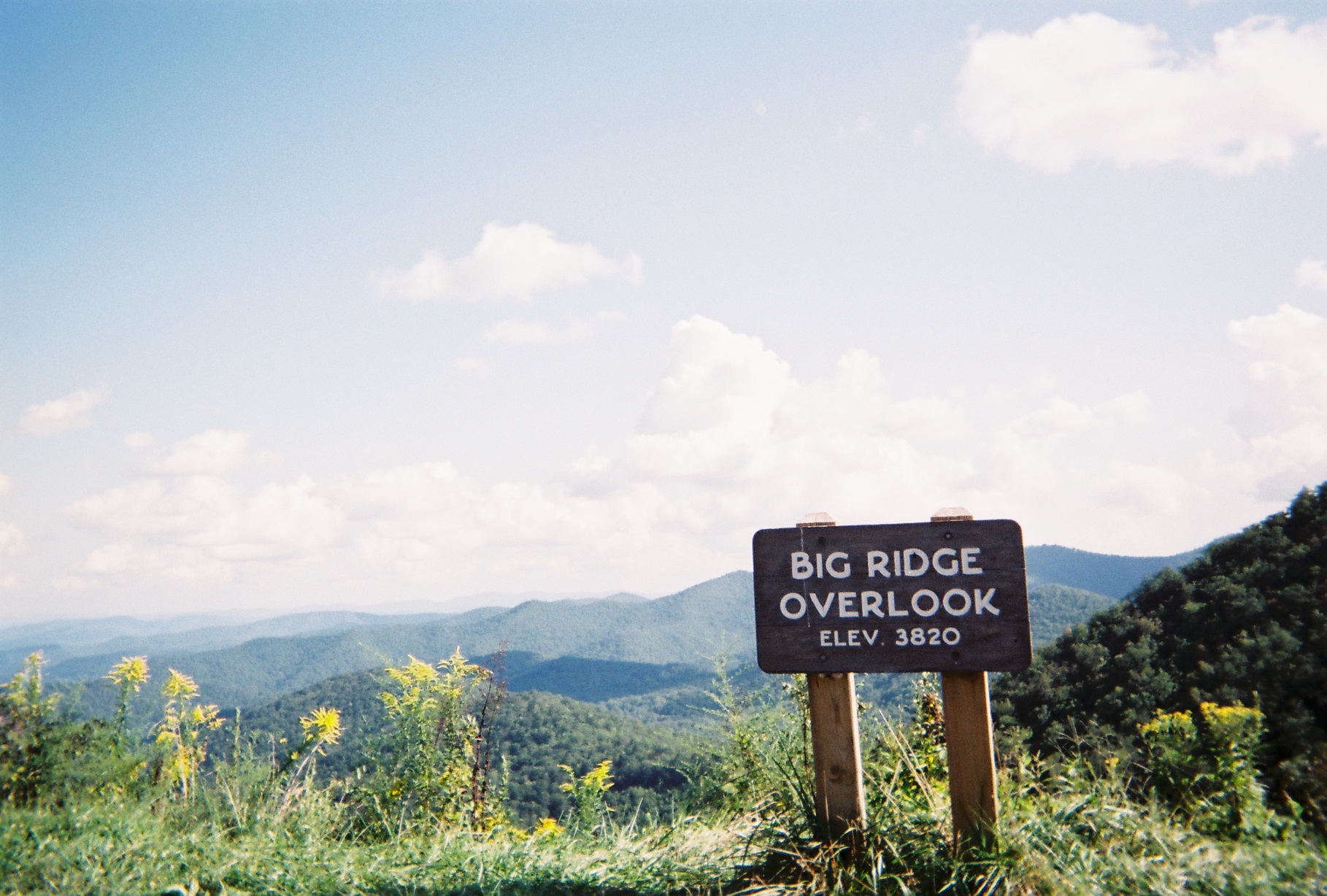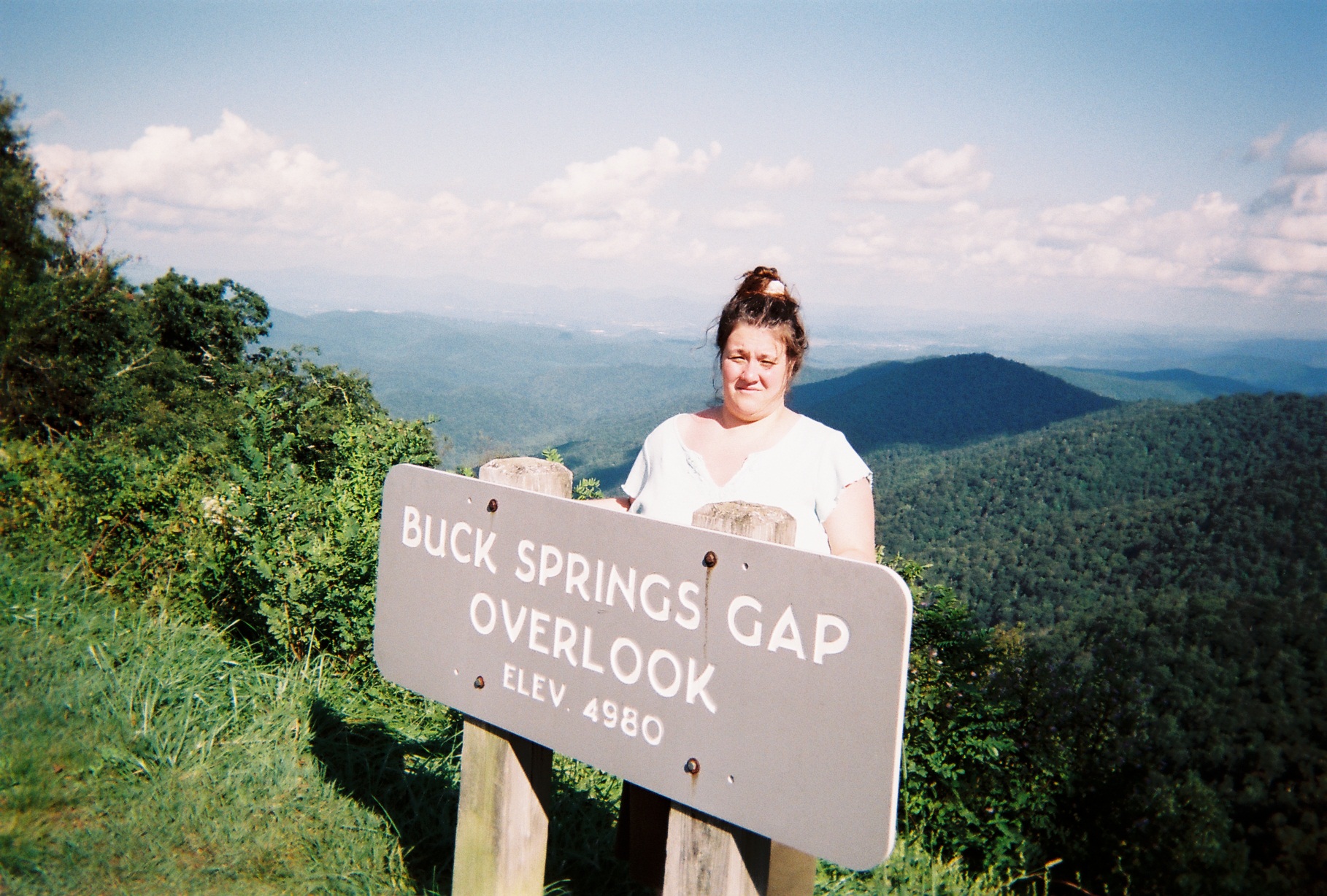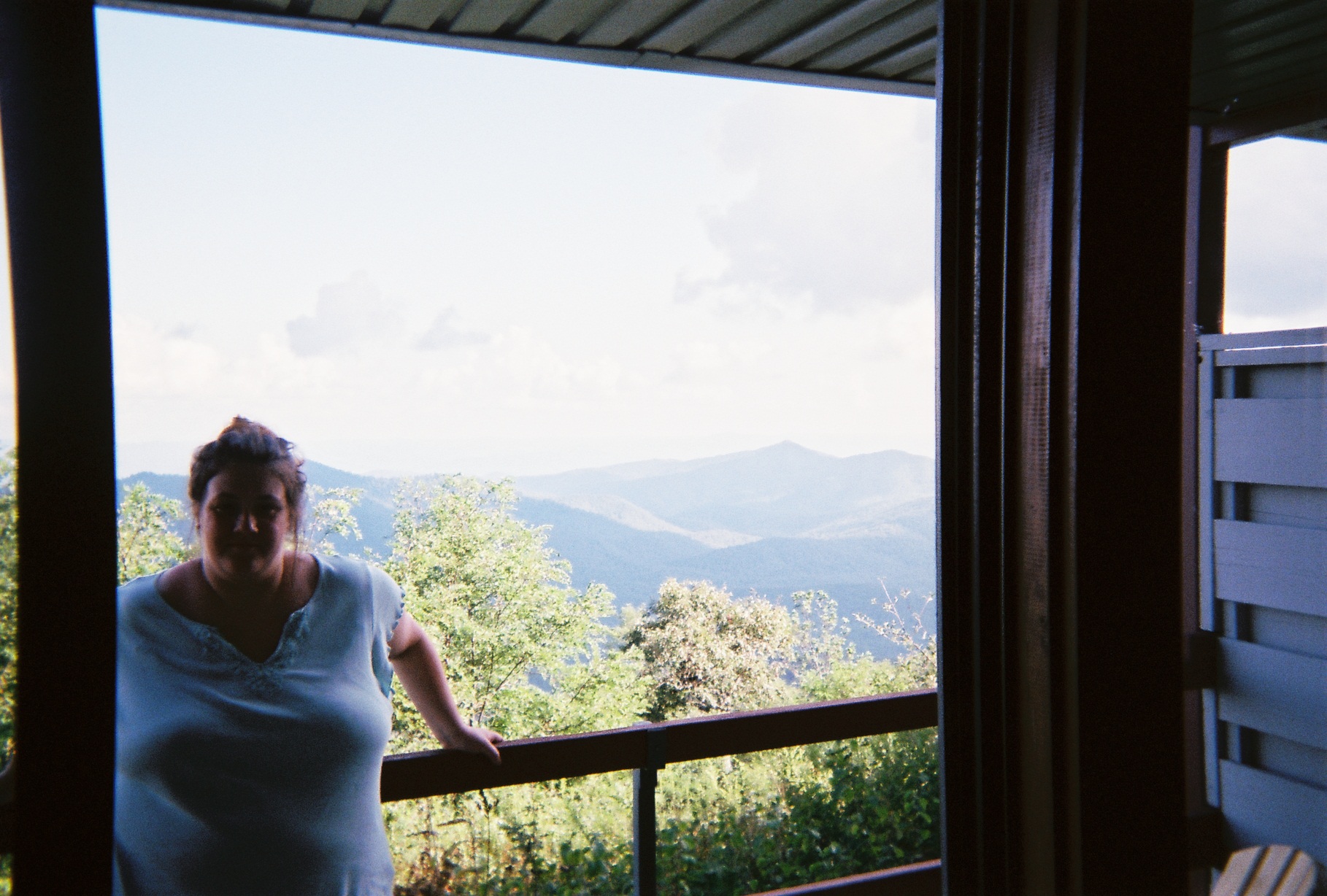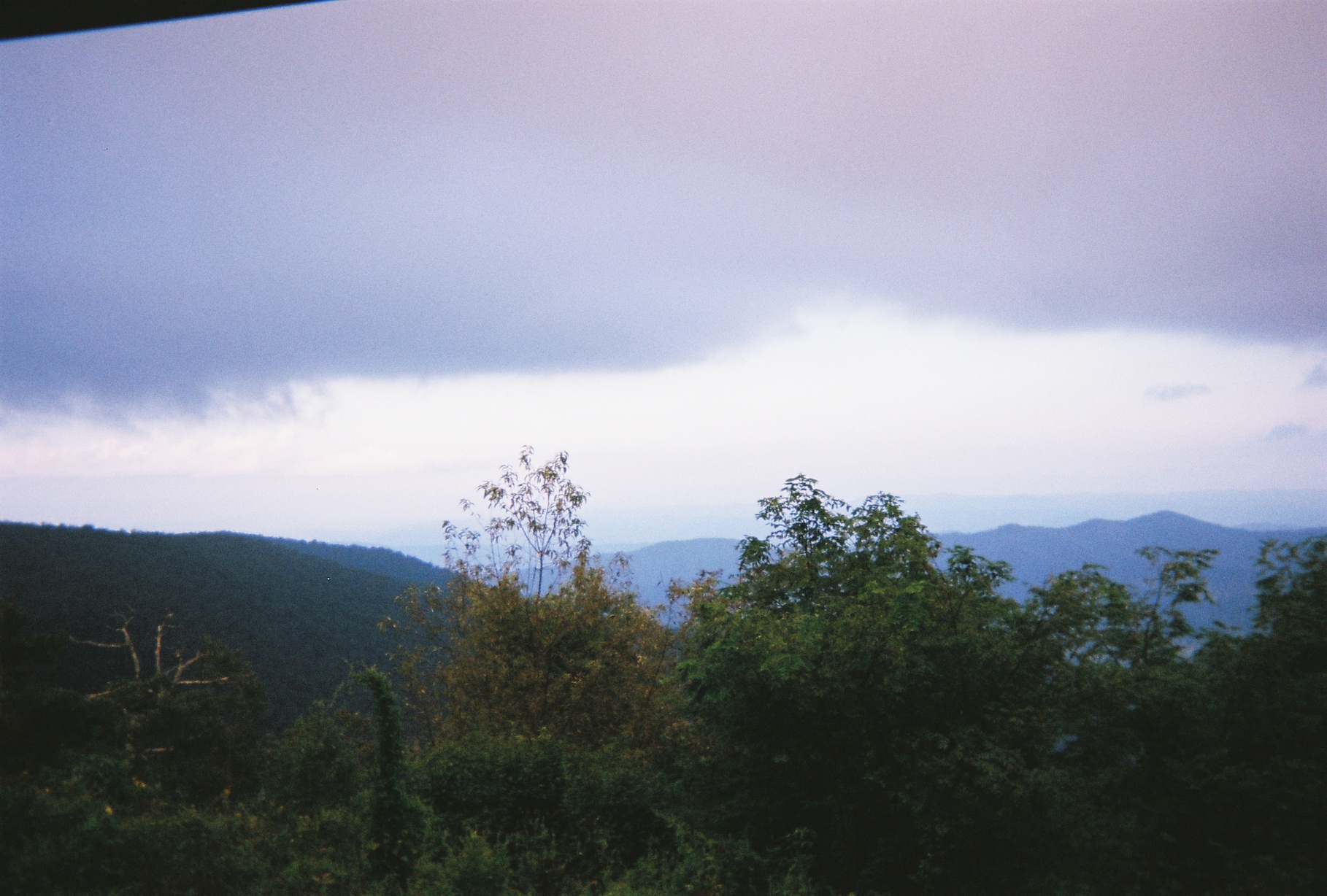 The last two views were from the balcony of our room at the Pisgah Inn.
Saturday, September 8, 2012 (Waynesville, North Carolina to Lake County, Ohio)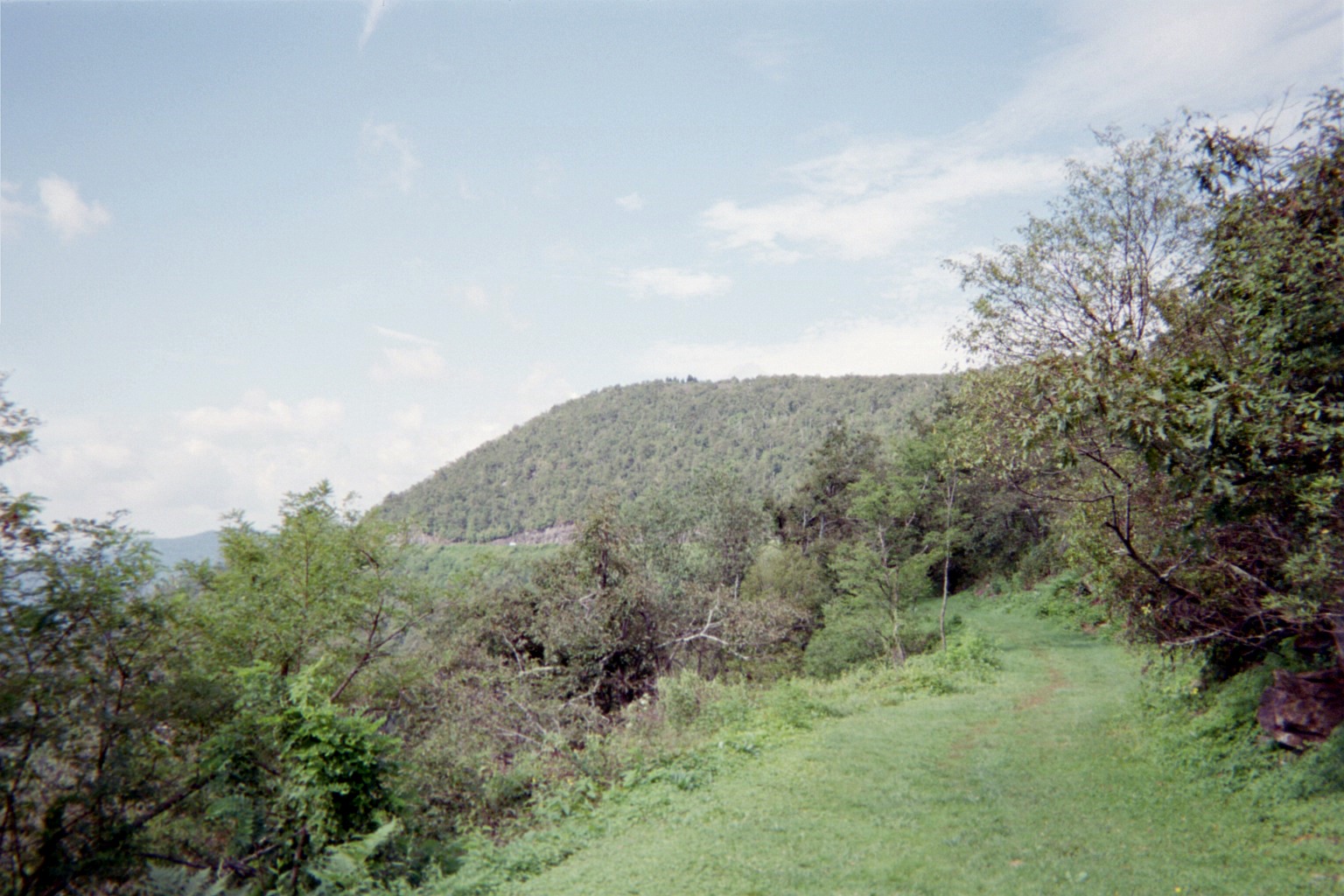 BRP southwestbound from behind the Inn's registration building (the white dot is a vehicle)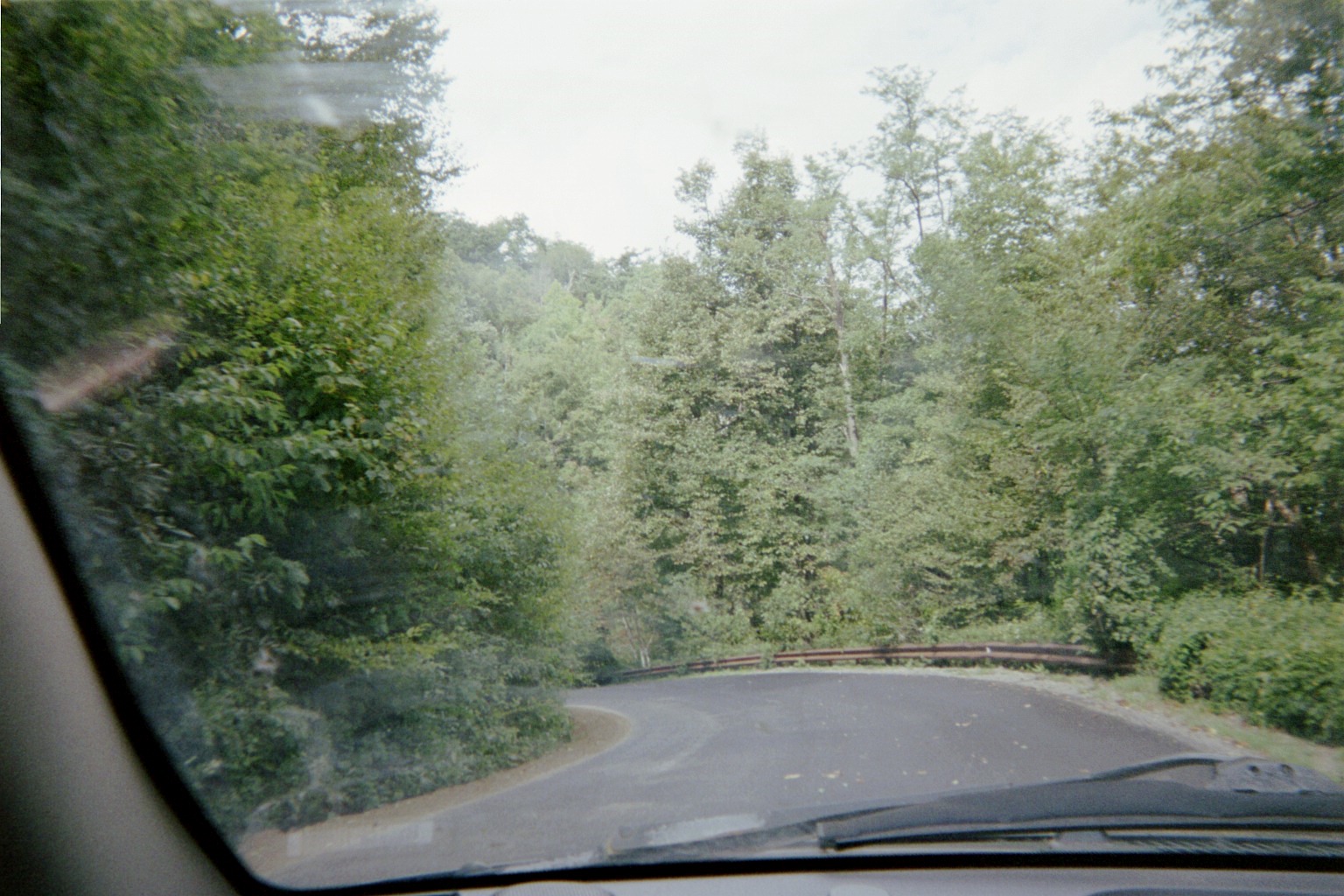 Into the valleys to find cell phone service, via US-276, NC-110, US-19-23, and NC-151. Because of recent paving, there are no pavement lines here, making US-276 seem like a backroad off of the Blue Ridge rather than a U.S. highway.
In Canton on NC-110 there were portable signs notifying drivers of a return to normal traffic patterns, which I didn't understand until I found out that the US-19/23 southbound (going west) bridge in town had just reopened after about a year. During the closure, what normally is US-19/23 northbound (going east) carried two-way traffic.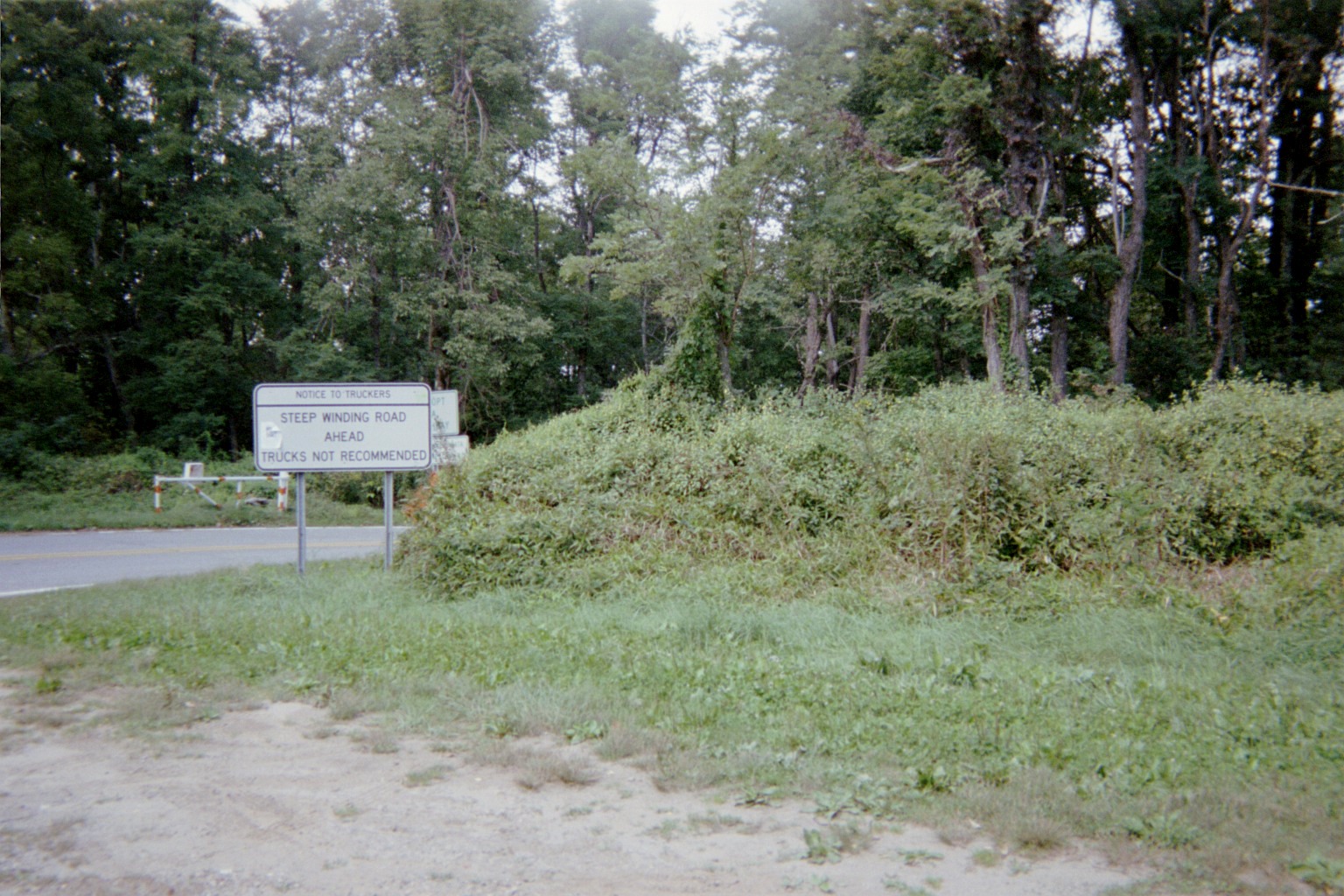 NC-151 leaving the BRP. They're not kidding. My family found this out the hard way, pulling a travel trailer, no less, in 1986, when the sign wasn't there, to our recollection.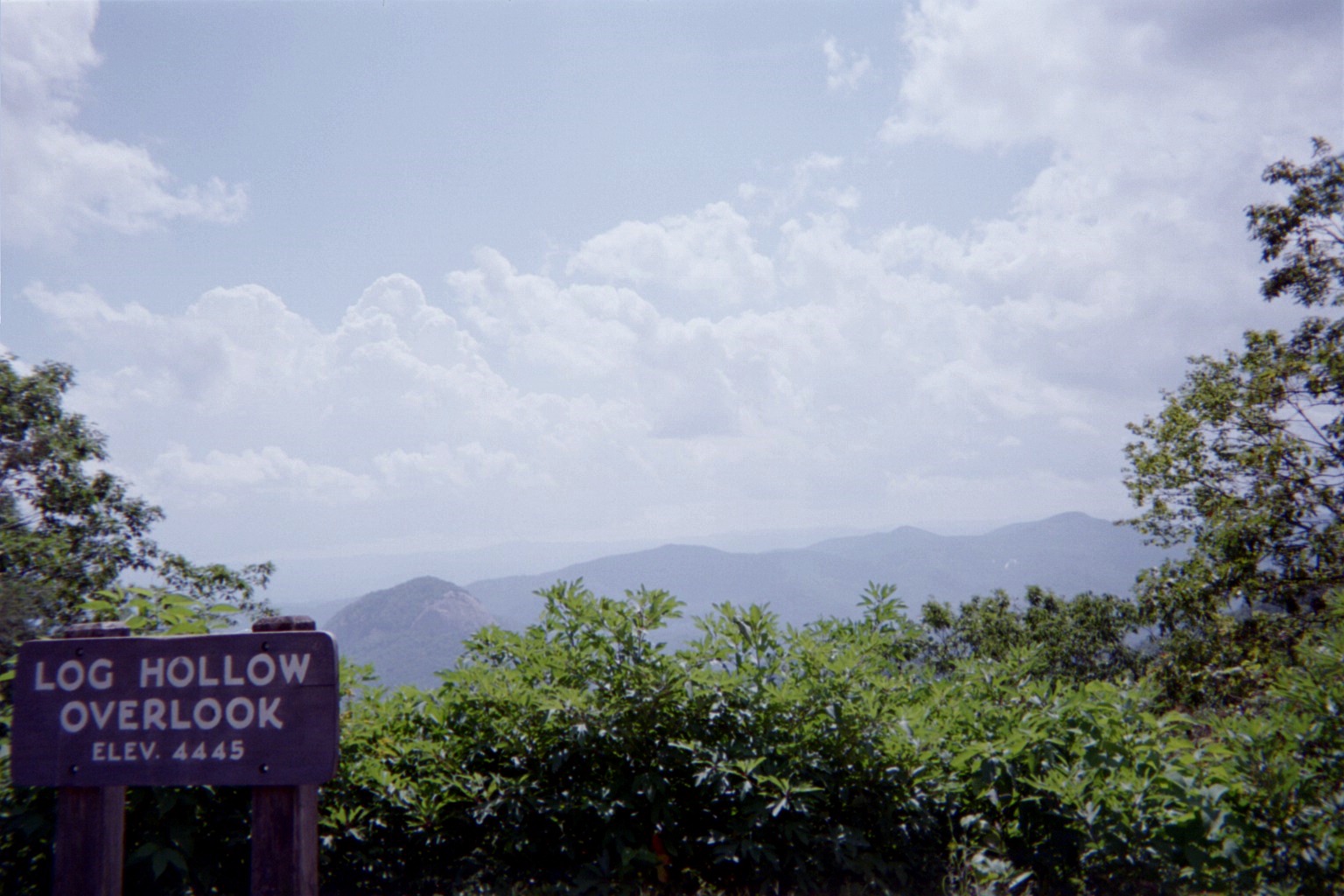 Looking Glass Rock is seen. The actual overlook dedicated to it further along was extremely crowded so we passed.
Oops! US-215 shield at NC-215. All the 215 markers on the BRP were like this.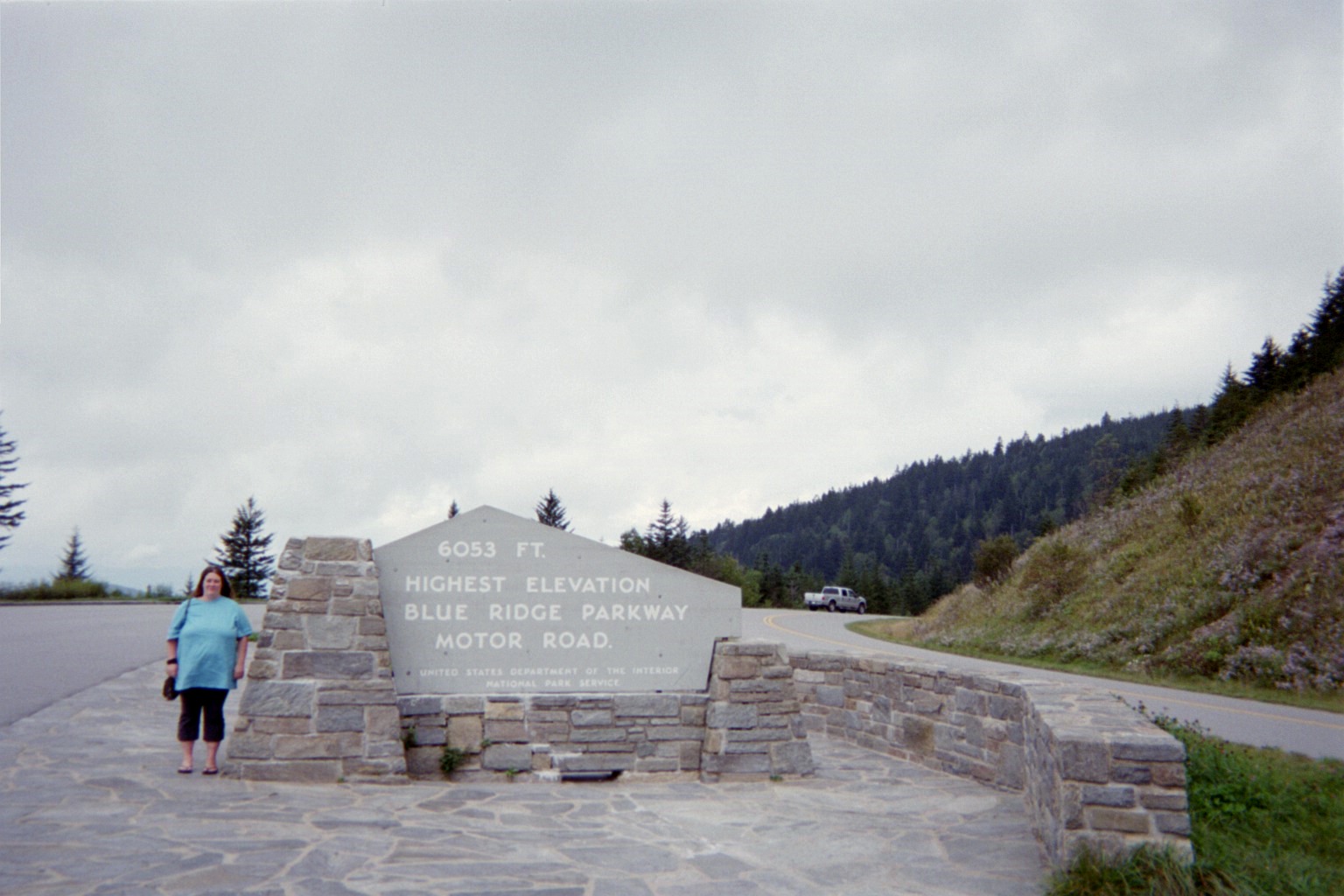 The U.S. 74 shield is posted above the U.S. 23 on at the Parkway's access road to them, I'd imagine because of US-74 replacing US-19A here a quarter-century ago.
One of the Parkway's famous spiral curve signs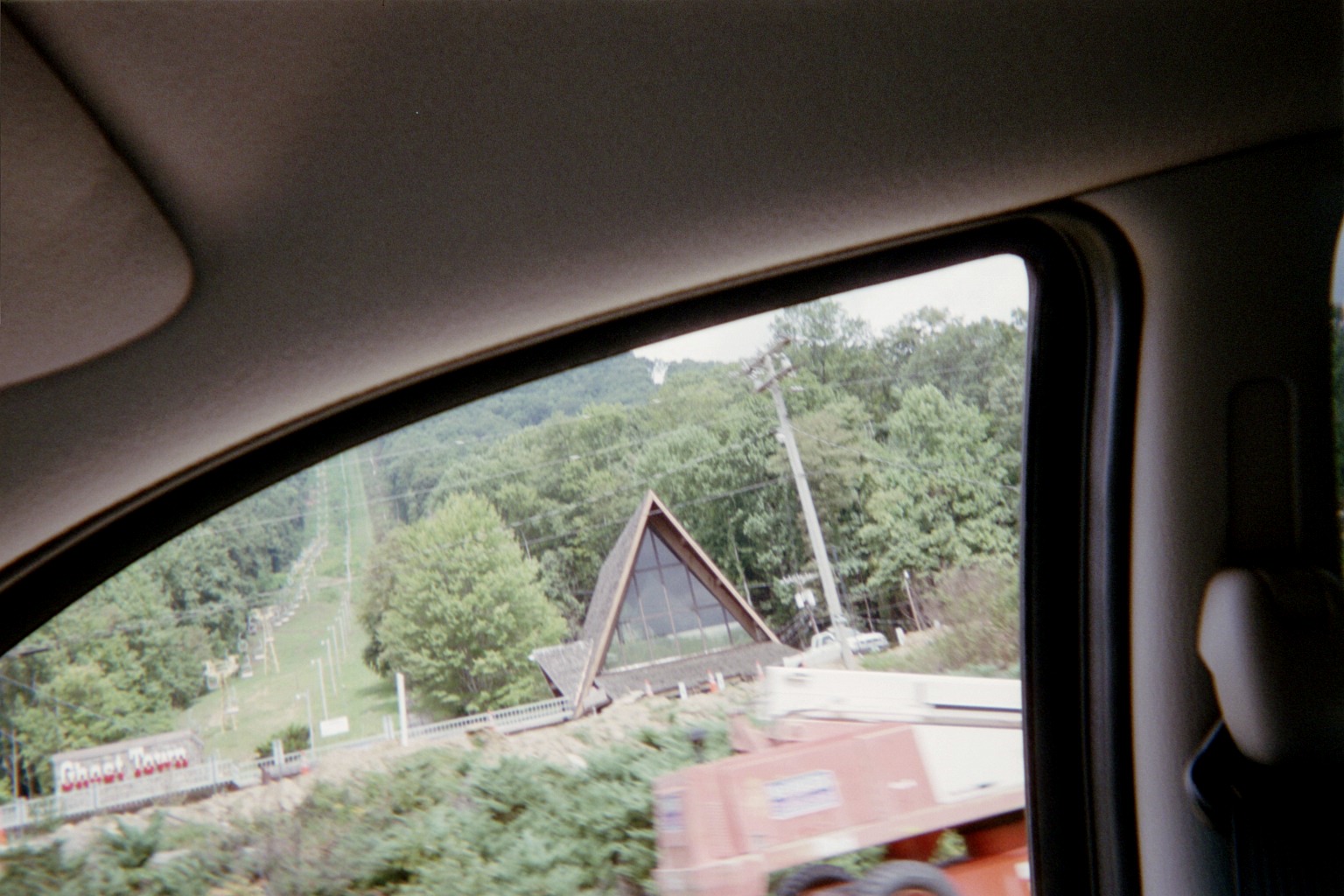 Ghost Town in the Sky lives! Located on the west side of Maggie Valley just east of the BRP, it had been closed and still is not fully operational but is on its way to recovery.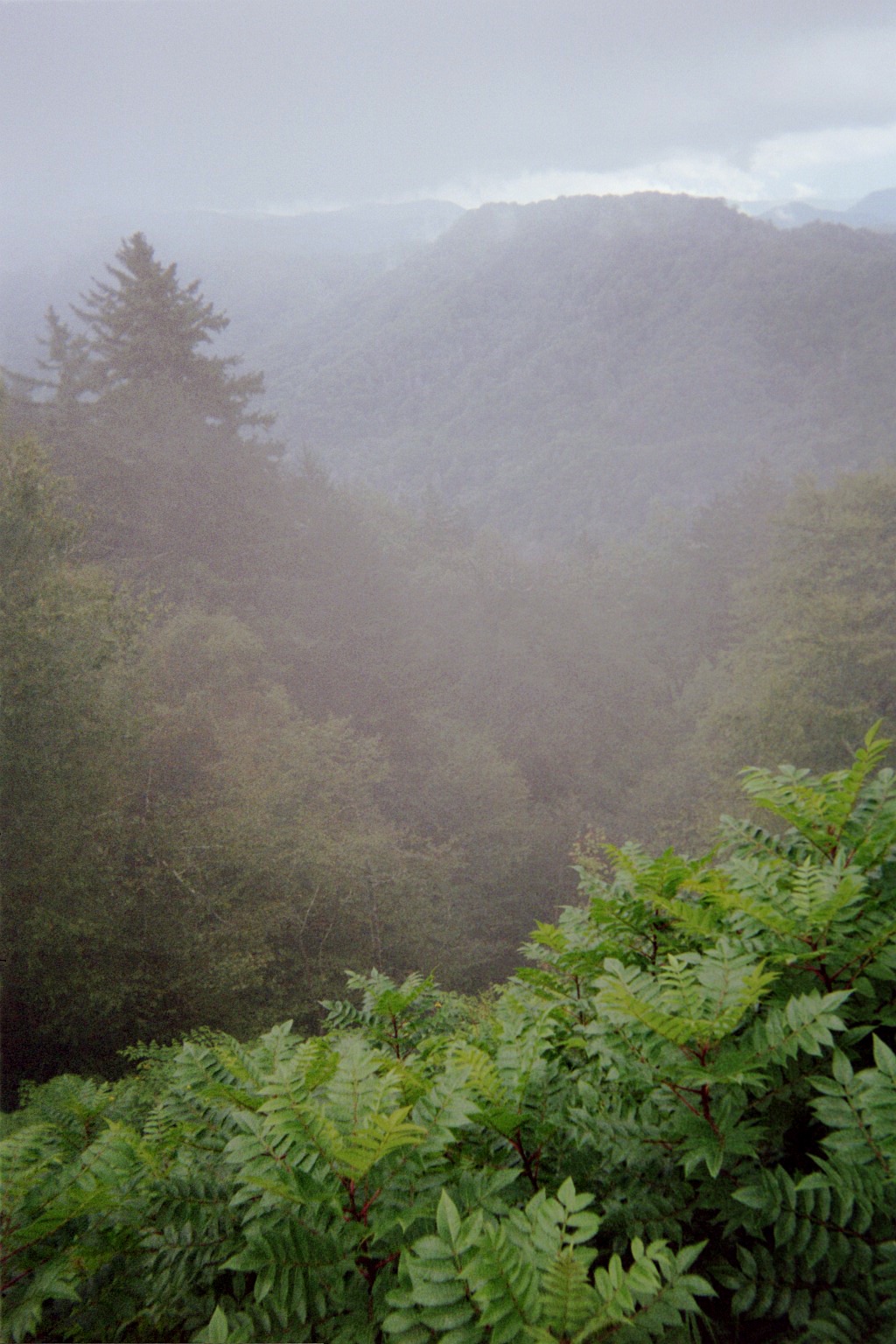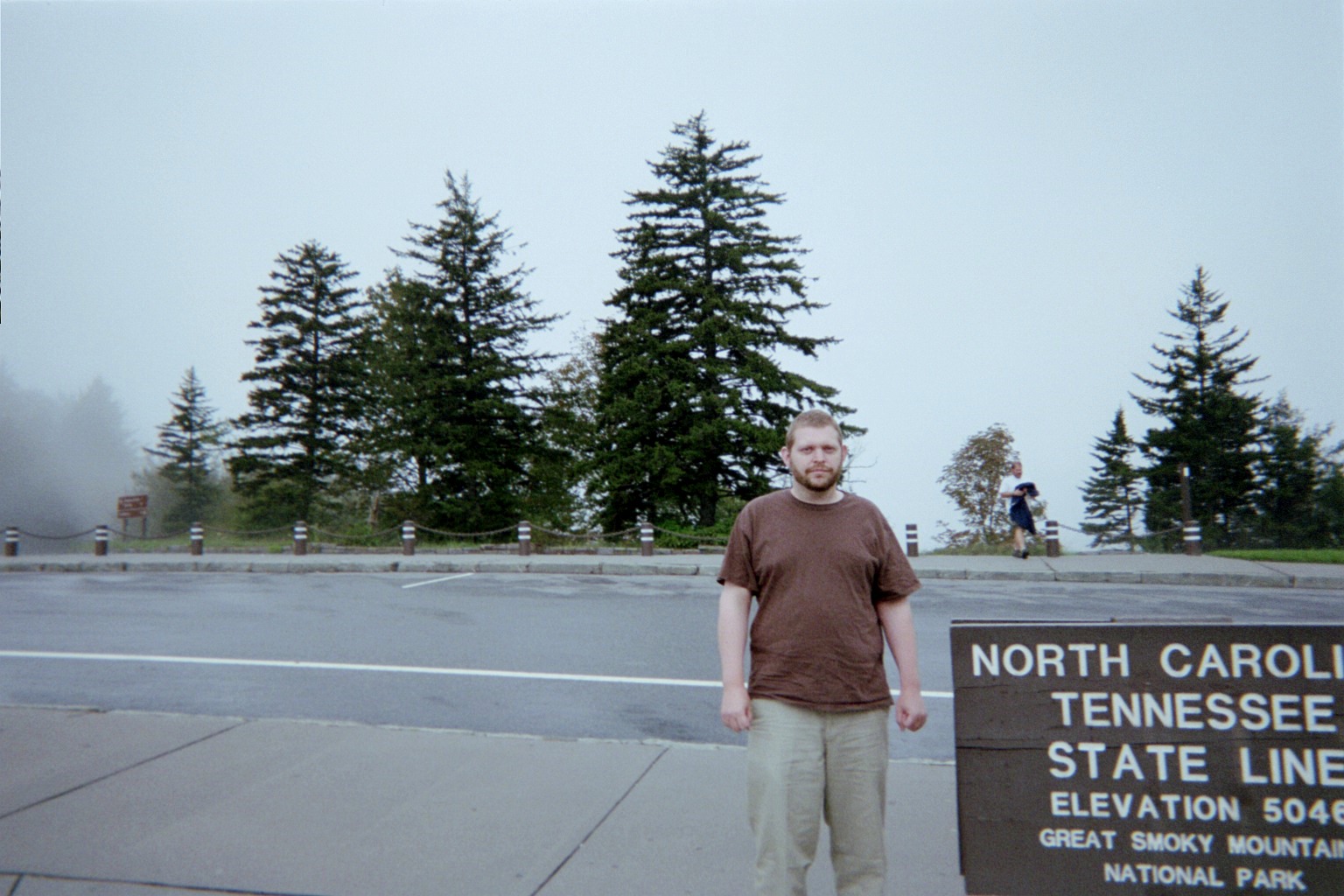 Newfound Gap. The signs had changed since my last visit; before only one state was listed on each side. This time, I wasn't sure where each state was. It seems from looking at maps/aerials/topos that the name listed first is the state where the viewer is and the area behind, and the second is what is beyond the sign.
As I could see, since my last visit, Gatlinburg and Pigeon Forge are now all grown up.
Where US-321 joins US-441 in Gatlinburg, the right turn doghouse signal on 441 northbound has right arrows on the left side. I'm guessing the the right side must be disabled now, as I didn't get to see since straight traffic kept a green.
At Newfound Gap, someone had informed us of a car show in Pigeon Forge. I had anticipated congestion anyway, so I wasn't concerned. However, I didn't realize that as part of the show, participants parked their vehicles along 441/321, making the right lane a cruising lane and creating a city-long traffic jam which actually started at the city limits of Gatlinburg. While stop-and-go, we decided to fuel up at the Pilot, where I had my first-ever Bojangles.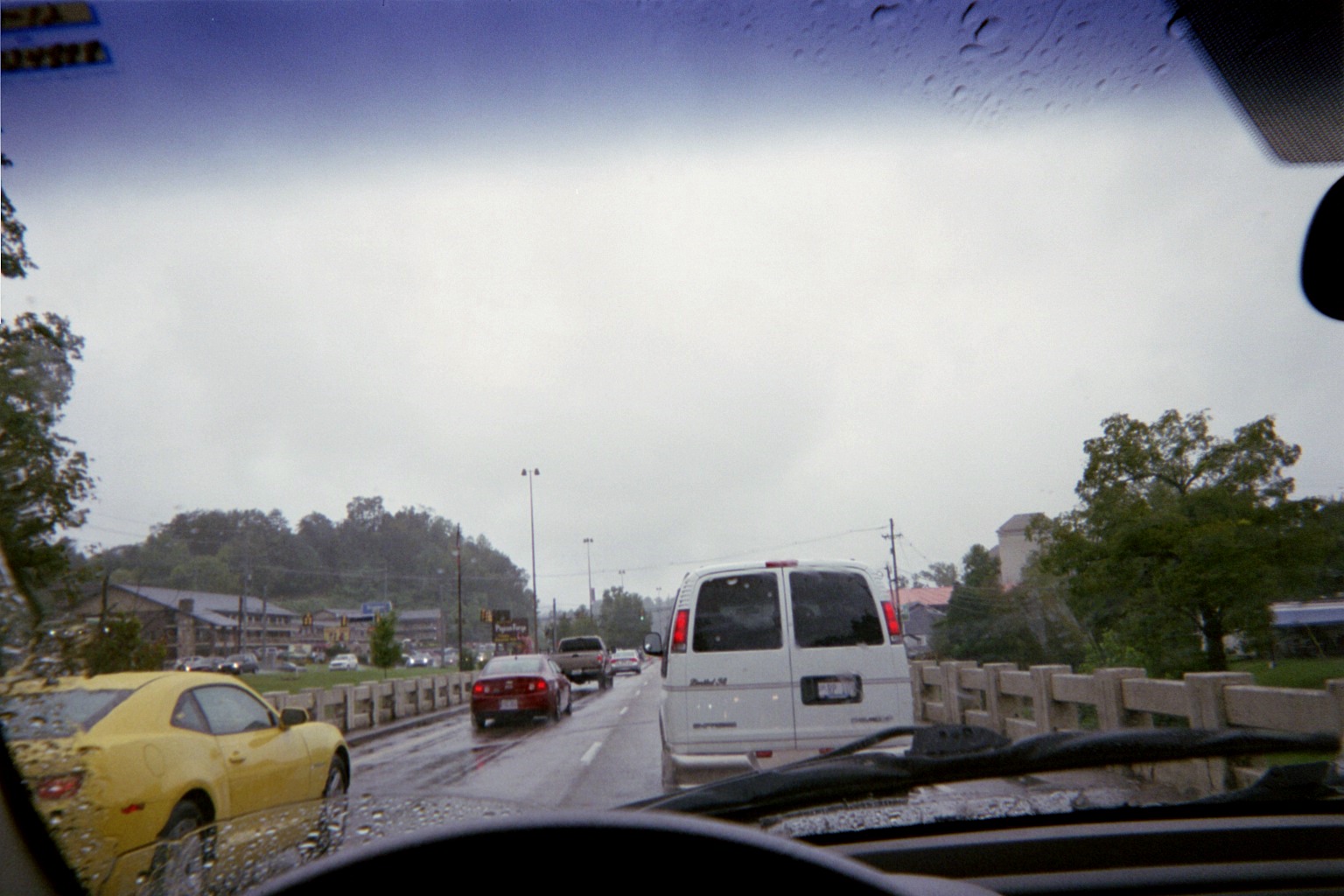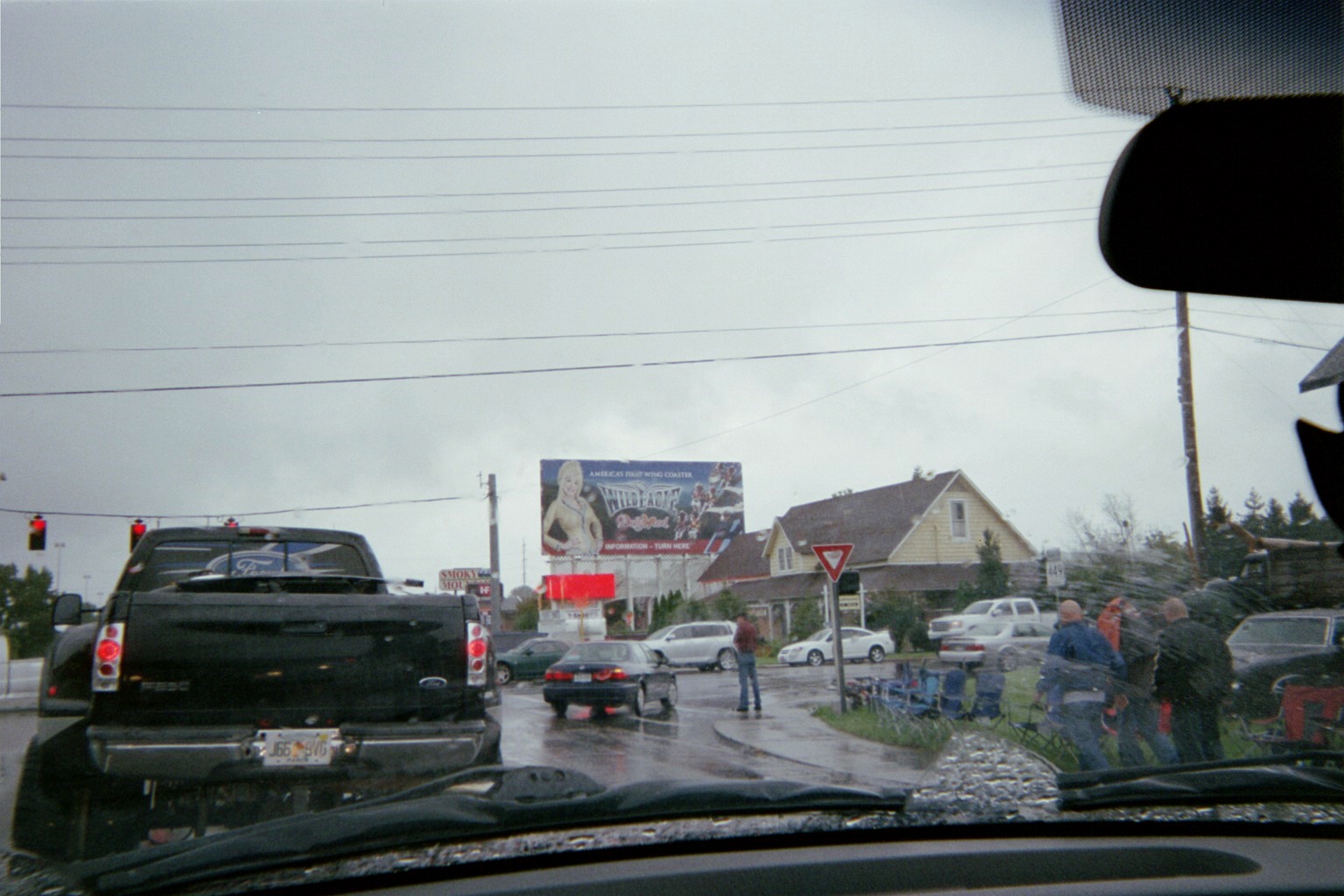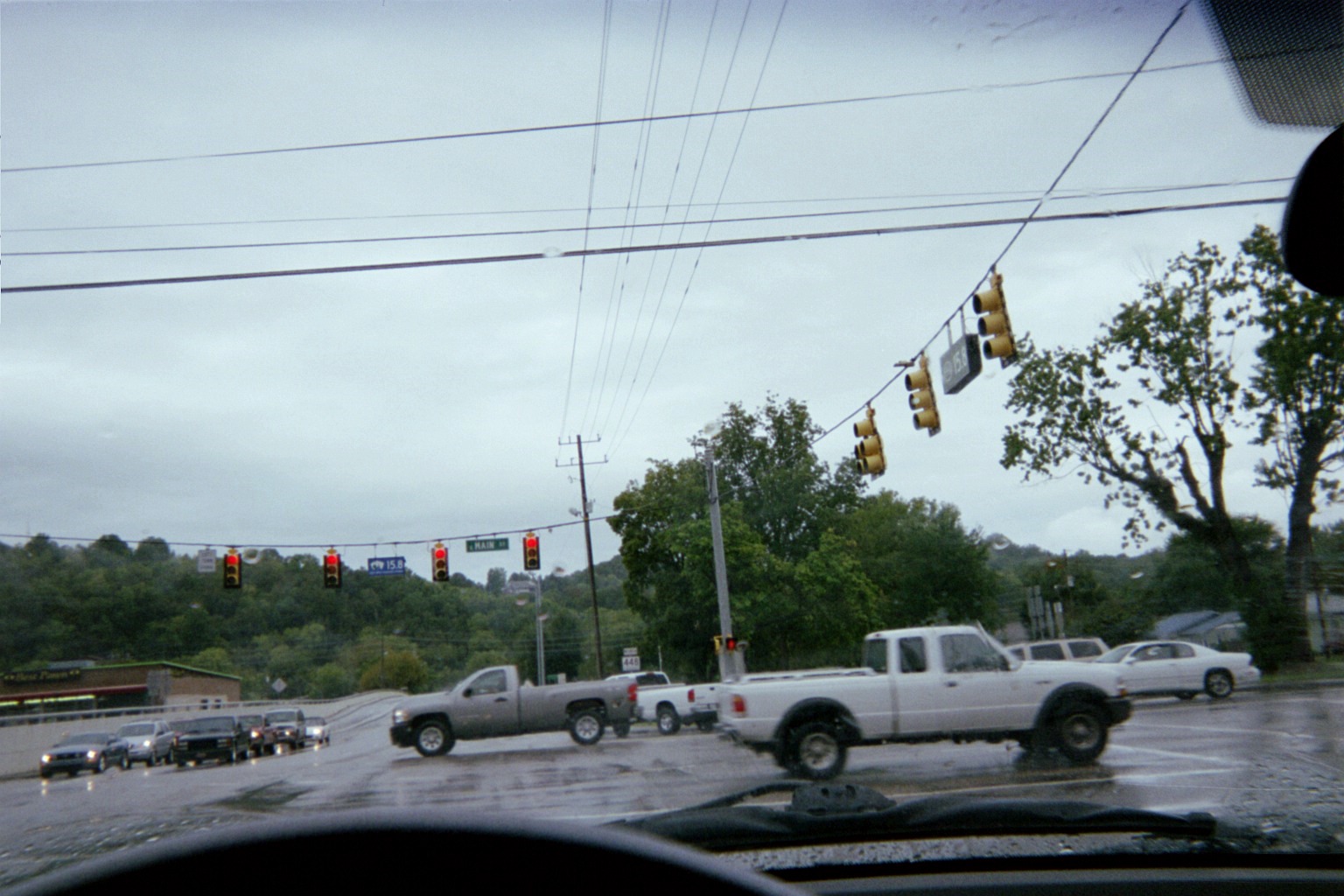 TN-448 at US-411 in Sevierville
There is a triple right turn lane from TN-448 to TN-66 at Sevierville, because that's the route of the Great Smoky Mountains Parkway. 66 to the north is getting a third lane. The improved 66 was new the last time I was there.
When I was growing up and my family would visit relatives in Lawrence County, Tennessee (junction US-43/US-64) I would remember the sign approaching Nashville on I-65 which would list the mileage with just a number, then underneath reiterate the miles with an abbreviation of "mi" and then the number of kilometers. I thought that these had all disappeared until I saw one 12 mi/19 km from Knoxville on I-40 westbound.
Adding to my 1982 World's Fair reference on Day 1, I got a glimpse of the Sunsphere, its still-standing iconic symbol, as we followed I-40 to I-275 in Knoxville.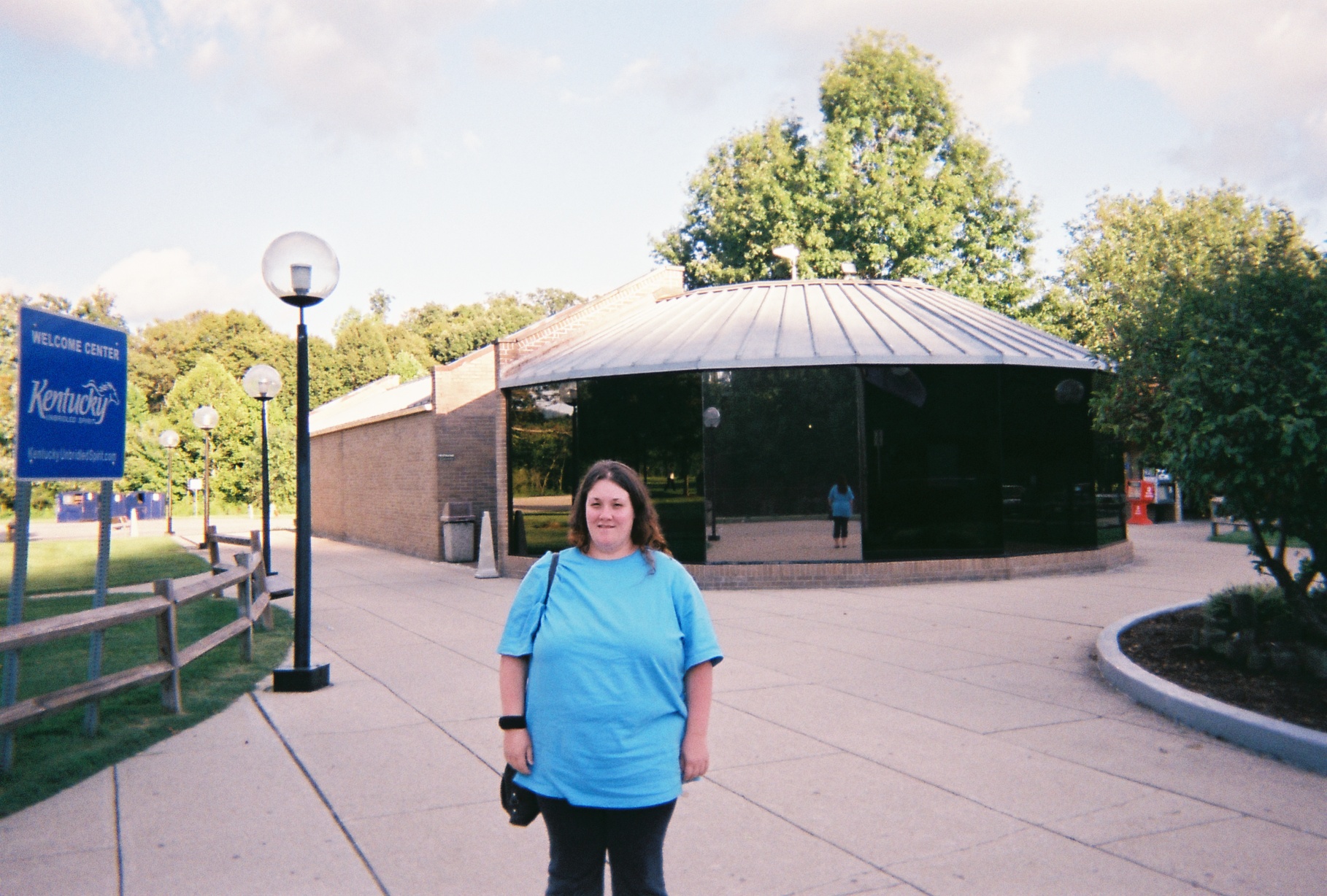 Kentucky Welcome Center – closed, but maps available
This business in Richmond, south of Lexington, was something to make us reminisce about Florida before we were even home.
Because of the traffic jam in Tennessee, it got dark between Lexington and Cincinnati. While rural driving was nondescript, Cincinnati and Columbus were all lit up, of course. In the former, we passed Great American Ball Park ablaze as the Reds had just beaten the Astros, or were in the late innings of the game. I was also on the Fort Washington Way section of I-71 for the first time since it was rebuilt.
Stopped at the Ohio Tourist Information Center, which of course had long been closed that day, but in the adjacent restroom area there were 2011 maps hanging in cases, so at least I could confirm that that edition has a printed version. Just after merging onto I-71, even in the darkness, I could see the large construction equipment being used in the Jeremiah Morrow Bridge replacement.
The last fuel stop was at the brand-new SPUI in Grove City at SR-665, two exits south of the Columbus beltway/I-270. Part opened on December 11 of last year, with the rest opening just before we came through, on August 17. The Columbus Dispatch has a photo gallery of the opening. None from me, however, because it was about 11:30pm by this time.
The project in Columbus to realign the older section of I-670 west of I-71 with the newer one to the east is well underway, including a set of support beams still lacking its road deck. Again, darkness prevented photos.
[From roughly here on, it was technically Sunday, September 9]
This was also my first time through the recently-redone I-71/I-76/US-224 interchange.
The trip's end seemed imminent when we started retracing our path where I-271 southbound's access ramp to SR-8 southbound crossed over us on I-271 northbound.
Total mileage: 2,660 miles