---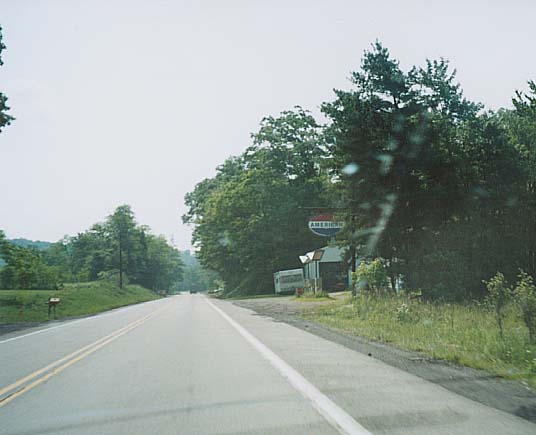 An abandoned Gas Station, American appeared to use a similar color scheme as Standard Oil (June 2002)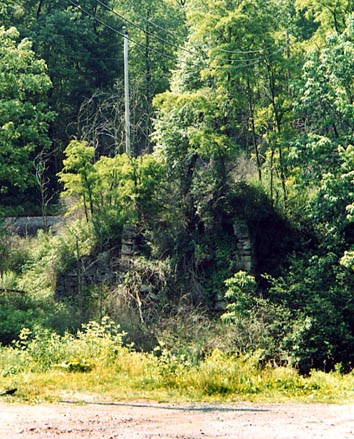 Possible part of former bridge over Stoney Creek for the Lincoln Highway at one point. Near Kanter (June 2002)
Seven Mile Stretch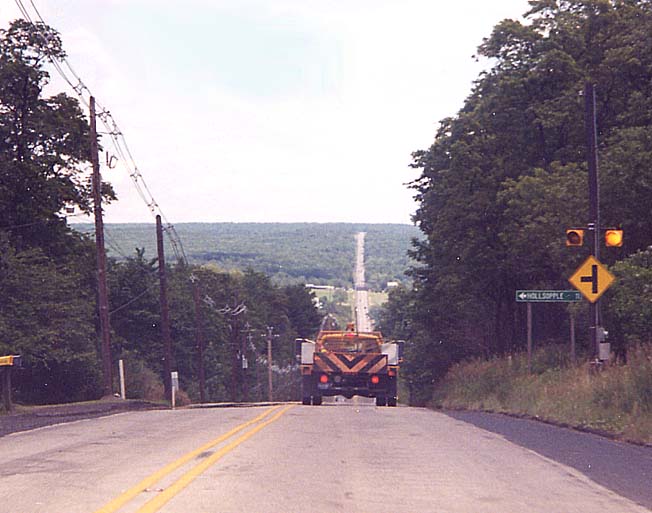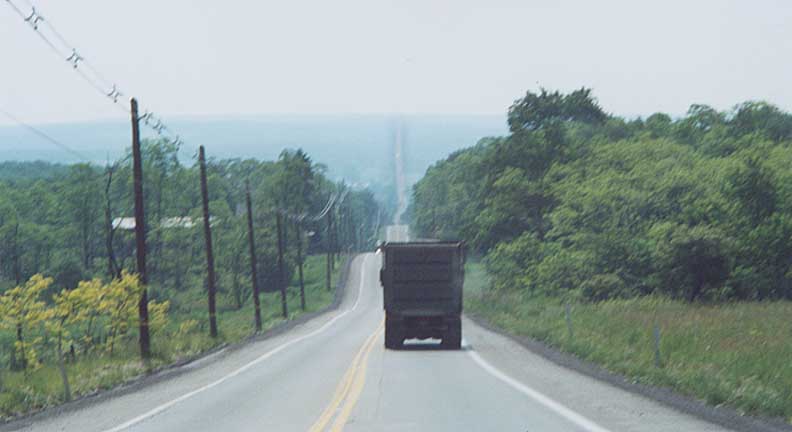 An extreme vista picture, taken west of Kanter. Ahead of you lays 7 miles of US 30 before Bald Knob. Left picture - 2000, Right picture - 2002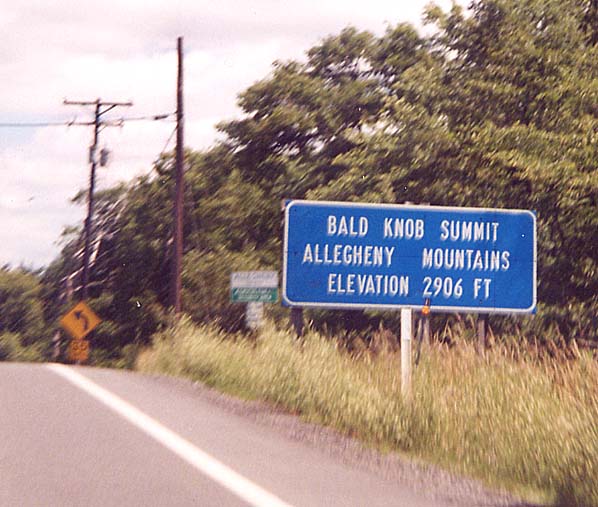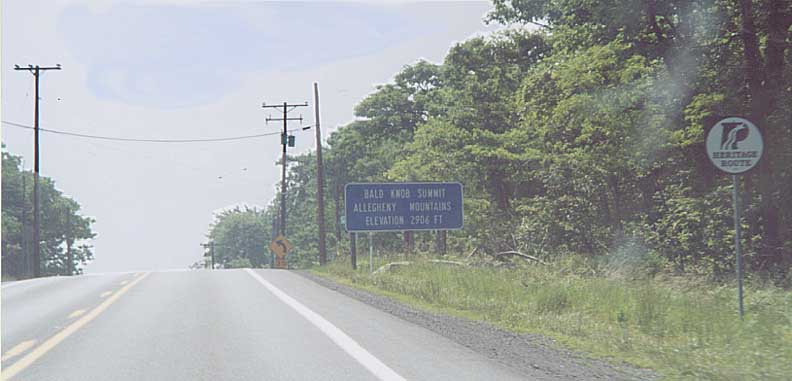 Bald Knob Summit: Left - 2000 version / Right - 2002 version (with Pa Heritage Route shield thrown in for good measure)
SS Grandpoint/Ship Hotel/Mount Ararat Photos are on their own page, here
Schelsburg Covered Bridge (not on the Lincoln Highway)
Just to the SW of Schelsburg (go south from US 30 on the western edge of Schelsburg and go south 2 miles) is a covered bridge still in use for some vehicular traffic. (all of these photos are from June 2002)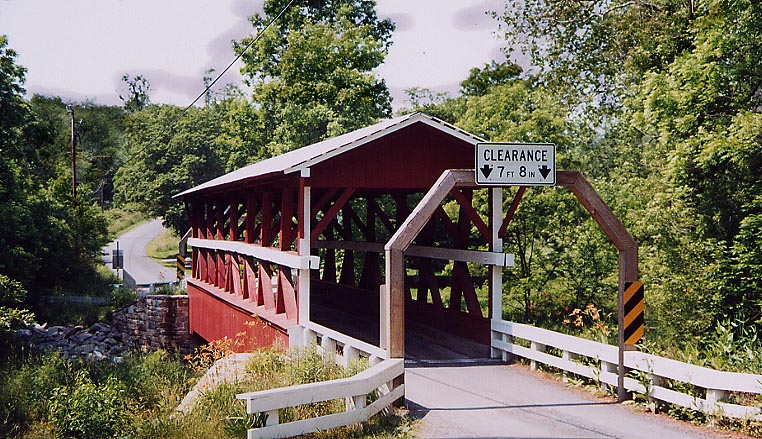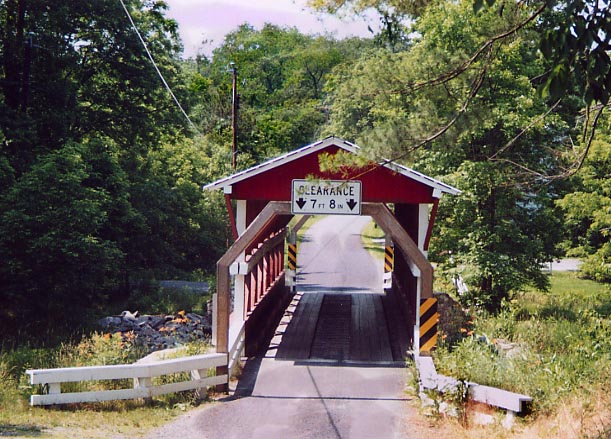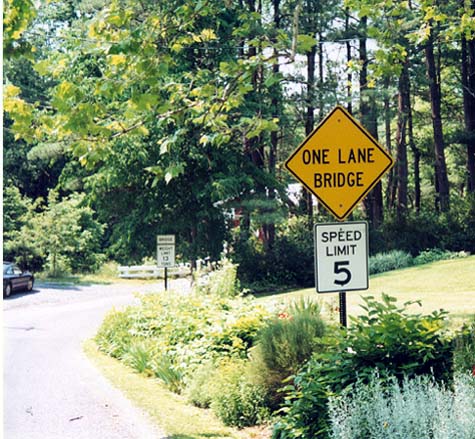 You have to travel verrrrry slow across this bridge.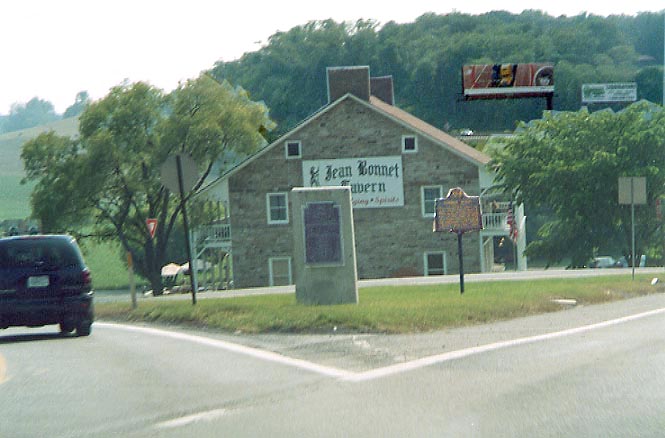 The "eastern terminus" for the Forbes Rd (from Ft. Bedford to Ft. Duqueane). In the background is the Jean Bonnet Tavern, built in 1762.
Bedford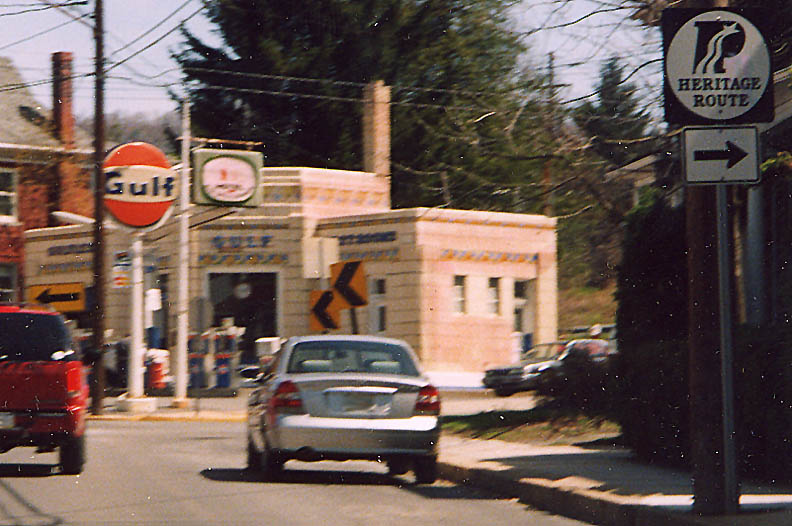 This Gulf station has been a fixture in Bedford for 70 years. It has kept the same art deco design all this time.
Bedford Town Square
On the NE corner is this Civil War era(?) Cannon.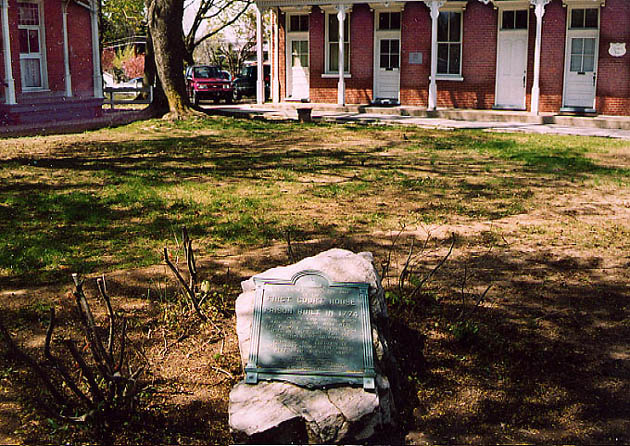 On the NW corner is a Civil War monument (above) and a monument to the first court house and prison (right).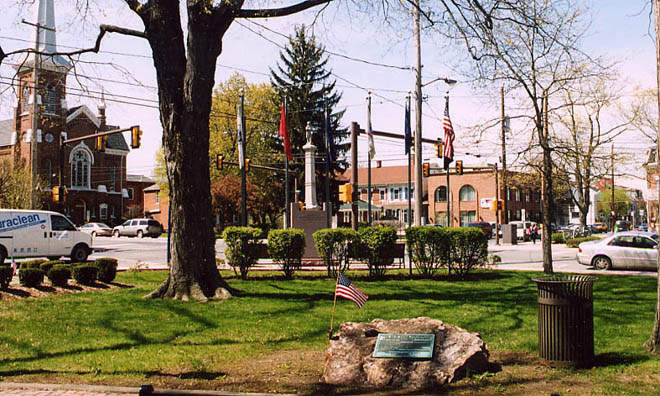 From the SE corner looking NW. The rock in the foreground is a memorial to WW1 vets, then the flags of Bedford city, county, state, and nation (and one other), and the other monuments on the other side of the streets. (all Bedford pictures are from April 2003)
The Narrows Bridge
This bridge was built in 1934 to replace an old Iron truss bridge. This concrete bridge now has its own preservation issues (turning off of US 30 to get to this location for the photos was precarious) as well as traffic congestion.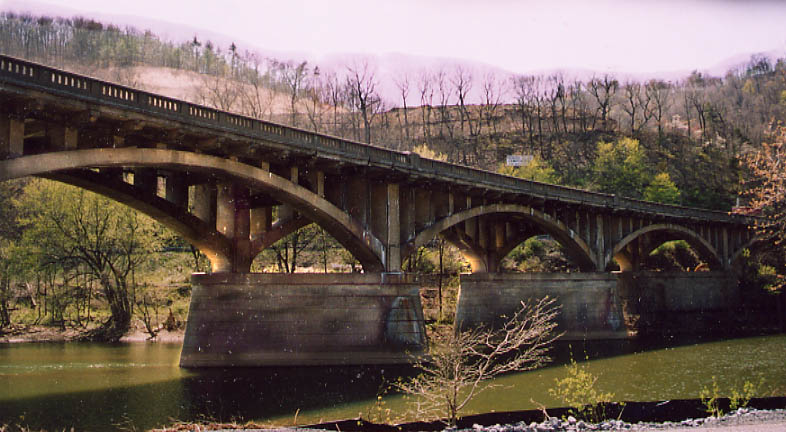 North of the bridge looking west (the cleared land at the top is for housing I think).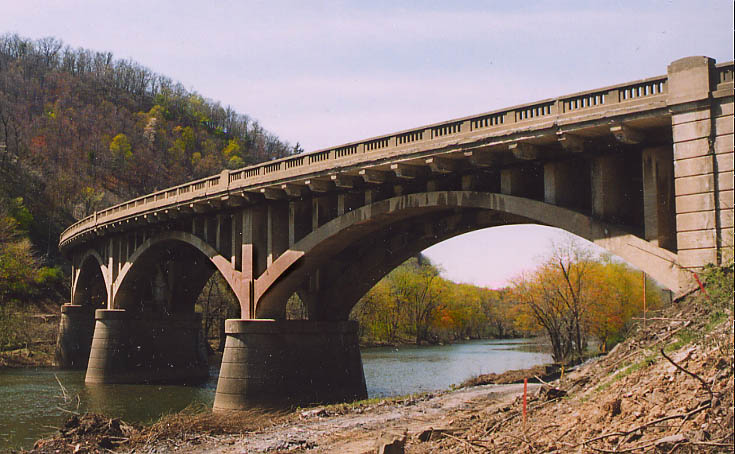 South of the bridge looking northwest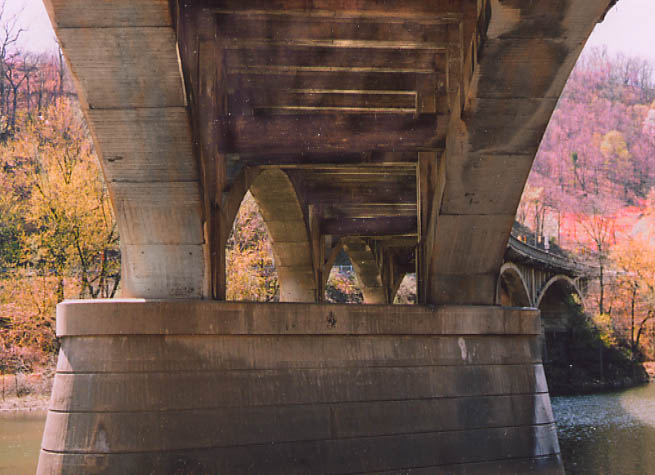 Underneath the bridge, you can see how it was put together (Above Narrows pictures are from April 2003)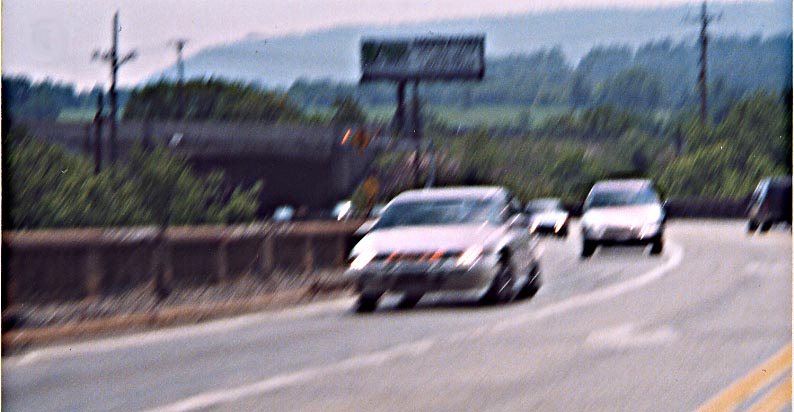 EB going over the Narrows bridge
PennDOT is widening US 30 from Everitt to the Narrows Bridge (actually stopping before the underpass of the Turnpike for the time being), and in some instances will have US 30 on an entirely new alignment.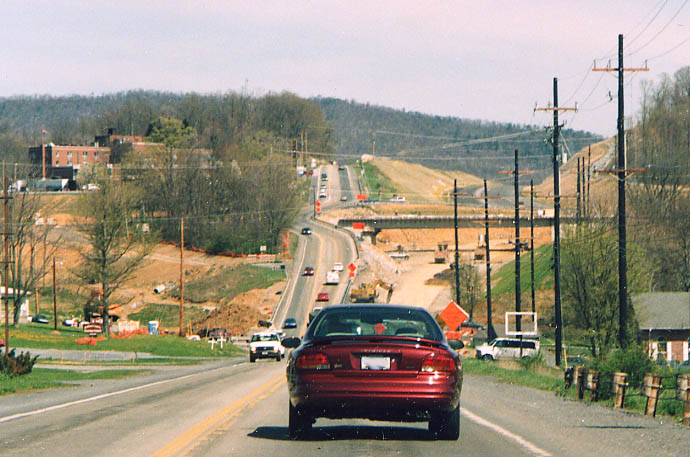 Top, photo looking EB towards Bedford Memorial Hospital. The closed road on the left is an original alignment of the Lincoln Highway (The Lincoln originally went around the back of the hospital). The new US 30 highway will veer to the right. (taken April, 2003)
The bottom photo is looking WB this time at a road cut that will carry the new wider US 30 to the south of the current version. (This one taken in June 2002)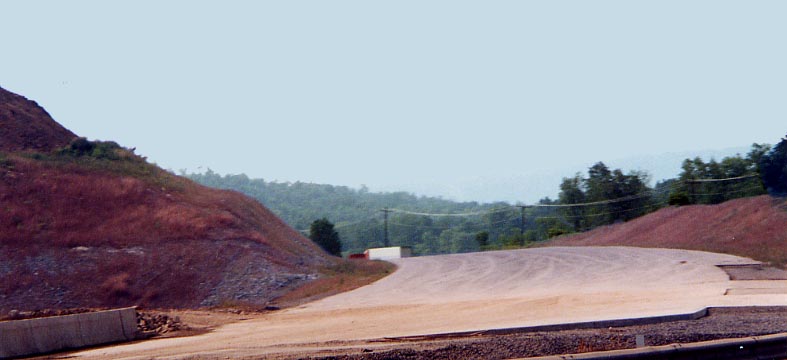 UPDATE: The new 4 lane US 30 from Bedford to Everitt was completed in 2005
---
Page created on July 2, 2003 /last updated on June 27, 2006
Questions, comments, and submissions can be sent to Sandor Gulyas
Go west along the LH to Westmoreland Co | Go east along the LH between Breezewood-Gettysburg | Return to Pennsylvania Lincoln Hwy Page