Ashland - Wayne - Stark - Columbiana Cos Photos
The Southern tier of Northeast Ohio. Click on any county above to jump to those photos
---
I would refer to this page as the US 30 corridor. However, I have section covering the Lincoln Highway/US 30 exculsively and I did not want to cause confusion between the two pages/sections. If you have a better name for this region (and is applicable!) please see the e-mail listings below. - SJG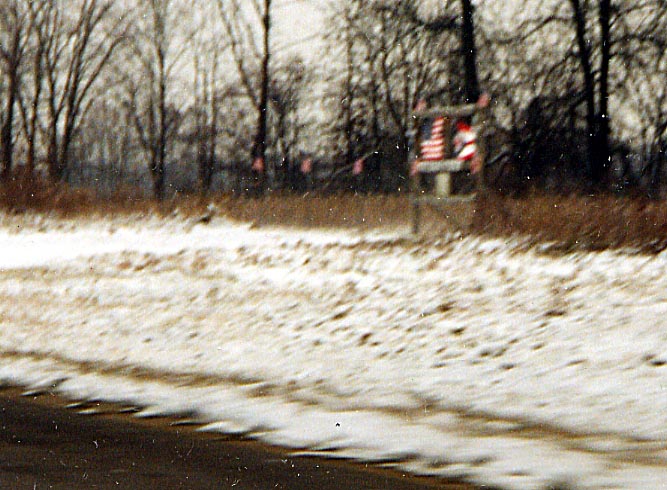 Memorial, along the eastside of I-71 to a fallen trooper. I-71 is named in his honor through here.
I didn't know nice people had a home location. On I-71 Northbound approaching US 250
Mohican St. Park/Forest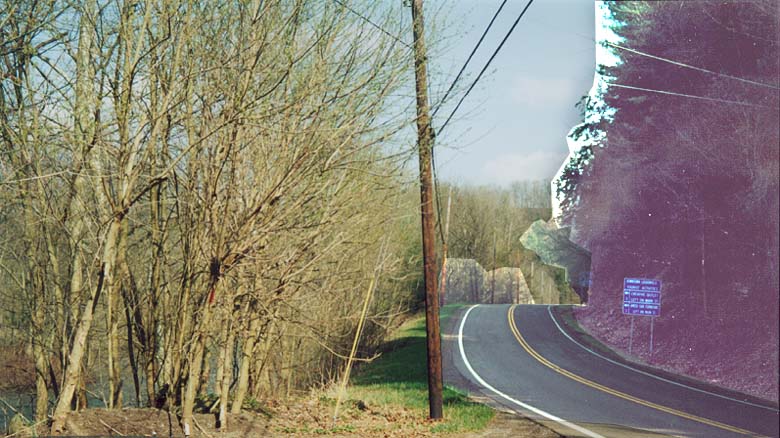 Mohican Forest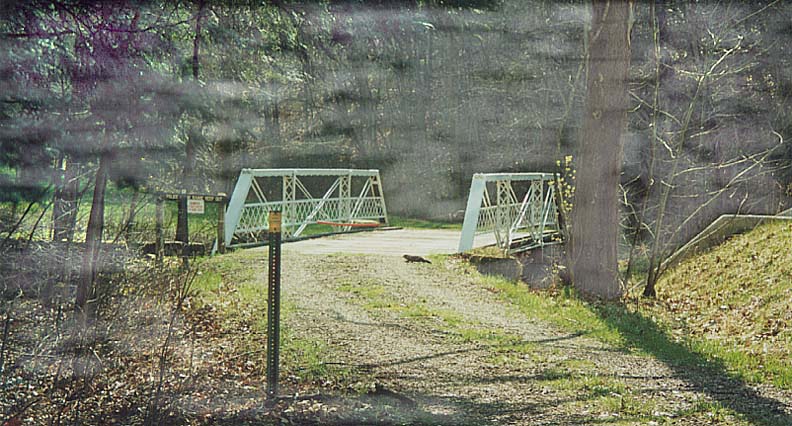 This path leads to a police shooting range, I don't know if this was a former routing for the road to the right.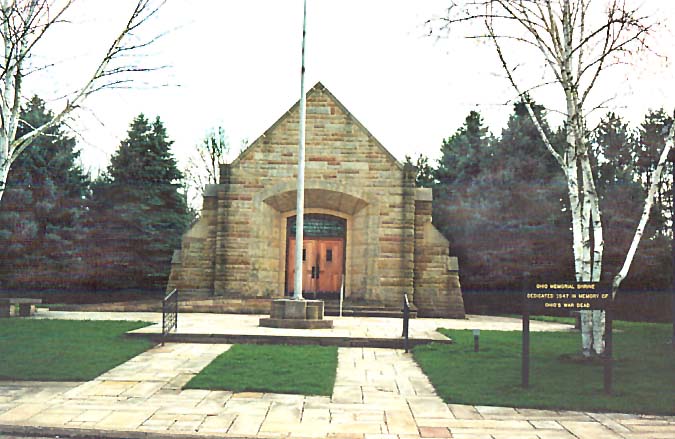 Memorial Shrine Dedicated to those who have given the greatest sacrifice for our country.
All Mohican photos were taken along Oh 97 between Butler and Loudenville
Also see Lincoln Highway Photos
---
Incomplete interchanges are not common in rural areas, and neither are supplemental signs informing travellers that there is no re-entry, especially in this color scheme. (This supplemental sign is a recent replacement; the former supplemental sign did have the more conventional colors and font). On Interstate 71 Southbound.
Oh 3 vista point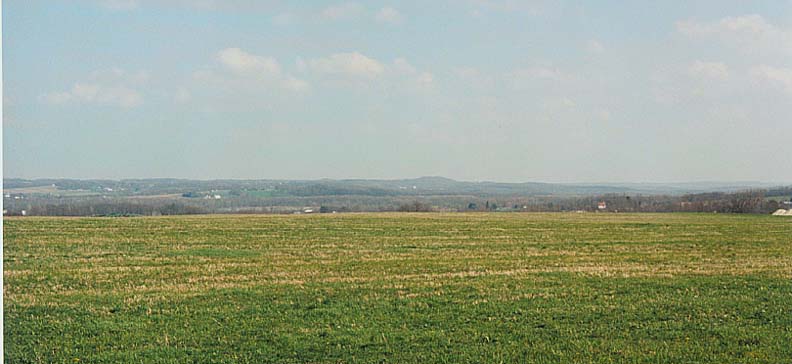 View 1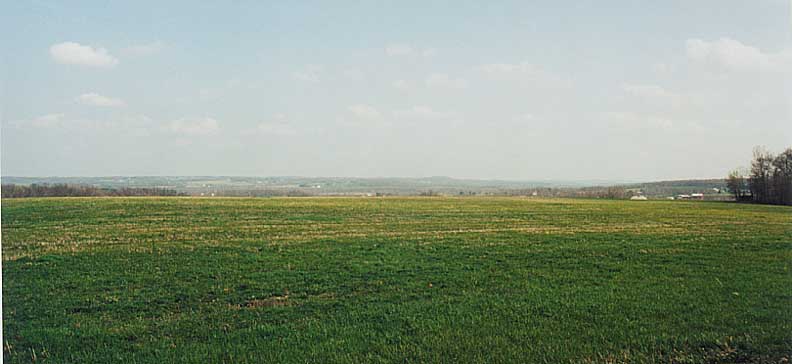 View 2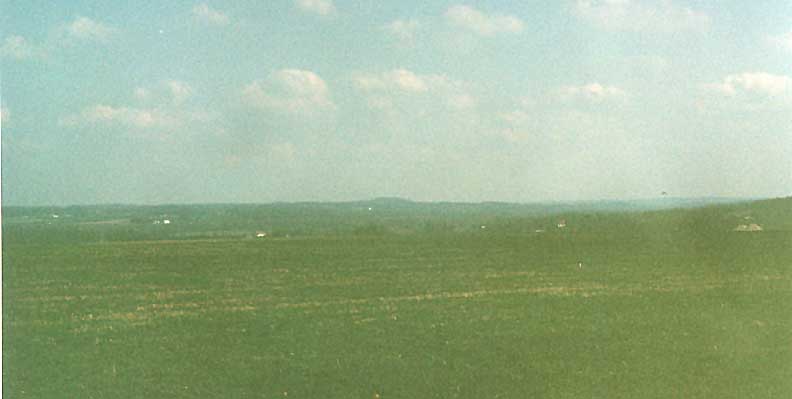 View 3
At some point along Oh 3 in Southern Wayne Co, the trees open up and you can see all the way to Wheeling (well not quite)! Closer to the truth is that this is a huge expanse of Holmes County. Pleasant to the eyes.
Also see Lincoln Highway photos (especially for Wooster Photos)
---
Future US 62, Alliance and Future Ohio 14, Salem
The freeway/expressway carrying US 62 east from Canton continues to Ohio 225 north of Alliance where it abruptly ends. Plans show it as part of a proposed highway also incorporating the existing northern bypass of Salem (in part US 62 and Ohio 45) and continuing to the Pennsylvania state line where it would connect with the four-lane-divided PA 51. US 62 currently leaves the western segment of the existing highway at the Ohio 173 interchange west of Alliance, and the highway continues unnumbered (although ODOT calls it "US 62 Future" and "US 62 T" in its records -- see this page). To assist motorists, it is signed as [TO][NORTH][Ohio 225] going east and [TO][WEST][US 62] going west. The unsigned portion of the eastern (Salem) segment (between Ohio 14 and US 62/Ohio 45) is signed as [TO][EAST][US 62] and [TO][NORTH][Ohio 45] going east and [TO][WEST][Ohio 14] going west (officially called "Ohio 14 Future"/"Ohio 14 F" -- see this page and this page).


West end of the Alliance segment. Ohio 225 doesn't actually go to Ravenna.


East end of the Alliance segment
The highway right-of-way ends immediately east of the Ohio 225 overpass at the woods in the photo -- there is no visible sign whatsoever of future expansion beyond that point.

"Junction To West 62"
This sign on Ohio 225 Northbound approaching the east end of the Alliance segment is consistent with the signage on the freeway westbound, but doesn't actually make logical sense.
Canton
"Begin" plaques for routes are no longer used in Ohio, but here's an older one which still survives. These assemblies are in the former style of standard Ohio route marker assemblies. Ohio 43 is split onto two one-way streets at this point (Walnut and Cherry Avenues NE). On 12th Street NE Eastbound at Walnut Avenue NE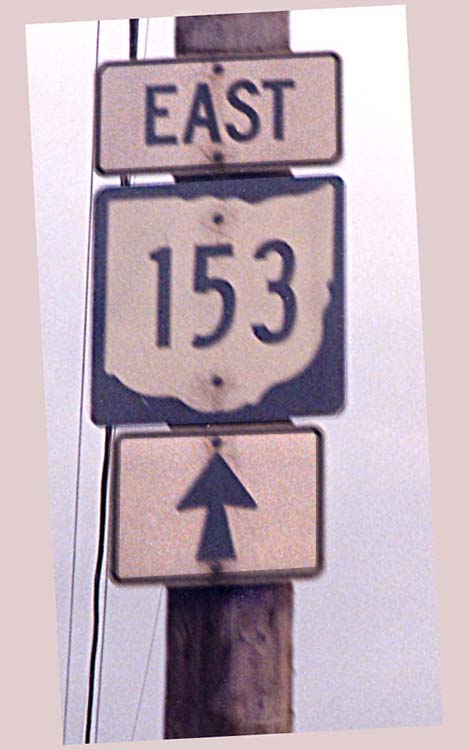 Sandor has always disliked small shields for 3 digit routes. This one is just beyond the Ohio 43 street pair (from above).

Ohio 43 Southbound follows Walnut Avenue NE when Walnut splits from Market Avenue N. Because Walnut is one-way southbound, there is no interference between Walnut and Market N Southbound, so through traffic gets continuous green through arrows (the word at the top of the sign on the right is "CONTINUOUS"), and therefore the yellow through arrow is not needed in the doghouse signal.
The I-77/US 30/US 62 interchange
This is Canton's largest and most complicated interchange (map). It is mostly elevated over features that predate it.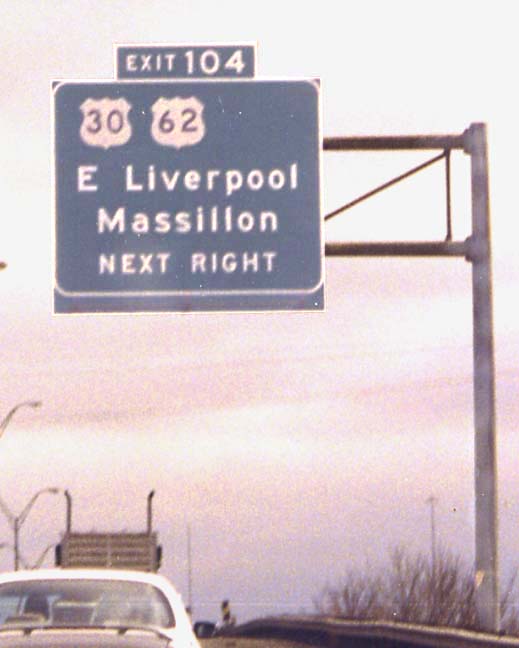 Approaching the interchange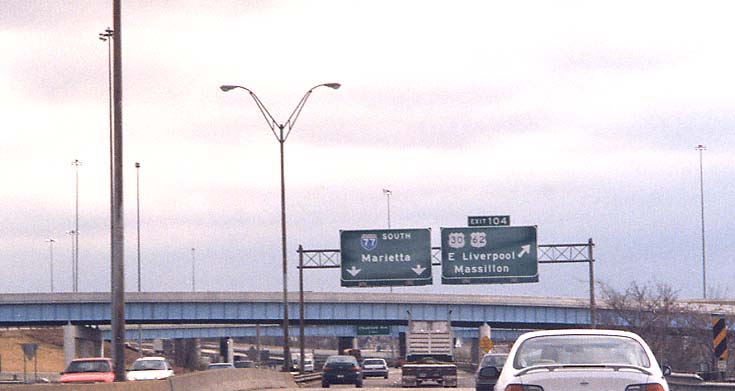 At the interchange
The signs for the US 30/US 62 ramp on I-77 Southbound have a space which could accomodate another route marker.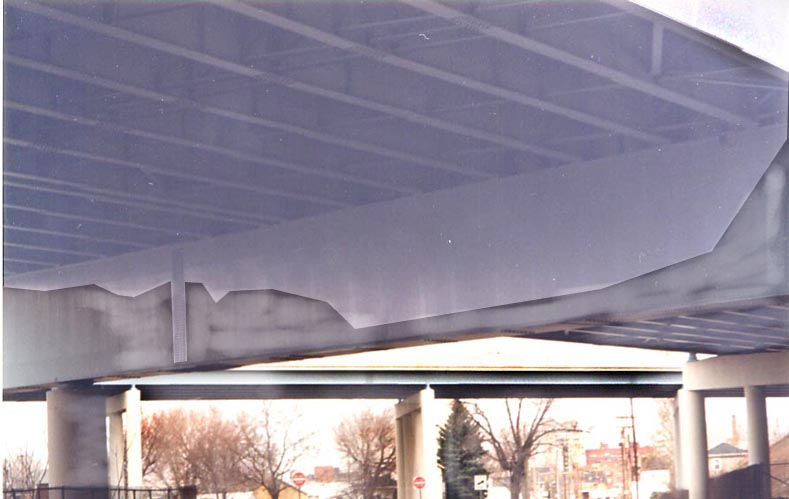 Under the interchange
This is where two-way Cleveland Avenue splits into one-way-northbound Cleveland Avenue and one-way-southbound McKinley Avenue (this all used to be Ohio 8). The large bridge in the foreground is the US 30 freeway and the smaller one behind it carries the ramp from US 30 Westbound to both directions of I-77.
Also see Lincoln Highway photos and Old US 21 road trip (for Massillion and Canton photos especially) for more Stark County Photos
---
It appears the "south" direction sign has popped off the Oh 9 Shield. Included is a rickity old RR bridge over said highway.
Oh 9 at US 30 in Kensington
See Lincoln Highway photos for more Columbiana County Photos
---
Links
ODOT District 3 (Ashland & Wayne Co)
ODOT District 4 (Stark Co)
ODOT District 11 (Columbiana Co)
Akron Beacon Journal traffic reports (includes Canton/Massillon area)
The Ohio Lincoln Highway League
US 30 Information Site - This page covers the plans to upgrade US 30 between East Canton and the Ohio 11 freeway north of East Liverpool.
Stark County Regional Planning Commission
Traffic Enginnering History - City of Canton Traffic Department
---
Page created on January 1, 2003/last updated on September 6, 2003
Questions, suggestions, comments, and submissions can be sent to Sandor Gulyas or Marc Fannin (alternate)
Return to NE Ohio Regional Page