---
US 30 used to run along the Lincoln Highway on what is now Oh 172 from the Wayne/Stark Co line to East Canton, before the Massillion/Canton By-pass was built.
MASSILLION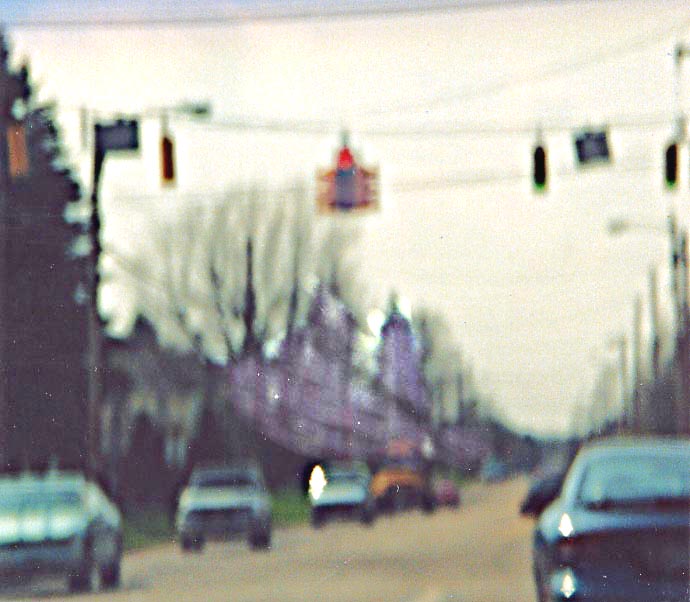 Lincoln Highway gets 12" lenses and the cross street gets 8" lenses in this 4-direction traffic light. Far west reaches of Massillion. [This assembly is fairly common in Michigan -- MGF] (from 2002)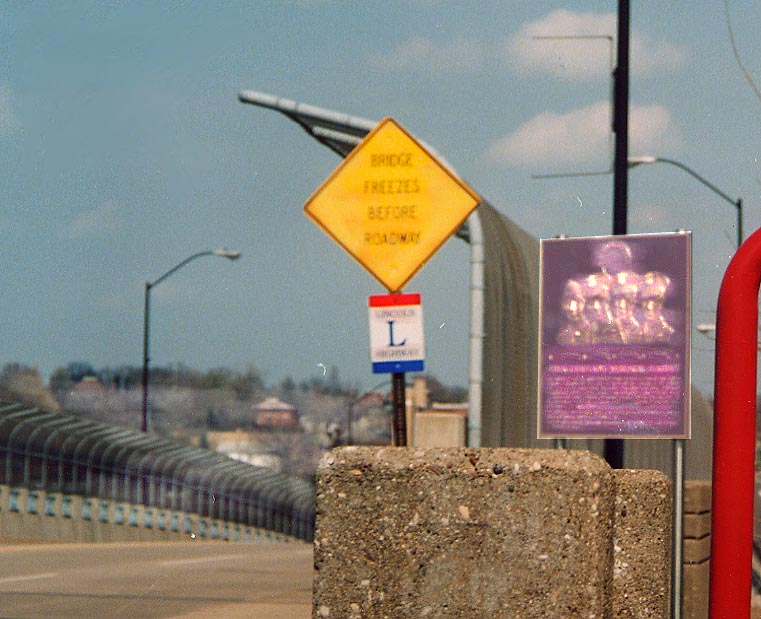 Bridge Placard with the name of the bridge and a reminder about which famous road you're on (facing east, from 2002)
Victorian style architecture for the street lights as one goes over the Tuscawarus River/Ohio Canal & Oh 21.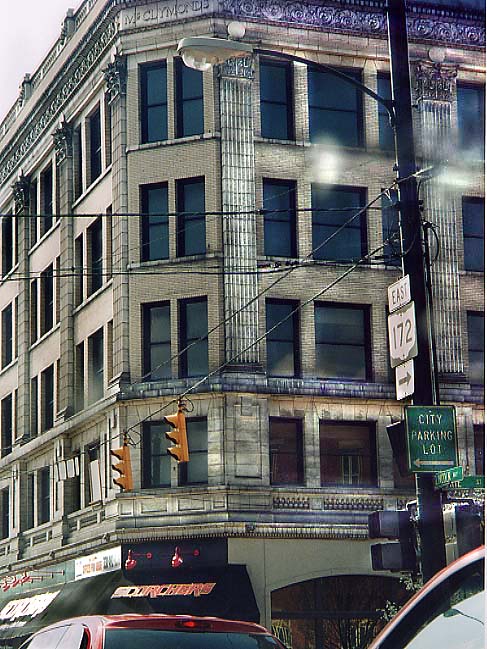 Downtown Once upon a time this was the intersection between US 21 & 30. Now ground level eateries fill this once proud retailer or hotel (McClymonds anyone?) (from 2002)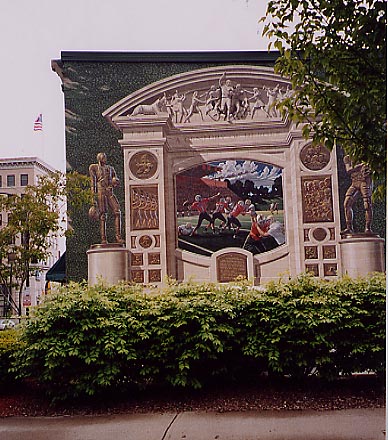 Mural referencing Massillion's pride and joy, their High School football team. (from 2002)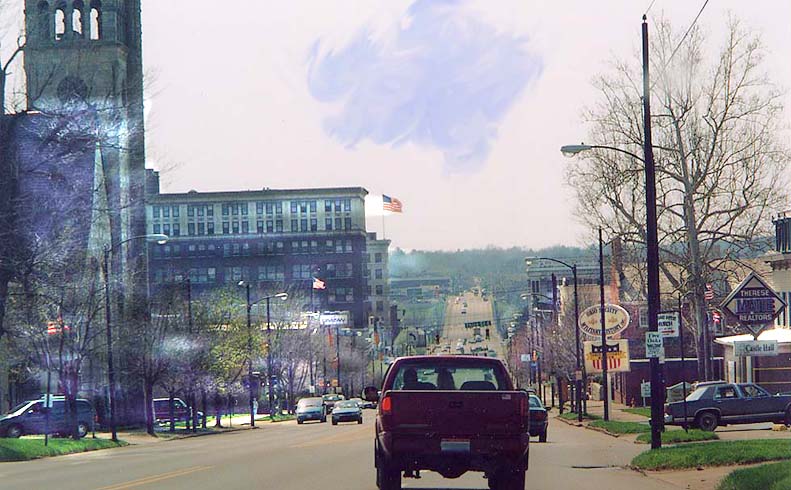 Vista At the crest of the river valley looking west over the city. (from 2002)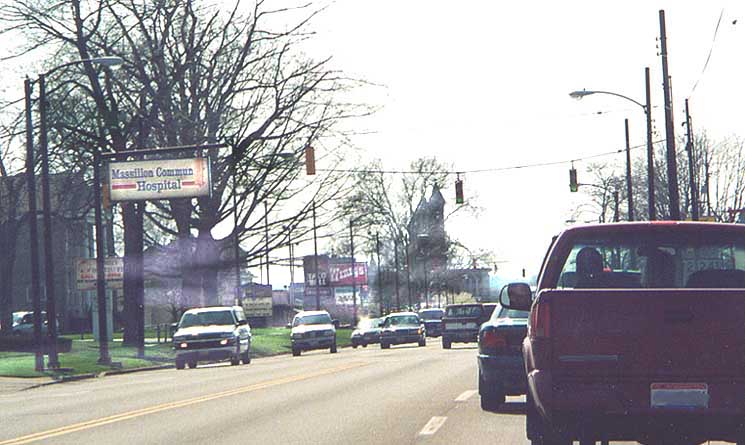 Overhead backlit(?) hospital sign directing those in need to Massillion's hospital. So why doesn't Massillion use the FHWA standard "H" on blue to direct people to hospitals like everyone else? (East side of Massillion from 2002).
You can find other Massillion pictures on the Old US 21, Stark Co. page.
CANTON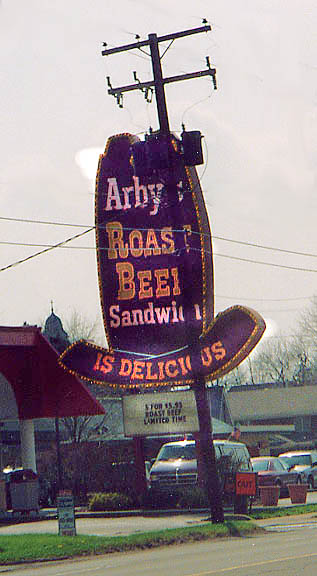 Old style Arby's sign on the Lincoln Highway/Ohio 172 on the west side of Canton (from 2002)
The ornate old guardrail on the Tuscarawas Street overpass over I-77 contrasts with the new safety fencing. Also pictured is a special hundredth mile marker. Looking south (from 2000)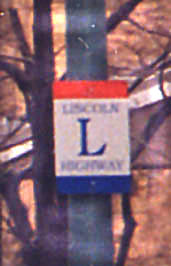 The City of Canton has placed these Lincoln Highway markers along Ohio 172/Tuscarawas Avenue (former US 30).
(from 2000)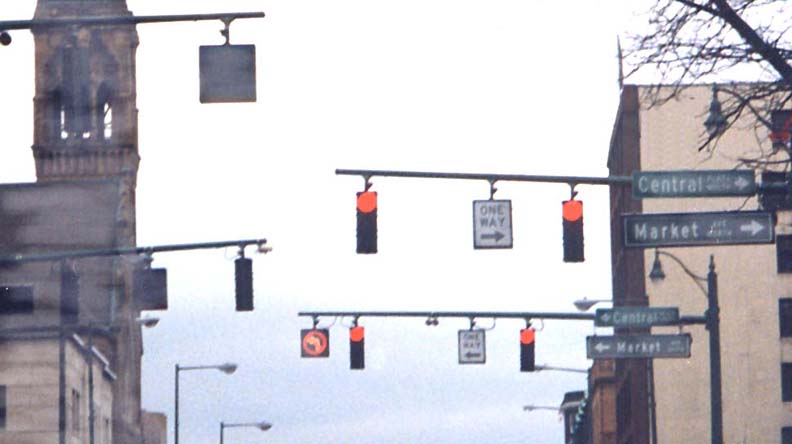 In the mid-1990's Canton installed new signal assemblies in its downtown area which feature LED red lenses and electronic turn restriction signs. On Tuscarawas Street/Ohio 172 Westbound (from 2000)
The Temporary east end of the US 30 freeway (Canton-Massillion Bypass)
The US 30 freeway ended at Ohio 43 (Waynesburg Drive) on the east side of Canton from 1985 to 2000. It has now been extended further east to Trump Avenue.
West of the overpass, March 2000

The freeway doesn't actually connect directly to Belden Avenue (one must go north then turn right on Fourth Street SE -- this was the temporary routing of US 30).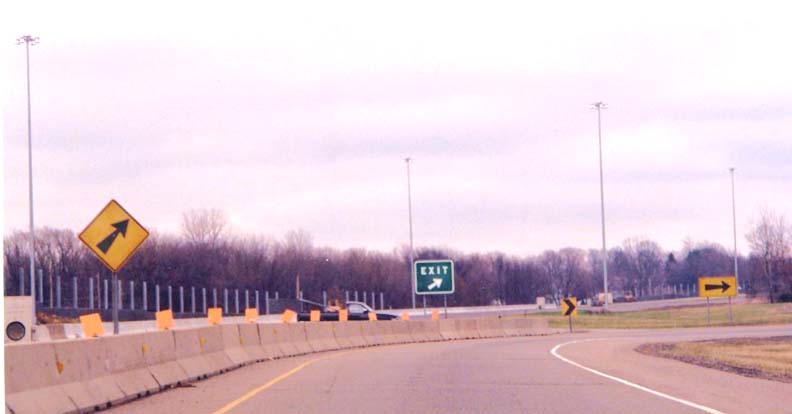 East of the overpass, March 2000
New temporary east end of the US 30 freeway, extension to Trump Avenue, early 2002.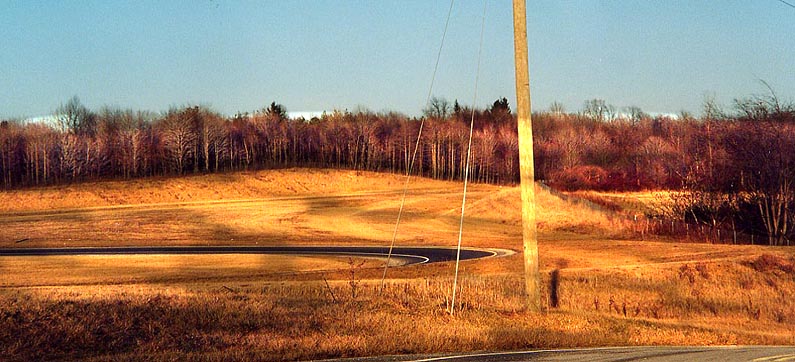 View 1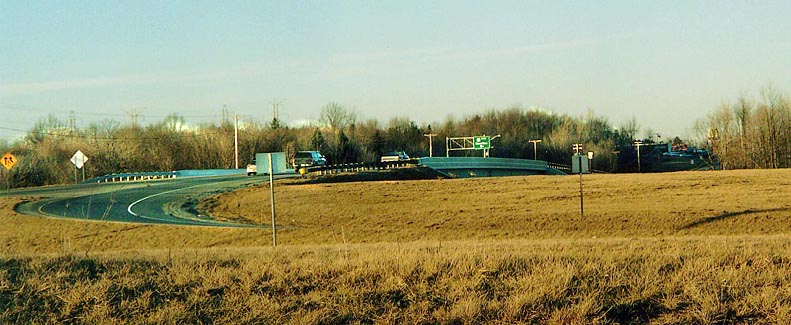 View 2

View 3
View 4
Other Pictures of Canton can be found on the AWSC Page
---
Page created on January 25, 2003/ last updated on June 27, 2006
Questions or comments can be sent to Sandor Gulyas
Return to The Ohio Lincoln Highway Page