(Last revised December 18, 2015) My girlfriend and I decided to take a seven-day trip to the western Great Lakes in the Summer of 2015. After going *southeast, *southwest, and *northeast in the previous three summers, we went northwest.
Note: In this document, I have made links to Google Maps Street View green. Links to other pages are the traditional blue, with links not to Wikipedia articles designated by a *. All photo time stamps are Eastern Time, regardless of local time of the place in the photo

Approximate route. Yes, it took some creativity to minimize backtracking on the same highways. See the comment at the end.
Wednesday, August 5, 2015 (Lake County, Ohio to Michigan City, Indiana)
At the beginning of the *2013 trip I noted the progress of the eastbound George V. Voinovich Bridge in Cleveland on the right from the Innerbelt Bridge. This year now that the eastbound bridge is open and carrying traffic in both directions, I noted progress on the construction of the westbound bridge on the left being built in place of the Innerbelt Bridge, which was demolished last year (*video).
Took the SR-2 northern route past Cedar Point where the coasters are in plain view from the Edison Bridge over Sandusky Bay, then cut down SR-53 to the Ohio Turnpike, following that to the Indiana Toll Road.
After a stop at the first service area into Indiana, which looked mostly closed for construction but apparently was in the beginning stages of *being closed permanently, we bypassed the South Bend area and found a place to stay in Michigan City. En route was this sign assembly at the Toll Road exit to US-421 – it's easy to note that a whole bunch of long east-west routes run close to each other in the area by looking at a map, but I had never seen a place where most were identified in one spot. Aside: The Toll Road takes bills at the cash auto-pay booths but all change is given in coins. I still had dollar coins at the end of the trip after inserting $20.
Thursday, August 6, 2015 (Michigan City, Indiana to Downers Grove, Illinois via Chicago)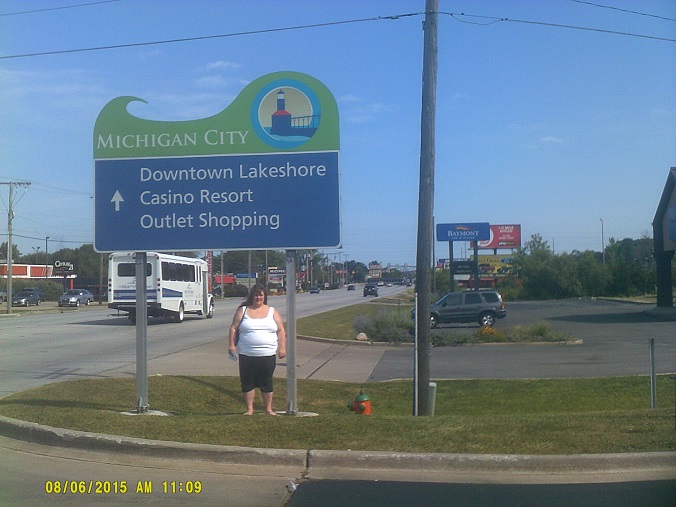 In the background is the north end of US-421
Unfortunately no time to visit the actual lighthouse. To Shedd Aquarium in Chicago.
Because I had to back out of the Skyway toll booth lane and move to the next one because the initial one closed when I was one car back from the window (I never figured out why), it wasn't until I was on my way that I realized that something was missing nearby: *The Golden Arches.
The aquarium was very busy this nice early-August Thursday, so there was plenty of time to take photos of the vicinity while waiting to get into the building, under the graciously-provided canopy running the length of the many steps.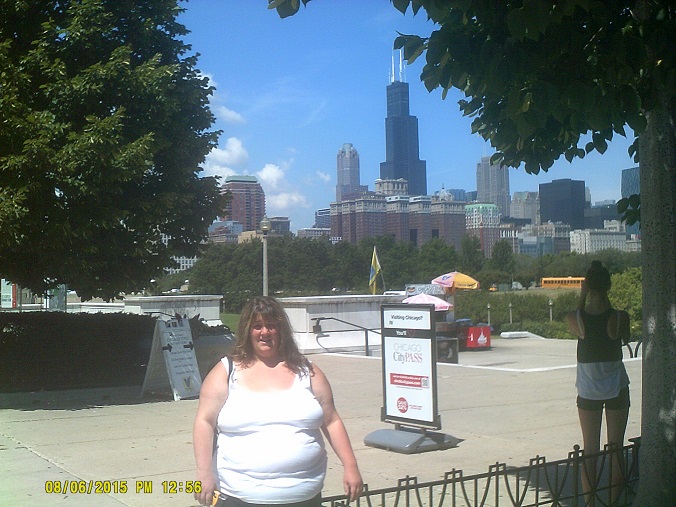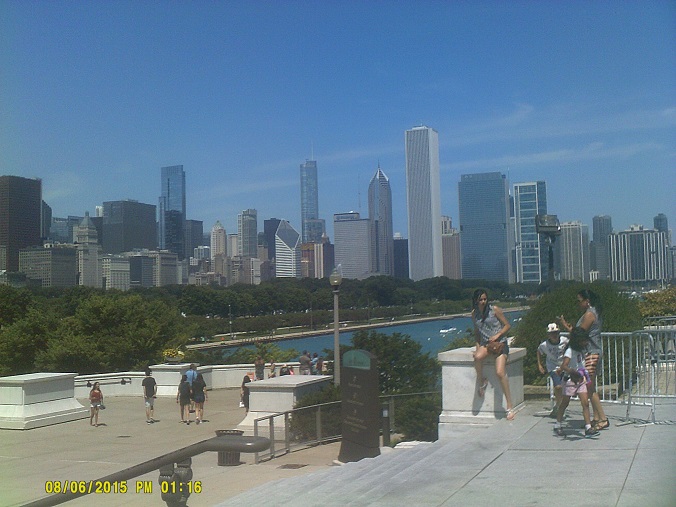 The aquarium was great, just as I remember on my visits when I was a kid in the 1970s and early 1980s, when it was only an hour-and-a-half from home. Ironically, while we missed seeing whales in the Atlantic *a year before, we saw plenty going further inland to the shores of Lake Michigan.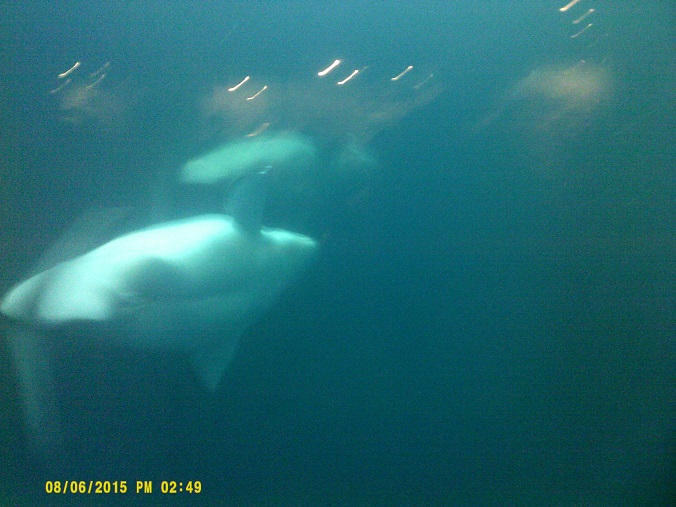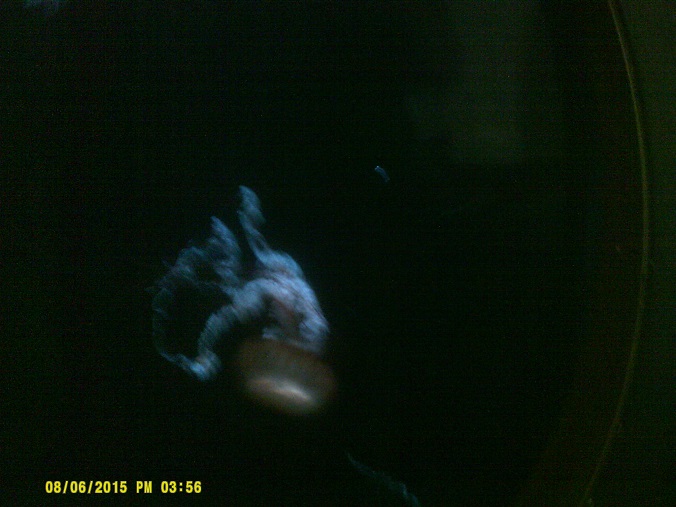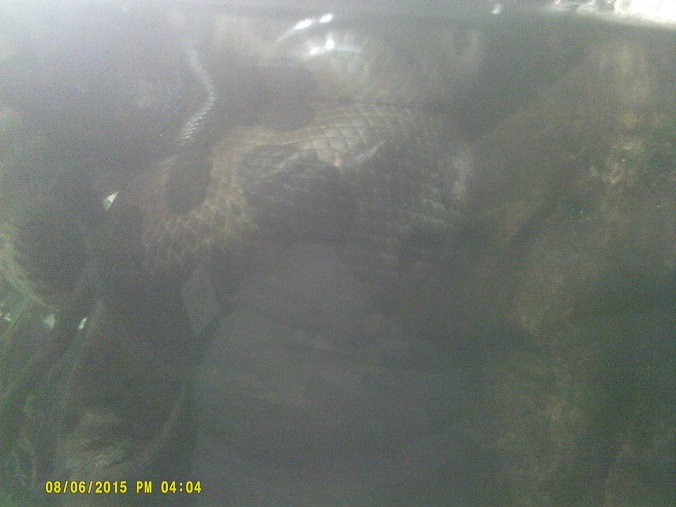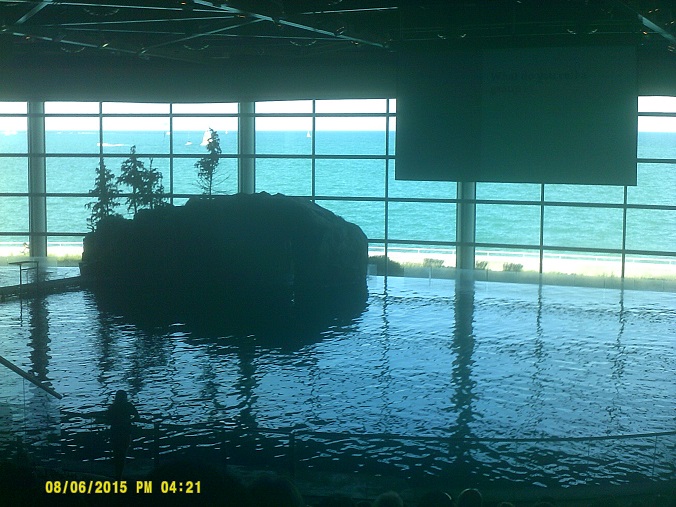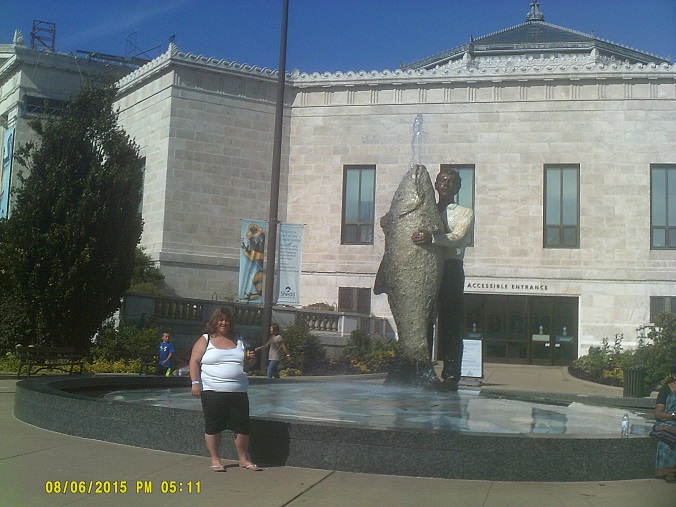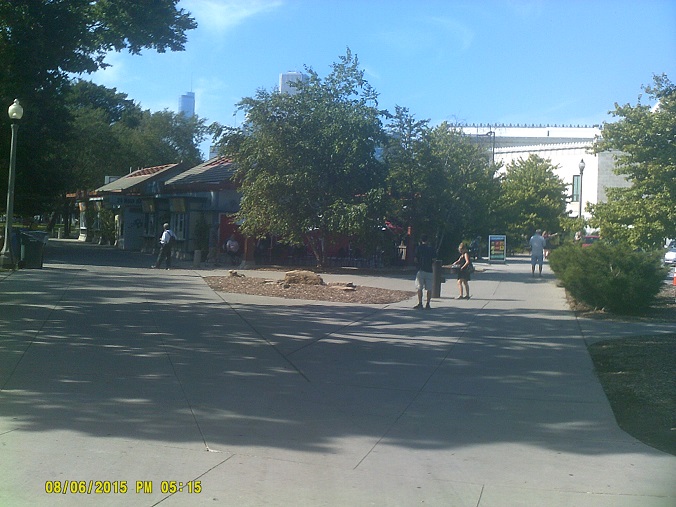 This is roughly where Lake Shore Drive northbound used to be before it was moved next to the southbound side *in 1996...aquarium is in the background
Unfortunately when we left the garage under Soldier Field I found that a piece of metal had wedged itself into my front right tire. So into one of the gate access driveways we went. I had the proper equipment and the knowhow, but the flat was giving me more trouble than I expected, so, with a little help from the stadium crew, after a while we were on our way on the donut to a tire shop just south of the Loop. Unfortunately all this put us behind so we opted to stay in the motel in the west suburbs where we stayed *two years earlier on the way to Texas because we were familiar with it, rather than drive into the middle of the night to Milwaukee. I had planned for us to visit what is known as the Bean in Millennium Park after the aquarium, but fate had other plans.
Friday, August 7, 2015 (Downers Grove, Illinois to Madison, Wisconsin)
After some followup car adjustments, we finally headed up the Tri-State past O'Hare to Wisconsin. It was my first time there since 1978 (though I got close in 1982) and first ever for my girlfriend.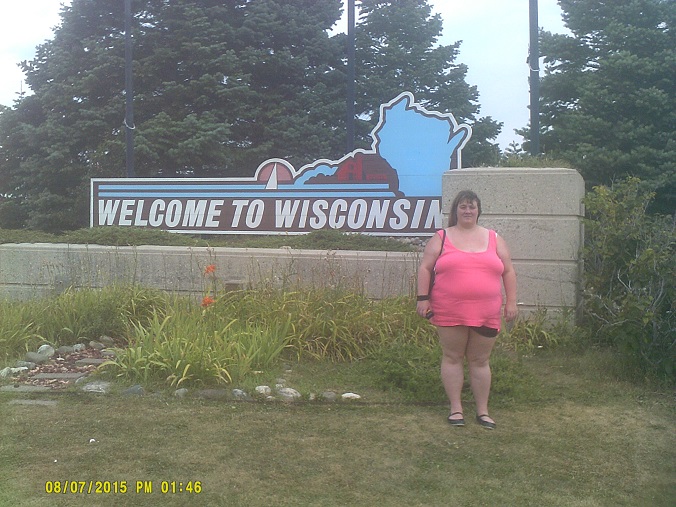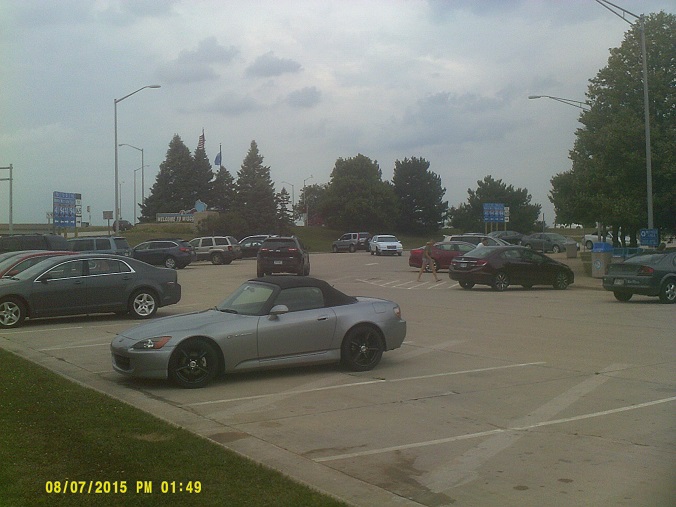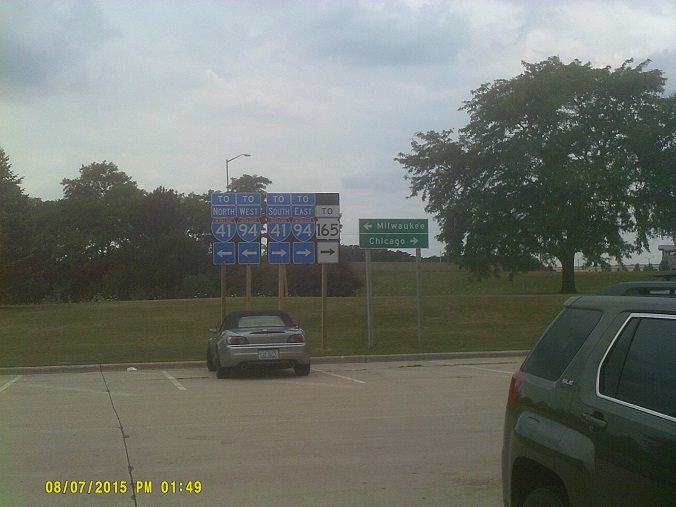 They really want you to know that you have to go in the opposite direction to get to the desired direction of highway, with three assemblies.
Just like Florida's welcome centers offer orange juice samples, the one here had local businesses giving out cheese and bratwurst samples. I had already been looking forward to finding cheese curds as soon as we decided that the state would be included on this year's trip, so the samples just whetted my appetite even more.
Once back on the road, I noted that Wisconsin's exit ramp crossing gates that are used to block traffic during inclement weather start right after the Illinois line, and they're imposing. A couple other Wisconsin road idiosyncracies that I saw during the trip: First, the horizontal signals that have been there for as long as I remember are still there, but if the road has enough lanes in one direction (as we'd see along US-151 west of I-39/90/94 in the East Towne Mall area and along US-18/Bluemound Road in the Milwaukee west suburbs, among other places), with Wisconsin following the MUTCD and placing one per lane, they're vertical. (See the Street View link above for the ramp gate and spin it 360 degrees.) Also, Bluemound uses the flashing yellow left arrow signal in some of these vertical assemblies, including the variant without the green arrow. Both of these features are new to the locations, since they're either not on Street View yet or only the beginning stages are on there. Second: Wisconsin tells you *where turn lanes start.
As seen above, Interstate 41 signs begin right at the state line, and you now get 41/94/41 signs along the shore, the second "41" belonging to US-41 which long predates either Interstate (this is now on Street View from the same month that we were there). In fact at this point 94 was built over the top of the old 41.
Approaching the I-894/I-43 interchange on the south side of Milwaukee, I-41 shields had been added to signs for 894/43 and there was even a "US-41 follow I-41" sign at the airport interchange, with US-41 shields removed prior to this sign. However, immediately after this, US-41 signs were still there on signs for I-43/94 into downtown as they had been, setting up what could be interpreted as a contradiction, possibly causing some awkward and dangerous lane changes. Hopefully we caught WisDOT in the middle of the sign changeover so those conditions wouldn't last for long. Postscript: This area is also now on Street View from the same month ("FOLLOW" sign, with more on a truck trailer 90 degrees to the right in that view in the adjacent *Park and Ride lot, implying that it was in fact the middle of the transition), and it appears that the unchanged signs were on the feeder ramp from Wis 119/airport, so no abrupt lane changes would happen (a barrier separates that from the I-94/41 mainline), but it still seemed confusing at first.
The I-94 westbound north-to-west ramp in the recently-rebuilt Marquette Interchange downtown (jct. I-43/I-794) has a large descent...once you start facing west, you immediately see that it's a looong way down. Unfortunately the banking of the ramp prevents a good view of the skyline or the lake to the right.
Back to I-894,we hit the Zoo Interchange construction. WisDOT is experimenting with orange road stripes here, which may or may not be a good thing.
We opted to check into the motel that we chose rather than visit the zoo, the main reason for visiting Milwaukee, for the last couple of hours of operation that day, especially since it had been raining heavily for about an hour. However, we ran into a big problem – little did we know when we chose the dates for our trip that it would coincide with the Wisconsin State Fair. Subsequently, between that and the other local Friday summer festivities, the motel was sold out, and the desk clerk told us that motels for miles around would also be full or charging triple for what rooms were available, facts confirmed by the lobby computer and phone calls. We finally decided to bypass Milwaukee altogether and stay on the east side of Madison. After arriving, that desk clerk told us that we would probably have the same problem with lodging in the Wisconsin Dells area due to the tourist season wrapping up, so we decided to make that motel our home base during our Dells visits.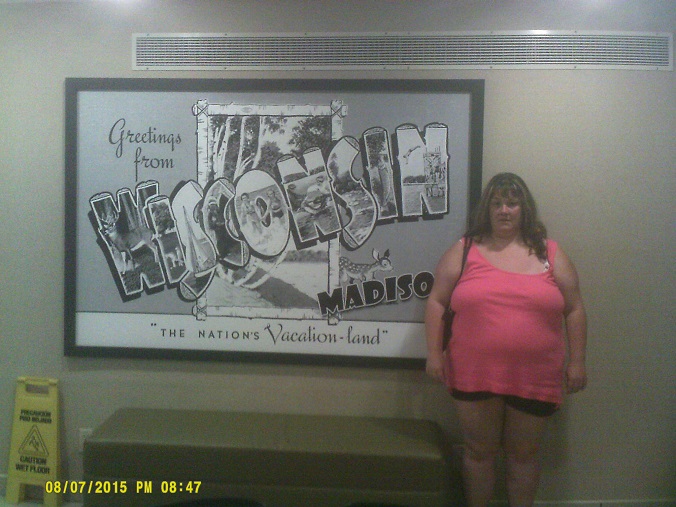 With a little time left, we ate dinner then went off in search of cheese curds. Fortunately there was a Hy-vee supermarket just the other side of East Towne Mall so we picked up a container no problem. (I prefer raw, not fried, though I have to admit that I've never tried fried.)
Saturday, August 8, 2015 (Wisconsin Dells area)
After a return trip to the Hy-Vee, where we had a hot dog and a bratwurst that they were serving by the doors, we had an uneventful trip up I-90/94 to the Dells area. While I knew that Wisconsin wasn't totally flat, it was nice to see hills that almost looked like mountain foothills along the way, especially near the Wisconsin River crossing.
We drove through the Dells commercial strip then through downtown. The strip (Wisconsin Dells Parkway, US-12/Wis 23) has HAWK pedestrian signals now. However, notably it has no center left-turn lane. (Maybe that will be addressed in *this study.) After circling around north of town (where Wis 13 has an unusual configuration of divided highway with only one through lane in each direction – apparently this is *very recent) and finding a parking spot, we decided on our first destination which I had already heard about; unfortunately I didn't realize that the circus signs on I-90/94 en route and the ads I saw for a circus attraction in the Dells area were for the same thing: Circus World Museum back south in Baraboo. So back we went, using the relatively new completed *north portion of the Baraboo bypass (US-12), notable because it ends in a roundabout for now, and that the location of the divergence of the old route just south of there is still simply barricaded off, with signage, stiping, and pavement still intact. It also has created an instance where a freeway meets another freeway (I-90/94) with at-grade crossroad ramps, since the interchange is unchanged from when US-12 wasn't a freeway to the south.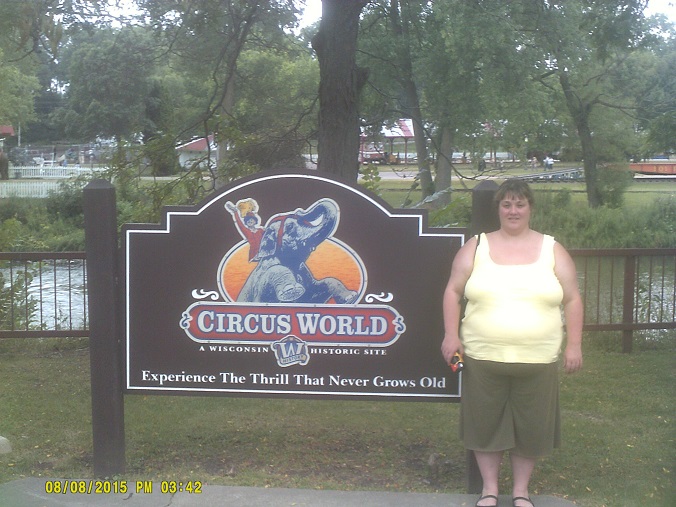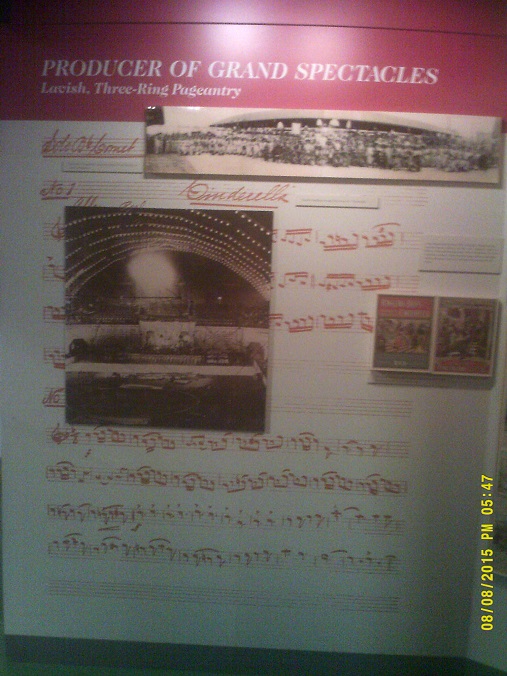 (A roadgeek aside: Shoulda done my research before I left: There's a free ferry that looks interesting just southeast of the museum, and a *very old state route stone marker in Baraboo. However, I didn't discover either until after we got home. If the marker is still there, and Street View shows that it was two years ago, I drove right past it blissfully ignorant. Oh well. Added December 16/18: I apparently also missed a pair of the last operating wig-wag railroad signals anywhere by only a couple of blocks: the photo on *this page is dated November 18, 2015. Pppph.)
Back into the Dells area, we took a Duck tour. My family went on a boat tour the last time there so I'd been on the river before, just never on a Duck. Well worth it. It was nice to see the actual dells.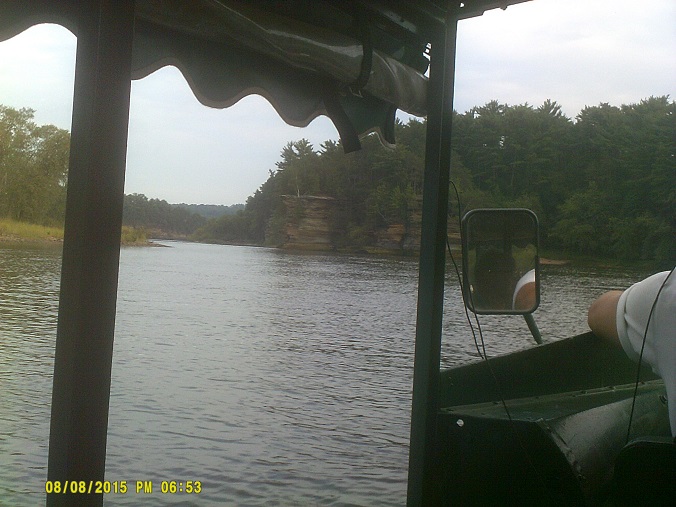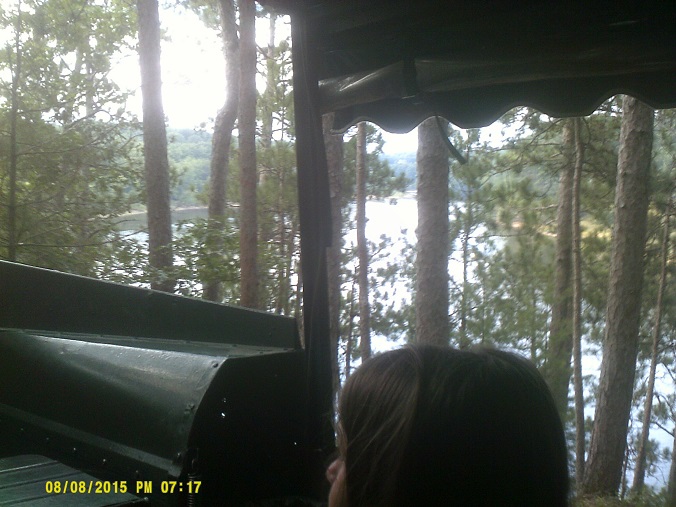 Afterwards we still had just enough time to visit *Timbavati Wildlife Park.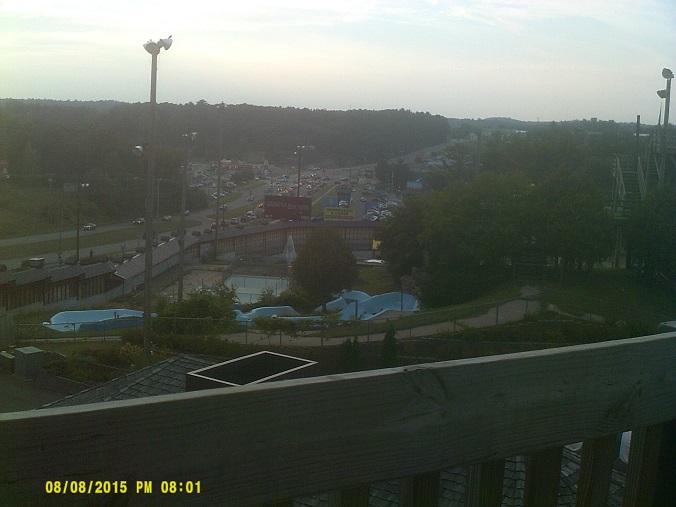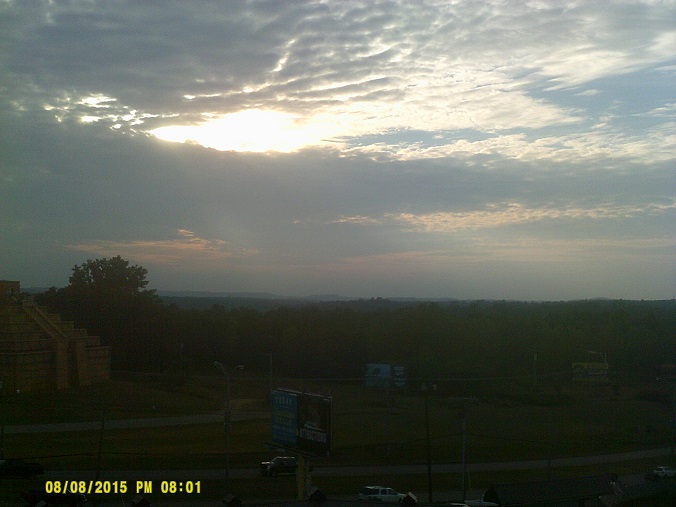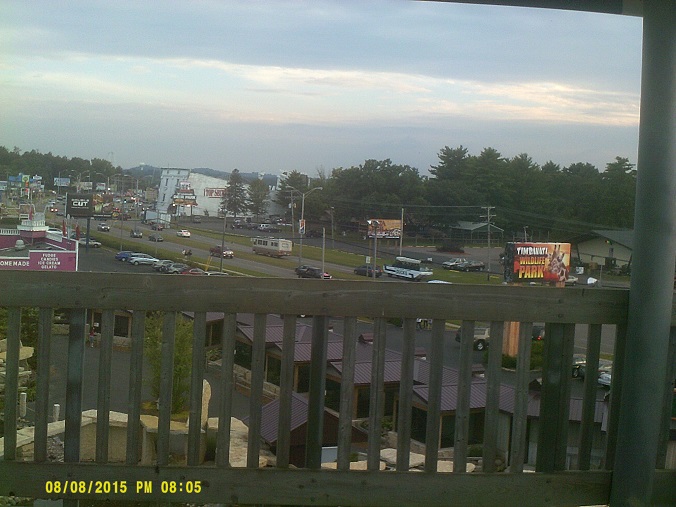 Views from the observation tower, the last shot showing the next day's destination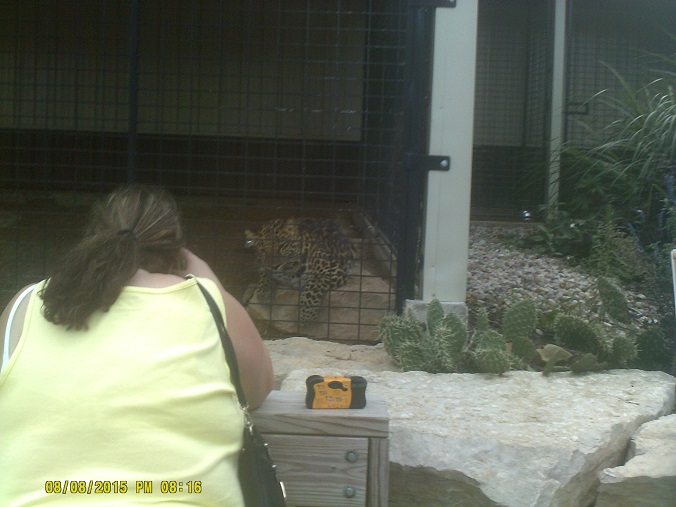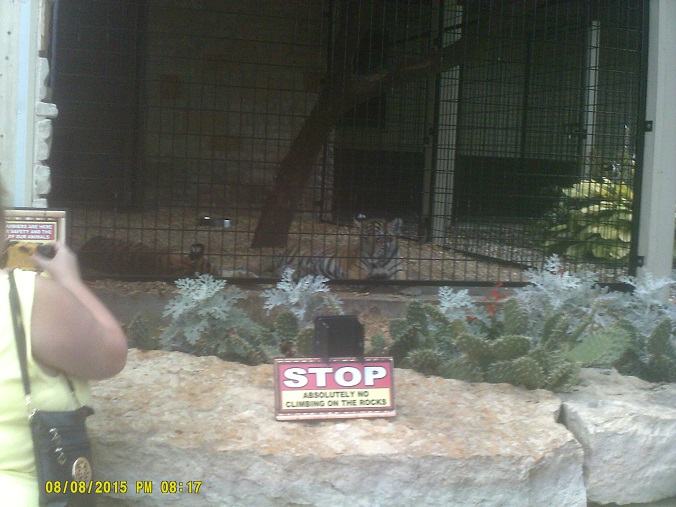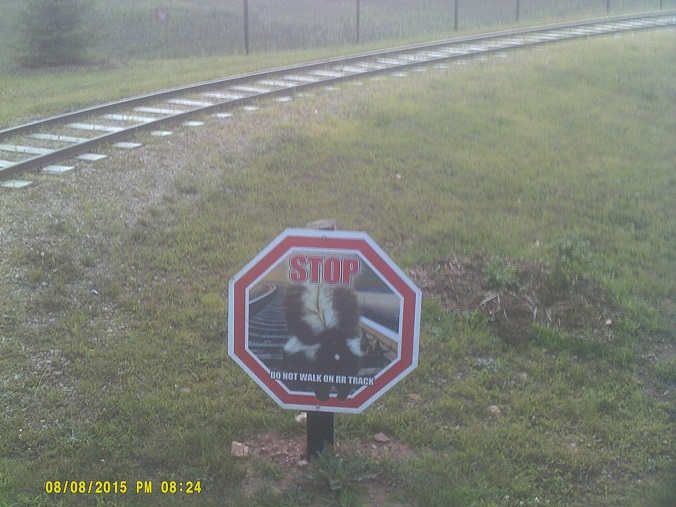 I like the badger theme, appropriate being Wisconsin. (In *my photo of the actual badgers that they had it's hard to tell where they are)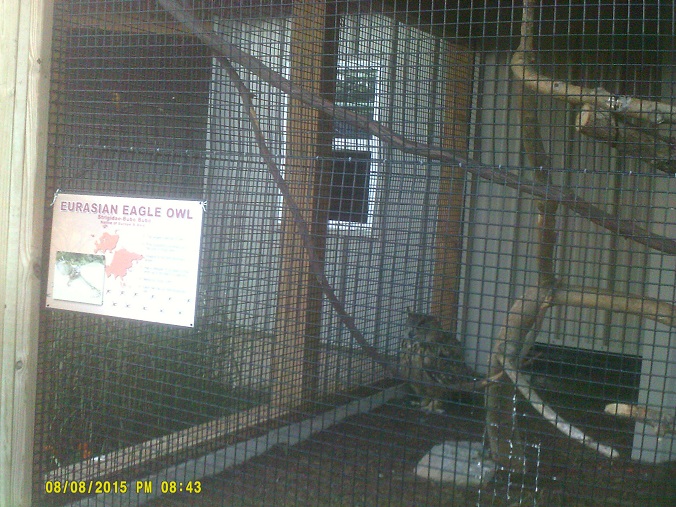 After returning to Madison I felt like taking a side trip to the capitol, which even shows up on advance street signs. We had seen it in the distance from various high points around the US-151-at-I-39/90/94 interchange but it was nice to see it get closer and closer as we travelled down 151. I would have liked to have gone in the daylight to see if I could see the two lakes that surround it but after looking at Street View it seems that the lakes are out of sight anyway until the other side of the dome.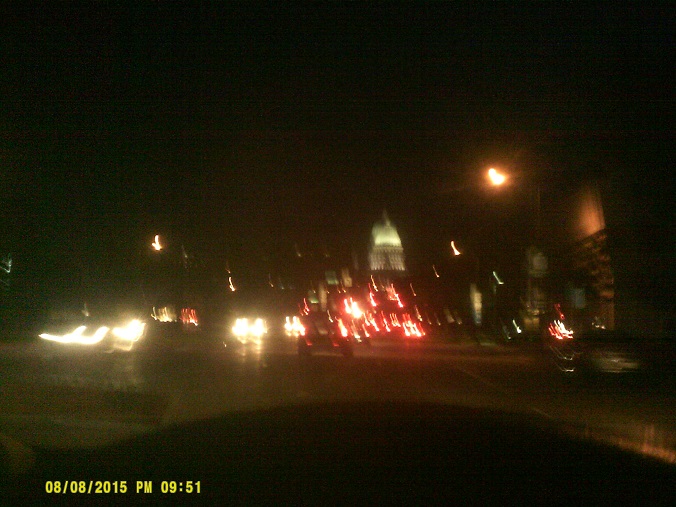 After that we had dinner at Pizzeria Uno. Yes, I didn't have Chicago-style deep dish pizza until Wisconsin. (They didn't have deep dish at the aquarium's cafeteria. I checked. And when I ordered out the night of the flat tire, it wasn't on my mind, I just wanted food.) I had seen a photo of a blank Interstate shield in Wisconsin online before, but didn't get the significance until I saw one by the pizza restaurant among the commercial strips by the mall and another nearby. Rather than put up signs for all the Interstates, they just put up a blank shield to direct you to "the Interstate", whatever it's called.
Sunday, August 9, 2015 (Madison, Wisconsin, to Goerke's Corners, Wisconsin, via Wisconsin Dells)
Last visit to the Dells area, going to the *Wisconsin Deer Park.
Note the previous day's last destination in the background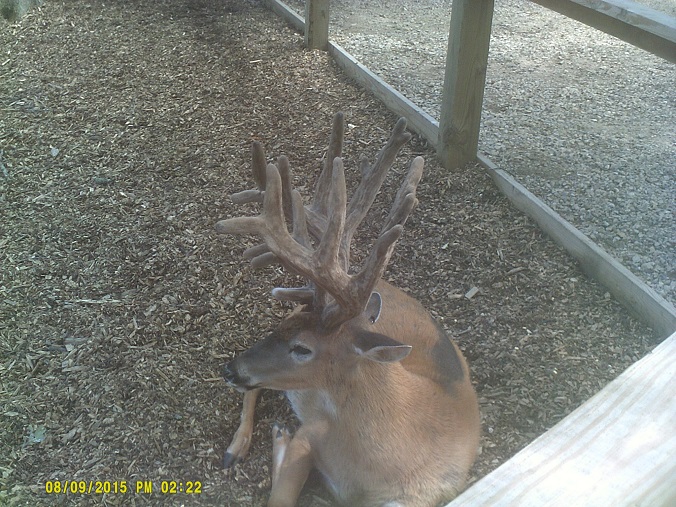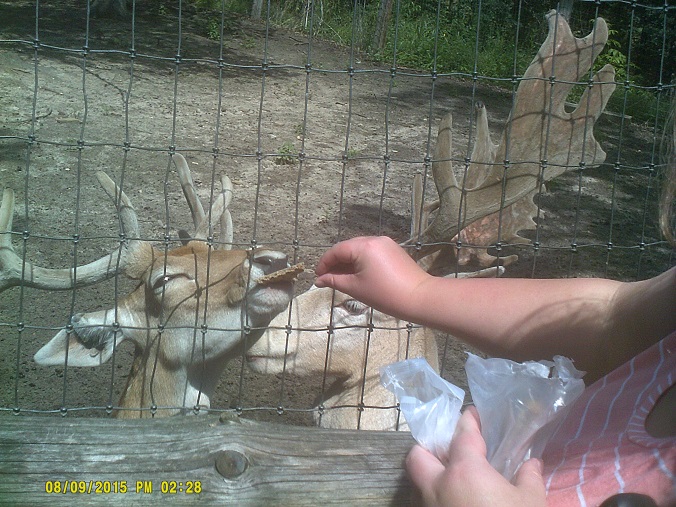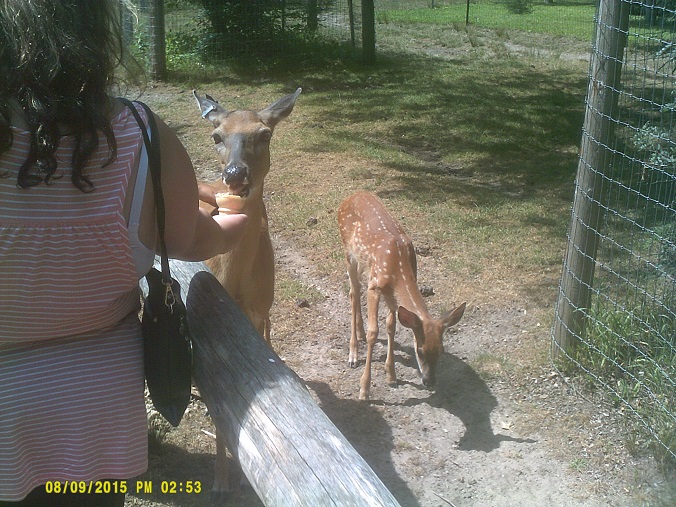 Unfortunately, weighing the flat tire experience and other expenses against everything else, we opted not to take a proposed side trip to Minnesota afterward. This was a big disappointment to me since that's the closest state that I haven't yet visited, but, following my head and not my heart, we headed the other direction. I had planned to take I-90 back into Illinois since I had never been that way, but since we had to go back through Milwaukee, that was no longer feasible. However, rather than just backtracking on I-94, I decided to go the old route, Wis 16, the old US-16. After leaving the Dells on County Hwy A to have one last look at the river, we took Wis 33 east at Baraboo and picked up 16 in Portage. (Incidentally Hwy A has old signs at both the north and south ends, with a sign error at the former.)
Wis 16 is a fairly interesting drive through the Wisconsin countryside and a few small towns leading up to the far western Milwaukee urban area; the road runs the gamut between two-lane and freeway, and even has a section being upgraded from one to almost the other (*the section along Wis 26 north of Watertown). There's another instance of a freeway meeting another with at-grade ramps, where 16 meets 67.
Monday, August 10, 2015 (Goerke's Corners, Wisconsin to Stevensville, Michigan)
To the Milwaukee Zoo, finally. And though there wasn't steady rain like three days earlier, we still had to dodge some downpours.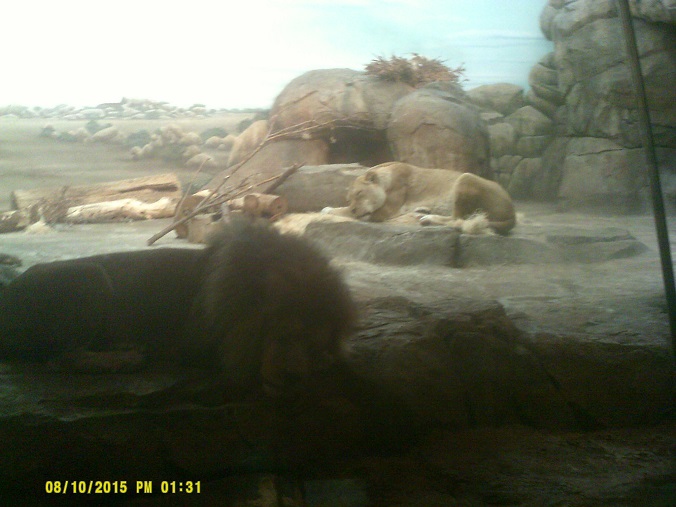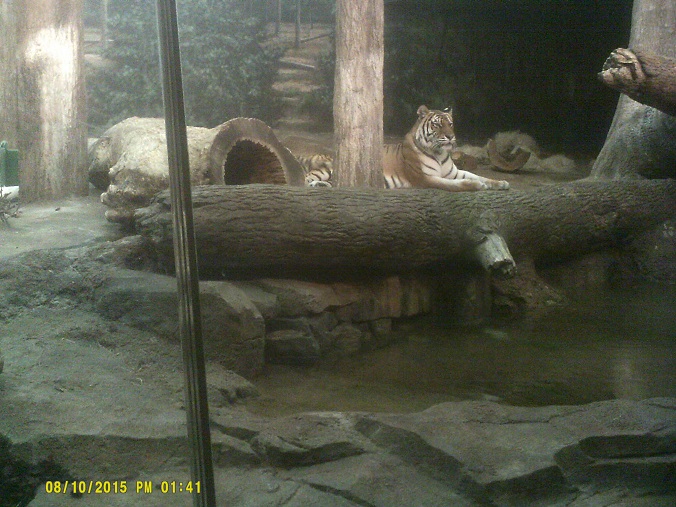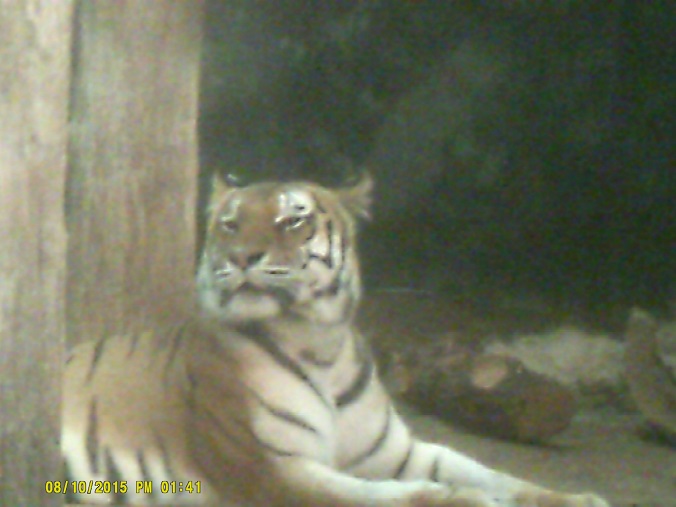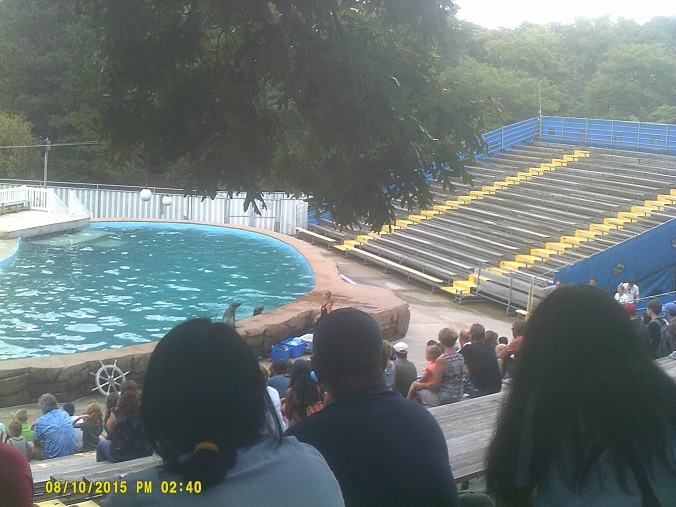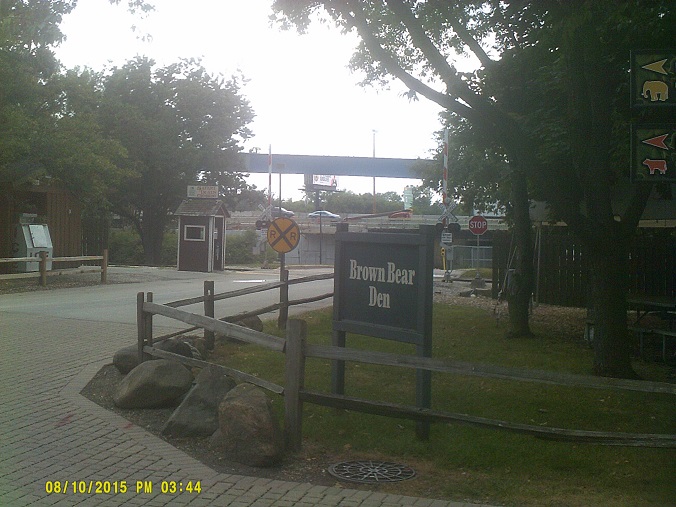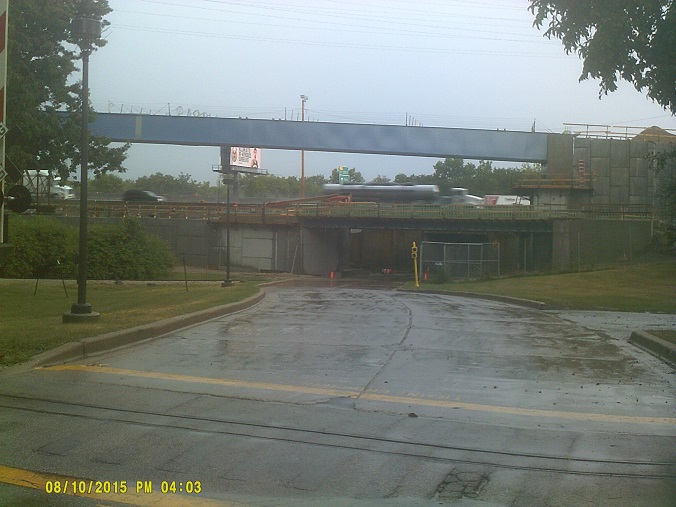 That's the Zoo Interchage from the actual zoo. Note the water in the second photo from one of the passing storms.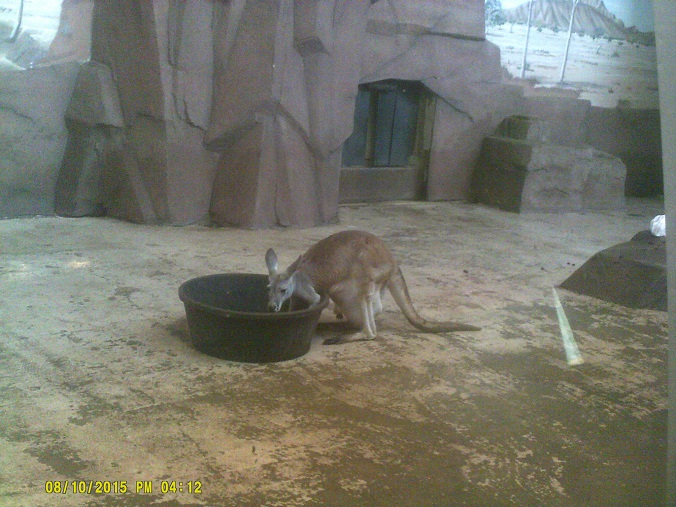 Note the joey's paw sticking out of the pouch
After leaving the zoo we backtracked to Waukesha for more cheese curds at the supermarket, then followed I-894 out of town. (For the second year in a row we decided against taking a long-distance ferry, this one the one across Lake Michigan from Milwaukee to Muskegon.)
There, in the distance, is South 41/North 43/East 894/South 41. With I-70 being rerouted onto a new Mississippi River bridge into St. Louis recently, Wisconsin now owns both locations where three Interstates run together, at least until I-69 joins I-465 and I-74 around Indianapolis.
Into Chicago, one last time to try to see the Bean. Didn't see it from the road, though I did get to see the BP Pedestrian Bridge and the Pritzker Pavilion, plus the inside of the Lakeshore Drive bridge over the Chicago River. We continued on I-94 into Indiana and Michigan, making it the first time that I can remember that I've travelled from Wisconsin to Michigan around the southern end of Lake Michigan in one trip.
Tuesday, August 11, 2015 (Stevensville, Michigan to Lake County, Ohio)
After heading down to the Michigan/Indiana border area for some local loose ends and driving past the houses where I lived in high school, we visited Warren Dunes State Park just outside Bridgman. En route, I got to drive part of Red Arrow Highway/old US-12 parallel to I-94, which I haven't been able to do much outside of the St. Joseph/Benton Harbor area, and to my delight, I saw a *Red Arrow Highway marker along the way (I can't find it on Street View, but it was there, honest) – I thought that those had all been taken down. Postscript: I think I found it, though that's a barely-readable one just south of Lake Street, whereas I thought that the one I saw was one in better shape just south of the I-94 interchange. (Post-postscript: Google updated Street View again, and that wasn't it, because that one's gone.) In any case, I guess that what I thought was rare these days isn't really – I was looking in the wrong county. After looking through Street View again a few months later, it appears that they can still be found all over adjacent Van Buren County. Most of the shots were taken in 2012, so there's a chance that things may have changed, but a few were taken the same month as our trip! Another web search led me to one of Roger Ebert's last blog entries about the road.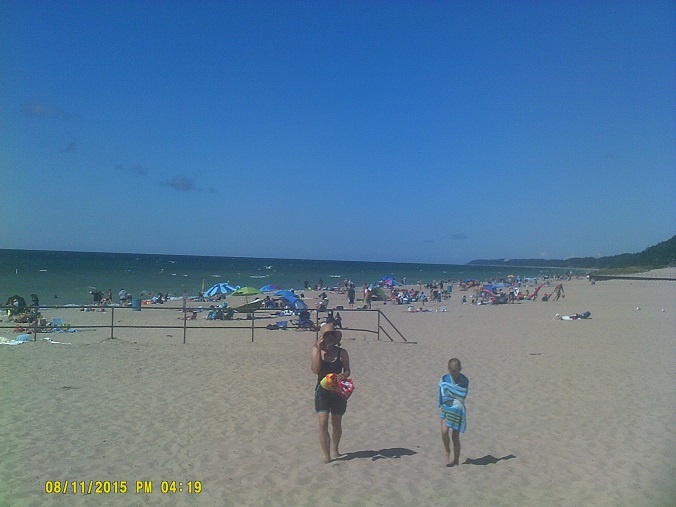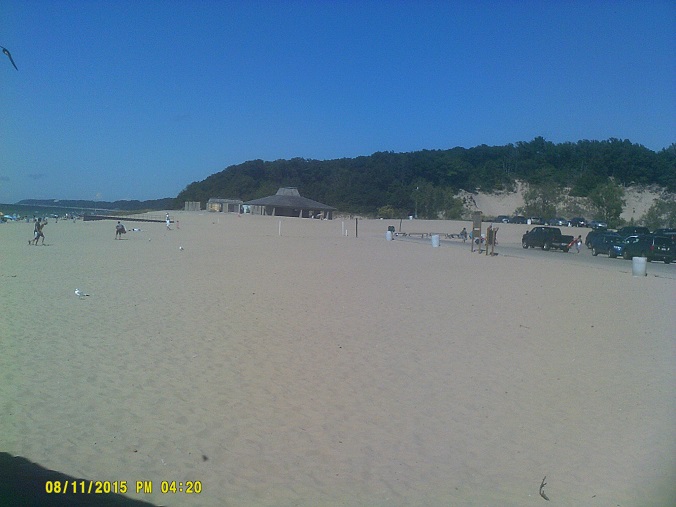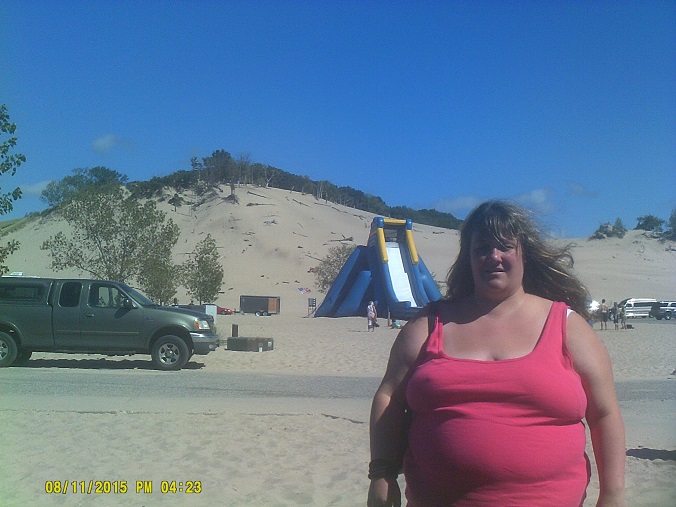 I never got the chance to visit the park when I lived there, and not many people that I know from there visit it very much, since it's usually crowded with out-of-state visitors (as it was when we went). It didn't bother me at all, though.
After we left we followed the lakeshore to St. Joseph, taking in the lake view there (U.S. Bicycle Route 35 signs are now up), then made our way just east to the house where I lived through the beginning of high school, while waiting for friends and family to contact us to meet for a brief visit. (Aside: MDOT's green signs listing the approaching cross street, which have been around forever, are being replaced by *the deluxe version, the D3-2, with a second line saying NEXT INTERSECTION or NEXT SIGNAL.) Unfortunately, only one of my friends was available. We chatted for a while, then we were on our way to try and beat as much of the darkness as possible.
US-31 is finally acknowledged on I-94 on the main Exit 30 signs rather than just on supplemental signs. Everyone including MDOT knows that construction of the last gap in the *US-31 freeway is a long way off so the signs won't be wasted.
The signs for the *Truck Parking Information and Management System which MDOT implemented about a year ago (*press release 9/3/14), the system which identifies where individual truck parking spaces are at any given time, are fairly numerous along the route and always showed numbers so it appears that they are serving their purpose.
The interchange at western end of the Battle Creek I-94 Business Loop is undergoing *major construction, with new bridge segments staged nearby. They must be being fabricated around the airport in Kalamazoo because we saw one entering the highway in tow at Portage Road. That was an interesting sight, especially seeing as how the cab/segment tandem needed all three lanes to merge, with the assistance of a wide-load lead vehicle. I-94 in Kalamazoo has its *own construction; only one segment of the Cork Street overpass was left, likely because a traffic monitor was included on it. *Weird sight.
US-23 southbound has a nice new sign telling drivers to follow I-475/US-23 to the Ohio Turnpike. However, the one telling drivers where to leave the highway wasn't there. One had previously been at the Salisbury Road exit, which was built in part specifically for Turnpike access, but when I didn't see it there, I figured that they wanted Turnpike traffic to avoid that route due to the development that sprung up likely due to the exit being built. But I never saw one anywhere else either, so I simply took I-75 northbound to its exit with the Turnpike. It turns out that the sign was temporarily removed as part of construction along 475/23, as I found out through correspondence with ODOT. (Aside: The onramp to I-75 north from US-20/23 where we stopped for gas has marker signs pointing down to the ramp, California-style. Yes, I know that other western states do this too.)
All told, while the homebound route was never very far from the outbound route, I only managed to travel these routes in both directions: I-80/90/Ohio Turnpike between SR-53 and I-75; I-94 between US-421 and I-80/90/Indiana Toll Road; I-90/94/Dan Ryan Expressway, I-55/Stevenson Expressway, and US-41/Lake Shore Drive between I-90/Chicago Skyway and downtown Chicago; I-94/US-41 between I-294 and I-894; I-94 between I-894 and Wis 16; and I-90/94 between I-90/39/Wis 30 and Wisconsin Dells. Coincidentally we travelled two routes in the same direction twice: I-94 between Sawyer and Stevensville, Michigan (the first time at night and the second in the daytime), and I-80/90/Indiana Toll Road between the Mishawaka (SR-331) and South Bend West (US-31) exits.
Total mileage: 1,663 miles