(June 2, 2013, revised February 28, 2015) I took my new girlfriend to visit where I grew up in October 2009. This is a reinterpretation of the trip report and self response that I posted to internet groups just after the trip. I don't mention everything here that I mentioned there.
Note: In this document, I have made links to Google Maps Street View green. Links to other pages are the traditional blue. (Street View links here might not correspond to those in the posted messages linked above due to updates in the interim, including one after I wrote this page 3½ years after the fact.)
Many of the places illustrated on this page as well as others in the area have older photos on my Michiana Road Photos page, and some newer photos on the 2013 roadtrip page.
Tuesday, October 6, 2009 (Lake County, Ohio to Berrien County, Michigan, via South Bend, Indiana)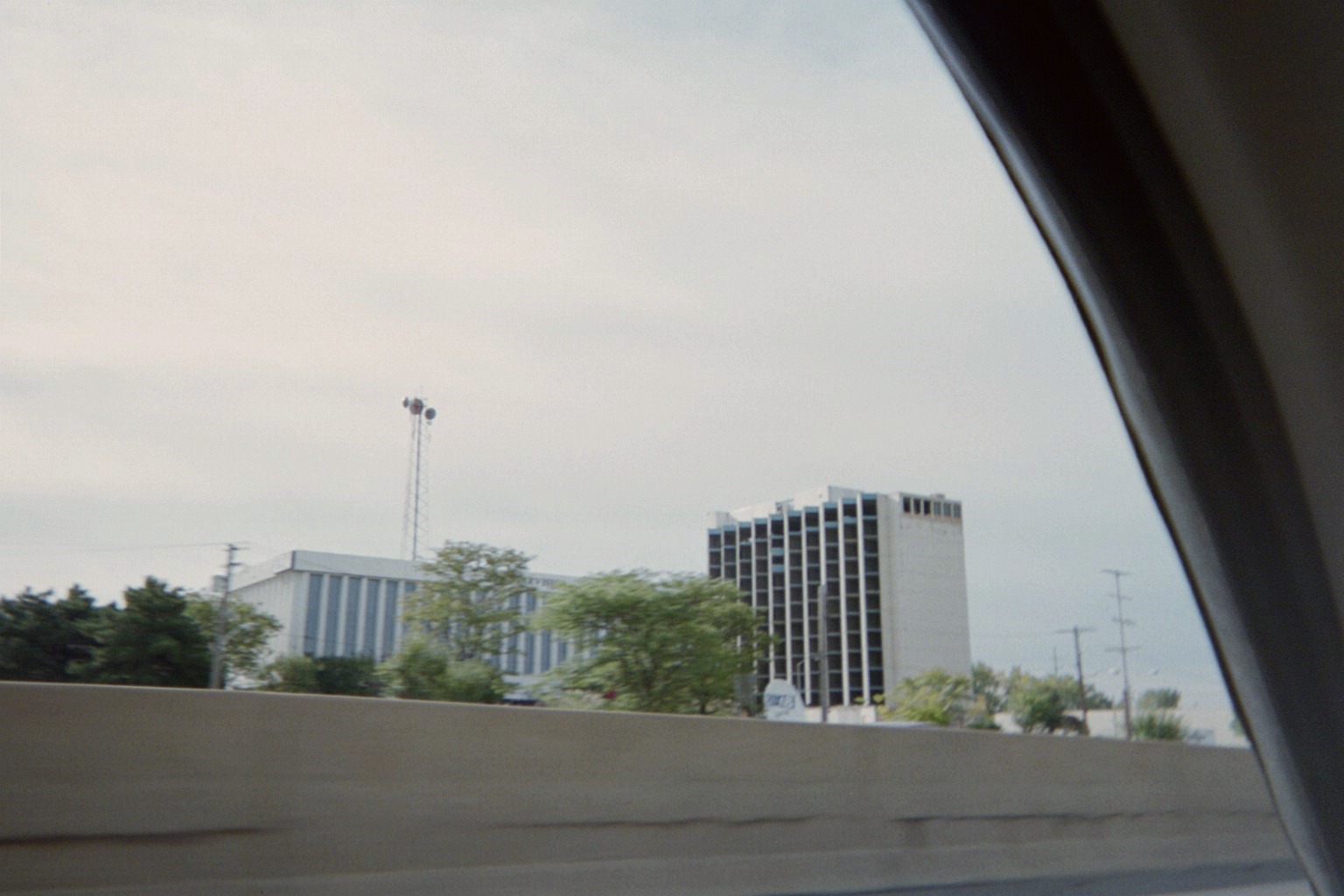 Old Howard Johnson's in Cleveland by WJW Fox8 studios. Long abandoned, building had started to be demolished earlier in the year, and was completely gone a couple weeks later.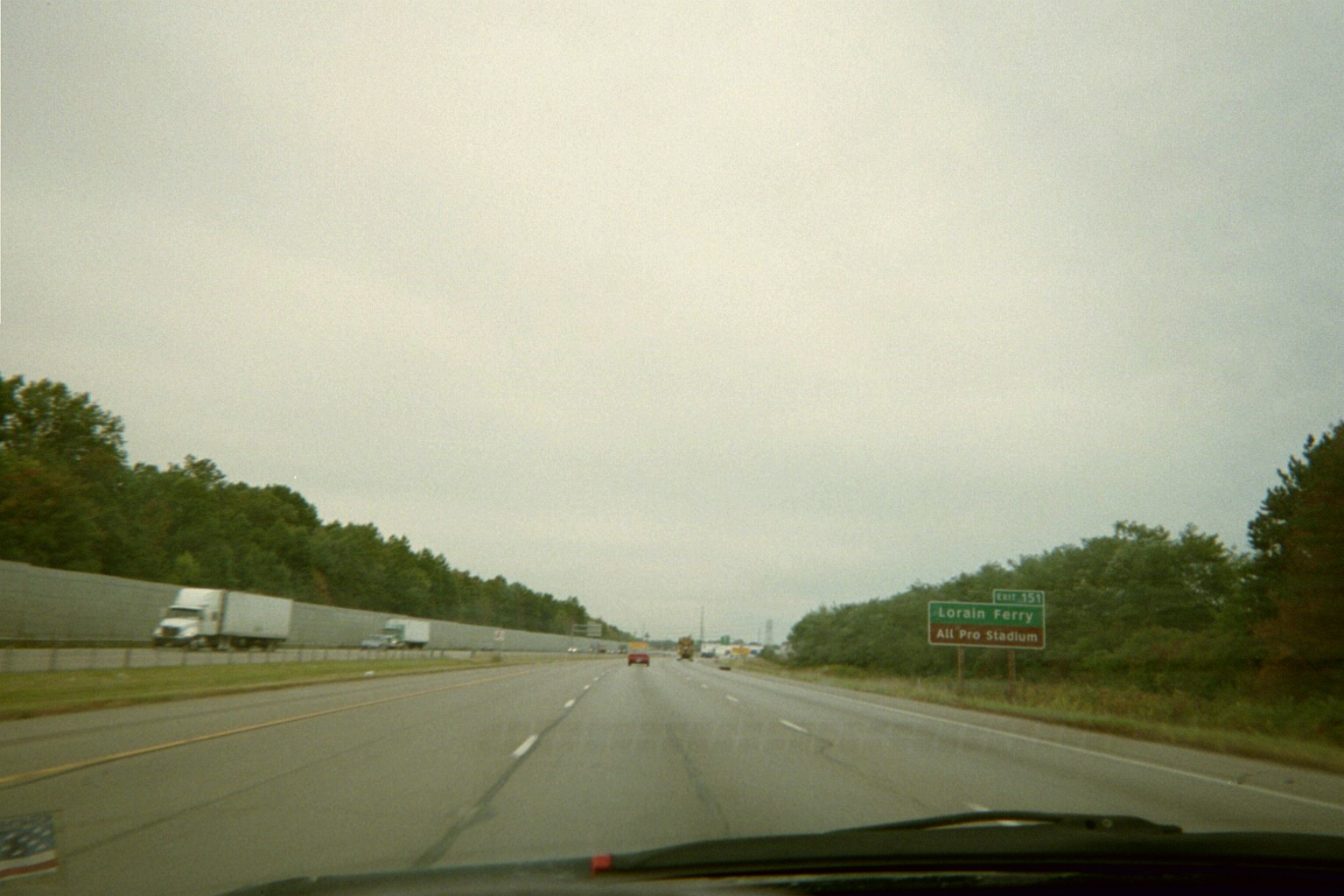 Sign for then-just opened All Pro Freight Stadium in Avon, missing a word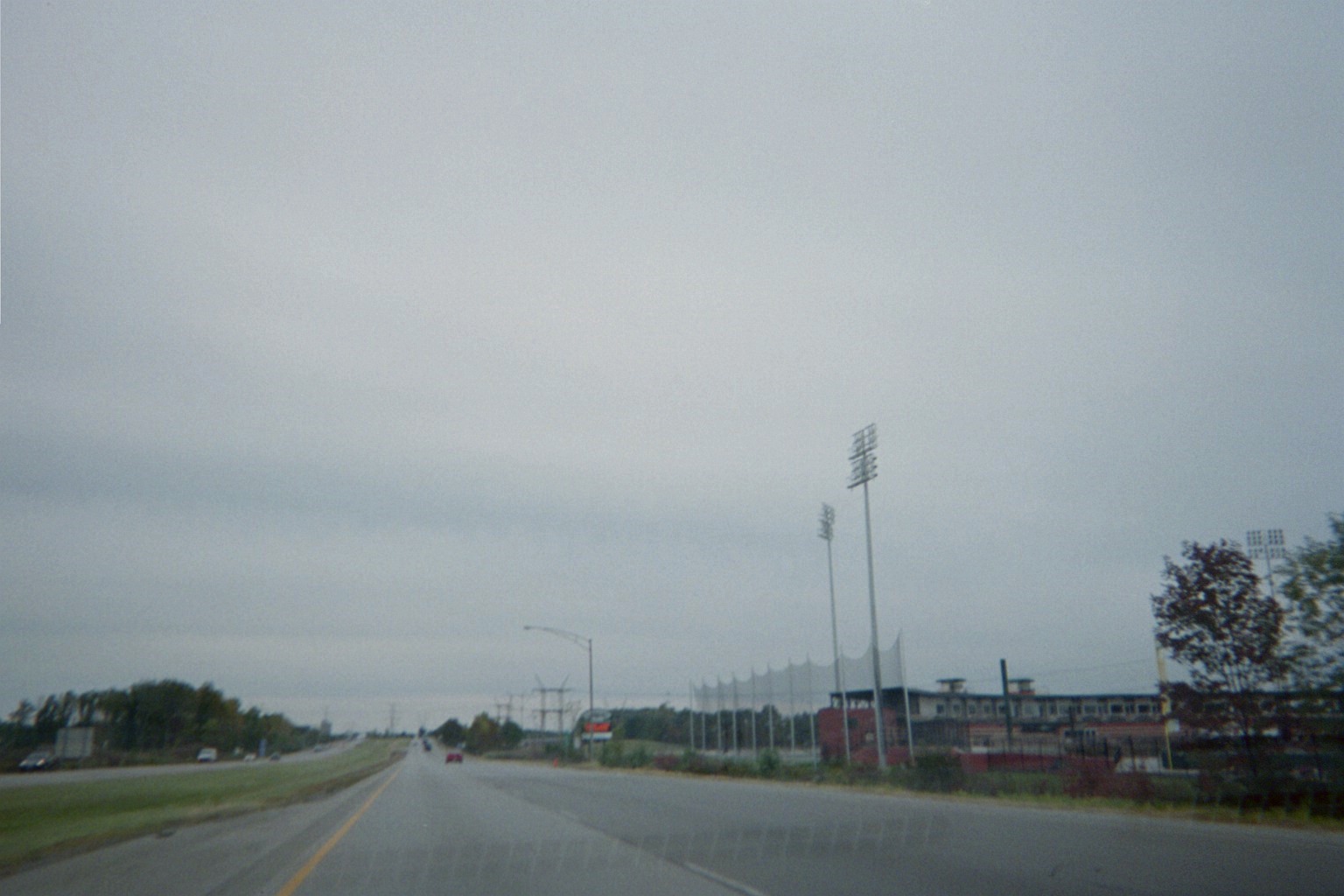 The ballpark gets very close to I-90/SR-2, with a net in case a monster home run or foul ball hit toward right field approaches the highway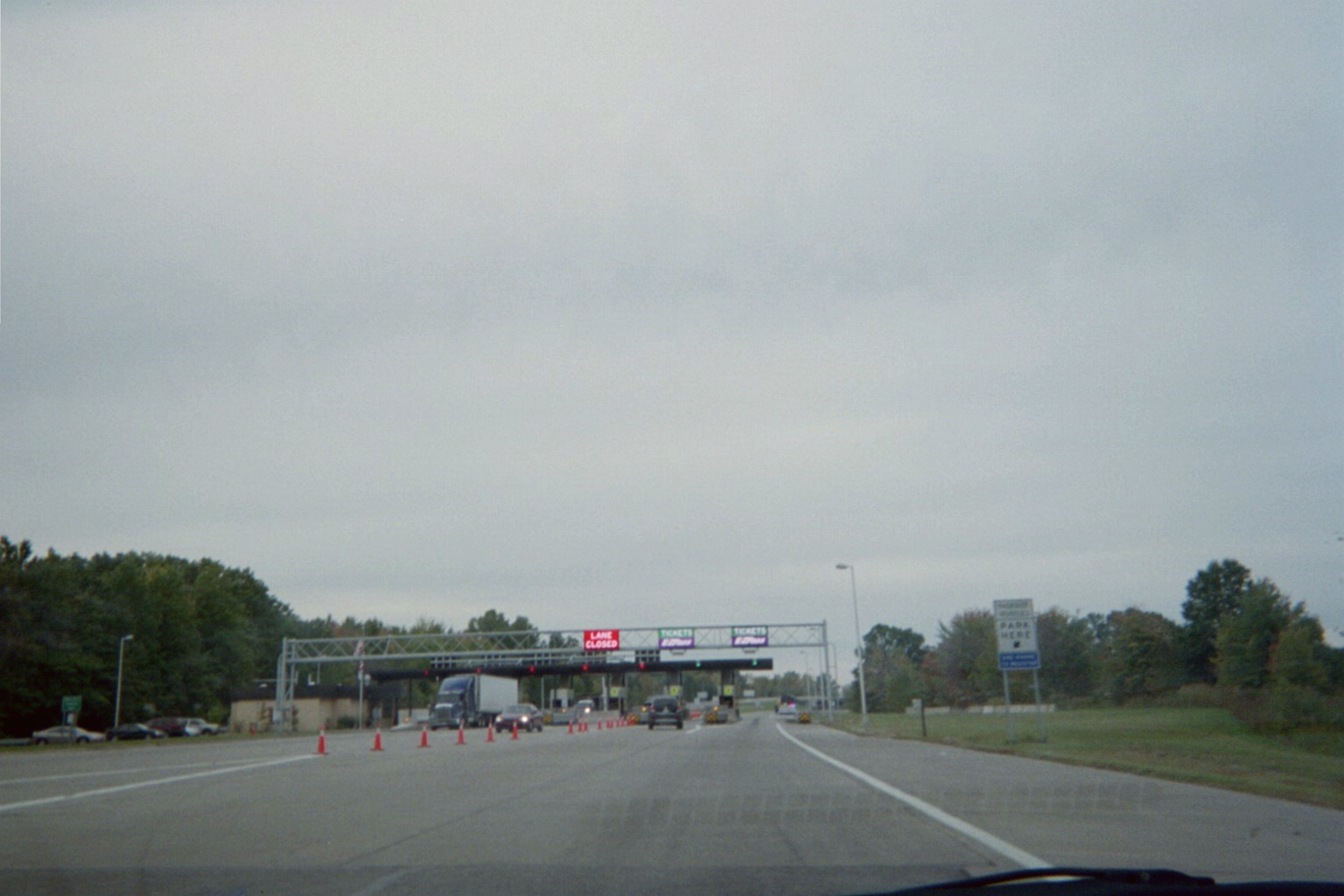 Then-brand new E-ZPass signage where I-90 joins I-80/Ohio Turnpike. The system had just been implemented five days earlier.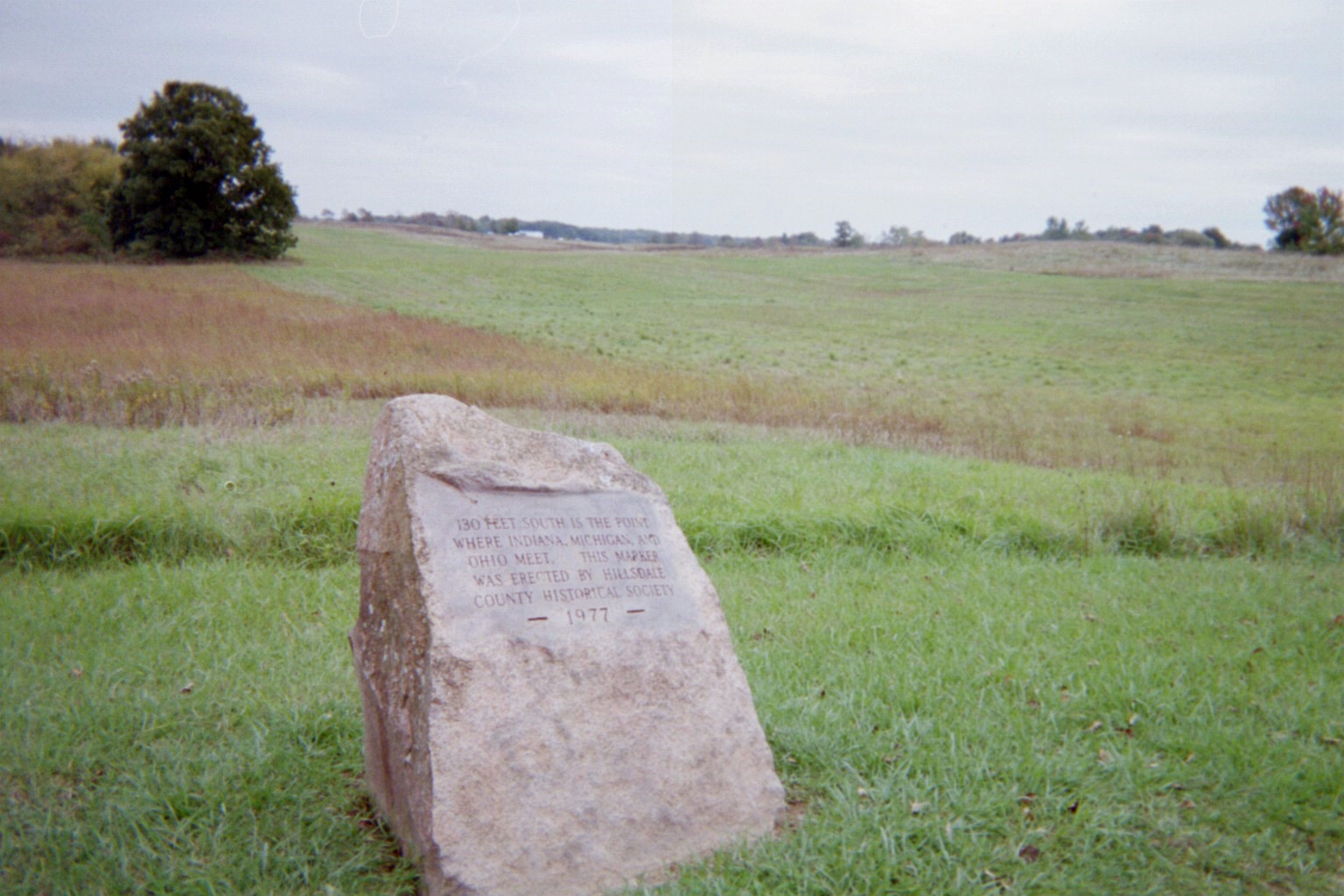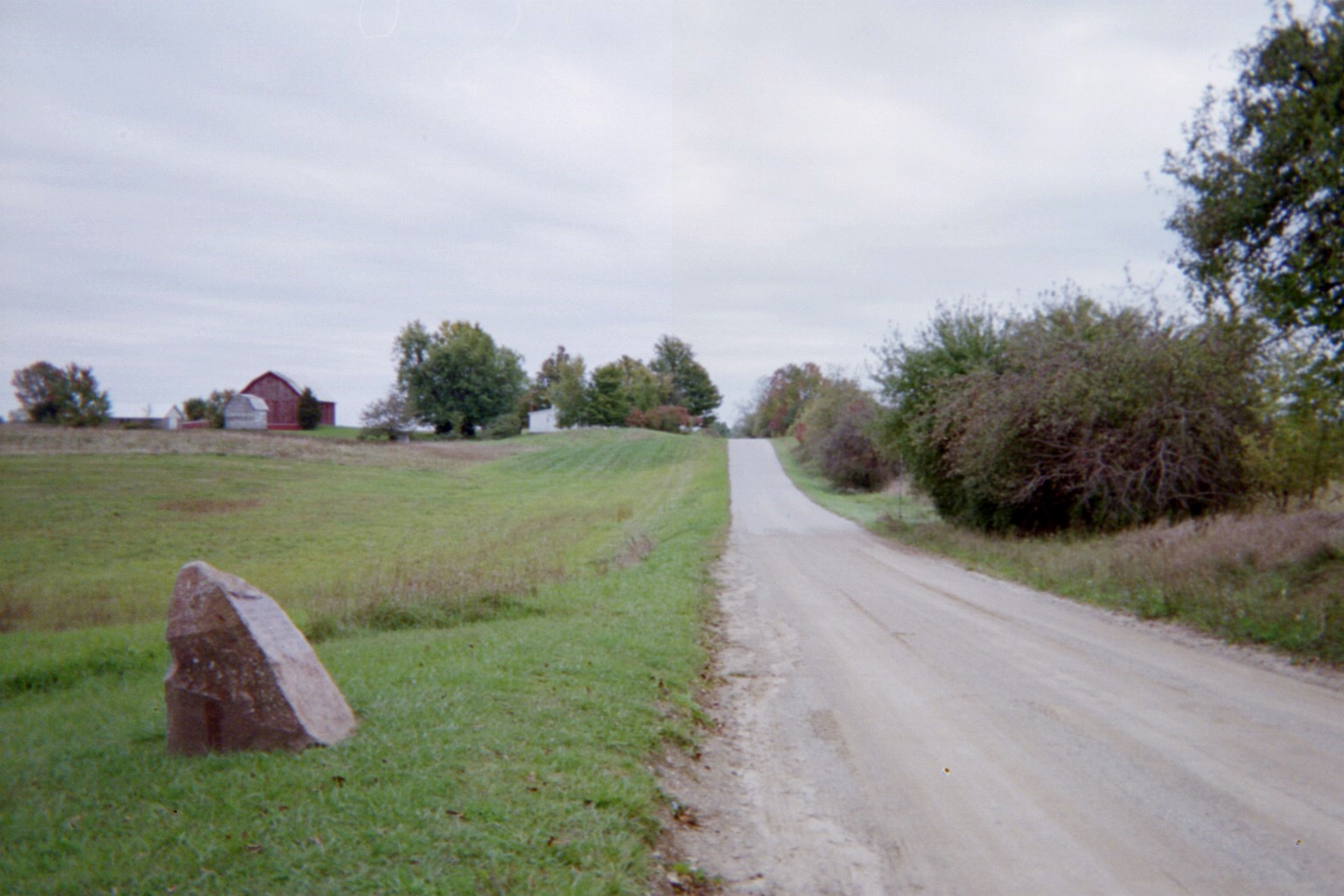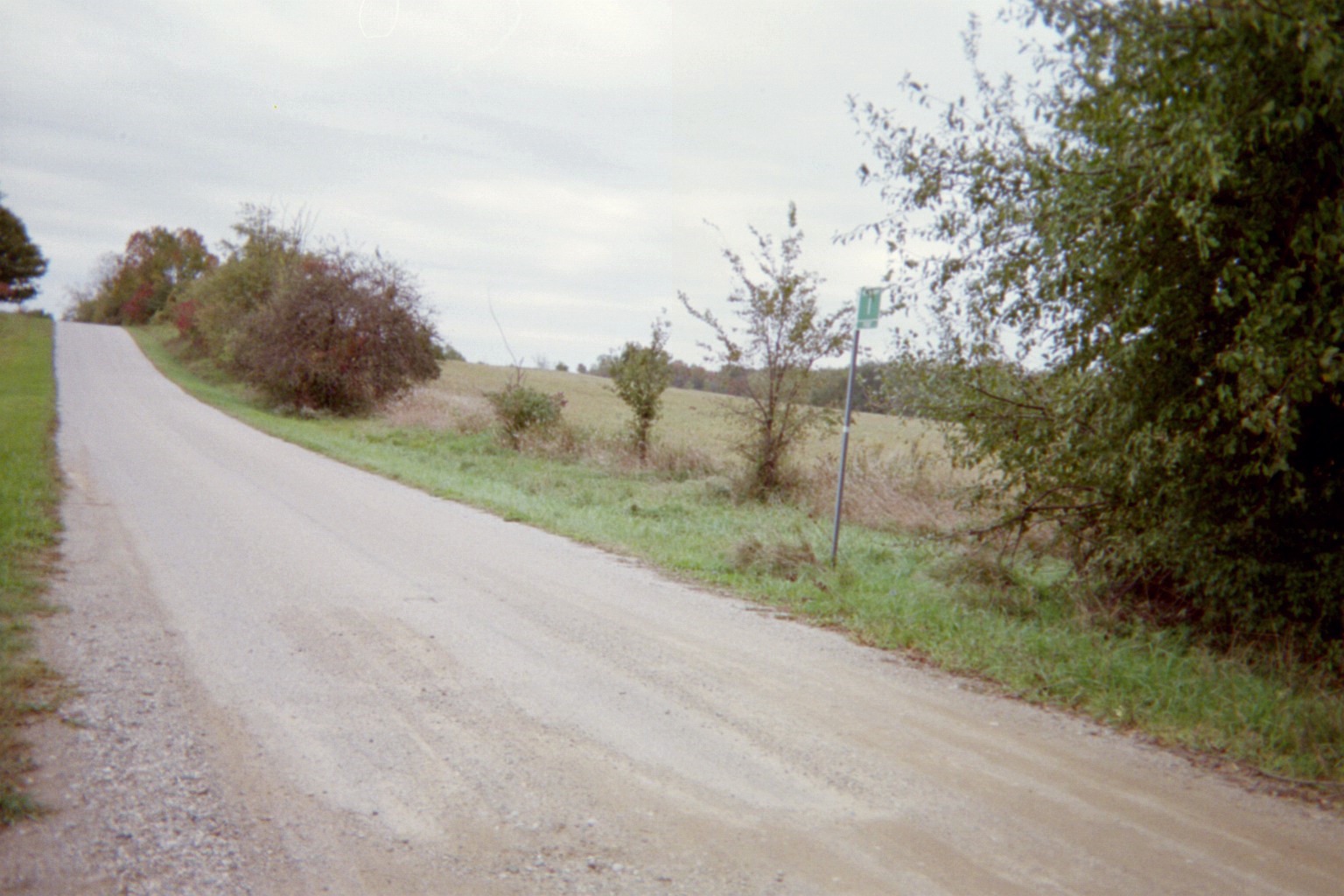 Indiana/Michigan/Ohio tripoint. Second and third photos look south, with Indiana on the right, Michigan on the near left, and Ohio on the far left. The street sign, while in Indiana, belongs to Williams County, Ohio.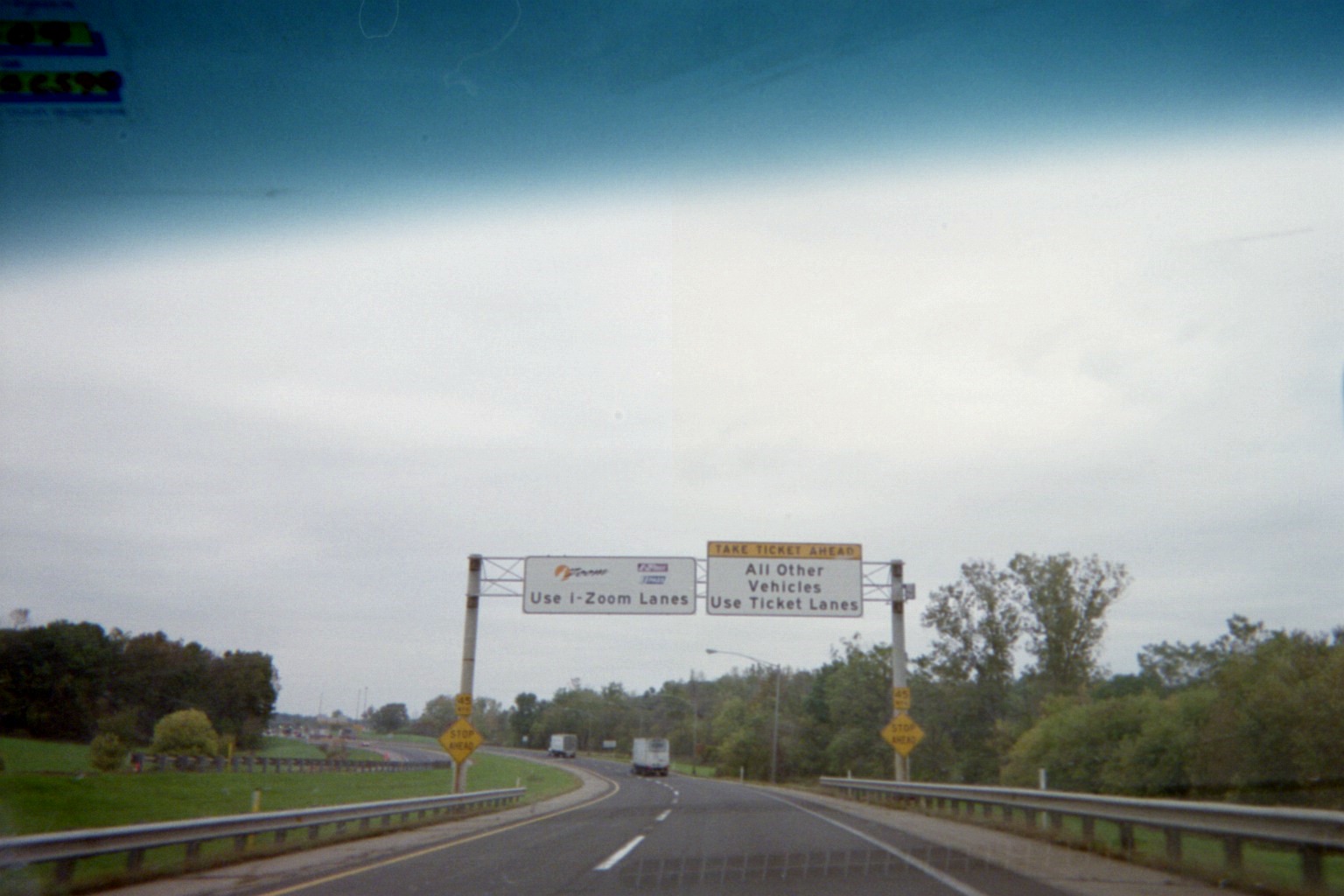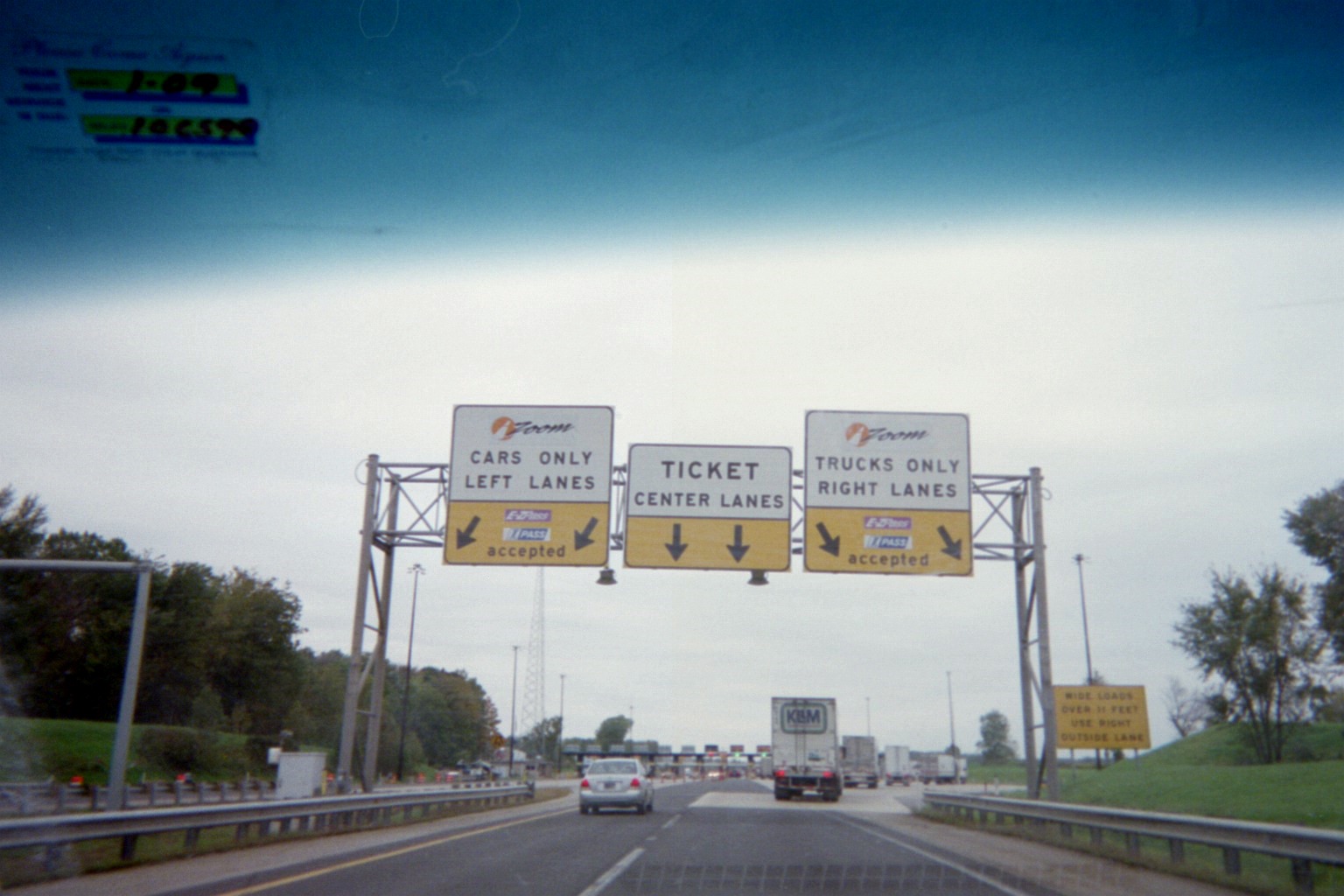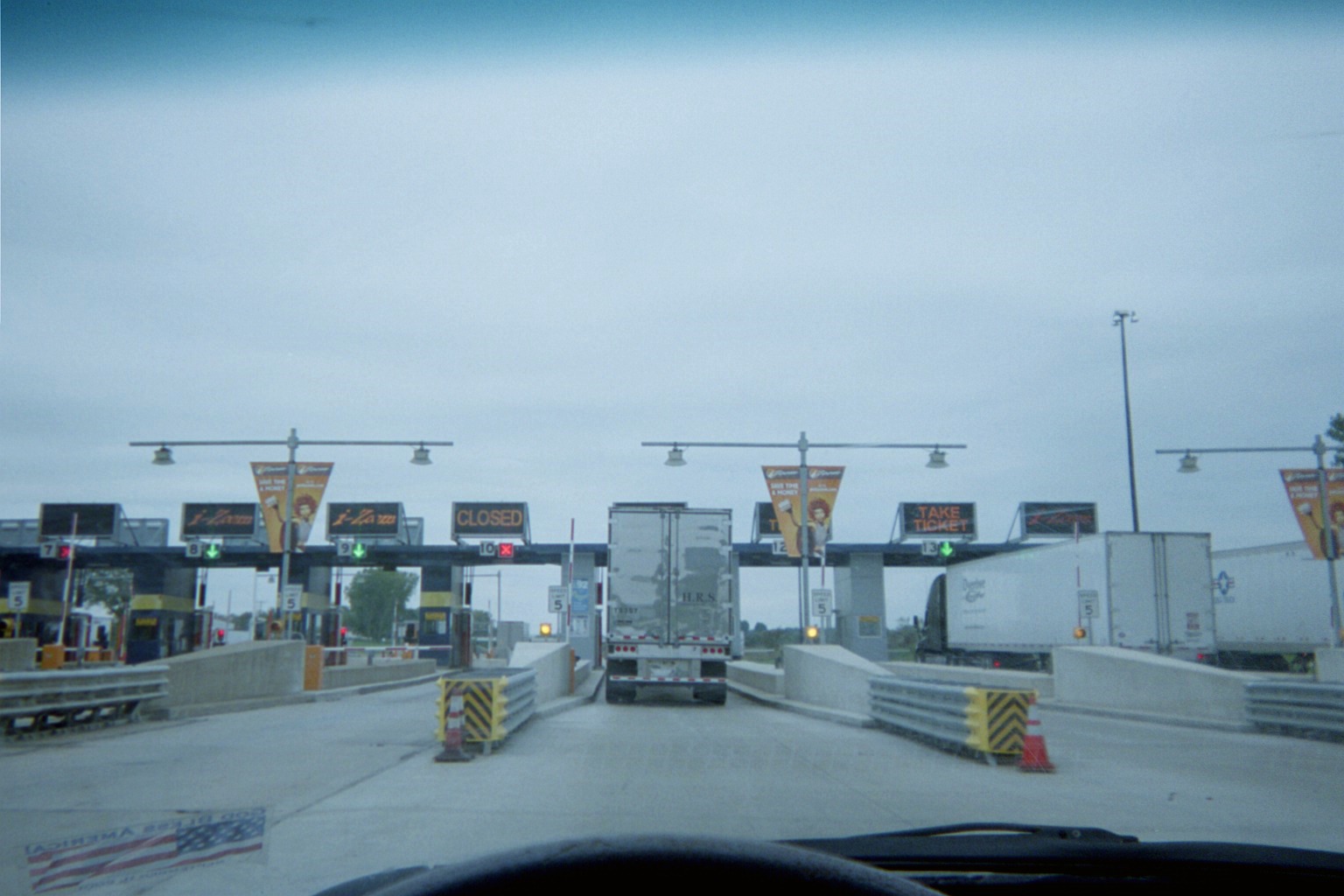 I-Zoom signage at the Eastpoint barrier on the Indiana Toll Road. This was not much older than Ohio's E-ZPass at the time, being implemented in full the previous year. The Indiana Toll Road is an E-ZPass facility now as well, though E-ZPass was also accepted during the 2007-2012 I-Zoom period.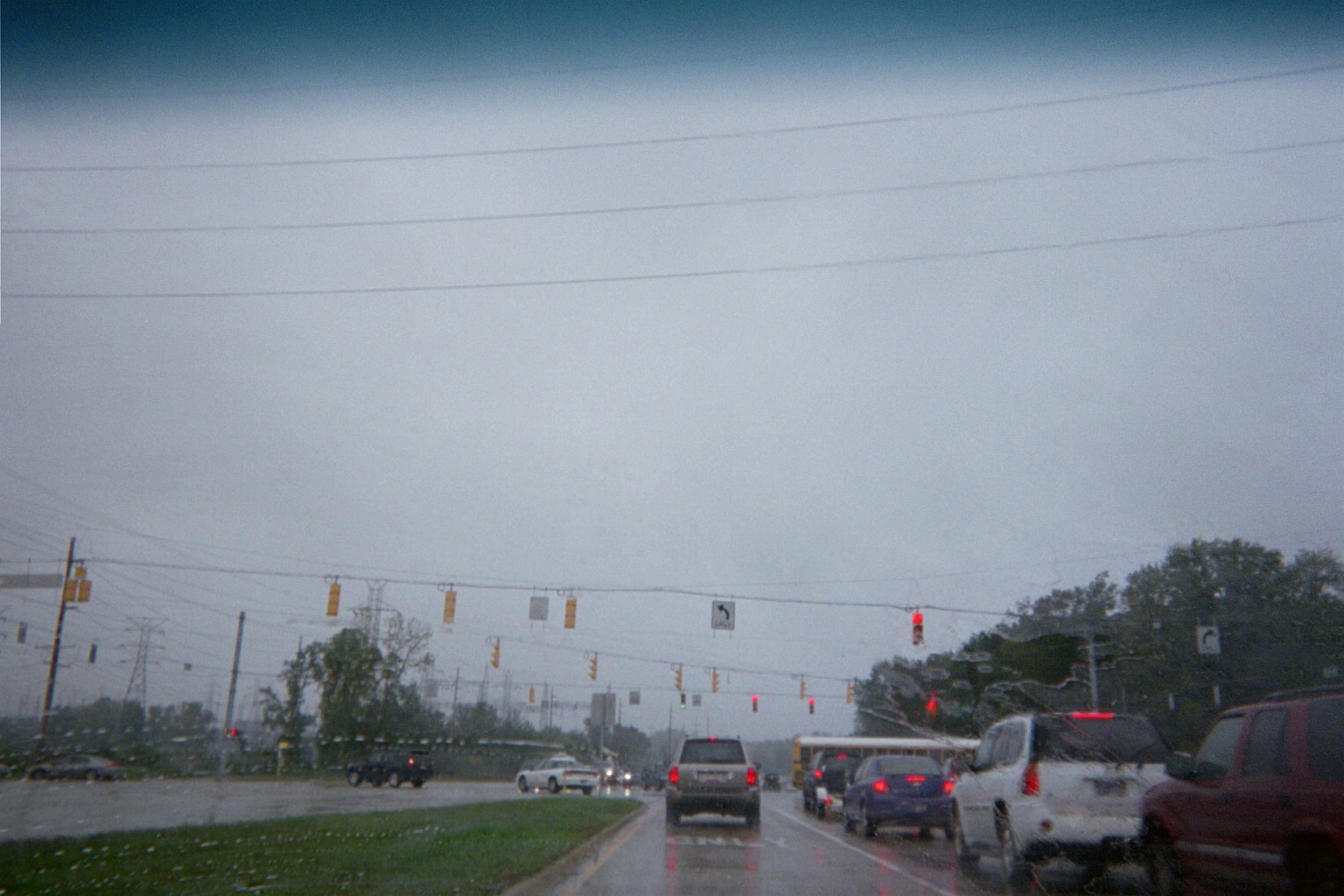 Indiana State Road 331/Capital Avenue southbound at Jefferson Blvd., Penn Township, near Osceola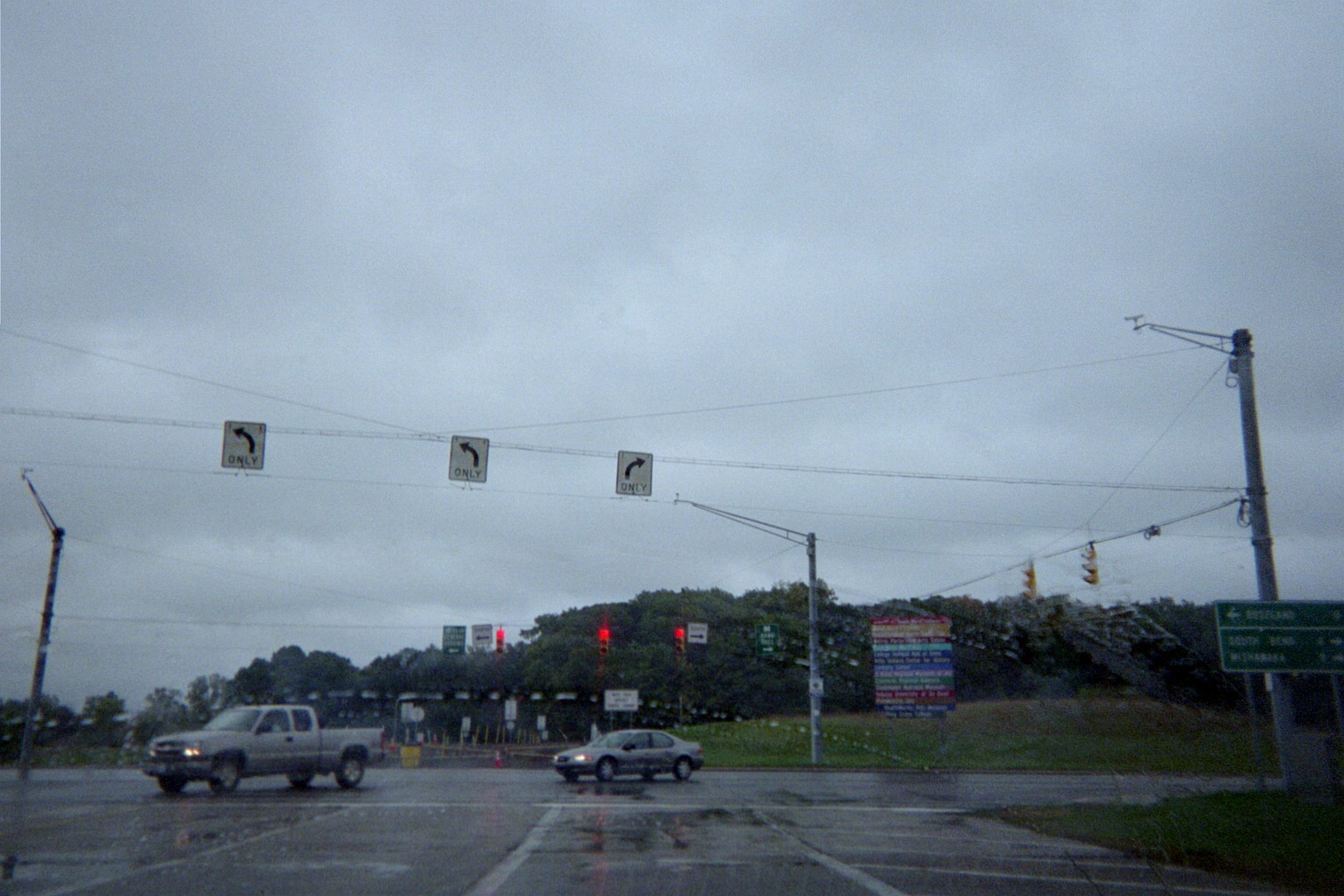 Indiana Toll Road/I-80/I-90 at Indiana State Road 933/Business US-31, Exit 77. Originally this end of the access road was a trumpet interchange at then-US-31/33 (note the embankment in the right background which formerly carried ramps), with an overpass over a rail line immediately to the west (roughly at the camera location). With the transfer of US-31 to the St. Joseph Valley Parkway bypass and truncation of US-33, and the abandonment of the rail line, the road was lowered and the intersection made at-grade in 1995. Soon before the photo was taken, an access road to White Field was constructed eastward from here providing access to parking for Notre Dame football games. In 2013 this access drive was turned into a portion of a relocated Douglas Road, which opened August 9 (video, from this article). This east-west relocation follows the upgrade of Twyckenham Drive in 2005-2006 to replace a closed Juniper as the main north-south campus route besides 933 (Juniper itself had been rerouted in the 1950s).
The multi-colored sign is a list of destinations (since I took this Street View came through on 933 taking high definition photos). Also, to the right is a mileage/destination sign listing a distance of "0" to Roseland.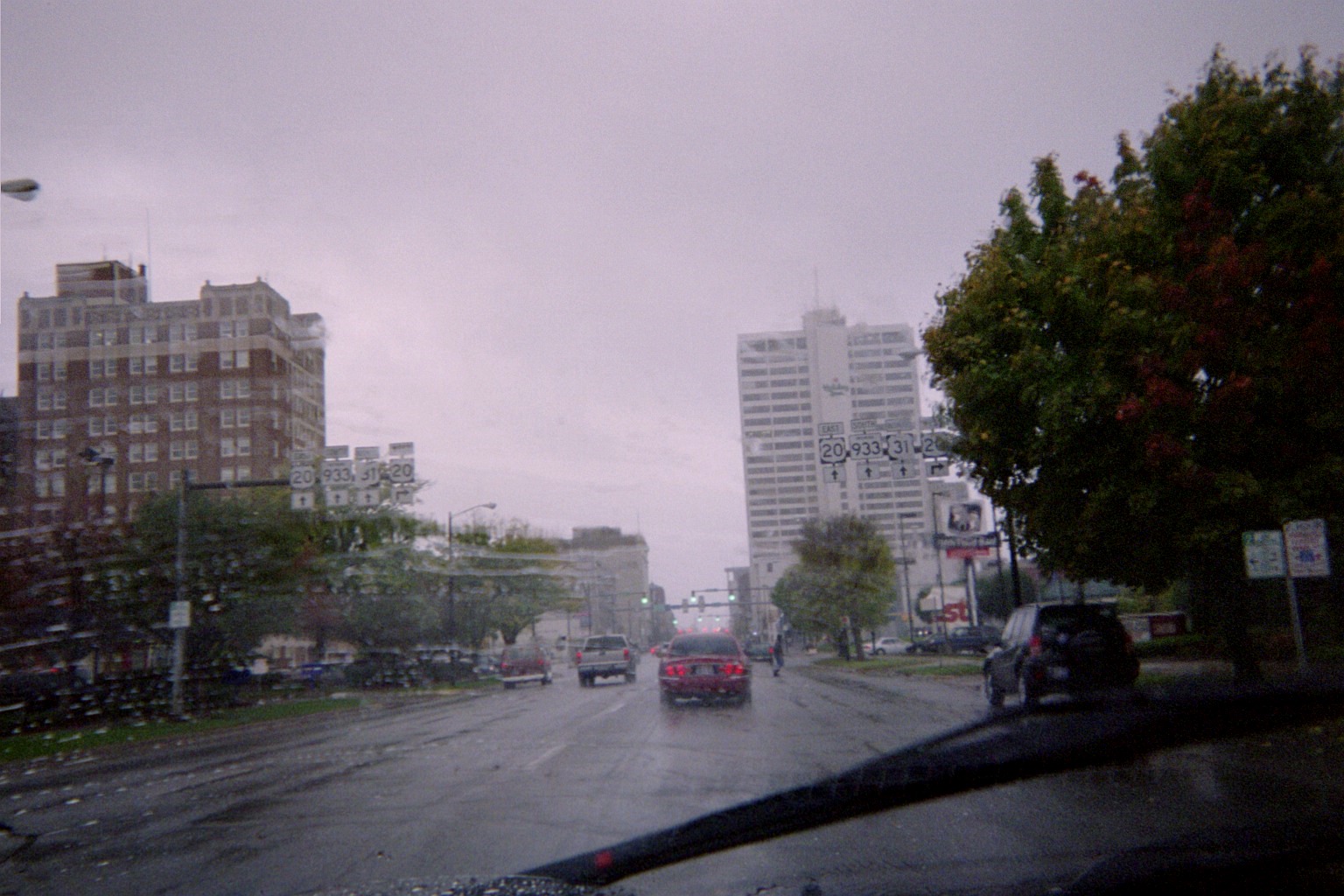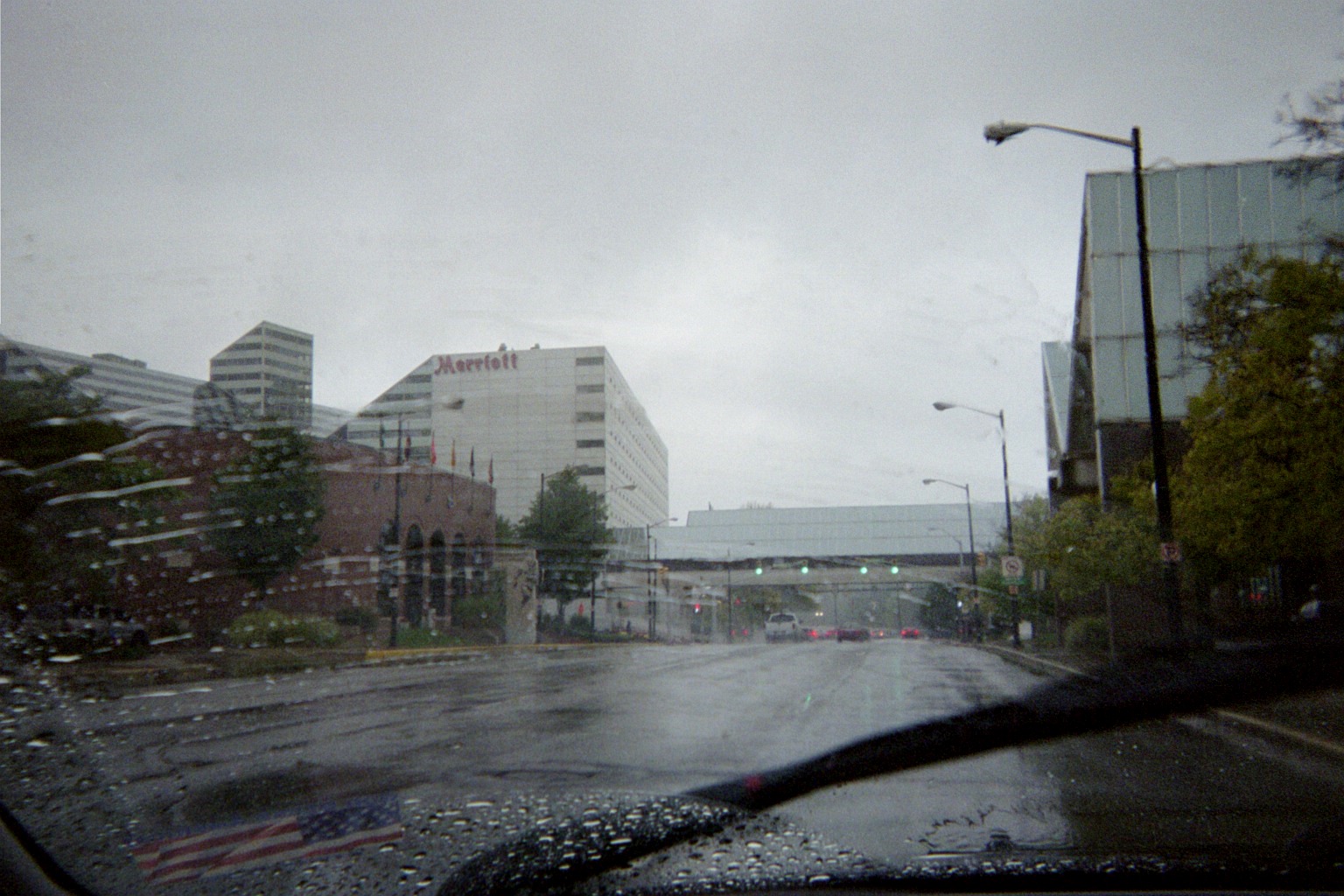 Downtown South Bend, first on Main St. southbound, then Michigan St. northbound (both 933/Bus. 31). Note mainline US-20 signage for Business US-20; US-20 has gone around South Bend on the St. Joseph Valley Parkway since 1991. Signs still there as of 2011 The second photo shows the College Football Hall of Fame, which has since left South Bend.
Jim Grey's old US-31 excursion page contains more photos in both directions. Incidentally, both directions are planned to be reconverted to two-way traffic by 2016 as a part of a street program starting in the mid-2010s converting others to two-way as well as other changes.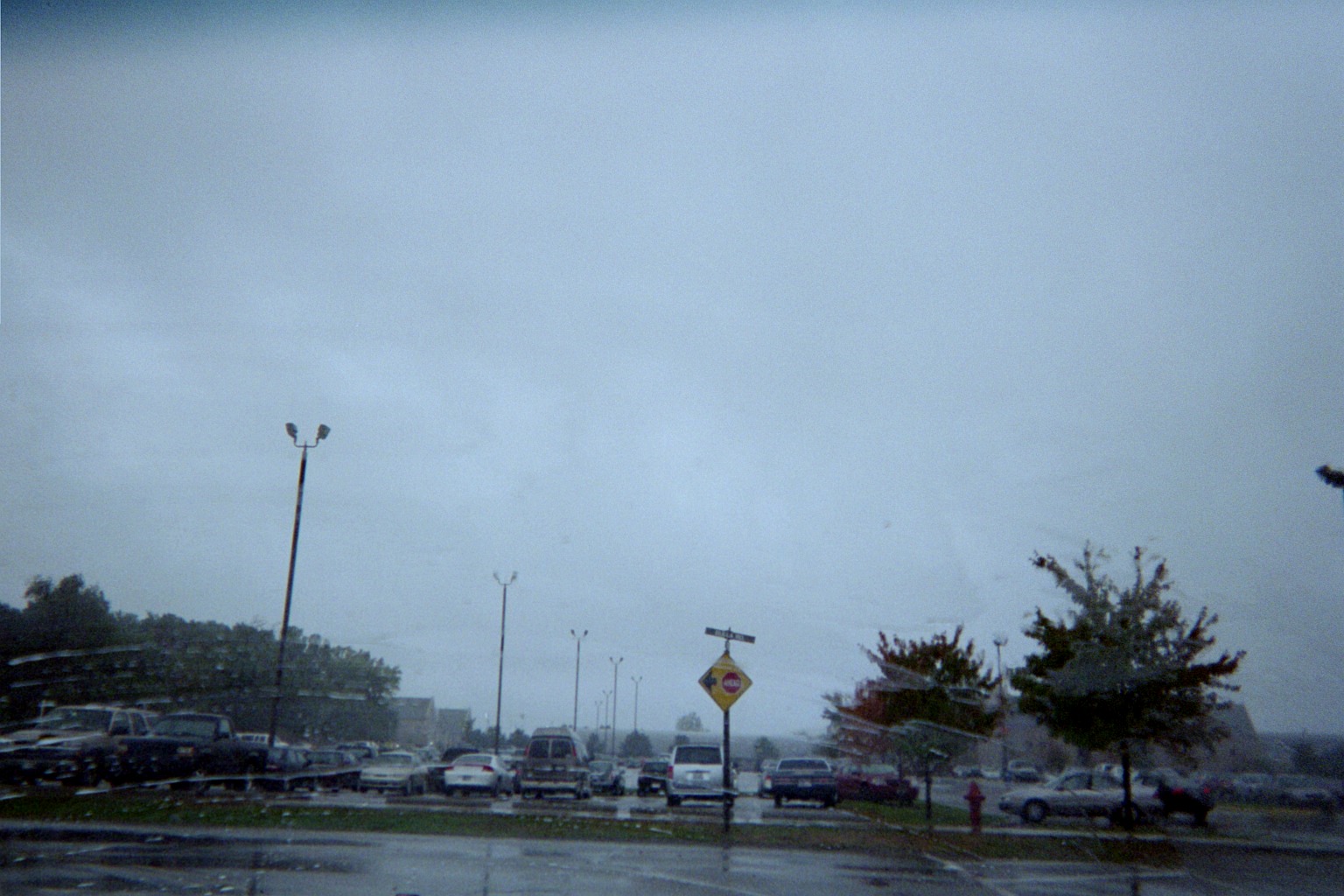 Unusual stop ahead sign where Wilson curves into Bulla on the ND campus. Street View shows that this had been taken down by 2011.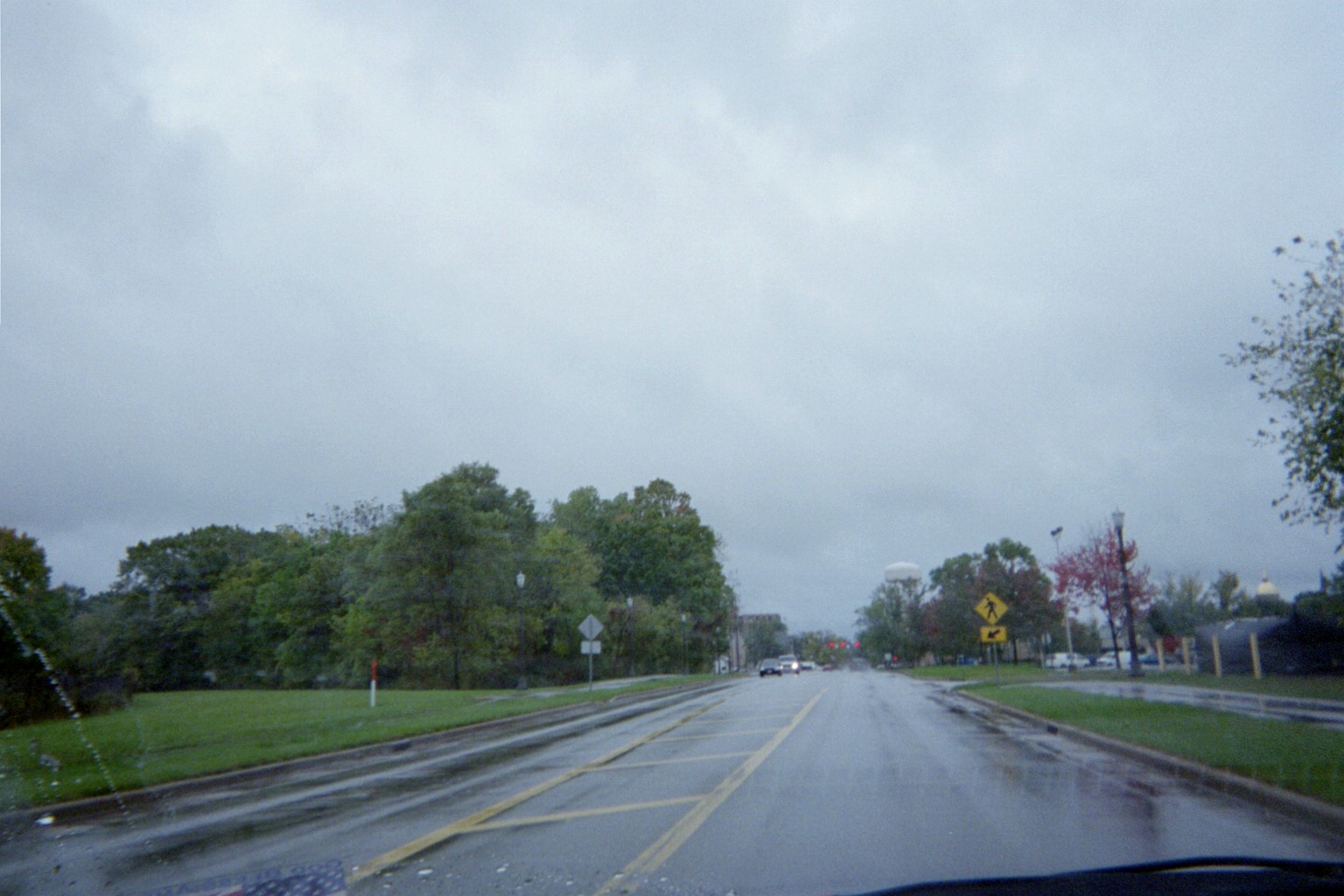 The space to the left is where the 1950s-2005 Juniper curved southeast. Ironically, the new section of Juniper ahead, which terminated at Douglas Road in the distance when this was taken, followed the pre-1950s Juniper. This didn't last long since Juniper now curves southwest to meet the relocated Douglas Road at a roundabout.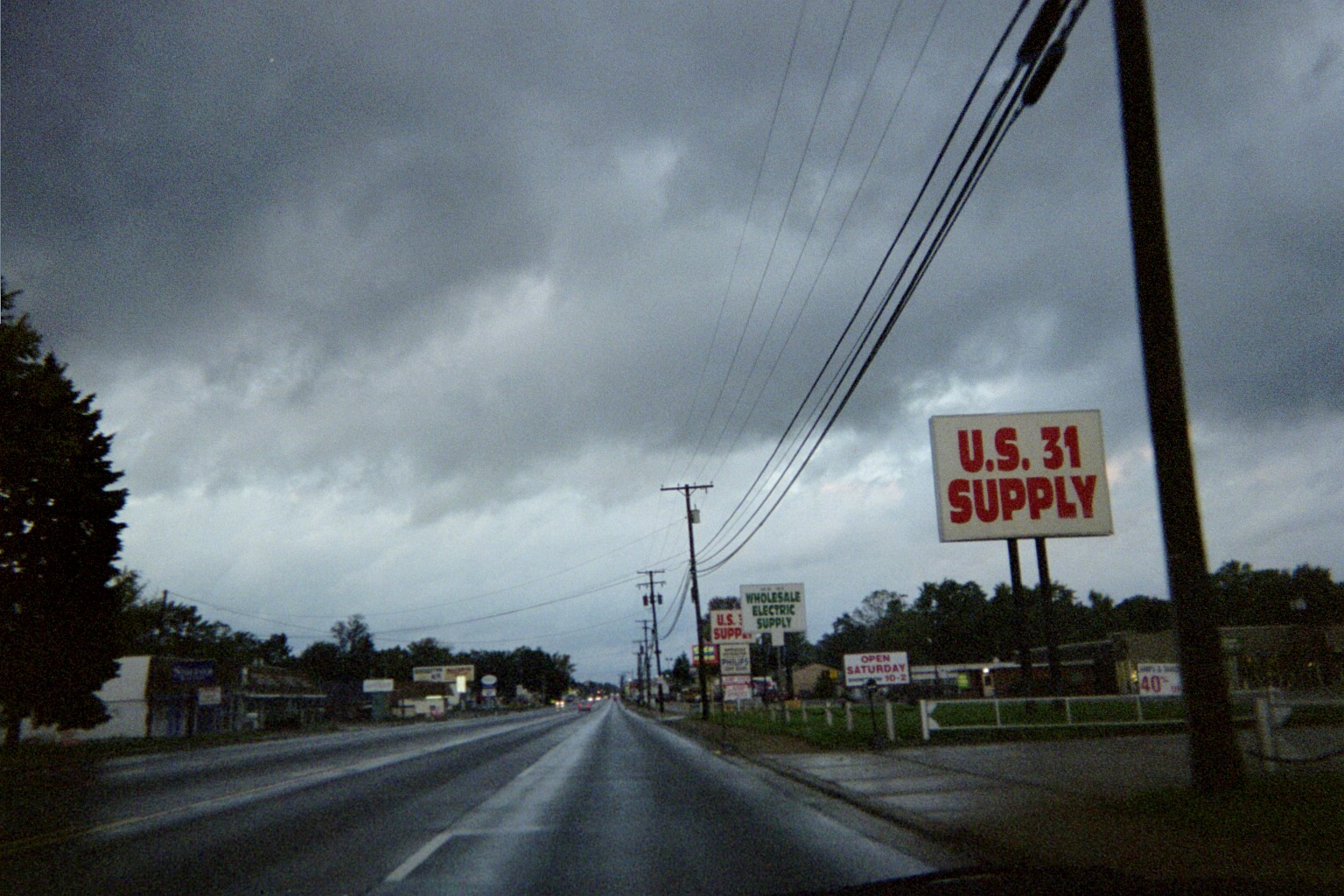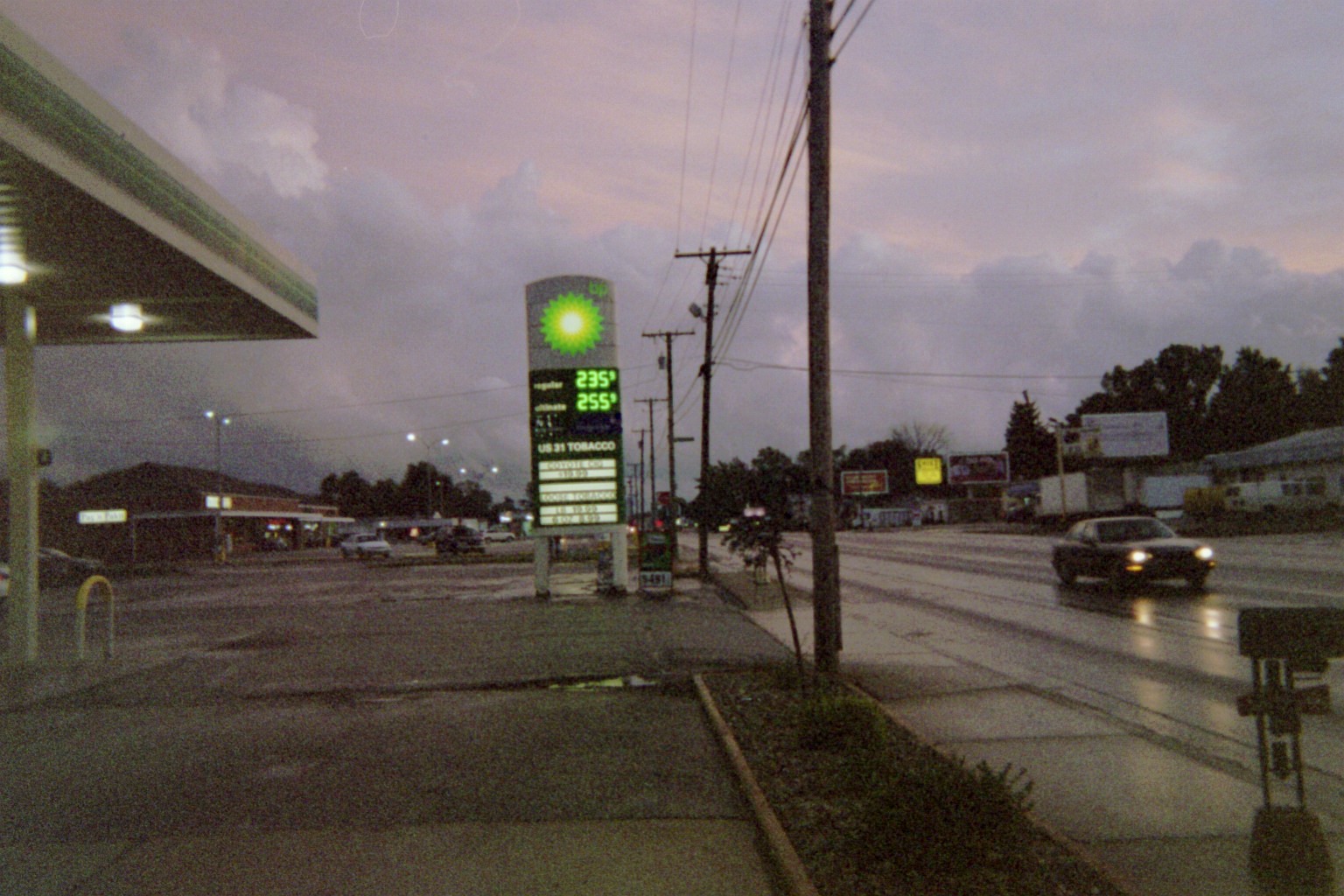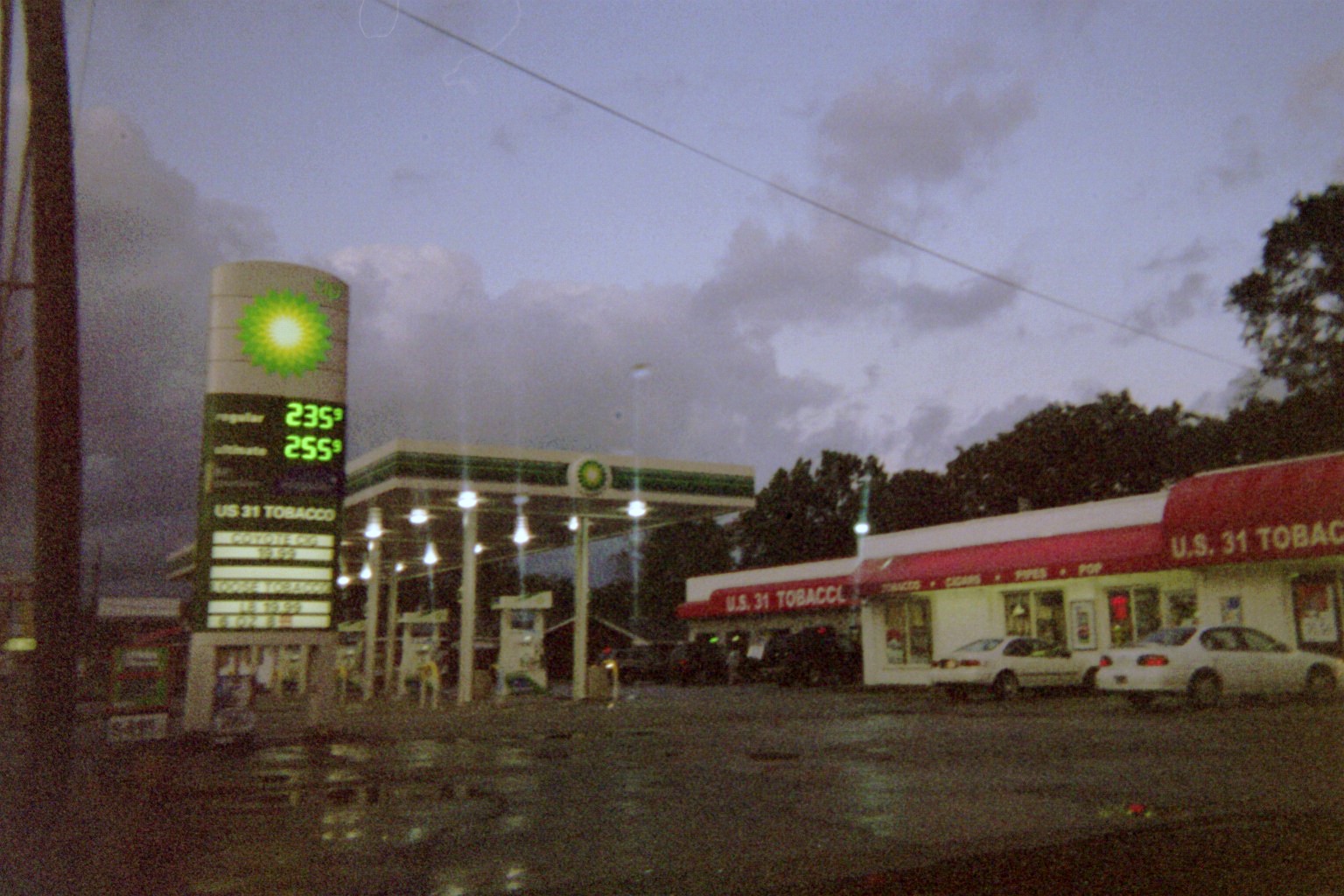 Remnants of the old US-31 designation along SR-933 near the Michigan line.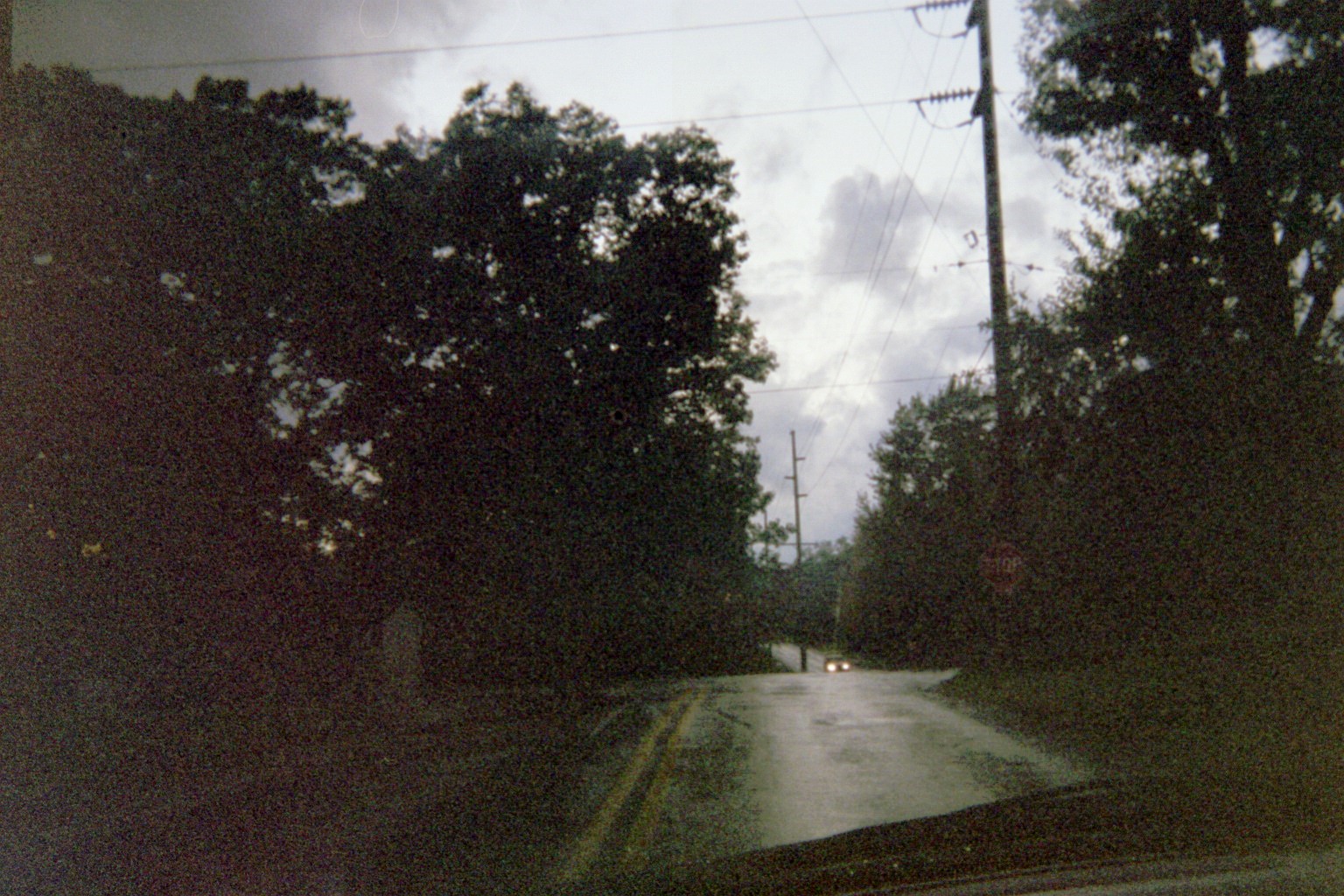 State Line Road at Hollyhock Road, looking west (Street View). This is only a two-mile section of State Line Road, but it still has an interesting feature: Notice ahead that the road jogs, but the state line doesn't, so the road is entirely in Michigan for its middle third, which is the portion that crosses Michigan's M-51, what SR-933 becomes. Incidentally, part of this middle third carried US-31 before the highway now carrying M-51 was completed.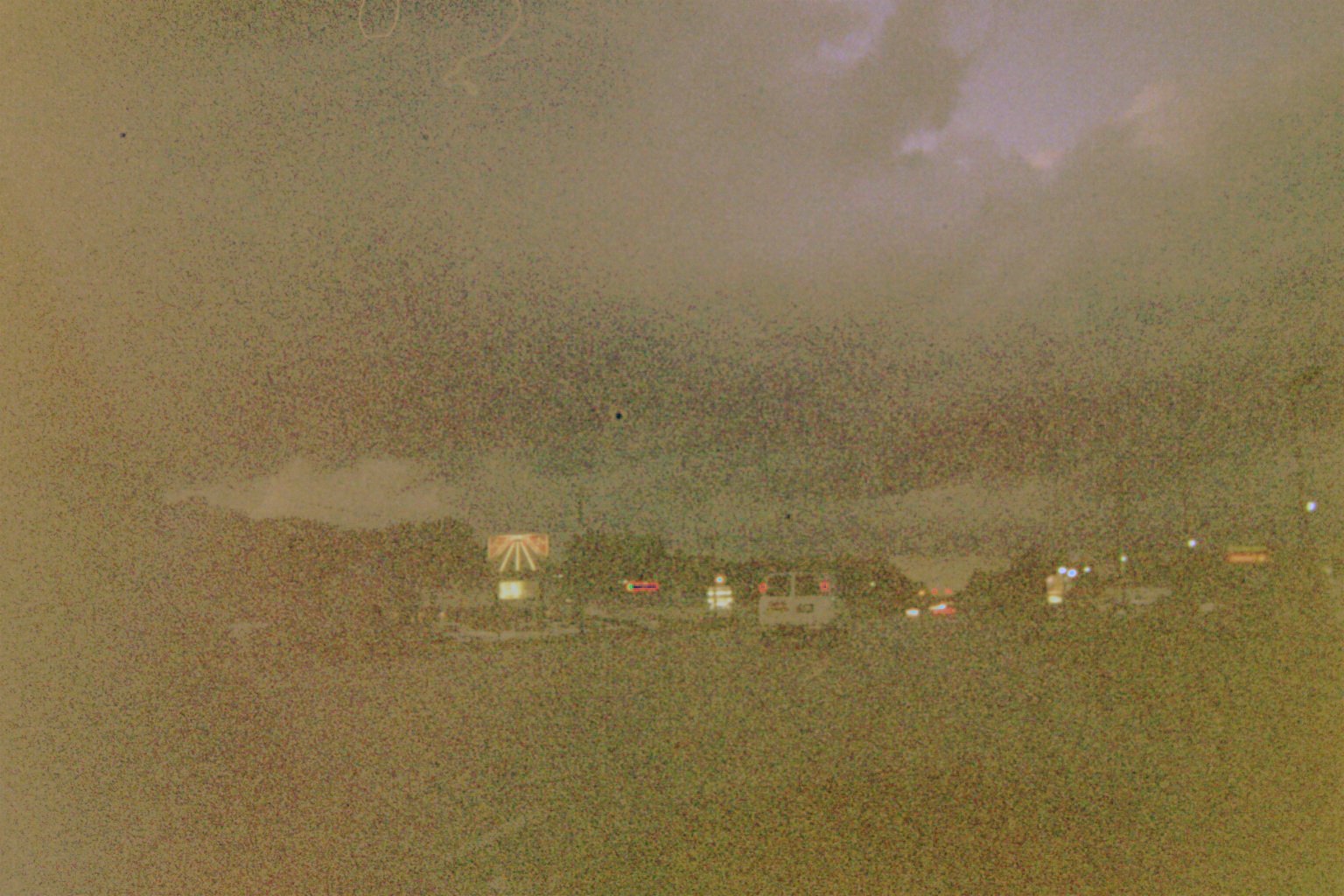 Landmark neon sign on M-51 approaching Bertrand Rd. south of Niles (Street View in daylight). Fortunately for roadside art fans, this sign never came down when the bowling alley was closed, and the sign was put back into use when it reopened. Unfortunately for roadgeeks, the name had been "Shula's 31 Bowl" making it another remnant of US-31, but the new owner renamed it and repurposed the sign, and the "31" disappeared. Before photos: 1 2, and see just below; After photo on the business website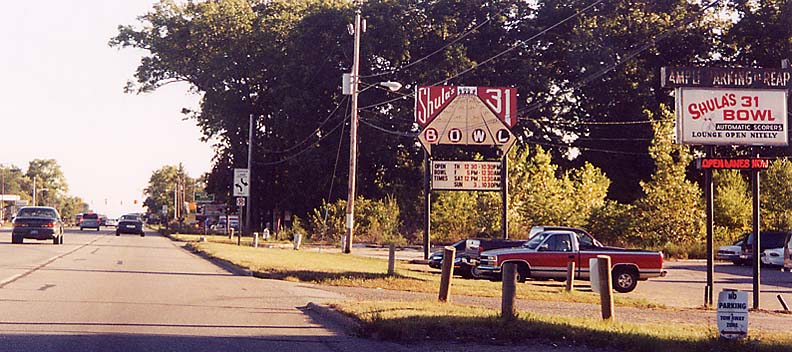 I did the above internet research to find former photos of the sign but forgot that I already had my own from September 16, 2000, uploaded long ago! (Part of the Michiana Road Photos page)
Wednesday, October 7, 2009 (In and around Berrien County, Michigan)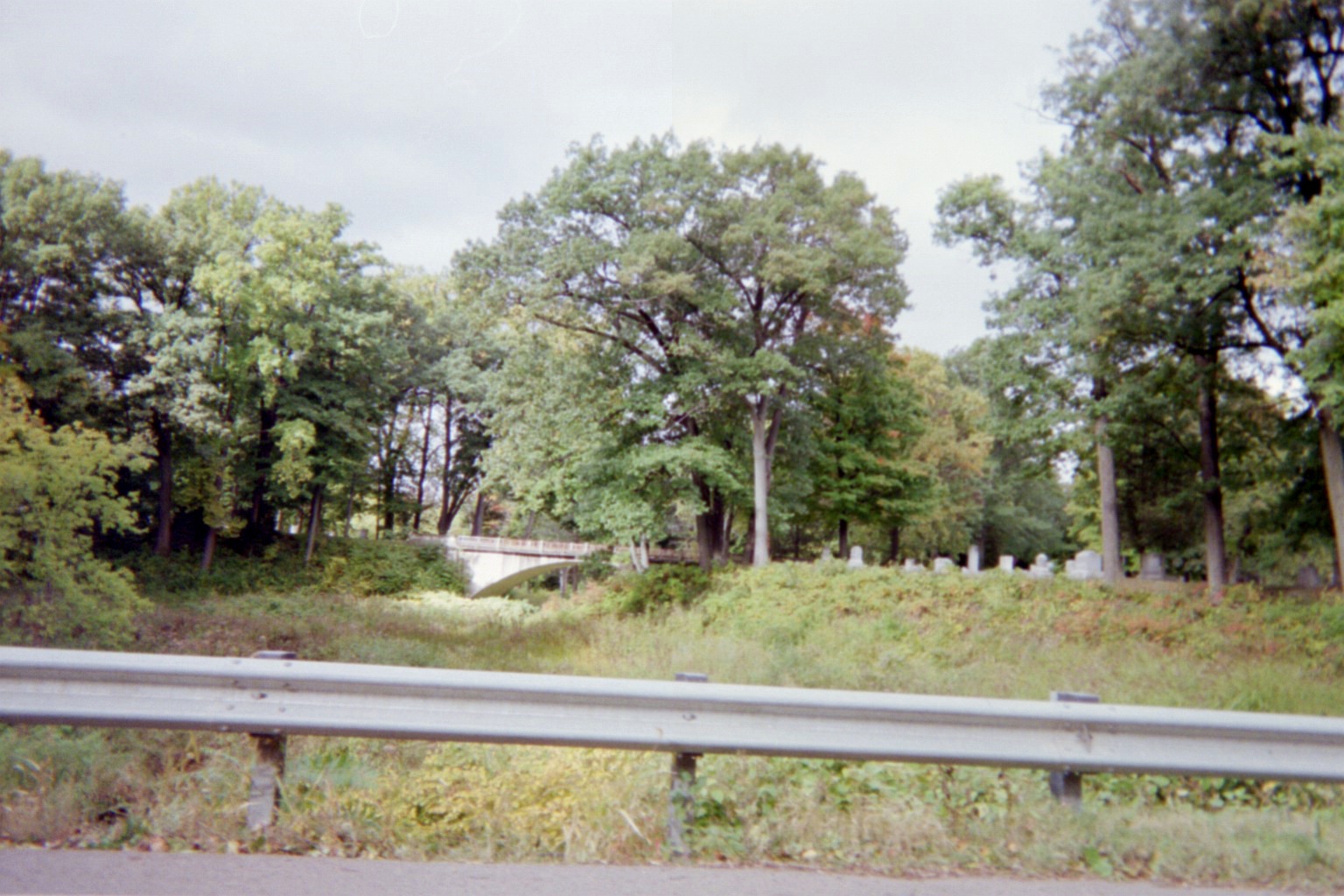 Old bridge inside a cemetery outside Benton Harbor. (Street View)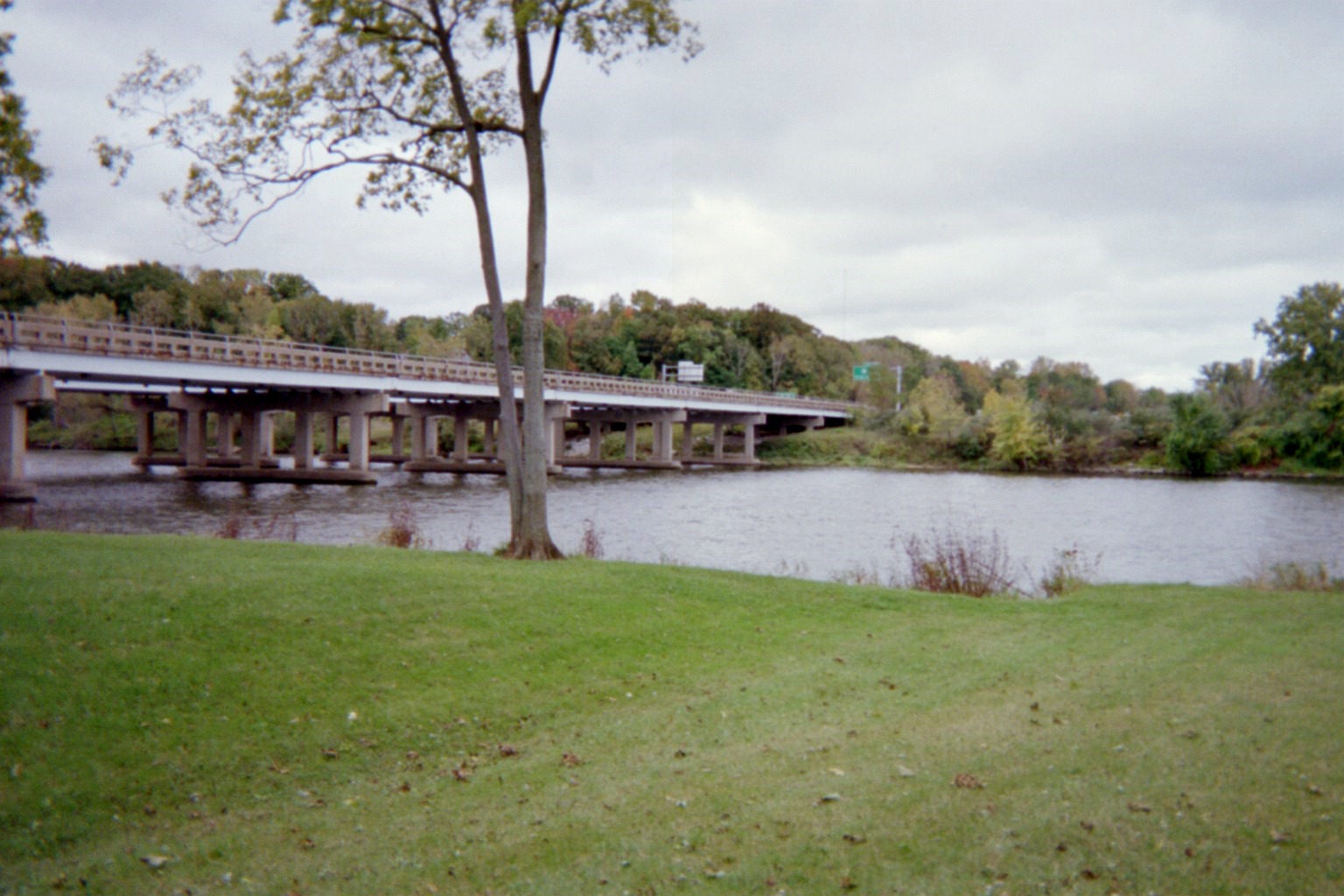 I-94 crossing the St. Joseph River, looking south. Green sign is for Exit 27, M-63/Niles Road.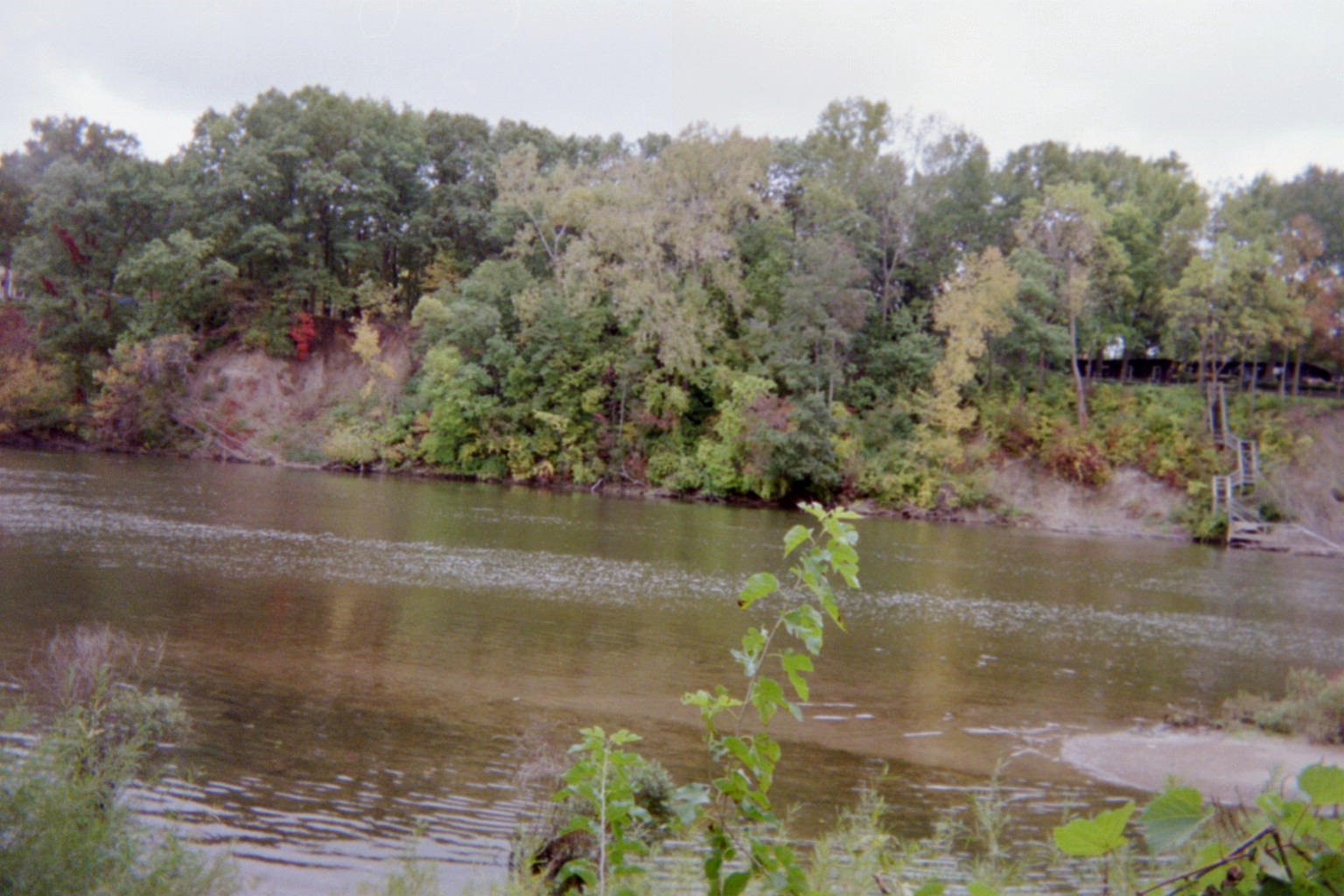 St. Joseph River across the banks and a little downriver, in Riverview Park.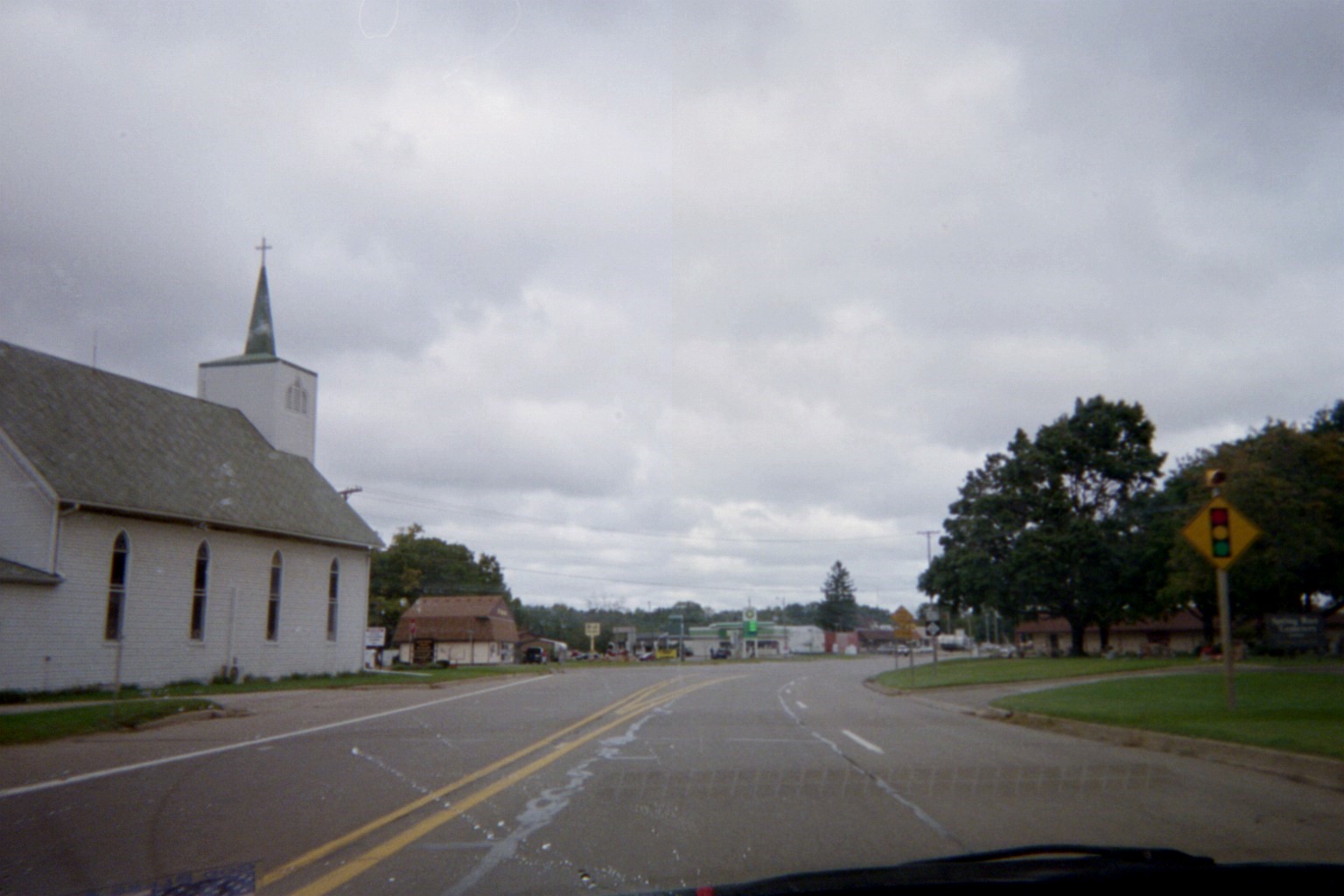 Scottdale, just south of I-94. Pictured is M-139 northbound just before the M-63 junction around the curve, but this is previously where US-33 curved to the left and US-31 branched to the right (crude diagram), and before that, where US-31/33 curved to the left and M-139 began to the right.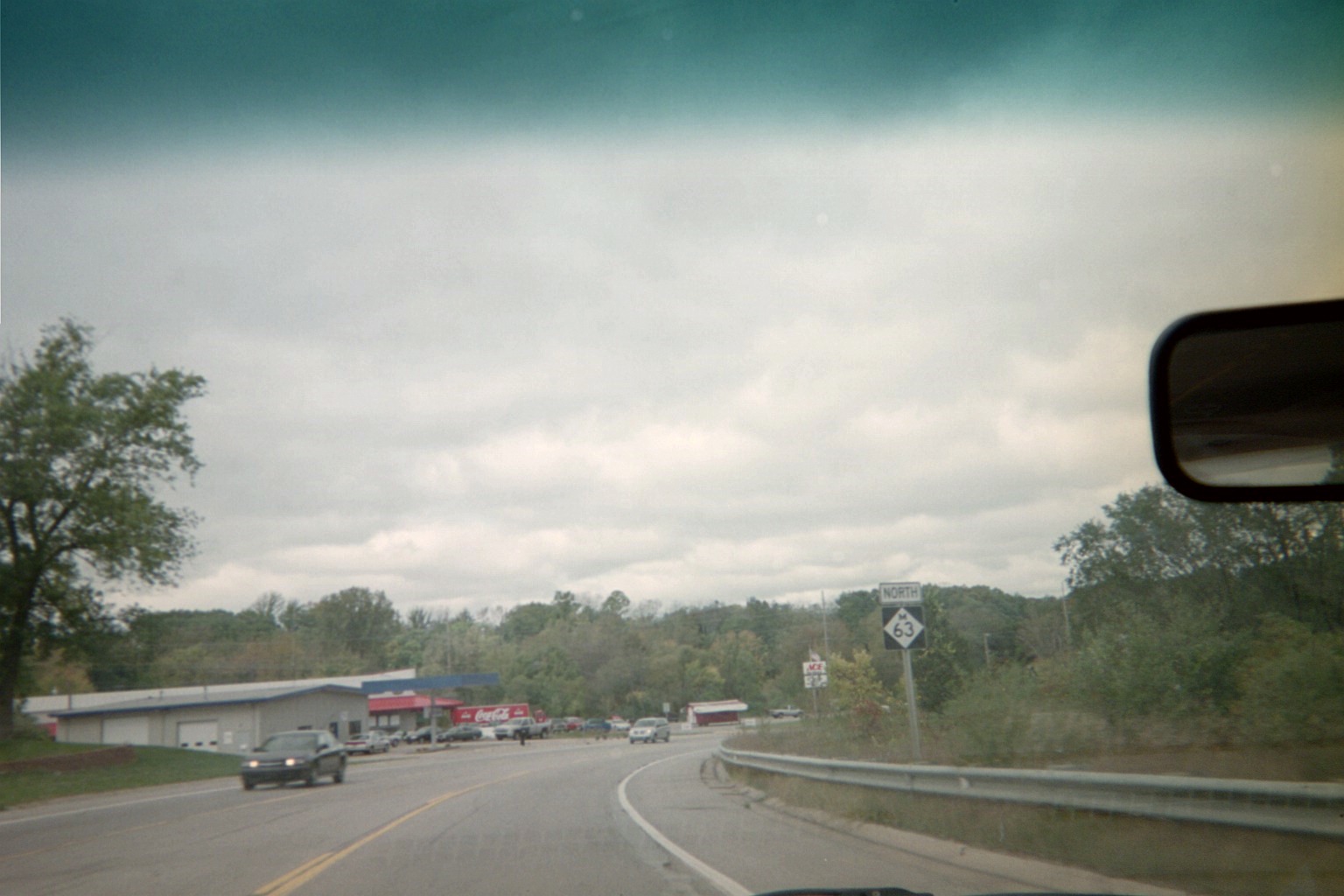 M-63 just south of St. Joseph. On the left is where a never-built alignment of I-94 BL was to tie in.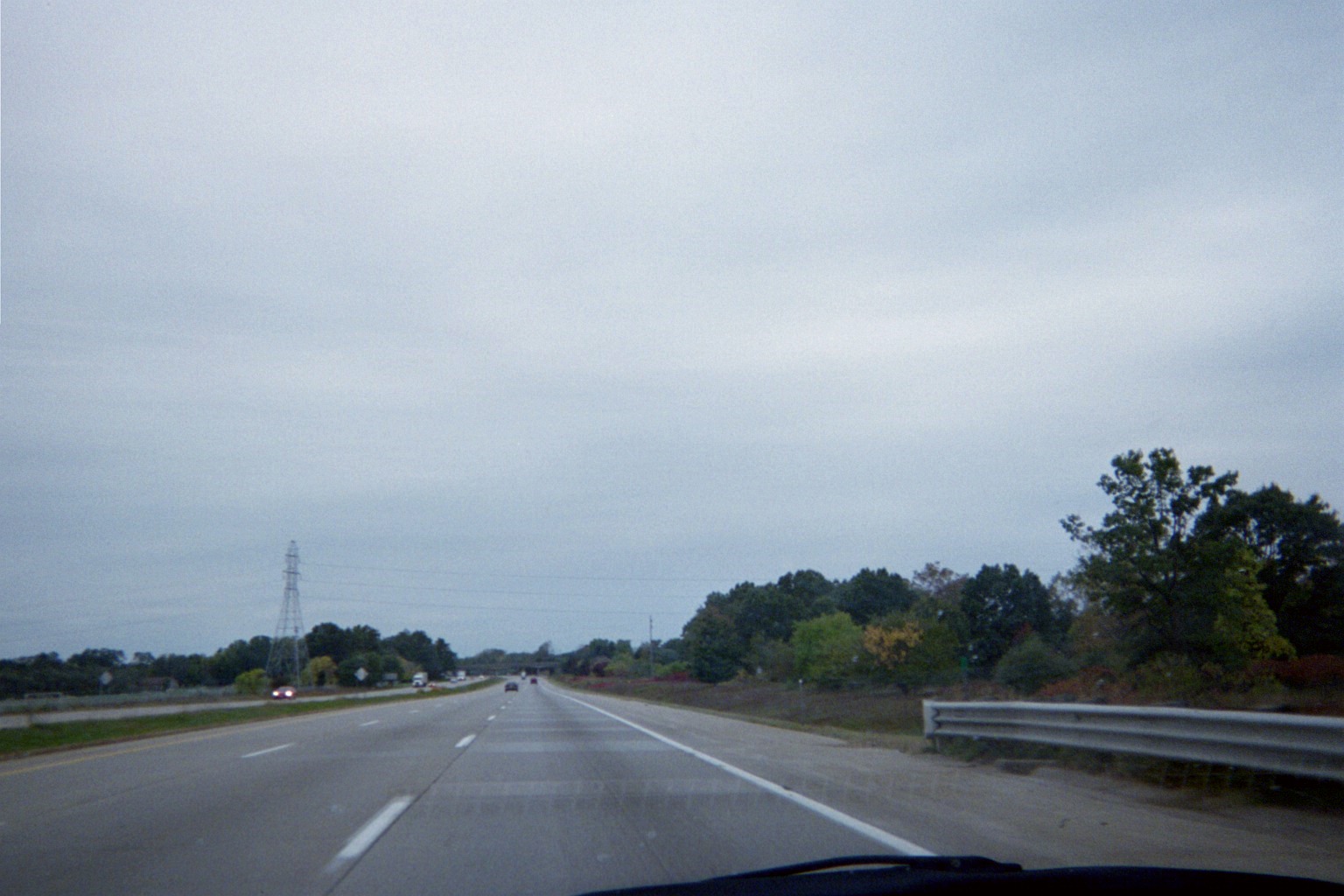 ...and this is where the never-built highway was to leave I-94 (this is looking west).
Strange/redundant sign at a crosswalk on Hilltop Road west of M-63 south of St. Joseph: "CROSS ONLY WHEN TRAFFIC CLEARS". (It isn't legible in either my photo or the earlier Street View photo, but the updated Street View has it clearly.) Apparently this is used elsewhere in the state (see Study 2, Mt. Pleasant).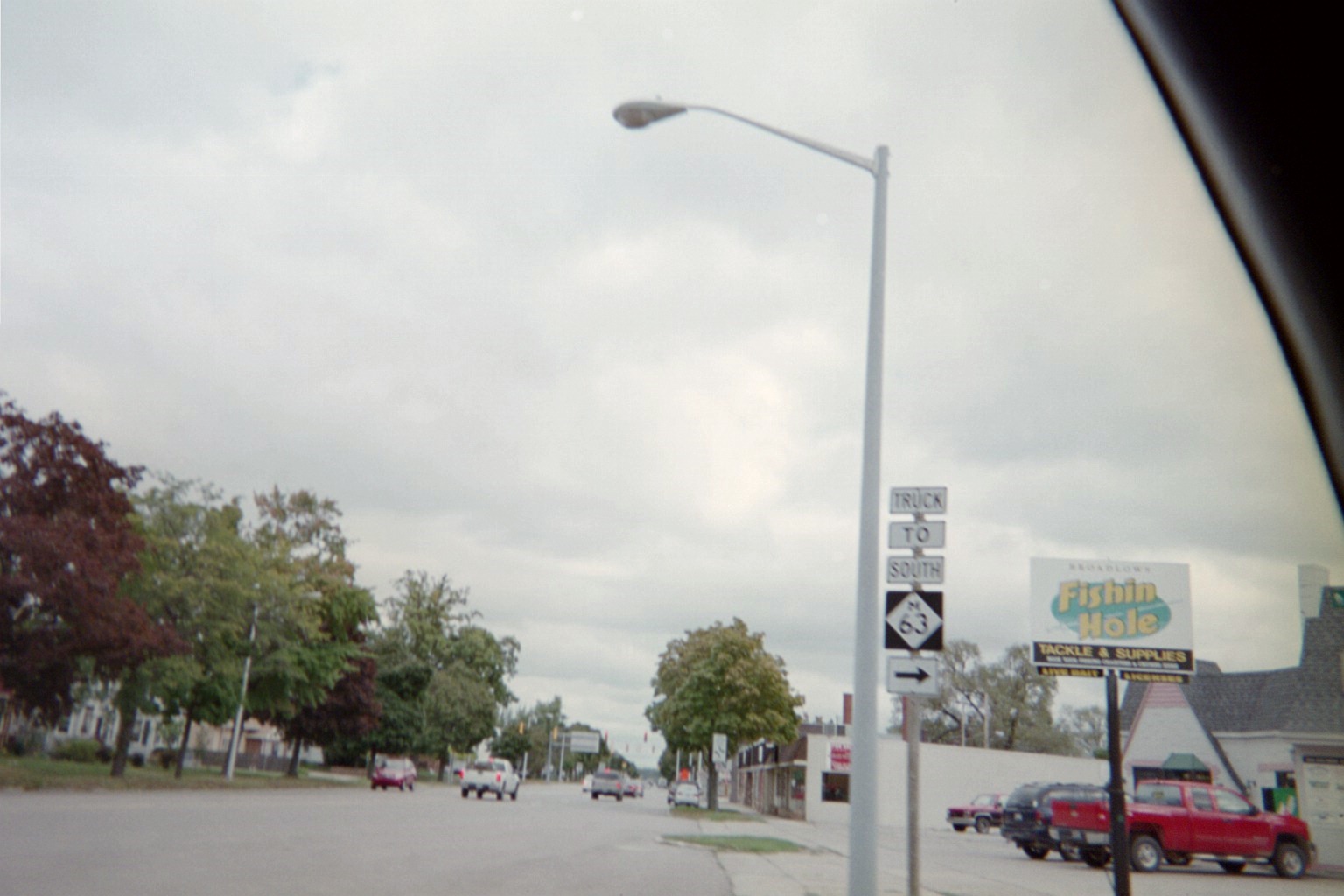 Trucks are not permitted to turn from I-94 BL EB to M-63 SB in St. Joseph, so you get this sign with a rare three plaques above the route marker directing trucks to follow Central Avenue. (Street View)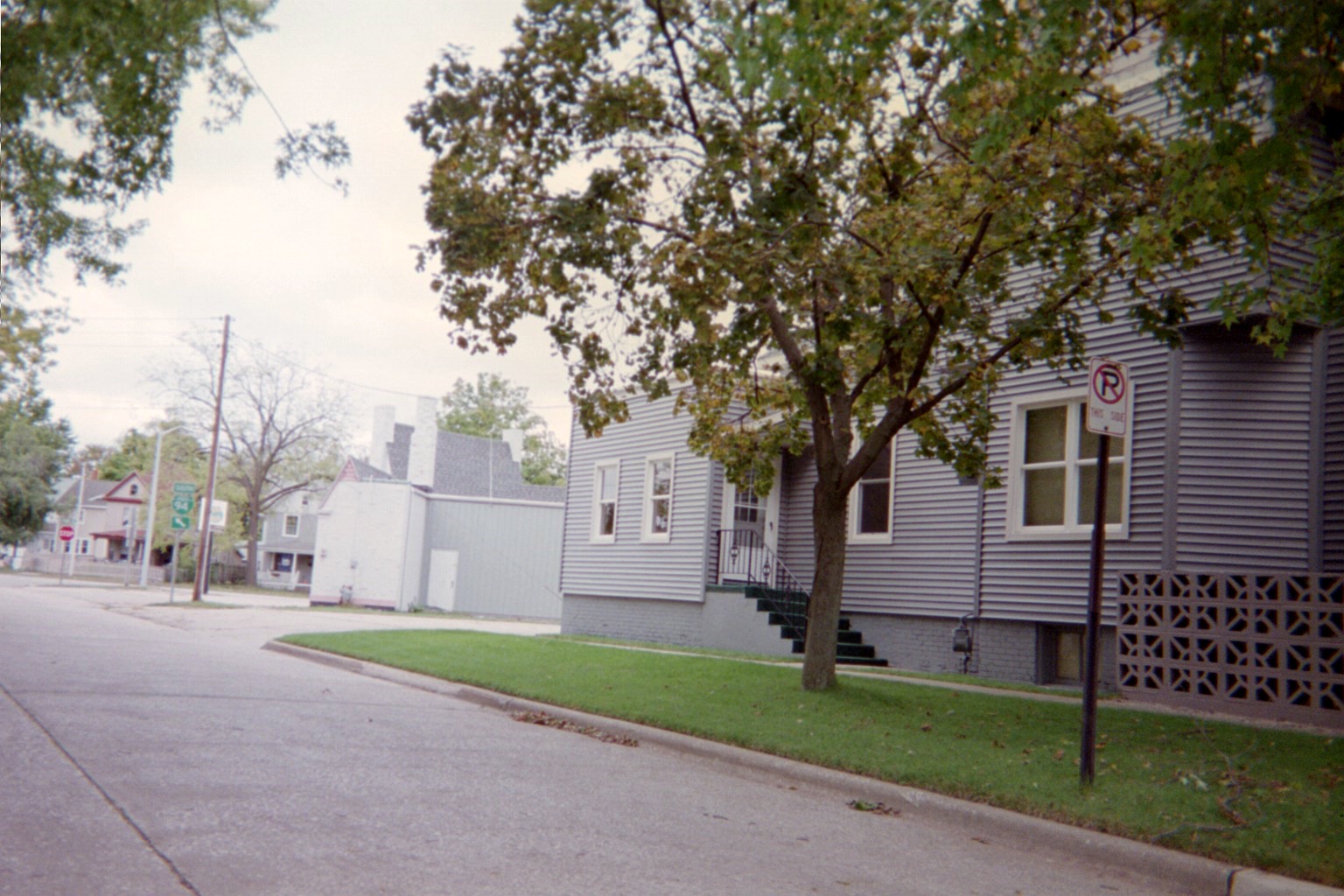 Turning around: Since no traffic is permitted to make the opposite movement, it's directed the other way on Central, where there's a "SOUTH" plaque for I-94 BL WB, which is the direction it's actually going at this point. (Street View)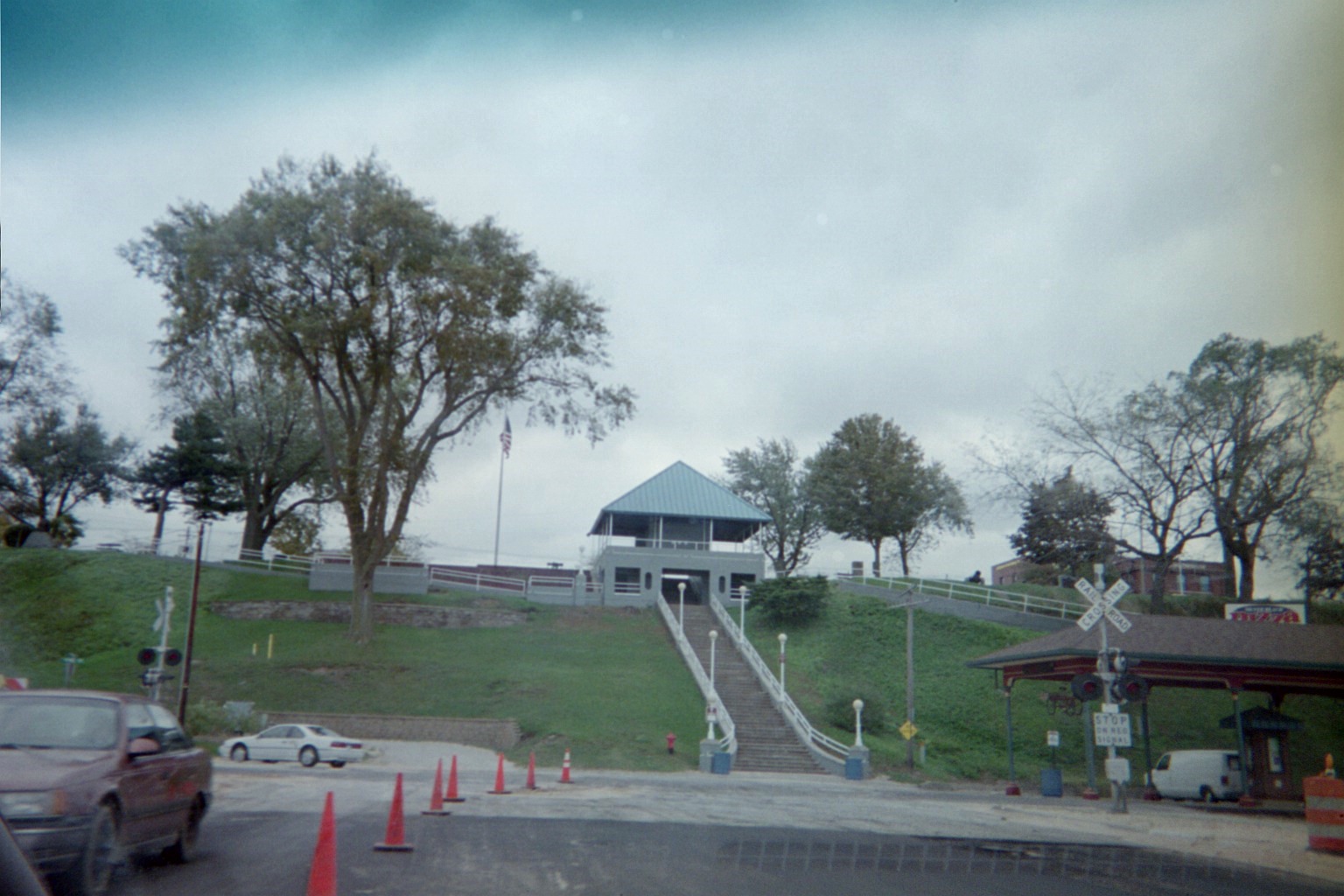 Bluff in St. Joseph, from Broad St. next to the Amtrak station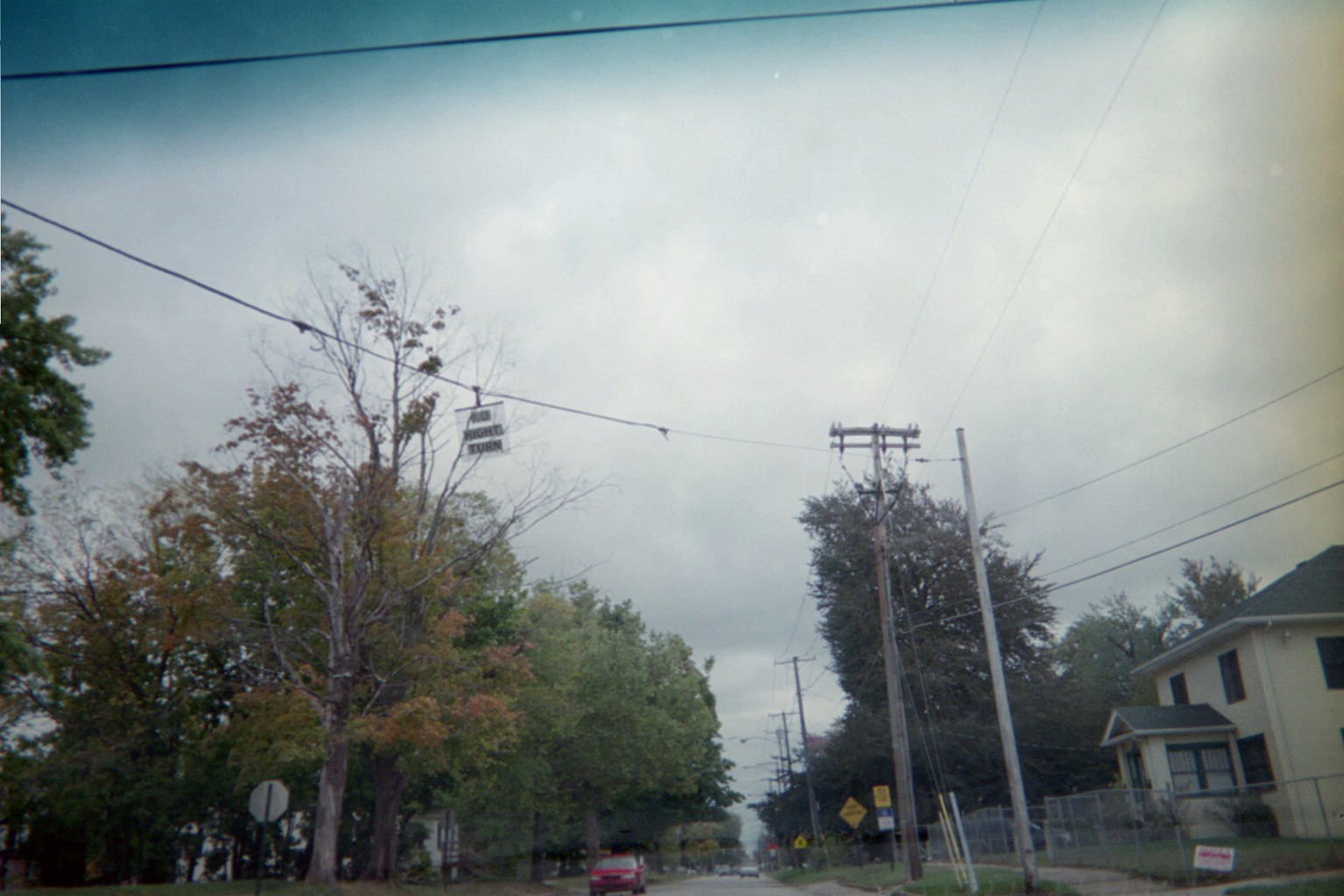 Lone mesh "No RIGHT TURN" sign, Britain at Colfax, Benton Harbor. The wire once held signals on each side of the sign.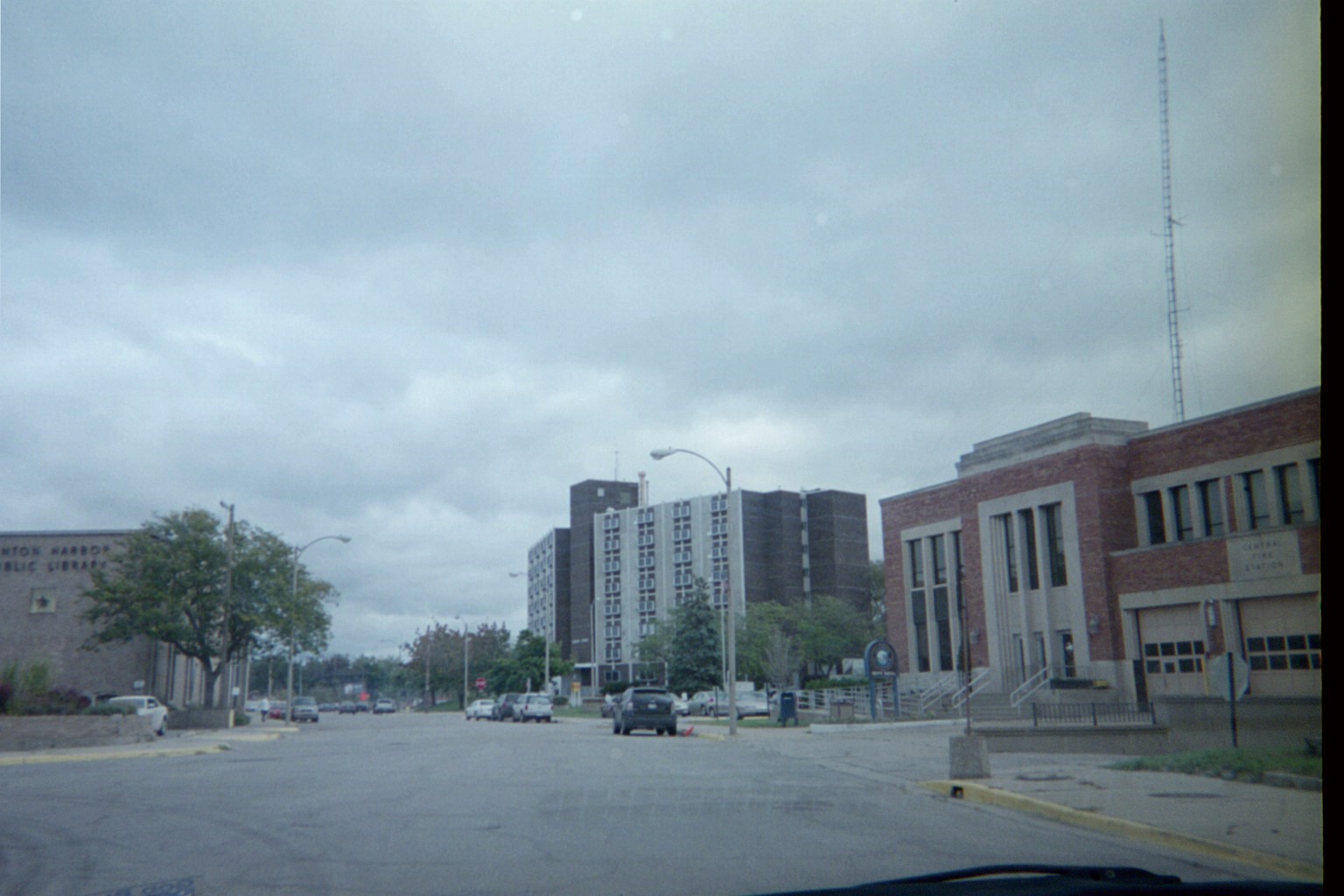 Wall at 6th, Benton Harbor. The pedestal on the right once held a traffic light with a fire bell on top.
Wall at Market, Benton Harbor: Lone pedestrian signal left over from a pair of overhead traffic signals. Street View from 2007 still shows the signals, flashing red by then. Street View from 2012 shows the same conditions as my 2009 photo.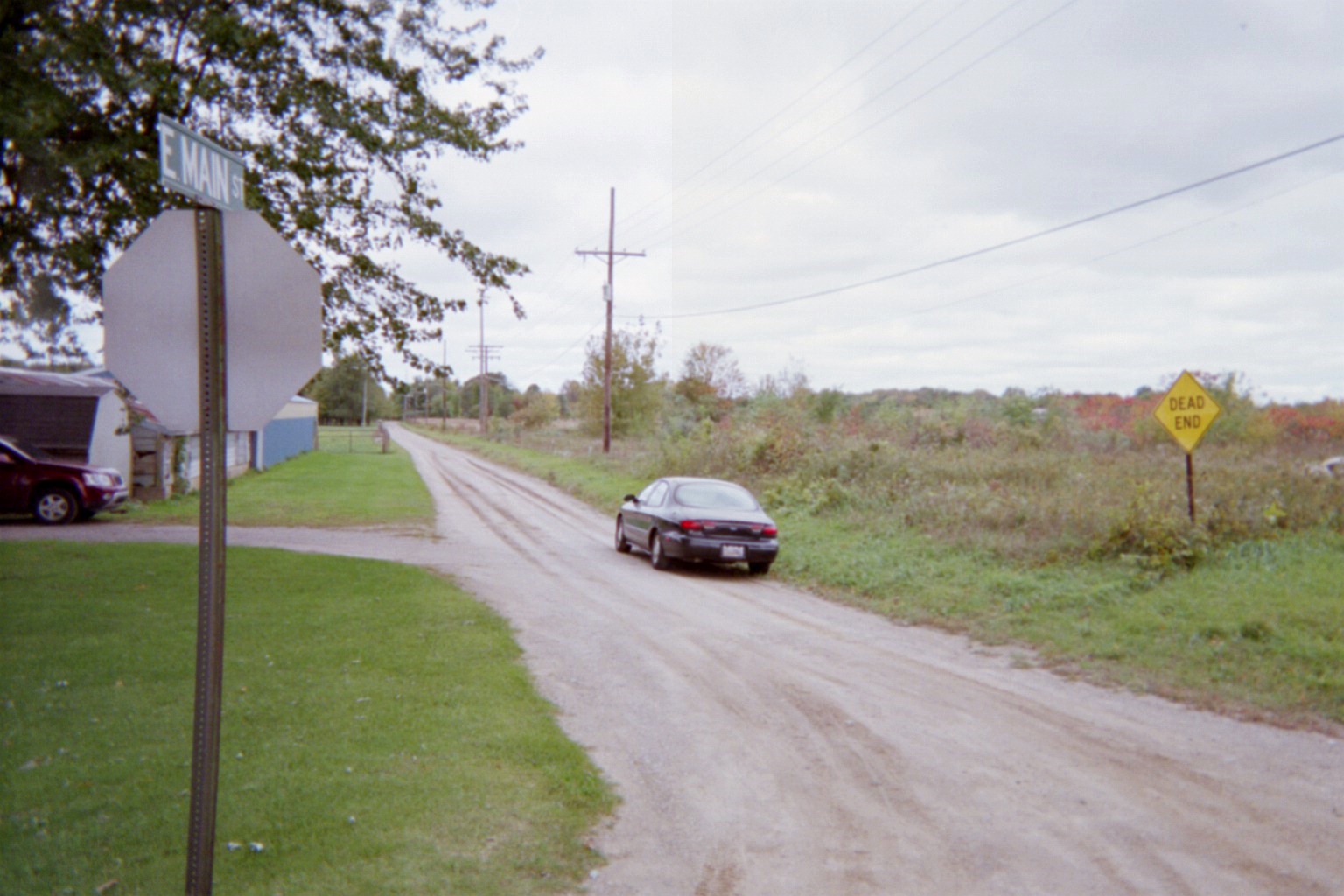 Very short, rural, empty Main St. Actually, this led to Benton Harbor until it was cut off by I-94, with the other side becoming I-94 BL. (Street View)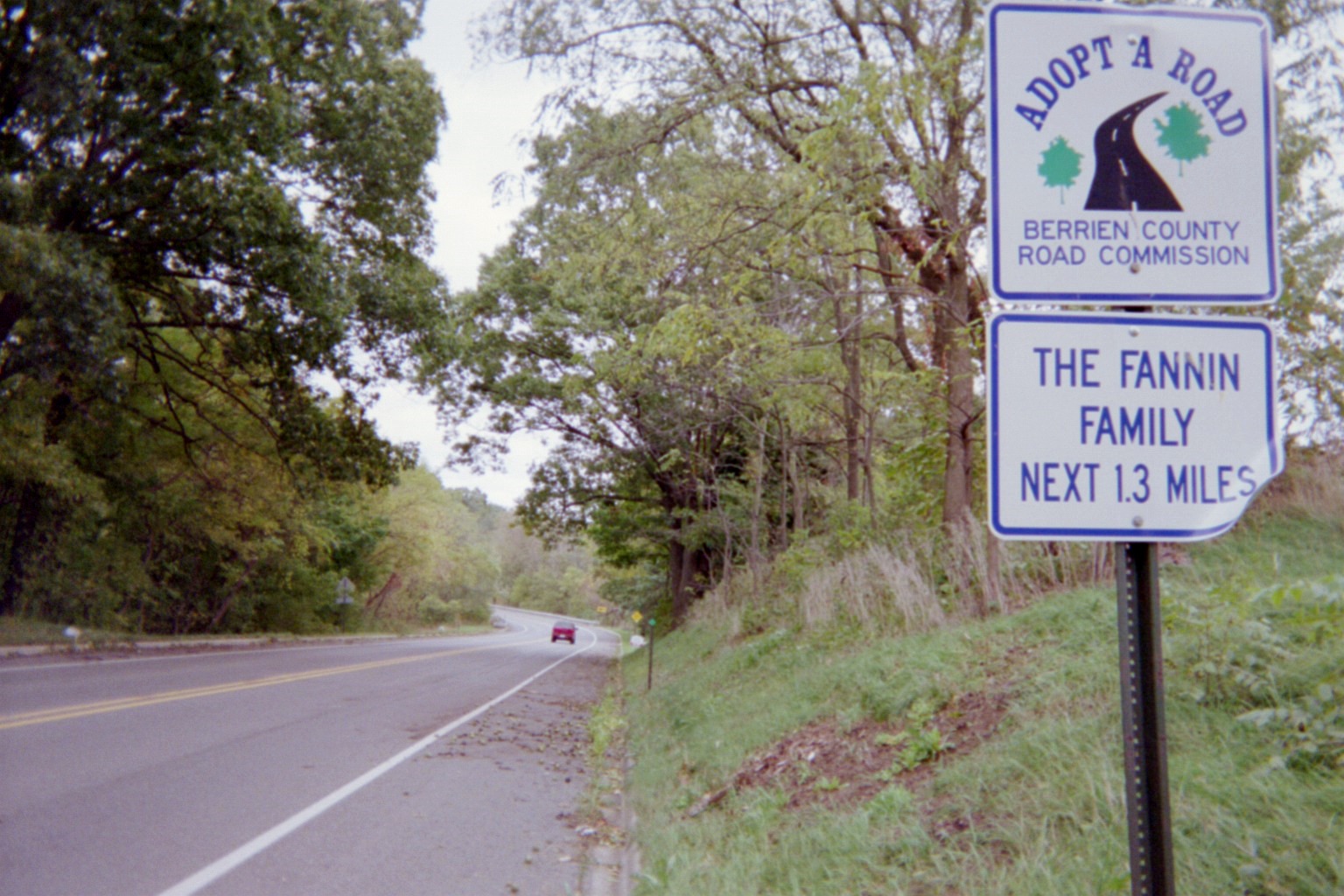 Territorial Road. Yes, I'm related.
Sign at Sarett Nature Center stating that children are everywhere. EVERYWHERE, I tell ya!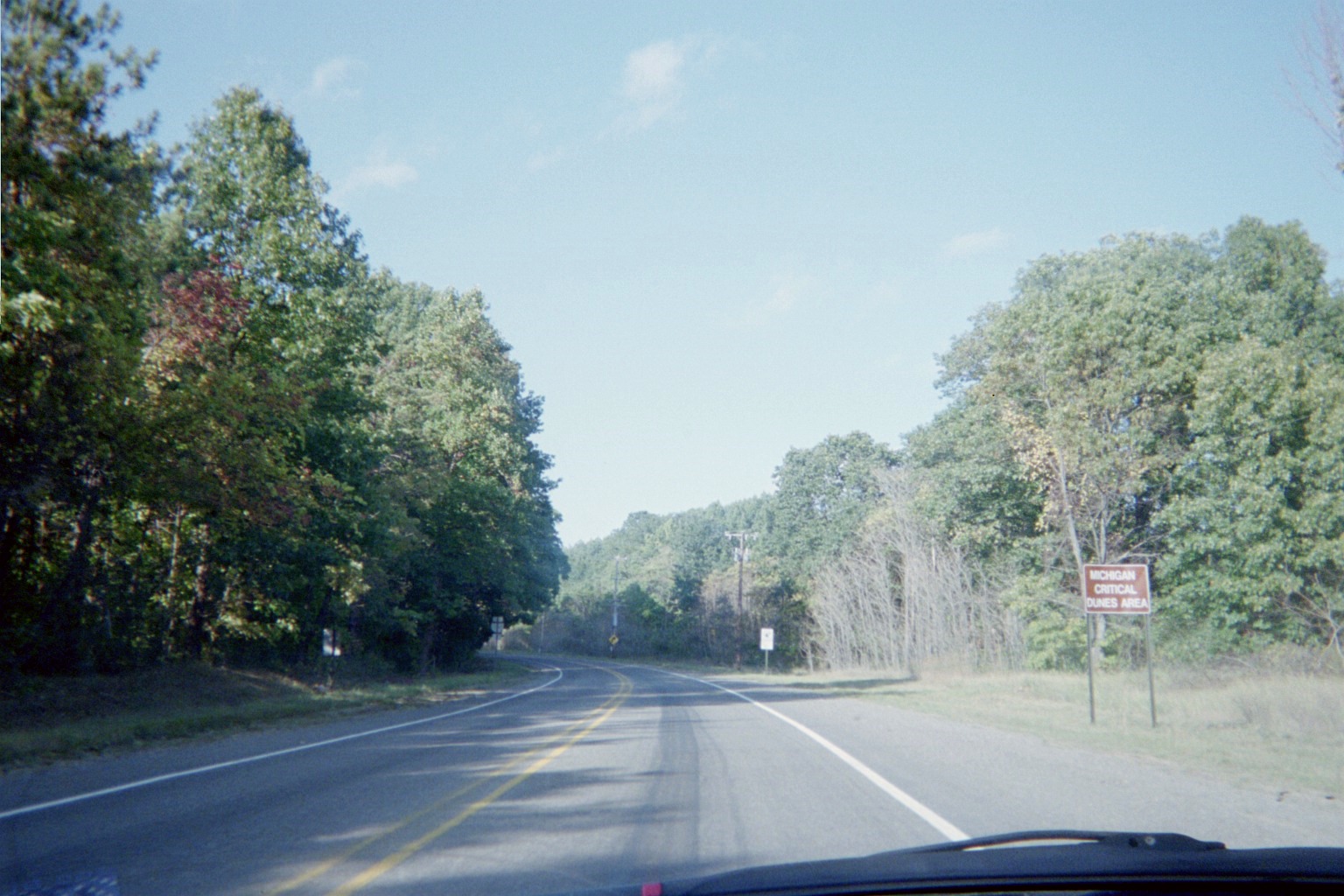 Dunes sign at the beginning of County Road A2 northbound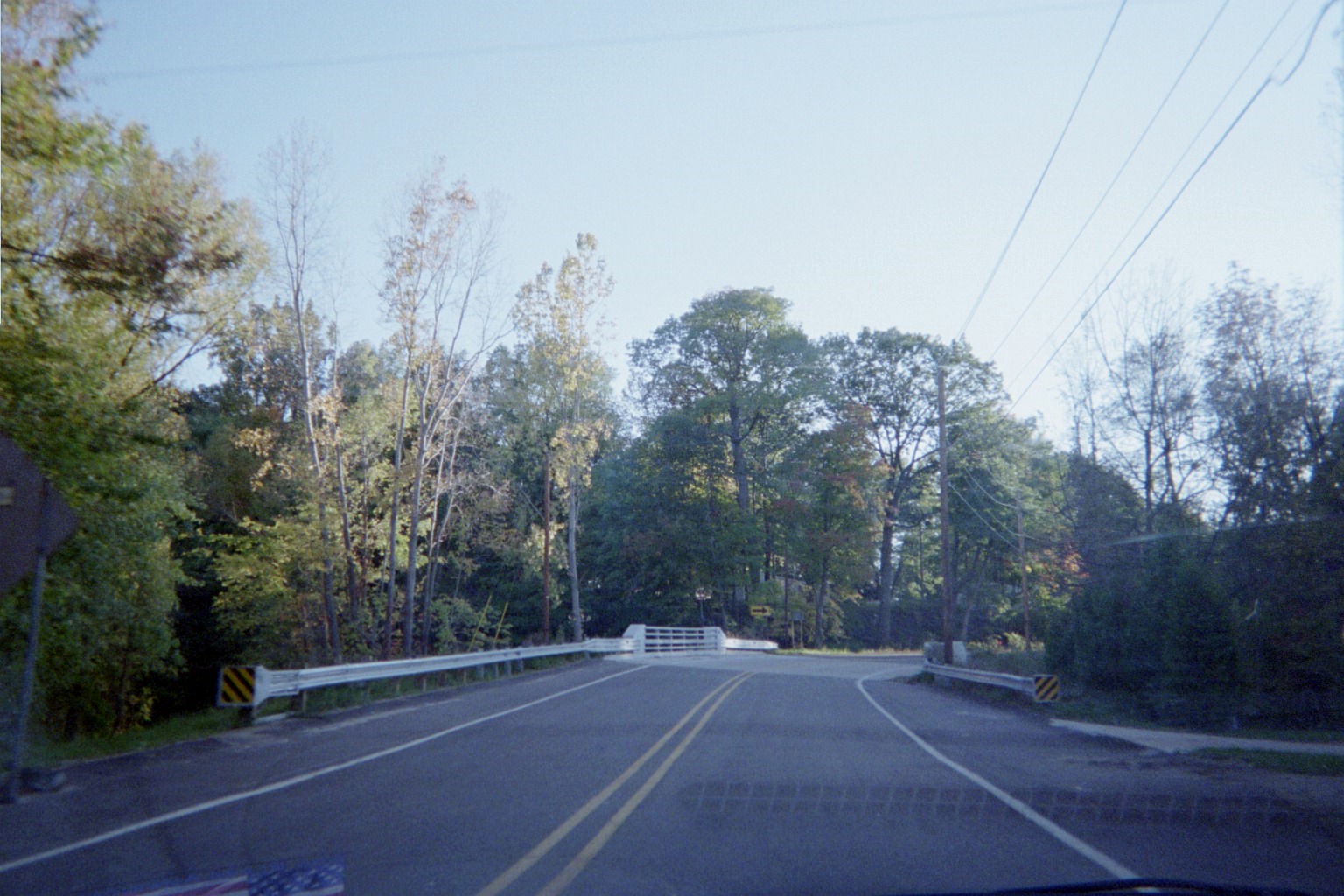 Bridge on Watervliet Road north of Watervliet which had just replaced this.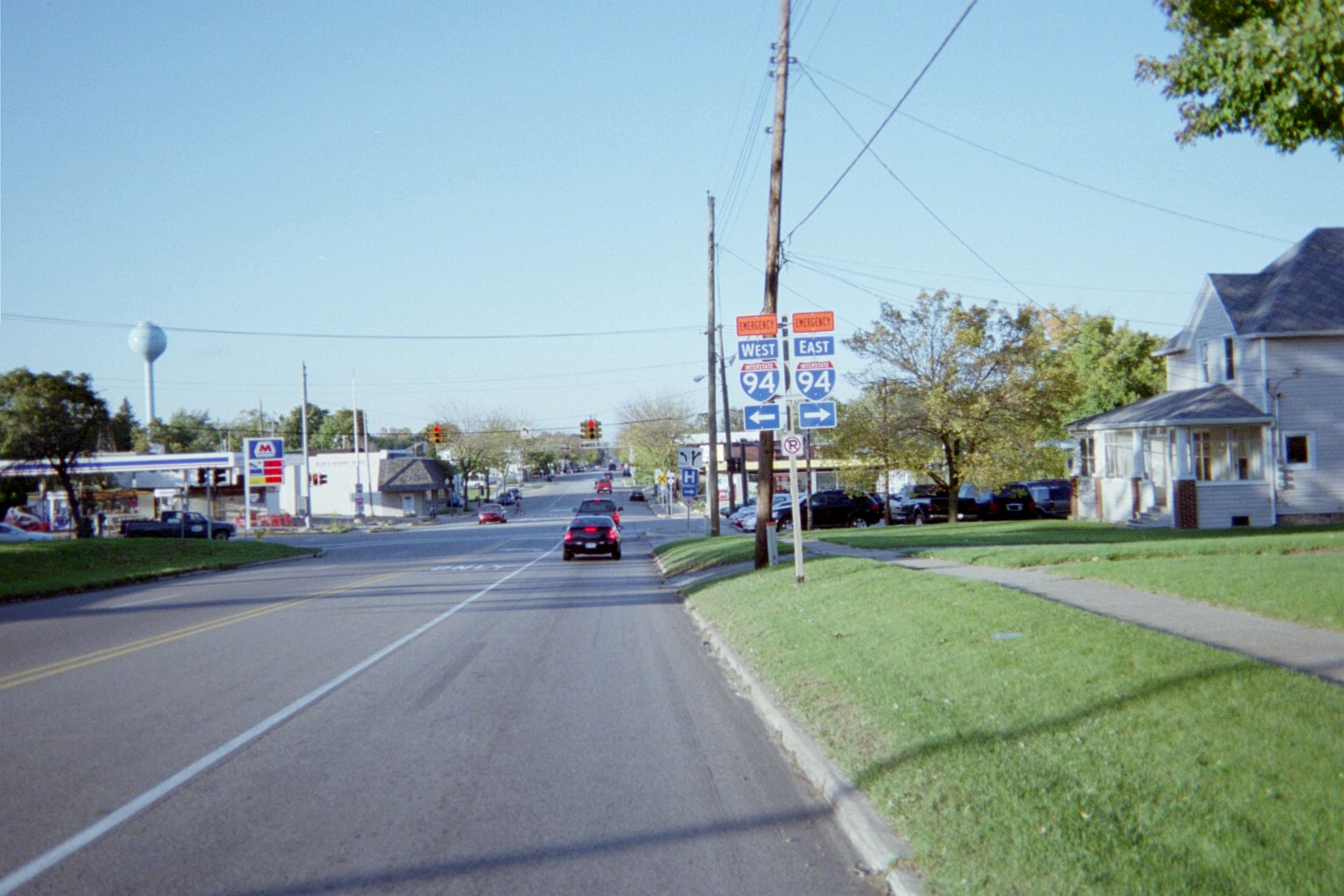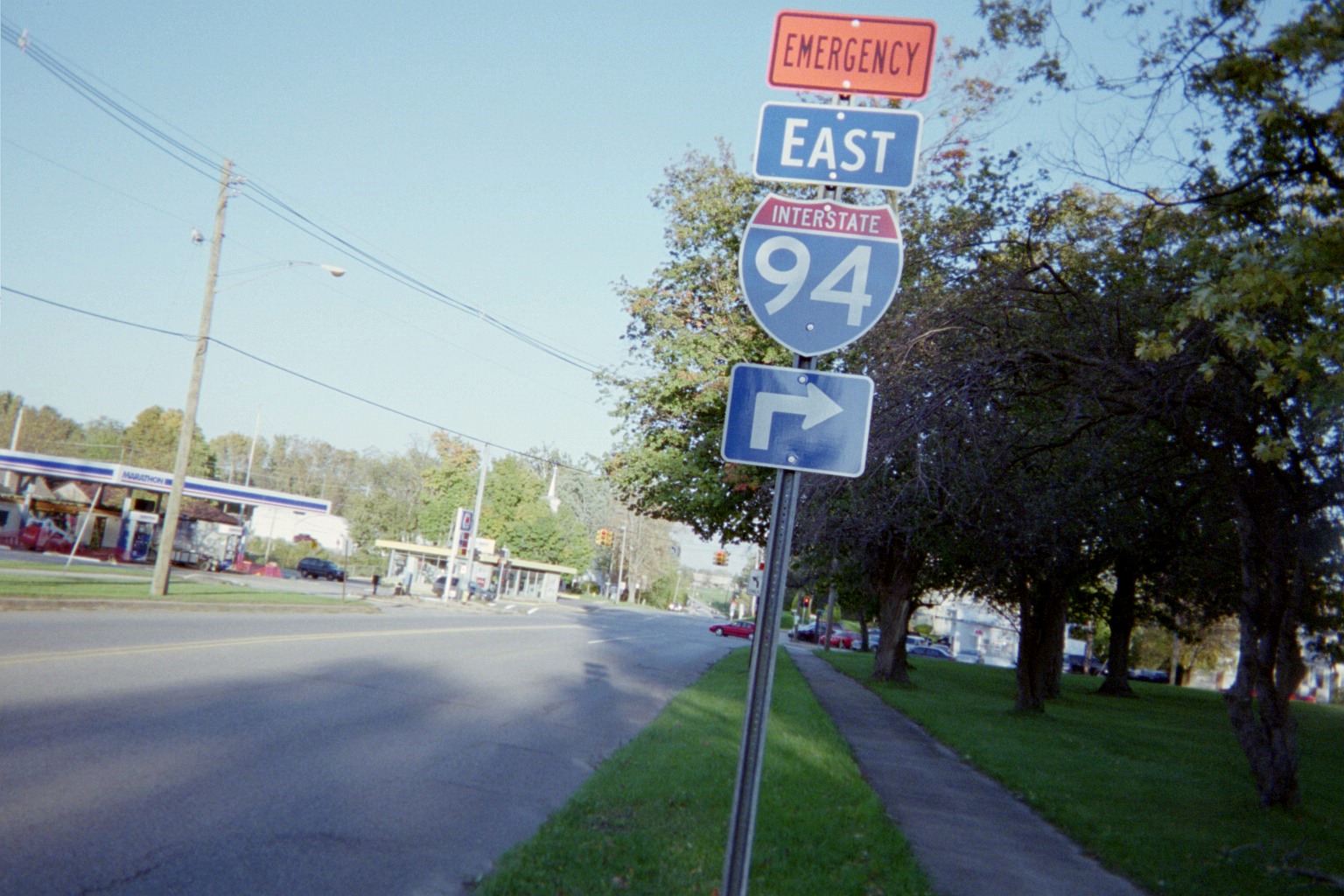 Main St./M-140 at Red Arrow Highway, Watervliet (looking north on M-140 in the first, east on Red Arrow in the second; Street View showing new traffic signals). This is an important intersection in Michigan history: M-11/West Michigan Pike came into here from the west and turned north; to the east was the beginning of M-17, the major east-west road across the lower peninsula connecting to Detroit following an early territorial road (though likely Territorial Road to the south might have been the original route in the immediate area prior to sometime before the state trunkline system being assigned in 1919). When U.S. routes were assigned, US-12/31 followed the M-11 route east into Watervliet, where US-31 turned north and US-12 continued east.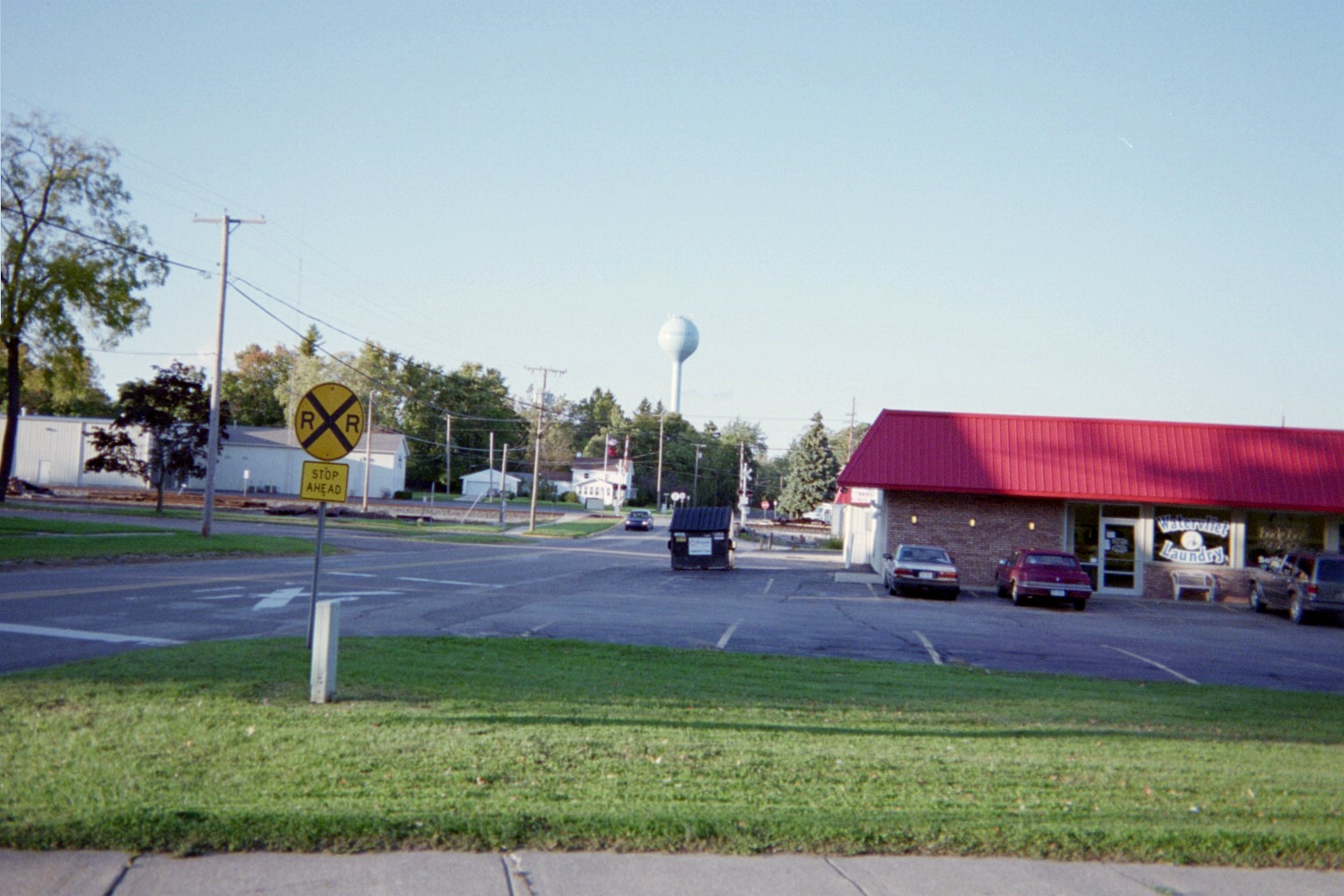 Interesting use of warning signs, First St. north from Red Arrow Highway, Watervliet. Street View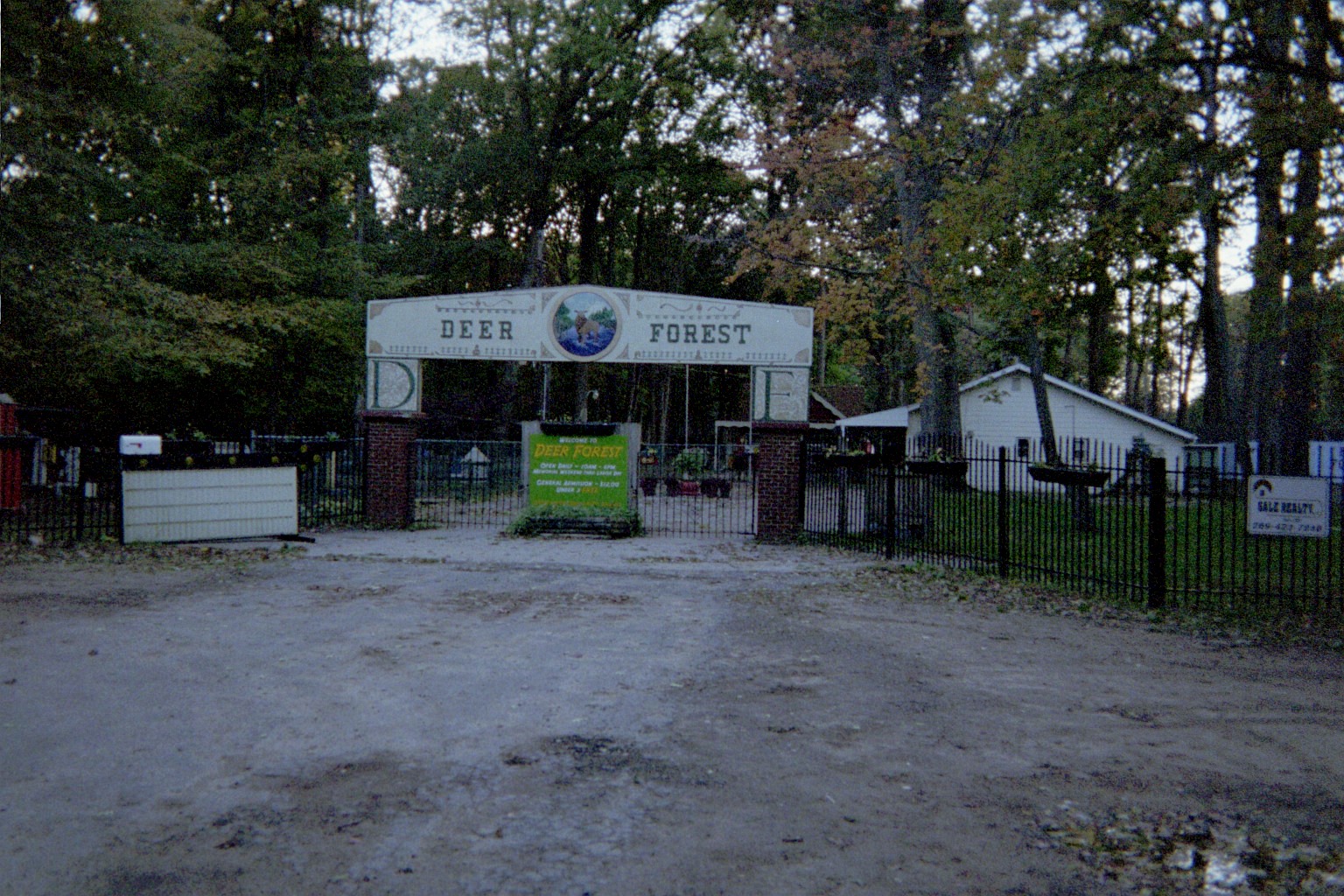 Local landmark. Most thought that it had closed permanently when this was taken, but it survived.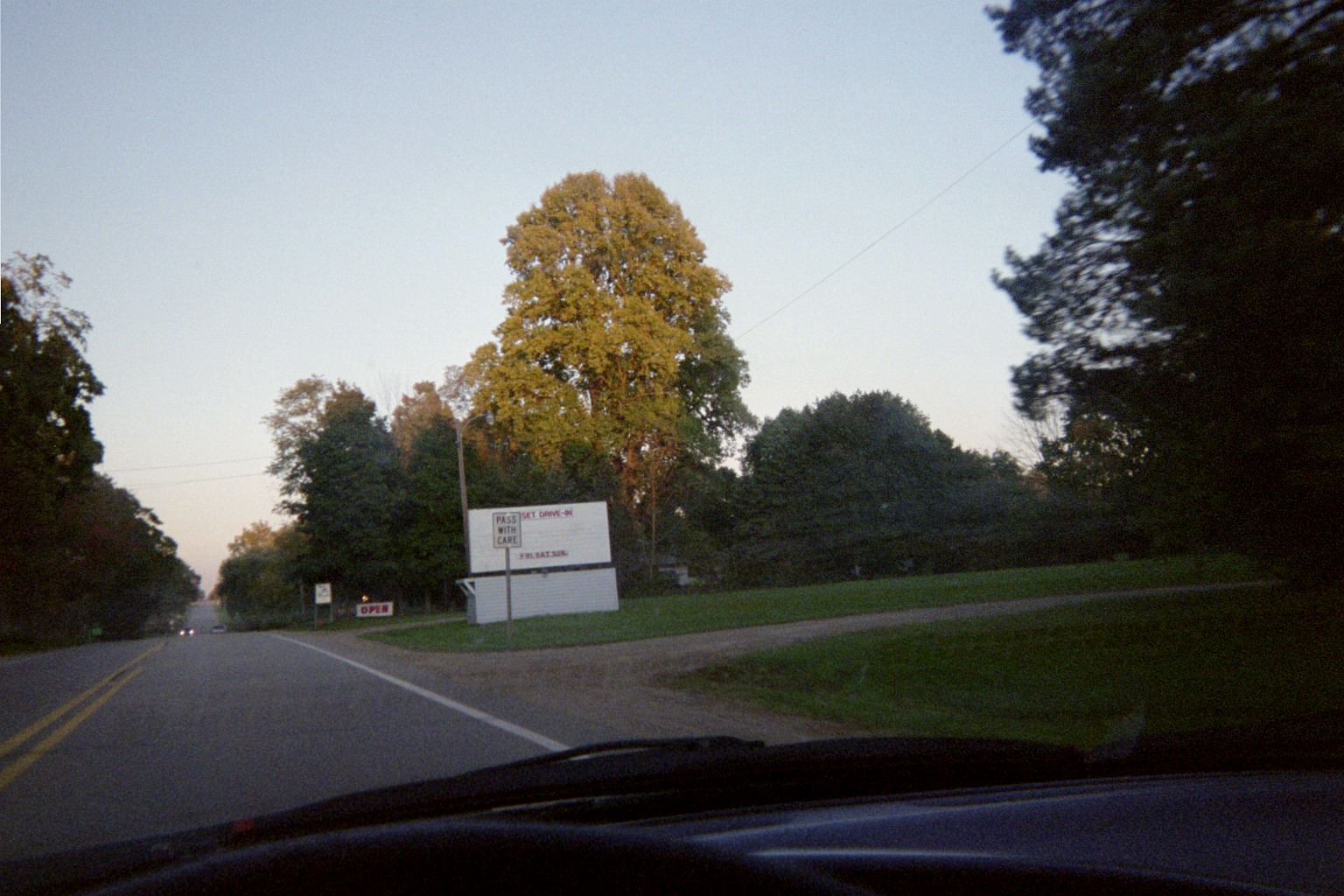 Sunset Drive-in, Red Arrow Highway between Watervliet and Hartford. Still there. Scene has changed as just after the photo was taken, a casino broke ground ahead on the left. Street View from 2012
Thursday, October 8, 2009 (Berrien County, Michigan to Chicago then Lake County, Ohio via Kalamazoo, Michigan)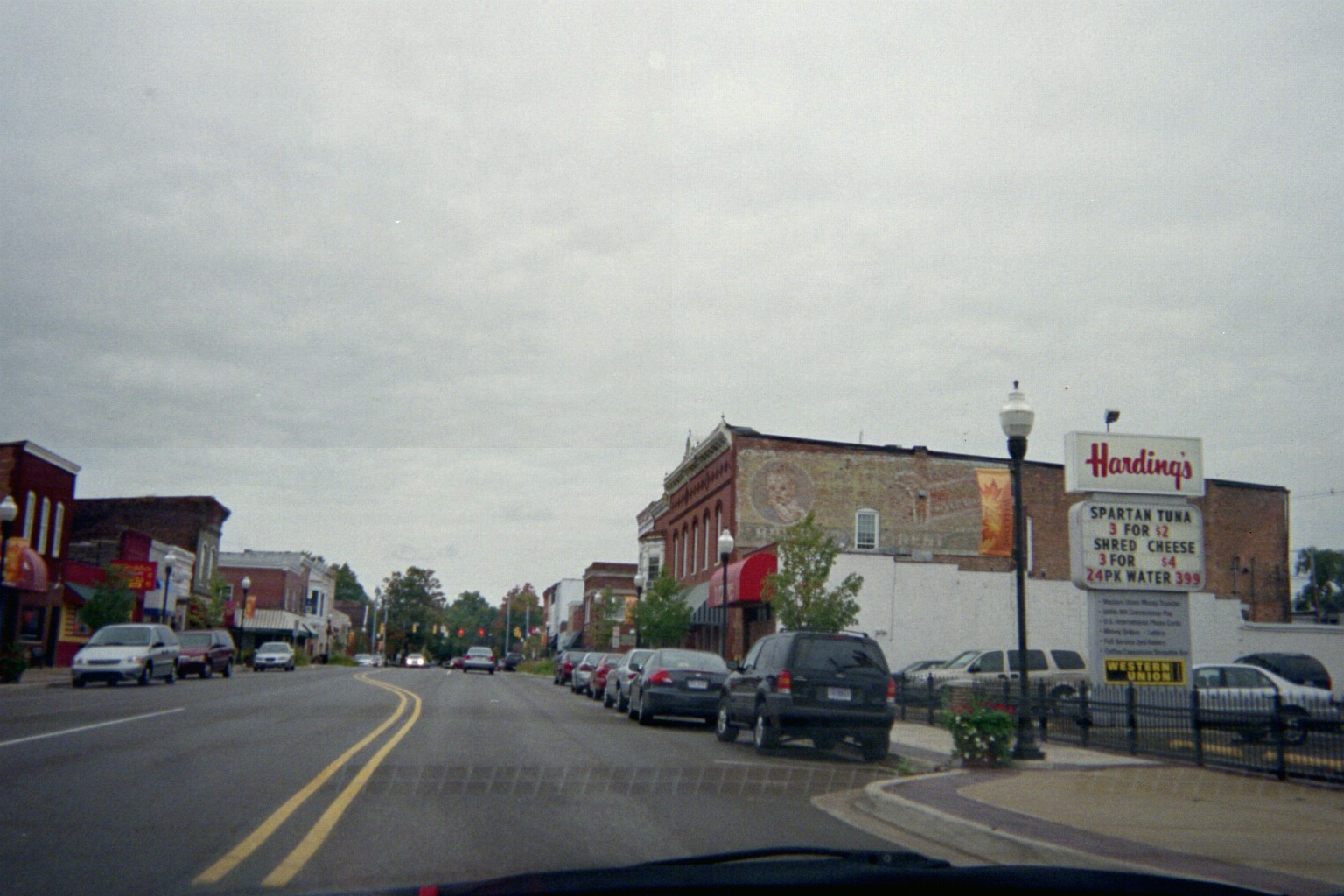 Bread ad mural in downtown Berrien Springs (Street View)
Berrien Springs: It was old 31, but now it's M-139 (see below).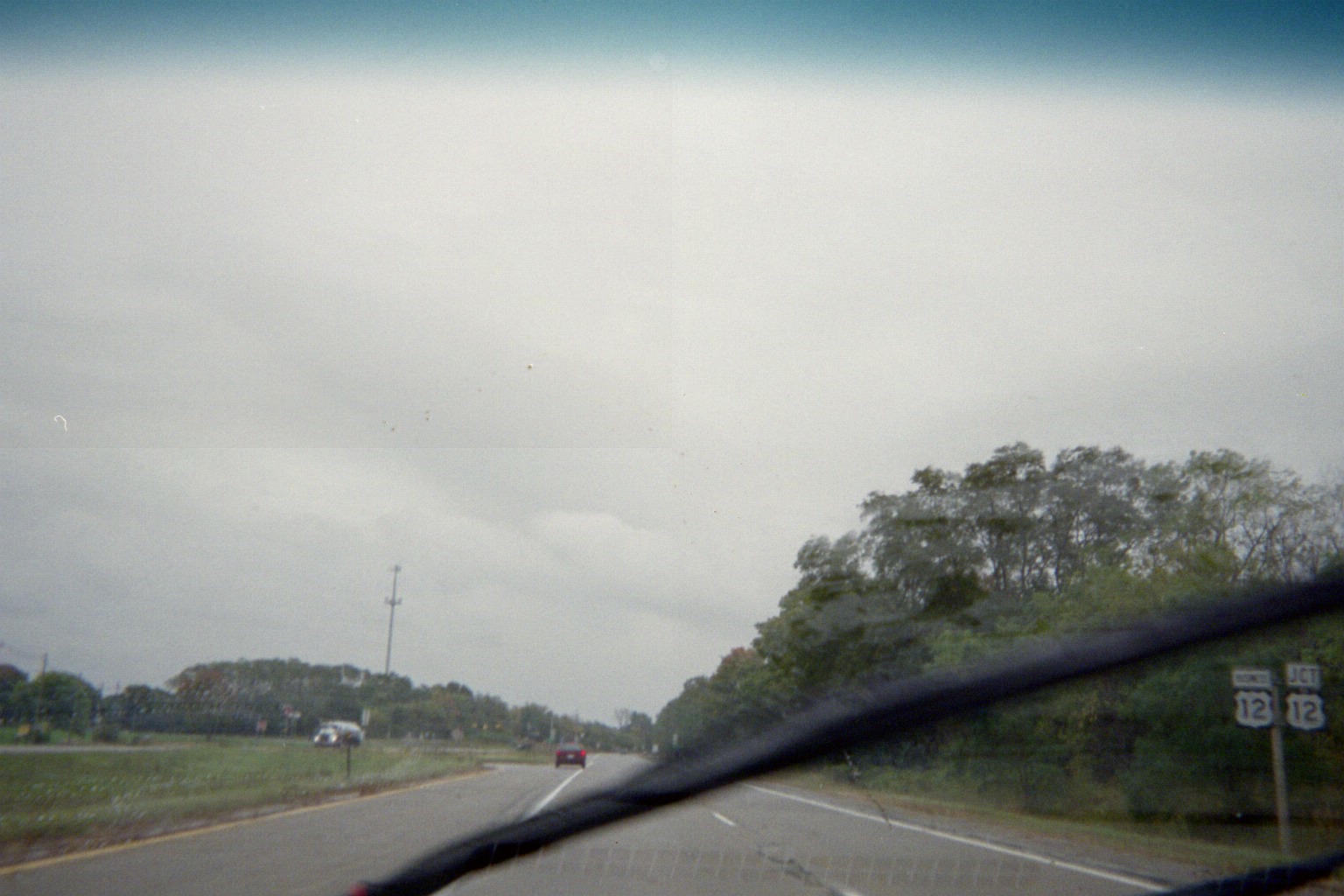 Interesting marker setup, US-12 at Business US-12 southwest of Niles, though Bus. 12 also is now M-139 here (again, see below).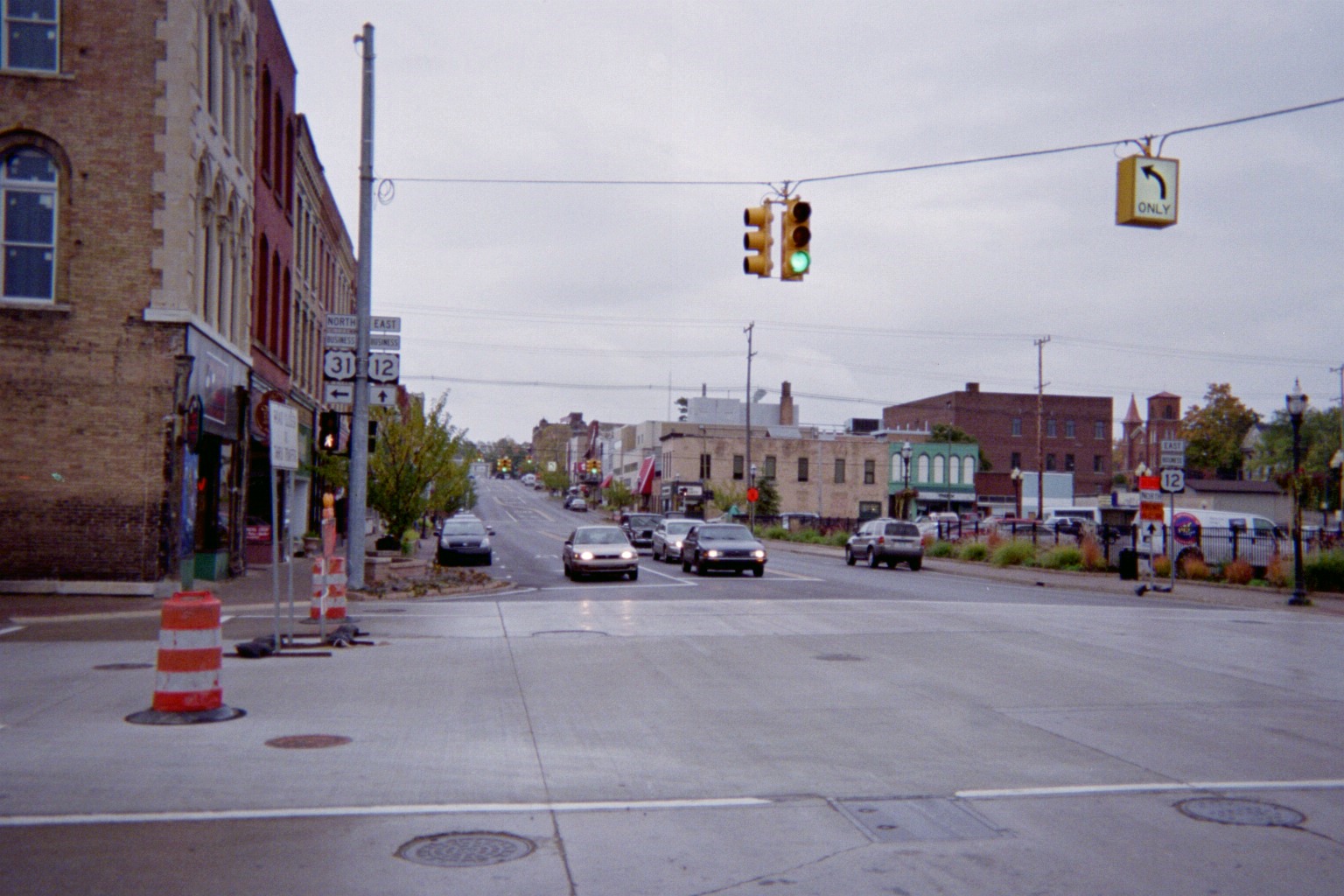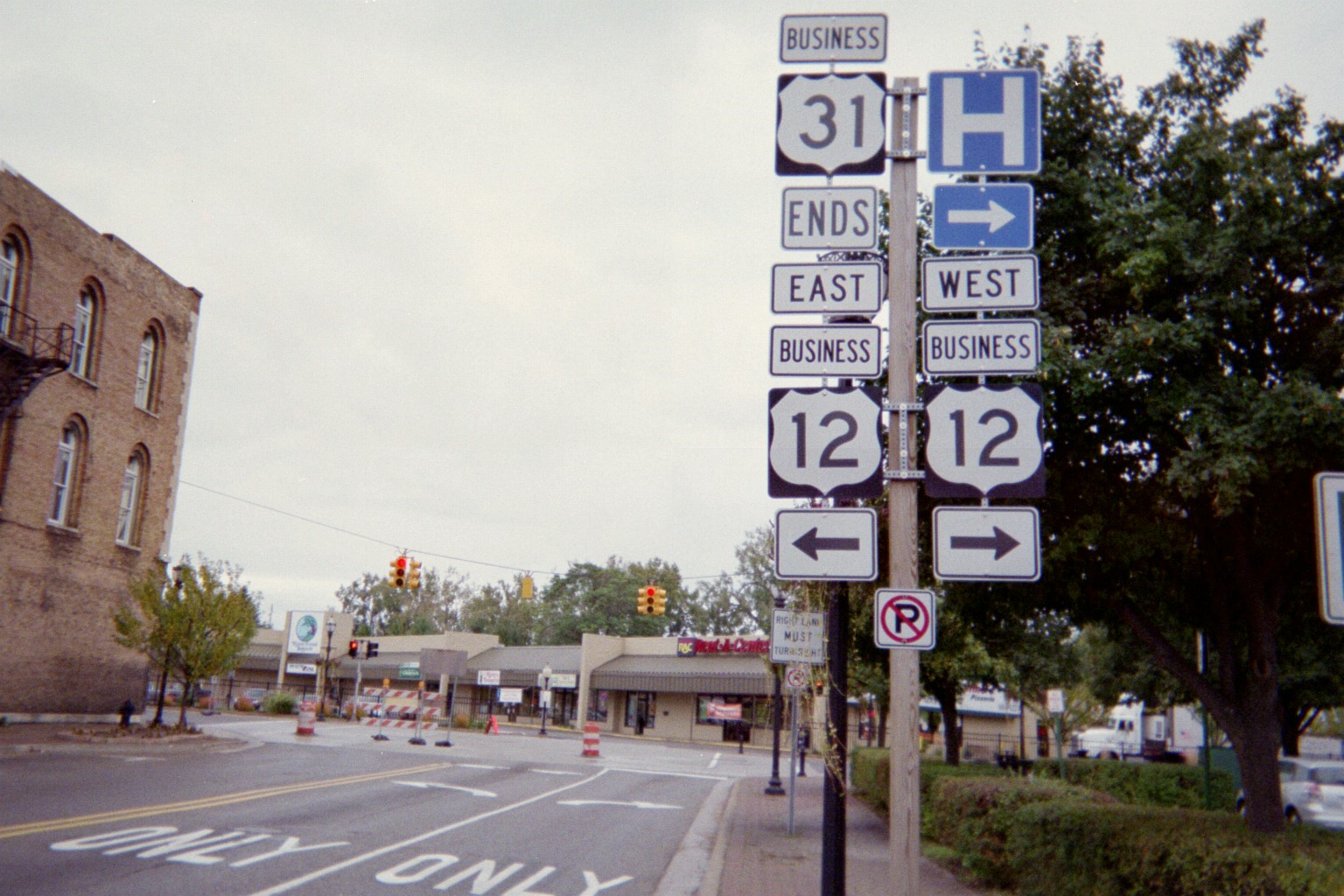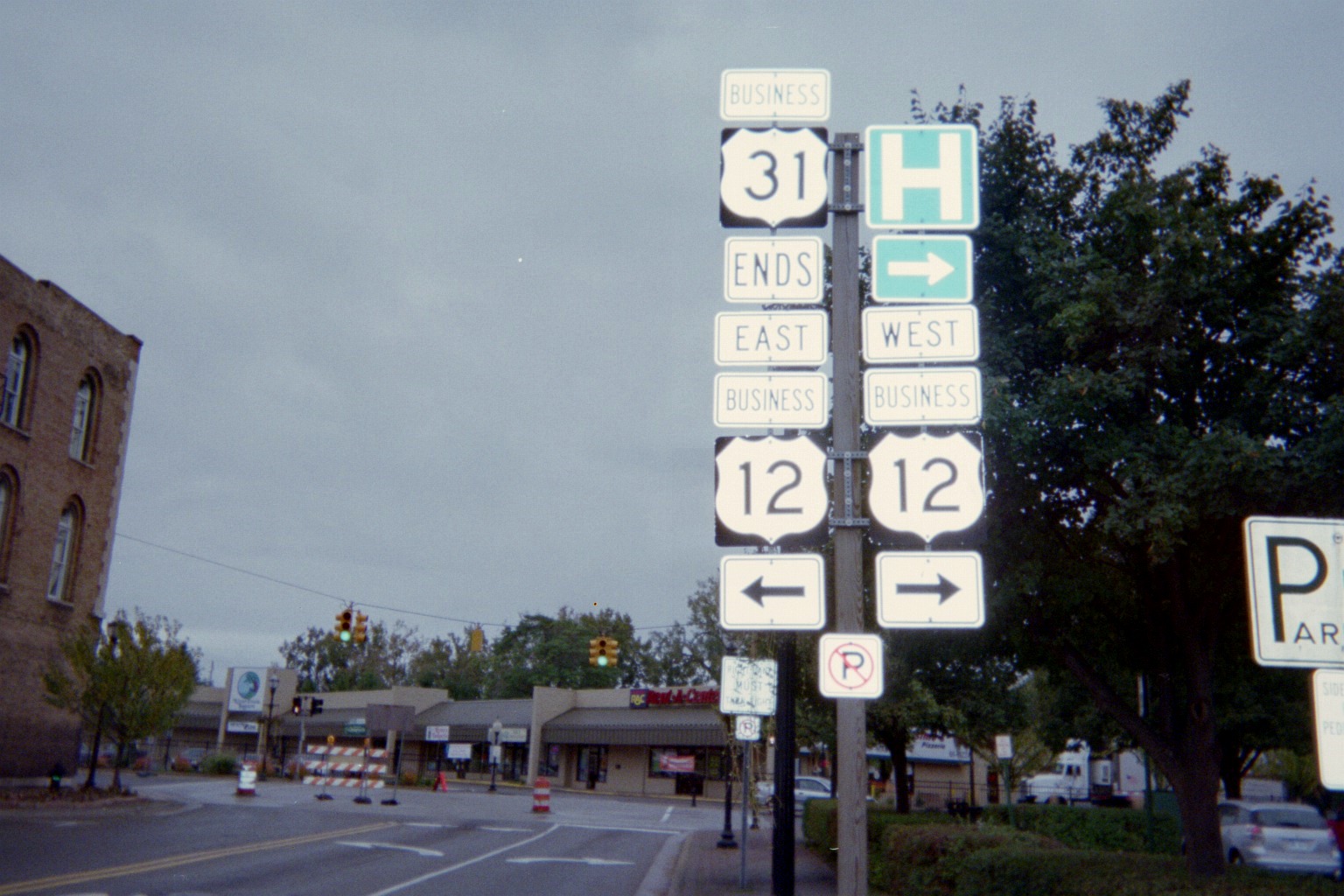 (Flash and no flash varieties) A year after these were taken in downtown Niles, M-139 was extended south from Berrien Springs along Old US-31 and Business US-31 (old US-31/33), overtaking those routes, then southwest along Business US-12. Business US-12 disappeared. For the whole saga, read the M-139 Wikipedia article. (For all route changes in Niles before this, see my page covering them.)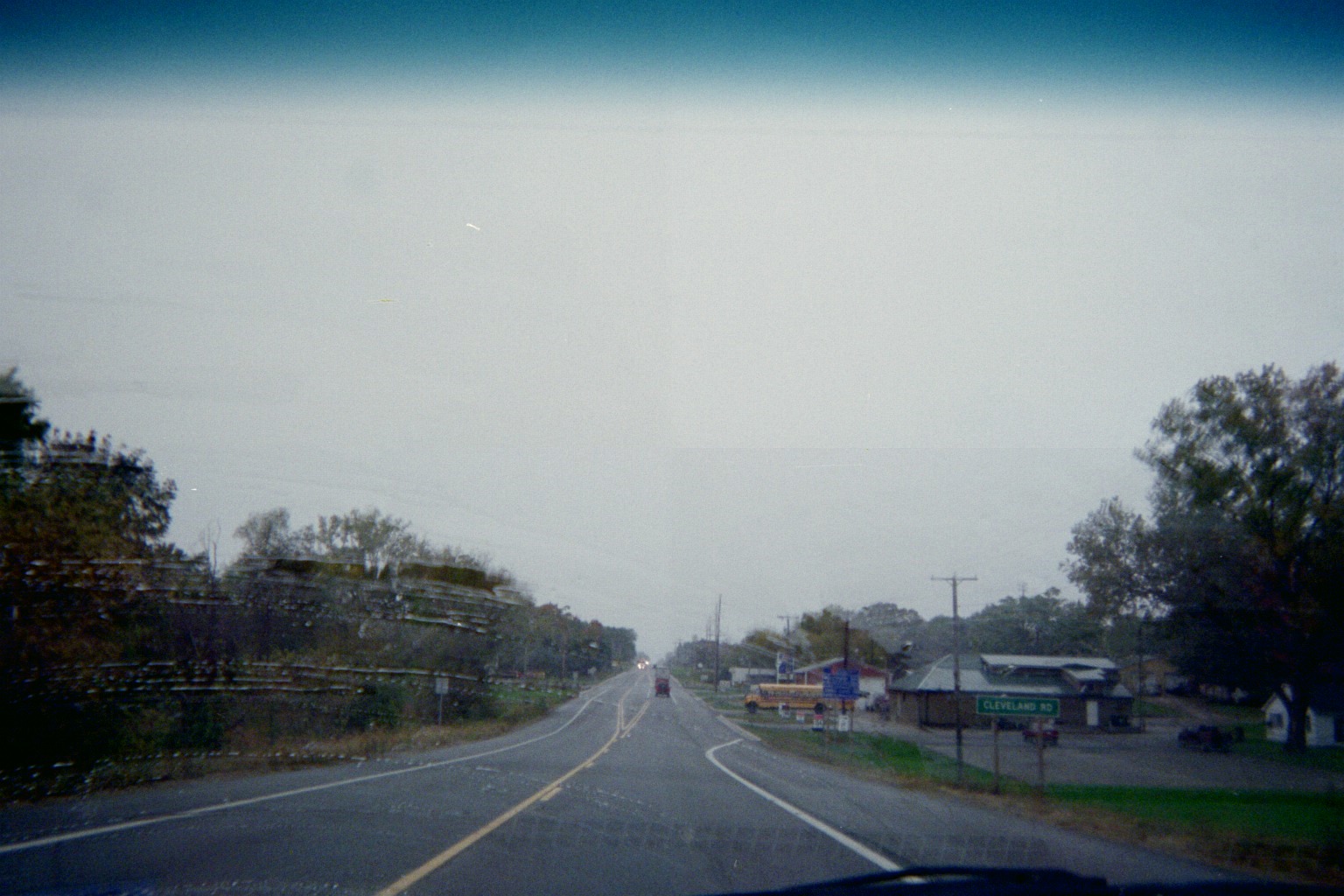 US-12 westbound at Cleveland Rd. in Galien. Originally M-60 came in from the right and turned into the distance. The highway in the foreground leading to the intersection came later when a local road was upgraded and extended east.
Interesting sign/artwork on US-12 east of I-94...Exit 4.
Chicago Skyway bridge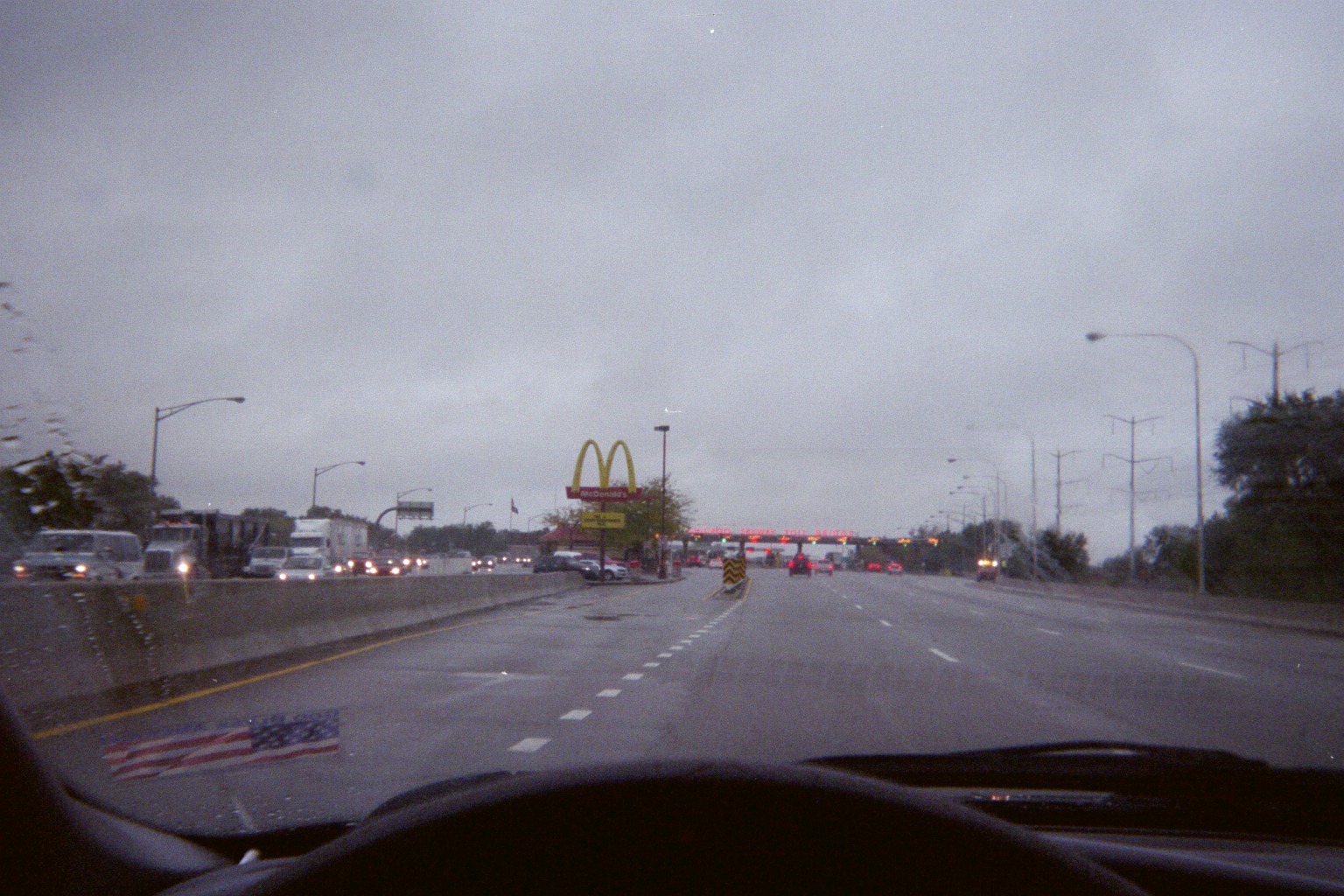 ...and the McDonald's at the toll plaza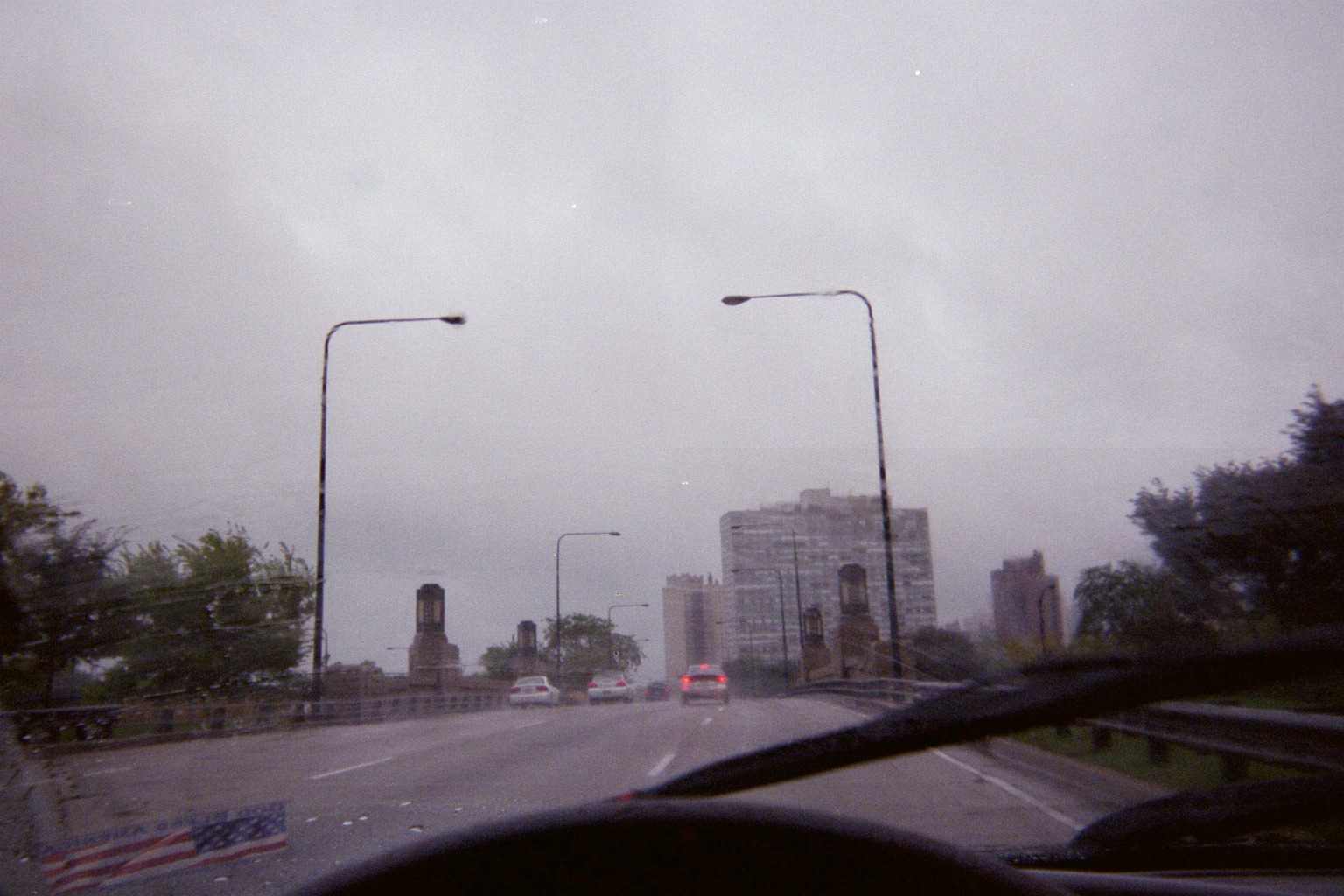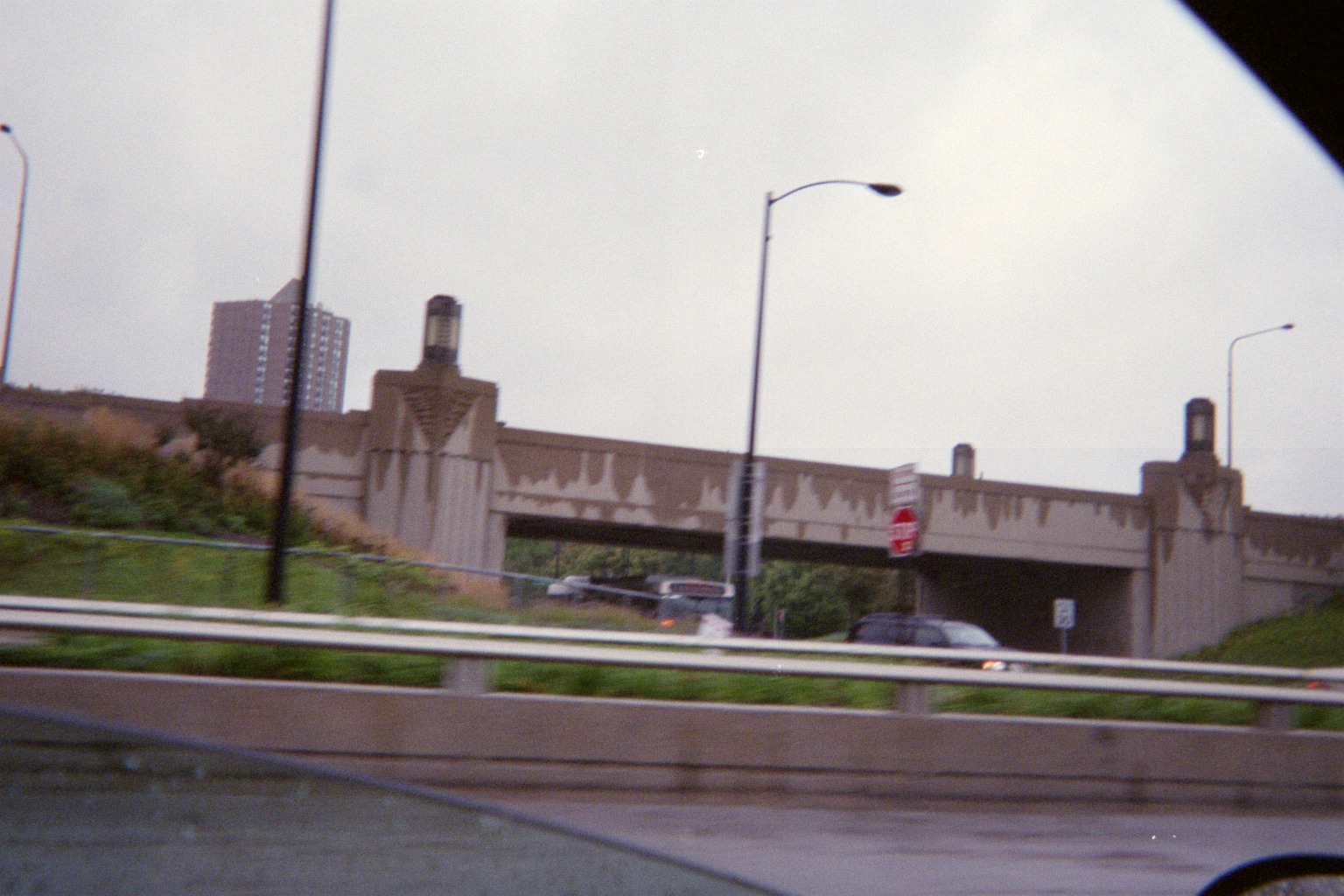 East 47th St. overpass on Lake Shore Drive/US-41 southbound, first going south then going north (Street View)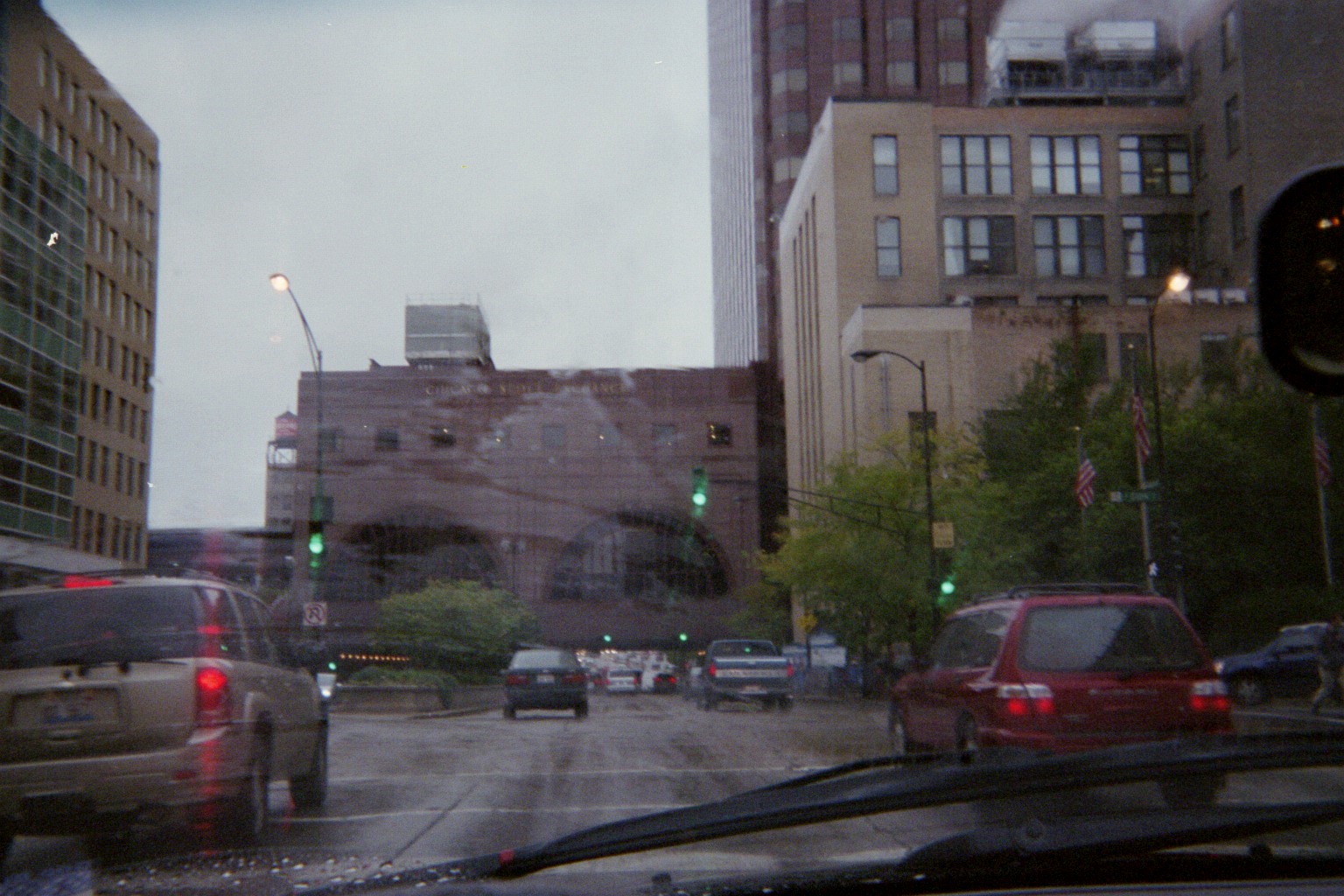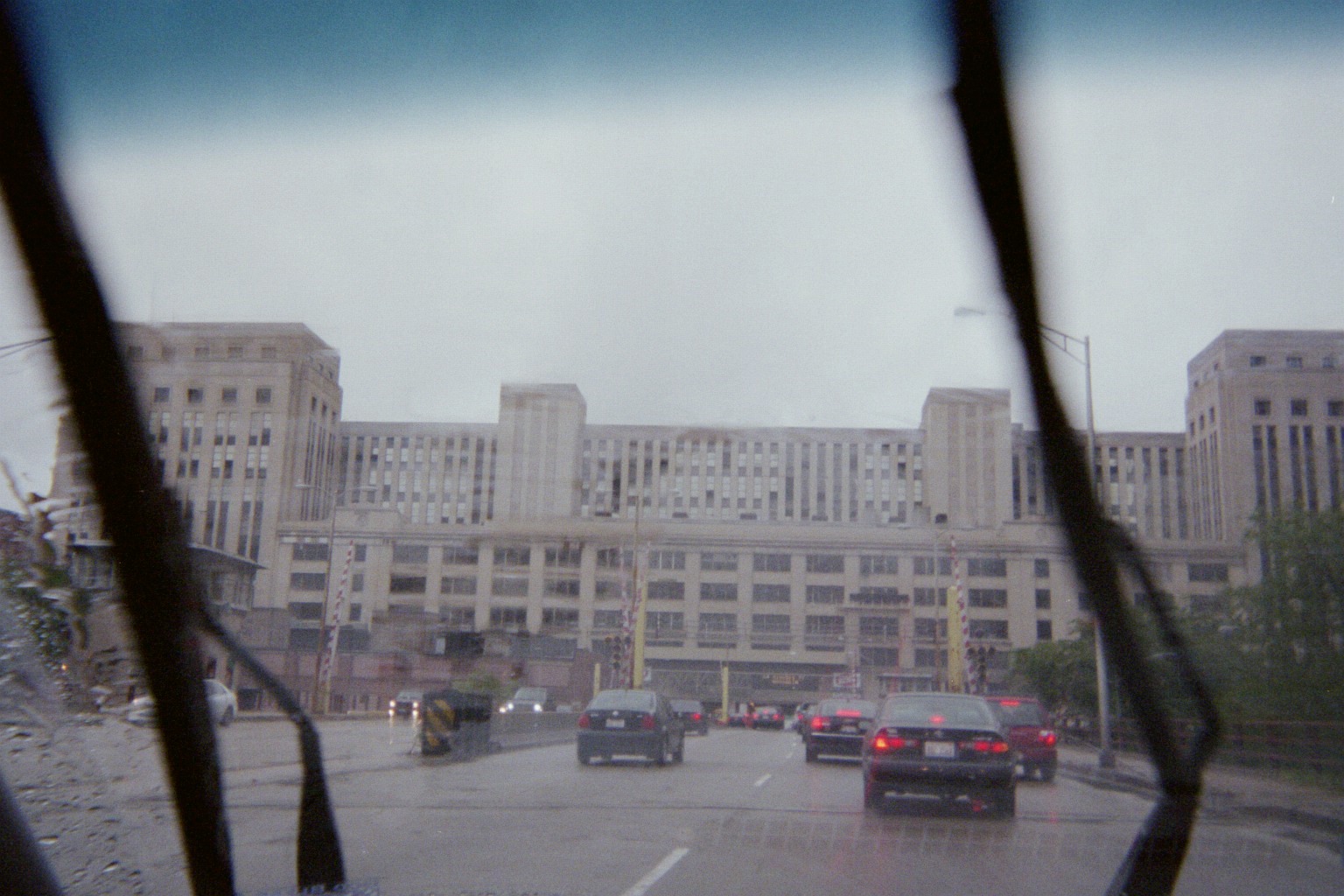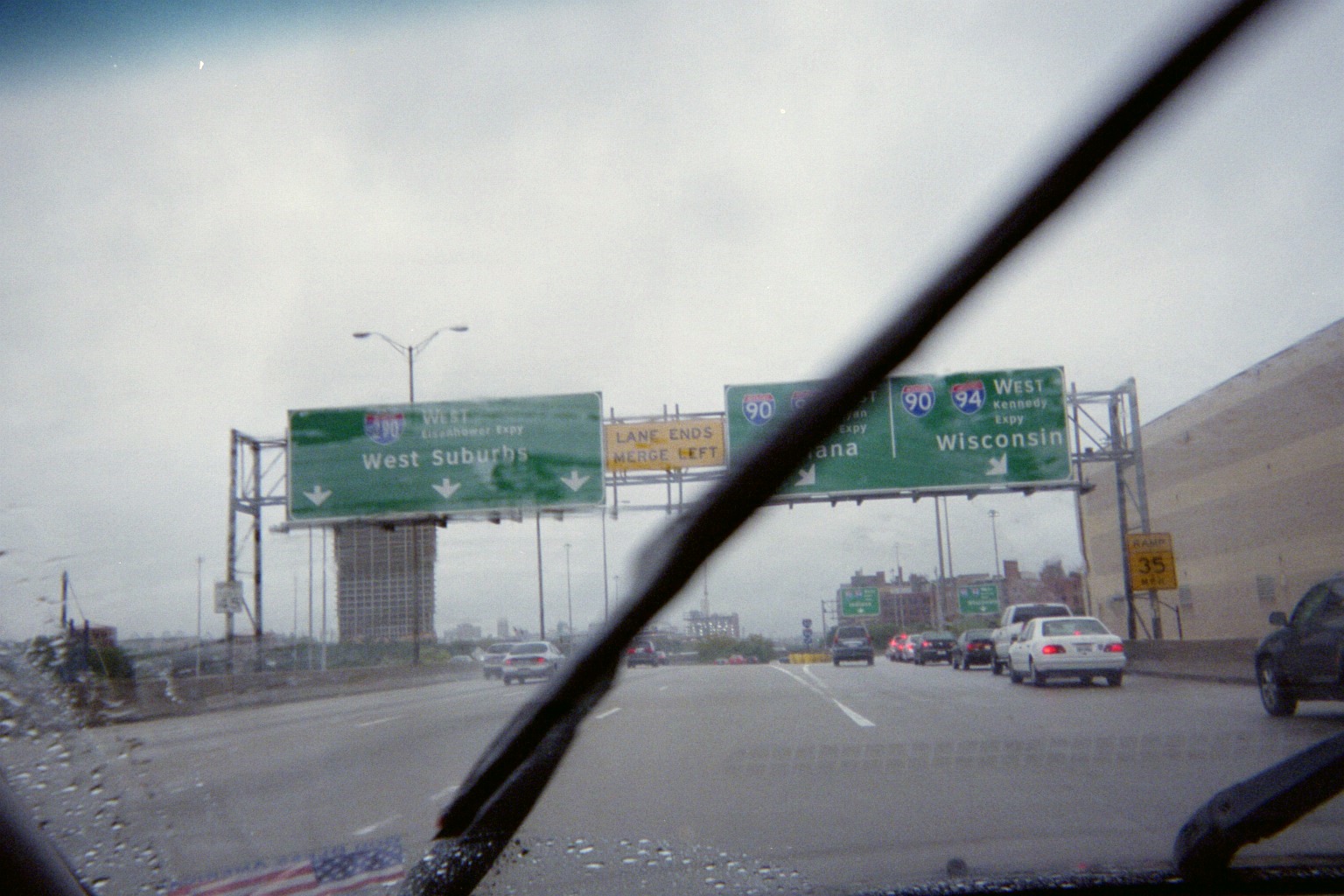 Congress Parkway westbound under the Chicago Stock Exchange and the old post office (the bridge in front of the latter soon underwent a replacement), then at the Circle Interchange
After a visit to the I-94 Michigan Welcome Center (the functional replacement of the first tourist welcome center in the U.S.), we took I-94 to US-131 southbound to the Indiana Toll Road/Ohio Turnpike/I-90, and arrived home the early morning hours of October 9. The next year, the closest that we got to a roadtrip was taking I-90 east just into New York, then following NY-394 and US-20 back to I-90, stopping for dinner at Quaker Steak & Lube in Erie, Pennsylvania. The I-90 portion of this route would begin the 2011 roadtrip.