Corridor in
Geauga County
---
Welshfield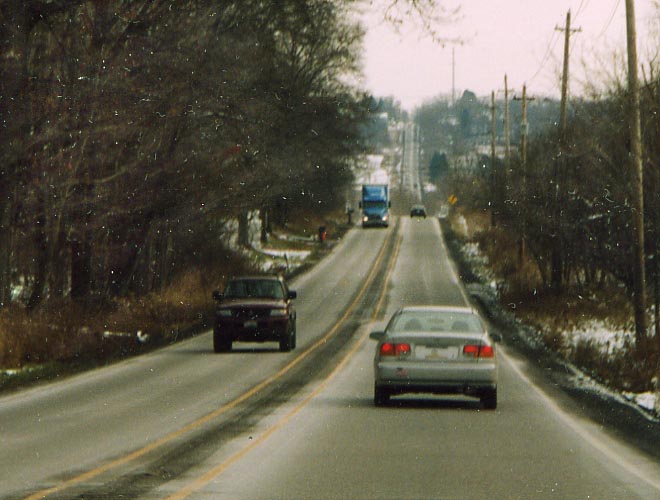 This is part of the last remaining two-lane section of US Route 422 between Cleveland (actually I-271) and Warren. Of note in the picture is the extremely wide double-yellow line - one can almost put a jersey barrier between those yellow lines. In fact there is a rumble strip between them for most of the length of the two-lane section. In addition, there have been discussions as to either making a new roadway or widening this highway between La Due Reservoir and east of Welshfield. However, Welshfield would have to be bypassed and the scenic Little Cuyahoga River would have to be crossed (that clump of trees in the middle, breaking up the highway and causing a double-S curve, is the river, presumedly the location of an older crossing). Nothing has been decided on, but mind you the US 422 freeway spur to SW Geauga County took over 20 years to get built.
The following photos are looking from Ohio Route 700 westward towards the Little Cuyahoga River (and back towards the area where the photo above was taken)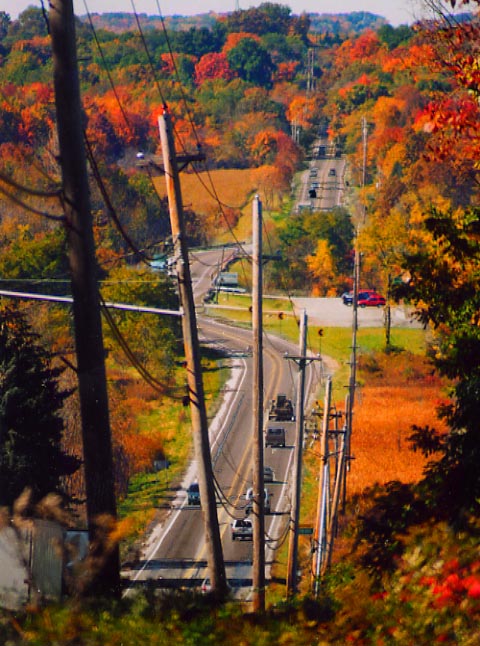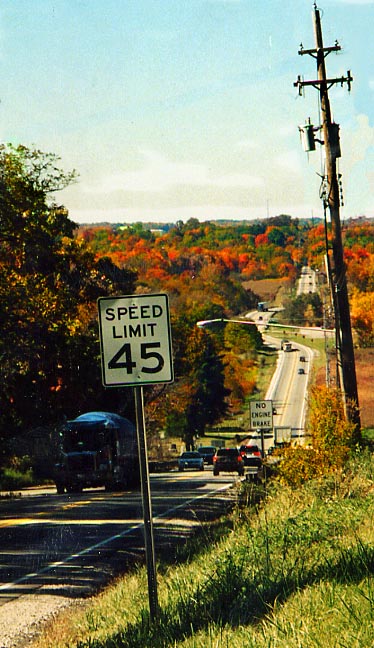 Sort of a townscape of Welshfield as you look east across Oh 700 and along US 422.
Parkman
Parkman is where SR 88 crosses US 422, and where SRs 168 and 528 begin, following SR 88 north, the former going only 0.21 mile with it before turning northwest, the latter following it for 1.29 miles before SR 88 itself turns east and 528 continues north (local map). With SR 608 only a few miles north, there are lots of 8's in the area! Parkman's square is composed of US 422/Main Market Road (north side), SR 88/Nelson Road (east side), SR 88/McCall Road (south side), and West Park (west side). McCall continues southwest from the square, still carrying 88, and Nelson Rd continues south to Nelson, naturally.
US 422 has a controversial planned reconstruction in this area (ODOT page / News-Herald article from mid-October 2003).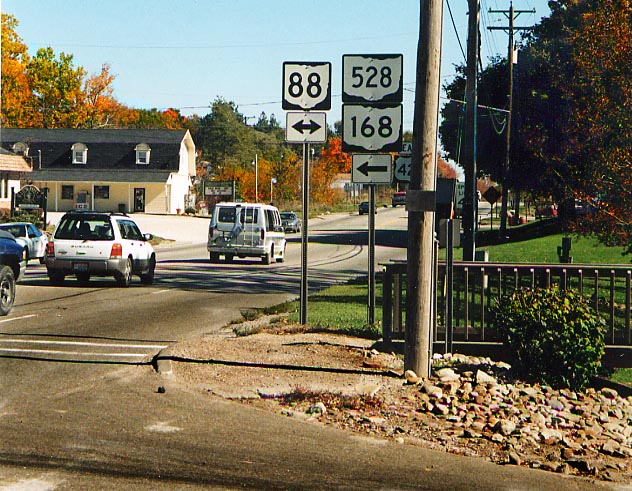 Left: Visual proof that Oh 88, 168, and 528 all join together for that last 1/4 mile.
Right: Northeast corner of the square looking east along US 422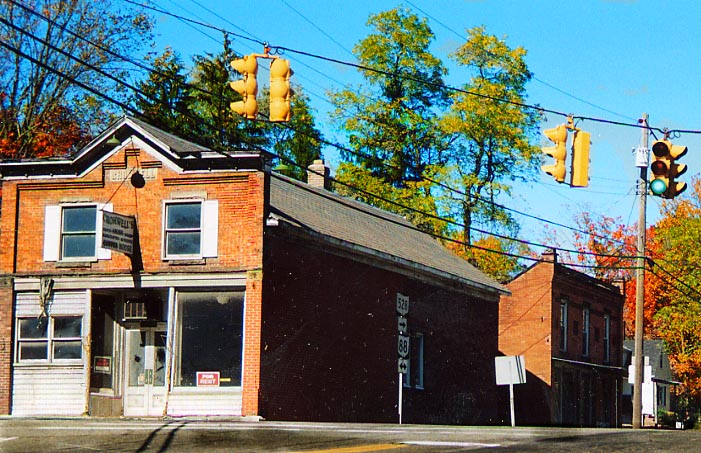 Northeast corner looking northwest. Note no 168 sign for US 422 westbound travellers (compared to above right photo which has all three routes).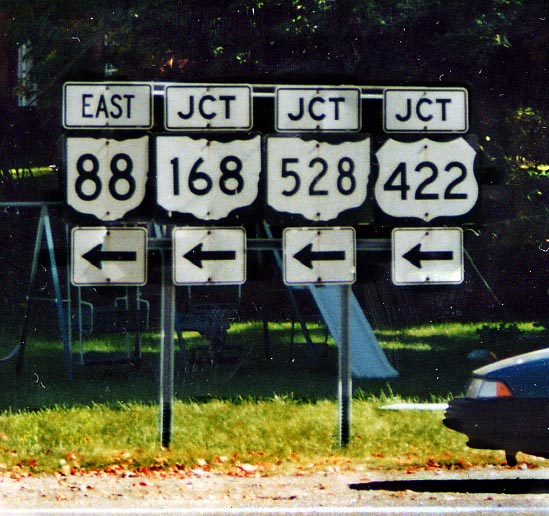 Southeast corner looking east (end of McCall Road, where 88 turns north onto Nelson Road)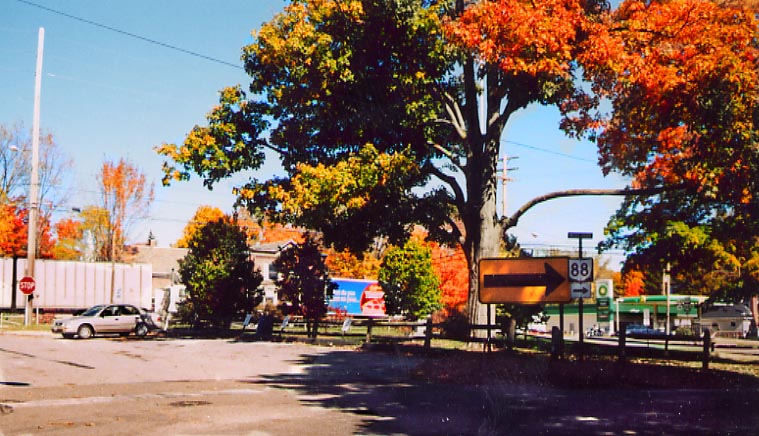 Southwest corner looking northeast (northeast corner intersection is in the background)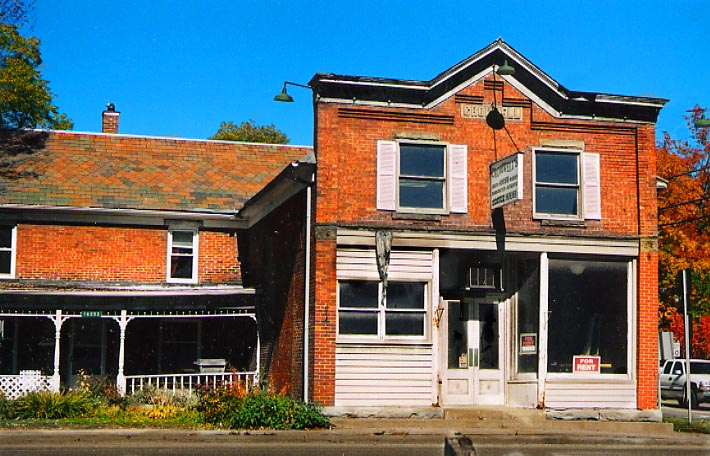 Northeast corner, looking north across 422 (88/168/528 is on the far right)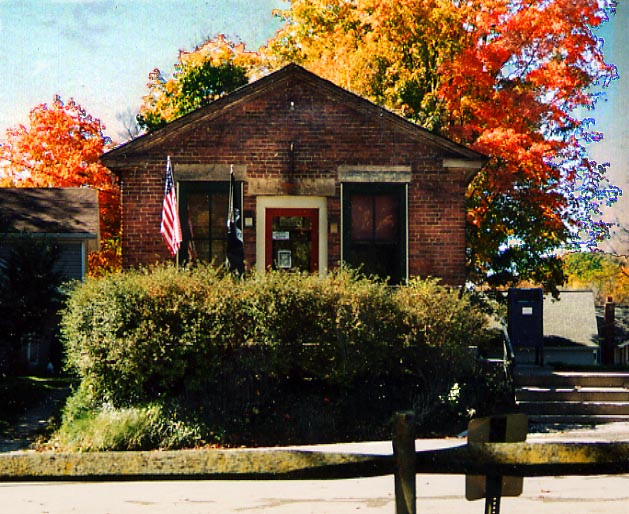 Parkman Post Office (44080) on the far west side of the square, front facing eastward. Yes, that's the whole thing.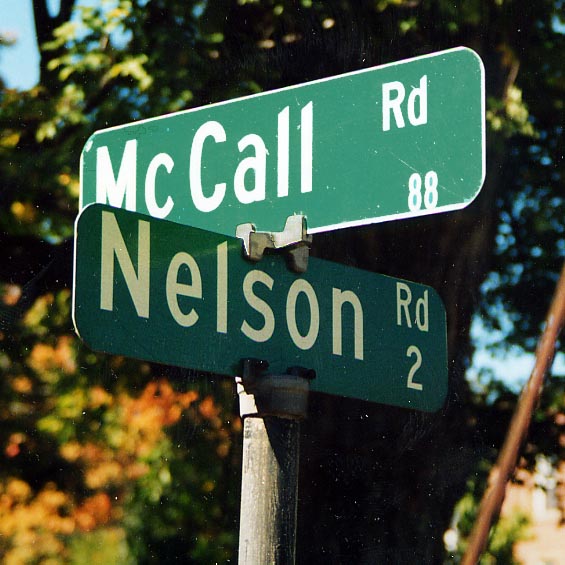 Example of county signage ("88" of course refers to SR 88, not CR 88, and Nelson Road's technical designation is CR 2S).
Other scenes from Parkman square: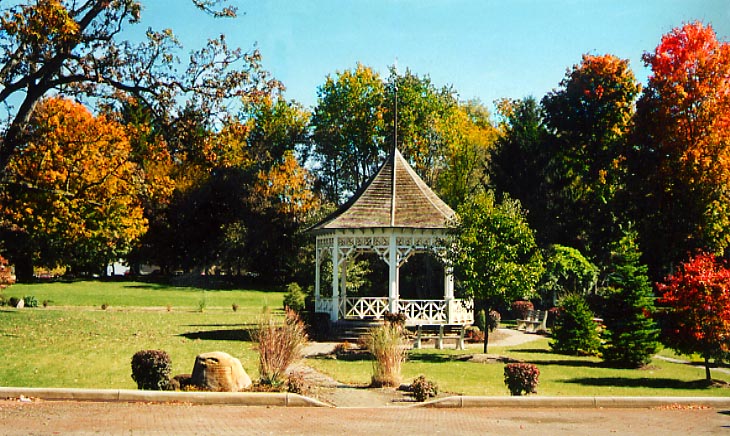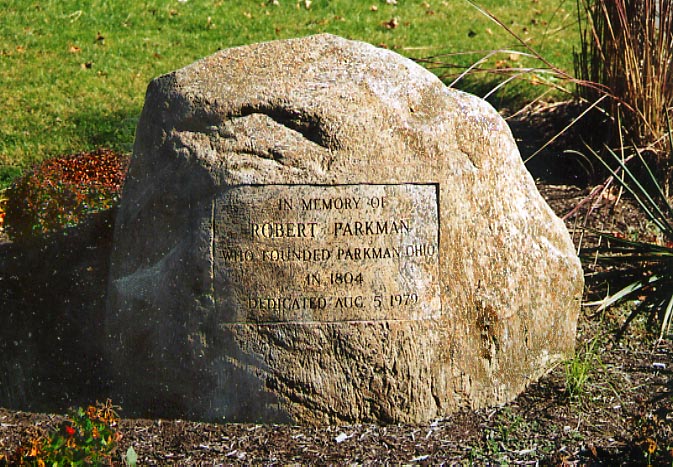 US 422
west of the Geauga/Portage county line
From just east of Parkman for a couple of miles to the area of the US 422/SR 282 intersection, the two roadways of US 422 have considerably different character. The eastbound lanes on the south side are rolling, as they are the original alignment of the road converted to one-way traffic, and the westbound lanes on the north are considerably more level (map of section). (Forgive the quality of some of the photographs as they were all taken from a moving vehicle since as can be seen from them there is no opportune place to pull over and stop in the area)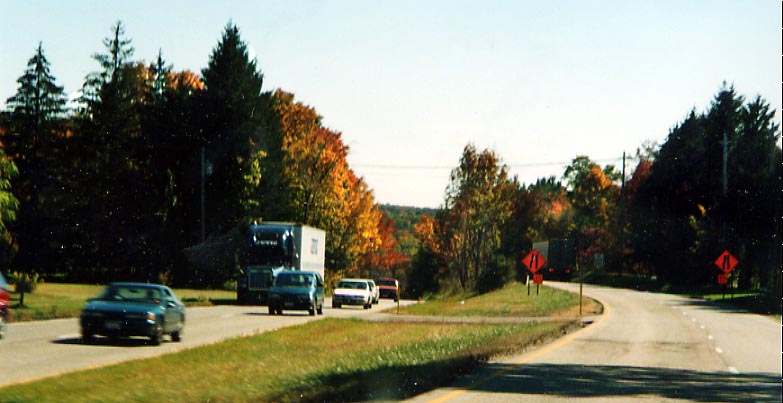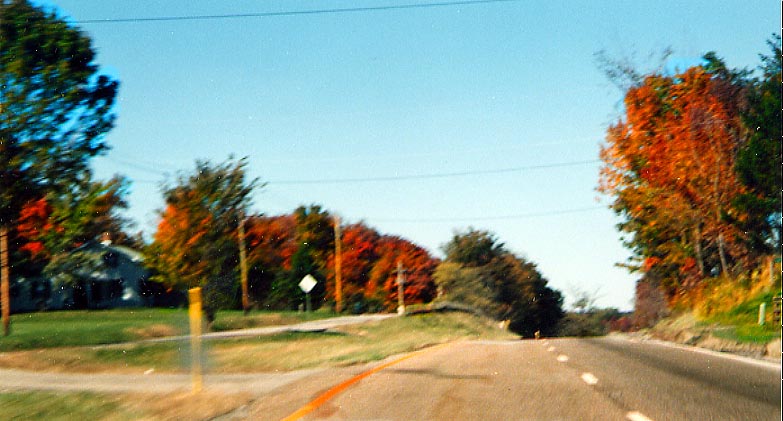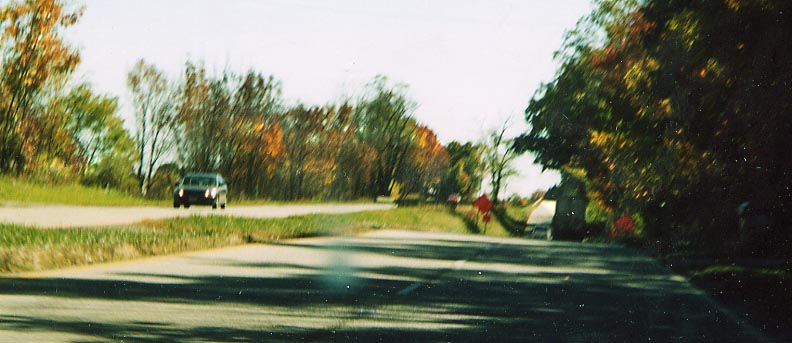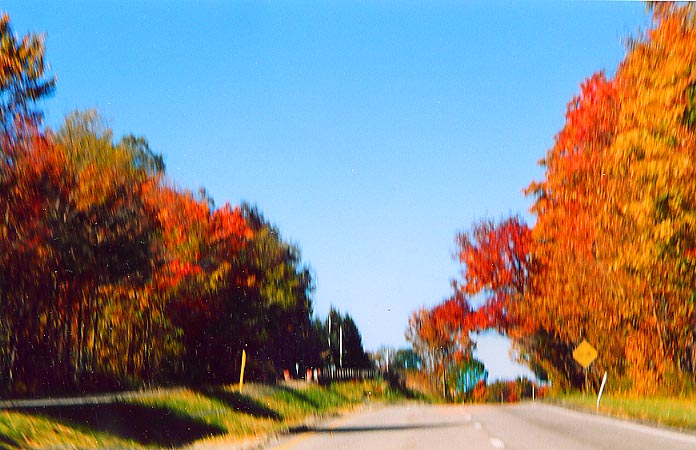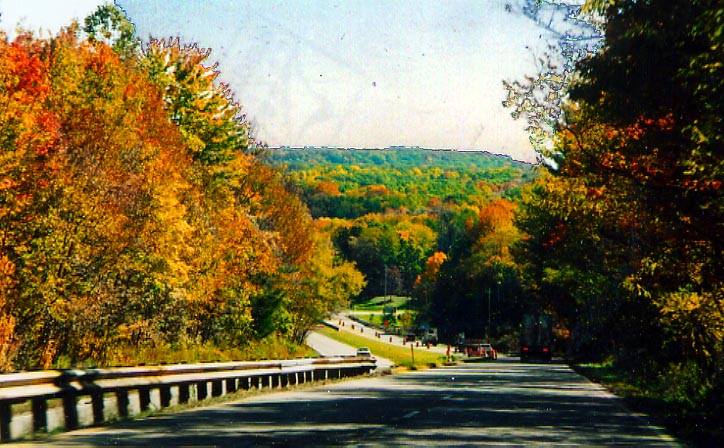 SR 282

SR 282 is a three-mile state highway whose main purpose is to provide a connection to Nelson-Kennedy Ledges State Park.
The south end of Oh 282 (@ Oh 305) is on this page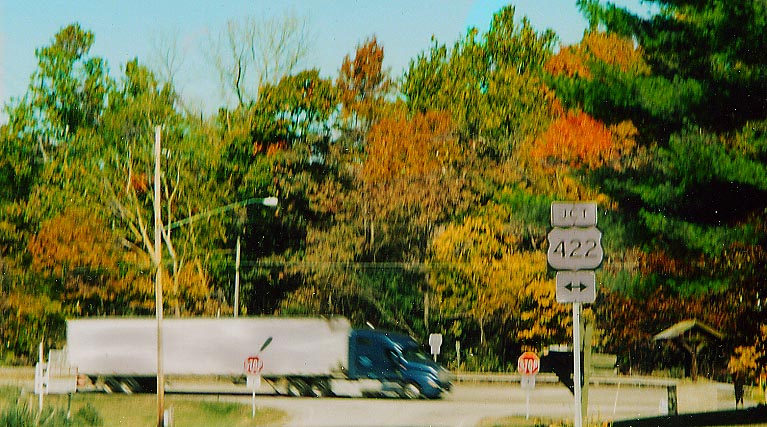 North end at US 422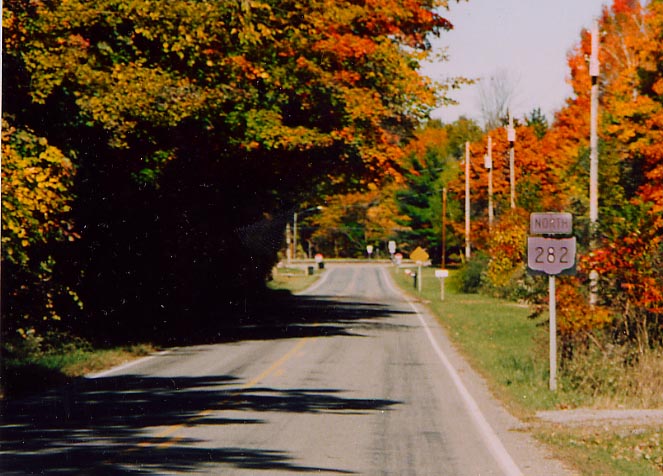 Approaching the north end - notice that there is a [NORTH][282] reassurance marker even with a [SOUTH][282] marker (not visible due to shadows) mere yards before 282 ends in the distance....
---
Page created on January27, 2004/Last revised January 31, 2004
Questions, comments, and submissions can be sent to Sandor Gulyas or Marc Fannin
Return to Geauga County Photos