---
Upper Sandusky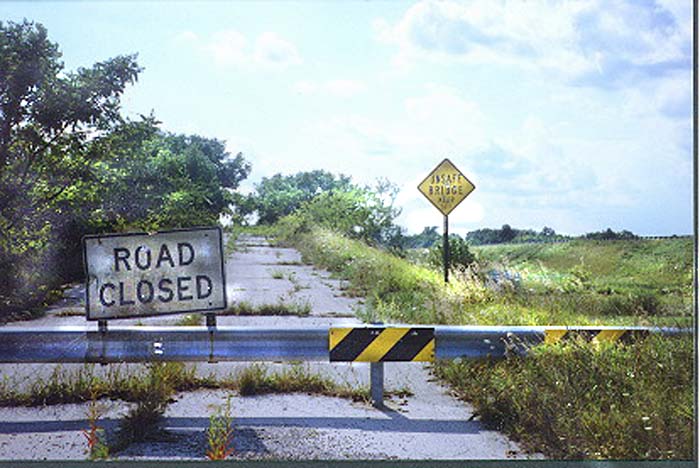 Looking west, this is a railroad overpass on a very short bypassed section of the original Lincoln Highway at Williamstown in Hancock County. The western part of the old highway here is now used as access between U.S. 30 and U.S. 68. Map (Photo taken in June,1999)
UPDATE: As of October, 2003 this bridge has been torn down.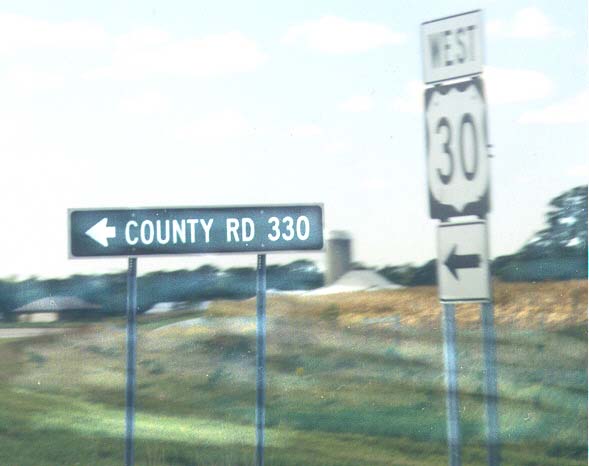 Upper Sandusky marks the old alignment of US 30 through town as Business US 30, but west of town, it is simply known as Wyandot County Road 330.
(Photo taken in September, 1999)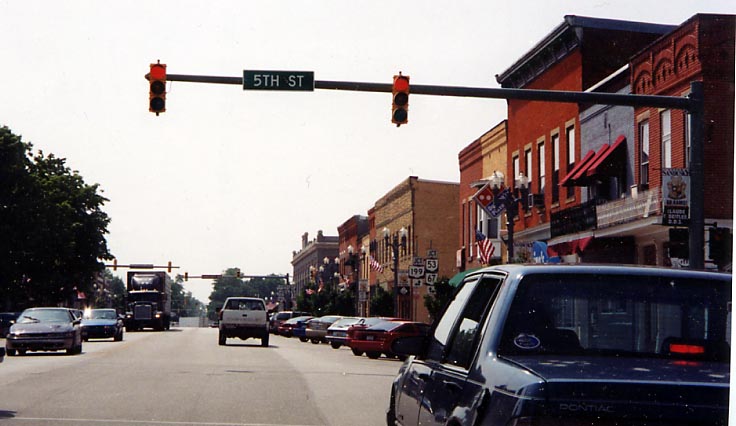 Downtown Upper Sandusky, along the Lincoln Highway (Photo taken in July, 2004)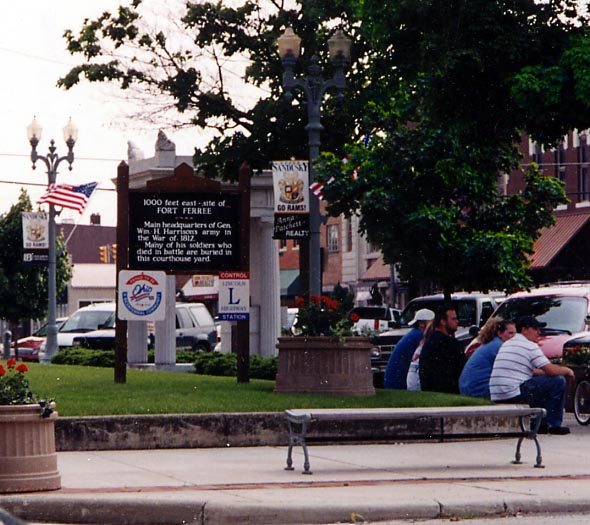 Normally its buildings that serve as Control Stations along the Lincoln Highway (see East Canton and Van Wert), but in this instance its the corner of the courthouse yard that serves as the Control Station for Upper Sandusky. (Photo taken in July, 2004)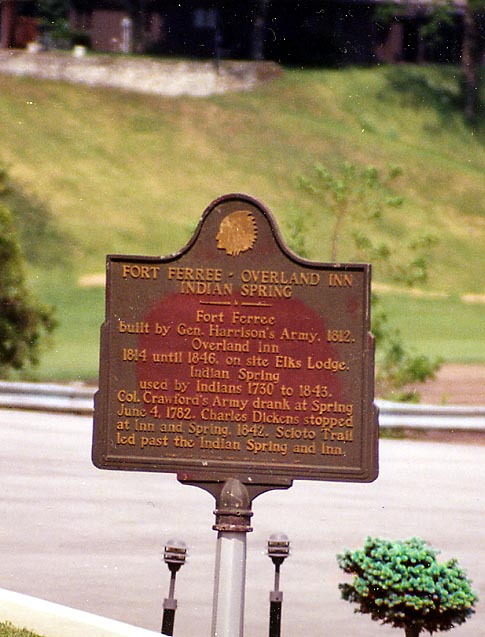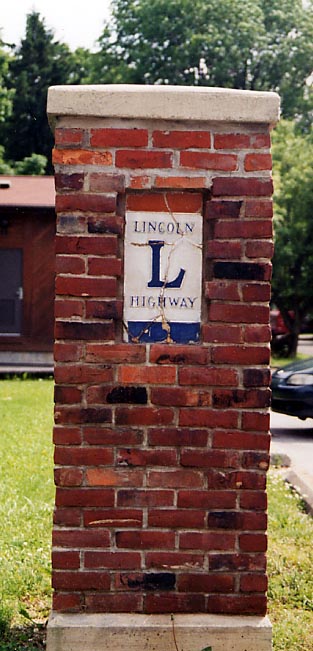 Left Photo - I think the sign is self explanatory. Located at the eastern edge of the business district.
Right Photo - This brick LHA pillar is across the street from the historical marker. The pillar has been rebuilt (note the cracked porcelain of the marker)
Both photos taken in July, 2004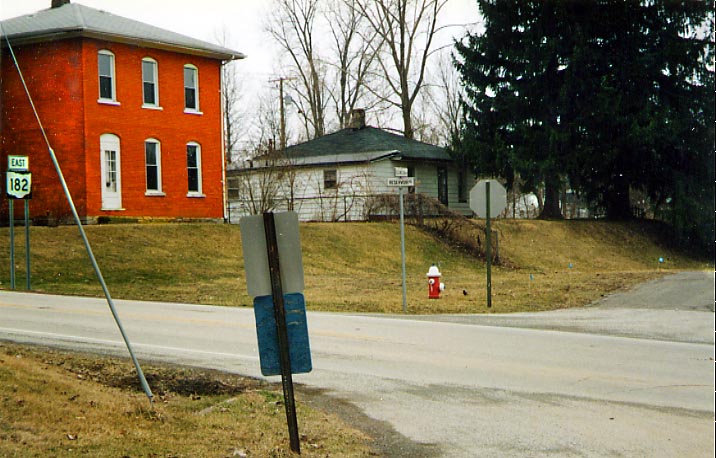 The old(?) west end of Oh 182? The crossing street here is old Lincoln Highway on the east end of Upper Sandusky. It might have been designated US 30 before being rerouted 100 yds to the north (out of the photo to the right). (Photo taken in April, 2003.)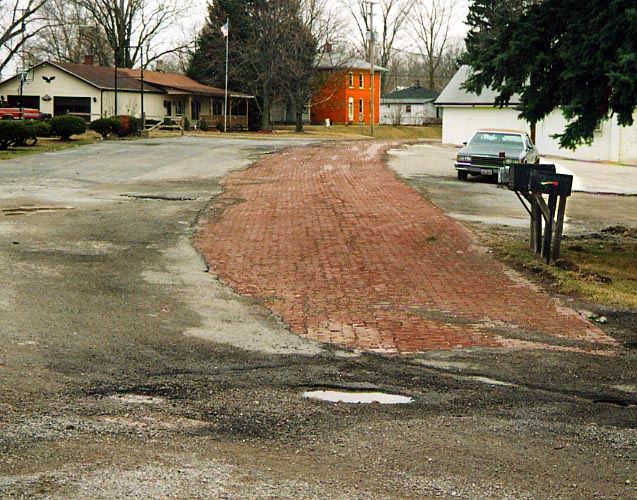 And just before you reach Oh 182, you can find the old bricks of this road showing once more. Knowing how the Ohio LHA folk love brick sections of the Lincoln Highway, this won't get covered with asphalt again. (Photo taken in April, 2003)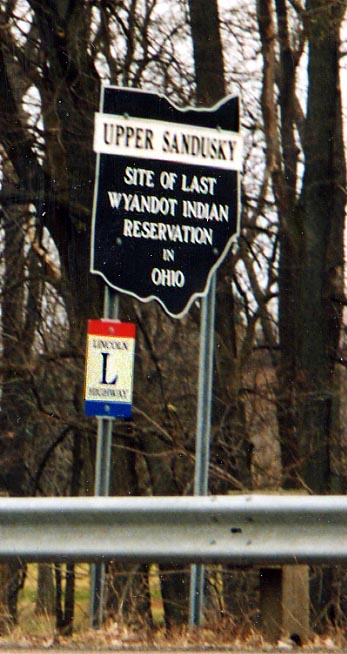 Right Photo: Ohio town marker for Upper Sandusky along Business US 30 on the eastside of Upper Sandusky
Left Photo: The east facing side of an Ohio Historical Marker showing the routings of the Lincoln Highway in Ohio.
Bottom Photo: The west facing side of an Ohio Historical Marker with text commemorating the Lincoln Highway. Why Upper Sandusky was chosen, I don't know. (Photos taken in April, 2003)
Oceola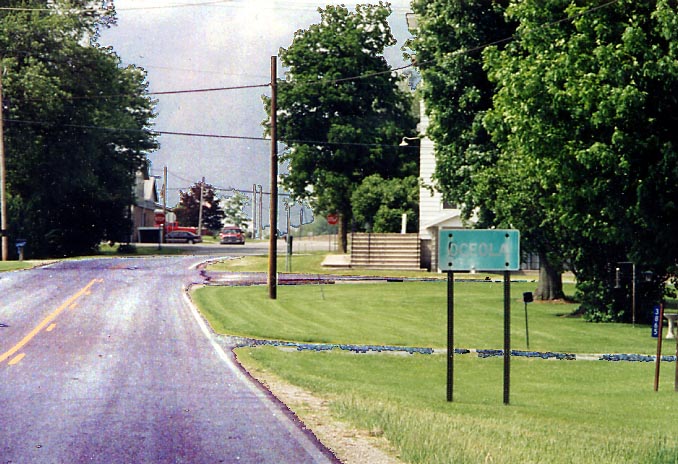 On occasion you'll find town markers on county highways like here, but they are a rare occasion...unless it's for an city (like Mansfield, or Columbus)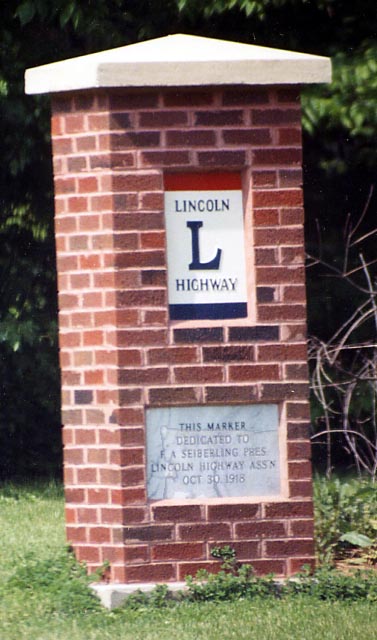 This is a replica brick pillar that the Ohio Lincoln League constructed in 2000 in Oceola. Reportedly, there was another brick pillar dedicated to Frank Seiberling along the original Lincoln Highway between Galion and Bucyrus (along present day Oh 19). It's whereabouts are unknown, so this was constructed in place of the original one. (Oceola photos taken in June, 2004)
Pillar with background in Oceola.
---
The new US 30 Expressway (Upper Sandusky - Bucyrus bypass connector)
In December, 2004, ODOT completed a new freeway section for US 30 between Upper Sandusky and Bucyrus. It connected the US 23/30 bypass of Upper Sandusky and the current US 30 Bucyrus bypass. This ODOT page covers the construction progress of all of US 30 in Ohio, and I have several pages of photo covering the US 30 Expressway construction between Upper Sandusky and Mansfield from Steve Mannix starting with this page as well.

Along US 23 NB, you can see the pillars being set for the bridge that will take US 30 traffic over US 23. On the horizon is the bridge over the Amtrak rails and Oh 182. (from 2002)
One year later, alot of earth was moved to create this.
Dirt path for a future ramp to US 30 EB from US 23 SB (from June, 2003)

Along with the interchange, several roads that used to intersect with US 23 were now bridged over.
This photo was taken in August, 2002 (US 23 between US 30 and Oh 199)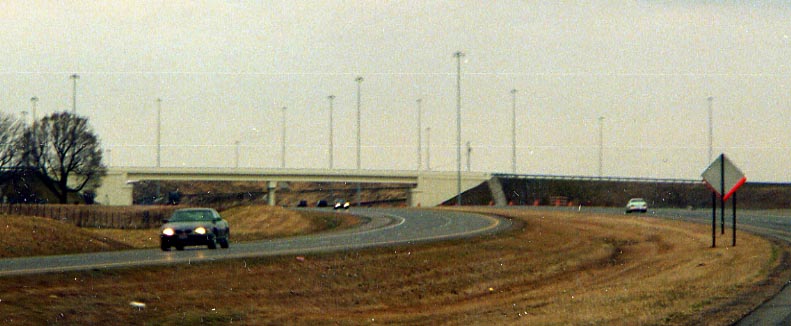 Same bridge in April, 2003.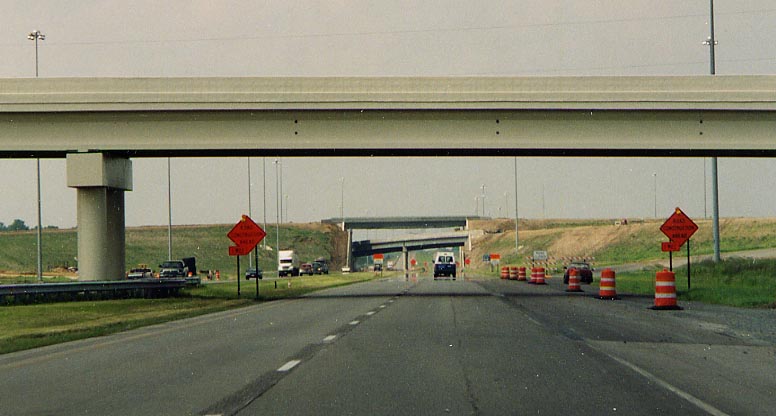 Many bridges were almost completed by June, 2004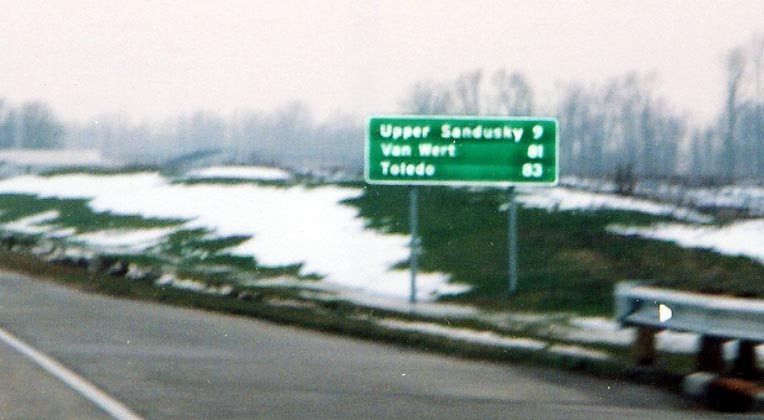 Traveling the "new" US 30 expressway in Wyandot County (less than a week after it was opened in December, 2004), I noticed an odd listing on the mileage sign. Why Toledo? I know of Department of Transportation that will give control cities to routes that don't reach said city, but this is extreme. How about a listing consisting of Upper Sandusky, Beaverdam (I-75), and then Van Wert, or Upper Sandusky, Delphos, and then Ft. Wayne. Towns along the US 30 corridor.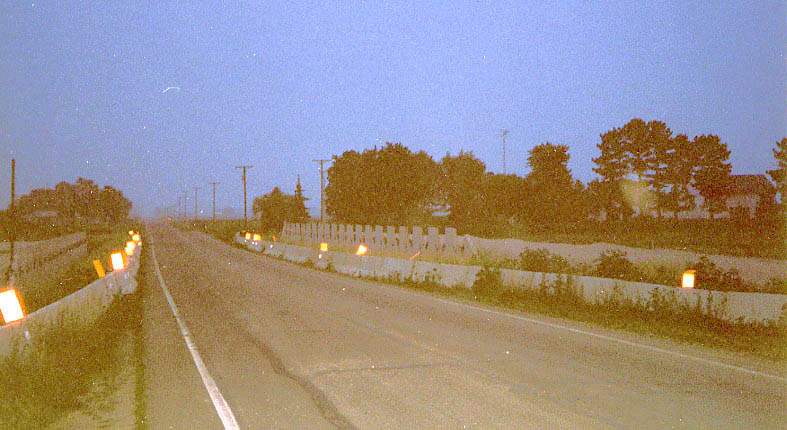 Maybe night time photography isn't the best to do afterwards. This is the beginning of the supports to bridge US 30 over OH 231 south of Nevada (pronounced nuh-VAY-duh) (from 2002)
Looking eastward (in the night again) at the graded routing for the US 30 freeway. Those are earth moving vehicle on the right. (along Oh 231 south of Nevada) (from 2002)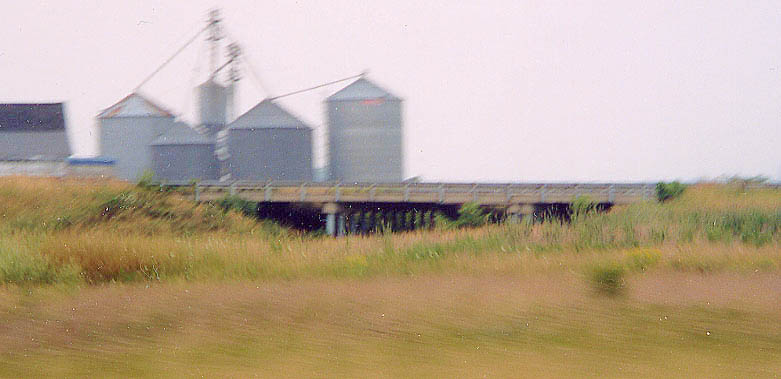 This is not an abandoned bridge, but a bridge for the US 30 freeway (under construction) west of Bucyrus. (from 2002)
Along current US 30, one can see the mounds of dirt on both sides for the US 30 freeway to bridge over the Lincoln Highway. You can see part of the old overhead sign to direct traffic to the Bucyrus bypass for eastbound US 30 traffic. (from 2002)

Similar picture to the one above, just more focused on the northside of the construction.
How did that semi trailer get up there though? West of Bucyrus, from 2002
More photos on the US 30 Expressway Construction from Steve Mannix are on this page.
---
Page created on February 14, 2004/ last updated on May 17, 2005
Questions, comments, and submissions can be sent to Sandor Gulyas
Go west to Western Ohio Lincoln Highway Photos | The 1913 Upper Sandusky to Lima to Delphos Route | Go East to Lincoln Highway in Bucyrus Photos
Return to Ohio Lincoln Highway Page