Morrow County
and Mt Gilead
---
Once Old State Rd enters Morrow County, it's official name is Worthington - New Haven Rd (CR 24) for the first 1/2 then it follows federal and state routes (US 42/Oh 61/Oh 598) for the rest of it's length to New Haven. One can also see plenty of old houses along the route in Peru Township (some almost as old as the road itself).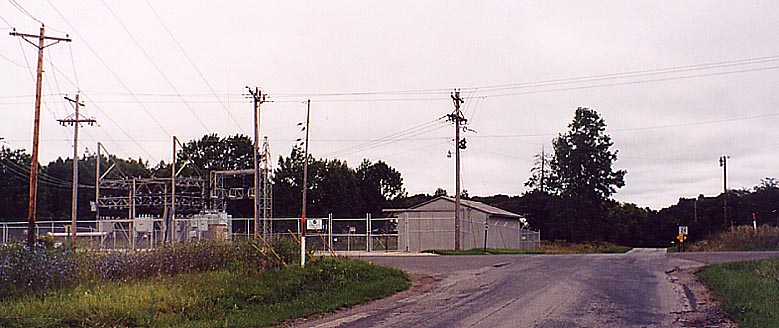 Substation for Rural Consolidated Electric (Co-op) -- It's officially named the Oxford Substation, but is in Peru township in Morrow County (originally was part of the Delaware County Electric Co-op). At Ashley and North Galena Roads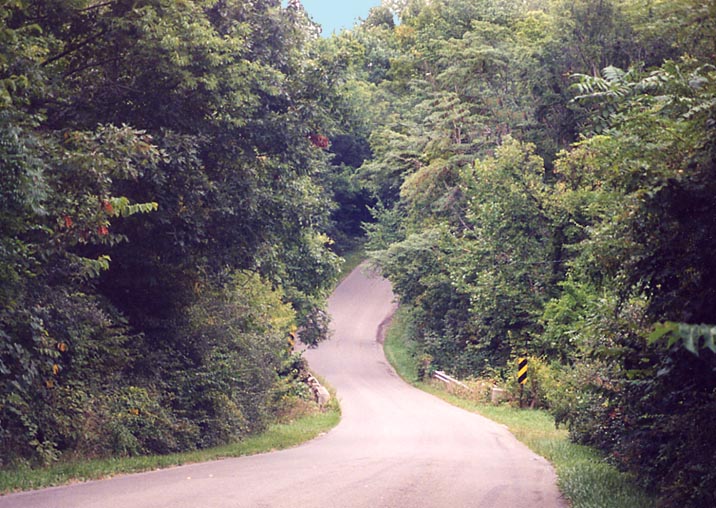 So called Beggar-Louse Hill -- This location is still as treacherous for cars today as it was for horses and wagons back then).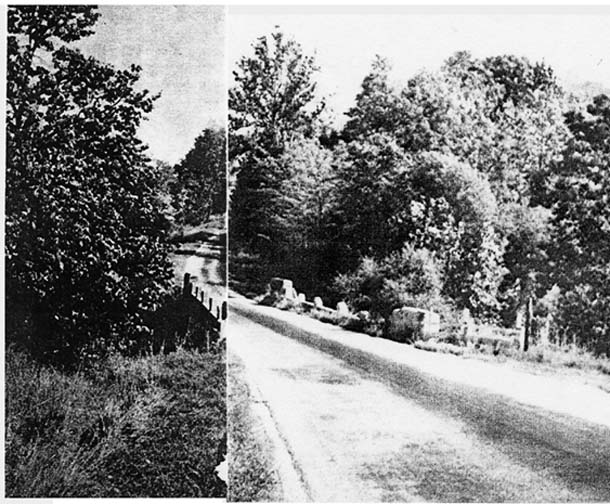 Here is a photo of the same hill which appeared with the Dispatch article in 1968 (the photographer is looking north from near the base of the hill). Just inside Morrow County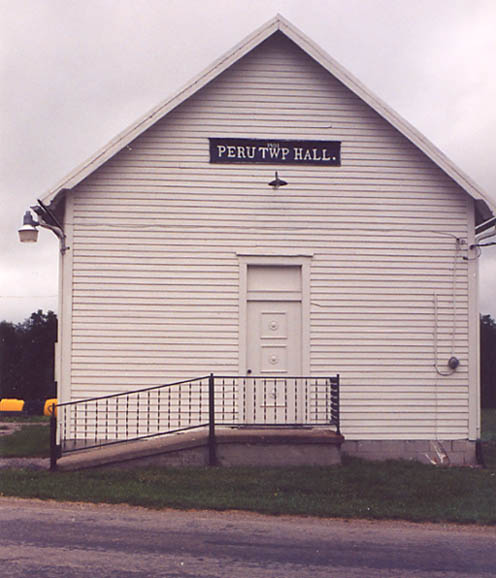 Peru Township Hall One mile north of Stantontown at Peru Township Route 223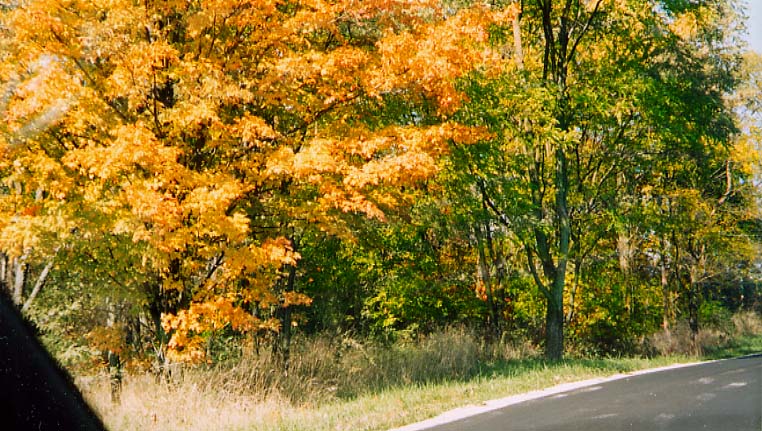 The crossing of the old New York Central line. The tracks were taken out sometime since I moved to Central Ohio in 1982 (it took me four times before I could pick up this former crossing!).
Top Photo - Looking north (from August, 2002), Bottom Photo - Looking south (from Feburary, 2003)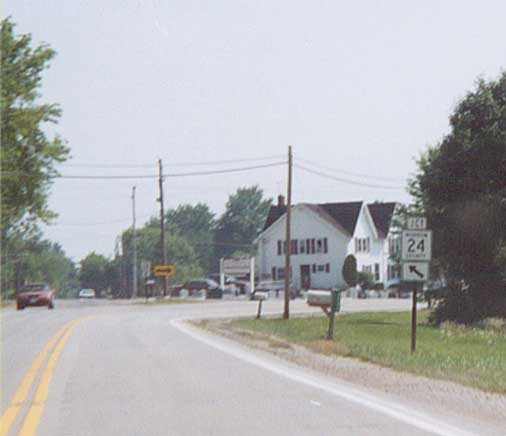 "Old State Rd" continues straight (or to the left if you prefer) as US 42 turns right as the through way.
Several miles south of Mt Gilead
Mt. Gilead Photos
How poor is Mt. Gilead/Morrow County? Technically this is style of sign one uses to announce entry into a village or city. Thus I could say there is a town called End, Ohio. However, it's Mt. Gilead's way of announcing you're leaving their jurisdiction.
SB US 42/OH 61 on the southside of Mt Gilead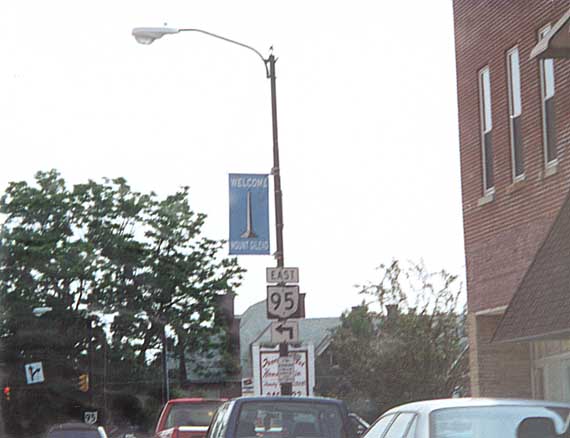 Banners welcoming people through Mt Gilead. The white point in the middle of the banner is the monument for WW I soldiers in downtown Mt Gilead.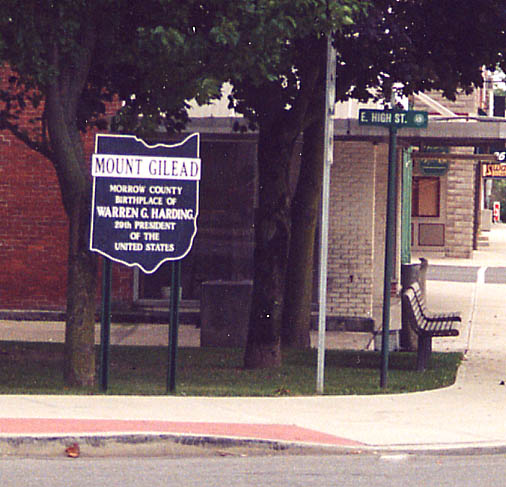 State Historical Society Marker in Mt. Gilead -- Pres. Warren Harding was actually born in Blooming Grove in northern Morrow County. High St. is one of the two main east-west streets in Mt. Gilead.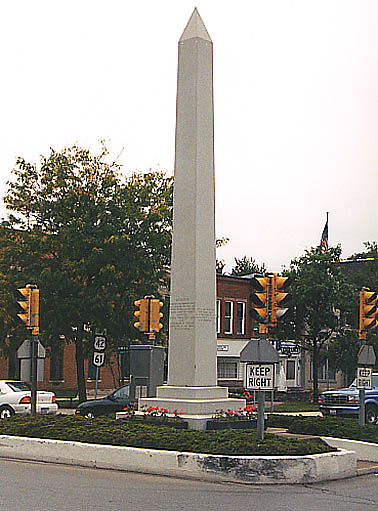 A tribute to Vets of WW I in the middle of Downtown Mt. Gilead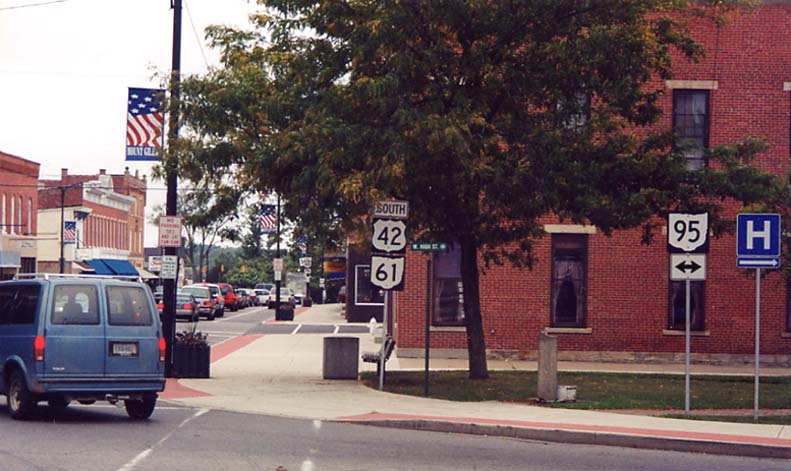 Cityscape of Mt. Gilead looking south from the NW corner of US 42/Ohio 61 and Ohio 95 West
How about 'No Turn on Red' in red? Normally these use black text, but maybe this was a special occasion. Intersection of Oh 61 and US 42 on the north end of Mt. Gilead. (From August, 2002)
Where the state of Ohio does not allow for duplicate State/US/Interstate numbers, there is no law concerning county highway numbering. Thus you have the occasion of Morrow CR 61 meeting Ohio 61. Between Mt Gilead and Galion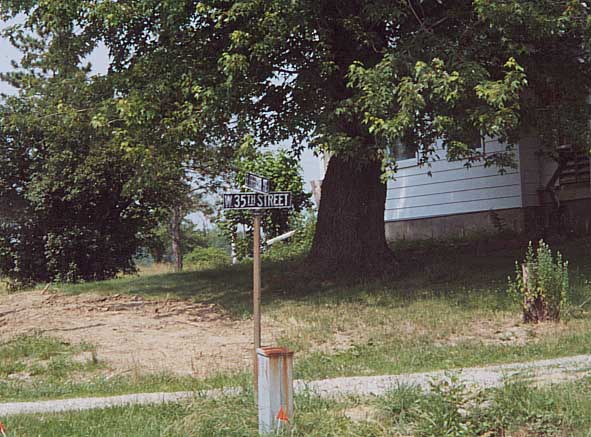 I don't think this sign is in the right place. But some Morrow County resident decided they wanted a better location than where they are. Along Oh 61 between Mt. Gilead and Galion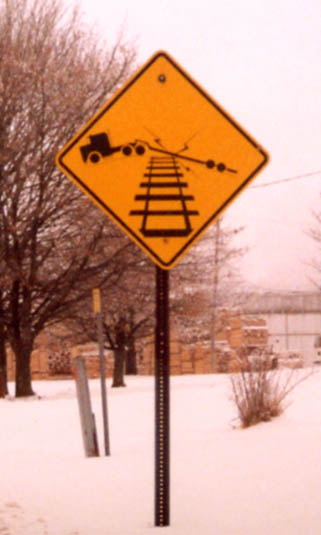 Low Ground Clearance Highway-Rail Grade Crossing Sign -- This is a new sign included in the new edition of the Manual on Uniform Traffic Control Devices (W10-5, see Section 8) which warns of railroad crossings which might be a problem for vehicles with low wheelbases. Just off of Ohio 61 near St. James (in northern Morrow County)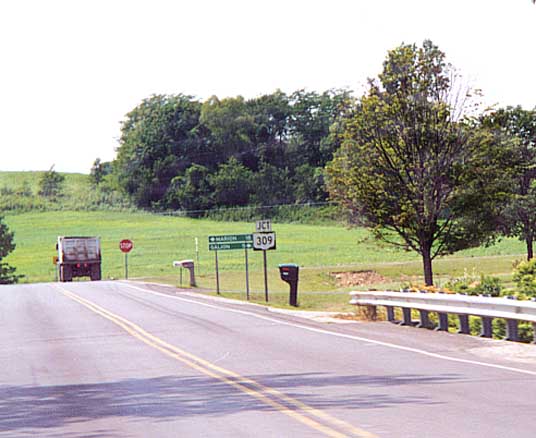 Oh 288 ends at Oh 309 just a toss away from Oh 61.
Continue north into Crawford Co | Go back south to Alum Creek/Delaware Co.
Return to the Old State Rd introduction page
Other Morrow County Photos on Roadfan.com
---
Page created on January 21, 2003/last updated on September 26, 2003
Questions and comments can be directed to Sandor Gulyas