Morrow County Roads & Bridges
---
Jump to: County Roads | Fulton | I-71 | Old US 42 | Old State Rd (seperate page)
County Roads and bridges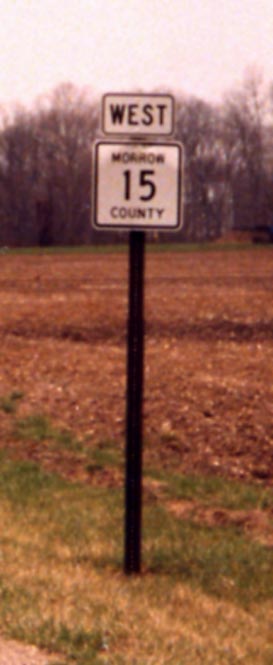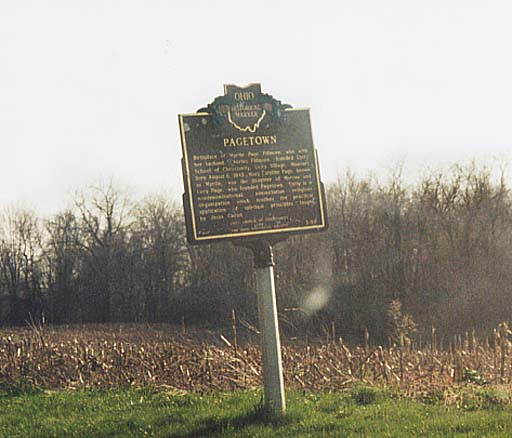 Photo above right - Pagetown Historical Marker. Something important happened at this crossroad. Found along Morrow Co. Rd 26, two miles south of Marengo
Photo left - Directional Morrow County Routes. These have only started popping up since 2000. Now if the county could just PAVE the roads.
(Note from Marc: The placement of these markers is so consistent now that it almost rivals state signage placement.)
Just because the Pavement Ends, doesn't mean the road ends. Showing that there are still plenty of gravel roads in Morrow County. Along Morrow County Rd 15 in SW Morrow County (2 miles west of my parents home).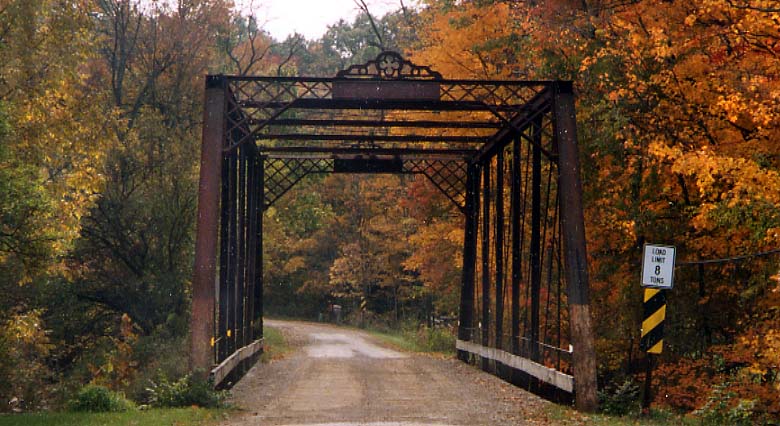 This rickety old bridge (that is wood underneith) is along Morrow County Rd 225 in Peru Twp going over Alum Creek. This iron truss bridge was built in 1917 and is still in use as of 2003. (photo taken in October, 2002)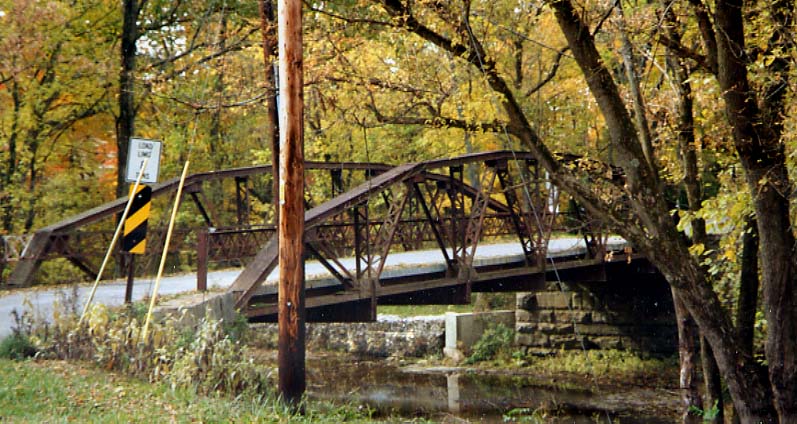 This iron bridge apears to be have been rehabed somewhere along the line (note the concrete bed). This bridge is along Bendict Rd in Peru Twp. over Alum Creek. The extra stone work on the far side of water is private landscaping, or a half-hearted attempt at a flood wall. (photo taken in October, 2002)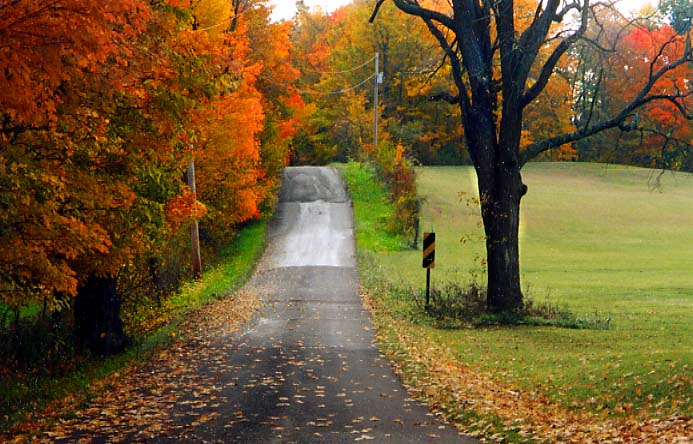 Here is Benidict Rd leading up to the bridge, in the photo above. The roadway here has to be 1 1/2 lanes wide (photo from October, 2002)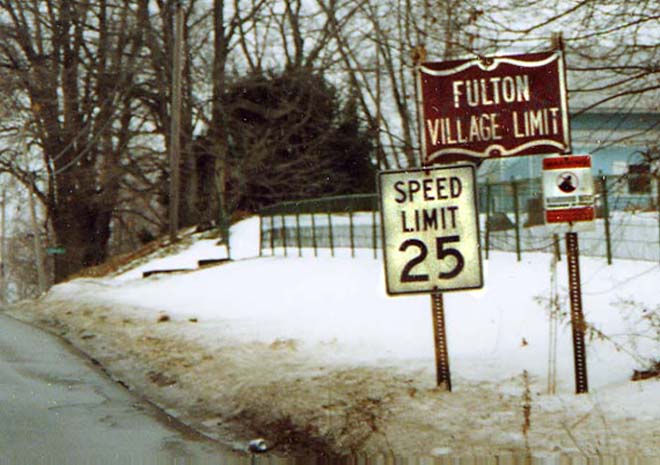 This is the town limit sign for Fulton along Morrow County Rd 25. (Photo from Feburary, 2003)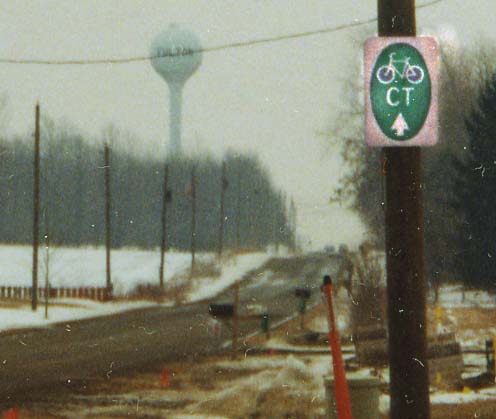 This blazer on the right is for the Cardinal Trail, a hiking/bike trail through Ohio (going west-east). Along Morrow County Rd 25, in Fulton
(photo from Feburary, 2003)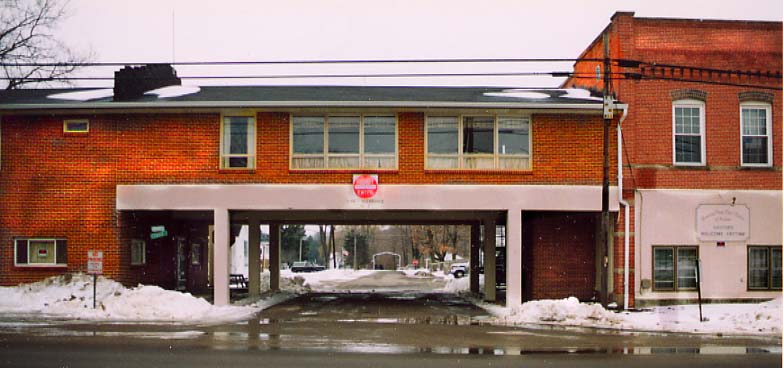 Here is downtown Fulton. It is interesting someone decided to build over the street. It's even more interesting that the underpass is one way NB, but the rest of the way it's two way (note the stop signs in both pictures). (Photos from Feburary, 2003)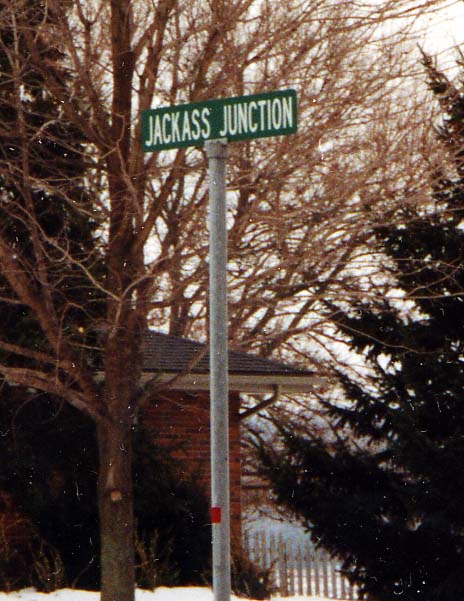 Thanks to Ray Deel, e-mailing me back in January, 2005, the reason for this sign is that the owner owns donkeys (and uses them for Donkey Basketball....that great rural Midwestern game). Along Oh 61 between Fulton and Marengo (Photo from Feburary, 2003)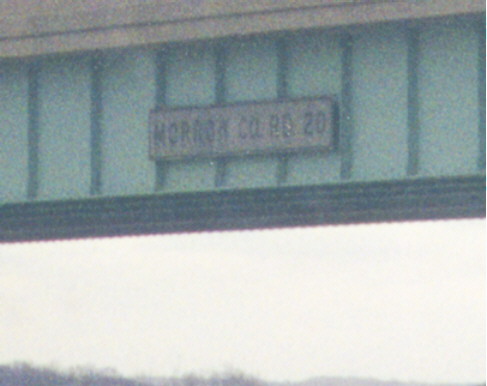 While other states use signs to identify roads and other features that cross its state-maintained freeways, Ohio no longer tries. Occasionally old ones will be found from when ODOT did attempt to do so, such as this "MORROW CO. RD 20" one on Interstate 71. (Note that this statement does not apply to the Ohio Turnpike; that highway actually has new signs like these along the sections where the conversion to three lanes in each direction has been completed.)
Update: In Summer 2000, ODOT discovered what they forgot and proceeded to remove the old signs from the overpasses on I-71 in Morrow County. <sigh!>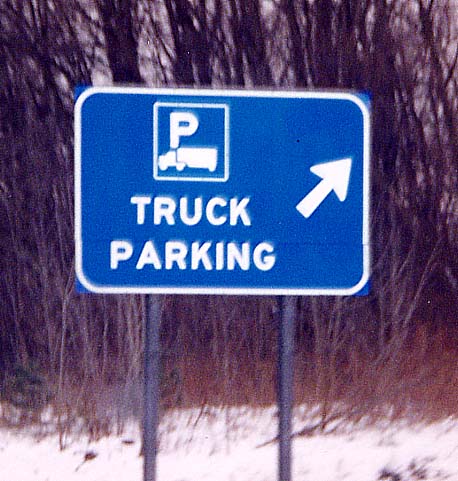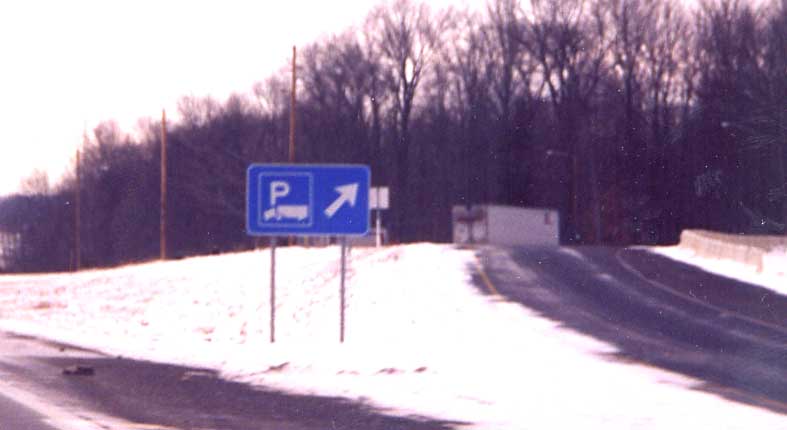 Newly instituted truck parking signs on I-71 SB about one mile south of exit 151 (Ohio 95)
Somewhere along the way, US 42 was rerouted and bypassed Johnsville. The map above shows Old 42 and current US 42. The dashed line was something I added in due to that part of Old 42 Rd is not opened to regular traffic.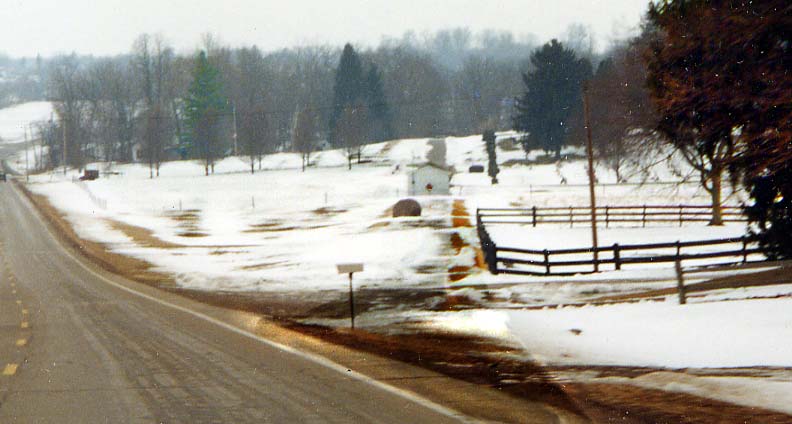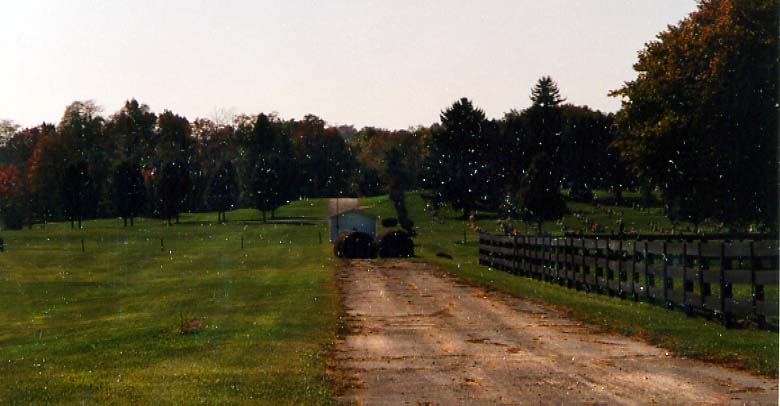 These two photos (taken 4 months apart), show old US 42 through a cemetary. A shed and a couple of rolls of hay block traffic from using this road.
Top Photo - taken in Feburary, 2003/Bottom Photo - taken in October, 2002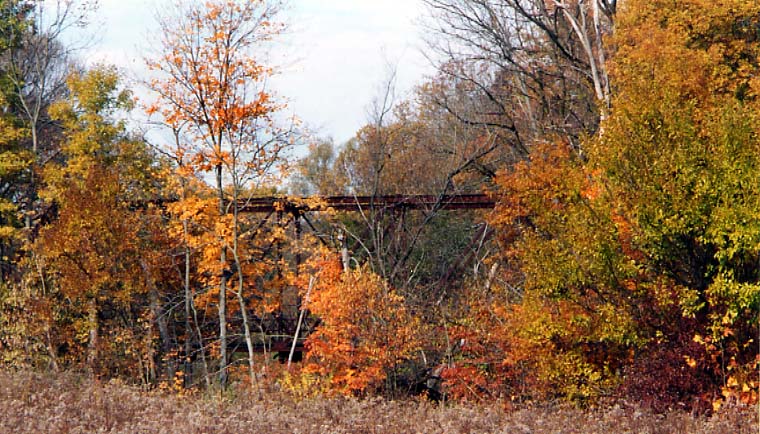 A cross section view of the (now) abandoned Old 42 bridge, northeast of Johnsville. (Photo from October, 2002)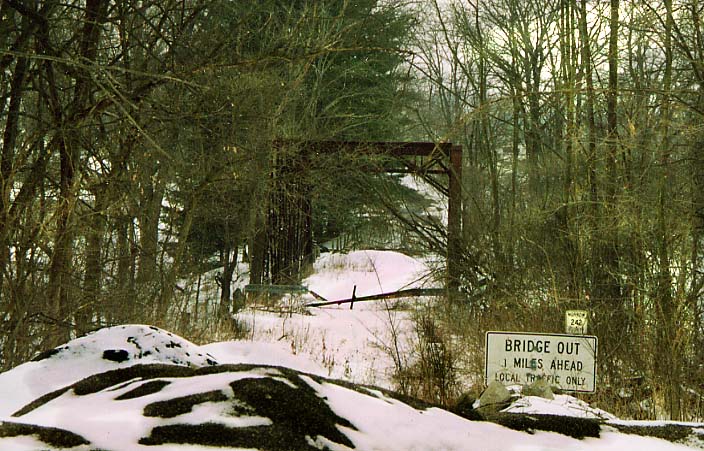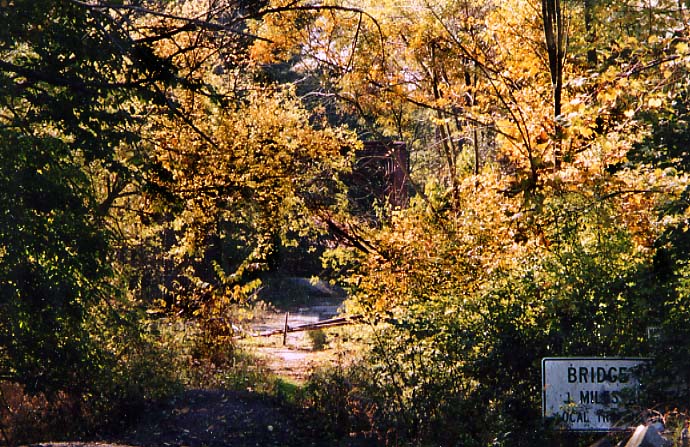 These two photos show the east end of the Old 42 bridge. The top photo with the snow and lack follage you can easily see the old bridge and signs (note the piles of asphalt blocking the way). The bottom picture...where's the bridge? It's hiding there amongst the trees.
Top Picture - Feburary, 2003/Bottom Picture - October, 2002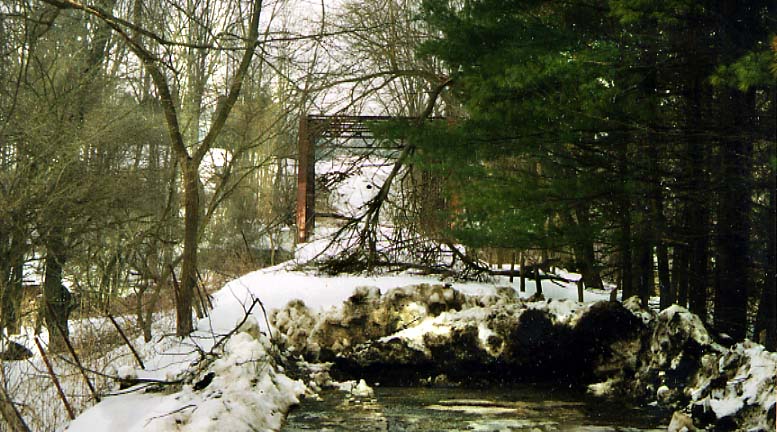 This is the west end of the Old 42 Bridge. Some downed tree branches and plowed snow block access on this side. (Photo from Feburary, 2003)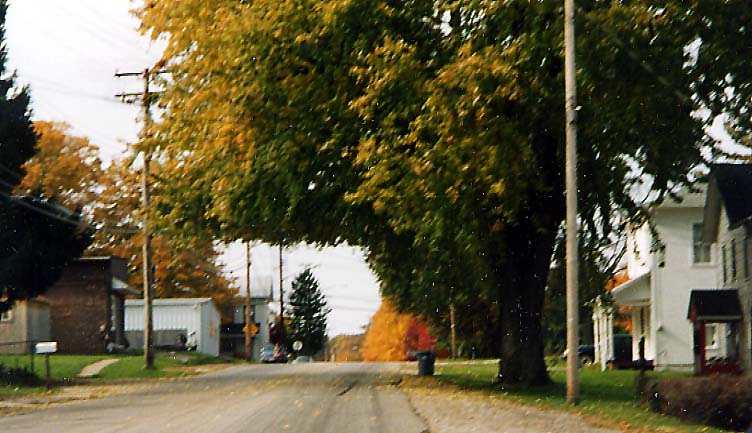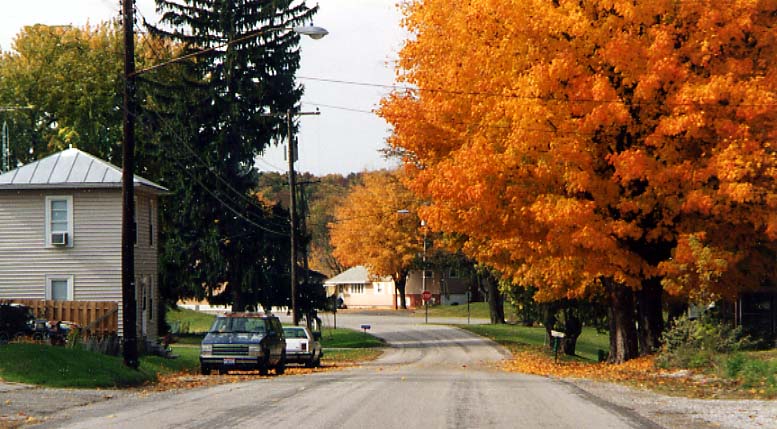 Some townscapes of Johnsville. The top photo is along Old US 42 approaching Oh 314 (and downtown Johnsville)
The bottom photo is of Old US 42 looking west at it's junction with current US 42 (west end of Johnsville)
Both photos from October, 2002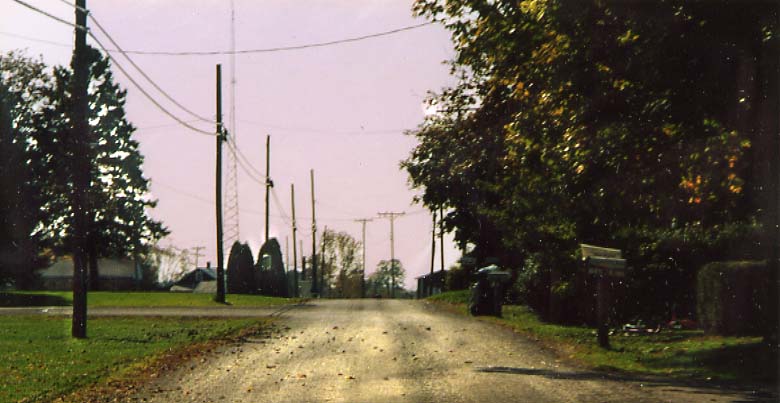 Another possible former section of US 42. This road is in Williamsport
For more Morrow County (and Mt. Gilead) Photos, continue on to Old State Rd in Morrow County
Also check out - History of Morrow County (non-roadfan.com affiliated)
---
Originally part of the Central Ohio collection, then joined at the hip with Richland Co photos/
Own page as of September 26, 2003/ last updated on February 5, 2005
Questions, comments, and submissions can be sent to Sandor Gulyas
Return to the Central Ohio Collection