---
Since 1998, Sandor Gulyas (formerly from Ohio, now residing in Louisiana) has taken many trips along the length of the Lincoln Highway
(see this page for trip logs). This page contains links to photos which he has taken on those trips.
---
Click on the state of interest, or if the image doesn't appear use the links below.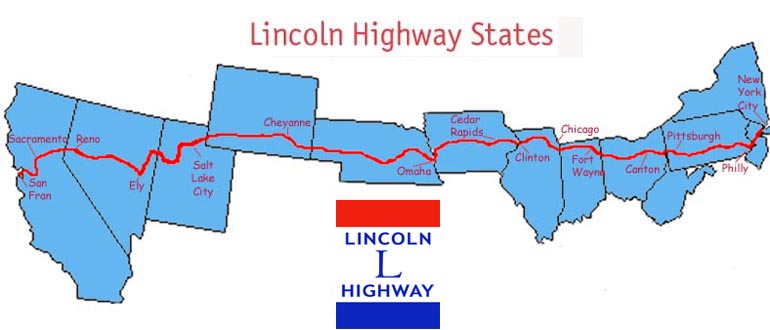 ---
California | Nevada | Utah | Wyoming | Nebraska | Illinois | Indiana | Ohio
West Virginia/Pennsylvania | New Jersey/New York
Sandor's Iowa Lincoln Hwy Pictures are now missing! Jason Hancock where are you!?
The Lincoln Highway before the Interstates - Photos along the Lincoln Highway in 1960 by Rick Tittle
---
Links to other National Lincoln Hwy Sites
Lincoln Highway study database (at Indiana Univ. in Pennsylvania)
Lincoln Highway Association Digital Archives (at Univ. of Mich)
James Lin's Lincoln Highway site
National Park System Lincoln Highway Study page
FHWA/Richard Weingroff History of the Lincoln Highway
Lincoln Highway West - John St. Clair
---
This page created Tuesday, August 15, 2000/Last revised June 23, 2006
Comments and questions can be sent to Sandor Gulyas
Return to Sandor Gulyas' Road Trip Photos