Calumet River Valley Photos
Better known as NW Indiana
---
This is a page for the photographs from Northern Indiana which didn't match the subject matter on Michiana Road Photos.
---
The Borman Expressway
The Borman Expressway is one of Indiana's first urban freeways, having been built at the end of the 1950's. It was originally designated Indiana 420; later, I-80, I-90, I-294, and US 6 were added while Indiana 420 was dropped. Since then, I-90 and I-94 have been switched in the area and I-294 now ends where it meets I-94 in Illinois, so it's now I-80/I-94/US 6 for its length, with US 41 joining between Calumet Avenue and Indianapolis Boulevard. Archived exit guide, courtesy Archive.org The Borman has been undergoing massive reconstruction since the 1990's in order to be modernized (see the project page here).
This series of photos follow the Borman east (from the I-80/90/94 interchange) to west (into Illinois)

The Indiana Toll Road interchange. I-80 leaves the Borman here and joins the Indiana Toll Road and I-90, while I-94 continues straight ahead.
Diagram / aerial photo

Here is an example of bridgework on one of the original overpasses, in this case Colfax Street (Heading eastbound)

The Broadway (Indiana 53) interchange, eastbound. Another example of a graceful but narrow original overpass.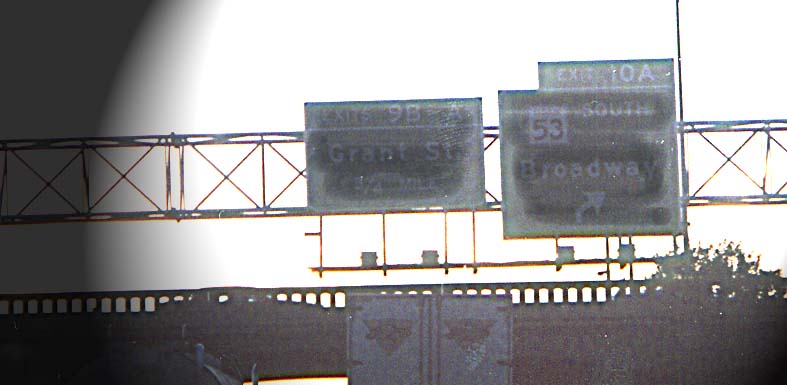 Westbound at the Broadway interchange (Yeah we know, Photo taken into the sun)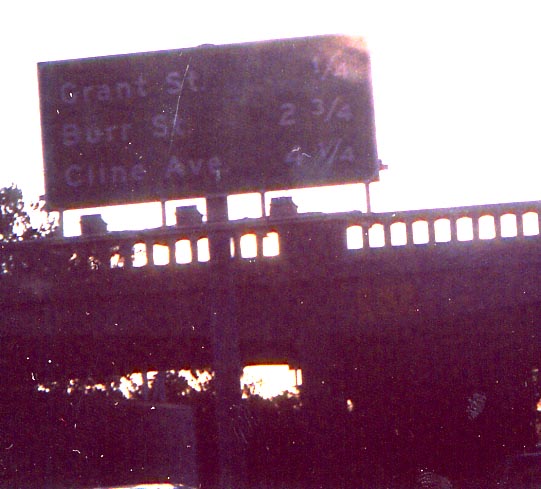 Advance exit sign approaching Grant Street, westbound. Advance exit signs like these are commonly found on freeways throughout Indiana.
Photo taken into the sun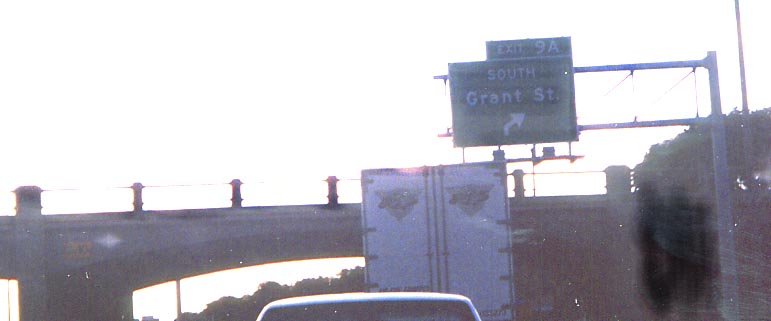 I-80/94/US 6 Westbound at Grant Street
Indianapolis Blvd Interchange

This interchange, where US 41 comes in from the south and joins the Borman to the west, leaving Indianapolis Boulevard to the north as Indiana 152 (whose number is derived from retired US 152 which used to run here), is one of the ones already upgraded from its original form (before / after). The photo above was taken from the southeast corner of the interchange.
Looking south on Indianapolis Boulevard inside the interchange with I-80/94/US 6/Borman Expwy.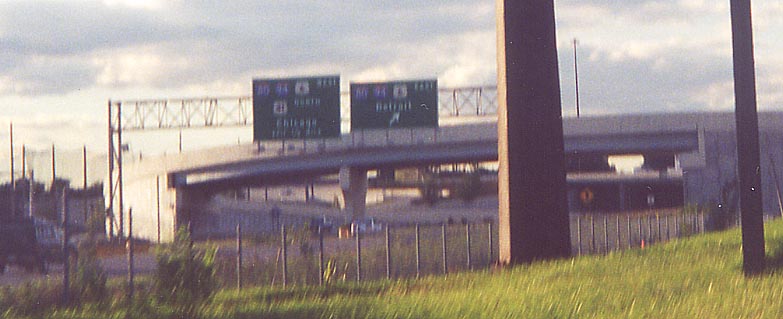 Indianapolis Boulevard at the Borman Expwy., looking north

Looking NB from Indianapolis Blvd at the interchange. David Greenberger has another view on this page.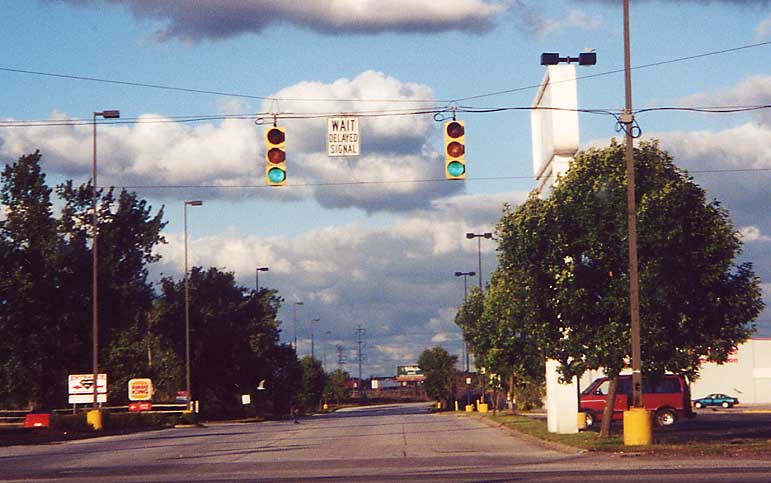 "WAIT DELAYED SIGNAL" on US 41 (Indianapolis Boulevard) just south of I-80/94/US 6/Borman Expwy.
Illinois
Whoops, we've gone too far. We're now in Illinois. What was the Borman is now called the Kingery. (The Kingery is also planned to be reconstructed -- go here.)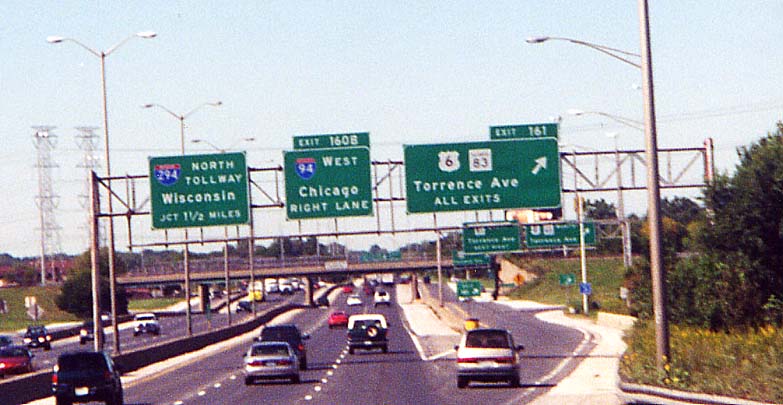 I-80/94 Westbound at US 6 Westbound/Illinois 83 (Torrence Avenue)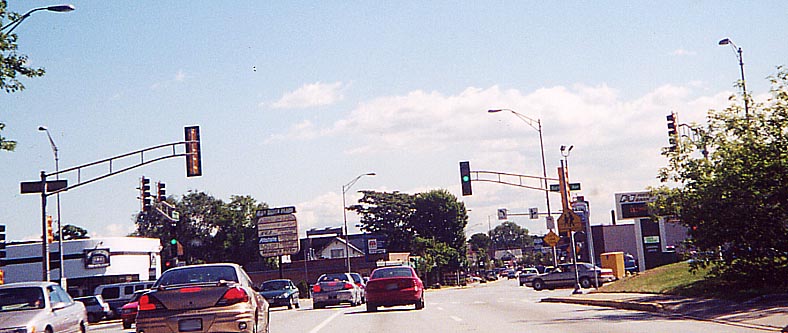 Intersection on Illinois 83 Southbound south of I-80/94 in Lansing
Other photos from the area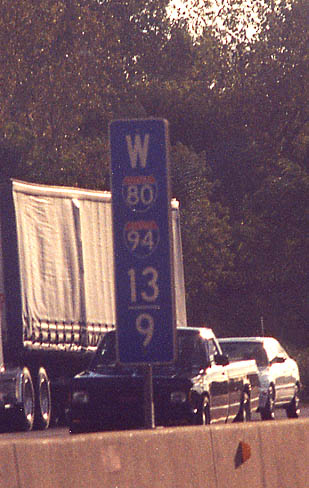 At the time we took this photo (Sept. 2000) These tenth milemarkers, as well as special ramp signs, found all along the Borman, were a curiosity to all of us "roadgeeks". As time has progressed this type of signage is appearing in more metro areas in the United States (see the middle of this page for details).
This particular one is located on the Borman Expwy (I-80/94/US 6) in Gary.

Now I understand why Elwood and Jake Blues hate Illinois Nazis. On Ridge Road (Business US 6) in Munster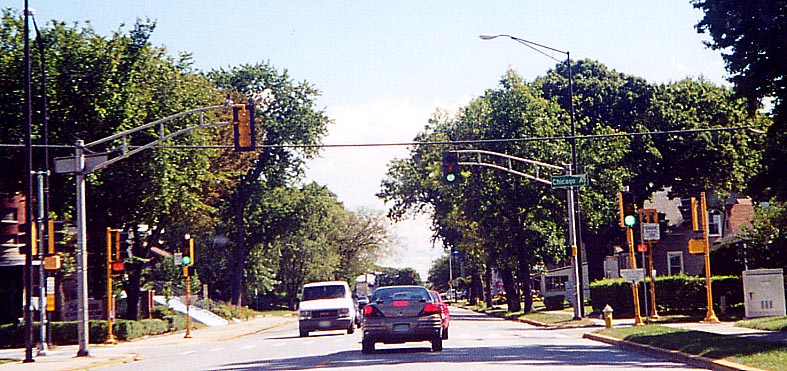 Ridge Road (old US 6) at Chicago Road in Lansing, Illinois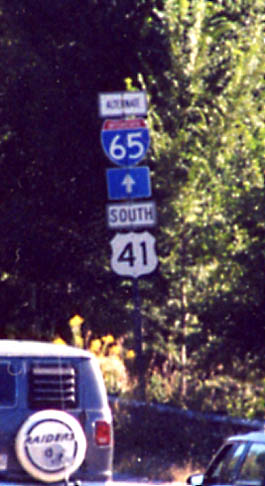 These signs show up along US 41 in Northwest Indiana in an attempt to help funnel traffic away from construction spots (then the contractors forget to take them down). This one is located going south from the 81st Street intersection, just south of the Borman Expressway (I-80/I-94/US 6).
Stephen Summers provides us with another view from this page.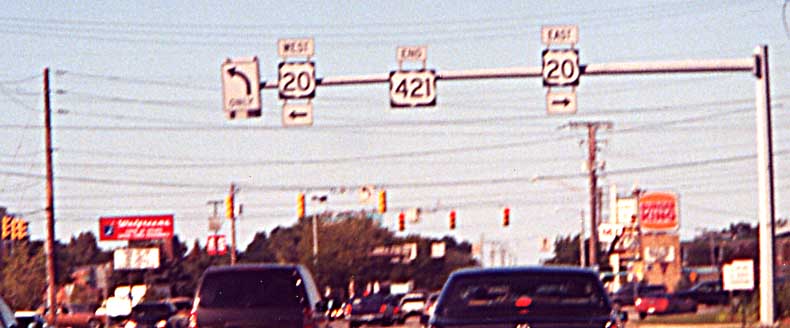 The northern end of US 421 is at US 20 just south of Michigan City. Notice the sign assembly -- this is what Indiana does at most major junctions. The assemblies get very crowded when many routes meet at an intersection! The southern end of US 421 is in southern North Carolina, a few miles south of Wilmington.
Stephen Summers provides us with another view of this end on this page.
---
Northeast Indiana photos

Another case of Big brother watching out for us. These signs are found along Indiana's long-distance freeways (although I've never seen them along the Toll Road). This one in particular is along I-469 Southbound outside of Fort Wayne.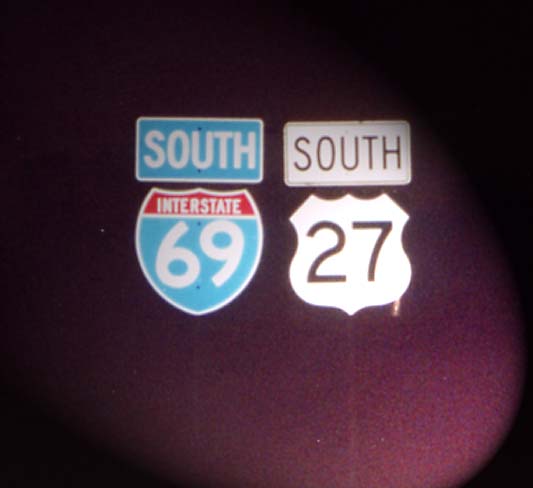 In the late 1990's Indiana and Michigan decided to remove US 27 north of Fort Wayne (go here and here for details). In September 2000, only a handful of US 27 shields were left in Indiana, like this one near Auburn.
---
Links
---
This page created Thursday, January 4, 2001/Moved to roadfan.com April 14, 2001/Renamed May 2, 2004/Last revised December 6, 2004
---
Return to Michiana Road Photos