North(west) Central Ohio

Wyandot County Marion County

---
Wyandot County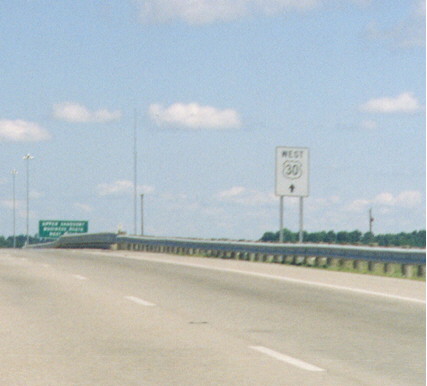 When a new connector highway northwest of Upper Sandusky was completed between U.S. 23 to the old Lincoln Highway routing of U.S. 30, U.S. 30 was piggybacked along U.S. 23 north and west around Upper Sandusky to the new connector road to its older route. This sign, not a common design in Ohio, was posted on U.S. 23 Northbound prior to the U.S. 30 eastern interchange to inform drivers to continue straight for U.S. 30 Westbound and not to exit, as was formerly the case. (Go here for a map of the area.)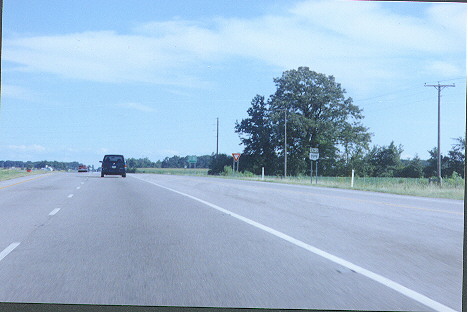 Yes, this is where Ohio 199 ends, but the sign at this point is more of a formality than a guide for motorists (since it's at the very end of an entrance ramp to U.S. 23 Southbound). US 23 used to go where the electric poles are along the right. Southeast of Upper Sandusky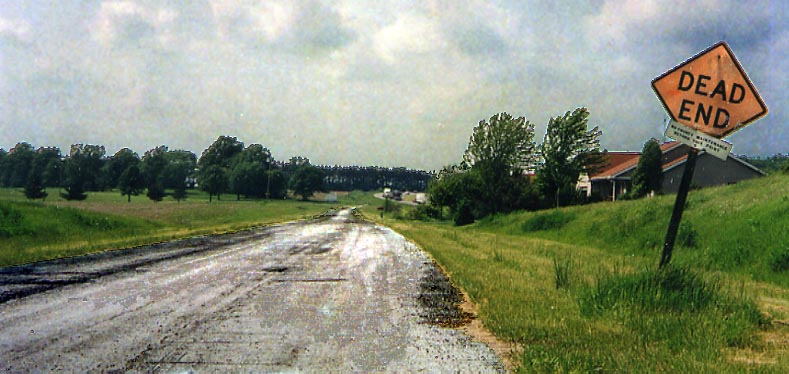 This is a remnant of US 23 before the 4 lane highway was built (out of the picture to the right) between Oh 199 and Oh 294. That white placard underneath the Dead End sign mentions that the county doesn't maintain this part of the (old) road anymore. (Photo taken in May, 2004)
Here is a relic from the 1950s, that sign for Little Sandusky Creek is left over from when this road was US 23 (US 23 now bypasses this to the east). Now it stands undisturbed after all these years. Twp Rd 131 (Old US 23) just south of Oh 294 (Photo taken in May, 2004)
---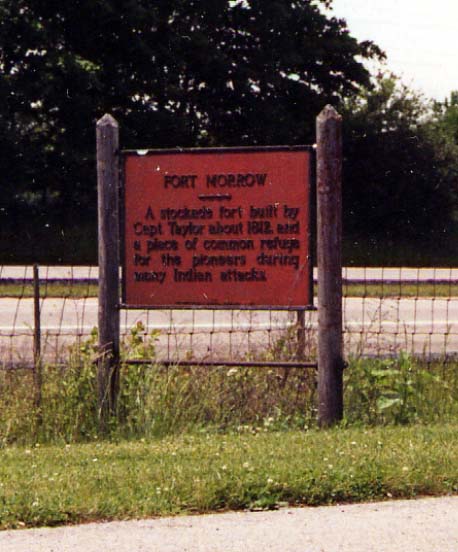 A placard commemorating something that doesn't exist anymore. Fort Morrow once stood between Waldo and Norton near US 23. (Photo taken in May, 2004)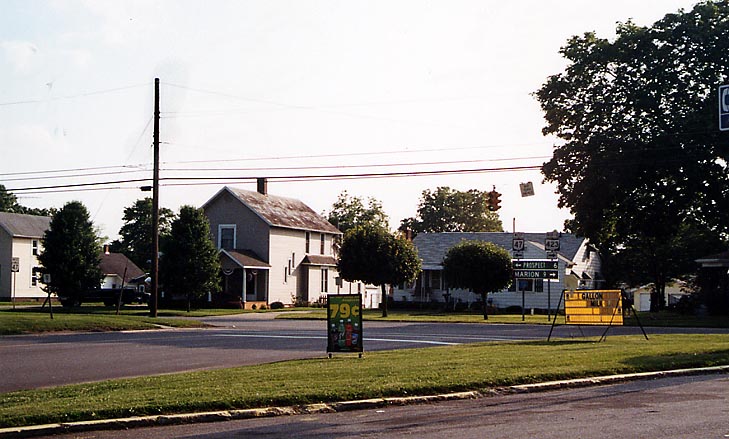 The end point for Oh 47, 98, and 423. Due to rerouting of US 23 around Waldo, three state routes were made to meet at one point. Only other place I've seen more state/US routes end at, in Ohio, would be at Public Square in Cleveland.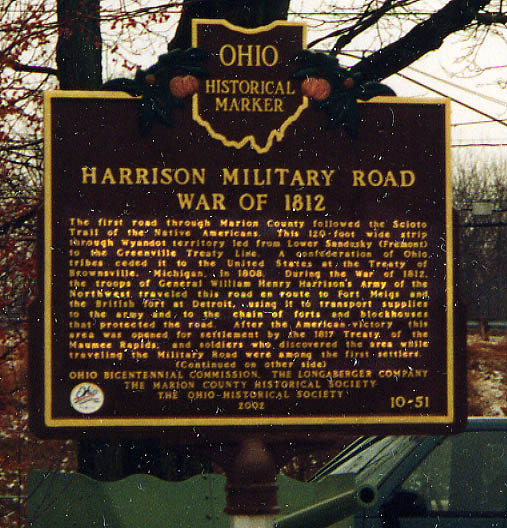 Discovered this sign in Waldo back in January of 2003. Anyone know anymore about what this placard is talking about?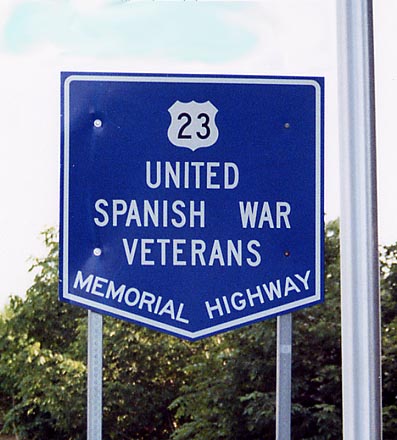 The Official name for US 23 in Ohio. I think this is in reference to the Spanish-American War and not the Spanish Civil War. Found at Marion County rest area between Waldo and Marion.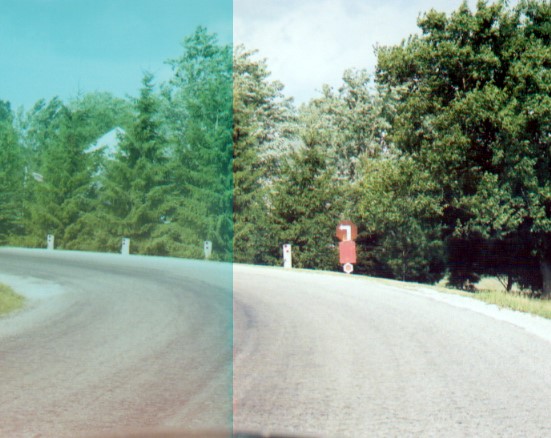 This is not a photoshop experiment gone haywire, more like me trying to compensate for a photo developing error (you can guess which side).
Of note in this photo was the homemade left turn sign using a stop sign. Along Neumans-Cardington Rd, NE of Waldo. (Photo taken in July, 2004)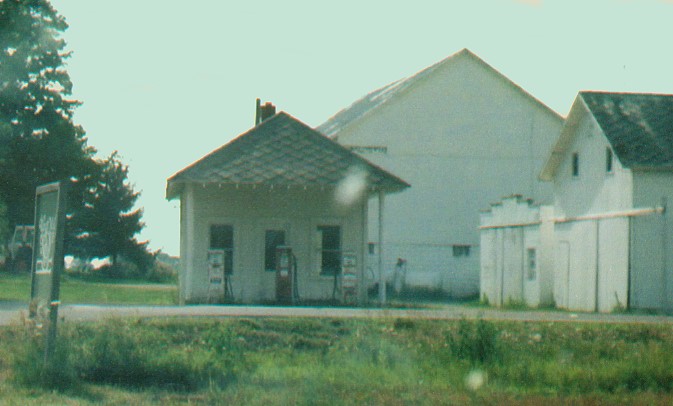 This gas station has been abandoned for quite a few years. Along Oh 98 just north of Waldo.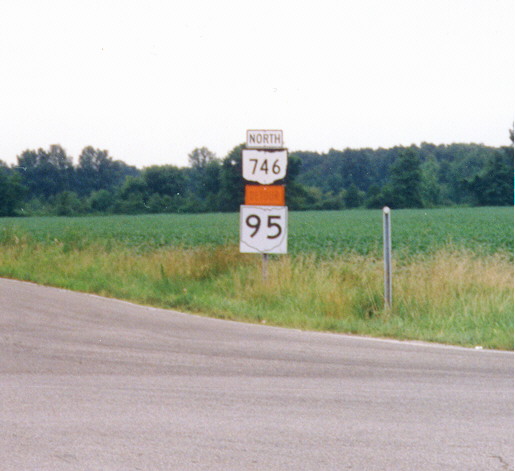 "Homemade" Ohio 95 route marker. Actually, contractor made. Note the absence of a black background on the OH 95 shield. Oh 746 at Oh 529, just west of the Marion/Morrow County Line in Marion County
Now granted this structure is for railroads and trains, but could someone still fill me in as to what it is? Near US 23, NE of Marion (Photo from June, 2003)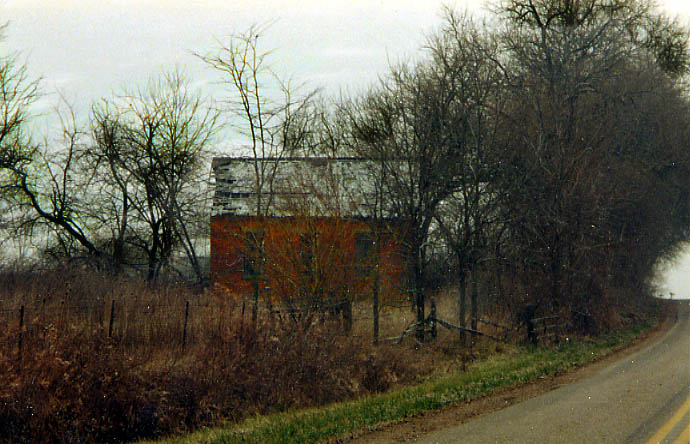 An abandoned schoolhouse northwest of Marion (you can see from US 23, as evidence by this photo). Photo taken in December, 2004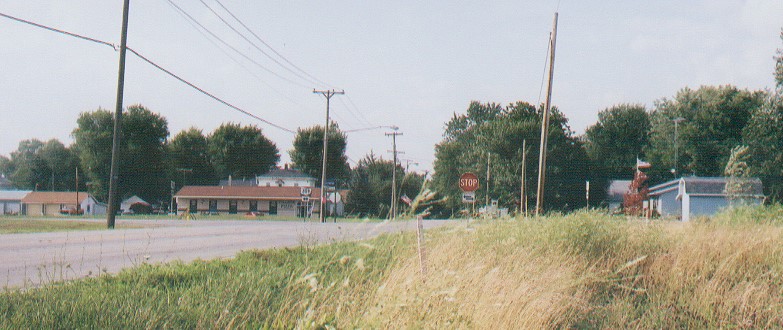 The northern end of Oh 746 at Oh 309, on the south edge of Caledonia (paging the spirit of Louis Jordan). I suspect that Oh 746 actually used to go north a couple more blocks and end within the town center of Caledonia (and then US 30 South). (Photo taken in July, 2004)
Follow the blue signs to Martel and General Mills. (Photo taken in July, 2004)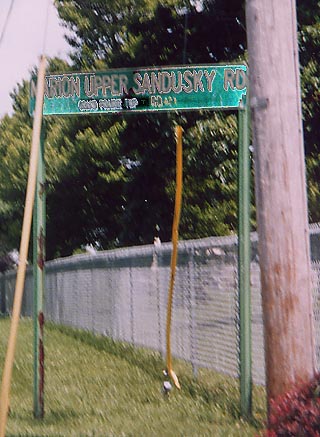 Former route of US 23 (north). Marion Co. Rd 423 at the northern end of the Marion bypass. While if you turn around from this road sign you'd see....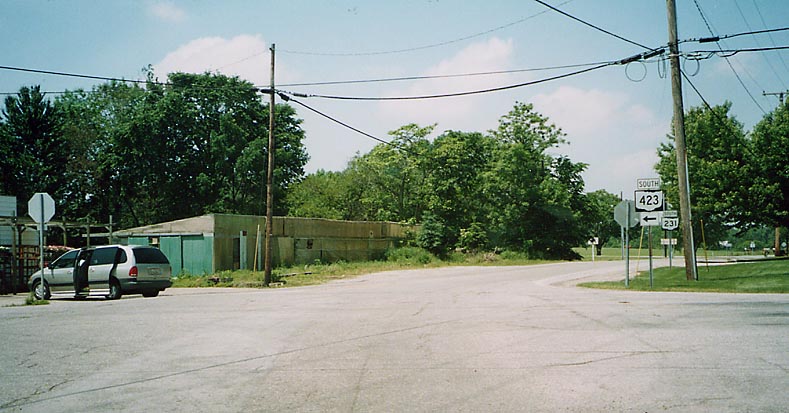 The north end of Oh 423. Just your typical, blase, run-of-the-mill, standard state highway end. Oh 423 at Oh 231.
Prospect Scioto River Bridge
Located on the west end of downtown Prospect, it carries Oh 47 over the Scioto River.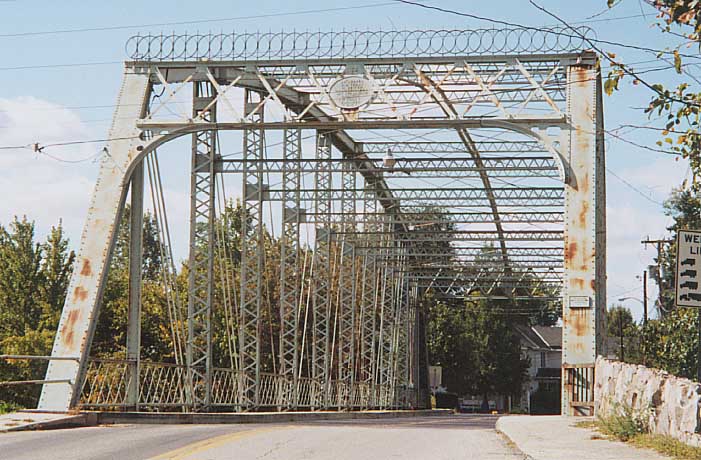 Closer photo of the bridge, iron grate to drive over, truss design, and no that's not barbed wire across the top.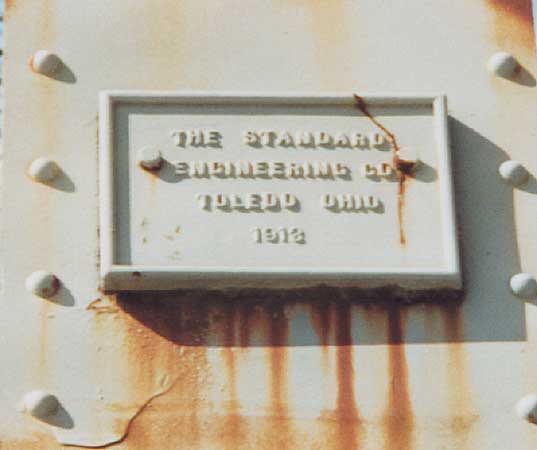 Close up on plaque (on left side of bridge enterance) showing engineering firm who built the bridge and date of completion
(I believe the date reads 1918).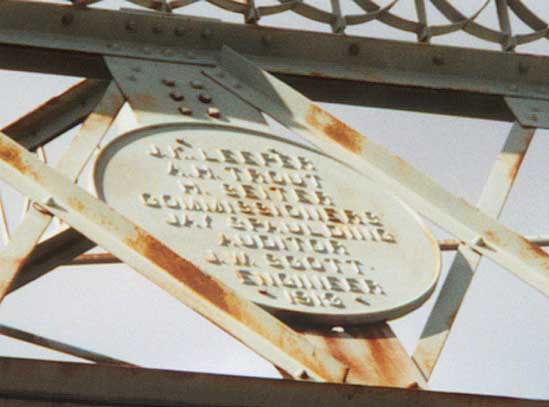 Plaque on top center of bridge enterance with a listing of Marion County politicos back when bridge was completed.
UPDATE - From Sundance in SW Marion Co. - it is now closed [as of July, 2003], and is a real hardship on the village of Prospect and the surrounding area, fire service, Emt service, local people commuting to and from business and finically, being closed is a real burden to the community. If you get back to the bridge walk to the center and look at the main structure on the bottom of the North side and you can see how the ice in 1959 bent the iron, the bridge was closed then because the feeling was the high water and ice was thought to take the bridge out. I guess since the bridge is closed you might want to think about walking on it the local law might take you to task.
Abandoned building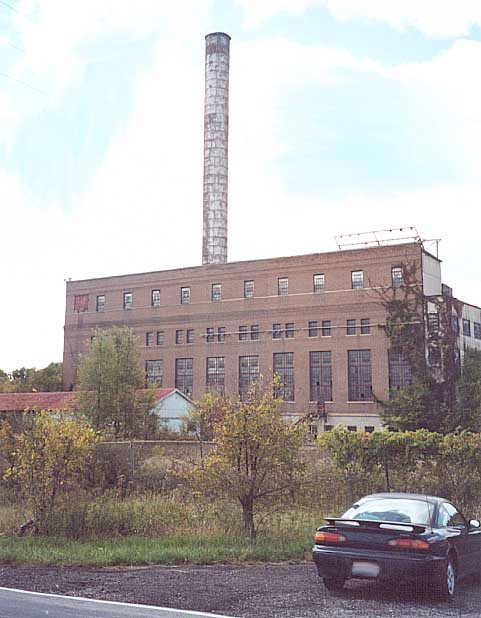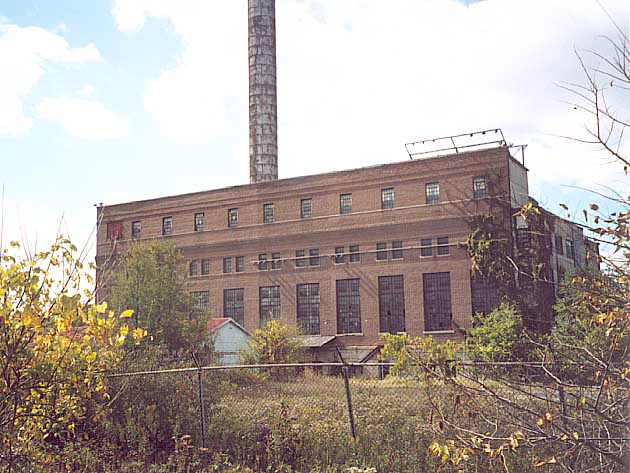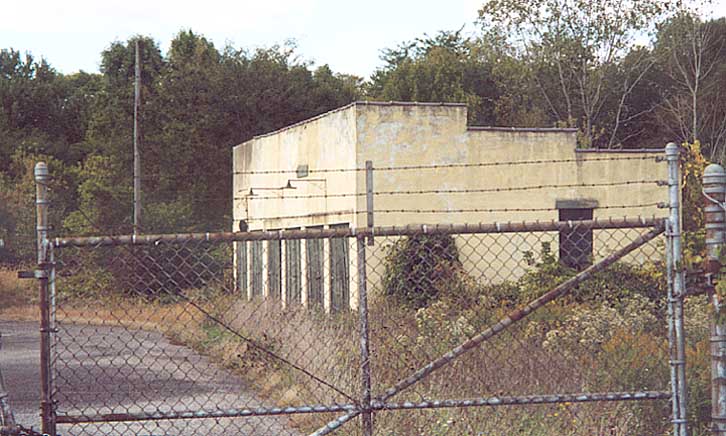 I honestly don't know anything about this building other than it dominates the rural landscape between Prospect and Marion near the intersection of Oh 4 and 203. There are a bunch of electrical wires that led to this site, and theres alot of fencing to block anyone from getting to close to this complex of buildings.
If anyone can enlighten me as to the history of this site, please e-mail me.
UPDATE - Finally, I have an answer about this building! From Sundance again - The building pictures you have that are close to the river just north of Rt. 4 are what is left of the power company that generated electricity, coal was brought to the power house by rail, the track was part of the CDM car company at one time. The CDM was ( Columbus, Delaware, Marion ) an electric car that you could ride to the three names listed. The dam on Gast Road, south of Prospect, was installed to raise the water level north of it so the power company had water to cool the turbines. During WW2 the electric plant had guards and a chain link fence around it. There was a taller stack of concrete on the North end of the large building to emit the coal smoke about 400 feet high. It was destroyed by demolition years ago.
---
More Marion and Wyandot County Photos can be found on the Lincoln Hwy Page and the Northern Ohio I-73 Page
Originally part of the Central Ohio Photo collection, this page was created on Nov 30, 2002/ Last updated on May 18, 2005
Comments, questions, and submissions can be sent to Sandor Gulyas
Return to Central Ohio Page