(Last revised July 29, 2019) This year's eight-day trip was to the Grand Strand.
Note: In this document, I have made links to Google Maps Street View green. Links to other pages are the traditional blue, with links not to Wikipedia articles designated by a *. All photo time stamps are Eastern Time.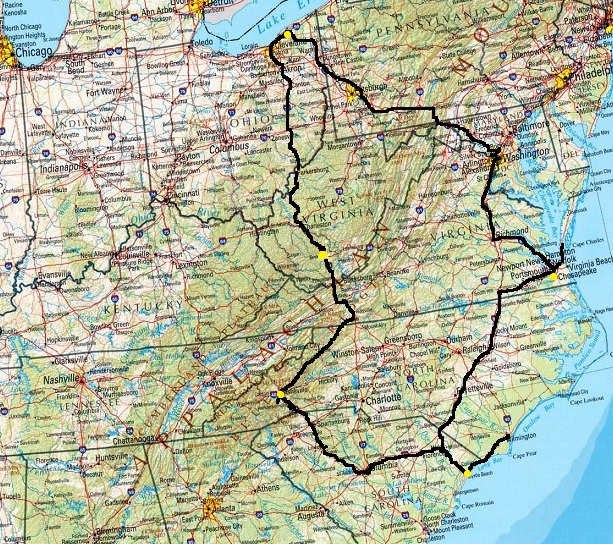 Approximate route (the above was taken from this 2001 USGS map of the U.S.; the feature names are a bit larger and clearer on that version)
Day 1: Friday, July 12, 2019 (Lake County, Ohio to Beckley, West Virginia)
We started out the trip with a slight detour west to drive past the tall ships in Cleveland (*chapter/event website). I ended up driving an extra half-hour or so because I wasn't sure exactly where they were, and en route ended up going three-quarters of the way around Public Square, where there was a leftover banner from the MLB All-Star Game festivities earlier in the week.
From Akron south, the trip was almost identical to the *2012 trip, and south of US-33/Ripley, West Virginia, was the same as the *2017 trip in the opposite direction. Three things of note: There are now *goalpost-shaped power poles along I-77 just south of the Pro Football Hall of Fame in Canton (Street View), similar to the Mickey Pylon in Florida; something that I'm surprised I never saw before, a sign denoting one of the crash sites of the USS Shenandoah airship in 1925 on the west side of I-77 a few miles south of I-70 (Street View); finally, the West Virginia State Capitol building has its dome completely covered in a cloth-like substance as part of a renovation.
We stayed in Beckley fairly close to Tamarack; the idea was to get as close to the Blue Ridge Parkway as possible. (The goal was Wytheville, Virginia, but we didn't quite make it.)
Day 2: Saturday, July 13, 2019 (Beckley, West Virginia to Asheville, North Carolina)
It wasn't very long until we reached the Parkway. There are references throughout Roadfan.com noting how this is my favorite road anywhere.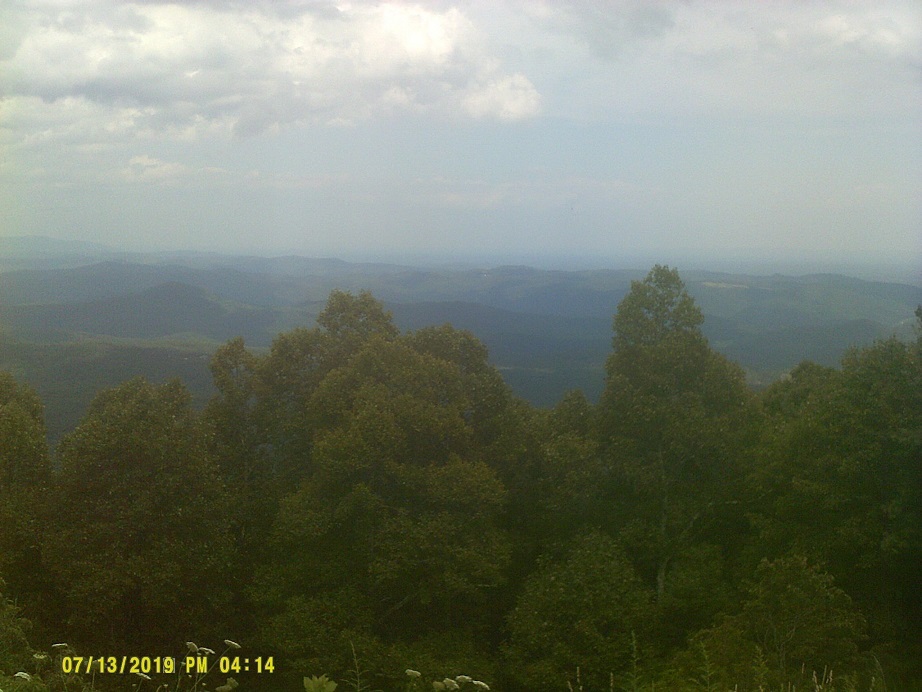 At "The Lump" (actual hill just to the right) north of Calloway Gap; there were empty signposts so I had to find the name of the overlook later
There was a photo session of a wedding party taking place at the Thunder Hill Overlook near Blowing Rock as we passed by. An Internet search shows that this is apparently fairly common.
This year, as opposed to two years ago, I better anticipated the Linn Cove Viaduct.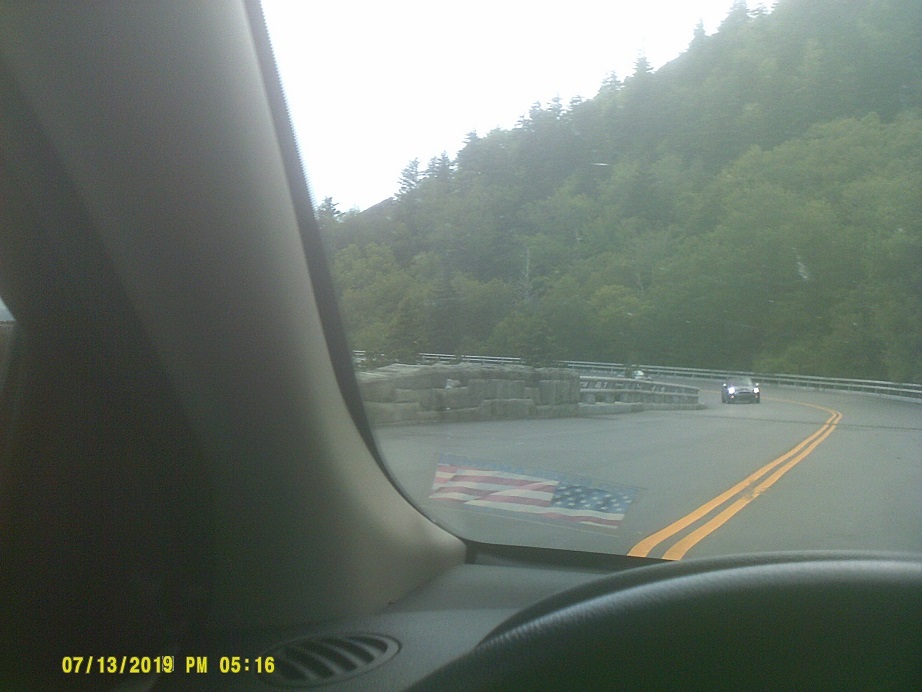 Hike to Linville Falls, take 2. Two years ago the path beyond the lower falls was closed for construction; this year we decided that the extra walk was a bit too far. Next time we'll probably just take the other, shorter trail.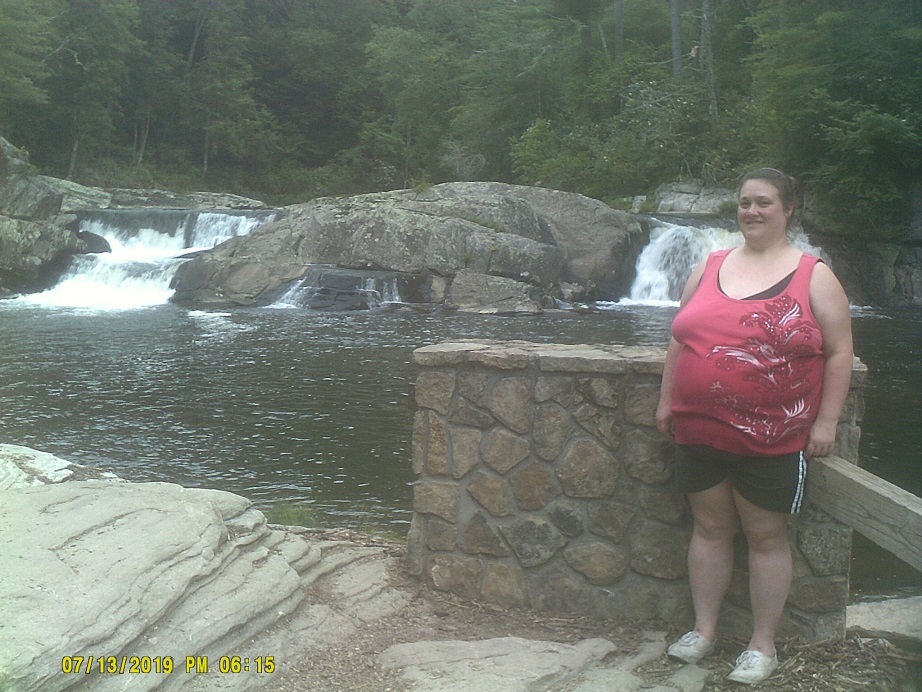 Day 3: Sunday, July 14, 2019 (In and around Asheville, North Carolina)
My girlfriend and I decided that Asheville deserved another day.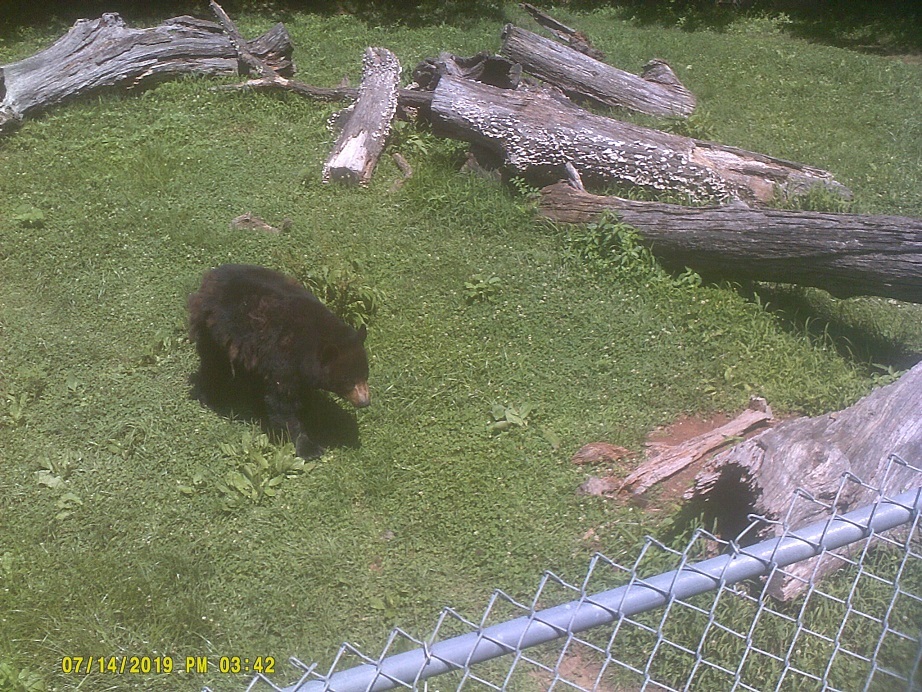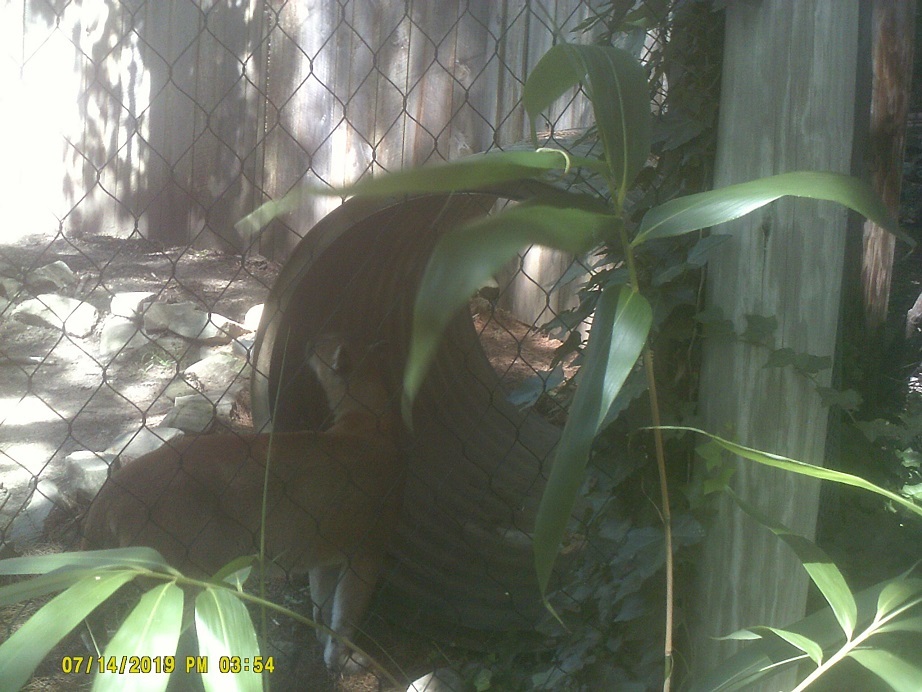 Scenes from the WNC Nature Center zoo
Something I'd been waiting for: Dinner at *Pisgah Inn, where we stayed in 2012 (and myself with my family in the 1980s) and visited in 2017. A bit pricey, but not much more than a usual night out, and we could have spent less.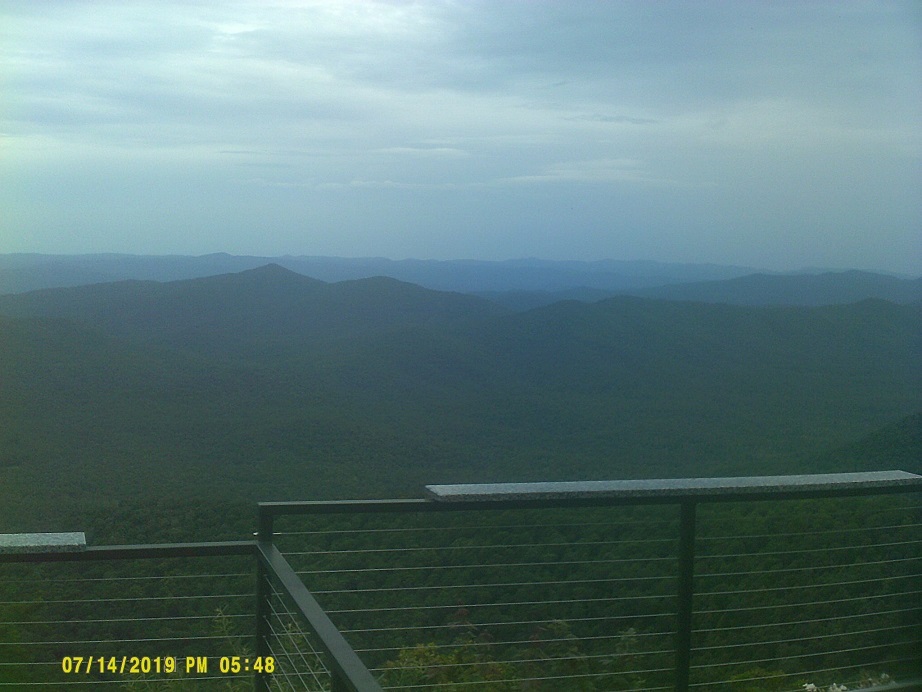 video
Two years ago I noted that the Parkway probably formerly ran behind the Inn; here's a closeup of that path, with stones that might have been part of the road base.
Of course the best way back was again NC-151. The vandalized white sign warning large trucks of the steep, winding path has been replaced with a new yellow one, matching the one at the other end of the stretch.
Token N.C. marker shot on the way back to town
We drove around Asheville around dusk, taking longer than I planned due to some crucial missing and misposted route marker assemblies.
Day 4: Monday, July 15, 2019 (Asheville, North Carolina to greater Myrtle Beach, South Carolina)
After noting that Columbia was no easier to see from I-20 as it was from I-77, I decided to backtrack on SC-277 to find food and explore briefly. Not once but twice I saw a sign for the State House pointing forward, then didn't see another before leaving the downtown area. After circling around for a bit, just as I was about to figure out where I was on a map, we drove past it.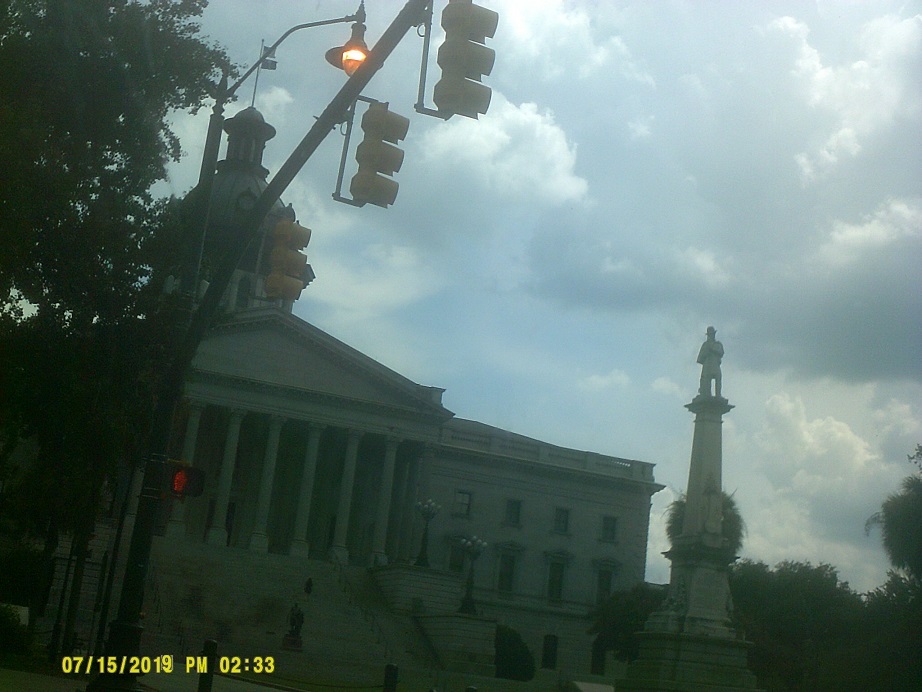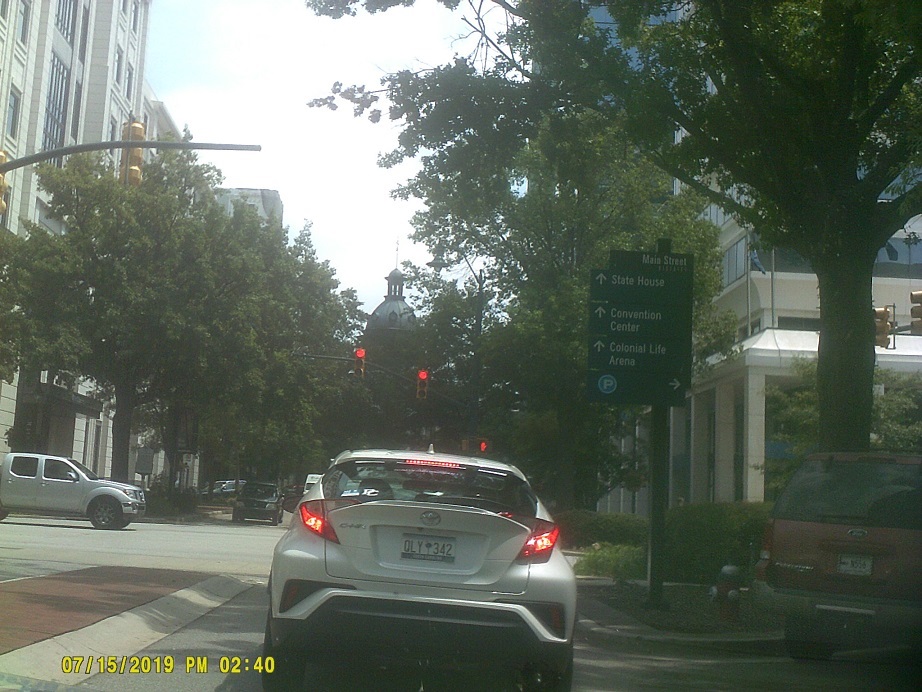 The path to Myrtle Beach from the west and southwest is well marked and very efficient, with smooth flows among the routes (US 76/301 and US-501, plus the Florence and Marion bypasses, a partially-under-construction SC-327 in part and SC-576, respectively, with a tiny bit of Business US-501 thrown in with the latter). There is now a *wayfinding sign system for the Myrtle Beach area.
Day 5: Tuesday, July 16, 2019 (In and around Myrtle Beach, South Carolina)
Taking it easy, we were shown around, briefly visiting the Garden City pier after some shoreline touring, then being treated to dinner at the *Dead Dog Saloon along the nearby Marshwalk. We generally avoided the busier parts of the Myrtle Beach area to our relief.
Day 6: Wednesday, July 17, 2019 (Myrtle Beach, South Carolina to Wilmington, North Carolina...to Myrtle Beach, South Carolina)
We headed north along US-17 towards North Carolina. I knew that I wanted to see North Carolina's Outer Banks in spite of not having a great deal of time left to visit them; I decided to go to Wilmington, which I had been interested in visiting anyway, find a place to stay, and make the final decision in the morning whether to go that way or just take I-40 to I-95.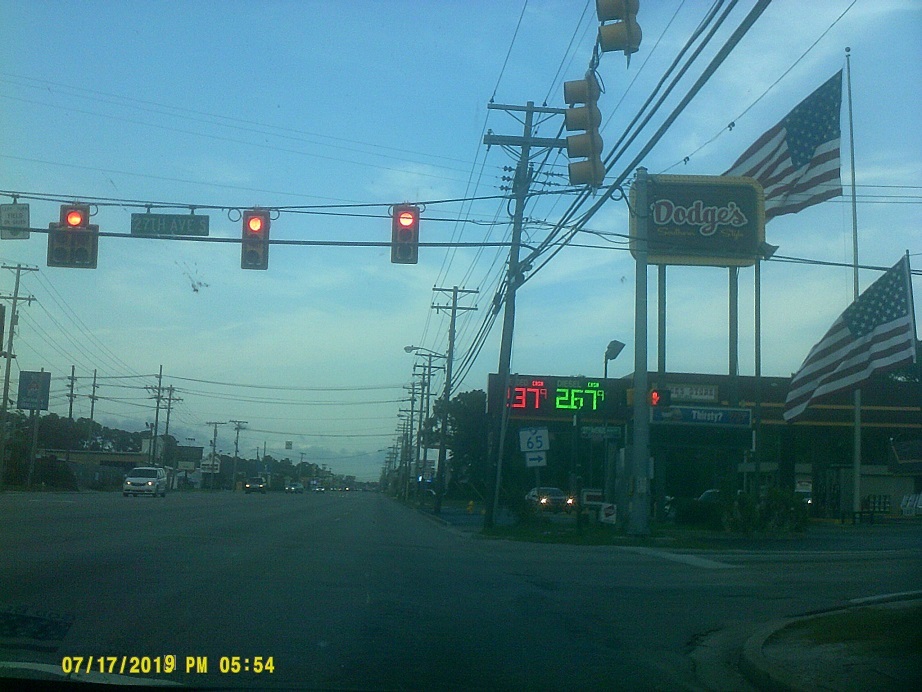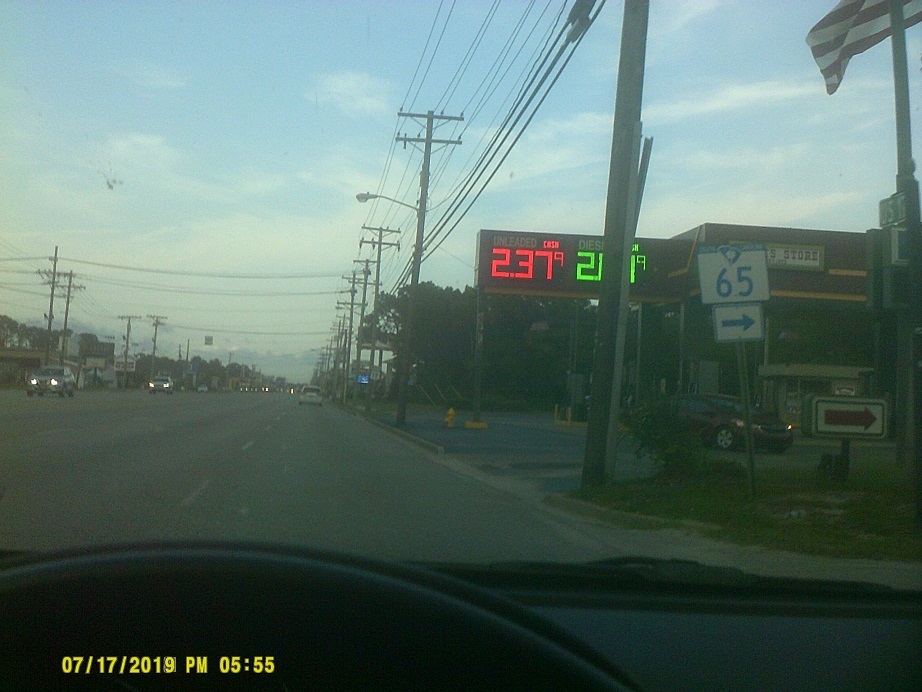 What I thought would be one of the last South Carolina markers that we'd see on the trip
US-17 into North Carolina has some fairly new Michigan lefts (*2016 local newsletter); they become superstreet intersections inside I-140.
Unfortunately, when we found the collection of hotels after taking US-17 through town (with a scary grate on the Cape Fear River drawbridge) then backtracking on NC-140 and I-40 to US-117/NC-132, that most of the hotels were booked up and the few that weren't were closed for repairs. What I didn't realize at the time, since there was no other outward indication that we saw, was that those closed hotels were still cleaning up from Hurricane Florence damage the year before. So we returned to South Carolina for a bonus night. (Incidentally, the Barstow, Calif., sign appears to have been replaced with a Michael Jordan Freeway sign. I would later realize that I visited the two endpoints of I-40 in consecutive years. That wasn't on my mind at the time.)
Day 7: Thursday, July 18, 2019 (Myrtle Beach, South Carolina to Chesapeake, Virginia)
Completely abandoning any plans to stay near the ocean until Virginia, we headed towards I-95.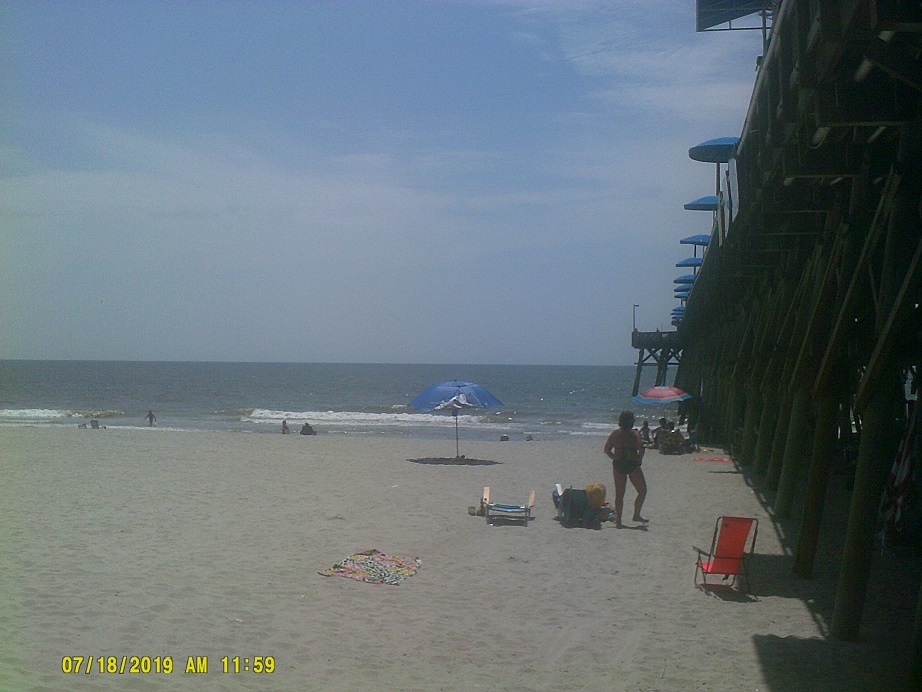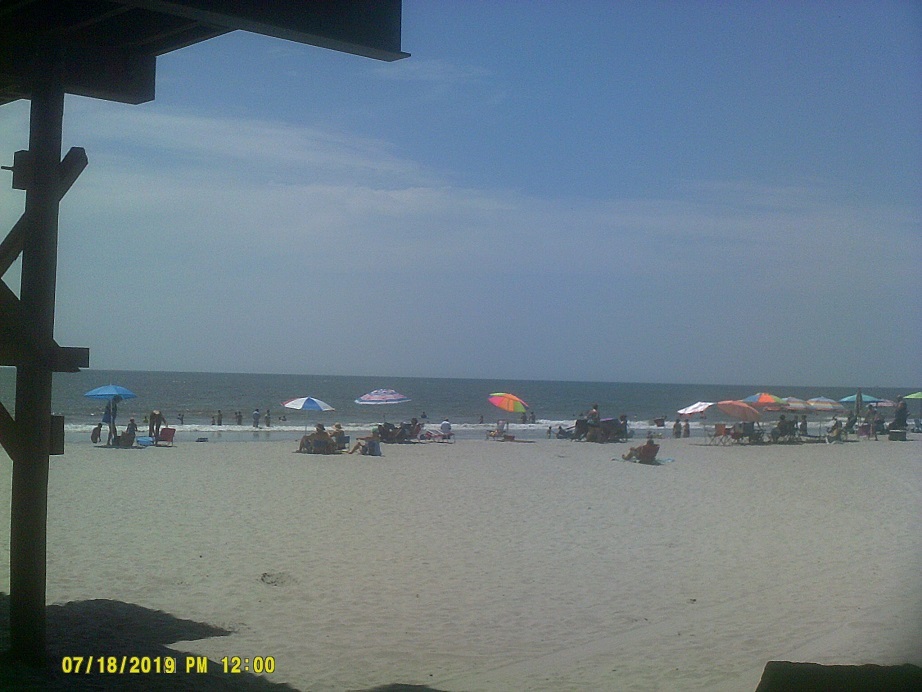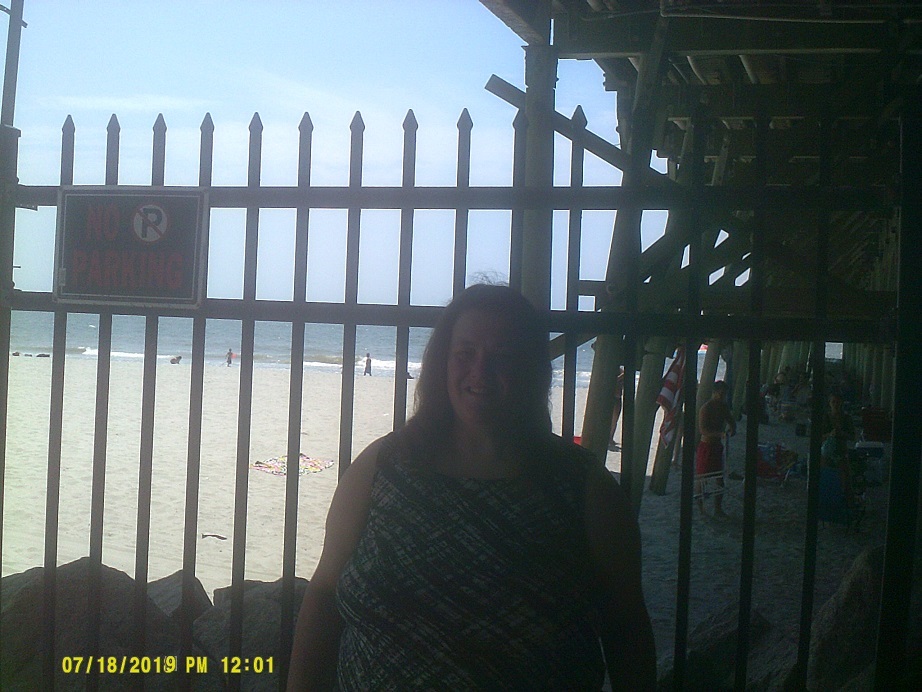 On the way out I took some pier photos that I neglected to take two days earlier.
On the direct route north to I-95, SC-38, there's an old-style route marker, pre-2007 that still looks new; it must've been one of the last ones to have been posted. I only saw a few more: A couple on SC-277 and one on SC-12 in Columbia, and one at Alternate SC-41 by Marion on US-501. Signage on big green signs is still split about evenly between old and new. As for other signage in South Carolina, they have traffic weave warning signs like Pennsylvania does, and the black-and-white stripes on some exit signs looks very retro. (Virginia has something similar, note both signs.) By the way, I saw no signs at all referring to I-73 in South Carolina.
We missed the Outer Banks, but got to see South of the Border and its numerous billboards for the first time. Whoopty-doo.
Found another diverging diamond interchange in Lumberton during a food/bathroom break, I-95 at US-301.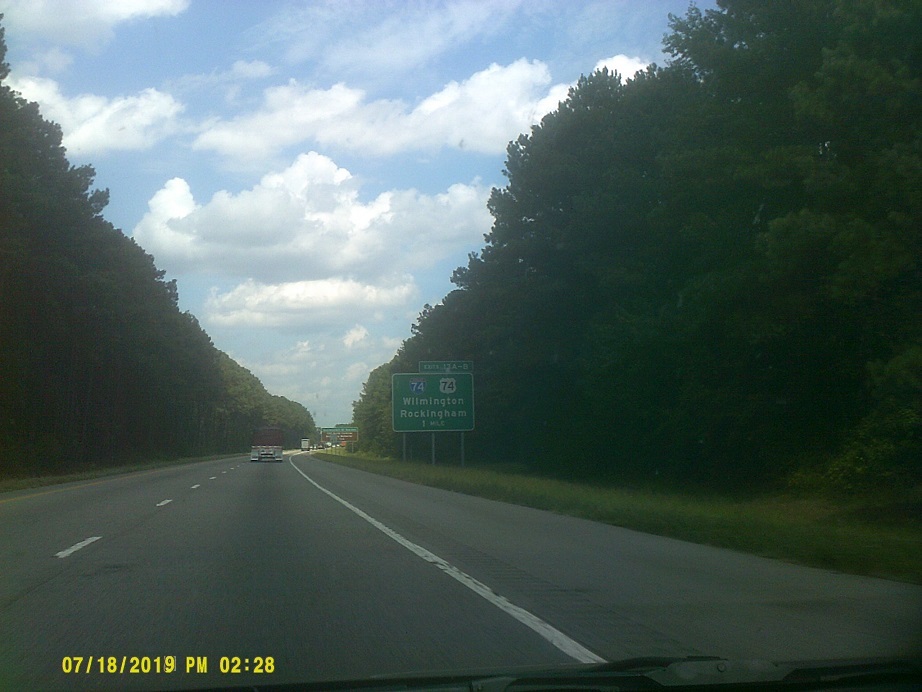 Still not a fan of this route pairing
As noted in 2012, the Carolinas and Virginia are notorious for the trees surrounding Interstates, even outside of forested areas. The ones on this trip were the same. In fact, if not for the number of interchanges and sign information, you'd never know when in the Fayetteville, North Carolina, area on I-95 that a city of about 200,000 with a large army base is right there. About the only highlight from 95 in North Carolina outside of Lumberton's frontage roads is the North Carolina and Iowa flags next to each other because the *Kenly 95 Truck Stop is part of the Iowa 80 group of truck stops.
Into Virginia, to US-58 eastbound towards the Chesapeake Bay Bridge-Tunnel.
After joining I-64 and crossing its drawbridge I noted the pillars under construction for *its replacement.
Day 8: Friday, July 19, 2019 (Chesapeake, Virginia to Lake County, Ohio)
CBBT, northbound then southbound. I didn't realize that the discount for a return trip only applied to E-ZPass users.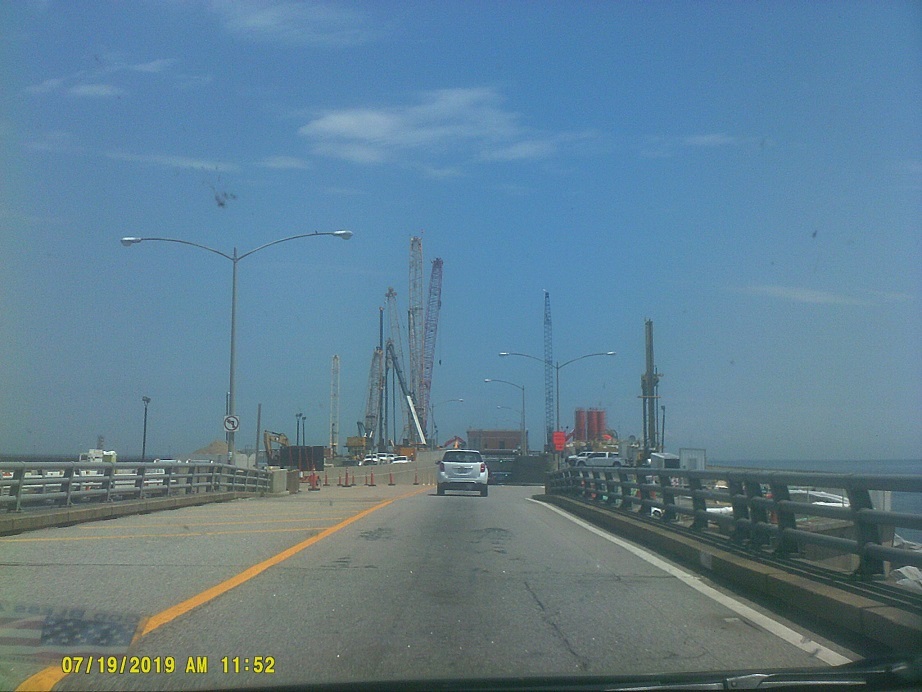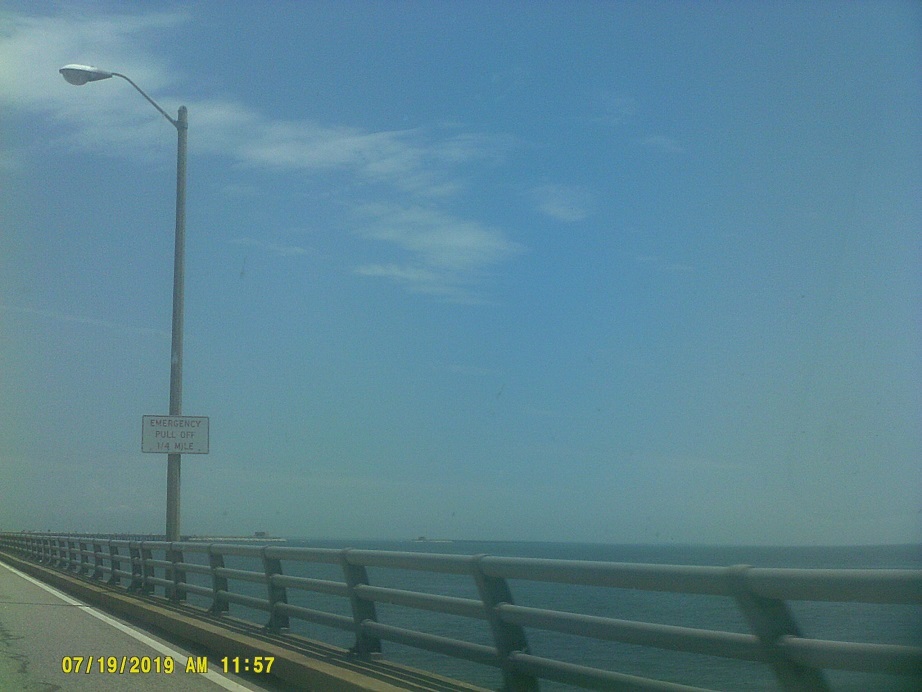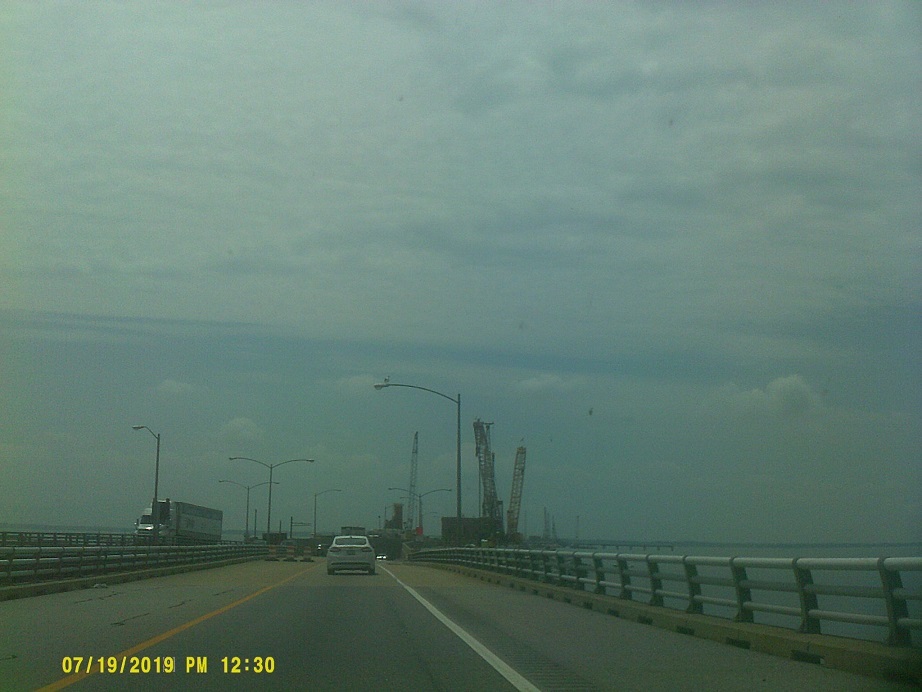 The first and last photos (looking north and south, respectively) show early construction of the parallel tunnel under the south channel. The cranes are right where the restaurant/gift shop building used to be (see *2017 trip).
Ships at Norfolk from I-64 approaching the Hampton Roads Bridge-Tunnel
From this point all the way to Washington, there was heavy Friday traffic, often stopped. Other than for construction in places, it was just due to "bunching", as the WTOP-FM traffic reporter would mention often.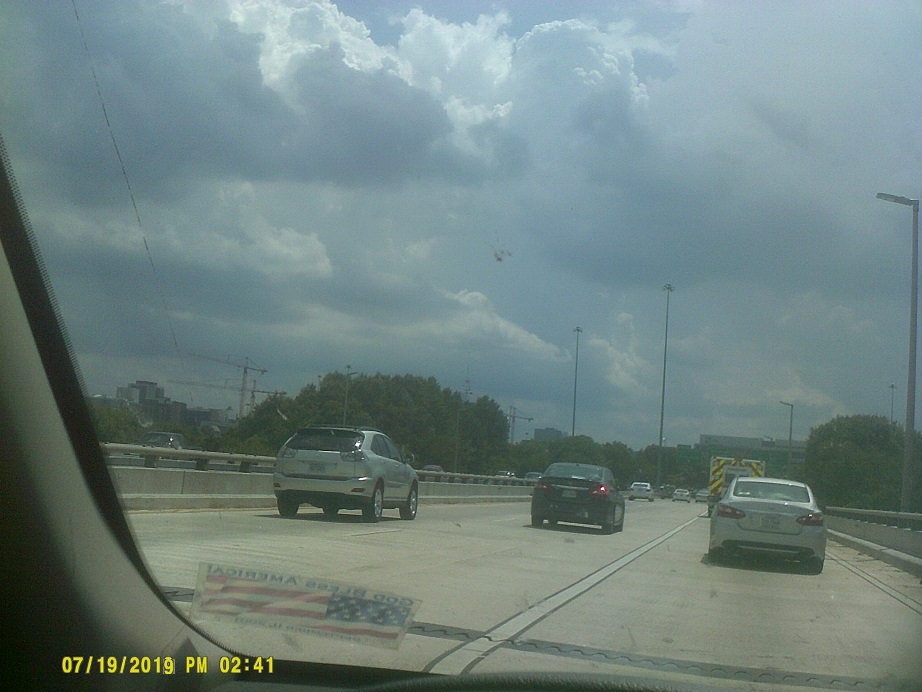 This is about all you can see of Richmond from I-64 before it turns northward onto I-95. No time to exit to find the capitol like we did in Columbia.
Between starts and stops we got to see the imposing National Museum of the Marine Corps from I-95.
In spite of hitting D.C. during Friday rush hour, I still planned to go downtown because of the projection of the Saturn V rocket on the side of the Washington Monument in celebration of the 50th anniversary of the Apollo 11 moon landing. I knew that it still being daylight meant that the projection would not be activated yet but that there might be daytime decorations.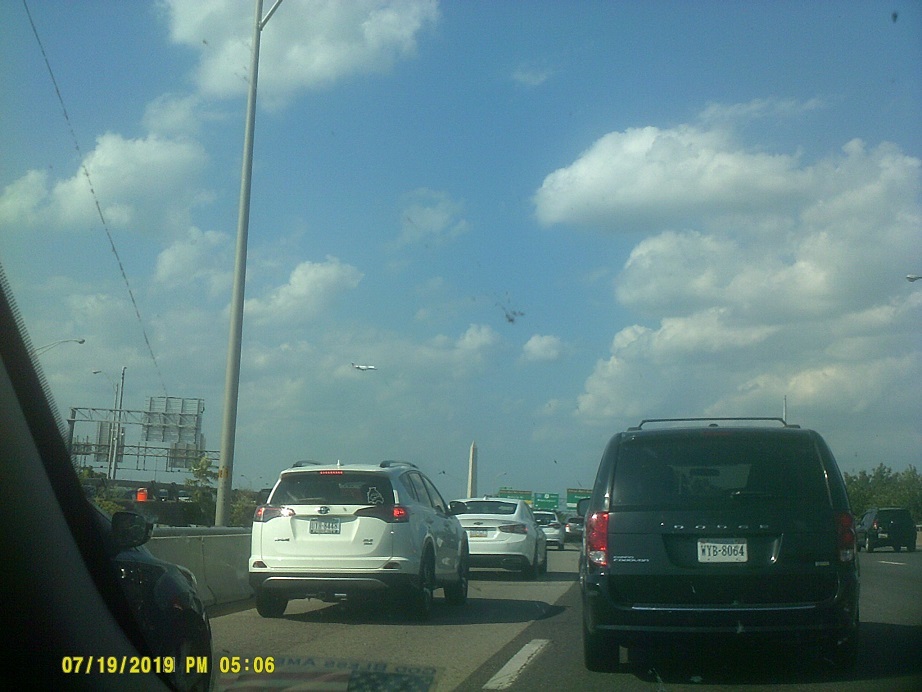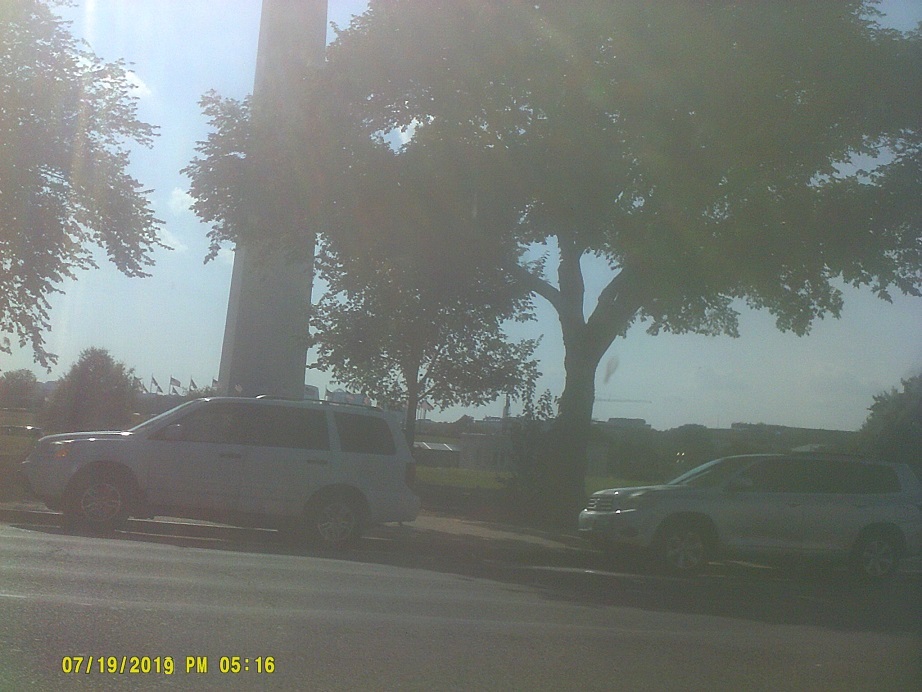 So, not really, just the monitors which accompanied the projection. So it was time to leave D.C. I was relatively familiar with the streets, having been there several times before, so I had a plan: Go north on US-1 / 14th Street, somehow get west on US-50 / Constitution Avenue, depending on turn restrictions and traffic, cross the Potomac River, and take the ramp for the George Washington Memorial Parkway northwest to the Beltway/I-495 to I-270 northwest. After a few minutes of near gridlock due to traffic refusing to clear signalized intersections, we made our way west. Unfortunately, just before the GWP offramp, a clogged onramp carrying I-66 traffic prevented me from moving over to it. Going west on I-66 now, I almost thought about taking that to the Beltway, but decided to try again: I exited at the Key Bridge/US-29, which I knew wouldn't take us back to the GWP because it would be about 40 feet below us, and continued across the Potomac to the north side where I followed US-29 east back into D.C., where I picked up the beginning of I-66 going south. Unfortunately, I didn't get to the right under the Watergate in time, so instead of following I-66 back west and ending up on the ramp whose traffic blocked me in the first place, I kept going south then swung north under the Kennedy Center onto the Rock Creek and Potomac Parkway. This is where the fun began. I knew that I was heading in a somewhat different direction than planned, but knew that because of the name of the road that the Potomac was still close. However, when the parkway ended I knew that I'd gone too far east, so I started looking for other ways out of town (in spite of numerous devices and maps that could've helped me, I couldn't really stop to use any). Connecticut Avenue was right there, and I seemed to recall that that's the road that the National Zoo is along (I was right), so taking that would have led to the Beltway. Yet, I somehow missed the turn so had to keep going. I could have turned at other places yet didn't recognize any names (and it didn't help that there are no US-29 signs along Georgia Avenue at Harvard Street). Ultimately I ended up going due east in places, after what seemed like an eternity, I entered the Beltway from Maryland Route 650 / New Hampshire Avenue after having just swung around back to the west, about 7 miles east of where I wanted to be and a full 15 miles east of where I had planned on entering the Beltway.
By this point, it was starting to get dark, which I was really trying to avoid. As a consequence, this was the first time that we bypassed "the cut" on I-68/US-40, though we could see it in the distance from I-70/US-40.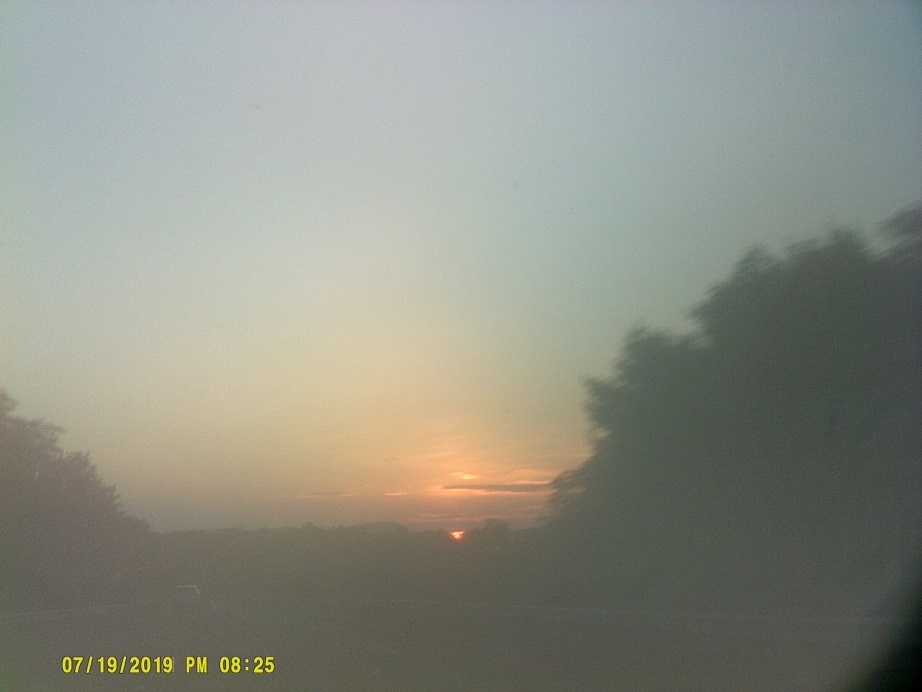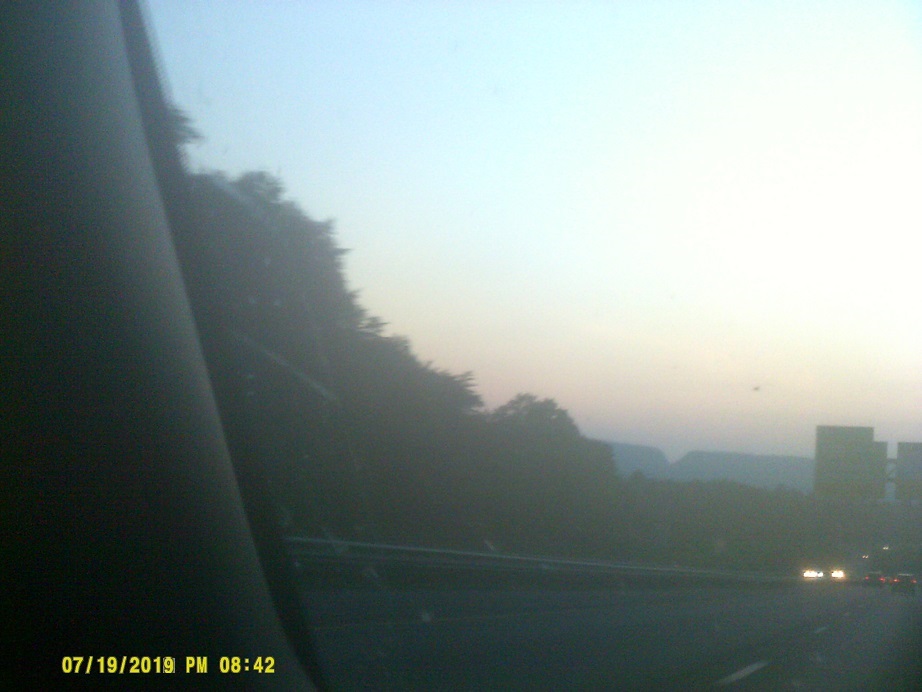 It was also the first time going through Breezewood at night.
As predicted, all of the original bridges over the Pennsylvania Turnpike west of Breezewood through US-30 have been replaced by modern ones (one was simply removed). Also, the narrow, winding section by Bedford is tough to drive at 70 mph, especially in the dark in heavy traffic. Meanwhile, the wider portion bypassing the old Allegheny Mountain Tunnel, as well as the off-Turnpike section of I-70 south of Breezewood, are still 55 mph.
This was the fourth time in Pennsylvania since Memorial Day; it followed trips to Pymatuning State Park and Point State Park in Pittsburgh, Presque Isle State Park by Erie, and a second trip to Pymatuning. (There was also a trip to a restaurant at Cedar Point thrown in there, too.)
Total mileage: c. 2,419 miles