Roadside Kentucky (Western)
---
Owensboro | Paducah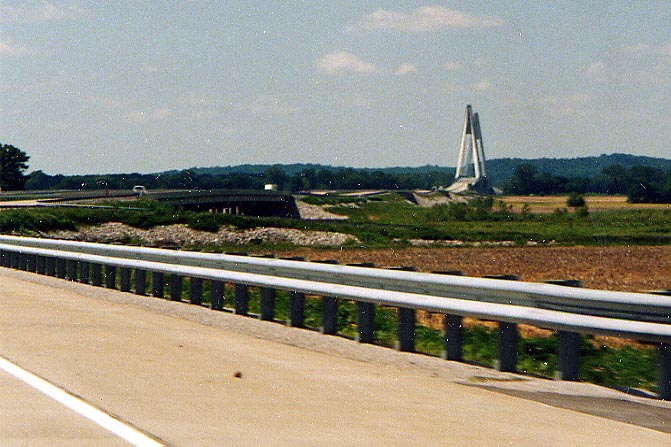 The William Natcher Bridge east of Owensboro. Currently used by US 231. This website and this website contain more details about this bridge.
(Photo from May, 2003)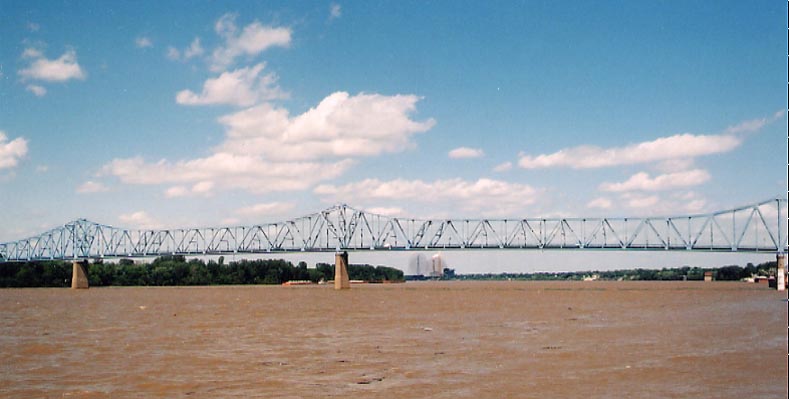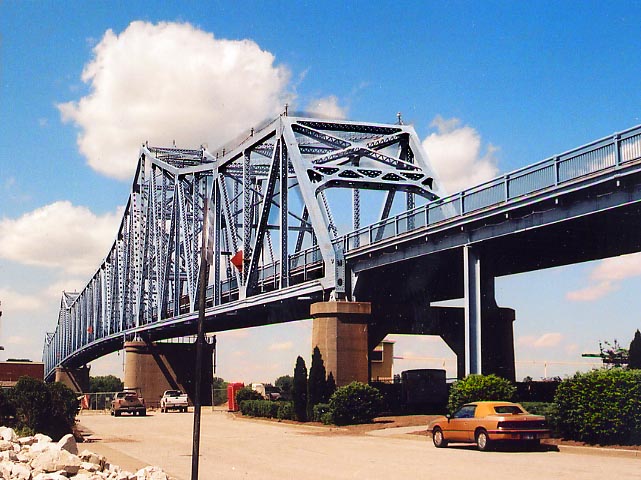 The Grover Carey bridge, until 2002, was the only way into Owensboro from Indiana. This structure even skys over US 60 along the riverfront of Owensboro.
Both bridge photos taken in May, 2003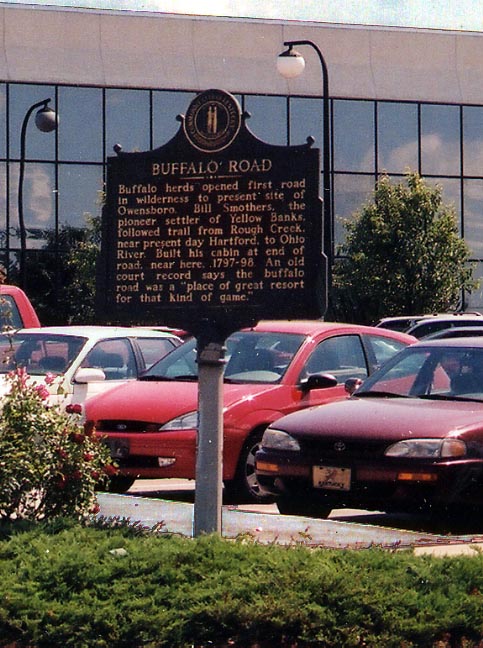 Buffalo Road anyone? Whatever it was, it evidently terminated in Owensboro. (Photo from May, 2003)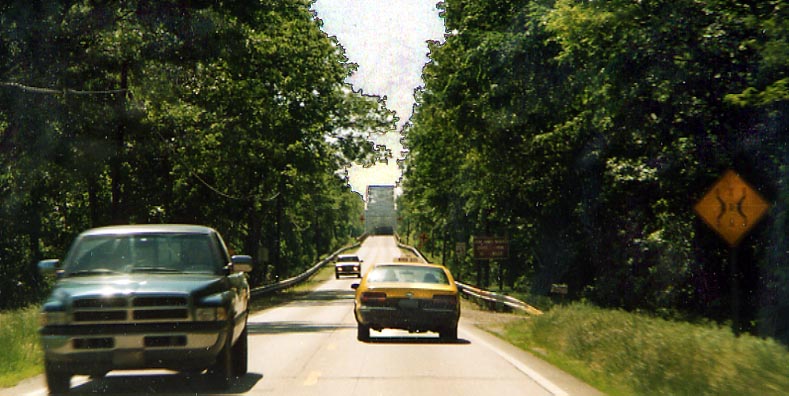 While it doesn't look too spectacular from this vantage point that is still an impressive bridge on the horizon. US 60 crossing the Green River between Owensboro and Henderson, Kentucky (I'm fairly sure). (Photo from May, 2003)
Paducah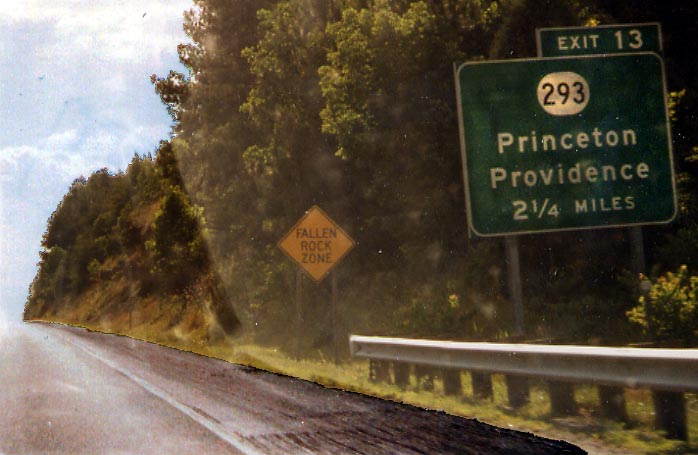 Along the Western Kentucky Parkway, you have to be alert to rocks that have already fallen instead of those that might come tumbling down (and even then, where would these rocks come from?). Photo taken in June, 1999.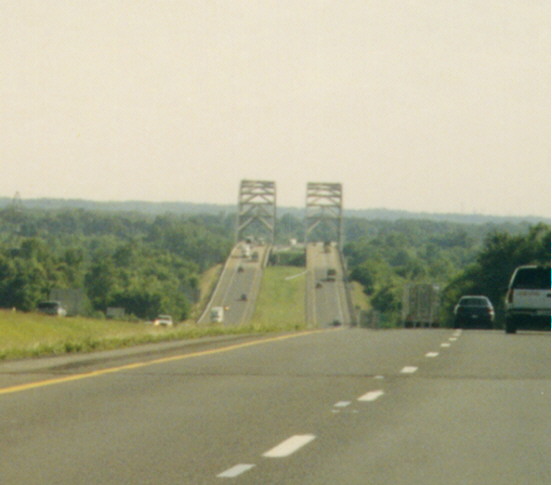 Going westbound on I-24 approaching the Tennessee River bridges (and Kentucky Dam). (Photo taken in June, 1999)

Profile shot of the twin bridges from Kentucky Dam looking north. (Photo taken in June, 1999)
Paducah has gone with the designer support apperatuses for their downtown traffic lights.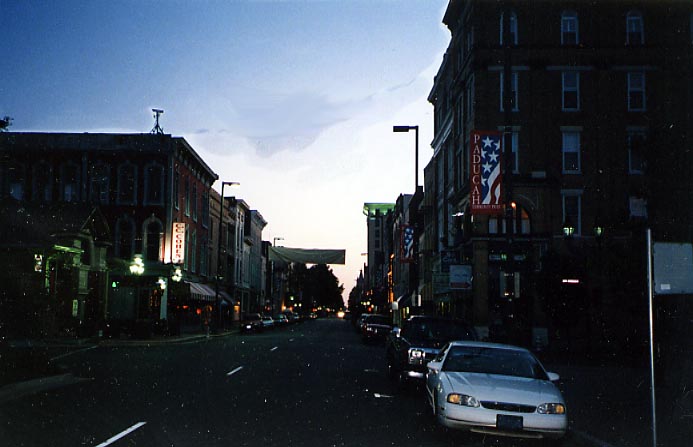 A Paducah street at dusk. Plenty of cars lining the street, but I found very few businesses open along the way this evening (Photo from May, 2003)
When Paducah paved over this old brick street, they cut costs by not paving all the way to the curb, or was the asphalt so lousey that it's
already broken away from the edges? You can see in the darkness on the far right an old railline and the floodwall. Photo taken in June, 1999.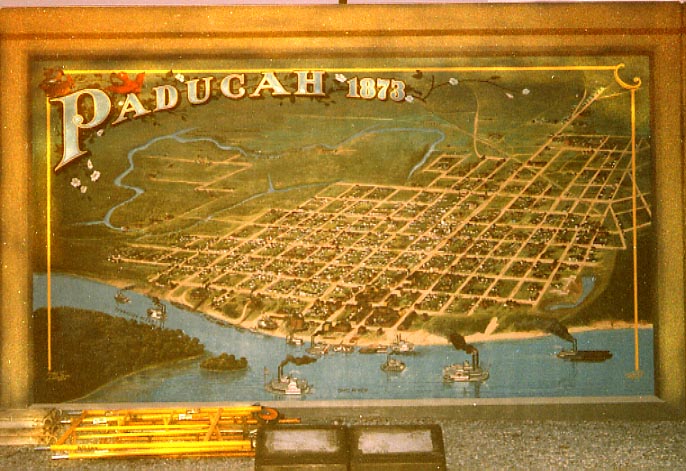 Along the floodwall, several murals were painted along the way. This one is a replica of an 1873 map of Paducah. You're looking south from
the clouds. Evidently, there were no east-west roads in or out of Paducah back then (follow the rivers I suppose). Photo taken in June, 1999.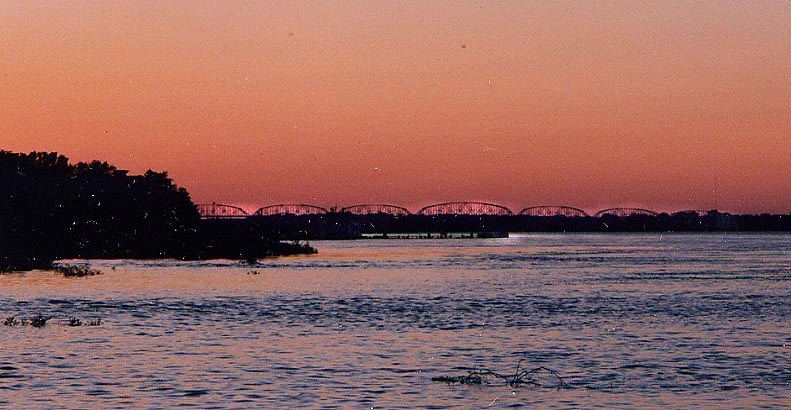 The US 45 bridge over the Ohio River, between Paducah and Brookport, Illinois at dusk. Looking west (with a zoom lense) from the Paducah waterfront.
(Photo taken in May, 2003)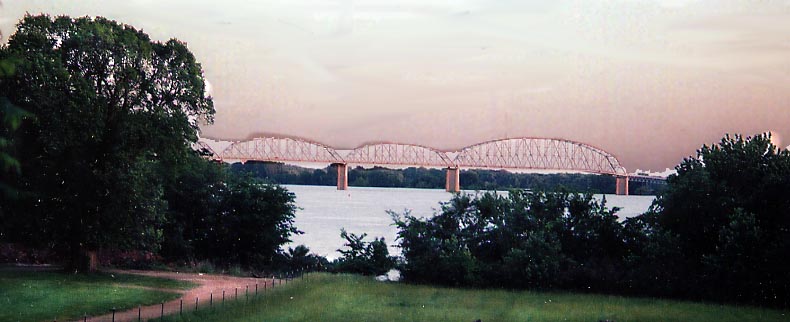 Same bridge this time looking east from Brookport, Illinois (and a little earlier in the evening). (Photo taken in May, 2003)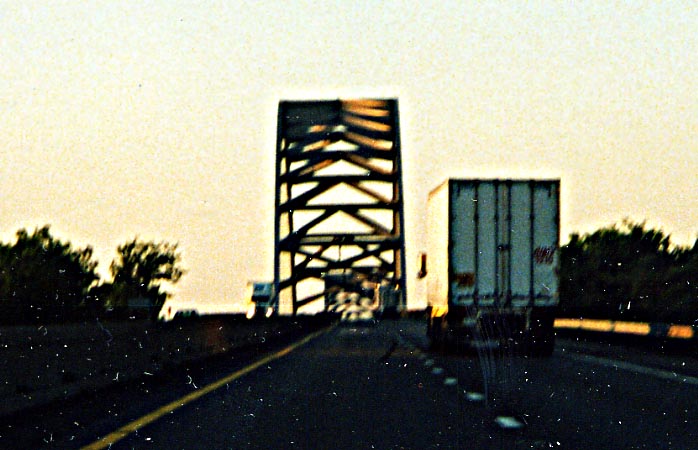 Head on view going westbound approaching the I-24 bridge over the Ohio River. (Photo taken in May, 2003)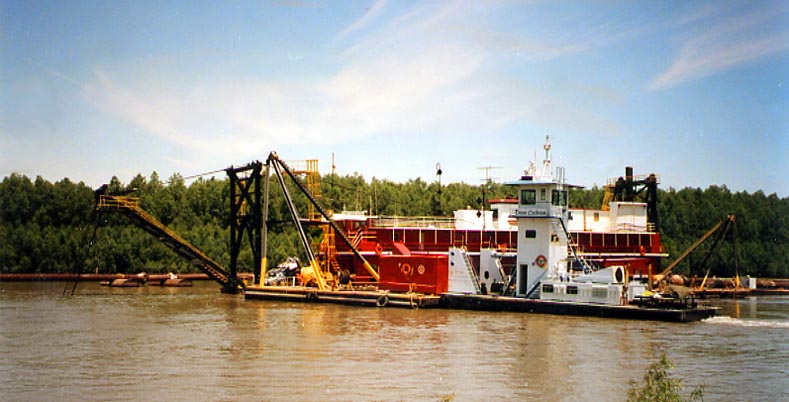 River dregging along the Mississippi near Hickman, Kentucky. (Photo taken in June, 1999)
---
Page created on March 3, 2004
Questions, comments and submissions can be sent to Sandor Gulyas
Return to Roadside Kentucky North