Richland County Buildings and Signs
---
You've seen two or three lanes designated for left turns, but how about one lane designated for two different left turns. This is the case on east end of Mansfield's city square. (Photo from Feburary, 2003)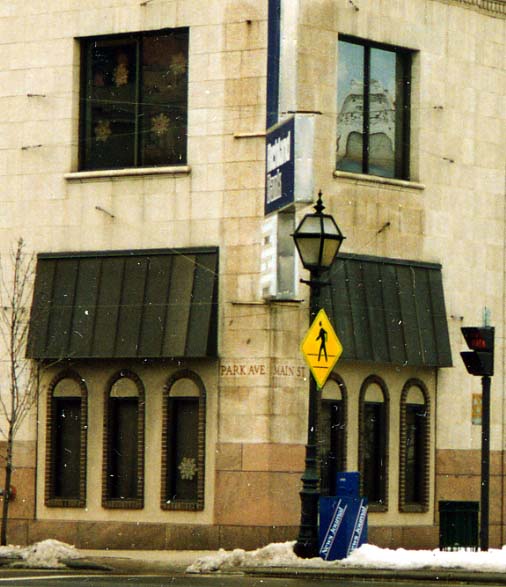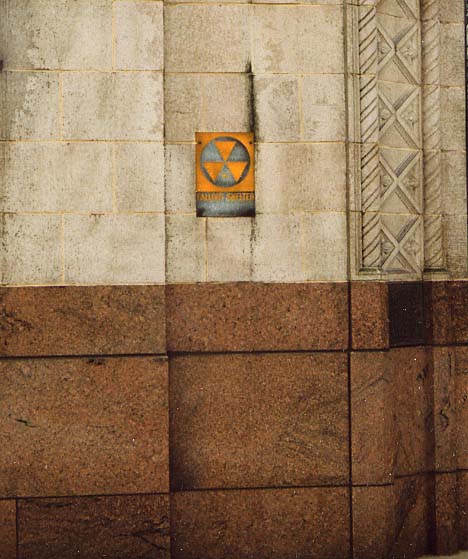 Photo on left - I guess no one is going rename these streets. What happens though, if the property owner changes names?
Photo on right - A leftover remnant from the "Cold War." Plenty of buildings were designated as Fallout Shelters in the case of Nuclear War. These Fallout Shelters were designated by these yellow and grey triangles in a circle aluminum signs. This particular one is on the Richland Bank building (see left photo again) in downtown Mansfield. (Both photos from Feburary, 2003)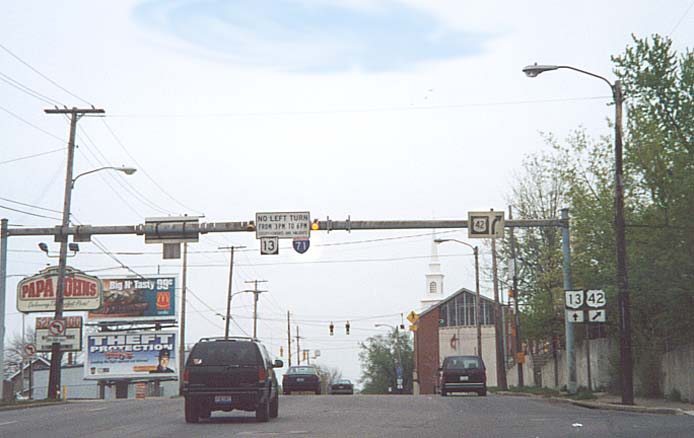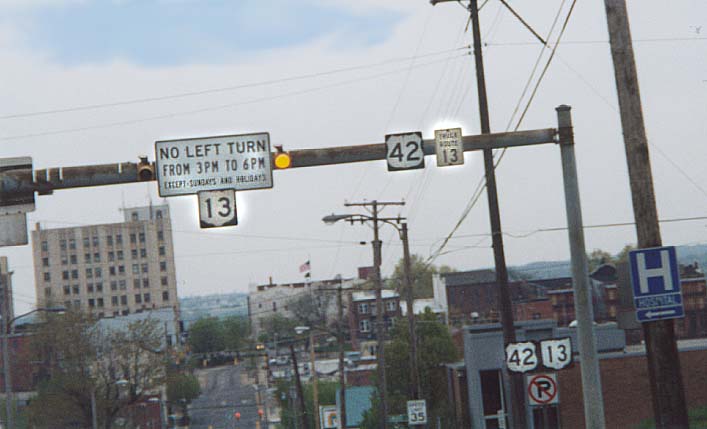 Top Photo is the old style US 42 shield and arrow in the upper right to go along with the hanging Oh 13 and I-71 shields in the middle.

Bottom Photo is on the opposite side and includes a very old square Truck Route 13 sign (similar to the Fremont City route signs). In both cases there are duplicate route shields with the routes posted above and to the right as well.
Along US 42 and Oh 13 in "south" Mansfield.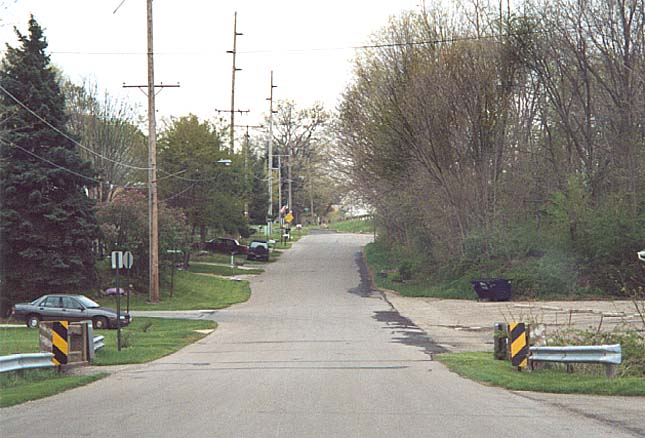 Former routing for Oh 13 before the state decided to reroute and build a new divided highway for Oh 13 from Mansfield south. Near Oh 13 south of Mansfield
An aside. Ohio once had plans to make Oh 13 a divided highway from Mansfield, past Mt. Vernon to Newark. Only two small portions of this plan came to fruition. A bypass of Fredricktown and a connector from Mansfield to I-71.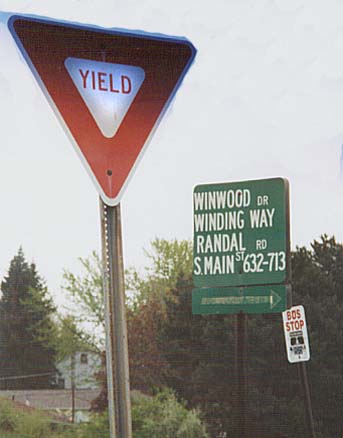 One big Street sign to collect several side streets. Along Old Oh 13 south of Mansfield.
Lexington (all of the following photos are from Feburary, 2003)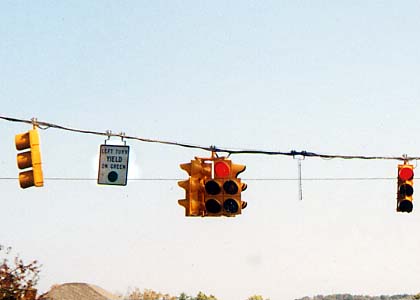 Photo on Top - Ever seen a four-directional 5 lense doghouse traffic light assembly? One would think that a collection like this would be too heavy to hang from one of these wires, over an intersection. Intersection of US 42/Oh 97 and Oh 546
Photo on Right - The village water fountain, not sure why the village decided to add a roof, but no walls around it.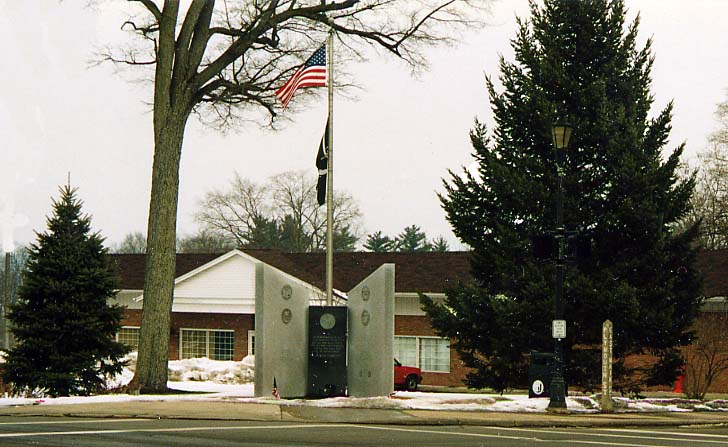 Lexington's fallen soldiers monument (prominently located at one of the downtown intersection corners). With an example of Lexington's street signs (the vertical post on the right in front of the pine tree) there as well.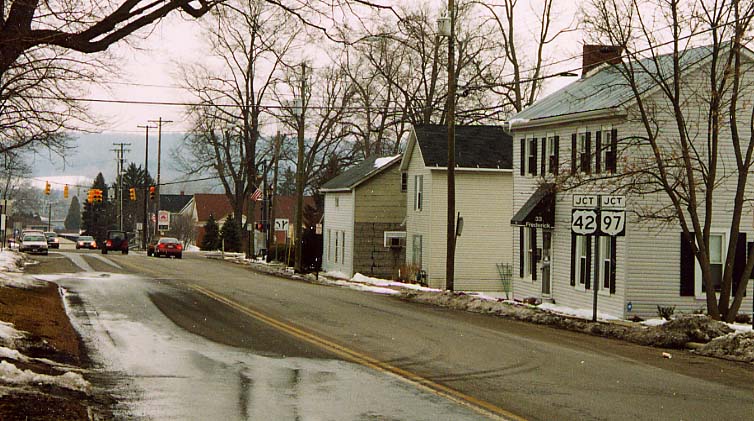 The north end of Oh 546. No end sign visiable.
You can also find more Richland County photos on the Lincoln Hwy in Ohio Photo Collection.
---
Originally part of the Central Ohio collection, then with Morrow County Photos as of November 30, 2002 , now Richland County is on its own as of September 26, 2003 and last updated on February 14, 2004
Questions, comments and submissions can be sent to Sandor Gulyas
Return to Central Ohio Page