---
Connie Mack Stadium - Home for the Philadelphia Phillies (1938-70), Athletics (1908-53), and Eagles (1945-53)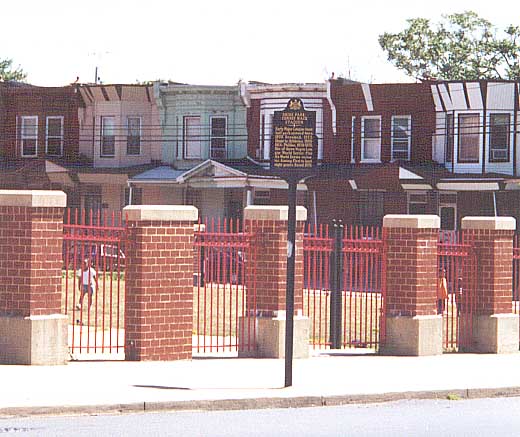 Historical Marker for the former stadium (from 2001)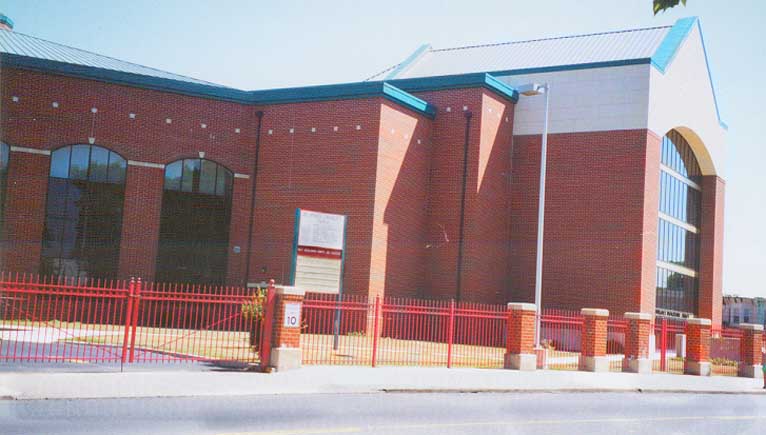 The Deliverance Evangelical Church now stands where some of Philadelphia's greatest athletes once played (from 2001)
Center City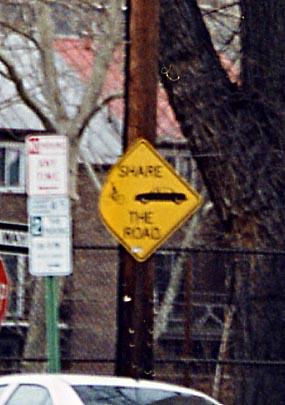 (Left Photo) How prevalent are bicycles in Philadelphia and it's neighborhoods? I haven't seen these types of signs in Ohio, or any of my travels. Somewhere in South Philadelphia.
(Right Photo) More and more DOTs are starting to use one sign for the direction marker and highway number. This is PennDOT's (or City of Philadelphia's) version. (both from 2000)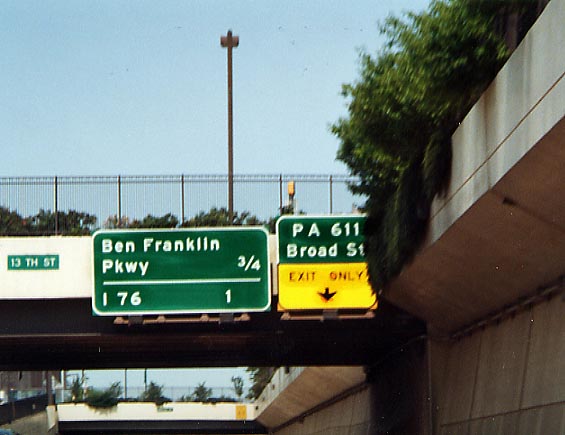 Many motorists grouse about the old text signs still hanging about Pennsylvania. To compound matters however, when the Vine St Expressway (aka I-676) was completed in the late 1980s, what does PennDOT use? TEXT SIGNS!
I-676/US 30 between I-95 and Broad St. (June 2002)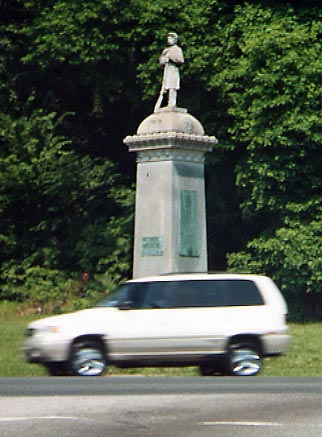 This statue is at Belmont Ave and Montgomery Dr(?) in Fairmount Park. According to Tim Kelly, the statue is a memorial to the Union Army from the Civil War. (from June 2002)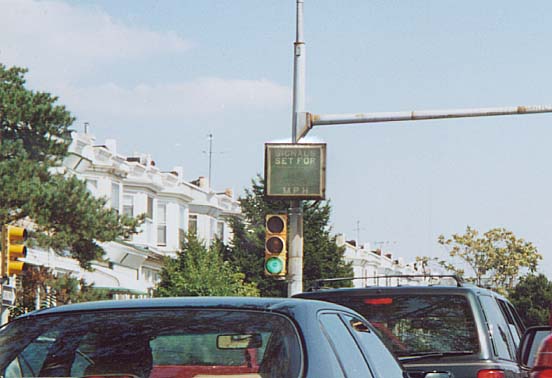 Here's an idea other cities could try. Telling drivers what speed the traffic lights are set for. Unfortunately, I don't believe any upkeep was done on these signs, for I did not see any of these signs working when I took this picture.
Along Chestnut St between 69th St and U of Penn/Drexel (from Sept. 2002)
Airport-Stadium Complex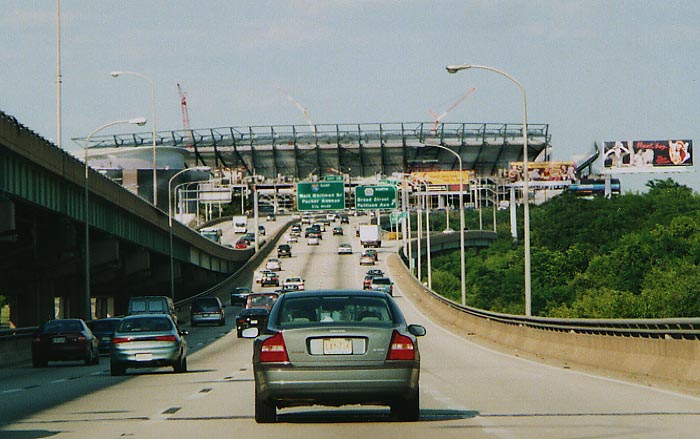 Just how close to I-95 is that stadium going to be? Photo taken in June 2002
George C. Platt Bridge. Formerly called the Penrose Ave. Bridge (thanks Sandy Smith), PA 291, was the only means of getting from Center City south to the Airport and on to Chester before the completion of I-95 south.
From I-95, north of the Airport, looking north (from June 2002)
Schuykill Expwy Signage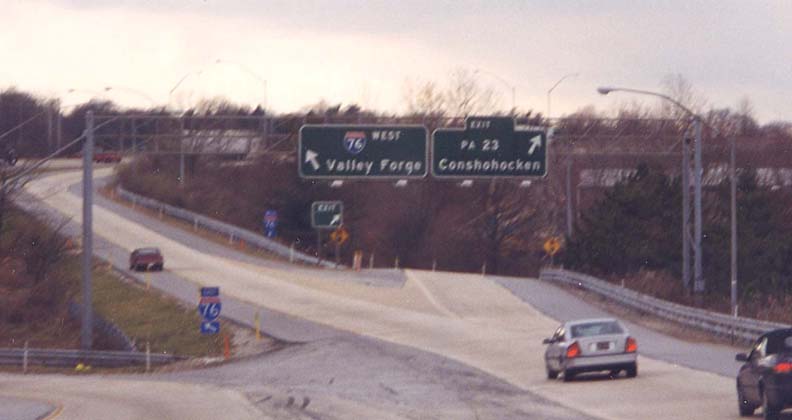 One of the remaining 60s/70s style text BGS in Pennsylvania. Exit ramp from I-476 SB to I-76 and Pa 23 (from 2001)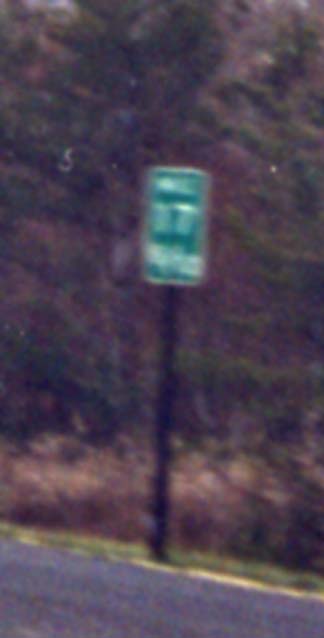 Pa Milemarker Philadelphia style of Milemarkers. The usage of tenth miles is unusual. EB I-76 between the I-476 and US 1 (from 2000)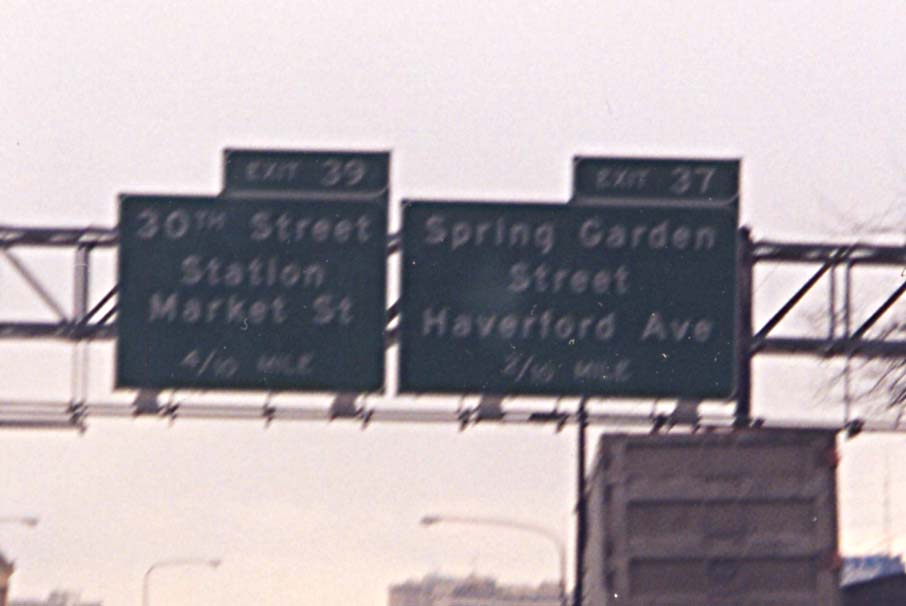 Tenth mile BGS Exits along I-76 are so densely packed together that the distance between exits is measured in tenth miles instead of the standard quartile system. I have not seen any other location use this style of mileage.
EB I-76 near Fairmount Park (from December 2000)
---
Philadelphia Skylines
City View South.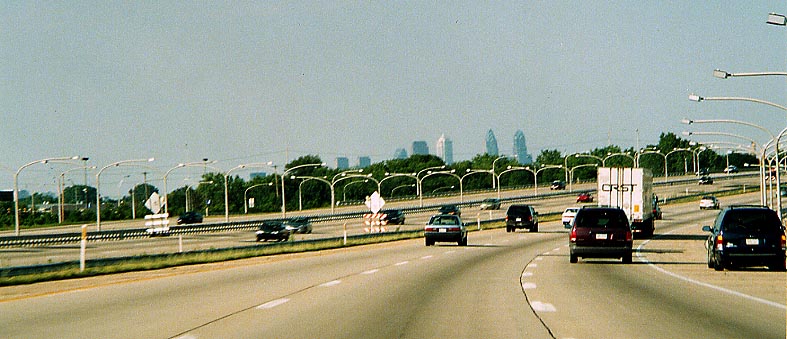 You can see some of the skyscrapers peaking out above the trees heading north on I-95 near the Airport. (from June 2002)
Belmont Plateau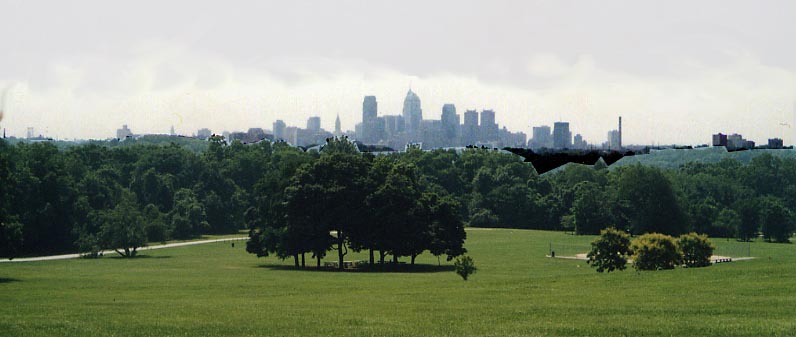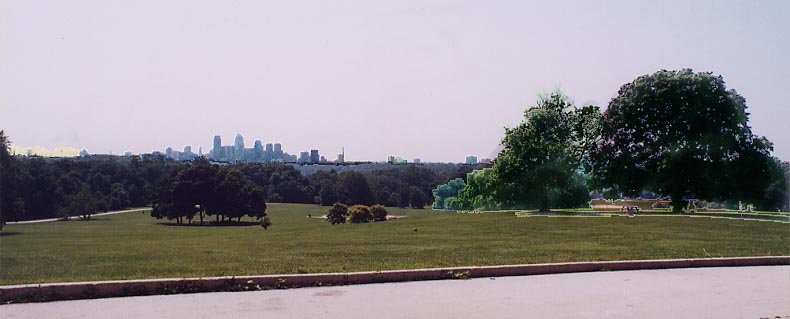 When you ask Philadelphians where's the best place to get a photo of their skyline, Belmont Plateau, in Fairmount Park, will get a lot of responses.
Top Picture is focused on the Center City conglomeration, Bottom Picture takes in a wider view, including some of Fairmount Park to the right. Both from June 2002
---
Bonus Picture:
A local attempt at backhanded humor? As the caption beneath the photo says, the promotion didn't worked.
From the book Imaginating Philadelphia Bibliographical information from the Ohio State Libraries
---
Links
Sandor's Philadelphia Stadium paper - Written by me in 2000, it deals with the financial wherewithal cities deal with when financing sport stadiums today.
Philadelphia area roads, crossings, and exits by Steve Anderson
Jeff Kitsko's Philadelphia Road site
Philly Skyline - Skyline and building pictures of Philadelphia
---
This page was created on January 30, 2003/ last updated on July 3, 2006
Comments, questions, and submissions can be sent to Sandor Gulyas
Return to the SE Pennsylvania Page