The Main Line Region
This article explains how the region, west of Philadelphia recieved the name "Main Line."
---
Chester County | Montgomery County | Northern Delaware County
West Chester

Which way do I go? If I turn left here, am I going EB or WB or both on US 322?
Southbound Matlack St @ US 202 & 322 in West Chester. (from July 2001)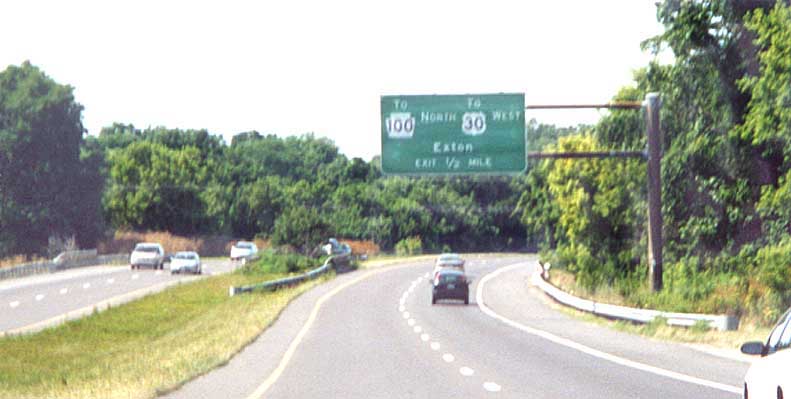 To Pa 100 to US 30 to Exton to the right to the mall to your store.... NB US 202, NE of West Chester (from July 2001)
Downingtown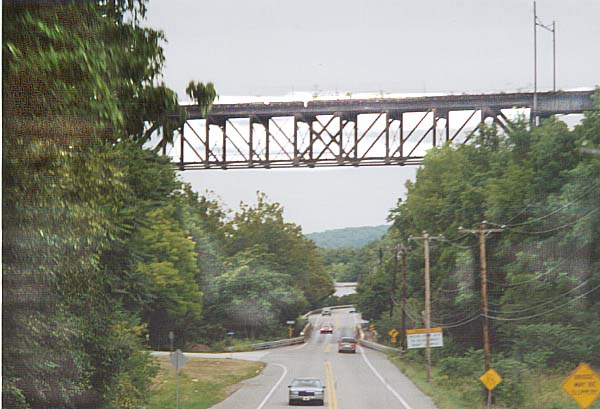 I've never seen a railroad bridge so long and so high above a highway. The top picture gives a little idea, how far ahead you can see this bridge ahead. The caution signs in the bottom photo concern the smaller (and narrower) bridge that US 322 crosses (underneith the tall railroad bridge).
Along US 322 south of Downingtown. (from Sept 2002)
The official name for US 322 in Pennsylvania is the 28th Division Highway. The blue keystone sign (on the right) is the official ensignia for the route. The narrow bridge on the left is for the SEPTA/AMTRAK railline. US 322 in Downingtown.
For Other Downingtown Pictures (along the Lincoln Highway) go to this page

As part of the US 202 reconstruction, from "Great Valley" to King of Prussia, soundwalls were put up most of the length, on both sides. In this instance, a little bit of design work was done going over the bridge here.
US 202 over Pa 252 near Valley Forge. (From July 2002)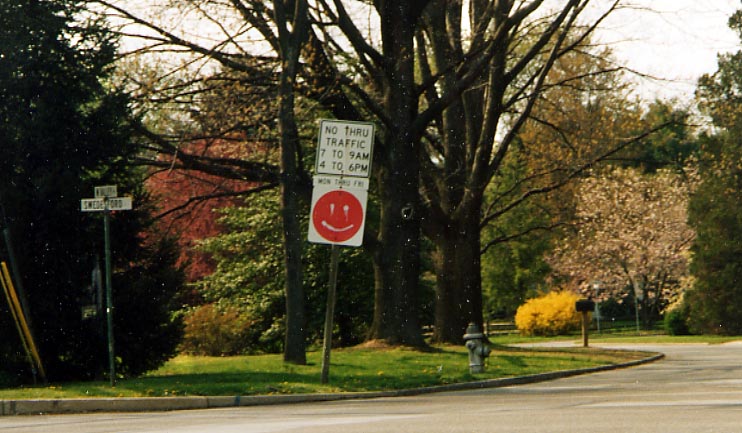 Someone decided that this red circle was too bland, or just wanted to thumb their nose at those who drive by here.
Intersection of Swedesford Rd and Valley Rd near Valley Forge (from April, 2003)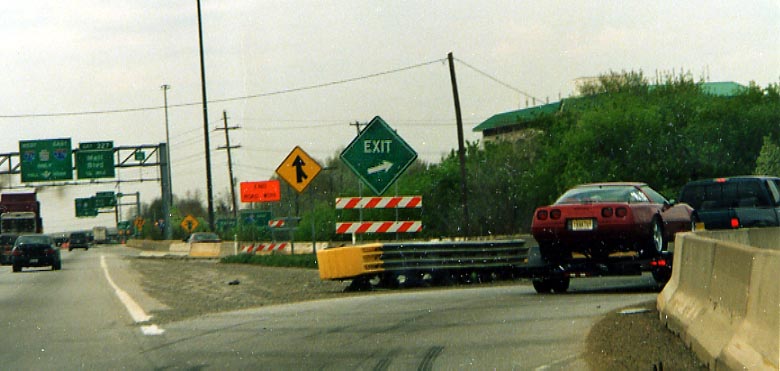 This is a brief view of the massive construction project that was the I-76/202/422 project (completed in October, 2003).
Of note here is the green diamond exit sign. The construction foreman is either color blind or doesn't know his shapes.
I-76 WB ramp to US 202 SB @ King of Prussia (from April, 2003)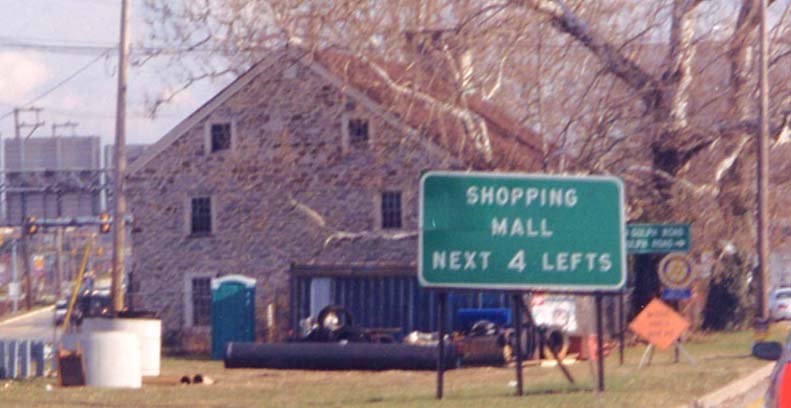 The Man of War Tavern. This building is one of many Revolutionary War historical sites. So much so that when PennDOT originally decided to widen US 202, they built around it. Now with the reconstruction of the I-76/US 202/US 422 King of Prussia interchange, the Man of War Tavern has been moved from the location you see in this photo to the east side of US 202 (nearby), to serve as a local chamber of commerence home.
Along US 202, just north of I-76 in King of Prussia. (from December, 2000)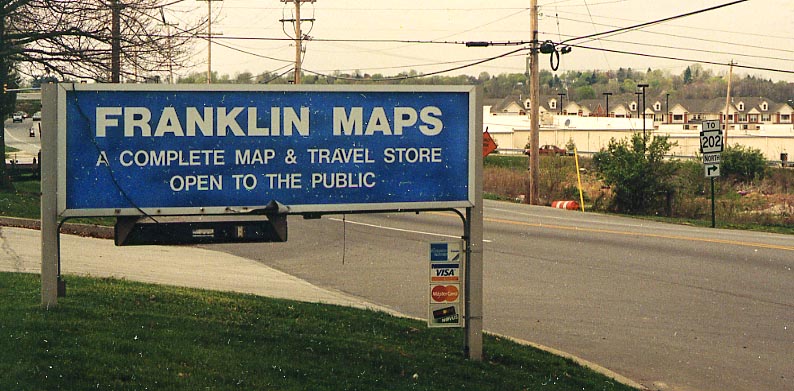 Oops, someone downgraded US 202 to a state route. And it was done in front of a map store! Evidently local cartographers are interested in local signage.
Henderson Rd between US 202 (no matter what the sign says) and I-276, near King of Prussia (from April, 2003)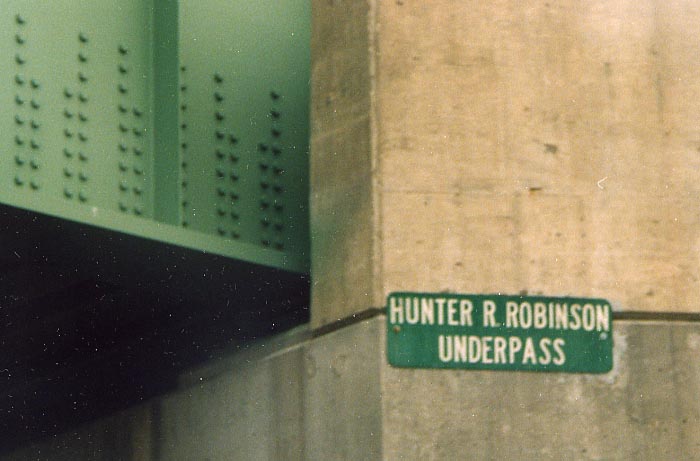 I once asked, "who is Hunter Robinson", now I have an answer (thanks to John Waters, local fire marshal...not the movie director)
"Hunter Robinson was a member of the Upper Merion Board of Supervisors in the late 70's and early 80's. I believe he served in the United States Air Force prior to that time. Henderson Road had an on-grade crossing the Conrail's Trenton Cut-Off. This crossing was the site of many cars vs. train accidents with the trains always coming out on top. Robinson lobbied local, county and state officials to spend the money to dig an underpass under the trains, thus alleviating the risk and saving many lives over the years. Upper Merion then decided to name this underpass for him."
Henderson Rd between I-276 (Pa Turnpike) and King of Prussia (from April, 2003)
Gulph Mills - Hanging Rock
This non descript photo actually shows "Hanging Rock" (to the left as I head south on Pa 320). Hanging Rock reportedly holds importance as someplace that George Washington led the troops by (or something to that effect). Today, it's a major hinderance to traffic along PA 320. PennDoT has looked to remove "Hanging Rock" but has been stymeed by preservationists since the 1970s. Pa 320 near Conshohocken (from April, 2003)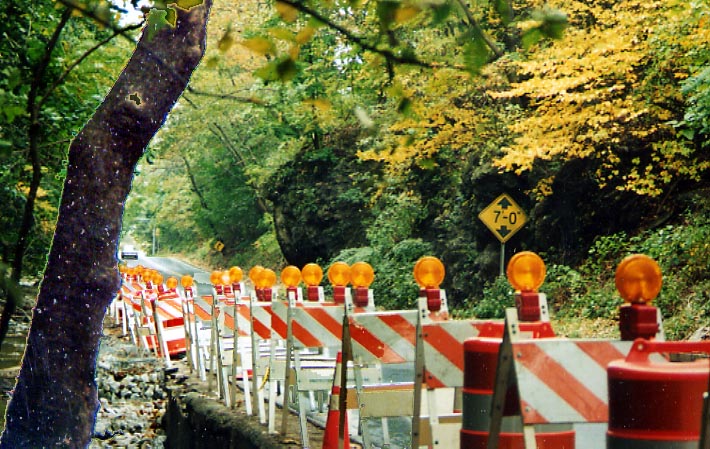 Here's another view of "Hanging Rock." This time looking north from the west side of Pa 320. Both the photo above and below are essentially the same, other than for the direction of the camera (vertical vs horizontal).
Both Photos taken in October, 2003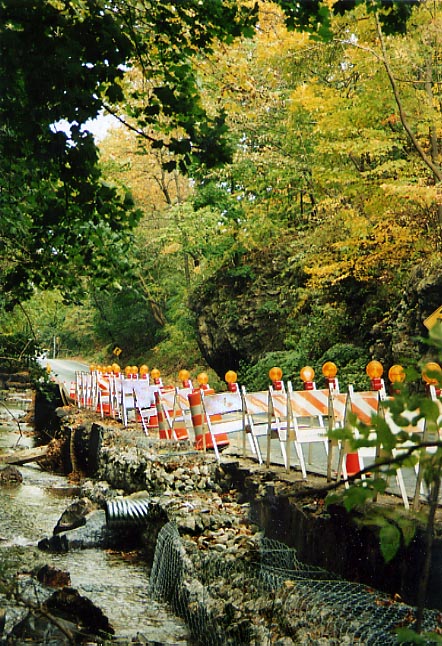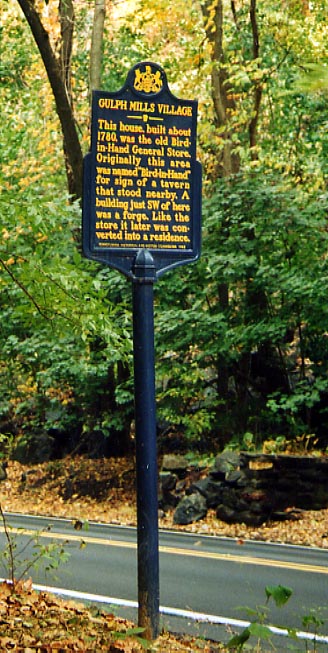 Right Photo - Just south of "Hanging Rock" is this historical marker along Pa 320. Besides this sign being in a location that you can't stop to look at (unless there's a traffic jam through here), the maps of the Main Line I have locate Gulph Mills between Norristown and the Schuykill Expwy. along Pa 320, not south of I-76 as this sign is located. However there are several buildings to the south of this sign that could be reference here. (Photo taken in October, 2003)
Also See:
National Register of Historic places document (detailed history of "Hanging Rock). Need Adobe Acrobat to read this document!
Pennsylvania Historic Architecture and Archology database listing

There are so many different Gulph roads that the local engineering departments can not even keep track of them (Old, new, north, south, and upper). In this case both a new and an old Gulph road are to the right of Pa 320 (actually I don't know why New Gulph Rd is mentioned here since it doesn't appear for another 5 miles down the road). At the intersection of Upper, Old, and South Gulph roads (Photo taken in October, 2003)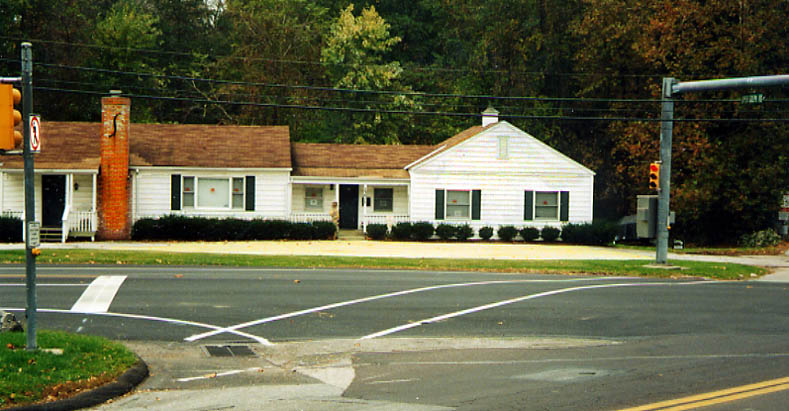 While this house (which is for sale) dominates this photo, what I found interesting was the "No crosswalk sign" combined with the crosswalk lines crossing Pa 320. Someone want to explain this one to me? Intersection of Upper, Old, and South Gulph Roads (Photo taken in October, 2003)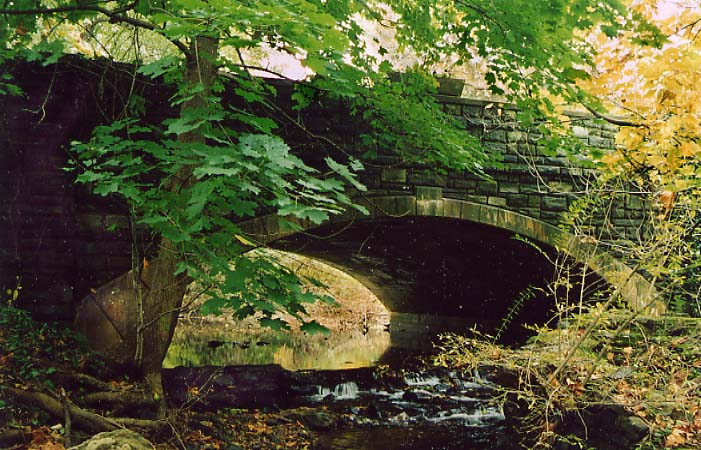 This bridge on Upper Gulph Rd, just west of Pa 320, caught my attention (thus leading me to note the other items in this area seen above) when I was driving through. Constructed in 1933, not many stone bridges like this still around. (Photo from October, 2003)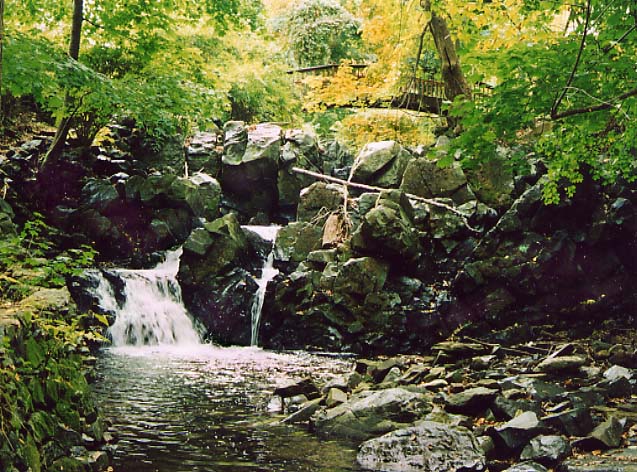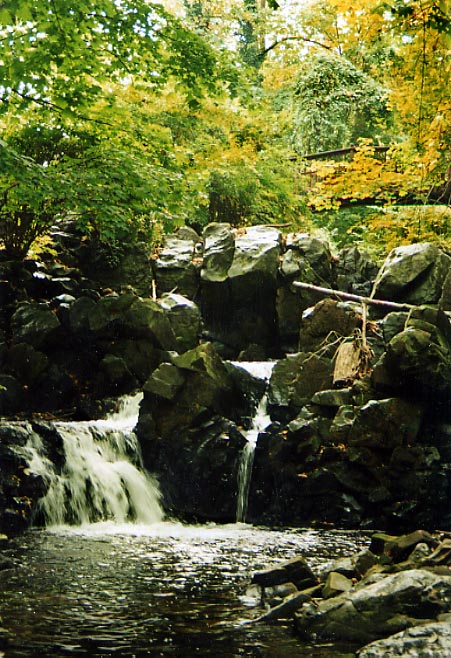 Also located in the same Gulph rds junction area (NW corner) is this waterfall along Gulph Creek. (Photo taken in October, 2003)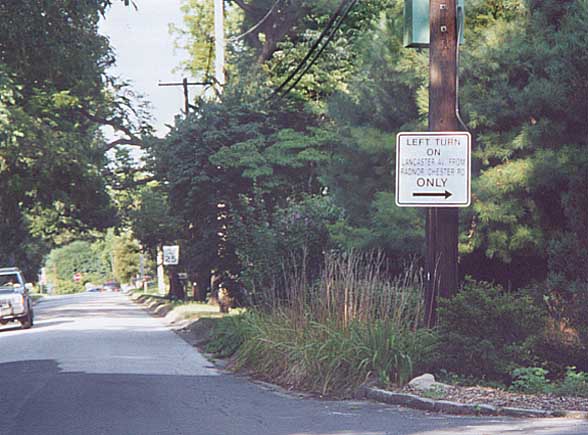 Iven Ave has been closed to WB Lancaster Ave traffic for over 25 years (as long as I can remember). This sign at Stickler Dr, is to forwarn motorists as to turn right, now, if they want to go west towards St. David or Wayne.
Iven Ave at Stickler Dr. in Radnor Twp (from 2001)
Radnor Township has started refurbishing the railroad bridges (active and abandoned). Now what do all the symbols stand for?
Old Philadelphia & Western rail bridge over Devon Ave, west of Wayne (from April, 2003)
Where that wooden fence goes across, with the slight break in the trees, is where Radnor - Chester Rd once crossed and continued south along present day Pa 320. When Sproul Rd was built in 1925 (essentially a three mile road betweem Radnor-Chester Rd to the southwest and Spring Mill Rd to the northeast) The section of Radnor-Chester Rd between here and Newtown Rd in Ithan was closed to public use. The northern end of this now abandoned road has ever since been used as a driveway to a residence on Newtown Rd, with plenty of 'No Enter' signs around it. Add in all the traffic there, and I haven't been able to get a picture of that location yet. This photo was taken in October, 2003.
A Pennsylvania Keystone Marker for Wayne along the Lincoln Highway (US 30). Normally these are placed at the entrance of the locality for oncoming traffic, in this case one is placed nearly at end of the town as travelers along Lancaster Ave have already been through the Wayne Business district by the time they see this sign. If you click on the sign, you can see a close up of it. Photo(s) taken in October, 2003
More Radnor Township photos can be found on the Lincoln Highway Philadelphia page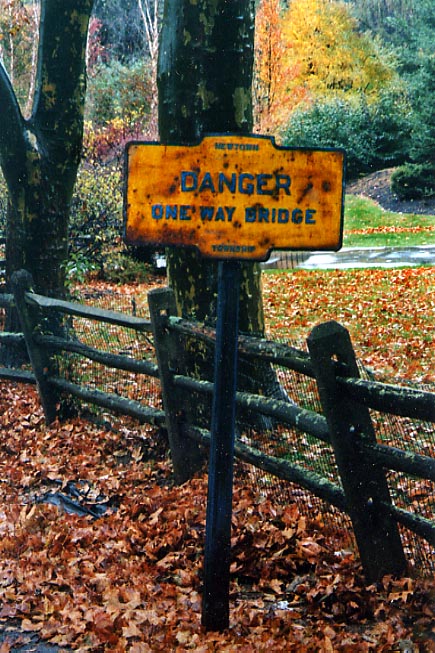 Danger, Danger! This old cast iron sign still lives. This sign is along Valley Forge Rd near (Old) St. David's Church in Newtown Twp (from October, 2003)
Extra Photo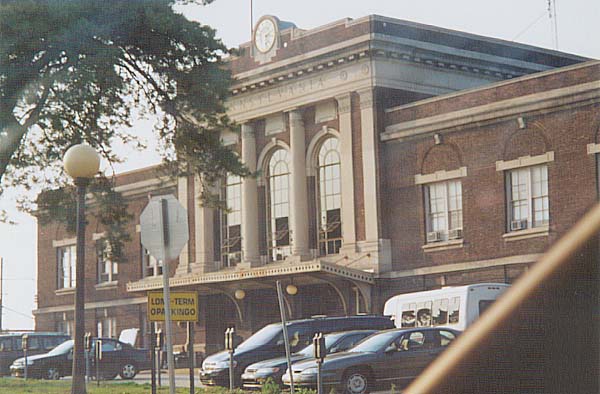 This is the old Pennsylvania Railroad Station in Lancaster, Pa. It's still being used as a station for Amtrak. (from Sept, 2002)
---
Page created on January 30, 2003/ Last updated on February 5, 2005
Questions, comments, and submissions can be sent to Sandor Gulyas
Return to the Southeast Pennsylvania Page