---
Jump to: Coatsville-Downingtown | The Main Line Region | Philadelphia
---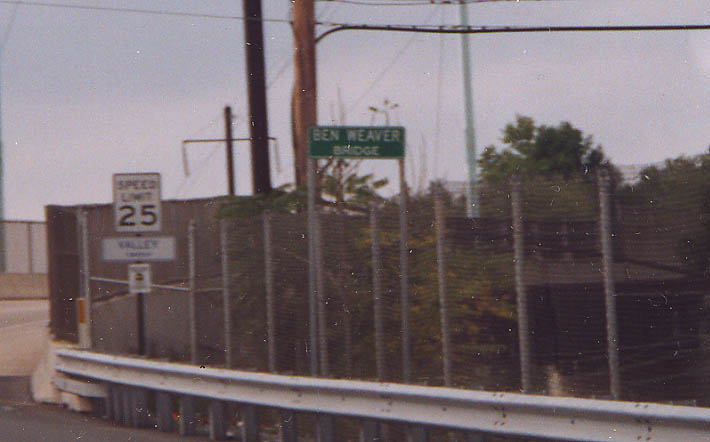 According to Ed Prange, who e-mailed me back in 2003, "Ben Weaver owned and operated an American Motors dealership for many years about 1/4 mile west of this bridge. When the old steel "checker bridge" was replaced about 1995, they decided to name this bridge after him. There is an identical bridge two miles east of here were business rt 30 exits Coatsville toward the east. The bridge crossing the railroad tracks on the east side was also rebuilt about 10 years ago replacing an identical 'checker bridge.'" It is believed that the bridge naming was a local affair and PennDOT was not involved.
Business US 30, west edge of Coatsville.

There has been a bridge, at this location over Brandywine Creek, in Downingtown since 1801. The Lincoln Hwy uses this bridge as does US 322 and Business US 30.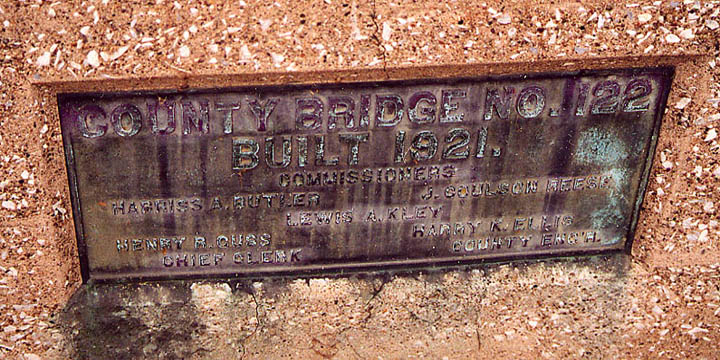 This placard commemorates the opening of this version of the Brandywine crossing in 1921. Back then it was referred to as 'County Bridge #122.'
The 1801 date refers to the completion of the first bridge at this location in Downingtown. The text above the date says, "Date stone from the original bridge built on this site."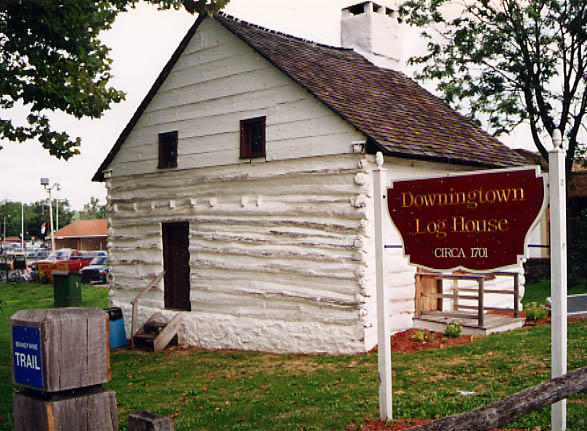 Log House from 1701? The Brandywine Trail marker represents said trail going along Brandywine Creek (see crossview of the bridge above).
Coatsville-Downingtown pictures from June, 2002
Also check out Uniquely Downingtown
Malvern LH Marker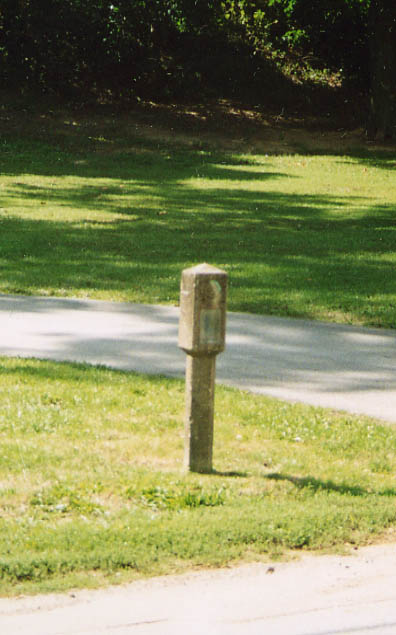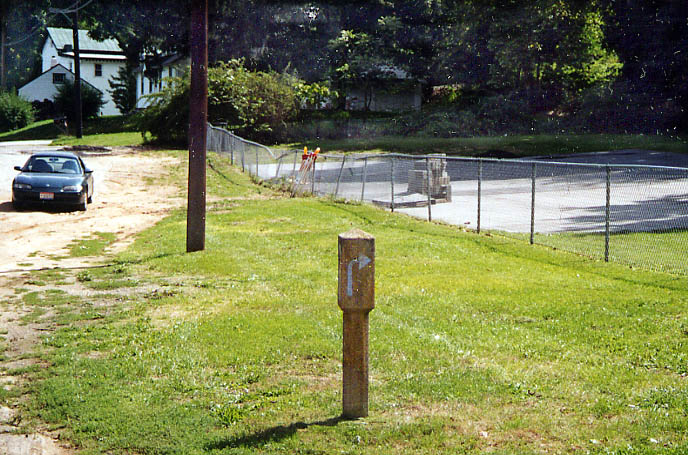 This 1928 concrete post is along Old Lincoln Hwy, NE of Malvern near the Villa Marie Academy for Girls (between the Main Line tracks to the south and the Chester Valley RR tracks to the north). The post shows a right turn ahead for EB traffic. However one can not turn right ahead anymore (thanks to the aforementioned Main Line tracks). According to Brian Butko, there used to be an underpass and a train station (at the location of the house in the picture?), but both the train station and the underpass have been wiped off the surface. Nothing remains/shows of them. Also, to correct any misconceptions. There is another train station in Downtown Malvern. That station is not what I was interpreting Brian Butko to be speaking about having decommissioned. (Photos from September, 2002).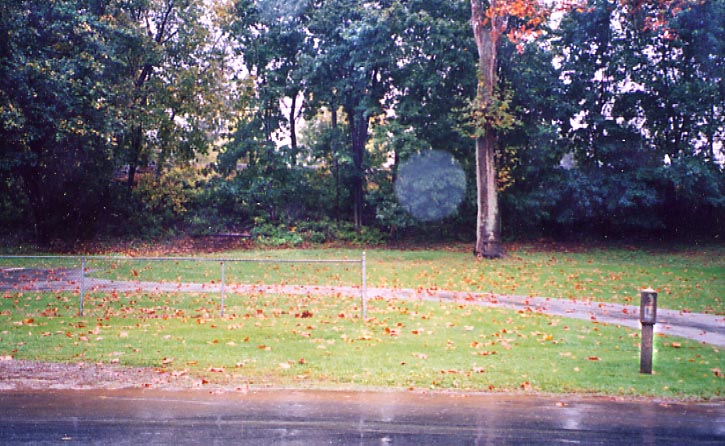 Filled in Overpass 1. To the south and east of Old Lincoln Highway, crossing the Pennsylvania RR (Main Line) to King Rd. (Photo from October, 2003)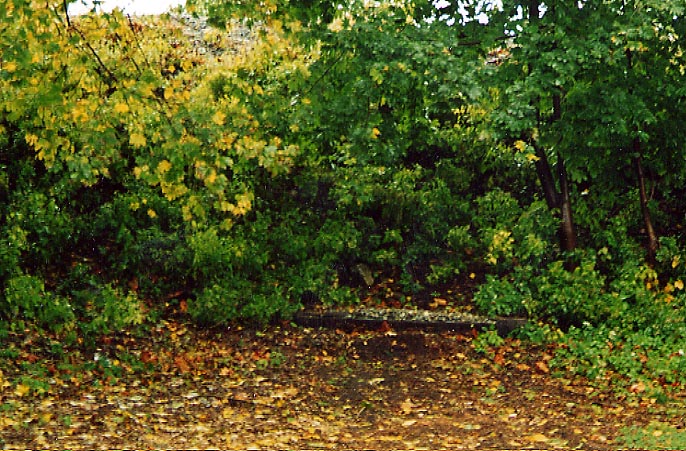 Close up photo on the overpass mentioned above. (Photo from October, 2003)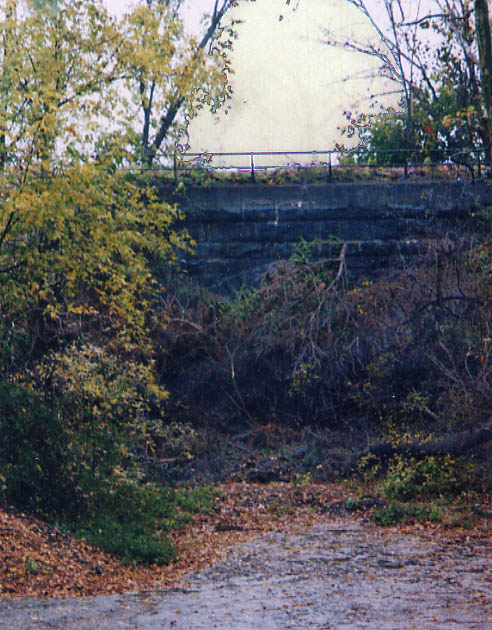 Filled in Overpass 2. This one is near the General Wayne Inn (you can see it from their parking lot) going from Old Lancaster Pike to the north and west crossing the old Chester Valley RR to the present day intersection of US 30 and Pa 29. (Photo from October, 2003)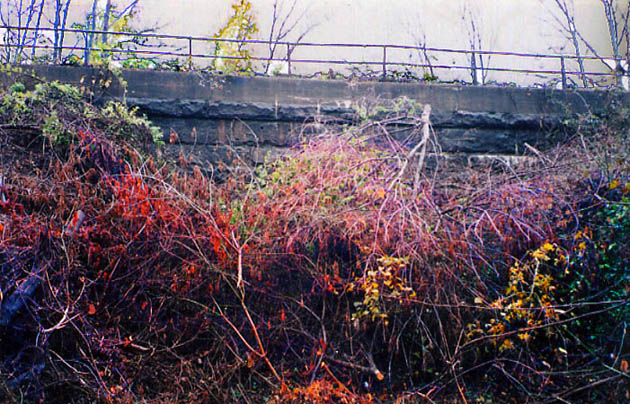 Close up on Overpass 2, mentioned above (Photo from October, 2003)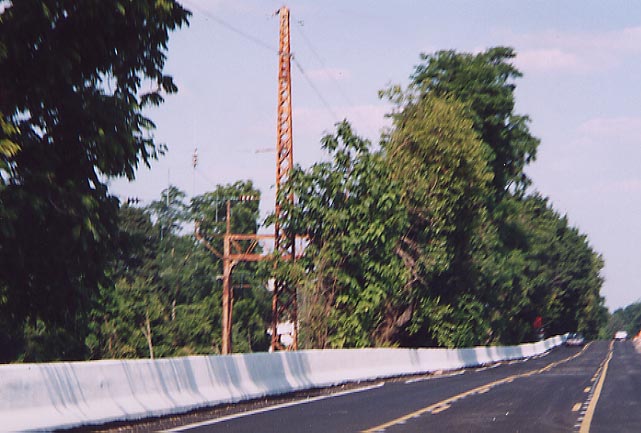 From near Lancaster to the Philadelphia Zoo, these railroad tracks and US 30 are never more than a couple of miles apart, and for most of that length you can see the tracks from along the Lincoln Highway. It is these tracks (originally laid out by the Pennsylvania Railroad in the mid 19th Century) that helped to produce the name "The Main Line" for the Western Philadelphia Suburbs that the Lincoln Highway also connects.
Photo taken along EB US 30 between Paoli and Berwyn (June 2002).
Lancaster Turnpike Markers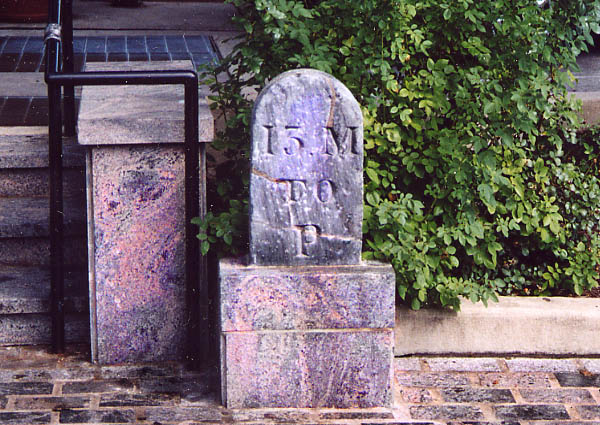 These tombstone like design markers show the mileage to Philadelphia for one going along the then Lancaster Pike. In the case of the two pictures above, those are exaggerated replicas that are made to stand out for the modern drivers. As for the picture to the right, that is (supposedly) an original milemarker from when the Lancaster Pike was constructed (according to literature I've picked up about Wayne).
US 30 from Downingtown on into West Philadelphia is still signed as Lancaster Pike (Ave in "urban areas"), with older alignments of the Lancaster Pike referred to as either Old Lancaster Rd or Conestoga Rd.
Photo top left, Lancaster Ave at Sugartown Rd in Stratford (April 2003). Photo top right, Lancaster Ave at S. Wayne Ave (former Pa 252 routing once upon a time) in Wayne (Sept 2002). Photo on right is from across the street from the photo above (Lancaster Ave at N. Wayne Ave in Wayne, Sept 2002)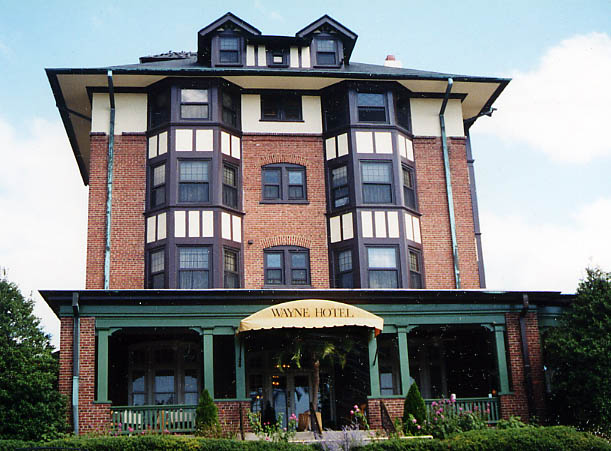 The Wayne Hotel. Built in 1906, it was originally called the Waynewood Hotel. Somewhere along the line, "wood" was dropped. It was bought by the Presbytery of Philadelphia in 1959 and for 20+ years was a senior citizen home (and referred to as Wayne Hall). I don't know when it changed back to being a hotel, or if someone else owns the structure now. (information gathered from "Historic Wayne" published in 1976)
(Lancaster Ave in Wayne, Sept. 2002)

With the construction of I-476, soundwalls line most of it's length. In this instance, the walls facing US 30 got some decoration with blue paint of the Radnor Twp High School Shield (an aside, my mom graduated from Radnor High in 1966) and various other images. US 30 looking west at I-476 (April 2003)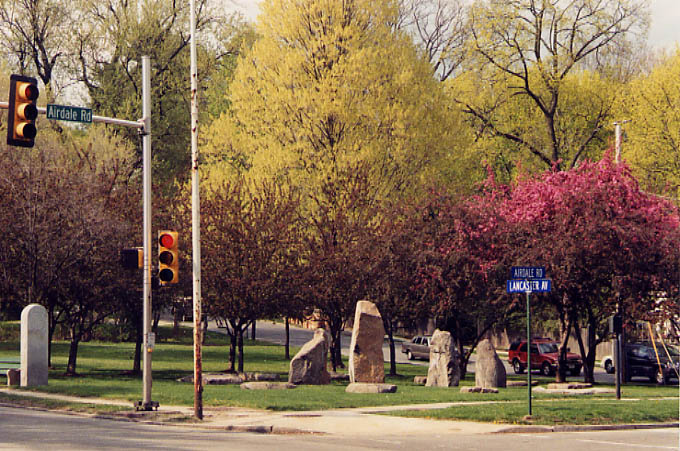 A township Park? I believe that is another reproduction Lancaster Pike milemarker on the far left. As for the other stones, I don't know their meaning.
Lancaster Ave at the Delaware/Montgomery Co line. (April 2003)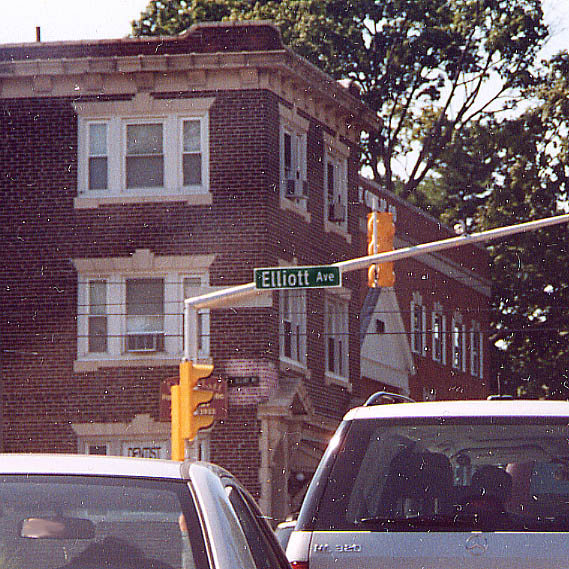 In Bryn Mawr, just like in Lancaster, street signs were imprinted onto the buildings. In this case, they are harder to see than the (revised) standard issue version on the traffic light support. Lancaster Ave at Elliott Ave in Bryn Mawr, April 2003.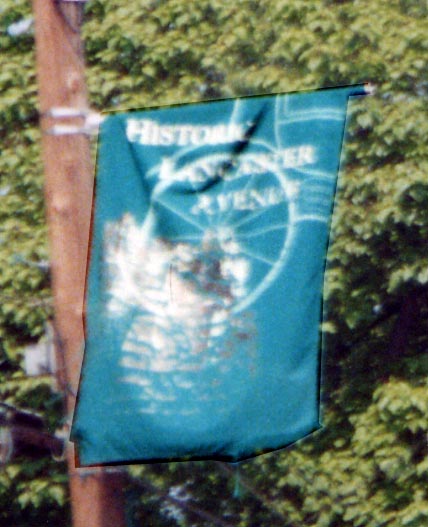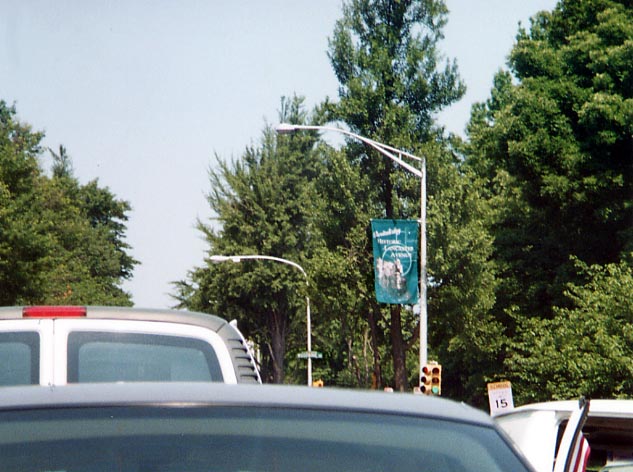 Attempt to make the neighborhood between West Philadelphia and Overbrook feel better for themselves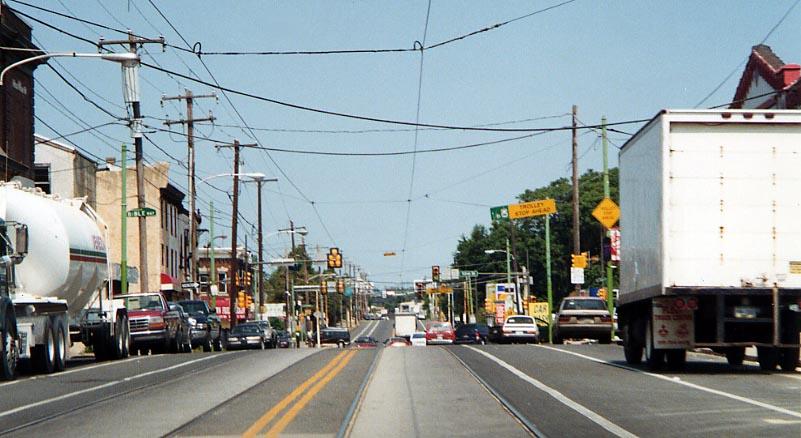 Any signs of the Lincoln Highway here? Trolley Line in the middle of the street, bike lanes on both sides. We're not in the Main Line nor Center City anymore.
Both sets above from June 2002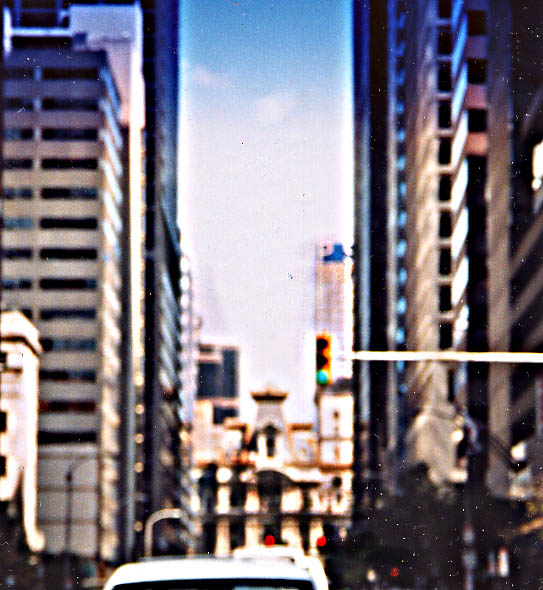 That is Philadelphia city hall I'm driving towards. By now the Lincoln Hwy is following Market St (Lancaster Ave. ends west of the Schuylkill River) and will turn to the north, at city hall, and follow Broad St to Roosevelt Blvd (picking up US 1). Interestingly, neither US 30 nor US 1 were ever routed around Philadelphia city hall (unlike the Lincoln Hwy).
While no federal route (currently) goes by city hall. Pa 3 ends it's junction(s) there. Or maybe it refers to the end of three junctions.
Picture of Pa 3 and city hall from Sept. 2002 (Another Pa 3 end photo here)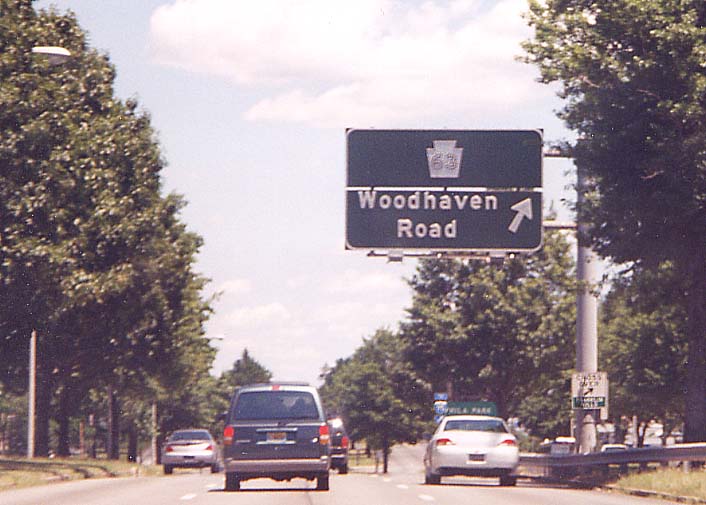 At least this 'Big Green Sign' has a route shield instead of text, but still is showing it's age (with the button copy numbers). Along US 1 (Roosevelt Blvd) in NE Philly (from 2000 trip)
Morrisville area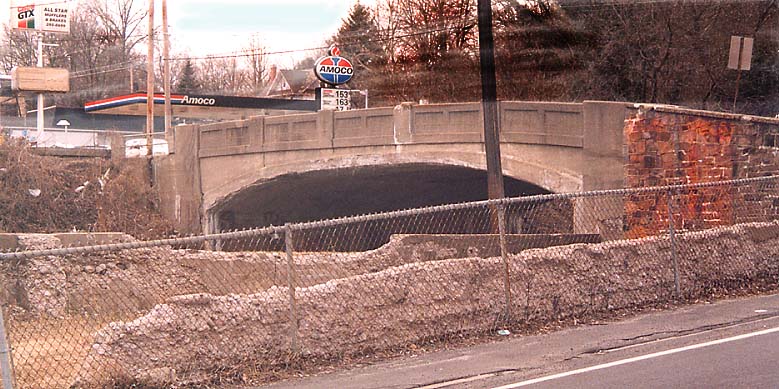 Delaware Canal Bridge Once you reach PA [from NJ], right after the intersection with Calhoun St is a bridge over what was once part of the Delaware Canal.
---
Links
Lancaster Ave Study (West Philadelphia) - By the Philadelphia City Planning Commission
---
Page created on July 2, 2003/ last updated on June 27, 2006
Questions, comments, and submissions can be sent to Sandor Gulyas
Lincoln Hwy links - Go west to Lancaster and York | Go east to New Jersey/New York LH Photos | Return to Pennsylvania Lincoln Hwy Page
Return to Southeast Pennsylvania Photo Page