The New Lane Avenue Bridge Grand Opening
November 14, 2003
Photographs of the events and dignitaries that made it what it was
---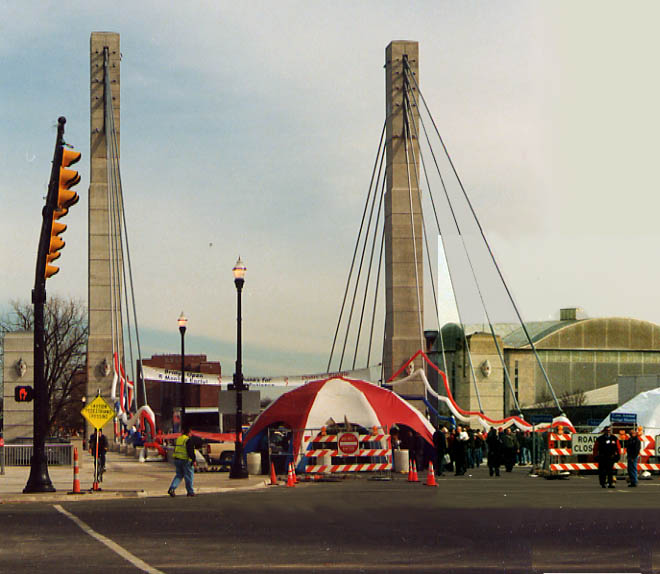 What one saw at the west end of the New Lane Ave Span that day. The red & white striped tent ahead covered food and beverages for all the attendees. The white tent on the far right (and mostly cut off) was the "media tent". It was cold and windy that day, so keeping weather sensitive stuff covered was important
(and for the record, I had to mesh two photos together to produce the one you see above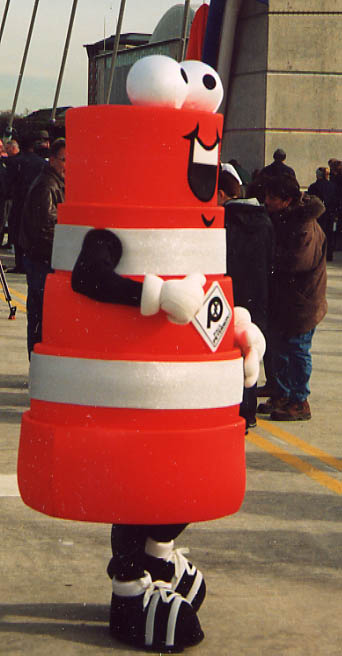 A scarry sight. A six-foot tall orange cone, with arms, legs, and eyes too! I think it's one of ODOT's creations, but frankly I'm not certain.
I know this much. It had nothing to do with Ohio State (their mascot, Brutus, was there, but I didn't photograph it)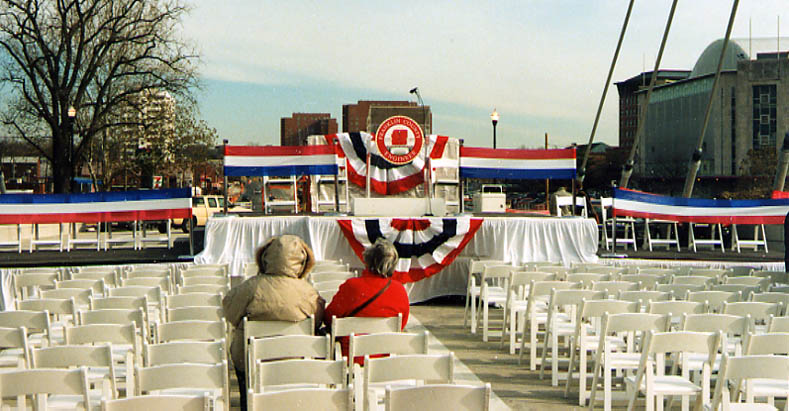 Podium admirers (or visualize the perfect speech)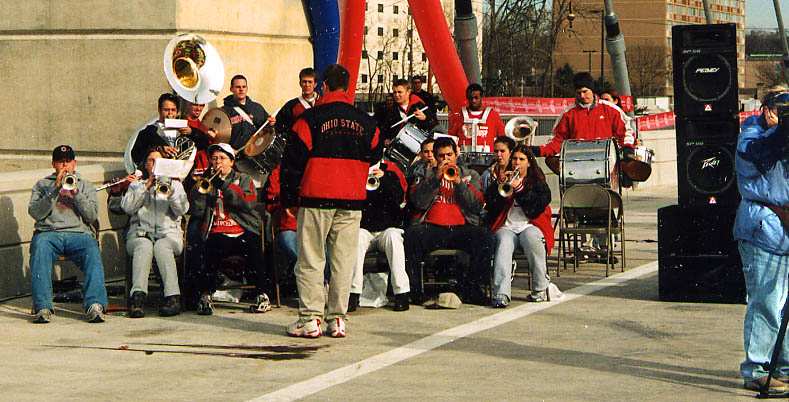 Along with Brutus (who I never photographed), Ohio State did bring their pep band....
(though it looks like the cameralady on the far right prefers the U of M fight song)
...and their cheerleaders
(As you'll see later, Athletic Director Andy Guiger and OSU President Mary Holbrook were in attendance as well.)
On with the show!

A color guard for the National Anthem
(No, I don't know why those on the left podium stayed seated while the rest of us were standing)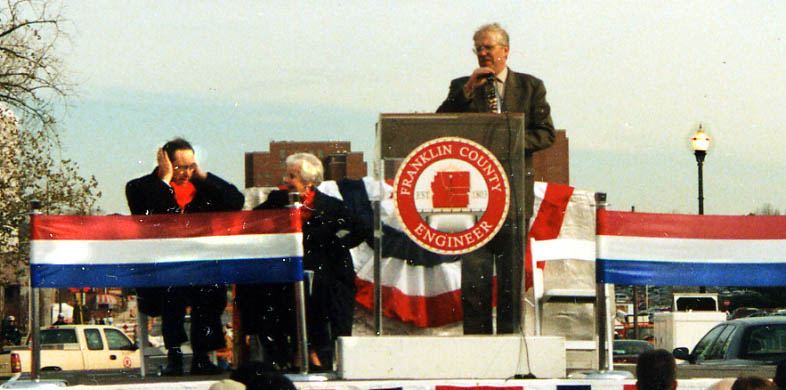 The Franklin County Engineer, Dean Riggle, held court as master of ceremonies for the bridge opening
(Or Gov. Bob Taft refuses to listen to the jeering crowd)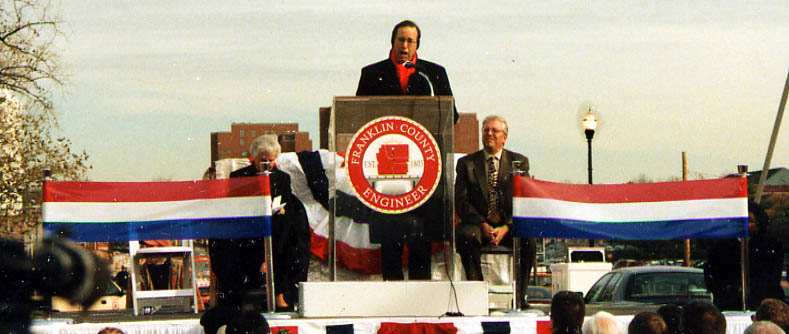 Governor Bob Taft addresses the crowd.
That is former State Rep. Ann Davidson on the left, and County Engineer Dean Riggle on the right.

OSU President Mary Holbrook also takes time to thank everyone for coming out and opening the bridge.
Behind her is (from left to right) Taft, Davidson, and Riggle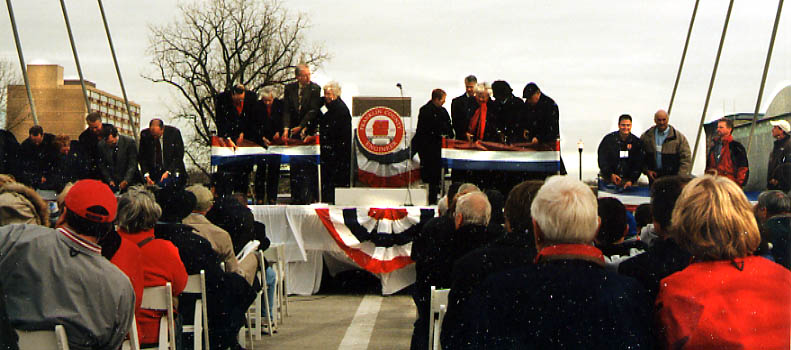 Everyone ready to cut the ribbon...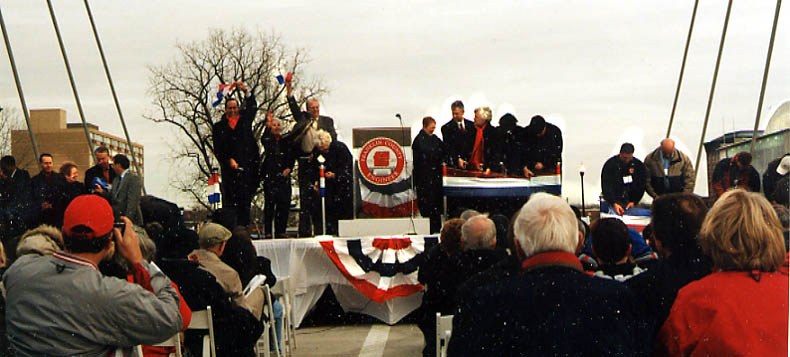 Westbound Lane Ave is open (thanks to Taft, Davidson, Andy Guiger, and others)!
(Or, how do you operate these scissors? See right center group)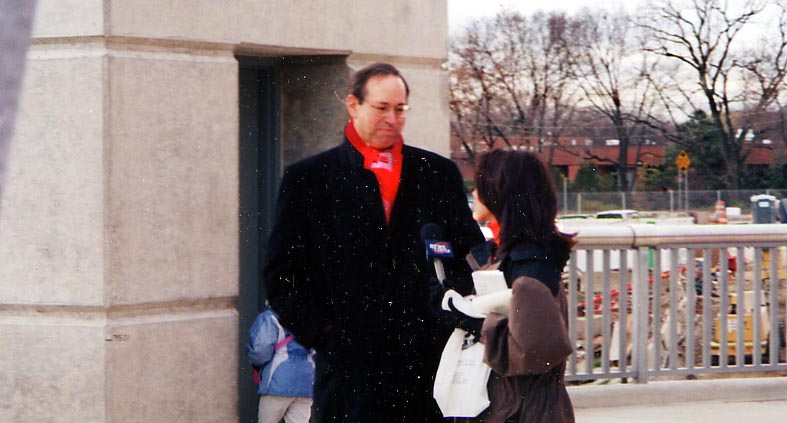 Reporter: So Governer what do you think about....
Governor Taft: [looking swarmmy] Whatever your question is my answer is, No Comment.
---
The Lane Ave bridge was opened for pedestrian traffic after this ceremony was finished. It was opened for vehiclar traffic November 17, 2003.
---
Page created on December 12, 2003/last updated on December 22, 2003
Questions and comments can be directed to Sandor Gulyas
Return to the Lane Ave Bridge page