I-73 in South Carolina
---
The end, an open ended subject when it comes to I-73. It was to end in Charleston, but that choice was successfully fought off by citizens. Now I-73 will end at Myrtle Beach, or is it Georgetown, or maybe in the end it'll just stop near Conway instead. South Carolina, as you'll see is no more organized about I-73 as any other state (outside of North Carolina mind you)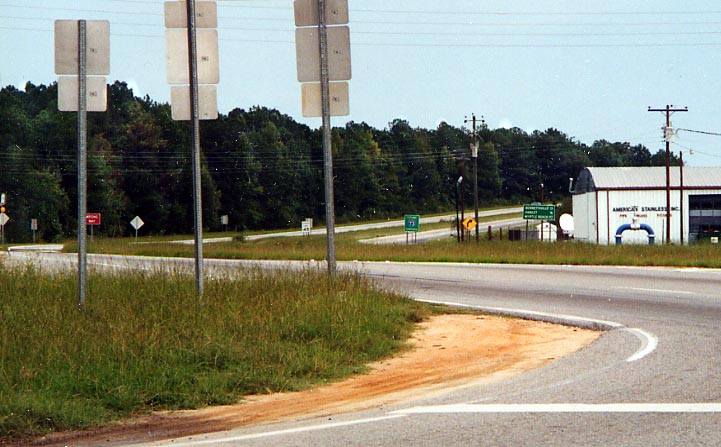 The intersection of US 1 and SC 9 near Cheraw. That is a Future I-73 Corridor sign in the distance along SC 9 EB
After having I-73 being promoted as a possibility through here, plans (as of 2005 according to Vstone) now call for I-73 staying east of here and never using SC 9.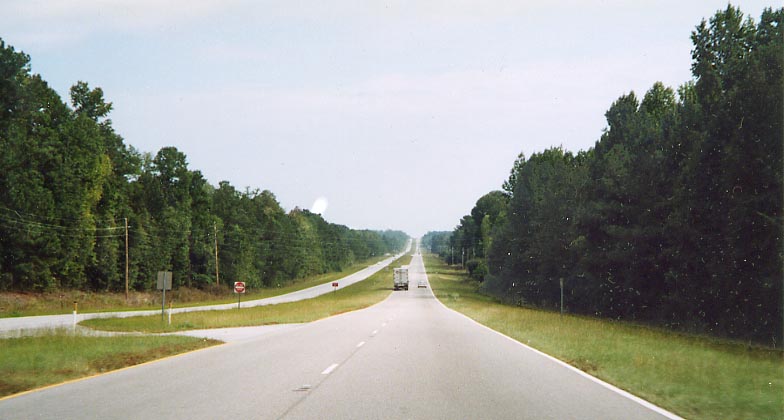 SC 9 between Cheraw and Bennettsville. 4 lanes the entire way, but not only would intersections have to be done away with, but driveways as well. Straight as an arrow here though.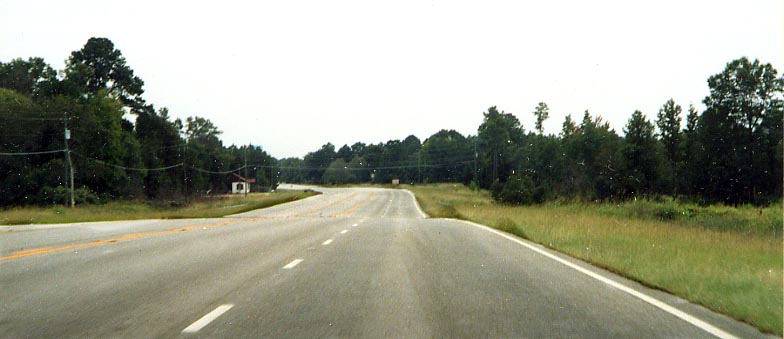 Now on SC 38 near Brownsville. Now we're 5 lanes wide (from Bennettsville to I-95 and just about set to open more lanes from I-95 to US 301 as of July, 2005). That turning lane would have to go (it would become the median/jersey barrior) for this to be a freeway.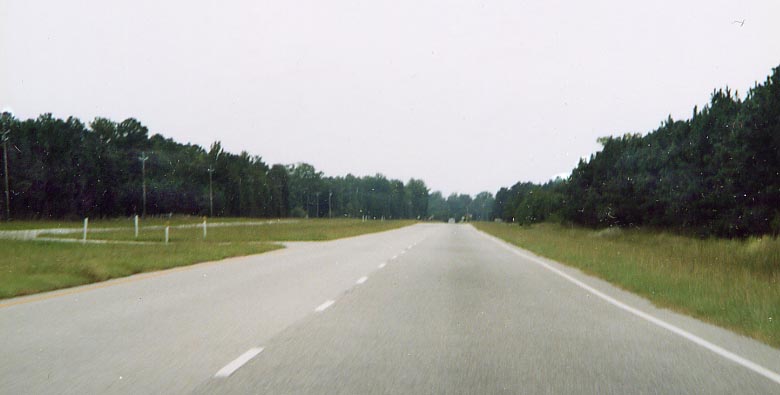 More SC 38, now near US 301 and 501. The middle turning lane has gone away, but the local access issue is still here to be contended with.
The north end of the US 501 Marion bypass.
Tieing the two photos above together, from Vstone - A large amount of construction is underway from the US-301 bridge to the Marion Bypass, with a huge intersection being built at the SC-38 and US-501 intersection. You have to see it to believe it. The traffic flow will not be a 4 way stop, but with SC-38/US-501 south having the major traffic flow emphasis.
For this to be an actual interstate, instead of a corridor (like the sign says), West Chapel Ln can no longer connect to the Marion bypass (and with the US 76 interchange ahead, an interchange here is out of the question)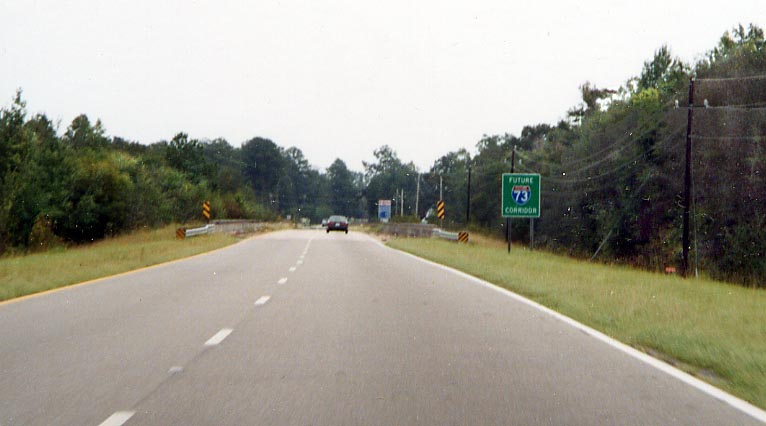 Another I-73 corridor sign along US 501 between Marion and Conway. I should also note, this was the last reference towards I-73 that I saw on my trip.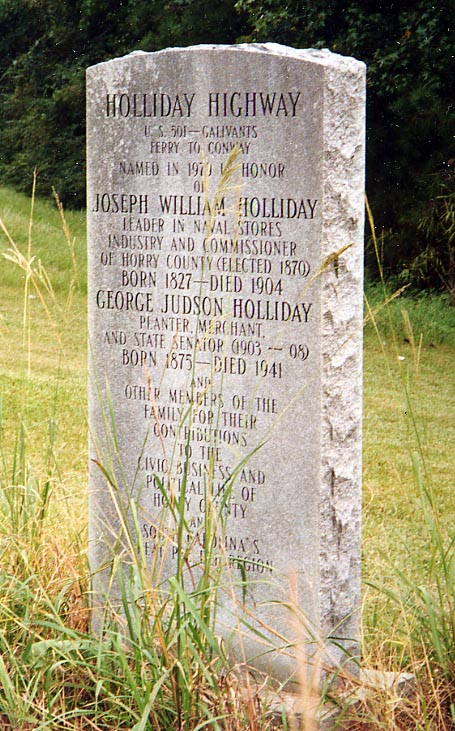 This concrete monument is near Galivants Ferry along US 501 (near a bridge IIRC). I don't know how common these are along South Carolina roads, there was the standard issue small green sign (without all the fanfare) mentioning Joseph Holliday Highway nearby as well.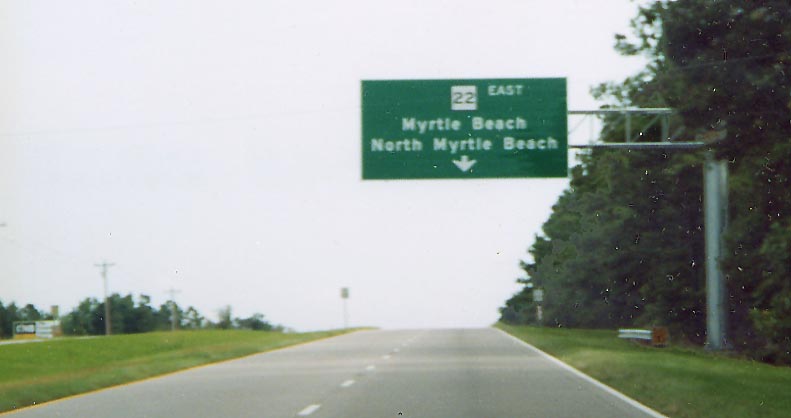 The only reference I picked up to the Conway by-pass along the way.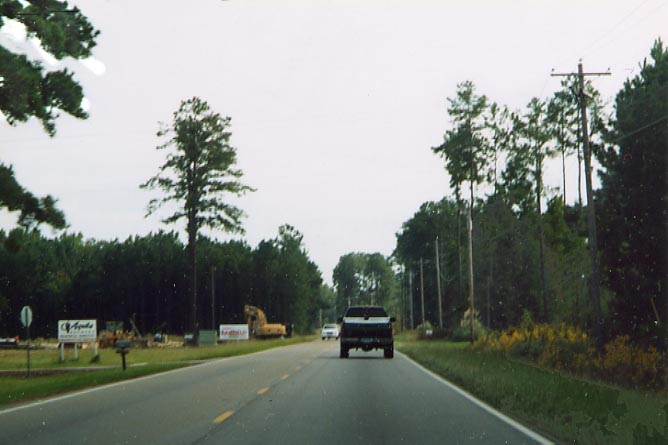 From Conway, I decided to go south along US 701 towards Georgetown. This is what US 701 looks like on the south outskirts of Conway.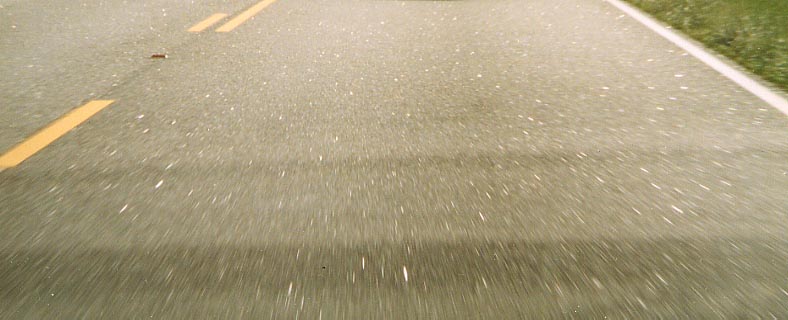 For whatever the reason, US 701 seem to have more shiny flakes of asphalt (mica?) on it than I ever seen on a highway (local, state, federal, and interstate) before (or since). I wonder how that came to pass.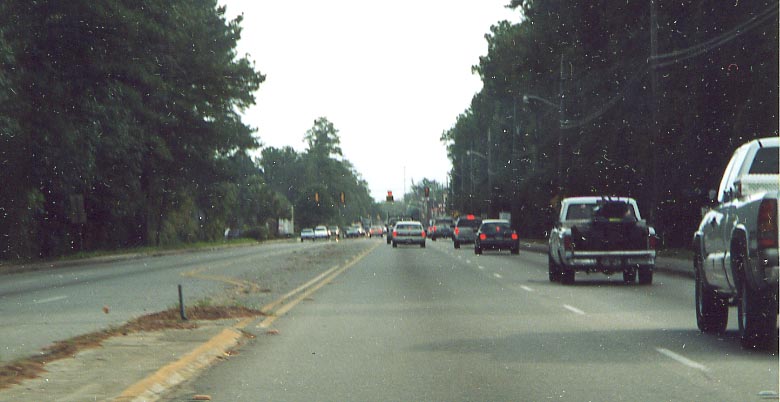 The outskirts of Georgetown. One is not going to be able to put a interstate through this.
Now I am well aware that I-73 got shortened and is not going to Charleston. Neverless, I wanted to drive on to see what I-73 had going against it. I Followed US 17 south(west?) from Georgetown to Charleston. Other than a national forest, and the ocean being several miles east behind a bunch of trees, I couldn't see (at 60 MPH) what all the fuss was about.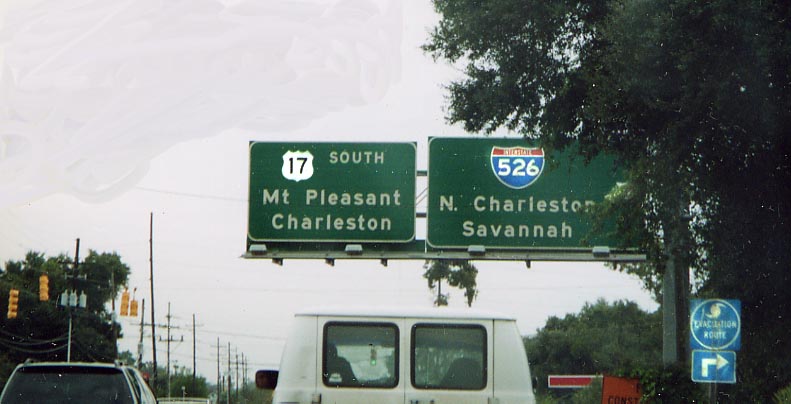 The would-be southern end for I-73 (No way anyone should tried to route I-73 along US 17 through Mt. Pleasant and Charleston. That would be horrific). However, there is enough built up areas near this interchange that it would of been very expensive to finish I-73 off here.
---
Links
Adam Prince - The South Carolina I-73 story & New Roads in Myrtle Beach (Conway Bypass & Carolina Bays Parkway)
South Carolina I-73 Association (Economic Developers & Chamber of Comerence members along the I-73 route who would like to see it built)
---
Page created on August 26, 2003/ last updated on August 9, 2005
Questions, comments, submissions can be sent to Sandor Gulyas
Go north to I-73 in North Carolina | Return to the I-73 photos home