I-73 in North Carolina
---
North Carolina is the only state where one can find I-73 interstate shields. I-73 would follow US 220 for the most part (bypassing US 220 to the west around Greensburo) and then US 1 south of Rockingham into South Carolina.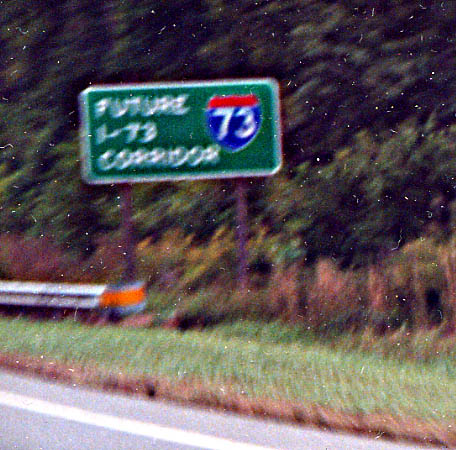 This was the only "Future I-73" Corridor sign I saw along US 220 north of Greensboro. This one is in Rockingham County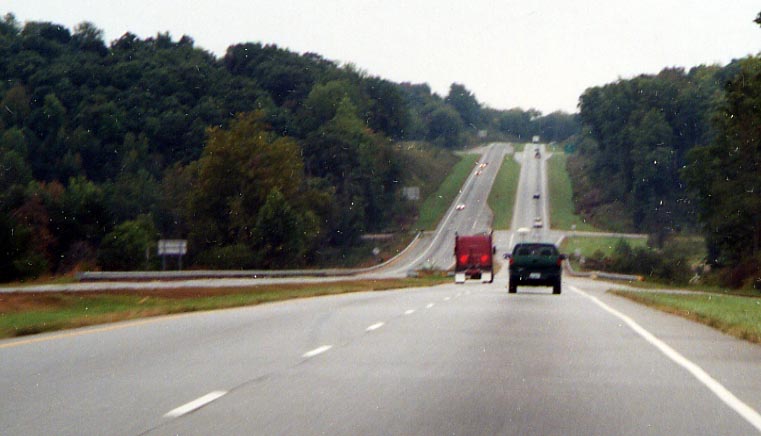 4 lanes, but at grade intersections along the way that would have to disapear. This is possibly near Madison.
What I should of said is southbound just north of the Dan River.
From Vstone - The bridges are about 1/2 mile north of the end of the Madison-Mayodan bypass. This bypass and the Stoneville bypass immeditely to the north of it were originally built in the mid to late 60's and upgraded to 4 lanes in the late 90's. The overpasses are the original bridges built in the late 60's to accommodate 4 lanes even though only 2 lanes were built at the time.
As an aside: Both of these bypasses were restricted to one lane in each direction long after they had been completed. A friend once read that NC had about 70,000 traffic barrels. My theory: The can't remove the barrels from a given location until they have a new location to move them to.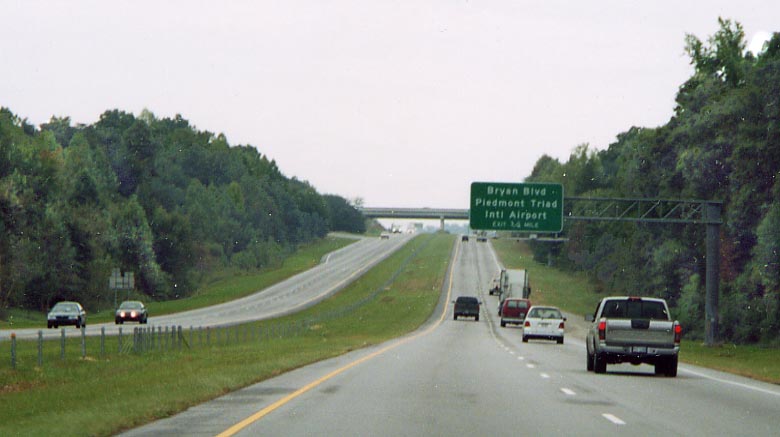 I-73 would ditch US 220 to go around Greensboro following NC 68. For several miles near Greensboro Airport and I-40, NC 68 is interstate standard, but is unmarked in reference to I-73. But NCDot could put up Future I-73 shields along this section if they wanted to. Then again (from Vstone)....
I believe current plans show I-73 NOT following NC-68, but following US-220 to just south of Stokesdale, then following a new route west to NC-68 just north of the airport (apparently where the NC-68 expressway now starts) then following a rerouted Bryan Blvd east to an Urban loop (I-840) and follow the loop around Greensboro to the west. Around the airport Bryan Blvd. will have to be rerouted because of the FEDEX hub being built there. The first part of this urban loop, an I-85 bypass of Greensboro, is already open. The second part, from the new I-85 to US 70 is currently under construction. There is some infighting between NC and Greensboro about future funding. NC is raiding their Highway Trust Fund to balance the budget. This is a poor state of affairs for NC, which has always had great roads. Greensboro is trying to at least build all the future bridges over US 70 as part of the current construction effort to prevent travel delays in the future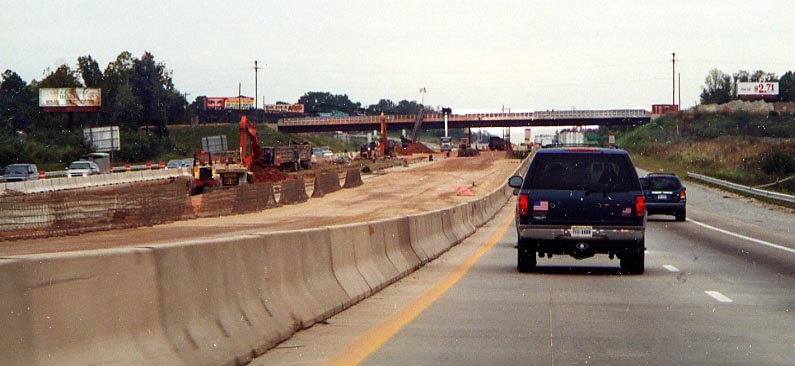 With the explosion in population growth in North Carolina, brings with it the highway boom. In this case, I-40 is being widen between NC 68 and I-85. In other places new interstate alignments are being built (see below). I-73 will be utilizing both. This section of I-40 above is also to carry the I-73 designation with it as well. We'll see. (UPDATE) If you care, this section of widening along I-40 has been completed as of 2004 according to Lou Corsaro)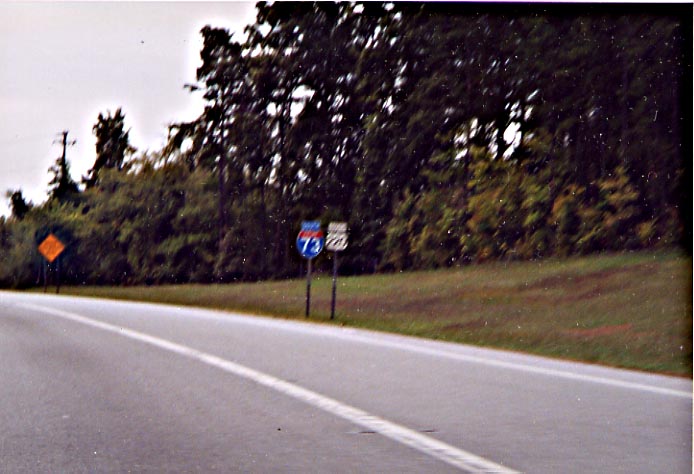 Once you go south again on US 220 from I-40, you will start seeing Future I-73 shield for the first time (evidently there is a Future I-73 shield along US 220 north of I-40 as well). I say future, because that is what they say in the red banner, instead of interstate, above the route number.
This is the future crossing of I-85 and I-73. I-85 will go left to right across I-73 and US 220. This will be a new allignment for I-85 south of Greensburo to help alliviate traffic woes. According to Lou Corsaro, NCDOT is using a C/D (at least for I-73/US 220) with cloverleaf ramps design for the interchange here.
Once you cross into Randolph County, an old friend from West Virginia and Ohio returns. I-74. As the sign in the photo says, begin Future I-74....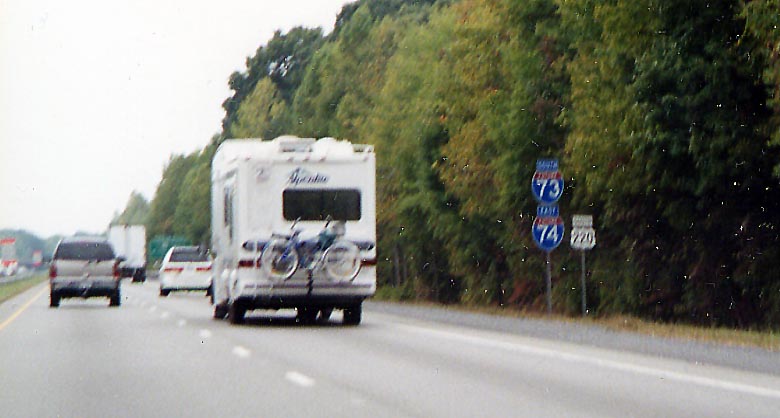 ...And with that, you see this collection of signs (in one form or another) the rest of the way south to Rockingham. In this picture, I-73 and 74 are still Future routes.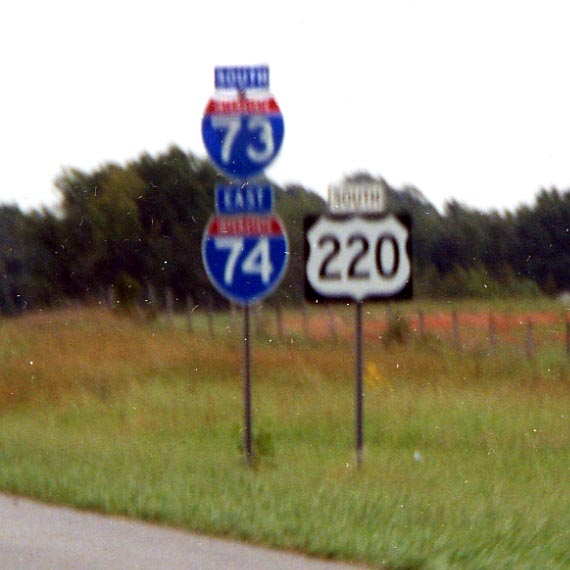 But south of Asheboro, one starts on the only official section of I-73 (along with the third section of I-74 built/signed). You can sort of see 'interstate' in the red banner above both route numbers.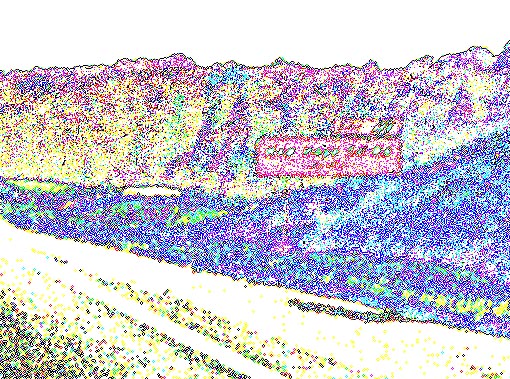 Do you know what this is? Why it's my artistic rendering of a BGS along I-73 in North Carolina. I wanted to get a picture of something marking the distance.
Click here to see the actual photo instead of my showcase of stupid photoshop tricks.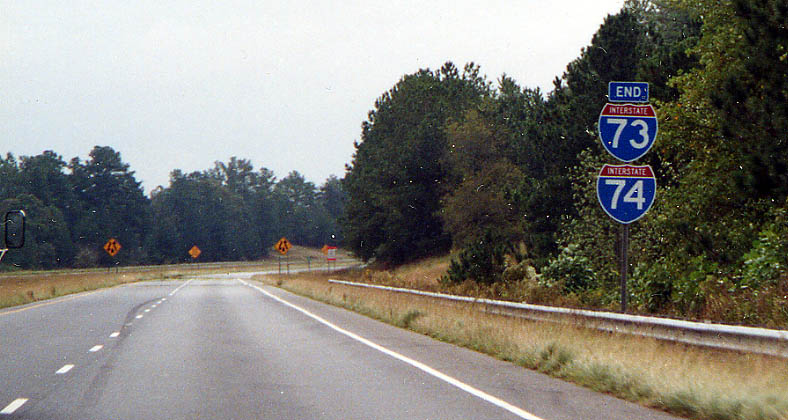 All things must come to an end, and that is the case for I-73 and I-74 here near Emery.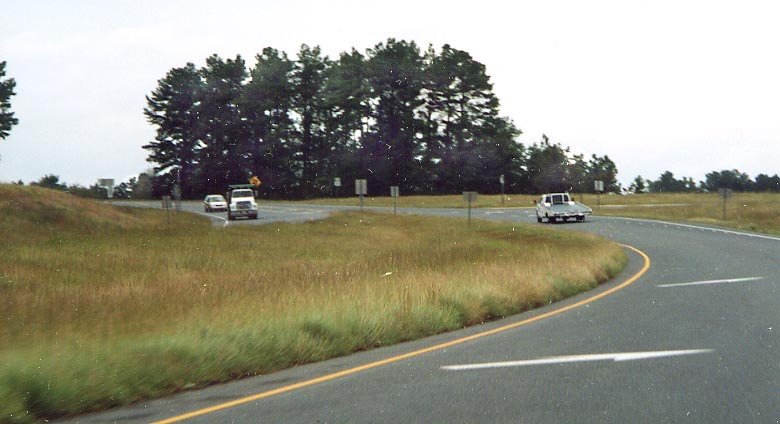 I believe I-73 and 74 would continue on (if built) just to the right of that grove of trees in the middle of this photo.
Otherwise you can see the old alignment for US 220 before it was widened here.
(UPDATE) According to Lou Corsaro, construction has started to extend I-73/74 to Ellerbe in 2004. Furthermore...
From Vstone - The Norman bypass is well under way and by my observation, could be done by mid 2006. But according to Mrs McCalland ( a Fruit Stand worker [if you happen to meet her, tell her she's now quoted on the World Wide Web]), it won't be open until the part around Ellerbe is open and they are still trying figure out where it will go around Ellerbe. This is strange to me because they have apparently cleared the land for that path. She may have been thinking about the route from south of Ellerbe to I-74 west of Rockingham. They could easily open the Norman by pass separate from the Ellerbe since there is an I-73/SC-73 intersection about 1/4 mile east of US-220. They also appear to be building a road from SC-73 west (at the roadside park [see double 73 photo directly below]) directly east to connect with the bypass. I assume all of this relates to the many produce stands in the area and not wanting to give an advantage to some over the others.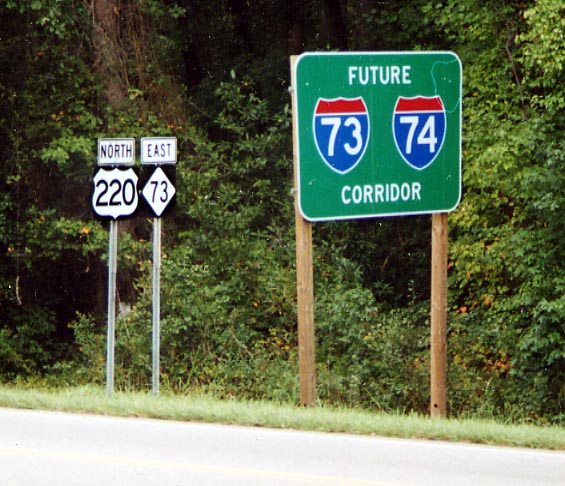 While much attention has been focused at the overlap of I-74 and US 74 in SE North Carolina, there will also be an overlap of NC 73 and I-73. Giving directions in this area will never be easy again.
I-73 and I-74 will have to be routed around Ellerbe, if for no other reason than to save this 60s era Zenith TV sign.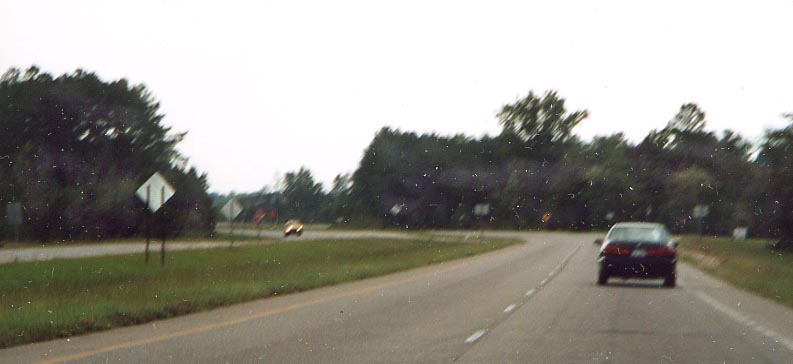 As you approach Rockingham, US 220 again widens to 4 lanes, but unlike the section in Guilford, Randolph, and Montgomery Counties, there are no I-73 or I-74 shields along this part.
This sign is sort of a misnomer. I-74 continues to the east (see below) and one will see I-73 future corridor signs again in South Carolina. But for the time being this is the southern extent of I-73 signage in North Carolina.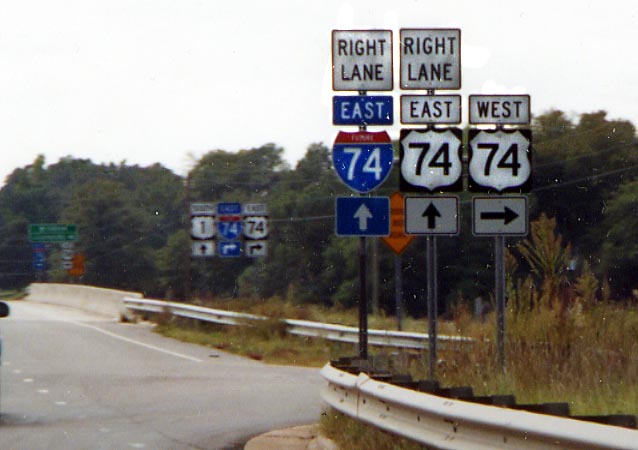 Signs for double 74. (Future) I-74 and US 74 will run congruent to the east from here.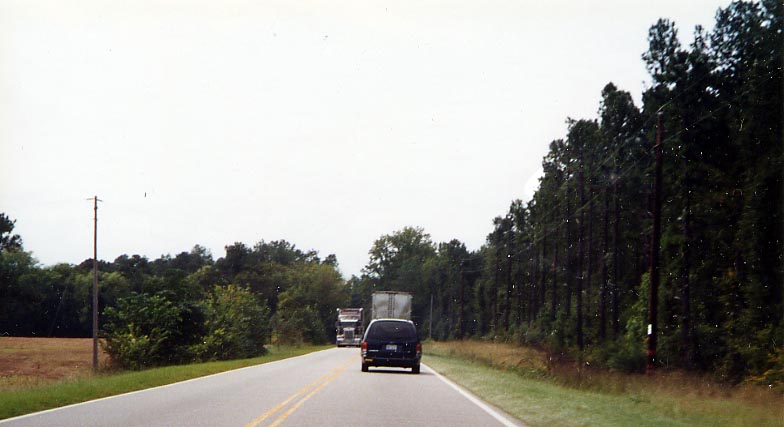 South of Rockingham, I-73 will follow US 1 into South Carolina. A lot of pine trees will have to be sacrificed to widen the right-of-way.
That was the idea through 2003. Vstone has updated routing info...Presumably I-73 around Rockingham will be coordinated with a US-1
expressway bypass around Rockinham to the east and I-73 will now enter SC around SC-38 instaed of following US-1 south.
---
Links
Rob Malne - I-73 (and I-74) progress in North Carolina (I highly recomend going to his site! Since he lives in NC, he is more in tune with what is going on than someone studying blues music geography in Louisiana [that being me])
Adam Prince - I-73 (in NC) in photos
Matt Stefora - I-73 page
---
Page created on August 26, 2003/ last updated on August 9, 2005
Questions, comments, submissions can be sent to Sandor Gulyas
Go south to I-73 in South Carolina | Go north to I-73 in Virginia | Return to the I-73 photos home page