Delaware City
---

The Ohio Department of Natural Resources has gone to the extent of numbering the roads/paths within the state parks of Ohio. However, don't mistake the Ohio 24 in this photo (to the left) for US 24 in Northwest Ohio.
(Delaware State Park, from April, 2004)
US 23 - US 42 intersection, South Delaware
In 2001, the City of Delaware had cobbled enough financing together to rebuild the US 23-42 interchange so that one could go in any of the possible directions there. Previously, you could not go from US 23 NB to US 42 SB, US 42 NB to US 23 SB, and S. Sandusky St could only be reached from US 23 NB. With the burgeoning industrial park on the SW side of Delaware and increased traffic levels in general, something had to be done.
Map of the old interchange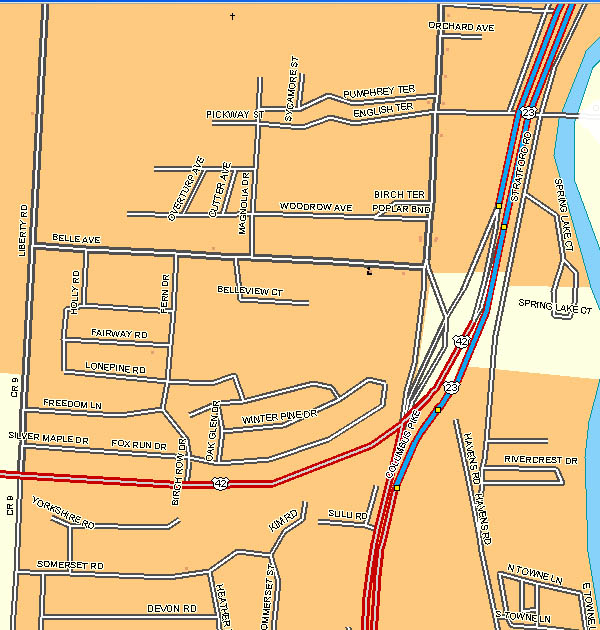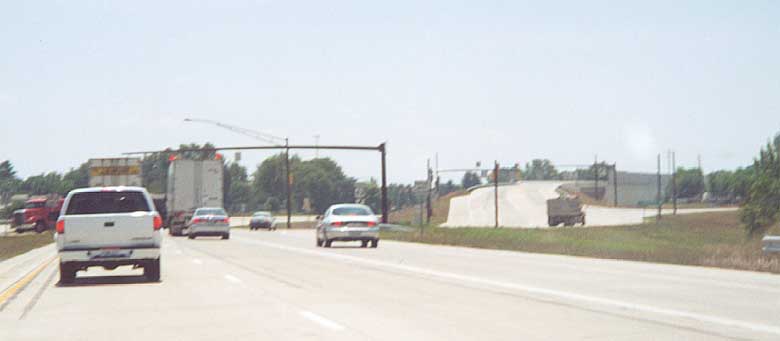 We are heading SB on US 23 approaching the US 42 split. US 42 heads to the right and the connector to S. Sandusky St is on the far right.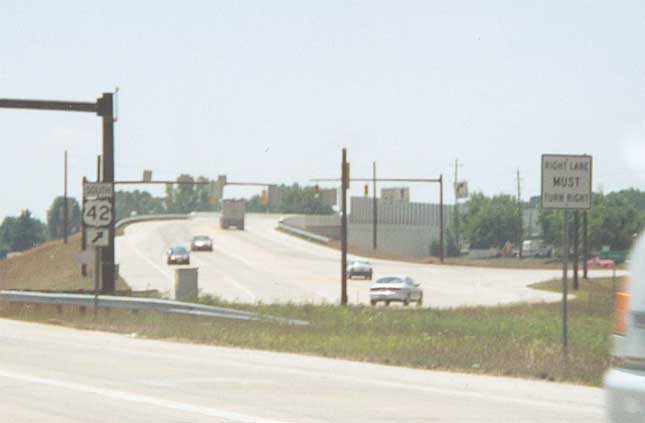 A closer view of US 42 heading to the SW. You can see another traffic light with US 42 and the S. Sandusky St connector. You can see the sound wall installed, with the new intersection, for a mobile home park behind the trees on the right.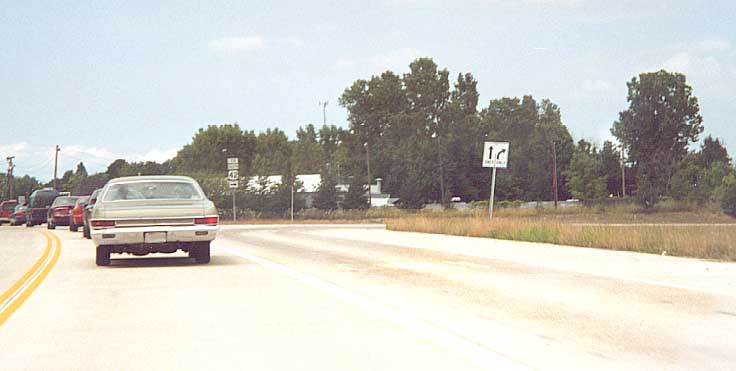 The Sandusky St connector from S Sandusky St. NB. You use the right lane to reach US 42 south from US 23 NB
(photo below)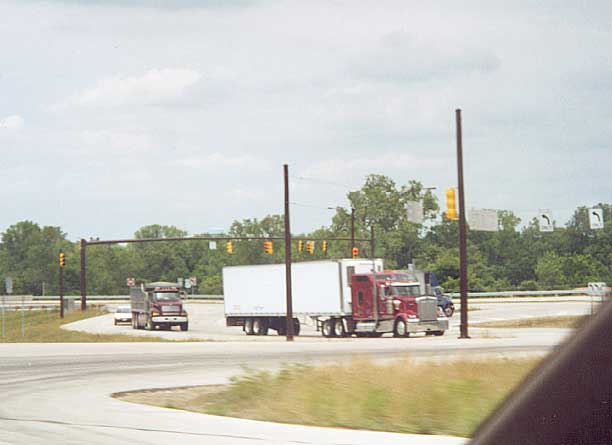 Looking at the traffic lights for US 23 and US 42 from S. Sandusky St.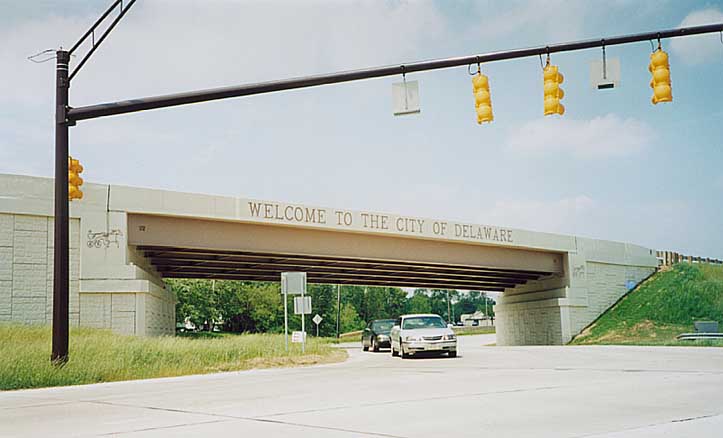 S. Sandusky St (unsigned Business US 23 through Delaware) underneith US 42. The city wanted visitors to see something that let them know they were in Delaware. The horse and sulky on either side of the bridge represent one of Delaware's claims to fame, harness racing's Little Brown Jug.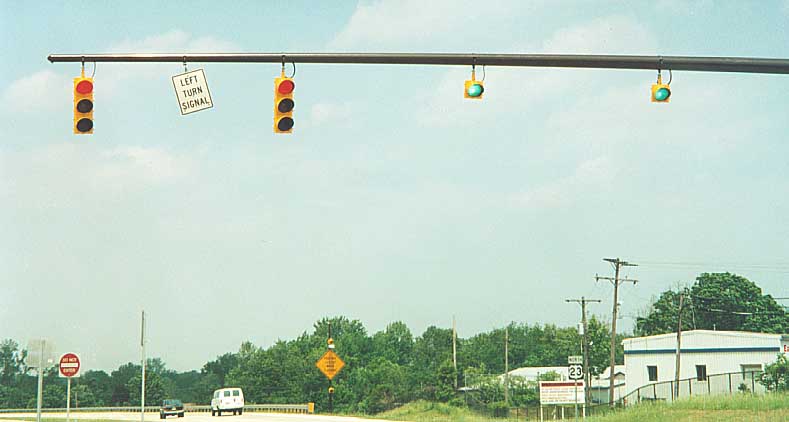 First traffic light assembly along US 23 north at the new intersection. Through traffic gets green bulbs (keep going everyone)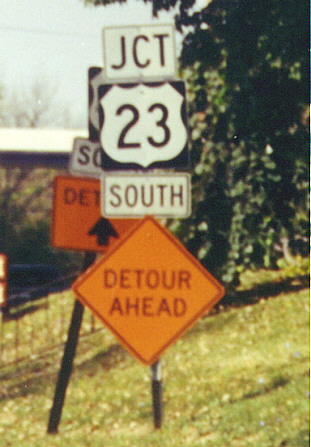 Photo on left - (ignore the detour signs) Junction, route, direction? Doesn't the direction go above the route shield (though underneith any other directions), not below it. This one is still standing on WB US 36 (E. William St) between US 42 and 23.
Photo on right - I've seen detours for just about every type of transportation, but not for foot traffic before this one. The sidewalk in question was along the US 36-42 (E. William St) bridge over the Olentangy River, while it was being rebuilt back in 2000(?). Bikes and feet were redirected north along Henry St to Winter St east to get by.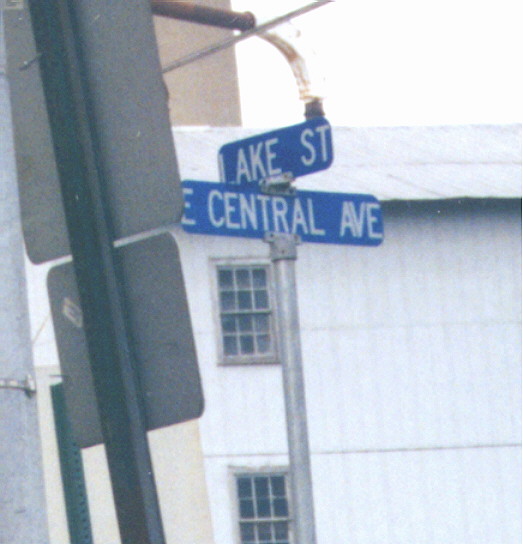 The offical color scheme for Delaware city street signs. White lettering on blue background (as opposed to the national standard of white on green). US 42 (Lake St) @ Oh 37 (Central Ave).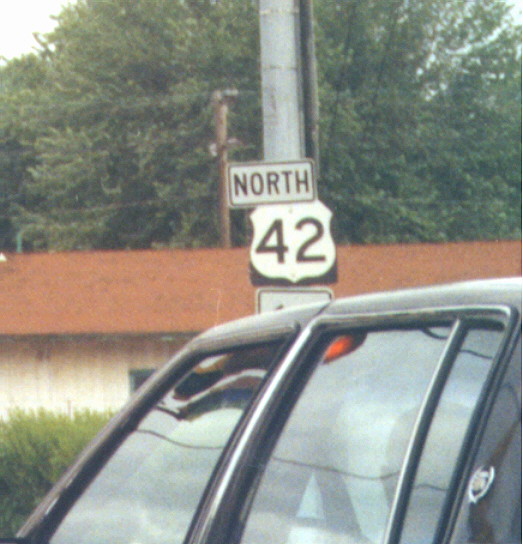 Could someone please keep "North" in line with the rest of this sign assembly (or just replace it if it wants out).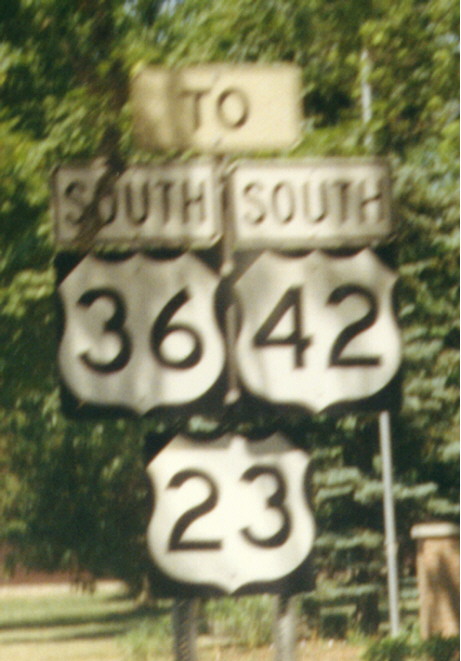 Two things wrong with this assembly. First US 36 goes E-W, not N-S. Second, If you're already on US 36, why sign it as 'To US 36?' Since this photo was taken, the direction over the US 36 shield has been corrected, but the 'To" sign still stands. Ironicly, this assembly is across the street from ODOT's district 6 HQ. Along US 36 EB in Delaware's east side.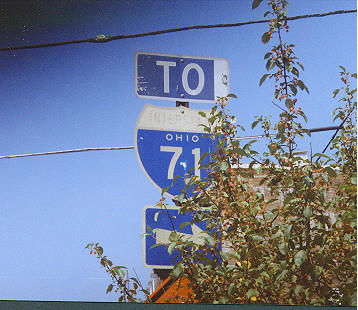 This I-71 shield might have been here since it opened in 1961. Interstate is almost faded out and Ohio is printed above 71. This particular sign was replaced in 1999. Intersection of S. Sandusky and William Sts in Downtown Delaware.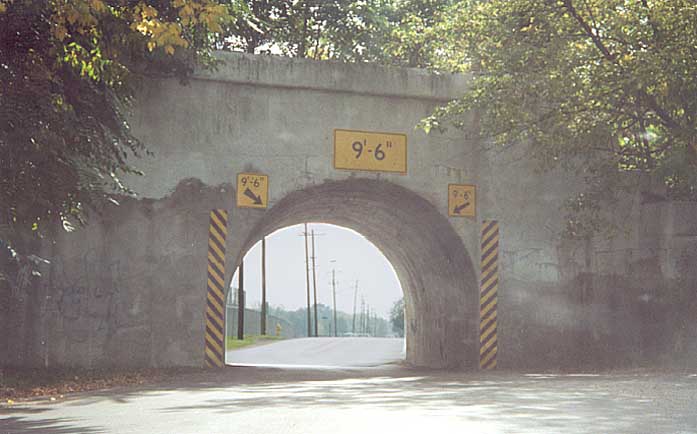 This is one of the smallest underpasses you'll ever see. This bridge will be demolished in 2003 or 4 because the railline is being abandoned. The City of Delaware will be thankful because they can widen the street to two lanes from one lane. Henry St at Wilmer St. on the Ohio Wesleyan campus.
Delaware Buildings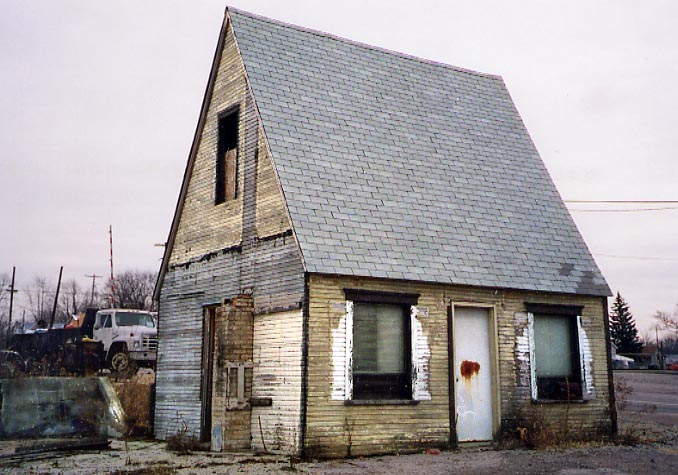 At the intersection of Lake St. and Central Ave (US 42 & SR 37), one can see several old buildings that have seen better days
This simple wood A-frame was (is?) is at the NE corner of Lake & Central and owned by Goodman Oil Co last I knew. It was still being used as recently as 1998. Due to it's design, one can imagine its been around awhile. (Photos taken in January, 2004)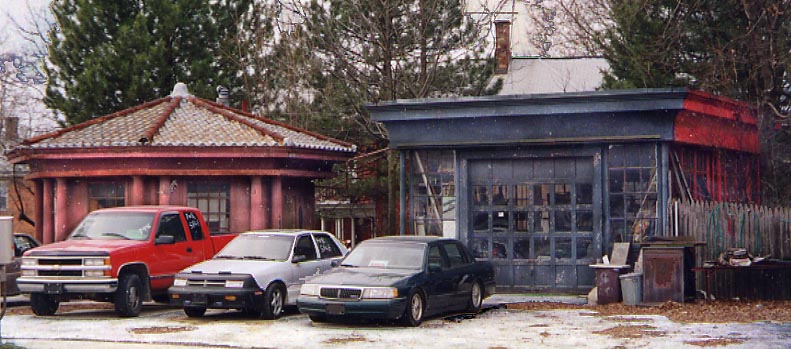 On the NW corner of Lake & Central is this mostly abandoned Linco-Marathon Station. That circular building on the left is actually an octagon....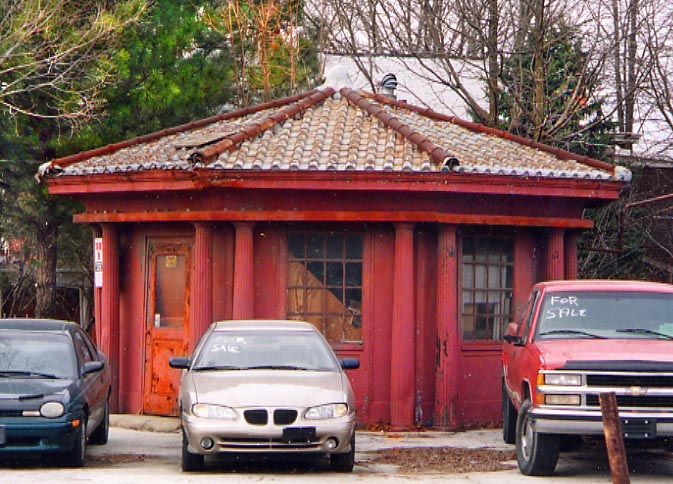 This abandoned gas station has enough history that it was written up twice in the Delaware Gazette in the summer of 2002....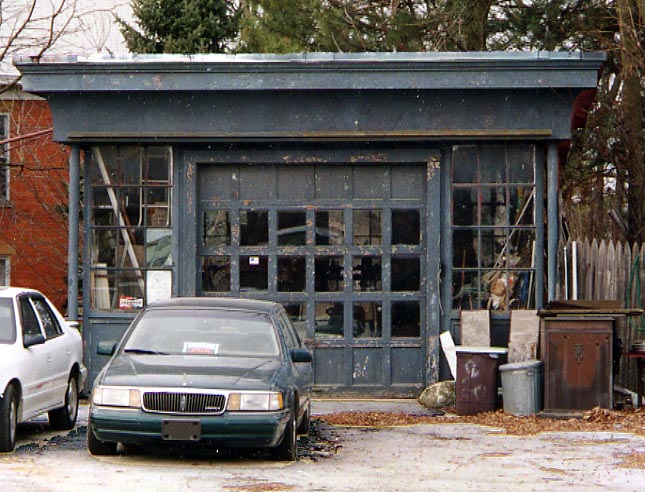 The gas station closed in 1970 and one point house a restaurant with the garage and gas station. (Photos taken in January, 2004)
The westside of N. Sandusky St between William St and Central Ave. Alot of these buildings have been around since the 1800s.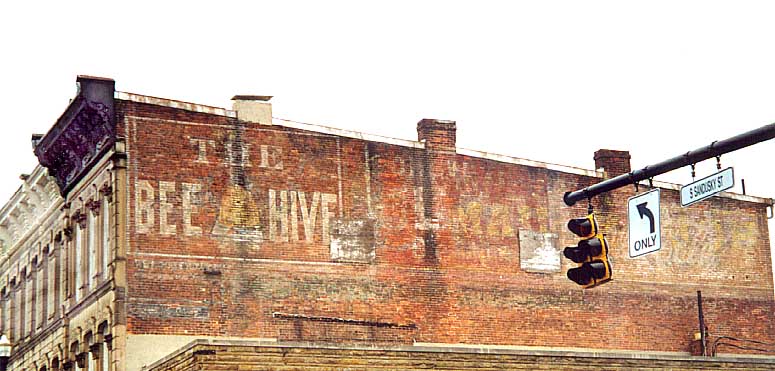 The Bee Hive hasn't existed in 75 years. In one Delaware Gazette article, no one could be found who knew what the Bee Hive sold. I don't know what the middle painting is supposed to be, but I think the one on the right (behind the traffic light) was for Coke(?) Cola. NE corner of Sandusky and William Sts.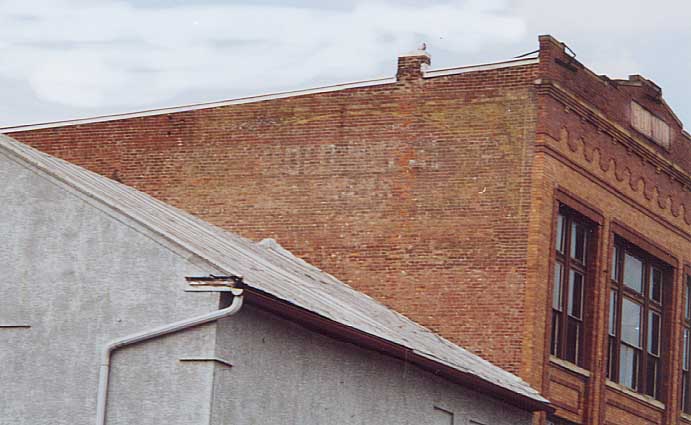 It's hard to see but there was a sign for Gold Medal Flour in the middle of the wall. On the right (front) top is the name Frank. This building I believe is still within the Frank family. NW corner of Sandusky and William Sts.
Also check out Delaware County Bridges
---
Map of US 23-42 interchange from DeLormes Maps
Page created on November 25, 2002, last updated on April 28, 2004
Questions and comments can be directed to Sandor Gulyas
Return to Delaware County Photos