Clarksdale Blues
---
If there is any place in Mississippi that is more blue than Clarksdale, I have yet to visit it. There is more blues landmarks within Clarksdale than anywhere outside Memphis and Chicago. Below are some of what one can find here.

How much more blue can you get than John Lee Hooker Ln intersecting with Blues Alley. This is located to the left of the Delta Blues Museum...
Chronology of the Delta Blues Museum
Myrtle Hall, located on State St (old US 61/49), just to east of the crossroads monument, original home to the Museum from 1979-1982.*
(Photo taken in June, 2005)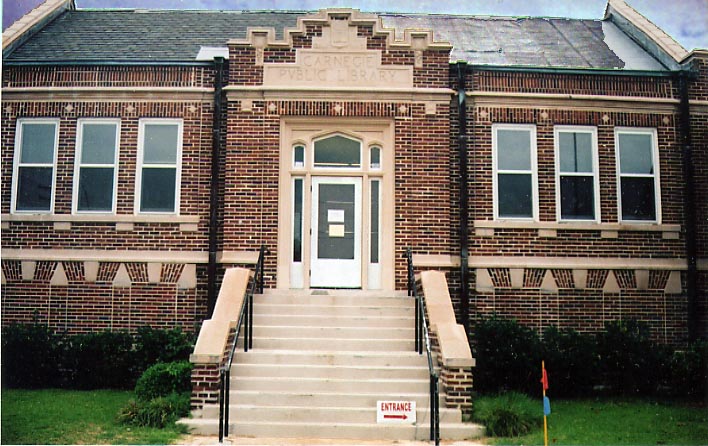 Carnegie Library, located on 114 Delta Ave (up on the north side of the Business District), home to the Museum from 1983-October,1999 $
(Sidenote - First time I visited the Delta Blues Museum, in June,1999, it was still located here)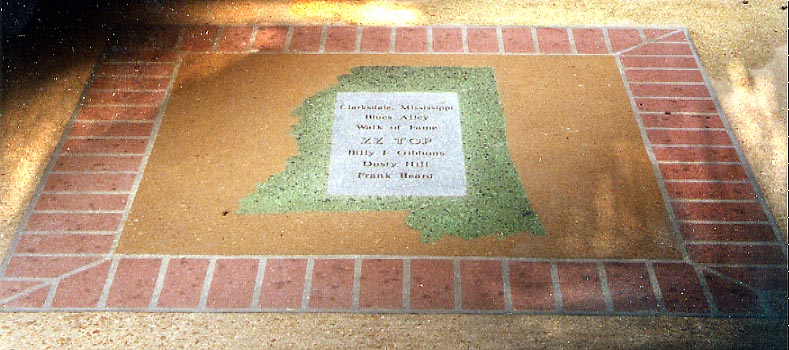 Back when the Delta Blues Museum was still on Delta Ave, someone had an idea to create an Blues Alley Walk of Fame. As far as I know, only one band got mentioned this way.....ZZ Top (blues purists can stop snickering anytime now). I took this photo in June, 1999, I did not see any additions to the Walk of Fame at The Blues Depot, nor here when I last visited in June, 2005.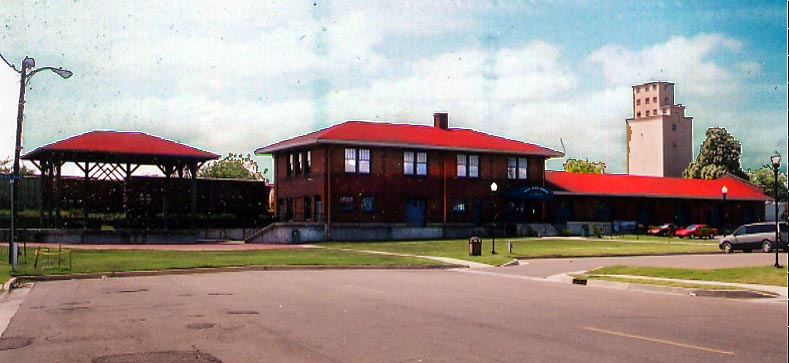 The current home for the Delta Blues Museum since 1999. Now located at the old Clarksdale Depot, they have been looking for funding to refurbish Muddy Waters' old Stovall Plantation home/shack and have it outside (nearby) for everyone to see. (Photo taken in May, 2003)
(It should be noted that Muddy's childhood home is setting inside the museum, and has long since been taken off the "House of Blues" tour)
Ground Zero Blues Club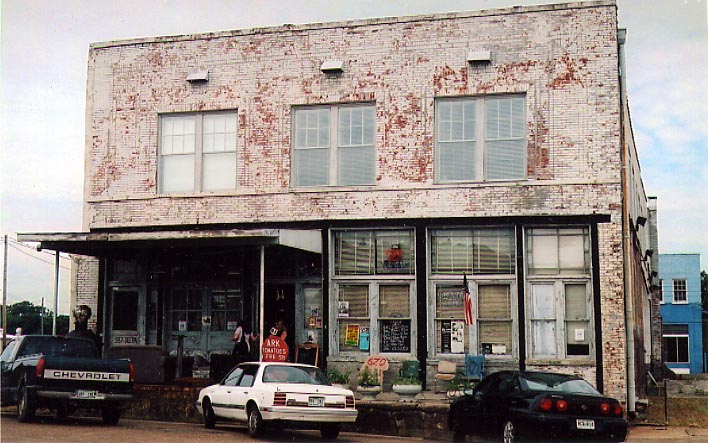 Front entrance. This building was once a cotton store (owned by the Stovall family?). The owners (lawyer Bill Luckett and actor Morgan Freeman) have purposely kept the front looking "rundown" for an authentic juke joint appearance.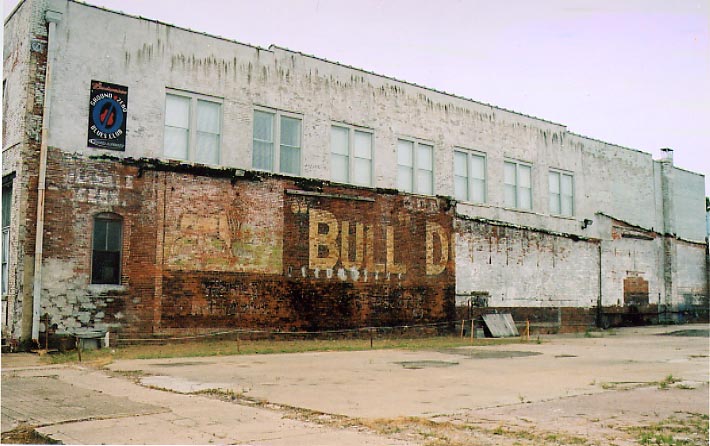 Side of the building. Some old ad paint around in places.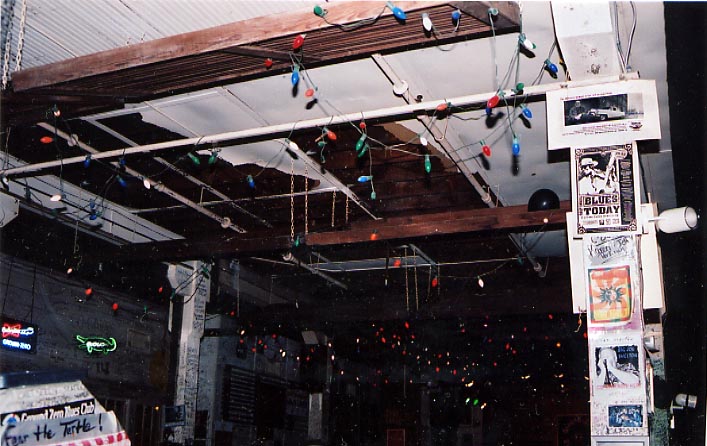 The interior of Ground Zero. Christmas lights and exposed beams have historically been part of juke joints (because their owners were historically poor and would use whatever they could find...on the cheap) and has been incorporated here.
That's Morgan Freeman (back to me) dancing to Super Chikan (a favorite performer of mine) with his homemade guitar (cigar box, axe handle, and various wires) on stage with his band. The club can afford to bring in regional acts on a regular basis.
(All Ground Zero photos here taken in June, 2005)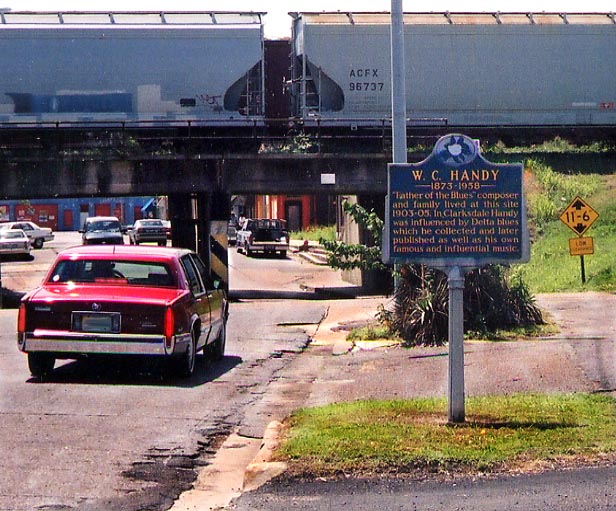 Over on Issaquena, is this historical marker for W.C. Handy, who evidently lived in Clarksdale for several years. The home has long since been torn down.
The Greyhound station that many blacks used to leave town (if they couldn't catch a train). After all their rehab work, Greyhound Buslines announced during the summer of 2005 that they will cease service in Clarksdale (and many other small towns along US 61) this year to help Greyhound save money.
Being that this is the Delta, Clarksdale made lemonade from lemons and changed the bus station into a visitor greeting station (with plenty of parking for buses) (Photo taken in January, 2005)
While the contrast in this photo is lousy, the three musicians shown here have ties to Clarksdale. Name them and their significance to Clarksdale.
And this mural is located on the side of Carmen's Pawn shop at the corner of Sunflower and 2nd St.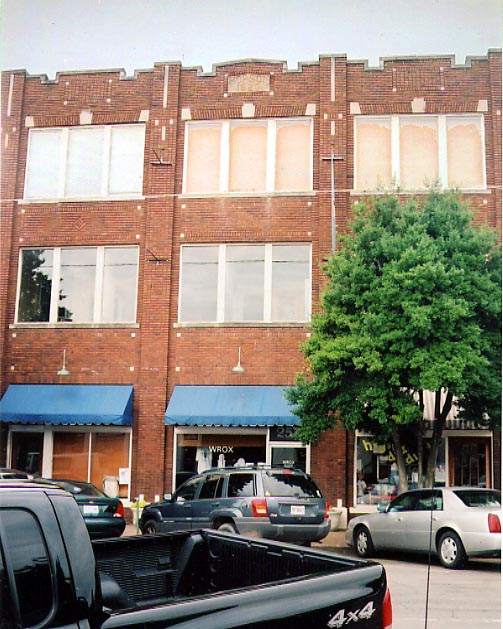 Besides the significance of the Hopson family to Clarksdale (besides this building, if you look at the top) this was home to WROX AM from 1946-53. The significance of WROX is that it was the first station to employ a black DJ (Early Wright) to spin blues records over the airwaves. $ While the modern version of WROX is off the air, John Fewkes and Bubba O'Keefe maintain this site as a museum
Way back in the day, one could see the itinerary black musician playing on a curb or in front of a store for tips. In this modern instance, it was a white male playing an acoustic guitar in front of this shop on Yazoo Ave (Jimbo Mathus?). Photo taken in January, 2005.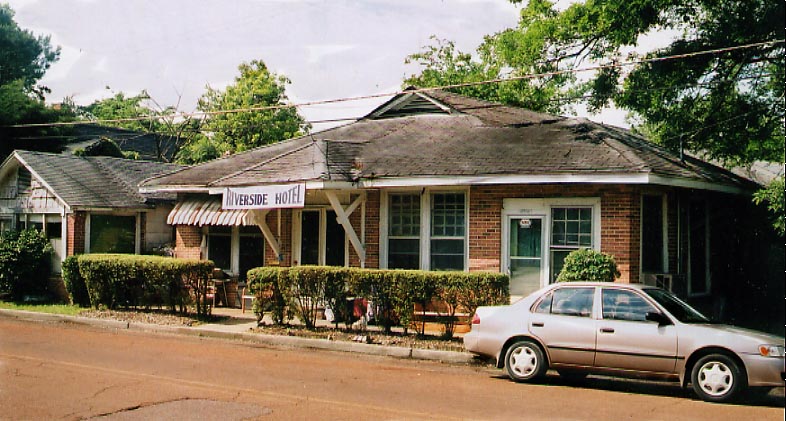 The second most famous blues landmark in Clarksdale, The Riverside Hotel. Most noted as being a hospital in a former life and where Bessie Smith passed away due to injuries from a car crash, north of Clarksdale along US 61 in 1938. The room where Bessie stayed is now full of mementos about her. $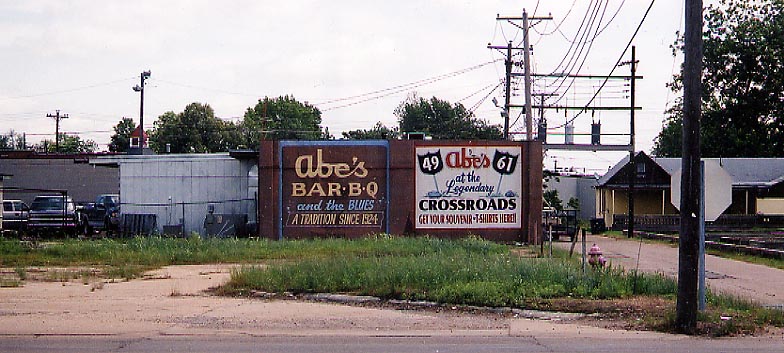 If the Riverside Hotel is #2, then the "Crossroads" is #1.
The casual blues fan wants to believe that the "Crossroads" is US 61 & 49. Well, they ain't a crossing, but a merging. And a "Y" isn't a "X." However, the city fathers of Clarksdale knew a good thing when they saw one. So I don't blame them for trying to promote the intersection of US 61 and 49 (now Old US 61 & Old US 49 with the completion of the Clarksdale bypass in the summer of 2003) as the "Crossroads" (see photos below)...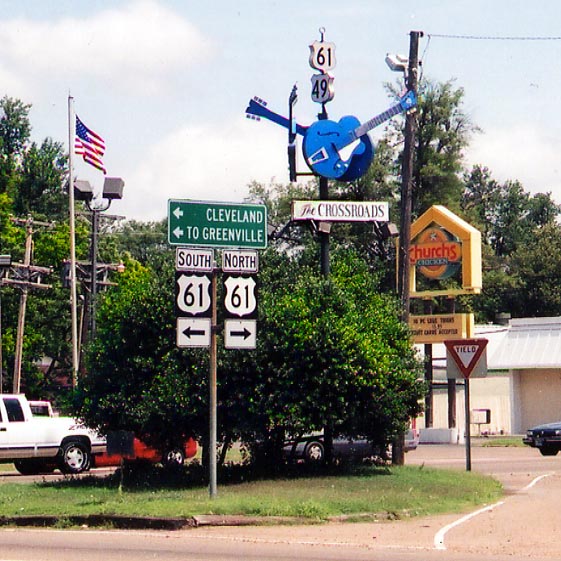 Since I didn't address this above, the reason all blues fans look for the "Crossroads" is due to in part to the legend of Robert Johnson. His most famous song was...Crossroad Blues. And if you read up on the history of Robert Johnson you can see there is even more reason to find the "Crossroads."
However, I am one of those who subscribe to the theory that the southside of Clarksdale does not contain the "Crossroads." Maybe the "Crossroads" is further south near Hopson Plantation....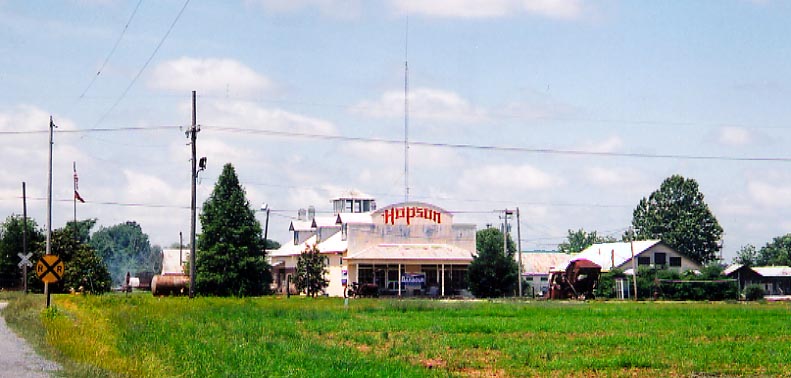 Speaking of which....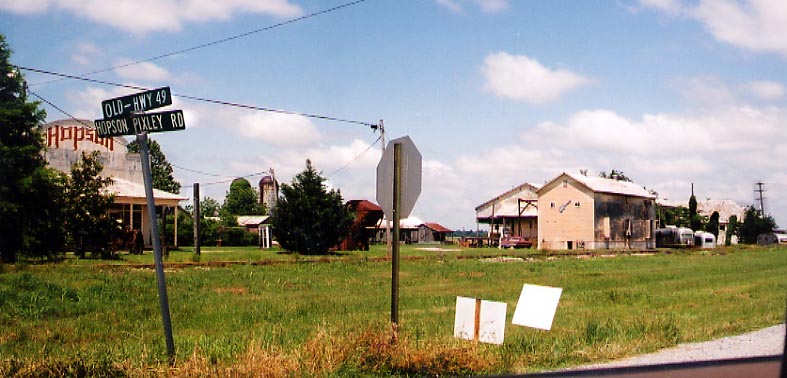 Hopson Plantation is located several miles south of Clarksdale, just off of US 49. Historically, Hopson is noted for having the first mechanically harvested cotton crop back in 1941 (Significance: They needed less black labor, thus the black exodus to the "North" started in mass). Of recent vintage, the current owner decided to refurbish some of the barns and tenet building and turn this into a ballroom and motel (for lack of a better word) called the Shack Up Inn.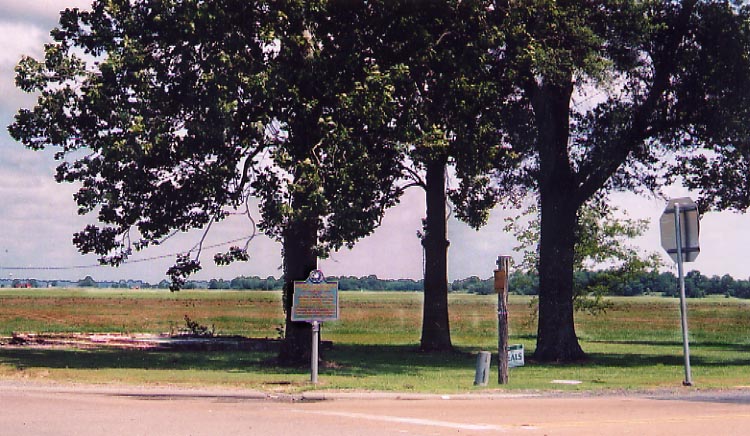 Back at US 49 and Hopson-Pixley Rd, is this historical placard concerning the techniclogical advances to farming made at Hopson Plantation.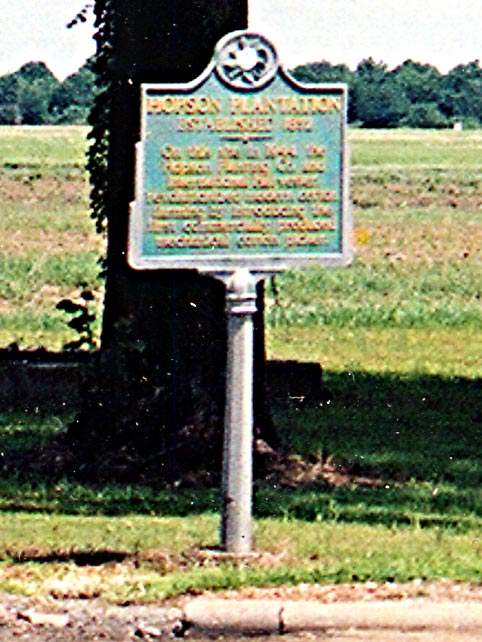 My not so great close up on the marker.
$ - Source is Steve Cheseborough's Blues Traveling
* - Source is Robert Birdsong and John Ruskey (The Path Finder map)
---
Other pages on this site related to this page.
Clarksdale Businesses
Clarksdale New World (Black) District
Helena Ark, Lula & Robinsonville
Central Delta Photos
Muddy Waters' home
Sonny Boy Wiliamson's grave
---
Links
Sunflower River Blues and Gospel Festival
---
Page created on August 17, 2005/ last updated on July 4, 2006
Questions, comments, and submissions can be sent to Sandor Gulyas
Return to the Key to the Highway page