---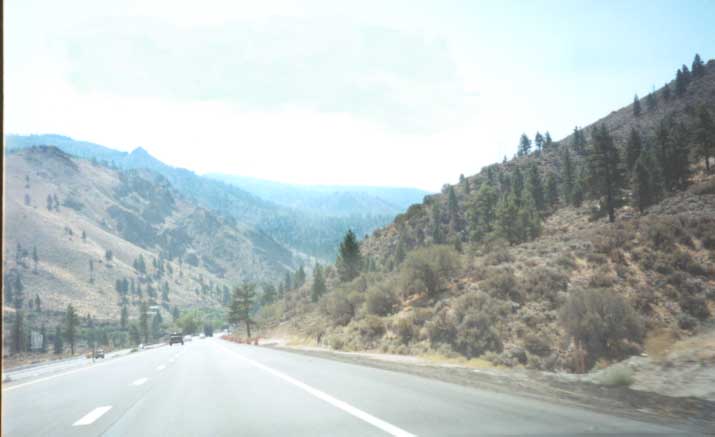 Welcome to California as you enter from the east along I-80 (and what would've been the Lincoln Highway 40 years ago)
Other than the road construction, little did I know what I was coming upon.
Photos around Donner Lake and Pass are on a separate page due to space considerations
The China Wall
When the railroad came through (before the Lincoln Highway), they had to build up the side of the mountain to get line through. In this one instance the built up part was referred to as the China wall. Most likely named such for the ethnicity of the labor that constructed this, but maybe a correlation between this and another "China wall" built in a particular eastern urban area for its trains.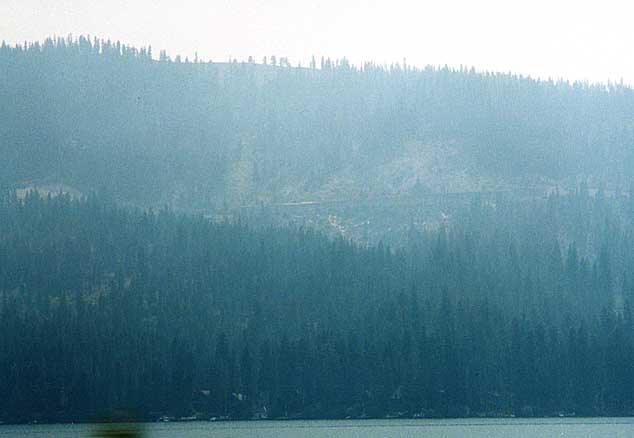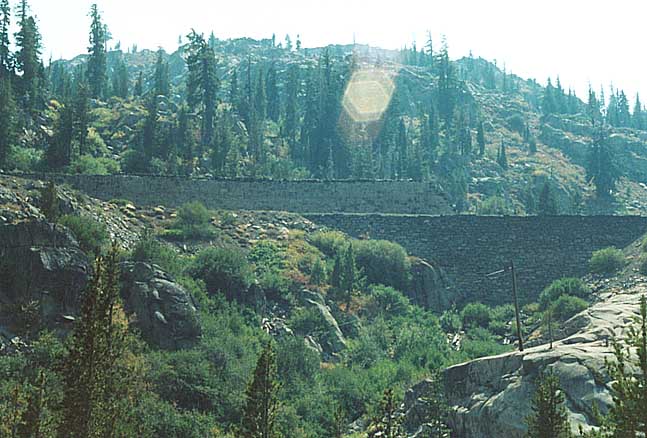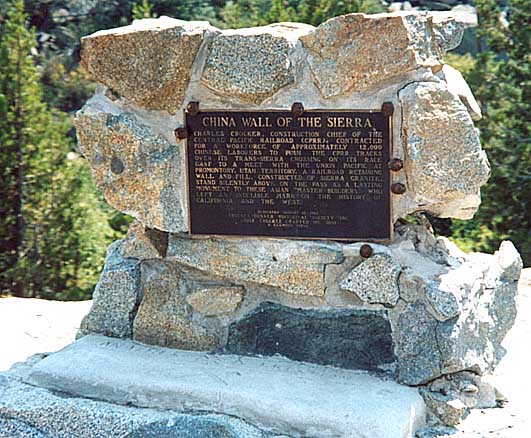 History Placard about the 'China Wall'
Leeward Side of Donner Pass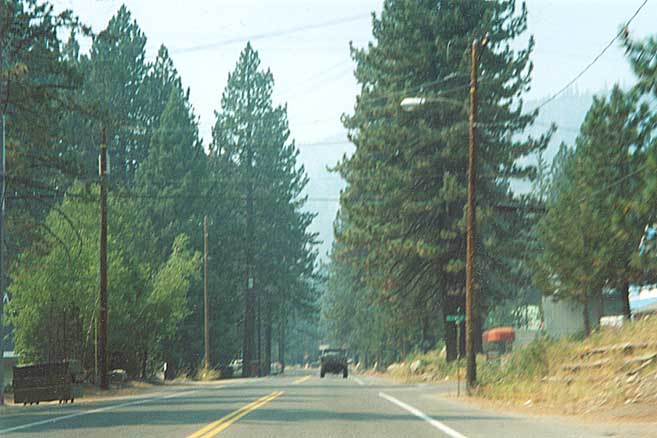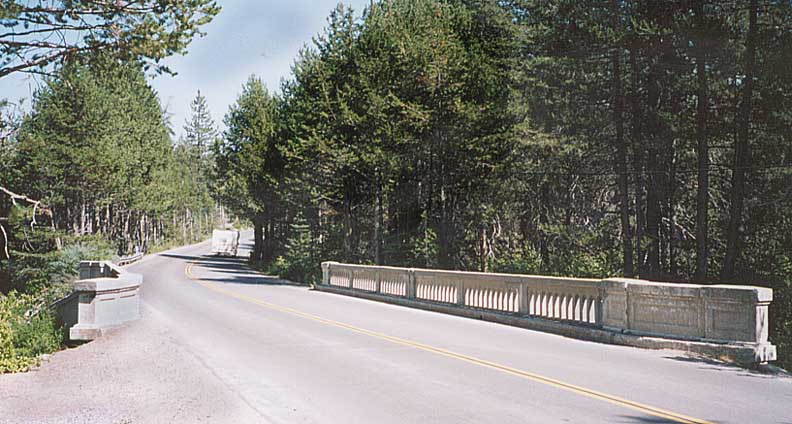 Fairly well maintained concrete bridge from the pre-interstate era. On the western slope of Donner Pass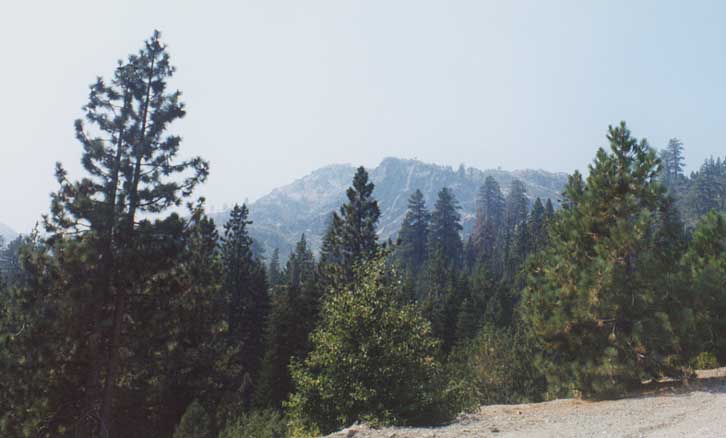 Looking out towards another set of mountains when going uphill, at Soda Springs
Emigrant Gap (next 4 pictures taken from the same place)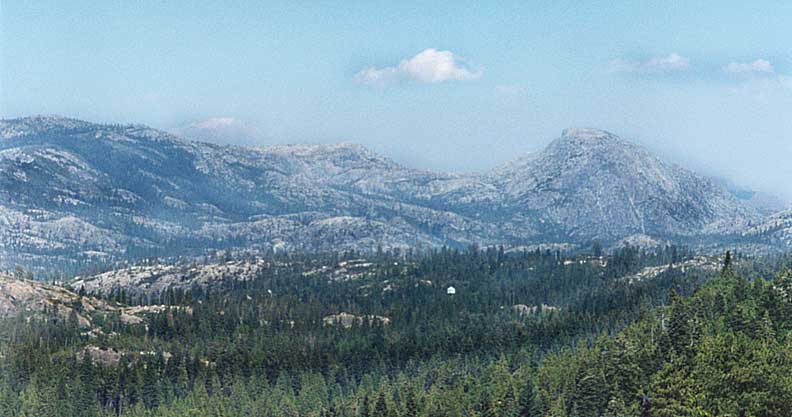 Looking north to Emigrant Mountain from I-80 near Emigrant Gap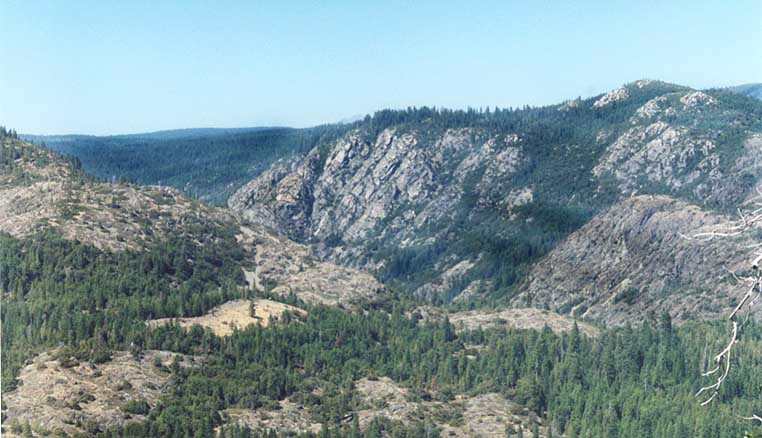 Looking west-northwest from the same point along I-80 towards a valley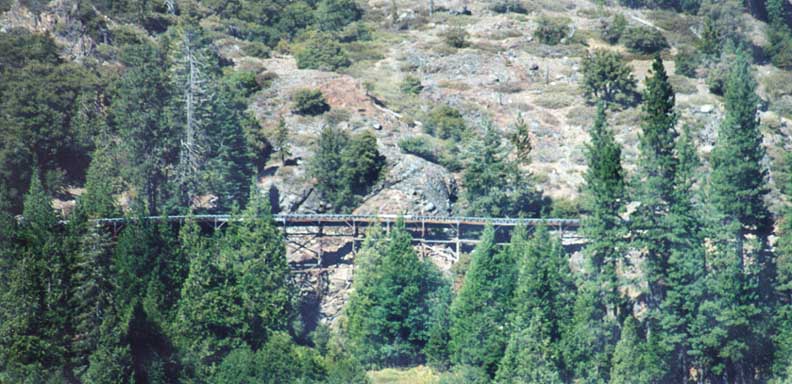 Old wooden highway bridge. Out near the Black Buttes.
UPDATE - Or so I thought. Grant Spalding wrote to me back in April, 2005 that what is in the photo is....
"...the South Yuba Canal, a PG&E canal that was built many years ago for the sole purpose of delivering water from Lake Spaulding to Nevada Irrigation District."

Looking due east and seeing the smoke rise over the mountains from Forest fires between Truckee and Lake Tahoe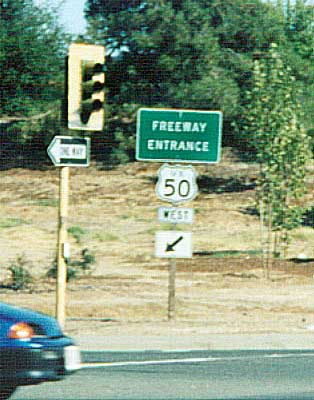 I have to give this to CalTrans, cut-out US shields look cool. This US 50 cut-out US shield has the arrow is pointing in the wrong direction for US 50 West. Marc says it's pointing to the ramp, I say it's dumb. On the near east side of Sacramento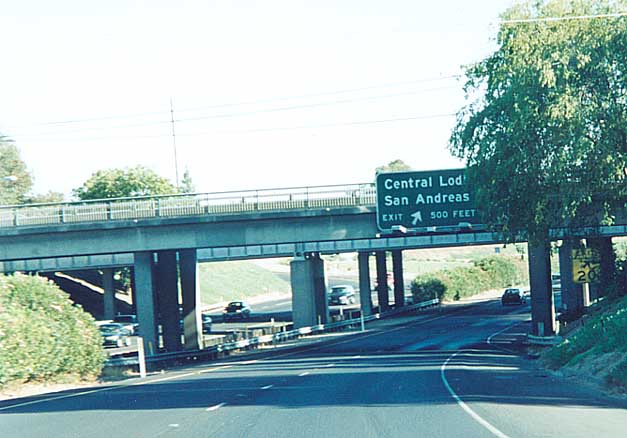 In one of the stranger sights for me in California, on some stretches of non-Interstate freeway, Caltrans uses bushes for a median divide.
This photo shows bushes on either side of a bridge support along Ca 99 in Lodi (near the 1914-15 routing of the Lincoln Highway)
Lincoln Park - San Francisco
View of sunset towards the Pacific Ocean. Top picture uses a flash, bottom picture does not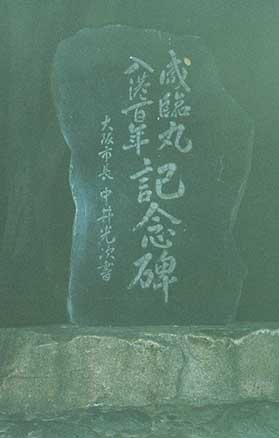 Some stone with Chinese writings near Lincoln Park (near where the above sunset pictures were taken)
---
All photos on this page were taken in August, 2001
Page created on August 2, 2003/ last updated on June 29, 2006
Questions, comments, and submissions can be sent to Sandor Gulyas
Go east to Donner Lake & Pass Photos | Return to California Lincoln Highway Photos home