Buckeye Valley Region Photos
---
Jump to: Scioto Valley | Radnor | Elm Valley | Kilbourne-Brown Twp. | Delaware County Bridges
---
Buckeye Valley school district covers most of western and northern Delaware County and was formed in the early 60s by the consolidation of Scioto Valley (Ostrander/Bellpoint), Radnor, and Elm Valley (Ashley/Kilbourne) school districts. They are still using 80+ year old school buildings in Radnor and Ashley, and have fought off financial colapse several times during its existance. How do I know all this? I graduated from BV in 1993.
On with the photos (from SW to NW to E)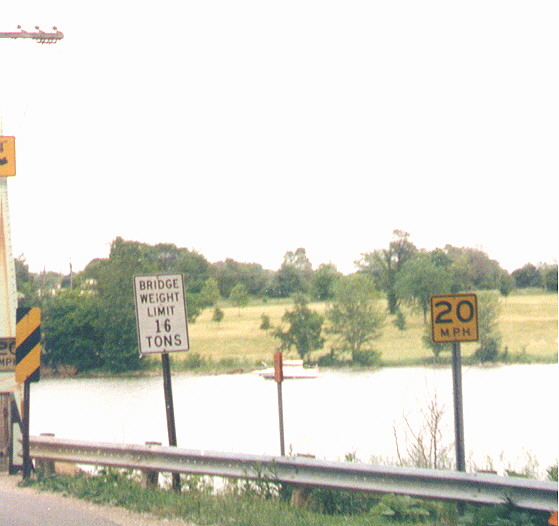 That 20 MPH in the yellow square (on the right) was the county's idea for a posted speed limit across this bridge upcoming. One could probally argue in court that it wasn't the posted speed limit, but that rickty 85 year old 1 3/4 lane bridge probally couldn't stand traffic going much faster. West end of the Home Rd bridge over the Scioto River south of Bellpoint.
Since this photo was taken - Delaware County started in April of 2002, to replace this bridge with a wider model that was completed in November 2003.
County Engineer's collection of construction photos of the bridge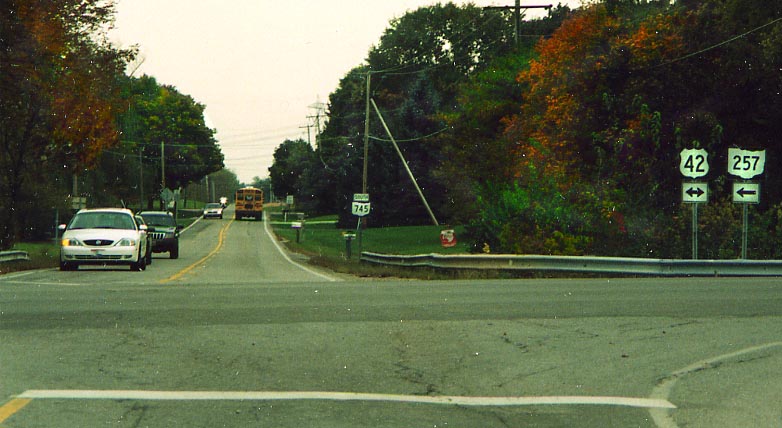 The north end of Oh 745 at US 42/Oh 257 near Bellpoint (photo from October, 2003).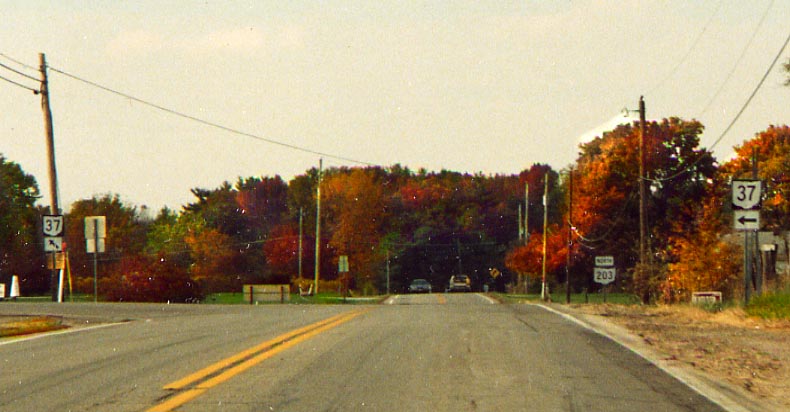 The south end of Oh 203 at Oh 37, to the west of Delaware.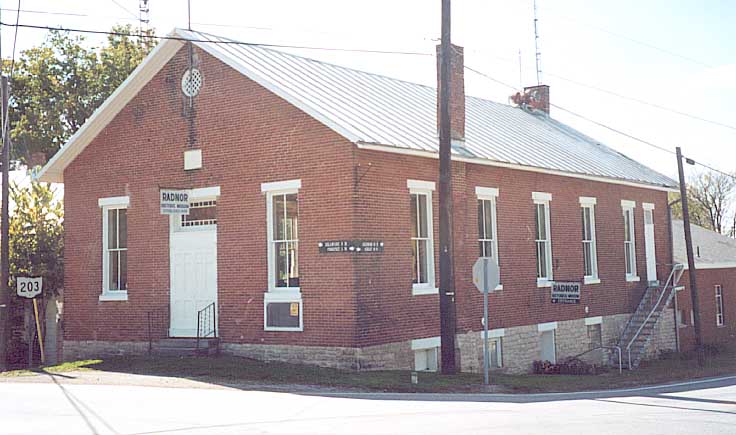 This would be the original Radnor Twp. meeting hall (A new one was built with a county EMS building, 1/2 mile south). As you can (sort of) tell, township officials have found another use for it as a local museum.
A website with more about this building is here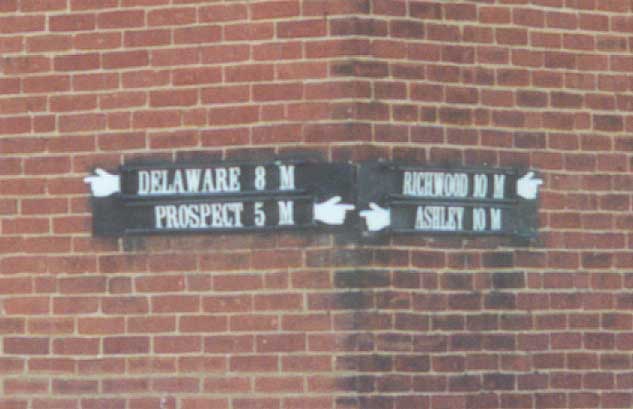 These direction pointers are at the corner of the Old Radnor Town Hall (see above). How long they've been up I don't know. Delaware-Prospect would be along Oh 203, Richwood-Ashley would be along Radnor Rd (Del.Co.Rd 198), and you'll have to change roads to reach Richwood or Ashley.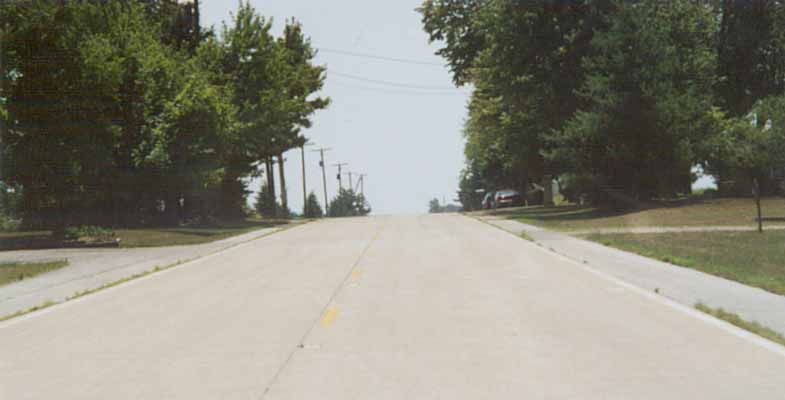 This is the former route for US 23 in Norton before the Norton-Waldo-Marion bypass was built in the 1960s. According to Delaware County records, this stretch of road is considered as Oh 423 (see here). However, ODOT records have Oh 423 ending in Waldo (See here with Acrobat Reader). Either way, upkeep of this current road is narrower than before by examination of the shoulders on either side of this road. Norton-Waldo Rd between Oh 229 and US 23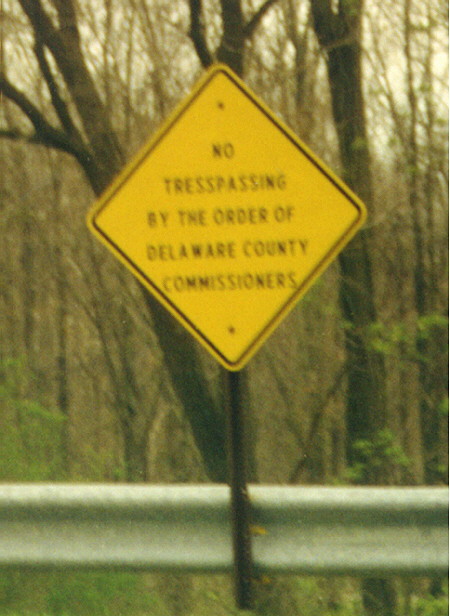 Anyone want to think up a graphic for this warning sign? Along US 42, just east of Delaware near the County Jail.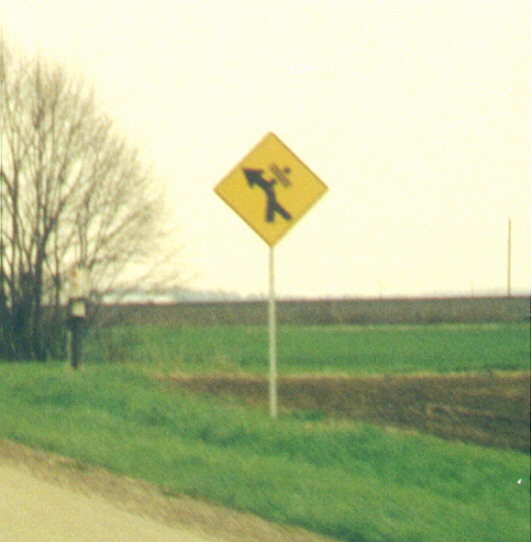 I like this sign. It replaces the need of 4 signs (left curve, the two intersections, and RR crossing) with a single sign.

Along US 42 between Delaware and Kilbourne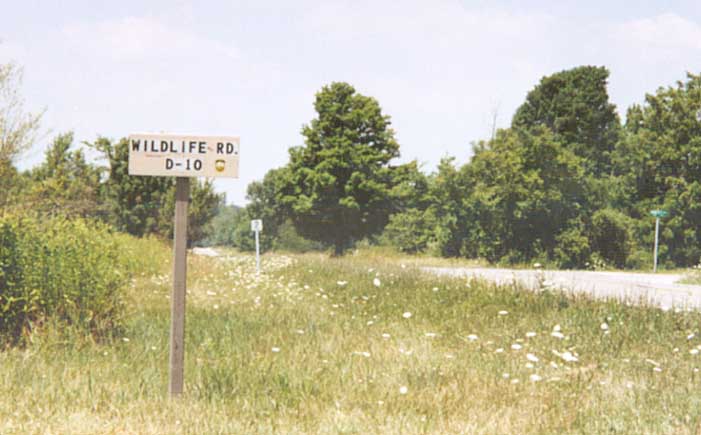 Wildlife Rd. Is this considered standard Ohio Dept of Natural Resources, or State Park signage? It is not considered part of the Delaware County highway collection however. Along Oh 229 between Norton and Ashley.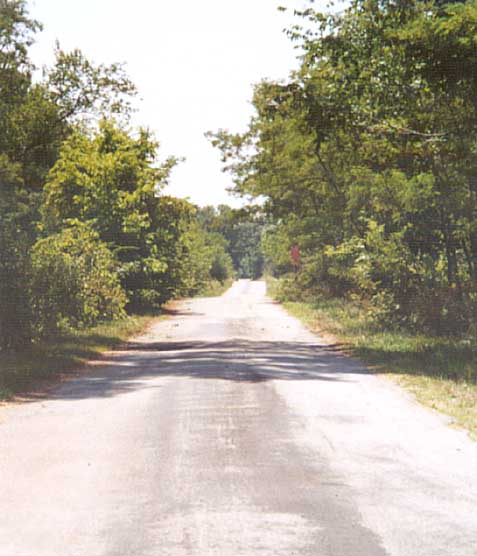 Where Wildlife Rd goes (South from OH 229 into Delaware State Park). I think at one point it connected to Cole Rd before Delaware Reservoir was constructed.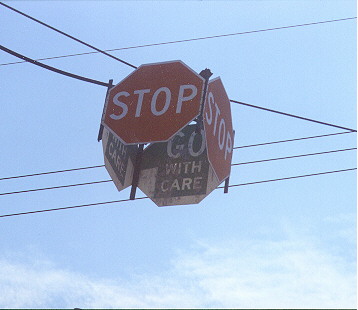 An unusual overhead four-stop-sign assembly (supplementing the eye-level signs) with an even more unusual message on the reverse of each stop sign. Note how the font of the "GO" message is the same as the font for the word "STOP". Maybe this was an early official prototype that was never approved? Also, apparently these signs were originally supposed to be posted individually and at eye level, since the locations of the interior messages are impractical in this set-up.

On Ohio 229 in Ashley
The Kilbourne Post Office (first structure on the left), which also housed Reeders Grocery at one point in the past. Reeder's Grocery left us before I moved in the area in 1983, the Sprite sign appears to date back to the 50s.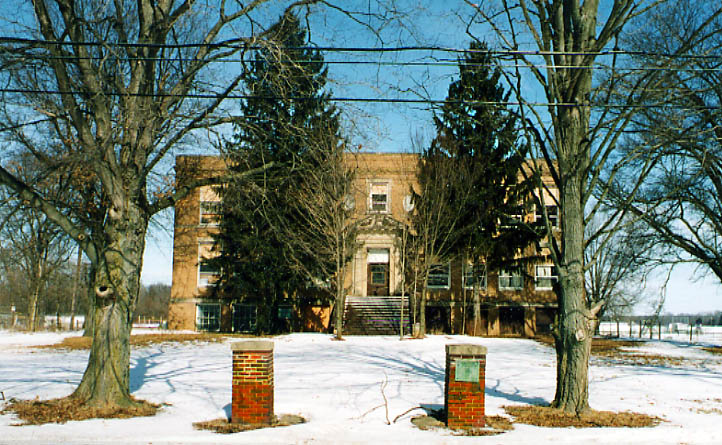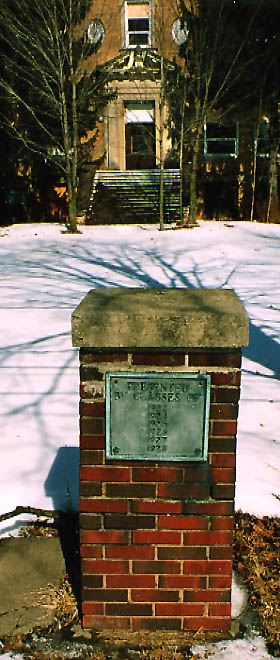 Brown Elementary school. Closed in 1986 by Buckeye Valley during one of it's budgetary crisises. For the most part it has stood empty, however it is privately owned now and someone tried to start some sort of home school here in the mid 1990s.
Photo on left - one of the brick pillars at the enterance to Brown School. Evidently the graduating classes during the 1920s passed their money on to get these pillars constructed.
Photos taken in Feburary, 2003
I should also note, I was an 11 old 5th grader at Brown School in 1986 when it was shut down. Am I bitter? Well, I'm not the only one. :-)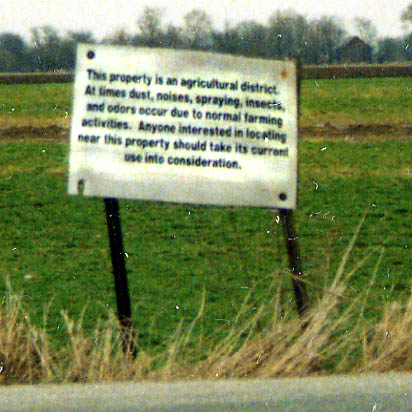 An appropriate warning to anyone wanting to move to the "country" from the "city." Unfortunetly, few heed this warning.
At the intersection of Junkett and Baker Rds. Photo taken in April, 2003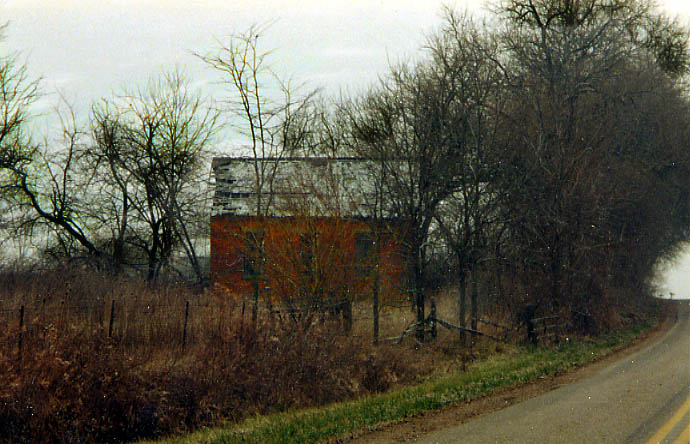 This abandoned one-room schoolhouse is almost entirely shrowded by trees and can barely be seen from the road passing in front of it.
Along Bowtown Rd between Delaware and Kilbourne. (Photo taken in January, 2003)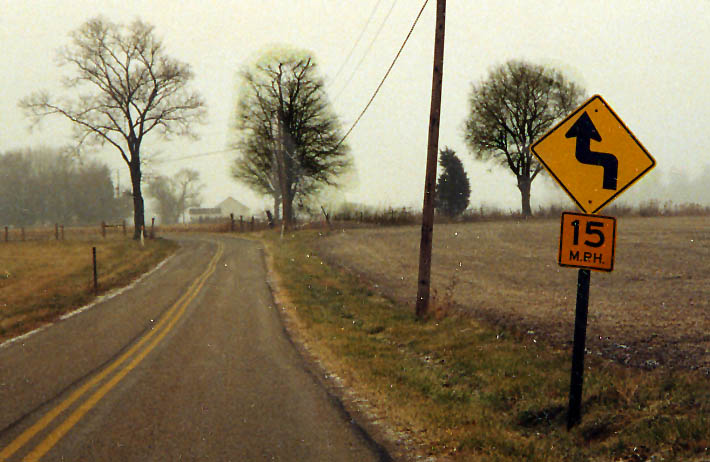 An age old oddity that hasn't been corrected. Bowtown Rd had to follow the property line of some farmer which produced this sharp left-right turn combination which leads to....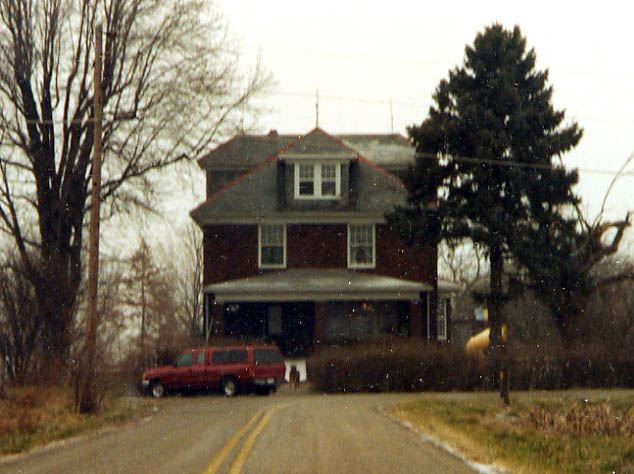 I am amazed that no one has plowed into this house after all these years. Maybe the bushes help. The dog doesn't.
Bowtown Rd between Delaware and Kilbourne. (Photo from January, 2003)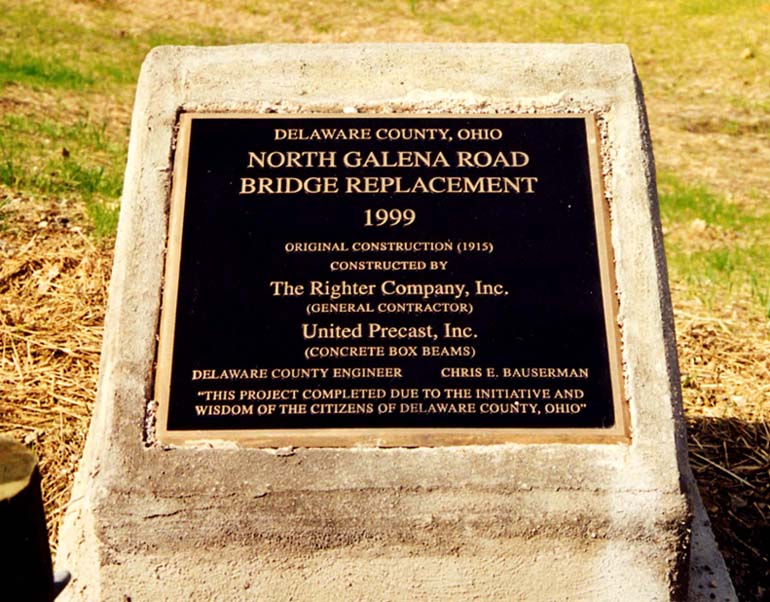 This plaque was placed in honor of the replacement of a former 1 1/2 lane bridge that stood from 1915 till 1998 (and straightning of a couple of nasty curves in relation to that bridge as well) nearby. Along N. Galena Rd between Ashley and Kilbourne

This survey marker is just down the road from my parents house (and is a better picture than the one I took couple of years ago on N.Galena Rd). This sign has shown up since summer of 2002. At the intersection of Clark Rd (Kingston Twp Rd 33) and Todd St. (Rd)(Kingston Twp Rd 71).
---
Page created on November 25, 2002, last updated on March 1, 2006
Questions, comments, submissions, and happier stories can be sent to Sandor Gulyas
Return to Delaware County Photos