Remembering Baton Rouge Blues Past
---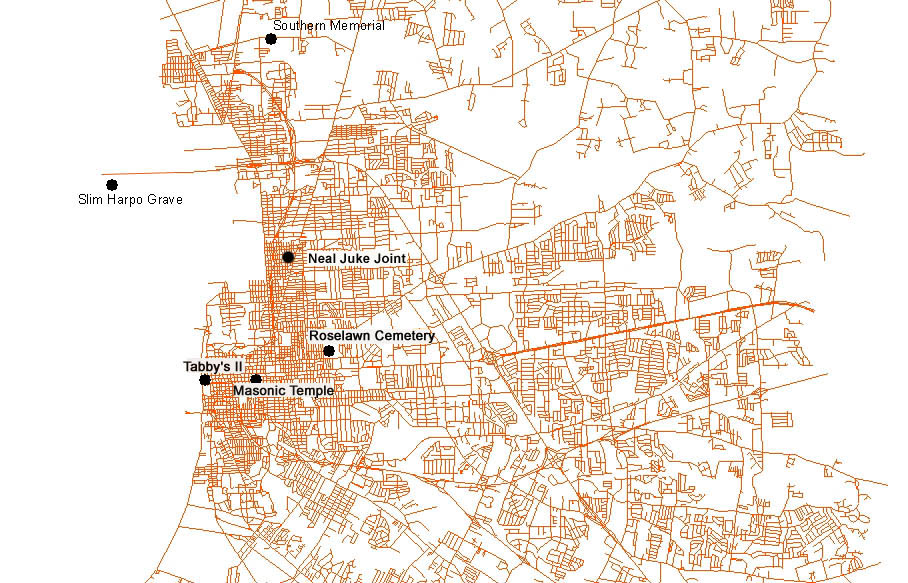 Cemeteries/Graves
Mulatto Bend - This is where Slim Harpo is buried. Just west of the "Old Bridge" on the southside of US 190 (More details here)
Roselawn Cemetery - This is where Raful and Jackie Neal are buried. Located at 4045 North St. (between Acadian and Foster) (More details here)
Southern Memorial - Far as I know several Baton Rouge bluesmen are buried here (Robert Pete Williams, Chuck Mitchell, Arthur "Guitar" Kelly, Silas Hogan, and Herman Johnson). I have located the headstone for Robert Pete, but have yet to locate a headstone for the others. So any assistance here would be appreciated. Southern Memorial is located at 3012 Blount Rd (a mile or so east of LA 19, behind the Baton Rouge Metro Airport)
They Performed Here....
Neal Family Restaurant - 3827 Plank Rd. The Neal family of blues musicians owned three or four different restaurants over the course of time. The Plank Road location was the last location they were stationed at before Raful passed away. Nowadays the place is opened under the title of The Boss Lady Club and they host a Monday Night Blues/ R&B and Tuesday night Jazz jams. Stylish interior and nice people, check it out.
Masonic Temple - Back in the day, the biggest dance hall in Baton Rouge was the Temple Ballroom on the top floor of the Masonic Temple. Little Richard, James Brown, BB King and others played here. It still stands, offices the first two floors and the dance hall at the top, but it is now obscured by a railroad overpass that the local politicians deemed necessary (The original Tabby's Blues Box used to stand across the street from the Masonic Temple. It was demolished for a railroad bridge) Head out to 1335 North Blvd (Not to be confused with North St!), just as you start to go over the railroad (Photos Here)
Tabby's Blues Box (Version 2) - I list version 2 because there is nothing left to give any clue of the existence of the first Blues Box (besides old photos and video tape). At least the building where the second Blues Box was is still standing (though there is nothing left behind to give a sense of Tabby Thomas's occupation) You can see the, now, non-descript building that Tabby tried to make home at 244 Lafayette St in downtown Baton Rouge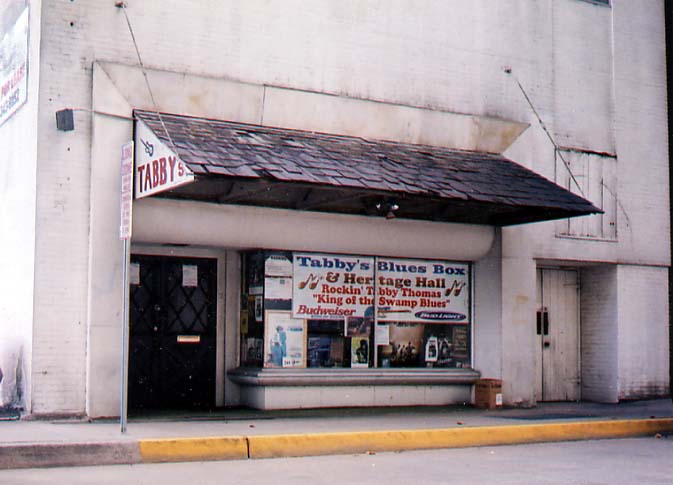 What Tabby's looked like before it closed (Photo taken in October, 2004)
It can't all be buried under...can it? If you know of any other locations that are of significance concerning Baton Rouge Music history,
please contact me and I'll add it to this list.
---
Page created on February 10, 2006/ last updated on March 21, 2007
Questions, comments, and submissions can be sent to Sandor Gulyas
Return to The Baton Rouge Blues Tour