Remembering Raful and Jackie Neal
---
Raful Neal is better known today for being a dotting father than for his own ability at playing the harmonica. Little known fact, Raful was the first of the Baton Rouge bluesmen to make a recording. In 1957, Houston's Wit Records released "On the Dark Side Cryin'"/"Cryin' Blues." (Source: Baton Rouge Blues by Jimmy Beyer)
With eleven children (nine of which have gone on to play music), Raful during the 1970s had his older children backing him up on stage till the kids went to Canada to play with Buddy Guy in the late 70s. His oldest child, Kenny Neal, became an internationally famous guitarist through the 1980s and his influence got Alligator Records to release Raful's first nationally released album in 1990.
After retiring from his day job, Raful was afforded the opertunity to tour internationally through out the 1990s and released two more albums. In 1995 Raful was selected into the Louisiana Blues Hall of Fame. Raful continued to play both local gigs mixed in with international festivals till he passed away on September 1, 2004 at the age of 64.
Meanwhile the story of Jackie Neal is much more tragic. One of Raful's daughters, she had been recording her own material for ten years and was a respected singer in the blues and "Southern Soul" circuits in the states surrounding Louisiana. With her stage presence, work ethic, and family name, much was hoped for her. That came to nought on the evening of March 10, 2005 when her ex-boyfriend fatally shot her at a Baton Rouge hair salon (then attempted to kill himself).
Both Raful and Jackie Neal are buried in Roselawn Cemetary in Baton Rouge.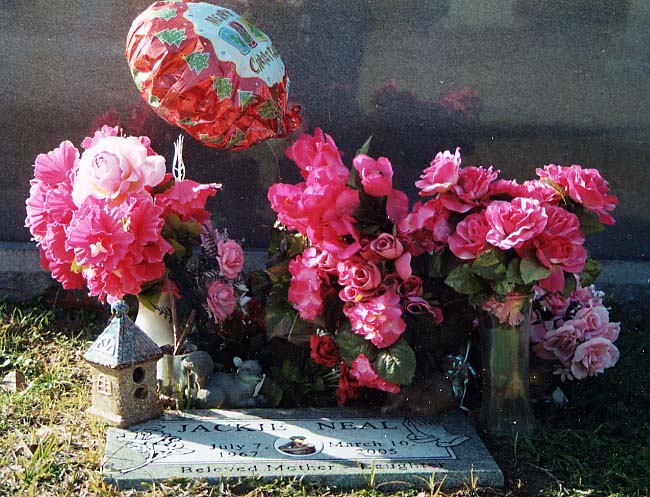 Jackie's marker (with plenty of flowers)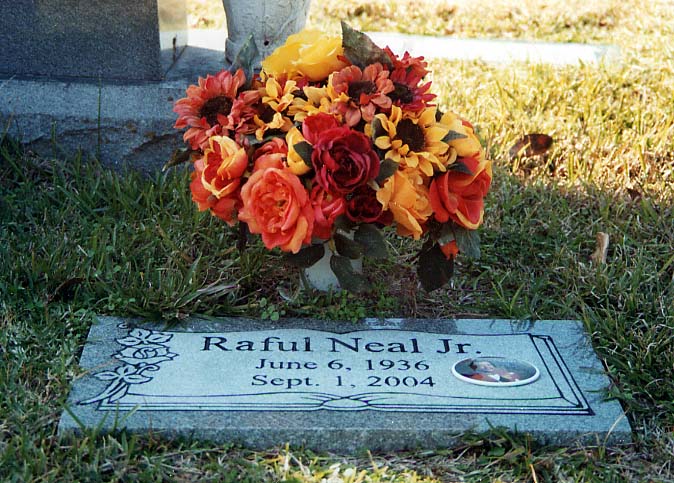 Raful's marker (with fewer flowers)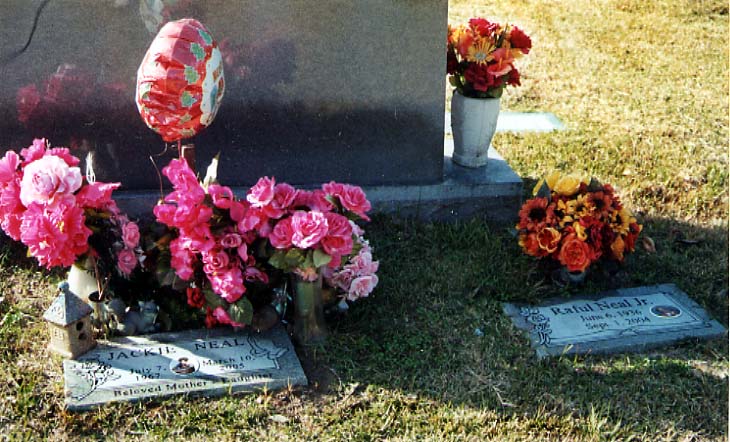 Both markers together
Now where is the Neal family plot at?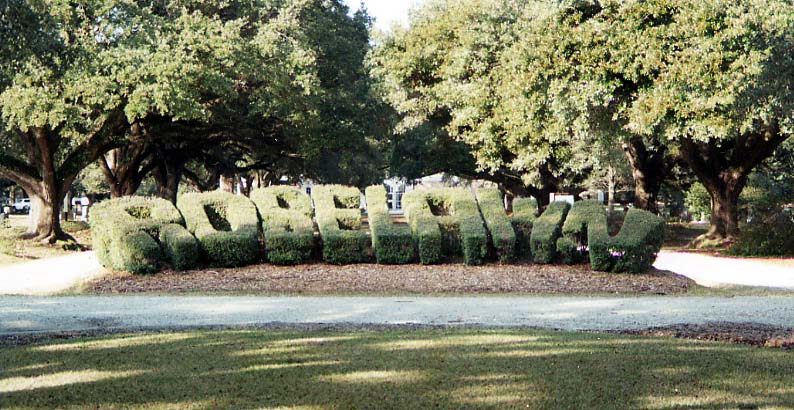 The main enterance for Roselawn Cemetary is along North St (between Acadian Thruway and Foster Dr), follow the live oak blvd till you come to this creative shrubbery display. Turn left in front of it and then you'll turn left again immediately after you get past the oak alley (essentially you'll be making an upside down J)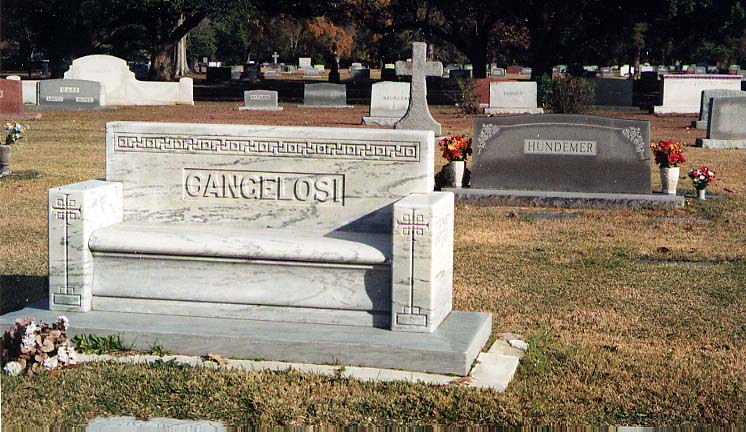 From the path you will want to look for this marble bench for the Cangelosi family on your left (as you face the front of the cemetary).
Behind the Cangelosi plot is a marker for the Hundemer family (as shown above). The Neal family plot is directly behind the Hundemer marker.
Also of note is Ronnie Neal, son of Raful, who passed away in April 2004. I don't know where he is buried at (it isn't marked with Raful and Jackie), so there are no photos at this time.
---
Links
Club Louisianne page on Raful Neal
Kenny Neal's Homepage
Jackie Neal Discography (you'll have to scroll 2/3 of the way down)
---
All photos on this page were taken by me on December 20, 2005
Page created on January 24, 2006
Questions and comments can be sent to Sandor Gulyas
Return to Baton Rouge Blues Page