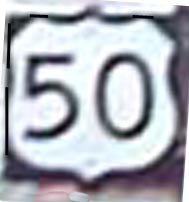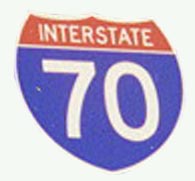 Southeast Ohio Photos
Freeway Signs and Arch Bridges | Parkersburg | Athens (and beyond)
---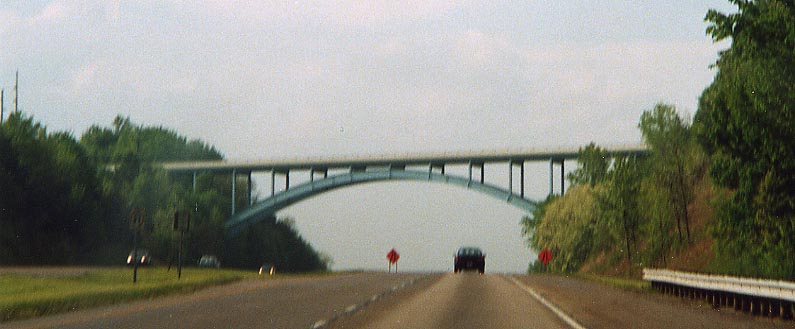 Arch bridge over I-77 in Southern Tuscarawas County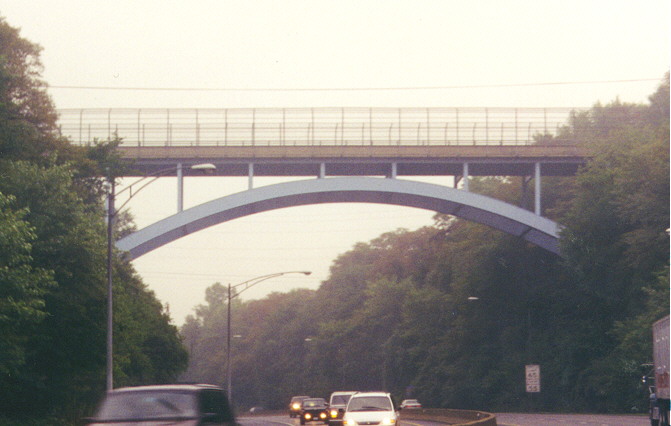 Arch bridge over I-70 in Zanesville
Freeway Signs
I-77's two names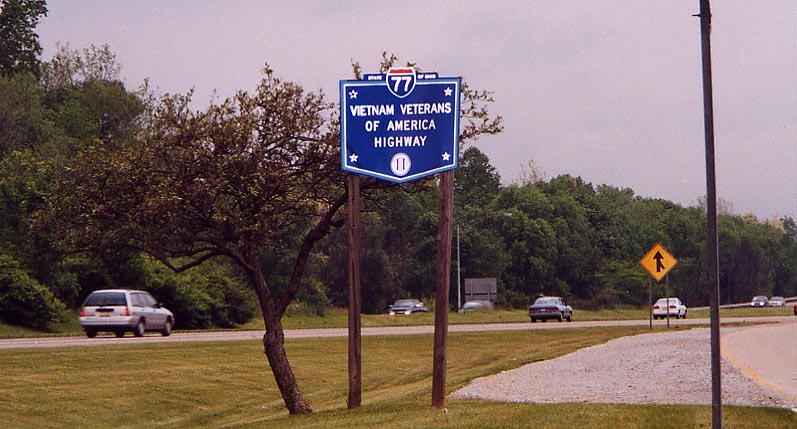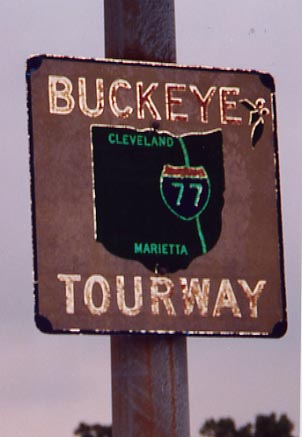 While both these names identify I-77, only the latter is official by the state (see the Ohio Revised Code entry). Have yet to figure out what is meant by "Buckeye Thurway". At rest area near Dover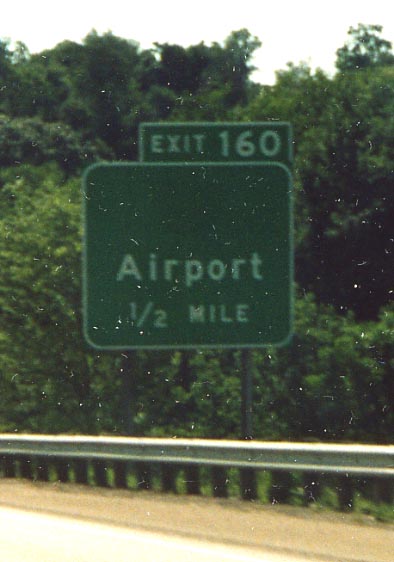 Exit 160 had been known as the northern terminus of Oh 797 since the advent of Zaneville/Muskegnum Co Airport. However, some point in 2003 the Oh 797 designation went away. The interesting thing is that there was no warning of the decomissioning, the 2003 ODOT state map shows Oh 797 still existing, and no information on any of ODOT's websites mention the dissapearance.
Photo here, from along I-70, from July, 2003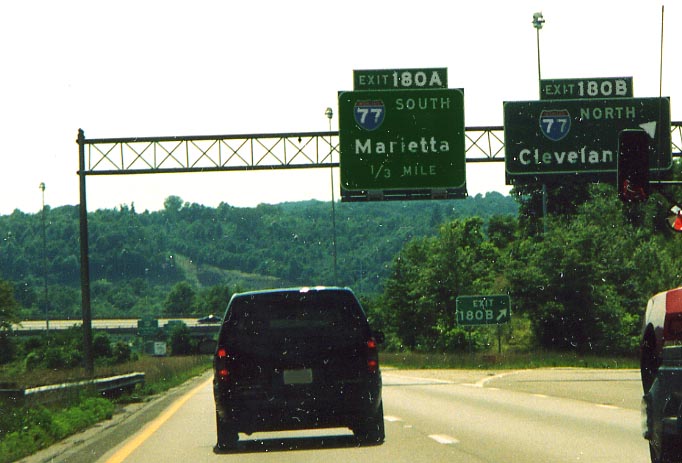 One of the rare instances that the posted exit milage on a BGS isn't based on quarters. I-70 WB at I-77 near Cambridge (from July, 2003)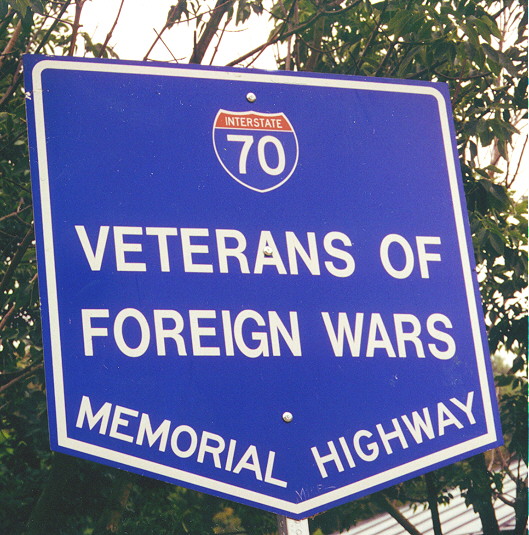 Sign with the (honorary) official name of I-70 in Ohio. This one was located between Old Washington and Fairview.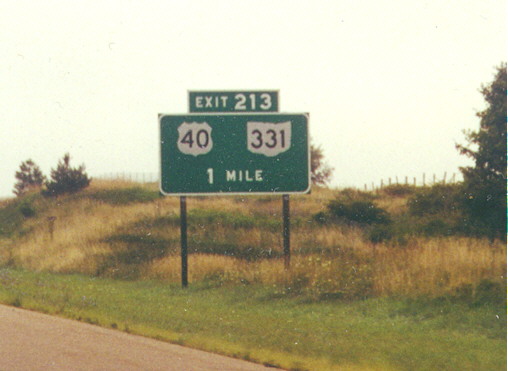 I love freeway signs with nothing but route shields. They just scream out to me, "Why am I (meaning the exit) here."
Here, in this case, is EB I-70 in Belmont County.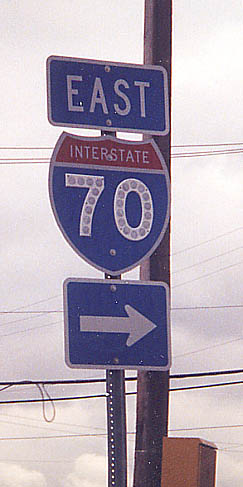 Normally you'll see button copy on BGSes. In this case it's on a stand alone interstate shield, that alone makes it unusual. Unfortunetly, I can't, for the life of me, remember where I found this sign. I do believe I found it somewhere between Washington, Pa and Cambridge, Oh.
US 50 from Parkersburg to Athens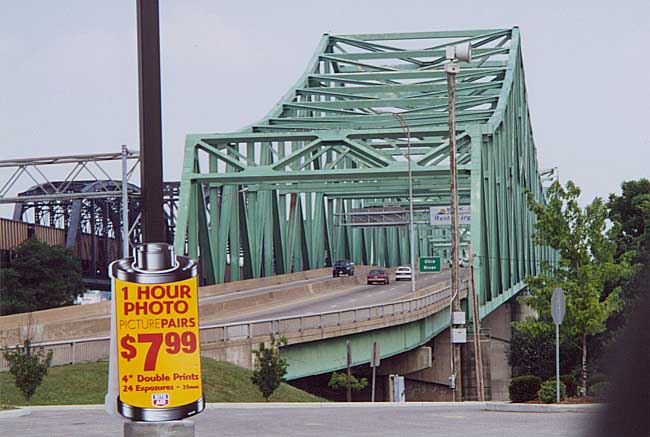 From the Ohio side, the bridge between Belpre and Parkersburg for US 50. Looks like the state end sign is at the proper location in this photo as well. According to Eric Gumm, that railroad bridge on the left belong(s/ed) to the Baltimore & Ohio and was erected in 1868! Furthermore, all of the stone supports are sandstone that was produced and hewn by local tradesmen says Eric. Finally, no I didn't add the Rite Aid Photo developing sign as a free plug (I was using their parking lot). (Photo taken in July, 2002)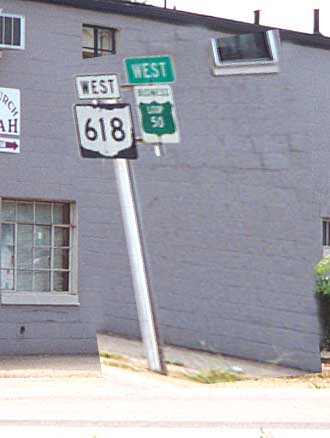 Business loop 50 along the old US 50 route through Belpre. (Sign angle digitally altered)
Interesting routing update from Eric Gumm. When US 50 is rerouted on a bypass around Parkersburg, the old route will be renamed WV 618 to match up with Oh 618 (as seen in this photo). (Photo taken in July, 2002)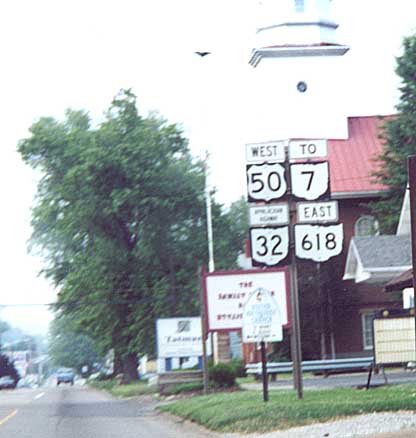 First sign mentioning Oh 32. One will see this just after you turn right getting off the bridge from West Virginia (see bridge photo above). (Photo taken in July, 2002)
Now that ODOT has 4 laned US 50 completely from Athens to Belpre, you can see the old 2 lane road on the right.
Then again....(from Eric Gumm)
I believe the two-lane road on the right side of the photo is actually a pre-existing service road. As I have traveled this road oftern, I seem to recall the "old" road actually being the road on the left side of the photograph. When the additional two lanes were added, the wall you see along the right was built to serve (I assume) as a sound and sight buffer as there are some old houses and business buildings on that service road. At some points, the wall is 4-6 feet high.
In either case, photo taken along WB US 50 between Athens and Coolville (Photo taken in July, 2002)
---
Page created on December 5, 2002/Last updated on July 9, 2005
Questions, comments, and submissions can be directed to Sandor Gulyas
Return to SE Ohio Region Page