Sandor's SW Ohio Photos
US 23 corridor photos | Other SW Ohio sites
---
Chillicothe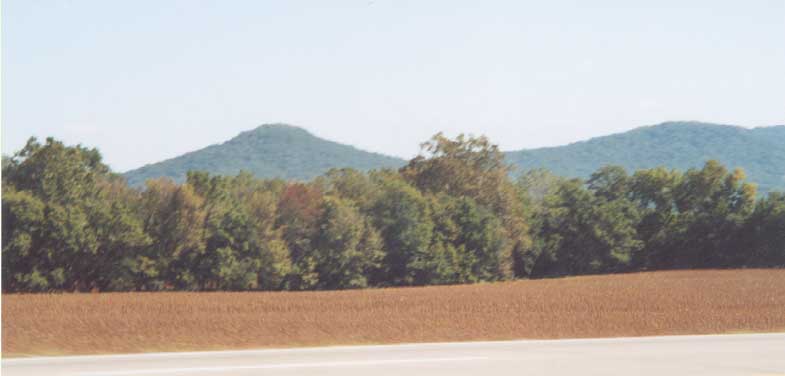 The hills of Southern Ohio, north of Chillicothe. Legend has it that Ohio's forefathers looked upon those hills (and fields) when they accomplished statehood for Ohio (thus the scene going into the state seal).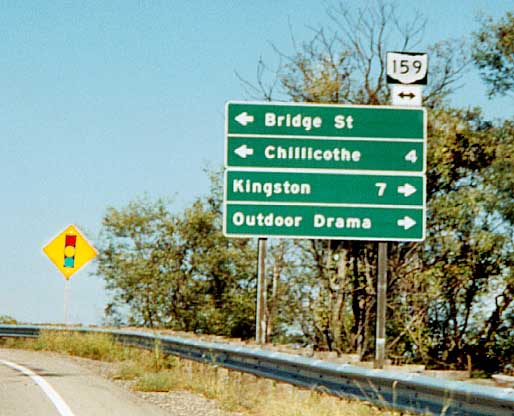 There's an outdoor drama to your right. Doesn't tell you which one (It is for Tecumsuh) however. Oh 159@ US 23.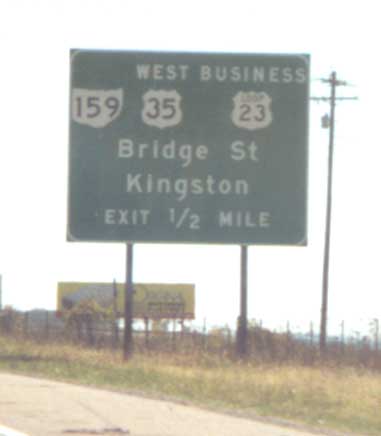 This is the first case I've seen of an US business route being mentioned on a Big Green (Freeway) Sign in Ohio. I'm finding business routes not to be as rare, in Ohio, as I first thought when I started this website in 1998.
Sign located along US 23 SB, north of Chillicothe.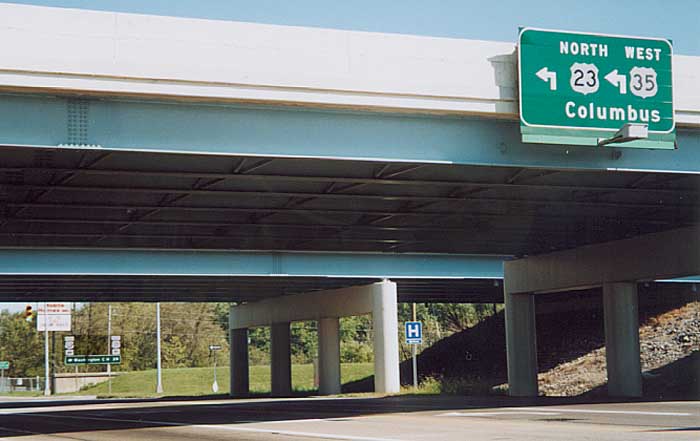 Split cities for split routes? Control City for the sign on the bridge (upper right) matches US 23's northern destination. The control city on the sign in the background (lower left) matches US 35's western destination.
Interchange between US 23, 35, and 50, east of Chillicothe.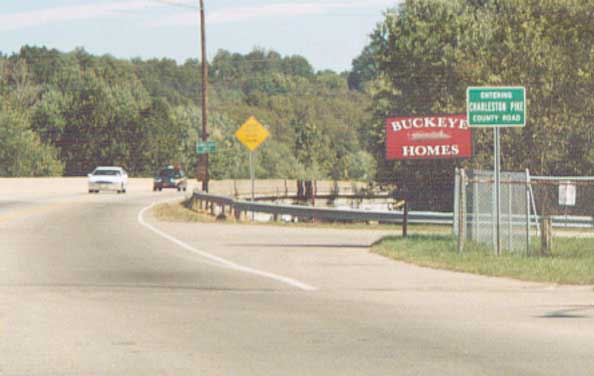 Different idea for marking county highways. Small green sign on the right tells drivers they are on a (Ross) County highway, and the name of said highway as well. Normally one would see a blue pentigon or white square with a number facing them or road names facing opposing traffic at intersections. Along old US 50/35(?) near US 23, east of Chillicothe.
Waverly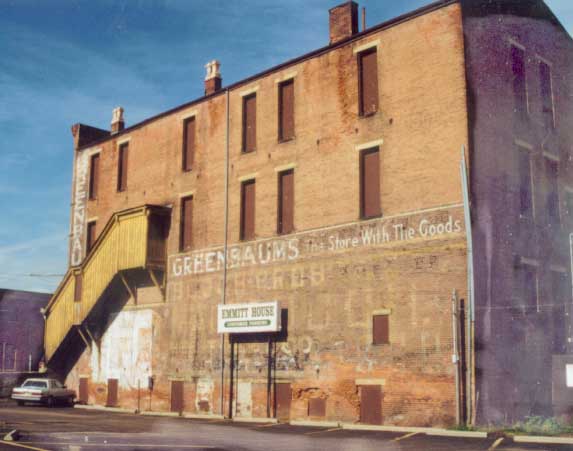 Painted ads on the side of a building. Greenbaums still exists? Kevin Locke answers, "The picture of the building with Greenbaum's painted on the side was the original location of it. Greenbaum's was a grocery store until the late 1950's when it was shut down."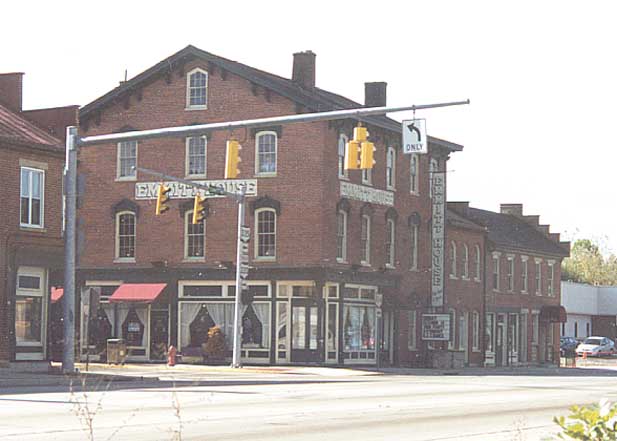 Emmitt House restaurant. Kevin Locke sends me the following additional information, "The Emmitt House was named after the man who founded Waverly, James Emmitt. It is a restaurant and served many previous purposes."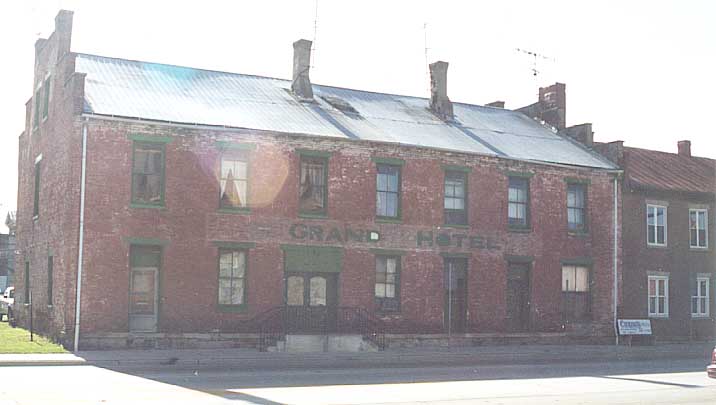 The Grand Hotel, green paint on red brick. Looks to have seen better days.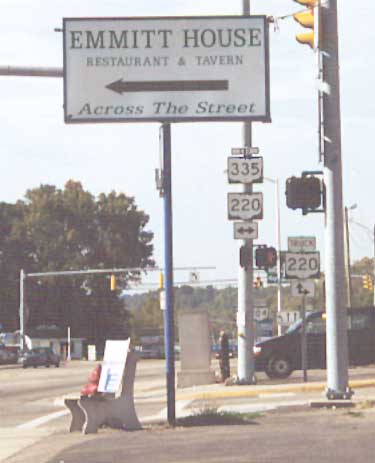 Besides the sign for the Emmitt House (see above), ODOT used a non-standard "End" sign for Oh 335. Normally the text addition above route numbers are half the height of the route shield (see the truck addition above the Oh 220 shield), but in this case the text sign is ultra thin. Also, why extend Oh 335 along US 23 to end here?
Portsmouth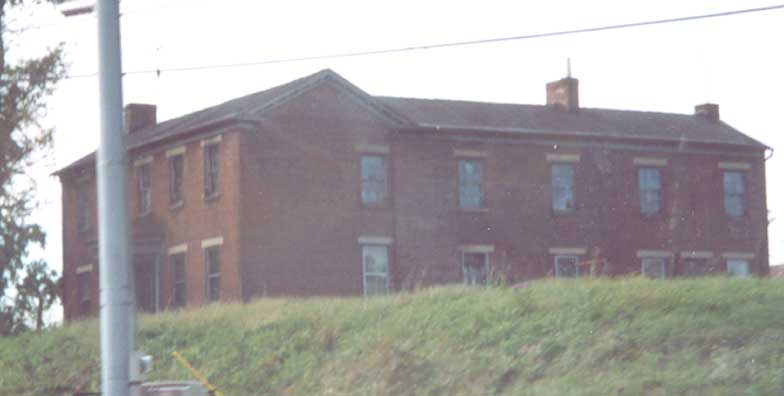 Old brick building. I thought it could have been a school house in a prior life (maybe not). Along US 23 (on the westside) between Waverly and Portsmouth.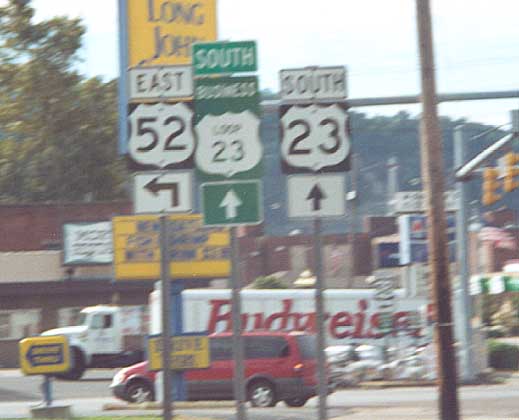 The business loop for US 23 through Portsmouth. By this time US 23 is split into two one way streets as you come to US 52 from the north.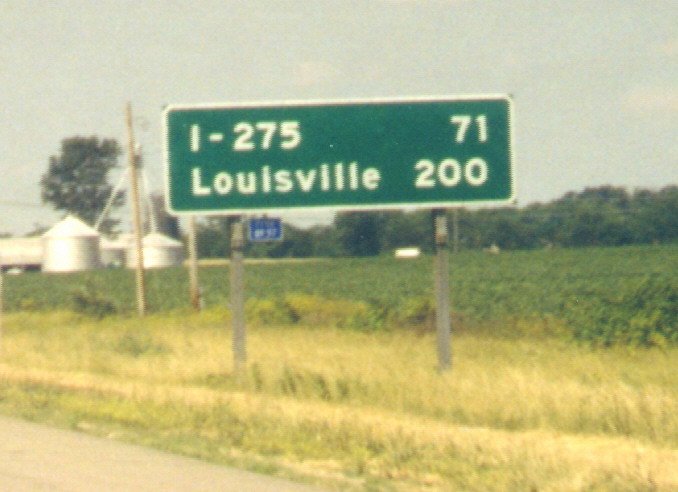 FWIW, there is no interchange near this sign. Halfway point for all of I-71 (between Louisville and Cleveland) maybe?
The Ohio Welcome Arch (along I-70)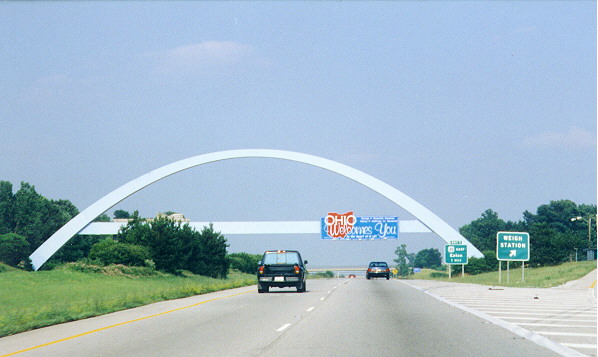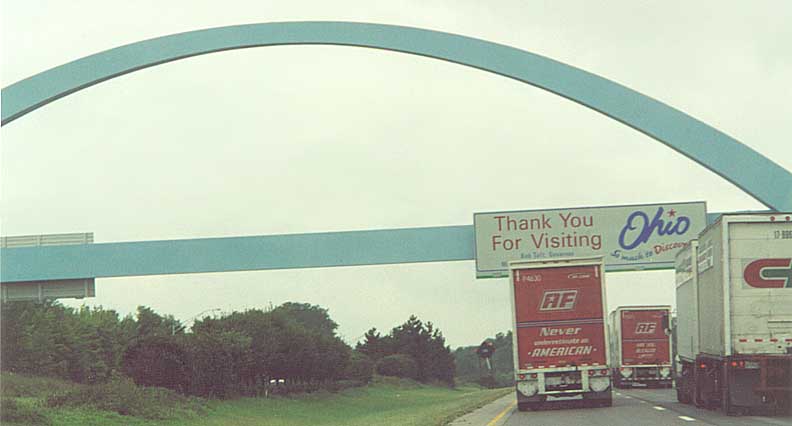 Top Photo - Looking east (from Indiana) at the Arch.
Bottom Photo - Looking west (in Ohio) at the arch (a little too close).
The arch isn't actually on the state line between Ohio and Indiana, it's actually a 1/4 mile into Ohio.
Official name for I-71 in Ohio. Memorial highway for Disabled American vets.
(Partal view of a) Scenic view (sign) if you turn right. Rest area SB near Kings Island.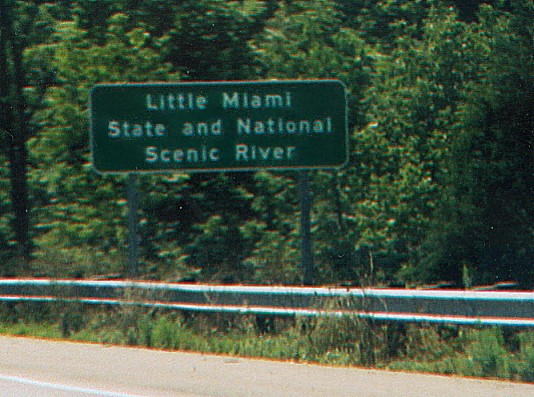 Small Green Sign noting the Scenic Little Miami River. This Bridge is the Jeremiah Morrow Bridge which is noted as the tallest bridge in Ohio. I-71 north of Cincinnati
The best view I could manage of the Jeremiah Morrow Bridge from the northside of I-71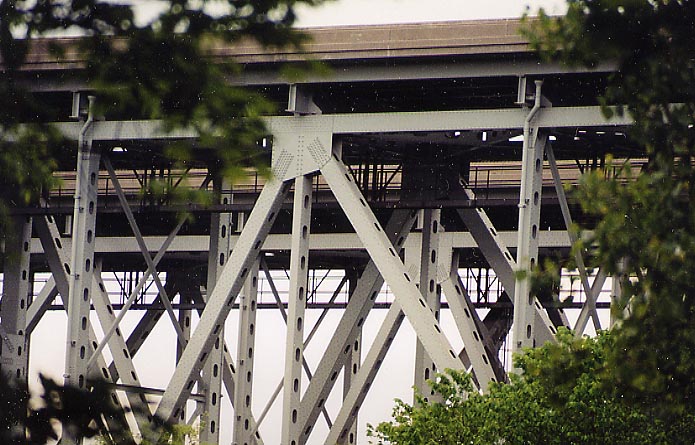 A close up view at part of the twin spans of the Morrow Bridge. How does one get to those catwalks?
For better Photos of the Morrow Bridge, Craig Burkin sent some photos he took from a bike path underneith the bridge.
---
Page created on December 13, 2002/last updated on May 17, 2005
Questions and comments can be directed to Sandor Gulyas
Return to the SW Ohio Regional Page