Why Funerals Are Fun in New Orleans
---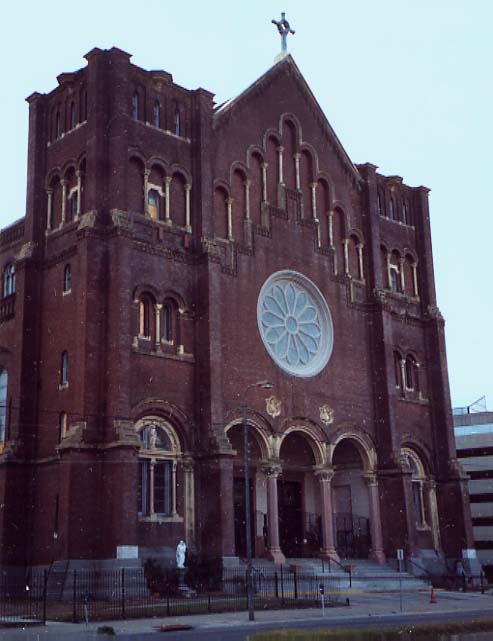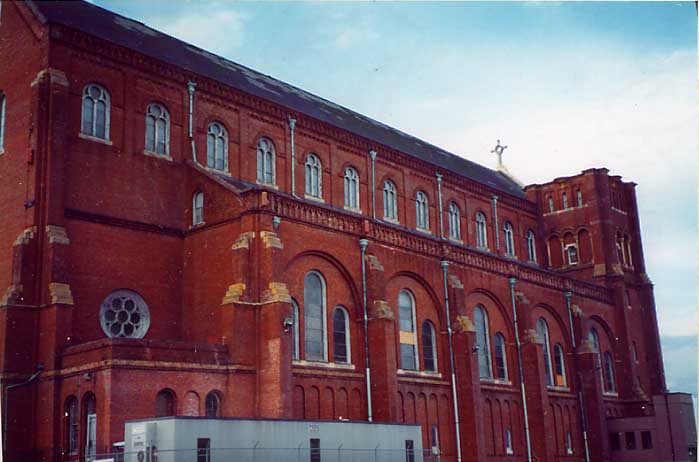 Church along Tulane Ave. Seen from I-10 (Photos taken in November, 2005)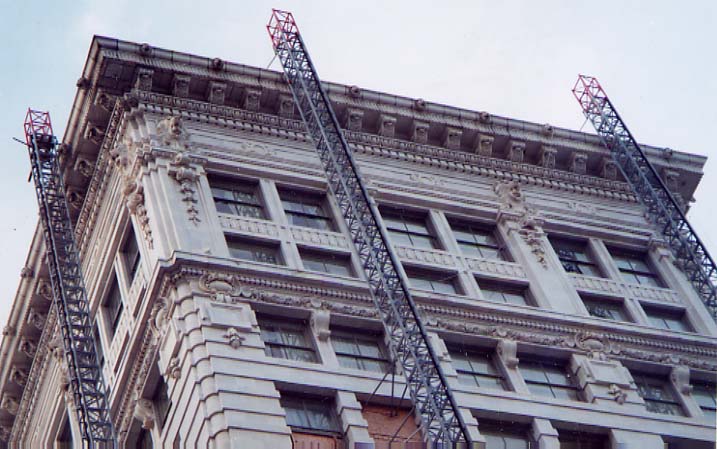 Not sure what this building is, but the cornice work and the lionheads(?) got my attention (sorry about the angle, I took this photo through my car's sunroof)
(Photo taken in November, 2005)
A partial view of the New Orleans skyline from I-10 WB coming towards the CBD.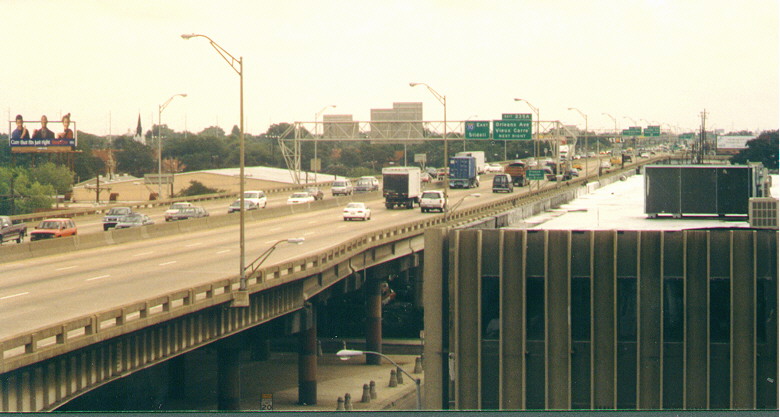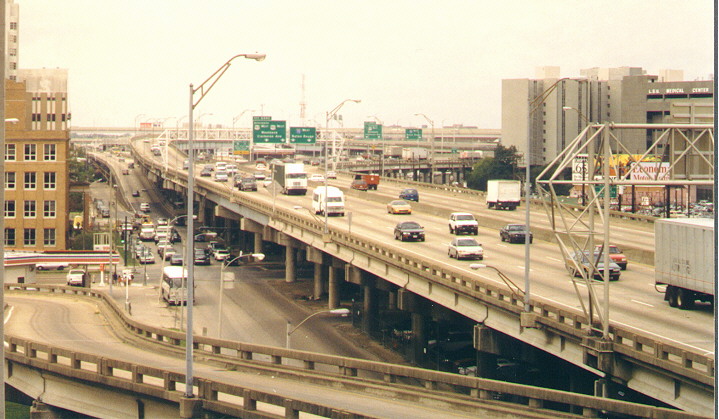 Looking out along I-10 near downtown New Orleans from a hotel balcony (left photo is looking west, right photo is looking east)
(Both photos taken in June, 1999)
This was the old MacFrugals warehouse that partially burned down in 1995 or whereabouts (thanks to Justin Priola for the info) along I-10 in East New Orleans.
I don't know what happened to it post-Katrina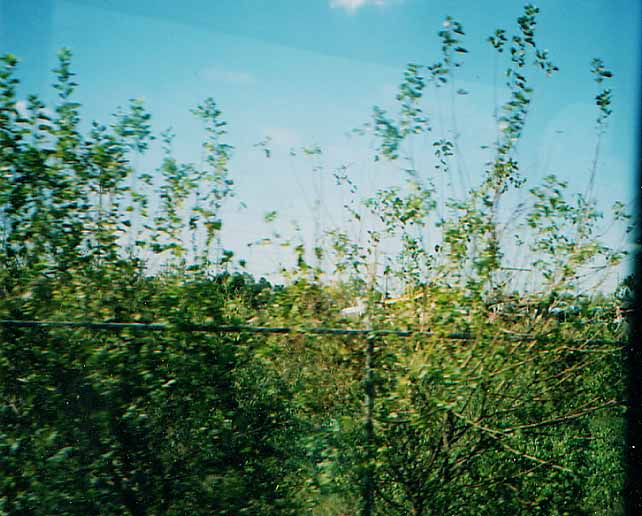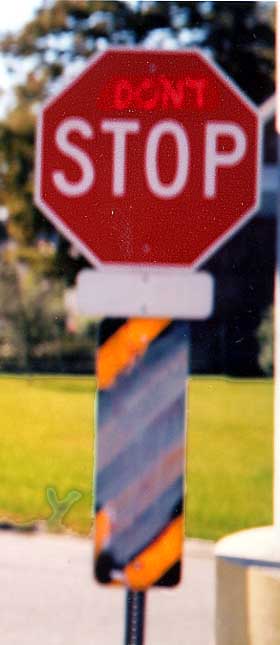 Left Photo: This was a housing project at one point. It was torn down due to a cancer scare due to it previous occupation here.
Right Photo: Someone's idea of protesting traffic near Pump Station #7.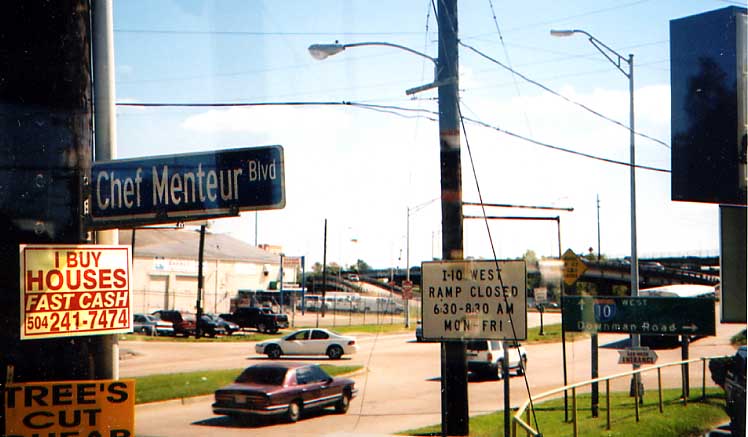 I guess morning rush hour was pretty bad in East New Orleans.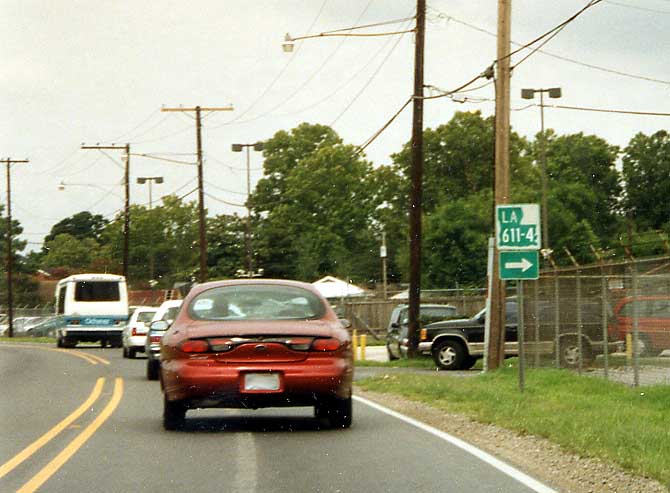 Here's a different variation of suffix routes. These hyphenated routes are very short and found in urban regions. When I first asked about these back in 1999, I was told that Louisiana was doing away with these (giving them back to local control). Alas since I moved here in 2004, I still see these hyphenated routes near Baton Rouge. So much for these going away. This particular photo was taken along Jefferson Hwy in St. Charles Parish back in June, 1999.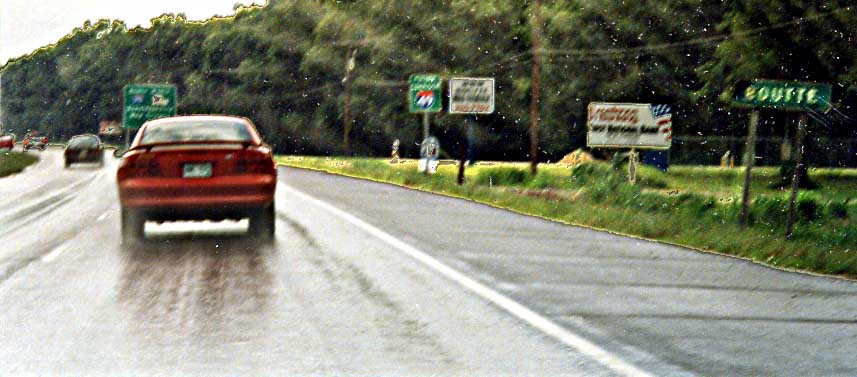 Back in June 1999, I thought I found a rarity, a "Future Corridor I-49" sign here (where in a previous life a bridge support would be). Sorry about the photo quality, it was taken in the middle of downpour (US 90 @ I-310, west of New Orleans)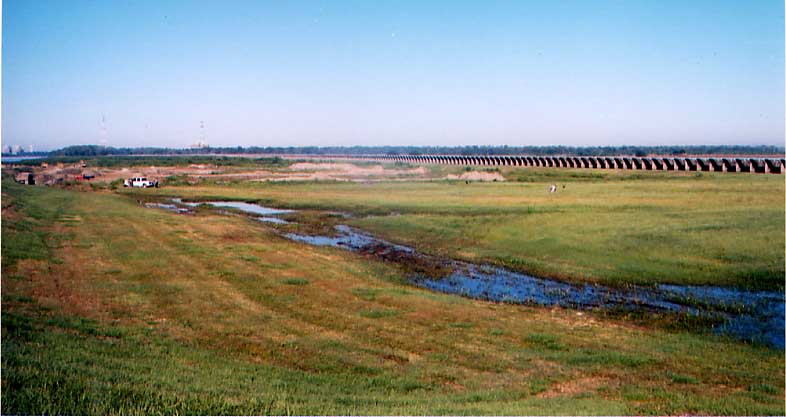 The second level of flood protection for New Orleans, the Bonnet Carre Spillway. Constructed in the 1930s it allows the swollen Mississippi to release its water to Lake Pontchatrain. Unfortunately, it is not design to work in reverse.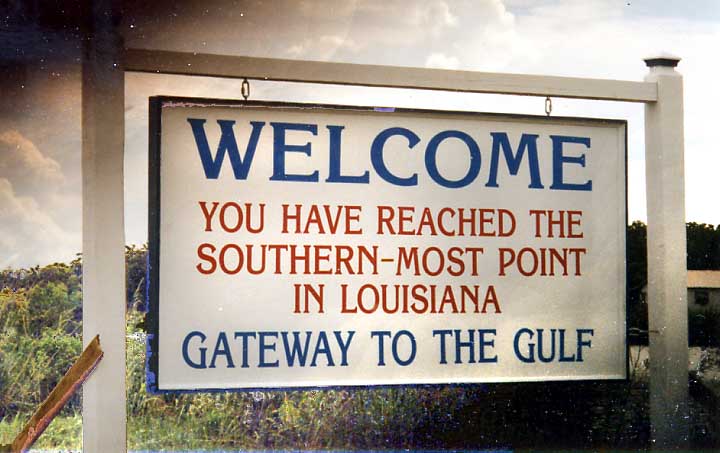 Ok this sign has as much to do with New Orleans as Baton Rouge does (both are roughly the same distance from the French Quarter). Unlike BR though, I don't have any other outlet for this photo so here it sets. However I don't believe Venice/Tidewater is the southern most point of Louisiana you can reach by means other than boat. Of course if you were able to go to the mouth of the Mississippi River, then you are at the southern most point of Louisiana.
This photo was taken in June 1999, so post Katrina this might all be moot now. :-(
---
Unless noted otherwise, photos on this page taken in October, 2004
Page created on March 5, 2006/ last updated on March 16, 2006
Questions, comments, and submissions can be sent to Sandor Gulyas
Return to Jazzy Bayou Roadside Photos Page