---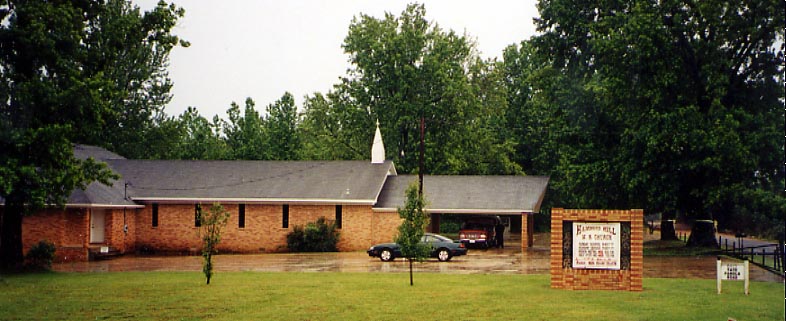 "Mississippi" Fred is buried at Hammond Hill M. B. Church between Senatobia and Como (From I-55, exit at either town and head west to US 51. From US 51, look for Tate-Panola Rd (it goes west from US 51) and continue west till you come to a crossroad. The church will be on the NE corner, the cemetery will be on the NW corner of this intersection)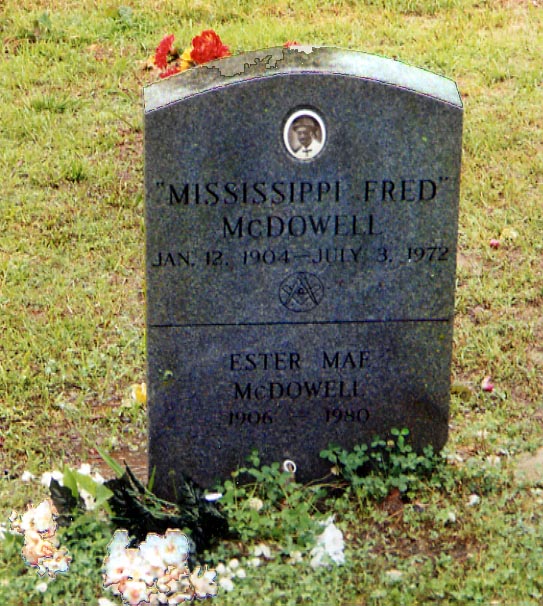 This is the current tombstone for "Mississippi" Fred. That is a picture of him at the top and the symbol beneath the dates is a Masonic symbol. Evidently, Fred was a member of high standing in that group. Ester Mae (inscription at the bottom) was Fred's second wife.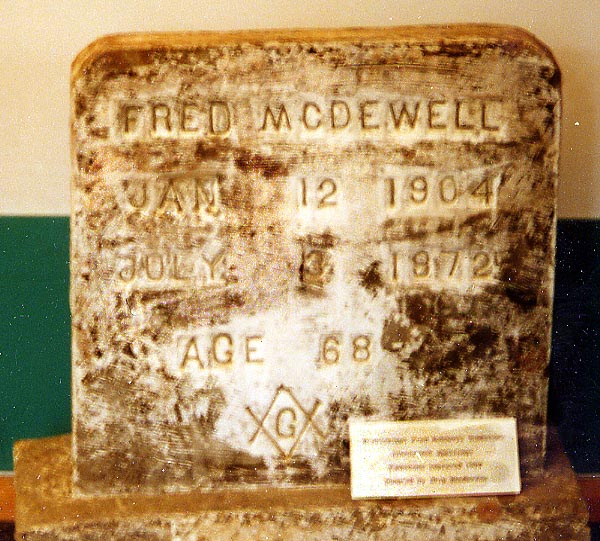 This is the original tombstone for Fred McDowell. (I think out of concrete) located in the Delta Blues Museum in Clarksdale. I don't know when this tombstone was replaced by the one shown above. This photo was taken in June, 1999.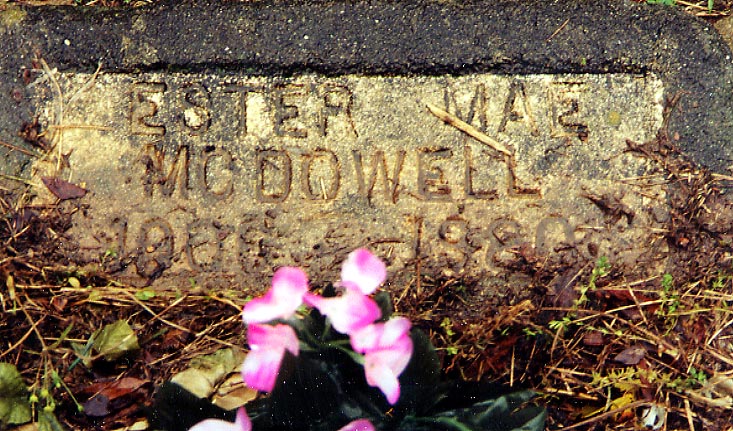 The original tombstone for Ester Mae McDowell, next to Fred's back at Hammond Hill.
Funny story concerning Fred McDowell that Steve Cheseborough relays in his book, Blues Traveling, that I would like to pass on.
Steve writes,"Despite his international success, McDowell continued to work at the Stuckey's Store and gas station at MS 310 and I-55. His agent, Dick Waterman (during the 60s and 70s), once asked Fred why he kept the job.
'All my friends are here, so you know I'll be here,' McDowell told Dick. 'There's nothing for me to do at that trailer all day. And if a car comes in and needs gas, I might as well go fill it up. I'm going to be here anyways. They give me $32 a week and I am just stealing that money, Dick.'
Stuckey's also served as an office for McDowell, who did not have a telephone at home. The other employees got used to receiving phone calls from people with strange accents: 'We got Paris, France, on the phone, Fred.' "
---
Photos taken in May, 2003, unless noted otherwise
Page created on January 15, 2004/ Last updated on July 17, 2006
Questions and comments can be sent to Sandor Gulyas
Return to the Key to the Highway page