---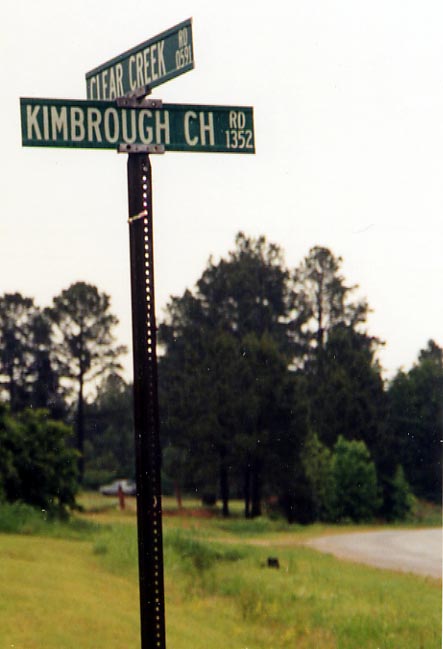 David "Junior" Kimbrough is the most important bluesman you've never heard of. Master of the one chord, hypnotic groove. "Junior" was a local juke joint legend. That is till Bruce Watson and Matt Johnson founded the Fat Possum record label in the early 1990s and they brought in writer Robert Palmer to be a producer. They combined to make "Junior" Kimbrough's first full length album (CD) in 1993.
Junior made four more albums for Fat Possum before he passed away in 1998. His neighbor, friend, and musical collaborator R.L. Burnside made a handful of albums for Fat Possum and developed a friendship with the boys in the Jon Spencer Blues Explosion (their music is more punk than blues based) before he passed away in September of 2005.
"Junior" Kimbrough is buried north of Holly Spring, up near the crossroads of Hudsonville. From Holly Springs, go north on MS 7 almost 10 miles to Clear Creek Rd (it only goes west from MS 7), go west about a mile to another T intersection for Kimbrough Ch(urch) Rd, turn left and almost immediately on your left (again) you'll see a brick church. The cemetery is to the left of the church past a short line of trees.
Kimbrough Church Rd was named such before "Junior" made the name famous.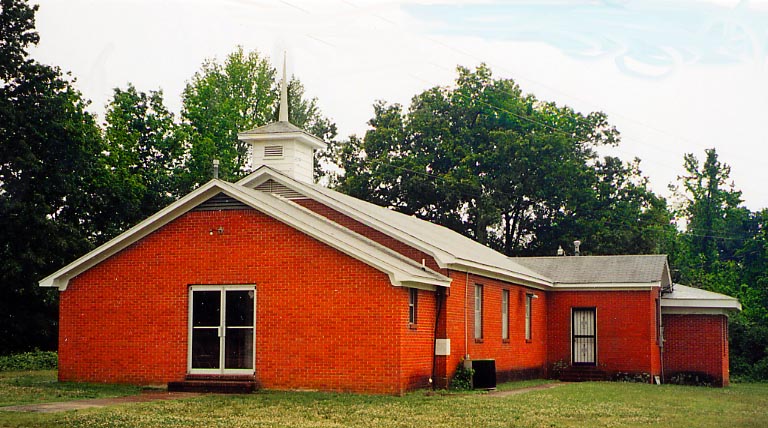 The aforementioned (Kimbrough?) church.
The front of David "Junior" Kimbrough's grave. Meet me in the City is one of "Junior's" songs. Evidently many of Junior's fans leave bottles of beer at his tombstone in tribute (someone left the bottle of Michelob there). This tombstone was erected a year after "Junior's " passing, due to a fund raising campaign in Oxford, Miss (from Steve Cheseborough).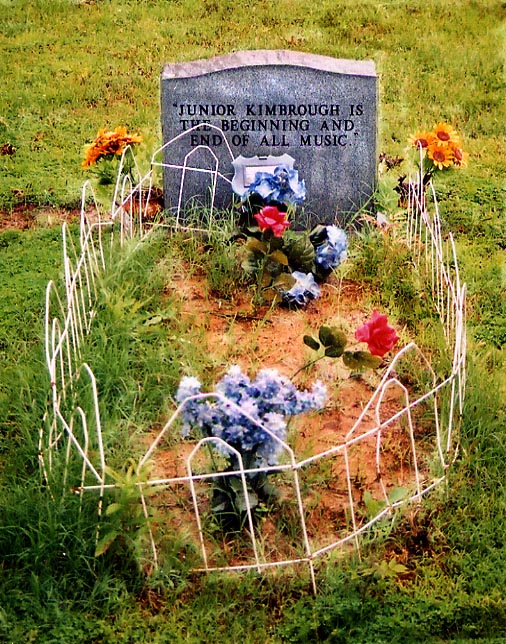 The back of "Junior" Kimbrough's grave. The quotation comes from Charlie Feathers, a Mississippi north hill country rockabilly artist who cites Junior as one of his influences (again Steve Cheseborough). I'm assuming the flowers came from either the groundskeepers or friends and family of "Junior" Kimbrough.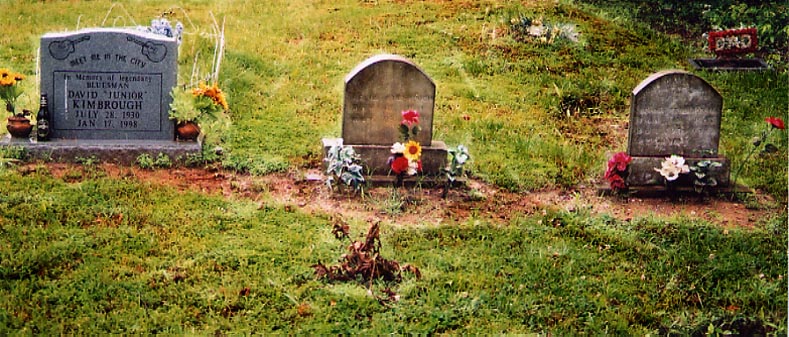 The whole Kimbrough plot. That is "Junior" Kimbrough's grave on the left, with Junior's brother Felix grave in the middle and Felix's wife Irene on the right.
---
Photos taken in May, 2003
Page created on January 15, 2004/ Last updated on July 4, 2006
Questions and comments can be sent to Sandor Gulyas
Return to the Key to the Highway Page