If I-73 was in West Virginia
I-73 (and I-74 at this point) follow US 52, for the most part, from Huntington to Bluefield and on to I-77 near the Virginia state line. At this point I-74 is supposed to follow I-77 south through Virginia and on into North Carolina (again follow US 52 there). I-73 goes back north with I-77 in West Virginia (forming a "wrong-way" overlap) to US 460 and the begining of the West Virginia Turnpike. There, I-73 heads back in a southeasterly direction with US 460 into Virginia.
Confused? Shouldn't be, follow along with the pictures.
---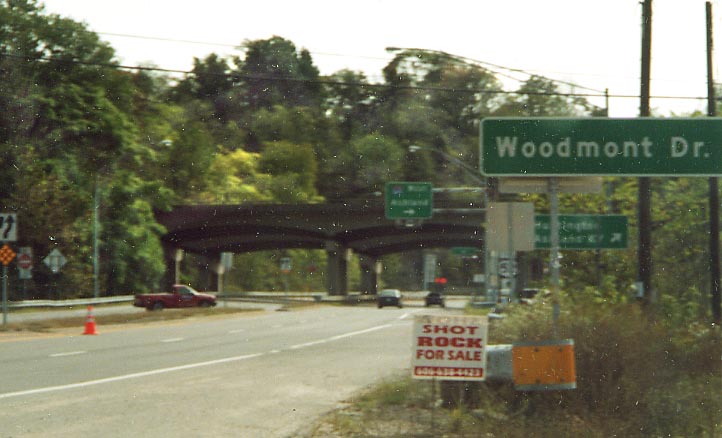 If you follow this road straight (under I-64) you'll be on US 52 east and future I-73 & 74. All 3 head "south" from I-64 ahead. It is assumed that they will get a new interchange to replace this at-grade. However, no one knows when this will happen.
This is West Virginia's way of tell the rest of us that they really are on board with the I-73/74 plan (I guess it can be argued that they are more so than Ohio or Michigan). This sign is just south of I-64 near Huntington Airport along US 52. There is another one of these signs near Pritchard as well.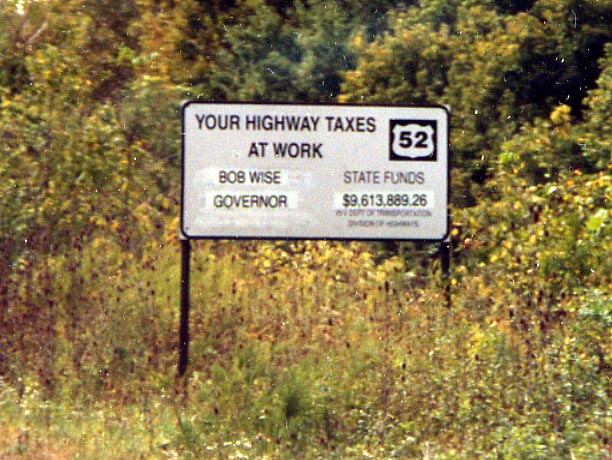 The state of West Virginia is funding the repaving of current US 52 between Kenova and Pritchard. Meanwhile new US 52/I-73/I-74 goes unfunded and no new work was being done when I drove this in October of 2002.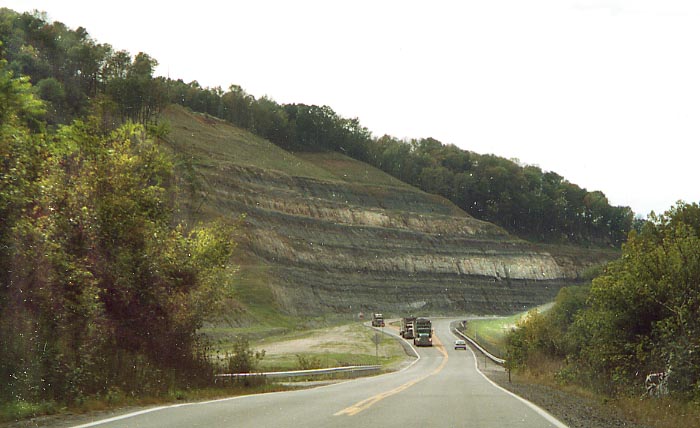 This massive rock cut is the north end of the Pritchard bypass, one of two sections designed for I-73/74 that is currently being used by US 52 in West Virginia
I didn't mean for the roller coaster effects here. This turn, at the south end of the Pritchard bypass isn't as severe as this photo makes it out to be.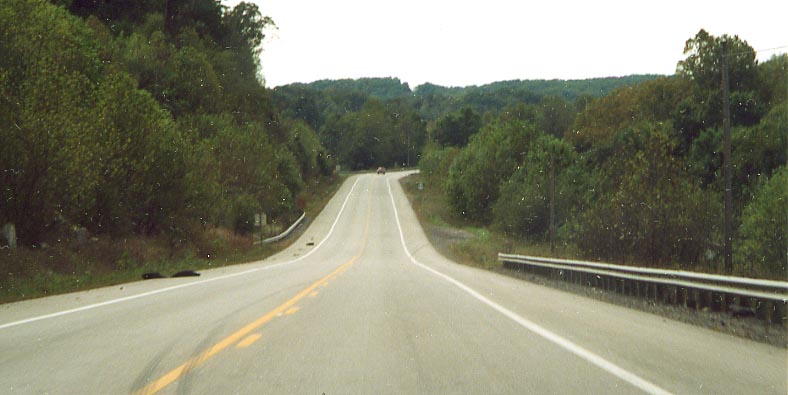 This might have been the longest straight portion of US 52 that I came across in West Virginia. Between Pritchard and Crum.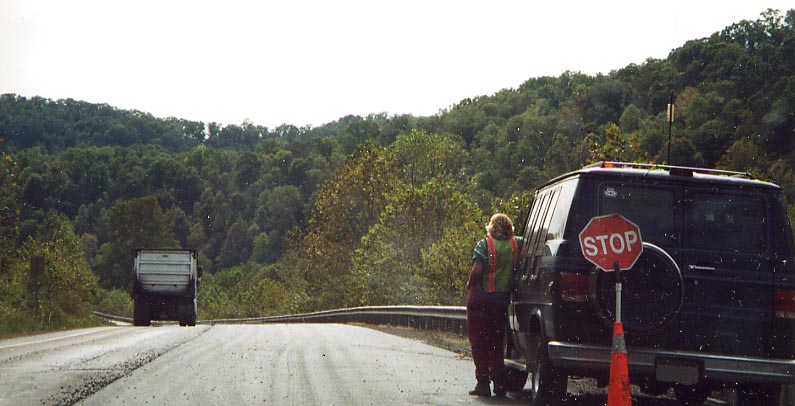 More repaving of US 52 (from October, 2002). Gave me a good opertunity to show what WVDot has to go against in building an interstate through here (hills, curves, trees). Between Pritchard and Crum
The Crum Bypass
What if someone built a freeway and no one came, would it still be a freeway? That appears to be the case for a section of I-73/74 built around Crum. It was built, but no signs have been put to direct traffic towards it or for anyone to notice it. As it stands, it barely gets used.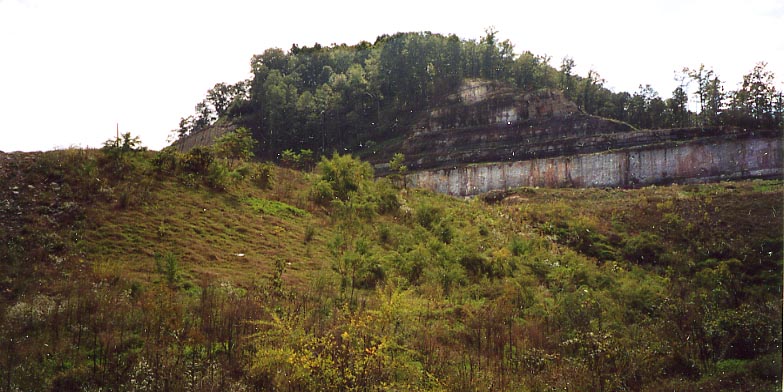 This is what I first noticed as I drove by along US 52. It wasn't till I passed this (and decided to double check a road (ramp) I saw driving by) that I discovered this road.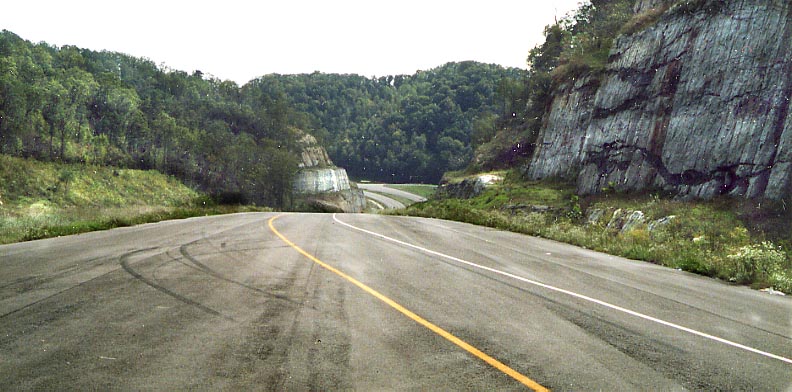 This would be the merge point for the ramp from US 52 to I-73 south. You can see the other "end" of this section off in the distance ahead.
The pavement ends, and the rocks are where (I suspose) that I-73 would continue north. Looking north from the wouldbe southbound lanes of I-73. US 52 is between (and beneath) the grass and rocks ahead.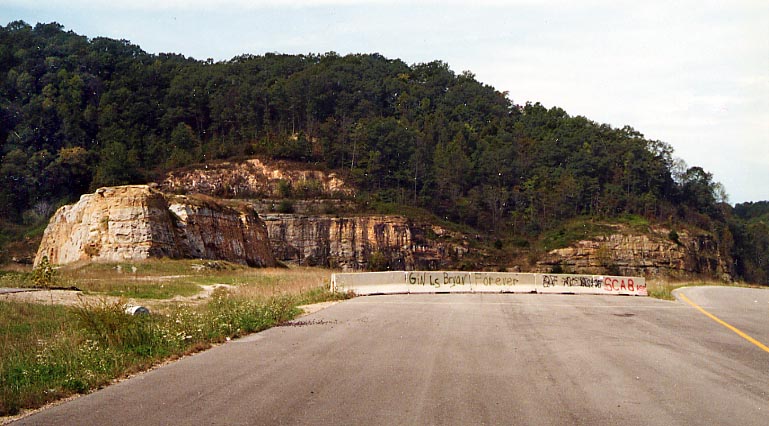 Same view as the photo above but now I'm standing in the wouldbe northbound lanes. The road off to the right is the ramp to US 52. The concrete barriers I guess is supposed to prevent reenactments of Dukes of Hazzard car jump scenes (see photo above for reason why).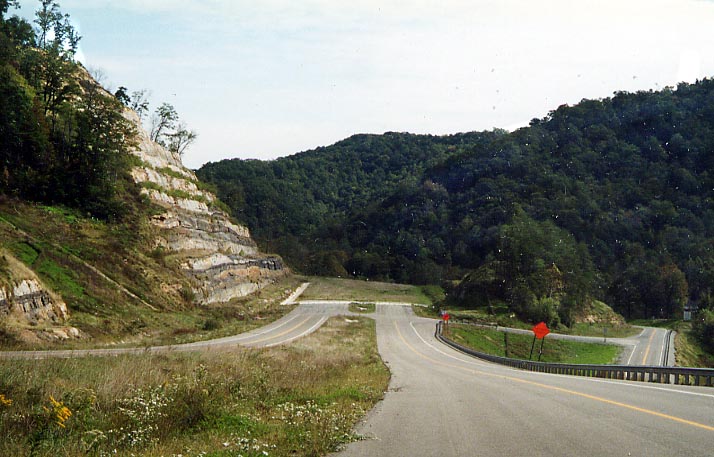 This is the south end of the Crum bypass. I don't know how far the graded right-of-way continues on from the end of the pavement. You have to make two right hand turns to get back to US 52.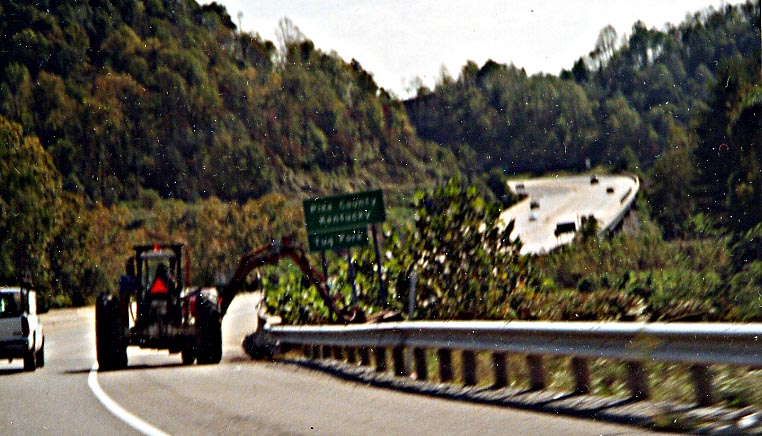 Yes the new US 119/52 meanders between Kentucky and West Virginia several times north of Williamson. I had made a wrong turn at the junction of US 52 and US 119. I-73/74 would bypass Williamson to the east, sort of following Va 65 from US 119 to Delbarton and US 52. Thus I turned right (and followed US 52) when I should of turn left. South of Williamson, US 52 seem to me to be alot(!) more hillier and move curves than the portion north of here.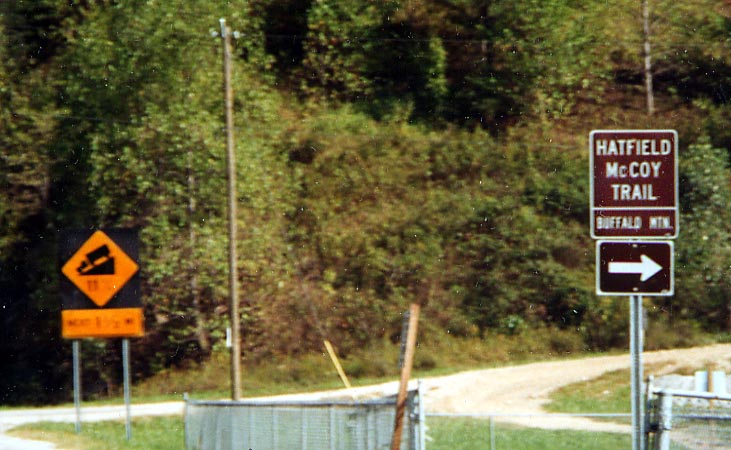 There's a trail between these two feuding families? At the time I was not really interested in checking to see if I could drive this trail. My mind was more on the impending 11% grade ahead on US 52. Between Williamson and Delbarton.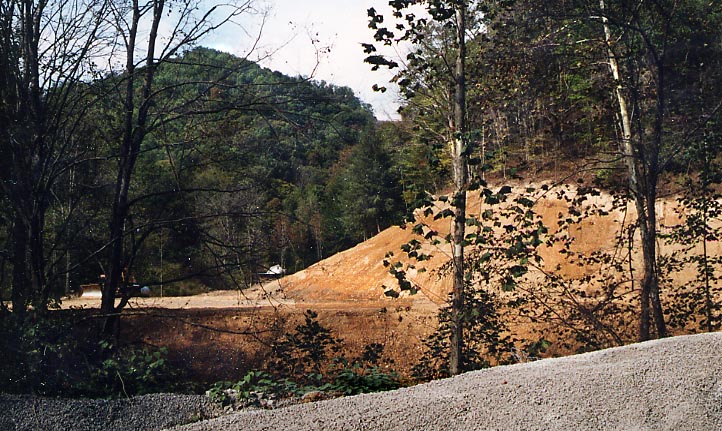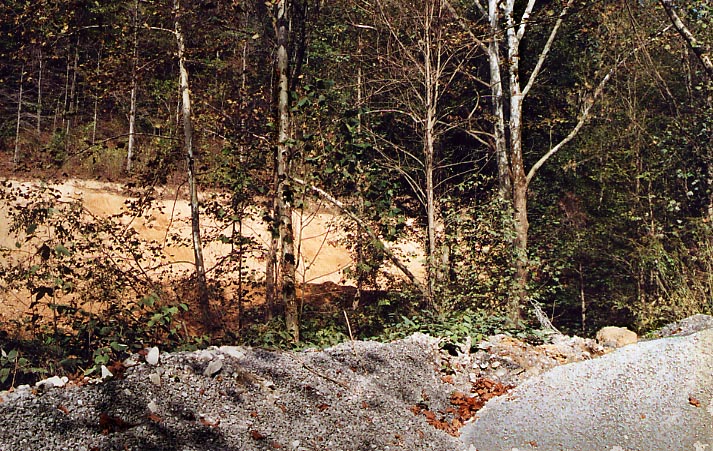 These clearings I found near Varney. Maybe for the next section of I-73/74 to be built?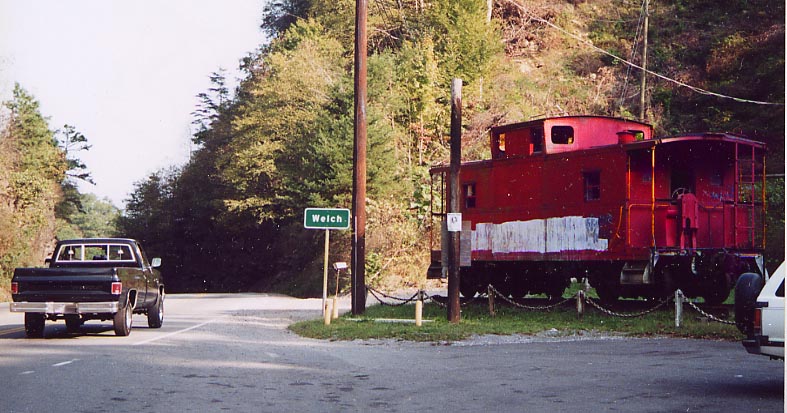 At the time I took this picture, I was thinking more about an old high school friend I had who's last name is Welch. I wonder if he has any ties to this area.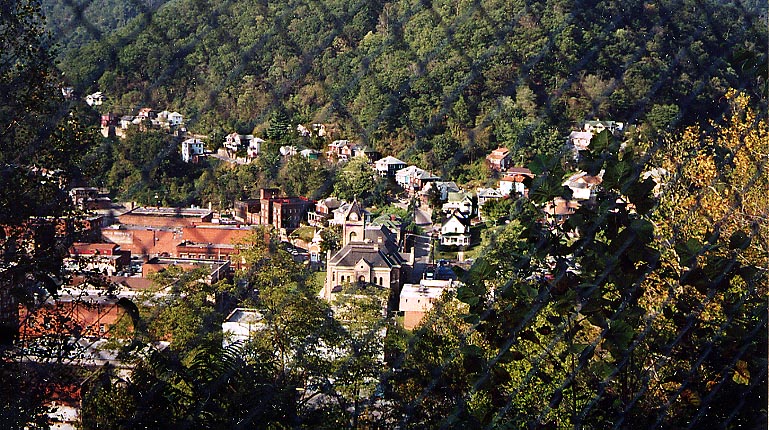 Here is an overview of Welch from US 52 looking north. Welch reportedly had it pretty bad in 2001 and 2002 with flooding. From the distance, it didn't look like they were the worst for wear (especially compared to other towns I passesd along US 52 in the area). The fencing isn't an optical illusion. I had to take this picture through this fence (prevention for what?).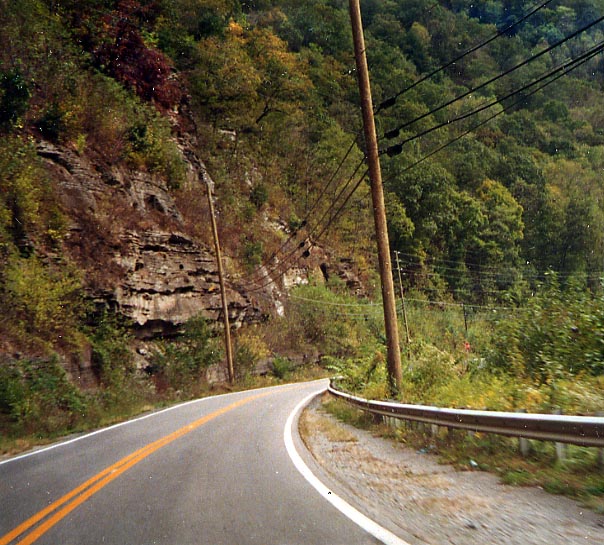 This picture gives an idea as to what local and national leaders are trying to bypass with I-73. US 52, between Huntington and Bluefield West Virginia, was one of the most congested highways that I ever traveled.
Say what you want about national need of I-73, but there is plenty of local traffic (re:trucks) relief needed along this route.
Picture along US 52 between Welch and Bluefield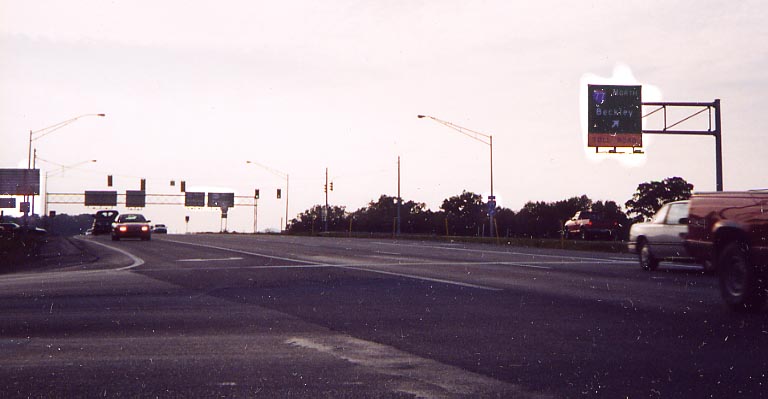 East of Bluefield and Princeton, this would be the "northern" junction of I-73 and I-77 (with US 460). I-73 would continue south behind this photo and to head north, one would turn left and follow I-77 south. This at-grade interchange would have to be redone to be interstate compatable.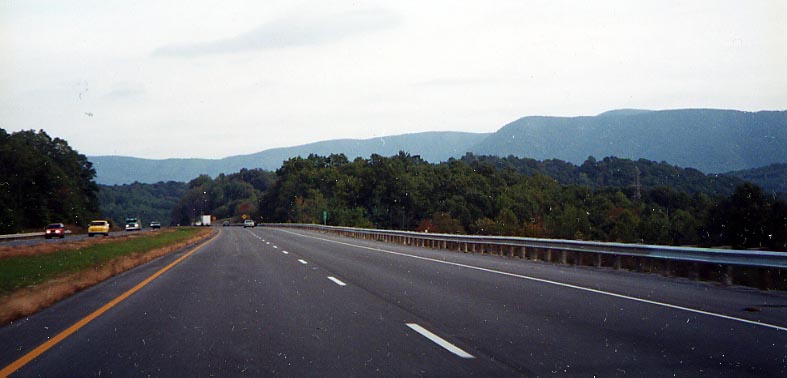 Heading east along US 460, someday to be I-73 south, near the West Virginia/Virginia state line. Plenty of at grade intersections along US 460 between I-77 and Blacksburg, Va that would need to disapear for I-73 to have a chance of happening.
---
Link
King Coal Highway Official webpage - By WVDoT
---
Page created on August 26, 2003/ last updated on March 1, 2006
Questions, comments, submissions can be sent to Sandor Gulyas
Go south to I-73 in Virginia | Go north to I-73 in Southern Ohio | Return to the I-73 photo home