Home Rd Bridge Re-dedication Ceremony
---
You know it's an important bridge when there's a party to celebrate it's opening.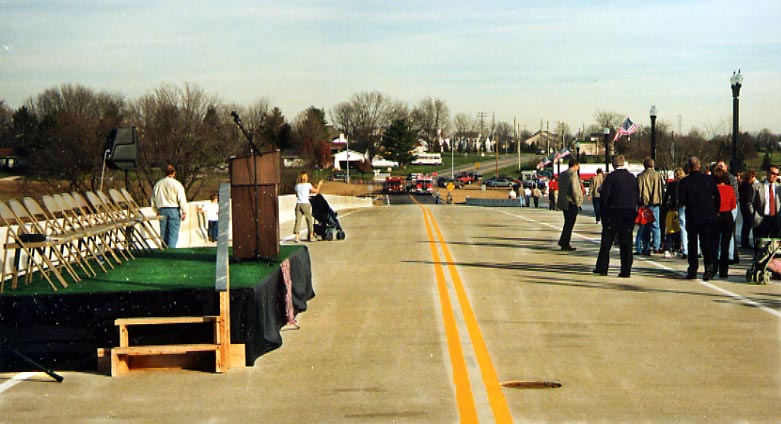 People milling about before the ceremony. Note the impromptu platform/stage on the left and the fire engines on the horizon to block any wayward drivers from (literally) crashing the party.
The man of the day, and emcee for the event. Chris Bauserman, P.E., head of the Delaware County Engineer's Office
State Rep (and former DelCo Auditor) Jon Peterson speaking. I couldn't tell you who half of those people on stage with him are.
Cutting a ribbon to open the bridge, from left to right: Unknown, James Ward(?) DelCo Commish, Kris Jordan DelCo Commish, Don Wuertz (former) DelCo Commish, Chris Bauserman, Deborah Martin DelCo Commish, Fred Stultz (Long time DelCo Engineer. Retired and was replaced by Chris), some kid's head, and Jon Peterson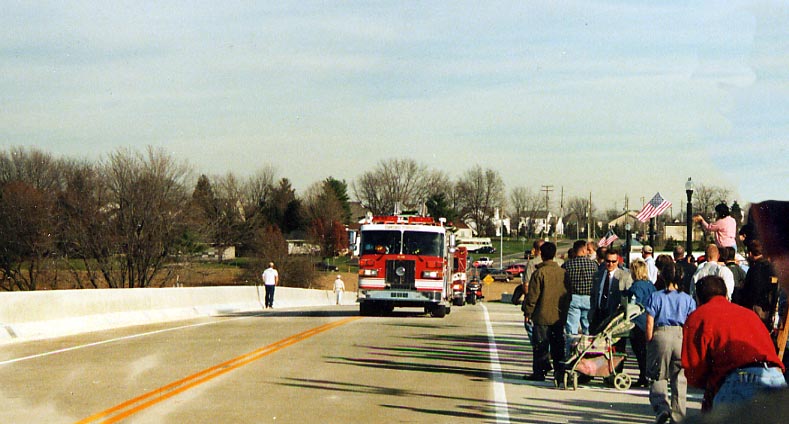 Once the bridge was opened, the (ceremonial) first people to cross the new Home Rd Bridge were the Concord Twp. fire department...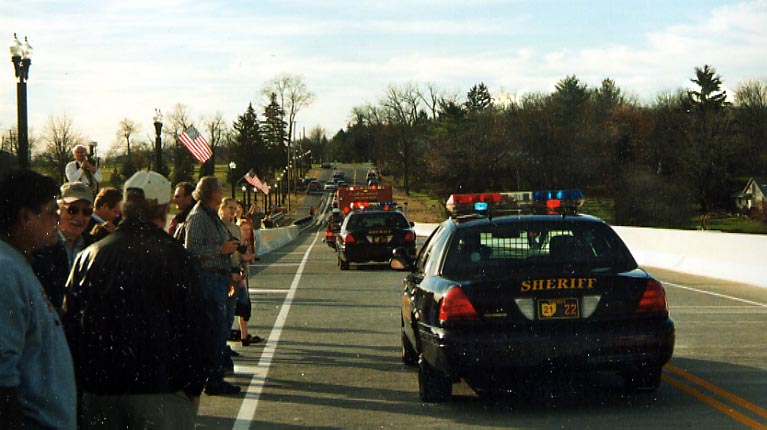 ...and the Delaware County Sheriffs
---
Other Notes from the program of that day...
The first bridge constructed here was a covered bridge from sometime in the late 1800's that got washed out by the Flood of 1913.
There were several make shift bridges constructed from 1913 till 1924 when OShaughnessy Reservoir was constructed and a 5-span steel truss bridge was constructed. That bridge stood till April, 2002 (when it was removed and the current structure was built).
With the new structure, it is a 7 span continuous haunched steel girder superstructure with a monolithic concrete deck. A 10' wide walkway/bikeway was constructed along the southern edge of the bridge with observation balconies located at each bridge pier (though ironicly, it was stated at the ceremony that the sheriffs were going to be shooing away people from staying on the bridge)
Thinking ahead, the bridge already has space set aside for EB traffic to have two lanes of traffic (for a turn lane at the Home Rd/Oh 257 intersection), and more piers were set along the northside of the bridge for future expansion, if necessary.
---
Page created on December 20, 2003
Questions and comments can be sent to Sandor Gulyas
Return to Home Rd Bridge Pictures | Bridges of Delaware County Page