Blues Landmarks in Memphis
---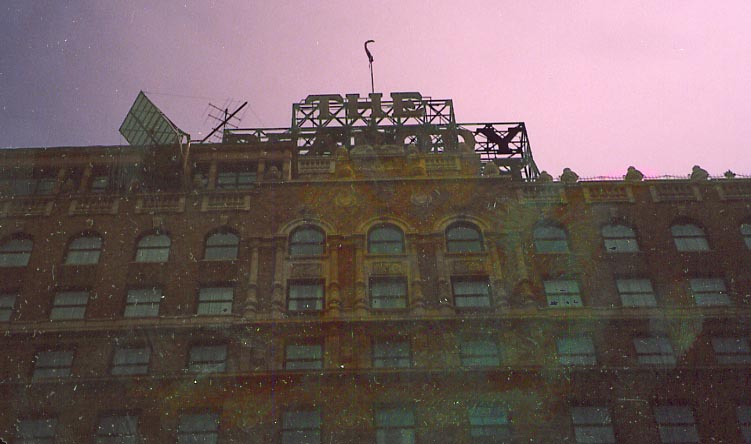 The giant neon sign for the Peabody Hotel still stands as the hotel still does a brisk business after 125+ years (not consecutively). It was author/historian David Cohn who wrote that "The Mississippi Delta begins in the lobby of the Peabody Hotel and ends on Catfish Row in Vicksburg." The Peabody gained that distinction from being Memphis's first luxury hotel. In reference to blues music, both the Paramount and Vocalion labels would rent out rooms in here and record blues musicians during the 1920s and 30s while big bands would broadcast their spectacles from the ballrooms of the Peabody.
Not blues related, the Peabody ducks are a tourist attraction of their own accord. (All info garnered from the Peabody Hotel's website)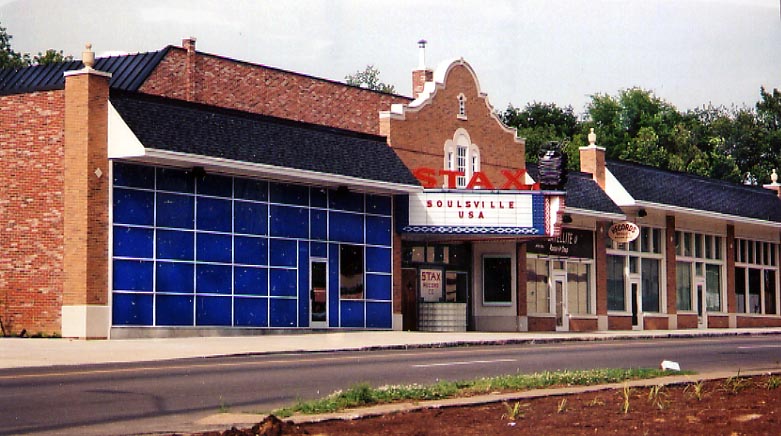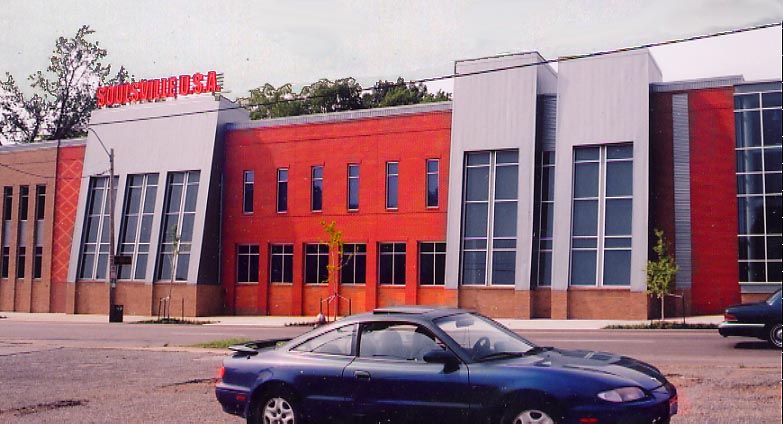 The rebuilt Stax Records museum and music academy (The official name is Stax Museum of American Soul Music). Stax Records was the father of the soul music genre. It was the noted record label for Albert King, Otis Redding, Isaac Hayes, Rufus and Carla Thomas, and Johnnie Taylor (who recorded the biggest hit for Stax Records with "Whos Making Love" in 1968). Re-established on May 2, 2003 (I took these photos two weeks after the opening), the original building was torn down in 1988 thanks to the Southside Church of God (who bought the property for $10 in 1980, then refused for many years to allow any memorials to Stax Records because they felt it was the "devil music" according to Steve Cheseborough). They even have a website, www.staxmuseum.com.
The Stax Museum is located on the 900 block of East McLemore Ave, SE of the downtown area. It is easier to reach Stax Records from I-240 (between I-40 and I-55) than following the city streets from Downtown Memphis.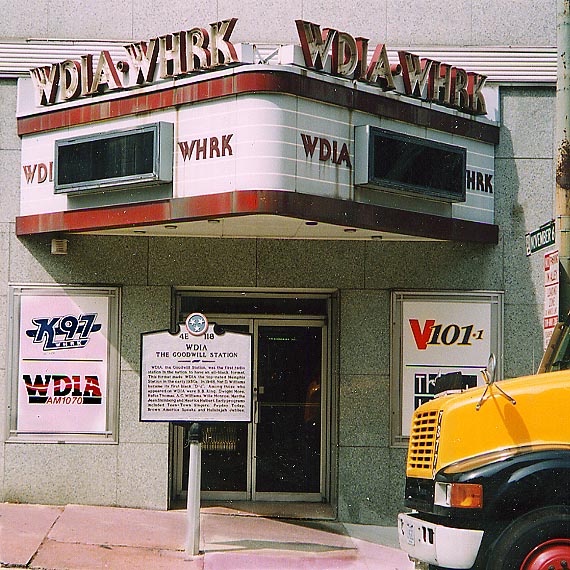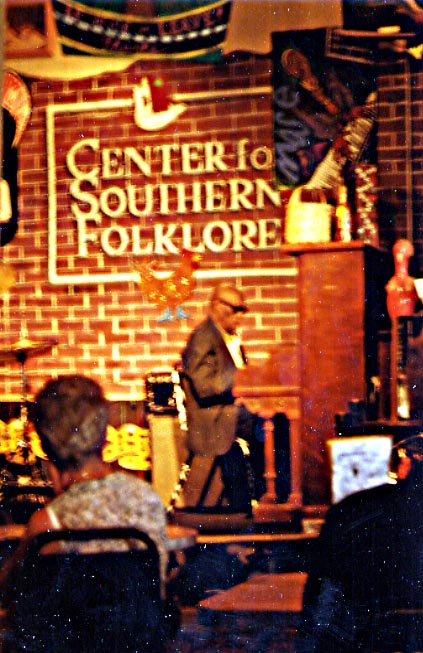 On the Left - The current home for WDIA Radio. WDIA is most noted for being the first station to go with an all black format in 1949 (it became the top-rated radio station in Memphis within 5 years). WDIA is also where B.B. King and Rufus Thomas got their start in the music business. They still play blues overnights! Click on the historical placard for a close up on what it says.
On the Right - Mose Vinson (1917- 2002) playing piano at the Center of Southern Folklore's old home on Beale St (Photo taken in June, 1999)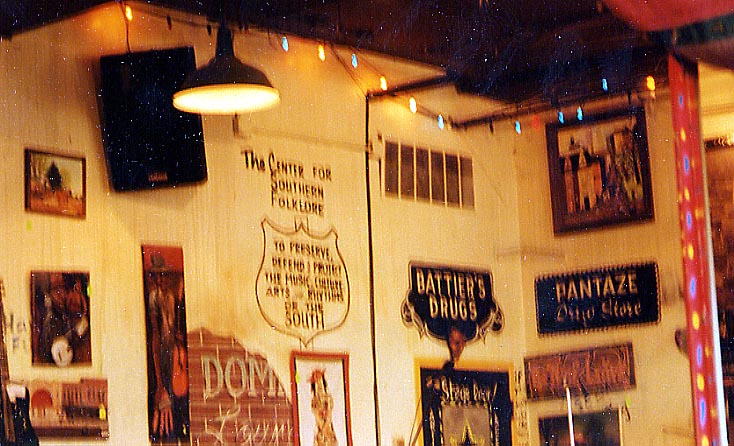 The Center for Southern Folklore used to be situated on Beale St (the above photo was taken at that location in June, 1999). When their lease wasn't renewed in 1999, they moved to Pembroke Square. Beside being the cultural equivalent to A.Schwab, they also produce the Memphis Music and Heritage Festival every Labor Day Weekend.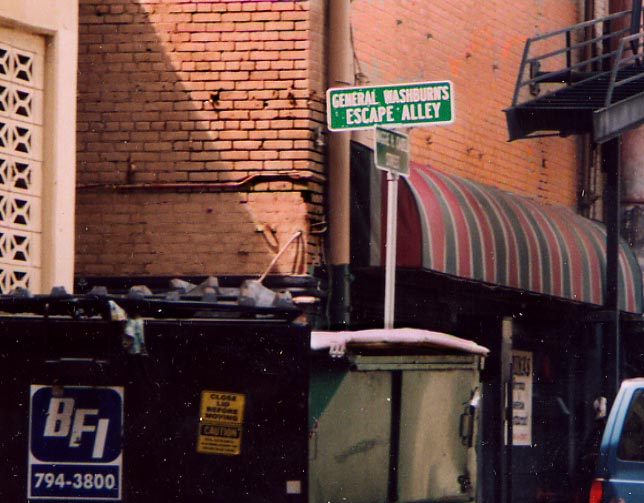 This is one of the most interesting street names I've ever seen. It's an alley, one can use it as an escape (I suppose), but who is General Washburn, and what does he have to do with this alley? Located between Beale and Gayoso Streets near 2nd St.
I stumbled upon the answers to my own questions about this location in a travelogue entitled Highway 61 by William McKeen.
William McKeen writes (and I paraphrase) "General Washburn was a Yankee (albeit from Wisconsin), a general for the Union army during the Civil War. Somehow while leading a retreating group of Union soldiers, Washburn lost his pants! Confederate General Nathan Bedford Forrest somehow came in possession of Washburn's pants and then shipped them back to Washburn. General Washburn later on became governor congressman for Wisconsin and founder of what we know today as General Mills. Nathan Forrest is best known for founding the Ku Klux Klan."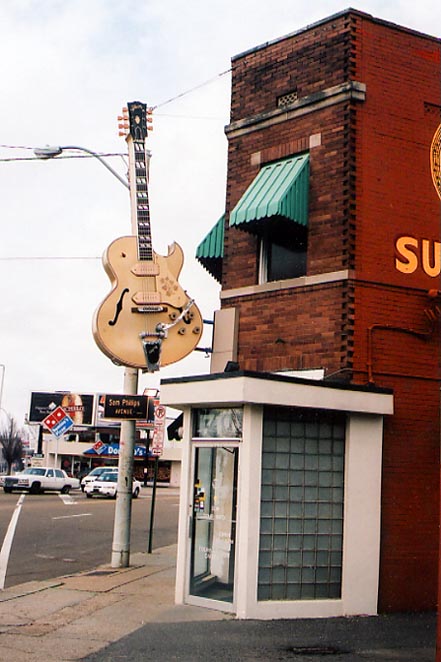 The entrance to Sun Studio (Museum) with the second largest Gibson guitar above it. Behind the entrance you can see the street sign for Sam Philips Avenue (honorary) Photo taken in January, 2005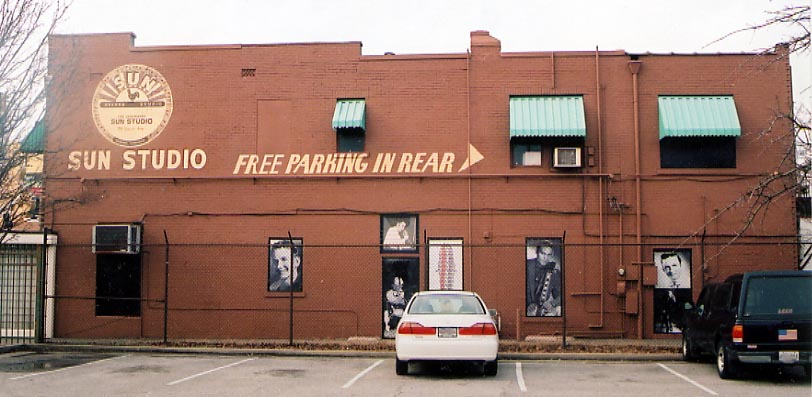 The side wall shows posters of the noted performers from the heyday of Sun Studio. (Photo taken in January, 2005)
---
Links
Beale St in the daylight (companion page to this)
Memphis Convention & Tourism Bureau
---
All photos taken in May, 2003 unless noted otherwise
Page created on January 14, 2004/ last updated on July 3, 2006
Questions, comments, and submissions can be sent to Sandor Gulyas
Return to the Key to the Highway Page