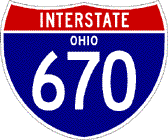 Signage
Going east from I-70 to I-270
---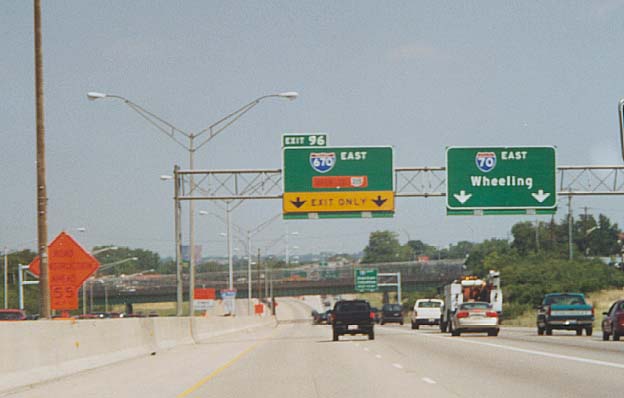 These signs were placed in summer of 2002. Where the I-670 BGS sign is now, used to stand a Grandview Ave. BGS. ODOT was also kind enough to replace the I-70 east BGS (though Wheeling vs Columbus for the control city is debatable).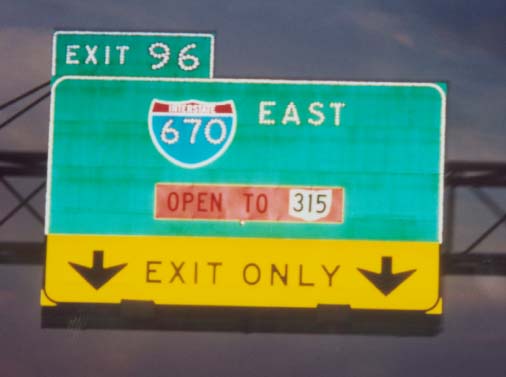 Closeup on the I-670 BGS. Bot-dots for the shield and direction, the orange tape covers the eventual control point of "Airport" for I-670 east.
I-70 EB near I-670, Western Columbus. UPDATE - Instead of removing the orange tape, ODOT went and replaced the sign with a new one with reflective letters in October, 2003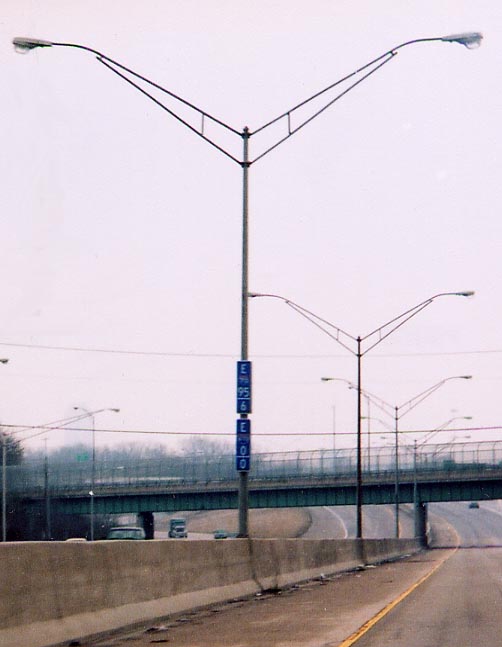 Here's the technical begining/end point on the westside for I-670. Interesting that I-670 would be multiplexed with I-70 for 2/10s of a mile.
(Photo taken in April, 2005)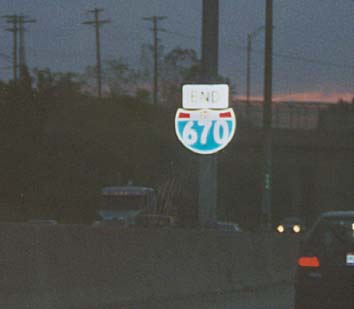 The west end of I-670. This is the third different style of end assembly (at least) placed here since 1976. (The end sign is supposed to be black text on a white background).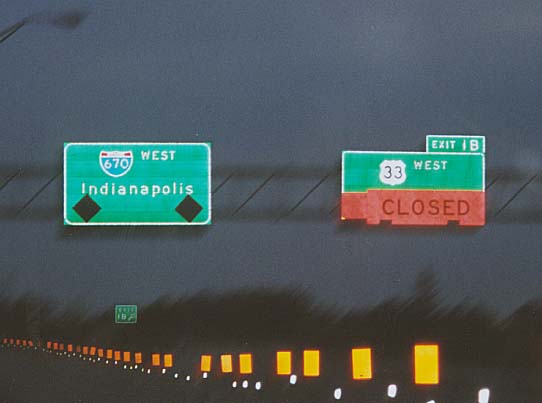 Who didn't get the memo about the control city change from Indianapolis to Dayton for points west of Columbus? And it looks like US 33F is going to get refurbished as an exit ramp. I-670 WB between Grandview Ave and I-70 west.
Update: Dayton is now used as the Control City for I-670 WB, west of I-71 now as of December, 2003
Exit 1- Grandview Ave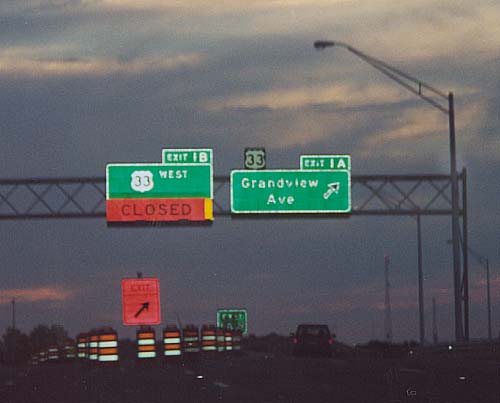 Exit 1, two parts with US 33 being redirected from north to west. The add on US 33 shield over the Grandview Ave BGS, is temporary due to the reconstruction with the US 33 west ramp.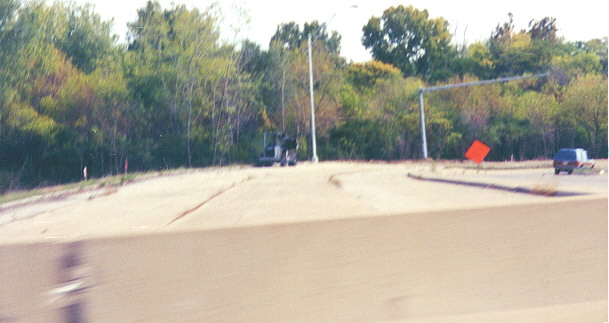 Some ramps that were finally put to use in 2002. The inner ramp takes you onto I-670 WB and has been opened for 25 years. The outer ramp will be leading from I-670 when it is complete. Photo taken in Summer of 1999 along NB Grandview Ave. at I-670 WB

The end of I-670 [west segment] as we knew it yesterday. Photo taken in Summer of 1999, I-670 EB at Grandview Ave. looking east (towards downtown)
Since the two above photos were taken, I-670 was completed to Oh 315 (in June, 2002)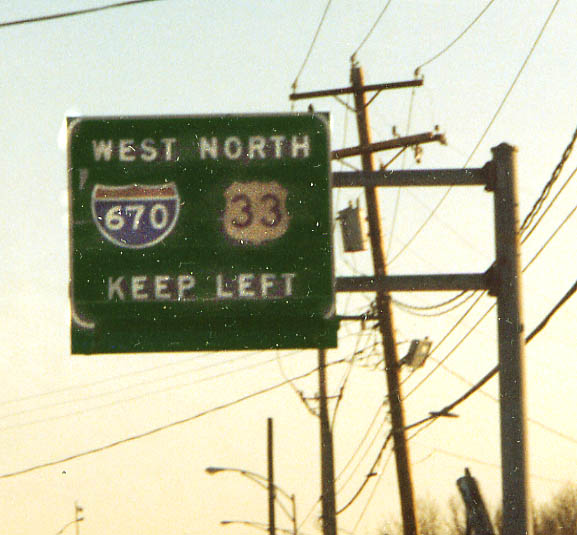 BGS for I-670 along Grandview Ave. SB. One could tell this sign is old due to the listing of US 33 NORTH. (Photo taken in Feburary, 2003)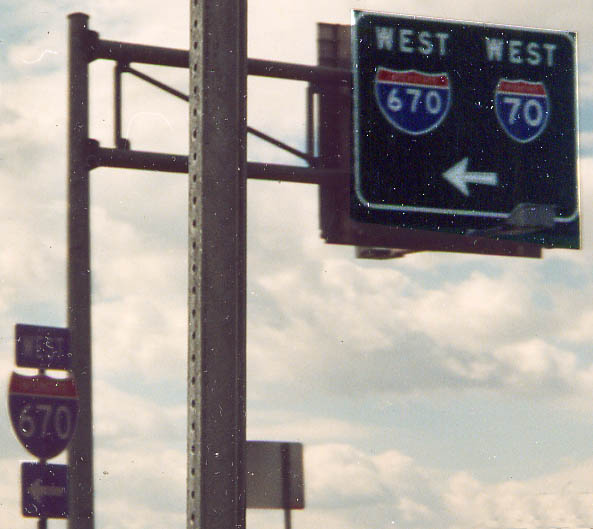 Move ahead eight months, and ODOT has removed US 33 from the BGSes and placed I-70 west with I-670 instead (Photo from October, 2003)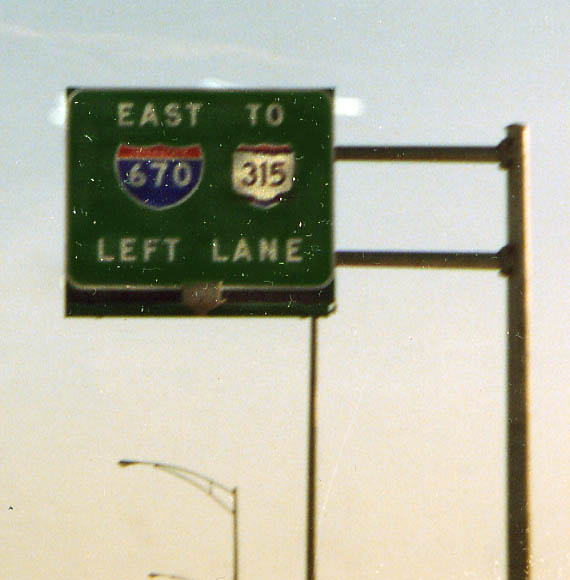 No, I didn't alter this photo by placing that Oh 315 shield there, ODOT did that for me. With 670 opened to Oh 315, but not further east, ODOT placed Oh 315 shields over what would be I-71 shields. Once I-670 is opened from Oh 315 to I-71, the 315 shields will be removed from the two Green Signs along Grandview Ave for I-670 east. (Photo taken in Feburary, 2003)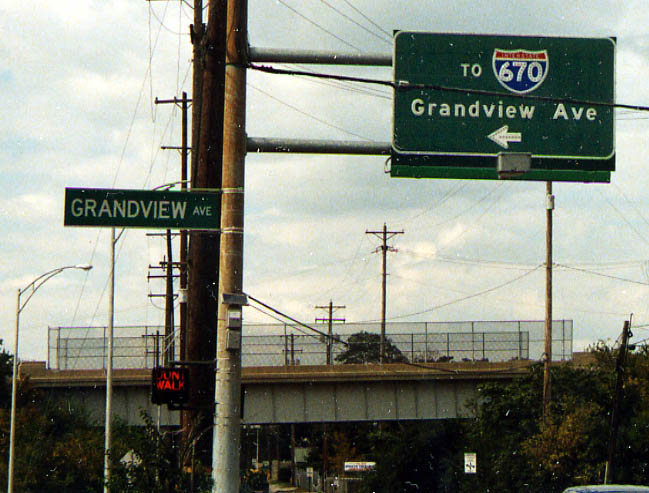 What's with the oversized I-670 shield on this sign? This intersection was rearrainged back in the late 60s or early 70s in connection to the I-70/670 construction (670 would be to your right in this picture). Previously this was a simple T intersection, but Grandview Ave traffic would have to cross several RR tracks as well. (Photo from October, 2003)
Speaking of the old Grandview/McKinley Ave intersection, behind this gate would be old Grandview Ave. The reason this is blocked is that to the right (out of the picture) would be COTA's maintenance shop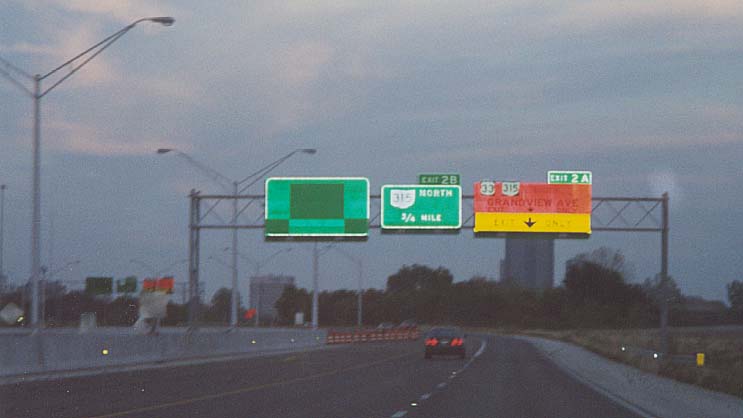 The new section of I-670 between Grandview Ave and Oh 315 heading EB. The orange sign on the far right covers what will eventually say US 33 & Oh 315 south (you'll have to go through a traffic signal to get to Oh 315 south from I-670 east). The blank BGS on the left will be for I-670 east when the north innerbelt is opened.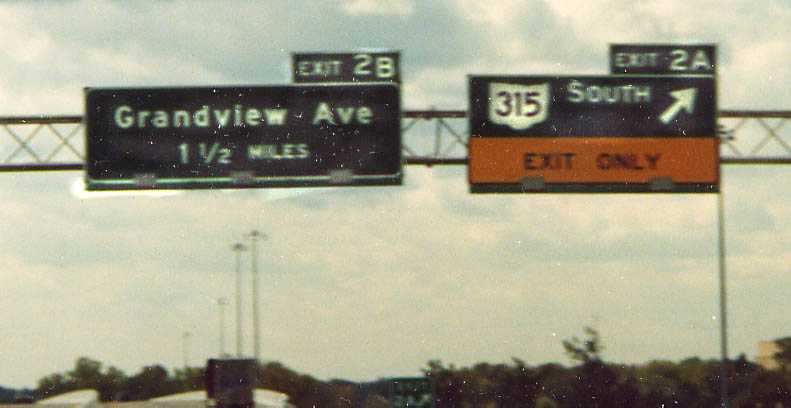 Uh, ODOT.....Grandview Ave is exit 1B, not 2B along I-670 WB (Photo from October, 2003)
Update: ODOT has since corrected this problem.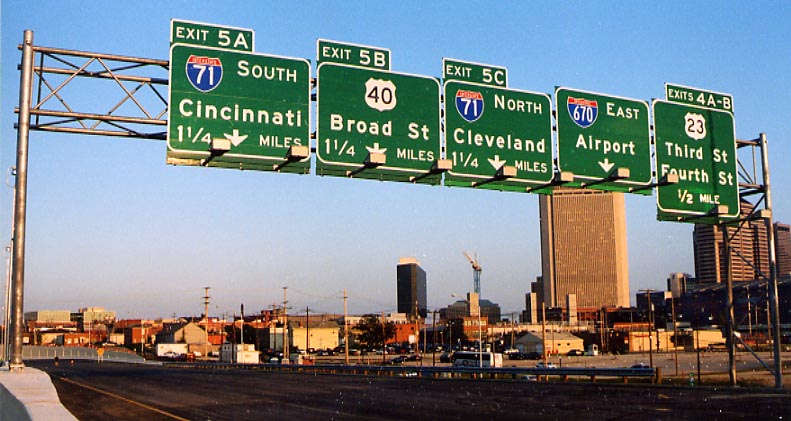 Information overload part 1...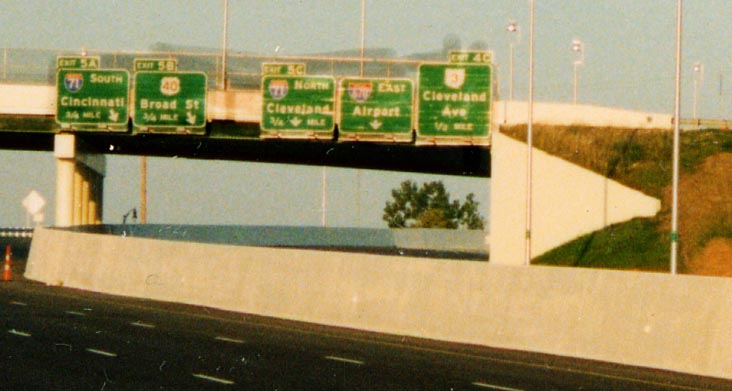 Information overload part 2...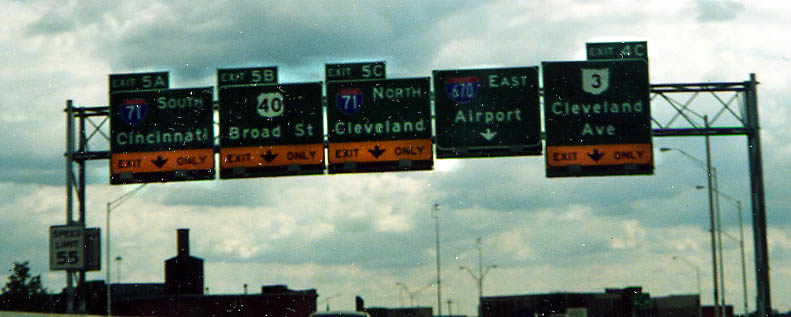 Maybe I've never bothered to look elsewhere in my travels, but with the completion of I-670 between Oh 315 and US 23 ODOT decided to have multiple displays of five(!) overhead directional signs per sign assembly along this stretch. This is out of the ordinary because most assemblies have no more than four signs on them.

Stay right to continue on 670 EB at I-71. Pick any lane to your left to leave I-670 (furthest lane left south, nearest lane left north). Isn't it suppose to be the other way around (through traffic stays left and you exit to the right)?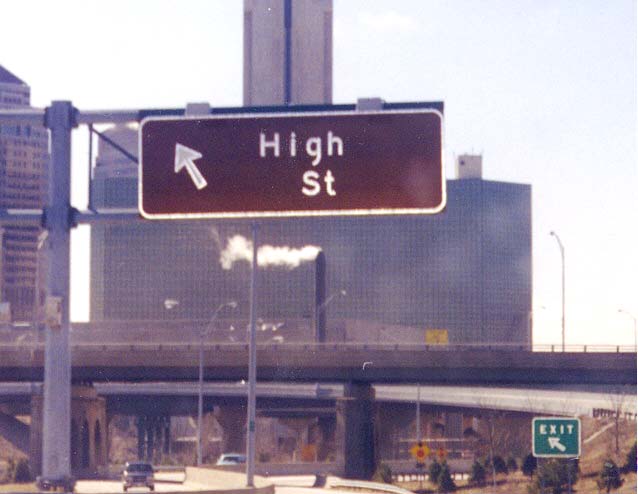 This ramp to High Street would ordinarily be marked with a green sign, but is marked instead with a brown sign, possibly because it also leads to an entrance of the Greater Columbus Convention Center. On the ramp from Interstate 670 Westbound to U.S. 23 Southbound (Third Street)(Photo taken in April 2000)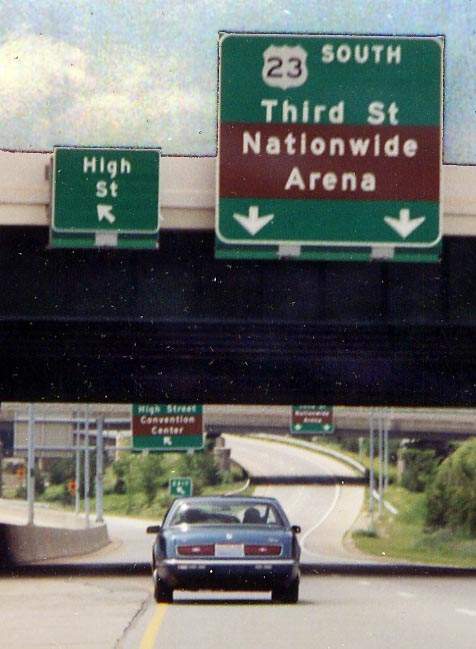 Since the photo above was taken, it was replaced with this sign instead (in light of I-670's completion. This photo was taken in May, 2004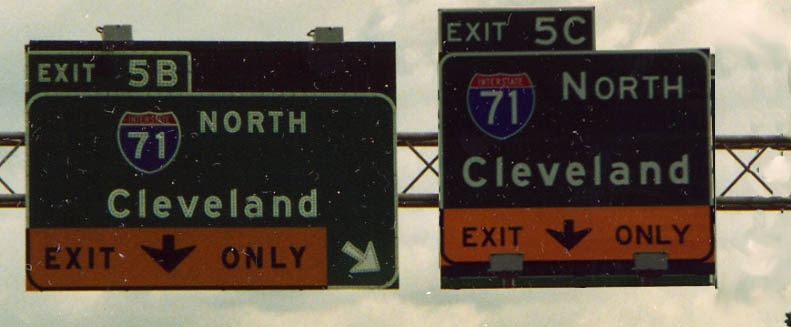 Now I've combined these two green signs for this one photo (thanks photoshop), to show another error ODOT has let pass concerning I-670 signage. The sign on the left was placed back in 1995 when I-670 was completed from I-71 east to I-270 and the airport. The sign on the right was installed in October of 2003 with the reopening of the innerbelt north. For some reason (see the 5 wide BGS photos above), the slip ramp to US 40 Broad St was given an exit letter designation with the new signage, while that same ramp did not receive that designation in the signage before (see photo above). Very strange!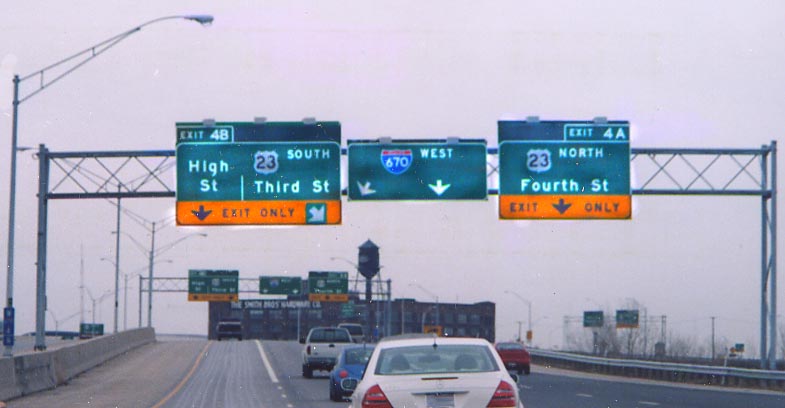 Oops. That white arrow and green square on the US 23 South sign (on the left) should be black and yellow to match up with the rest of the sign. ODOT could of put another 15 seconds thought into this before they included the addition. (from December, 2003)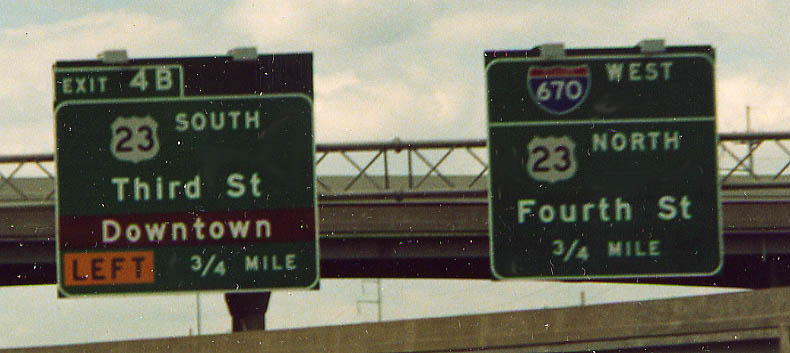 With the reconstruction of I-670 finished, the green sign on the left was altered in September, 2003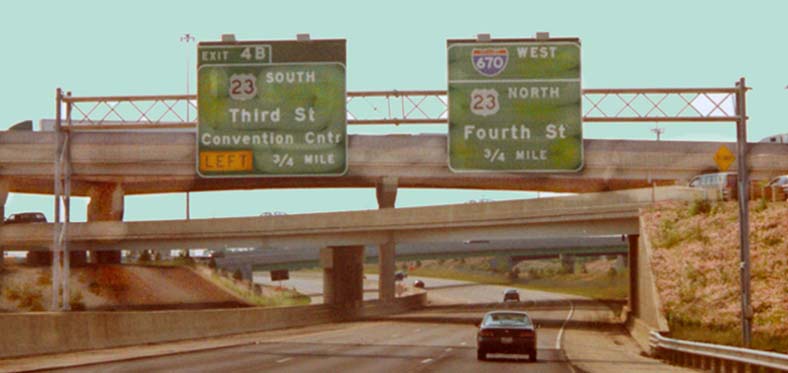 You have a BGS for an exit (for US 23) along with the through route sharing the same sign. Maybe this will change once this part of the Columbus innerbelt is widened. Then again, now that I-670 is completed, ODOT has kept the sign up.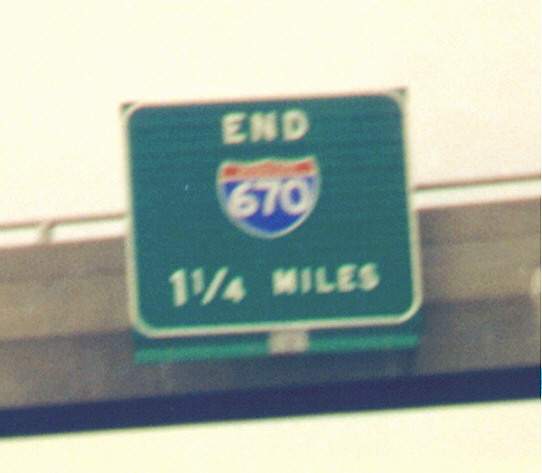 The only actual sign that I-670 EB won't go on forever. (IOW, there's no "end 670" sign at 270). This sign is located on one of the overpasses for the Airport interchange.
No matter which way you go, you will exit only in that direction. Note the lack of references to I-670 and no exit # tabs here as well. EB I-670/US 62 at I-270
---
Page created on November 14, 2002, last updated on May 18, 2005
Questions and Comments can be sent to Sandor Gulyas
Return to the I-670 Entry Page