The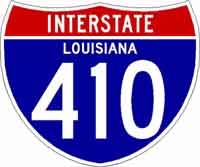 maps
---
Louisiana has folklore concerning its music, its food, its people, its politicians, and its geography. So why not its roads.
There are several people who have already written about the I-410 proposal, so I will direct you to their work:
However, none of them have any visual material showing the proposed route. So this is where I step in.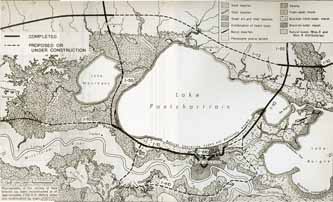 Regional map (centered on Lake Pontchatrain) with all the constructed/proposed interstates for Greater New Orleans as of 1972. (Click on map for larger scale)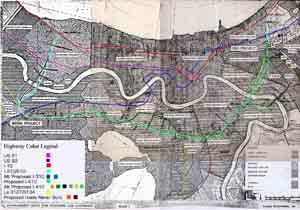 Color coded (by me) map showing the various alternative and suggested routing for I-410 around the south of New Orleans (Click on map for larger scale)
Normally there is some aerial photography of the intended route. Unfortunately, the plans I had access to only had a badly faded "blueprint of the middle section of the proposed I-410. Not worth using in my opinion. Sorry.
---
Page created on March 3, 2006
Questions and comments can be sent to Sandor Gulyas
Return to the Louisiana Index Page