Pomeroy, Ravenswood, and the Future of US 33
---
Darwin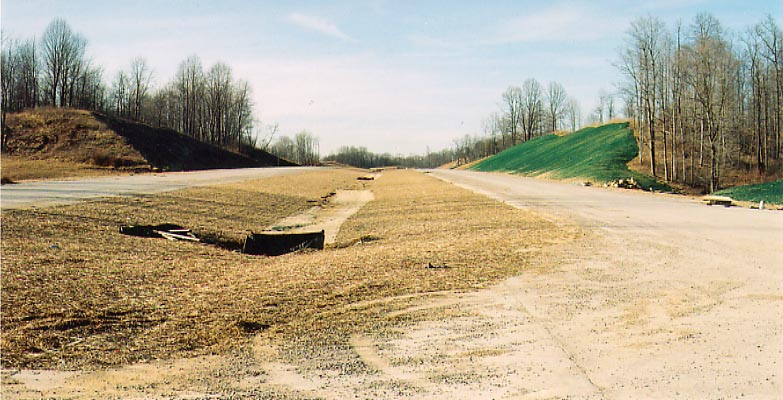 This is the southern end of a new US 33 expressway from Athens to Darwin (To connect two earlier constructed 4 lane highways). This will be a giant improvement over the current 2 lane section of US 33 south of Athens when completed. For what it's worth, Darwin is all but a couple of houses at a crossroad.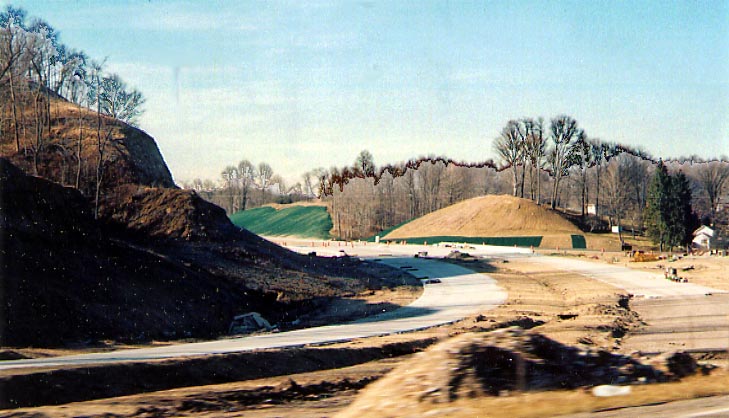 You can see the new highway curving away to the west, from current US 33 near Oh 681 and Darwin
The new routing of Oh 681 under the new routing of US 33....once everything is completed.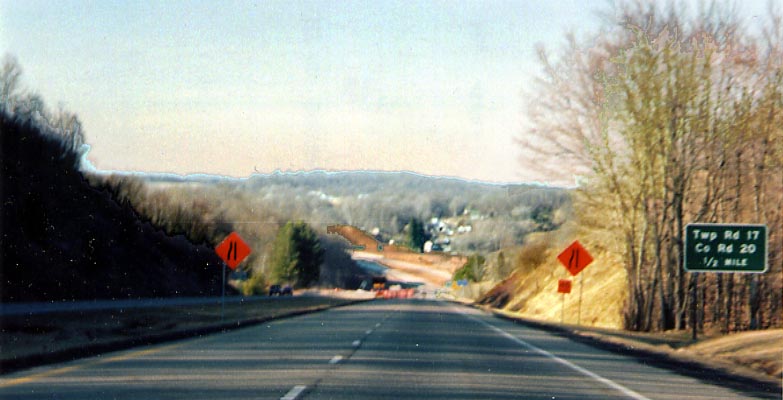 Heading west(north) on US 33, you can see the construction ahead as you descend towards Darwin.
Pomeroy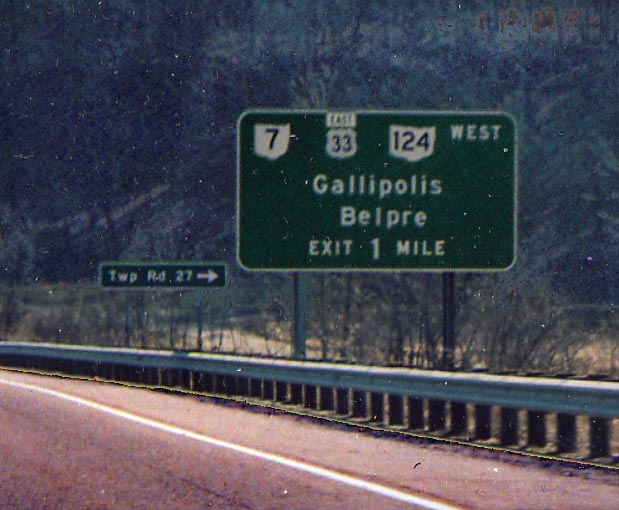 Signage that has been altered to represent the completed Ravenwood Connector and new routing for US 33. (Photo taken in February, 2004)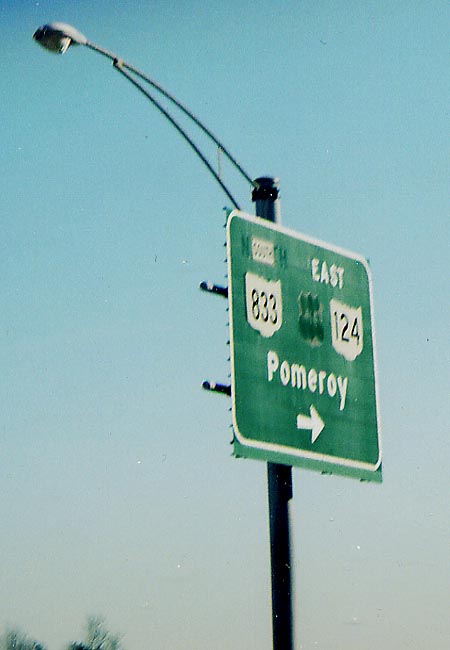 More signage that was altered after US 33 was "moved" out of Pomeroy. Evidently, ODOT has been changing the route shields on this sign quite a bit over the last several years (That is the remenants of an Oh 7 North behind the Oh 833 shield), but the federal shield markings are from the US 33 shield that once was there. Junction of US 33, Oh 7, Oh 124, Oh 833 (Photo taken in February, 2004)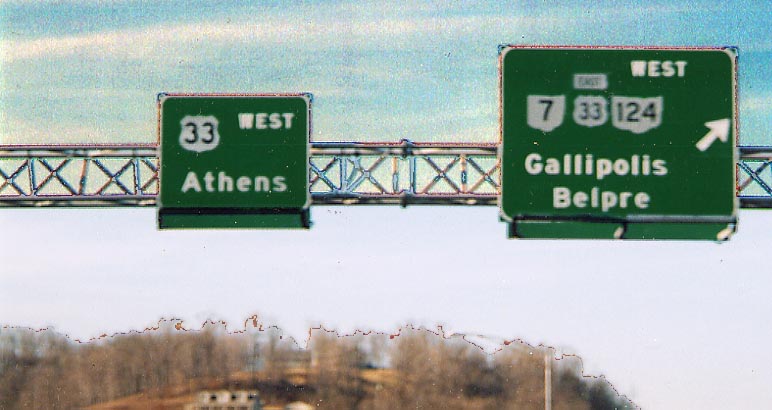 The northern end of Oh 833. No end sign just some confusing directions if you exit here.
Another attempt by me to get a photo of an Ohio River Scenic Byway sign. And no that is NOT a sign error, the Oh 833 shield just curled up there, it is not a misplaced Oh 83 shield.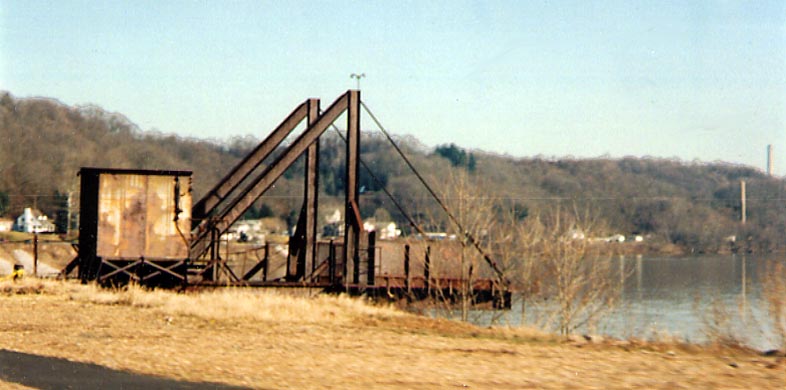 Is this an old fishing pier or the remnant of a bridge over the Ohio River (Along Oh 833 in Pomeroy)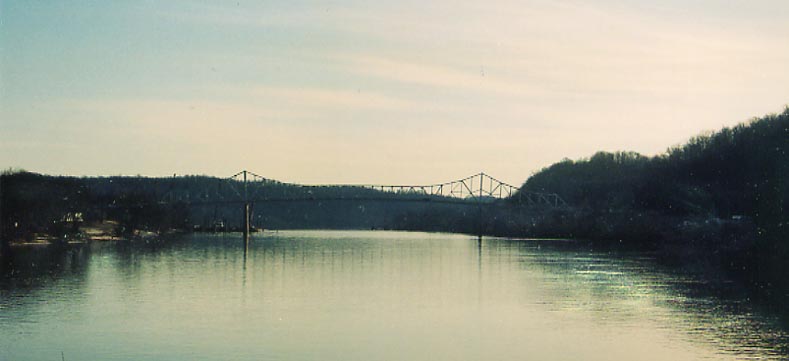 The Pomeroy - Mason Bridge. Formerly used by US 33, now used by Oh 833. (Photo taken in February, 2004).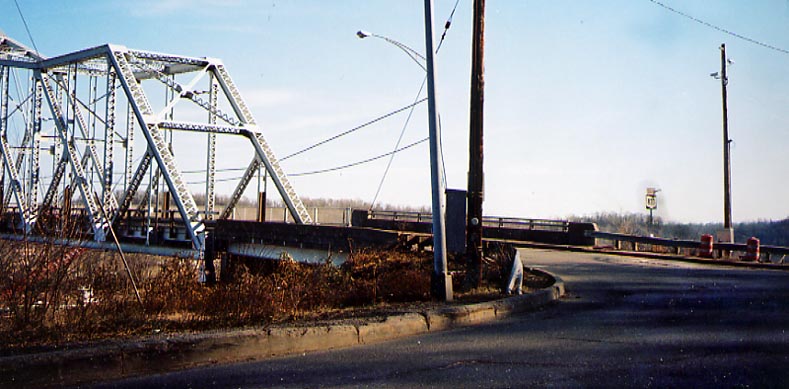 The southern terminus of Oh 833 (at the east end of the Pomeroy-Mason Bridge) (Photo taken in February, 2004)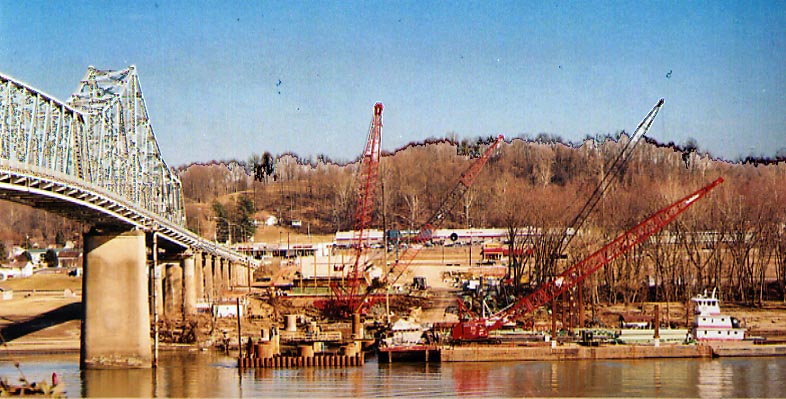 Now that US 33 has been routed away from here, Ohio and West Virginia are constructing a bridge to replace the older one to left. Photo taken in February, 2004
Ravenswood Connector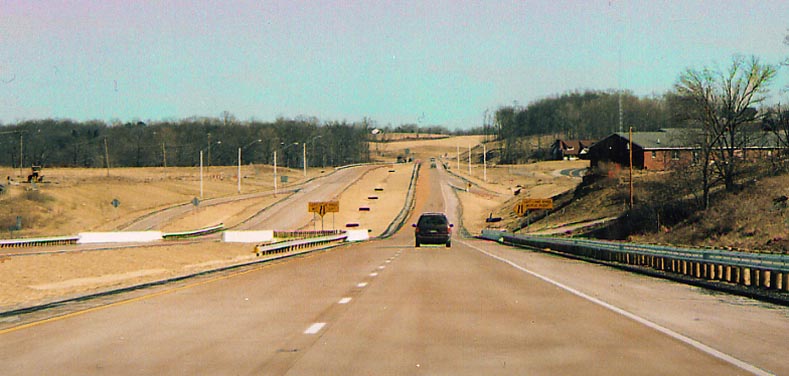 This was only completed several months earlier when I drove this. I was under impression that US 33 would be 4 lanes all the way from Pomeroy to Ravenwood (after all it's already, or planned to be, 4 lanes from Columbus to Pomeroy). After I got east of Oh 7, I was in for a big surprise as I saw the highway narrow to two lanes. Essentially, US 33 is "super 2" (meaning in Ohio, two lanes with limited crossings and no driveways or private access points) from Pomeroy to Ravenwood. Supposedly, Right-of-way is secured to widen US 33 through here once traffic counts dictate it. (Photo taken in February, 2004)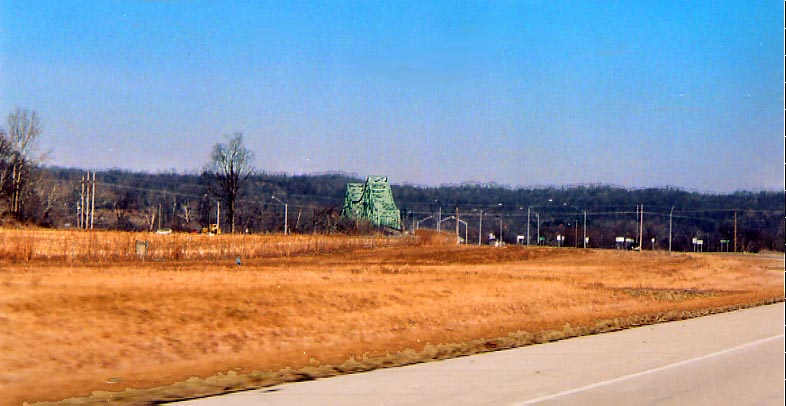 Is that a bridge I see in the distance... (That is Oh 338 where those thin white horizontal lines are) (Photo taken in February, 2004)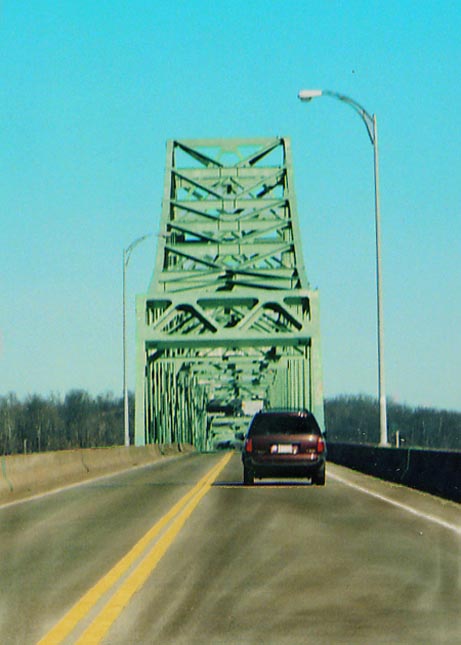 Head on view of the Ravenswood bridge, going east into West Virginia (Photo from February, 2004)
This bridge was actually completed in 1982 and was designated as Oh 824 till Ohio rerouted US 33 through here in 2003
(thanks to Sherman Cahal for the added info)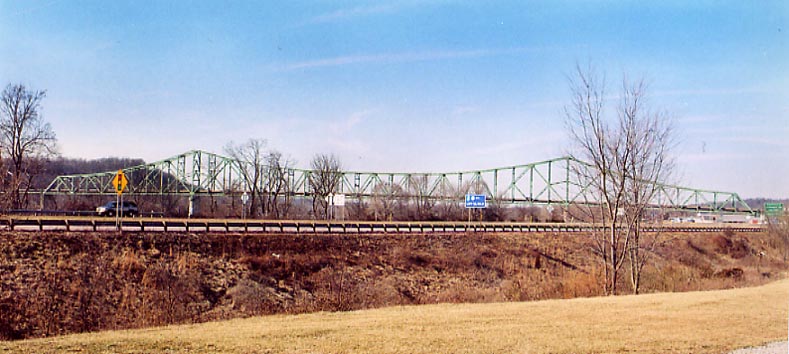 Crossing view of the Ravenswood Bridge. Looking north from West Virginia (Photo taken in February, 2004)
The official name for the Ravenswood Bridge. William S. Ritchie was a West Virginia Department of Highways commissioner, and also a many term Mayor of Ravenswood. (Thanks to Eric Gumm for the info on Mr. Ritchie)

---
Links
ODOT Pages
Route 33 Collection - AthensOhionet
---
Page created on April 29, 2004/Last updated on August 25, 2004
Questions, comments, and submissions can be sent to Sandor Gulyas
Return to the SE Ohio Regional Page